Kedarkantha - The Untold Story Behind The Trek That Transformed Indian...
Share this story
When we're talking about treks that transformed Indian trekking, Kedarkantha would be one of the biggest changemakers.
Kedarkantha is a trek that single-handedly revolutionized winter trekking in our country. It also changed the perception of "high altitude trekking" as a sport.
It showed the world that the Himalayan treks are possible outside of summer and autumn. Dare I say, over a decade, it made winter trekking more popular than even summer in India.
But for us, that's not all. We have many personal stories attached to Kedarkantha as well. They are stories of hope and despair.
I'll cover the whole Kedarkantha story here, where I'm interviewing the founders of Indiahikes, Arjun Majumdar and Sandhya UC, who explored this trail and put it out on the map as a winter trek way back in 2010.
It's a story that is rarely told. So sit tight and read away. 🙂
"I first heard of Kedarkantha in casual conversations with our staff members.
"We have to go back 10-11 years from now, Swathi," Arjun starts. "This was when we had just started Indiahikes, it was a very young organization.
"We had just launched Rupin Pass, the story of which I told you last week. Our bonds with our staff from that region were evolving, getting stronger. Most of them were from the villages around the Sankri area.
"We would often talk to each other, about our lives and our treks as we sat around a fire with a warm cup of chai. In one of these conversations I remember the head of our staff, Rajmohan ji, telling me about this hill behind their homes.
"I remember him telling me, Sir, kabhi aa jao. Hamare ghar ke piche ek chota sa trek hai, Kedarkantha. Hum aksar hamare bhed bakria wahan le jaate hai. Kafi sundar hai, uppar ek mandir bhi hai. Chaliye, kabhi ghum aayenge."
"It was very casual, a lot like how we invite people to our homes and take them to the local malls for a visit," says Arjun.
"Later that year, when we resumed our Rupin Pass trek season, a friend of mine had a few days to kill before the trek. She and her husband wanted to see if they could do a trek before they headed to Rupin.
"At a loss for which trek to suggest — every trek that came to my mind was a long one — I recommended Kedarkantha. I really didn't think they would do the trek. But they actually went on the trek that summer and really liked it. I still remember the lovely forests and clearings in the photos they had shared. The photos of the trek stayed on my mind," says Arjun.
Listen to Arjun narrate the backstory of the Kedarkantha exploration here:
Indiahikes · The Backstory Of The Kedarkantha Winter Trek Exploration — Narrated by Arjun Majumdar
But how did Indiahikes explore Kedarkantha in winter?
"We were very idealistic back then Swathi! I am not saying we are not idealistic now, but at that time, we were caught in the fervour of bringing out great treks in our country. We had already brought out Roopkund and Rupin. And now we wanted to bring out a true winter trek in our country," resumes Arjun.
"At that time trekking was firmly associated with very high altitudes — treks that went above 14 or 15 thousand feet. And treks were largely seen as activities that you did mostly in summer, and a bit in autumn.
"Trekking in winter was not even considered a possibility in India.
"Even hill stations in India would largely be closed in winter. Only a few hotels and restaurants would be open," adds Sandhya. 
"And here we were, thinking of introducing a true winter trek in India. By a "true winter trek," we were looking for a trek where you camped in the wilderness, went from one camp to another, walked on snow and experienced a great adventure on the way," says Arjun.
Opening up a winter trek was fraught with problems
"Finding a winter trek was next to impossible. You don't get water in winter. Streams are all buried under snow, usually frozen. Even in the cities, water pipes freeze in winter. Added to that we were looking to camp in the wild, inside the mountains, at an altitude, with access to water.
"Even if we did find such a spot, we needed to find not one but three such camping spots that could be put together to form a trek.
"If that's not enough," continues Arjun, "the bigger problem is to actually form a trail on snow. When snow falls, it dumps many feet of snow. This loose powdery snow is not easy to cut through. It rises up to your waist or even your head at times.
"You can clear about 20-30 meters of such snow to form a trail, like how you shovel snow out of your sidewalk, but it is impossible to do that for many kilometers linking one camp with another," says Arjun.
"On top of this, we had to think about the winter cold. We were talking about trekkers trekking in negative temperatures, with snow all around where night temperatures would fall to around minus 10 or so," adds Sandhya.
"I tell you, being idealistic was one thing. But being mad was another!" laughs Arjun.
"Yet, we were very firm about bringing out a winter trek in India. We wanted people to experience the magic of fresh snow in winter, especially in the wilderness," he adds.
"But for the life of us, with all our experience, we could not find a trek that would suit a winter trek. We looked across the country, in Himachal Pradesh, Uttarakhand, Sikkim, West Bengal… but none suited a winter setting.
"I think we were probably trying to convert our summer or autumn treks to winter," remarks Sandhya thoughtfully. "What was required was to actually make a whole new trek for winter. This realisation brought about a big shift in thought."
How the Kedarkantha exploration finally came about
"With this in mind, I spoke to Rajmohan ji again. Somehow a wild idea had struck me. I asked Rajmohan ji if the Kedarkantha could be done in winter. To me it looked a great fit for a feasible trek in winter. It had easy access, a good climb to the summit, and very good scenery.
There were just two thoughts on my mind. Would it be possible to find camping spots, and that too at the right distance and altitude. And could we make our way in these forests in snow?
"When I sounded out my idea of trekking Kedarkantha in winter to him, he thought I was delusional! I remember him telling me that there would be snow up till our necks. "Nobody goes there in winter, not locals, not even sheep." He outright dismissed my idea", recollects Arjun.
"But the thought of Kedarkantha as a winter trek kept coming back to me. The more I thought about it, the more it looked plausible."
"I went back to Rajmohan ji with these thoughts. I asked him what if we could force a route through in this snow. We could put people and manpower behind it. We had ice axes, we had trained mountaineers who knew ice craft. We could create new campsites at shorter intervals. We could at least try.
"He looked hard and long at me. He realised I was serious. He slowly started to come around to the idea. Once he warmed up to the thought, he took it upon himself to expand it further.
"He suggested that we could think of camping at Juda Ka Talab, it had a ready water source. We could make another camp at the base of the summit, where there were some shepherd's huts. We could keep our supplies there. We would call it the KK Base.
"On our return we could camp at a clearing beside a clear stream. It was not far from Juda Ka Talab, and we could ration it from Juda-Ka-Talab itself. This would be Hargaon, our final camp on our return."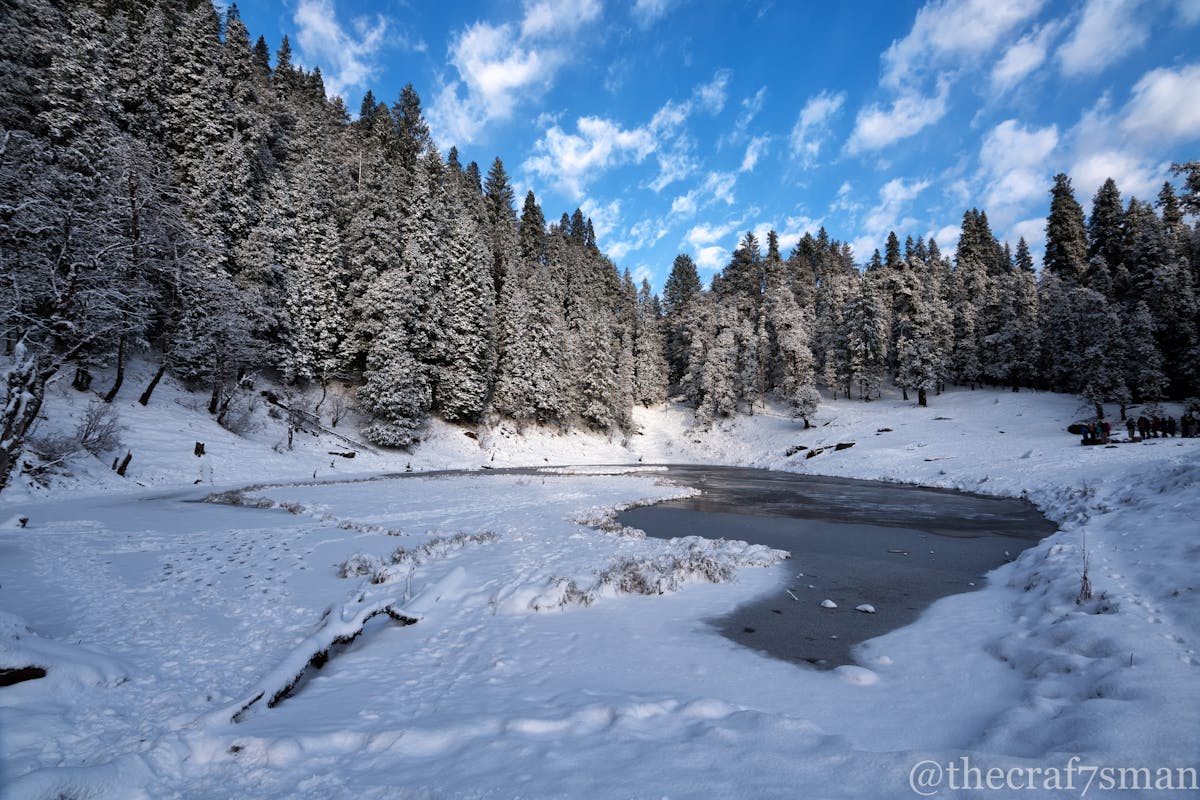 The famous Juda ka Talab on the Kedarkantha trek. Picture by Shubham Singh
"With an earnest look, he told me, Sir, aap team banao. Hum trail nikal lenge. These words gave me a lot of confidence.
"So that winter, 2010, we put up a Kedarkantha Exploratory Trek on our website," smiles Arjun.
"It still amazes me how 18 trekkers actually signed up for the exploration, by looking only at the summer photographs that my friend had lent me," recollects Arjun.
And thus, in late December 2010, a team of 18 trekkers landed in Sankri to explore a trek that nobody had done in winter.
They made their way through the thick pine forests above Sankri, pitched camps at some of the most beautiful clearings and made it all the way to the summit. A wave of emotions ran through Sandhya and Arjun when they reached the summit. For the first time, a new winter trek looked possible in India.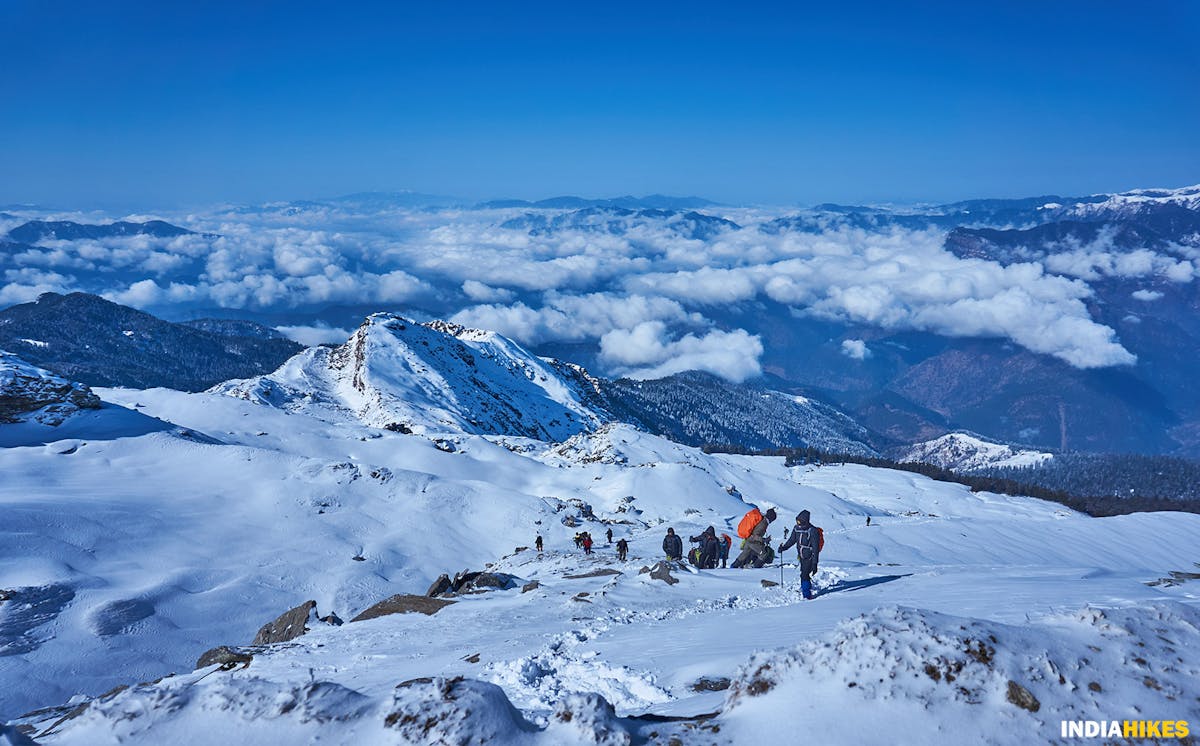 The summit climb to Kedarkantha during peak winters. Picture by Abdul Raoof
"Kedarkantha was a revelation for us. It could completely change the way our country trekked," shares Sandhya.
"On a personal note, doing this trek in winter acted as a balm to our very ravaged and troubled minds," Sandhya reminisces. "Unknown to others, except our close family members, our fledgling organisation, Indiahikes, had run into deep trouble a few months earlier.
"In the autumn of that year, unseasonal rains completely washed away our trekking season. We had made all our expenses but could not run any treks. We refunded all our trekkers' fees as well. At the end of it we had no money left in our coffers.
"One by one our initial team members left. We had to let go of the remaining as well. Finally, we were left with no one but just the two of us — Arjun and I.
"Our minds were filled with anxiety. We were on a path of setting new trekking norms in our country. Yet, we faced the grim reality of a young organisation. We had reached a stage where our very existence was in question. How do we get out of this?
"With these thoughts running at the back of our mind we explored Kedarkantha," muses Sandhya. "Our close friends and family didn't understand our logic. They wondered why we were keen to explore more treks when we were facing a bankruptcy issue.
"For us trekking was more than Indiahikes. We wanted to bring in new treks in our country. The thought consumed us. We were dreamers and we were idealistic. It went beyond conventional logic of running an organisation," says Sandhya.
How did Kedarkantha change trekking in India?
Kedarkantha brought about a dramatic shift in the perception of high altitude trekking
"With the exploration of Kedarkantha came an era where people started associating trekking with 11,000 ft – 12,000 ft treks. People realised that you don't have to climb all the way till 15,000; you could stop at 12,000 and still have a complete experience that higher altitudes would offer," she says.
This was a big change because people could get a wholesome experience with fewer days away from work, and lesser effort, but as much beauty.
"Even then, it took nearly three years for Kedarkantha to gain popularity. People were not used to the thought of being in the Himalayas in winter," shares Arjun.
"Think about it for a moment. Today Kedarkantha is the most popular winter trek in India. Perhaps even beating our summer treks in numbers. But it took over three years for it to get to people's attention. In our initial years only a handful of people would do the trek," he says.
Kedarkantha expanded the trekking season
A sport that was restricted purely to summer and autumn expanded with Kedarkantha. "Once we did the Kedarkantha trek in winter, we realised that it was a magnificent trek not only in winter, but in other seasons as well," shares Arjun.
So a sport that was restricted to just 3-4 months a year, immediately expanded to 6-7 months.
Not only did this mean more possibilities for trekkers, but it meant more regular income for the locals in the mountains as well. They could now earn three seasons of the year, instead of two. Their income was growing.
The exploration of Kedarkantha brought about a boom in the economy of Sankri, the base village
If you go to Sankri today, it has become almost unrecognizable from 10 years ago. The popularity of Kedarkantha changed the economy of Sankri completely.
It started with more organizations getting into doing the Kedarkantha trek. Soon villagers with land near Sankri started to build hotels and lodges.
But the economy grew much beyond that. Small business enterprises cropped up in the region — trek rental stores, transport businesses, homestays, cafes, and even other local trekking agencies.
On the flip side, Sankri has grown beyond its borders. Homestays have come up even a kilometer after Sankri. In the Christmas week of winter, more than 2,000 trekkers do the trek. The popular Sankri route has run out of camping grounds.
The new routes to Kedarkantha
This is why three years ago we moved away from Sankri, the eastern ridge, and started doing the Kedarkantha trek from its western ridge, the Gaichwan Gaon route. We go up the western ridge and descend down the eastern ridge, giving trekkers the best of both worlds.
"Since Kedarkantha is a standalone summit, there are multiple routes you can approach the summit from. Gaichwan Gaon is one of the prettiest routes, it has all the beauty of the Sankri trail, minus the crowd," says Arjun.
"There is a deep connection with Kedarkantha and us. We know the mountain very intimately. Which is why we were able to open up two further trails on this trek — from Kotgaon and Gaichwan gaon.
"We are very emotionally connected to Kedarkantha too. The people of this region are our family. Our relationship goes back more than 10 years. Now more than 30 or 40 people from that region work with us all through the year. Our best trek managers are from Sankri," shares Arjun.
Click here to read more about the different routes to the Kedarkantha trek.
Kedarkantha paved way for more winter treks
In 2020, as I write this, if I say "winter trek" you're not likely to think only of Kedarkantha. Brahmatal, Dayara Bugyal, Deoriatal, Mukta Top, Sandakphu and so many other treks crop up in conversations about winter treks.
"I think what Kedarkantha brought about was a different era of trekking. It made treks simpler, easier for the general populace, and yet it brought out adventure and the thrill of a summit climb.
It made us go on and explore many more treks like Kedarkantha.
In that sense, there will always be an era before Kedarkantha. And an era after Kedarkantha. It truly revolutionized trekking, especially winter trekking, in our country," concludes Arjun.
In conclusion
That was the story of the Kedarkantha trek and how it transformed trekking in our country. It is not easy for me to collect everyone's thoughts as they narrate backstories to me. There are years of stories that are difficult to pen down in one article. I hope I have done justice to them.
I hope you have liked coming along with me in these transformative trek journeys so far. Next week, we will talk about another winter trek of our country that changed the future of Indian trekking — the Chadar Frozen River trek in Ladakh.
Meanwhile, have you done the Kedarkantha trek? Did you know of this backstory when you did the trek? Drop in your thoughts in the comments box below!
Related Videos
"Kedarkantha Winter Trek"
"A Report From Kedarkantha Exploration"
"Juda Ka Talab campsite at Kedarkantha"
Sign up for our much loved Weekly Mailer
We have terrific trekking tips, trek updates and trek talks to look forward to