Rupin Pass - #2 of 9 Treks That Transformed Indian Trekking
Share this story
Last week, when I wrote about Roopkund and how it impacted Indian trekking, trekkers loved the story. Over 35,000 of them read it. They connected to almost every line of the story. Many of them wrote back to me saying they had goosebumps. 
Today, I have another magnificent story for you, about an all time favourite trek — the Rupin Pass. 
If you don't know about it, Rupin Pass is one of the most popular treks in India. Even more popular than a classic trek like Goechala. Not only trekkers from India, but trekkers from all over the world flock to Rupin Pass. It is one of the flagship treks of Indiahikes and of trekkers in our country.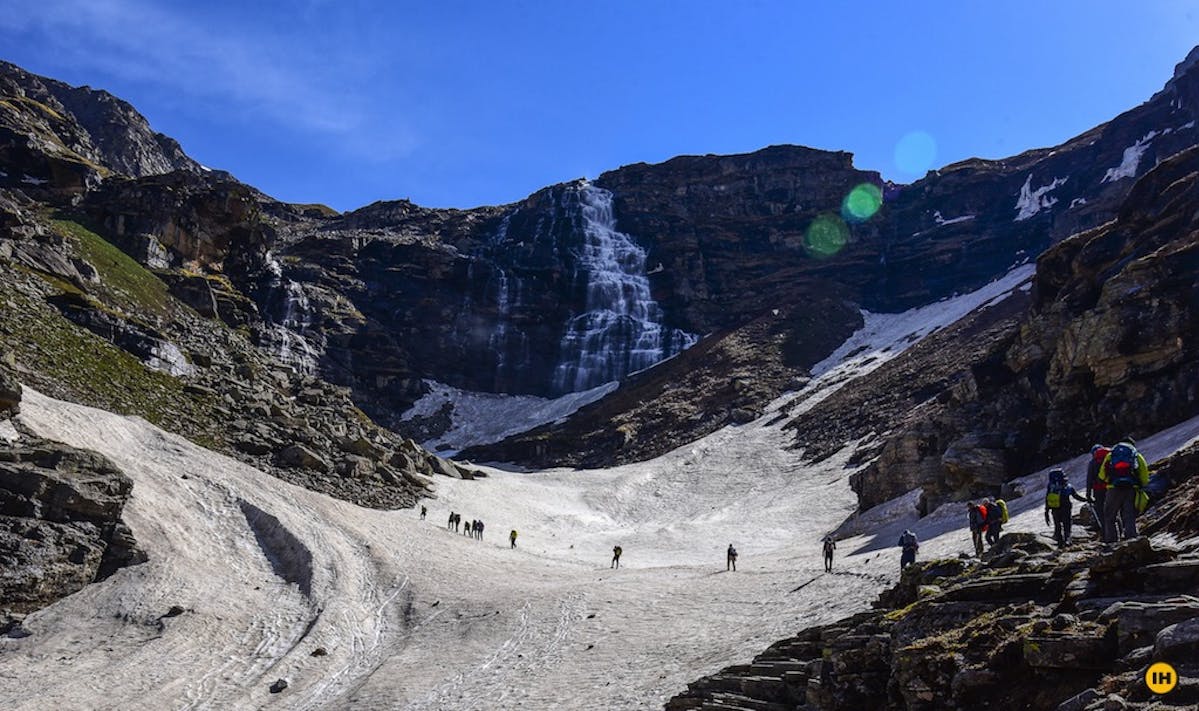 Trekkers crossing the Rupin waterfall. Picture by Vishwas Krishnamurthy
Just like last time, I'm going to assume the role of a third person and narrate the stories of Rupin Pass and how our founders, Arjun Majumdar and Sandhya UC, brought out Rupin Pass to the world. I hope I can capture their feelings in this story.

Below are the topics that will be addressed in this article -
1. What's so special about the Rupin Pass Trek?
2. The True Birth of Indiahikes
3. How Rupin Pass became as popular as it is today
4. The Birth of a Trekking Community
5. What Impact Did Rupin Pass Have On Trekking?
6. What Impact Did Rupin Pass Have On Indiahikes?
Sit tight and read away! 🙂
What's so special about the Rupin Pass Trek?
"If you ask me Rupin Pass would easily be in my top 3 treks to do in our country. It is hard to find a trek that has superb scenic beauty, great adventure, the thrill of an expedition and a deep rooted culture experience, all in one trek," Arjun tells me quietly, almost like revealing a secret.    
"Even though I have done this trek a couple of times, I am still taken in by the scenic surprises it throws up. For a long time it was my most favourite trek," observes Sandhya. 
View Rupin Pass Trek
The Rupin Pass story begins in 2008, interestingly, much before Roopkund happened, much before Indiahikes was born…
"Rupin Pass was an absolutely unknown trek in our country. If very few had heard of Roopkund, then almost no one had heard of Rupin Pass," starts Arjun, as I sit to dig out the history of this famous trek. 
"When I did the Rupin Pass trek in 2008, it was not the trek that we had originally started out to do," reveals Arjun. And just with his first line, I am hooked.
"You may not know this, but we had set out to explore a completely different trek. It was the Barua Pass.
"At that time, it was not easy to set up a trek. Hardly a handful had done these treks in our country, information was sketchy. There were no phone connections in the interiors of the Himalayas. Yet, we had heard that the Barua Pass was a splendid trek to do. 
"We were struggling to set up the Barua Pass trek. Our local contacts in the region were difficult to get in touch with. Finally, in the last few weeks of heading towards the trek, we pulled out of Barua Pass, and focused our energies on our next option, the Rupin Pass," reveals Arjun.
I must reveal something to you here. Barua Pass is nothing but the now popular Buran Ghati trek! I'll cover that in another story.
Read the story on Buran Ghati Trek
"But Rupin Pass was not easy to set up in such short notice. When we arrived at Naitwar village, our original local contact person was nowhere to be seen. In his place was a person who claimed he had done the Rupin Pass — yet seemed very hazy about it. With light fading fast and not too many options, we quickly rounded up a few folks as porters for the trek, and hurried towards Dhaula, the starting point of the Rupin Pass trek," says Arjun. 
As he narrates this, I can picture a motley team of 5-6 trekkers, porters and helpers headed into dense jungles, where Dhaula sits. 
"The entire trek was fraught with surprises — some not very happy ones and not the scenic types. Our porters refused to work, our local guide hardly knew what to do. At one point, we almost came to the verge of abandoning the trek," Arjun continues.
"But we eventually got to climbing the waterfall, heading over to the vast snowfields, cutting steps with our ice axes below the pass, and then making our way through the Rupin gully to the pass. These were moments of pure adrenaline.
"It was one of the most exhilarating treks we had done!"
"In those days, we didn't use microspikes. It was just our trekking boots. People wonder how we did treks then. But that's how it was. You worked with what you had," chips in Sandhya.
The True Birth of Indiahikes
"After returning from Rupin Pass, and enduring the kind of problems that we did on the trek — the lack of dependable people, the need for good trekking gear, the big void of information — I was more than ever determined to solve them. I didn't think trekking could ever evolve in our country if everyone faced such big challenges of people, equipment, and information to mount a trek. 
"While everyone knows Roopkund is the trek that started Indiahikes, you could say, the thought to finally launch Indiahikes was firmed up after I got back from Rupin," Arjun surmises.
How Rupin Pass became as popular as it is today 
I don't know if you know, but Rupin Pass is one of our most popular treks. And this was thanks to a brave step that Arjun and Sandhya took in the very first season of organising the trek. But there was a terrible twist when the second season began. Let's hear that story.
"Even as I was running the first group of Roopkund trekkers in 2009, I remember trekkers in the group were already quizzing me about what could be their next trek. I was still fresh from my Rupin adventure, and I found myself narrating stories about Rupin to them," shares Arjun.
"Trekkers were already excited about the trek, before we even opened it up.
"Most of them had already done Roopkund with us. Rupin Pass was the next obvious answer. For one, they were not aware of other treks. But more importantly, there was a new movement that was happening around Indiahikes."
The Birth of a Trekking Community
"When we started Indiahikes, we didn't see ourselves as a trekking organization. We saw ourselves as members of a new trekking community. We saw our trekkers as an extension of us. We never spoke to our trekkers like clients or customers. We were trekkers and so were they," says Sandhya. 
"The stories we shared or the advice we gave came from the feeling of a community. We were trying to build a trekking community — with a new breed of modern trekkers. They were new to trekking but with a very global outlook. 
"Our trekkers loved being part of this community. They would enthusiastically rally around us. Long after the trek would be over, they would call us or email us with suggestions, advice, or even take up roles of coordinators. They would scold us, prod us but always be with us.
"When we wanted to start the Rupin Pass trek, we were very confident that our community would be itching to do the trek. They were already asking for it," she adds.   
But to run the Rupin Pass trek like Roopkund, Arjun and Sandhya faced a big problem. 
"We just didn't know how to set it up," recollects Arjun. "Logistically, it was far more difficult than Roopkund. It didn't start and end at the same place. It crossed two different states. We had poor local connections. The trek was far more remote than Roopkund. And it had to be totally done with the help of porters. Mules didn't go on the trek.
"We spent considerable time setting up the Rupin Pass trek for the summer of 2010," remembers Sandhya. "The whole trek depended on getting the backend right, especially the men behind the scenes. I remember having multiple talks with many of our mountain folks to see who we felt most comfortable to take on the challenge." 
"What everyone was wary about is that we were talking about a scale that was unprecedented," reveals Arjun. "We wanted to launch 4 batches right away in a season, each batch going back to back on the trek." 
"At that time no one in India had ever imagined that a trekking organisation would have multiple groups on the same trek, one after another. It was strange and unbelievable to them. They were more used to trekkers coming in small groups, usually foreigners," quips Arjun. 
"Yet, here I was talking to them about multiple groups for our first season when they had not even seen a single trekker from us on that slope. The whole idea seemed outlandish! They were excited but skeptical. 
"Eventually we launched Rupin Pass for June of 2010 with 4 batches right away. It was unprecedented in Indian trekking!
"That summer all 4 batches ran full. Trekkers went ga-ga over the trek! They loved it!" he smiles.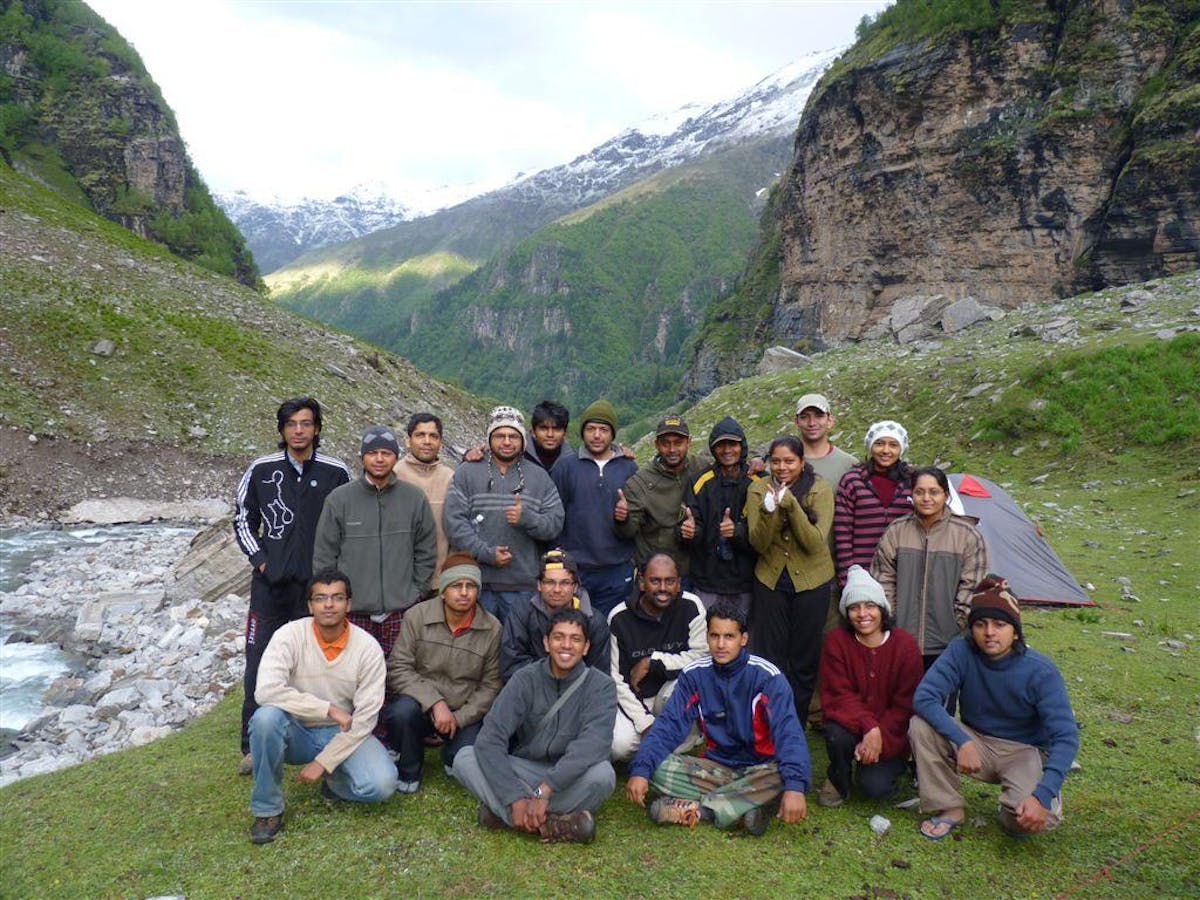 The second Indiahikes batch of Rupin Pass on the trek. You can see our co-founder Sandhya in the red sweater.
But everything was not rosy with Rupin Pass
"In the next season, the autumn of Sep-Oct 2010, the worst thing that could happen to an organisation happened. We got smashed by unseasonal rains. All our treks had to be cancelled. We refunded all our trekkers. All our expenses on the slopes were made. At the end of it, we were left with no money in the bank," recollects Sandhya.
"Trekkers returned mid-way from the trek, battered by the rains. They were mentally and physically drained. They were not in a happy mood. The community feeling that had built up so far started to crumble," she adds.
"At the end of it we wondered if Rupin would have a future. Yes, deep down we had the confidence in the trek. But I'll be frank. Our confidence was badly shaken. We were truly down and out, with no one by our side and no money, we wondered if we could carry on as an organisation. 
"But we did stay stoic and pulled ourselves out of the crisis. That's another story for a different day," Arjun says.
What Impact Did Rupin Pass Have On Trekking?
Rupin Pass was a very big milestone for Indian trekking. For the first time people were experiencing the adventure of high altitude pass crossing. They were seeing sights and scenery that was assumed as reserved for veteran mountaineers. 
It was a new generation of trekkers. These were not seasoned trekkers who had done multiple treks before. In fact most were new to trekking. Rupin Pass signalled the start of modern high altitude thrill trekking in India. 
Today trekkers are easily venturing on treks like the Pin Bhaba, Buran Ghati, Hampta Pass. The confidence of doing these high altitude treks came from the Rupin Pass. A generation of trekkers have passed on a love and thrill of high altitude trekking to another generation after doing the Rupin Pass trek. The second generation is doing these treks quite unaware of how impactful Rupin was to make high altitude treks a very doable possibility.
What Impact Did Rupin Pass Have On Indiahikes?
"I think Rupin Pass made us take safety on treks more seriously," shares Sandhya. "While Roopkund made us think about the perils of altitude sickness, it was Rupin Pass that made us think about slipping and falling on snow.
"Very early in the initial days of starting the Rupin Pass trek, we had a nasty accident on the trek. A trekker following a shepherd slipped on ice and hurtled down a snow bridge. It was in the middle of the Rupin waterfall. Luck was on his side, because he got stuck in a gaping hole in the ice bridge close to the edges. A few feet this side or that, he would have slid into the Rupin. He was concussed badly and had to be evacuated immediately," she recollects. She was on this team, and personally evacuated the trekker.
"That incident compelled us to see ice slips differently. It was the precursor to our eventual introduction of microspikes in Indian trekking," she adds.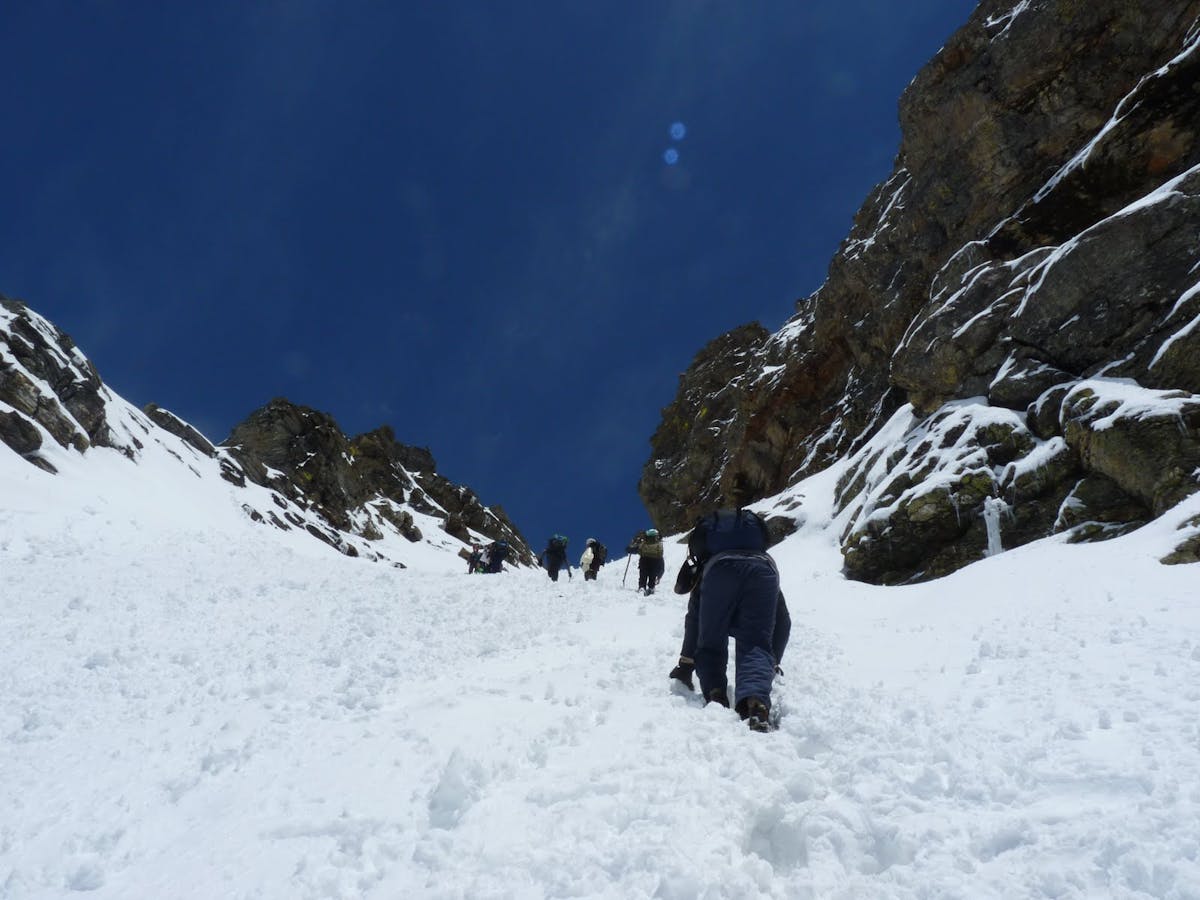 When the first few teams went to Rupin Pass they did it without any safety gear. So climbing on snow was a lot more difficult. Picture by Sandeep Janardan
But Rupin opened their eyes to other safety issues as well. 
"At the Rupin gully, stones would continuously pelt down the chute. The stones would fall from a great height. They were not big stones or boulders, more like small pellets. But even a small stone was like a potential bullet. In small groups this was fine, we could dodge these missiles. But in a larger group these could be disastrous," says Arjun.
"On the other side of the pass, trekkers were gleefully sliding down the pass. These were long slides on snows, with trekkers picking up incredible speed as they hurtled down the slope. While they were whooping with fun and laughter, it made us go cold from within. A small bad bounce or turn could turn very ugly.  
"The continuous pelting of stones down the Rupin Pass gully made us introduce helmets in Indian trekking in 2012. I remember our staff looking at them in disbelief. They were incredulous. Their question was, are you serious about carrying helmets all the way from the base camp, over 4 days, over snow, using a lot of manpower for a 20-25 minute section of the trek?
"But we were very sure we wanted helmets. It was a nightmare to transport 15-20 helmets up to 15,000 feet, with such minimal resources, but we did. It was a very big safety step. It showed people how we would go totally out of our way to ensure safety.
"Funnily, the stone pelting reduced sharply after the first two years, and we stopped carrying these helmets on the trek. I hear the stones have started coming down again, so the next time we run Rupin, we will probably bring back the helmets..
"People often ask us how we became India's safest trekking organisation. Well, the seeds were sown in all of these early experiences. It is a safety-building journey of many years," Arjun says.      
Read how Indiahikes is making your trek safe
On a personal level
"Personally, Sandhya and I were buoyed by the thought that an unknown, obscure trek in a very remote corner of our country could find ready acceptance among our trekkers. It gave us hope to do more explorations and to bring out more such treks in our country," muses Arjun. 
"Look, we knew Rupin was a superb trek. We had done it ourselves. But that didn't mean that the world had to see the trek the way we did. So when trekkers loved the trek, it was very gratifying that we could bring out treks that trekkers would eventually love."
You'll be surprised,  but doing the Rupin Pass trek, gave Sandhya the much required confidence to go on some more great explorations the same year. They did the Hampta Pass trek (which is another story to be told sometime), the Kugti Pass trek (which they never launched) and the famous Kedarkantha trek (I'll share this story in my next email!).
Interestingly, for 3 years, it was only Indiahikes who ran the Rupin pass trek. No one else.
"As I had mentioned earlier Rupin Pass is a logistical nightmare. For other trek organisations it was not an easy trek to mount," shares Sandhya.
"In these 3 years, we established our network and a basecamp at Sankri, a village close to where the Rupin starts. We also launched the first true winter trek in India, the Kedarkantha, out of Sankri. Together with Rupin and Kedarkantha, a trekking ecosystem started to form out of Sankri," she concludes.
Today Rupin Pass is one of India's favourite treks. But it all started with the first exploration of the trek in the summer of 2008. It is now 12 years since. The trek still holds the same charm as it did then. 🙂
Did you ever imagine that the much loved Rupin Pass was brought out in Indian trekking this way? Share your thoughts in our comments below.
Rupin Pass Trek Trail and Location
View Rupin Pass Trek
Related Videos
"What makes Rupin Pass such a grand adventure for trekkers?"
Sign up for our much loved Weekly Mailer
We have terrific trekking tips, trek updates and trek talks to look forward to