Why Using Two Trekking Poles Is Essential On Himalayan Treks
Share this story
Today I'm talking about using trekking poles — not just one, but two trekking poles.
For a long time, we have all used single trekking poles on our treks.
Those of us who have used it, know of its benefits — it saves nearly 40% of our energy, it gives us the much-required agility while ascending, and life-saving balance and support while descending. It also acts as a third leg, so we have that much more energy and speed.
But of late, we have been noticing the wonderful uses of two trekking poles.
"It is a lot more comfortable than using one trekking pole. It's especially helpful while ascending steep slopes," says Geet Tryambake, who used to be a Senior Trek Leader with us. He would always use two trekking poles.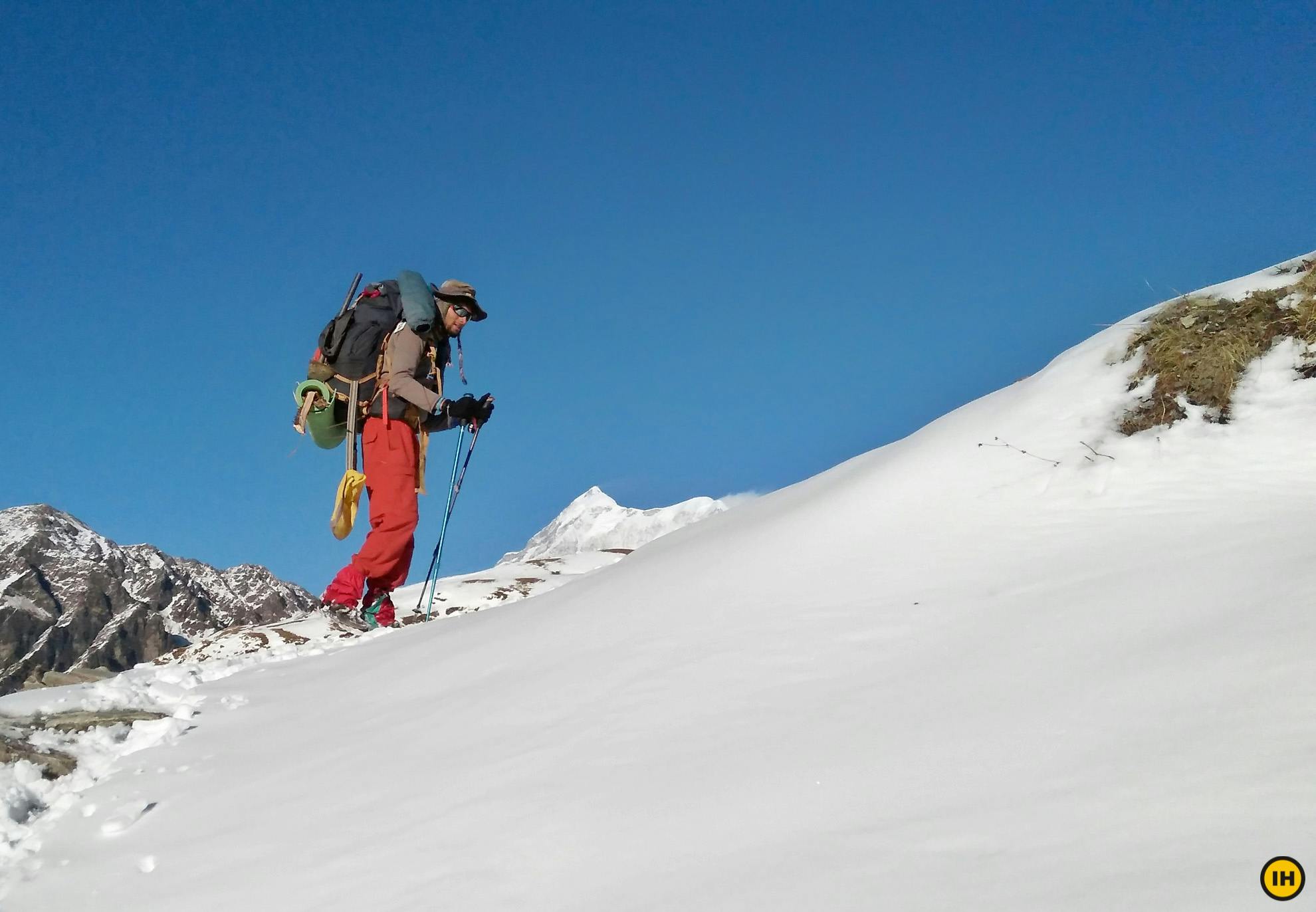 I do understand that this is not an idea that many people open up to instantly. Even if they are already using one trekking pole.
Isn't it cumbersome? Your hands won't be free for anything else. What about stretches where I have to clamber up boulders?
Honestly, I had these issues on my mind too. I was quite stubborn about accepting the idea of two trekking poles.
So as an experiment, our founders used two trekking poles on their recent trek to Har Ki Dun and Ruinsara TalHar Ki Dun and Ruinsara Tal.
This was the first time they were both using two trekking poles.
It was interesting because Arjun, our founder, was all for two trekking poles. And Sandhya, our co-founder, had her reservations about it. (And she's super hard to debate!)
So one of the first questions I asked them when they came back was whether they liked the experience of using two poles. Here's what they said.
The pros of two trekking poles
"It takes time getting used to. I took almost an entire day to get used to walking with two poles and coordinating my steps. But once I got used to it, it greatly helped me on the trek. It actually makes your trek a lot more comfortable. After a while, I found it uncomfortable to use just one pole," says Sandhya.
Both of them did some speed trekking, covering nearly 20 km a day, and the trekking poles came in handy.
"I noticed that we could walk casually, without much effort, making conversation, and we were covering long distances very quickly," says Arjun. "We hardly realised that we were trekking 20 km a day. I also noticed that we were very quick compared to other trekkers on the trail," he adds.
Greater stability and balance. "A trek pole is meant to add more stability and balance. On this trail there were many rough sections that required us to be nimble. We had to get over them quickly. With two trek poles these sections were a breeze. We could navigate lot more efficiently." says Arjun. "I realised much later how much more efficient these were over a single trek pole. Not little, but considerably more efficient," continues Arjun.
Another big plus point is the reduced impact on your knee. "We had a long descent to cover on the last day. In hindsight, I don't think I could have done it without the two trekking poles. Even one trekking pole would have been insufficient. We ended the trek with no knee pain, no sore legs, and well in time," says Sandhya.
And all trekkers who have used two trekking poles seem to agree. Take a look at this conversation on our Trekkers Hangout Page for instance. (Click here to read the whole conversation.)
But what about using a camera or covering tricky sections where you must use your hands?
"To click pictures, I just keep the poles aside and click them. Or I keep them against my body and take pictures," says Geet, who is also an avid photographer.
The cons of two trekking poles
About tricky sections, "There were sections when we carry two in a hand, especially when the trail was too narrow, or beside the river. But for the benefits that come with two trekking poles, I wouldn't think too much about these small issues," says Sandhya.
This is a little funny, but I thought I'd throw it in anyway. "Another small issue we faced was having our hands sunburnt! This was the last thing we expected and we didn't realise this until we came back from the trek. The area exposed to the sun while holding the trekking pole got completely sunburnt," says Arjun with a laugh.
Take a look.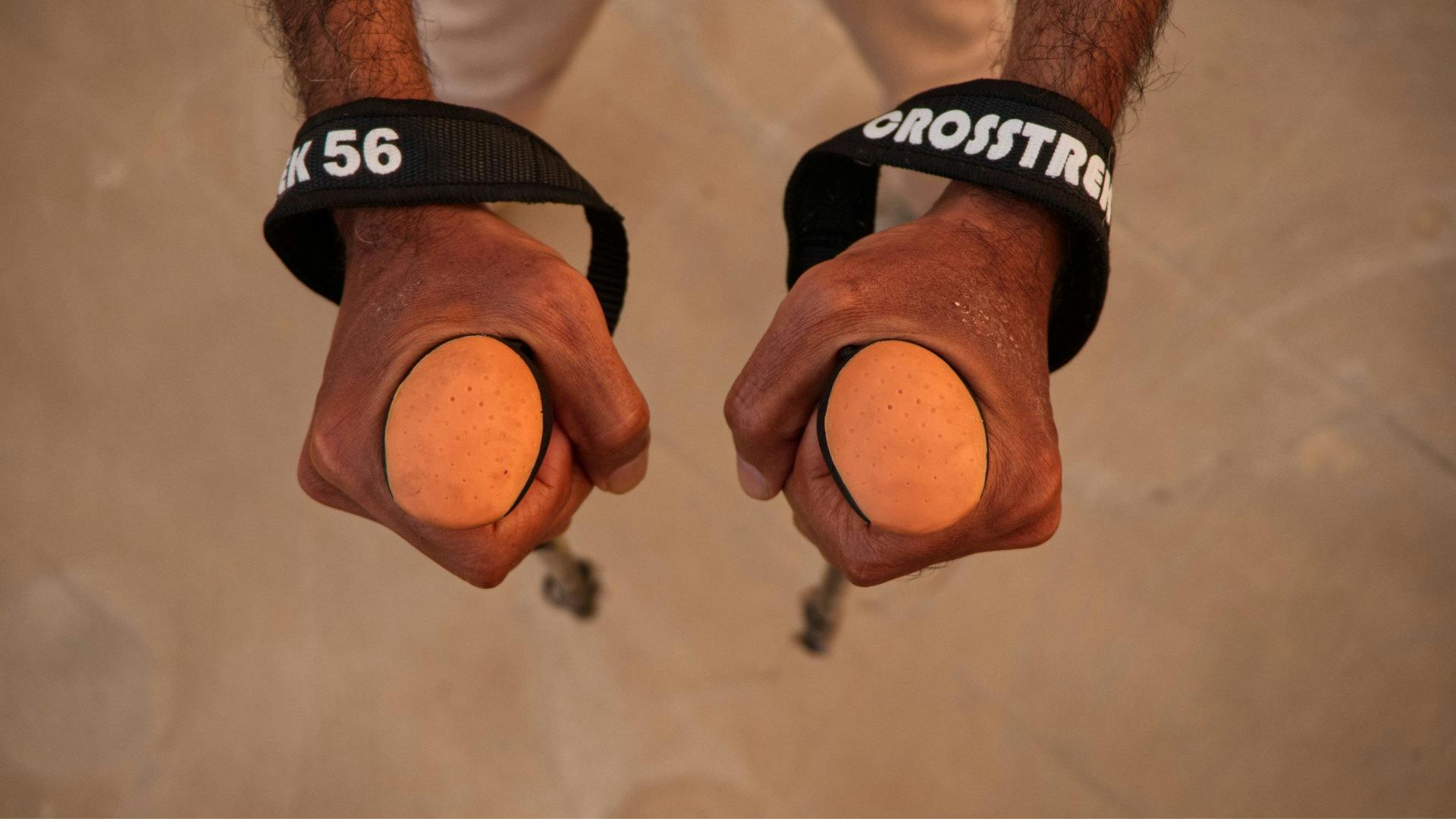 Arjun should have put on some sunscreen to his hands. A lesson well learnt.
What do you think?
So those are some learnings I've had about trekking poles. I don't think I'll go with just one pole the next time. In fact, we are even planning to rent out trekking poles in pairs to our trekkers.
Anything to make trekking more efficient. 🙂
If you have any other thoughts, or counter-points, I'd love to hear you out! Drop in a comment below.
Meanwhile, we have some good videos on trekking poles on our Youtube channel.
Just click on the title you'd like to watch below.
I'll leave you with that for now!
Sign up for our much loved Weekly Mailer
We have terrific trekking tips, trek updates and trek talks to look forward to