Ultimate Guide To Healthy And Zero-Waste Snacks For A Trek (With 13 Ma...
Share this story
Ultimate Guide To Healthy And Zero-Waste Snacks For A Trek (With 13 Make-At-Home Recipes)
Category
We've often noticed that before setting out for a trek, a lot of trekkers stock up on snacks to munch on. These include chips, biscuits, protein bars, chocolates and several other things. All of these come packaged in plastics and foils that are not biodegradable.
Our waste audits from the mountain slopes tell us that around 78% of the inorganic waste we collect from the mountains are wrappers and covers of packaged food items, with Maggi packets topping the chart. And the number is only rising.
It's imperative that as trekkers we try to minimise our waste. 
In this post, we're sharing some wonderful tips and recipes for you to completely cut down your waste and become a zero waste snacker. 
3 Tips To Become a Healthy Zero-Waste Snacker
1. Avoid unhealthy snacks that come in plastic packaging
Protein bars, chocolates, chips, dried fruit, and nuts packets – these are snacks most trekkers carry on a trek. There are 2 problems with this: one, they are unhealthy for you. Your body will quickly tire out with these snacks. Two, all these snacks come packaged in plastic. You don't have dustbins and recycling options on a trekking trail in the wilderness.
So do not buy these snacks on your shopping spree before a trek. Instead, you can go for healthier alternatives.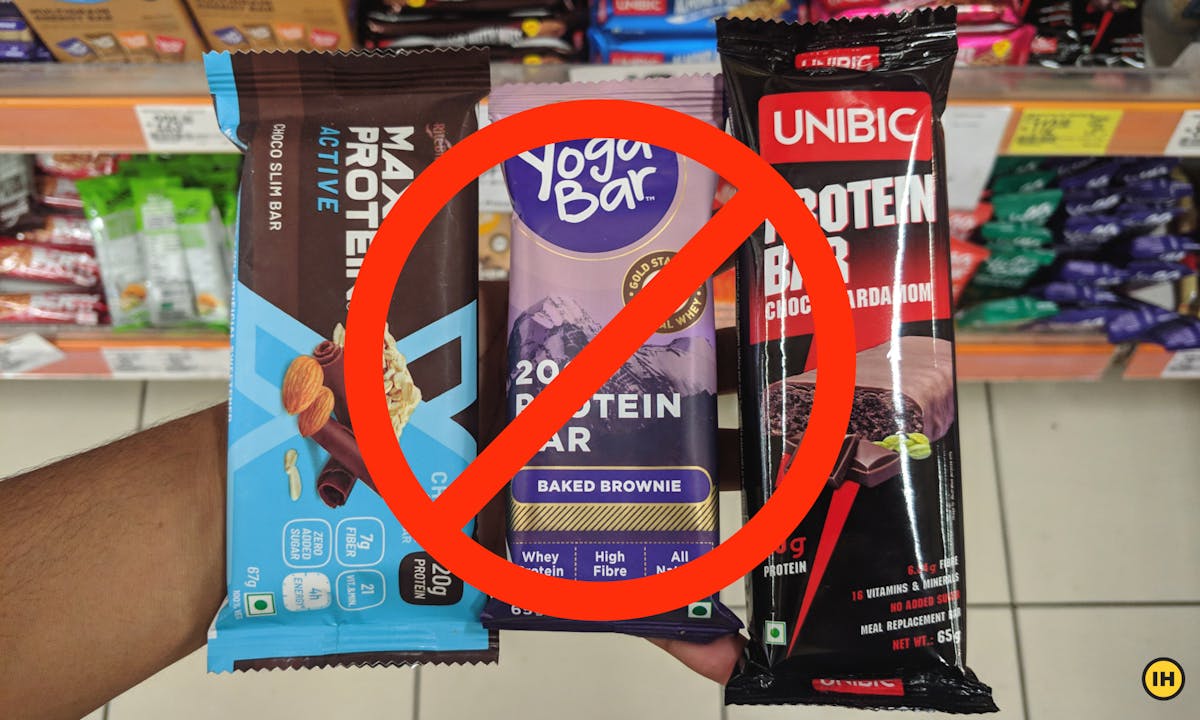 Packaged snacks contribute to over 78% of waste on the mountains. Do not carry packaged snacks on a trek.  Picture by Ryan Venattu
2. Opt for snacks that you can buy in bulk
Go for healthy snacks that give you lasting energy, instead of quick-fix sugar that gives you temporary energy. These will be cheaper than packaged items, and healthier as well.
Some healthier alternatives that you can buy in bulk: dry fruits and nuts – like almonds, cashews, raisins, dry figs, channa, roasted moong dal. These give you energy, generate body heat, contain good fat, high fibre and complex sugar.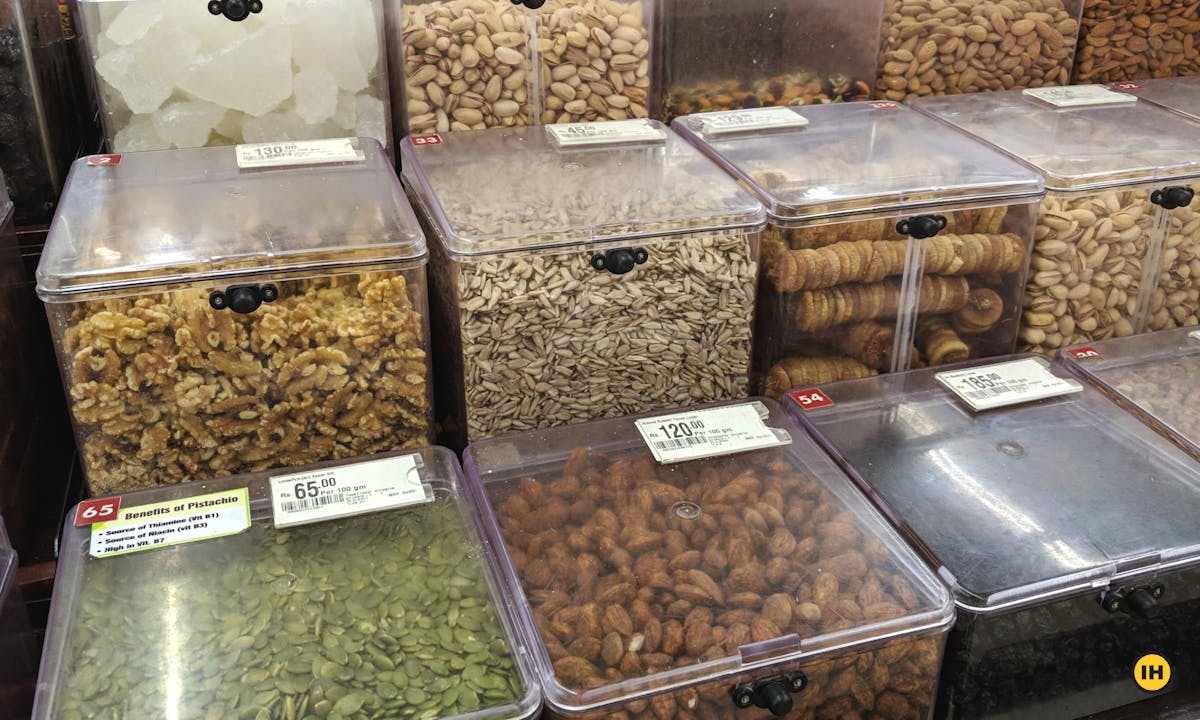 Dry fruits make for a healthy snack. Buy them loose at a market to avoid any sort of packaging. Picture by Ryan Venattu
3. Carry cloth bags and reusable boxes to the shop
Don't forget to take a cloth bag when you go shopping. Carry your own container for the items you are going to purchase to avoid packing food in plastic packets. Find a shop near your home that sells food in bulk.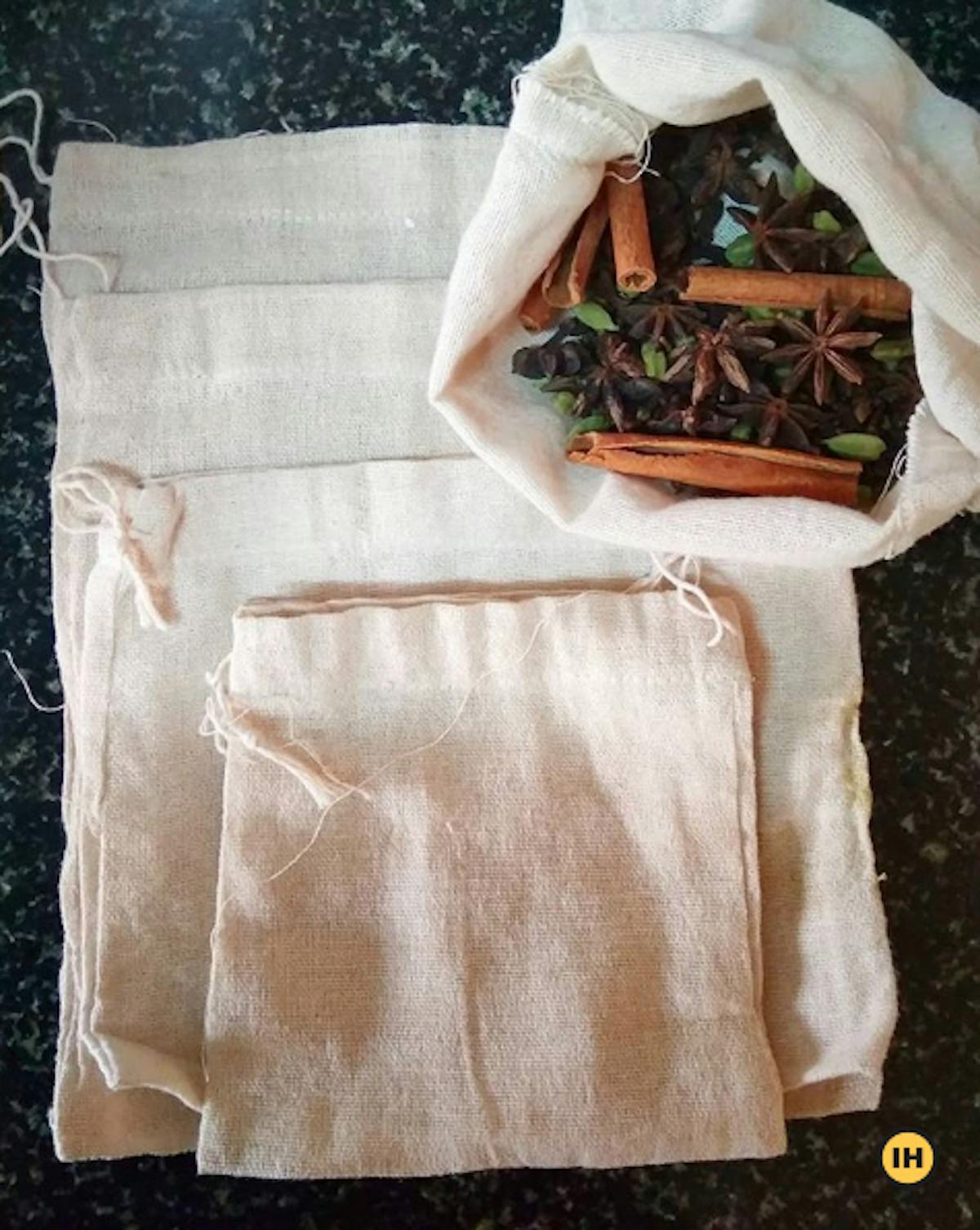 Always carry cloth bags with you. You never know when they might come handy. Picture by Lakshmi Selvakumaran
What to Eat While on a High-Altitude Trek
There are a lot of trekkers' snacks we love and recommend for high altitude treks. Here's what most of us carry when we go on a trek:
Fresh fruits
Dry fruits like raisins, dried figs, dried apricots
Nuts like almonds, cashews, walnuts, groundnuts
Seeds like sunflower seeds, pumpkin seeds
Dates
Chikki
Jaggery for an energy boost
Sesame seed-based food
Roasted chana
You can munch on fruits while travelling to the base camp. For instant energy while trekking, dried fruits, seeds, and nuts are the best option. As the temperature dips, you can eat dates and sesame seed-based food. If you are someone who craves sweet food, you can carry jaggery and chikki.
You can also make your own snacks like Shakkarpara. They are filling, easily last for weeks, and contain carbohydrates. You can make it salty or sweet as per your liking. 
Let's discuss other such snacks you can make using the above listed ingredients. 
Homemade Snack Recipes for a Trek
While it may be tempting to go for store bought protein bars and other similar snacks, as mentioned above, most are high in sugar. What we need are snack items which will give us lasting energy throughout and after the trek. 
Let's first tackle an important question:
Why do you need high protein snacks for trekking?
Our bodies rely heavily on carbs as fuel when trekking. Eventually, however, once all glucose stores have been depleted, we use stored fat or muscle for energy. For short hikes, this is not a problem. During a long trek, we end up burning muscle, resulting in muscle loss or weight loss afterwards. A protein-rich diet will not only help you maintain muscle mass, but will also help you regain muscle post trek.
The absorption of sugar in the blood is slower when carbs and protein are consumed together. Additionally, by adding protein to your snack, you will feel more full. The calorie content of carbs and protein is the same (4 calories/g) but remember: protein has a higher satiety level.
Now let's take a look at some of the best protein-rich snacks which also taste great!
5 No-Prep Or Low-Prep Snacks
Trying to prepare a high protein diet with little time is always a challenge. But don't fret, here are the top five go-to quick and easy snacks that are also super healthy!
Peanut butter with dates
If you have a sweet tooth, this is for you! Peanut butter stuffed dates are a super delicious dessert or snack.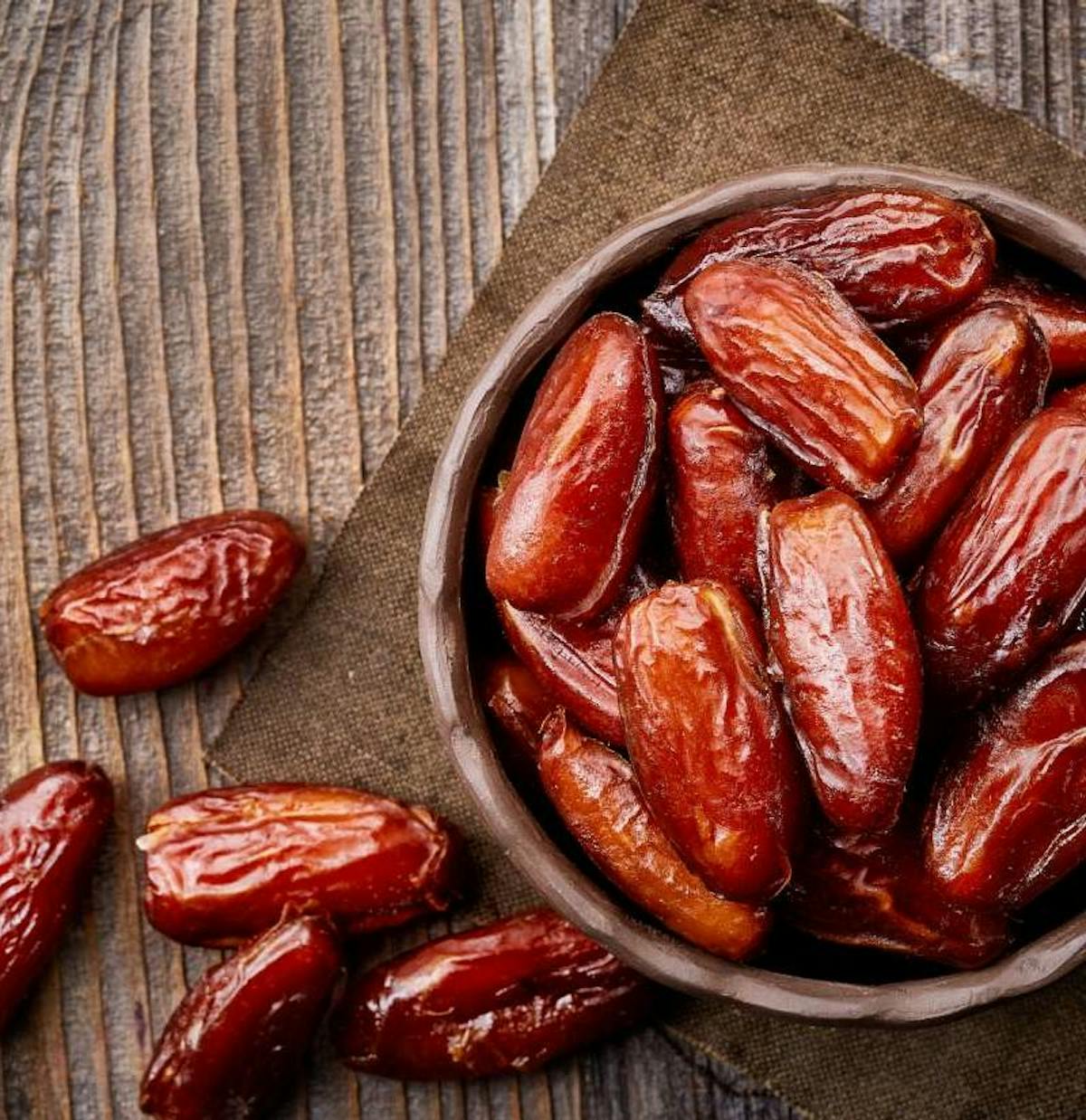 Dates in themselves are a good source of nutrition. But paired with peanut butter, they become a highly healthy and tasty trek snack. Picture credits - Wikimedia Commons.
Recipe: Make a slit for dates and remove seeds if there are any. Add one teaspoon of peanut butter inside that space and your stuffed dates are ready to go! You can even pack them separately if you are like me :P
Nutrition (1 stuffed date)
Calories: 140
Protein 5gm
Carbs 20gm
Fat 4.5gm
2.  Almond butter with banana or apple
        A snack rich in protein, essential fatty acids, and fiber. You can buy almond butter in glass jars from any store or if you are feeling adventurous, you can make your own almond butter.
Nutrition (1 serving=1/2 banana, 1/2 tbsp butter)
Calories : 110
Protein 3gm
Carbs 14gm
Fat 4.5gm
4. Roasted chana or moong dal
         Chana or moong is an amazing source of protein, fiber, fatty acids and packed with minerals. It's low in fat and densely packed with energy to keep your blood sugar levels stable. You can dry roast them with skin on a slow flame until they are crisp. You can also buy them at the market at wholesale price. I like to add some spices to enhance the taste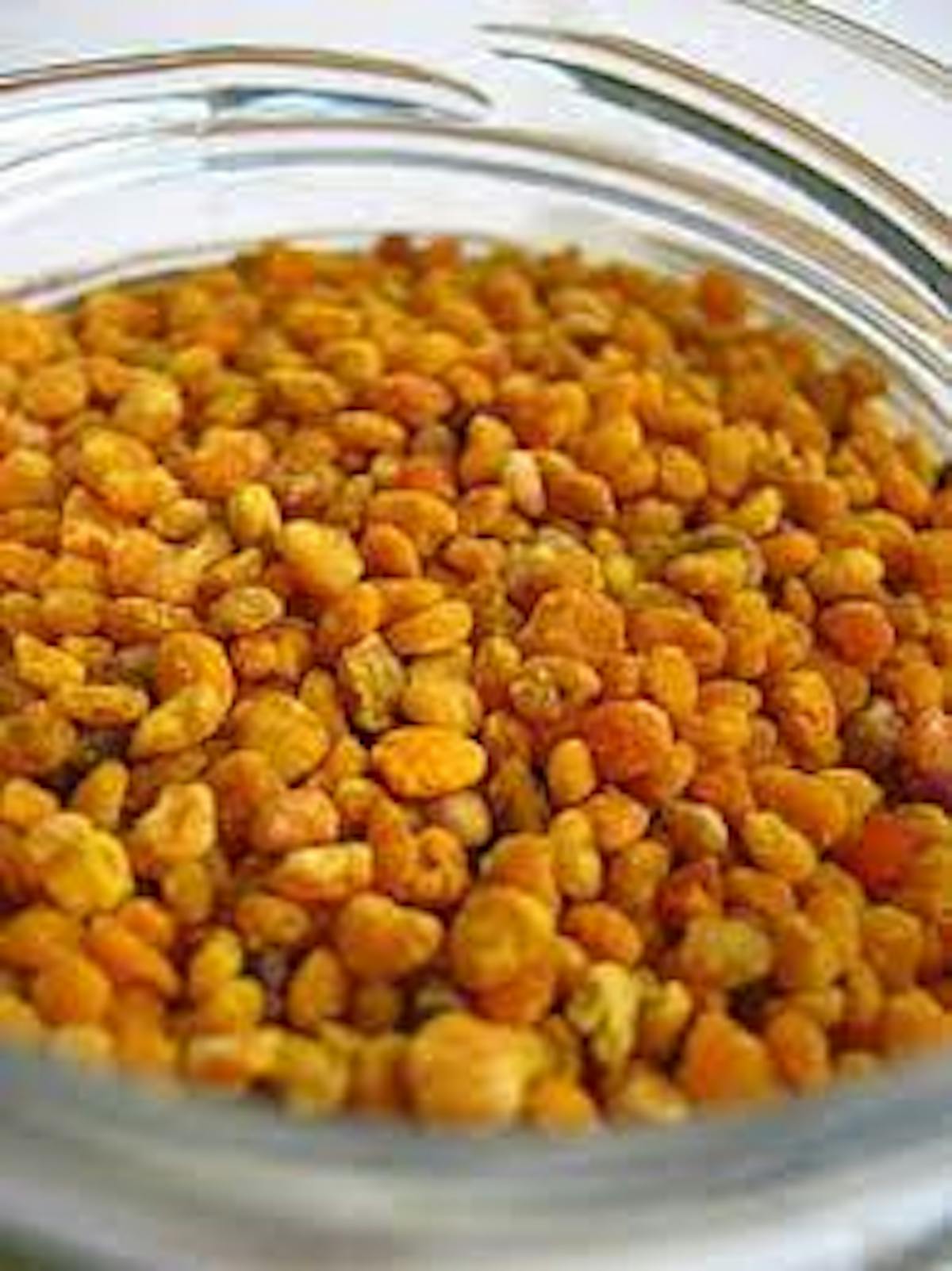 Another simple yet protein rich snack is roasted chana or moong dal.
Nutrition (1 serving=50gm)
Calories : 175
Protein 10gm
Carbs 30gm
Fat 3.2gm
5. Roasted chivda with peanuts
       This is a delicious mixture of poha, chana dal and peanuts. This mixture is completely sugar free and high in protein, making it an ideal snack before or after your meals. Take quantities of poha, chana dal and peanuts in equal ratios, dry roast them on slow flame until they are crisp. Add salt and chilli to spice it up!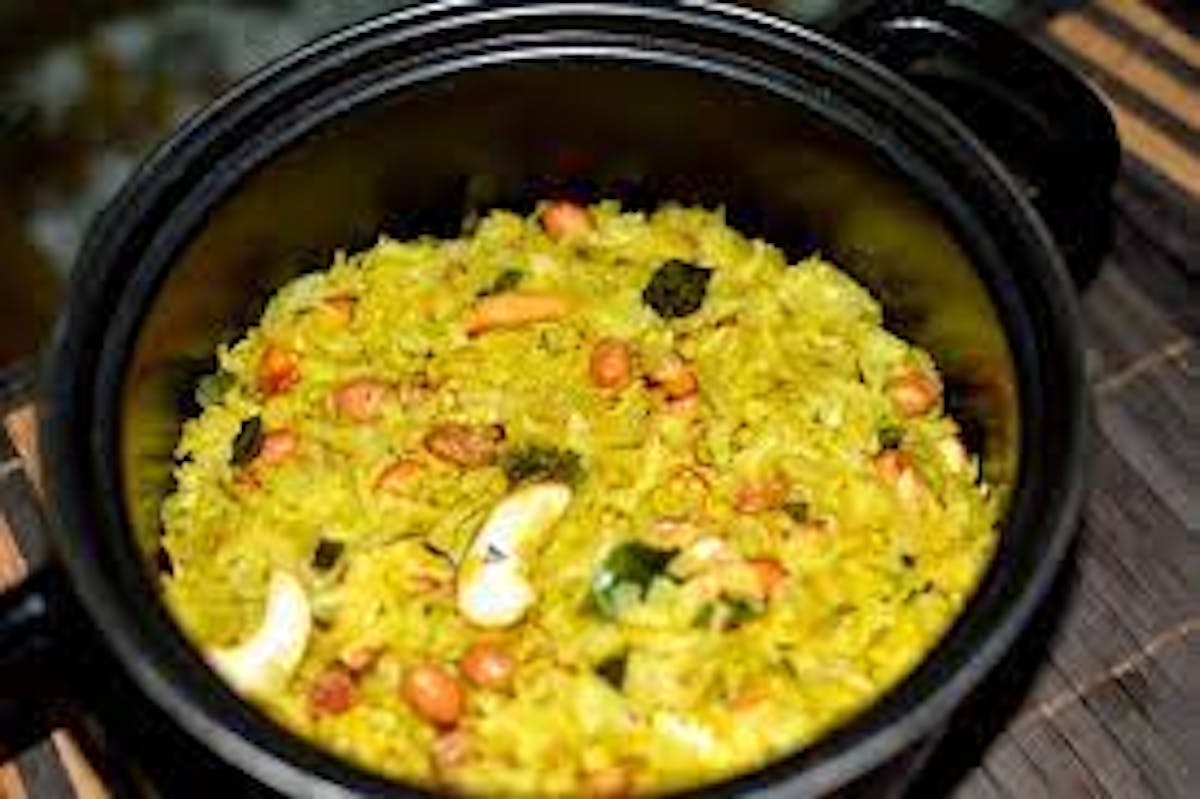 High in protein and without any sugar - this is another perfect trek snack.
8 Prep Ahead Snacks
If you don't mind spending 15-20 minutes in the kitchen, here are a few snacks you can try. These snacks are available in some stores as well. Be careful not to buy packaged ones, because those are packed with high sugars.
Homemade granola
Do you love eating cereal with milk? Try this chocolate granola recipe to balance your morning cravings!
Ingredients
4 cups rolled oats
1/2 cup mixed berries (optional)
1/3 cup 100% cocoa powder
1/2 mixed seeds (almonds, cashews, pistachios etc.)
1 tbsp cinnamon
1/2 tap Himalayan salt
1/2 cup maple syrup
1/2 cup ghee or coconut oil
2 tsp vanilla extract or vanilla protein powder
Recipe
First, add all dry ingredients and mix them well in a bowl.
Then add all wet ingredients and mix everything until you get a good consistent mixture
Preheat oven to 180degrees and bake for 20-30min
Nutrition (per 100gm)
Calories: 430
Protein: 12gm
Carbs: 72gm
Fats: 11gm
Chocolate protein muffins
Who doesn't like muffins! In spite of tasting like bakery cookies, these are super healthy as a snack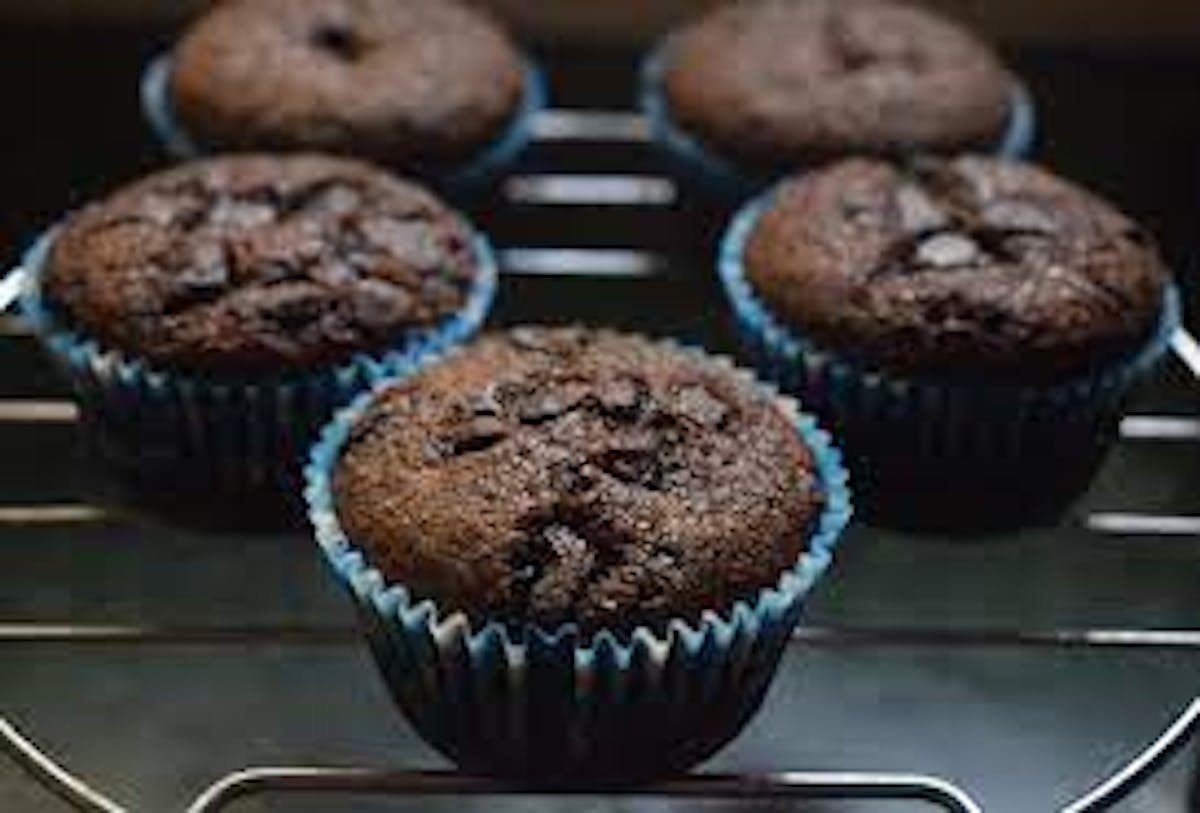 Extremely nutritious, all the while tasting like bakery bought products.
Ingredients
1 mashed banana
1 cup oat flour
1/2 scoop vanilla protein powder
1.5 tbsp cocoa
2 tbsp honey
2 tsp ghee
1/2 tsp baking soda
1 egg
1/4 cup almond milk
Pinch of salt
Recipe
Blend all ingredients until you get a creamy texture. Top with almonds and choco chips
Bake at 180C/350F for 10-15min
Enjoy the treat 😊🤍
Nutrition (1 muffin)
Calories: 125
Protein: 6gm
Carbs: 18.5gm
Fats: 3.5gm
Almond flour cookies
These cookies are highly nutritious and a perfect option for a healthy snack. These cookies are not only rich in protein but also high in magnesium, fiber and vitamin E. I love to pair them with a cup of chai. The dough takes barely 5 min to prepare and 10 min to cook. Try them out!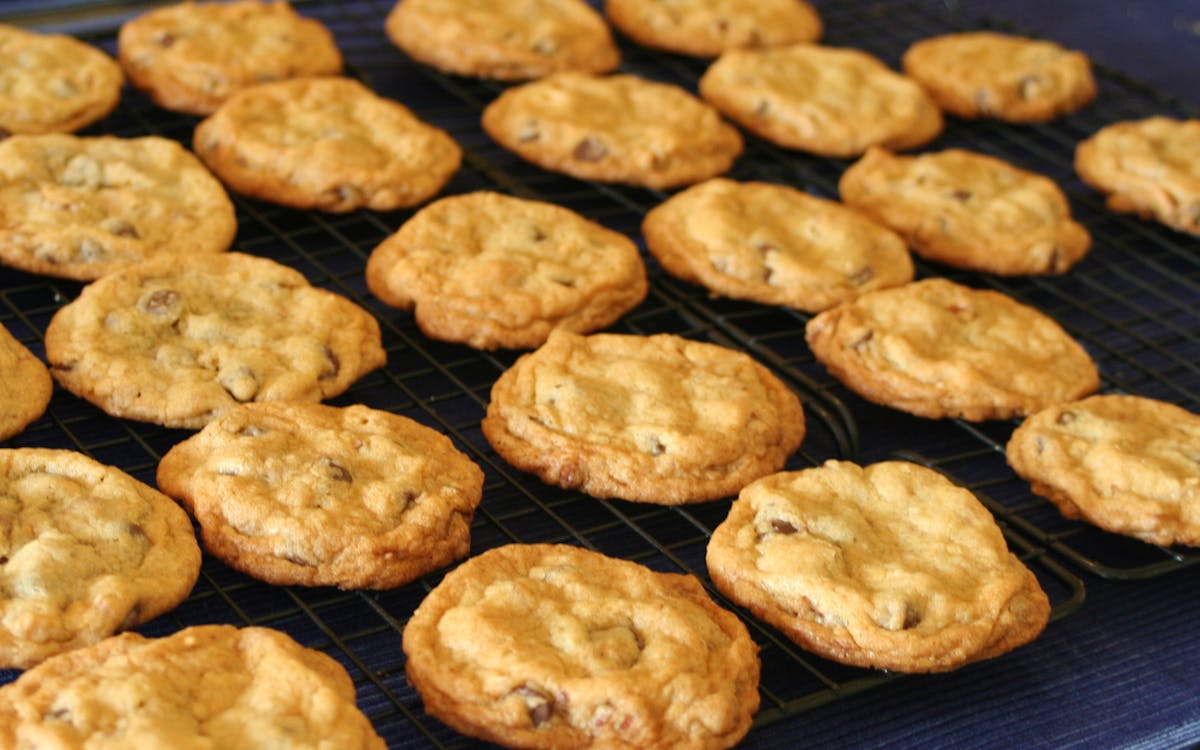 Almond flour cookies are contain protein magnesium, fiber and vitamin E. Picture Credits - Wikimedia Commons.
Ingredients
1 cup almond flour
1/4 tspn baking soda
4 tbsp ghee or butter
1/4 cup maple syrup or honey
1/2 scoop vanilla protein powder
1/2 tspn vanilla extract
1/4 cup dark chocolate chips
Almond toppings
Recipe
Mix all ingredients in a bowl, roll the dough into small balls and place them on a baking sheet
Preheat oven to 350c
Bake for 15-20min until they are light-brown
Nutrition (1 cookie)
Calories: 250
Protein: 15gm
Carbs: 21gm
Fats: 12gm
Oats bars (No bake)
Just 8 ingredients and it only takes 10 mins to make these oatmeal raisin protein bars. Full of complex carbs, protein, fiber, healthy fats, they make a perfect snack for pre, post, or during treks. It can be had as a dessert too!
Ingredients
11/2 cup rolled oats
1/2 cup nut butter of choice
1/2 cup raisins
1/2 cup vanilla protein powder
1/4 cup almond milk
1 tbsp honey
1 tsp cinnamon
Pinch of salt
Recipe
Mix all ingredients in a bowl. If the batter is too wet, add a little bit of oats or more protein powder. The batter should be a little sticky. If too dry, add a little more almond milk.
Evenly press the mixture into a pan or baking dish. Place them in the fridge for 30 mins to firm up. Cut into equally sized bars and enjoy! Best to store them in a cool place.
Nutrition (1 bar)
Calories: 230
Protein: 10gm
Carbs: 27.5gm
Fats: 9.4gm
Peanut butter date balls
 Looking for something quick, easy, and tasty? Peanut butter date balls it is! They are tender, buttery, crunchy, chocolaty, wholesome, and incredibly delicious! They are great for treks and will keep you energized throughout.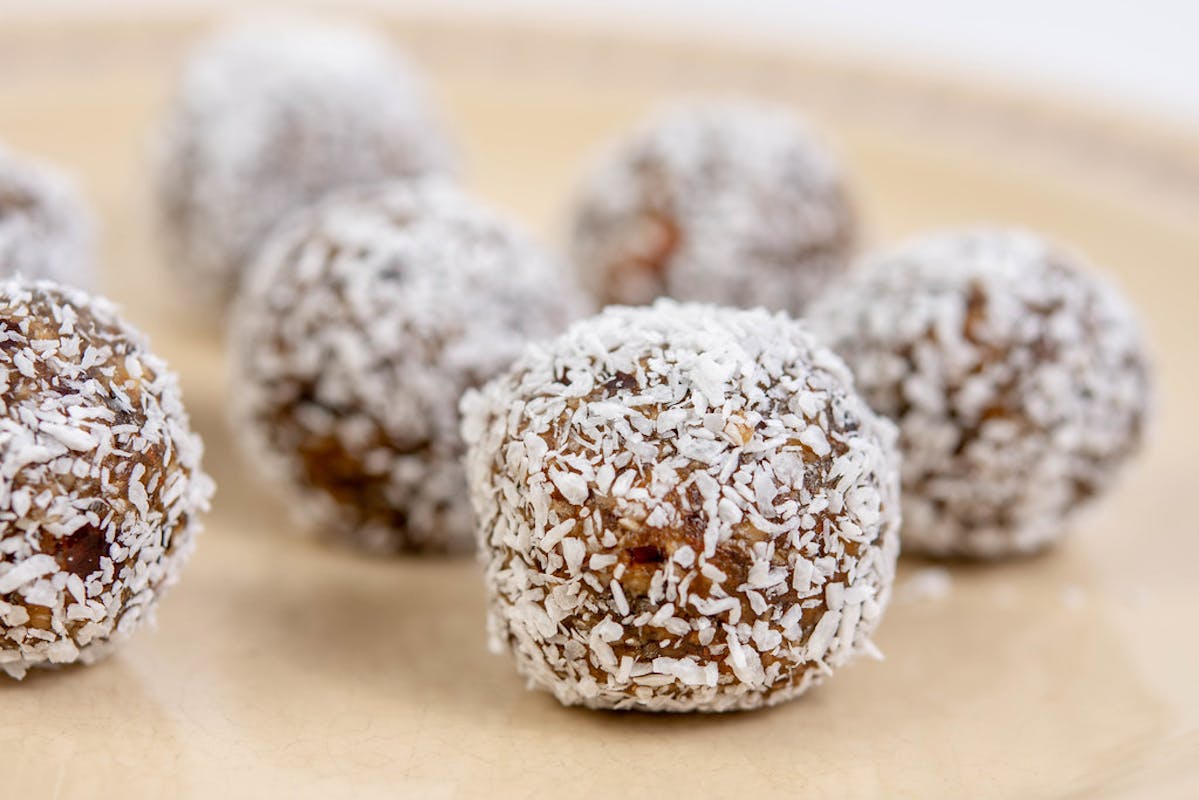 Here's another dates + peanut butter recipe, with certain additional nutrients. Picture Credits - Flickr
5 Ingredients
1 cup Dates
3 tbsp Peanut butter
1 tbsp Chia seeds
2/3 cup rolled Oats
1/4 cup Dairy-free dark chocolate
Recipe
Pulse everything into a blender and mix everything until combined. Try not to make it over-processed.
Roll into 1-inch balls using your hands. Keep it in the fridge for 10-15min. Or, eat as is! You can store them in an airtight container for 1-2weeks.
Nutrition (1 ball)
Calories: 100
Protein: 4gm
Carbs: 14gm
Fats: 3.5gm
Atta laddu
 Atta laddus are the easiest and quickest laddus that can be made ever. It's made from only 5 ingredients: whole wheat flour, jaggery, ghee, nuts and cardamom powder. Feel free to add a scoop of vanilla protein powder to increase the protein content. Just 2 laddus should be enough to satisfy your hunger for half a day!
 5 Ingredients
1 cup Whole wheat flour
1/2 cup grated Jaggery
1/2 cup melted ghee
1/2 cup mixed nuts
1/4tsp elaichi (cardamom)
Recipe
Dry roast whole wheat flour for 5-7 minutes, making sure not to over roast. Mix well with melted ghee and cook over low heat for a few minutes, stirring continuously. Turn off the flame and let it cool slightly. When cooled, add jaggery, cardamom, and nuts. Shape each portion into a round ladoo with your hands. Place them in an airtight container to preserve the taste.
Nutrition (1 ball)
Calories: 220
Protein: 5gm
Carbs: 16gm
Fats: 15gm
Gur chana
 Are you looking for a sweet, yet tasty and healthy snack to munch on? You can make this gur chana snack using only three ingredients: chana, jaggery, and water. It can be eaten as dessert or anytime you crave for something sweet.
Ingredients
1 cup roasted kala chana
1 cup powdered jaggery
1/4 cup water
Recipe
In a kadhai, heat water and mix with jaggery powder. Let it cook until it reaches a thick and syrupy consistency. Add chana to the heated water. Make sure the outer skin of the chana is removed before you add it to the kadhai. The chana needs to be coated in jaggery well. Divide the chana into separate portions and spread them on a plate. Let them cool and store in an airtight container.
Nutrition (1 serving)
Calories: 70
Protein: 6gm
Carbs: 12gm
Fats: 1gm
Peanut ladoo
 These ladoos are rich in protein, fiber and minerals and is a perfect breakfast supplement to improve your immunity.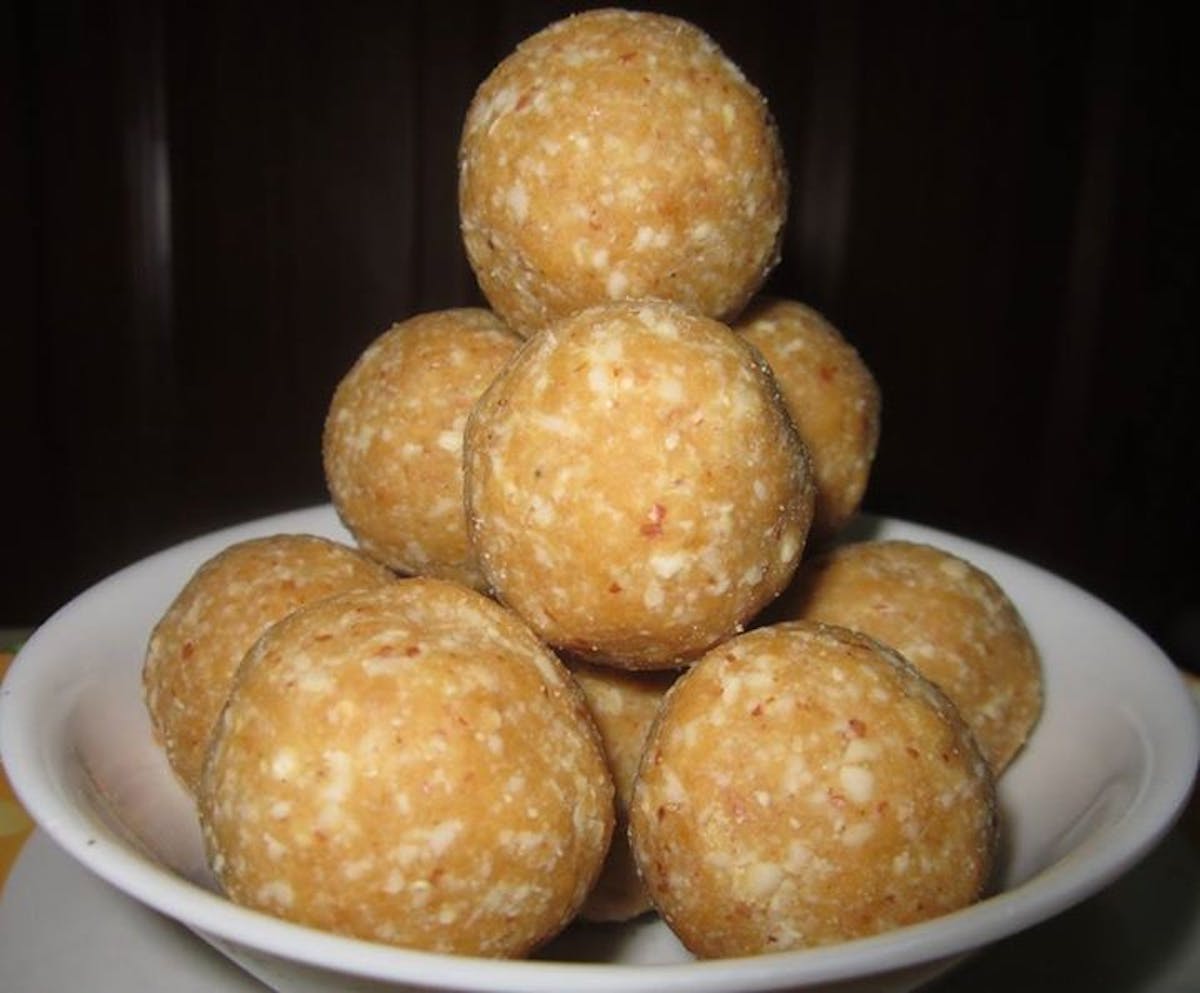 Peanut ladoos are not just tasty, but are also great for your immunity.
Ingredients
1.5 cups peanuts
4 tsp ragi flour
4 tsp bajra flour or whole wheat flour
1 cup jaggery
1/2 cup crushed almonds
Recipe
Roast the peanuts with 2tsp ghee on a non-stick pan. Once the peanuts are roasted, add in ragi and bajra flour, stir nicely. Add jaggery powder in some warm water and keep it aside until it dissolves nicely. Add this jaggery liquid to the flour mixture. Crush the peanuts in a blender and add them into the mixture. Keep stirring the mixture and make sure there are no lumps. Cool down the mixture and make small laddus. Roll them over crushed almonds and the laddus are ready to eat!
Nutrition (1 serving)
Calories: 185
Protein: 6gm
Carbs: 22gm
Fats: 8gm
And that's all the recipes for now! Not only are they delicious and healthy, but they cut down waste generation by a lot. All the packaging which would have ended up as waste, can now be replaced with containers and paper wraps.
Let us know your thoughts on these recipes. Which one are you going to try for your next trek? Drop in a comment below! If you have more suggestions on plastic-free packaging snacks to carry on trek, write that in too!
Related Videos
How Indiahikes Pulled off a 3-Day ZERO WASTE Trek
What Is The General Menu On An Indiahikes Trek | FAQs
Do We Serve Jain, Gluten Free, Vegan Food On Trek | FAQs
Sign up for our much loved Weekly Mailer
We have terrific trekking tips, trek updates and trek talks to look forward to