Valley of Flowers - When the Mountains Spoke in Volumes
Share this story
Valley of Flowers - When the Mountains Spoke in Volumes
Category Trekker Space
By Chandni Chhabra
2016-09-02
When I decided to register myself for the Valley of flowers trek in July, I was seeking much more than a walk in the mountains while basking in the majestic Himalayas.
This was my second trek with Indiahikes after the Kashmir Great Lakes in 2014, following which I realized it was just not a trip I took but something that invoked a string of thoughts and stirred up something inside of me.
The trek, Valley of flowers, started for me from Delhi where I met 7 other people, 6 were strangers. After the short journey to Haridwar, we took cabs to our first base camp, Govind Ghat. The journey was 10 hrs long but not even once I got bored of it as it was a true delight to see lush green cover, small villages along the road, ravishing waterfalls, petty landslides and gushing rivers while the cloud cover rested above the peaks and offered a beautiful feast to my eyes. My vision was soaked in the Himalayan beauty as I kept staring outside the window.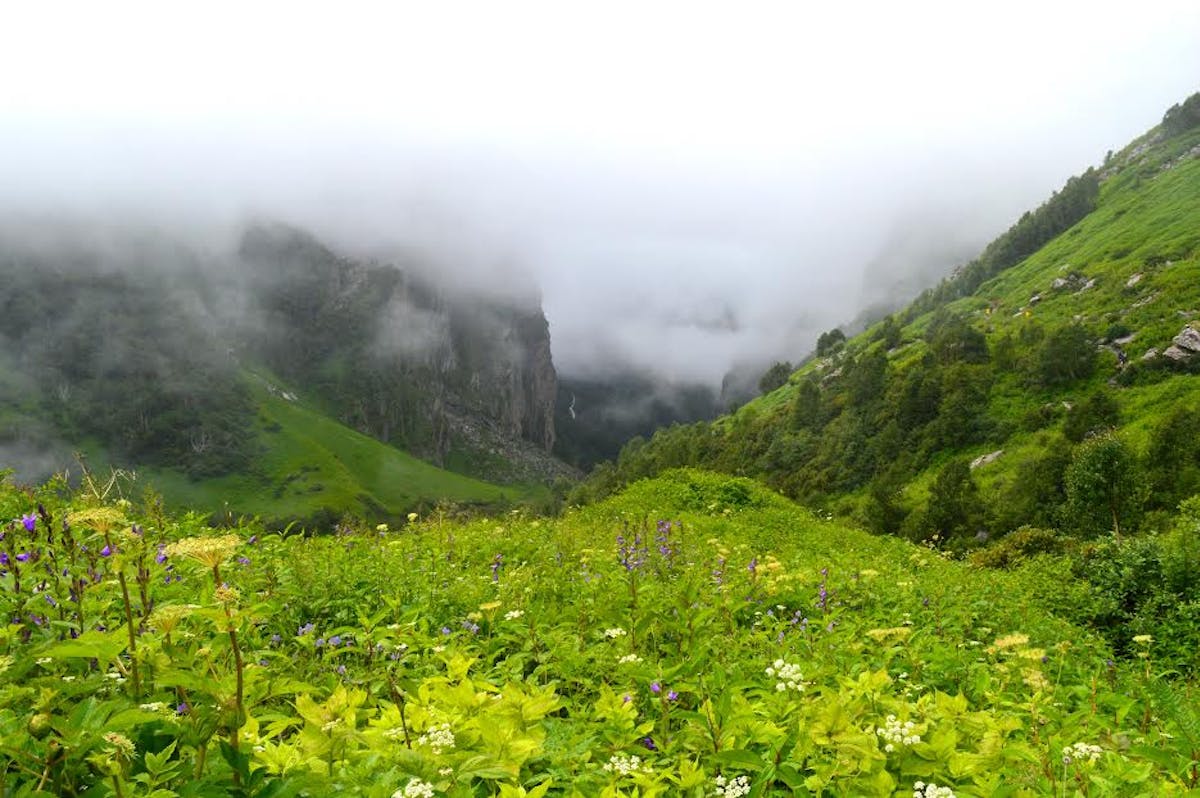 PC: Siddhartha Bose
The next morning, we were all geared up after a nice breakfast, briefing by our trek leader and in our new trek gear. We were to walk about 17 kms on a surfaced trail making small stop overs. Though I had a heavy back pack to carry and the steep terrain to walk, it was still relaxing as I was in harmony with myself and surroundings. Before we reached our second base Ghangaria, I had acquainted myself a little with fellow trekkers realizing how passionate all of them were about things they were doing. The evening nestled with nice snacks( indiahikes feeds you really well), a foot massage (yes, at 10,000 Ft, after a long walk, you do have that luxury at this place), documentary on the trek that we were to take the next day  (it was good on the information about the  variety of flowers in the valley), a quick phone call (you can stay connected at home via a PCO, if that is your concern!) and lastly  being tucked in a warm  bed!
The much awaited day, the trek to Valley of flowers was finally on, we were already feeling lucky to have sun shining bright on us and we could gaze the majestic mountains! This day, we were supposed to gain an additional altitude of 2000 ft within a short distance of 4 kms. The trail is little raw but a beautiful one. As soon as you leave, eye out for some beautiful flora especially cobra lily, blue poppies, the tiny forget me not flowers….and many more colorful ones. It would be nice to have someone who knows a little bit more about the flowers, our Trek leader, Mohit, was a great help.
As the trail continues, you can make nice pit stops along the flowing river or the rocky cave and in case you don't want to walk the entire trail once you reach the national park, you can just find a big rock in middle of the valley where no matter where your eyes look, you are assured of a beautiful landscape with a half a dozen of waterfalls, tiny flowers,  few snow capped mountains at a distance and if you are lucky you can spot some beautiful birds and butterflies!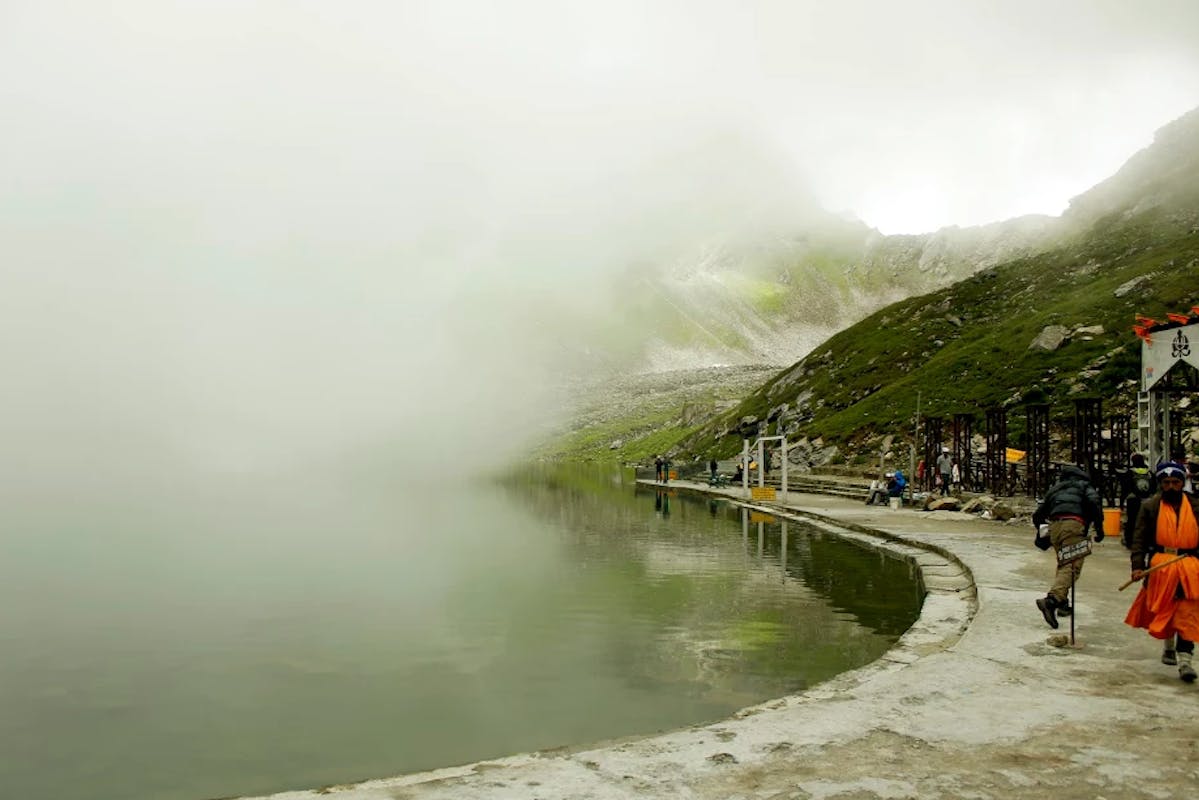 Heavenly sight of the Hemkund Sahib Lake PC: G.Swarnavalli
While gearing up for the next day at Hemkund Sahib, many opted for mules thinking it's gonna be a tough climb of 4000 ft in about 8 kms. Those of us walked, vouched it was the best walk uphill as we were blessed with prefect cloudy weather and mystic sights. I think, I, aced that day with a steady speed being ahead in group even when I chose to take the path with 900 stairs  in about 20 mins as it started to rain and I was all wet. I had to keep making small stops for Chai and some very delicious aloo paranthas at few  dhabhas we came across. It was perhaps the sugar rush that gave me all the energy! While you are taking the climb to the shrine, do look out for the rare and the most beautiful Brahmakalmal flower along with denser population of blue poppies.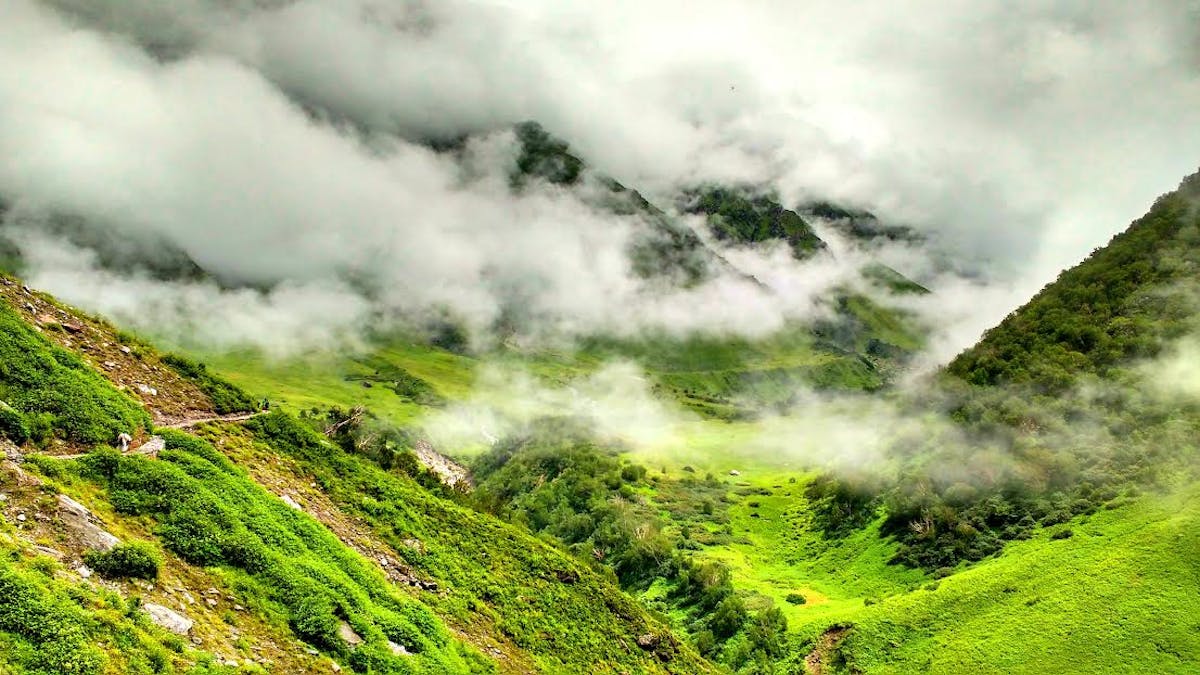 PC: Savitha
At the Hemkund Sahib Gurudwara, we all rushed to have a glass full of garam chai and some nicely cooked khichdi before visiting the shrine inside the Gurudwara. Only two of us could take a dip in the Kund at it was freezing cold and we could barely see the water with a dense cloud over it but certainly could feel the serenity of the place. The walk back was equally amusing with the washed landscape around. The day ended quite well at ghagharia, at our base with everyone socializing and sharing the talents, two of the trekkers where brilliant singers and kept the evening young with great entertainment. I met few people with diverse talents and calling, especially, a 52 year old aunty, who was a frequent trekker and had done base camp to Everest, listening to her stories, I felt, I so dead at what I was doing and there is so much I can do with my life, work necessarily doesn't have to take front seat in life and with just little endeavor you can answer every call that excites you and that point I knew I have got what I wanted from my trek.
Quick Tips:
Be prepared for rains and carry a good rain gear
The number of flowers you see in the Valley of flowers are based on the season you go, each week could be different. And, don't expect anything like what you see in the morphed pictures of this place!
You can acclimatize well with your daily ascend. No need to rely on medicines like Diamox
This trek is quite suitable for people who have are beginners. This trek is well equipped in terms of logistics. (Connectivity, mules, well laid treks, helicopter services, etc.)
For people who don't want take up the climb to Hemkund Sahib, mules are easily available
Good walking/hiking shoes are must.
You can extend your stay and visit Badrinath, Mana and Auli.
Don't be scared of landslides, they are usual in this terrain and most of them are harmless. It is more hyped than you think.
Sign up for our much loved Weekly Mailer
We have terrific trekking tips, trek updates and trek talks to look forward to