My trek to Valley of Flowers
Share this story
Snow-capped peaks, lush green landscapes, innumerable streams,  gushing rivers, plenty of colours, exotic flowers, mules, some soul searching, hot parathas, rainy banters, glaciers, ice cold baths, an emerald lake, piety, hot water springs, wet and more wet clothes, a feeling of being all alone, a feeling of being one with the world, a divine blessing, sighting an invisible river, a holy dip, a path that leads to the heaven, speeding through falling rocks,  silent prayers to stay safe,  massive landslides, a bonfire of trek shoes,  the most expensive vodka, miracle waters falling from heaven,  a group prayer attended by hundreds, 5-star price for laundry, an ageless rudraksh tree, plenty of mouths gone agape, wonder-struck eyes – Shankar Bharatan can't get over the Valley of Flowers trek!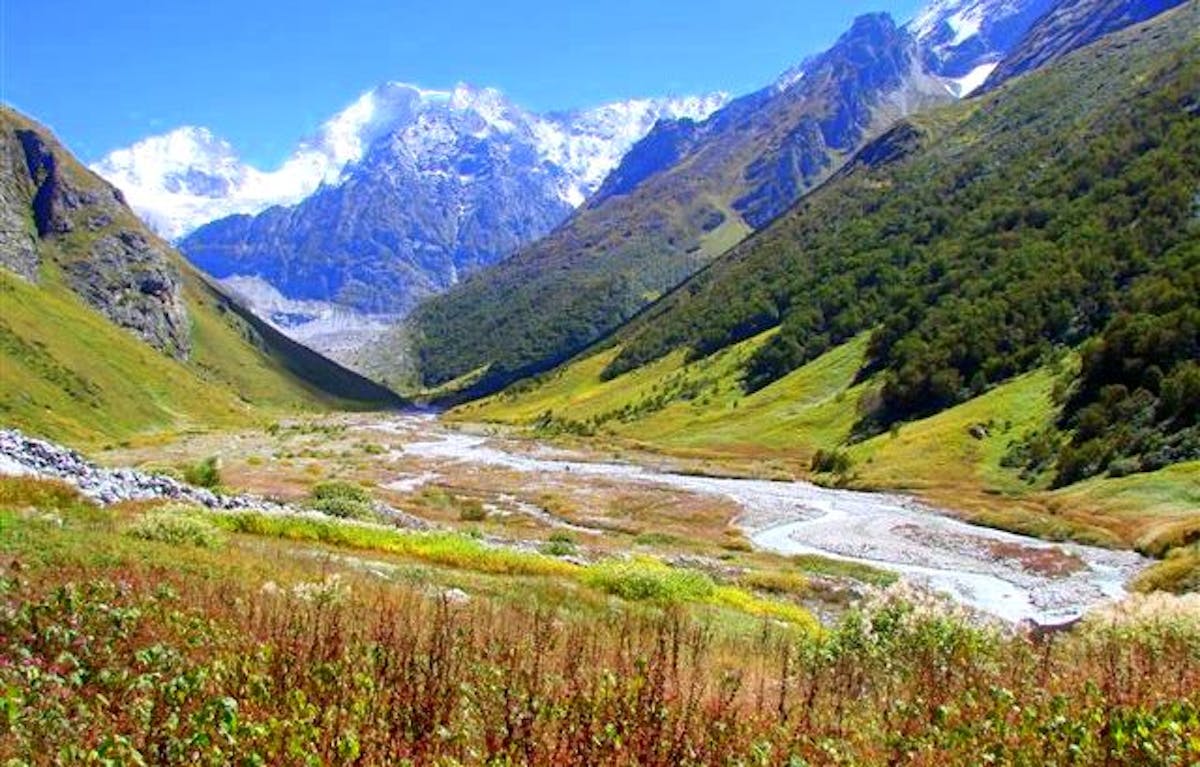 Valley of Flowers National Park
On a butterfly trail
All these are important elements in this story about our trip to the Valley of Flowers in August 2011.  I am not articulate enough to cover all these in this space, but I'm also enthralled to share as much as possible of what I experienced.
Phase 1:  The dream. 
My wife had this dream of having her honeymoon at the Valley of Flowers (VoF), way long ago, before she ever met me. And I had so many vague fantasies about this place – a heavenly valley that changes colour every season, almost all round the year – all made up from so many anecdotes I had heard. Perhaps, it was destiny that bound these like-minded souls together! 
However, after marriage, for a busy IT couple with a 3-year old kid, such travel should have become an even impossible a fantasy, but for Indiahikes. I wouldn't have imagined that our adventure to VoF will start so close by to our home, at the Indiahikes office in Bangalore.  Over a rain lashing hour and a half (an omen of things to come!), Arjun and Sandhya (of Indiahikes) ensured that we were sufficiently awed to take the tour.  And over the next few days, we just spent time in counting down to the trip day. 
[Btw, talking to Arjun and Sandhya is greatly entertaining.  Talk to them!] 
Fast-forward and we have reached Haridwar.  We discovered a fantastic bunch of 16 from all over India, a crazy but friendly local driver, who would speed us on the windy roads to Govindghat, from where we would move closer to VoF.  There are a lot of things to catch in this 10+ hour long (about 300 km), bumpy drive – apart from the ice-breaking sessions with your trek mates, the freshly washed landscape, the rain-swollen Alaknanda, the Panch Prayags en route and numerous other elements of nature, ensure that you don't feel exhausted (your driver might happily oblige to play some classic movie songs to make things more romantic!).
The real trek started the next day, with a 14 km journey to Ghangharia, our 'base station'. The journey can get tiring for newbies, but mostly it's a pleasant walk through lush greenery, across multitude streams, rivers and quaint hillside hamlets.  In August, the path is busy with pilgrims traveling to Hemkund Sahib.  Whenever you slacken, these friendly pilgrims add josh with their brisk 'Wahe Guru!', glucose powder/ biscuit offerings.  The mules that give a damn to other travelers, as they trod along, also make your walk interesting.  On an average, a person might take anywhere between 6 to 8 hours to reach Ghangharia.   With delicious, hot parathas and a comfortable rest, we readied ourselves for the next day. 
Phase 2: The flight.
On a rain battering day, we started towards Valley of Flowers.  It's a smooth 3-4 km trek up to the valley;other than the rain playing a minor irritant, it's not really that arduous a trek.   Anyway, this is THE destination that we have literally crossed India for, so there's no place for any tiredness.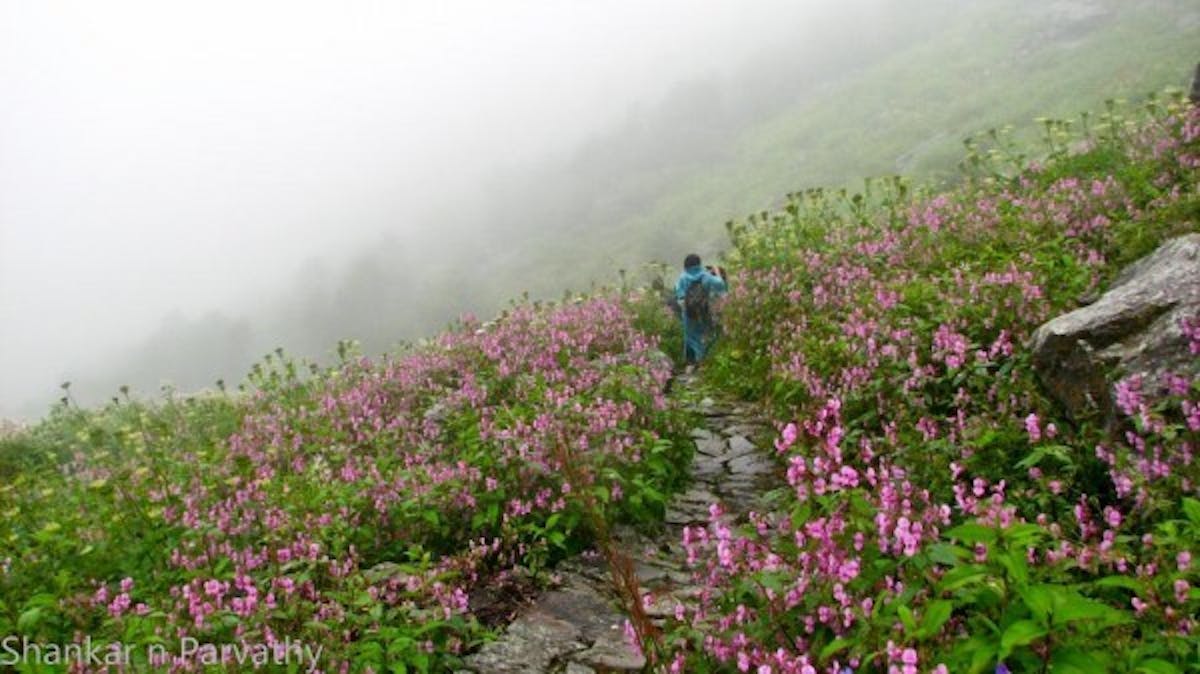 himalayan balsams at valley of flowers
The valley is breathtaking by any standards.  And it more than lives up to its name – it's a vast, never before imagined, 'till your eyes meet the horizon', land of flowers.   In August, it had become a huge sea of pink and white Himalayan Balsams.   I wouldn't attempt expressing more about the valley, as even with more words added, it will just provide an incomplete, inadequate picture.
As we walked deep into the valley, we kept discovering more and more beautiful flowers, practically of any color that you can commonly think of – Great photo opp., but for the rains.  Nevertheless, it'd be silly to shut down cameras fearing the rains, so we shot as much as possible. 
The UNESCO preserved valley is vast; covering every corner might take days.  So a more pragmatic approach would be to trek up to the grave of Margaret Legge, at the heart of the valley and return.  So did we.  The pitter-patter rain had become a strong force by then to cause several landslides on the way back.   Indeed, our path had been majorly obscured by a severe landslide.  As the BRF (Border Road Force) personnel kept an eye on falling rocks, we had a thrilling cross to safety.  Fully satiated and fully drenched, we ended the day with a little party of sorts in our hotel, celebrating a day that we will continue to remember all our lives.
Phase 3: The submission.
While the Valley of Flowers is a feast to the senses, Hemkund is a salve to the soul.    Our journey especially was very symbolic of the many trials and tribulations that the fragile human mind undergoes before realizing the ultimate truth.  Ah, some philosophy there, but I'm sure by the end of the story you'll see what I mean.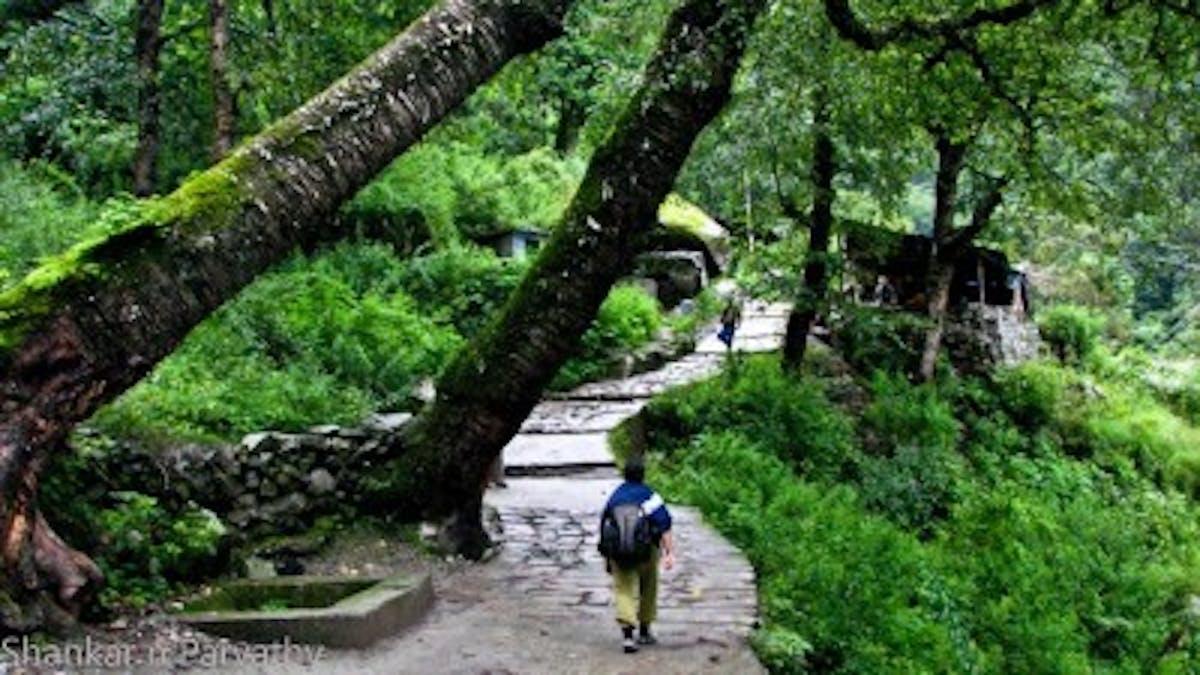 valley of flowers Uttarakhand
The very start itself was marred by lots of uncertainty.  Rains remained unabated causing anxieties about the safety of the path.  But we put faith on the hundreds of pilgrims who continued to trudge up.
The trek wasn't as easy as the one to VoF. Ghagharia is at an elevation of approx. 10,000 feet and Hemkund is at 14,000 feet.  Ascending 4000 feet, in a bad
After braving feet-numbing dips in cold glacier waters, an incessant battering of rain, a constantly upward winding path, we reached the summit of Hemkund.  Suddenly you realize that you're not alone in the journey: Hundreds of volunteers greet you with a bowl of tasty kichadi and a glass of hot chai – definitely luxuries at this height!
And it's an other-worldly experience to soak in the sight of the pristine, emerald Hemkund (the lake) nestled between snow-covered peaks (yes, snow-covered even at this time of the year!).  Even the hardcore skeptic will readily believe the stories of devas and apsaras descending to earth in the wee hours of the morning, to take bath in these waters. Forget apsaras, a truly inspiring sight is of pilgrims – young and old, taking a dip in these ice cold waters.   If you wonder if you should test your limits by taking a dip, then I'd say just jump.  It makes for a great story to tell your grandchildren later!
Another important part of this trek is sighting the famed Bramhakamal flower, the state flower of Uttarakhand.  You see them quite a few of this flower on this route.  And if you get a chance, smell them (don't pluck!).  You'll see how the subtle smell stays with you for quite a time!
The Knowledge.
Technically, the trip to Valley of Flowers ends here.  But most of us extended the trip to Bhadrinath and the Vasudhara falls on the path to Swargarohini.  Later, on the way back, we paused for a day at Rishikesh and Haridwar.  We had wanted to stay a while at Joshimat and Auli as well, but the road to Haridwar was getting jammed with more landslides and long queues of vehicles, so returning to the plains became important.
Equally significant portions of our experiences, but writing about this will take me another 2000 words.  So I'll wind my story here.
The journey has been significant in my life.  It is not because travelling to the Himalayan side is a rarity for me.  It comes from the realization that you have grown significantly during a 5-day period.  You could have just done the usual, but you did something else.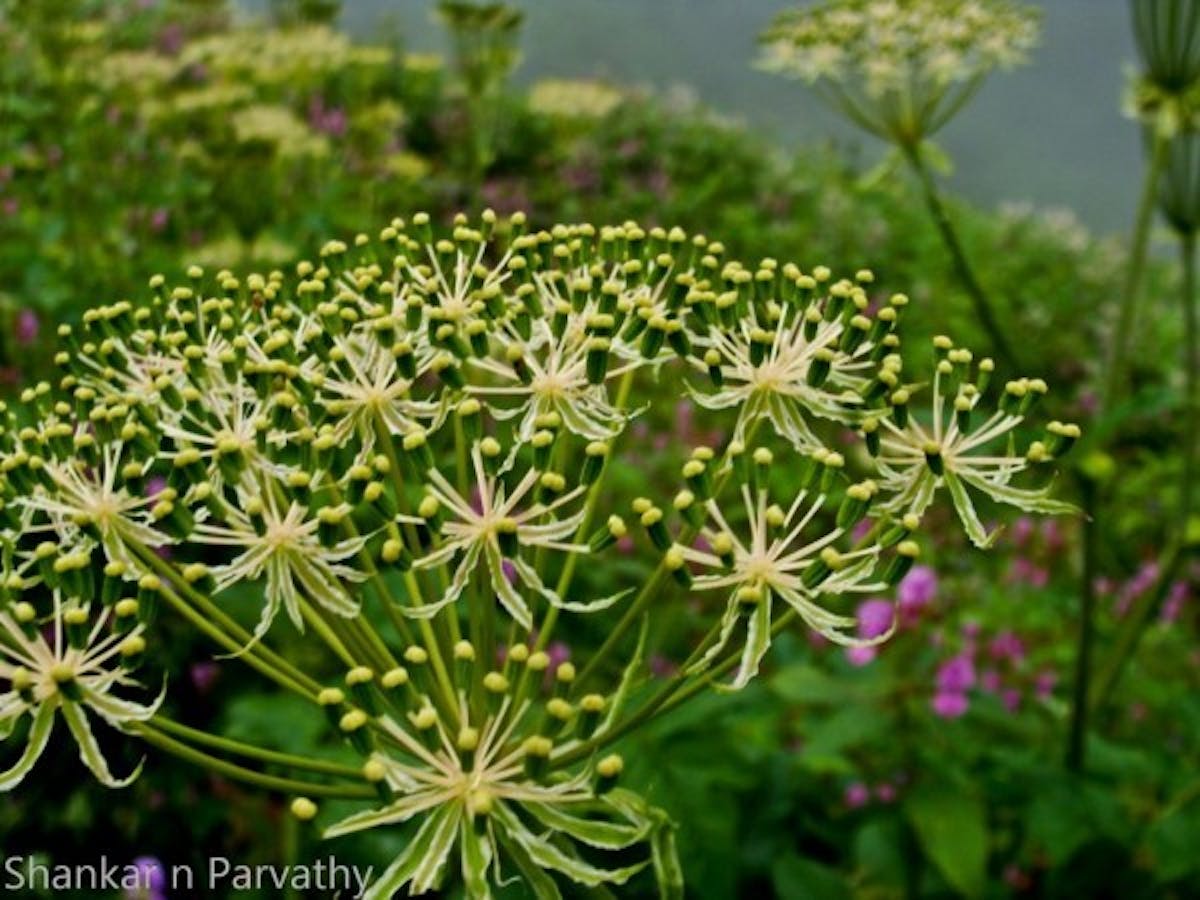 colorful flowers bloom at valley of flowers
After my trip to the Valley of Flowers, I came across this inspiring quote from Yeats: Happiness is neither virtue nor pleasure nor this thing nor that, but simply growth. We are happy when we are growing.  It isn't goal attainment, but the process of striving after goals — that is, growth — that brings happiness.  This truly summarizes what I felt and learnt through my trek to the Valley of Flowers.
Now I know that I have not expanded every bit that I had shared in the first paragraph.  You should be able to understand why.  I would perhaps be better off writing a book.  Nevertheless, if you need to know about something, let me know.
A few tips to make the trip better:
–   If you're not an avid trekker and wonder if you can take this trip, I'd say sure.  You have mules/ ponies that could do the walking for you for the most part of the journey (not available in the route to VoF, but it is much easier).  Not really the ideal way to enjoy the trip, but hey, you get to visit one of the most beautiful places in the earth! 
–   Connect with your trip mates before the trip.  Besides the bonding, you can collaborate on travelling from Delhi to Haridwar and back.
–  If you're taking the trip around August, don't leave without good rain gears – ponchos, water-proof shoes/ bags etc.  It's almost certain that you will trek in rains.  Of course, don't go without a camera, but make sure that you protect it against the rains.  Despite all proactive preparation, budget for enough spares, additional baggage to carry wet clothes, etc. 
–  If you're interested, read up a little about the flora in VoF.  You'll have the thrill of identifying flowers when you see them in real (or you can read up later, like I did!).  The EDC (Eco Development Committee) of the Bhyundar office at Ghanghria organizes a very informative video show of the valley.  I highly recommend it. 
[The EDC is doing a great job of preserving the fragile ecosystem of the Bhyundar valley.  Here's a video of the good work they do.  The video is also an eye-opener of the damage we tourists, cause to the valley, consciously or unconsciously: http://bit.ly/wjGYFC.]
– Do extend your trip to cover Bhadrinath and the Swargarohini route up till the Vasudhara falls.  They're close by and these are some spectacular places to catch the glory of Himalayan peaks and valleys.
–  And don't pluck flowers at VoF.  Despite their seeming abundance, they are rare.  You can best preserve them only through your photos.
For a detailed description of the trek take a look at the Valley of Flowers 2015 trek guide.
Sign up for our much loved Weekly Mailer
We have terrific trekking tips, trek updates and trek talks to look forward to