A Solo Trekker Who Spent His Birthday Picking Up Litter At Valley Of F...
Share this story
In July 2018, as the season of Valley of Flowers began, trekkers, tourists and pilgrims on the trail saw an astonishing sight –  a solo trekker, armed with a sack, picking up trash all along the trail from Hemkund Sahib to Ghangaria.
He would scan the trail, the mountain side, or crevices and pick up all the waste he saw — plastic raincoats, broken slippers, juice packs, wafer wrappers, plastic/glass bottles — he picked them all. 
This independent trekker, Karan Sakhuja, was soon surrounded by curious tourists and trekkers on trail. "I guess they were just surprised that someone out of  their own free will was doing something that has always been confined to school lessons or Swachh Bharat hoardings." he mused. 
It was an extremely unusual birthday for him indeed.
First trek to Valley of Flowers in 2015
His birthday was his second time on the Valley of Flowers trail. He had done this trek in September 2015, when he was mesmerised by the beauty of the trail and the serenity of Hemkund Sahib. 
Back then, despite being enamoured by the scenery, he wasn't happy. "Although the trail has seen thinner crowds since the 2013 Uttarakhand floods, I still felt a large part of the trail was dirty because of the major tourist influx into Hemkund Sahib." he says.
It was then he resolved to come back to the trail to "do his bit to make the trail cleaner." And so he did, albeit as a Solo Trekker on a mission to clean the mountains.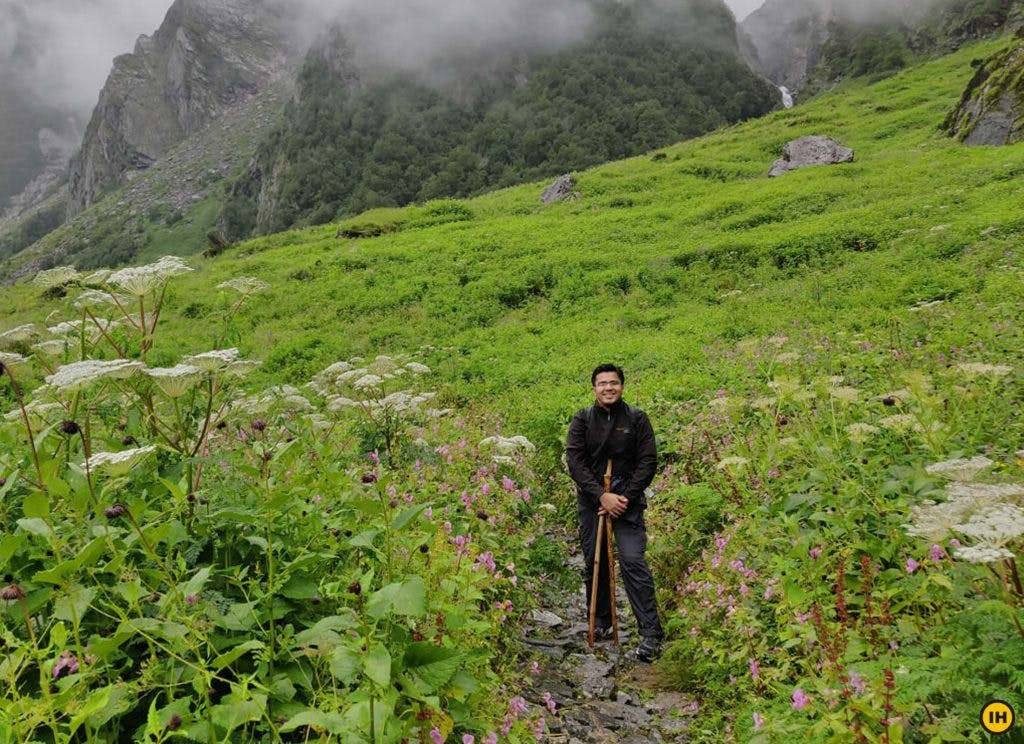 Stumbling Upon Green Trails initiative
After his trek in 2015, Karan returned to his life as a Product Manager with an online insurance broker in Mumbai. He kept his calendar busy with travel interspersed almost every other month with his work schedule. 
In trying to find new places to explore, he would crawl the internet. It is during those hours of researching places to go to, that he stumbled upon the Indiahikes Green Trails page. The work resonated with him as he is a minimalist in his daily life, to the point he "drives his family and friends nuts". 
"I've always been very attached to nature and have been amazed at the fact at how we are such poor managers of our waste. All of us are of the opinion that once a piece of trash is out of our hands, it will somehow magically disappear. We just love to transfer responsibility without realising that when we generate trash we are a part of the problem as well," he says.
He read extensively about the Green Trails initiatives taken at Jaubhari (Sandakphu) and Lohajung (Roopkund). "I was impressed with the proactive work being done involving the community and incentivising waste collection, recycling and upcycling," he adds.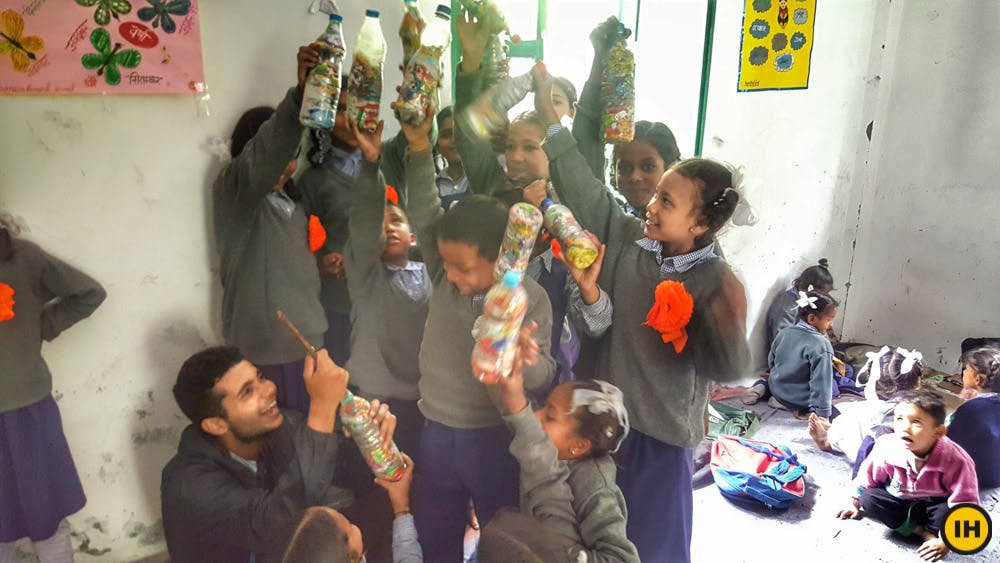 Planning The Return To Valley Of Flowers On His Birthday
He began planning to take on the Valley of Flowers trek again, this time as a solo trekker for his 30th birthday. "I felt there was no better celebration than collecting trash on the trail and doing my little bit. " he said.
Since he had no arrangements for a sack and had little idea on how he would dispose the waste he collected, he looked up the Indiahikes Contact Us page. He did this while he was on his way from Mumbai to Delhi. "I wrote to Prathima, the Trek Coordinator for Valley of Flowers, regarding my plans to take on the Valley of Flowers trek as a solo trekker and clean the trail and asked if she could help. By the time I landed in Delhi, Prathima had helped me with the contact details of Vishal, the Green Trails intern at Ghangria base camp and Neha Satheesan, the Green Trails coordinator," he says.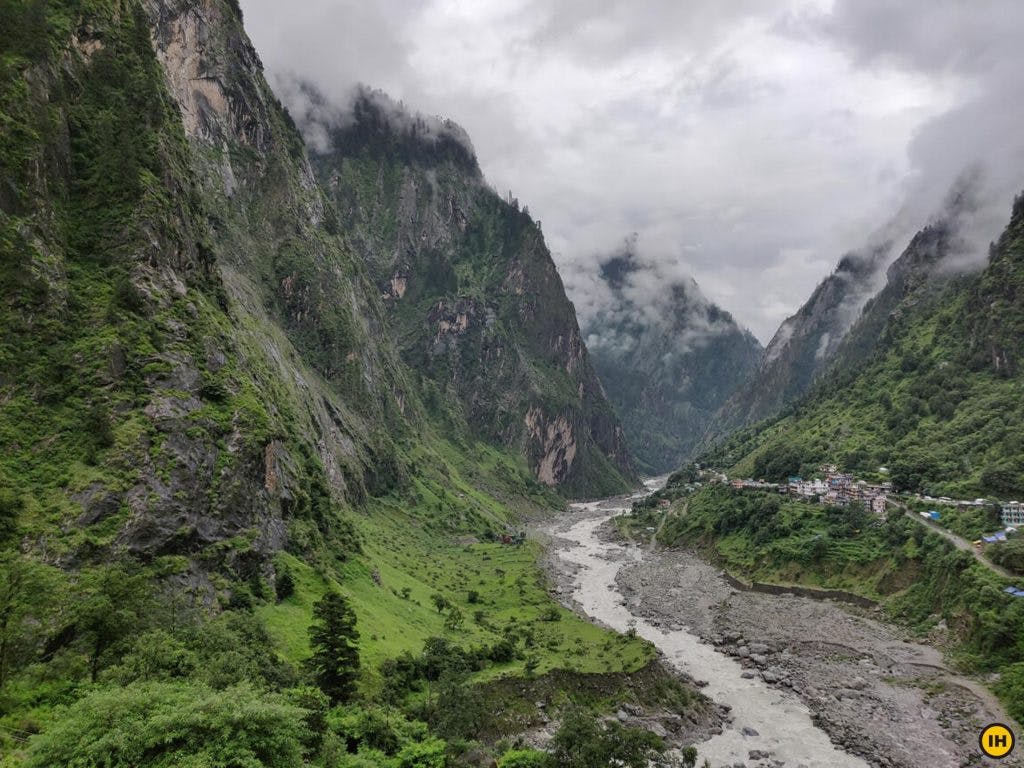 Cleaning up the Valley of Flowers Trail
Since the connectivity was poor at Govind Ghat, he could only manage to contact Neha, who put him through to Dhan Singh Ji, our Trek Manager at Govind Ghat. "He helped arrange a huge sack and an eco bag for me. While at Ghangaria, Vishal helped me with details on which trail was particularly more dirty and that Indiahikes would take care of the logistics downwards from Ghangaria. All this help was offered even though I wasn't trekking with Indiahikes." he notes.
He concentrated his efforts on the trail to Hemkund Sahib.  The Valley of Flowers itself, he observed, was still pristine, thanks to the efforts of Eco Development Committee (EDC). "The forest department checkpoint at the entry does a brilliant job by taking a security deposit and getting visitors to register all the items they are carrying into the Valley of Flowers. And that's why the valley is still preserved in its natural form," he notes.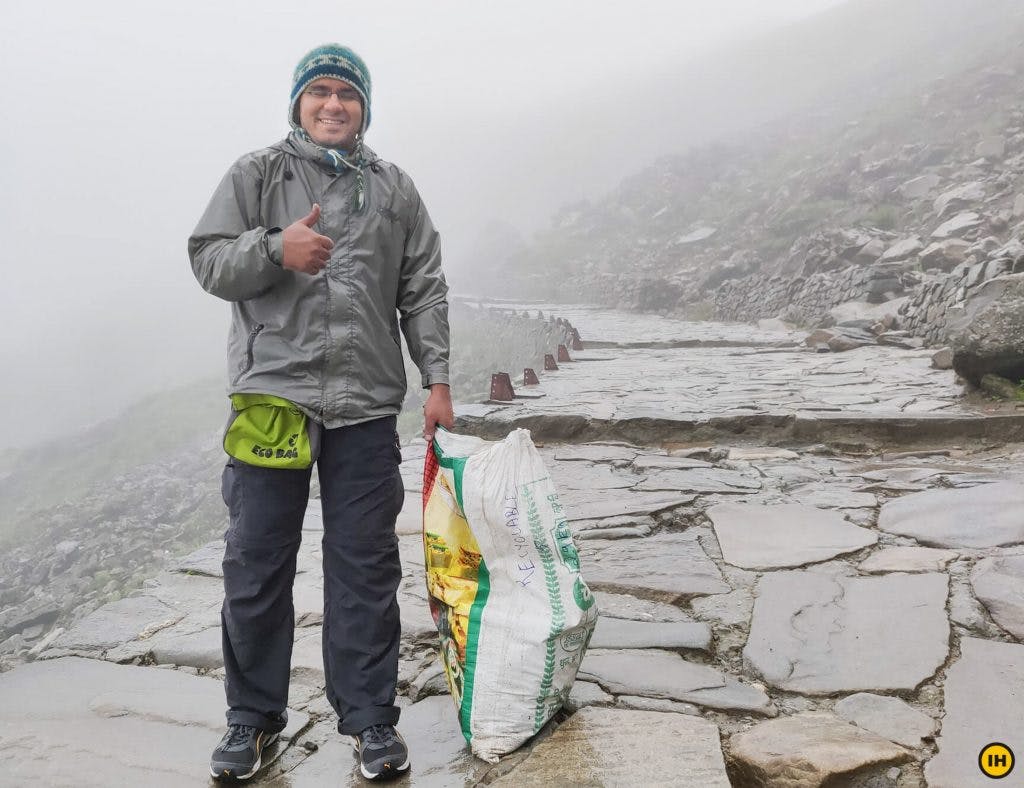 It was a different story on the trail to Hemkund Sahib though.
Within about 1 km of his descent to Ghangria,  the sack got so full that he couldn't lift or drag it anymore. "I didn't want to stop, so I convinced a porter bhaiya, Negi Ji, to load the bag and walk alongside me so that I could put in more trash that I collected," he says.  
Eventually, they were 4 km downhill, the bag was full to the brim. "It must have been at least 60-65 kg and we had to stop collecting. The kind Negi Ji helped carry this huge load to the Ghangria base camp of Indiahikes." 
From there, Indiahikes took care of the logistics to segregate and bring the waste down.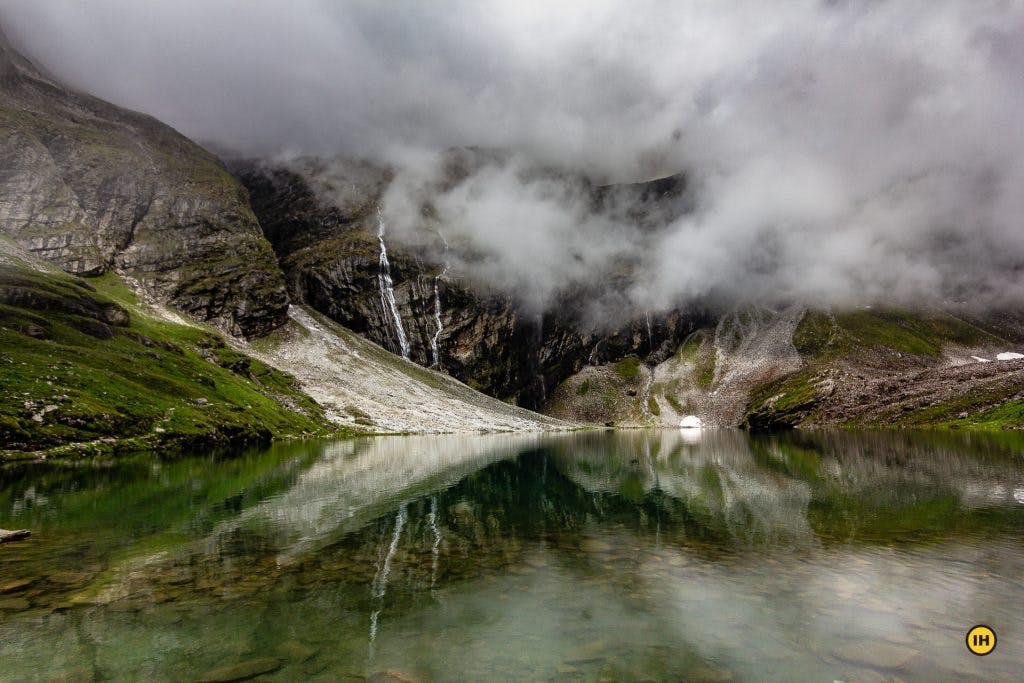 Being Green Is A Behavioural Change
What motivated him to spend his 30th birthday as a solo trekker, picking up waste, which was not his own, on a trail up in the mountains?
Karan admits that he is a little biased towards the mountains. And that being environmentally conscious was an intrinsic part of his lifestyle even in the cities. 
"Unless I am completely certain on the utility of an item (clothes, electronics, etc), I keep delaying my purchase," he says. "I  have also made certain that I don't use foil at home and don't pick any new piece of plastic anywhere I go. Cloth, paper bags or re-cycling existing plastic bags are what I prefer shopping with."
As a minimalist, being green to him is about owning less. For him, generating less waste is more about behaviour change and mindset. "It goes a big way in being green in our own individual way," he notes.
You could take part in our Green Trails movement too
At Indiahikes, we couldn't agree more. Which is why we have a Sustainability Champion Programme, that everyone at Indiahikes is a part of. Whether in office or at homes, we believe in sustainability as a way of life. 
If you would like to lead a more sustainable lifestyle, our Green Trails Head, Lakshmi Selvakumaran, has been putting down easy ways to transition into a zero waste lifestyle. You can find the first article in the Sustainability Champion series here. 
For us, Karan Sakhuja is a Green Trails Hero and we hope to see many more trekkers like him!
To know more about our Green Trails program, click here or drop in a comment in the comment section and we'll get back to you.
Sign up for our much loved Weekly Mailer
We have terrific trekking tips, trek updates and trek talks to look forward to