Valley of Flowers: The Experience of a 12 Year Old
Share this story
Mumma I did it! Dedda we did it! – I was shouting with joy.
Few months ago. 
"Oh! Mumma I can't! Please stop!" 
"No beta! We have to complete five kilometres in 40 minutes. This is high altitude trek and we must be trained and fit for it" … blah blah blah… mumma continued. When I heard that we were going to Valley of Flowers (VoF) trek and I would be the part of the group, I literally jumped and danced with joy. Because last year in 2018 my parents had been to Rupin Pass trek and I had to stay at home. So, this time I was very happy about going with them. I love nature and flowers and my dedda showed me pictures and videos of the Valley of Flowers trek. Those beautiful, colorful pictures of flowers doubled my joy. 
But this physical training was disastrous for me. Alongwith dedda, mumma also became "Hanikarak" for me. After her duty hours my mumma took me with her for a walk. No! looooong Walk! Uff! I had blisters in my feet, my legs were swollen, but there was no mercy from my parents. "Beta, there is no free lunch, so to enjoy that gorgeous place you must be fit or you would be dumped." Mumma warned me.  "How mean these people are!" I cried. 
I didn't have any  other option. After some weeks, the fitness tracking app showed "Congratulations you finished 5 Km in 37 minutes". I felt really proud of myself. I got one big chocolate and one scoop of ice- cream for my "great" achievement. That gave me more reasons to be happy. 
Next was the very interesting part of preparation. Yes! Shooooopiiiing! Yuuuuhuuu! Both the sweet devils took me to a big mall and purchased trekking gear like, poncho, trekking shoes, trekking pants, jacket and so many other things. I was very happy. 
17 Aug 2019 
Now, finally that day came, about which I was dreaming continuously. My dream of running with flowers was going to be true. Oh! So lucky I was! Weren't I? 
We took a flight from Ahmedabad to Dehradun. Within a couple of hours we reached Dehradun. I enjoyed the journey. We took a taxi to Rishikesh. I loved the greenery and big trees on the road. We reached there and had some rest in our hotel. We had a scrumptious lunch of veg. Biryani, and Subji. When we reached Rishikesh there was light rain. I loved it but it made my parents a little bit disappointed. I didn't know why! 
In the evening, the sky was clean and everything looked fresh. I wanted to swim in the swimming pool of our hotel. But my dedda asked us to put on our shoes. We were going out. Wow! Even that wasn't a bad idea! I realized after some time that we were going out for a loooong walk! Oh ghosh! But now I was not afraid of walking. 
We went to Ram Jhula on foot from our hotel. It was a very beautiful place. I loved walking on the rope bridge. First time in my life, I saw such a type of real bridge and river Ganges. Roaring white water of Gangamaiya made us feel differently. We had ice cream and we returned. We had delicious pasta for dinner at one well decorated Italian Restaurant. We walked almost twelve Kilometres to and fro. We all were too tired and we had to wake up early in the morning so we slept instantly on the cozy bed. 
18th August 2019
"Please maa, let me sleep!" But my horrible mumma didn't allow me to sleep and woke me up early in the morning at five o'clock. With sleepy eyes I got ready and we started walking towards Zostel, Rishikesh. It was not so far but walking with my backpack was a bit difficult for me. One Bolero was standing near Zostel. My dedda inquired with the driver, and yes it was from Indiahikes for Valley of flowers. Great! Driver uncle loaded our luggage. Mumma saw two ladies standing near Zostel. She told me to ask the ladies where they were going. Yes! They were Vani Auntie and Divya Auntie, our co-passengers, you know! 
On a sunny and breezy morning we started our journey. I was too thrilled. Very soon I was friends with both the new ladies and started chirping with them. After some time we had a coffee break at a roadside eatery. The view of the river and mountains was incredible. I loved it a lot. 
Suddenly it started raining and we had to sit inside our vehicle quickly. On the way, the car stopped abruptly and we were asked by our driver uncle to look down the road. It was cake for our eyes. Two rivers Alaknanda and Bhagirathi were meeting there and forming River Ganga and the place was called Devprayag. I had never seen the confluence of rivers before. It was a sure thing that I would be getting lots of surprises and gorgeous views on this trek. 
We were talking and enjoying our journey. We passed the Rudraprayag and I remembered the horrifying stories of "Man-eaters of Rudraprayaga" by Jim Corbet. Thunder passed through my spine. How scary it was! Our journey was smooth till lunch. 
After lunch, it started raining and we had to wait at many places due to landslides and traffic. So boring! Mumma, Vani Auntie and Divya Auntie started worrying if we would reach Govindghat in time or not. Being only boy with four gal's gang, my dedda assuring us we would reach in time. So Vani auntie and Divya auntie started calling him "Baba Himanshu". After Karnaprayag it became very difficult to move further. And it was decided to stay for night at Chamoli. I wanted to cry at that time. But, our other team members also reached there and we got a not-so-bad room to stay. Thanks to team Indiahikes for their continuous guidance on the phone.  
"He Bhaggu! Our All the clothes are wet !" my mumma cried. We all started moving and dancing here and there to hang up the clothes to dry up fast. We couldn't sleep at night.
19th August 2019
The morning was pleasant. One team leader from the following batch was there with us and briefed us for the next programme. We left for Govindghat at six in the morning. It was a sunny day so we didn't have trouble reaching Govindghat. Our team leader Shashank uncle and guides Debu uncle and Manoj uncle welcomed us. We had a delicious breakfast of Idli and Sambar. 
After documentation formalities we left for the taxi stand to get a taxi to Pulna.  We were getting late so we started walking for a while and got into the vehicle on route. We reached Pulna and our actual trekking started. 
Trail was made of concrete steps. There were lots of pilgrims and mules on the road. I was walking with front leader Debu uncle, Divya Auntie and Sagar uncle. Oh god! Why so much litter on the road? I was busy collecting wrappers and other garbage in my green eco bag as I didn't want to lose any points on the green trail initiative. I enjoyed light showers and beautiful views. 
After hours of walking we reached the lunch point near a river  bridge. That journey was tiring but interesting. We all were very hungry and there was a very delicious lunch of Kadhi Chaval and papad. Mumma did some bird photography there. Light rain converted into heavy rain after lunch and so we had to stop at one chai shop. I was freezing so my mumma took me inside the shop near the angithi (brazier). Everyone was praising me and I liked that. 
We resumed our journey after some time, and this time I was accompanying one old man, my dedda. Suddenly, I heard a big noise, so I looked at that fatso. That budha admi (old man) was smiling slyly. What a surprise! There was one helicopter roaring in flight. It hovered and flew into the sky. I really loved it. That trip was seriously a bunch of surprises. 
Finally we reached our home stay at Ghangaria. I was among the trekkers who reached first, so I got chocolate from Shashank uncle. I want to talk so much with Divya Auntie and Vani Auntie, but due to tiredness I slept immediately after dinner. 
20 August 2019
After a sound sleep I was feeling fresh in the morning. We had breakfast and marched towards Valley of flowers. Butterflies were flying in my stomach due to excitement. Thank godit was a sunny day! 
Now, I knew many members of our team due to an introduction game last evening. Amazing Arpit, Chirpy Disha, Dazzling Divya, Yogi Shikhar, Sarcastic Mohammad, Wonderful Vani, Surviving Asma, Sahana, Latifa, Milind, Anoop  some  more and above all Baba Himanshu. He he he ! I was calling uncle and auntie to everyone but I should have called "bhaiya" and "didi" to some young guys and gals. No one had an objection about that to this little monster!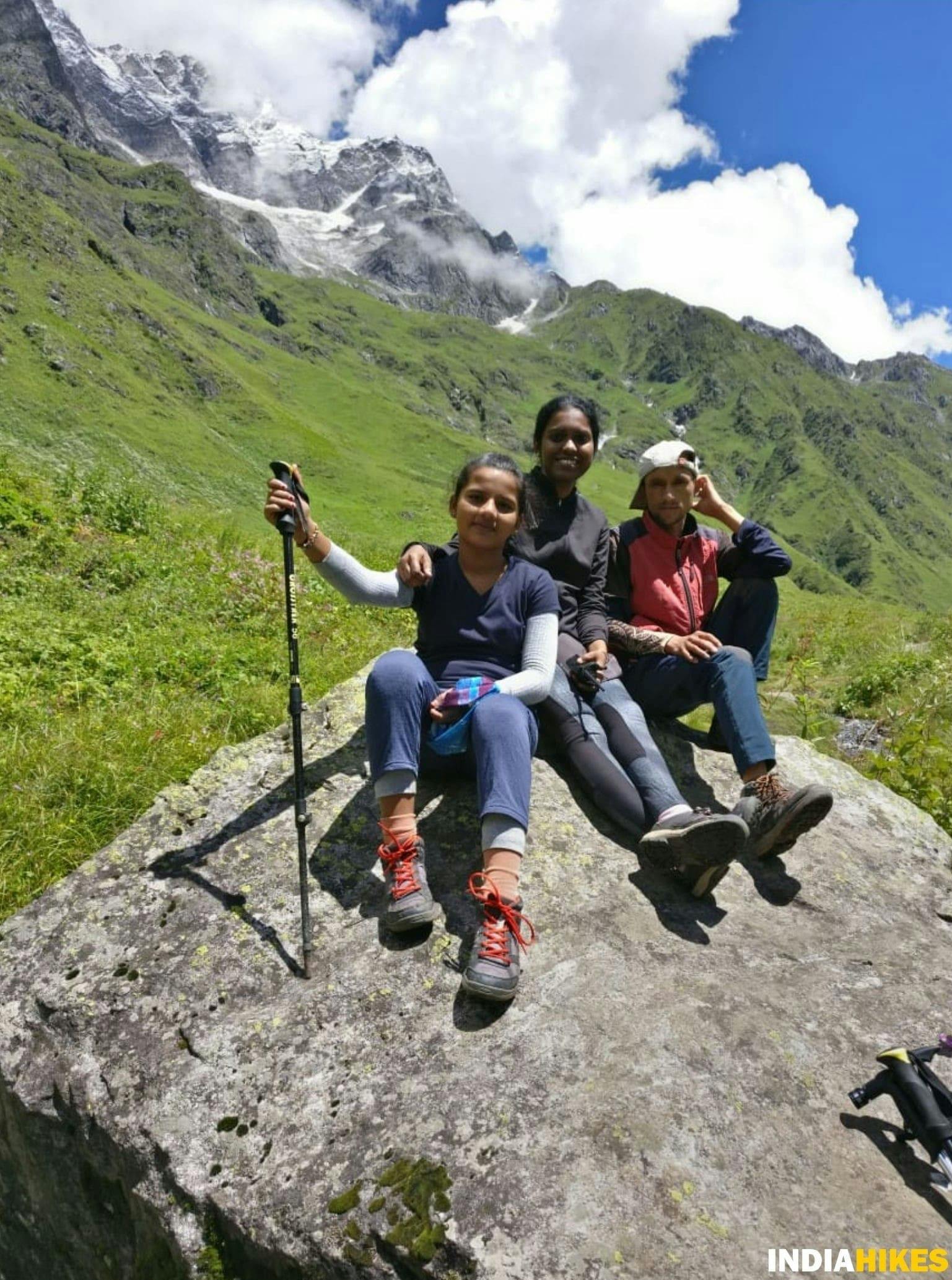 First, we saw a big waterfall on the river Pushpavati. It was marvellous. We reached at the gate of VOF and had some registration there. There was an ocean of lovely flowers with riots of colors in front of me.  The trail was not so tough and the scenery was mind blowing. My dream of running with flowers came true and I felt like I was a little butterfly. The further we went, the more magnificent it became. In my mumma's words the beauty was indescribable. We saw blue poppies, Himalayan balsams, dog flowers and many other beautiful flowers. 
Debu uncle, Divya Auntie, Sagar Uncle and Anoop Uncle and I reached a very big stone in the valley. Voila! We were the first to finish the trek. I was on cloud nine as the view from there was really mesmerising. Lots of flowers, and a big valley and glacier were in front of me. 
We had delicious veg. pulao there and we wen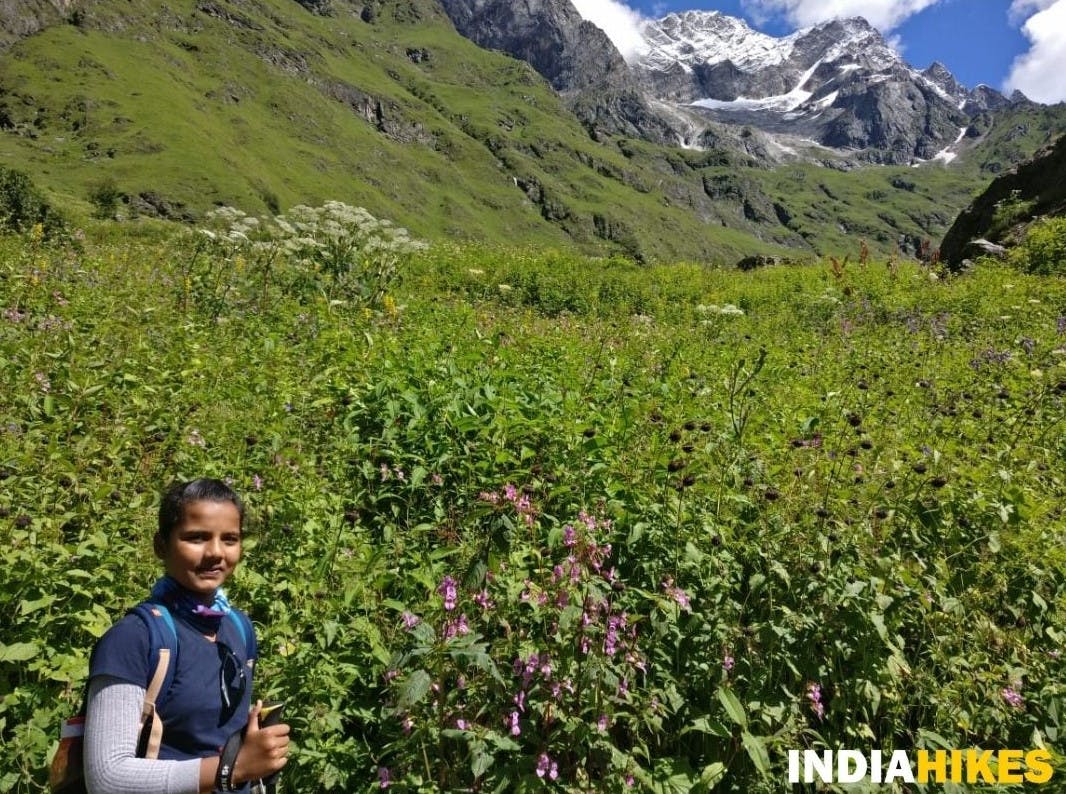 t further into the valley and returned. We reached our homestay and had nice coffee made by Sagar and Anoop Uncle. Everyone came but my dedda didn't. I knew my lovely fatty teddy was a fit person but I couldn't understand why he took so long. So, I started sobbing. Mumma and Vani auntie pampered me. 
At last dedda came. He had lost his mobile in the valley! Oh! Very bad news! We had lots of photos and videos of our trek in his mobile. Mumma took control and shouted "let's have party! your dedda is going to have a new mobile and my dika has completed her trekking superbly." We went to a nearby shop and had hot delicious rabdi. 
One more good thing was that I had the highest oxygen level among all trekkers. I was too tired so I skipped my dinner and slept very early.
21 Aug 2019 
There was rain in the morning. We had a breakfast of pancakes and started our journey to Hemkund Sahib. Many of our teammates were going up by mules. I also wanted to go by mule but my dedda insisted on trekking. 
After half an hour of trekking I realized I had made a very big mistake yesterday. I was free horse that day and I didn't have enough water. I didn't even eat anything at night. Hence, I started feeling low. I was unable to move further and my lips started turning blue. 
Now, it was dedda's turn to take care of me. He gave me plenty of water and started walking with me. He was assuring everything for my wellness and safety. I got lots of temptations and promises on successful completion of trekking. I had my favourite Maggie on the way. After halfway mumma joined us. They both were encouraging and pushing me. Even ongoing pilgrims were also saying, "Sat Sri Akal Bachcha! Bas ab thoda hi hai!" Mumma suddenly screamed, "Hey look!" It was one more surprise for us. There was a very rarely sighted flower which could be seen only at Hemkund Sahib trek; and that was Brahma Kamal. Yuuuuuhooooo!
We kept walking and that's it! Shashank uncle welcomed us and congratulated us. We reached there. "Mumma, I did it! Dedda, we did it!" I was shouting with joy. My bahubali dedda lifted me and my mumma simultaneously. But what did I see! That oldie rough and tough fatso was crying! 
We didn't have much time as Gurudvara was about to close. We sat inside there and listened to sacred Gurubani. Both my parents were weeping  throughout that, but I couldn't understand why! 
After that we went behind the Gurudvara. Was it a poster or the real thing? I was stunned one more time. All the mountains around us and Hemkund Sahib in front of us. It was a pleasing moment. Oh heaven! The blue sky turned into black and it started raining heavily. 
We took shelter in Lunger and had mouth-watering Khichadi. We had to rush back due to rain. Dedda and I enjoyed the path one more time while cracking jokes and eating Maggie together. At the basecamp we were welcomed by hot snacks and popcorn. I got lots of chocolate from other teammates. I was just happy, happy and happy.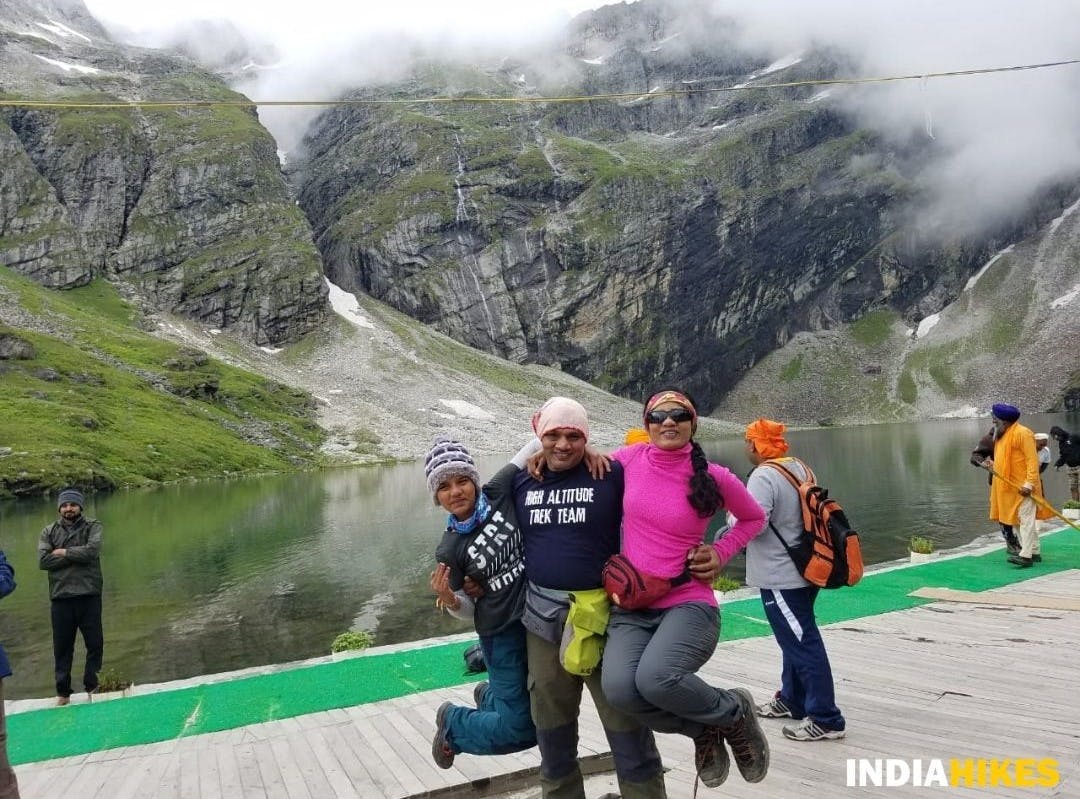 22nd Aug 2019
It was the final day of the trek and we were returning to Phoolna. We had tasty Puri Bhaji and marched on. One more time I saw a helicopter. Watching the helicopter taking sharp turns, and disappearing in the mountains, was a delight for my eyes. 
Suddenly, there was big sound. We witnessed a big landslide in front of us. Trees were rooted out and big boulders were coming down. It was not a movie scene but was real. I was too scared and started crying. Debu uncle Vani auntie and Divya auntie sympathized with me. Debu uncle and Shashank uncle asked us to hurry up and helped us cross the wooden bridge and risky section. It was showering slowly. We enjoyed the path and reached Poolna and at last Govindghat. We had a healthy lunch there. I got VOF magnets from Shashank uncle.  Divya auntie, Vani auntie and my parents decided to travel to Rishshikesh on the same day due to the rain and landslides. One more time we five were together in a vehicle. On the way, I vomited and was unwell.  We had to stay in Srinagar due to lots of landslides on the road. 
23rd  and 24th Aug 2019
We started early in the morning and had superb Alu Paratha on the way. Almost at eleven o'clock, we reached Rishikesh. Divya Auntie and Vani Auntie had their flights on the same day so they left for the airport. Dedda had booked a nice resort with my favourite thing – a swimming pool. We enjoyed ourselves in the pool and rested. In the evening we walked to Laxman Jhula. The bridge was decorated with lights. I played in the sand of the river ghat. My parents meditated in front of Ganges. 
After a lovely dinner we returned back. Next day we left for Ahmedabad. 
Final Note: It was my first trek and I had a great experience. I have learnt so many things from this trek and my fellow trekkers. I understand there is no gain without pain. Being fit is very important. I realized my strict parents will support me and take care of me at my worst. I have written this two years after my trek, so you can praise my memory. Finally it is rewarding. I got a costly pair of inline skates as my gift. Yuuuuhoo!
Sign up for our much loved Weekly Mailer
We have terrific trekking tips, trek updates and trek talks to look forward to