How This Vegan Outdoor Trek Leader Is Breaking Dietary Stereotypes
Share this story
In the world of the outdoors, there is a stereotype – that you cannot perform well as a vegan outdoor leader. This is because most people feel that purely plant-based diets, cannot sustain the rigor that an outdoor profession puts a person through. 
Indiahikes Trek Leader Nitesh Kumar shatters this claim. Not only is he a vegan outdoor leader, but his duties also involve trekking the wide expanse of the Himalayas. Leading trekkers up and down these beautiful, yet sometimes treacherous mountains. 
Meeting Nitesh was an eye-opener for me. He is Indiahikes' first vegan Trek Leader'. Over the past couple of years, I've heard people debate whether plant-based or vegan diets contain enough protein to sustain high-performance athletes. These athletes require a higher intake of protein not only to build and grow their muscle mass but to recover from their exercise.
Trekking is a high-performance and high-intensity exercise. Nitesh is trekking in the Himalayas at least 24 days in a month. He does close to 40 treks each year. He's led batches to the newly opened Gidara Bugyal Trek, Mukta Top, Pin Bhaba Pass, and Dayara Bugyal, just to name a few.
His body is a trekking machine. Yet is entirely fuelled completely by vegan foods. At higher altitudes, and sub-zero temperatures, this is a unique challenge for the body.
Nitesh tells me about one of his inspirations – Kuntal Joisher. Joisher was the first vegan to successfully summit Mt Everest. His equipment and his food were all 100% animal-free.
│Challenges of being a vegan Outdoor Trek Leader in the Himalayas
In cities, there are vegan alternatives to most dairy foods – vegan milk, vegan butter, vegan ice-cream, the list goes on. Adding to this, you can find dry fruits, leafy vegetables, and pulses quite easily.
This is not so in the remote mountain villages. Sometimes, groceries must travel for days before they reach a store.  This means that Nitesh cannot operate on a whim, or buy things as and when he realized he can.
"I usually plan my meals for about a month and a half in advance", says Nitesh. This means buying and preparing his nutrition for a month and a half and carrying it with him everywhere he goes. This also makes him practice sustainability. He doesn't buy any packaged products and gets all of his nutrients directly from the sources.
Further, how does one stay vegan when the sweet milk chai of the mountains, is an affair on its own!
Not having any stores around is a blessing in disguise for Nitesh. He says that this allows him to be a vegan in a true, and different sense. He says he is not distracted by the luxury of alternatives that you can find in cities.
Instead, Nitesh buys dry fruits and seeds – chia, sesame, poppy, flax, pumpkin, and sunflower seeds, and roasts them together, and then powders them. This he says is just one of his staples. He does this while he is at home, or in the mountains.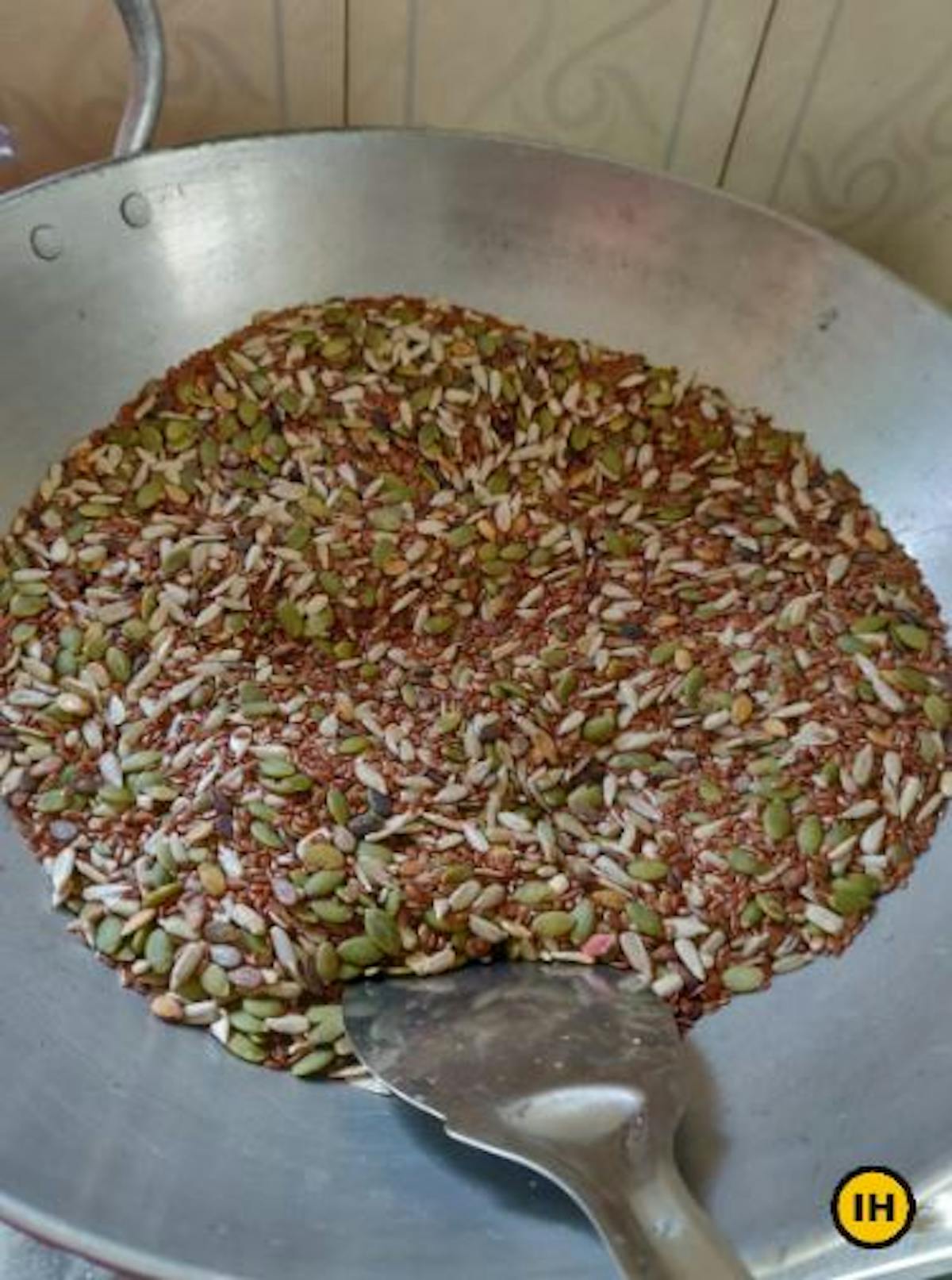 Step 1 – Roast the mixture of chia seeds, sesame, poppy, flaxseed, sunflower seeds. Picture by Nitesh Kumar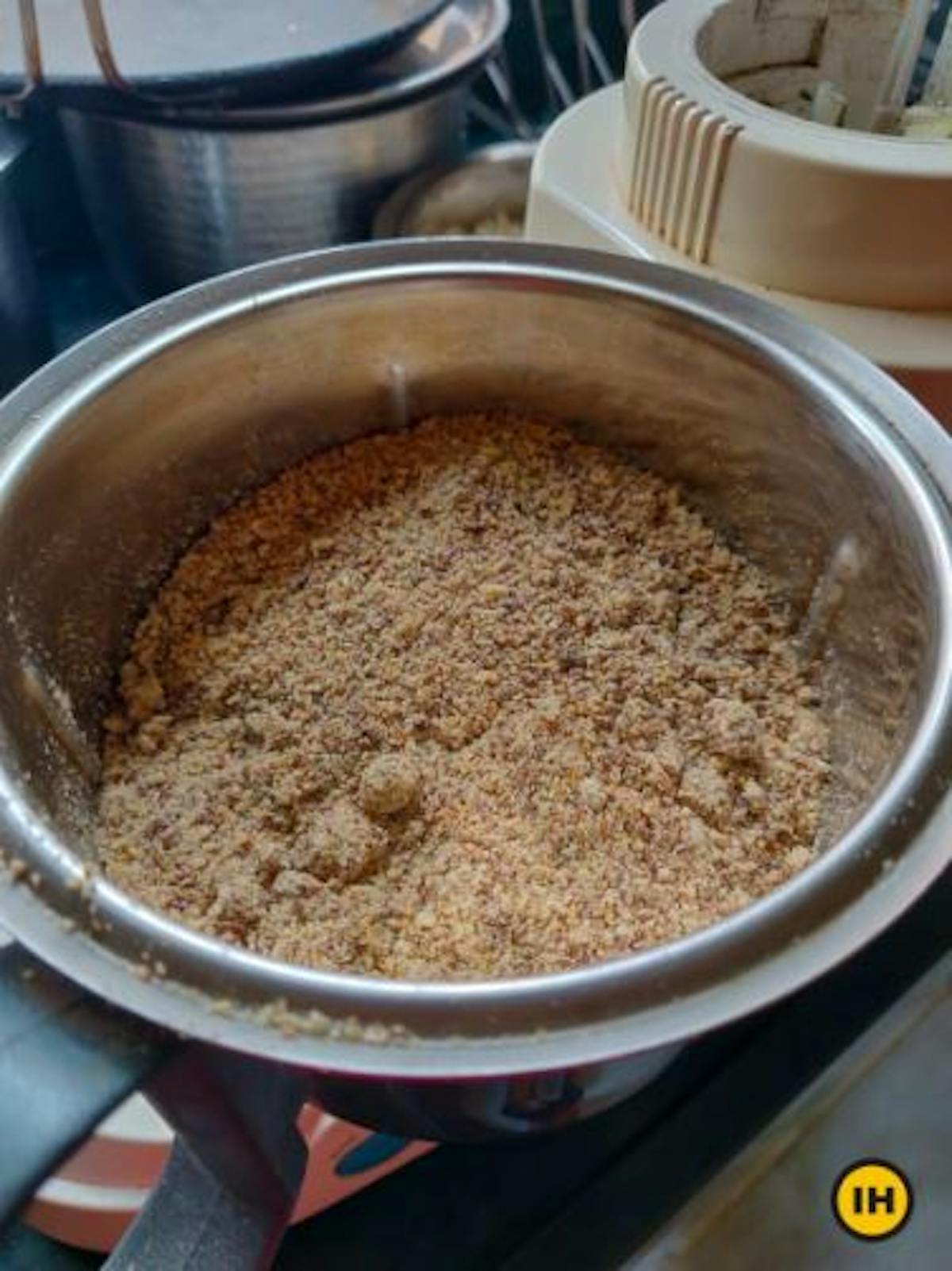 Step 2: Powder the seeds into a fine mixture in a mixer grinder.
│Getting enough nutrition to lead treks 24 days in a month
While trekking, a healthy intake of calcium and proteins is a must. You exert your body more than usual and burn far more calories. An approximate intake of 1.2 g to 2 g of protein is recommended.
Nitesh tells me that many of his fellow Trek Leaders and trekkers have a common misconception about vegans. I was guilty of this too, that is until Nitesh clarified it for me.
He says that most people are convinced that without dairy and other animal proteins it is impossible to fare well in any physically demanding outdoor profession. Further, they think that being a vegan also delays the body's ability to recover from injury and stress.
A high altitude and high-intensity profession like a Trek Leader is the epitome of outdoor professions.
Remember a Trek Leader does not do the trek only once, they are running up and down throughout the trek, ensuring that all their team members are safe.
Nitesh shakes his head with a smile as he explains, "As a vegan, I am not depriving myself of any nutrition. This is one misconception that everyone has. All the nutrition that a vegetarian or non-vegetarian has, I am getting them. It is just the way in which I get them."
Nitesh carries a mixture of seeds, sprouts, grains, self-made peanut butter, almonds cashew, apricots, etc. He eats a lot of varieties of vegetables, specifically green leafy ones. He also doesn't miss a chance to eat fruits, whatever is available in a particular region, and season.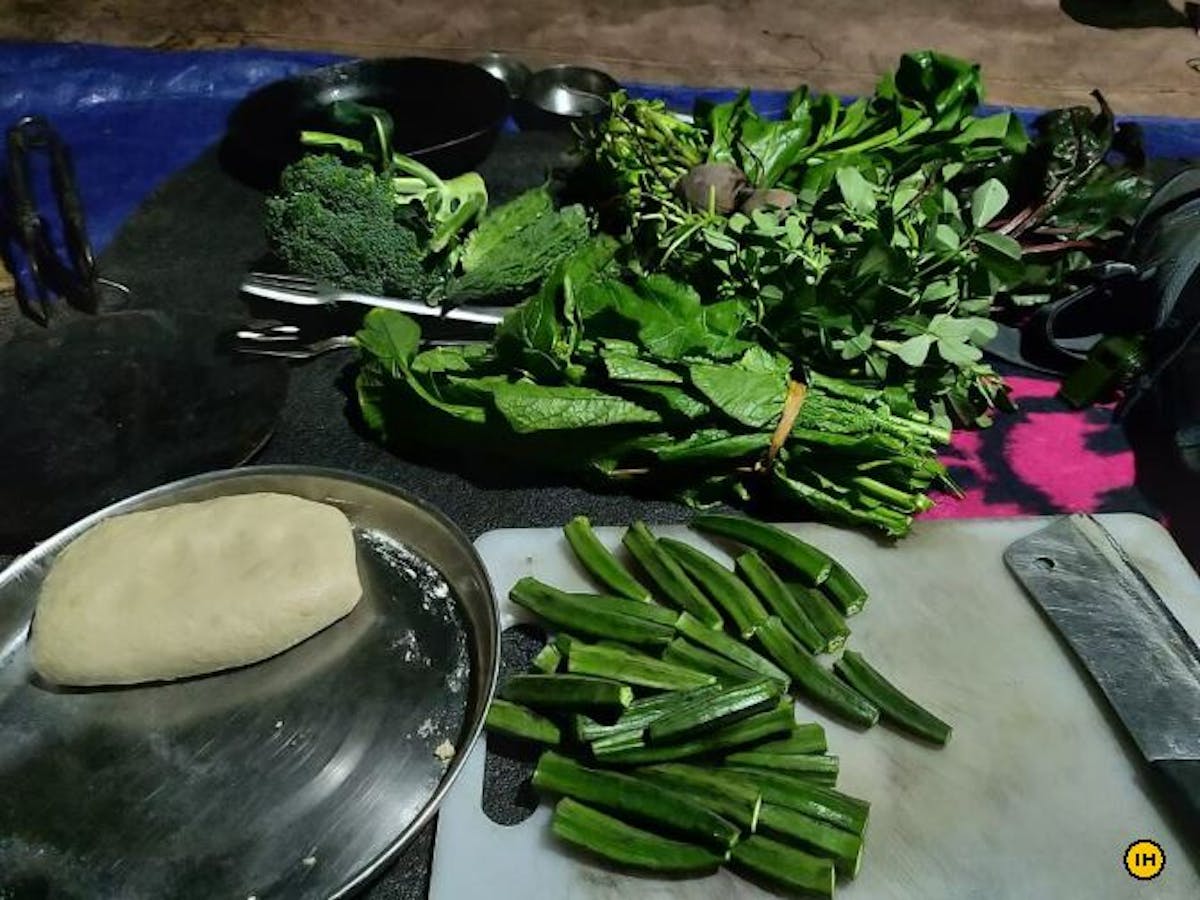 Meal prep: Nitesh's diet consists of a lot of leafy and green vegetables. Picture by Nitesh Kumar
While there are vegan protein supplements Nitesh does not take any. He only takes a Vitamin B12 supplement because every human body is deficient in vitamin B12. This is not restricted only to vegans.
Further, he integrates a lot of dal and pulses into his diet. "All these plant-based ingredients have enough nutrients to sustain my body during my treks. My body feels very light, stronger, fueled with energy, and improved reflexes as well. In fact, the quality of nutrition obtained here is much higher than any normal day routine." says Nitesh.
Four Himalayan treks a month also means that his body, especially his muscle tissues are prone to a lot of wear and tear, and injury. It is proven that vegan diets
more than any other diet.
Vegan diets play a major role in maintaining cardiovascular health. This is critical for endurance athletes. 
A paper published  by the National Centre for Biotechnology- 'Vegan diets, practical advice for athletes and exercisers', says    " vegan diet could offer potential performance benefits due to the antioxidant (polyphenols), micronutrient (vitamin C, E) and carbohydrate-rich foods typical of plant-based diets assisting training and enhancing recovery."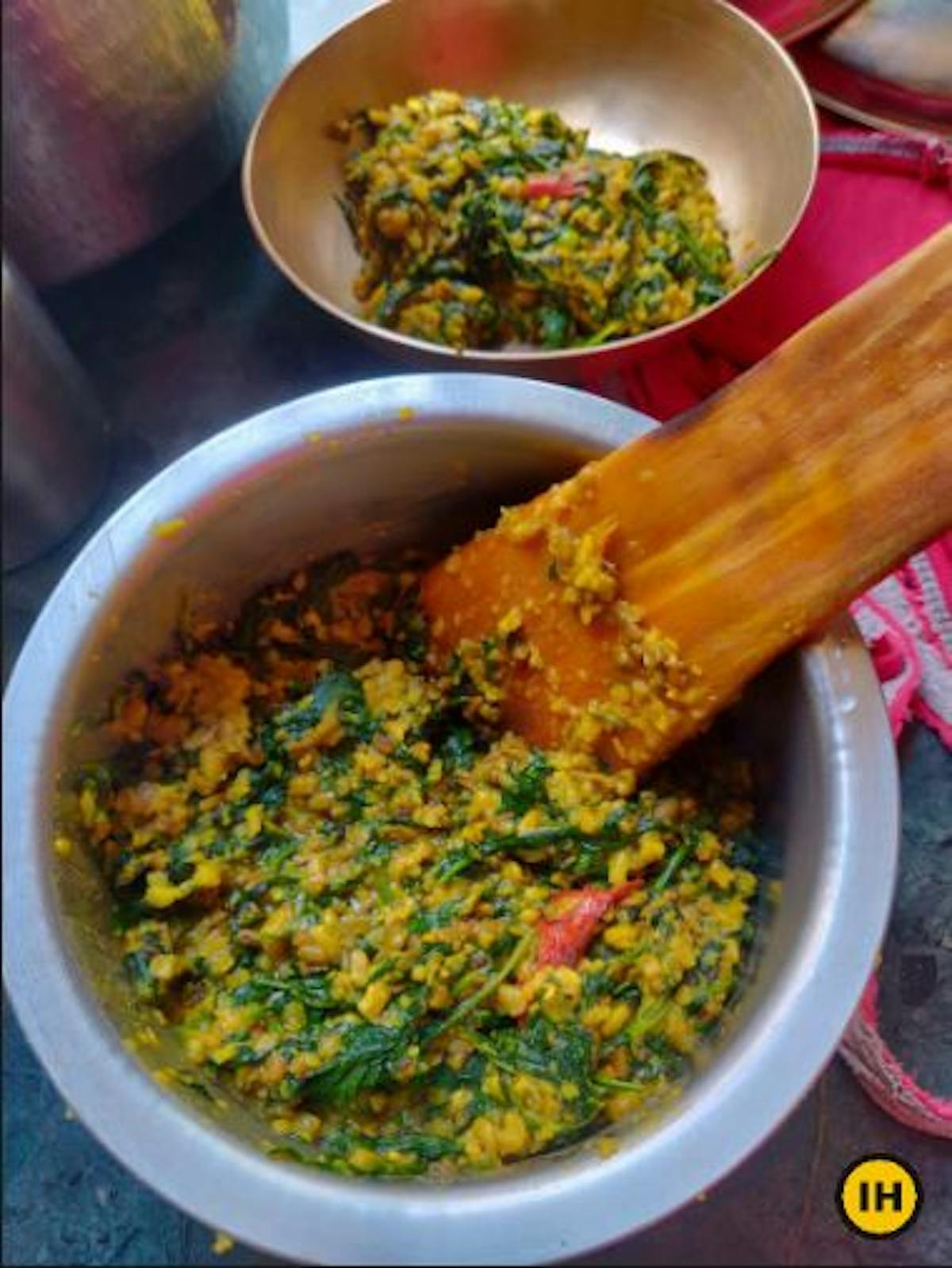 Nitesh's diet includes a lot of pulses and dals. Picture by Nitesh Kumar
│How the mountain staff help and support his choice to be a vegan outdoor leader
"At first the mountain staff and cooks would think that this is something peculiar. But after I would sit with them, and take the time to explain why I am a vegan, I could feel a sense of respect from them. They would appreciate my choice. Earlier I would have to tell them that I don't eat ghee, milk etc, but now they ensure to set aside some vegetables or dal for me before adding milk or ghee."
Nitesh explains to the mountain staff that his choice to turn vegan was primarily because of his love for nature, and his love for animals. He tells them that he could not bear to eat any dairy products knowing the manner in which the dairy industry works. 
"Many people say that in the mountains there is no dairy industry and that we get milk straight from the cow. They ask me why I still don't drink milk." 
To this he says, "Firstly, in the true sense of being vegan,I cannot take advantage of any animals, and dairy products. Secondly, I feel like I am taking away milk from a baby calf, and disturbing the beautiful relationship between a cow and a calf."
Researchers at the University of Oxford found that cutting meat and dairy products from your diet could reduce an individual's
Nitesh says that the mountain staff supporting him, and believing in his choice to be vegan has helped him a lot. Without this, being a vegan in the mountains would be a huge challenge.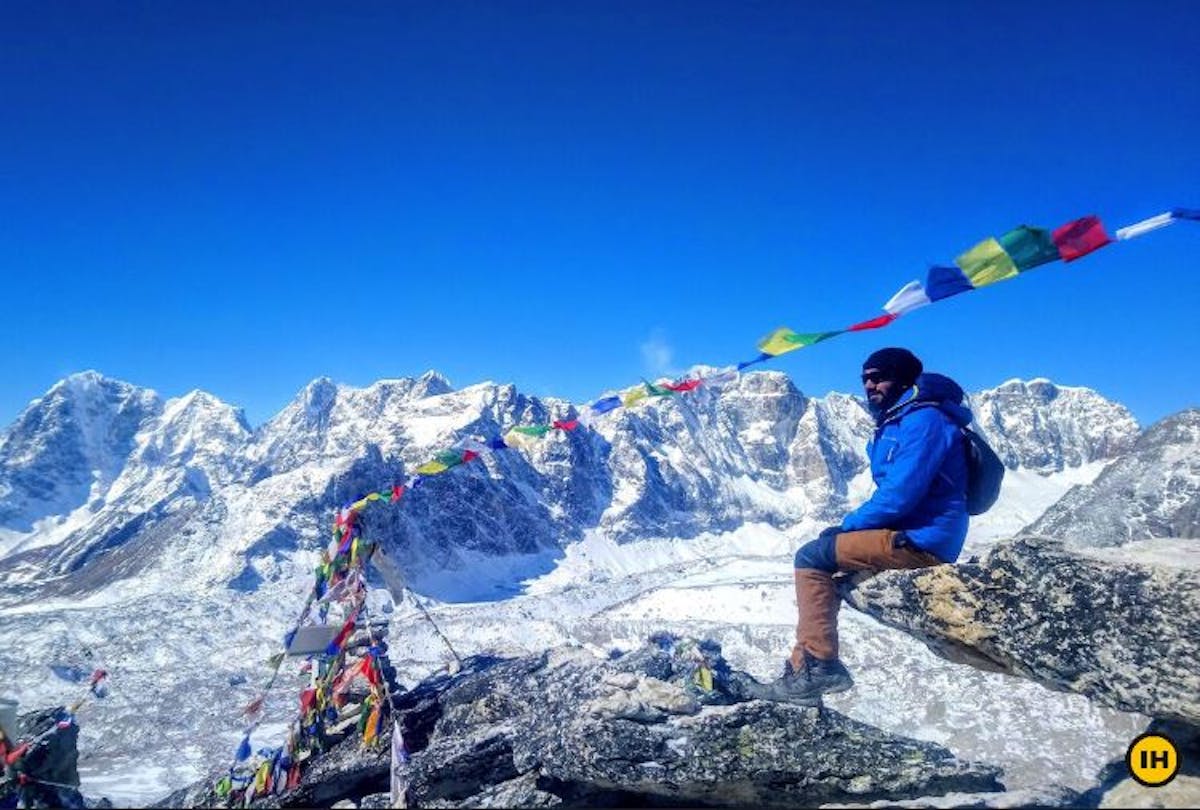 Nitesh at Kallapatthar (18,200 ft) on the Everest Base Camp Trek.
│Predictions for the trekking world
Nitesh believes that in a few years, there will be a lot more vegan athletes and trekkers in the world. He says, "We cannot ignore the huge negative impact that the meat and dairy industry has on the environment. Secondly, more and more people are discovering that being vegan is a much healthier and active lifestyle."
While being a vegan outdoor athlete is gaining a lot of popularity for all the right reasons in the west, India is just a little behind. But Nitesh thinks thanks to social media, and strong people committed to the environment, the awareness of being vegan is increasing.
"I want to be an inspiration to outdoor people that it is possible to be vegan, and excel at a physically demanding job. Being a Trek Leader I have the opportunity to interact with many trekkers. I get to share my journey with them, and hopefully inspire a few to become more sustainable," says Nitesh. 
Latest Videos
"What is Trek Leading as a Career like?"
Sign up for our much loved Weekly Mailer
We have terrific trekking tips, trek updates and trek talks to look forward to