35 Spectacular Photos From The Warwan Valley Expedition
Share this story
Warwan Valley Trek is the grandest in our country. At Indiahikes, we call it 'The' Warwan. There is no trek you would have done that can match the experience of this trek. And no trek you do after this will come close.
This is what our Chief Explorer & Senior Trek Leader, Nitesh Kumar, realised when he led a team to Warwan Valley (on August 7th, 2022). He said, "One emotion to describe this trek is in a sentence — Warwan sab ka Baap hai, kasam se!"  
In his words, "How does a single trek have everything at once, and every day? Each day, the landscapes differed, and those landscapes' scale was huge, even for my lens."
This trek was extremely special for Nitesh for a big reason. "I realised that as we entered our 76th year of independence, I led my 76th team as a Trek Leader at Indiahikes. I'm really proud of that, and this time it was even more special because it was the Warwan!"
So today, we want to take you through this long photo story that Nitesh has put together. Through some of the best photos we have seen of Warwan Valley, he takes you on the whole trek through his lens. 
Before that, do take a look at this map of the Warwan Valley trek, to get a bearing of the locations in the photographs.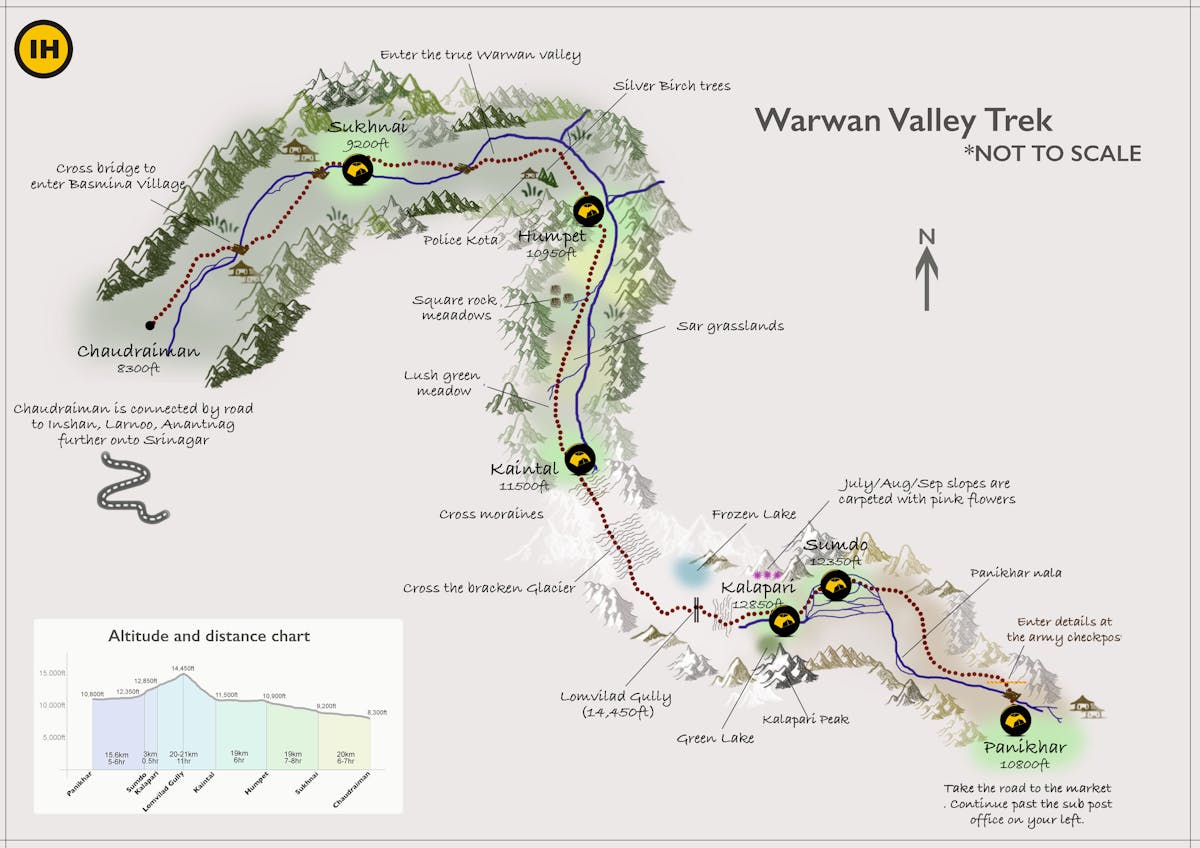 Warwan Valley trek Map.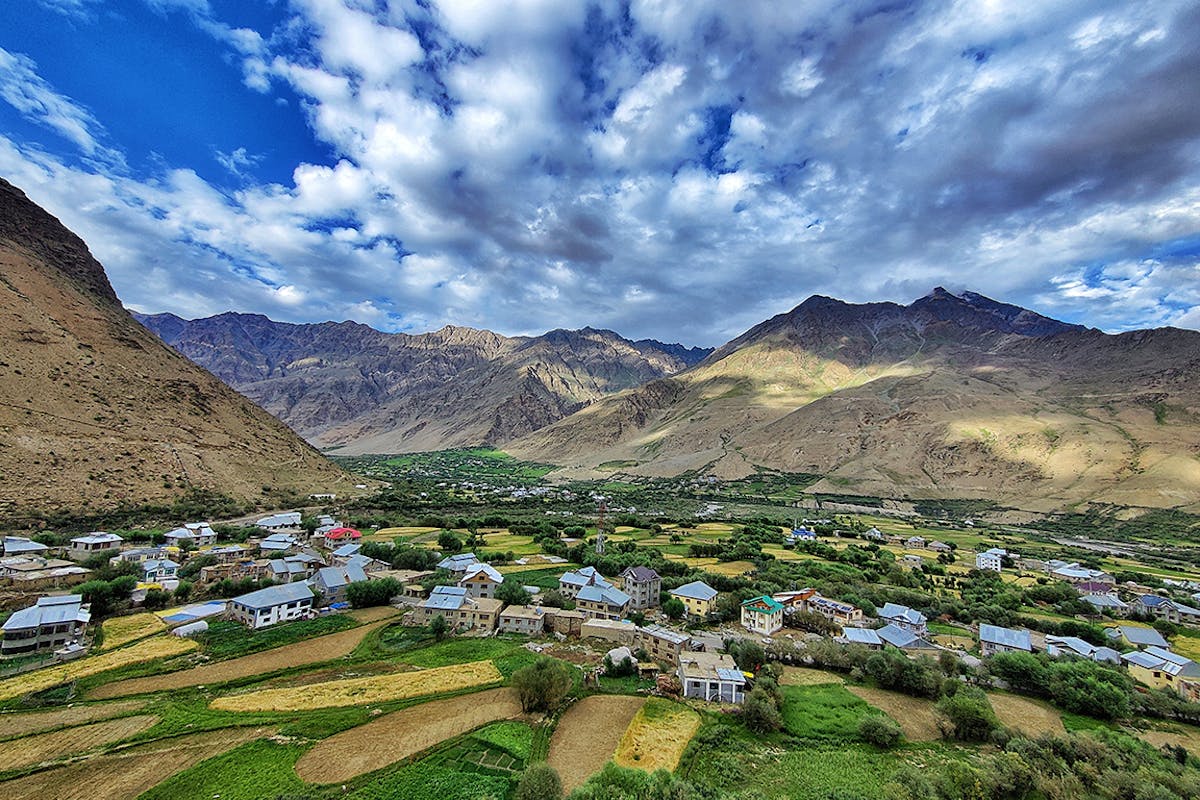 Panikhar Village, located in Suru Valley, is a beautiful village full of farms and fields. This is also the basecamp for the Warwan Valley Trek. 
The trek starts from Panikhar Basecamp and on the second day you trek to Denora. From Panikhar, it is a 13 km trek to Denora. Notice the brown barren Ladakhi landscape as you trek.
"When I reached Panikhar and started for Denora. My eyes started glittering to see those colours, patterns, shapes and drama. I wish I could take a buffer day at each campsite. I was getting emotional seeing all this," explains Nitesh.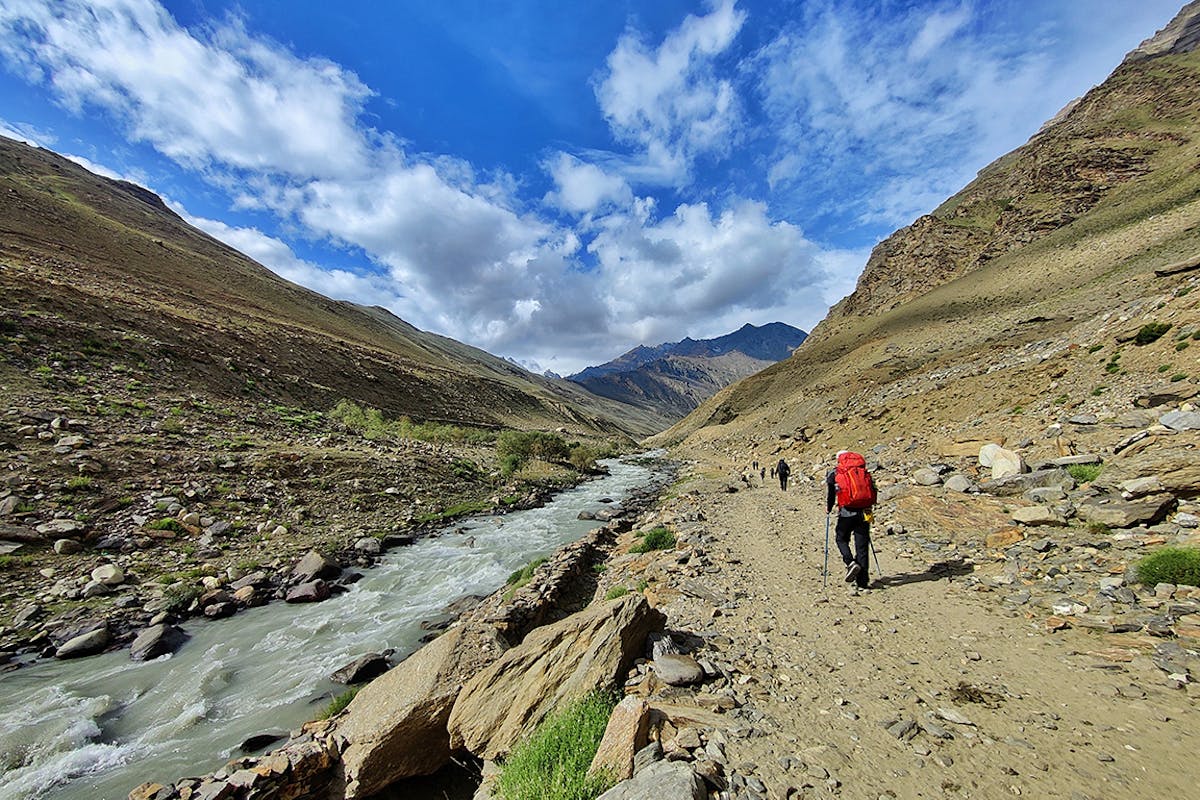 Enroute to Denora with Chalong Nar gushing on the left. You'll walk around 12 km today. The Chalong Nar will be present throughout the trail. Picture by Nitesh Kumar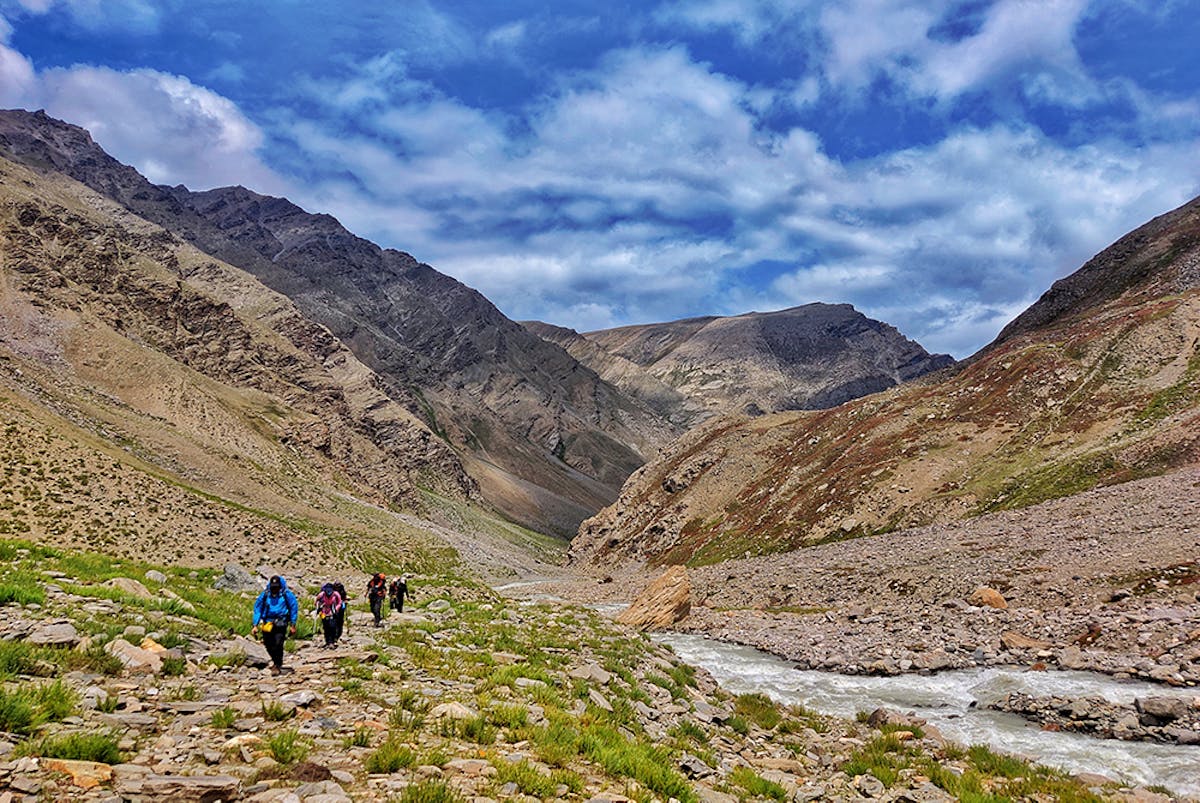 Looking back at the trail from Panikhar. You'll notice the mountains are almost barren showing the ladakhi landscape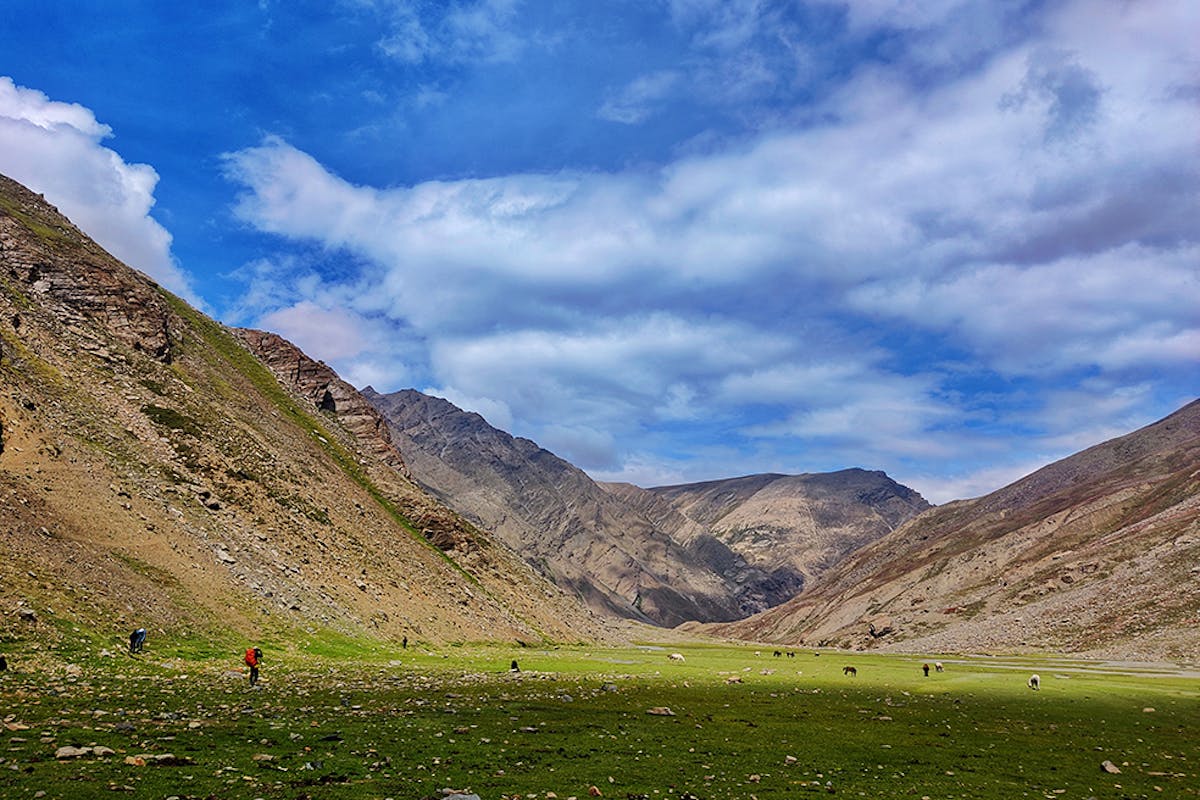 Wide valley opening at Denora.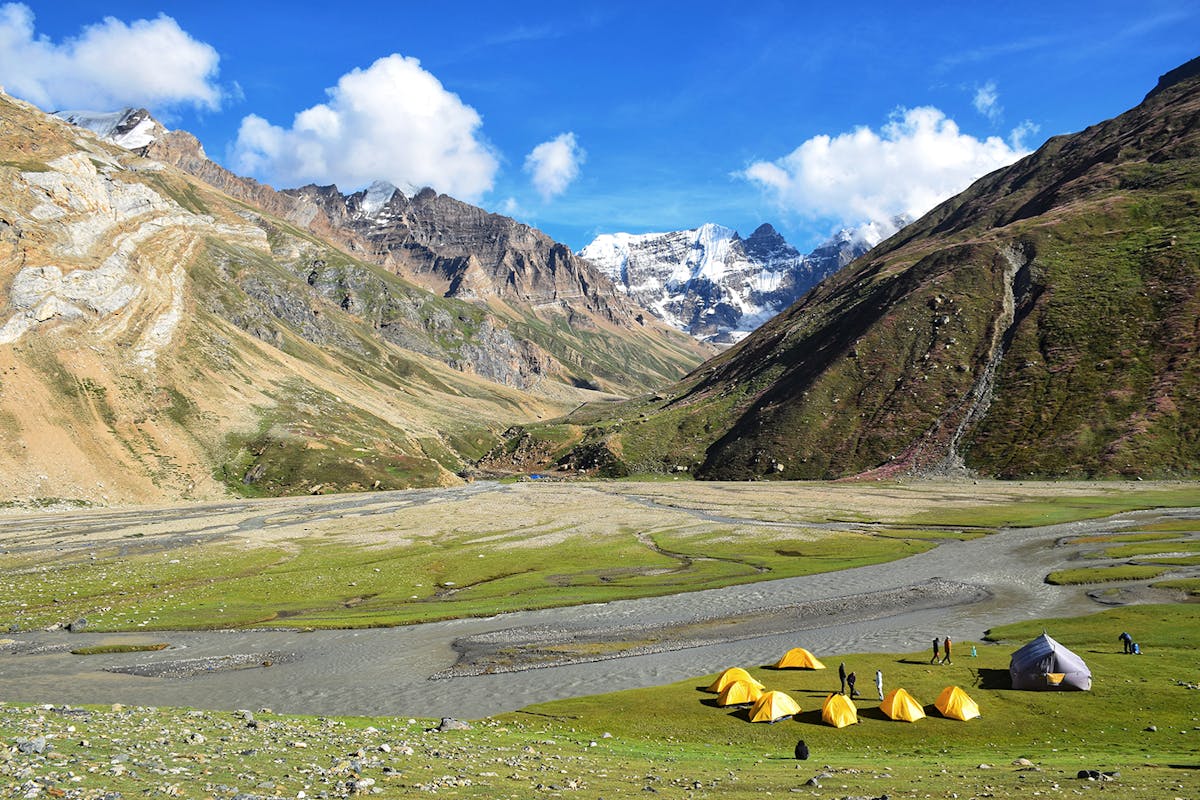 Denora Campsite. Plain river basin. Denora is the confluence of two rivers. You'll witness multiple meadows between the rivers, each lushier than the other. Picture by Nitesh Kumar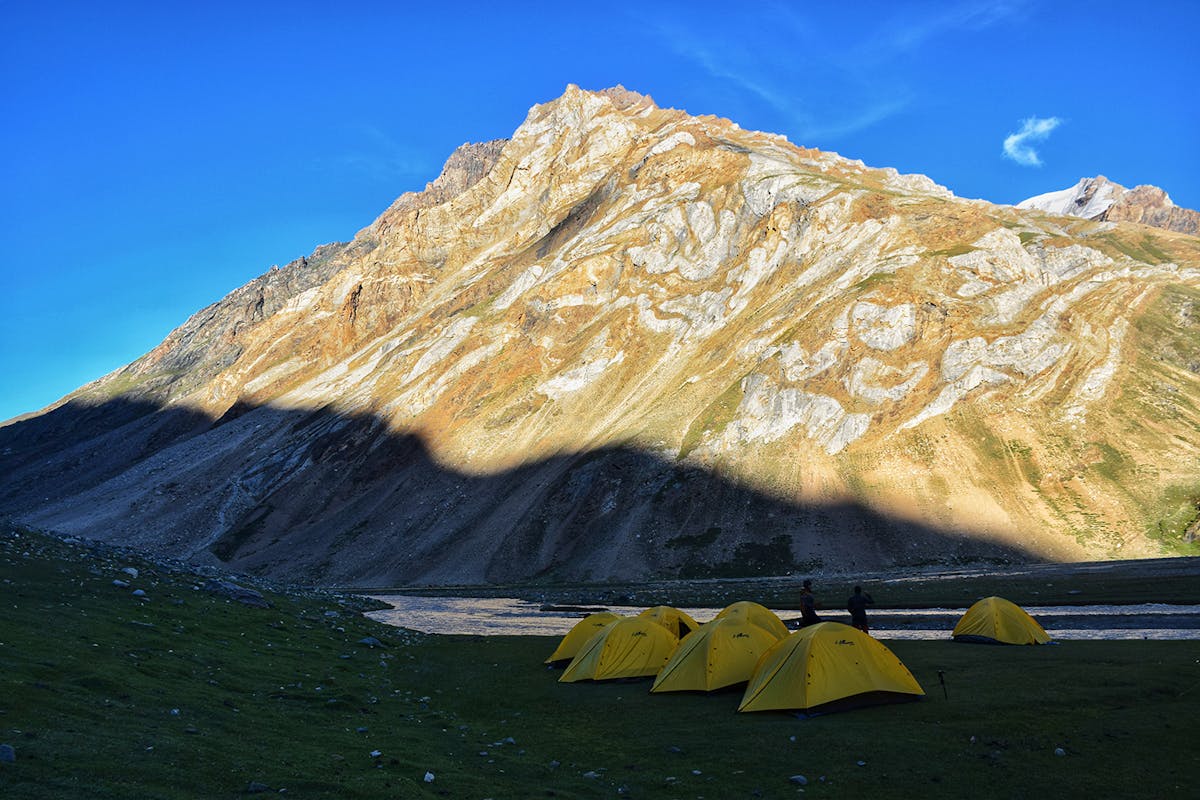 Barren Ladakhi  Landscape. We see this at the starting of the Warwan Valley trek. Picture by Nitesh Kumar
On the third day, the trek from Kalapari to Kaintal Meadows via Lomvilad Pass is the longest and most challenging day on the trek full of adventure!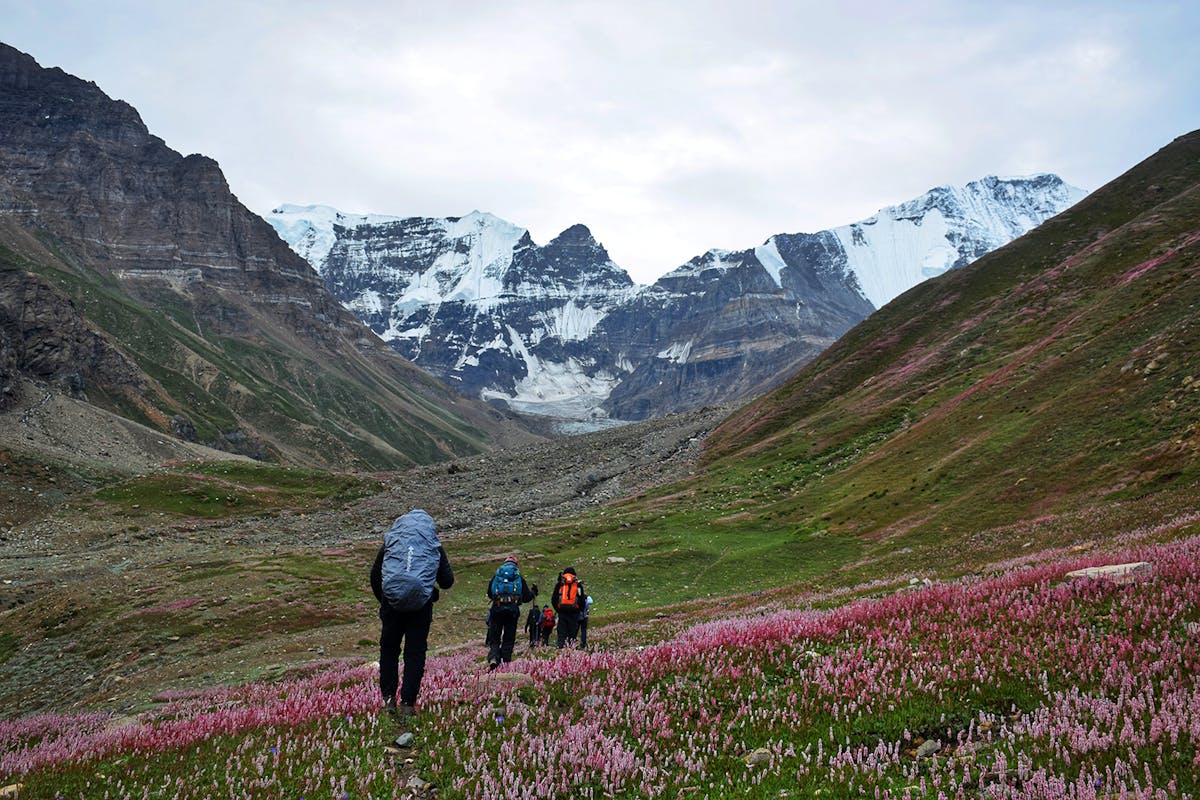 View of Kalapari Top as you start your trek from Kalapari. In monsoon, the slopes are carpeted by pink flowers.  Picture by Nitesh Kumar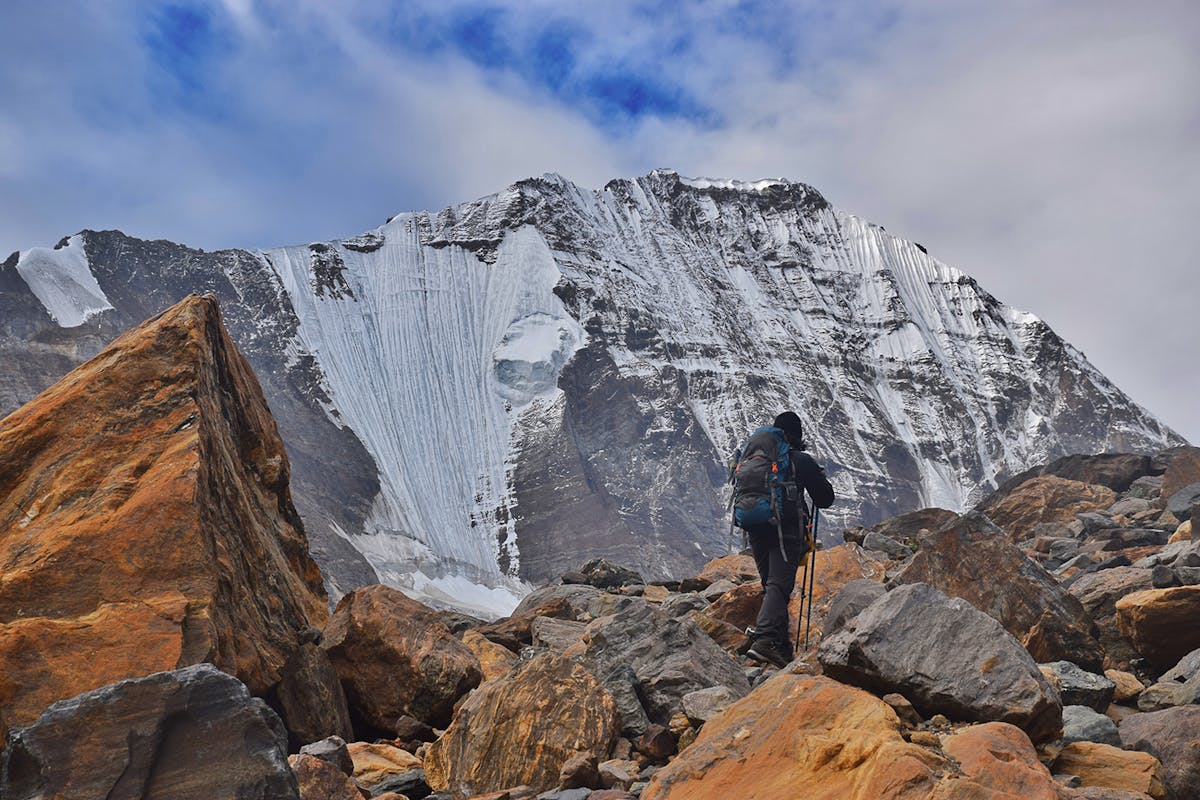 You walk on boulders to get to the Alpine Lakes on the other side. Trekkers witness the Alpine Lakes immediately after this walk.
Breaktaking view of Kalapari Top overlooking the Alpine Lake.The walk is bouldery and full of loose rocks. Picture by Nitesh Kumar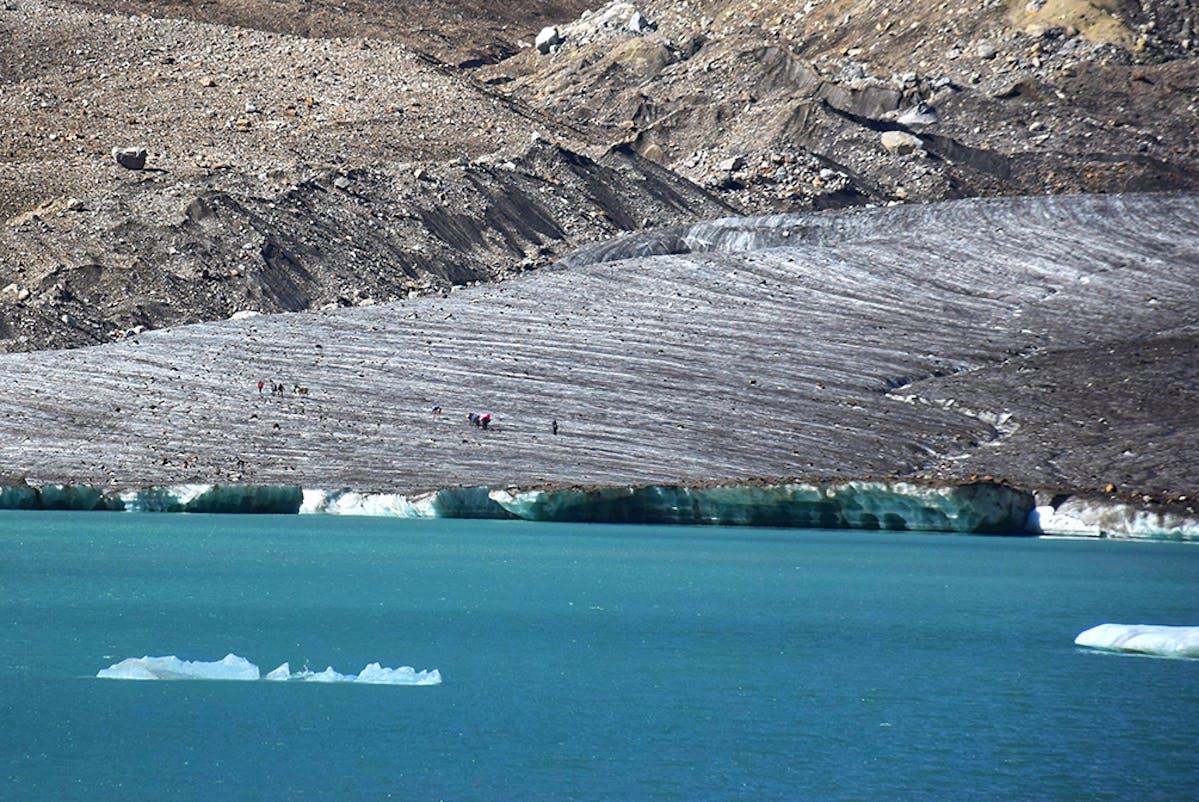 Glacier depositing into the Lake. Picture by Nitesh Kumar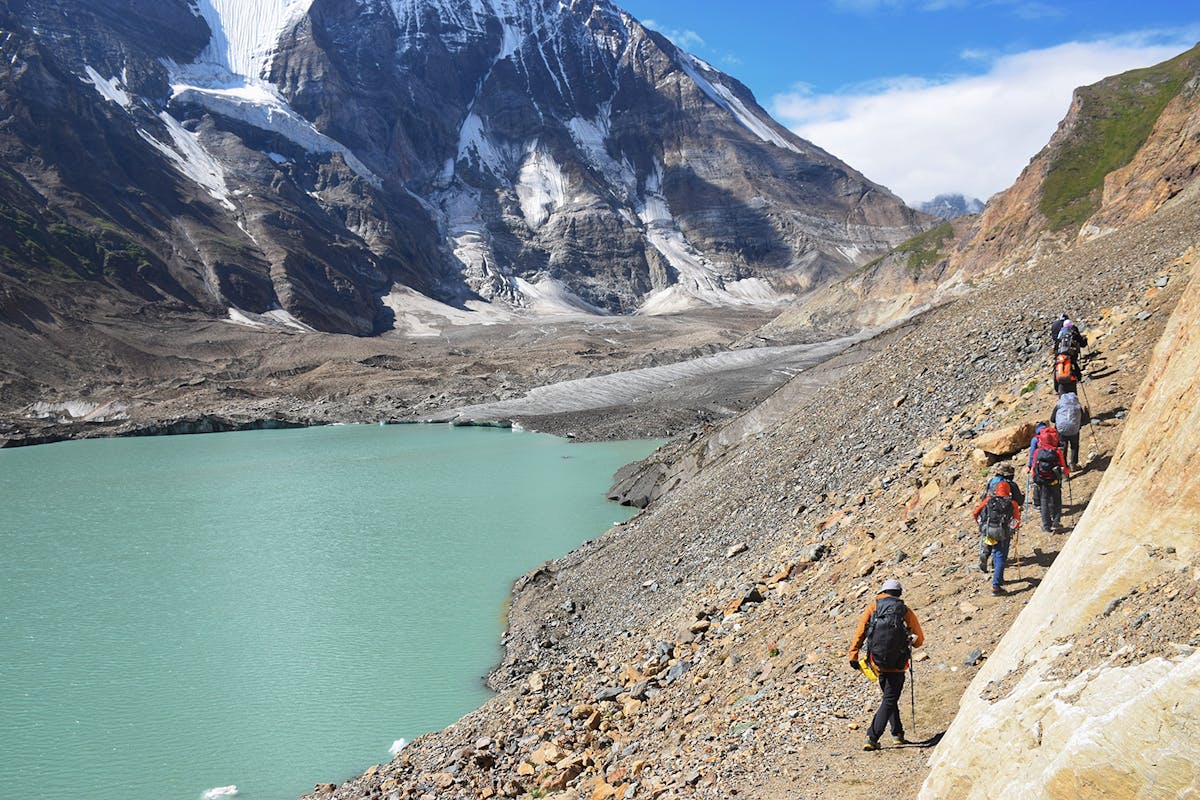 You walk alongside the lake towards the glacier to get close to Kalapari Top. Picture by Nitesh Kumar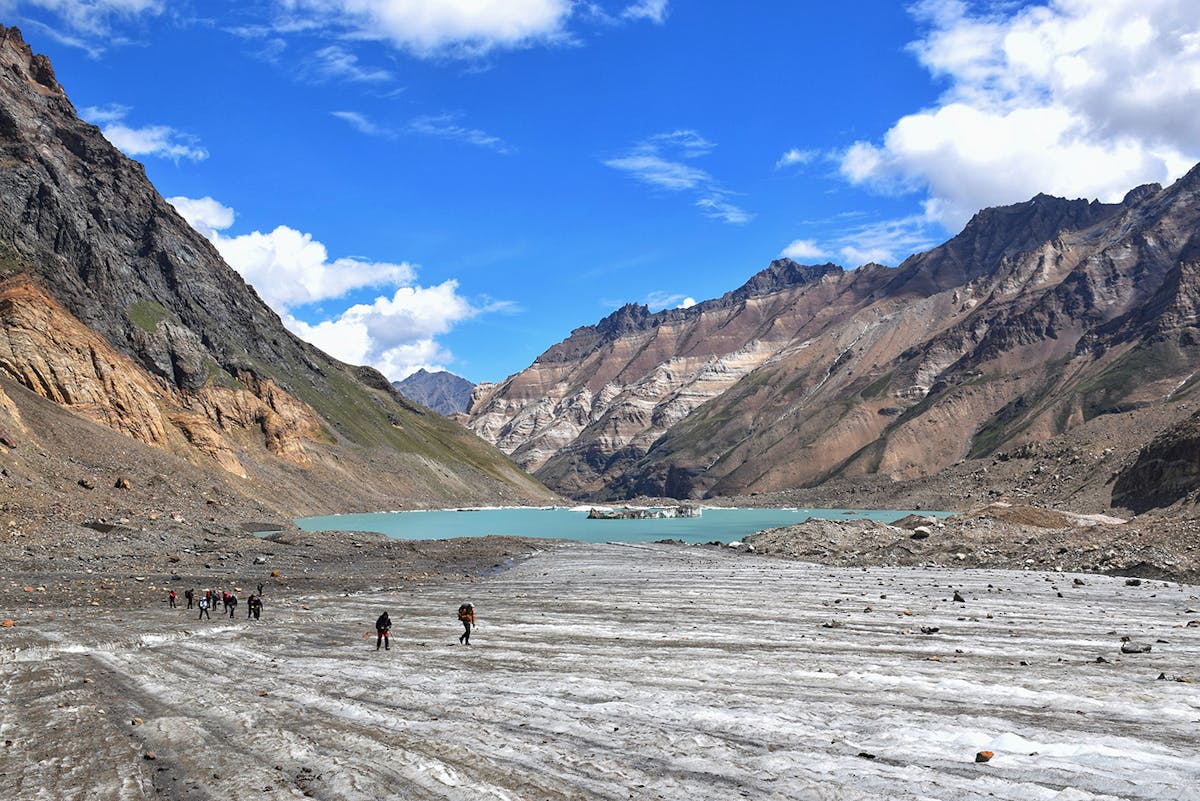 Glacier walk enroute to the base of Kalapari Top. Picture by Nitesh Kumar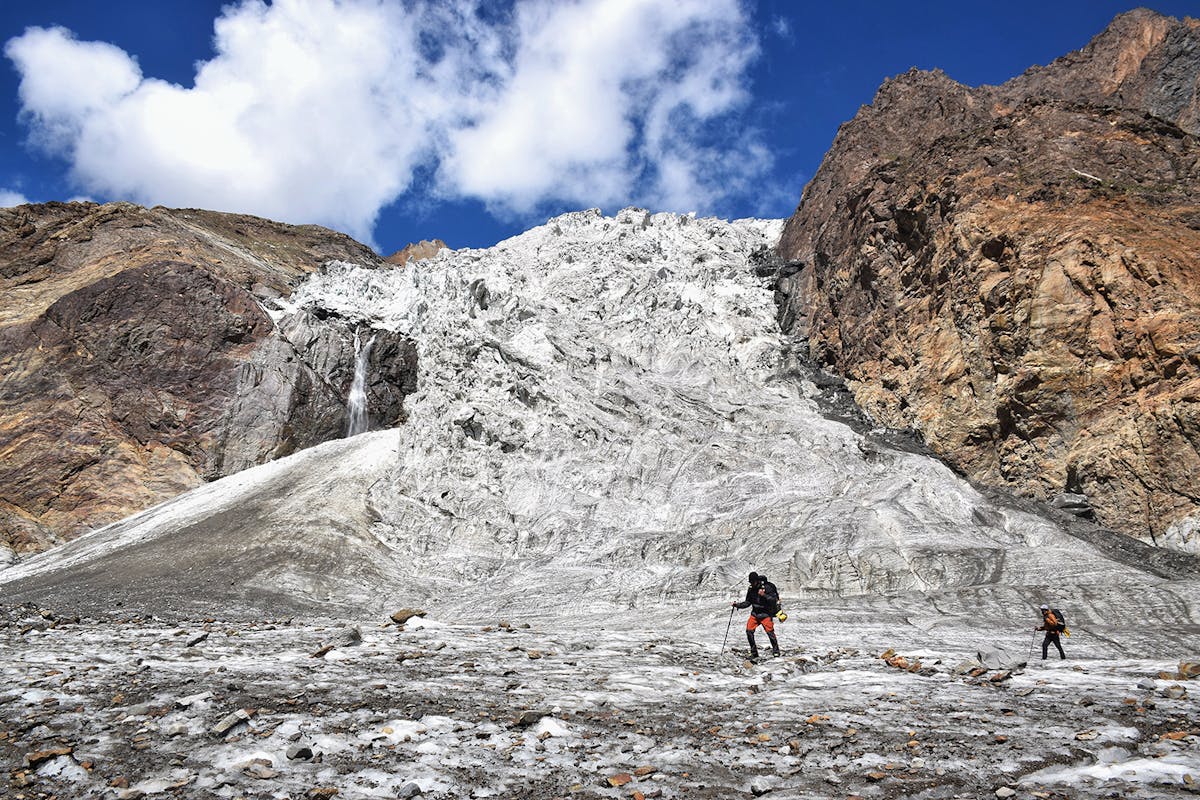 The glacial walk reminds you of Khumbu Icefall on Everest. This glacier deposits down from Kalapari Top!
"Going through those glaciers was like waking up the giant and thundering falls of icebergs was literally like Arctic Live Documentary", said Nitesh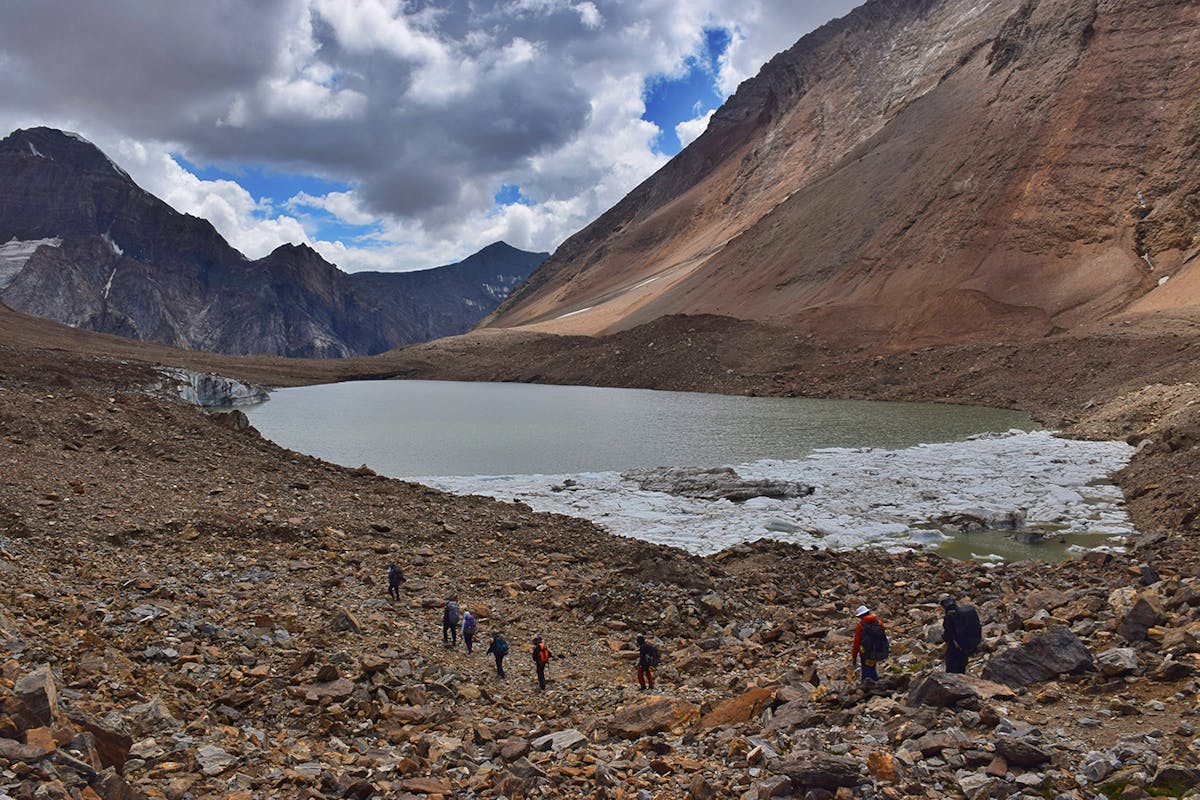 Glacial lake on your right just before Lomvilad Pass. Picture by Nitesh Kumar
"Bracken is a gigantic monster himself, but sleeping along with him, I can't ask for more! I woke up in the middle of the night and was just staring, and then the morning light fell on him. I'm getting goosebumps even while writing this now.
Those cracking sounds of walking on the glacier are still running fresh, and I wish I could feel that again in life! "explains Nitesh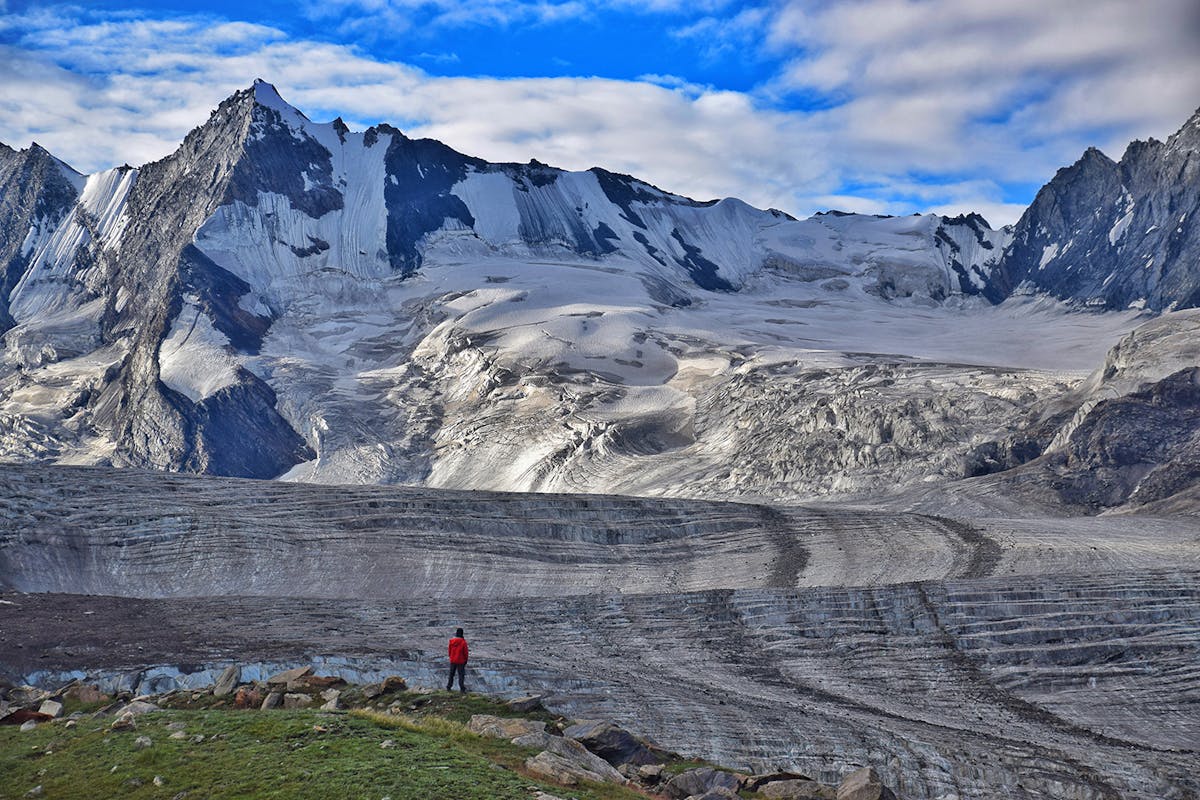 Magnificent Bracken Glacier. Picture by Nitesh Kumar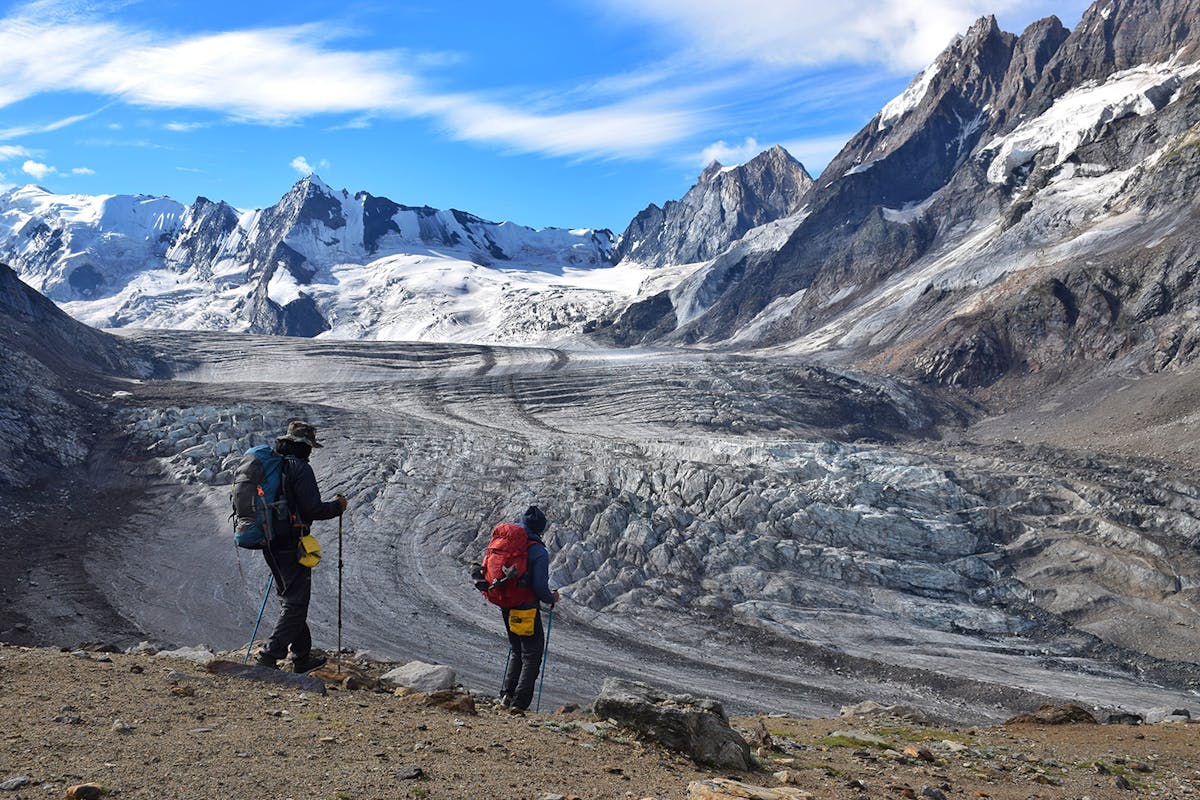 Start of the Descent to Bracken Glacier.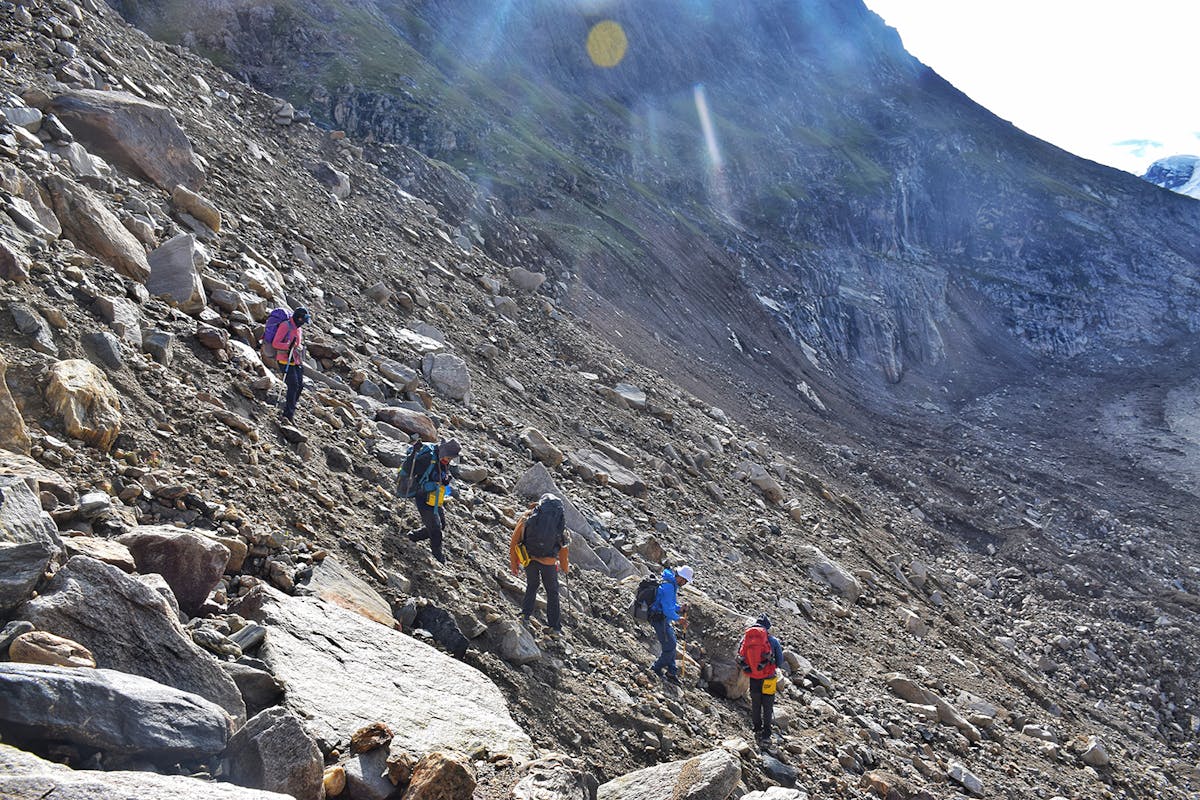 Steep descent towards Bracken Glacier. The descent to the glacier is a tricky one. You need to navigate through very loose moraine and rocks. Picture by Nitesh Kumar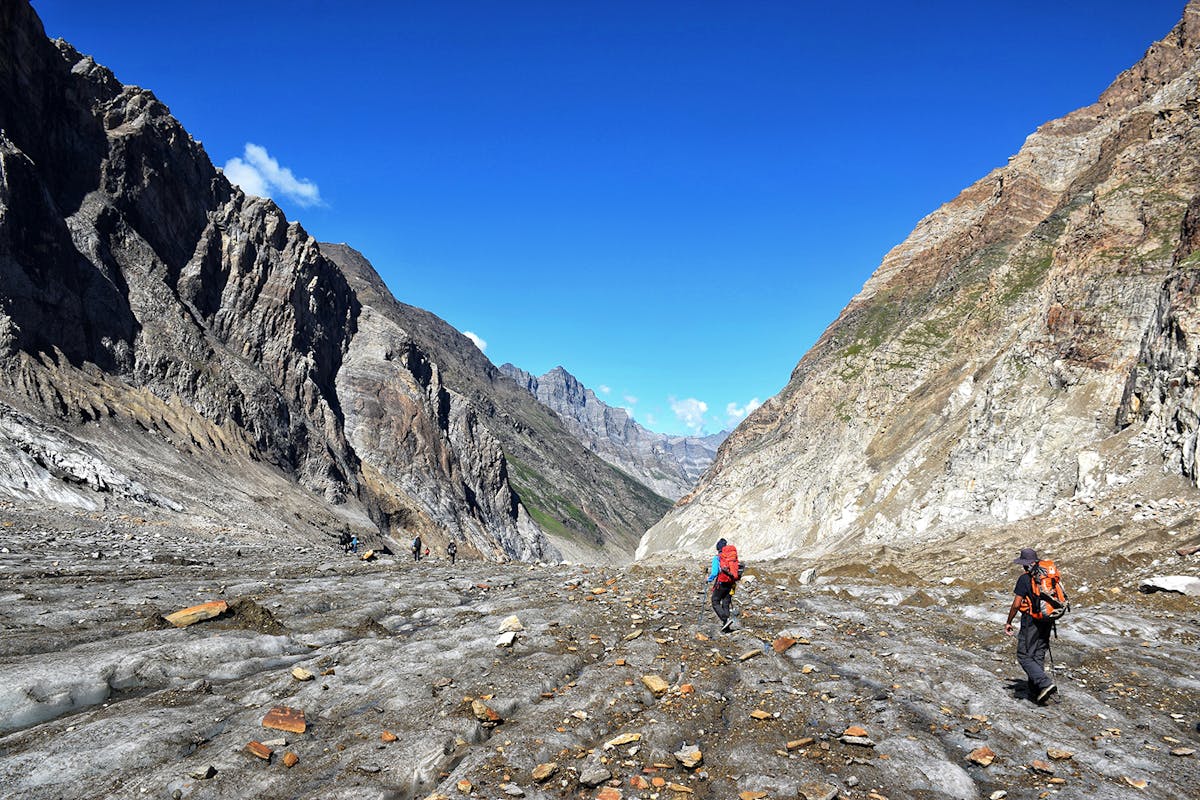 Flat walk from Bracken Glacier towards Kaintal Meadows. This marks the end of the kilometre long walk on the bracken glacier.  Picture by Nitesh Kumar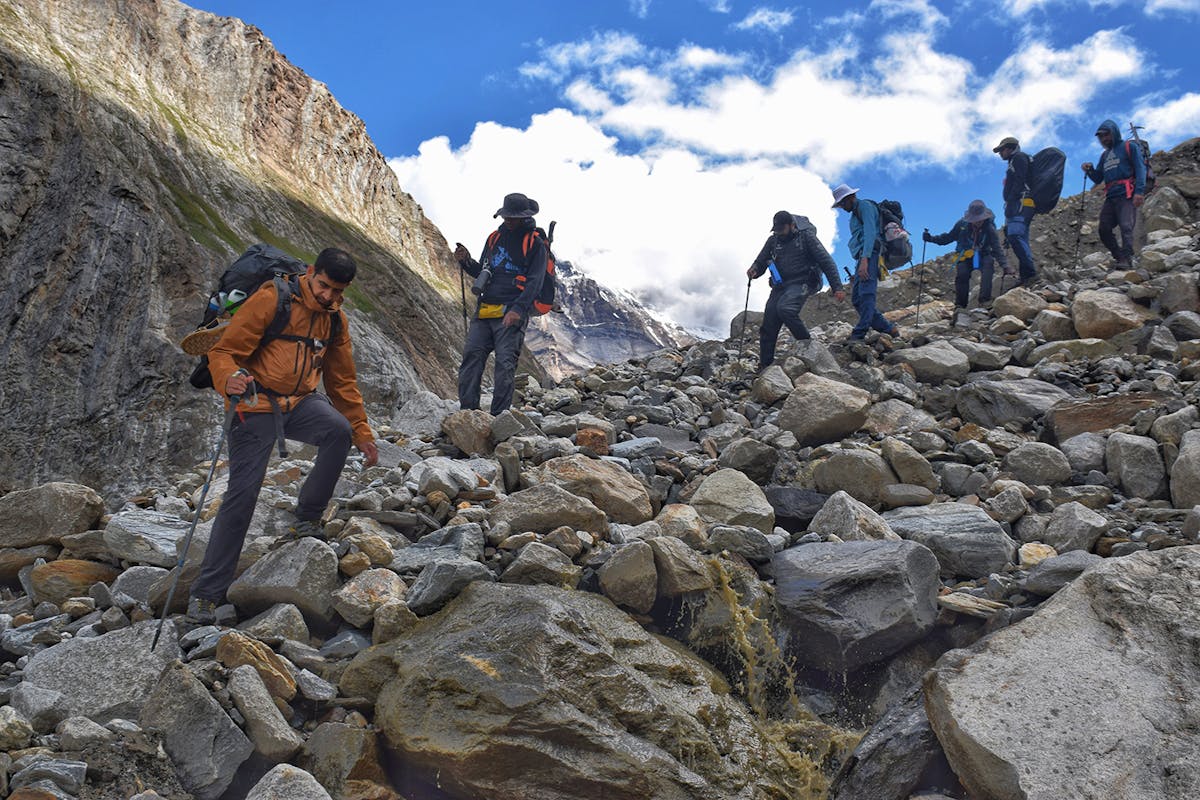 Final Steep descent towards Kaintal Meadows. It is an hour of descent through very rough moraines before you get to the basin of the river that emerges from the bottom of the glacier. Picture by Nitesh Kumar
"The breather after tricky sections and to get everyone safe. But when I looked back, I saw the Trans Himalayas bidding me goodbye with a big hug.", said Nitesh.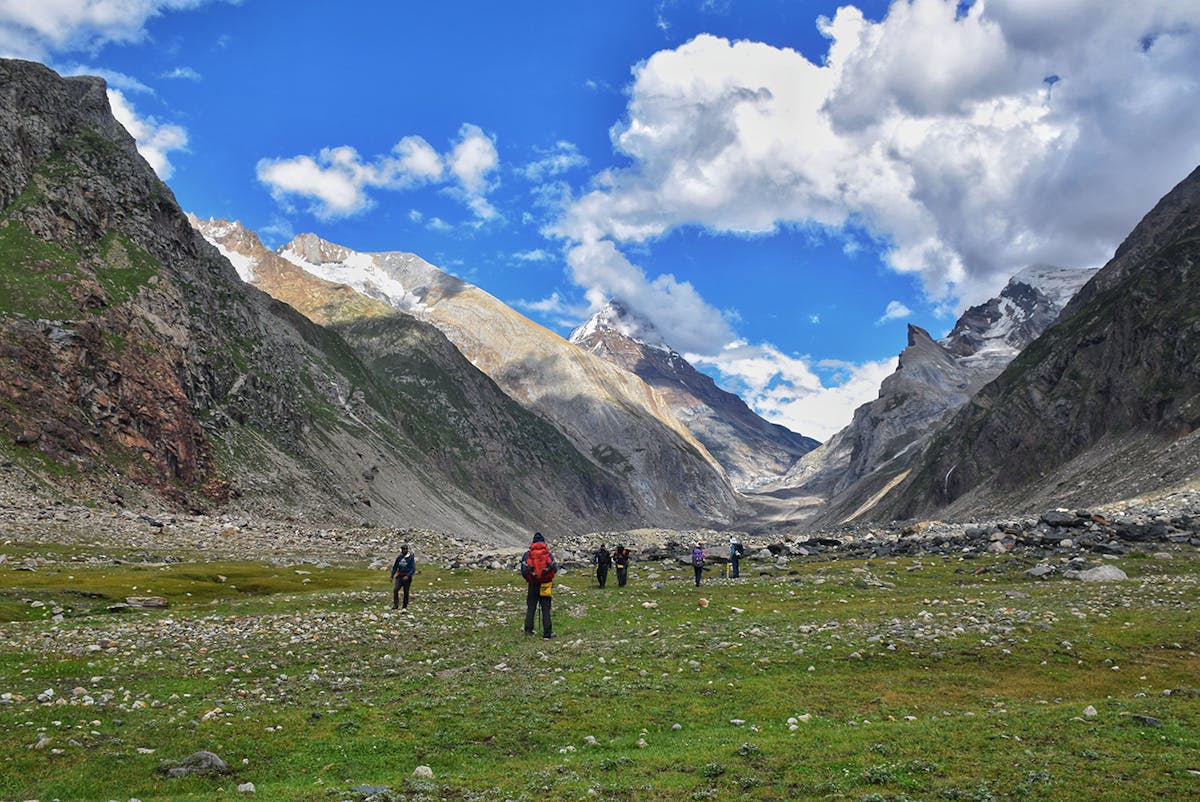 Back view of Bracken Glacier from Kaintal Meadows. Picture by Nitesh Kumar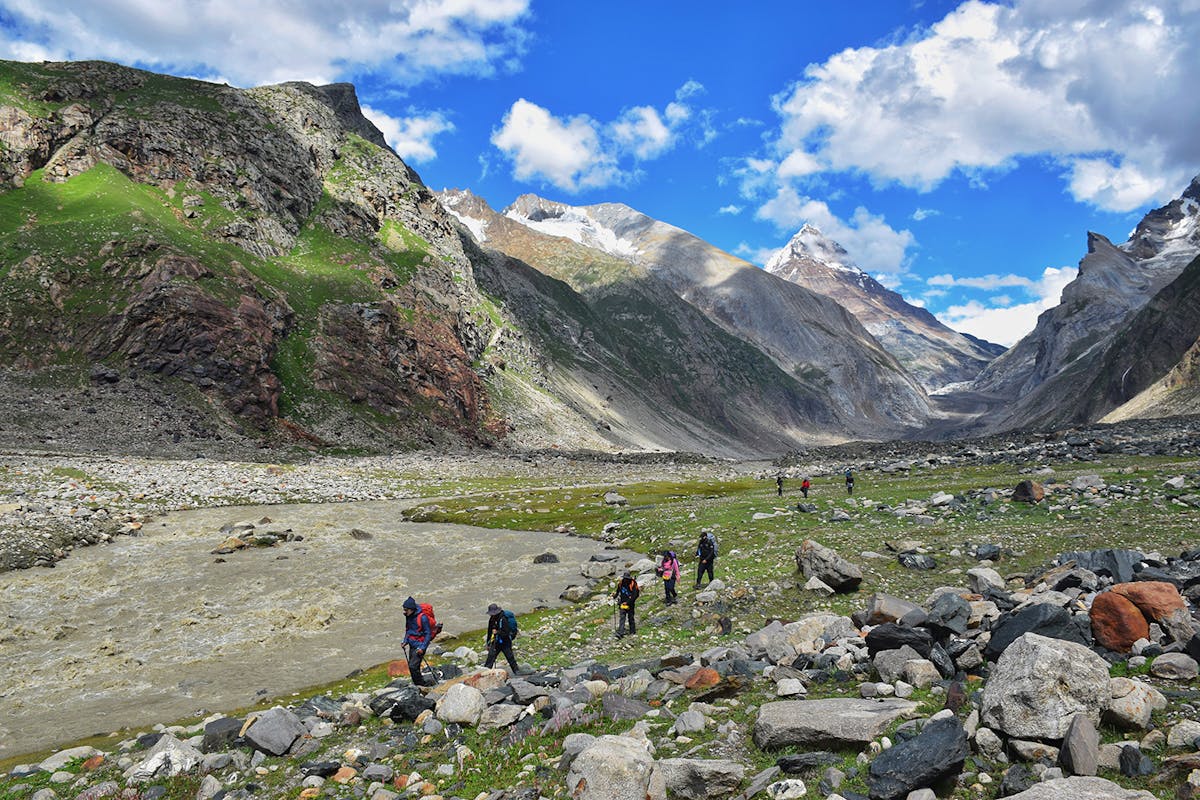 Lost World. The ending of trans himalayan mountain ranges. Picture by Nitesh Kumar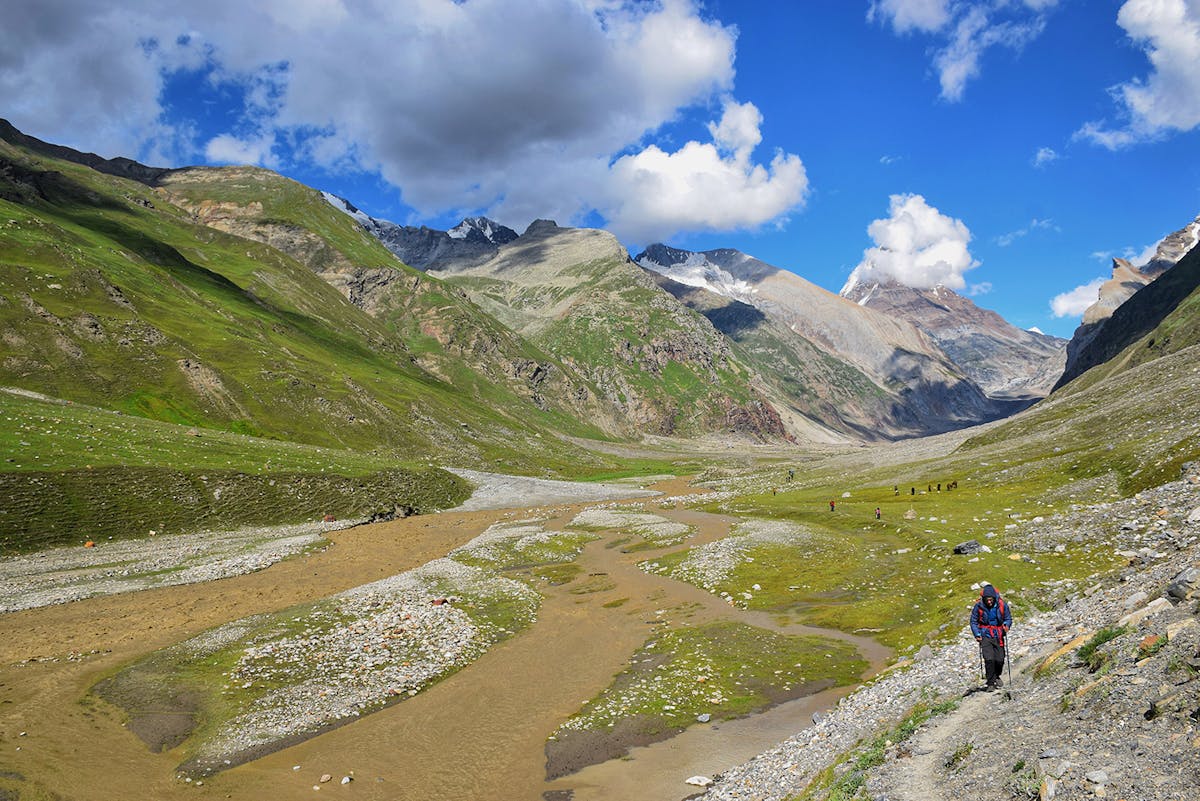 Enroute to Kaintal Campsite. You'll start to notice the changing colours on the trek. From Barren Ladkahi landscape to white glacial walks to tinges of green meadows.  Picture by Nitesh Kumar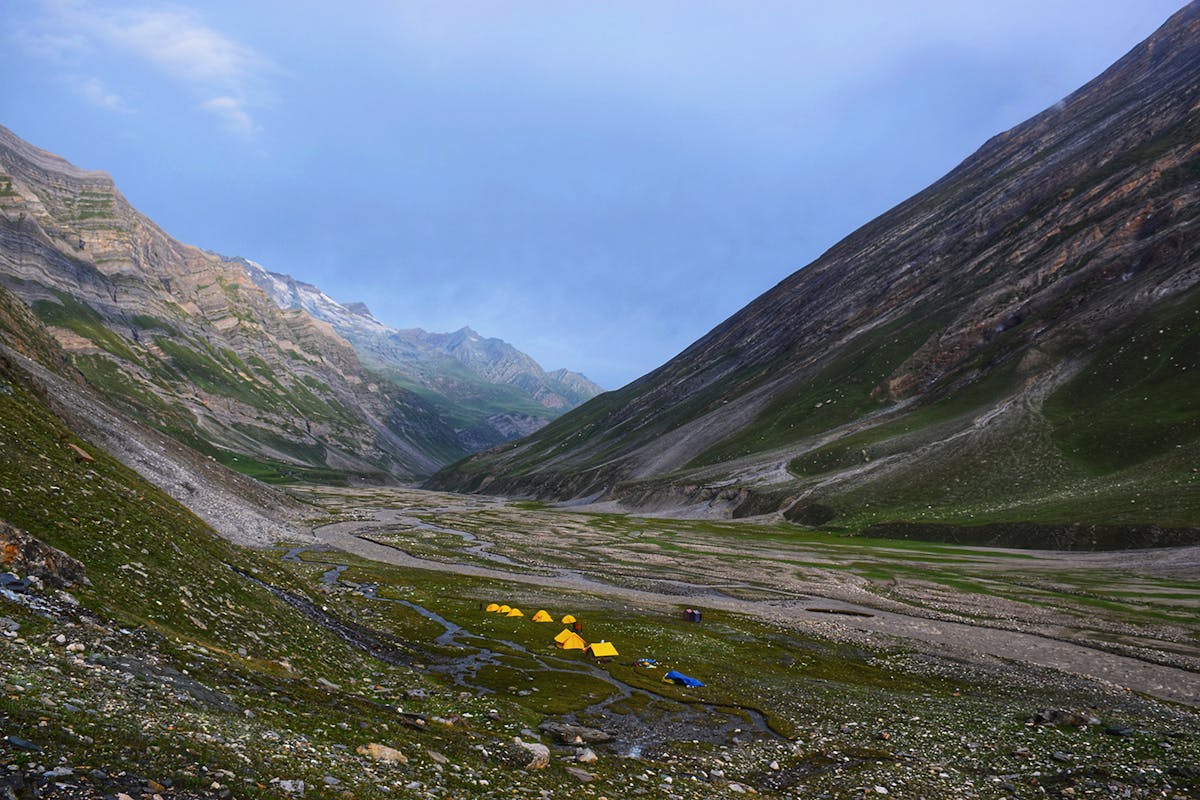 Riveting Kaintal Campsite. It's a memorable experience to camp in such expansive landscapes. Picture by Nitesh Kumar
The next day, you trek from Kaintal to Humpet. The trail climbs a hillock which follows a flat grassland. Beyond a hillock is almost always another grassland. These grasslands are the highlights of the day's trek.
You find grasslands filled with horses grazing in the wild. These grasslands of Sar alternate with a grassy river basin. It is quite an exquisite walk!
"Kaintal to Humpet was hands down my favourite stretch from the entire trek. I haven't walked for 15km straight on any Himalayan trek. This was like a walk with god's own theatre screens around, and this stretch was the ultimate meditation. I can walk on this trail every day of my life!!" described Nitesh.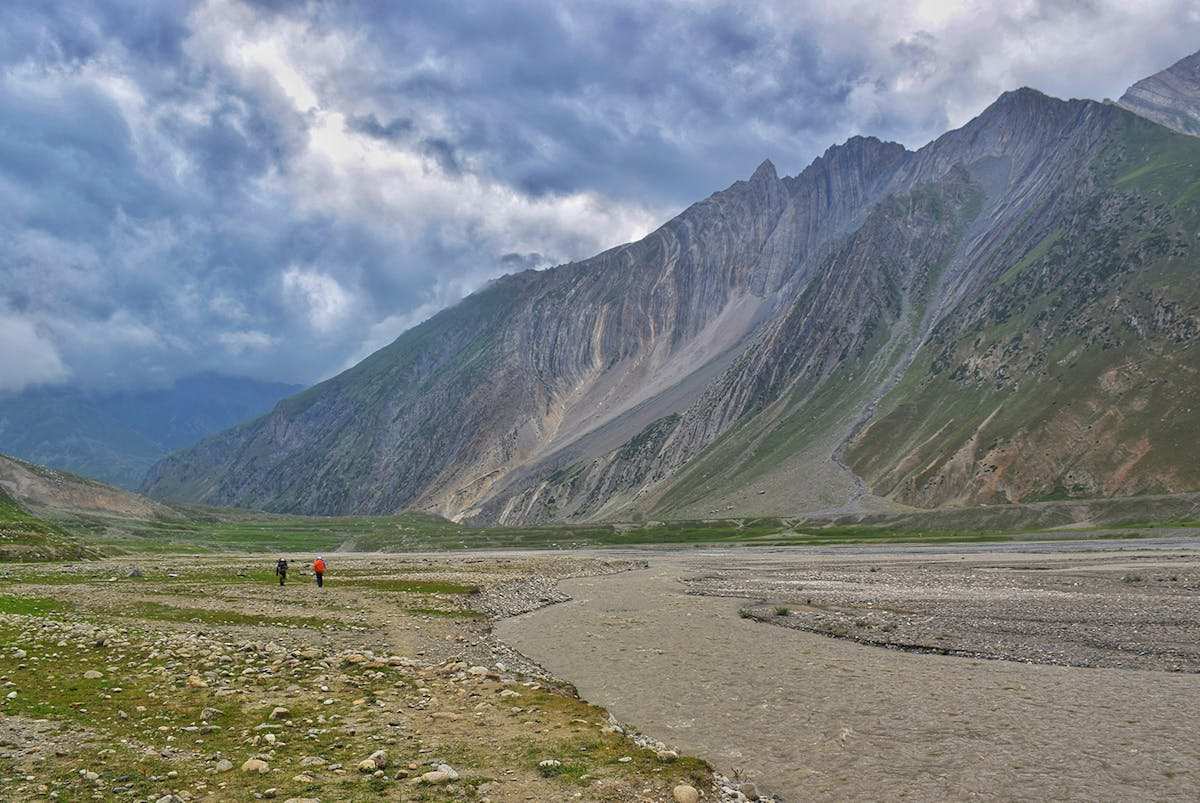 Wide Valley walk towards Humptai. Picture by Nitesh Kumar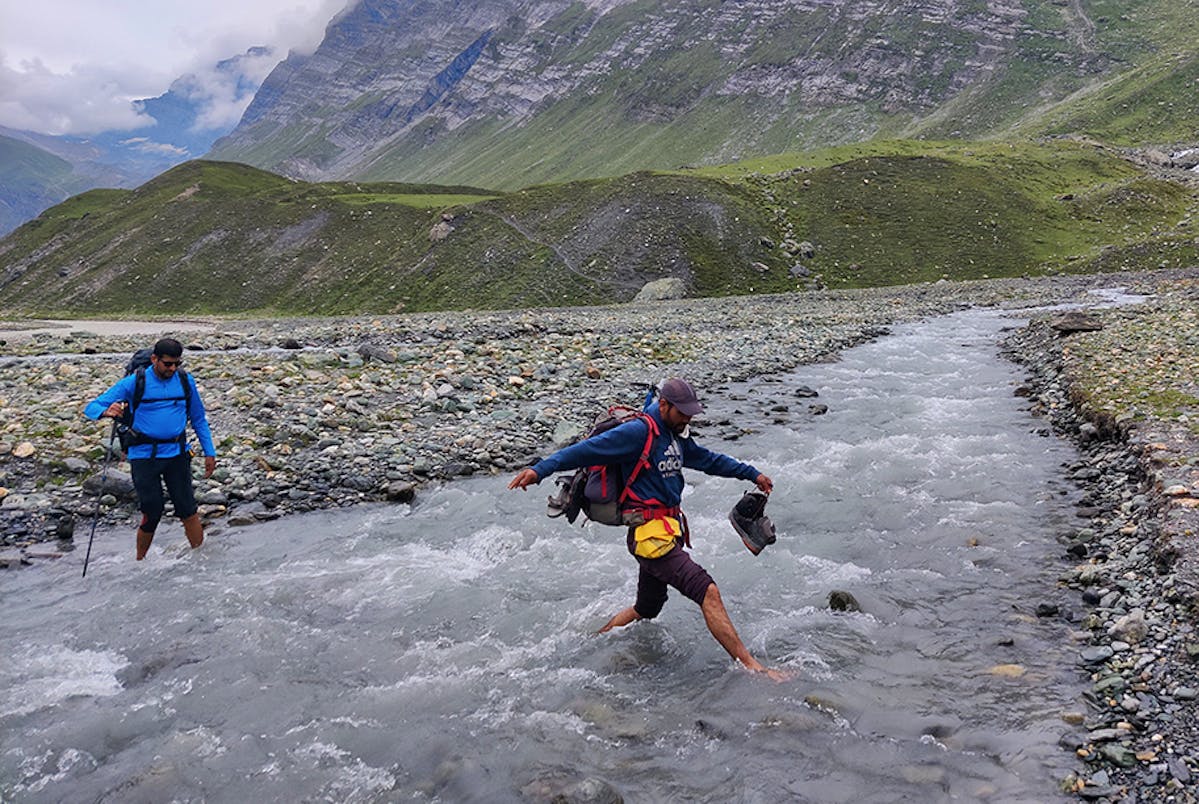 Trekkers crossing through streams. There are 7-8 streams to cross today, usually at the end of every grassland. Picture by Nitesh Kumar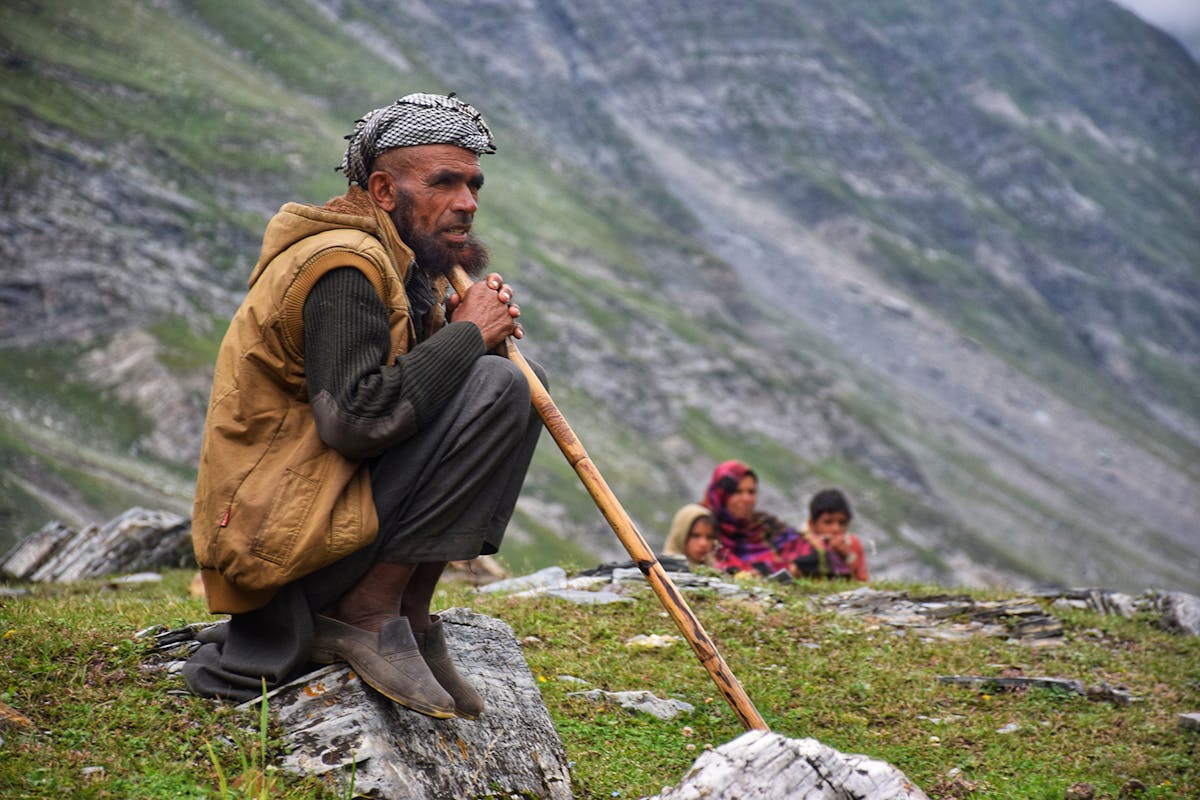 First signs of Civilisation as you reach the valley. Picture by Nitesh Kumar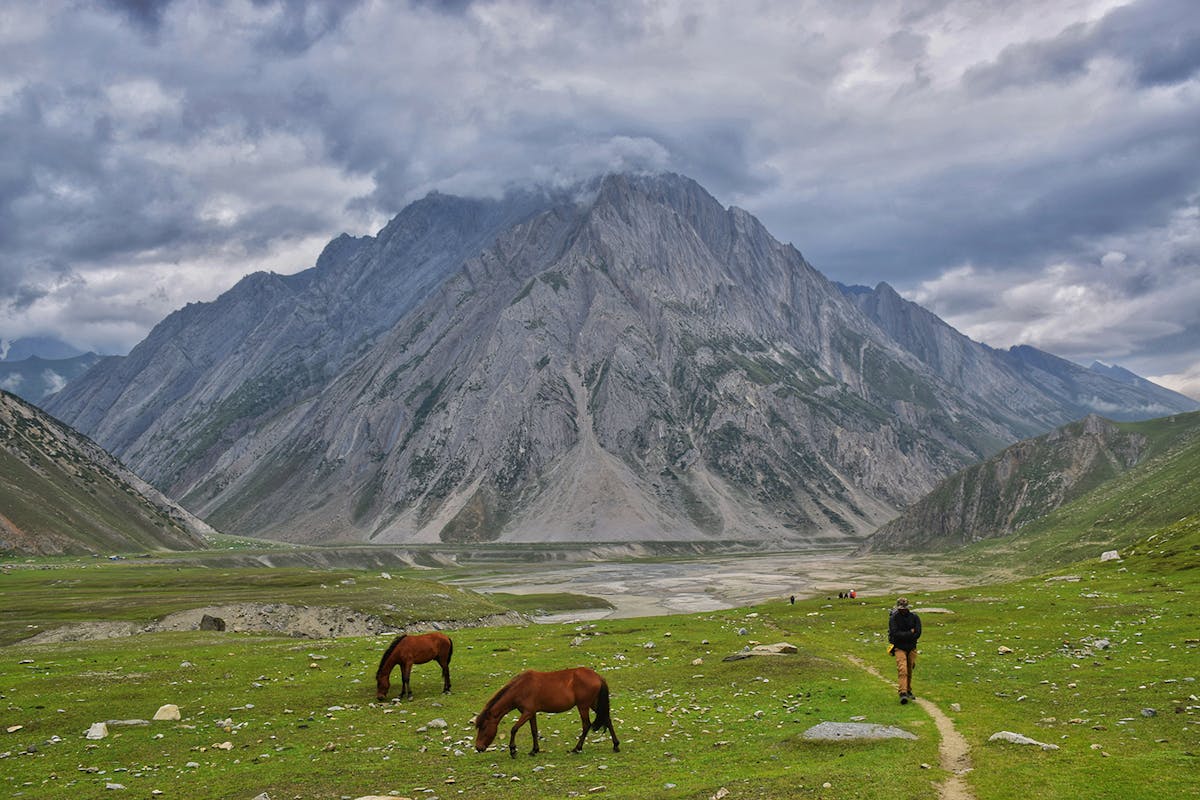 Trekkers crossing through streams. There are 7-8 streams to cross today, usually at the end of every grassland. Picture by Nitesh Kumar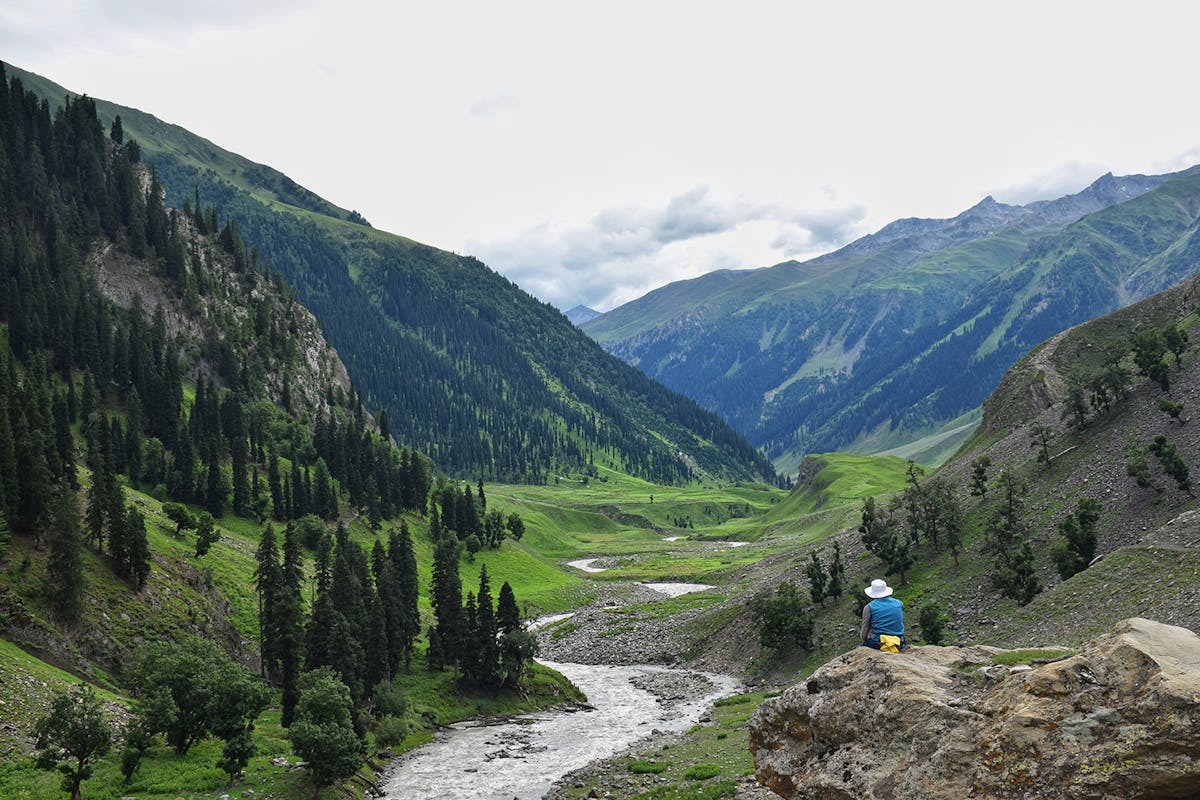 River snaking through the Humpet Valley. The landscape turns completely green from hereon. Picture by Nitesh Kumar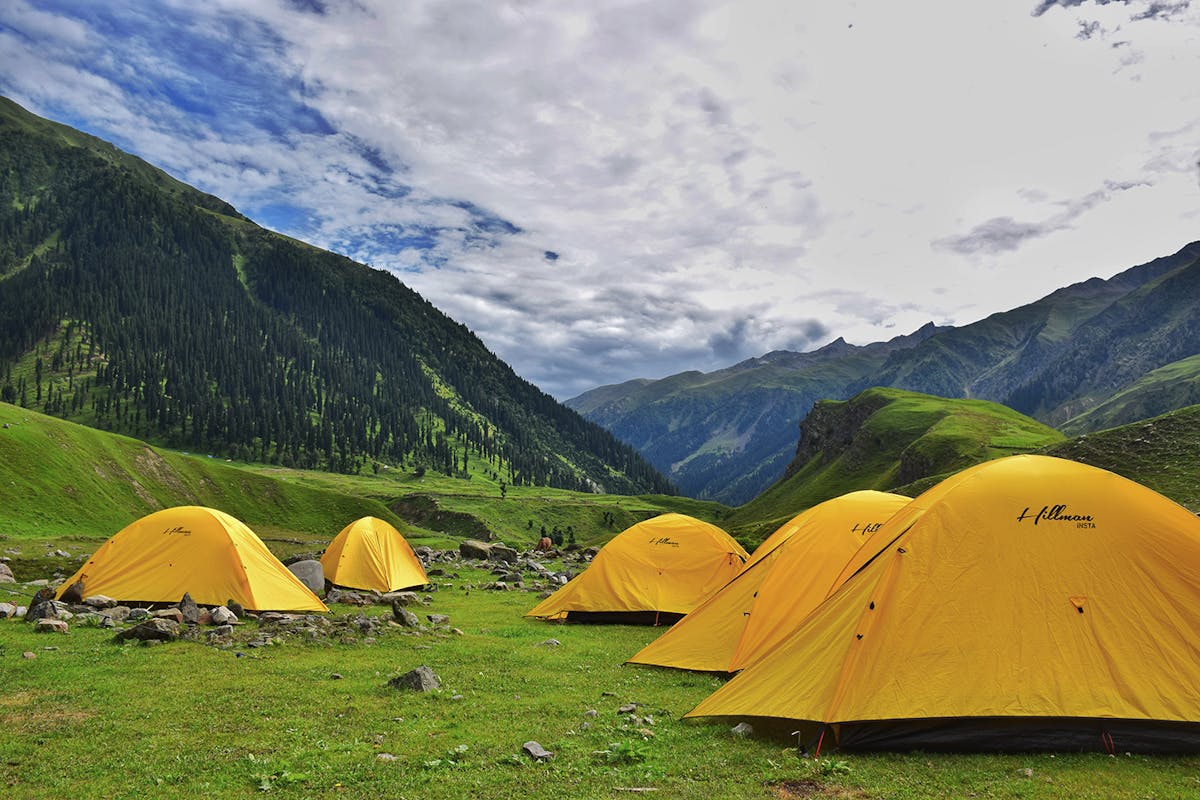 Beautiful Humpet Campsite. Picture by Nitesh Kumar
From Humpet, the trek becomes dramatically different from the day earlier. The trek descends two valleys to the meticulous grasslands and the supremely beautiful village of Sukhnai.
The setting of villages is too perfect even for pictures. Fences border the trail you walk on. Willow trees jut out between houses. Mud-baked lanes crisscross the village. Flower beds line the hills around the houses. To top it, a clear stream runs through the village! All in a way that distinctly resembles the Gaulish village from Asterix comics. This setting is unique to this part of Kashmir.
"Humpet to Sukhnai was like detachment feelings that the trek was about to end, and I didn't want this! I wish Sukhnai camp wasn't close, but the moment I saw it from a distance, I got a big smile and rushed like Munni in Bajrangi bhaijaan at the climax." bawled Nitesh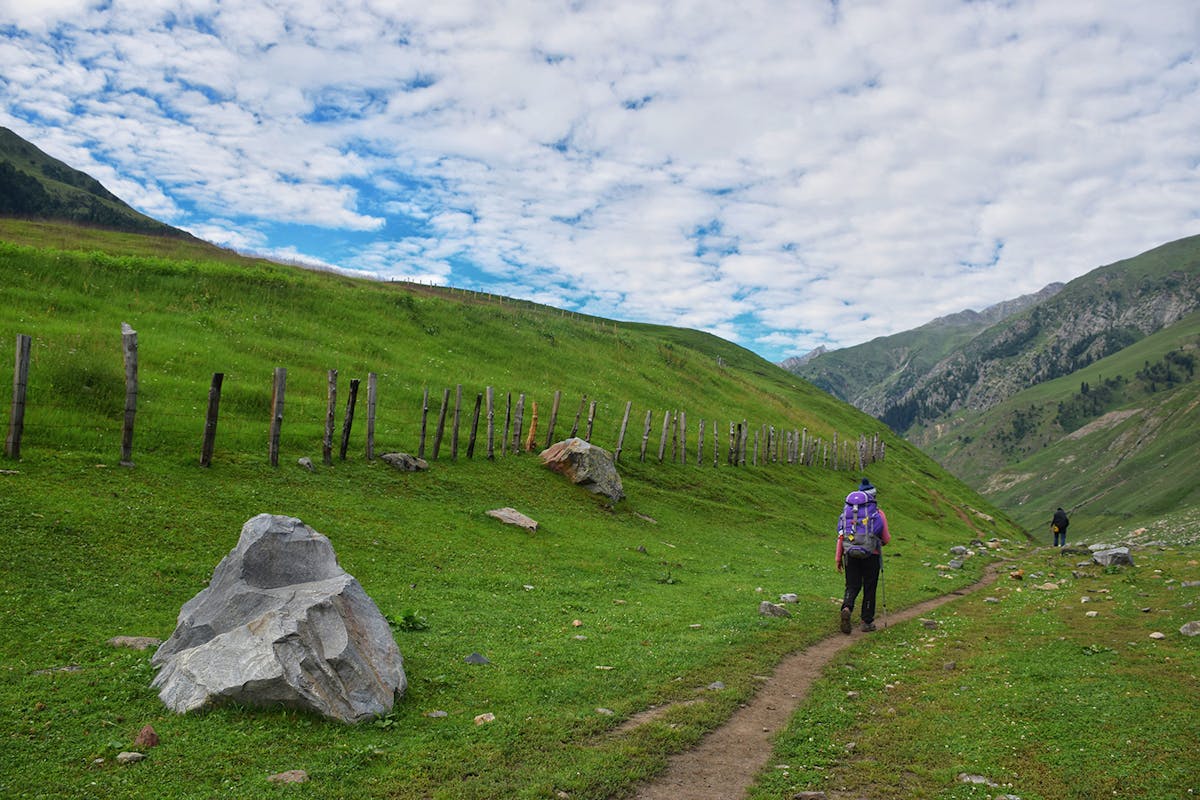 Border fences on farmlands acting as the start of Warwan Valley. Picture by Nitesh Kumar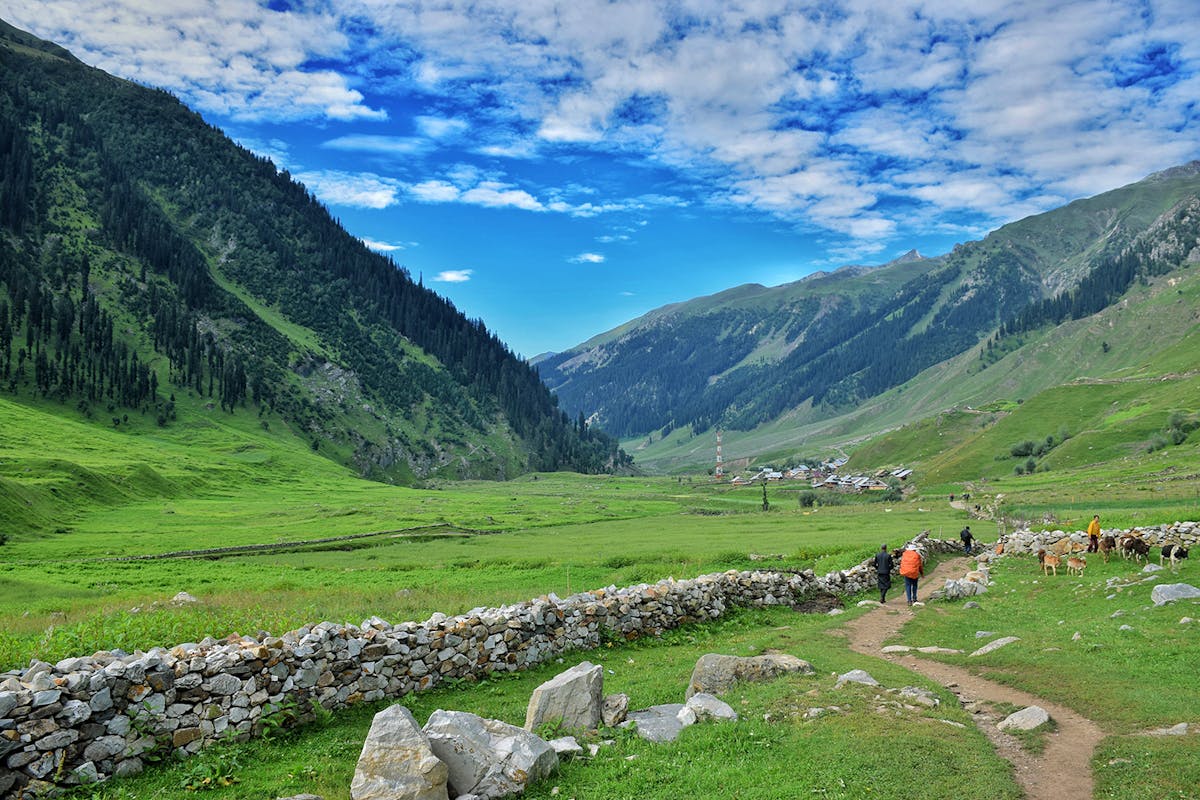 Enroute to Sukhnai. You start seeing the villages from here.Picture by Nitesh Kumar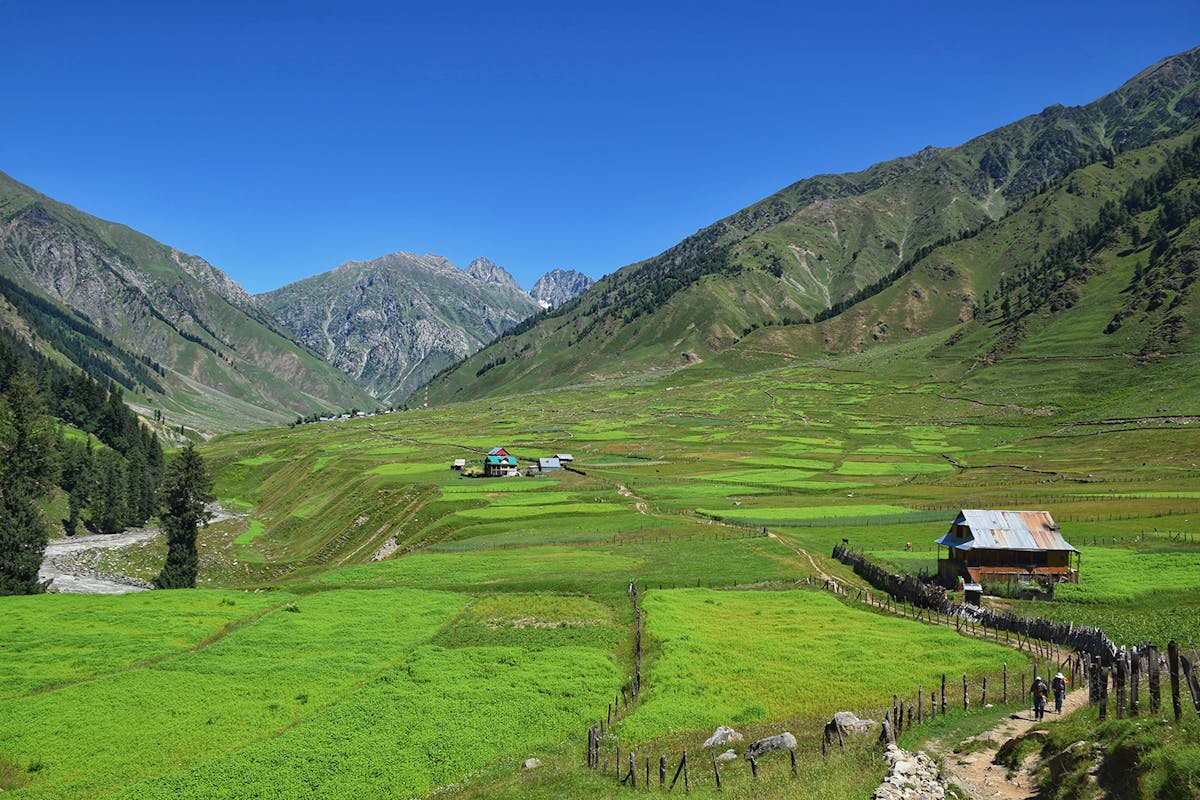 Beautiful houses of Warwan Valley. You will be trekking on trails bordered by fences. Picture by Nitesh Kumar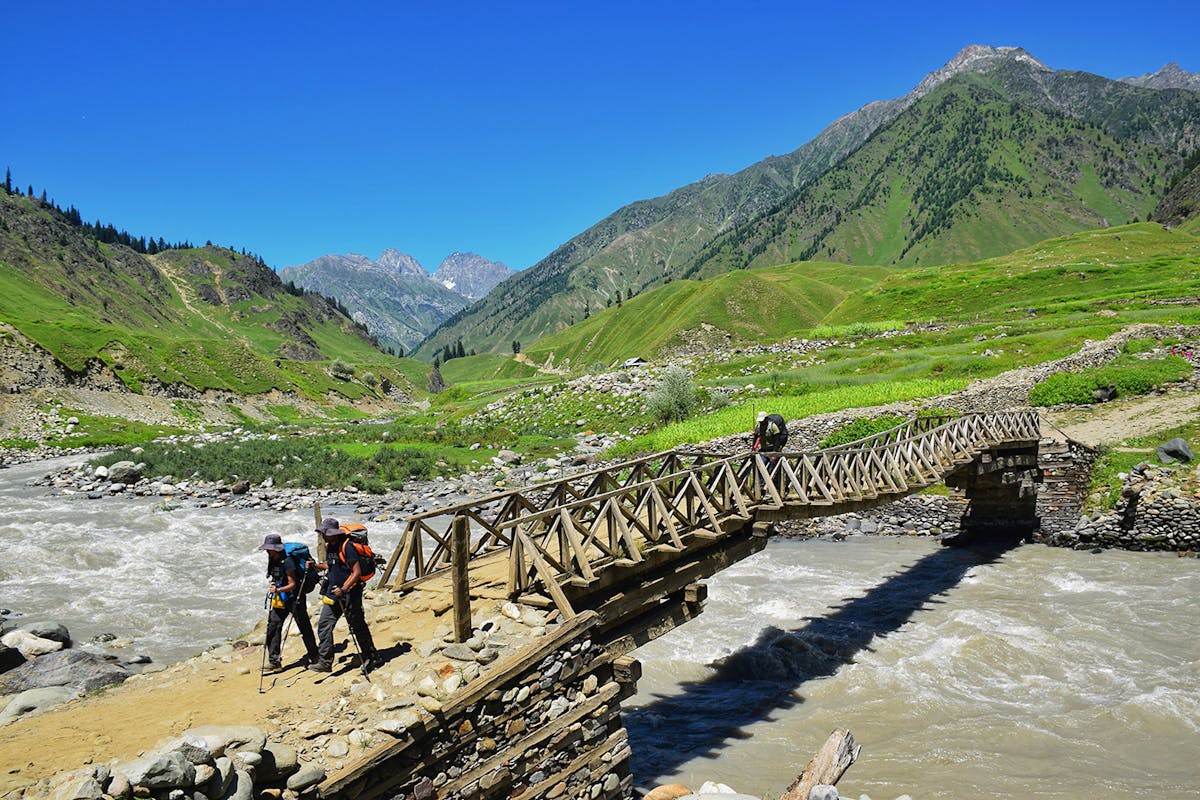 Bridge crossing. Picture by Nitesh Kumar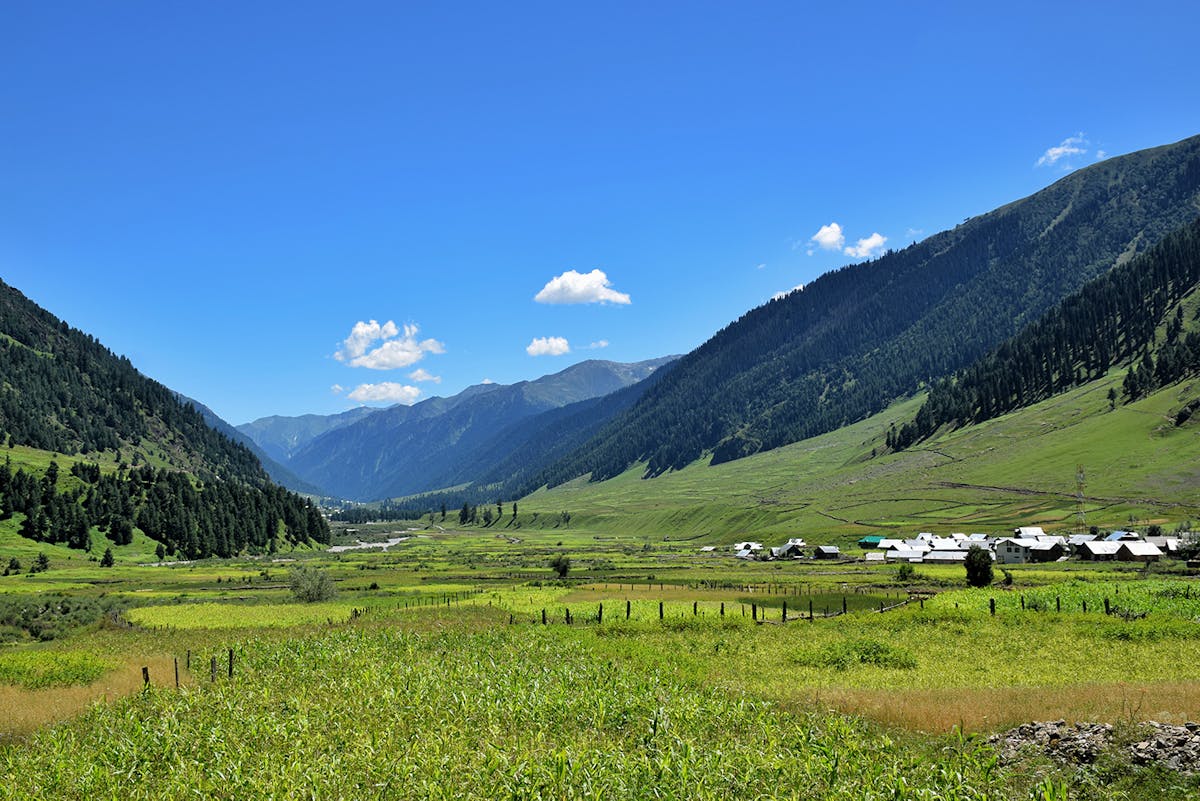 Villages of Warwan Valley. Picture by Nitesh Kumar
That brings us to the end of this beautiful photo story. 
For Nitesh, this was one of his most incredible experiences ever. "On the final day of Warwan, I was literally jumping inside. When I saw those lush green wide valleys with such beautiful villages across, I couldn't believe I was in India. Was this not Switzerland or any other part of the world? I couldn't soak that in for even a moment - It was Kashmir. I could never have dreamt of being here.
Warwan will definitely be the most grateful moment of my life. I still feel the more I put this feeling into words, the more I fail to justify it. Between all the ups and downs of work, the meaning of our work just gets sidelined, which I believe must never. But not only does this trek change our trekker's life but also mine as it reassures and answers the 'whys' of our work! "
Sign up for our much loved Weekly Mailer
We have terrific trekking tips, trek updates and trek talks to look forward to