Batches Opened for Monsoon and Autumn Treks: Pin Bhaba, Buran Ghati an...
Share this story
Batches Opened for Monsoon and Autumn Treks: Pin Bhaba, Buran Ghati and more
Category News
By Aswati Anand
2017-04-14
We have opened batches to our monsoon and autumn treks all the way till November. Take a look at the available treks on the right hand side on our home page. This year we have added Pin Bhaba to our list of monsoon treks!
Pin Bhaba
Pin Bhaba is a rare trek in the Spiti Valley. We explored it last year. Sandhya and Arjun, our founders, who went on the trek last year, were floored by its contrasting beauty – the lush greenery of Bhaba Valley in Kinnaur to Pin Valley in Spiti. In fact, they believe that it is the landscape that comes closest to the Kashmir Valley!
We are running Pin Bhaba from July to September.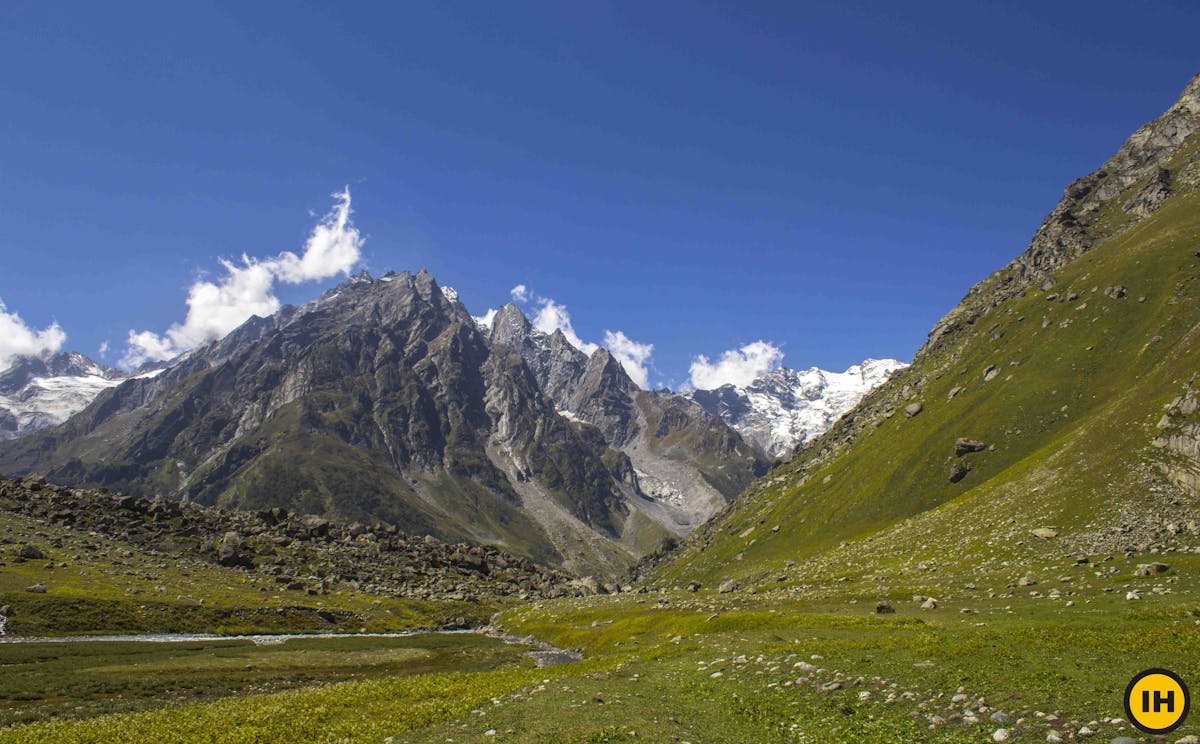 The Bhaba Valley, we believes, come closest to the Kashmir Valley with its lush landscape
Buran Ghati 
Buran Ghati is another trek we'd like to talk about. In summer, we run it only in June. In September, it becomes a different trek altogether. Without the ice wall, but clearer, colder weather and golden meadows. It is a rugged beauty of a shepherd trail! Our senior Trek Leader Vishal, has been unashamedly biased about Buran Ghati in this season. "Buran Ghati kicks Rupin's a**" he had said in a team meeting last year.
While there are many at office who would debate with this, the point is clear. It is beautiful trek to do at that time of the year.
Check dates for Buran Ghati here.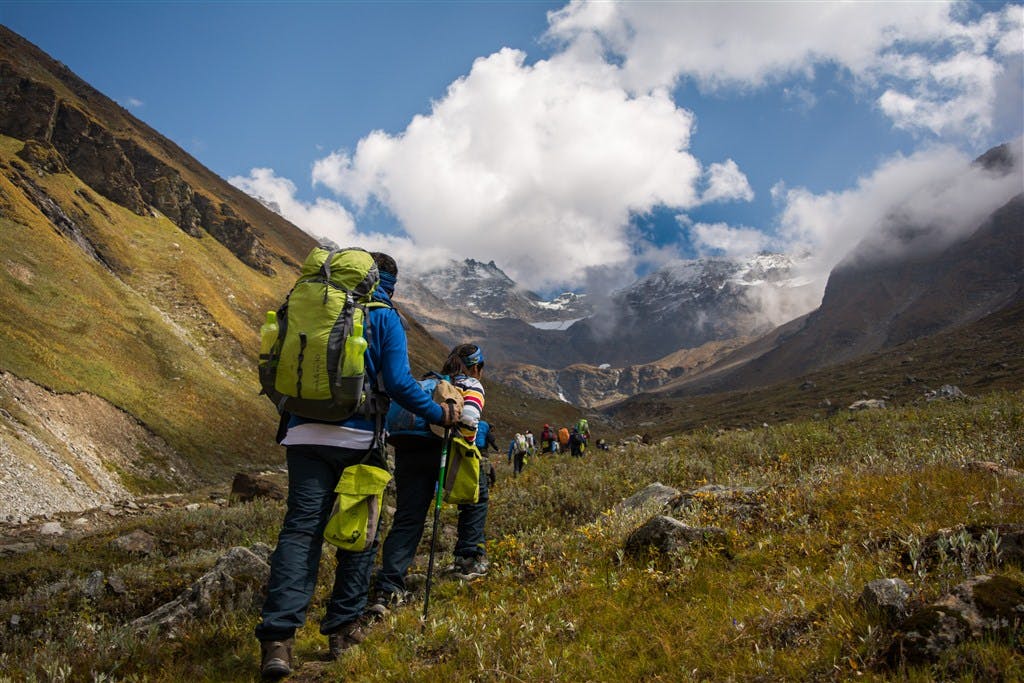 We have also opened the autumn batches to Rupin Pass, Roopkund, Goechala, Har Ki Dun, Sandakphu and Everest Base Camp.
Updates from our current treks
April is turning out to be quite a dramatic season in Himalayas. The weather has been erratic: sweltering hot at Nag Tibba while the Har Ki Dun trek sees blizzards!  I'll start the updates with an extremely rare phenomenon that our Kuari Pass trekkers witnessed.
A snow roller at Kuari Pass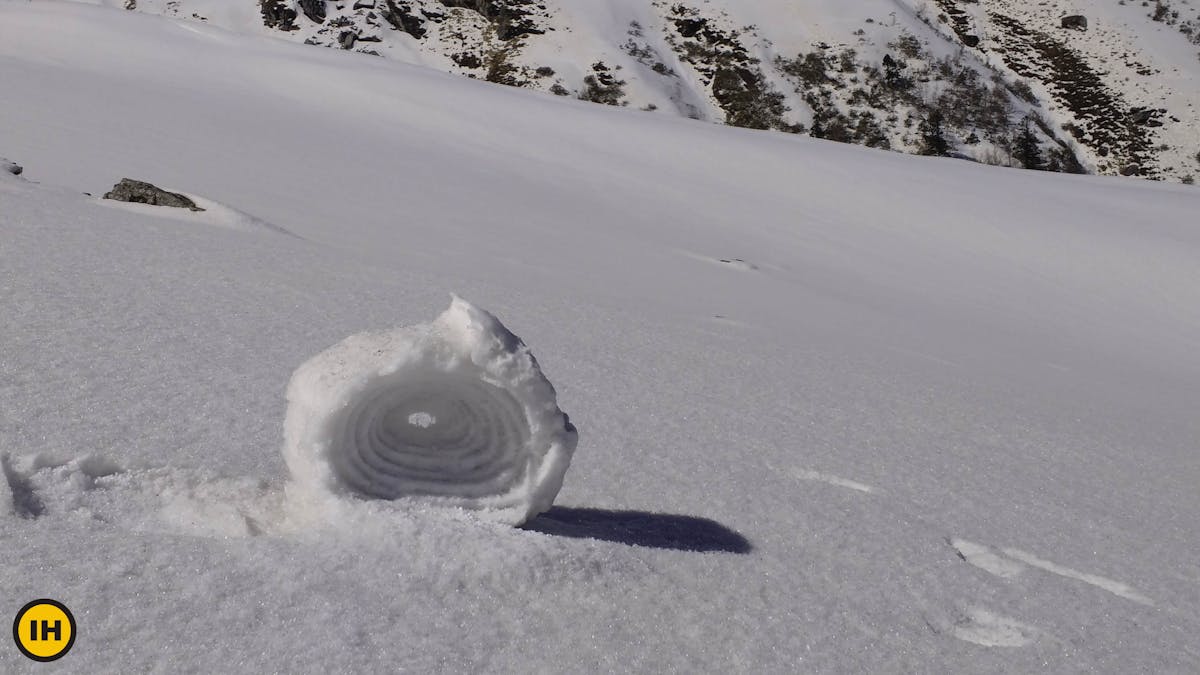 A snow roller at Kuari Pass. PC: Gurdit Singh
This is a snow roller. It is an extremely rare meteorological phenomenon. Large snowballs are naturally formed as chunks of snow are blown along the ground by wind. The inner layers are weak and easily blown away, making it a hollow snow cylinder.
They have seen something alright!
Coming to the weather conditions, last week's batch witnessed a lot of snow on the pass. However, our senior Trek Leader Gurdit, who did a recce of the route just yesterday, said that quite a lot of it has melted. However it has been raining at Joshimath today, which means there most likely would've been a snowfall on the higher reaches.
As I am writing this, our founder Arjun Majumdar is on his way to Joshimath with his daughter. He and his daughter will start the Kuari Pass trek with the batch tomorrow!
Pangarchulla, which is an hour away from Kuari Pass, had fairly large amount of snow last week. According to Gurdit, a lot of it has melted and the trail seems to be trekkable now. Given that Pangarchulla season is starting tomorrow, that is a relief!
A blizzard in Har Ki Dun Valley
Moving on to an another dramatic event on our slope, our Har Ki Dun trekkers faced a blizzard! The effect of this weather was seen on all other slopes: Kedarkantha summit saw strong winds, rains lashed Chopta.
Here are is a picture from Har Ki Dun campsite where our tents have been submerged by snow. A lot of our equipment has been damaged by this sudden inclement weather.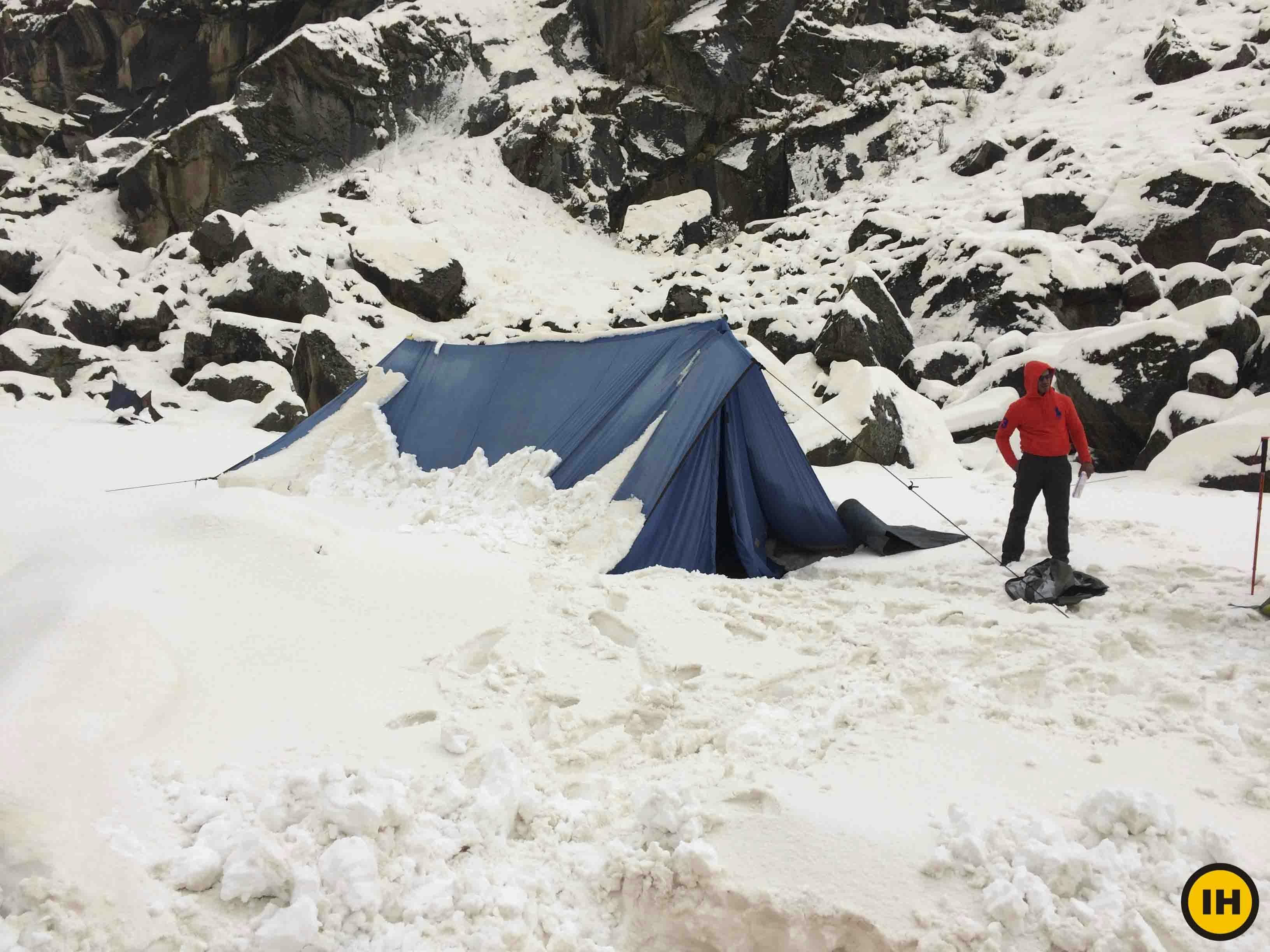 One of our trekkers, Saraf Prashanth, quickly put down his experience of the blizzard and sent it over:
"It was dark, post 8 pm. We wore our headlamps and followed our Trek Leader in knee deep snow. The kitchen staff who doubled up as porters in the absence of mules helped carry everyone's sleeping bags and stuff to the new location. We are thankful to the team who helped us even though it wasn't their job.
It was a long and restless night as no one knew how the weather conditions would play out the next day. All of us slept late hoping for the snowstorm to die down."
Har Ki Dun trail is seeing clear weather this week. However, the last campsite of Har Ki Dun sees very low temperatures and there is snow from Kalkatiyadhar campsite onward to the valley. Don't forget to pack in your warm layers!
Heavy rain on Deoriatal-Chandrashila
Meanwhile, on Deoriatal-Chandrashila, it rained cats and dogs last week. The batch faced so much rain that they could not do the Chopta circuit. Wind blew in full swing, taking our dining tent and kitchen tent along with it. Visibility was not more than 10 feet. However, the weather cleared in time on summit day. This week's batch is seeing clear weather. There wasn't any snow on summit, but there were wonderful views of the Garhwal ranges. Here is what  our trekkers had to say:
"It was easily the best planned and executed trek I've been on. The instructions, responsibilities and liabilities of each member were discussed in great detail. With a batch having 3 senior citizens, the trek was very well executed. Kudos to Devang and Venkat for keeping everyone occupied. More importantly, the way everyone was cared for. A few of us suffered from muscle cramps, blisters and stuff. Devang and Venkat, wit standing the cold and rain, tended to them and made sure they accompanied the gang in completing the trek. The responsibility the trek leaders demonstrate is mind blowing. – Bhima Simha, April 2017 batch"
The weather has cleared up at Kedarkantha and Sandakphu
Apart from strong winds on the day Har Ki Dun valley faced a blizzard, Kedarkantha has been seeing clear days. Sandakphu is seeing clear days as well. The mountain views have finally come out of hiding and the jungle trails are seeing a good bloom. April, in fact, is a good season to go to Singalila National Park. Moving to our other eastern slope, the grand adventure of Everest Base Camp finishes off tomorrow.
The first batch of EBC via Gokyo Ri in 2017 went perfectly!
Our batch of Everest Base Camp trekkers have successfully completed the trek and are in Namche Bazaar today. Tomorrow, they will trek to Lukla where their adventure ends.
Here is a picture from Gokyo. There seems to be a film of ice on the lake. Can you spot the Cho Oyu in this picture? Cho Oyu is the sixth highest mountain in the world. Getting to see Cho Oyu is one of the many bonuses of the Gokyo Ri trail:

Here is a picture from Gokyo. Can you spot Cho Oyu in this picture? This picture was sent in by our Trek Leader Chaitan.
To those who have been wanting to experience the trail walked on by mountaineering legends, we have good news. We have opened the October batch of Everest Base Camp via Gokyo Ri.  Check the dates here and register!
Exploration of Annapurna Base Camp
Once the batch leaves, our Trek Leader Chaitan will be heading off for an exploration to Annapurna Base Camp. Our Green Trails Head Lakshmi will be joining him. She is leaving for Nepal tomorrow! We can't wait to see how the exploration turns out.
Incidentally, she completed one year at Indiahikes yesterday. Congratulations on your one year, Lakshmi!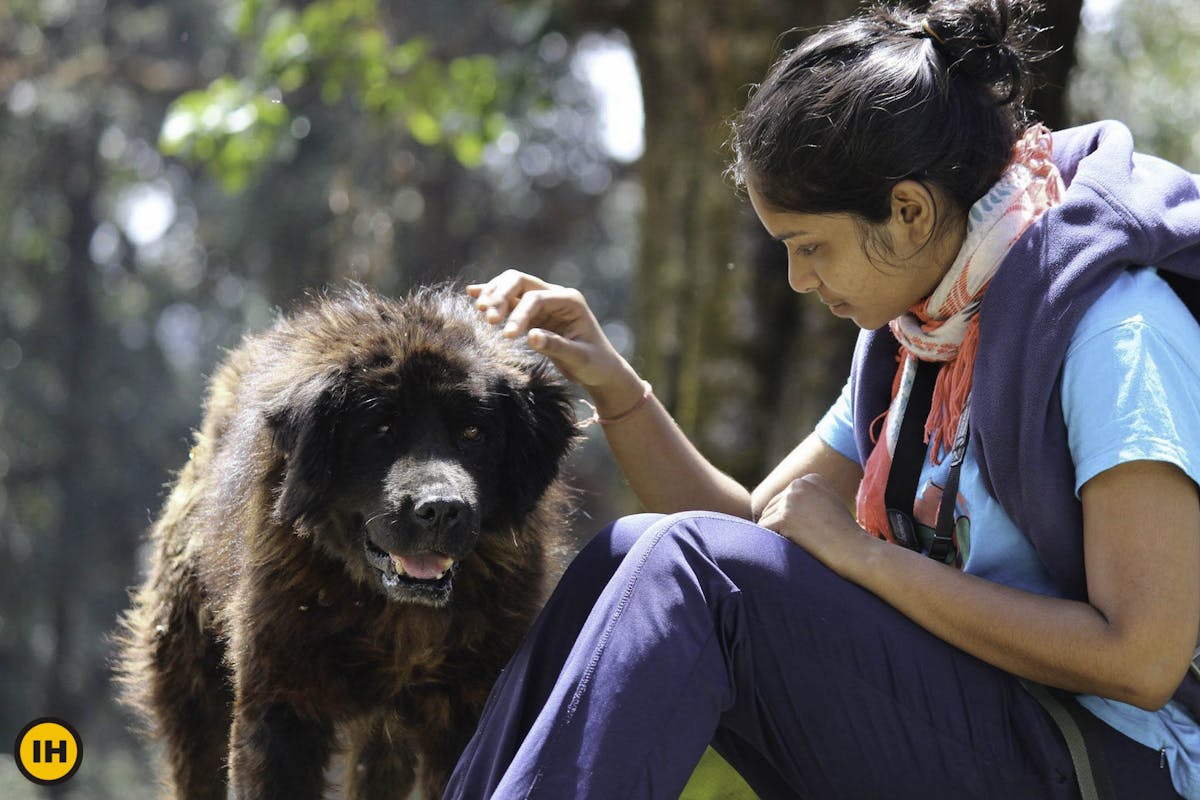 Lakshmi on Deoriatal-Chandrashila trail. She is set to explore the Annapurna Base Camp trek next week.
Speaking of Lakshmi, I think you all should read a High Altitude case study she has compiled. It is a case study about a case of Acute Mountain Sickness on the Deoriatal trek.
Acute Mountain Sickness is something we deal with day in and day out at Indiahikes. But despite its frequency, we find that there is very little knowledge about it among the trekking fraternity. There's not much credible information available on the internet either.
This case study is part of our effort to document such altitude-related instances and share our learning with the trekking fraternity.
Read the case study from Deoriatal here.
Stay tuned to our website for more updates.
Sign up for our much loved Weekly Mailer
We have terrific trekking tips, trek updates and trek talks to look forward to