4 Must-Do Weekend Treks in India
Share this story
The season for weekend treks is here. This means you no longer have to wait for long leaves to step onto a Himalayan trek. You can quickly do it over a weekend. 
To help you plan a weekend trek, I'm taking you through four weekend treks that give you a heady taste of trekking with some smashing views. 
My advice is to use these weekend treks as a start-point — for yourself or for someone you know — who has been yearning to start trekking but is unable to take long leaves. 
With that in mind, let's look at the top weekend treks on the list.
Note: We have opened limited groups for our weekend treks. And the dates are filling up quickly. So register soon.
We explored the Chirbatiya trek in February 2021. And we are yet to find another short hike near Delhi that can boast as many takeaways as the Chirbatiya Weekend trek. 
To begin with, the mountain views from this short trek are smashing. During the exploration, Dushyant Sharma, Senior Trek Leader with Indiahikes, was stunned at what he saw. 
"I can see the Chaukhamba massif — every ridge and shadow on it! I can see Mandani Parbat, Janhukut. You won't believe it, across the valley I can see Trishul, Nanda Devi, Dronagiri, Changabang, it's a complete 270-degree view!" he exclaimed.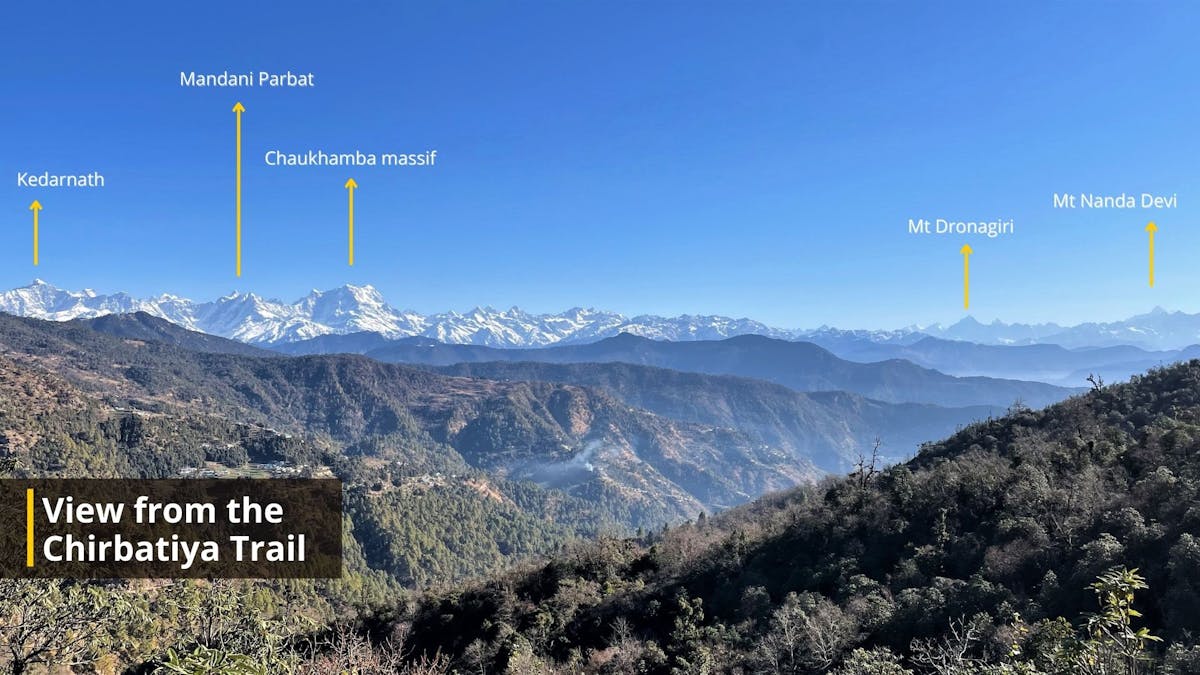 The incredible mountain views you see from this weekend trek. Photo by Dushyant Sharma.
But that's just a part of it. There are other highlights of the trek, like its meadows, the forest section and a brilliant sunset that are worth witnessing over a weekend. 
In the video below, Dushyant talks about it all.
So if you've been thinking of a quick getaway from Delhi, don't miss this one. This year we have opened only two groups in February 2023 for Chirbatiya. One is already filled. The next one is filling quickly. 
Another trek you shouldn't miss from Delhi is the Benog Tibba trek. This is a perfect one for families. Why? It is an easy trek where the gradient is gradual, the distance is short and the camping location is beautiful. 
The icing on top is that it's merely 3 hours away from Mussoorie. 
On the Benog Tibba trek, you trek on a shaded trail laden in beautiful deodar and rhododendron forests. Although the forest is largely pine, there are various flora mushrooming in between like rhododendrons, oak and walnut. Trekking to Benog Tibba is a wonderful way to introduce children to trekking in the Himalayas. 
The video below will give you an insight into how the Benog Tibba trek looks like.
This is the most popular weekend trek on our list. Nag Tibba has been the stepping stone for so many frekkers, who have gone on to complete several other high altitude treks. 
Truth is, there are few weekend treks like Nag Tibba, which are thrilling, and challenging and offer some of the best mountain views you can get quickly over a weekend. 
From the summit of Nag Tibba you see a 100-degree view of snow-capped Himalayan ranges such as Swargrohini, Bandarpoonch, Kala Nag, Srikanth, and Gangotri. You also see Kedarnath peak in the north, Doon valley, and the snow peaks of Changabang. With views like this and a climb to make you earn them, this weekend trek may be one of the best.
You'll also witness a breathtaking sunset from the Nag Tibba trek.
Not all our weekend treks are in the Himalayas. We have a gem of a weekend trek very close to Bengaluru. It's the Channarayana Durga trek. 
This trek is situated around 100 km from Bengaluru and is a great trek for families. 
The golden sunset, especially during winters from the Channarayana Durga trek is a big reason to be on the trek.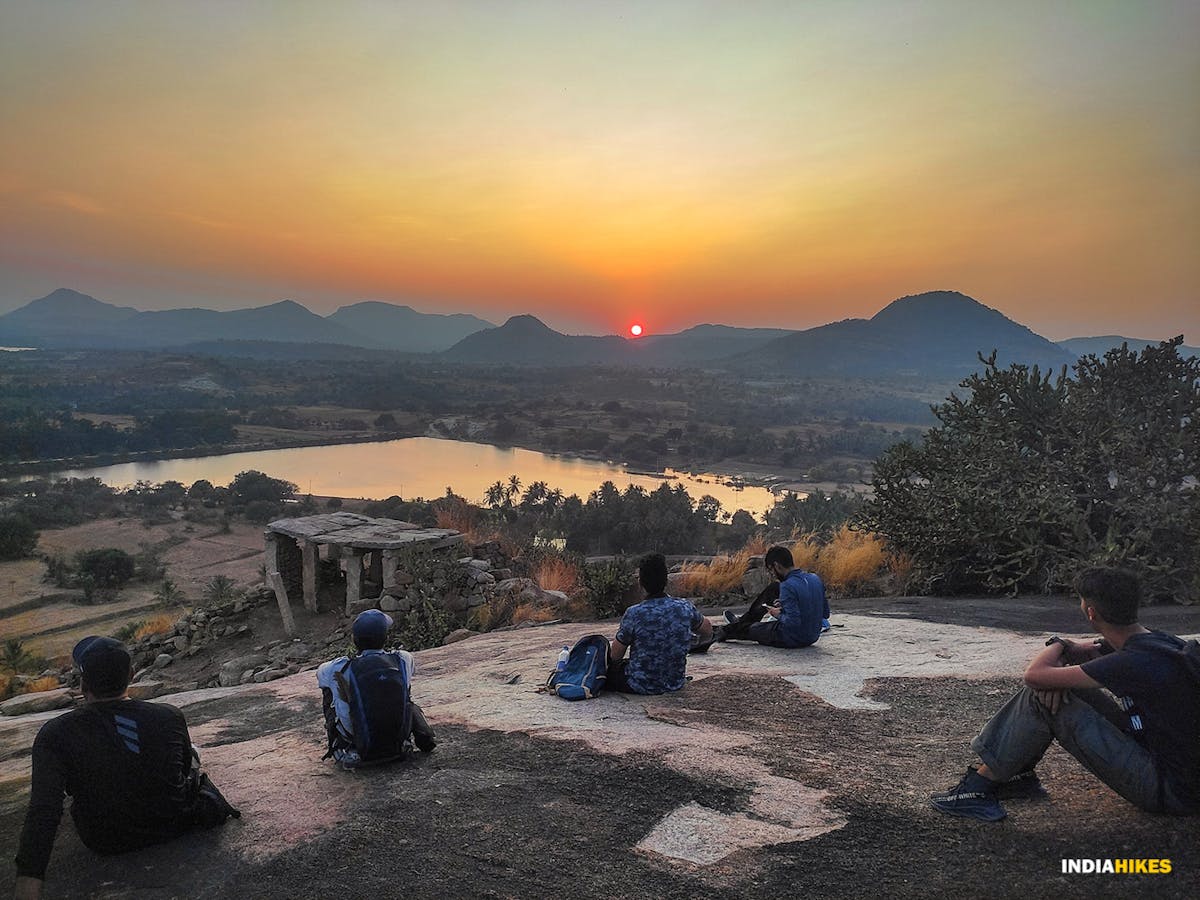 Golden rays of the setting sun light up the different layers of the Channarayana Durga fort. Photo by Bharath Ramesh
Add to that the bonus of camping at our campus. Our campus is surrounded by hills on all sides — hills that climb right out of our camping grounds. The Channarayana Durga trek is at walking distance from our campus. There are also many boulders, lakes, and trees, it's got everything going for it!
For many years, we have had several family treks in the Himalayas, and seen an incredible impact on families. Since we opened our Southern Campus at the base of Channarayana Durga trek, we have been noticing a similar impact on the families here too. 
Watch what 11-year-old Pranamya Datar has to say about his experience to Channarayana Durga trek.
We have regular groups for this trek every month. The dates for February are as follows:
Click here to explore the Channarayana Durga trek.
With that, we come to the end of this blog.
We are in a season of clear skies and comfortably cool temperatures. It's a great time to step on a trek and explore the outdoors. So I hope you make good use of this time to explore a weekend trek. 
Sign up for our much loved Weekly Mailer
We have terrific trekking tips, trek updates and trek talks to look forward to