What I Miss About Weekend Treks During The COVID Lockdown
Share this story
Before the COVID19 lockdown, I would go on weekend treks nearby, or an outdoor exploration of some kind with my colleagues at Indiahikes. But the COVID19 lockdown has brought an abrupt end to that. 
Now, every weekend looks the same — cleaning, laundry, reading the papers, scrolling through my social media, all in an endless loop. I miss the adventure and uncertainty of being out on a trek.
I was just reflecting on what I miss the most about going on weekend treks, and I could jot down a few. I wanted to share them with you.
│Weekend treks – A chance to connect with a world from another time
Earlier this year, I did the Kumara Parvatha trek. It is the 4th highest peak in Karnataka.
Until I went on the trek I did not realize what I missed – the change in pace of thoughts, actions, and excitement. As safe and planned a trek is, there is always a sense of adventure, and unexpectedness.
The scent of the early morning forest, trekking under the moonlight, tracing birds flying in the dark, seeing creatures glow in the dark, hear insects rhyming, and so much more. It felt like I was transported to a world from another time.
Out of nowhere, we would be startled by strange sounds in the forest. Some howls, some creaks. I often froze, and felt goosebumps on my arms. As scared as I would get, I miss this feeling, dangerous yet pleasant.
Sipping water under the cool shade of the trees in the forest, and sweating buckets under the naked sun in the grassland section, I felt a thrill. Something that I could never imagine to experience sitting on a couch.
On the trail the breeze blew sand in between my fingers, and onto my face. Insects and vines clung onto my trek pants. Some bit me, some warned me with a scratch.
All these things would normally irritate me, but I welcomed them. It was here that I found a connection that I was not even looking for. I miss this. It doesn't help that most of my week, I look at some of the best pictures of the mountains in the country. This makes weekend treks all the more awaited.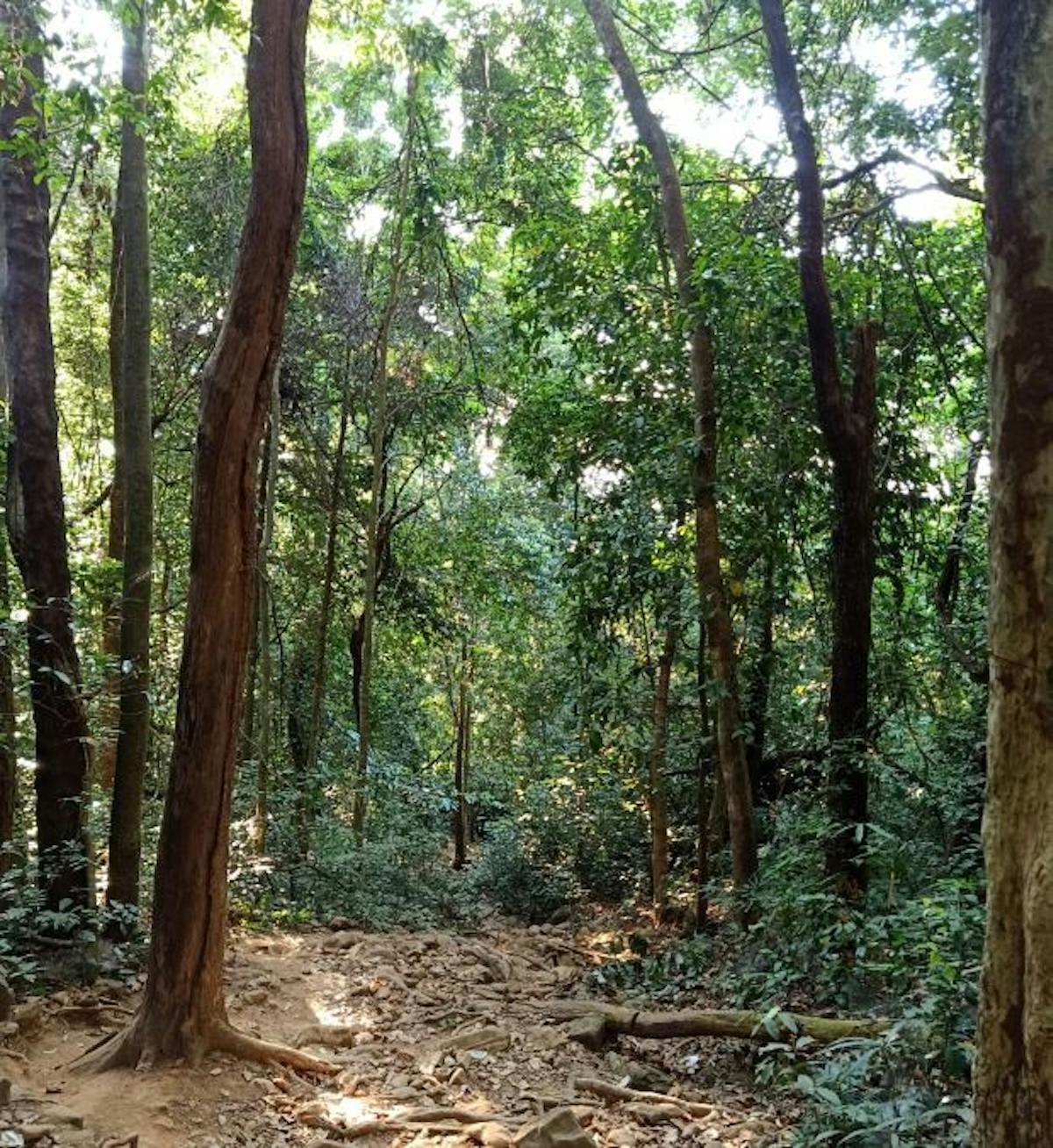 The first forest section on the Kumara Parvatha trek, on our return. Picture by Soumya
│The freedom and time to reflect
Whether you are trekking solo or with a group, on a trek, you get time to reflect. Putting one foot after another, and just breathing, gives me a sense of control, and rhythm. My head begins to wander, and I think about various things. 
One Saturday evening, our Bengaluru office team decided to explore the Varlakonda Fort Trek, just on the outskirts of Bengaluru. It is an easy, quick weekend trek, that is especially helpful for beginners or those just starting to trek.
Though we were a group of 12 people, I still found the time to reflect. I thought about how the week that went by was, what were my learnings, what were the mistakes I made, what I could have done better, and much more. I also get news ideas to problems that have been worrying me.
While trekking, I noticed several others walking by themselves too.
At the summit, we all sat in a circle. We watched the sunset, and reflected back on the day. Some were moved to tears looking at the sunset. Some remembered people dear to them, and treks from their past.
Listening to my colleagues share their reflection and stories, I felt a deep sense of appreciation for them. Their reflections enabled mine. I looked at the city I had spent most of my life in. I felt like a tourist, a visitor staying for a couple of days.
It was only when I was on this trek, feeling the bare rock, and the real vegetation of the land, that I felt a deeper connection with my city. This made me vow to do more treks.
So whether you do a trek alone or in a group, you begin to reflect. Let your mind wander and reflect. Don't distract yourself. Leave your speakers and board games at home. Carry only what you need, leave behind what you want.
This is what I miss the most.
A few team members from the Bengaluru Office on a weekend trek to Varlakonda Fort. Picture by Izzat Yaganagi
│Things I learn on a trek – about trekking
Among the many things that I learned on a weekend trek, one of the most important things is learning to trek. The basic techniques – how to descend, how to ascend, how to use a trekking pole, how to manage your body weight, how to document a trek, take photographs, and so on. 
Being part of a trekking organisation, these are things I must know. And there is no better way to learn, than actually going on a trek.
I thought that these skills were required only on a Himalayan trek. But I was so very wrong. 4 of my colleagues and I went to do the Kabbaladurga trek in December last to document as a weekend trek. I made a rookie mistake, but had a huge learning from it.
On the rock section of the trek, which is almost a 70 degree climb at some places, I got stuck. I was climbing blind – the sun shone right in my eyes, and my cap restricting my vision. I did not even find a route before I started off.
Seconds after I got stuck, the hold on my right hand gave away. As a reflex action, my legs help me. But soon, my legs started shaking.  I was telling them to stop, but it was of no use. I felt calm, but my legs were panicking.
Soon, I could feel my feet slipping. I realized that if I had known how to tackle this section, I would not have got stuck in this section. On a Himalayan trek, this would've been disastrous. I would have put not only myself at risk, but possibly others too.
After that incident, I began to do a lot more research on trekking techniques. I spoke to Trek Leaders about the right techniques. How to position my foot, and feet while descending. How to remain calm when stuck in a threatening situation and so on.
One of the biggest things I learned that day was to ask for help. And that is how I am writing this with all my limbs intact. I miss the learnings from this trek. People often think that trekking is something natural to everyone, but it is not. There are right techniques and wrong ones.
The more you trek, the more you can learn.
If you're wondering how I got out of that mess, here's how.  I called out to a colleague of mine to help me. Initially he thought I was making a joke. But the second he realized how serious it was, I could see a wave or responsibility on his face. I think we both learnt a lot from this incident.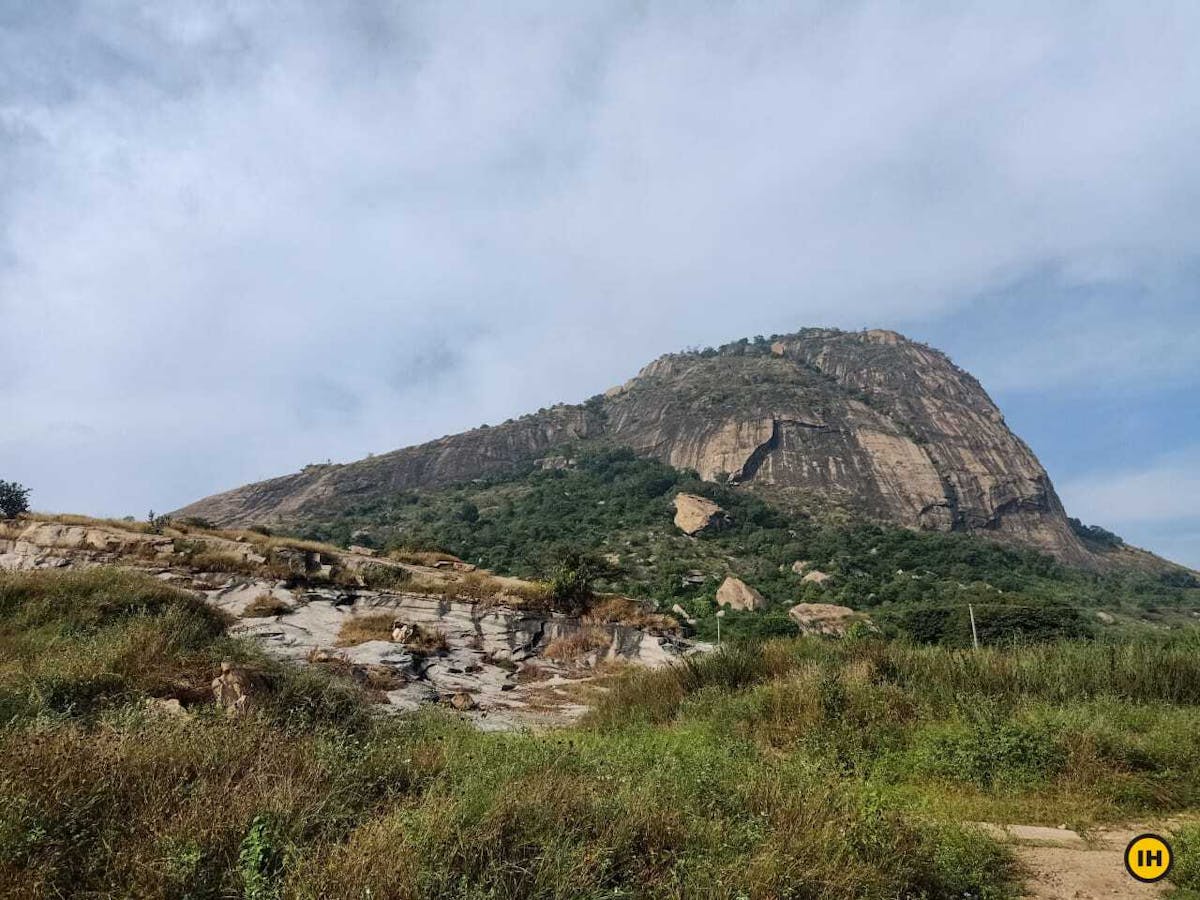 The massive rock face of the Kabbaladurga hill. Picture by Suhas Saya
│Outside the box experiences – new places, new people, new food
As travel bloggy as this sounds. It is true.
On a trek to Puppy Betta, a colleague of mine introduced me to Janardhana's Mysore Pak. This hotel is a small one room hotel – one big hall, with ceiling fans that look over a century old.
Here I ate the most unforgettable Mysore Pak of my life – dripping in ghee, and swimming in flavour. I learnt that the Mysuru Maharajas got their Mysore paks from here.
On a trek to Antaragange, we met Chikanna, who later on turned out to be our guide. He was born and brought up in the cave city, and has spent his whole life trekking through the vast expanses of boulders and caves in the area.
Speaking to him, I learnt about the friction between the villagers, and the forest guards in the region. The forest guards prohibit the villages from leading trekking groups. On the other hand, these villages who have grown up in the forests know it like the back of their hands.
Each party has their own qualms.
I learned more about the realities in our society – the tiff between villagers and forest officials, the frequency or non frequency of busses to the main city – Bengaluru, about devotees that drop everything to visit a temple each weekend, and how to prevent getting pick-pocketed by monkeys.
As dramatic as it sounds, these things are ground realities which I would not have learned, had I been sitting at home over the weekend. Weekend treks are a great way of exploring and learning.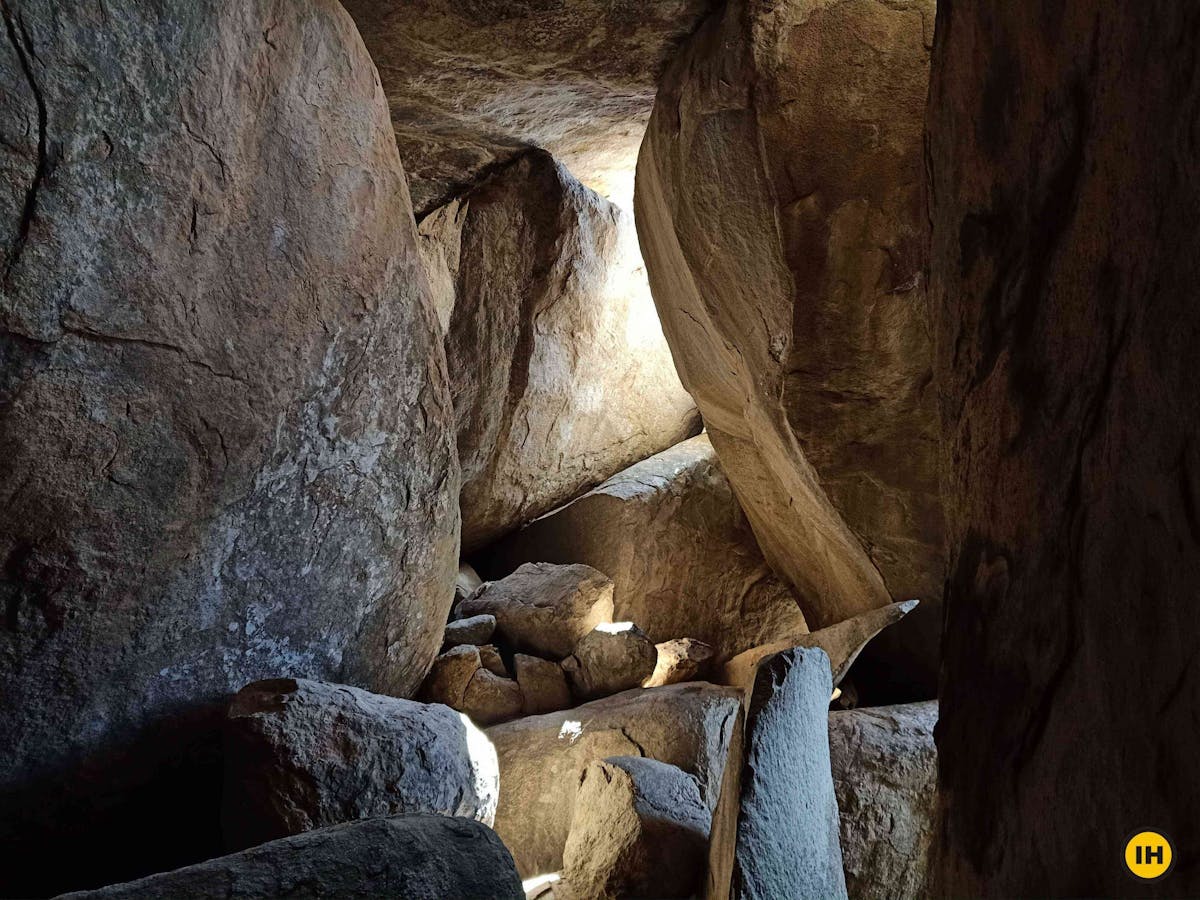 The wonderous caves of Antharagange. Picture by Soumya
│End one week and begin the next on a high
A weekend trek brings with it the joy and drive to start off a new week. Sitting at home, each week goes by, feeling more or less like the one before. I miss this drive, and thrill. The high of a weekend adventure lasts through an entire week.
There is something that being in vast open spaces on a trek does to you. It seems to break down the walls of your mind. Ideas flow, thoughts grow, and you get a sense of direction.
Sometimes, in the middle of the week, while typing away on my keyboard, I think of the breeze in the mountains, an insect with countless legs, and the pink of a sunset. This makes me so happy. This sense of joy and upliftment is something that I really miss. Especially now, when I am confined indoors all day.
I hope this has inspired you to go on a trek of your own once the lockdown ends. There is so much to learn, do, and think while on a trek. Physically trekking from point A to point B is just the tip of the iceberg when it comes to the potential of a trek. Trekking is a journey of the mind, body and spirit. 
To start off with, go with family, friends or colleagues. Start off with smaller treks close by like Puppy Betta, Varlakonda Fort Trek, and Brahmagiri. 
Once this COVID19 lockdown ends, be sure to find me on a weekend trek nearby. I am thinking Savandurga, what about you?
Sign up for our much loved Weekly Mailer
We have terrific trekking tips, trek updates and trek talks to look forward to