What kind of a camera should you buy?
Share this story
What kind of a camera should you buy?
Category Photography Tips
By Neelima Valangi
2012-04-16
Buying a camera is never easy, especially when you have to take it on a trek. You have to factor in the weight and the size of the camera, and the quality of the pictures. So what kind of a camera should you choose?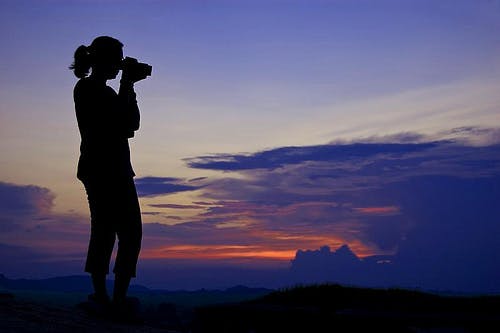 These have to be few of the most common questions asked. Actually the answer isn't that simple, there isn't one right answer and it varies heavily depending on individual's interests and requirements. But before we take this discussion further, let me tell you something that has been said a million times. It is not the gear. It is the photographer, who makes the images.
If your photos are not coming out well, it is probably because you are not taking them right.
Don't blame it on the gear. In my personal opinion, an amateur should never start with a DSLR, he would never know what he is gaining by upgrading. My suggestion would be to start with a point and shoot. Making images isn't about perfecting the technical details. It is about composing and seeing. 
When you shoot with a P&S, even if you want to, you cannot be bothered with sharpness, contrast, saturation and exposure. All you are forced to do is to shoot. Once you get better at composing and you are feeling limited by your camera's capabilities, it is time to upgrade.
Bridge camera or DSLR?
Ask yourself a few questions before jumping in and buying that bulky professional-looking camera. With a bridge camera (the mid-point between a P&S and a DSLR) comes a lot of advantages. First and foremost, it's a single piece (no attached lenses). It has zoom options of around 35X, without adding extra weight. Second, it has the ability to have complete control over your images and the settings. These cameras have almost all the desired functionalities of a DSLR bundled at a much lesser price, including shooting in RAW. So, you are getting all these features in a smaller, cheaper and comfortable camera, why do you want to still buy that DSLR?
Not that there is anything wrong in wanting to have the best, but there is a lot of effort that goes in shooting with a DSLR, completely worth the effort too, but are you up to it?
Unless you are shooting professionally and want to produce high quality images that can be printed to high resolutions, I think a bridge camera will suffice. Granted, the low light performance might not be that good, focusing might not be as fast, aperture and ISO might not stretch as far as you want, but hey, it is an all-in-one piece. And weight and size really matters while trekking.
 If you are someone that's just looking for some good memories and don't want something as simple as a P&S, a bridge camera will be your best bet. When you zoom in and get a close up shot of the rising massif in the far distance, I assure you, you will have your peers with DSLRs turning green with envy.
When you decide to buy a DSLR, ask yourself the right question
Now that you have decided to buy a DSLR, you need to ask yourself a few more questions.  The good thing about a DSLR is that there are different lenses for different needs. The bad thing is there are different lenses for different needs.
Suddenly, your camera isn't an all purpose piece that will cater to all your needs. Every lens has a specialty that it aces at, and you have to decide what kind of lens you need. If it is low light and night photography that you are interested in, you could go for a lens with a maximum aperture of 2.8. If it is wildlife, you need to get your shots fast. So, higher fps (frames per second) could be your deciding factor.
You don't have to know these technical details, but before asking for advice, you need to fine-tune your point of interest. Depending on that, others can suggest what you should look for in a camera. Asking a vague question such as which model should I buy would provide you no meaningful answer.
Which lens to carry?
Normally, it wouldn't be an issue when you can carry all your lenses and accessories with you. The equation changes when you are on a trek, where extra weight can be a pain in your neck, literally. During most of the treks, spotting wildlife is not the main agenda, as much as taking in the views. For most, carrying a wide-angle lens would suffice. If you are keen on portraits, maybe you could also carry the invaluable 50mm prime.
If you are really interested in shooting close ups of peaks, carry a telephoto lens, but remember that you will have to carry the weight. Apart from this, you have more options such as macro, fish-eye, ultra wide-angle, etc. Since you cannot carry all these, decide and choose what you want to shoot first. Then carry accordingly.
These days, micro four thirds or mirrorless cameras are creating quite a buzz in the market and for good reason I suppose. There are many choices for you, if you know what you are looking for.
Be a smart consumer and purchase wisely!
To read more from Neelima, visit her blog, The Wandering Soul's Wander Tales.
Sign up for our much loved Weekly Mailer
We have terrific trekking tips, trek updates and trek talks to look forward to