What I Learnt On My First Himalayan Trek To Dayara Bugyal
Share this story
Blog written by Nirvaan Sahoo
When I was three years, Korigad Fort trail, near Mumbai was my first trek. I had enjoyed it the most because I walked all the way to the top and down. Then I heard about Himalayan trekking from many people, I always think of going one day. Finally, during summer this year my family had planned for a trek to Dayara Bugyal. But unfortunately, due to the pandemic, we had to cancel our plans.
However, after the lockdown was called off we all got excited to go for the trekking as we were fit and healthy by remaining physically active during the lockdown. So finally it was decided we all will go for the trek to Dayara Bugyal organised by Indiahikes. 
The journey to Raithal, the basecamp of Dayara Bugyal trek
On 25th of October, we reached the base camp, Raithal along with another family consisting of Keyur Uncle and Tusya who were from Mumbai. The journey was exciting as we heard a list of our favourite songs played by Keyur uncle and we also heard folk song played by the driver uncle.
We drove along the Bhagirath river and enjoyed the scenery. It was dark and cold when we reached Raithal.
Spending the first night at Raithal
Aditya Sir, our trek leader gave us a briefing about the tent, sleeping bag, eco bag and toilet tent.
I actively participated in giving the demonstration for the sleeping bag. We had mutter paneer and yummy hot jalebis for dinner which was very delicious. My whole family slept in one tent and we immediately closed our eyes after experiencing a tiring day. 
How we started the trek to Dayara Bugyal, what we experienced
The next morning we set out for Gui, our next camp. Aditya Sir handed all of us an ecobag and explained its importance to us. We have to collect all the garbage on our way up and keep the trail clean. As we started our journey we saw a brown furry mountain dog following us. We named him Bruno and it accompanied us to the top and back. My sister and me became very fond of Bruno.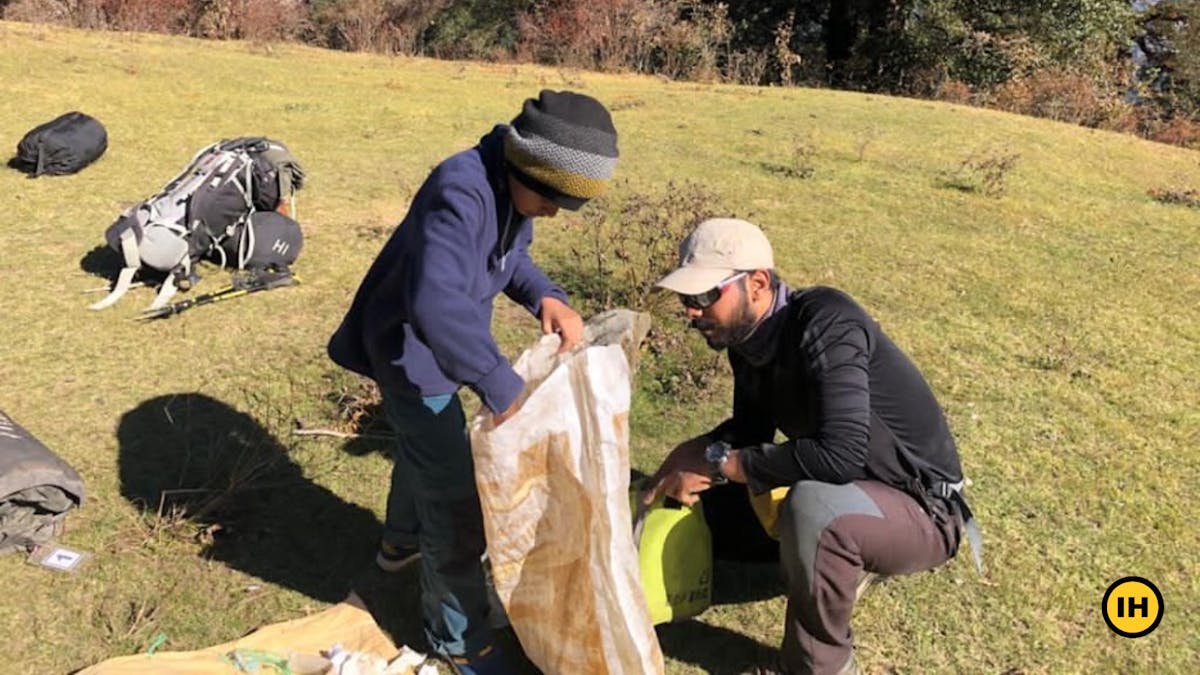 Nirvaan learning how to collect and segregate waste with Trek Leader Aditya Bodke
On the way we hugged trees and shared our secrets with the trees, make stones jump on the water and also climbed a huge boulder. I collected lot of wrappers and stuffed them into my eco bag. I even collected a discarded shoe sole. We reached Gui during lunch time and had a warm up session.
There was a stream nearby. Aditya Sir told us not to take a nap as it might make us nauseated.  Aditya Sir made us do many interesting activities and play games. At Chilapda we had an interesting story telling session made from the collected raw material available there. The view of the mountains at Chilapada were beautiful. 
The grueling hike to Dayara top
The next day we had a to do a gruelling 6 km journey at difficult altitude which was above 10,000 ft. We crossed a beautiful forest of brown oak tree. The sight of the mountains from the top of Dayara Bugyal was breathtaking. We could see the huge mountains, the Shrikhand, Baby Bander Punch, Big Bandar Punch, Kala Nag, Draupadi ka Danda and the Bhagirath sisters.
We rolled on the meadows. My mother even took a video.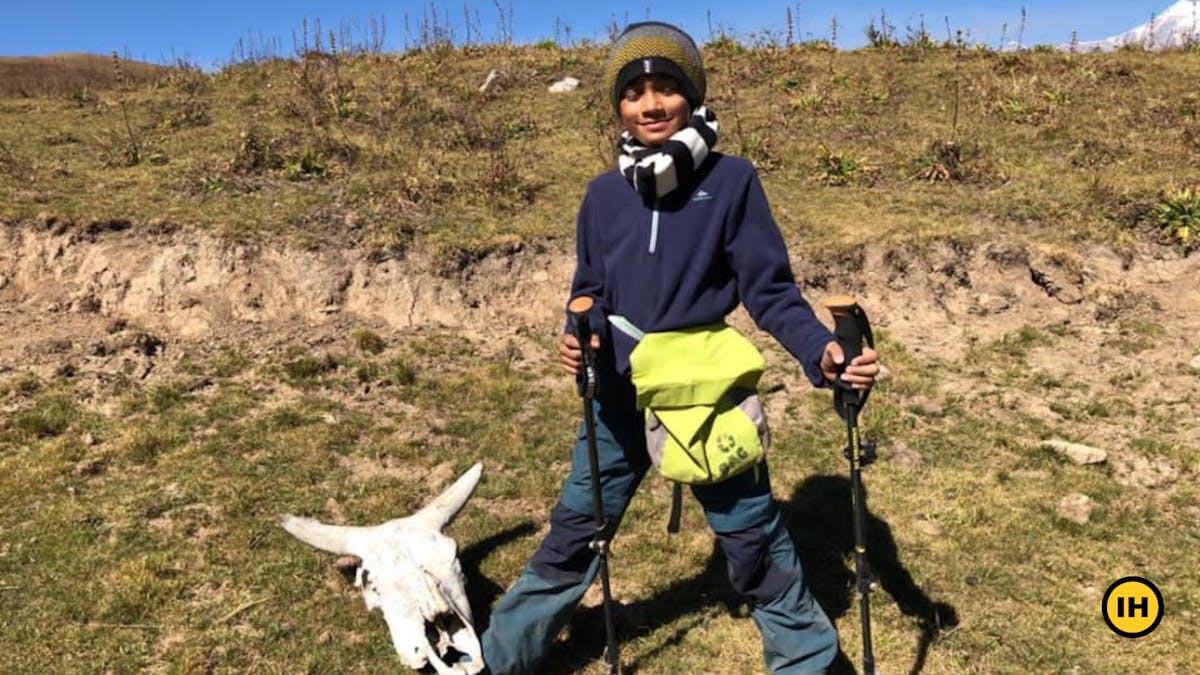 Nirvaan posing with the mule skeleton he assembled
I saw many animal bones. I put them together and framed almost a mule skeleton. While going down, we crossed Nag temple which was next to Bernala lake and was very scenic.
We encountered an adventurous incident while descending
We got late and it was dark. My father was very worried as it was dark. We entirely trusted Aditya Sir to lead us. He made Keyur Uncle the sweeper for that moment as he was an experienced trekker. Tusya, who was otherwise slow went in a super speed ahead with Aditya Sir.
We also had to go through thorny bushes in the dark. But when we were about to reach Nayata campsite, we were greeted with the melodious sound of Monal, the state bird of Uttarakhand.
That night we had a delicious dinner, that was gulab jamun and pasta. We shard a lot about the night's adventure and slept. 
What I learnt on Dayara Bugyal trek
Next day on our way down we met Ravi Sir, the slope manager. He taught me how to use trekking poles while coming down and how to use compass in the mountains. We met another furry dog when we reached Raithal. We jumped over a wall to reach our base camp instead of going all the way on road.
Aditya Sir gave us each a magnetic Dayara Bugyal memento which I put on my refrigerator. We also did the drawing of the scenery and Aditya Sir appreciated it.
I learnt a lot during the trip like keeping the environment clean by picking the garbage on the way, avoiding campfire which has bad effect on the environment, made new friends, pitching tents. Aditya Sir showed me how to segregate the garbage and made me the Green Trail winner because I had picked a lot of garbage, though I am yet to receive the certificate from IndiaHikes.
It was a fun, learning experience for me and I will remember it forever.
Sign up for our much loved Weekly Mailer
We have terrific trekking tips, trek updates and trek talks to look forward to