What is the Indiahikes camping experience like
Share this story
What is the Indiahikes camping experience like
Category Indiahikes Experience
By Aayush Jakhete
2022-10-06
At Indiahikes, we go a long way in making camping a comfortable experience for trekkers. Yet there are two things we never want to compromise on — (1) minimalism, which we believe is the bedrock of trekking, and (2) a sense of adventure, which is another fundamental of trekking.
So our camps are designed to ensure all three are in place — comfort, minimalism and a sense of adventure. 
Comfort on most high altitude treks means warmth, safety and good food. Our camping tents and sleeping bags will ensure you don't look beyond them for warmth and safety. They are designed to withstand the harshest conditions (even in peak Himalayan winter) and have stood the test of time for over a decade, with constant improvements in design. As for food, our kitchen team looks into every aspect of taste, nutrition and health before serving you a meal. So much so that many of our trekkers say they find our trek food more comforting than their home food! 
Minimalism focuses on leaving the least impact on the environment. Indiahikes practices low-impact sustainable trekking in every aspect of the trek — you'll see this in the way we run our kitchen, in our washing areas, in our rental practices and in our bio-toilet setup (which is one of the best outdoor toilet setups globally). Our trekkers take great pride in being able to trek in such fragile ecosystems in a sustainable way. It's one of the biggest reasons they choose to trek with us. 
Finally, what is trekking without a sense of adventure! At Indiahikes, we are obsessed with finding terrific camping locations. The Sundarsar campsite on the Tarsar Marsar trek, the Dayara campsite on the Buran Ghati trek, the Pushtara campsite on the Phulara Ridge trek — these are some campsites we have identified and established over the past few years. Not only do we need practicalities like water sources, flat camping areas to be met, but we are also very particular about every campsite being aesthetically pretty. As trekkers ourselves, we know what it's like to wake up in a gorgeous campsite. So we look for good views, a calm ambience, and safe places to explore around. (Read what goes into choosing a campsite at Indiahikes)
We're sure you have more questions about camping, food and toilets at Indiahikes. So continue reading as we break each of these experiences down.
Camping in tents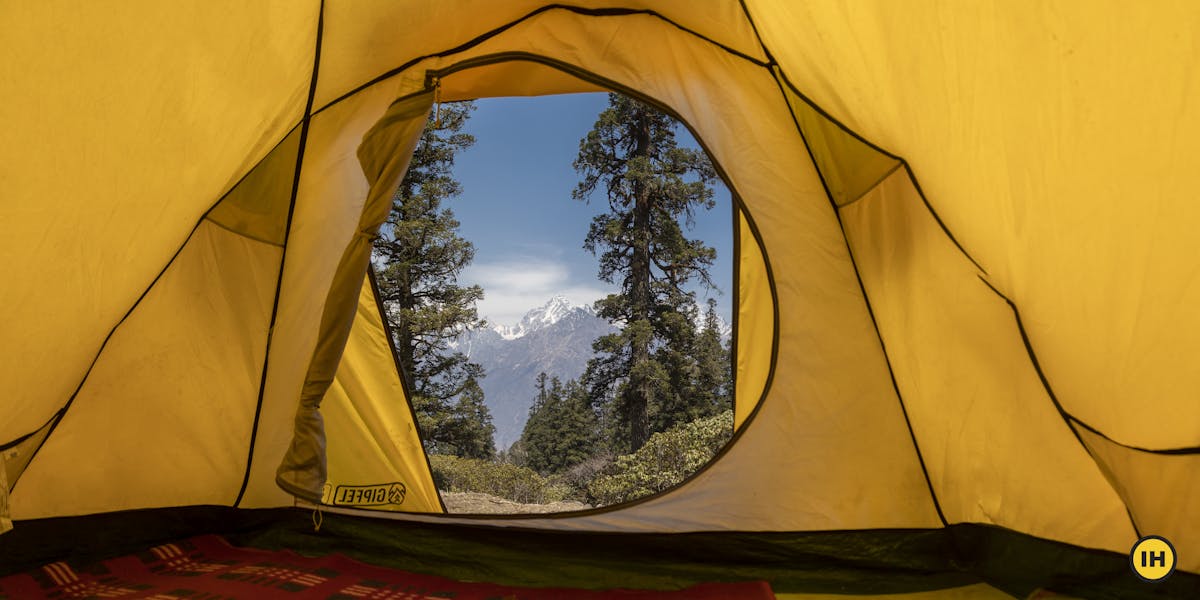 You will be camping in Hillman Expedition tents. These are custom-made all-weather tents that will be your shelter on the days of your trek. 
They will keep you dry when it rains and block the cold winds.
There are two main zones in a tent: the inside and the balcony areas. 
You leave your footwear and wet items in the balcony area and enter the tent. 
Did you know? The dome style tents were introduced to Indian trekking by Indiahikes
Inside the tent, you will find the floor is covered with a foam mat and carpet. This provides insulation and padding from the ground. 
You will also find a sleeping bag. You will use this while sleeping inside the tent. They are designed to keep you warm and comfortable. Use the sleeping bag liner before you slip into your sleeping bag. It is like a giant sock for your body. It ensures personal hygiene and adds a layer of warmth and comfort. 
Protip: Roll up your padded jacket or a few of your clothes for a make-shift pillow.
What do toilets look like at an Indiahikes camp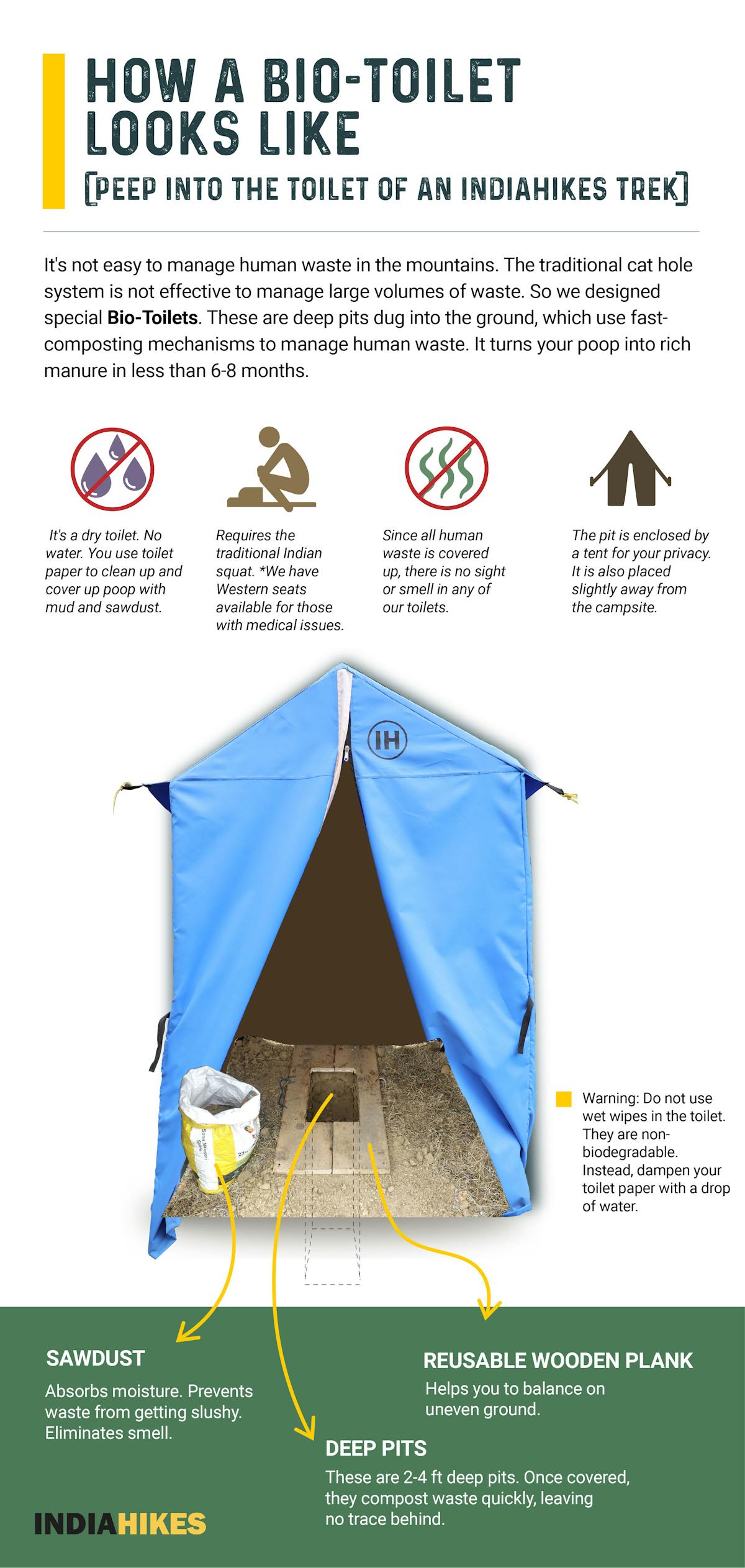 There are no modern toilets with plumbing in the camping world. You will be using Bio toilets designed by Indiahikes. These are deep pits dug into the ground, which use fast-composting mechanisms to manage human waste. 
Why Biotoilets? It's not easy to manage human waste in the mountains. For every team of 25, the human waste generated is ___kg per campsite. The traditional cat hole system is not effective to manage this volume of waste. It turns your poop into rich manure within 6-8 months. 
Some things to keep in mind for these toilets.
It's a dry toilet. No water. You use toilet paper to clean up and cover up poop with mud and sawdust.
Requires the traditional Indian squat. *We have Western seats available for those with medical issues.
The pit is enclosed by a tent for your privacy. It is also placed slightly away from the campsite. 
Since all human waste is covered up and there is enough air, there is no sight or smell in any of our toilets. 
Do not use wet wipes in the toilet. They are non-biodegradable. Instead, dampen your toilet paper with a drop of water.  Click to see why.
What does your trek food look like at Indiahikes?
The food itself is an experience when you're trekking with Indiahikes. Your typical meal will include rotis, sabji (vegetable), rice and dal.
All of these are made with as less oil as possible and as much "health" as possible.
You'll find familiar food like khichdi, rajma chawal, pulao and also pancakes and sandwiches. There will be copious amounts of chai and soup of course!
We have put our menu together after tremendous research on the nutritional requirement of a high altitude trekker. You'll notice that we always try to include the right amount of calories, carbs, protein, fibre and fat.
Menu design: In the first half of the day, your body requires a continuous supply of glucose and multiple carbohydrate-rich meals to ensure your body cells are kept well nourished. 
In the second half, post trekking hours, we add protein-rich food to the meals to help your cells rejuvenate and rebuild. Fats, being hard to digest, are kept at a minimum. 
In addition to food, your body also requires lots of liquids to rehydrate, which are built into the menu.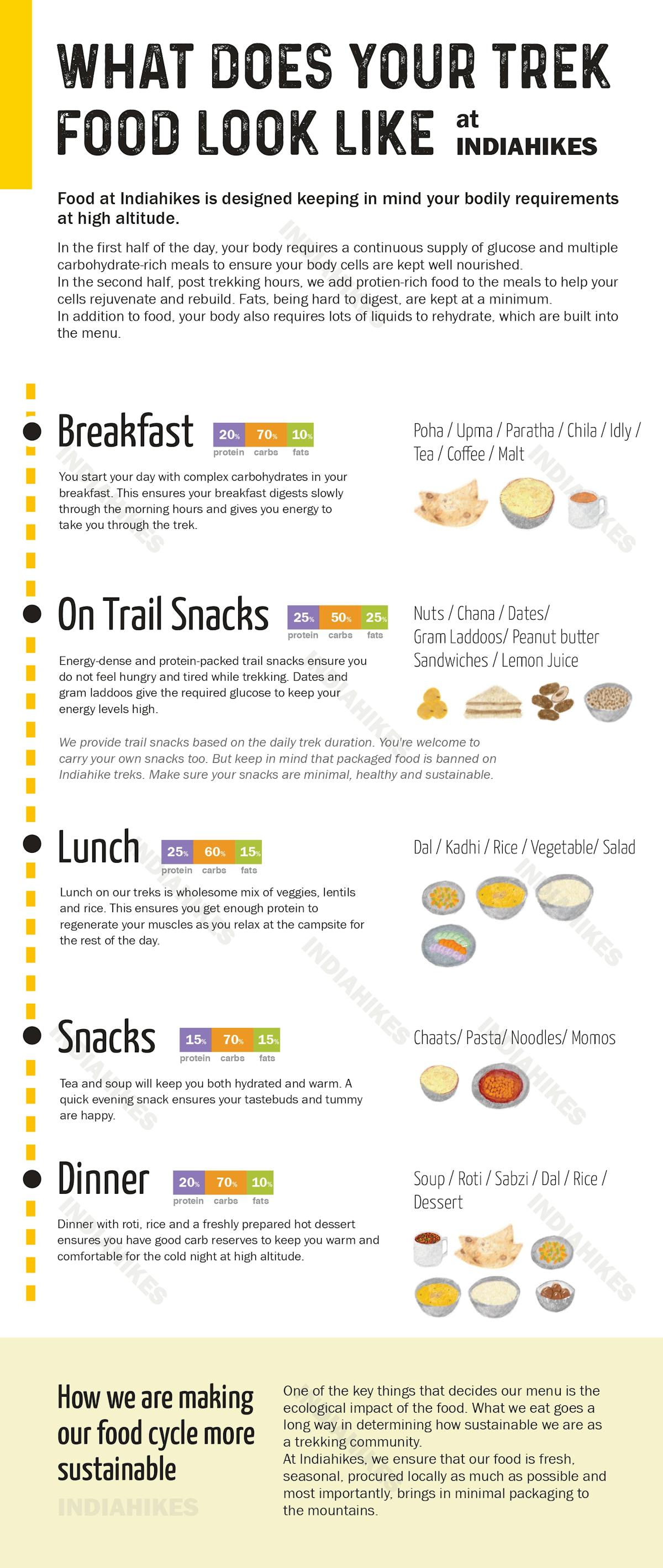 It took many heads to come together to make this menu - our research team, our ops team (to manage transport of provisions, kitchen equipment, gas cylinders, etc to campsites), our cooks, who were trained specifically for this, and of course, our Green Trails team, to ensure that we produce minimal waste with all the cooking.
"Basic cooking at high altitude is a lot of hard work. Preparing a lip-smacking dish is even tougher. It takes about 12-13 whistles to simply cook potatoes. When our luck is bad it takes even longer. Our cooks wake up at 4 am every day in rain, wind and snow to make a wholesome meal," says Sandhya UC, COO and cofounder of Indiahikes. 
If you're particular about some vegetables or ingredients not being in your food, let your Expereince coordinator and Trek Leader know. We will prepare it accordingly. 
And oh! We almost forgot! All this food will be served in your own cutlery. So don't forget to pack a lunch box, mug and spoon with you!
What we eat goes a long way in determining how sustainable we are as a trekking community. At Indiahikes, we ensure that our food is fresh, seasonal, procured locally as much as possible and most importantly, brings in minimal packaging to the mountains. 
Conclusion
This brings us to the end of the this article. If you have any questions about the camping experience, fell free head out to our community forum and get them answered.
Related Videos
Why Is It Unique Trekking With Indiahikes | The Indiahikes Experience
Sign up for our much loved Weekly Mailer
We have terrific trekking tips, trek updates and trek talks to look forward to