Why I left my job as a business analyst to be a trek leader
Share this story
Mountains became his office, forests replaced his desk, tents became his home and sleeping bags replaced his bed. Our trek leader Ankit Naithani ponders over why he chose to leave his family, friends and comfort back at home to pursue a career up on the mountains.
Written by Ankit Naithani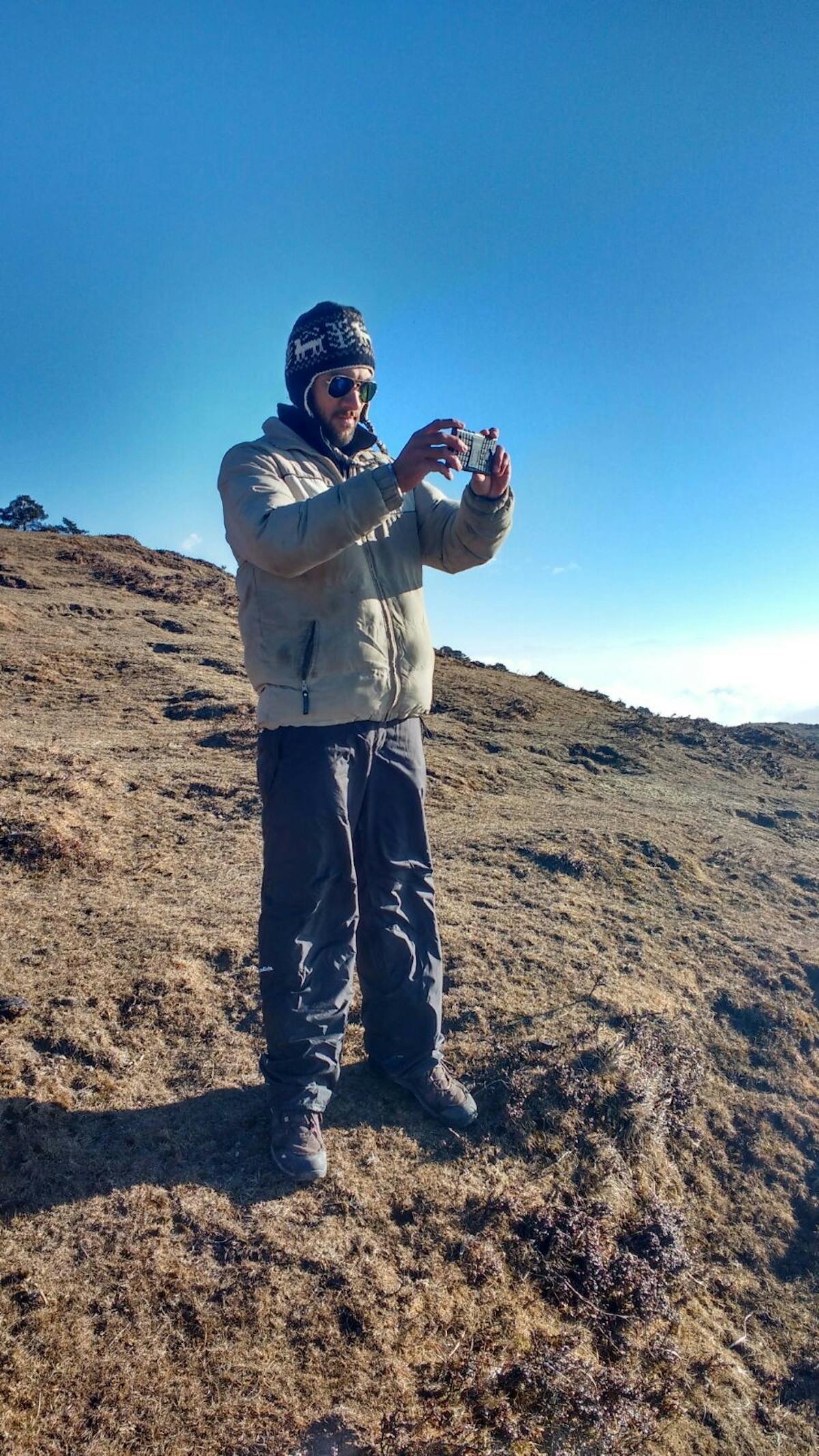 Trying to find the perfect frame
I was brought up in a crowded city of Mumbai by typical Garhwali parents. My parents had moved to Mumbai early in their lives and had worked hard to raise my sister and me. Mumbai was quite fulfilling if not exciting and there was absolutely no reason to complain, until I got bitten by the travel bug that compelled me to travel the length and breadth of our country.
My travels eventually brought me back to the Garhwal Himalayas, my roots, but when I got here, I saw a completely different perspective. Strangely, I did not get the feeling I was "travelling" there. I thought I was home. For the first time, I experienced the warmth of home away from home. So strong was this feeling that once I went back to Mumbai, I could no longer focus on my work. I started making travel plans to the Himalayas again. I realised that this wasn't just wanderlust and that the Himalayas had started working their magic on me. After that, it wasn't difficult for me to decide to quit my job as a Business Analyst with General Mills and leave the comforts of Mumbai behind, and move to the Himalayas.
But when I thought, What am I going to do up there?
I wanted a job that would enable me to travel across these marvelous ranges. That is when trekking came into picture. Trekking and mountaineering had been a passion while I was growing up. So I decided to explore my options in this domain. I did a mountaineering course from Jawahar Institute of Mountaineering and Winter sports. This course introduced me to the trekking scenario in the Himalayas. The thought of moving to the Himalayas soon transpired into reality and I joined Indiahikes as a trek leader in June 2015.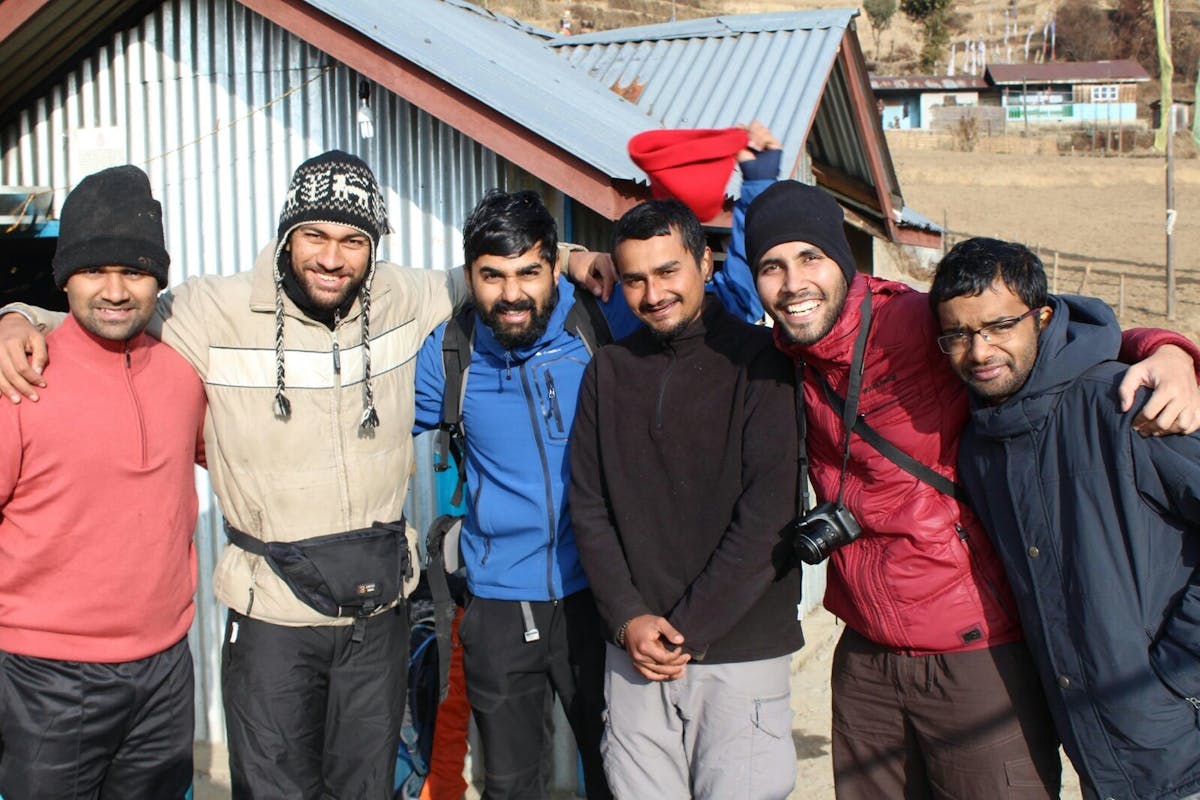 With trekkers and Ashish, another of our trek leaders.
Being a trek leader with Indiahikes is a spectacular job, but one that comes with lot of responsibilities. A trek leader runs the entire show on the trek. This includes handling the guides, staff and more importantly, the trekkers. He decides which trail the team takes and is also the medical point of contact on the trek. He is basically responsible for everything that happens up on the mountain and even one wrong decision can have catastrophic implications!
I often tell my family and friends that if all is well, I am probably not even required to be on the trek. However, when the going gets tough (which happens quite often), all heads turn to one person. The pressure and weight of expectations is much more than it ever was in the meeting room of General Mills but so is the level of excitement and satisfaction. My office desk soon got replaced by endless forests, my bedroom by Hillman tents and my bed by a warm cozy sleeping bag and I loved every bit of it.
The only disappointment perhaps was that I would be away from family and friends. But that disappointment was also forgotten as I began meeting new people. In my time here, I have met some amazing travellers, formed friendships that are going to last a lifetime and lived through some spectacular experiences. Never in my wildest dreams did I imagine that I would travel to the remotest Himalayan villages and live among locals as one of them. The kind of warmth and reception by which I was made a part of their lives is almost unbelievable. I started having many small families in different base camps.
In my eight months with Indiahikes, I have lead treks in Himachal, Uttarakhand, Kashmir and Darjeeling and each place has left a lasting impression on me.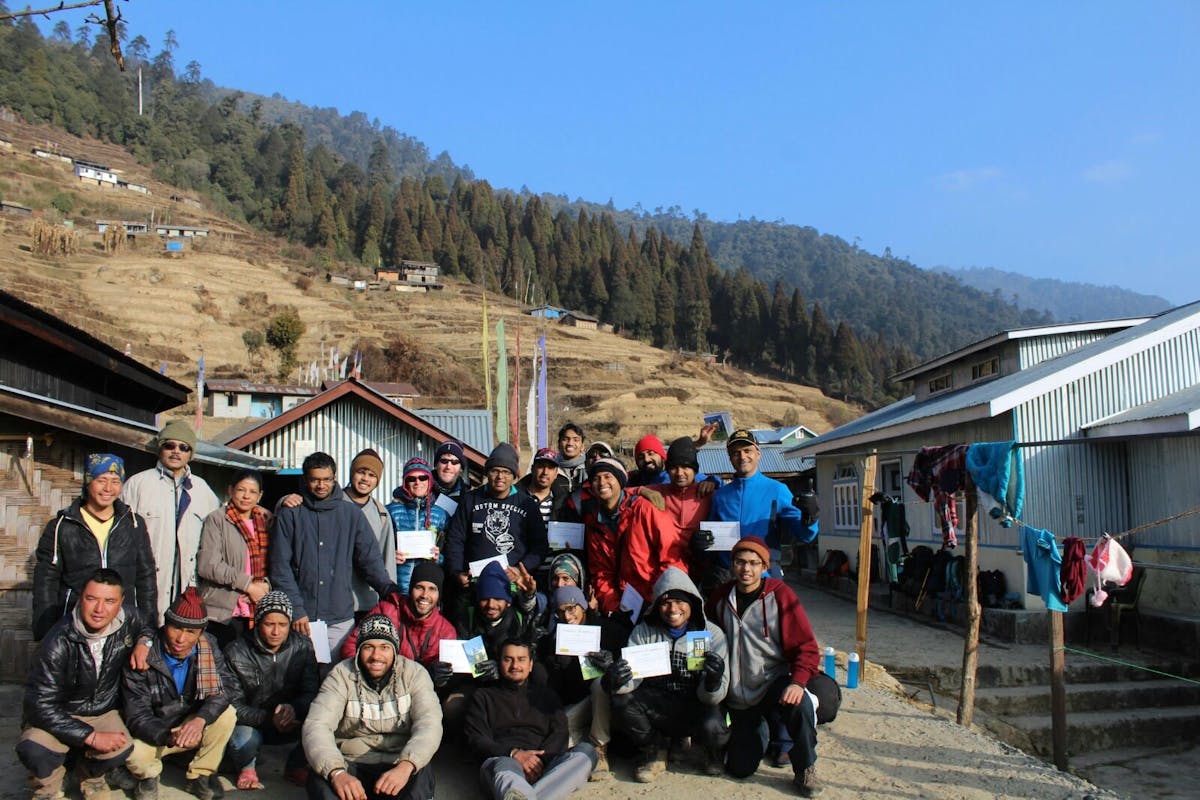 With the trekkers
They say mountains are the best teacher and I can't agree more. They have taught me to be humble, to be respectful of others and more importantly, to zoom out and see the larger picture. I learnt that life is going to be full of highs and lows but one needs to be like the mountain and take it all in his/her stride. I wake up, optimistic about new possibilities. I know I have a come long way from where I was but there is still a long way to go!
People often ask me why I left everything so dear to me to lead such a tough life in the mountains. My answer to them is simple, Why not?
Sign up for our much loved Weekly Mailer
We have terrific trekking tips, trek updates and trek talks to look forward to