Why Roopkund Is A Great Trek: Indiahikes Founder Writes
Share this story
Why Roopkund Is A Great Trek: Indiahikes Founder Writes
Category On Himalayan Treks
By Arjun Majumdar
2016-08-30
Arjun Majumdar has often been asked to review treks, but it always puts him in a quandary. It's not easy to choose amongst Himalayan treks. Nevertheless, he writes a detailed review of the Roopkund trek in Uttarakhand and rates it 4.5/5. He picks reasons that are not known to most people.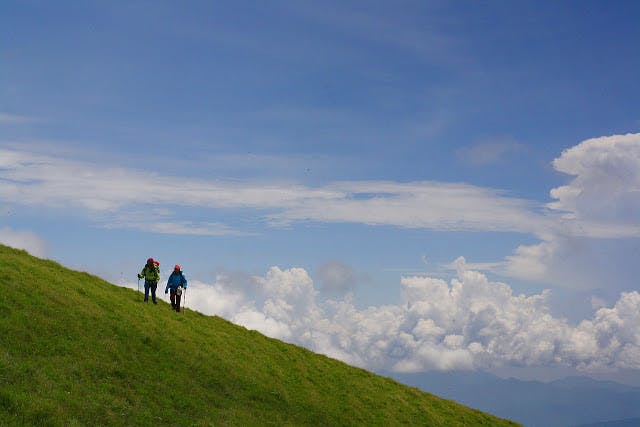 Trekkers are a bit predictable when they describe the Roopkund trek. They talk about the vast greenery of the twin meadows of Ali and Bedni Bugyal. They talk about the thrilling climb over snow to reach the skeleton lake of Roopkund. Some of them also mention the trek through the oak forests near Wan and a few go on to talk about the climb to Junargali (a ridge beyond and higher than Roopkund). Frankly, very few actually describe the Roopkund trail for what it is worth.
So here are my three reasons why you must do the Roopkund trek.:
1. Ideal for beginners
Do the trek if you are a beginner and still want to experience high altitude. And make no mistake. Roopkund is a very high altitude trek. It climbs to 15,700 feet, which is higher than Mt Blanc, Europe's highest summit! There are very few trails in our country that are as safe for beginners as the Roopkund trail is and yet climb to such a high altitude.
The trail is wide and well-laid-out. There is no chance to get lost or lose your way. Frankly, you don't even need to take a guide on this trek if you follow the Roopkund blog. A guide comes in handy only when you have to traverse the snow patches on your final climb to Roopkund.
I'll be blunt here. The Roopkund trek is too much of a good thing for a beginner. The trekker gets such a complete package on this trek – that they often start comparing all treks with the Roopkund trek. Unfortunately, not all treks are as grand as the Roopkund trek.
2. Trishul
There are many unique things about the Roopkund trek. For example, the twin meadows of Ali Bugyal and Bedni Bugyal are the largest high altitude meadows in our country. On your trek, you are going to be in the meadows for two and a half days – a fact that is missed by most. Two and a half days spent in meadows is a lot of time and unique to any trek in our country. Each of those hours spent in the meadows is going to be a treasured moment of your life for many years to come.
There are other things unique about the Roopkund trek. People talk about the oak forests above Wan. What most don't know is that these are the densest oak forests in this part of the country. Vertically, they stretch for over 3,000 feet. These protected forests are largely untouched by mankind. Each of the oak trees in the forest is over five hundred years old.
Mount Trishul, the first 7,000 metre summit to be climbed by man, is seen closest on the Roopkund trail. It towers over the trek from Day 2 until Day 5, getting closer as you approach Roopkund. When you stand on top of Junargali at 16,000 feet, there is nothing that stands in between Trishul and you. In Indian Himalayas, getting so close to a major summit is unique to a trail.
I must add here, that Trishul is also one of the most beautiful mountain faces that you will ever see in your life. Everest is tall and mighty but Trishul takes your breath away by its sheer beauty. Just to see Trishul would be my second big reason to trek to Roopkund.
3. Climb to Roopkund
Again, not all treks present such a magnificent adventure on snow as the Roopkund trek does on its final climb to Roopkund. The setting is truly alpine and the thrill, high. Few who get a chance to climb to Junargali find the experience so moving that they break down in tears. I did too.
My final reason to do the Roopkund trek: Experience a trekking adventure that touches the core of your heart by its sheer intensity and thrill. It is an adventure that is rare on most treks.
So, here it is in a nutshell: The Roopkund is a grand trek to do. It has everything going for it – great forests, vast meadows, alpine snow land, terrific views and an adrenaline kick. I would give the Roopkund trek a 4.5/5 for this combination.
Sign up for our much loved Weekly Mailer
We have terrific trekking tips, trek updates and trek talks to look forward to