How Difficult is the Valley of Flowers Trek?
Share this story
This is not an easy-moderate trek. Instead, the difficulty level of Valley of Flowers is Moderate. And I will tell you why. 
A trek is classified as moderate when most of the trail is even but has intermittent steep ascent and descent. Similar is the case with the Valley of Flowers trek. This trek is not technically challenging, but it requires trekkers to be in good physical fitness.
In this article, I will outline all the 'tough' sections of this trek. But first, let's start by breaking a common misconception.
Trekking in monsoon
It is a common misconception that trekking in monsoon is not recommended, especially in the Himalayas. What if there are landslides? To that, Trek Leader Gourab Nandy says, "In the Himalayas or for that matter in any mountainous region, landslides generally occur in regions where human construction is rampant. 
But a trekking trail is completely covered in vegetation and forests which hold the soil together. This is why there is no need to fear landslides while trekking."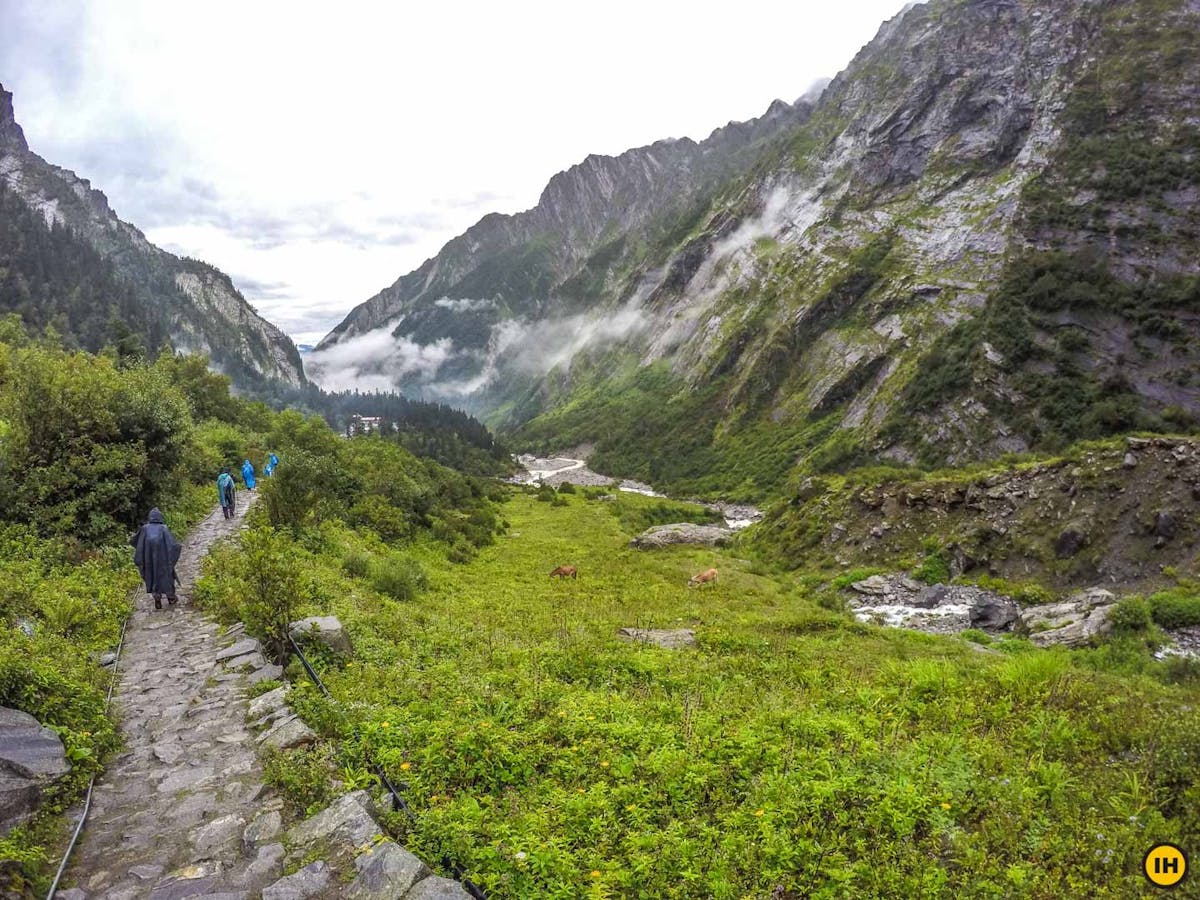 You trek in the monsoons that means the rains add to the difficulty. Picture by Pravin Sekhar
Truth is, monsoons are one of the best seasons to experience the buzzing Himalayan biodiversity. In fact, most trails in Himachal Pradesh and some trails in Uttarakhand open only during the monsoon. And, Valley of Flowers is one such trek where you get to experience the lush, thriving biodiversity.
A quick overview of the Valley of Flowers trek
The trek spans over six days, covering a distance of 38 km. It is located in two protected regions – the Valley of Flowers National Park and the Nanda Devi Biosphere Reserve. And, it is a UNESCO World Heritage Site.
This region is also renowned for its Himalayan beauty as it marks the confluence between the Zanskar, Eastern and Western Himalayas. 
The Valley of Flowers trek holds sweeping views of the Pushpavati river. The trail snakes through ancient oak and rhododendron forests and climbs to the holy Hemkund Sahib Gurudwara.
Prathima Chabbira, Trek Coordinator at Indiahikes says, "The Valley of Flowers trek is a unique trek in the sense that the window for this trek is open only during the monsoon months, which is great as it is the most beautiful in the monsoon months when the flowers blossom and the valley changes colour every other day."
But you need to prepare well for this trek.
Sections that require 'endurance' and 'skill'
There are two sections on the trek which determine the difficulty level of the Valley of Flowers trek.
Trek To Hemkund Sahib
While on the trek, the toughest day is Day 4. On this day, you trek up-to Hemkund Sahib Gurudwara from Ghangria. Here, trekkers are required to ascend nearly 4500 feet within six hours.
The trail is not technically challenging. In fact, the route from Poolna to Ghangria is well laid (stone trail). Similarly, the trail followed from Ghangria to the Valley and from Ghangria to Hemkund Sahib is clearly marked. But it requires trekkers to have good endurance levels because you climb 4500 feet in a few hours.  
Trekking in the forest
The only point of the trek which requires a little skill is during Day 3 when one has to traverse through dense oak and rhododendron forest for approximately 30-45 minutes. Here, the trails are slippery and muddy.
So yes, although the trail is evenly laid out, for the most part, you need to be fit for certain sections of the Valley of Flowers trek.
Fitness Level Required for the Valley of Flowers trek
Fitness is important for any Himalayan trek. On Valley of Flowers Trek, where the difficulty level is moderate, the trail itself is not technically challenging but trekkers are required to trek approximately 38 km within six days. A majority of this distance will be covered while trekking up-hill and in the monsoon season.
As you trek at higher altitudes, the best way to prevent any injury or sickness is by preparing yourself physically and mentally before you embark on your trekking journey.
Here's an example to get things into perspective. Think of the Burj Khalifa, which is 2722 feet tall. Now imagine, on Day 4, you are required to climb nearly 4500 feet in six hours. Doing this requires immense physical as well as mental preparation.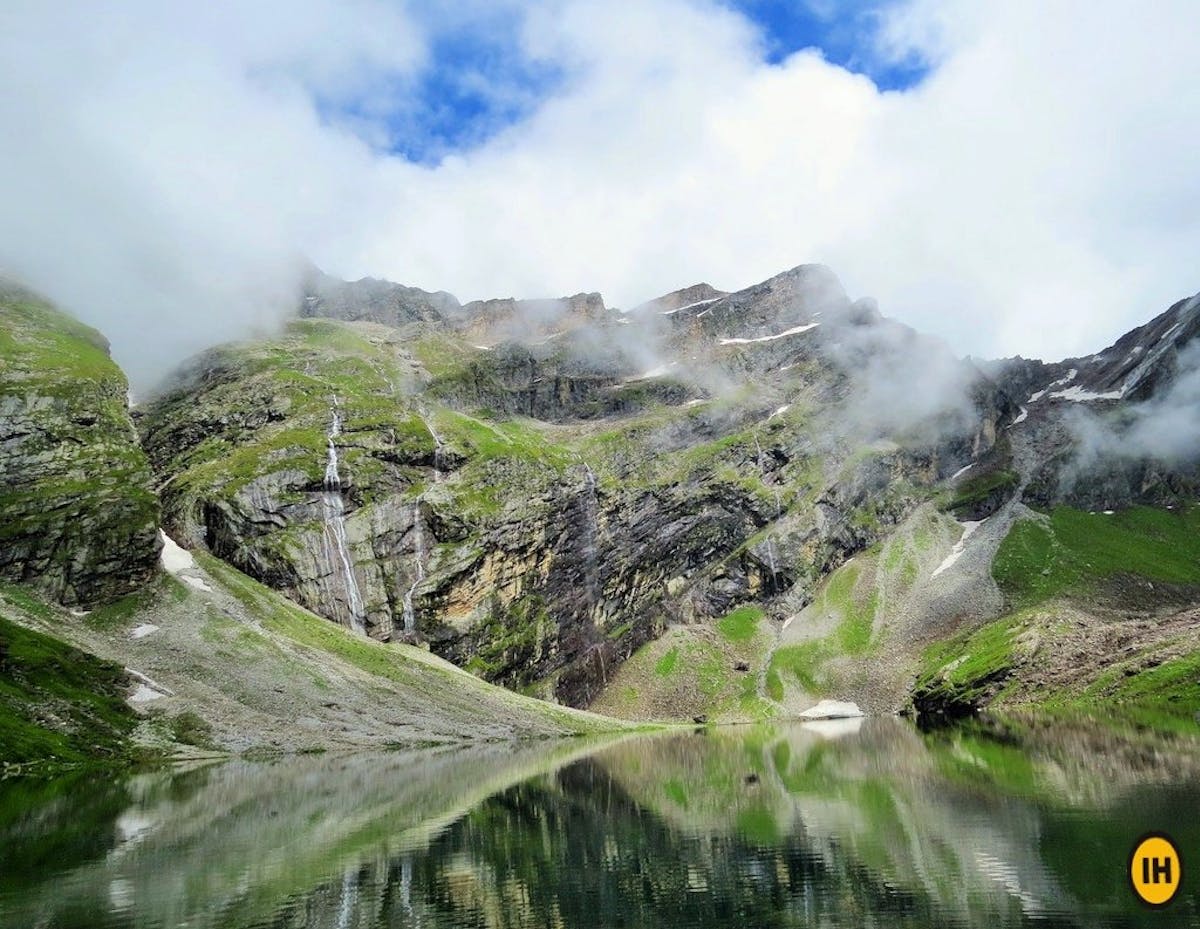 The holy Hemkund Sahib lake. Picture by Arun Kumar Gupta
How to prepare
In order to be prepared for this trek, work on improving your cardiovascular fitness, strength and flexibility.
Cardio: The best is by running/jogging, brisk walking or cycling. 
In case you are unable to do any of these, climb stairs to prepare yourself for the trail. Gaining altitude is like climbing a trail with lots of steps. So, climbing stairs is an excellent method to prepare your body well in advance. 
Carry weights: You can also add a backpack with some weights in it while climbing stairs to increase your strength and endurance levels. 
Breathe right: Another important aspect of high altitude trekking is breathing. The air in the mountains is considerably thinner and has a lesser concentration of oxygen than the air in the cities and towns. 
Training your body to take deep, slow breaths is very useful when trekking. This not only keeps your heart rate in check but also ensures that you do not tire yourself out quickly. 
Work on your strength and flexibility: Do squats, push-ups, planks and yoga. Strengthening your core has a direct impact on your stamina and endurance during high altitude treks. 
To get more information on how to prepare for a high altitude trek, click here. 
Preparation can make or break your trek
Inadequate preparation leads to a poor trekking experience. If your body fails to keep up, you might have to leave the trek incomplete too.  
This is important to understand. 
The difficulty level of the Valley of Flowers Trek is moderate, which requires you to be in good shape. We even recommend this trek to first-timers, but only those who are fit and adequately prepared. 
So, if you have signed up for Valley of Flowers trek and wish to enjoy the bountiful nature, remember to go adequately prepared. 
If you have any questions on how to prepare, please drop them in the comments below and someone from Indiahikes team will address them.
Latest Videos
How Difficult is the Valley of Flowers Trek
Top 5 Questions About Valley Of Flowers Answered
How To Reach Valley of Flowers
Sign up for our much loved Weekly Mailer
We have terrific trekking tips, trek updates and trek talks to look forward to