17 Unseen Photos of Winter Treks in the Himalayas
Share this story
It's a magical experience to witness Himalayas in winters. And many trekkers don't realise that they have a big window to do this. Winter makes for the longest trekking season in our country.
Winter season in the Himalayas sets in by mid-December. It peaks in January-February and then tapers off by April. Unlike other seasons that last 2-3 months, winter lasts for four months! And in these four months it leaves some indelible impressions on the minds of trekkers.
This happens because the landscape is majorly monochromatic, punctuated by oak and pines, blue streams, lovely homes with slanted roofs and in the heart of it, a life of trekking. Together, all these form brilliant imagery.  
In this blog, I want to put the spotlight on such images. You've probably never seen these images before. I've handpicked them to take you through various forest sections, campsites, summit climbs and to put forth some hard realities of trekking .  
So if you've been wanting to experience a winter trek, start here. 
Forests Covered in Snow
1. Molley from Sandakphu-Phalut trek
Here is a rare photo from the Sandakphu-Phalut trek in West Bengal. It's of the Molley campsite, a place you reach right after climbing out of the forest section. 
"It's rare because the Sandakphu-Phalut trek does not receive much snow. Even in winter coming across a landscape such as this was a rarity. That made this photo special," shares Dhaval Jajal, Senior Trek Leader and Filmmaker at Indiahikes.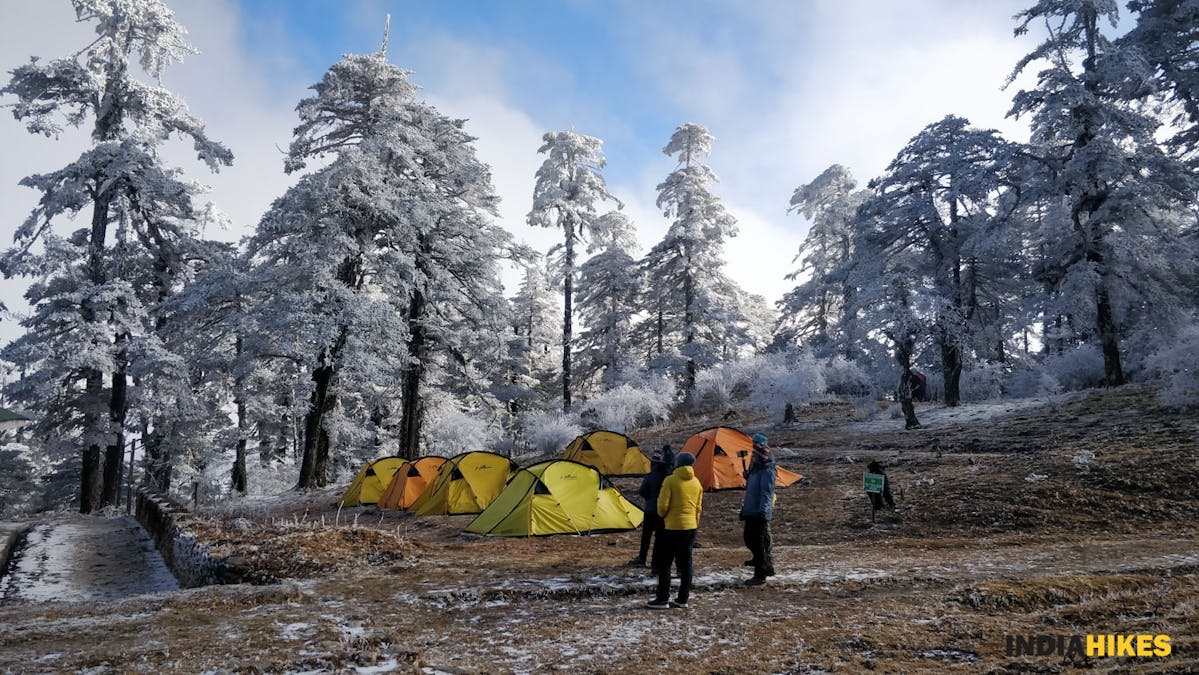 Molley Campsite in winter. Photo by Dhaval Jajal.
2. Descending to Gui on Dayara Bugyal
In another part of the Himalayas, in Uttarakhand, the forest looks different. This forest is filled with oak and rhododendrons. In this photo you see trekkers descending from Chilapada to Gui on the Dayara Bugyal trek. Everything is covered with a thick blanket of snow, lending a 'Narnia' like feel to the entire setting.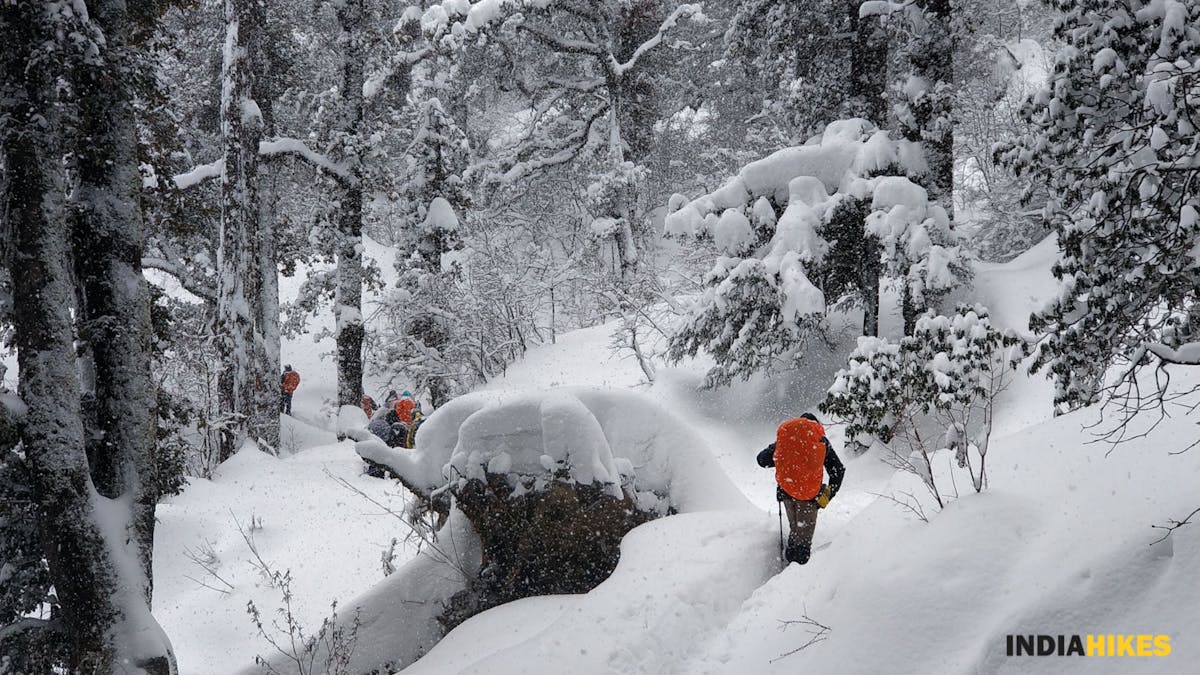 Trekking through forest of Dayara Bugyal. Photo taken by Dhaval Jajal in January 2020.
3. Rhododendron forest of Brahmatal
In yet another part of Uttarakhand, you have the Brahmatal trek. It is known for its deep, dark rhododendron forest. In winter, it dons a mystical air. Here you see trekkers going through the gnarled trunks of rhododendrons. You come across such deep snow only post January.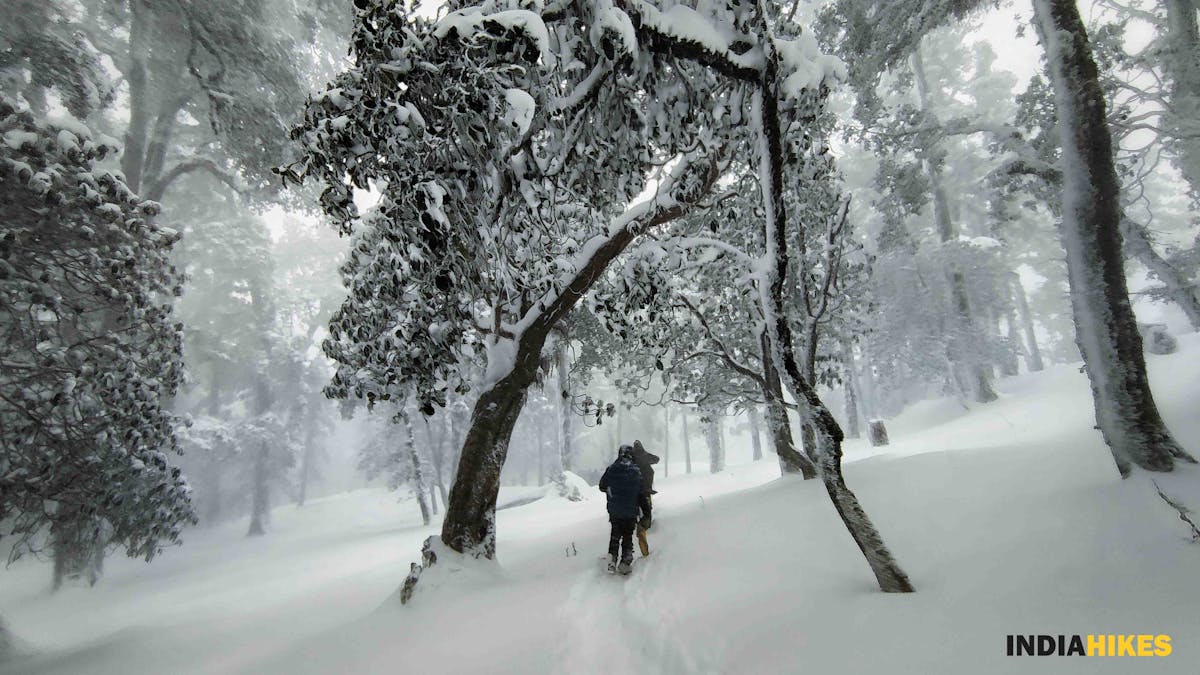 Dreamy rhododendron forest on Brahmatal trek. Photo by Ramnarayan Iyer.
4. Descending into the forest section of Brahmatal
Here is another photo from the Brahmatal trek. In this you see trekkers descending into the tree line. They are trekking towards Khorurai, a place where we used to camp a while ago. "January is the most Christmas-y season on a Himalayan trek, especially in Uttarakhand," says Swathi Chatrapathy, Head of Digital Content at Indiahikes.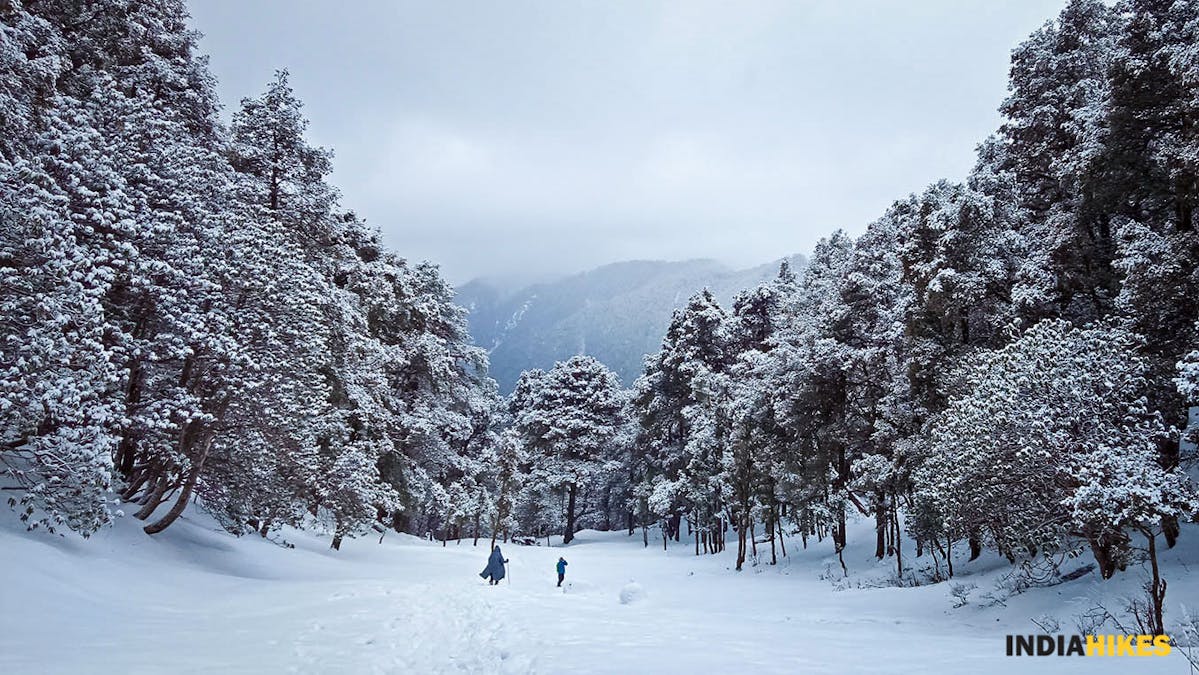 Descending into the forest of Brahmatal. Photo by Abhishek M. 
Campsite Realities
5. Buried in snow at Chilapada on Dayara Bugyal trek
Here is a great photo that shows how much snow can accumulate at the campsite during winter. This was taken at the Chilapada campsite of Dayara Bugyal. The tent, which is 3 feet in height, looks almost completely buried in snow. That's the reality of trekking in winter. Our team had to cut through deep snow for this. It back-breaking labour in negative temperatures.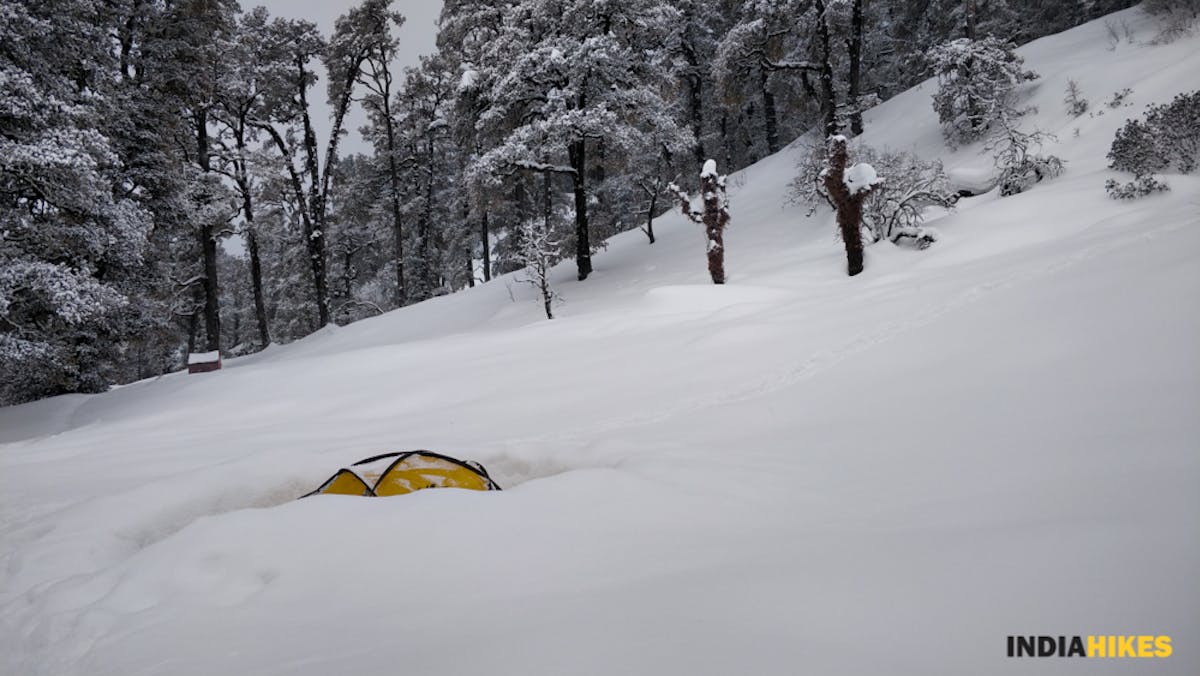 Gui campsite on Dayara Bugyal trek. Photo by Dhaval Jajal.
6. Charming campsite of Molley on Sandakphu-Phalut trek
Remember the first photo of Molley? Well, here's another perspective to the same campsite. Notice the brightly coloured tea-houses in the background. It is a lodge managed by the Gorkha Territorial Administration. But we do not stay in the lodge. Molley is one of the few campsites where we stay in our own Hillman tents.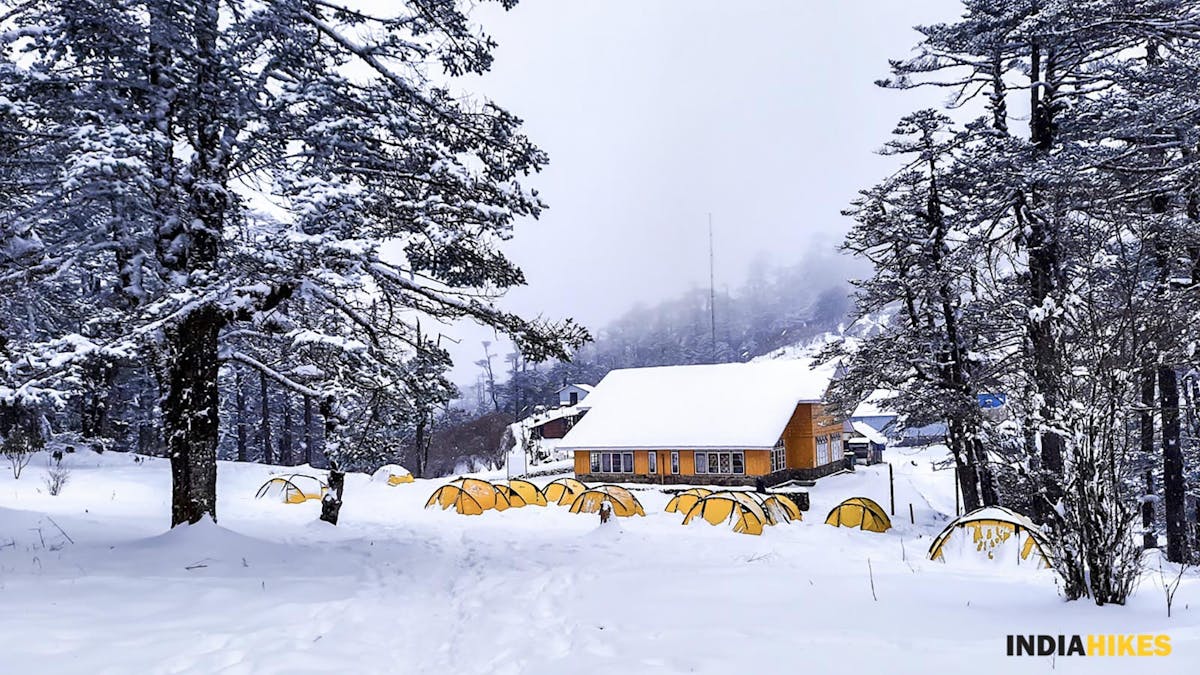 Another angle to Molley Campsite on Sandakphu-Phalut trek. Photo by Dwaipayan Purkait.
7. Frozen on Brahmatal trek
This photo puts forth another hard reality of trekking in winter. It is not just about the icicles on the banner. Almost everything in winter is frozen, making December to March a few of the most difficult months for our kitchen team. Water freezes over within minutes after heating. Cookers take hours to whistle. Potatoes take at least 40 minutes to cook. Double the amount of fuel gets utilized just to make a regular meal.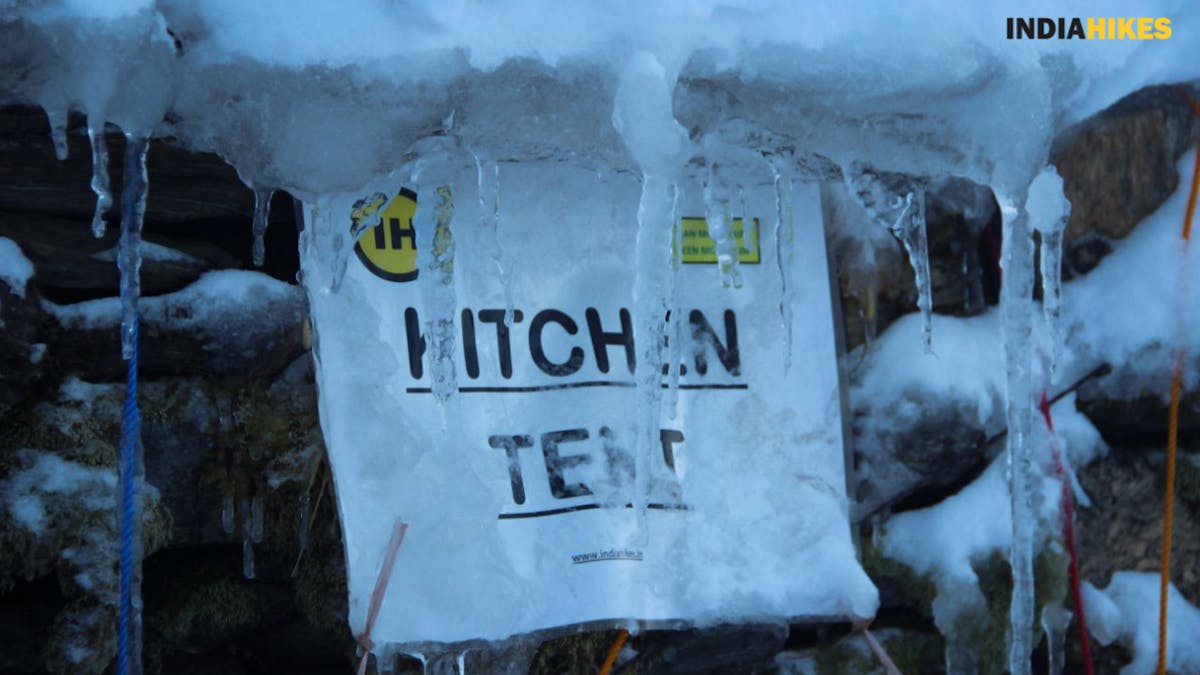 Kitchen banner on Brahmatal trek. Photo by Naman Gala.
8. Three-sink System of Indiahikes
At an Indiahikes campsite you'll find this three-sink system. We use this to conserve water while washing utensils. In winter the water in the sink freezes within minutes, especially because the water we add in here is warm.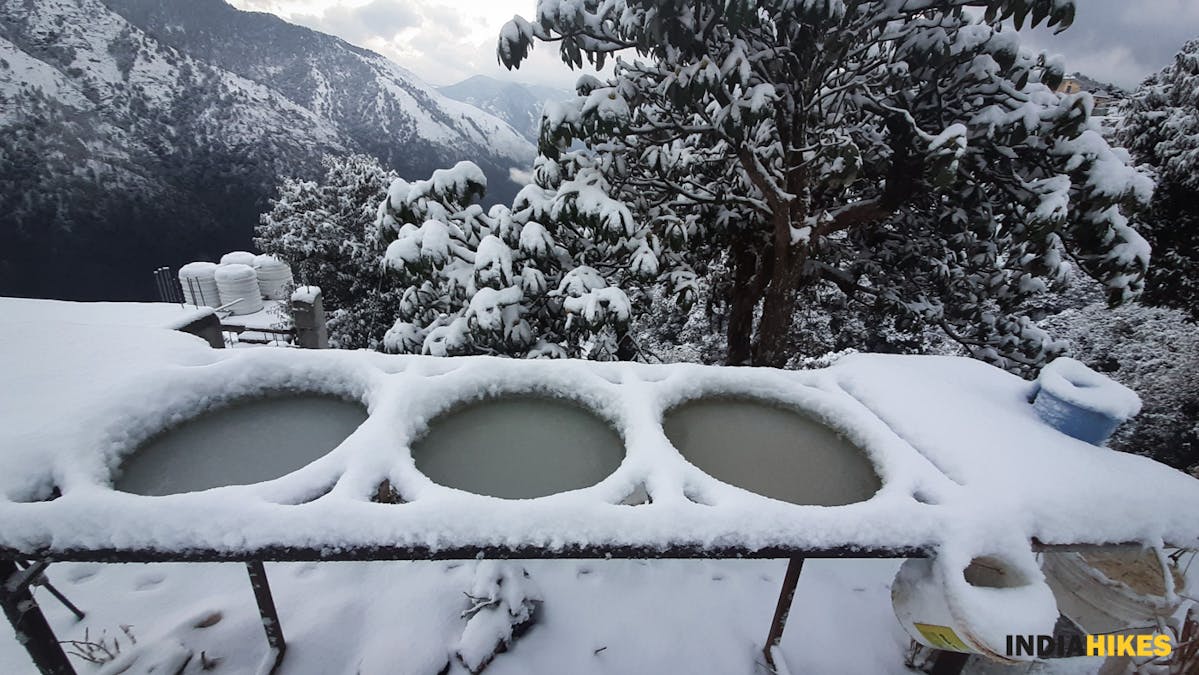 Three-sink-system to conserve water while washing utensils. Photo by Ravi Ranjan.
So after a meal, once everyone has finished eating, the kitchen staff pours hot water into these three sinks. And within 20 minutes everyone needs to finish washing as water starts freezing again after that.
9. A snowy toilet experience on Dayara Bugyal trek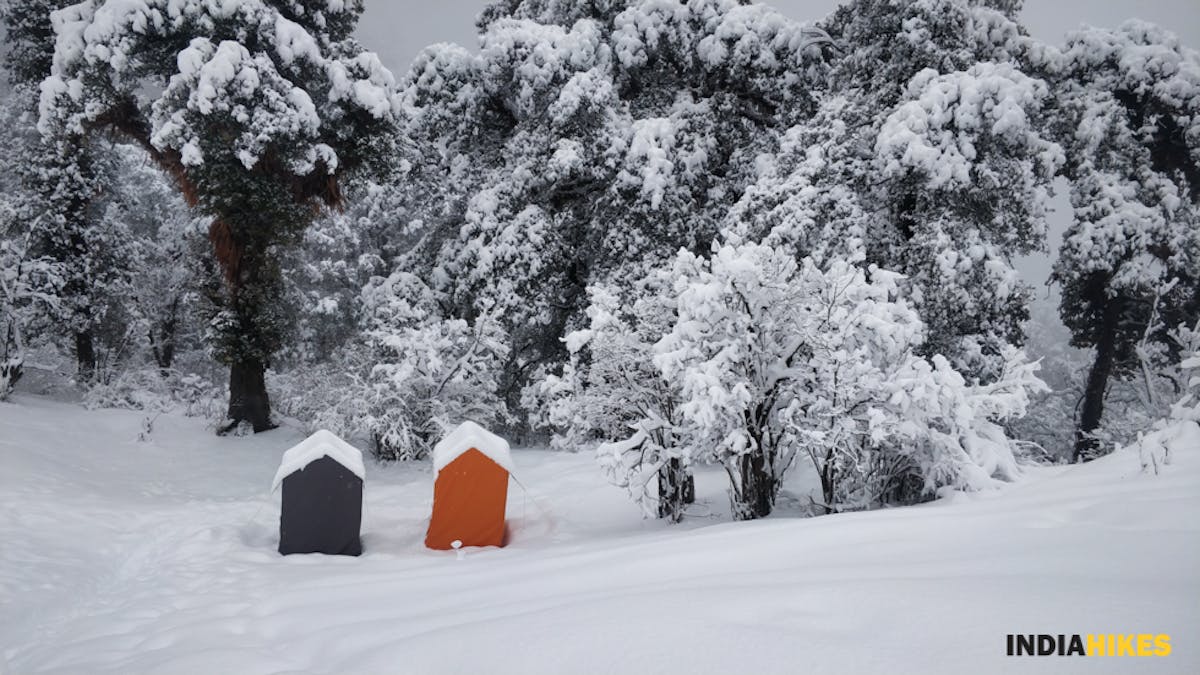 Indiahikes Bio Toilets at Gui Campsite of Dayara Bugyal trek. Photo by Dhaval Jajal.
If you've been on an Indiahikes trek, you'd instantly recognise these Indiahikes Bio Toilets! These were pitched at the Gui campsite of Dayara Bugyal trek. The beauty of these Bio Toilets is that despite the cold winters, they help in fast decomposition of human waste.
Climbing over the tree line, to the summit
10. The setting sun at Tilandi, Brahmatal
Sunrises and sunsets are special during winters. And Tilandi campsite on the Brahmatal trek is known for precisely this. It's like a vast plateau of snow in the heart of oak forests. What makes it even more mesmerising is that Tilandi acts as one of the best vantage points on the entire Brahmatal trek.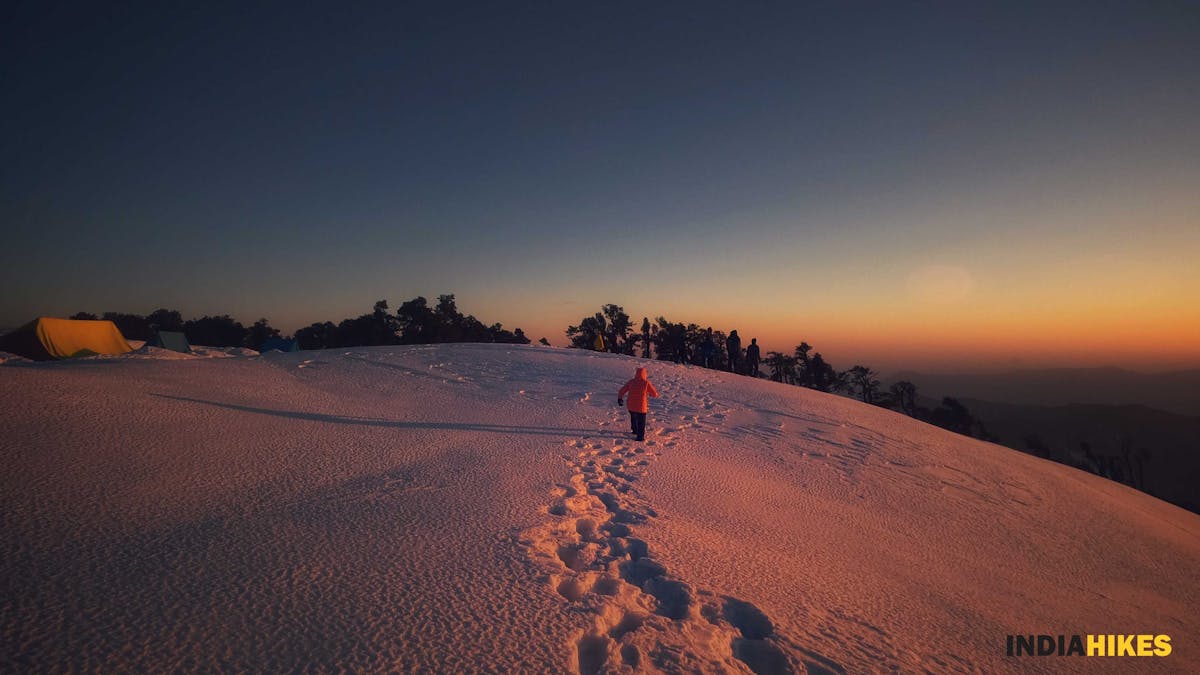 Sunset at Tilandi campsite on Brahmatal trek. Photo by Megh Naik
11. Battling snow on Dayara Bugyal
Route changes are a norm during winter. If the usual route is blocked by snow, you divert and take an alternative route to the blocked route. In this picture, the guide is making way towards Dayara meadow.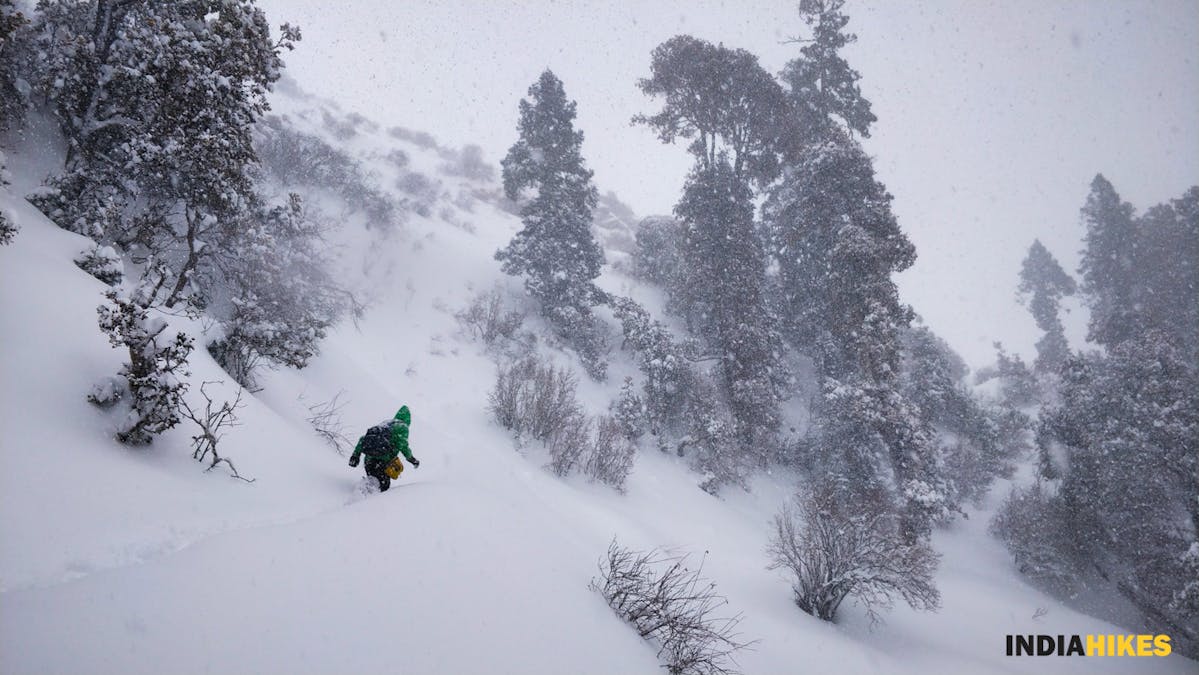 Making way through deep snow to reach Dayara Bugyal. Photo by Dhaval Jajal.
12. The other-worldly setting of Dayara Bugyal
Dayara Bugyal is almost unrecognisable in this photo. In the background, you have the Dayara Top. Often it happens that just after a fresh snowfall, the highest point of a trek becomes inaccessible. In such cases, trekkers make it as far as they can and return. In this photo, trekkers are returning from one such high point on the Dayara Bugyal trek.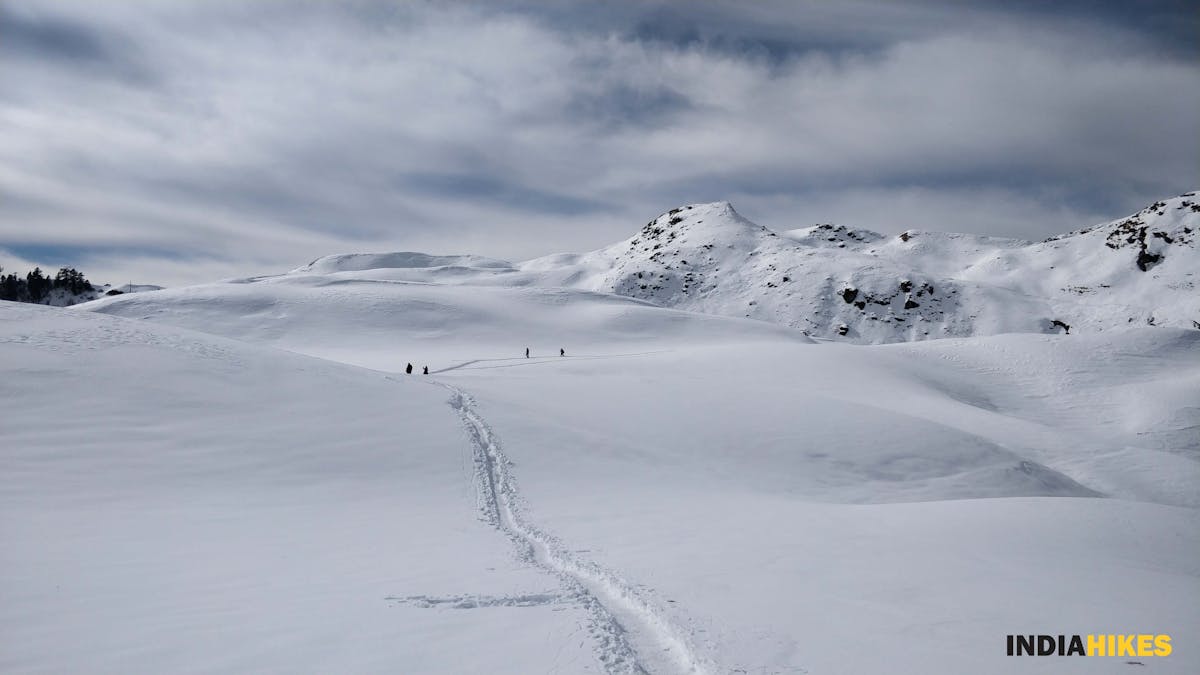 An unearthly landscape of Dayara Bugyal. Photo by Dhaval Jajal.
13. Trekking to the highest point of Brahmatal
In this picture you see trekkers climbing to the highest point on the Brahmatal trek. Summit climbs become tougher in winter. Because you are trekking on soft snow which keeps slipping from under your feet. It's almost like for every three steps you take, you slip down by one step.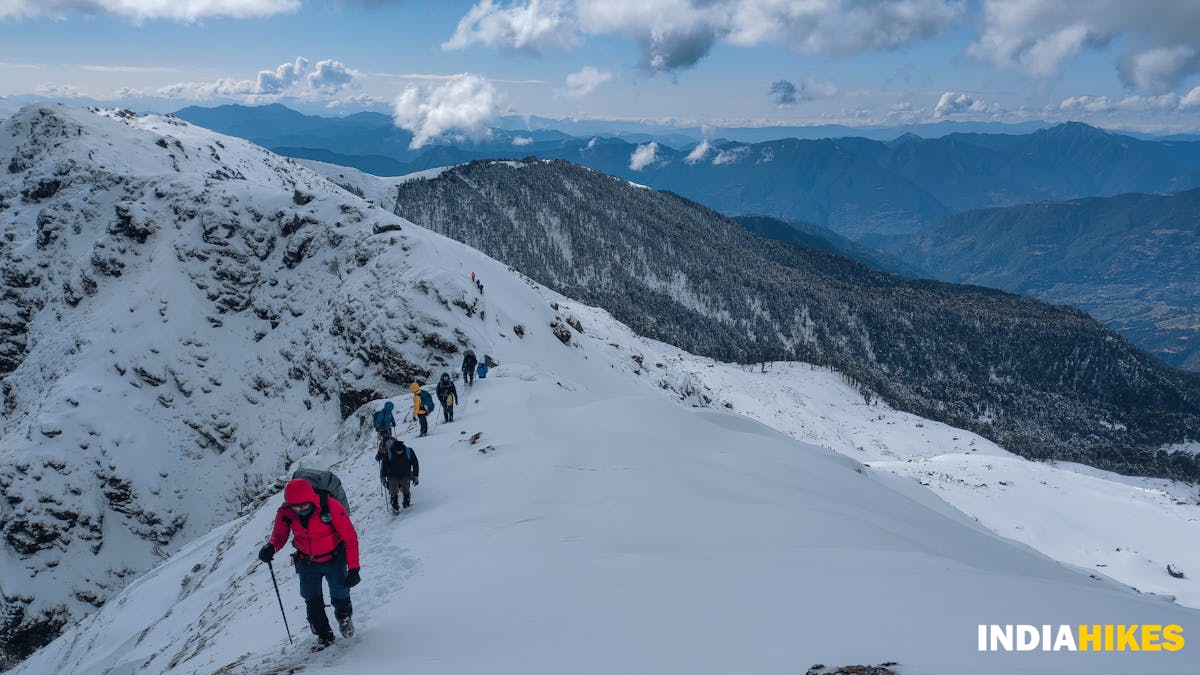 Trekking to the highest point of Brahmatal. Photo by Sachin Venkatesh
14. Climbing to Kedarkantha summit
In this photo, you see trekkers climbing towards the Kedarkantha summit. This photo was taken in December 2019. 
In winter, this ascent adds to the thrill of the summit climb. It tests your endurance, core strength and balance.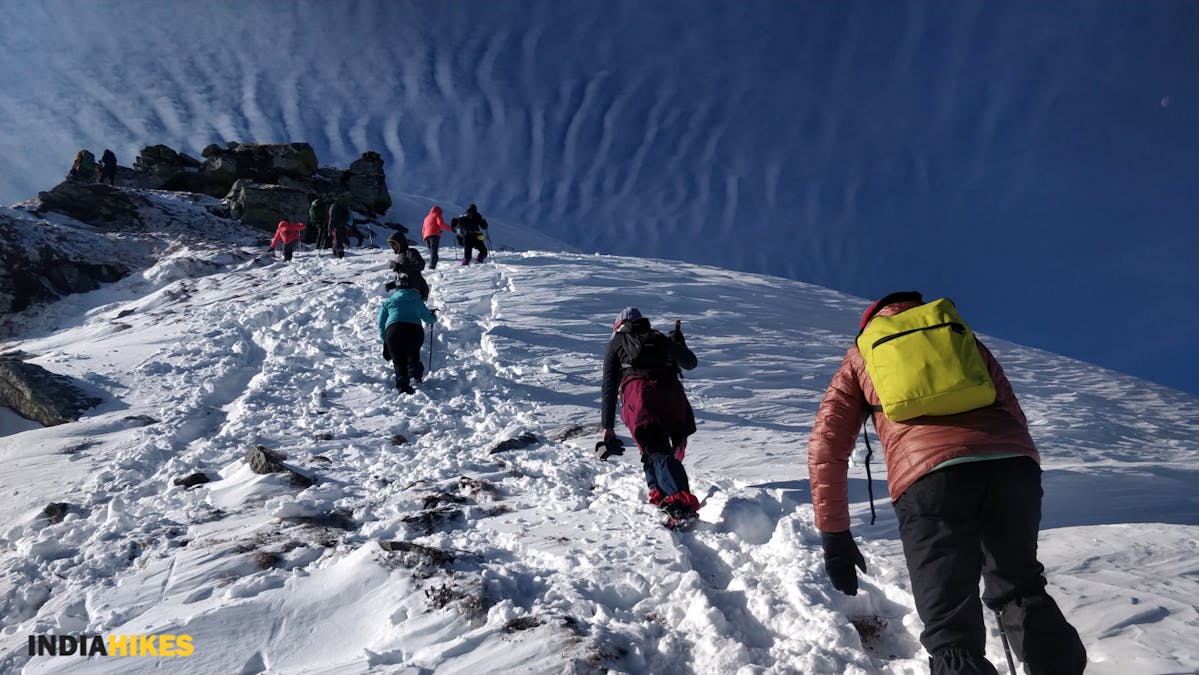 Trekking to Kedarkantha summit. Photo by Dhaval Jajal.
15. Zig-zagging towards Kedarkantha summit
Here's another shot from Kedarkantha. This time, the photo is taken from the summit. Notice how trekkers are zig-zagging their way to the summit. We often do this to minimise the steepness of the ascent.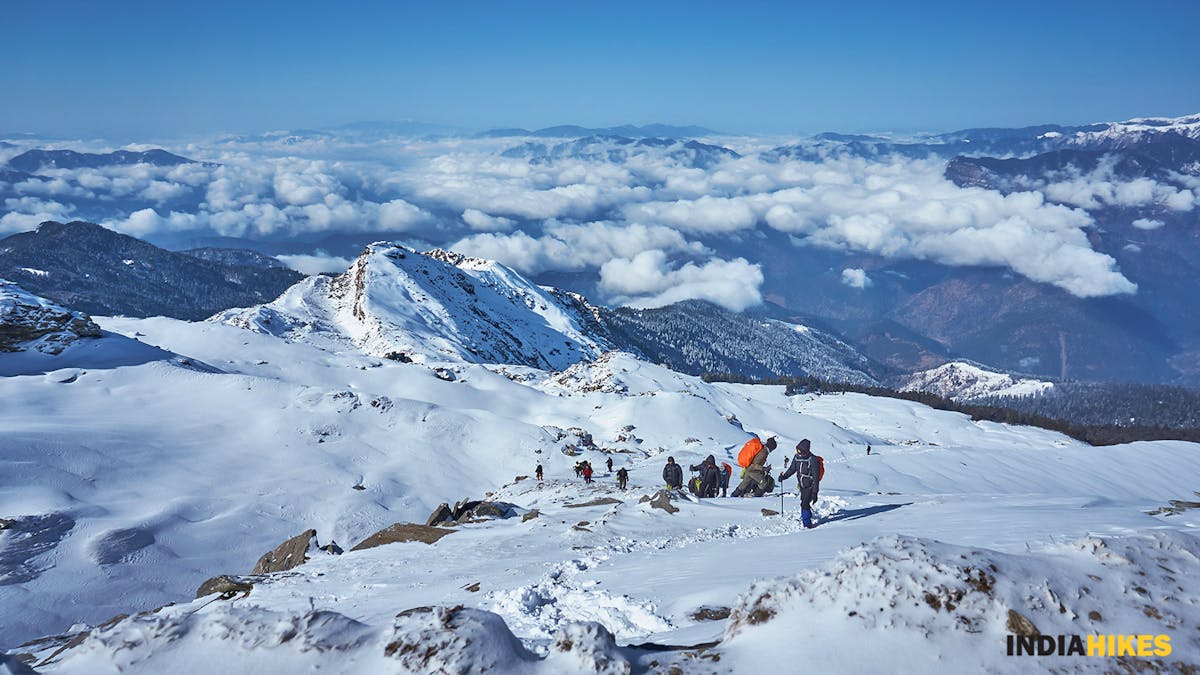 Covering the last mile to reach Kedarkantha summit. Photo by Abdul Raoof.
16. Verglas on Kuari Pass trek
Here is a classic tricky section from a winter trek. In this photo you see trekkers going from the ridge section to the Kuari Pass. You come across a section of verglas here. Verglas refers to water that's frozen. It's ice. Look closely and you'll see a clear distinction between snow and ice on the trek.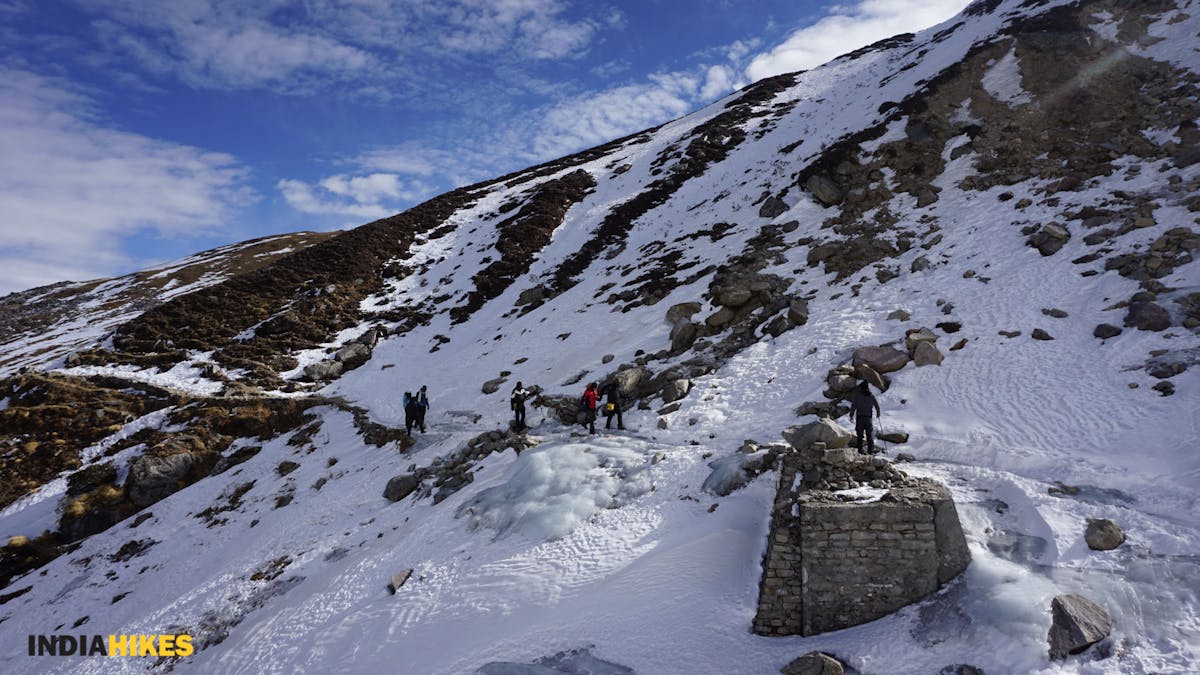 A classic verglas section enroute Kuari Pass. Photo by Suhas Saya.
Back to the Base
17. Staying warm in Sankri
Winter makes its presence felt not only on the trek but also at the basecamp. In winter, you'll see many locals huddling around the warm sigri (burner). This photo was taken at Sankri, which used to be the base for the Kedarkantha trek. Photo by Shreenath.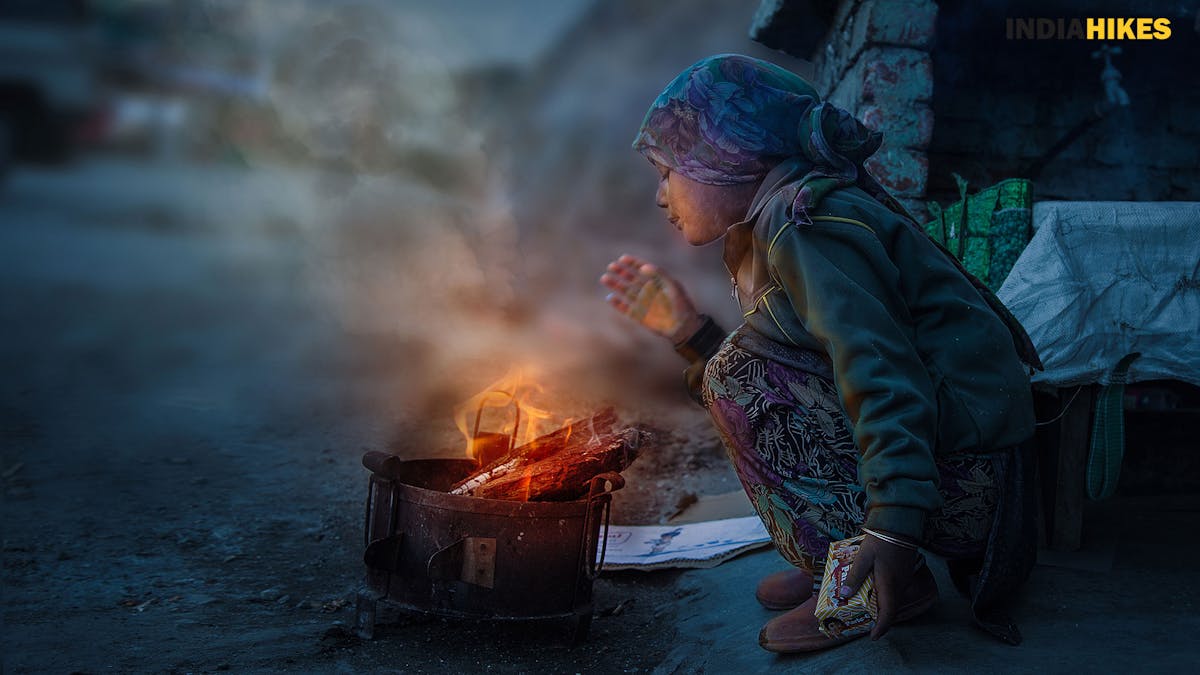 Seeking warmth in Sankri. Photo by Shreenath.
With that, we come to the end of this photo story. This was just a glimpse of how winter looks on the treks. I'd love to know if these winter photos struck a chord with you. If you have trekked in winter, tell me what you like about it :)
Sign up for our much loved Weekly Mailer
We have terrific trekking tips, trek updates and trek talks to look forward to