Celebrating World Photography Day 2022 With Some Spectacular Trek Phot...
Share this story
On the occasion of World Photography Day 2022, here's celebrating some of the best photographs we have received this year from our trekkers.
At Indiahikes, we have always wanted to celebrate trek photographs. It is a unique skill to capture the indescribable beauty of the mountains in photographs. Very few photographers do justice to it.
But here are the Top 12 photographs that we think tell a story and transport you immediately to the location.
1. Milky Way from the Tilandi Campsite, Brahmatal Trek.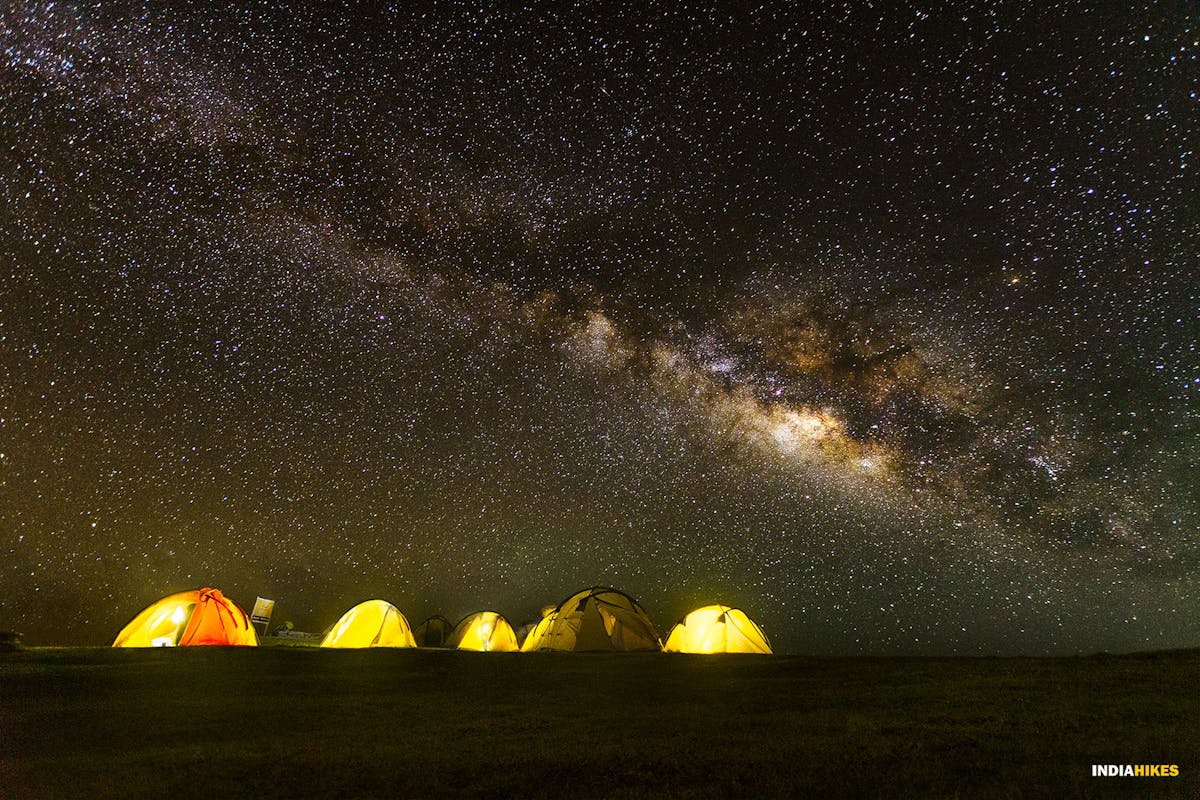 Picture by Pratik Mankawde
If there's a photograph that made us all collectively gasp, this one is it. What a spectacular showcase of the milky way on a clear night at Tilandi. This is one of those few campsites from where you get such open views, and the photographer has done a terrific job of being at the right place at the right time. (That's not easy, given that it is definitely below 5 degrees outside!)
| Camera Settings: Shutter – 1/10, Aperture – 2.8, ISO – 1000, Focal length – 18mm.
2. Traversing a tricky snow section on the way to Kuari Pass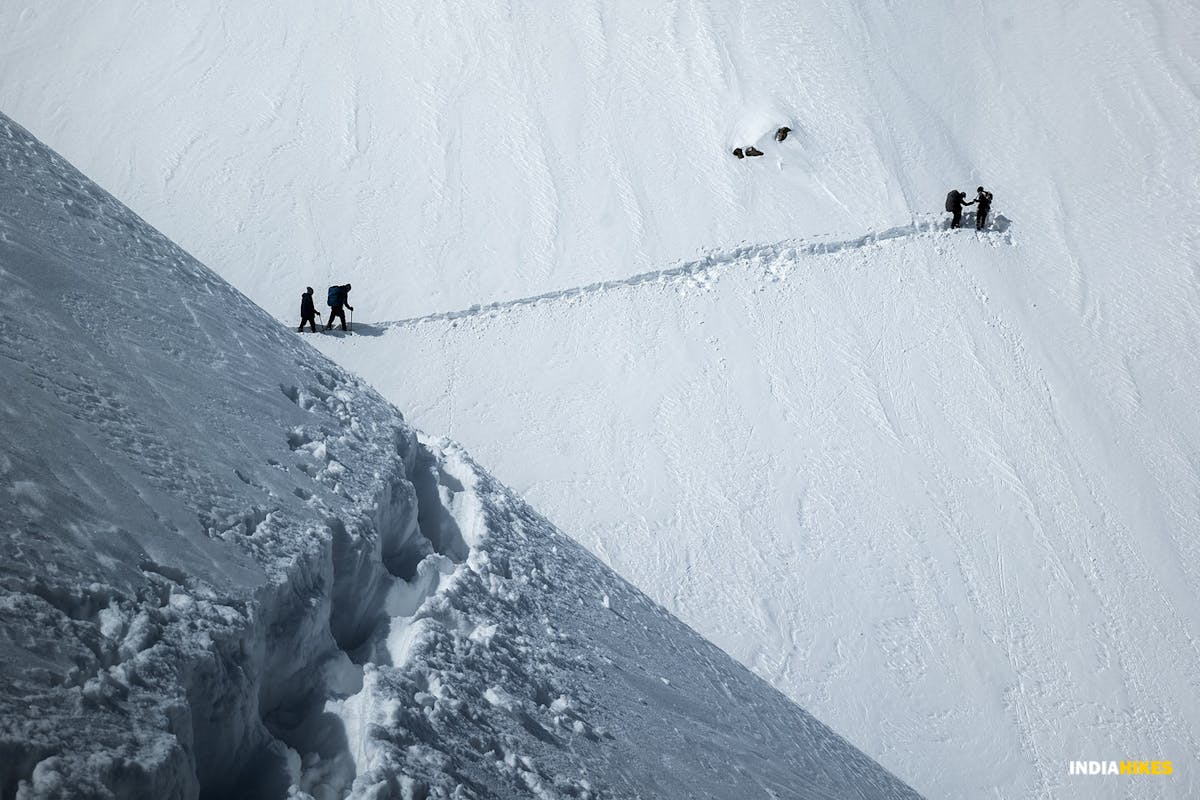 Picture by Anshuman Kumar
Life in the mountains is hard. And this photograph captures every bit of that beautifully. Cutting through deep snow with ice axes, trekkers and guides are trudging along on the final stretch of Kuari Pass. The raw foreground, in contrast with the bright background makes for a beautiful contrast!
| Camera Settings: Shutter – 1/500, Aperture – 11, ISO – 200, Focal length – 48mm. (Captured on Panasonic DC S5)
3. The mysterious forests behind Abin Kharak on the Ali-Bedni-Bugyal Trek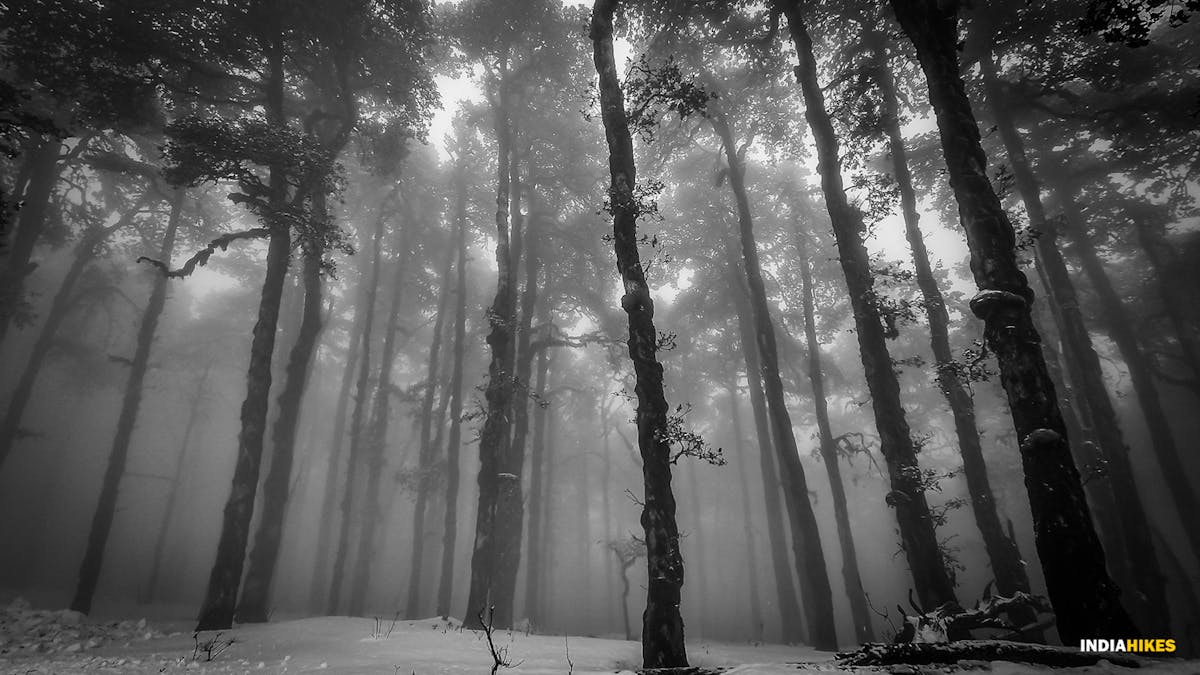 Picture by Akash Raghavan
We usually see such misty forests only in the movies. But seeing these forests for real on the Ali Bedni Bugyal trek, right behind your campsite can send chills down your spine. The photographer has made terrific use of monochrome to share a compelling setting!
| Camera Settings: Shutter – 1/250, Aperture – 2.2, ISO – 50, Focal length – 2.2mm. (Captured on Mobile)
4. Between snow and clouds on the Kuari Pass trek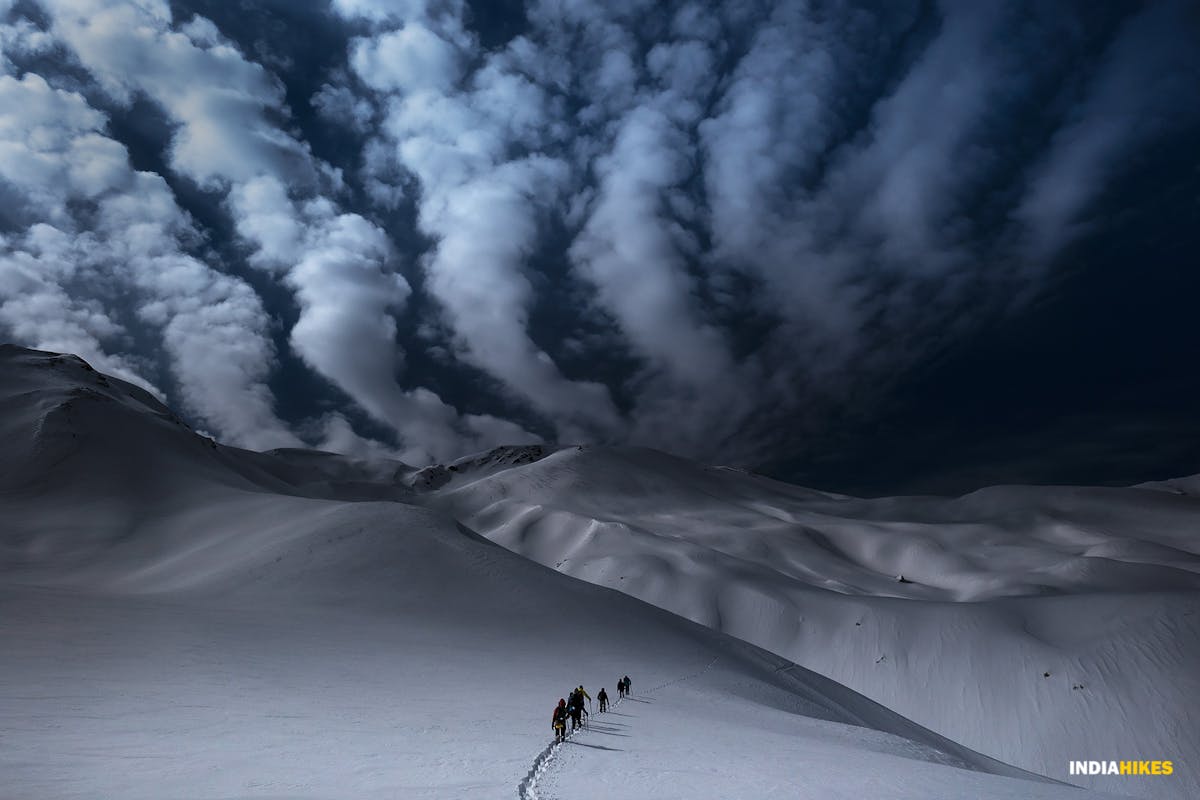 Picture by Anshuman Kumar
Very dramatic shot from Kuari Pass trek. We loved the perspective here, with trekkers walking in huge expanse of snow field. One can gauge the vastness of the landscape here. On top of that striated clouds add lot of drama.
|Camera Settings: Shutter – 1/6400, Aperture – 10, ISO – 200, Focal length – 20mm. (Captured on Panasonic DC S5)
5. Alpenglow on Mt Shivling, Gaumukh Tapovan Trek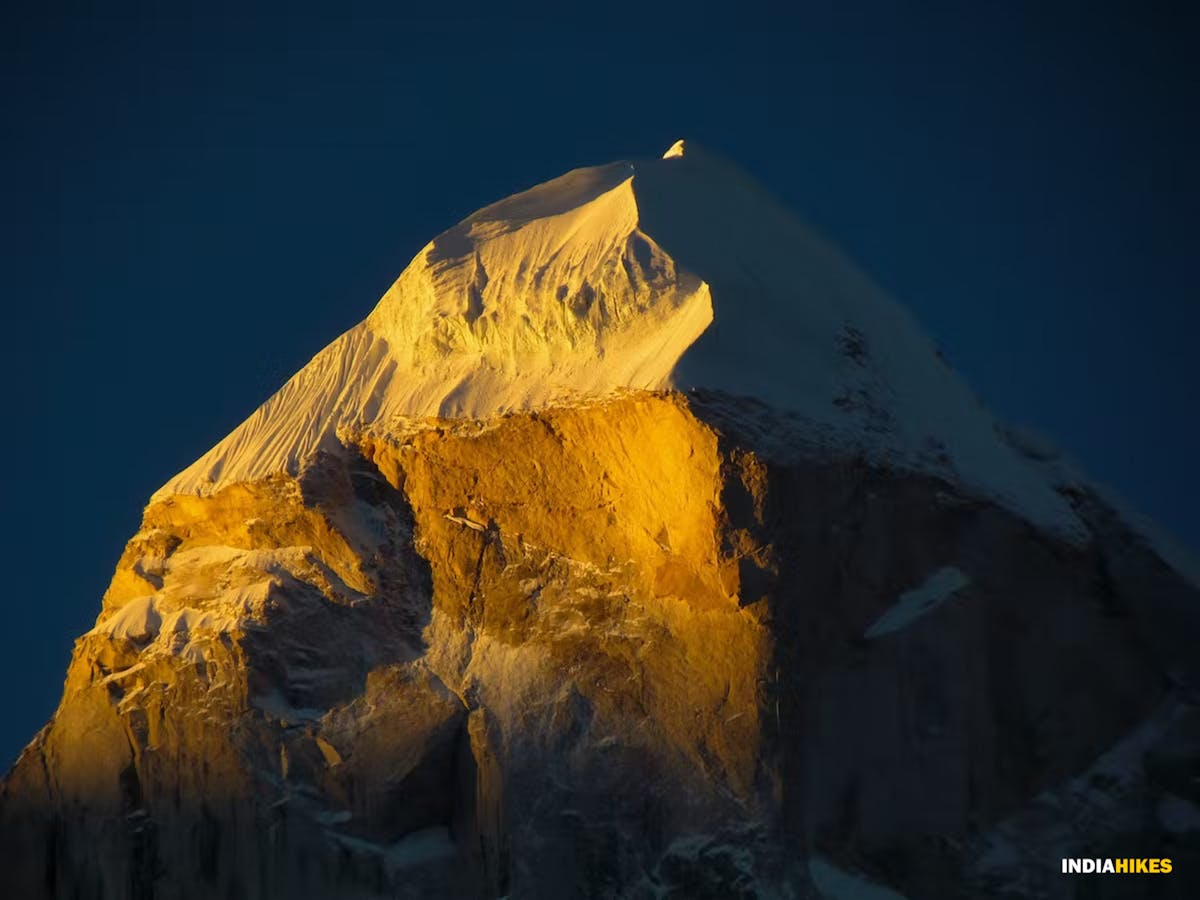 Picture by Ravi Gupta
This picture had us weak in the knees. You will perhaps never see a sunrise as glorious as the one on Mt Shivling, and this photograph tells you exactly why! It's a visual treat for the trekkers and photographers. Especially when shot like this with a telephoto lens! The close-up view is terrific!
| Camera Settings: Shutter – 1/1600, Aperture – 5.6, ISO – 200, Focal length – 600mm.
6. An emotional moment at Brahmatal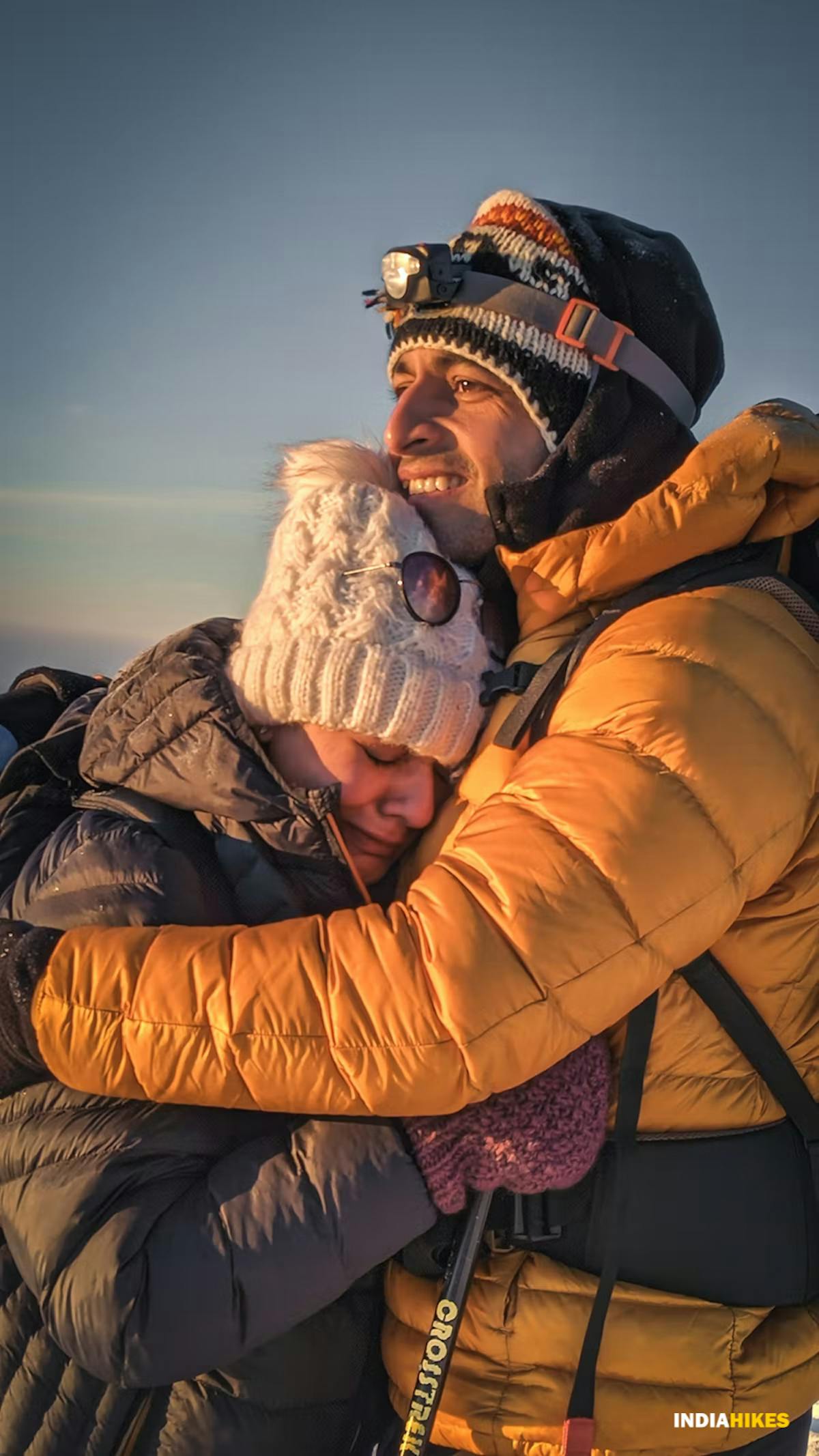 Picture by Faizan Shaikh
A lot of our trekkers go through a humbling experience on reaching the summit. But having an opportunity to capture it on camera is rare. To capture such a picture, the photographer had to step into an intimate frame. That requires building comfort and trust. And what wonderful golden light the he has managed to splash across the frame!
| Camera Settings: Shutter – 1/460, Aperture – 1.8, ISO – 100, Focal length – 6mm.(Captured in mobile)
7. Camping above Ruinsara Tal on the Bali Pass Trek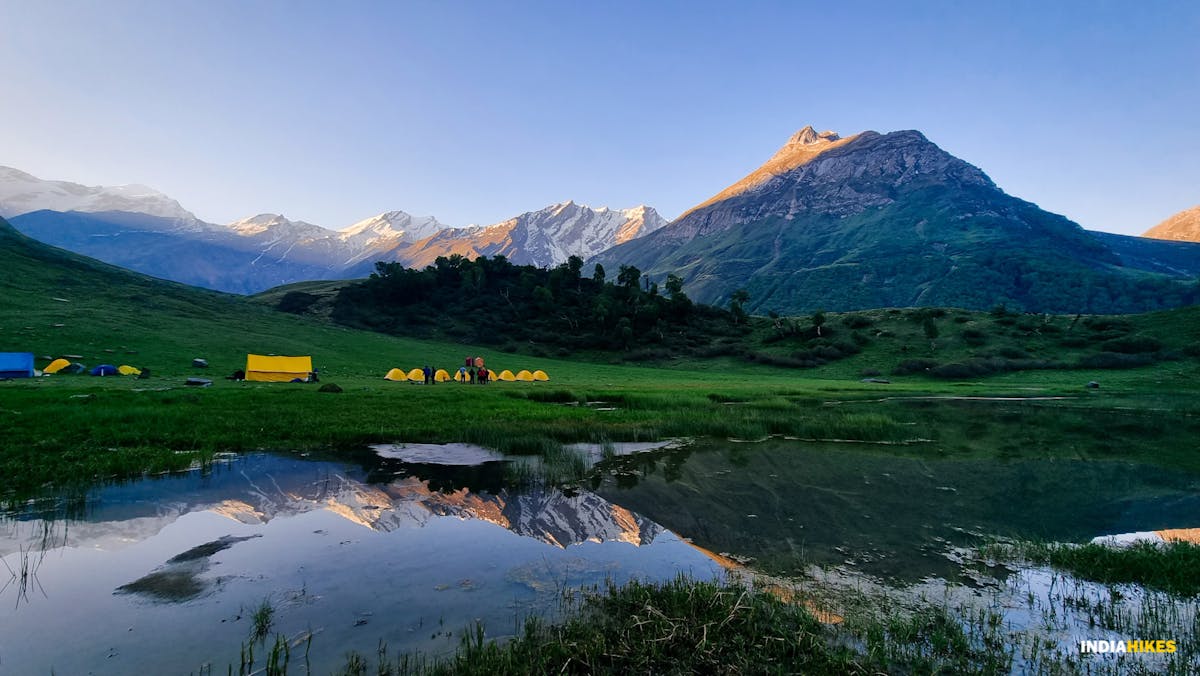 Picture by Dhaval Jajal
This picture is from one of our own -- the head of our Film Making team, Dhaval Jajal. We've heard so much about the settings around Ruinsara Tal. Even though the lake itself isn't the hero, the grassy knolls, the mountains around, the glaciers in the distance make for an incredible setting. We have rarely seen camping life captured in such a beautifully lit frame at this location.
| Camera Settings: Shutter – 1/500, Aperture – 2.2, ISO – 50, Focal length – 5mm.(Captured in mobile)
8. A golden morning at Gidara Bugyal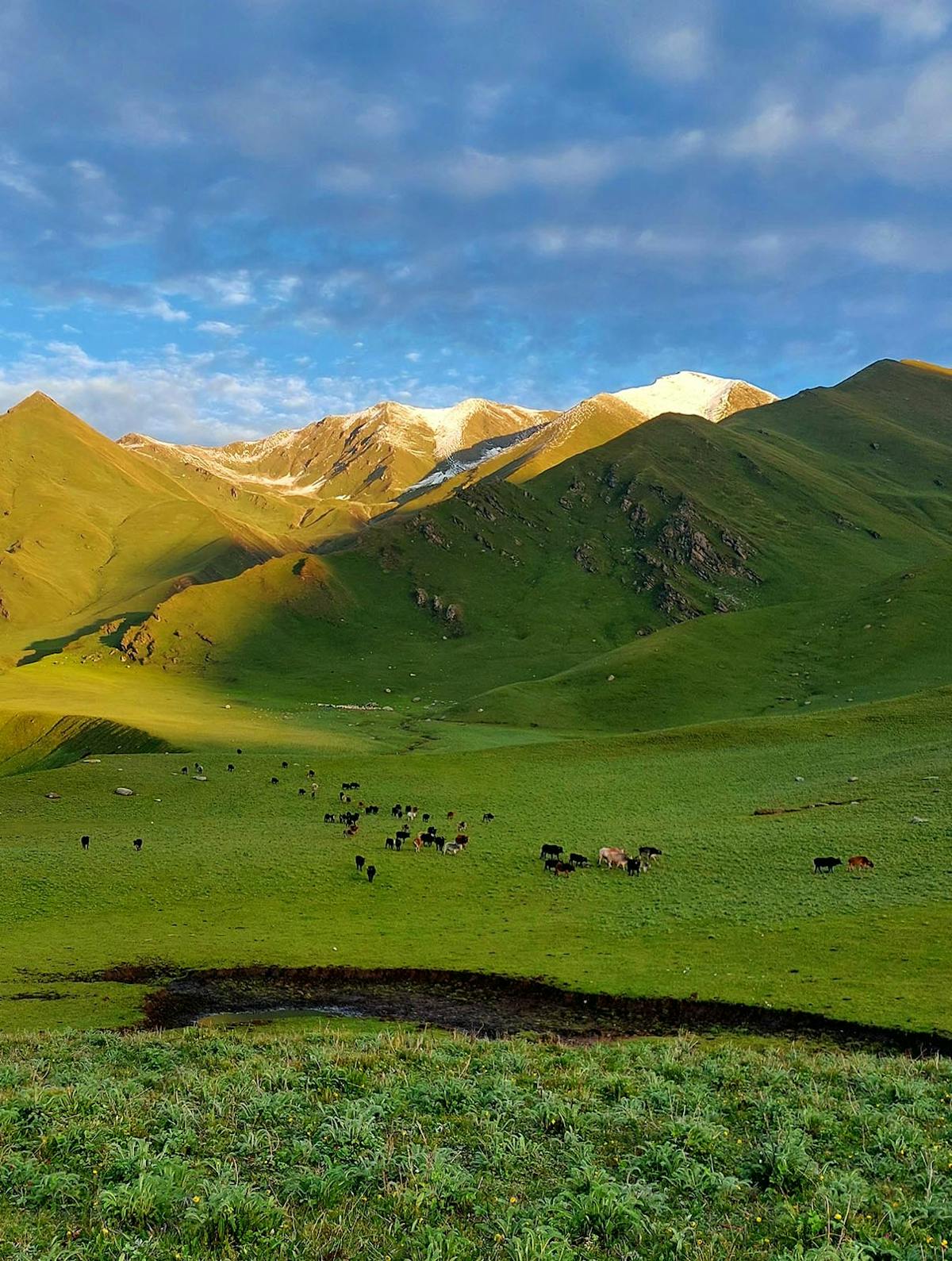 Picture by Jigisha Rai 
We keep thinking that Gidara Bugyal can never be captured well enough in a horizontal frame, even in a panorama mode. Yet, here's a shot capturing the meadows in all its glory with a vertical shot! With golden light falling on the green meadows with snow-capped mountains in the background, the photographer has found the exact right moment to capture this shot. The grazing herds make for wonderful subjects, making the photograph more wholesome.
| Camera settings: Shutter - 1/1500 | Aperture - 1.8 | ISO - 100 | Focal length - 6mm. (Captured in mobile)
9. Reflection of Kanchenjunga and Kabru ranges on the Samiti Lake at Goechala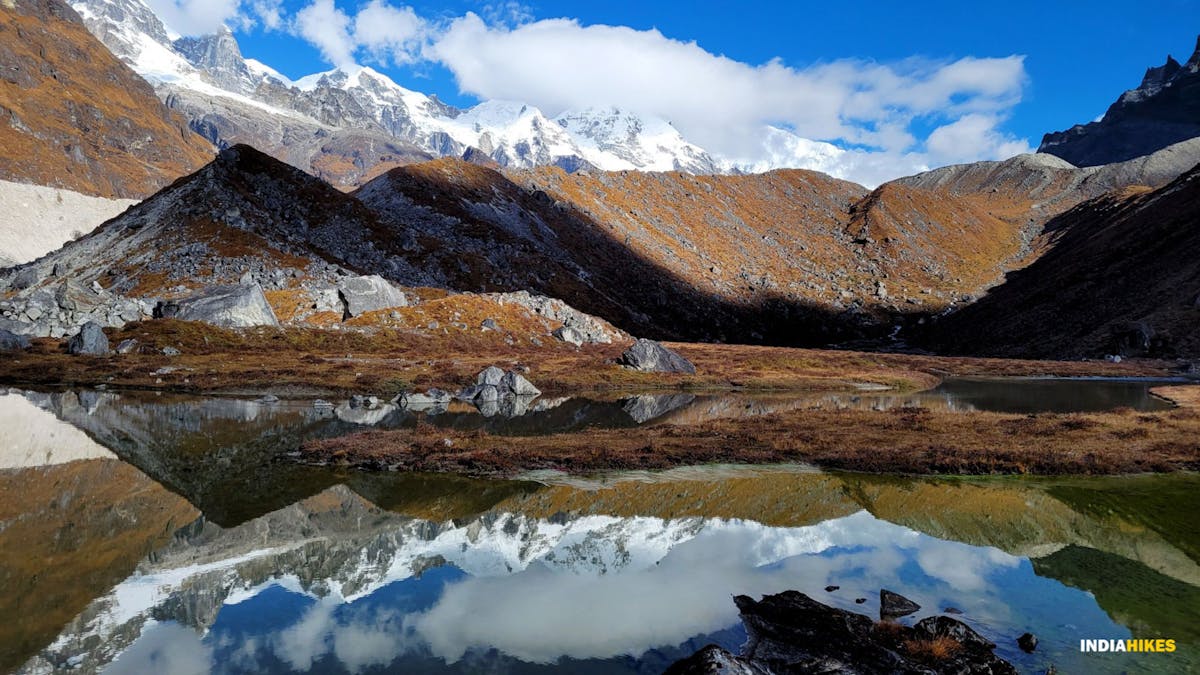 Picture by Ganesh Devadiga
This is one of the rarest views of Samiti lake. We appreciate that the photographer took a different view at the right time. It shows the perfect reflections of snow-capped mountains with autumn colors. This Samiti lake freezes during the winter season.  
| Camera Settings: Shutter – 1/2000, Aperture – 1.9, ISO – 150, Focal length – 5mm. (Captured in mobile)
10. A panoramic shot of the Sleeping Buddha from the Sandakphu trek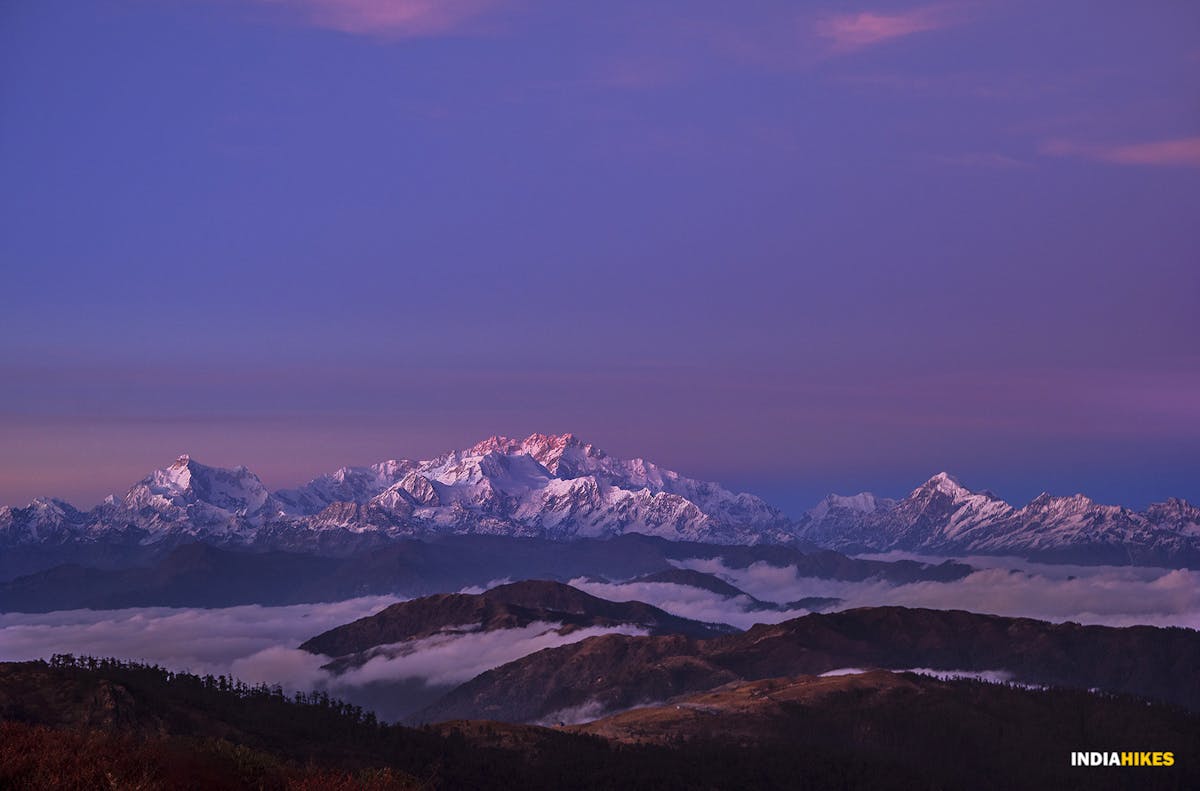 Picture by Swati Gavde
The Sleeping Buddha is perhaps one of the most photographed landscapes in the trekking world. Yet, here's a vast panoramic shot that took our breath away. We love the colours of the sunset captured in this picture, the sharpness of the elements and the depth of field in the photograph.
| Camera Settings: Shutter – 1/80, Aperture – 5, ISO – 400, Focal length – 66mm.
11. A rare view of the Pangarchulla Peak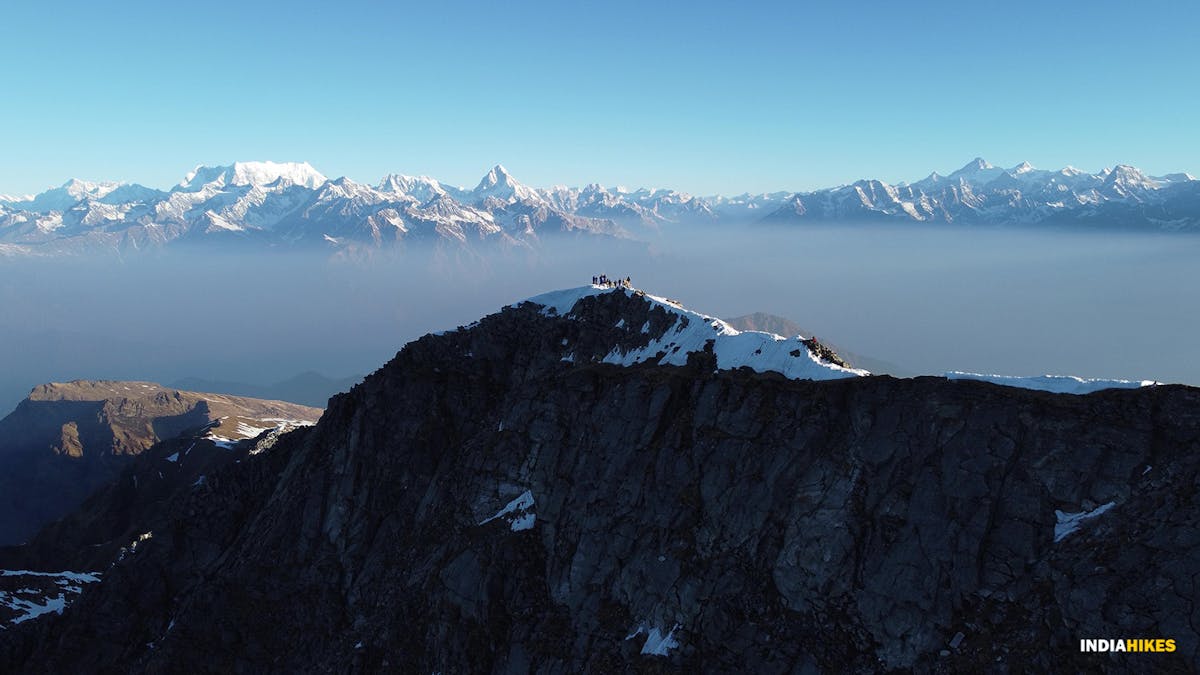 Picture by Avinash Sharma
Here's a stunning bird's eye image showing us the Pangarchulla summit and views of Mt Chaukhambha, Mt. Neelkant and Mt Dronagiri in the background. What makes this image truly rare and unique is that the photograph used a drone to capture this image. We get a clear picture of the massive mountains that we don't usually witness because of hazy skies. It's a spectacular image!
| Camera Settings: Shutter – 1/1250, Aperture – 2.8, ISO – 200, Focal length – 18mm.
12. An intimidating view of The Rupin Waterfall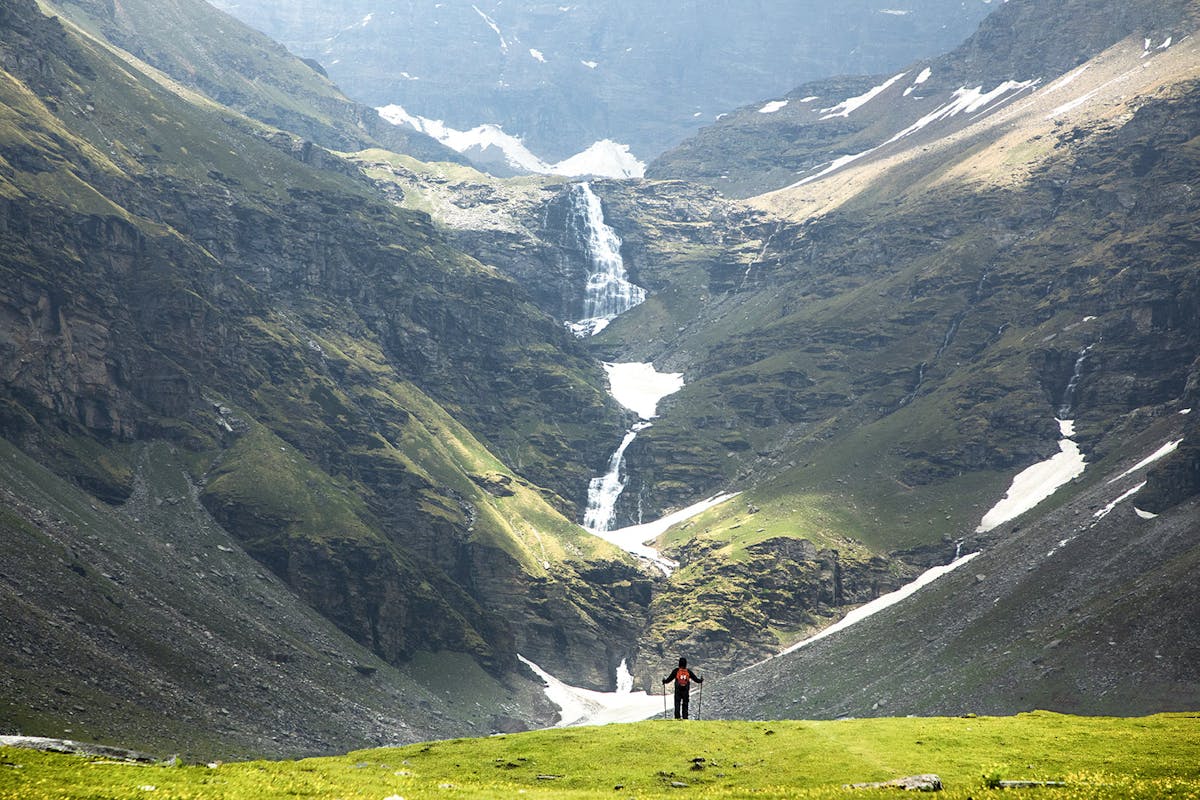 Picture by Indiahikes Photographer Jothiranjan
Here's another in-house photograph, by our photographer Jothiranjan. Very few people have been able to capture the majesty of the towering 1,500 ft Rupin Waterfall. Here's a photograph that does exactly that. As soon as we saw it, we knew it was the best capture out of the 1000+ photographs he brought back from the trek. The play of light, the greenery, the contrasts, the scale, the perspective, the photograph has everything going for it!
In conclusion:
We wish we could share more photographs, but we will save the other ones for another time. If you're a photographer and would like to join us on assignments as a Photo Trekker, you're welcome to read about it here and apply. You will find details under the "Content" roles.
To see more photographs, follow our Instagram account, where we share the best photos and videos from the mountains everyday. Follow this link here.
Sign up for our much loved Weekly Mailer
We have terrific trekking tips, trek updates and trek talks to look forward to