Can You Help Us With Photographs Of This Trek?
We are looking to enrich this documentation with more photos. Pictures go a long way in explaining the trail, more than words ever can. If you have done this trek, can you share your photos with us? We will include them on this page, with due credit to you.Click here to contribute.
Amedikallu is a combination of two words, "Ame," which means tortoise in Kannada, and "dikallu," which means stove in Tulu. The peak of this hill resembles a tortoise, and three stones near it are fashioned like a stove.
➤ Short Itinerary
A tortoise-shaped peak in the Charmadi Ghats
The trek to Amedikallu is one of the toughest treks in South India. The factors that contribute to the challenge are the steep inclines, the overgrowth of vegetation at some points, and the lack of them at others, lack of water sources, and humidity.
Despite the difficulty level, it is trodden upon often because of the fantastic views it offers. After this trek, you'll definitely have a story to tell!
➤ Trail Information
Amedikallu Trek Guide
Amedikallu is a combination of two words, "Ame," which means tortoise in Kannada, and "dikallu," which means stove in Tulu. The peak of this hill resembles a tortoise, and three stones near it are fashioned like a stove.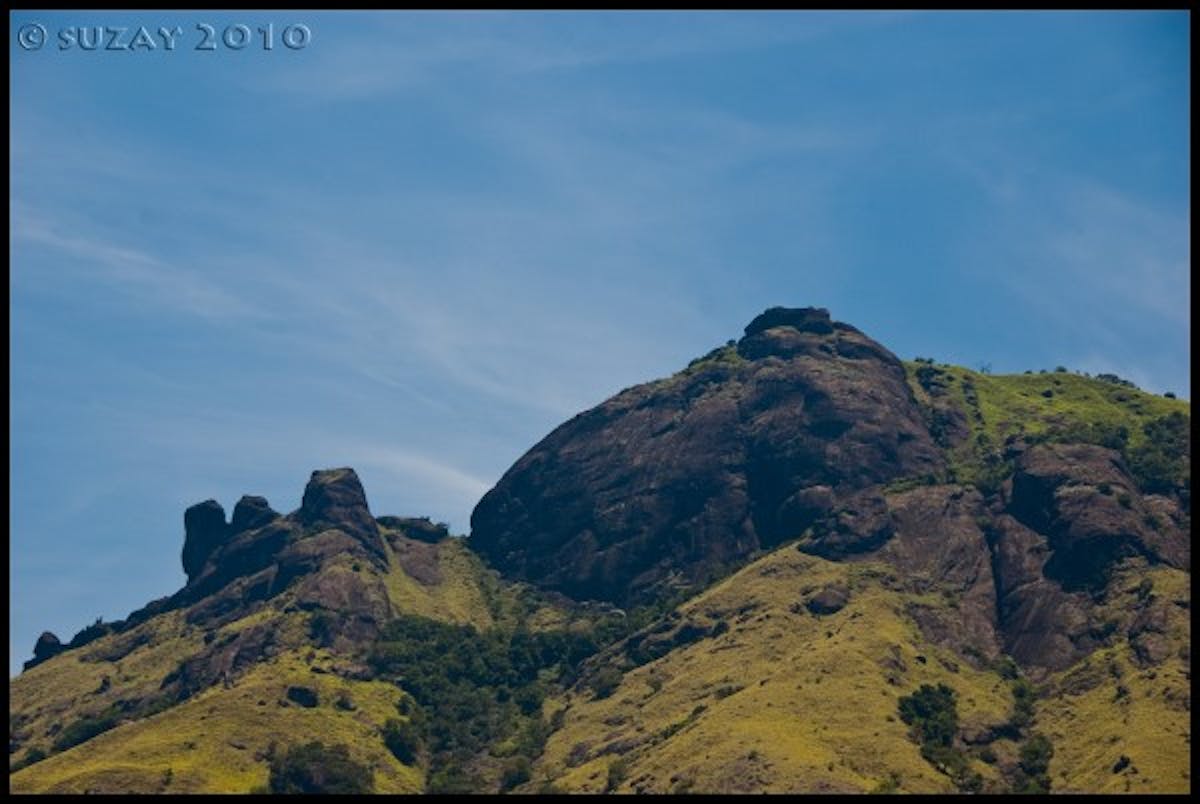 Ame(tortoise) on right with dikallu(stove) on left
The trek starts at the village of Shishala near Dharmasthala. It takes about 6-8 hours to trek one way to the peak of Amedikallu, which is at a height of 1,229 metres. The trek to Amedikallu is best when stretched over two days.
How to do the trek:
Trek duration: 6-8 hours
Trek difficulty: Moderate
The first two hours of the trek are pleasant, through forests. Within an hour, you'll hit a stream, which is the only water source until you reach the peak. Fill up your bottles here. The trail narrows down after some time, the forest cover gets denser and the climb, steeper. You encounter a wide variety of mushrooms and bamboo shoots on this stretch. But the forest cover is no match for the hot and humid weather. After a while the trail opens up into a grassland, from where you get your first view of Amedikallu.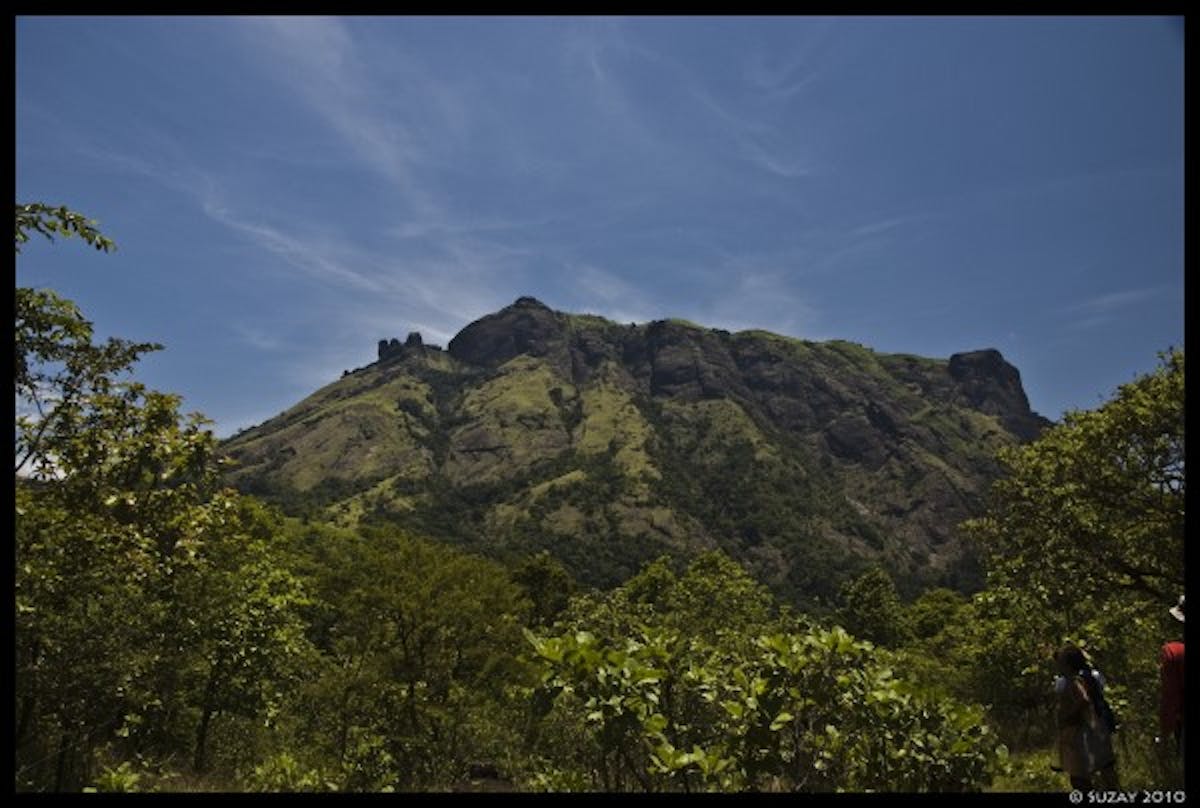 Amedikallu
This stretch intersperses between forests and grasslands until you reach the base of the peak. It takes nearly three hours to negotiate this stretch. Along the route, you can sight hills like Yettina Bhuja, Minchukallu and Yerikallu.
The path is quite well-laid and it'll take you another hour to reach the stove-like stones at the peak. The trek route can be strenuous due to lack of tree cover, with only a few massive boulders to provide shade.
Once you reach the stones, you can see the 90 degree tortoise-shaped peak. You will have to go around the peak to reach the top. As you skirt around it, you enter dense forests. This part of the trail is narrow. You may need a knife to cut through thick vegetation on these trails. These narrow trails turn into waterfalls during monsoons.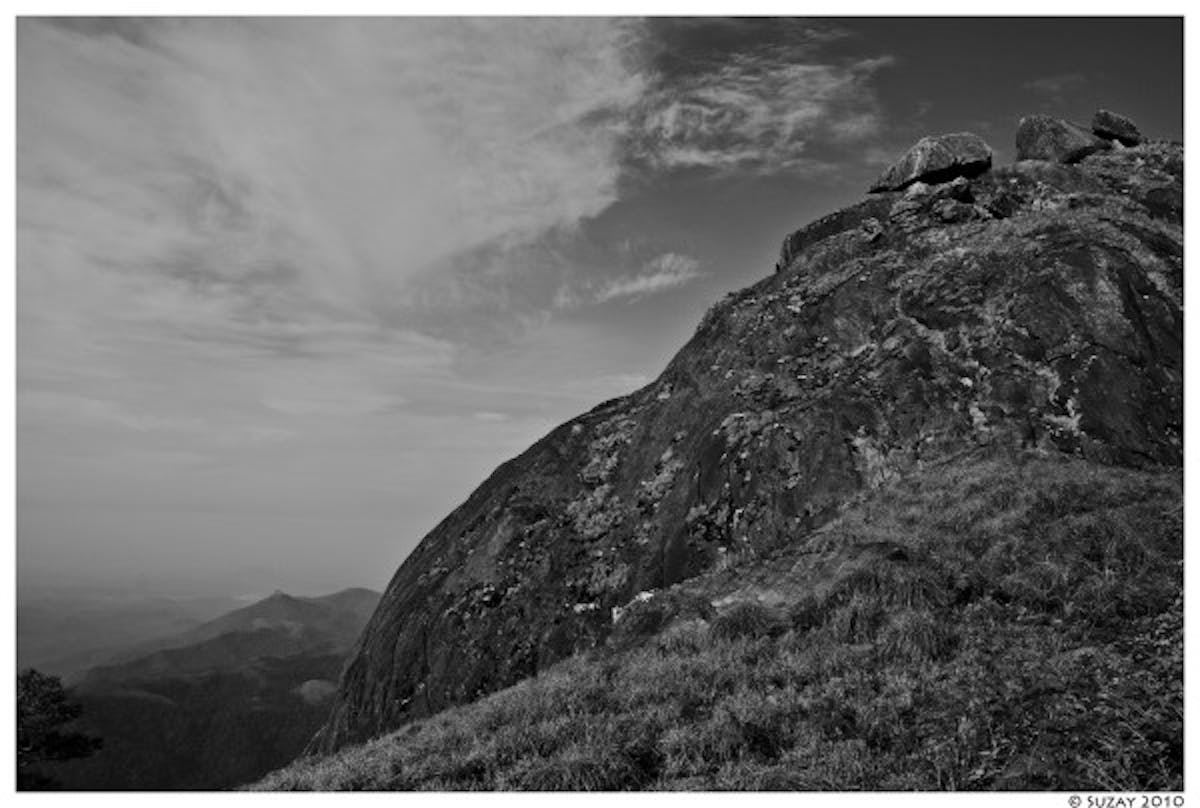 Amedikallu
After some time, you hit some grasslands that signify the backside of the peak. From here, it is another 30 minutes' climb to the top. At the peak, you get panoramic views of hills like Omnigudda, Jenukallu betta and Minchukallu.
You can pitch tents atop the peak and camp there overnight. Another good place to pitch tents is a clearing some 25 m before the peak.
Descent:
Retrace the route you took, all the way back to Shishala.
Food and Accommodation:
Take sufficient water as there are not many water sources on the trail. Avoid monsoon time as the trails can be very slippery and the place is full of leeches. Also tall grass and high winds can make the going difficult. It is best to take a guide with you on this trek, to help you find water sources.
Other nearby treks that you can do are Yetttina Bhuja, Jenukallu Gudda hill.
➤ How to Get Fit for Amedikallu Peak
Cardiovascular endurance 
The secret to ascending any trail lies in building your cardiovascular endurance. You can begin by jogging everyday. Ideally, you should be able to jog 4 km in 20 minutes before the start of the trek. It takes time to be able to cover this distance in the given time. Start slow and increase your pace everyday. Swimming, cycling and stair climbing without too many breaks in between can help too. Strength This is another area you should work on. You will need to build strength in your muscles and in your core body. You can do some squats to strengthen your leg muscles. Do around 3 sets of squats, with 8 squats in each set. Apart from this, you can add planks and crunches to your work out.
Flexibility
Another aspect that will help you trek comfortably is flexibility. For this, you can do some stretching exercises – stretch your hamstrings, quadriceps, hip flexors, lower back muscles and shoulders regularly. Carrying a backpack, however light, can become a strain after a while. These exercises will help you to be in good shape before the trek. Working out indoors
➤ What to Take on Your Trek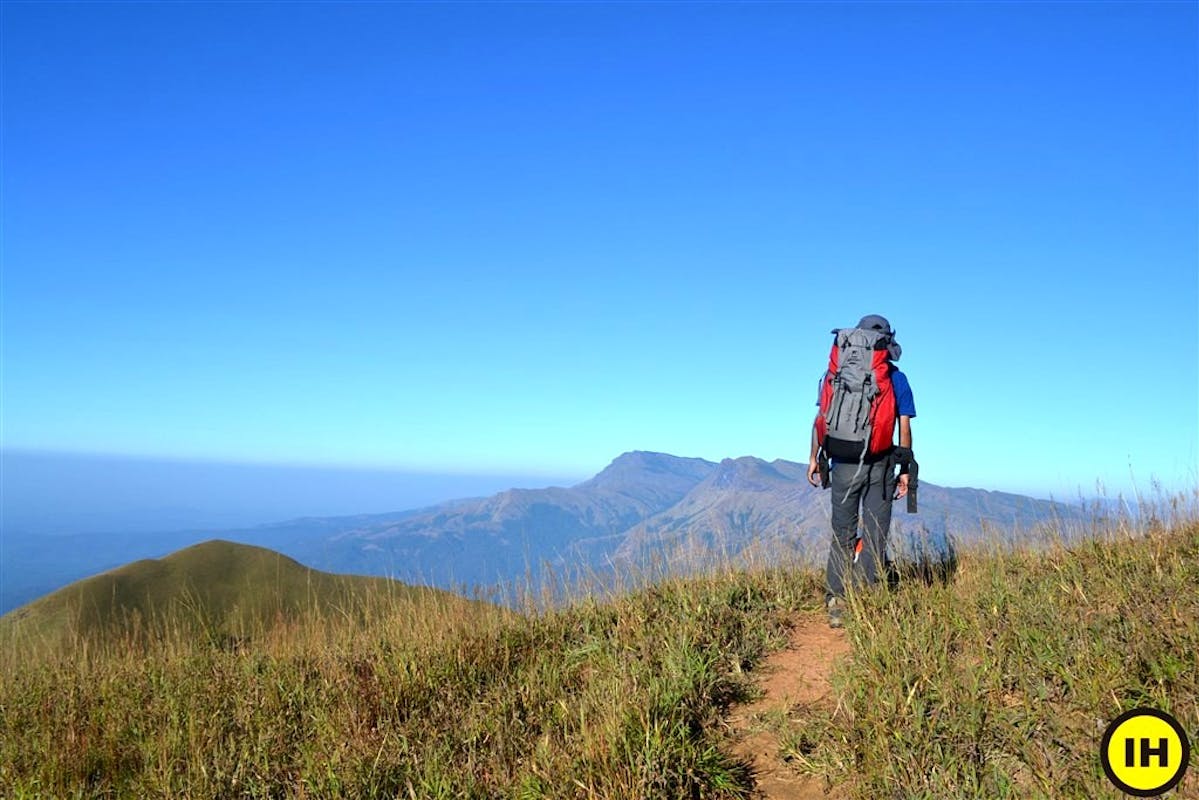 Amedikallu Peak is just a one day trek. You will only need the following things.
Small 20L backpack
Two litre bottle
A jacket or poncho in case of rain
Snacks
Lunch
➤ How to Reach the Start of the Trek: Shishala
Board a bus towards Dharmasthala, which is 350 km from Bangalore. Get down at Kokkada cross, which is around 15 km before Dharmasthala. Take a Jeep/local bus towards Shishila. From Shishila bus stand, take a Jeep to Kombaru, which is the starting point of the trail. Kombaru is around 3km from Shishila.
➤ Trek Contribution
About the Author: USHA HARIPRASAD
All photos by Suzay Hathwar.
This trek comes under the '100 Best Trek of India' project.We are looking for more information/ photos/ videos on Amedikallu. If you know more about it, or if you know a better trek in this region, then please write back to us: ajay@indiahikes.in
A note to trekkers
Indiahikes does not run the Amedikallu Peak Trek any time during the year. However, it is a wonderful Do-It-Yourself trek
Indiahikes only runs treks in the Himalayas. You can choose a Himalayan trek that you wish to based on your experience, season and difficulty here