Can You Help Us With Photographs Of This Trek?
We are looking to enrich this documentation with more photos. Pictures go a long way in explaining the trail, more than words ever can. If you have done this trek, can you share your photos with us? We will include them on this page, with due credit to you. Click here to contribute.
The Complete Guide to the Anjaneri Fort Trek
Anjaneri fort trek is one of the famous treks in Nasik-Triambakeshwar mountain range of Maharashtra. It is an attraction of Nashik city and Triambakeshwar region.
Located 20 km away from Nasik and 6 km from Triambakeshwar. It is situated at an altitude of 4263 feet from the sea level. 
The locals believe that the fort is the birthplace of Lord Hanuman. Therefore, it is considered as one of the religious places among Hindu devotees. 
There are many small Jain temples, caves and a foot-shaped lake on the way to the main Hanuman temple.
There is also a temple built for Anjani Maata who gave birth to Hanuman. It is unique as there is no other temple built for Anjani Maata.
➤Table of Contents
To navigate through the documentation easily, use this section of Table of Contents
➤What to watch out for
1. A magnificent view of a rare Cape York Lily flower
The Cape York Lily is one of the species of Curcuma. Curcuma means turmeric in Sanskrit. As the name suggests this flower has both medicinal and food values. 
These flowers are very rarely seen in Western ghats but you find them in huge numbers on the Anjaneri Fort Trek. 
There are other beautiful wildflowers like Sonki flowers and day flowers throughout the trek.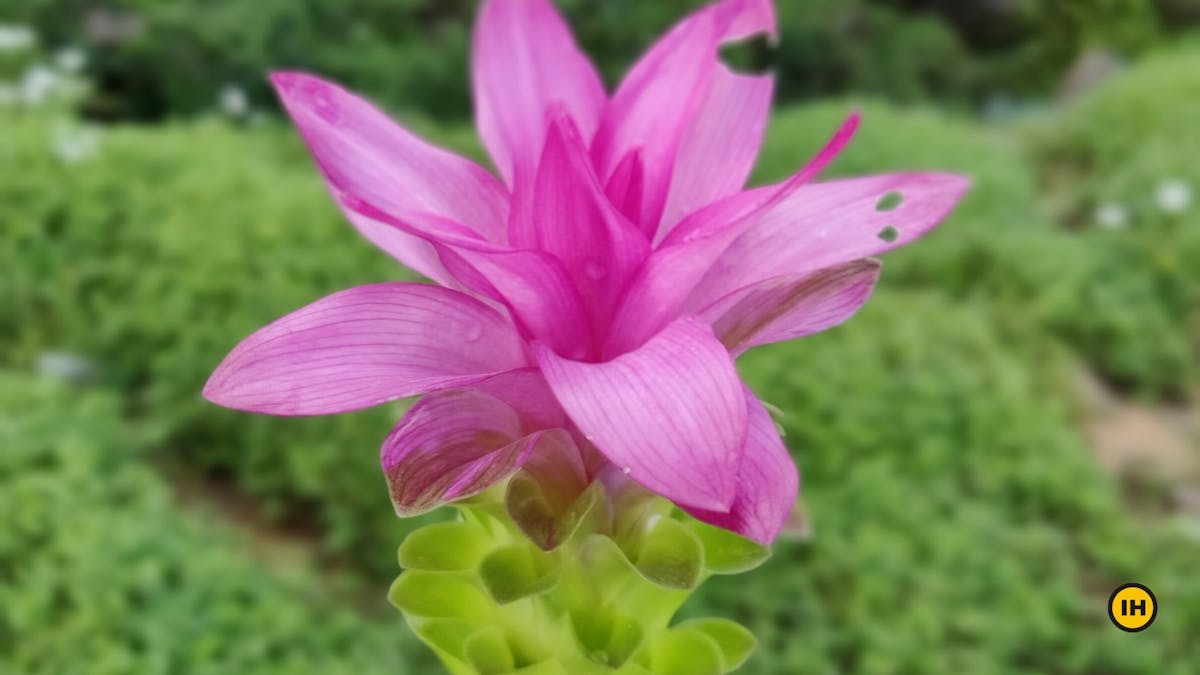 The beautiful Cape York Lily flower is seen on the trek. Picture by Yugant Gurav.
2. Lush green meadow with flower bed
Western Ghat treks usually are seen with boulder sections, high grasslands, forest, ridges. But in this trek, you see a huge meadow with beautiful flowers covered. It is around 4 km long.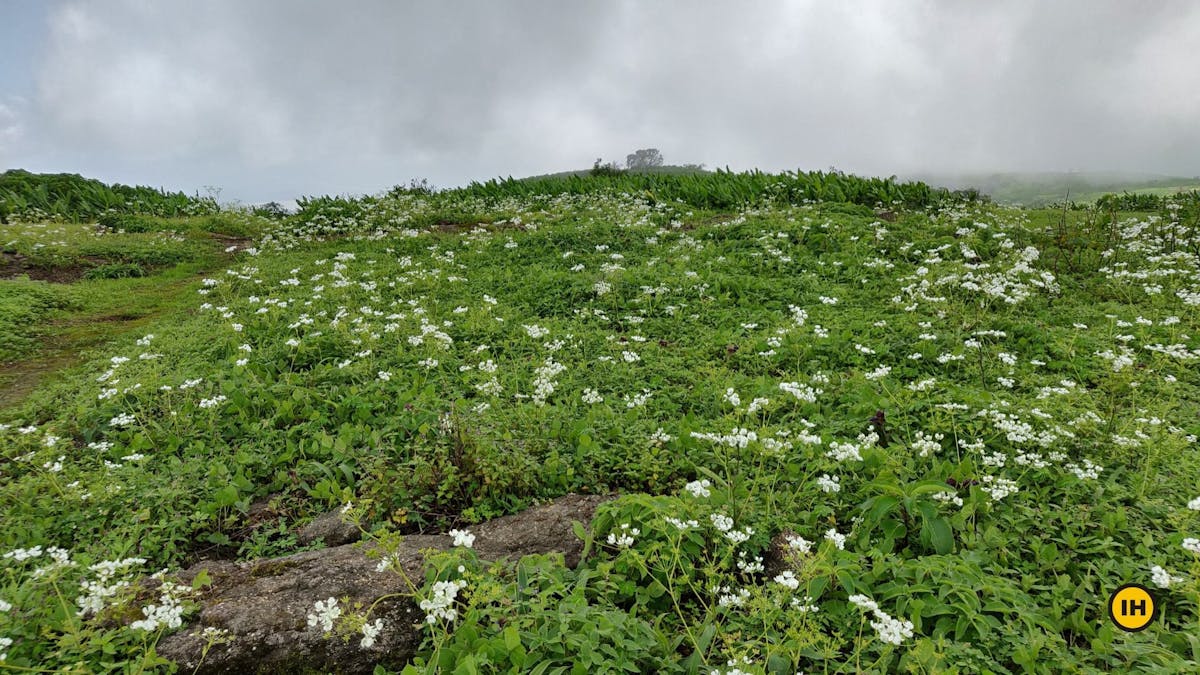 The beautiful meadow filled with wildflowers. Picture by Yugant Gurav
3. The foot-shaped Lake 
Just after the long meadow, you see a huge lake on your left. This lake is in the shape of a foot. You can observe the structure from atop. The villagers might tell you some stories about that shape. However, there is no evidence for that.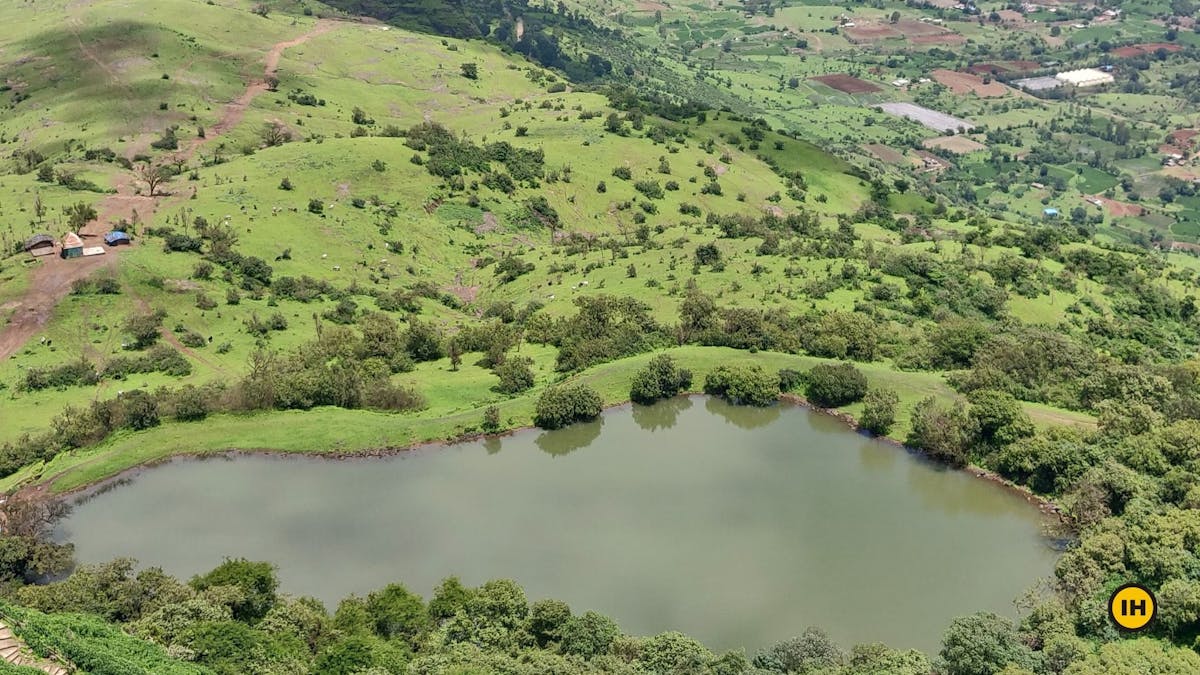 The foot-shaped lake as seen from the top. Picture by Yugant Gurav
Click here to go back to the Table of Contents
➤Trail Information
Anjaneri Fort Trek can be divided into 2 sections:
Trek from Forest department to Anjani Maata Temple – 40 minutes
Anjani Maata temple to Hanuman Temple – 1 hour 30 minutes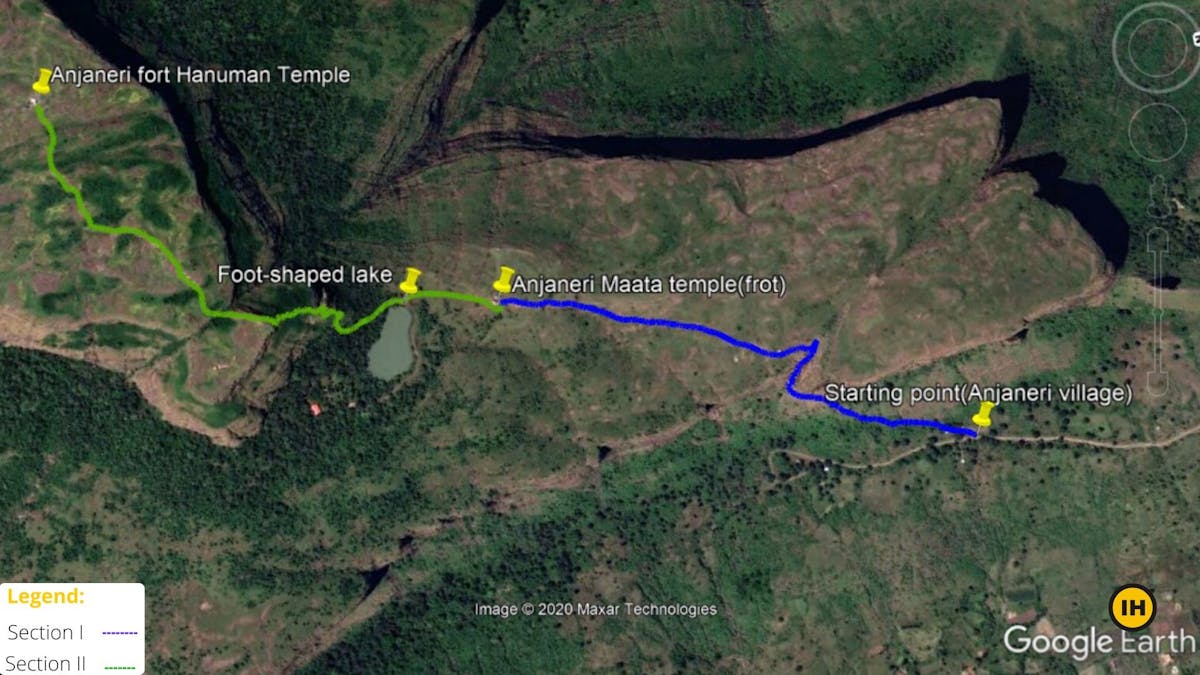 Trail Map of Anjaneri Fort Trek. Source: Google Earth. Picture Courtesy Nayana Jambhe
Trek distance: 1.2 km
Trek duration: 40 minutes
GPS coordinates of Forest department: 19°56'15.0″N, 73°34'54.7″E
GPS coordinates of Anjani Maata temple:  19°55'46.94″N, 73°34'39.07″E
The Anjaneri Fort trek starts from the forest department of Anjaneri Village. Take permission before starting the trek.  
The trail from the parking area is a long rock step walk followed by a huge boulder section. There is a single route and a lot of signboards, which reduces the chance of getting lost.
After 15 minutes of a gradual climb, you reach a boulder section. You need to cross this section very carefully. Make sure you wear proper trekking shoes if you are trekking in the monsoon. 
Note: You see a lot of Monkeys on the trail. Make sure you cover the food items if you have any.
There is a Jain cave on your left side. Explore the cave for 10 minutes and proceed. From there another 15 minutes ascend would lead us to the meadow section. 
The meadow in front of you is vast. After 10 minutes of a trek on the meadow, the trail next leads you to the Anjani Maata Temple. Visit the temple and click some pictures. This is the only temple built for Anjani Maata.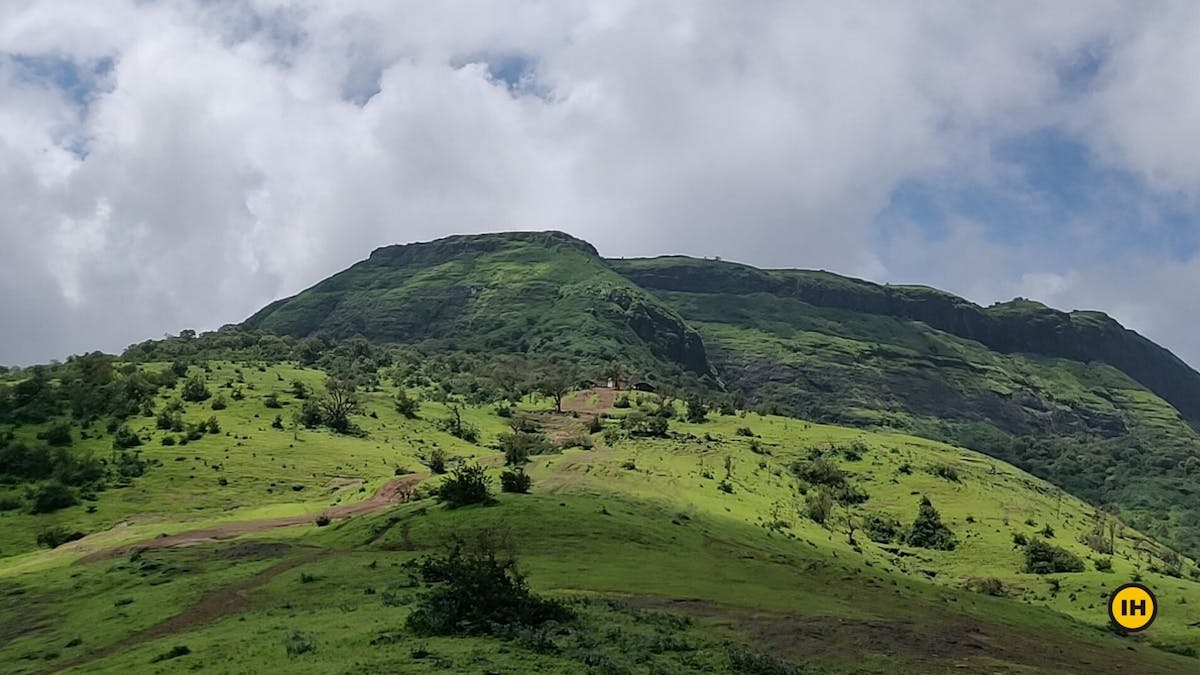 Huge meadow as seen from the Anjani Maata temple. Mountain you see is the summit. Picture by Yugant Gurav
Spend some time exploring the meadow. It is spread across over 4 km around the temple. You can spot Cape York Lily and many wildflowers here.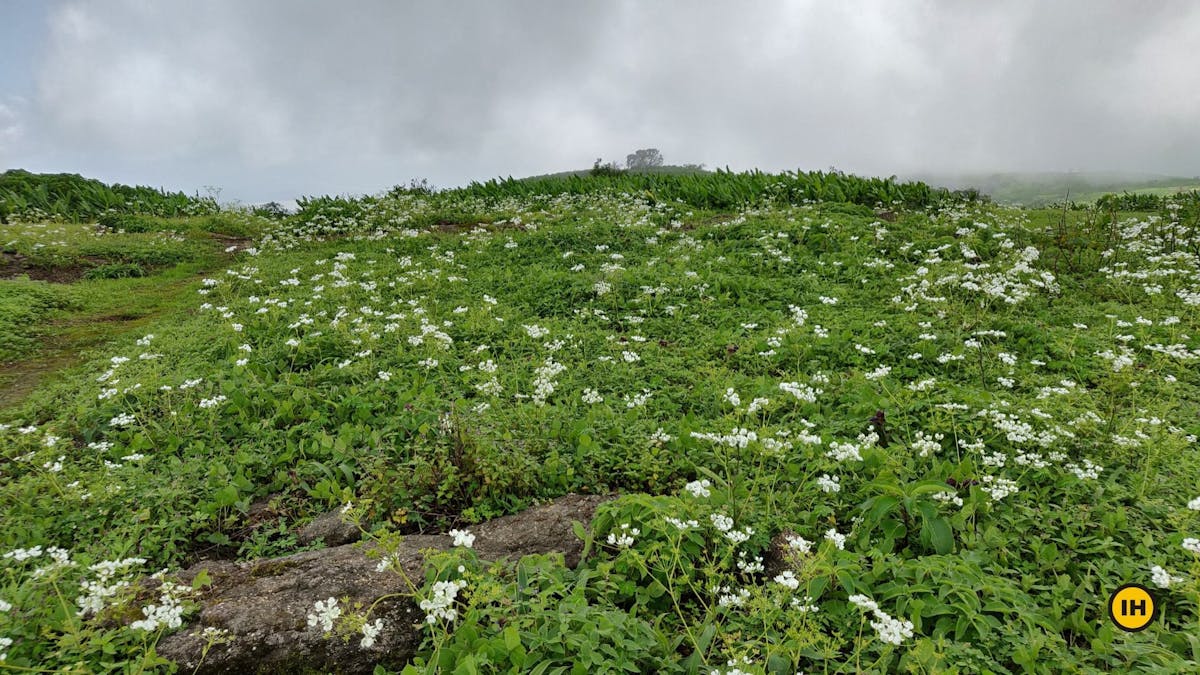 Wildflowers blooming on the meadows. Picture by Yugant Gurav
You will spot many rock cairns on the meadows. Picture by Yugant Gurav
Trek distance: 1.5 km
Trek duration: 1 hour
GPS coordinates of Anjani Maata temple:  19°55'46.94″N, 73°34'39.07″E
GPS coordinates of Hanuman Temple:  19°55'19.68″N, 73°34'18.38″E
Once you start the trek from the temple, there is a huge lake. It is believed that this lake is formed due to Lord Hanuman's left footprint. Locals use it as a water resource. 
Save the curiosity to see the shape till you reach a certain height.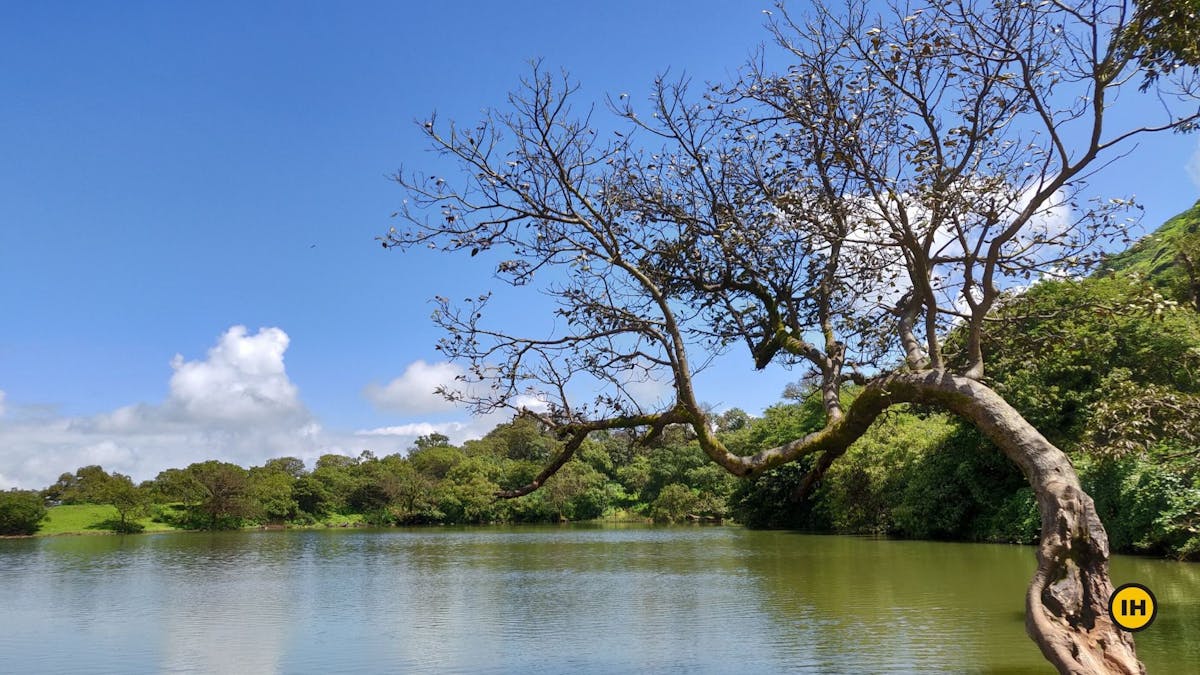 The lake which you see after a few minutes of a trek from Anjani Mata temple. Picture by Yugant Gurav
You now enter the forest section which is quite a challenging section. You see a lot of monkeys here which makes it slightly more difficult. 
The trail starts with rock-cut steps. The entire forest section is filled with dark tall trees and lush green shrubs. You can hear the rustling sound of leaves in the bushes.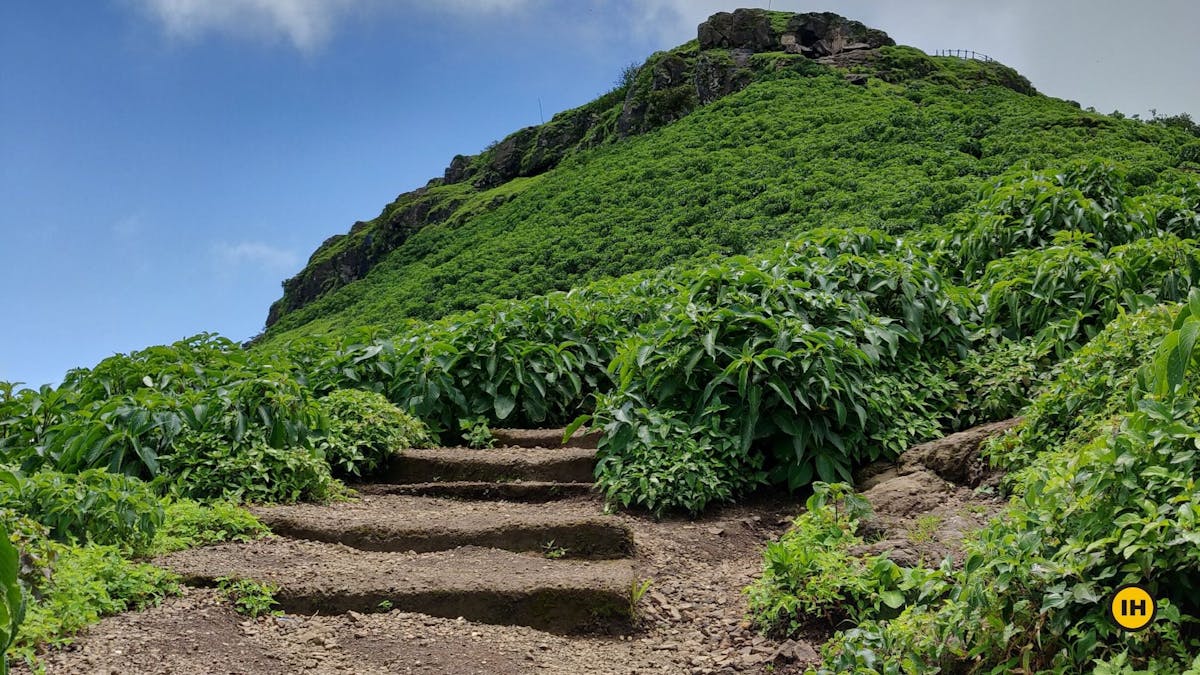 The trail starts from steps and goes into the forest section. Picture by Yugant Gurav
This section becomes very slippery during the monsoon season because of the moss covering on the rocks.
After 20 minutes of steep ascend in the forest, you come across a boulder. Take a small sip of water and hydrate yourself. 
It will take another 10 minutes to cross and reach the highest point. It is a plateau region.
Watch out for the trail you have climbed up from an aerial view. Observe the foot-shaped lake. Spot another lake behind the foot-shaped lake, that is the Anjaneri Lake.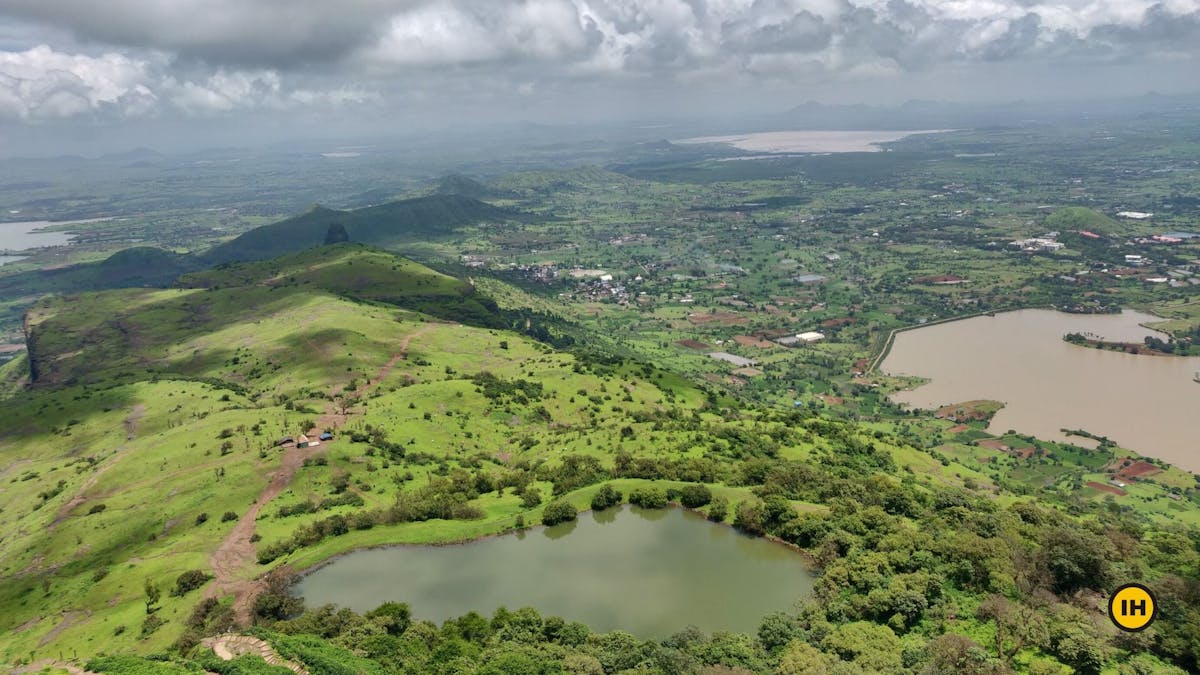 View from the highest point. You can see the foot-shaped lake and Anjaneri Lake. Picture by Yugant Gurav
There is a temple built by locals a few minutes away from here. It is worth your visit. 
The Lord Hanuman you see inside the temple is different from others as it represents the Hanuman as a child.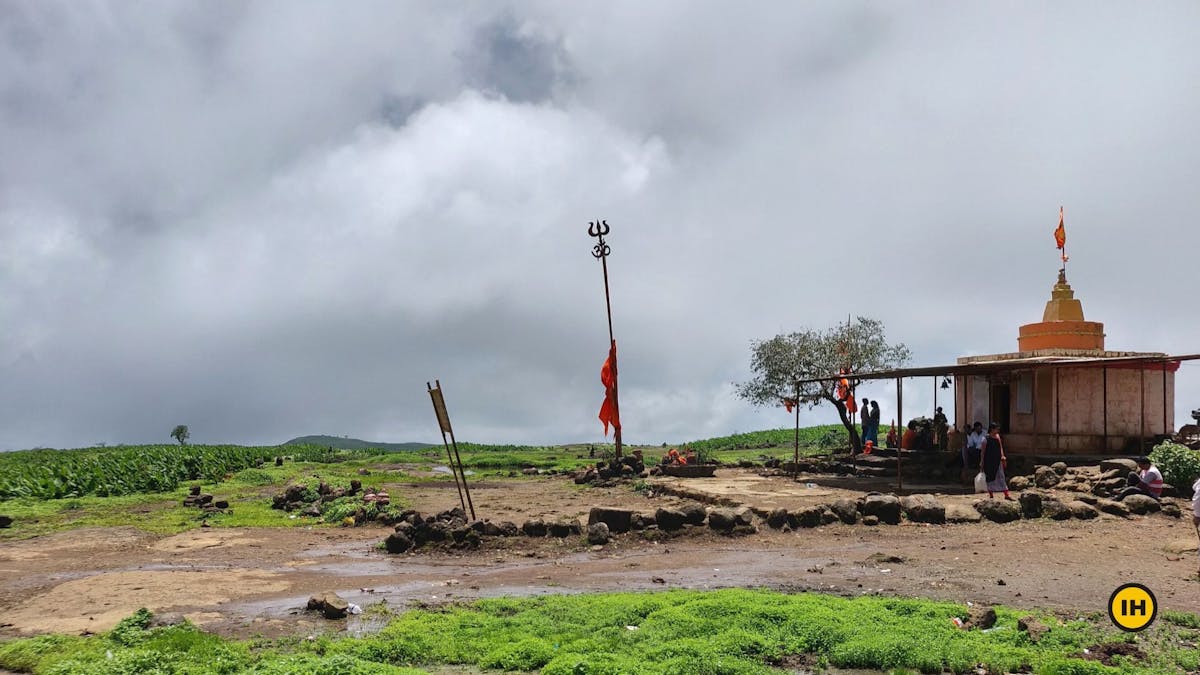 The Hanuman temple you see on the top. Picture by Yugant Gurav
Enjoy the view of the Nashik Triambak region. You can spot the Brahmagiri mountain and Godavari dam behind the temple. 
Spend half an hour exploring the other mountains and lakes. This is a perfect place to relax amidst the busy life in the city. 
The descent is the same route as you came up. Since the return trail becomes steep and slippery, you need to be very careful while descending. This is where trekking poles can be used. 
➤ Best Season to do the Anjaneri Fort Trek
Anjaneri fort trek can be done throughout the year. Each season you get to see the western ghat mountains in different shades. 
You can see the complete western ghat in lush green if you are trekking post-monsoon. The blooming flowers on the meadows are a joy to the eyes. However, the trail becomes slippery during peak monsoon season. So trekking in the peak monsoon is not recommended.
Tip: Wear proper trekking shoes. You can carry a trekking pole if you have as well. These two things will really help a lot while trekking. 
Trekking in the summer to this fort has a different view. The meadow can be seen in other shades of green. There will be another set of flowers blooming. However, heat can be a bit of a problem if you are trekking in peak summer.
➤ Difficult sections on Anjaneri Fort Trek
There are no difficult sections as such on the Anjaneri fort trek. However, few of the sections can be tricky if you are a beginner.
Trekking on the boulders becomes difficult during monsoon season. Make sure you wear proper trekking shoes.
Trekking in the forest becomes tricky because of the mossiness of the rocks.
You find a lot of monkeys on the trail. They approach you for the food. So if you are scared of monkeys do not react to them. Keep trekking. Make sure you cover food items if you have any.
➤ How to reach Anjaneri Fort Trek
The Anjaneri Fort trek starts from Anjaneri village. Nashik and Triambakeshwar are the 2 nearest cities.  
You can reach the village using public transportation as well as your own vehicle.
Reaching Anjaneri fort by your own vehicle
If you are planning on reaching Anjaneri village from Mumbai using your own vehicle, you can use this link to help setup navigation in google maps. For a more detailed explanation read through the information below.
Get on Mumbai- Agra highway(NH160) and continue on the same road until you reach Nashik. From there get on to the Nashik – Triambakeshwar Highway. It is 35km from Anjaneri village. You need to take a left where you see a direction board. 
If you are coming from Triambakeshwar, the village is around 6km. You have to take a right turn where you see a direction board. 
You can not take the car all the way to the Forest department. Park the car in the village and walk to the forest department parking area. It is around 2 km from the village. 
If you are going there by two-wheeler go all the way to the forest department and park your vehicle. The trek starts from there.
Reaching Anjaneri Fort by Public Transport System
If you are travelling from Mumbai, Take a local train to Kasara. From their hire a jeep that cost you around Rs 700. This will take around 4 hours to reach Anjaneri.
Another way to reach Anjaneri from Mumbai is to travel to Nashik road by train and from there hire a jeep or catch a bus that goes towards Triambak. Get down at Anjaneri village. This will cost you less than Rs 500 for the entire travel. However, it is the longest and time-consuming route. 
If you are travelling from Nashik, get into any bus that goes towards Triambakeshwar or if you are coming from Triambakeshwar get on to any bus that goes towards Nashik. Get a ticket to Anjaneri Village. It will cost you around Rs 30.
From Anjaneri bus stop you have to walk inside the village. You need to walk another 2 km to reach the starting point.
Return can be scheduled the same way via bus. You get buses that go towards Nashik or Triambakeshwar very frequently. 
➤ Frequently asked questions about Anjaneri Fort Trek
Permission and Camping on Trek
There is an entry fee of Rs 50 including parking for Anjaneri Fort Trek. However, you do not need any guide to do this trek.
Camping is prohibited on the trek of Anjaneri Fort.
Food and Water Sources on Trek
Since the base of Anjaneri fort trek is a village, many local shops are open early morning. You can pack your food before starting the trek. There are 3 shops on the trail which offer local Maharashtrian food and refreshments.
There is no potable water source available on the trek. However, the local shops on the trail may have drinking water facilities. Carry your own water bottles. It is suggested to fill and carry a minimum of 2 litres of water from the base itself. 
Who can do the Anjaneri Fort Trek?
Anjaneri Fort Trek is an easy difficulty level. However, there are a few boulder sections that require good fitness. Hence, a fit beginner can do this trek.
It can be difficult for a complete beginner to cross the boulder sections during monsoon season. 
Emergency contact for Anjaneri Fort Trek 
Hospital: Jupiter Multi- Speciality Hospital is the nearest hospital in the case of an emergency. It is 18km from Anjaneri village.
Police Station: Satpur Police Station is the nearest police station from Anjaneri village. It is 20km from the village.
ATMs and Network on the trek
ATMs: ICICI bank ATM is the nearest bank/ ATM in Triambakeshwar. It is 5.7 km from the village. However, carry a minimum of Rs.750 per person right from your home.
Network: Airtel, Jio and Vodafone are only networks available throughout the trek.
Click here to go back to the Table of Contents
➤ Places to visit after the Anjaneri Fort Trek
There are many places to visit in Triambak region of Nashik district.
Triambakeshwar Jyotirlinga: This is an ancient Hindu temple of lord shiva and is one of the 12 Jyotirlingas. After the trek, you can visit this temple.
Brahmagiri Mountain: After completing the trek, the next day one can trek the Brahmagiri Mountain. It is an easy trek.  Ganga Dwar is a place on Brahmagiri Mountain which is also known as the origin of Godavari river.
Harihar Fort: also known as Harshagad is a fort constructed as a watchtower. It is a day trek and is easily accessible as it is only 18km from Anjaneri village. And gives a magnificent view of other forts surrounding.
Lord Hanuman Temple in Anjaneri Village: The local people have built a Hanuman Temple in the village. A 10 feet tall lord hanuman idol is seen here. One should visit it before starting and ending the trek.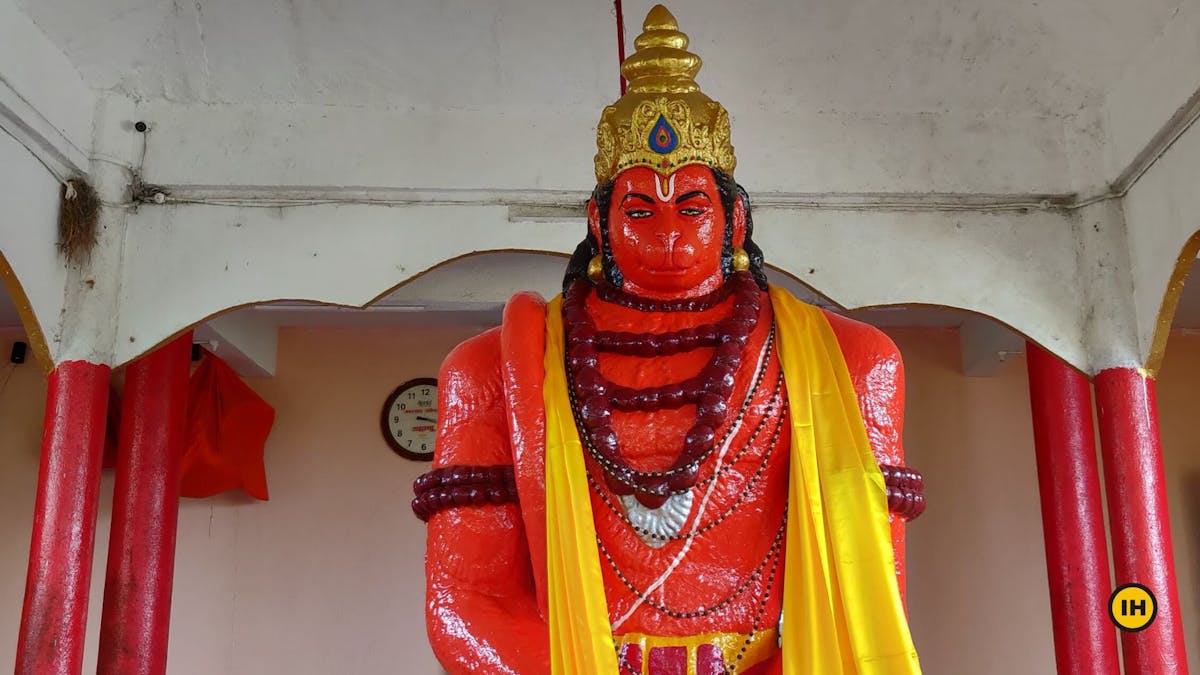 Lord Hanuman Idol built by Locals. Picture by Yugant Gurav
➤ What To Pack For Anjaneri Fort Trek
Basic First Aid kit*
Identity Card
Cap/ Scarf/ Bandana & Sunglasses
Water (Minimum two litres)
Lemon and salt OR Electrolyte Powder/Drink (Electral/Gatorade/Glucon D, etc.)
High-calorie snacks (Nuts & dry fruits, home-baked cake, etc.)
Safety Pins, Rubber bands & Whistle (Useful in emergencies.)
Quick Dry T-shirts are preferable over cotton tees.
Poncho, only during monsoons
Plastic sheet to wrap electronic devices, only during monsoons
Sunscreen (SPF 50+)
Optional: Trekking poles
*First aid kit:
Scissor
Band-aids (Regular & Waterproof)
Analgesic spray (Relispray, Volini, etc.)
Antiseptic Liquid (Savlon, Dettol etc.)
Antiseptic powder (Povidone-Iodine based powders like Cipladine, Savlon, etc.)
Cotton roll & Bandage
Crepe Bandage
1-inch wide medical tape (paper or cloth.)
Micropore tape
Tablet for motion sickness (Avomine), Acidity (Gelusil, Digene, etc.).
Mild pain relief tablet (Crocin)
| Note: Always consult a doctor before taking any medicine.
Trek explored and documented by Yugant Gurav
Special thanks to Yugant Gurav for the pictures and for being the author
GPX File Opt in
We go to great lengths to ensure you have a safe trek. So here's a GPX file of the trail to help you navigate without getting lost.