Can You Help Us With Photographs Of This Trek?
We are looking to enrich this documentation with more photos. Pictures go a long way in explaining the trail, more than words ever can. If you have done this trek, can you share your photos with us? We will include them on this page, with due credit to you. Click here to contribute.
Bagini Glacier Trek
The route which takes you to the Advance camp taken for mountaineering expeditions to High ranging peaks like Changbang and Kalanka gives you a feel of being in Everest Base Camp without it's hustle and bustle of overcrowding and commercialization. Recently with the increase number of trekkers opting to explore the campsites of Bagini and Changbang than the more popular Dharansi Pass Trek from Nanda Devi Outer Sanctuary (NDOS) realm, it is a fair assumption that Bagini Glacier trek is viable option for adventurous travelers and backpackers who want to explore and know more about the mountains of the region.
History about Bagini Glacier & Changabang B.C route
The twin peaks of Nanda devi and Nanda devi east(7,434 m) exude an aura unsurpassed by any mountain in the Indian Himalayas. Lying entirely within Indian borders Nanda Devi is just short of being an 8 thousander, but that has not been an impediment to its grandeur nor it has been a stumbling block in its reverence. Climbed first in 1937 by legendary climber and explorer Major Harold William Bill Tillman better known as H.W Tilman and famed Noel Odell,  (Noel was the last first person to see Mallory and Irvine supposedly climbing the Second step on Mount Everest on 8th June 1924) its tryst with exploration goes back to 1930s when a number to expeditions repeatedly failed to reach even its base. The reason for this lying in the fact that the main summit is surrounded by an impenetrable barrier of peaks. The average height of this barrier being 20000 ft,  the tag impenetrable is just right.
The Nanda Devi National Park is a national park situated around the peak of Nanda Devi.  The park encompasses the Nanda Devi Sanctuary, a glacial basin surrounded by a ring of peaks between 6,000 metres (19,700 ft) and 7,500 m (24,600 ft) high, and drained by the Rishi Ganga, through the Rishi Ganga Gorge, a steep, almost impassable defile. The entire park lies at an elevation of more than 3,500 m (11,500 ft) above mean sea level.Some of the peaks in this sanctuary are Dunagiri, Kalanka, Changabang, Rishi pahar, Nanda khat, Nanda Ghunti, Panwali Dwar, Trishul etc. After  many failed expeditions and ardeous explorations in 1934, British explorers Eric Shipton and Tillman found a route inside the sanctuary through the Rishi Gorge. Nanda devi main (7786m) is surrounded by a thick wall of peaks, there is an inner wall as well as an outer wall. Bagini glacier lies to the North of this outer wall. Bagini glacier trek is a short trek, it can be done within 5-6days. The trek starts from Jumma a small village on the Joshimath Malari highway which is around 40 km. From jumma its a 2-3 hour easy hike to Ruing. From Ruing it is a gradual steep hike to a place called Chaza which is devoid of any vegetation, after which there is a steep hike over landslide zone to the Alpine village of Dunagiri. From Dunagiri it is a two day hike to Bagini glacier and Changabang base camp.
➤ Short Itinerary
Imagine walking in a Himalayan field with the breeze carrying the intoxicating smell of a mixture of rare alpine flowers one can fathom.
Bagini Glacier trek traces a rare and refreshing highland walk winding through some of the most intriguing garhwali villages and glade-like upper lawn of Bagini & Changbang camping grounds which are in full bloom with majestic yellow and purple wildflowers.
It is not just the raw beauty of nature that draws travelers here but the proximity to some lovely snow capped Himalayan peaks like Kalanka, Changbang and Dronagiri which dominates the landscape.
➤ Trail Information
Day 1: Jumma to Ruing village (2800m)
The trek starts from a non descript village called Jumma which is an hour ride from Joshimath.Trek Ration and kerosene can be picked up from Joshimath, as further up things get dearer by the metre. The ride from from Joshimath to Jumma is part bumpy and part smooth. Tapovan, Reni, Lata, Suraithota, Phagti are many villages which fall on the way. In between Suraithota and Jumma the road is in par with the Dhauliganga river, which makes it a good watch in autumn, but will surely play havoc during the merciless monsoon months. If you want to stack kerosene Suraithota is a good option.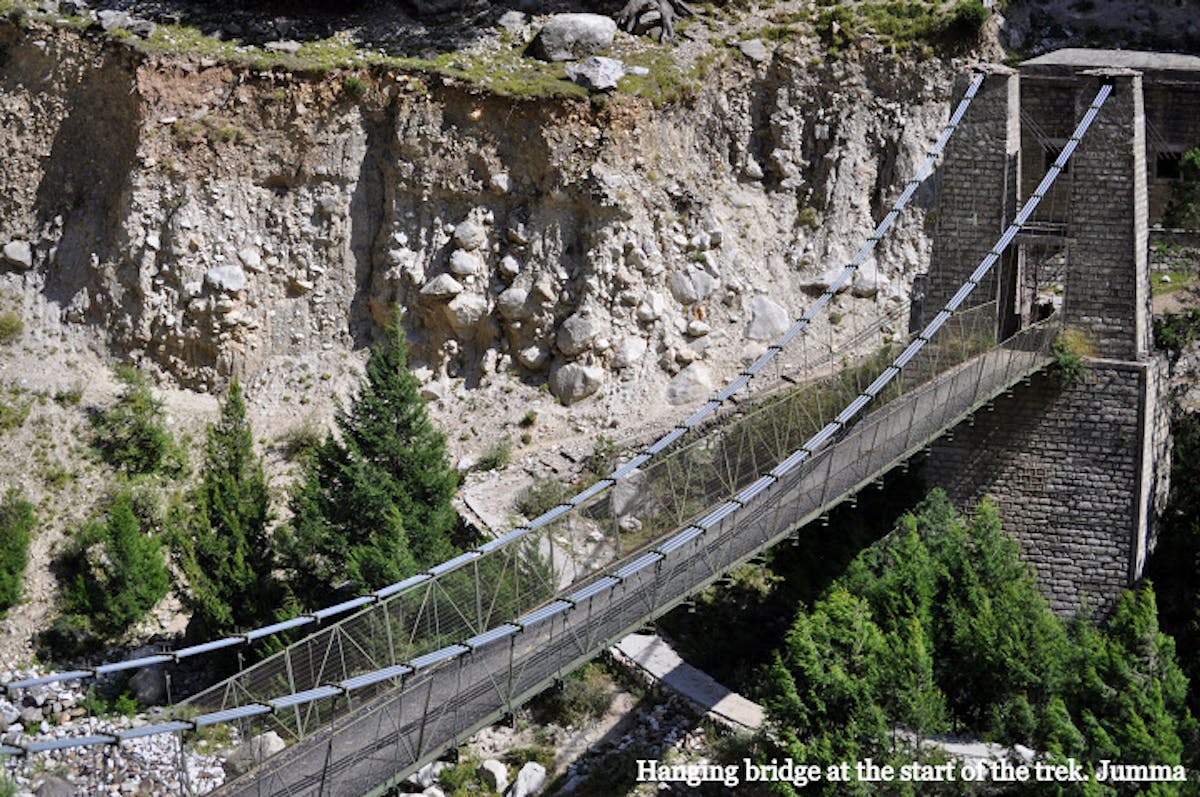 Jumma is near the tibetan border so during afternoon there will be a fierce wind, blowing you off your feet as soon as you alight from your vehicle. The trail starts with a steel suspension bridge over the Dhauliganga after which the ascent of Ruing begins. The road to Ruing is mildly steep through the forest. Its about 3 kms from Jumma to Ruing and won't take more than 2-3 hours. Staying at Ruing is a bit tricky, you can stay at the panchayat ghar. If the village elders permit the trek team to camp there for the night, nevertheless another option is to hike further 2-3 km from Ruing and reach a small grassland just before the ascent of Dronagiri. The place has two distinct advantages, one you get closer to Dronagiri and it would be easy for you to negotiate the herculean climb through the landslide and second this place has a nearby stream so a good natural place to camp.
Day 2:Ruing(2800m) to Dronagiri Village (3610m)
Starts with the same type of trail ( trail from Jumma to Ruing). Its a well laid path through the forest sometimes meandering up and sometimes down. There is no possibility of someone to get lost here. This a solitary trail with little or negligible sideways. At a distance of around 3.5mtrs from the Campsite, you reach the beginning of the landslide zone. You notice two distinct trails, one on the upperside and another downward. Do not take the upper one as it is a remnant of an earlier trail that used to be the main trail to the village. But it was destroyed some years ago by massive glaciers from the Nandikund area. This has led to the making of something of a mini Canyon which will require the help of a guide or porter to negotiate if you are not sure footed.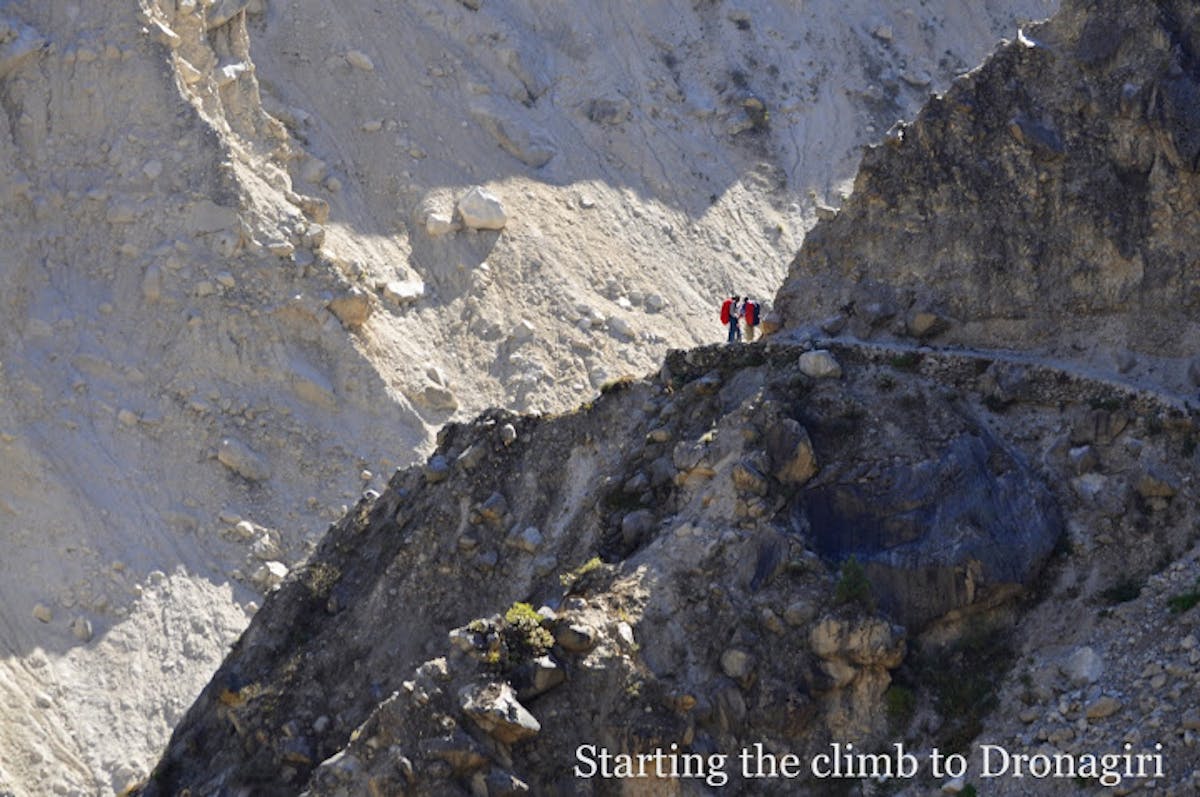 The trail is dusty, steeply inclined at an angle of 60° to 70 º to the horizontal and full of mud slides, small streams crisscrossing your path, while you take your tired body surely and slowly to the top. Once you reach there, a cemented pavement awaits in silent anticipation to take you to the Village. The scene is straight out from a Swiss alpine landscape. The horizon is dotted with the snow laden peaks of Hathi Parvat, Ghori Parvat. If its summer, flowers will be in full blossom. For once you forget this is not a trek but a walk in the Swiss alps. But reality dawns on you quickly as you will gradually see the dilapidated houses of Dronagiri, most of them will be uninhabited, and those not will seem to you are from a bygone age. There are no shops in the village, the nearest bazaar is at Suraithota almost 20 kms away, though there is a shop in Ruing but it is very very basic.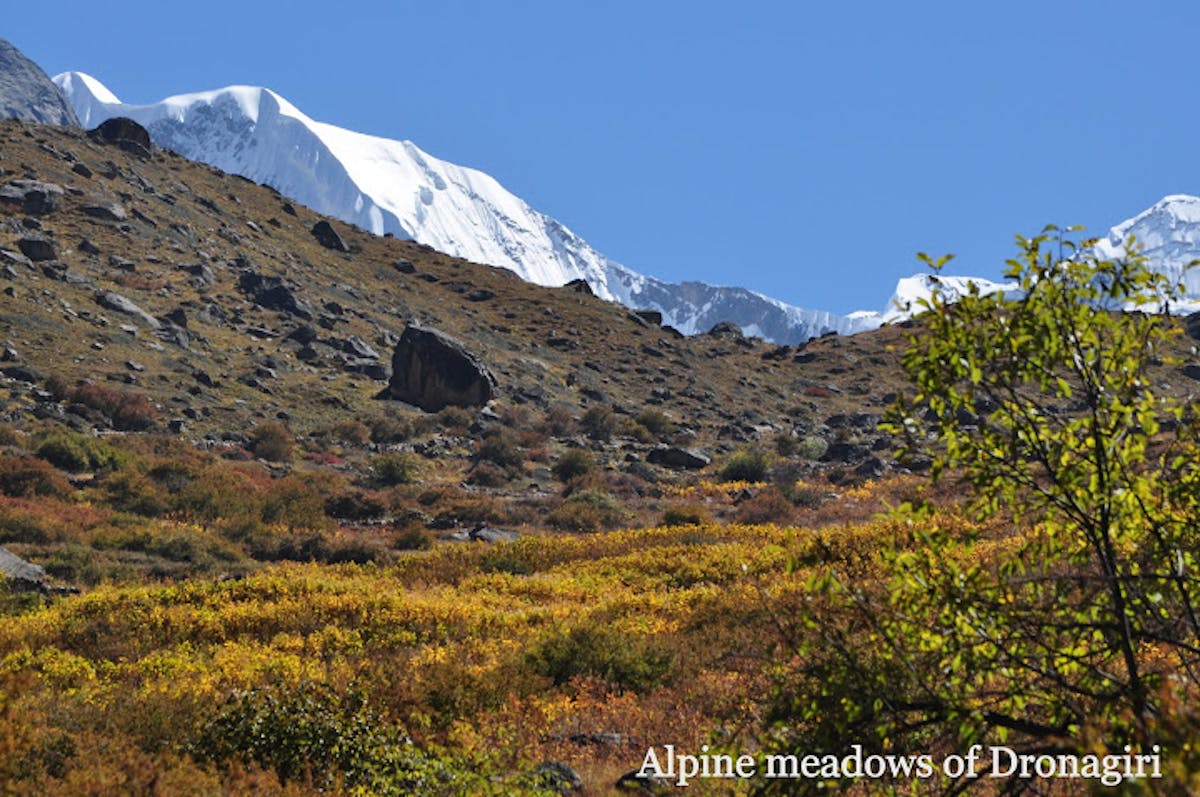 Camping options in Dronagiri are limited to two. One in the village outskirts and another in the GMVN which is nearing completion. Expenses in staying there, will range from Cheap to outright pricey depending on how you and your guide can negotiate with the Chowkidar. If you are not from be ready to pay a hefty sum. This autumn it costed 1500 for one room for two trekkers from England.   Two surprise infiltrations of Technology are the presence of satellite phone in the village which costs around rupees 2/ per minute for a local call inside Uttarakhand. Nevertheless be prepared to be met with dejection. Satellite phones in these areas are prone to malfunction or not function at all and subjected to the whims of the village phone operator, another is solar lights ,the village is dotted with solar tubelights and solar street lights.   There is a temple of the Bhumial God situated on the higher reaches of the village which is revered and worshipped by the local folks. From the village, the first views of the Dunagiri mountain is visible.
Day 3: Dronagiri Village (3610m) to Bagini B.C (4484 m) via Longatulli (3800m)
After leaving Dronagiri we reach a meandering path which leads us to a high ridge from where the first views of the Rishi peak is visible. Bagini nala too is first visible from here. Around 30 mintues after we left the village we reached a concrete bridge over the Bagini Nala. Do not take the left trail as it leads up to the Kanari khal and then gradually towards Garpak village. After crossing that bridge the path again takes a meandering turn upwards. The area here is almost completely devoid of any vegetation. Its boulders and more of boulders which fill the landscape. There is a patch of green beside a stream which we reach after an hour and 15 minutes from the bridge, This is a good camping ground. Further an hour more we reach the camping ground of Longatulli which is again a very good campsite, People who are still not acclamatized can stop here for the day. The route from Longatulli is ascending. Its not steep but it continuosly ascends with boulders on the way. After around 2 to 3 hours of hiking you reach a plain plateau which is the Bagini Lower Base Camp(12360 foot). Many of the peaks which are visibe from here are Rishi pahar, Satminal, Hardeul etc.    Bagini Upper base camp is again around 4kms from here. From Bagini Upper base camp at a distance of around 30 – 45 mintues, there is a better camping place called Bagini Advanced Base camp(15530 ft).The trail is pretty much the same throughout ,ascends mildly at most places, steep at very few places. Try to cross the bagini nala/garud gad/garud stream early in the morning, because as day the progresses so does the volume of water. Crossing the nala in the afternoon is not advisable. The route is not well marked especially for the novice trekker but a careful look will provide you with the sight of cairns, small pebbles positioned one on top of the other so that you can locate your trail. You can camp at either of the places for the night.
Day 4: Bagini base camp(4484) to Changabang base & back to Bagini B.C
You need to begin early if we need to catch sunrise from Changabang base camp, which is around 3-4 kms from Bagini Advanced Base Camp. Leave your rucksack in the base camp and carry only the necessary accesories. From Bagini Advanced Base camp the route to Changabang base camp again ascends. The road is full of moraine, and you will spot a number of crevasse on the bagini glacier.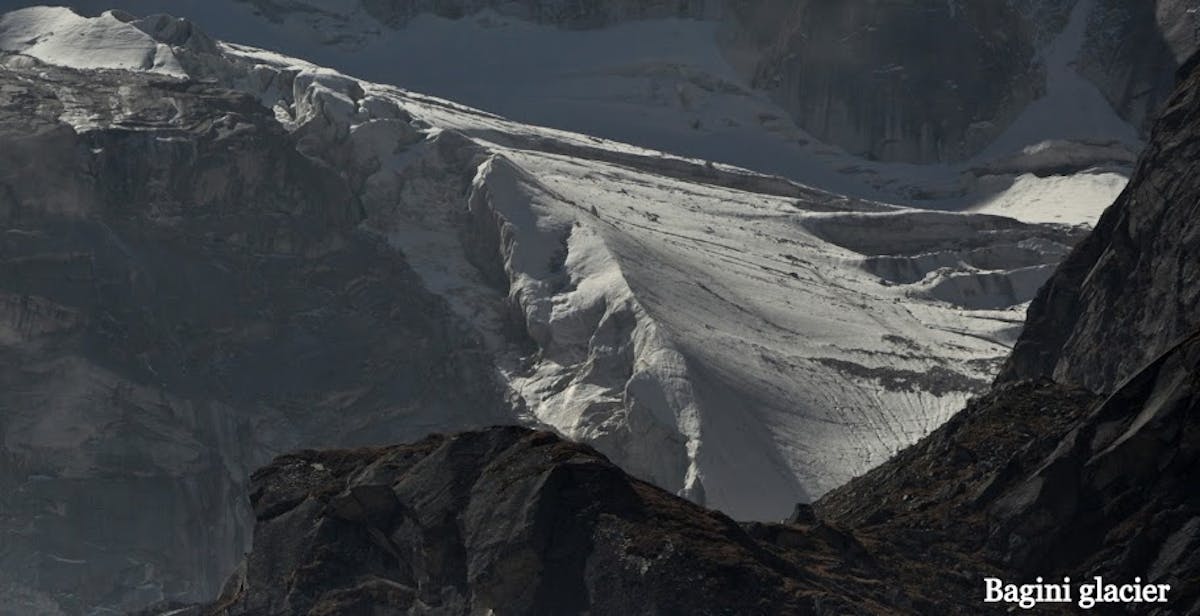 Changabang base camp is a huge amphitheatre. The peaks which are visible from here are Hathi(6507m), Ghori,Satminal(6911m), Dunagiri east(7066m),Garur peak, Trishuli(7057m), hardeul(7323m), Rishi(6099m), Kalanka(6931m), Changabang(7174m). We return the same way to Dronagiri Village where we camp for the night.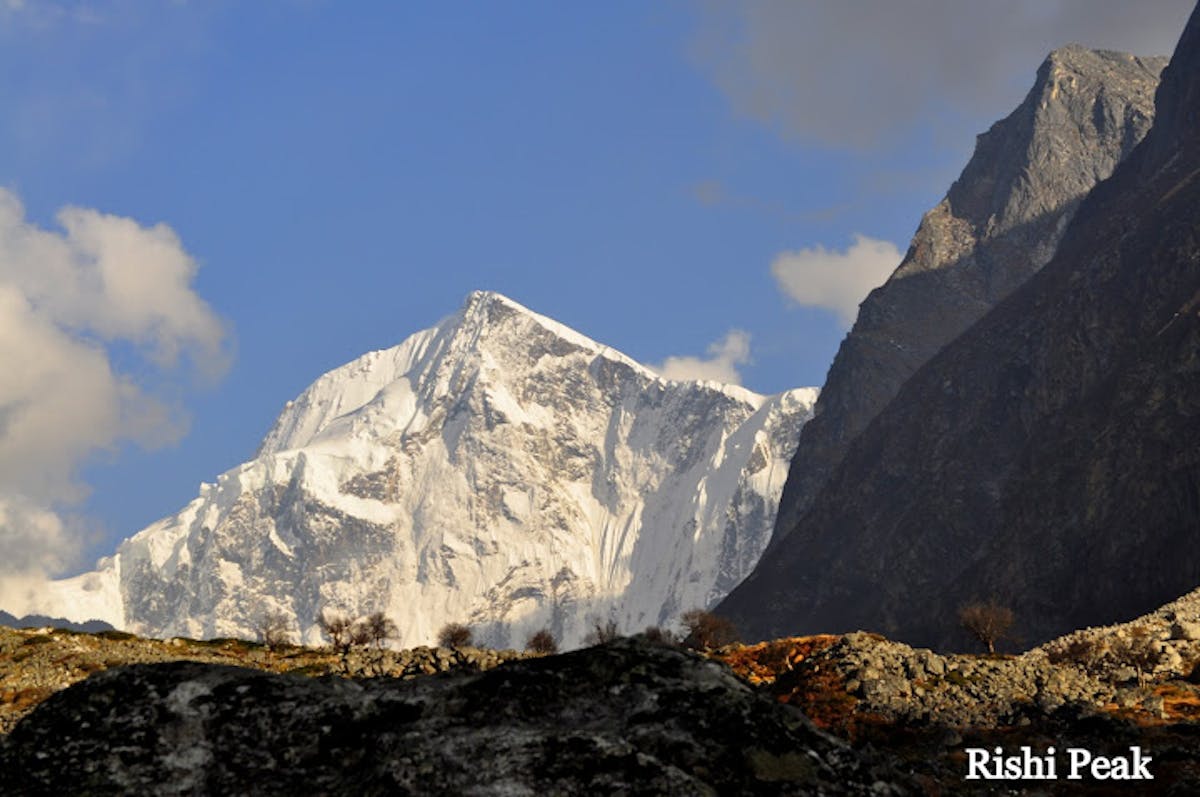 Day 5: Bagini B.C to Ruing
We return to Ruing by the same path. Take a jeep from Jumma to Joshimath and proceed for Haridwar.
Day 6: Ruing to Jumma by trek, jeep drive from Jumma to Joshimath
➤ How to Get Fit for Bagini Glacier Trek
Cardiovascular endurance
This trek requires a good amount of endurance. You can begin by jogging everyday. Start jogging at a slow pace and then keep increasing your pace day by day. Make sure you are able to jog 4 km in 20 minutes before the start of the trek. It takes time to be able to cover this distance in the given time. Swimming, cycling and stair climbing without too many breaks in between can help too. 
Strength
This is another area you should work on. There is a lot of trekking distance that you will cover carrying your backpacks and trekking along with your backpack is not a very easy task. You have to walk on uneven terrain during the trek. It could be taxing for your legs. For this, strengthening your legs will help. You can do some squats to strengthen them. Do around 3 sets of squats, with 8 squats in each set. 
Flexibility
Another aspect that will help you trek comfortably is flexibility. For this, you can do some stretching exercises – stretch your hamstrings, quadriceps, hip flexors, lower back muscles and shoulders regularly. On your trek, it is important that you arrive on the slopes with your muscles relaxed. Carrying a backpack, however light, can become a strain after a while. These exercises will help you to be in good shape before the trek.
Working out indoors
If you can't go out and jog because of time and space constraints, here's a videoyou can use to work out indoors.
➤ What to Take on Your Trek
Bare necessities
Trekking shoes: The trek distance is long and you will have to walk for long distances which need you to have comfortable trekking shoes. You can watch this video to learn to choose the right trekking shoes. 
Backpack (40-60 litres): A backpack with sturdy straps and a supporting frame. Rain cover for backpack is essential.
The Miyar Valley Dun trek happens round the year except for monsoons so make sure your have the proper clothing as per the season demands so you can keep yourself protected during the trek.
Clothes
Three (Five in Winter) Warm Layers: You will be trekking and camping at high altitudes. So make sure you have the apt clothes for the climatic conditions. It will be cold at the higher altitudes so make sure you have at least three layers of warm clothes to protect yourself.
Two trek pants: One pair of pants should suffice for this trek. But you can carry one spare pair in case the first one gets wet. Wear one pair and carry one pair. 
Two collared t-shirts: Carry light, full sleeved t-shirts that prevent sun burns on the neck and arms. Again, wear one and carry one.
Thermals (Optional): Those who are more susceptible to cold can carry thermals to wear at night.
Accessories
Sunglasses: Sunglasses are to prevent snow blindness. There might be snow in Har Ki Dun Valley or from Kalkatiyadhaar (depending on the season you are going in), so carry a pair of sunglasses. 
Suncap: The sun is more harsh at high altitudes so wear a suncap to protect your face and neck.
Synthetic hand gloves: One pair of fleece or woolen hand gloves. One pair of water proof/resistant, wind proof gloves.
Balaclava: You may use woollen scarves instead as well.
Socks (2 pairs): Apart from two sports socks, you can take a pair of woollen socks for the night.
Headlamp/LED torch: Mandatory
Trekking pole: Watch this video to understand why you need a trekking pole.
Others
Daypack (20 litres): If you are offloading your backpack, you will need a smaller backpack to carry water, medical kit and some light snacks. 
Toiletries (Sunscreen, moisturiser, light towel, lip balm, toilet paper, toothbrush, toothpaste)
Cutlery: Carry a spoon, coffee mug and a lunch box. We insist on trekkers getting their own cutlery for hygiene reasons. 
Two water bottles: 1 litre each
Plastic covers: While packing, use plastic bags to compartmentalisethings and carry few extra plastic bags for wet clothes.
Mandatory Personal Medical Kit 
Diamox – 10 tablets (to prevent AMS)
Crocin – 6 tablets (fever)
Avomine – 4 tablets (motion sickness)
Avil 25mg – 4 tablets (allergies)
Combiflam – 4 tablets (Pain killer)
Disprin – 6 tablets (headache)
Norflox TZ & Lomofen– 6 tablets each (diarrhea)
Digene – 10 tablets (acidity)
Omez/ Rantadine – 10 tablets (antacids)
Crepe bandage – 3 to 5 meters
Gauze – 1 small roll
Band aid – 10 strips
Cotton – 1 small roll
ORS – 10 packets
Betadine or any antiseptic cream
Moov spray (aches, & sprains)
➤ Trek Contributions
Author: Abhinaba Naskar