Can You Help Us With Photographs Of This Trek?
We are looking to enrich this documentation with more photos. Pictures go a long way in explaining the trail, more than words ever can. If you have done this trek, can you share your photos with us? We will include them on this page, with due credit to you.Click here to contribute.
Bhadraj Hill Trek
Bhadraj Hill Trek is a modest, well-balanced trek for beginners. One of the best weekend treks in Mussoorie, it can be completed in one or two days. The trail to Dudhli Village is called Milkman's Trail, as it helps supply milk to Mussoorie town every day. You're likely to be envious of the "milkman" considering he gets to start his day on such a lovely note. All along the ridge, Gangetic plains slope down on either side, while Himalayan ranges sit snug in the distance.
➤ Short Itinerary
Escape Delhi's summertime heat with this two-day hill station trek
Nothing can match that wonderful feeling of trekking in a hill-station. More so, at the foothills of the Himalayas.
Trekking on the outskirts of Mussoorie through luscious oak forests, with mild sunshine and pleasant breeze is every bit as romantic as it sounds.
Throughout the trail, mountain ranges lie calmly around you – prominent in the forefront and fading into a blue-grey haze towards the horizon.
➤ Trail Information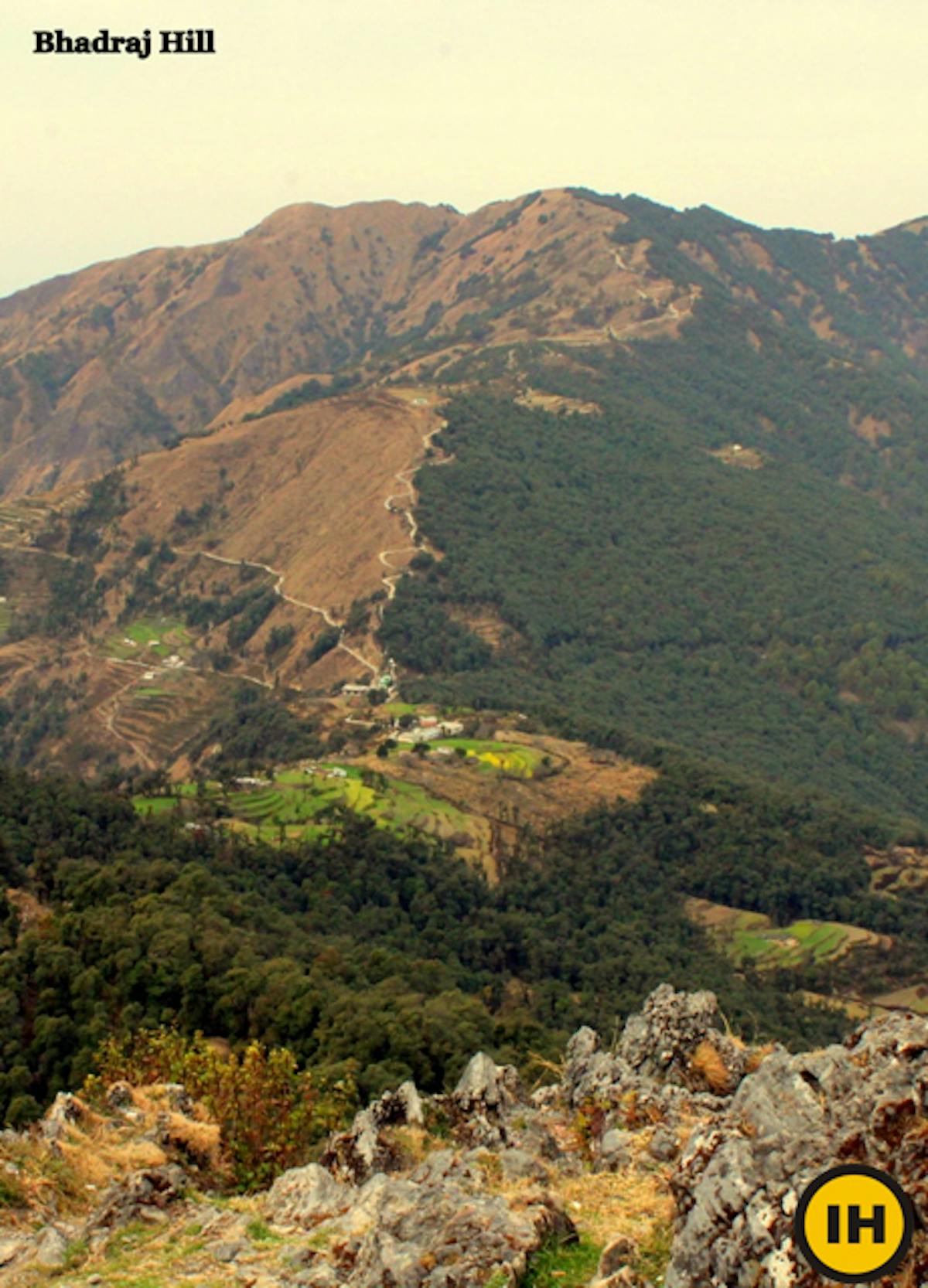 If you do this trek in one day, then you'll have to start early in the morning. But the trek is better experienced over two days with overnight camping.
Bhadraj Hill Trek Guide
The start of the Bhadraj Hill trek is at Library End. The streets around Library End have lovely old Victorian buildings. The trek from Library End to Cloud End Hotel is five and a half kilometres and from there to Bhadraj Temple is another seven and a half kilometres.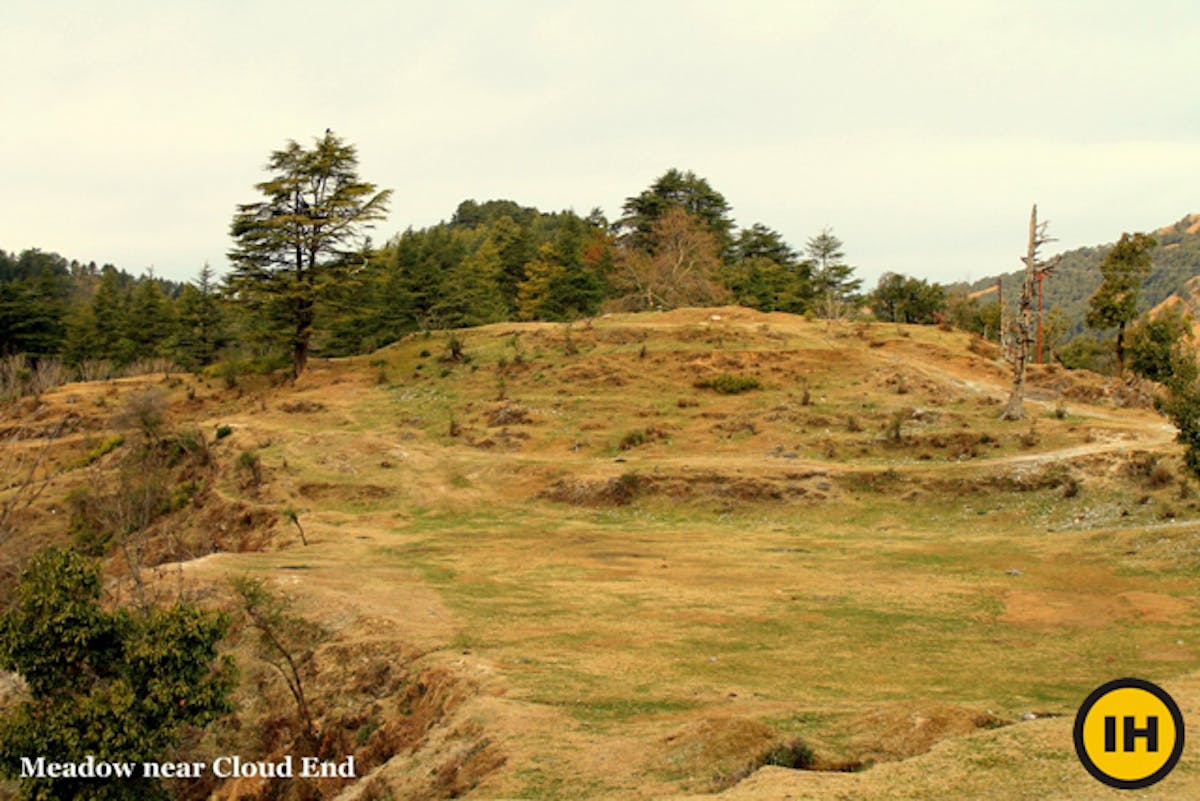 From Library End, take the road that goes on the left and upwards. This road is diagonally opposite to The Mall road. To ensure you're on the right track, ask a local person for the road to Hathipaon. The initial trail is in good condition. After half a kilometre, the trail swerves right and ascends to a school. You can see the trail all the way to Cloud End stretching ahead of you.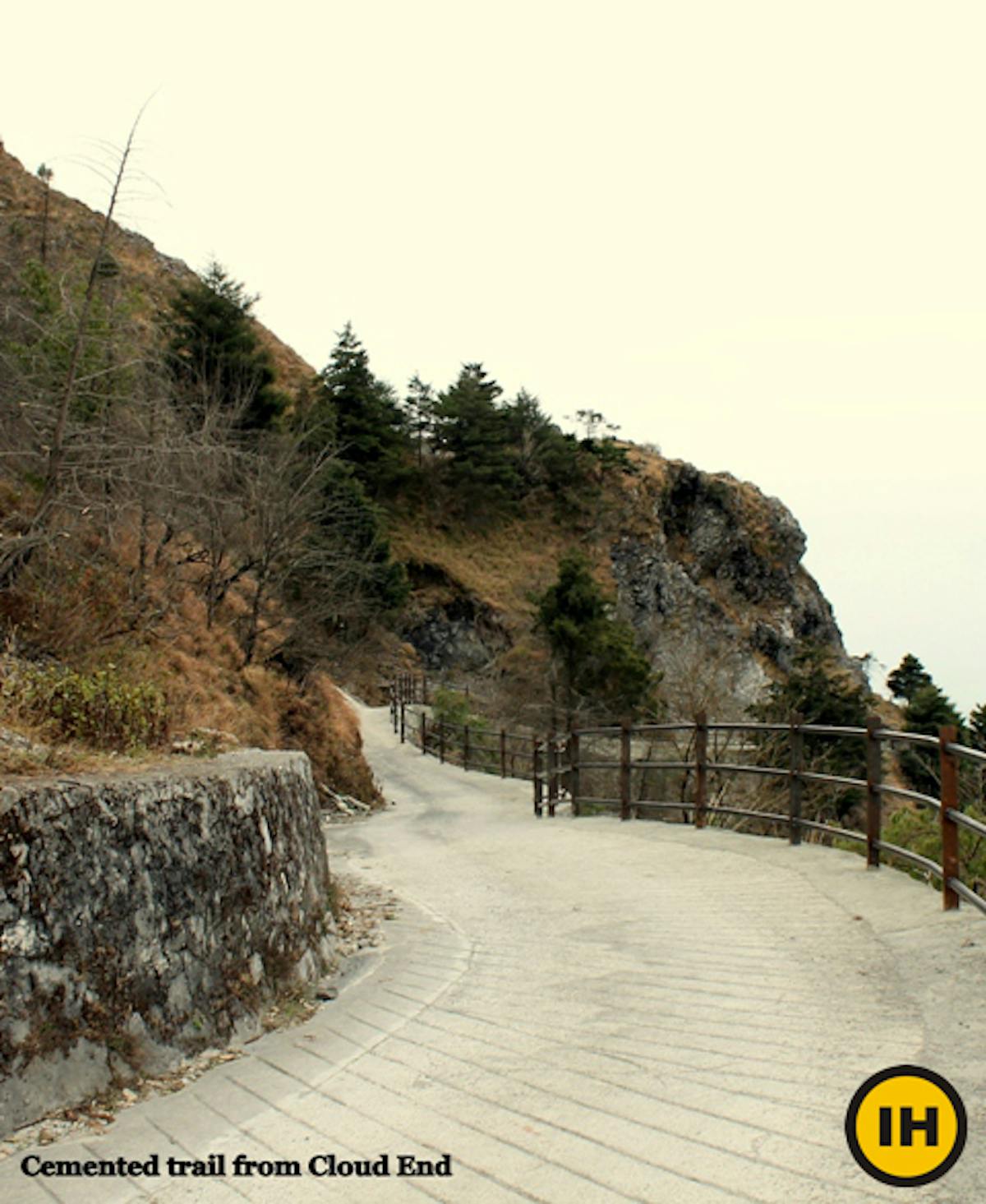 Most of the road is level and well-made. After two kilometres, you will reach a junction, from where the trail goes to a marvelous George Everest House property. There are a couple of shops and a restaurant at this junction. However, if you have started early from Mussoorie, then it's likely for the restaurant to be shut.
Find out more treks near Mussoorie.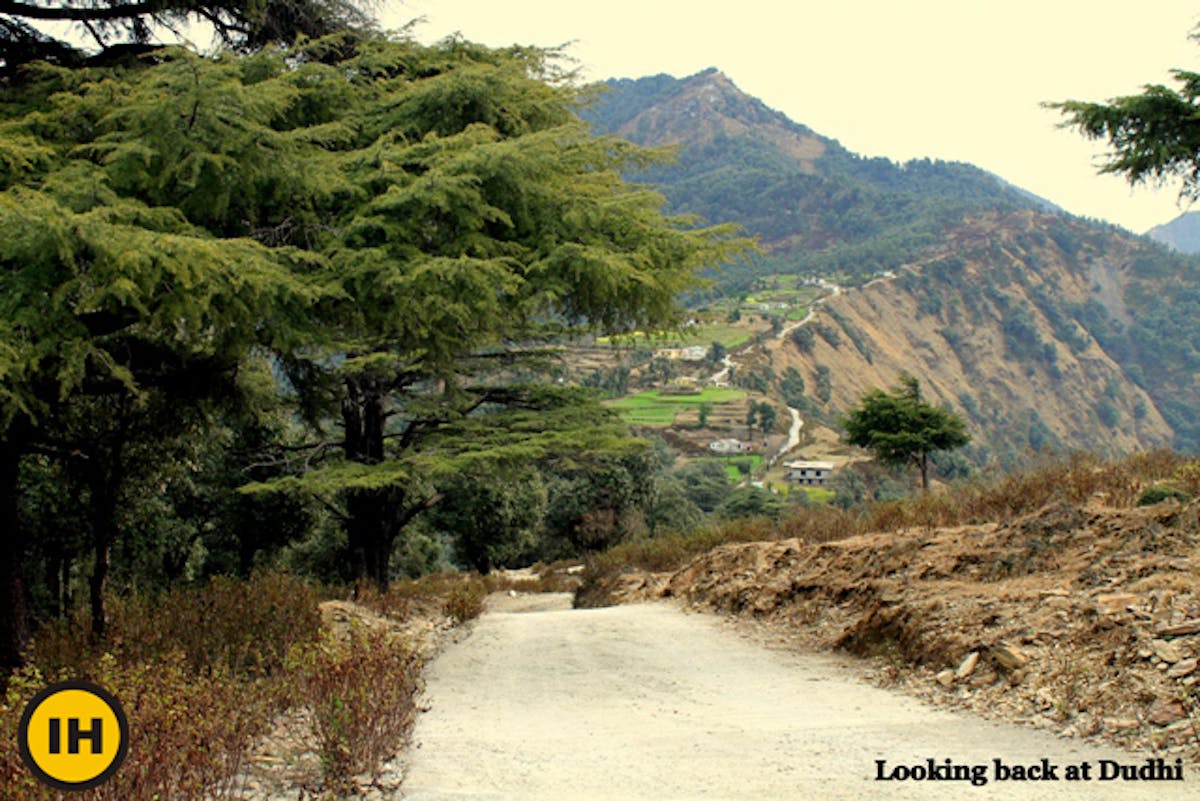 Around half an hour later, you will reach a vast meadow. This is Cloud End. From here, take the cemented trail ascending into a dense forest. After 10 minutes the trail bifurcates.  Take the trail that ascends gradually all the way to Cloud End Hotel. Cloud End is a very popular picnic spot. It also serves as a camping spot.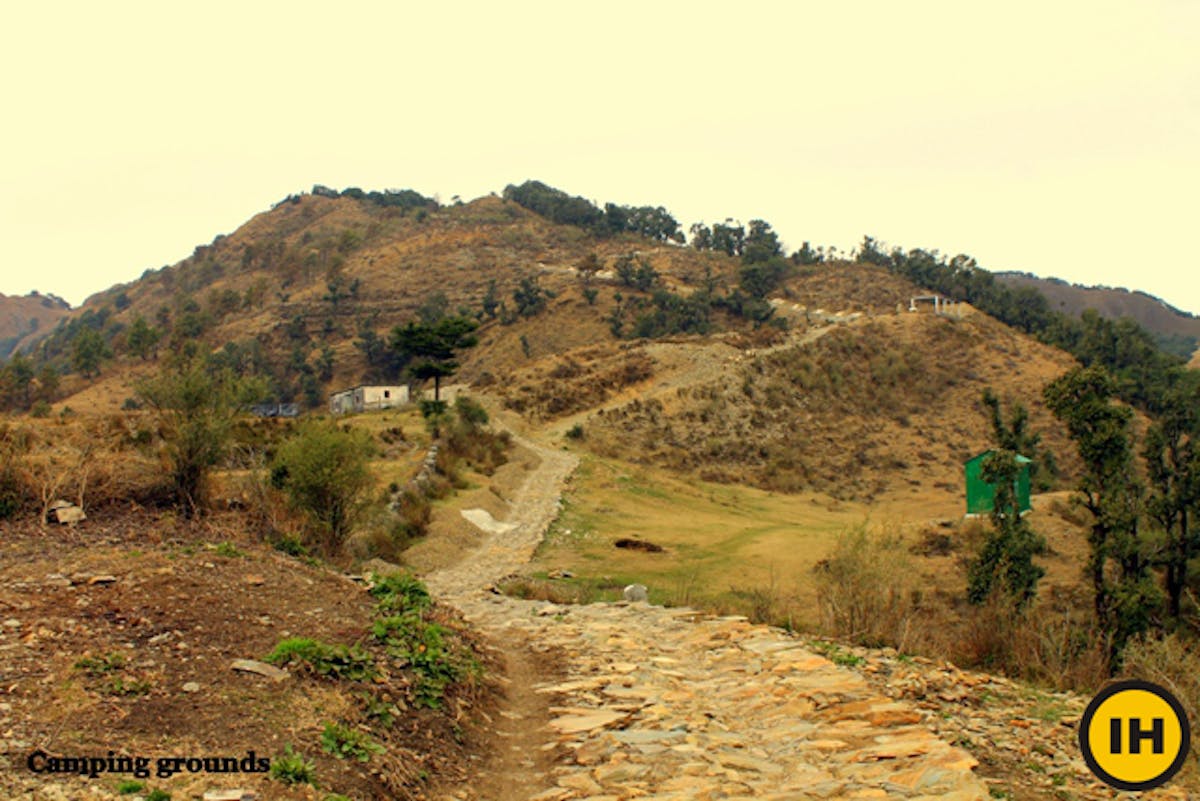 From Cloud End Hotel to Dudhli, the distance is three kilometres. This section is a refreshing downhill walk. From here, in half an hour, you'll reach a junction again where the trail splits. Take the trail towards your right. It winds through a dense oak forest. You'll see multiple trails in the forest leading to Dudhli.
As you reach the village, look for a newly built building with an ascending trail on its right. Look for 'dukaan' (shop) written in Hindi script. Keep in mind that packaged drinking water is not available here. However, you can get eatables like biscuits, maggi, etc. From Dudhli, observe the trail meandering to the second ridge of Bhadraj forest.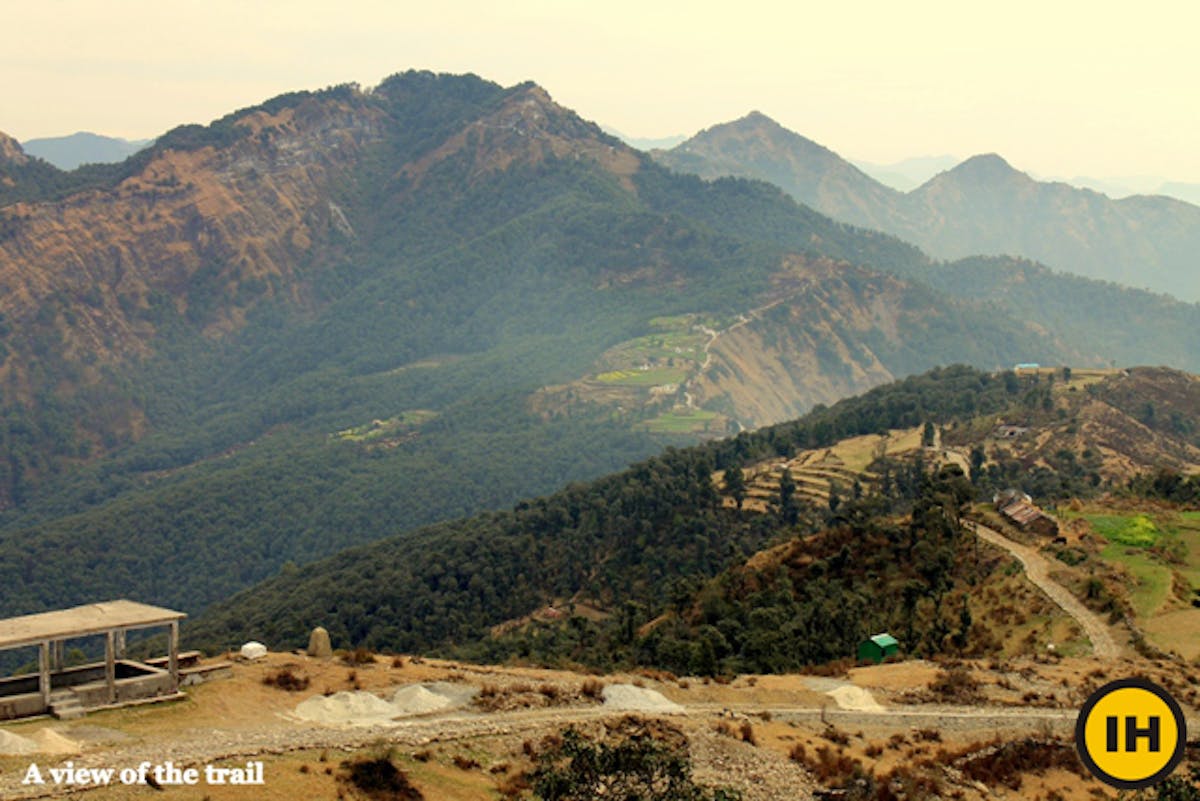 After trekking for few hundred meters, the trail forks again. Take the ascending trail. One can see a signage with details of the distance to Bhadraj Temple. The trek becomes a tad bit difficult from here. Stride by a rocky trail for about one and a half kilometres. The trail emerges into vast grasslands with great views of Bandarpoonch and Swargarohini ranges.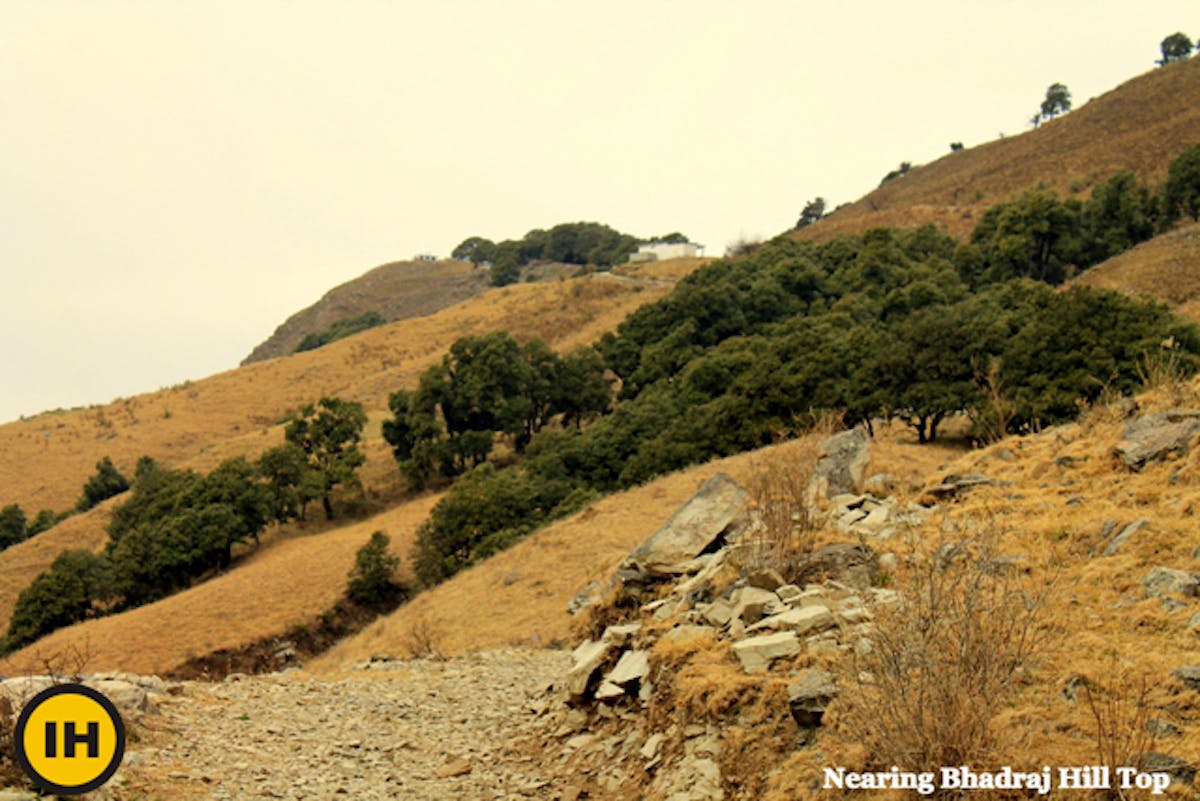 After this stretch, you enter the upper Bhadraj Forest. The trek to the temple is about two kilometres from here and should take you just over an hour. The initial one kilometer is a smooth flat walk. There are a few camping spots alongside the trail. As you exit the forest cover, a rain shelter appears.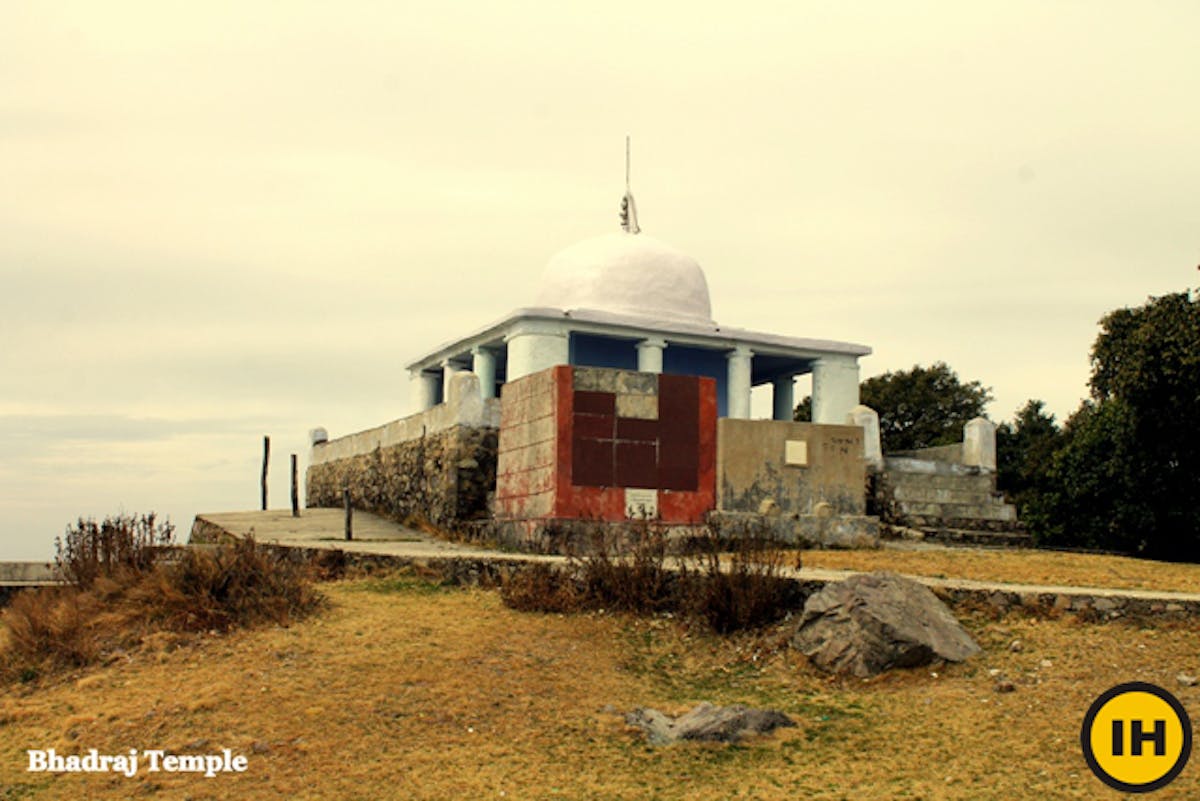 From here, the last kilometre follows a winding trail all the way to temple complex. There are multiple shelters in the temple premises with large open areas with seats made of rocks. The temple priest visits only occasionally. It's possible for the temple to be vacant.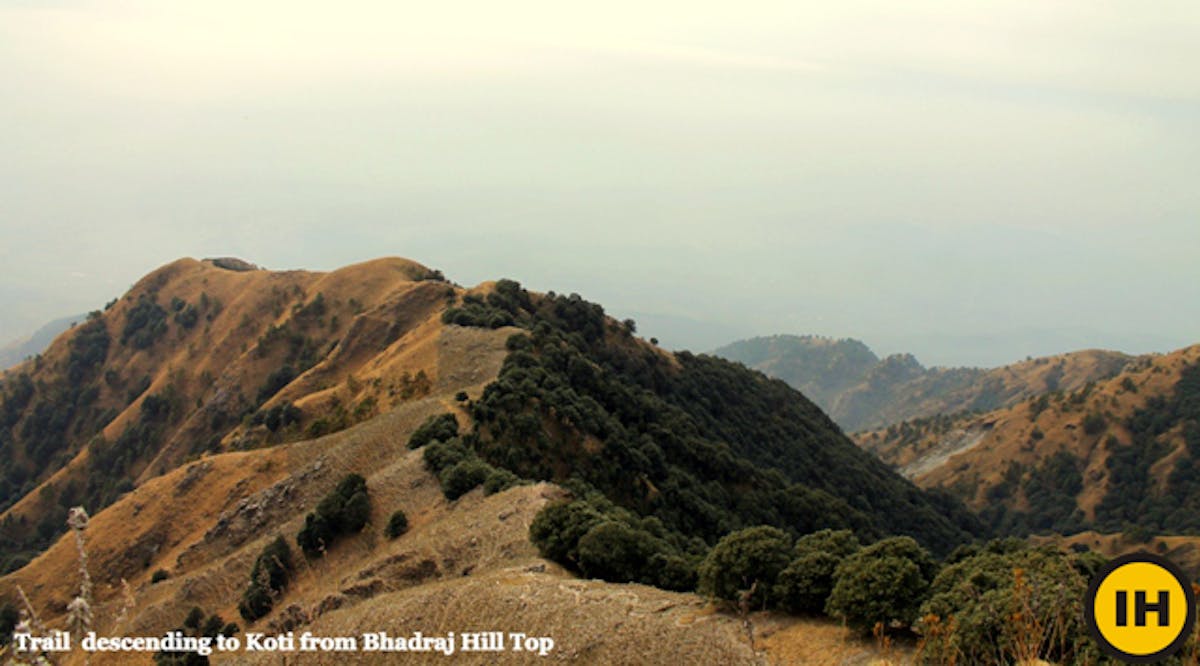 Look towards the stairs at the backside of the temple. There is a trail that descends sharply to Koti. This is an alternative route to trek to Bhadraj Hill. This route is shorter. Take this route only if you have your own vehicle for a drop from Koti to Mussoorie.
➤ How to Get Fit for Bhadraj Hill Trek
Cardiovascular endurance
The secret to ascending any trail lies in building your cardiovascular endurance. You can begin by jogging everyday. Ideally, you should be able to jog 4 km in 20 minutes before the start of the trek. It takes time to be able to cover this distance in the given time. Start slow and increase your pace everyday. Swimming, cycling and stair climbing without too many breaks in between can help too. Strength This is another area you should work on. You will need to build strength in your muscles and in your core body. You can do some squats to strengthen your leg muscles. Do around 3 sets of squats, with 8 squats in each set. Apart from this, you can add planks and crunches to your work out.
Flexibility
Another aspect that will help you trek comfortably is flexibility. For this, you can do some stretching exercises – stretch your hamstrings, quadriceps, hip flexors, lower back muscles and shoulders regularly. Carrying a backpack, however light, can become a strain after a while. These exercises will help you to be in good shape before the trek. Working out indoors
➤ What to Take on Your Trek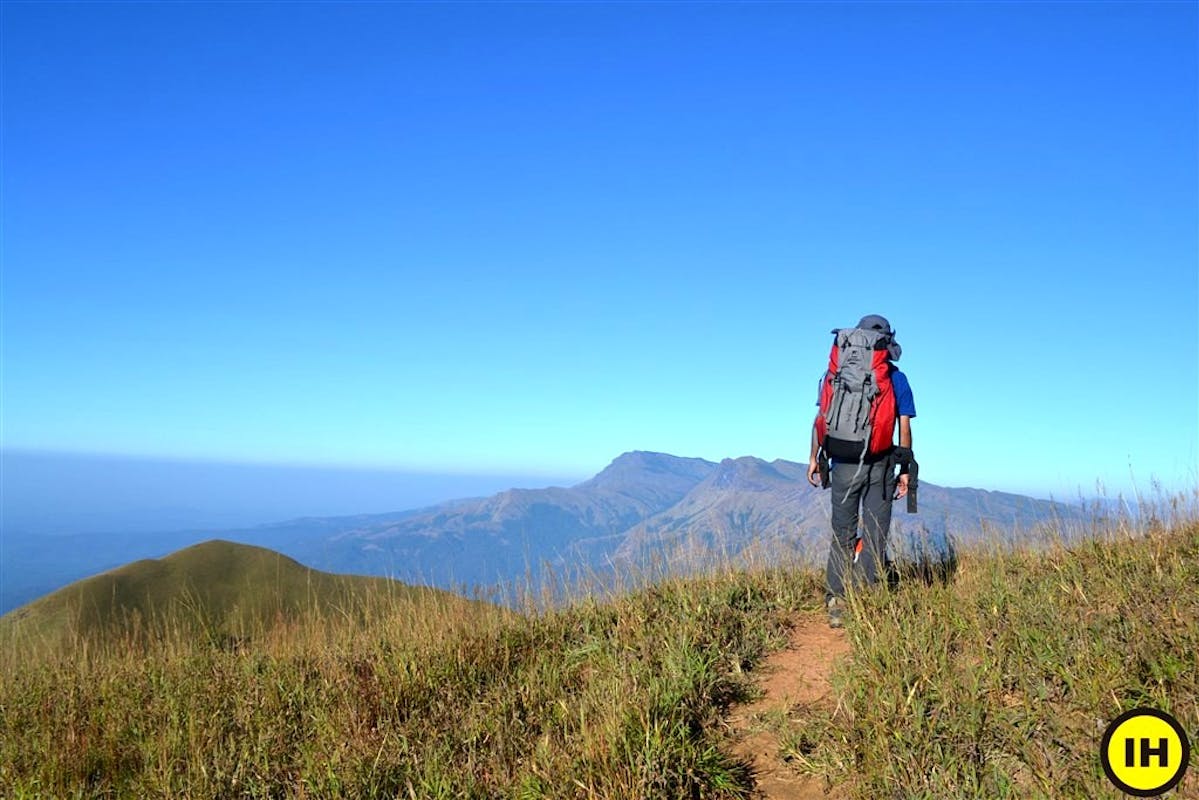 No, stuffing it all in isn't the right way to do it Packing a backpack correctly saves precious time that you might waste trying to find your things later. It is wise to spend some time on learning what really goes into packing a backpack.
What should I pack? On a trek, you only get what you take. Something as simple as a forgotten matchbox can cripple your cooking plans throughout the trek. So, it's essential to prepare early and prepare well. To begin with, make a checklist. While shopping, remember this thumb rule – keep it light. "Every item needs to be light. This ensures that your backpack, on the whole, stays light," says Sandhya UC, co-founder of Indiahikes. Balancing out heavy items with light ones isn't going to have the same effect as having all light items. "Always opt for good quality, light items," says Sandhya.
How much should my bag weigh?
"Your backpack for a weekend trek should weigh between 8 and 10 kg," explains Arjun Majumdar, co-founder of Indiahikes, "To break it down, your tent should weigh around 2.5 kg, your sleeping bag, around 1.5 kg, and the ration, stove and clothes should constitute the other 5 kg." The best way to plan is by concentrating on the basic necessities – food, shelter and clothes. Gather only those things that you'll need to survive. Do not pack for 'if' situations. "That's one of the common mistakes that people make – packing for 'if situations'. It only adds to the baggage that you can do without on a trek," says Sandhya.
Trekking hack
One good way to go about it is to prepare a list of absolute essentials. Start with the most essential and end with the least essential. That way, when you feel you are overshooting the limit, you can start eliminating from the bottom. Another tip is to be smart while packing clothes. Invest in light. wash and wear fabrics. "Replace a sweater with two t-shirts," adds Sandhya. Layering is the mantra when it comes to trekking. Refer to Sandhya's clothes list to pack smart.
How to pack The thumb rule for this one is to eliminate air spaces. Make sure that everything is packed tightly, especially clothes and jackets, as they tend to take up maximum air space. Put in all the large items first. Then squeeze in the smaller ones in the gaps. This ensures minimum air space. A good way to pack clothes is by using the Ranger Roll method.
Where to pack Bottom Sleeping bag: Make this your base layer. Sleeping bags tend to be voluminous, but do not weigh much. They're perfect for the bottom of the bag. Tent: Just like the sleeping bag, even tents are voluminous and light. Keep the tent poles separately and place the fabric at the bottom of the backpack. Middle Heavy jacket: Roll up the jacket in a tight ball and place it in the middle of the backpack, close to your back. The middle region of the backpack should always have the heaviest items. You can store other things like ration or mini stoves in the middle. Other clothes: Roll other clothes and place them in the remaining space, to fill air gaps.
Backpack essentials
Top Water: Water, although heavy, needs to be easily accessible. So put it in the top most region of your backpack. Medicine box: This is another component that you wouldn't want to be scavenging for when in need. Poncho: It could rain at any time in the mountains. So, ponchos should be accessible easily. Also, having a waterproof poncho at the top of the backpack provides additional waterproofing to items in the bag.
➤ Alternative Indiahikes treks you could go on.
Benog makes for a great trek. However, if you're a first timer and do not want to get into hassle of organizing a trek by yourself. Or if you're going with friends and a family and want the trek arrangements to be taken care of then we have have couple of treks for you
First of them is Nag Tibba.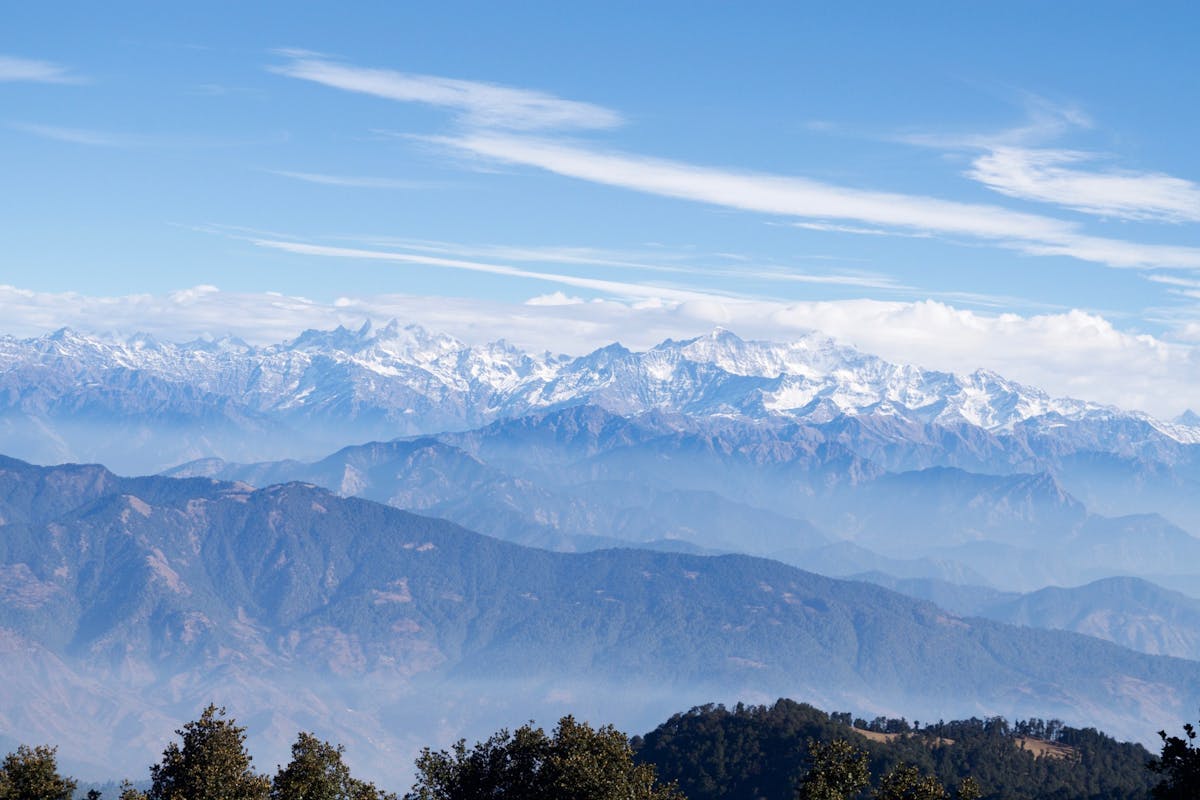 View of Snow Clad Mountains
It is a must-do weekend trek if you're from Delhi, Gurgaon, Noida or Chandigarh. With lovely oak forests, meadows and stunning views of snow-capped mountains from the top, this trek gives you everything that a long Himalayan trek would. Have a look at some pictures from the trek here
Another great alternative trek you can do which is as easily accessible is the Deoban trek. In just two days, Deoban weekend trek offers you a view that is exclusive. On a clear day, you can spot close to 55 mountains from the highest point of this trek — including Nanda Devi, the tallest mountain entirely in India. This is a rare feast for the eyes. It is difficult to find these views on a seven day trek, much less a two day one!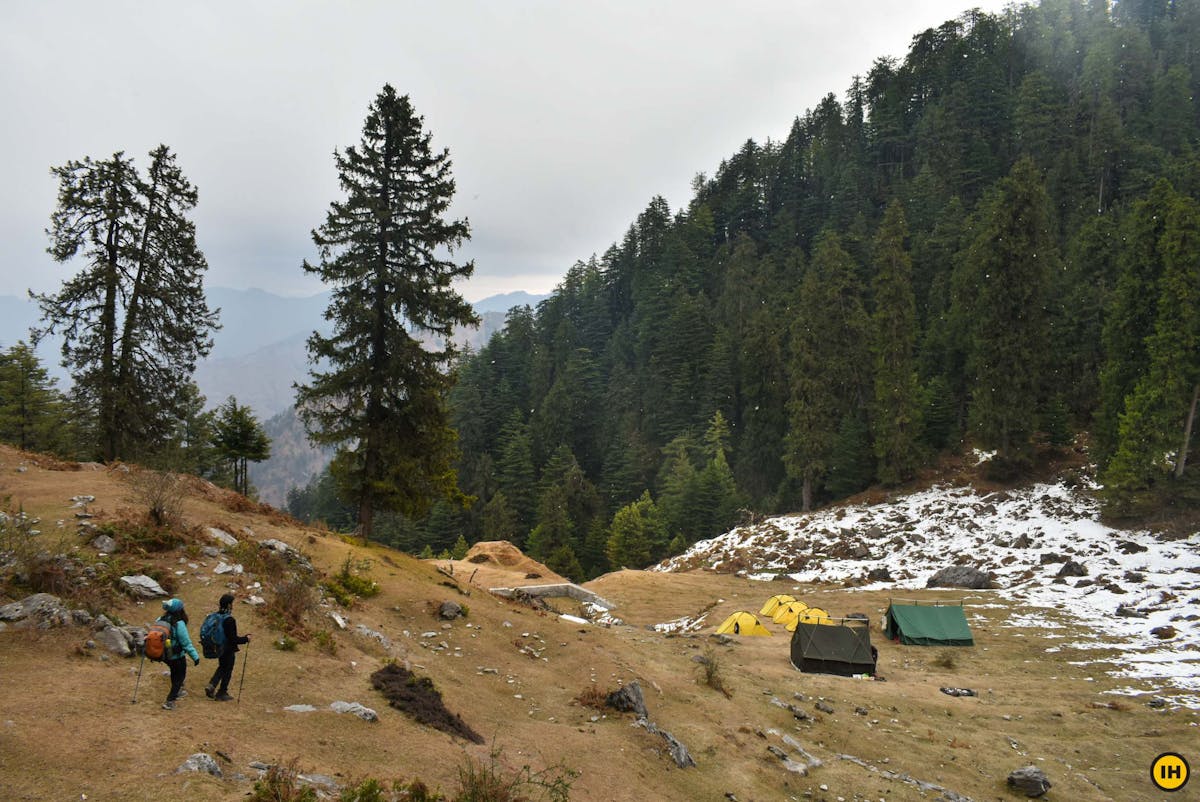 Trekkers approaching their camp for the night, a lovely clearing amongst coniferous forests. Picture by Krunal Patel
➤ Trek Contribution
Author: Vaibhav Chauhan
About Author
Vaibhav is associated with Indiahikes as a Writer & Chief Explorer. He is an avid traveler with a passion for trekking in Indian Himalayas. With his roots in Shimla district of Himachal Pradesh, the love for the mountains is in his blood. When not travelling he likes to spend time interacting with like-minded trek enthusiasts and read books on travel and mountaineering.
Trek inputs by Mayank Kohli and Sahil Dhingra.