Can You Help Us With Photographs Of This Trek?
We are looking to enrich this documentation with more photos. Pictures go a long way in explaining the trail, more than words ever can. If you have done this trek, can you share your photos with us? We will include them on this page, with due credit to you.Click here to contribute.
The Complete Guide to Bhimashankar Trek
The Bhimashankar trek is a nature lover's delight. It takes you into the heart of the Bhimashankar Wildlife Sanctuary through thick forests. The Bhimashankar trek gives you a full dose of adventure with stream crossings, ladders, and rock climbing all bundled into one trek
While monsoon is the best time to do this trek, it can also be done in other seasons. The route is scenic and thrilling. Those accustomed to trekking can hike the Bhimashankar via the Shidi Ghat route. While for beginners, we recommend the Ganesh Ghat route, which offers splendid views and is easier.
While in the jungle, you'll have a variety of birds, langurs, and spotted deer for company. If
you're lucky, you might even get to spot a 'Shekar' or the Malabar Giant Squirrel.
The best part of the trek is the trail to Gupt Bhimashankar, located in the middle of a stream, underneath a rock.
➤ Trail Information
Altitude: 3,050 ft
Time took: 3.5 hours via Shidi ghat (ladder); 4 hours via Ganesh ghat. 2 hours to descend.
Trek gradient: Moderate- Difficult
Water sources: None. Cary 2-3 litres of water. In monsoon, you can refill your water bottles from seasonal streams.
Khandas is the base village for the Bhimashankar trek. About 500 m after crossing Khandas village, you will come across a small bridge at a T-junction. The road to the left leads to Shidi Ghat while the one to the right leads to the Ganesh Ghat walkway.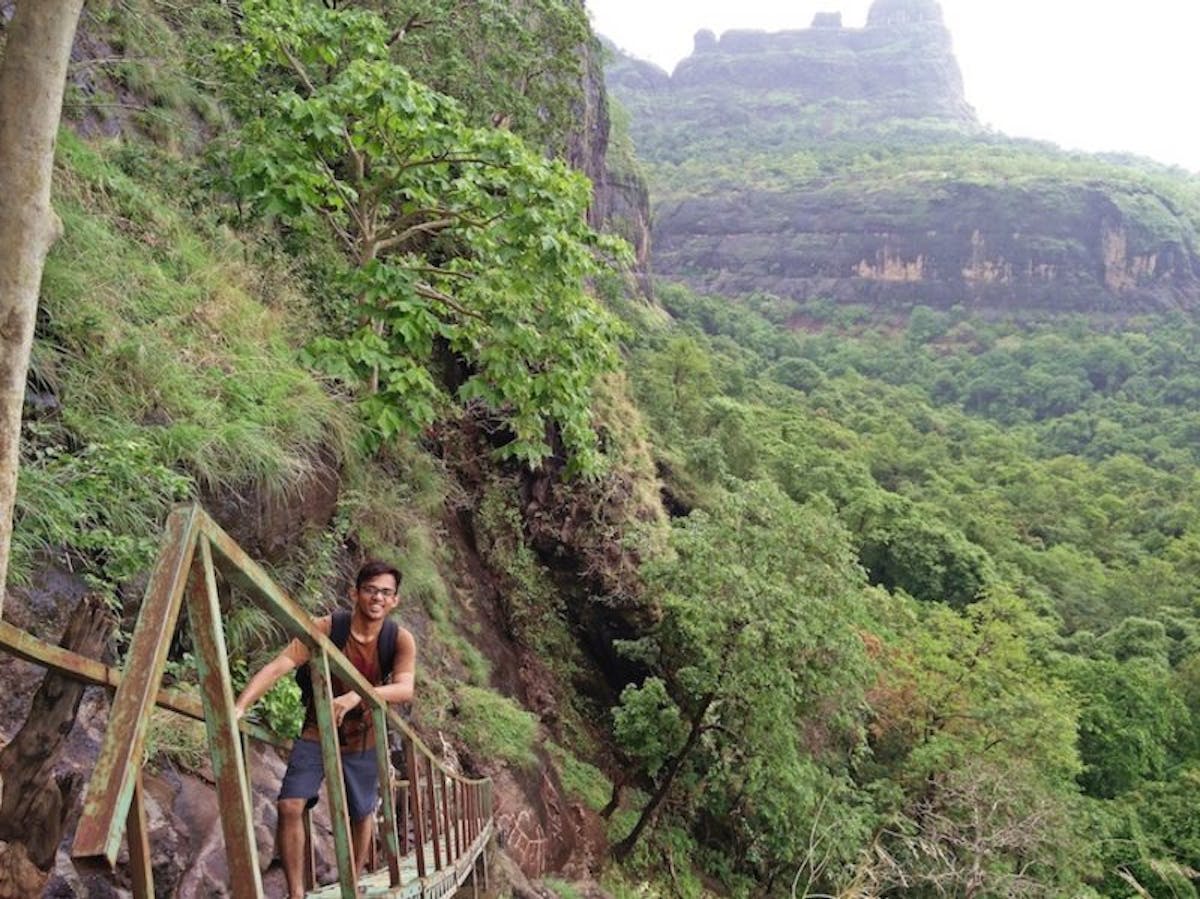 First ladder on the Shidi Ghat route. PC: Apoorva Karlekar
Ascent via Shidi Ghat:
The initial 20 minutes after the T-junction is an easy walk. You reach a stream in about 20 minutes. Once you cross the stream, the trail ascends for about 40 minutes, till you reach the first ladder. Once you climb the first ladder, you quickly reach the next one. There is a cave after the second ladder where you can relax for a while. This spot offers excellent views of the valley below.
Soon after you cross ladder 3, there is a patch with huge rocks. You need to be extremely careful while traversing this section. Although not mandatory, a rope will be helpful here.
Immediately after this section, the trail joins the one that comes from Ganesh ghat. This is the halfway mark. There are a few huts where locals sell refreshments.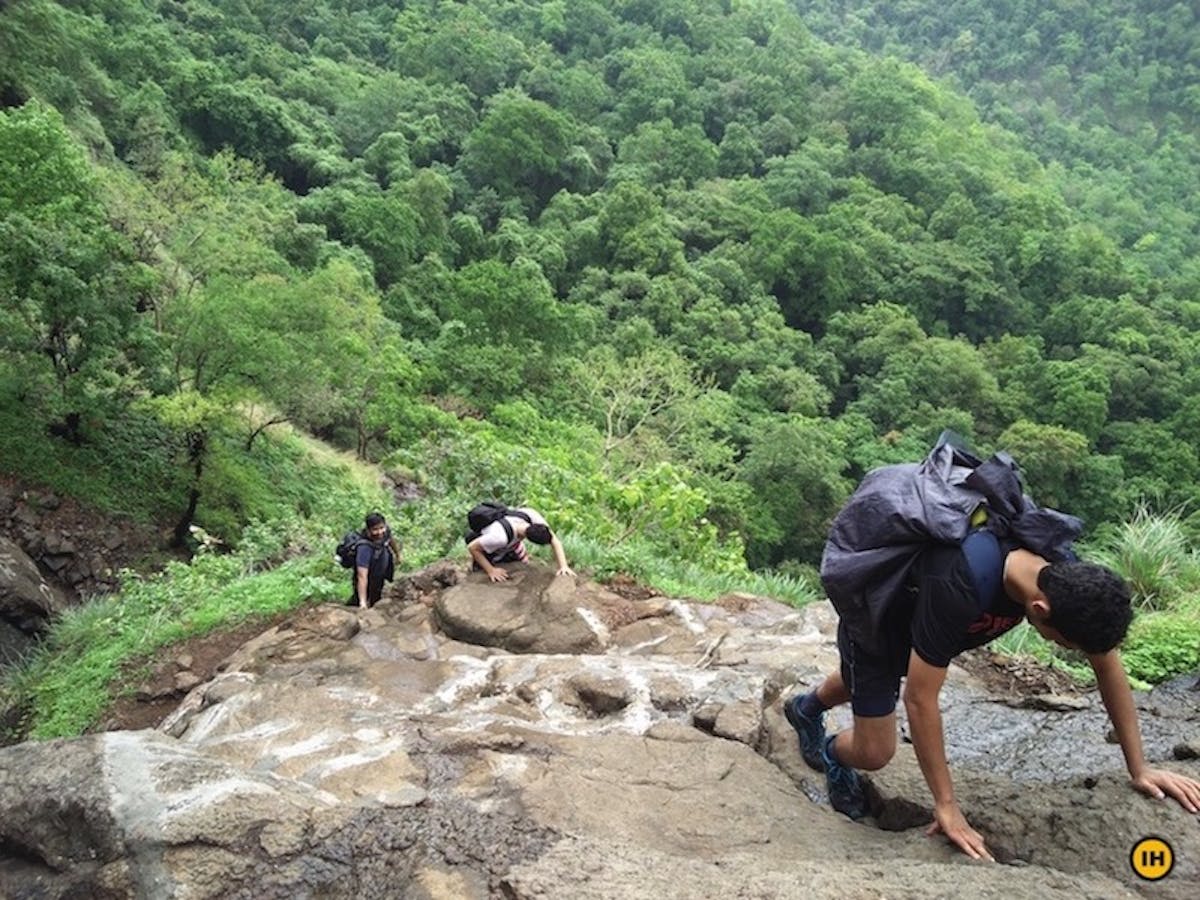 Rocky patch before the trail meets the route from Ganesh Ghat. PC: Apoorva Karlekar
Ascent via Ganesh Ghat:
The trail passes through dense vegetation for the initial one hour after the t-junction. This is a gradual ascent. After an hour, the trail opens out into a meadow. After 30 minutes of ascending through the meadow, it again enters a thick forest. This eventually meets the Shidi Ghat route.
The trail, after the two routes meet, is a steep climb through a thick forest. It leads directly to the top, where you find the Bhimashankar temple.
➤ How to Reach Gupt Bhimashankar
The trail to Gupt Bhimashankar begins to the right of the temple (SBI ATM). Take the walkway along the stream behind the Bhimashankar temple. Within 100 meters, the trail enters a dense forest. There are arrows to show the way.
After 1 km, the trail splits. One part goes across straight a stream and the other moves parallel to the stream. Both of these lead to Gupt Bhimashankar. The first one passes Sakshi Vinayak temple on the way.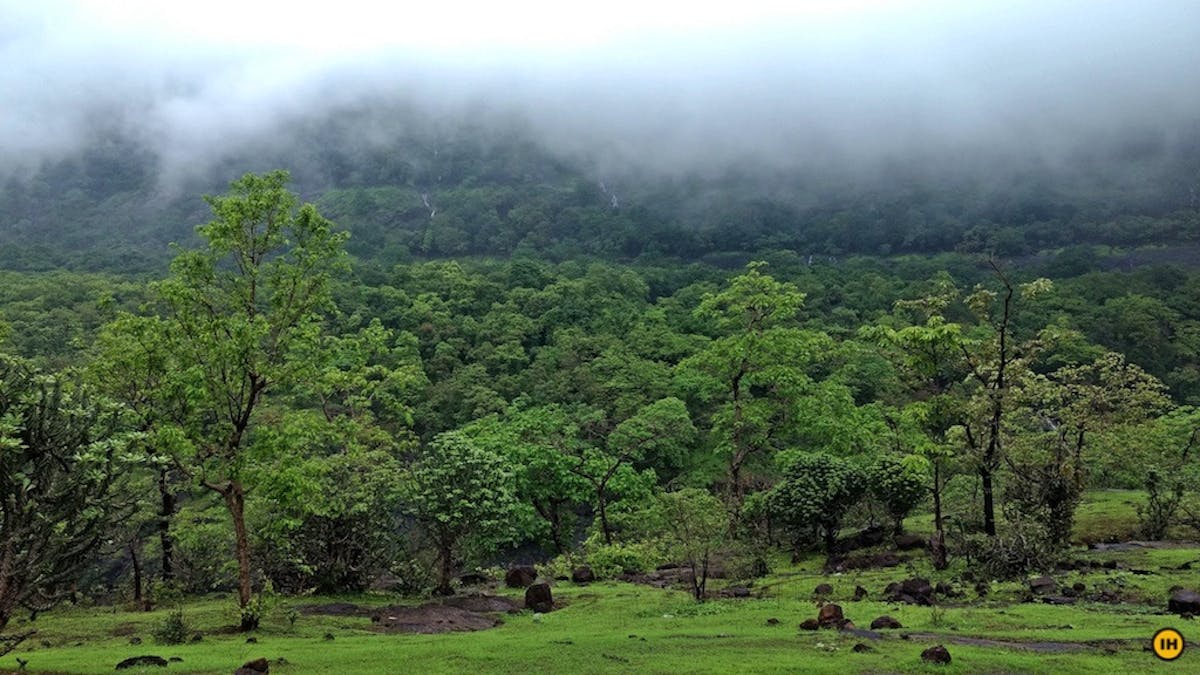 Meadows on the Ganesh Ghat route. PC: Apoorva Karlekar
Descent via Ganesh Ghat:
The descent route is the same as the ascent till the halfway mark where the routes from Ganesh Ghat and Shidi Ghat meet. The junction where the route splits is well-marked. You pass some huts close to this junction. Take a trail to the left after crossing the huts.
The trail leads through thick forests and meadows. You will see a Ganesh Mandir around 20 minutes before completing the descent. A properly well-laid tar road begins as soon as you are at the base.
Walk down this road for 500 meters till you reach the T-junction where you started from. Shared jeeps and autos are available here to take you to Karjat/Neral.
This trek was researched and documented by Apoorva Karlekar & Sneha Rao in September 2017. 
Alternate treks:
Although the Bhimashankar trek is unparalleled, we have more DIY treks in Maharashtra that are better suited if you're a beginner and take it slow. Keep in mind that Indiahikes does not run these treks. We send trek researchers to explore and document treks so that people can read the information on our website and go and trek by themselves.
If you want to experience trekking in the Himalayas the Indiahikes way, do check our upcoming treks.
➤ Maps and Charts
Elevation Graph
➤ Plan Your Travel to Bhimashankar Trek
Nearest Railway station
Neral ~29 km
Karjat ~ 30 km
How to reach Karjat/Neral using Public Transport:
How to reach Karjat/Neral from Mumbai: Board a local train to Karjat or a Pune bound outstation train and alight at Neral or Karjat. It takes about 2 hours from Dadar railway station.

How to reach Karjat/Neral from Pune: Board a Mumbai bound train from Pune and alight at Neral or Karjat. The journey is about 2 hours long. 
How to Reach Karjat/Neral from Nashik: For reaching Karjat from Nashik, you'll have to switch trains at Kalyan. It takes about 2 hours to reach Kalyan from Nashik and another hour to Karjat from Kalyan.

How to reach Bhimashankar from Neral/Karjat using Public Transport:
How to reach Bhimashankar from Neral: From the Neral railway station, you can board a sharing Tum-Tum/Van to Kashele (20 Rs/seat). From Kashele, you can either wait for the bus to Khandas base village or board another sharing Tum-Tum (30-40 Rs/seat). 
How to reach Bhimashankar from Karjat: Buses ply to Kashele/Khandas from Karjat but the services are infrequent. Private jeeps/autos are easily available from Neral/Karjat. Bargain for a decent deal. Rs 500 from Neral to Khandas base village.
Nearest International and Domestic Airport
Chhatrapati Shivaji International Airport, Mumbai
Pune International Airport, Pune
➤ Packing List for the Bhimashankar trek
Basic First Aid kit*
Identity Card
Cap/ Scarf/ Bandana & Sunglasses
Raincoat
Water (Minimum two litres)
Lemon and salt OR Electrolyte Powder/Drink (Electoral/Gatorade/Glucon D, etc.)
High-calorie snacks (Nuts & dry fruits, a home-baked cake, etc.)
Multi-Tool/ Swiss Army Knife
Safety Pins, Rubber bands & Whistle (Useful in emergencies.)
2 Quick Dry T-shirts are preferable over cotton tees.
1 pair of trekking pants/track pants
Sunscreen (SPF 50+)
Optional: Camera.
      *First aid kit:
Scissor
Band-aids (Regular & Waterproof)
Analgesic spray (Relispray, Volini, etc.)
Antiseptic Liquid (Savlon, Dettol, etc.)
Antiseptic powder (Povidone-Iodine based powders like Cipladine, Savlon, etc.)
Cotton roll & Bandage
Crepe Bandage
1-inch wide medical tape (paper or cloth.)
Micropore tape
Tablet for motion sickness (Avomine), Acidity (Gelusil, Digene, etc.).
Mild pain relief tablet (Crocin)
Note: Always consult a doctor before taking any medicine.
➤ Frequently Asked Questions about Bhimashankar trek 
Can I do the Bhimashankar trek if I have never been on a trek before?
Yes and No.
It is a moderate trek for a  person who follows an active lifestyle and can consider Bhimashankar for their first trek by the relatively easier Ganesh Ghat route. The Sidhi route is tougher.
For people who lead a relatively sedentary lifestyle, it is a tough trek. We recommend a slightly easier trek like Kothaligad.
Where can I get food and water during the Bhimashankar trek?
 There are hotels and restaurants set up by villagers at Khandas village.  There are small stalls near Bhimashankar temple too. But it is equally advisable that you carry your own food.
Do I need to obtain permission to trek to Bhimshanakar? 
No. You don't need permission to trek to Bhimashankar from Khandas.
Where can I get accommodation on the Bhimashankar trek?
Night stay can be arranged in Khandas, at the start of the trek. Bhimashankar temple has a few lodges and hotels. The local villagers can help with accommodation in the village and at the top. Chachacha Aamba which is the merging point of Ganesh Ghat and Shidi Ghat has a Pawarbaba's ashram to stay.
Emergency contacts for the Bhimashankar trek
Nearest hospital: The Government hospital closest to Bhimashankar trek is Sub District Hospital at Karjat It is 1 hour away (Contact number is 072497 63836)
Police station: The police station closest to Bhimashankar Trek is the Neral about 50 mins away. (the contact number is 02148 238 444 ) This information is correct as of May'20.
Mountain rescue: Giripremi has started a Pan-Maharashtra rescue group called Maharashtra Mountaineers Rescue Coordination Centre (MRCC). You can contact them on 7620230231 for help in the Sahyadris. Read more about this wonderful initiative here: (Link: http://www.giripremi.com/mmrcc/)
ERSS: For any kind of emergency help, you can contact the Pan-India Emergency Response Support System (ERSS) number- 112
Mobile Network and ATM 
A mobile network is available on the trek route.
The nearest ATM from Bhimashankar temple is the SBI ATM near the bus depot at Neral.
➤ Places to visit near Bhimashankar temple
If you attempt it as a two-day trek, you can visit the places mentioned below:
 Bhimashankar Wildlife Reserve is the natural habitat of the Indian Giant Squirrel and is about 3 km from Khandas. It is a densely forested area and spreads across 120 sq km in the Western Ghats also known as the Sahyadri ranges. It is home to many endemic and pandemic animal and bird species.  It is considered one of the biodiversity hotspots of the world.
Hanuman Lake is a beautiful lake located in Bhimashankar. It is slightly difficult to reach but worth the effort, lots of animals and birds can be spotted here.
Nagphani Peak is pointed like a hooded snake. It is also called Duke's nose, as it resembles the nose of a Duke.  It is a 2.5 km trek to the peak and is a beginner level trek. The best time to trek is between Nov to Feb with breathtaking views of Lonavala and Khandala valleys.
Rajmachi fort trek is a famous trek in rugged hills in the Sahyadris ranges. It consists of twin forts of Shrivardhan and Manoranjan. Experienced trekkers can start for the Gondhane caves while others can start ahead from Udhewadi village.
Gupt Bhimashankar temple is about 40 mins from the top at Bhimashankar temple. It is a place where you can see the Shivling behind the waterfall. It is a little risky to stand beneath the waterfall but worth it.
Bombay Point is the sunset point about 3 km from the Mahabaleshwar bus stand where you can see the beautiful sunset over the valleys below at Mahabaleshwar. It is one of the oldest points of Mahabaleshwar and is located on the old Bombay road. It is pretty crowded with tourists.
Ahupe Waterfalls is situated in Bhimashankar and has a wildlife reserve in the vicinity. It has a beautiful view of the Dimbhe Dam backwaters