Can You Help Us With Photographs Of This Trek?
We are looking to enrich this documentation with more photos. Pictures go a long way in explaining the trail, more than words ever can. If you have done this trek, can you share your photos with us? We will include them on this page, with due credit to you.Click here to contribute.
The Complete Guide to Biharinath Hill Trek
An underrated hidden gem, Biharinath Hill makes for a wonderful short hike through dense forest in West Bengal.
Lying in the sub-Himalayan region of West Bengal, it is a natural attraction for trekkers and rock climbers. A peaceful getaway in the Eastern Ghats, Biharinath is a tourist spot unknown to most.
Known as the Araku Valley of West Bengal, Biharinath is the tallest hill in the Bankura district.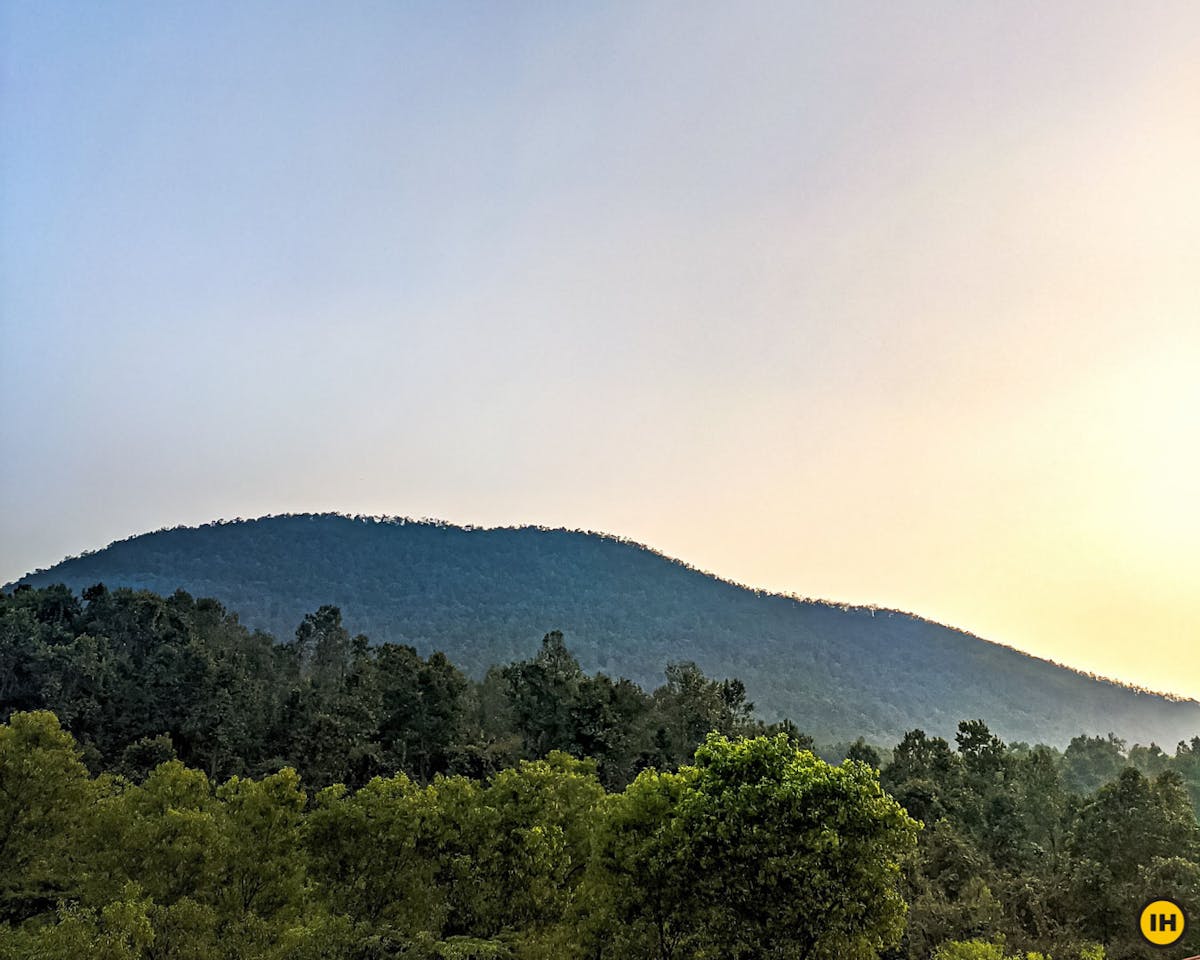 Biharinath Hill covered in a blanket of green. Picture by Sayak Mukherjee
Located 60 kilometres northwest of Bankura, its maximum altitude is 1,483 ft. This makes it the fourth highest peak in the state. 
Biharinath hill is sandwiched between the Purulia Hills and Damodar River, as it towers over tiny tribal villages. 
Beautiful red Palash and Shimul bloom welcome you as you enter the base village in spring. Winding through dense forests, you can spot this tall hill from miles as you get closer.
With a combination of a famous Lord Shiva temple, dense Sal forest, mountains, clear pond, rock climbing, and refreshing springs, this area on the outskirts of the city has something to offer for everyone. 
Lined up with lively green flora on the trail, Biharinath Hill is one trek that can be done throughout the year. This mountain can be scaled in under 3 hours and makes for a perfect morning nature walk. 
➤ Table of Contents
We have documented this trek in great detail to help you do it on your own. You will get all the information required to do the small hike on Biharinath Hill on your own.
If you've already completed this trek, we would love to hear from you! Drop in your comments in the comment section below.
To navigate through the documentation easily, use this section of the Table of Contents:
What to watch out for
Trail Information
Route Map and GPX file
Difficult Sections
Best time to do the trek
How to reach
Frequently asked questions (FAQs)
Places to visit nearby
➤ What to Watch Out for
1. View of Bankura district
Popular in the tourist circuit for its rich history and art and craft, Bankura district is a lively spot of natural beauty. 
Biharinath Hill, towering over Bankura, offers a beautiful view as the highest point.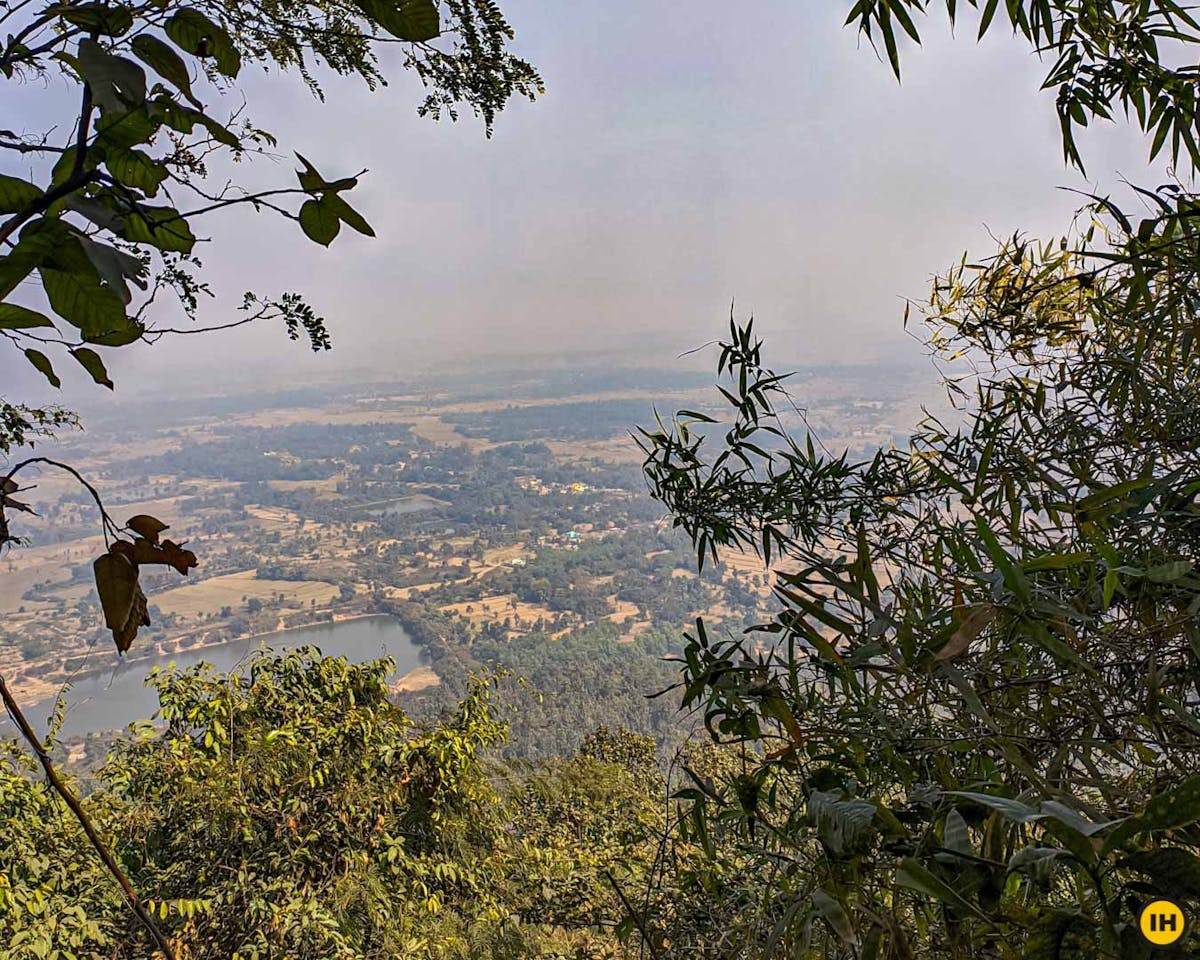 View of the countryside from Biharinath Hill. Picture by Sayak Mukherjee
The trek offers a serene view of the Biharinath Water reservoir. A pollution free gem, the water reservoir is clear and refreshing. 
Migratory birds throng the lake during the breeding season. You wake up to the chirping of birds and the sounds of temple bells if you start the trek early in the morning.
Bankura has many small ponds which can also be spotted from the hill at different heights.
Nature embraces this hill making it a perfect jal-jungle-porbat. It changes colour every season, making it a wonderful trek to revisit again.
2. Rock climbing experience 
With the elevation being less, Biharinath makes for the perfect trek for beginners. Amateur trekkers and rock-climbing enthusiasts can enjoy hiking in the forests of Biharinath.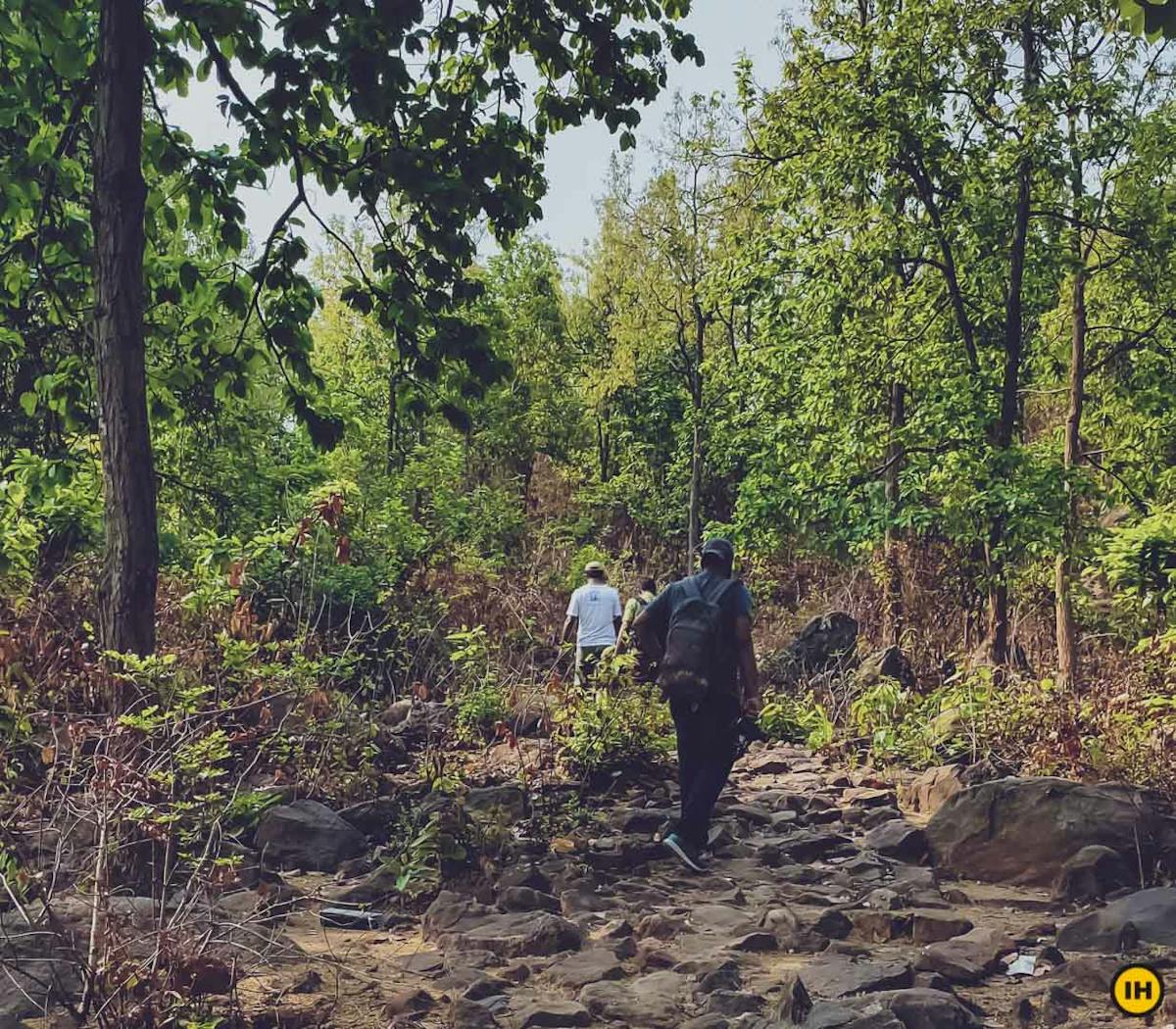 The rocky trail on Biharinath Hill. Picture by Suvodip Chakraborty
With easy to difficult terrain with rocks and boulders, you will have to even use your hands to climb certain sections of the hills.
The thrill of rock climbing, uncommon in forest treks, can be experienced at Biharinath.
As there are multiple routes to scale the mountain, you could explore the bypass route on the opposite side of the hill. This route, unlike the one noted here, doesn't have well-marked directions to climb the hill. 
3. Beautiful Palash bloom and trekking amidst the deciduous forest
Covered in thick foliage, the Biharinath trek passes through dense deciduous forest.
Only during Spring, you will have a carpet of Kash, Palash and Shimul at your feet as you reach Biharinath.
Palash is commonly known as the "Flame of the forest". Various parts of the plant like flowers, leaf, bark and seed gum have different medicinal purposes. 
Blooming in the first week of March, the flowering Palash trees look like they are on fire.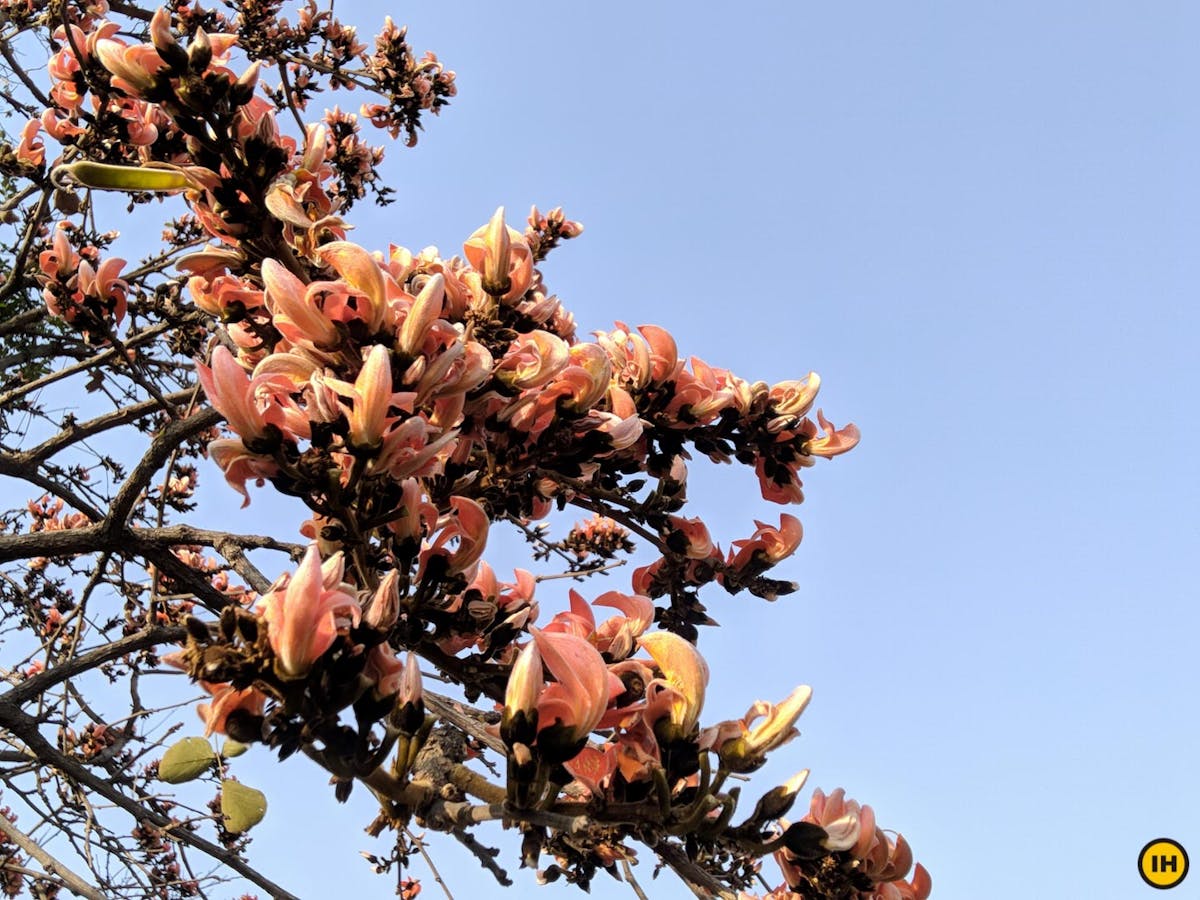 Palash bloom during spring. Picture by Protyonik Roy
The hill is covered with a tropical dry deciduous forest dominated by Sal trees. Lush green in the months of June – October, they embrace the Biharinath hill within a blanket.
White-coloured Kash phool in grass signals the arrival of Autumn and Durga Puja.
February-March is the best season to witness the red carpet of Palash with an orange canopy. The soft breeze and rustling of leaves create a perfect atmosphere to trek in silence. 
You can see natural springs flowing, peeping through cracks between the rocks. Only available in monsoons and post-monsoons, they disappear during the rest of the months.
Shedding between February-April, the thick trail is laid by the beautiful Sal fall. Lined up with shrubs and grasses, one can encounter many medicinal plants endemic to the area on the trail. 
4. Colourful birds, butterflies and flowers
Biharinath hill is gifted with a thick blanket of green. The route is lined with beautiful flowers and medicinal plants.
Snakes are common. You should watch out for snake skins, snake holes and anthills.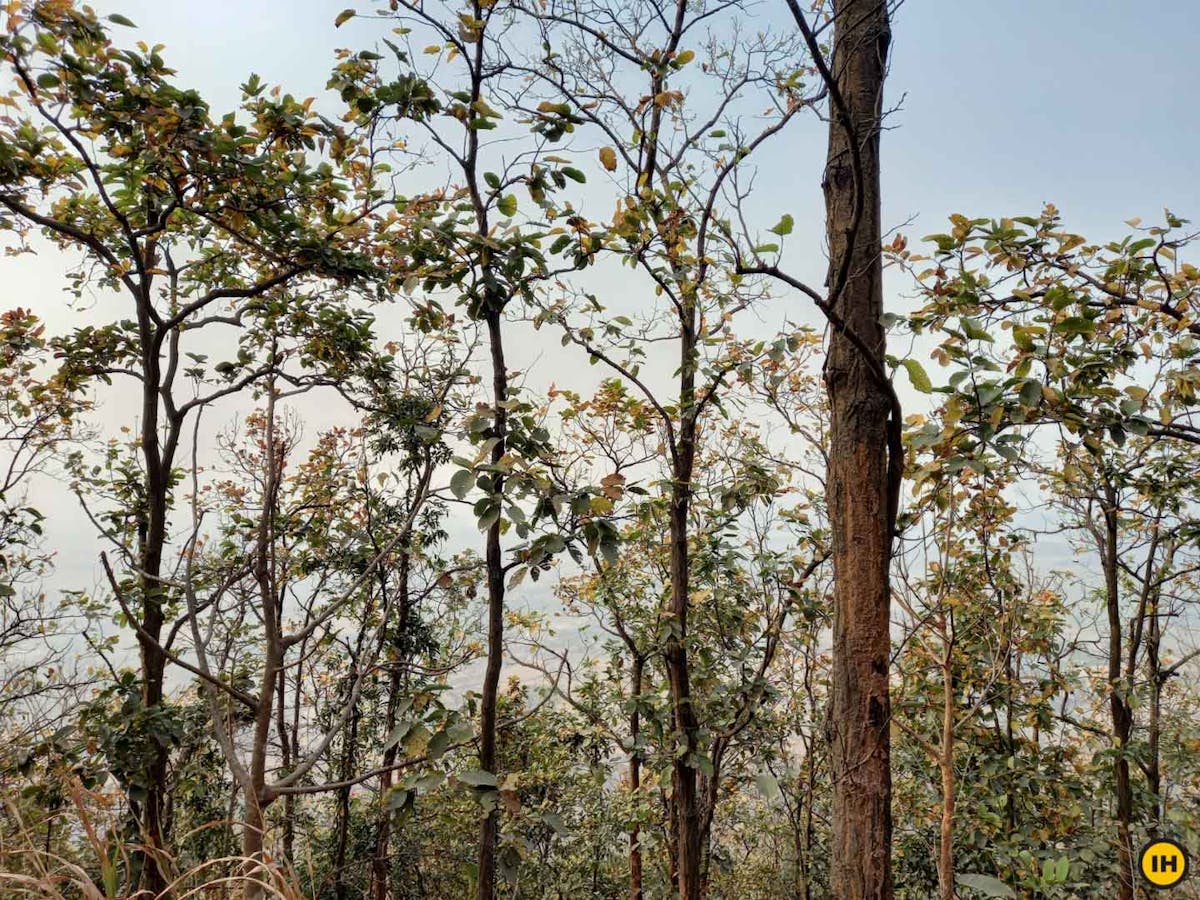 Tall Sal trees at Biharinath Hill. Picture by Vishal Jain
If you are lucky, you can spot butterflies like Nawab, Rajah and other rare species. 
Common Babbler, Little Egret is frequently spotted. If you are lucky, you can even spot Purple-rumped Sunbird, Painted Spurfowl, Red-rumped Swallow in the woods.
Try to identify as many as you can and notice the differences in colours. You can refer here for information on birds found on Biharinath Hill.
Also, don't forget to spot painted grasshoppers by the reservoir. During monsoons, you can even spot some wildlife near the reservoir across the fencing.
The hill houses hyenas, pangolins, and chameleons, and can be occasionally spotted nearby, especially during the monsoons. 
With a combination of rich flora, the entire trail is adorned by beautiful flowers, dancing butterflies and colorful birds. You'll have the perfect company to hike, even when alone. 
➤ Trail Information
The Ascent
The entire trek spans a distance of almost 3 kilometres. Directions are marked on rocks at equal distances, making it easy for a solo trekker to hike with safety.
The terrain nearby is typical of Chhota Nagpur plateau with red laterite soil and big rocks.
The trail is lined with big rocks and boulders till the top. You will be hiking through thick forests which get deeper and denser post monsoons.
The route starts with the signboard installed by the Directorate of Forests, Government of West Bengal. Following the directions given by the board, you can start your hike from here: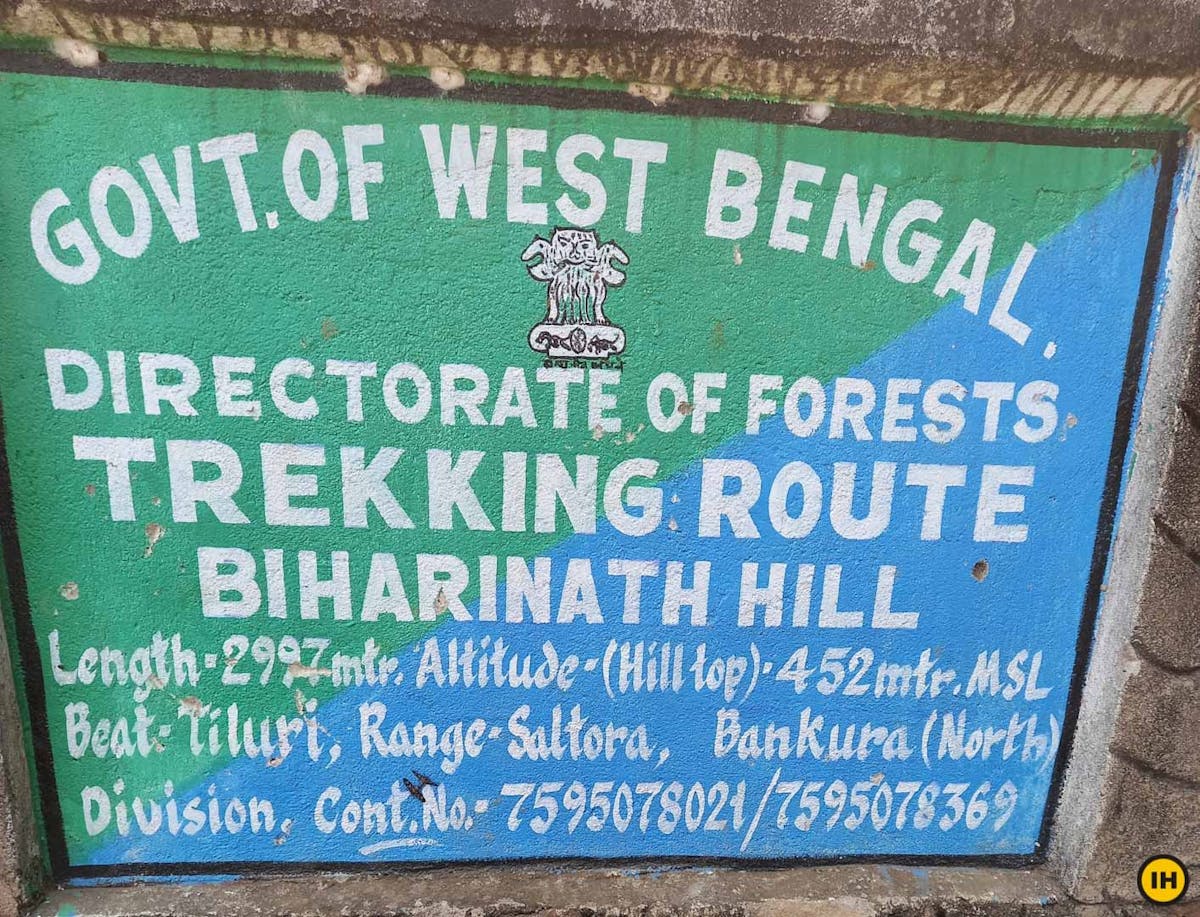 Trailhead by Directorate of Forests at Biharinath. Picture by Vishal Jain
The ascent of 1.5 kilometres can be considered in 3 sections:
The initial 200 meters is a gradual ascent of around 5-10 minutes. Rocks embedded in loose laterite soil provide adequate support to ease the start.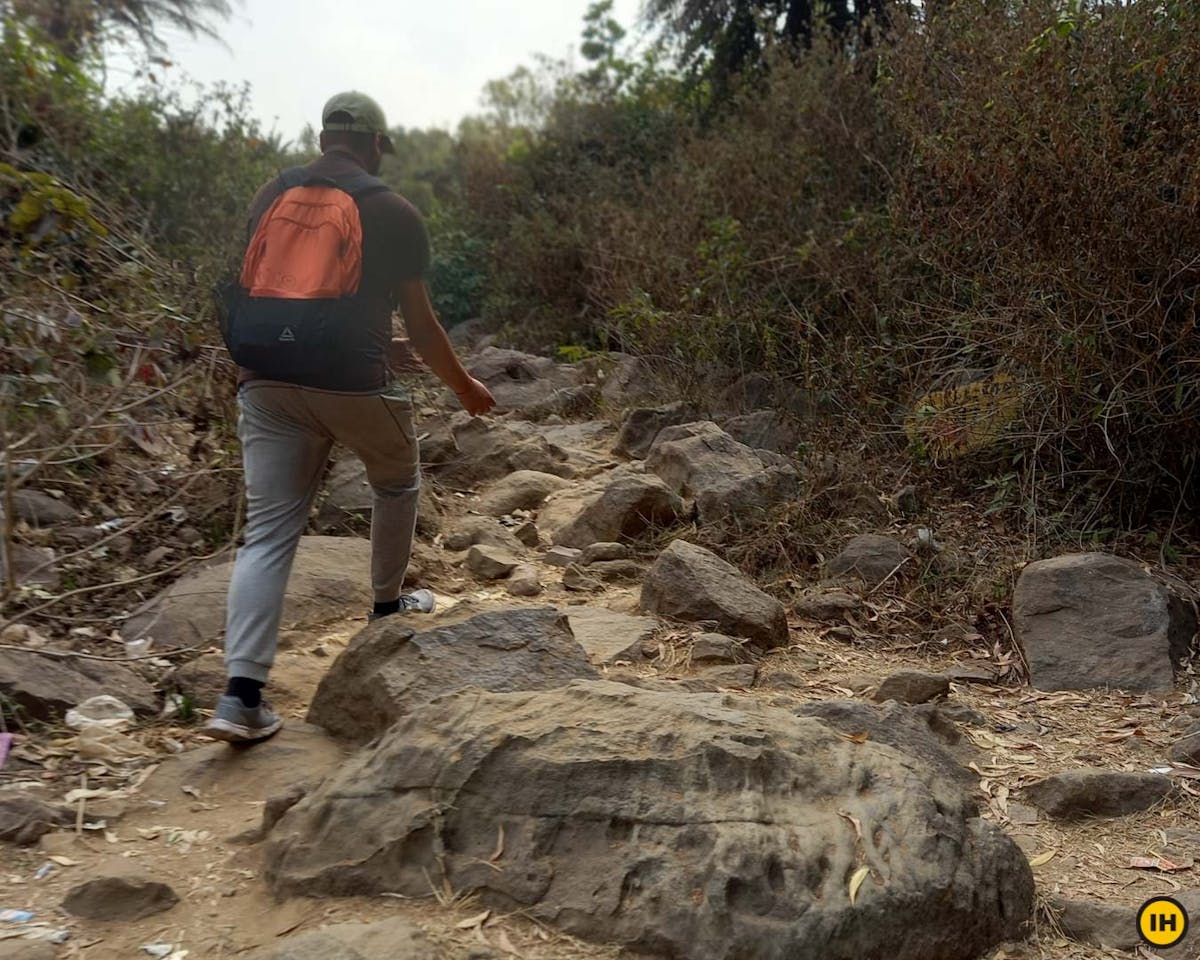 Trekking on rocky terrain at Biharinath Hill in March. Picture by Vishal Jain
Lined up with Sal trees, it will take you deeper into the forest.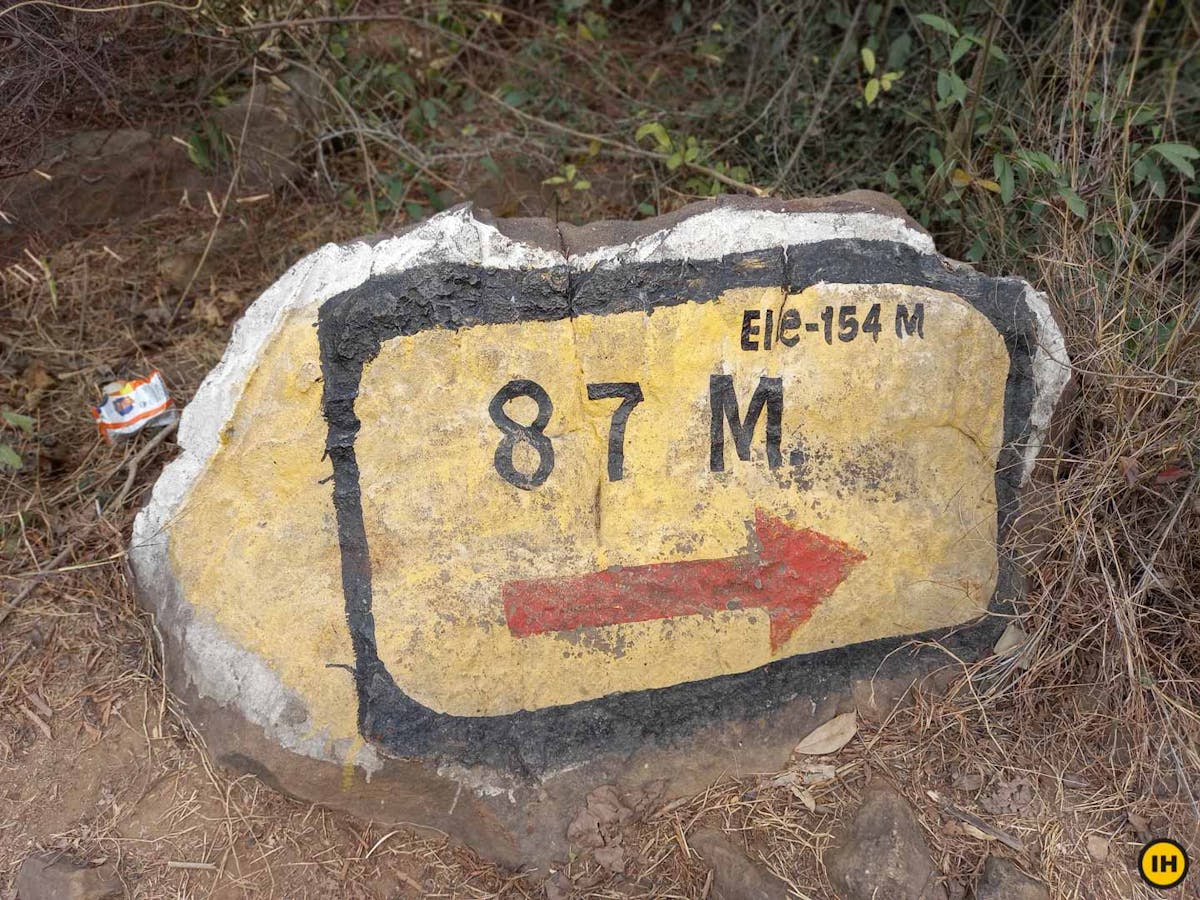 Milestone at Biharinath HIll. Picture by Vishal Jain
The first 200 metres are an easy gradual ascent without much trouble. 
The next 1 kilometre is an endurance test.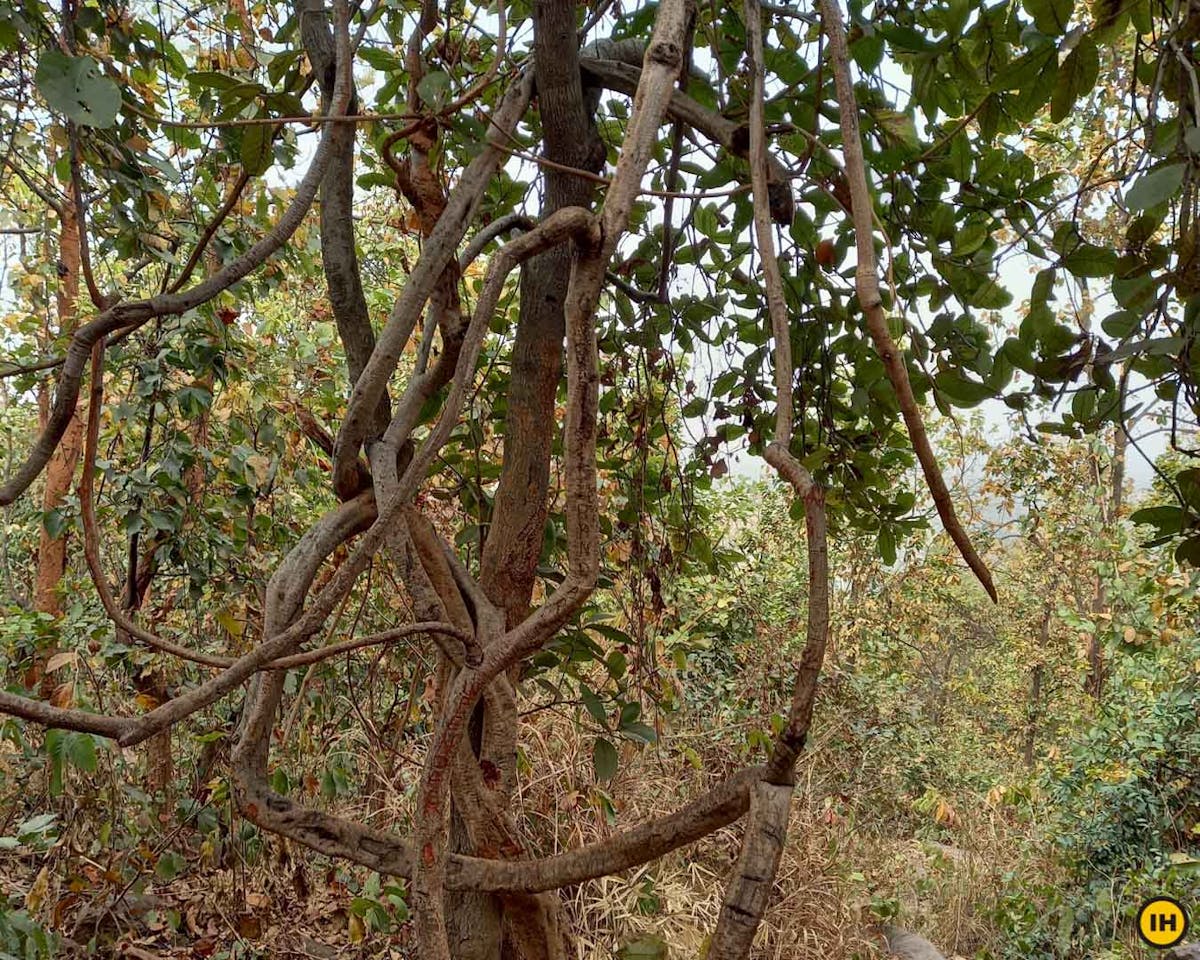 Deciduous forest at Biharinath Hill in Bankura. Picture by Vishal Jain
The boulders get bigger and the slope steeper. 
With the terrain completely covered in rocks consistent with the Chota Nagpur plateau, the experience will turn into an exciting rock climbing experience.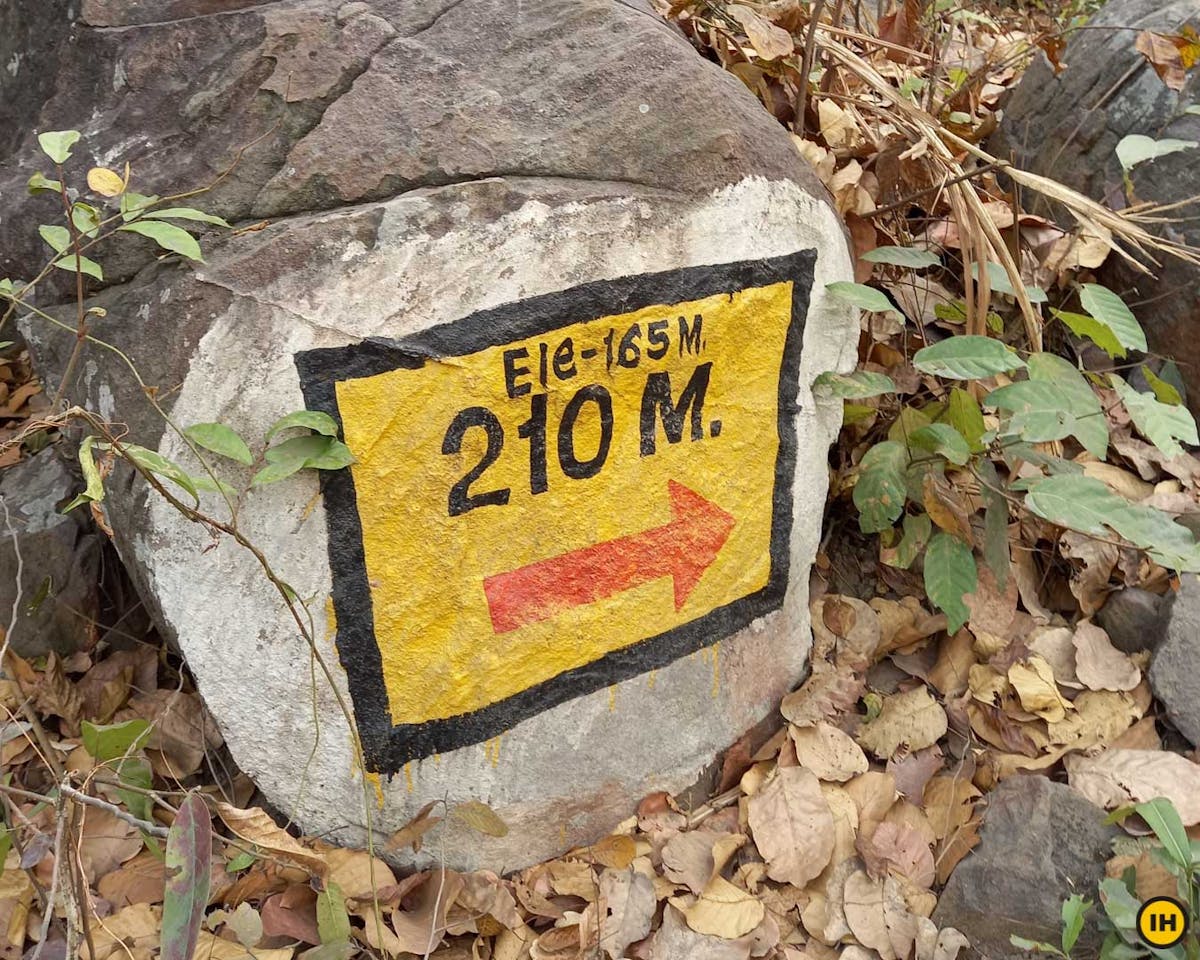 Elevation stone at Biharinath Hill. Picture by Vishal Jain
Once the initial stretch builds the necessary momentum, this terrain will test your stamina. 
Taking you deeper into the forest, the climb gets steep here. Watch out for thorny stems on the thinner trail.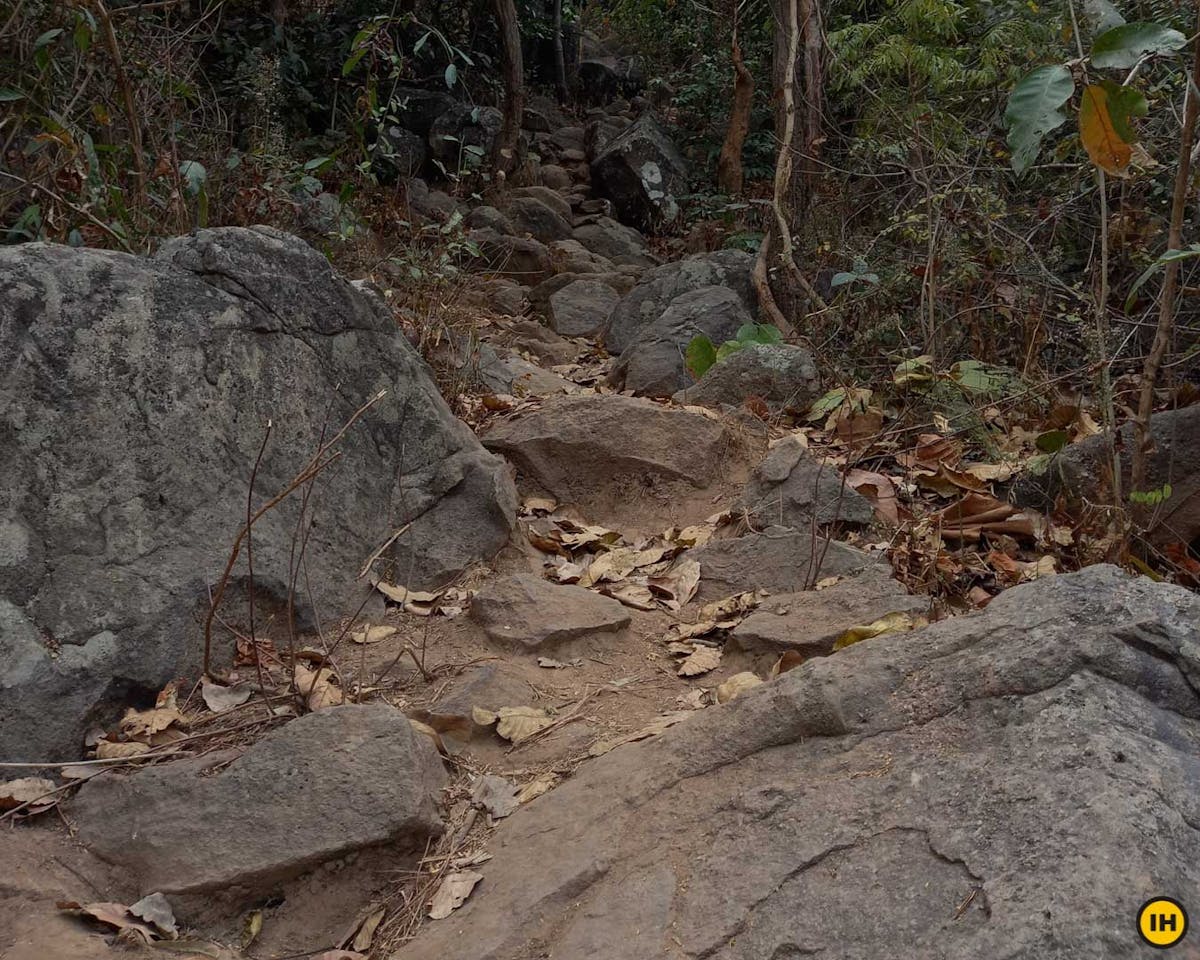 Big rocks on Biharinat Hill. Picture by Vishal Jain
It will test your limbs coordination and strength. Make sure that you keep your footing firm as you step on the rocks.
With the rocks being loosely embedded at places, there are chances that you might slip. We recommend you wear proper trekking shoes. They provide adequate support and footing and are best for rocky terrains.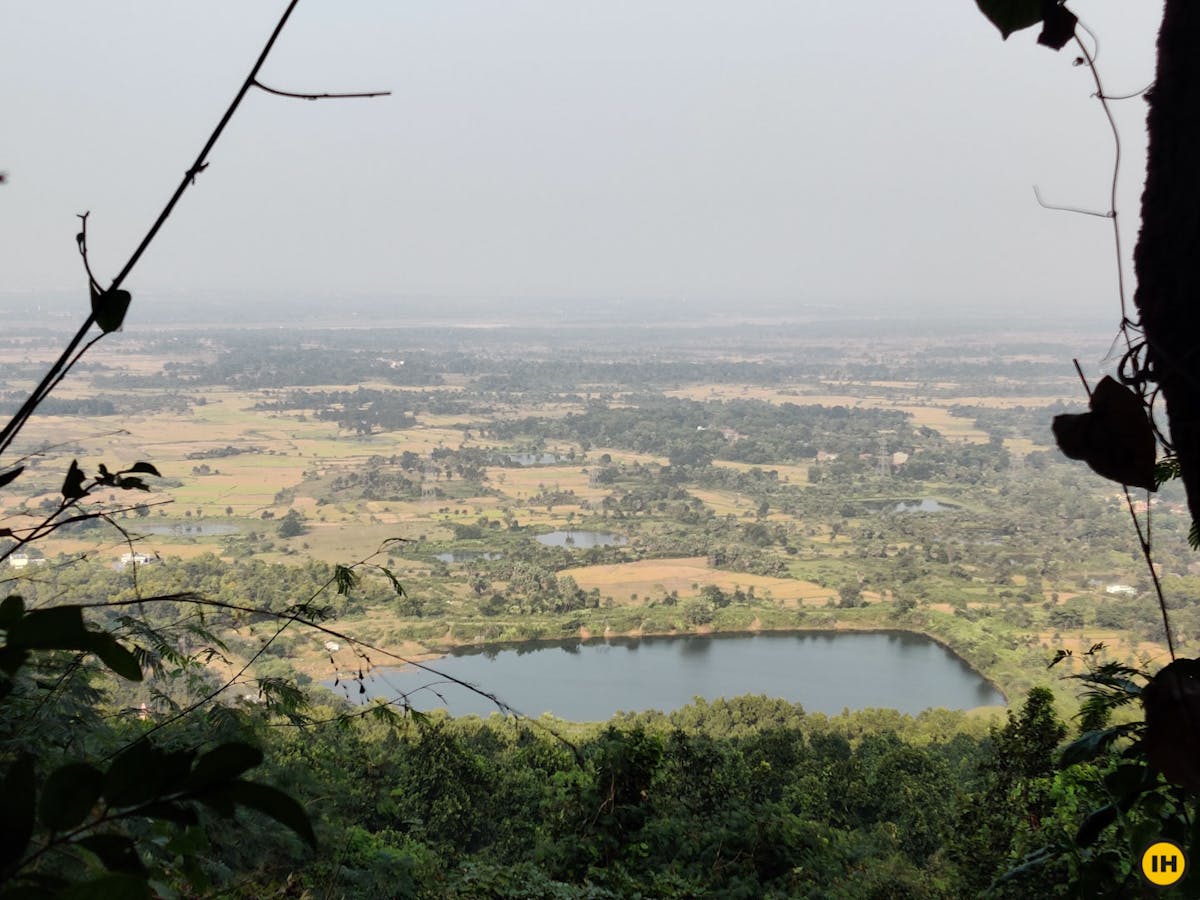 View of the base village from Biharinath Hill. Picture by Mounjayan Saha
This middle stretch of ascent should take a fit trekker around an hour to complete. 
The final stretch to the summit is the last 300 meters. It is an easy gradual ascent of approximately 10 minutes. 
It takes you to the tabletop of the summit. You'll be able to recognize it as you enter a levelled forest field.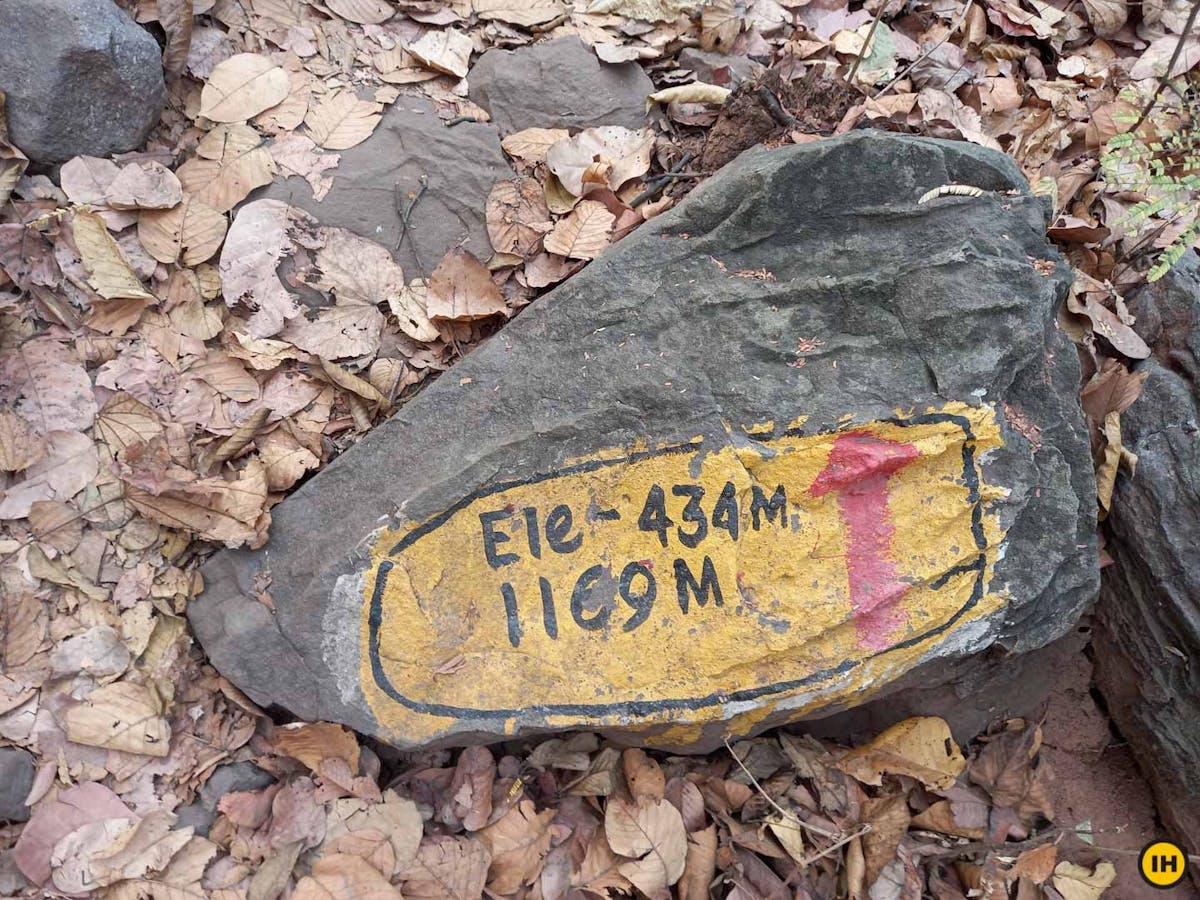 Elevation stone near the top of Biharinath Hill. Picture by Vishal Jain
A small Hanuman shrine with a few photos of the deity has been installed between the rocks.
You have reached the top of Biharinath Hill. 
As you can see while approaching from the vehicle itself, the Hill doesn't have a peak or summit. Looking like a small island from afar, it has a tabletop flat head. 
It is difficult to spot a clear vantage point to enjoy a clear view of the surrounding area from the top. You can roam around in the forest freely and explore.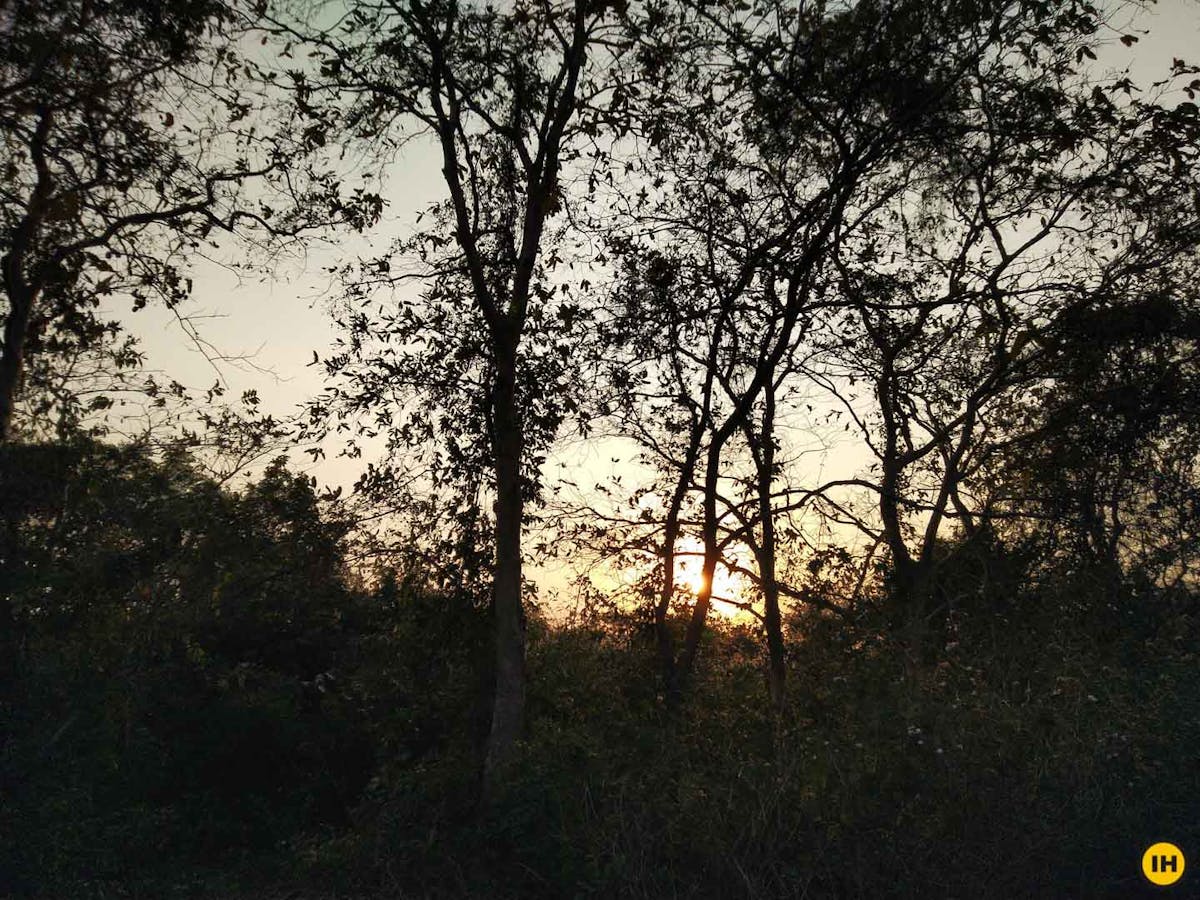 Beautiful view from Biharinath Hilltop. Picture by Protyonik Roy
Tip: Look out for anthills and snake holes. The dense forest has diverse vegetation. There are rare chances of encountering wildlife in the area during monsoons.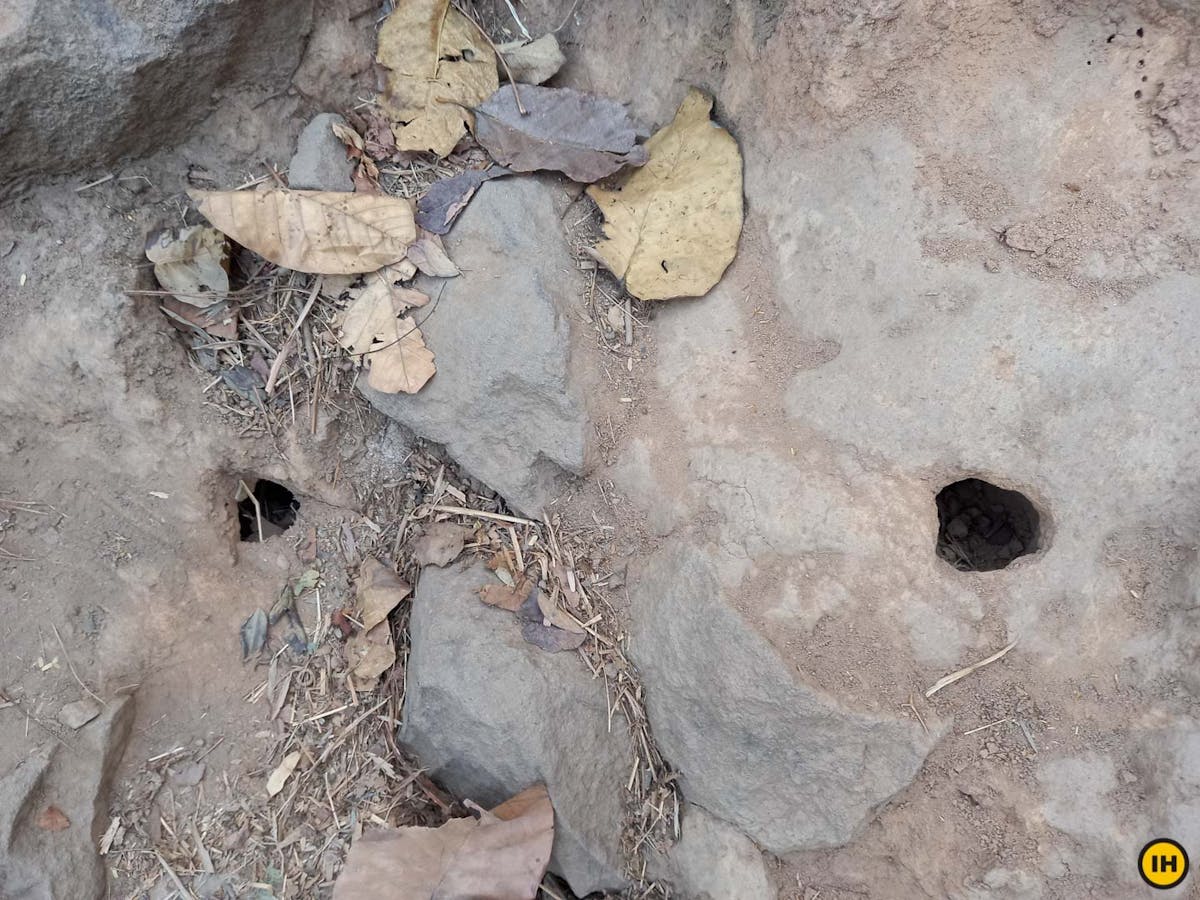 Snake holes on the Biharinath trail Picture by Vishal Jain
The Descent
The descent should take you around 1 hour to reach the base of the hill.
It is relatively more difficult than the ascent on the Biharinath Hill.
The first 800 metres of descent is steep and will require you to use your hands at some points.
The latter path is an easy gradual hike.
Make sure your footing is firm while crossing the rocks. Don't skip them as some are loosely embedded in the soil and you might hurt yourself.
Tip: We recommend you carry a pair of trekking poles. It will certainly make the descent easier. 
➤ GPX File and Route Map of Biharinath Hill Trek
Route Map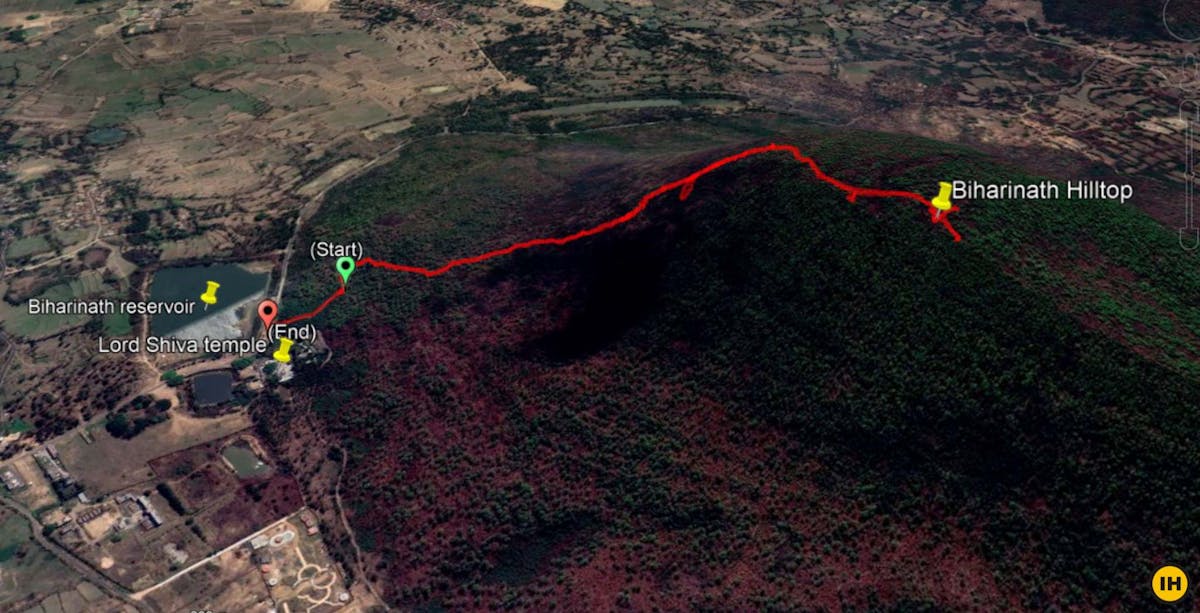 Biharinath Hill Trek Route Map. Screenshot on Google Earth Pro
➤ Difficult Sections
Biharinath trek is of Moderate level difficulty. 
Your endurance will be tested especially in the middle stretch of the trek. Climbing a rocky mountain for more than a kilometre could take an hour or more. 
The dense nature of the trail makes it devoid of clear views from the summit. Make sure you take adequate pause at available vantage points and appreciate the view around. 
The trek is very steep in the middle stretch of the route with big rocks to climb. You may have to use your hands to scale them.
Note: Trekking in the dense forest as you climb the rocks might get tedious and difficult at certain points. Make sure you are wearing proper trekking shoes.
Using trekking poles is recommended for support.
Over the monsoons, the slopes get slippery. Tread cautiously to avoid the thicker parts of the forest. There are clear directions with elevation marked at equal distances.
The entire trek will roughly take 2.5-3 hours with a rest time of 15-20 minutes.
➤ Best Time to do the Biharinath Hill Trek
With a plethora of fields, water reservoirs and lush greenery all around, Biharinath makes for an ideal morning short hike. 
If you want to see the hill covered in green on all sides and lakes brimming, monsoons and post-monsoons are the best time to visit.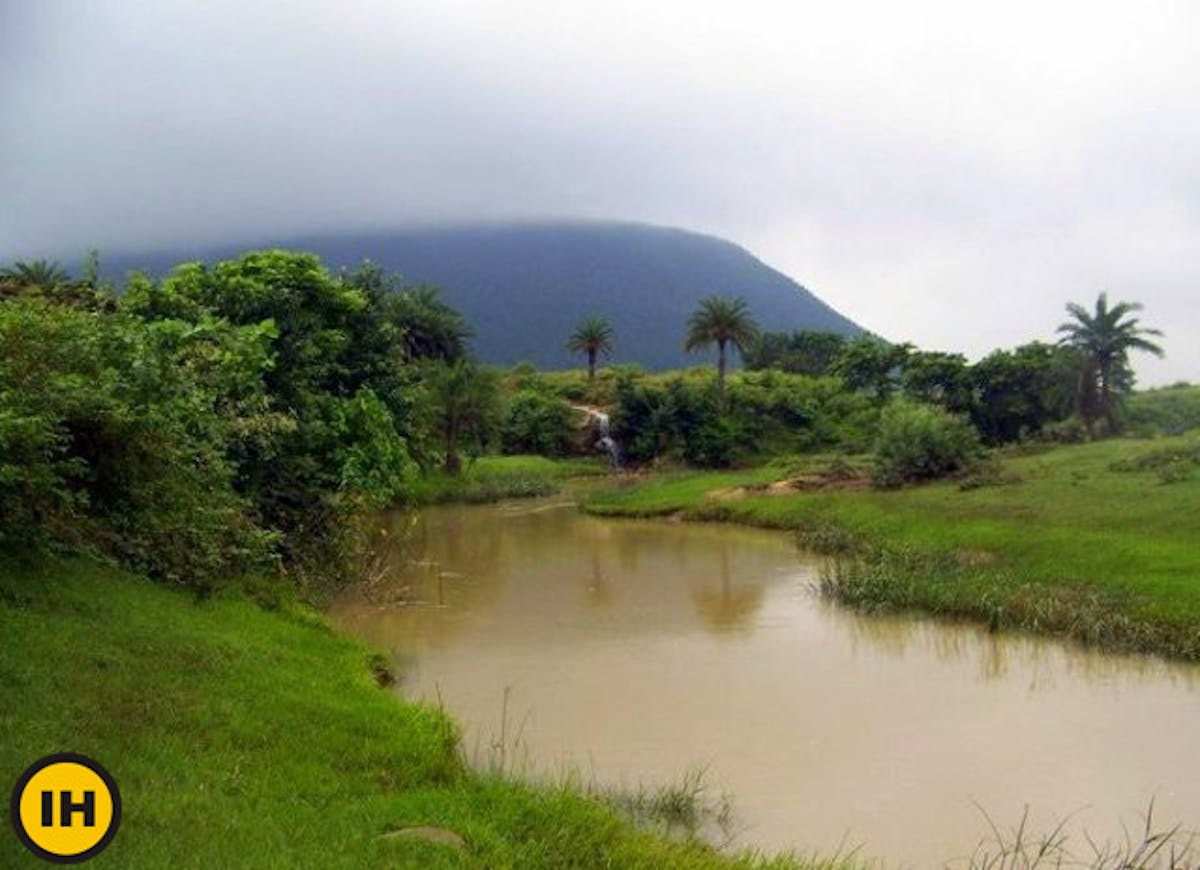 Short river flowing near the hill during monsoons. Picture by Guruprasad
Wet leaves, dense forests and water drops falling from Sal leaves as you trek, make it for a beautiful nature walk on the hill.
To witness the orange canopy of Palash and Shimul, a crisp spring morning in the months of February to March is the best time to visit.
The beauty of this trek lies in the fact that it can be done throughout the year. All seasons have their speciality and you can see something different every time you visit.
We recommend you go through this article before you do the trek on your own. We, at Indiahikes, want to ensure your safety and have an exciting responsible trekking experience.
➤ How to Reach the Base of Biharinath Hill Trek
Biharinath Hill trek begins at the Biharinath Temple. This is about 14 kilometres away from Saltora Town.
Saltora is one of the major towns in the Bankura district of West Bengal.
Biharinath Hill : Location
By Road in Your Own Vehicle
The distance from Kolkata to Biharinath is 225 kilometres (5-6 hours)
The distance from Bankura to Biharinath is 60 kilometres
The distance from Asansol to Biharinath is 50 kilometres
From Kolkata:
If you are planning on reaching Biharinath using your own vehicle from Kolkata, you can directly use the navigation on Google Maps. 
You can use this route to reach Biharinath Hill from Howrah Railway Station.
There are three toll stations along the route:
The first one is at Dankuni, the second in Palsit just before Bardhaman and the third one before entering Asansol.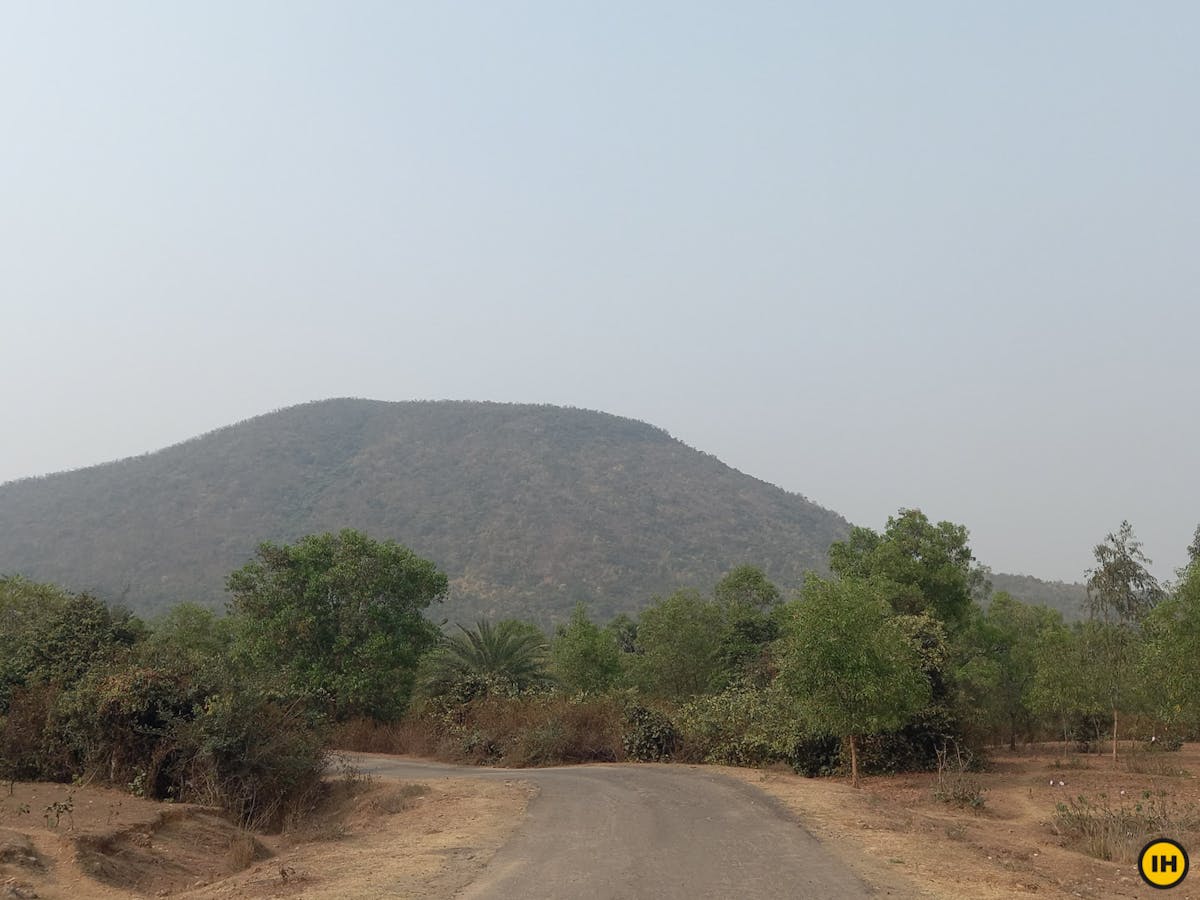 Reaching Biharinath Hill by winding roads through forest. Picture by Vishal Jain
The road is extremely good and a major part of the journey is along the highway.
From Asansol:
The route is a popular biking destination through winding hills and forests.
If you are coming from Asansol, you will have to use the bamboo bridge over the Damodar river. As it's a low bridge, only two wheelers can comfortably cross this bridge.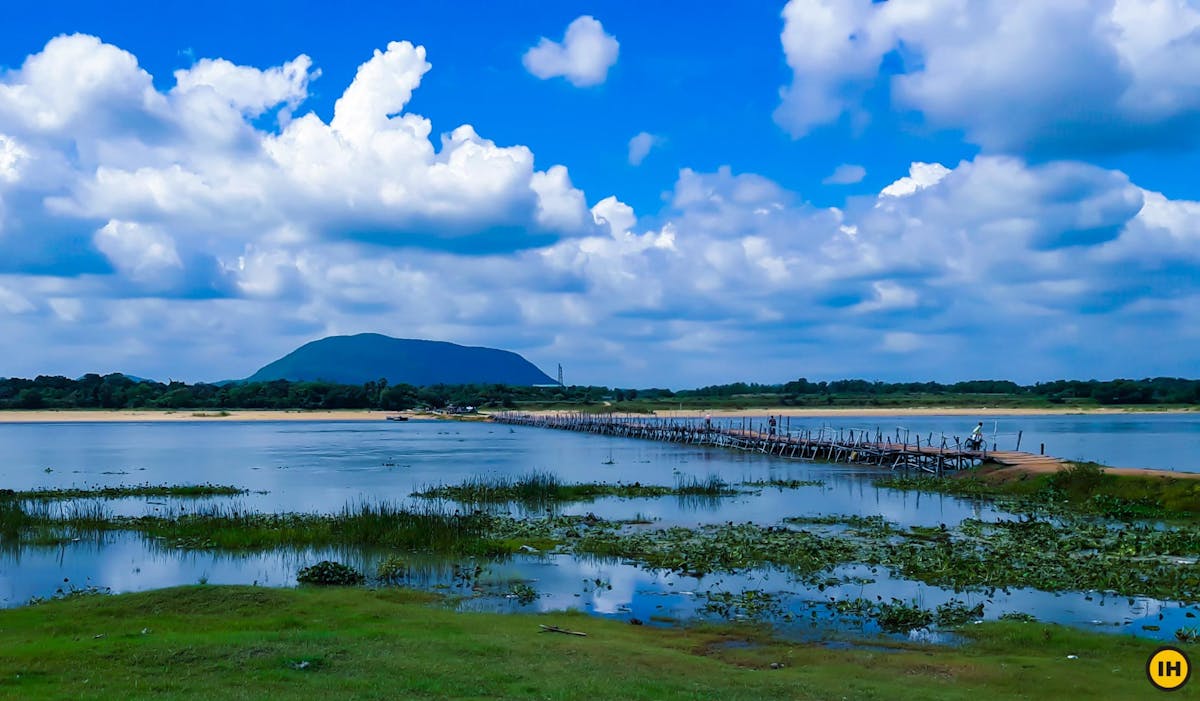 Bamboo Bridge across Damodar River. Picture by Suvodip Chakraborty
There is a toll at the end of the bridge arrangement which helps support maintaining this old bridge.
By Public Transport
You can even reach Bankura by State Transport buses and hire a car for Biharinath. As it's a popular trekking spot, you can even find fellow trekkers.
Regular SBSTC (South Bengal State Transport Corporation) and WBTC (West Bengal Transport Corporation) buses ply between Kolkata and Asansol too. 
Use the following links for SBSTC and WBTC bookings.
Local bus/shared auto from Raniganj or Asansol to Saltora are available too.
By Rail
The rail distance from Kolkata to Bankura is 233 kilometres.
Trains from Kolkata are available for Bankura on a regular basis. 
Some of these trains are Rupasibangla Exp (12883), Hwh Prr Exp (12827), Aranyak Express (12885), Pbr Kaviguru Exp (12950), Samarsata Exp (12152) etc. 
The minimum time a train takes to reach Bankura from Kolkata is 3h 35m.
Multiple trains are available from Howrah (HWH) to Asansol (ASN), Raniganj (RNJ) too. 
You can book directly from the IRCTC website or from private travel companies. Fares for the 2 to 4-hour journey range between 100 to 550 depending on the class.
Check this link for current train schedule
Regular buses, private vehicles are available from the station to Saltora.
You can hire private vehicles from Asansol station for Biharinath too. The road is mostly in good condition except for a few rough patches. You have to cross the Damodar River over the wooden log bridge.
By Air
Nearest Airport: Netaji Subhash Chandra Bose International Airport- 224 km 
➤ Frequently Asked Questions
1. Permissions and Camping on the trek
No special permissions are required for the trek.
As the trek is through dense forest, there's no provision or any levelled ground for camping or night trek. 
2. Food and water availability on the trek
There is no availability of food or water anywhere on the trek. As it's a short hike, two bottles of water should be sufficient. 
Eatables and local snacks are available at the base village. You can also have food at the Biharinath Eco-Tourism Centre Canteen.
3. Stay options nearby
WBSFDA Biharinath Eco-Tourism Centre
You can contact directly on reaching Biharinath.
Biharinath Tourist Point (A unit of Adrija Residency) 
Contact +91 96353 68647 ( Biharinath Office)
Rate – Rs.800 to Rs.1500 
4. Emergency Contacts
Saltora Forest Range Office +91 9083254727
Saltora Police Station +91 8001302302
Saltora hospital +91 9932520835
5. Mobile Network Availability
Airtel and Jio network connectivity is available throughout. Download the local map and GPS navigation as a precautionary measure.
➤ Places to Visit Nearby
1. Biharinath Temple: Situated at the base of the hill, Biharinath temple with its grand blue entrance is a must-visit. With beautiful paintings of mythological scenes on the walls, Biharinath temple is thronged by thousands during Shivratri and Saraswati Pooja every year.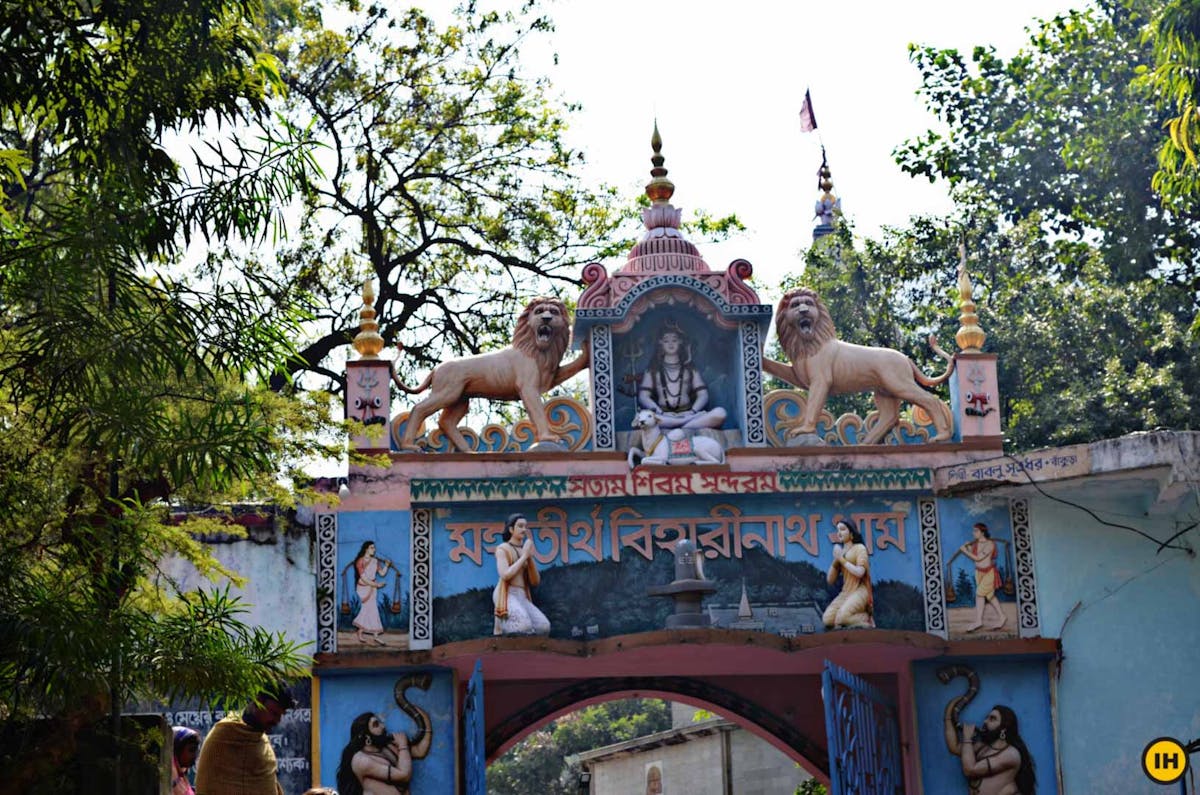 Shiv Temple at the base of Biharinath Hill. Picture by Arksmith
Dedicated to Lord Shiva, the Shiv Ling in garbhagriha invites thousands of people during fairs and Shivratri. There are temples of Goddess Durga and a Kali temple. 
Soothing chants and the deep sound of bells is the perfect positive start or to end the trek. 
2. Bankura District: Bankura offers you a number of major sightseeing spots. Symbolic of ancient Bengal architecture and famous to be a centre of Jainism in ancient times, Bankura is filled with rich art and culture.
Enjoy the beauty of the terracotta temples of Bishnupur an hour ride from Bankura. It is an artistic marvel and a symbol of Bengal's architecture. 
With a lot of temples to visit, it makes for an ideal religious circuit tour. Traditional art Dokra is famous here.
3. Ayodhya and Susunia Hill Treks: It is a weekend trek to the mystical hills of Ayodhya and Susunia. Once a prime attraction for rock climbing enthusiasts, they are now a popular destination for trekkers and travellers alike. With water reservoirs, dams, springs, Damodar river flowing aside makes it a perfect vacation away from the hustle and bustle of city life.
The unique rugged characteristics of the mountains blend beautifully with the canopy of greenery that Purulia offers.
4. Other Places: Joychandi hill (rock climbing), Garpanchkot, Bindopur dam, Baranti lake (15 km), Susunia Hills with waterfalls (20 km) 
This day's trek can be totally converted into a weekend vacation. We recommend you to visit it in winter or post-monsoon.
Just like you, we love trekking! And this is a trek we've documented in great detail to help you do it on your own. Drop-in comments if you need any help!
➤ Trek Contribution
Special thanks to Protyonik Roy, Ablaze Arksmith, Suvodip Chakraborty, Mounjayan Saha, Santanu Karar, Subham Tantia, Guruprasad, Sayak Mukherjee, Vishal Jain for all the photos from the trek.
Special mention to Vishal Jain and Vaibhav Chauhan for the documentation.
Banner Image is by Suvodip Chakraborty
The trek was written by Sakshi Chetule