Can You Help Us With Photographs Of This Trek?
We are looking to enrich this documentation with more photos. Pictures go a long way in explaining the trail, more than words ever can. If you have done this trek, can you share your photos with us? We will include them on this page, with due credit to you.Click here to contribute.
The Complete Guide to Brahmagiri Trek
Along with the change in season, changes the character and the mood of Nature. And it's always fun to explore nature in all its forms and we usually make it a point to have at least one trek in every season, be it rain, sunshine or chill zones. Within a week of monsoons hitting the west coast and Karnataka, we were all set for the 'Monsoon Trek,2011', and Brahmagiri (1608 m) was our choice. The reason is this trek is reasonably easy in the normal sense(read post-monsoon, winter etc) and it has got a forest guest house en route, a permanent shelter so that we won't have to slog out getting drenched in the rain during the nights. Since we were 12 people we decided to hire a minibus.
➤ Highlights
One of the most popular treks in Karnataka and one of the few which strikes a balance between awesome views and being first-time-trekker-friendly. This trek takes you inside the Brahmagiri Wildlife Sanctuary, which borders Kerala and is home to large herds of elephants.
Wild elephant sightings now and then are not uncommon.  With the trail passing through dense forest, endless grasslands, river streams and waterfalls (Iruppu Falls), a trekker's interest never really wanes. Another unique thing about this trail is the permanent shelter (Narimale Guest House), making it a monsoon-friendly trek even when it is pouring cats and dogs.
➤ Trail Information
Day 1 : (Irupu Temple- Irupu Falls – Narimale Guest house —> 5 kms)
Since the distance to Srimangala from Bangalore is just 250 km we decided to leave quite late in the night and we left Bangalore only at 12.30 am with everyone picked and tucked in their respective seats. We took the route of Blore-Srirangapatna(Bypassed Mysore)-Hunsur-(Virajpet Route) Gonikoppa-Srimangala-Irupu Temple. The deviation route after Hunsur towards Virajpet was potholed and the bus kept jumping over them like crazy.
Reached Srimangala at around 7 am and started to wait for the forest officials to arrive. Meanwhile had Breakfast at a nearby shanty hotel and finished our morning chores at a nearby guest house (just opposite the forest office), where shockingly the bathrooms were humongous, nearly 12×12 feet in size. Finally, the forest guards arrived at around 9 am and we got our permission, but with one catch: that there is one stream that might be pretty strong this season and already 2 teams have returned from this stream. This somehow made us rethink our plan, but in the end, we decided to proceed with it, the main cause for confusion being that the entire permission cost and Narimale Guesthouse rent came to a whopping 7.5K (for 12 of us). One of the most expensive treks in South India I suppose, but I understood the logic, the more the cost less will be the tourist inflow and only serious trekkers will be interested. It's more or the less the weeding out process. Also, we were the only team attempting to scale the peak this weekend.
After we reached the Irupu temple (9 km from Srimangala), the starting point of the trek, there was some confusion between the forest guards with the forest guards at Iruppu Temple insisting that the route cannot be done in this weather. But after a persistent effort by us, we got on with the plan. Also, note that a forest guard will be compulsorily accompanying us no matter what since this is a protected sanctuary.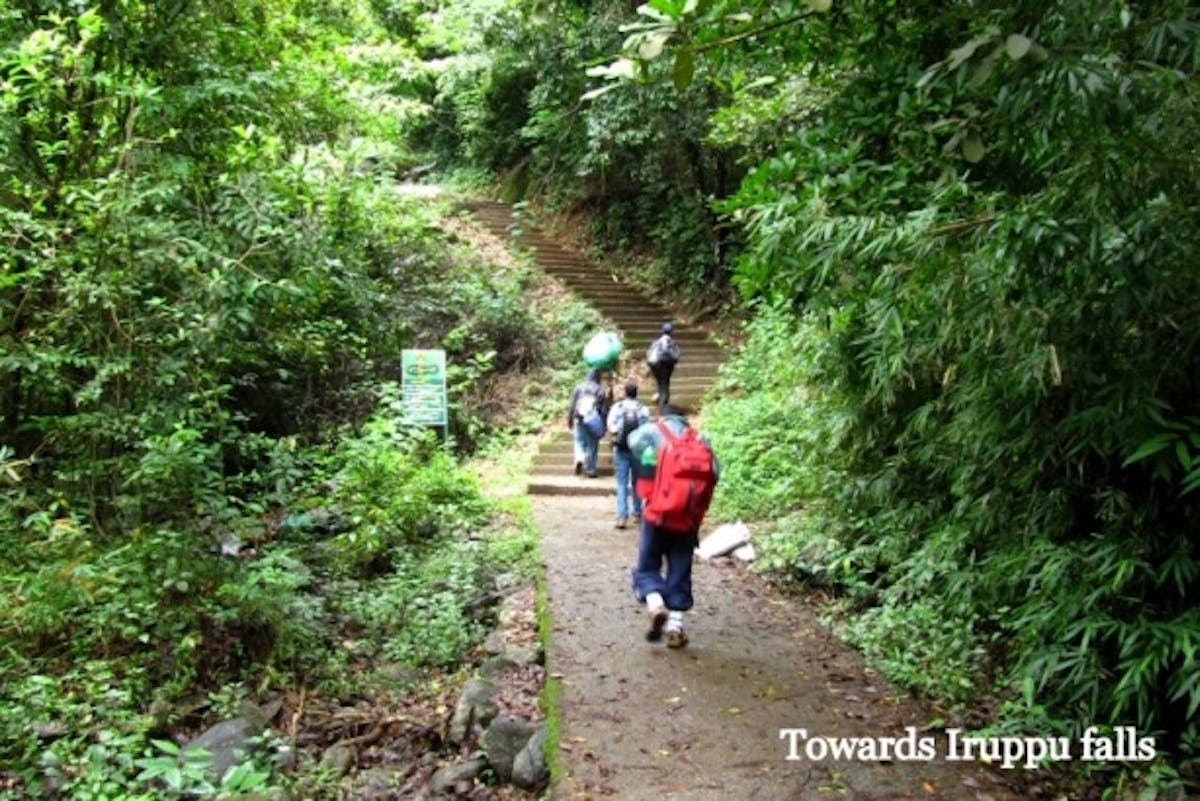 From Indiahikes Archive
The First 2 km of the trek is along the tourist-friendly path to Iruppu falls from the temple. After waiting endlessly near Irupu falls for our guide he finally showed up and by this time we were all loaded up on anti-leech stuff(salt, calcium carbonate, tobacco, balm etc) and started the actual trek at 11:30 am. This path was through dense leech-infested forests and these bloodsuckers were clinging on within no time. Soon enough it started to rain, which more or less continues for the next 2 days with some small breaks in between for our photo breaks.
Reached the famed stream which was hyped up by all the officials, but surprisingly it was just a piece of cake to cross it, don't know if we were damn lucky with our timing or the forest officials were lying shamelessly. Finally reached Narimale Forest Guesthouse, a house in the middle of nowhere and interestingly all the raw materials for its construction were carried along the same 5 km trek path which we traversed, it gotta have been a very tedious process. This guesthouse has 2 rooms and 1 hall, and the lighting is based on solar energy. We reached this Guesthouse within 1.30 pm taking just about 1 hr 30 mins from the Iruppu falls.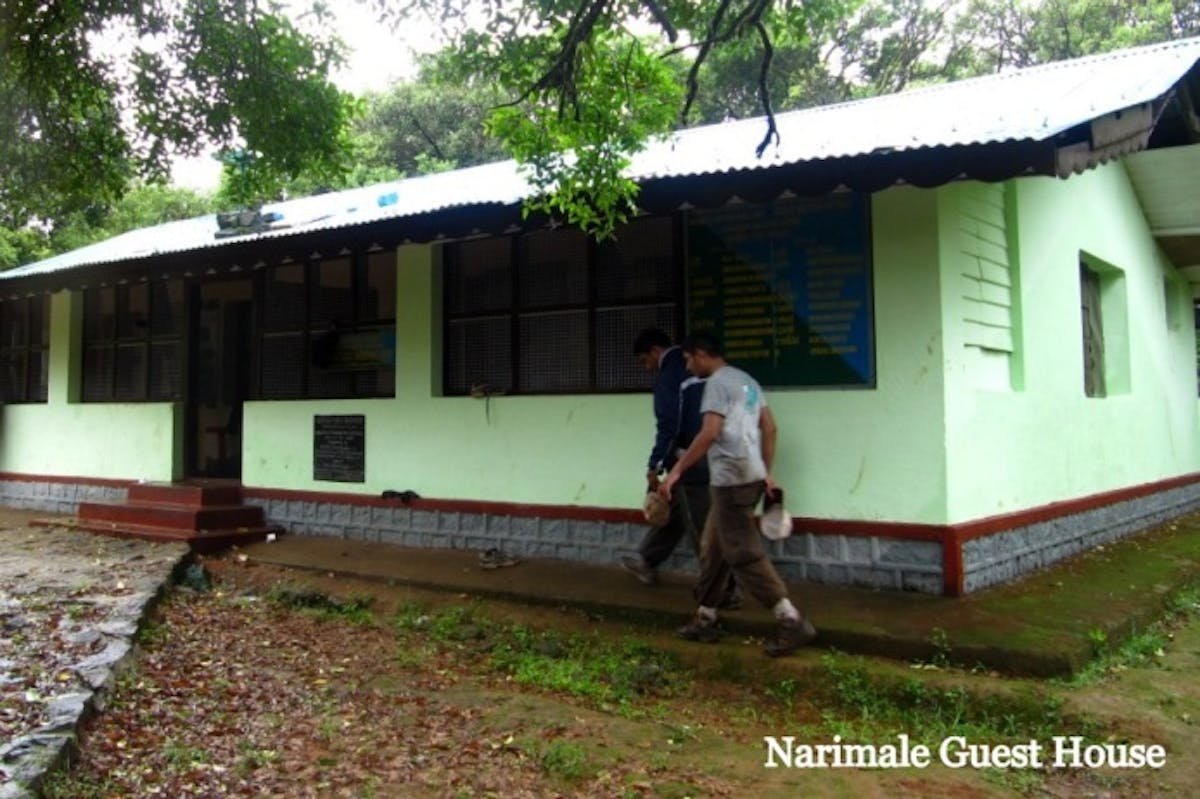 From Indiahikes Archive
Since the peak was 6 km away the guide refused to attempt the peak on this day and we had almost the entire evening for us to kill. Played some games to entertain ourselves till nightfall since even strolling out of the Guesthouse was not an option with the entire surroundings teeming with bloodthirsty leeches. The entire night it rained and rained. It was quite reassuring that we were inside a warm and cosy structure and not out there getting drenched in the rainwater. Also, the GH has some utensils, so those planning to cook need not get one. Also, the guide informed us that recently all trekkers who seek to trek from Kerala to Karnataka and vice versa along the Brahmagiri Wildlife Sanctuary are not permitted due to some dispute and therefore permission for Karnataka side to Munikal Caves (in Kerala) is never entertained. Hence out goes our plan of exploring these caves. There is a small rivulet that flows pretty close to the GH, which is the main source of water for the GH.
Day 2 : (Narimale Guest House – Getting Lost(2kms detour) – Brahmagiri Peak – Narimale Guest House – Irupu Falls – Irupu Temple —–> 19 km )
At 6 am our guide woke us up saying we have to start early to order to scale the peak, since the rain had subsidized a bit. We were leaving back all our luggage at the GH since we had a long day ahead. We had expected the 6 km route from the GH to the Peak to be completely in grasslands and hence we wrongly assumed that we won't be bothered by leeches hence no one took any precautions and this was probably the biggest mistake of the day. In the end, we had a blood bath with some even getting 30 odd bites. Even in the grasslands, the leeches were thriving bcoz of the total absence of sunlight.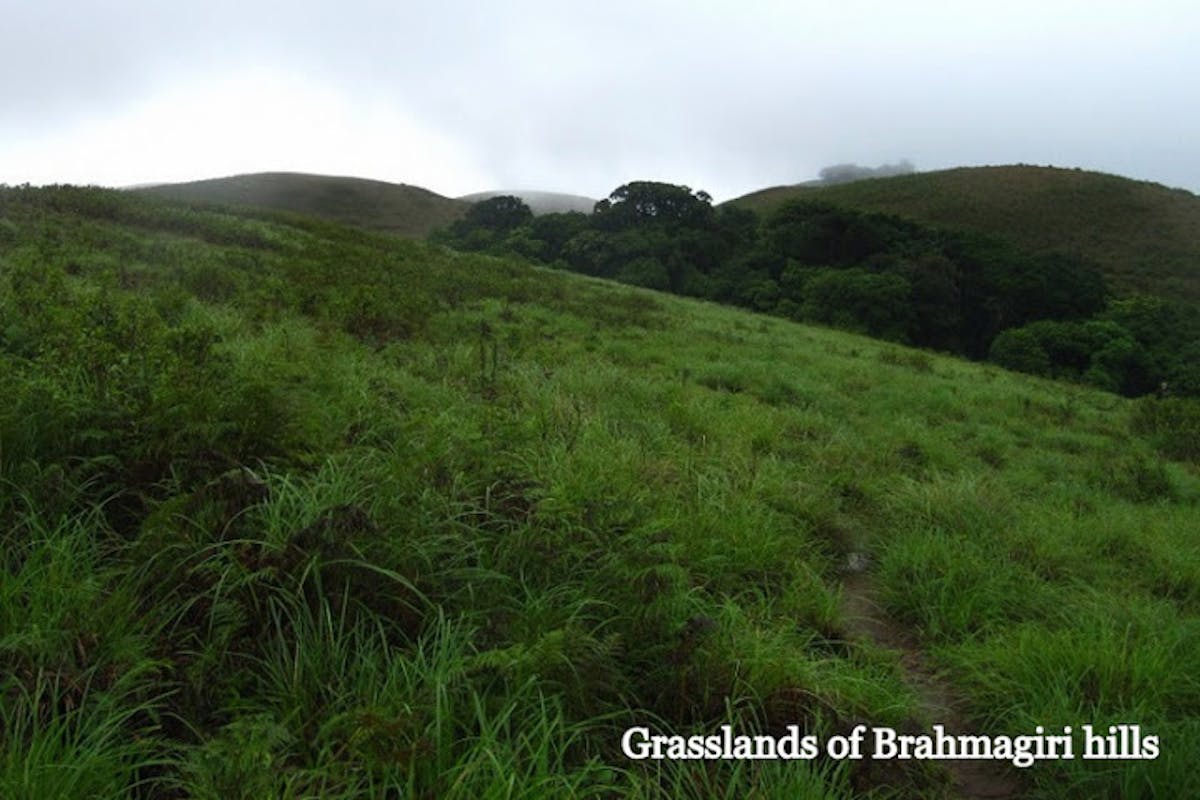 From Indiahikes Archive
The grasslands had become more or fewer marshlands with such heavy rains. Walking through these marshlands pretty much brought the memories of childhood when we used to splatter water puddles by jumping into them." SPLAAAAT !!!!!". With such heavy rainfall, the sun-dried grasslands had a transformation to lively green within a matter of weeks, giving us awesome views. At some point walking through the grasslands, everyone got distributed with some of us taking the wrong route. This route headed towards the Kerala border and man this route had both beautiful, breathtaking views and the highest density of leeches anywhere in the trek, more or less in a "femme fatale" kind of situation. When we were wandering along this route like a headless animals our guide appeared from nowhere and pulled us back to the main route. Later he informed that anyone wandering into Kerala Border will be detained and will have to take the motored roadway back to Karnataka and not the trek route.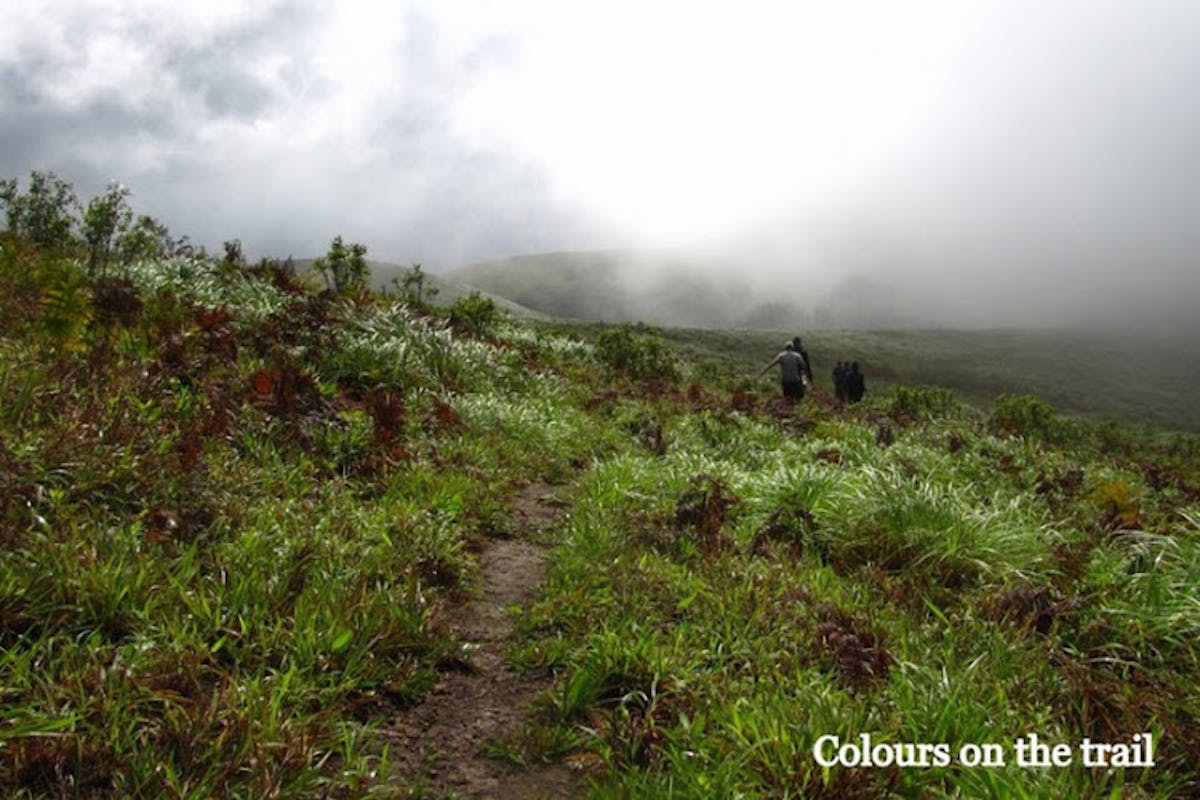 From Indiahikes Archive
When we were lost and roaming the team which was on the right path caught sight of 2 elephants grazing at a distance, and from the number of droppings we came across it can stated easily that there is a high density of tuskers in this wildlife sanctuary. Finally back on track and on the way we were getting some good views of the grasslands, pretty much to infinity and thus came into view the Brahmagiri peak, which from the base doesn't seem that difficult or intimidating. The first impression is that it's just a piece of cake, but the last section has the most difficult gradient of the entire trek. A nearly 60-65 degree upright climb and thanks to the incessant rains this part was damn slippery.
After a 30 min session of struggling climbing we reached the top …..and to no one's surprise, there were no views thanks to the mist. We were, the first team to reach the top since the monsoons hit…. "1st team to successfully scale Brahmagiri peak in monsoons 2011″… sounds heroic.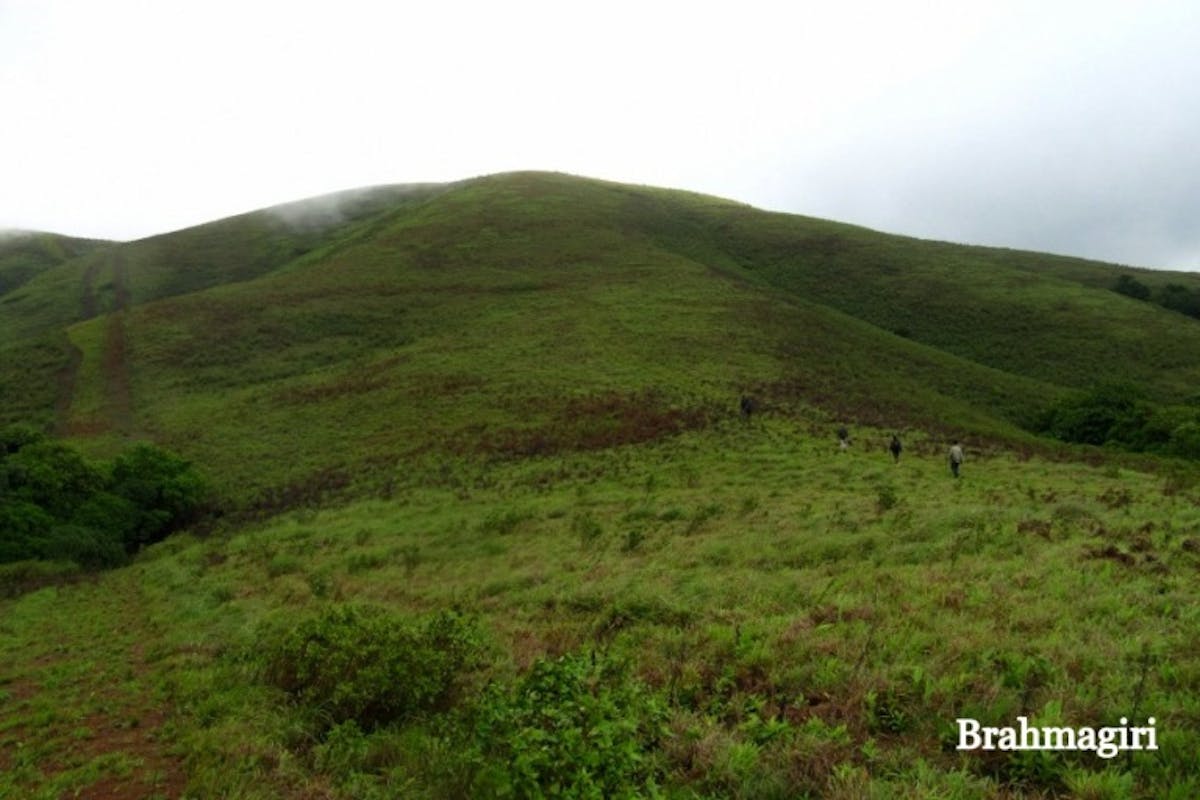 From Indiahikes Archive
The climb down from the immediate peak was much more difficult, with all of us slipping and falling at least once and some of us even pulling a muscle. The return journey back to the Guesthouse was eventless apart from regular rainfall and de-leeching activity. Reached the Guesthouse, quickly packed our belongings and started the return journey to civilization. As we neared the Iruppu falls our guide decided to fatten his wallet and took an extra baksheesh from 2 separate groups, more or less double-crossing us. Reached the falls and there we unloaded our trekking gear and more importantly removed our shoes, and seeing the bloodied legs, hands etc the normal tourists to the falls got freaked out and some of them ran helter-skelter without even visiting the falls :D. In the end, my leech bites just made it to the double-digit mark and for others, it varied from 1 to 32. Had a refreshing bath at the falls, in ice-cold water.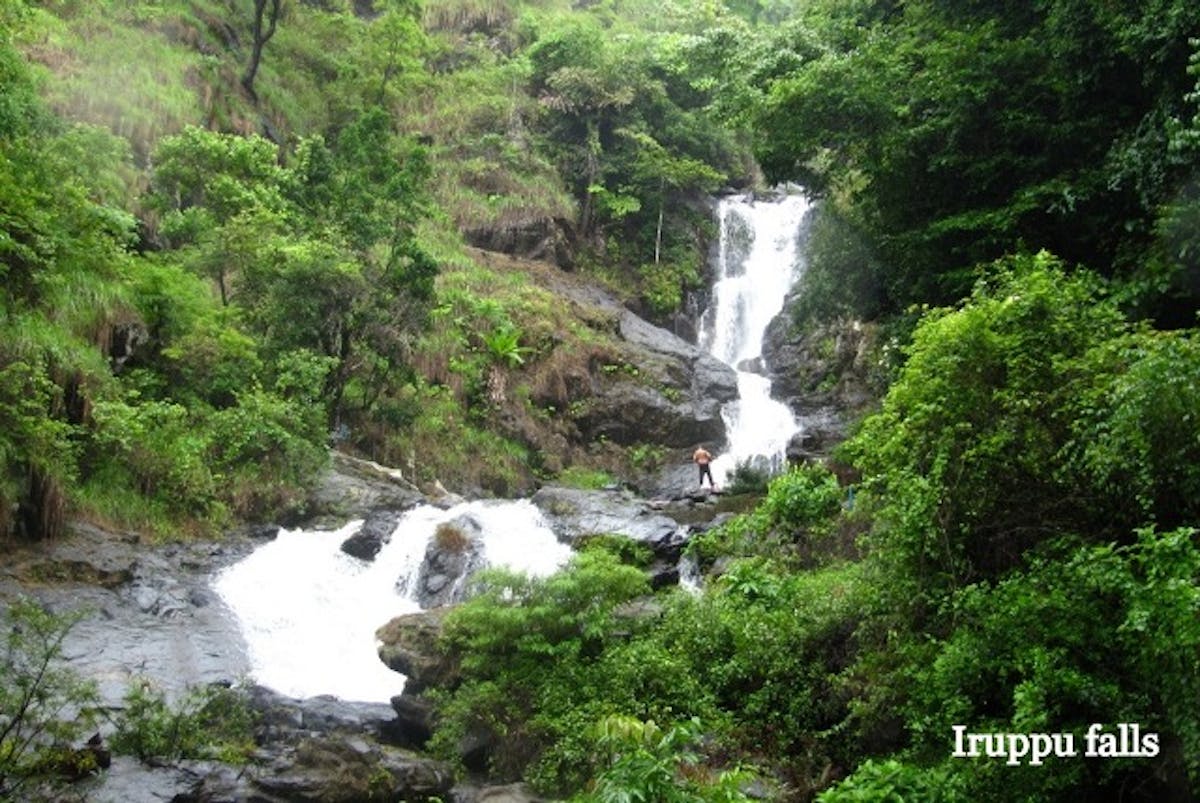 From Indiahikes Archive
Boarded the bus and started the return journey back to Bangalore. Had lunch at a Kamath Hotel in Gonikoppa which was quite good and reached Bangalore and my home at 11.50 pm. Recently read a quote from George Mallory(1886-1924) when asked why he wanted to climb Mt. Everest and his reply was simply "Because It's There". This 3 letter quote has made itself the "most famous three words in mountaineering history" and is more or less our motto to keep conquering more and more peaks.
➤ What to Pack for your Trek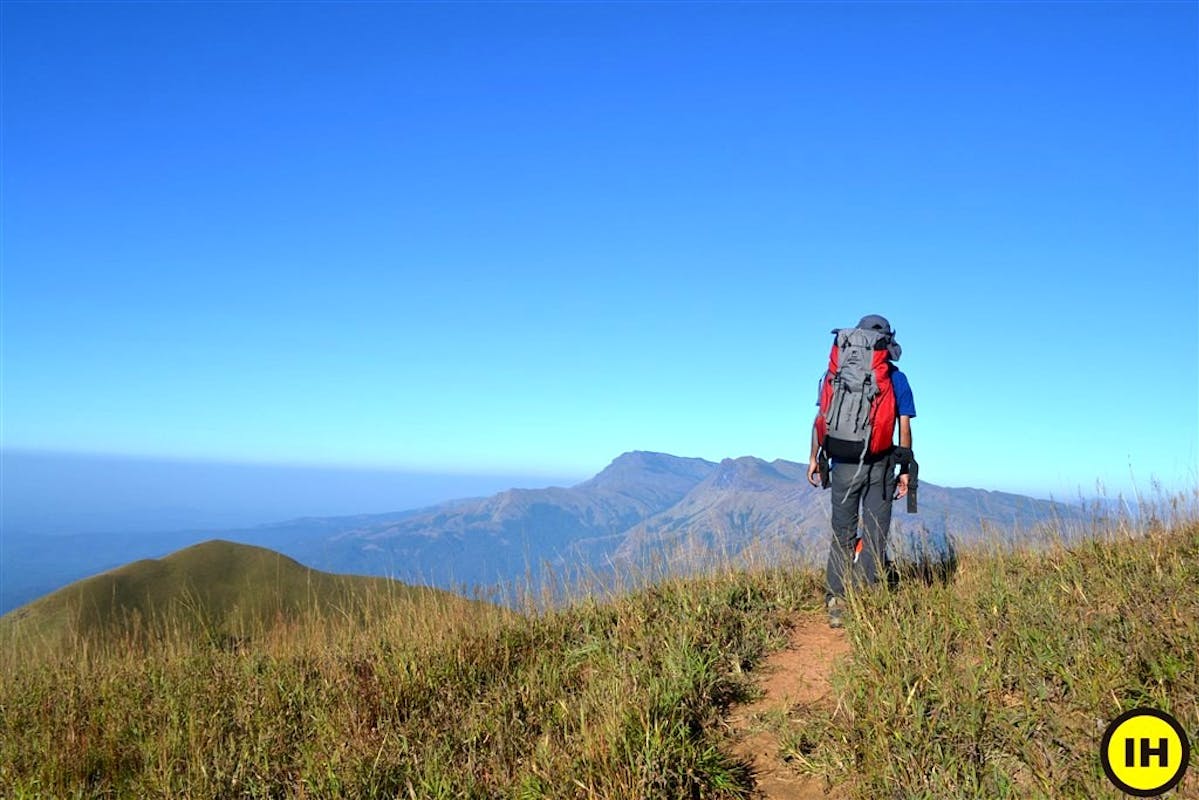 No, stuffing it all in isn't the right way to do it Packing a backpack correctly saves precious time that you might waste trying to find your things later. It is wise to spend some time learning what goes into packing a backpack.
What should I pack? On a trek, you only get what you take. Something as simple as a forgotten matchbox can cripple your cooking plans throughout the trek. So, it's essential to prepare early and prepare well. To begin with, make a checklist. While shopping, remember this thumb rule – keep it light. "Every item needs to be light. This ensures that your backpack, on the whole, stays light," says Sandhya UC, co-founder of Indiahikes. Balancing out heavy items with light ones isn't going to have the same effect as having all light items. "Always opt for good quality, light items," says Sandhya.
How much should my bag weigh?
"Your backpack for a weekend trek should weigh between 8 and 10 kg," explains Arjun Majumdar, co-founder of Indiahikes, "To break it down, your tent should weigh around 2.5 kg, your sleeping bag, around 1.5 kg, and the ration, stove and clothes should constitute the other 5 kg." The best way to plan is by concentrating on the necessities – food, shelter and clothes. Gather only those things that you'll need to survive. Do not pack for 'if' situations. "That's one of the common mistakes that people make – packing for 'if situations. It only adds to the baggage that you can do without on a trek," says Sandhya.
Trekking hack
One good way to go about it is to prepare a list of absolute essentials. Start with the most essential and end with the least essential. That way, when you feel you are overshooting the limit, you can start eliminating from the bottom. Another tip is to be smart while packing clothes. Invest in light. wash and wear fabrics. "Replace a sweater with two t-shirts," adds Sandhya. Layering is the mantra when it comes to trekking. Refer to Sandhya's clothes list to pack smart.
How to pack The thumb rule for this one is to eliminate air spaces. Make sure that everything is packed tightly, especially clothes and jackets, as they tend to take up maximum air space. Put in all the large items first. Then squeeze in the smaller ones in the gaps. This ensures minimum air space. A good way to pack clothes is by using the Ranger Roll method.
Where to pack Bottom Sleeping bag: Make this your base layer. Sleeping bags tend to be voluminous, but do not weigh much. They're perfect for the bottom of the bag. Tent: Just like the sleeping bag, even tents are voluminous and light. Keep the tent poles separately and place the fabric at the bottom of the backpack. Middle Heavy jacket: Roll up the jacket in a tight ball and place it in the middle of the backpack, close to your back. The middle region of the backpack should always have the heaviest items. You can store other things like rations or mini stoves in the middle. Other clothes: Roll other clothes and place them in the remaining space, to fill air gaps.
Backpack essentials
Top Water: Water, although heavy, needs to be easily accessible. So put it in the topmost region of your backpack. Medicine box: This is another component that you wouldn't want to be scavenging for when in need. Poncho: It could rain at any time in the mountains. So, ponchos should be accessible easily. Also, having a waterproof poncho at the top of the backpack provides additional waterproofing to items in the bag.
➤ How to Get Fit for your Trek
Cardiovascular endurance
The secret to ascending any trail lies in building your cardiovascular endurance. You can begin by jogging every day. Ideally, you should be able to jog 4 km in 20 minutes before the start of the trek. It takes time to be able to cover this distance in the given time. Start slow and increase your pace every day. Swimming, cycling and stair climbing without too many breaks in between can help too. Strength This is another area you should work on. You will need to build strength in your muscles and your core body. You can do some squats to strengthen your leg muscles. Do around 3 sets of squats, with 8 squats in each set. Apart from this, you can add planks and crunches to your workout.
Flexibility
Another aspect that will help you trek comfortably is flexibility. For this, you can do some stretching exercises – stretch your hamstrings, quadriceps, hip flexors, lower back muscles and shoulders regularly. Carrying a backpack, however, light can become a strain after a while. These exercises will help you to be in good shape before the trek. Working out indoors