Can You Help Us With Photographs Of This Trek?
We are looking to enrich this documentation with more photos. Pictures go a long way in explaining the trail, more than words ever can. If you have done this trek, can you share your photos with us? We will include them on this page, with due credit to you.Click here to contribute.
The Complete Guide to Chadar Trek
Chadar trek is no doubt a great trek to do. But the trek is now being controlled by a mafia, led by ALTOA (All Ladakh Tour Operators Association). Members and associate members of ALTOA decide which local operator will run the trek, how many people must trek in a group, who the transporters will be, and also demand to be paid a regular sum of money in various forms. They neither promise the safety standards of Indiahikes nor any of our service standards. When Indiahikes refused to be a part of such arm twisting, ALTOA members resorted to violence and hooliganism. Read more about it here.
Indiahikes was instrumental in bringing Chadar to the forefront of the trekking map in India. It is with great regret we announce that we will not run the Chadar trek this year. We did not wish to work with cartels or hooligans. But we can help any trekker seeking our help to do this trek with our advice and suggestions about different aspects of the trek. We have everything that any trekker would want to know about and are willing to answer your queries regarding this trek.
➤ Short Itinerary
Why Chadar is the most glamorous trek in India
The Chadar frozen river trek is extremely glamorous. It is easy to see why. Travel magazines worldwide show incredible pictures of Buddhist monks walking bare feet on the frozen river. The Discovery and the National Geographic channels have both made films on the Chadar trek. Anyone who returns from the Chadar trek adds to the aura around it by talking about the conditions in a revering way.
It is a 6-day trek in inhospitable conditions. It is a trek over a frozen river in Ladakh. The average mean temperature during the day is minus 10. At the night, temperatures fall to minus 20 and 25. Ice forms break and change colour on the river every few hours. In places, the Chadar (or ice) does not form over the river. Trekkers then have to forge a new trail climbing over snow-covered embankments to descend to a spot on the river where the ice is more stable. The truth is that extreme conditions are not hard to beat.
With multiple layers and sensible trekking, the Chadar trek is not very difficult. But what sets it apart is its unique experience. Everything about it is unique: the scenery, temperature, atmosphere, the frozen river, sledges, unusual campsites, caves and the ever-changing Chadar. So unique that it has to be experienced. In our Indiahikes list of treks, the Chadar, by far, is the most unique trek.
➤ Trail Information
Complete day-wise trek details
Day 1: Report at Leh. Stay overnight.
The only way to get to Leh in the winter months is by flight. All flights land in Leh in the morning before noon. As your aircraft enters the Ladakh region, look below to see the undulating mountain ranges enveloped in a white blanket of snow. The temperature in Leh is always in the negative. Keep a jacket, woollen cap and gloves handy in the flight to face the blast of cold air the moment you land the plane. Leh is covered by a blanket of snow. It's white all around. Sometimes the roads have a coating of a thin sheet of ice. Watch out when you walk on them and be wary of slips and falls. The city of Leh is only partly open during the winter months. Only the shops catering to the local needs are open. Buy all your gear from your city and don't keep any major shopping to do at Leh. Leh at 11,800ft is higher than your entire trek. It is colder too. Daytime the temperature hovers at around -10 degrees and after sundown drops to -16 or more. Get used to the cold at Leh during the day in the sun but get into your rooms once the sun goes down.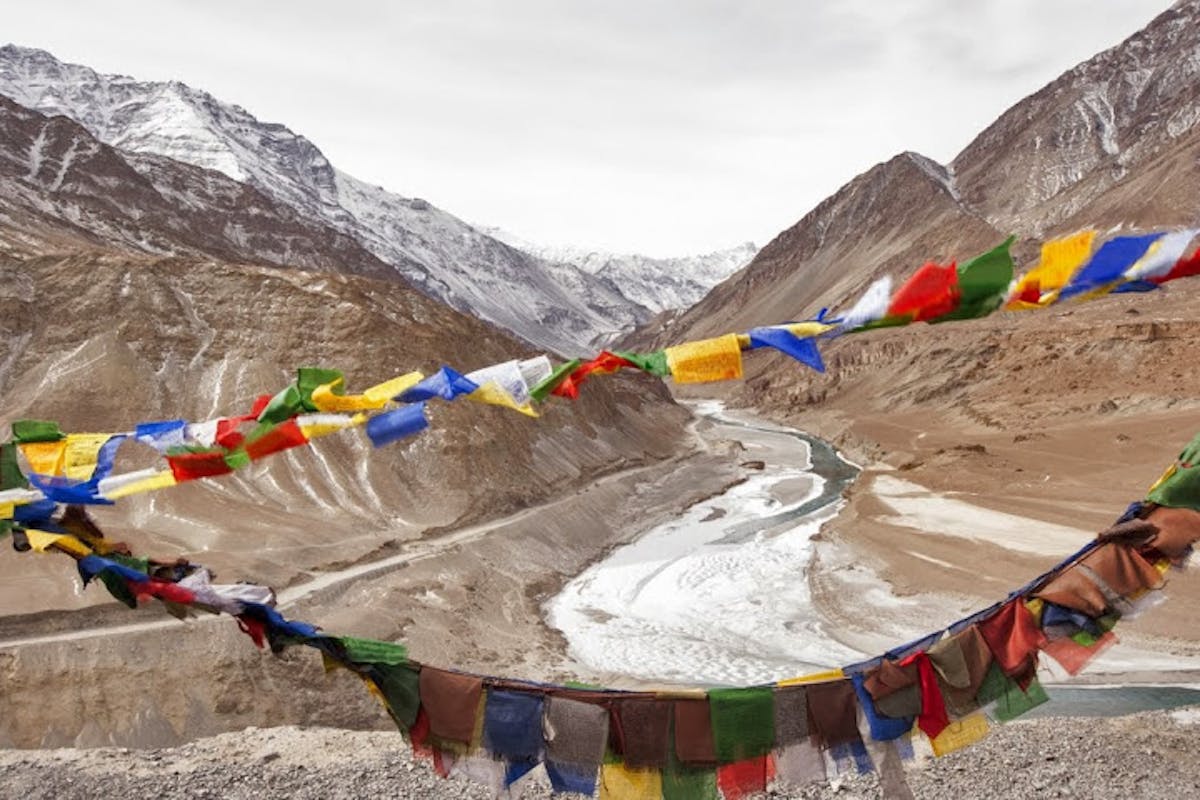 Day 1: View. Picture from Indiahikes Archive
Day 2: Drive to Chilling.
3 hours. Trek from the road head to Tilat Sumdo. 2 km 1 hour.
Chilling, the start of your walk on the frozen Zanskar river is 64 km away from Leh. Drive on the Leh Srinagar highway till Nimu where the Indus meets the Zanskar. At Nimu take the road heading left and drive along the Zanskar. The road goes up along the Zanksar. Spot the frozen sheets of ice or Chadar forming on the river already.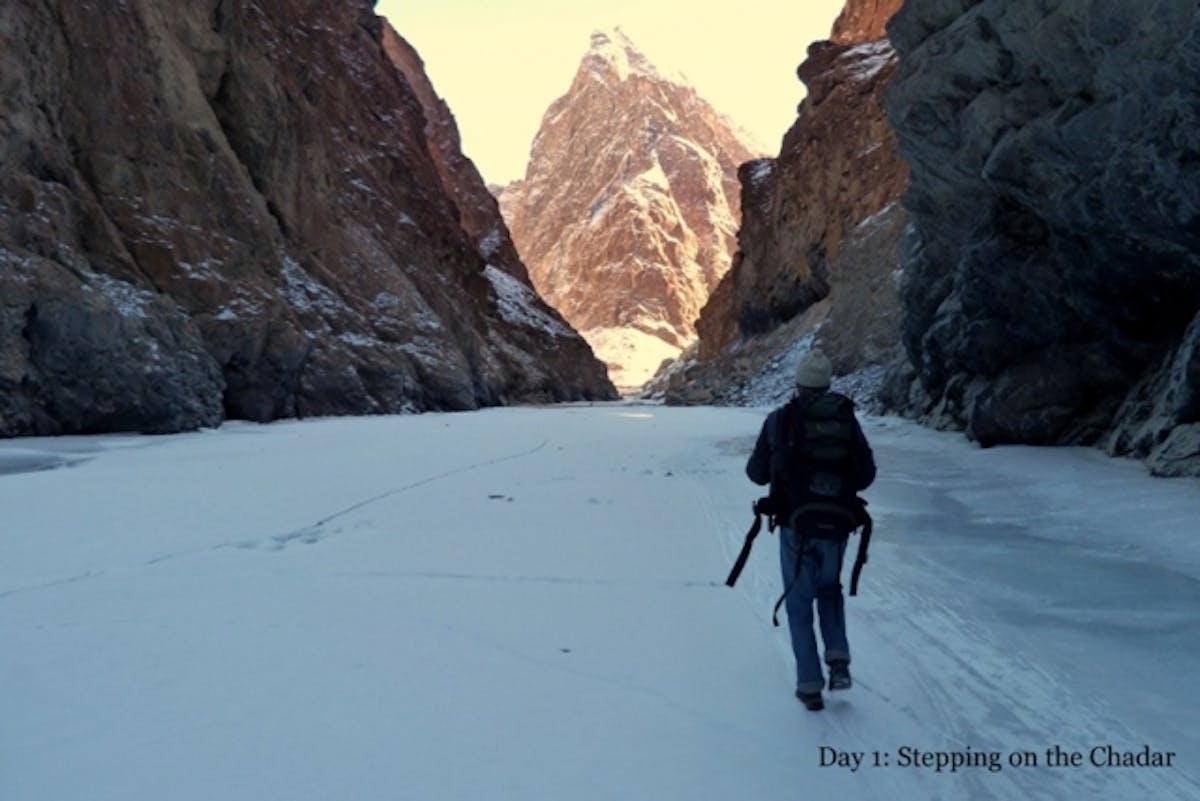 Stepping on the Chadar. Picture from Indiahikes Archive
An hour and half more along the Zanskar brings you to Chilling. A few army sheds and a couple of shut buildings dot the almost shut hamlet of Chilling. The road goes a few km beyond Chilling. Drive ahead until you can see the end of the road. This is where you leave the road and hit the Chadar. Take your first few steps on Chadar carefully getting a feel of the surface you are stepping on. The Chadar surface can be of various kinds – a coating of fresh powder snow, hard and shiny ice, a freshly formed chadar (sheet of ice), chadar that's weak and breaking or another new texture. It is easy to walk on a fresh coating of snow. The snow gives you a good grip and you can walk normally. An old hard and shiny surface of ice is what is tricky initially. Do a penguin kind of walk on such a surface without lifting your feet too much off the ground.   The Tilat Sumdo campsite comes within an hour of your trek. Sumdo means confluence. A local tributary joins the Zanskar from your left. An elevated level field makes a good camping spot. On the opposite side are a few caves where those not carrying tents can camp. The locals on their journey through the Chadar tend to stay in caves. Tilat Sumdo will be your first experience of camping out in freezing temperatures. A campfire will make it better but it comes at the cost of the last traces of vegetation (dried) left on the banks of the Chadar.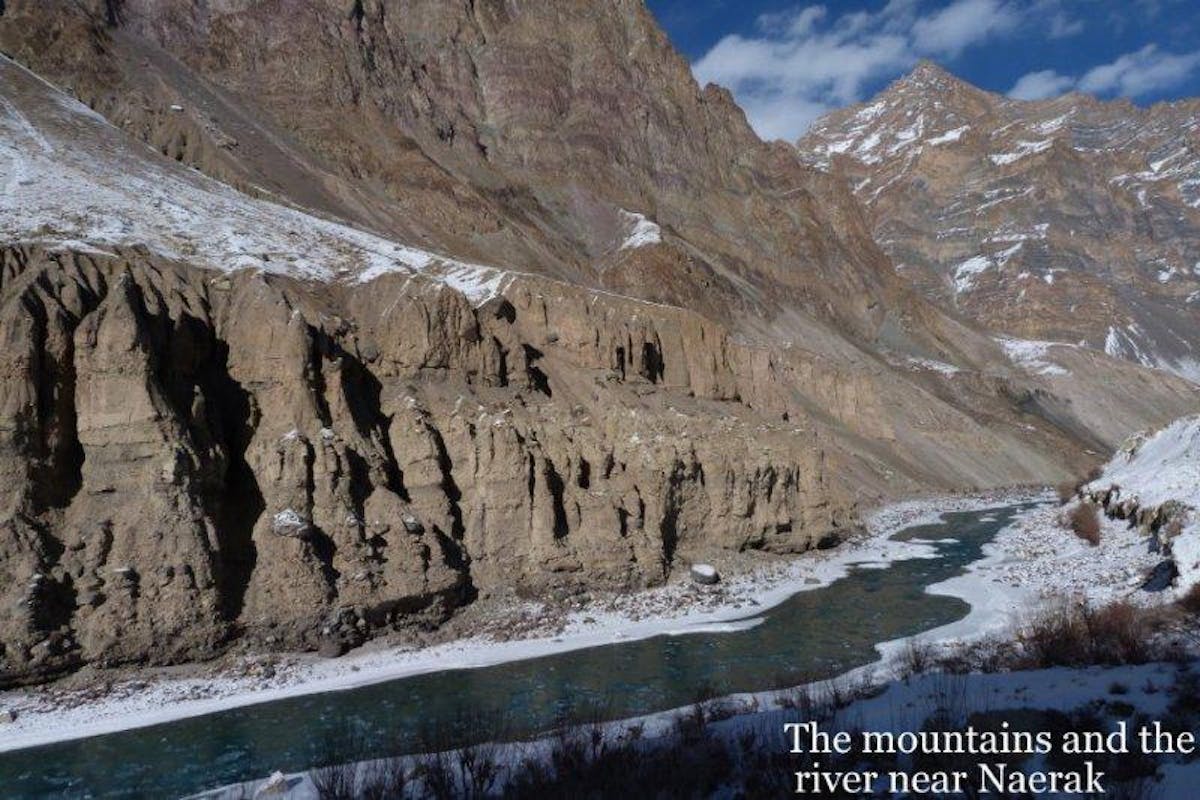 River near Naerak. Picture from Indiahikes Archive
Day 3: Trek from Tilat Sumdo to Shingra Koma. 9.5 km, 6 hours
Wake up with the sun at about 7 am and prepare to leave the campsite by 9 am. Though the sun is up, Tilat Sumdo like most parts of the Chadar gets direct sunlight only during midday. Another reason why the Chadar forms and remains.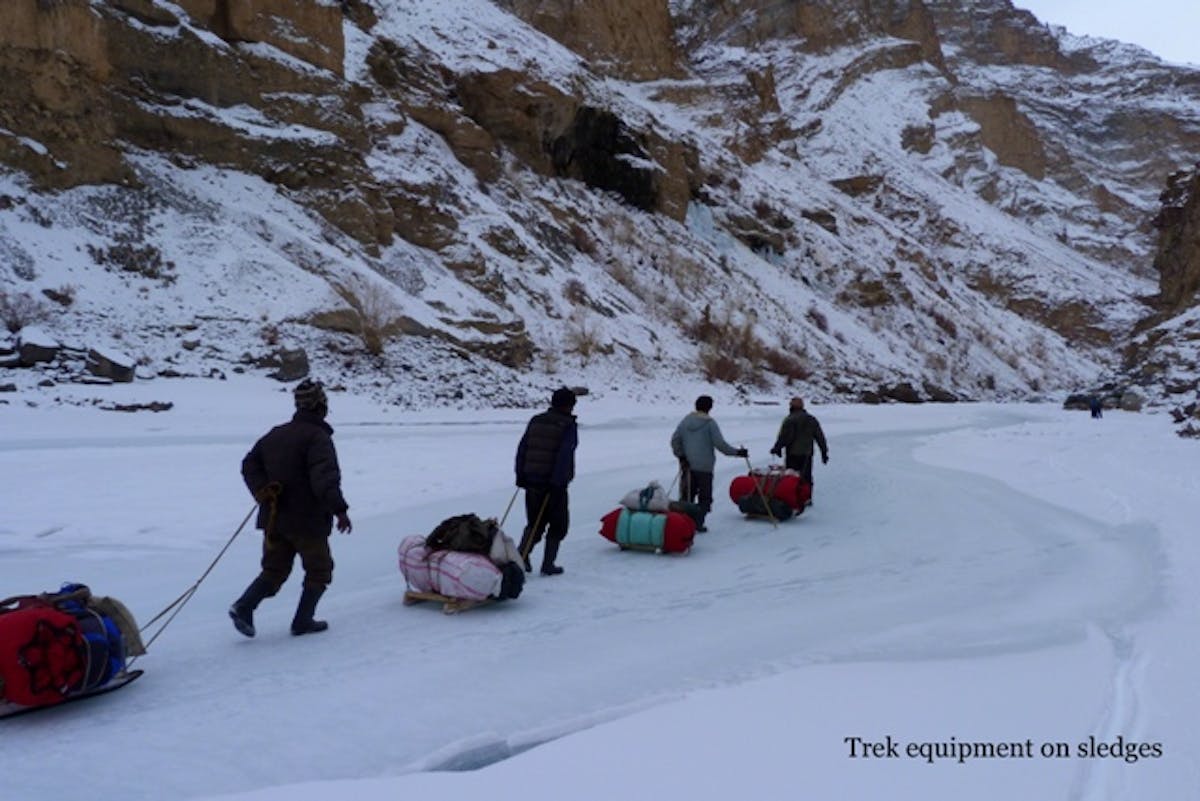 Trekking! Picture from Indiahikes Archive
The morning walk on the Chadar may feel like a walk inside a deep freezer. Your face should be the only exposed skin but it's enough to give the deep freeze feeling. As you walk on the Chadar, listen to the sounds it makes. Depending on the thickness of the Chadar, the sounds change. You will soon start recognizing where the Chadar is thick and where it is thin and dangerous.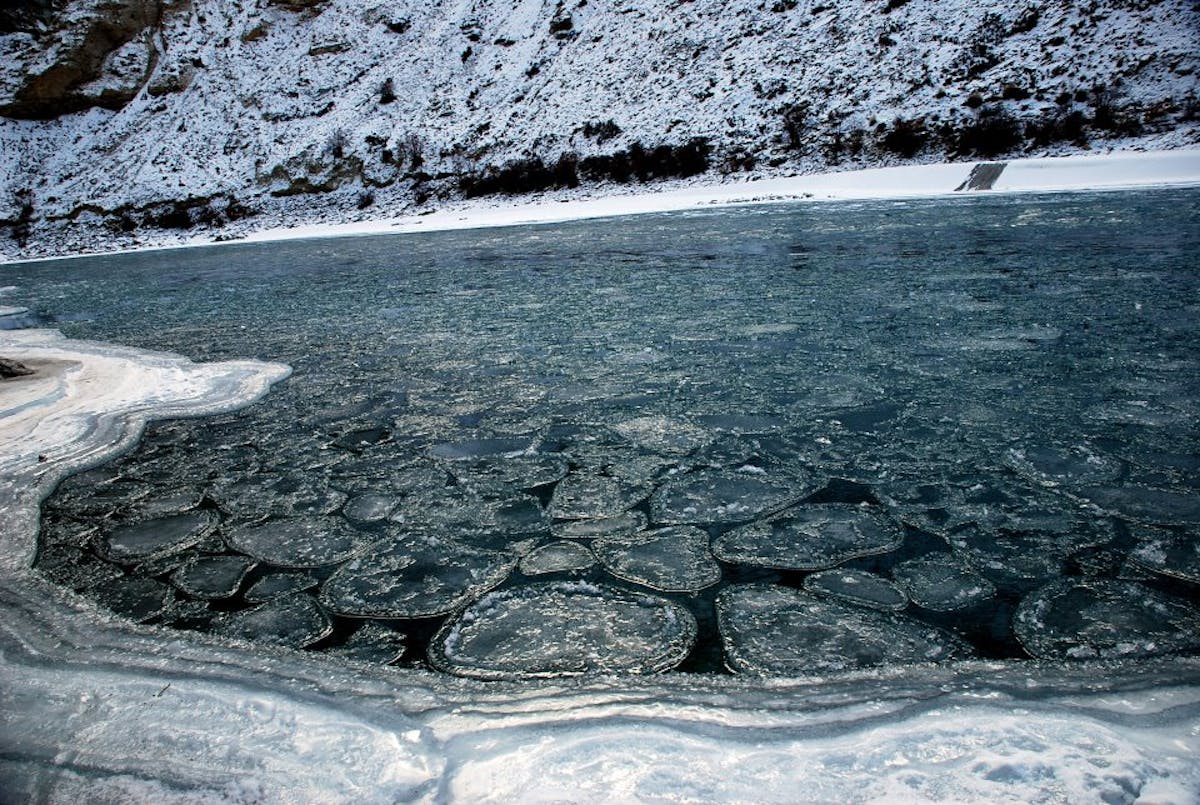 Crystal Clear Waters. Picture from Indiahikes Archive
There can be certain sections where the Chadar has formed only on the real corners of the river and the corner is under a low overhang. Do not fear to get down to your fours or even lie down on your tummy and crawl through those sections. Shingra Koma is almost 10 km away from Tilat Sumdo. The 10 km can be covered in about 6 to 7 hours. Midway through the trek around noon, find a sunny section where your cook can dish out a quick hot meal of Maggie and tea. Packed lunches are ruled out on the Chadar trek because the food will become way too cold by noon to be eaten. Hot quick meals on the way are the only way out. While on the Chadar, do not be surprised to spot pug marks. The big cats roam around pretty freely though they are elusive to the human eyes. Shingra Koma is a big camping ground on your right as you walk upstream. It's right below a huge stone wall which is straight out of a Hollywood movie. The Zanskar river takes a beautiful turn right in front of the campsite and sharp peaks rise on the other side of the river. Shingra Koma gets its name due to the abundance of a plant called Shingra.
Day 4: Trek from Shingra Koma to Tibb. 15 km, 7 – 8 hours
The trek from Shingra Koma to Tibb is a long one. It is also one of the most beautiful days of the trek. Watch the small waterfalls on the left standing still in the form of icefalls.
A couple of hours into the day's walk brings you to a massive waterfall on the left. Prayer flags flutter on the trees in front of the waterfall. You know that the place is revered by the Ladakhis. Surprisingly the waterfall is not frozen. Notice the greenish moss growing on the rocks under the water.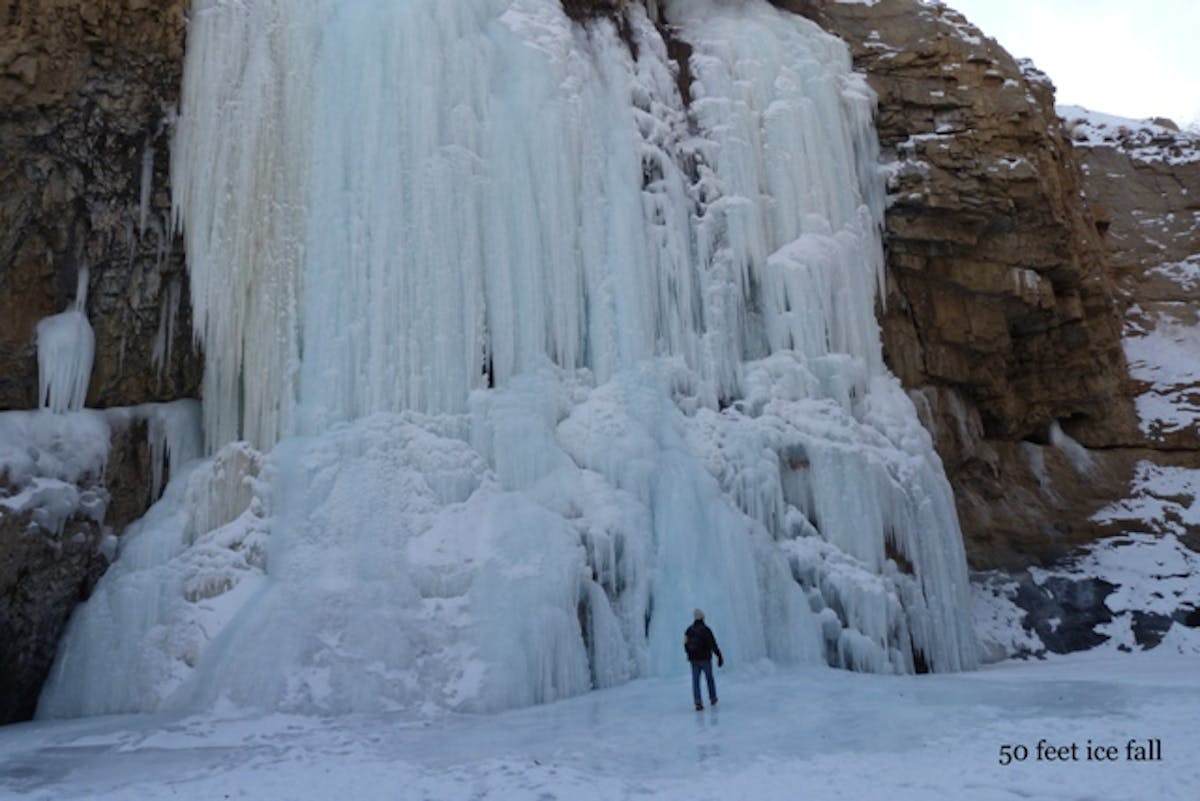 Ice fall. Picture from Indiahikes Archive
The legend goes that, one-year Nerak ran dry and a holy man went to Kailash to pray for water. He came back with a pot full of water and 2 fish. The condition was that he does not place the pot anywhere. On the journey back, it so happened that he placed the pot and this spot and two fishes jumped off creating this massive waterfall. The rocks behind seem to have two nostrils. One which is full of water and the other dry. According to legend, this waterfalls has its source at Kailash in Tibet.
The lunch point for the day is exactly the midway and under an overhang of rocks. Post lunch, the Zanskar river passes through narrow gorges where the width of the river can be covered by 4 people holding hands. The narrow gorge hardly gets any sunlight and so the river is non-existent. Generally, a thick chadar forms end to end here.
Two more hours of walk through the various hues and forms of Chadar brings you to a large camping area on your right – Tibb. To the left again are caves where 8 to 9 people can be comfortably accommodated. The Tibb campsite also has more dry vegetation around.
Day 5: Trek from Tibb to Nerak. 12 km, 7 hours
The trek from Tibb to Nerak is 12 km long. This is the day when you encounter the much-awaited frozen waterfall. The day is beautiful too going through the cliffs and gorges and valleys of Chadar. 5 hours into the trek and after your lunch break is when you see the first sights of Nerak. Prayer flags around Juniper shrubs by the Chadar signal that you are now close to Nerak and before that the waterfall.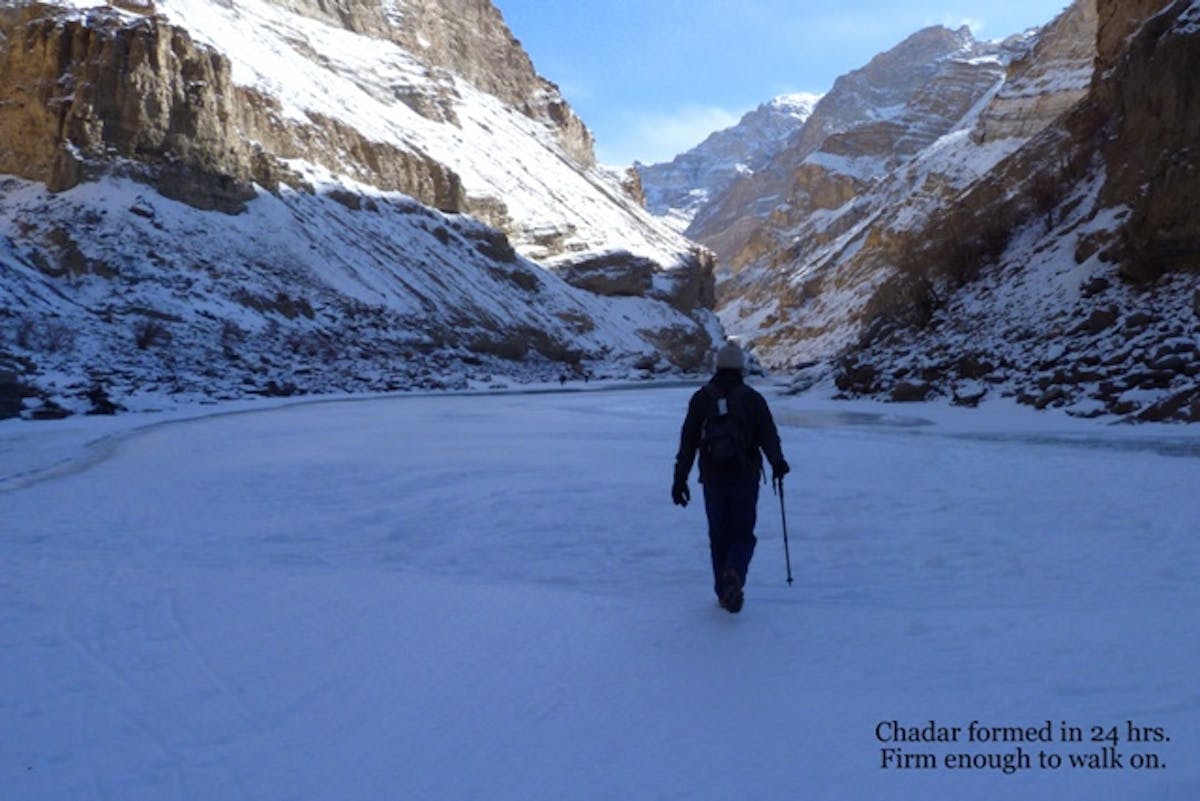 Walk on Chadar. Picture From Indiahikes Archive
A kilometre ahead around a bend under the shade of the gorge lies the famous Nerak waterfall. The Nerak pul or bridge lies just ahead of the waterfall. The bridge is an old wooden bridge but can still take a wait of 4-5 people at once. It's a nice experience walking on the rickety bridge and catching the sight of the waterfall from the top.
The trail goes along the Chadar and 20 minutes of walk brings you to Nerak where a small trail takes you up to the Nerak campsite.
Nerak is a village located about 2,000ft higher than the river bed. The Chadar trekkers camp not at the village but the camping ground 200 ft higher than the river. There is a lone shelter at Nerak campsite which serves as a Rafting point in the summer months. During winters, it serves as a shelter for the Chadar trekkers.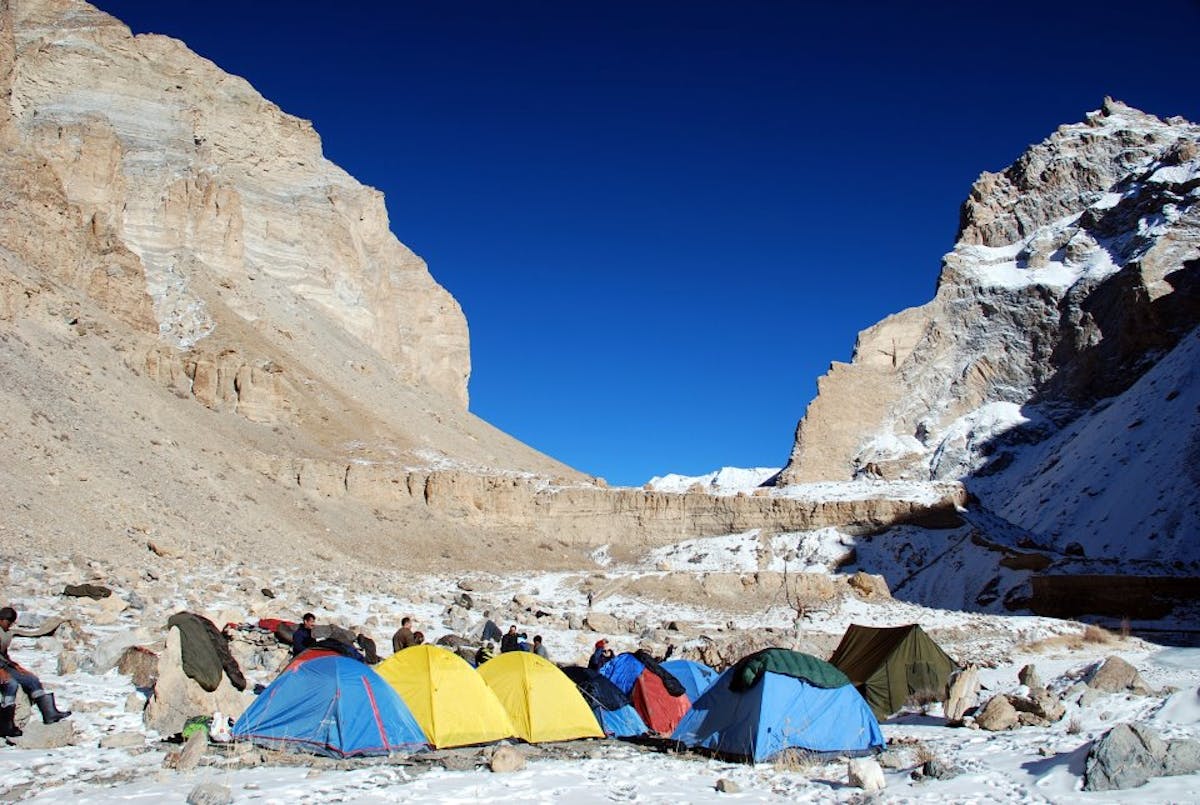 Campsite. Picture from Indiahikes Archive
Nerak is notorious for its really cold nights and winds. The temperature can dip as low as -25 or lower. This is going to be the coldest point of your trek.
The return from Nerak
The return path is theoretically a retrace of the route you took the last 3 days but in reality, can feel like a new one. The dynamics of the Chadar can make the whole place look and feel different. Old Chadar breaks, new ones form where there was none earlier, the texture of the Chadar changes and so on. Sometimes the Chadar breaks right under your feet and floats away like a raft. You have no option but to run on to the safer sheet ahead. You see the same broken raft getting stuck somewhere downstream and other icicles clinging onto it to form a whole new Chadar elsewhere. The Chadar trek is an experience. Your experience and what you see will be different from anyone else.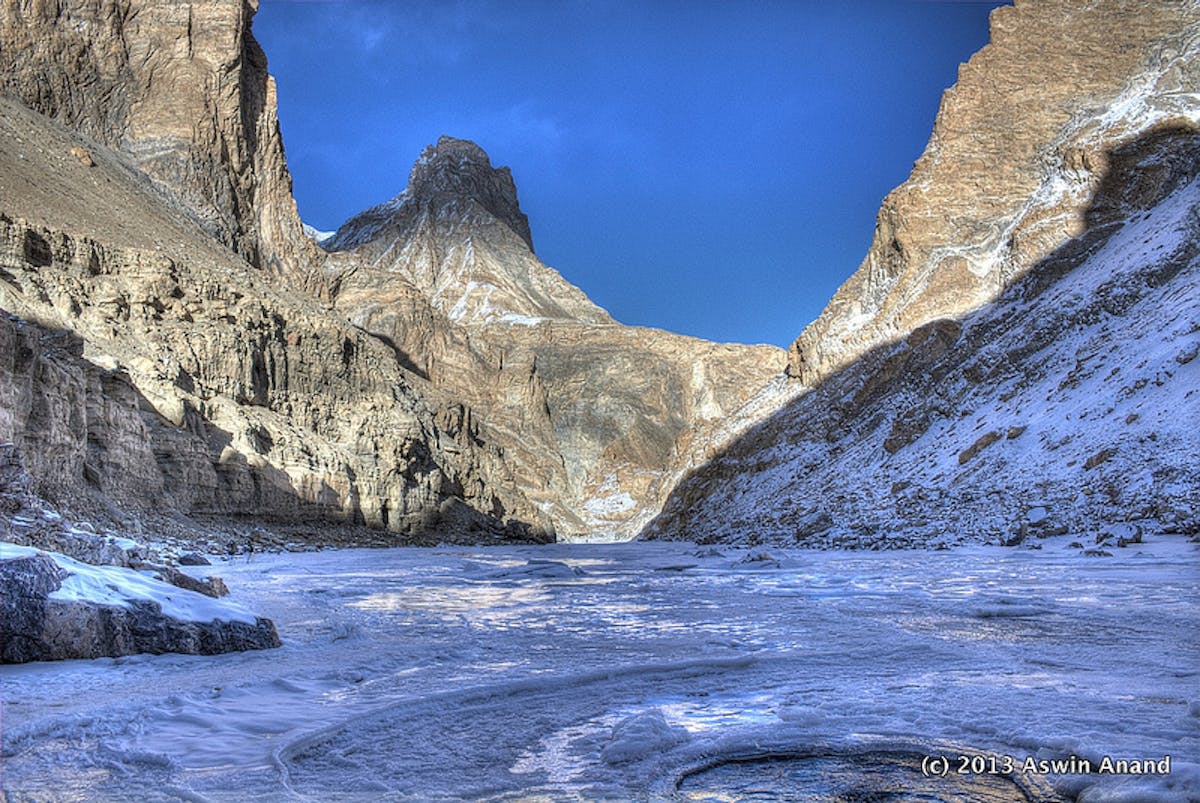 Unbeatable Beauty. Picture from Indiahikes Archive
➤ Gallery
Click on the images below to view full screen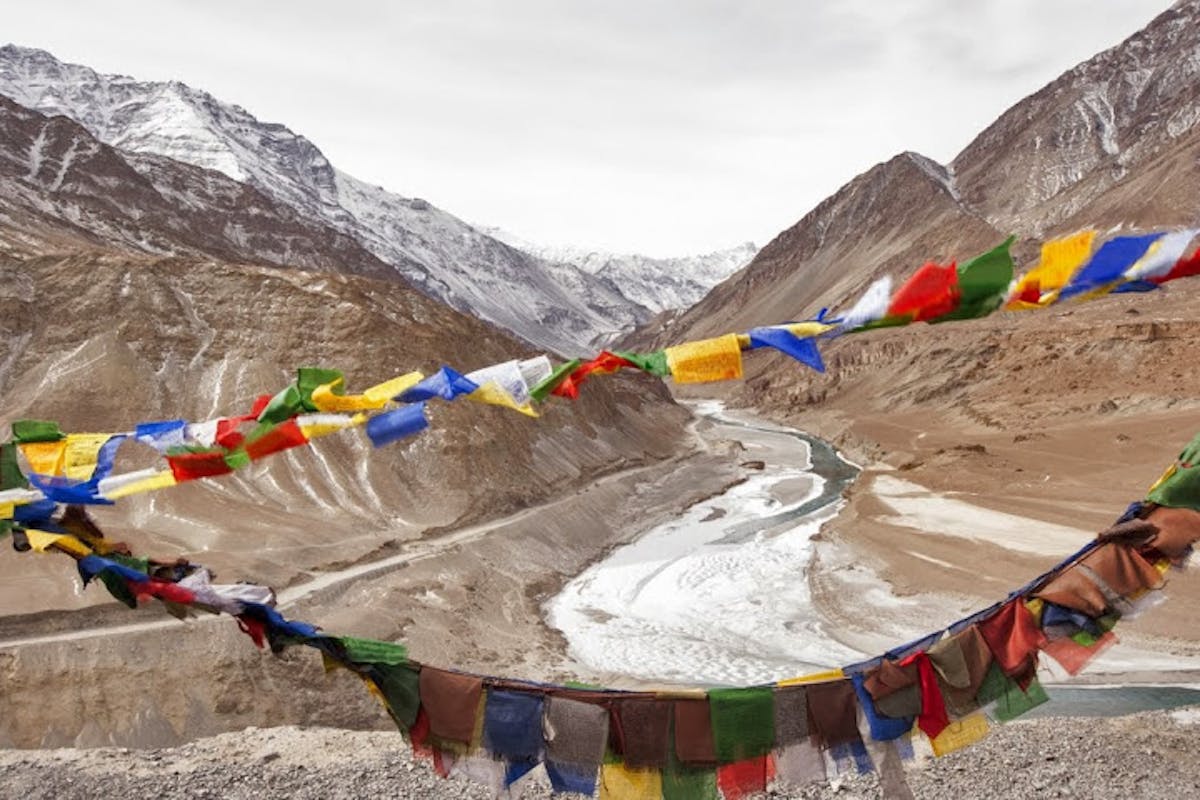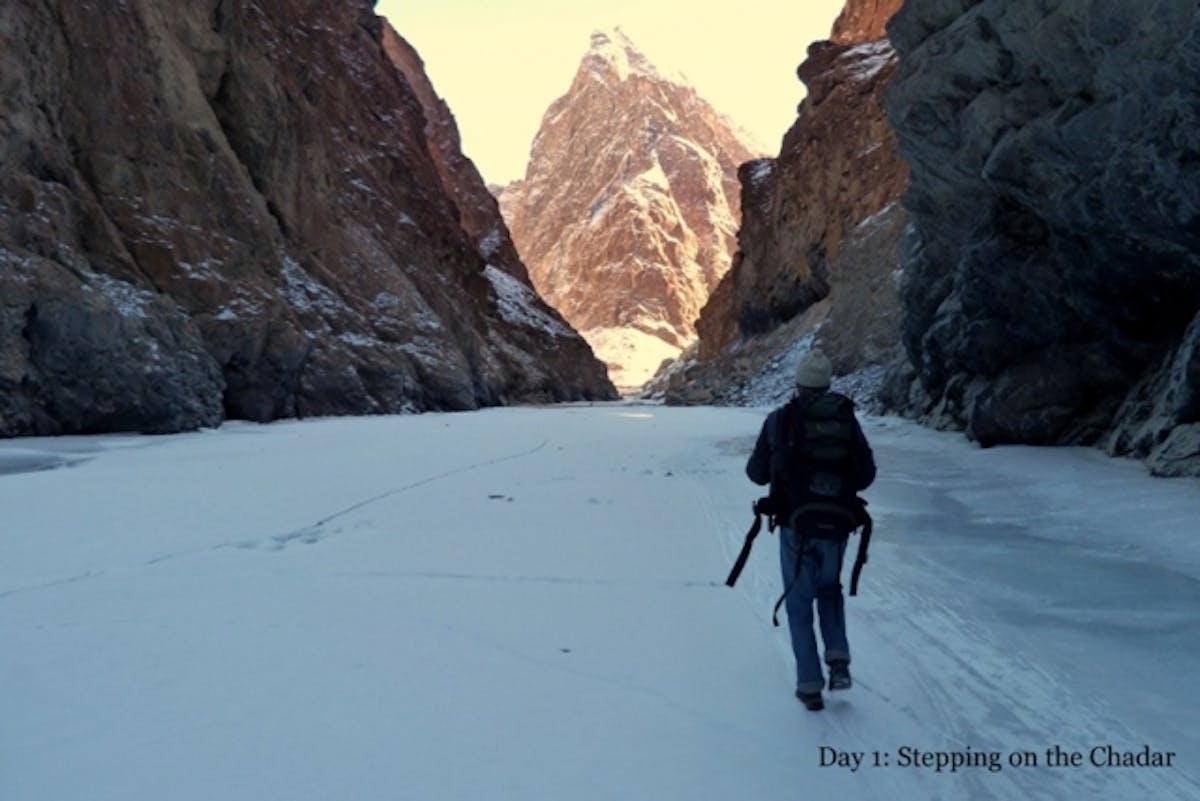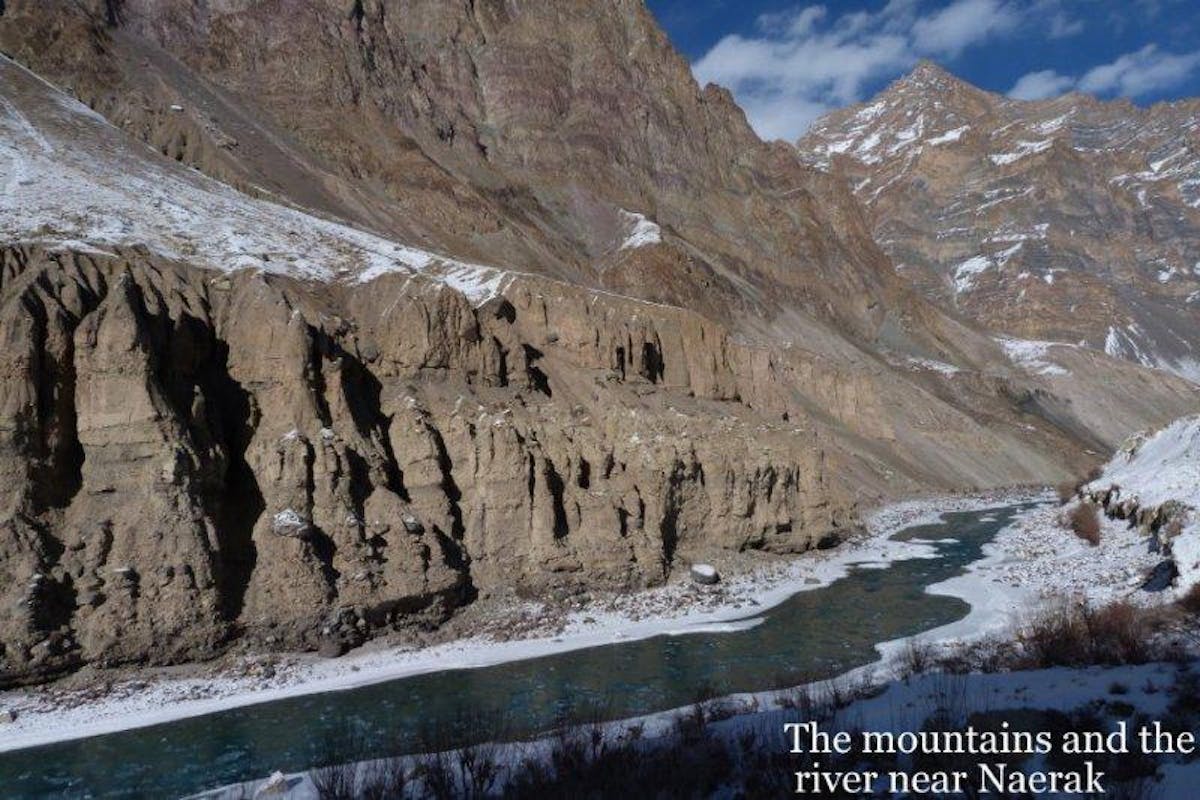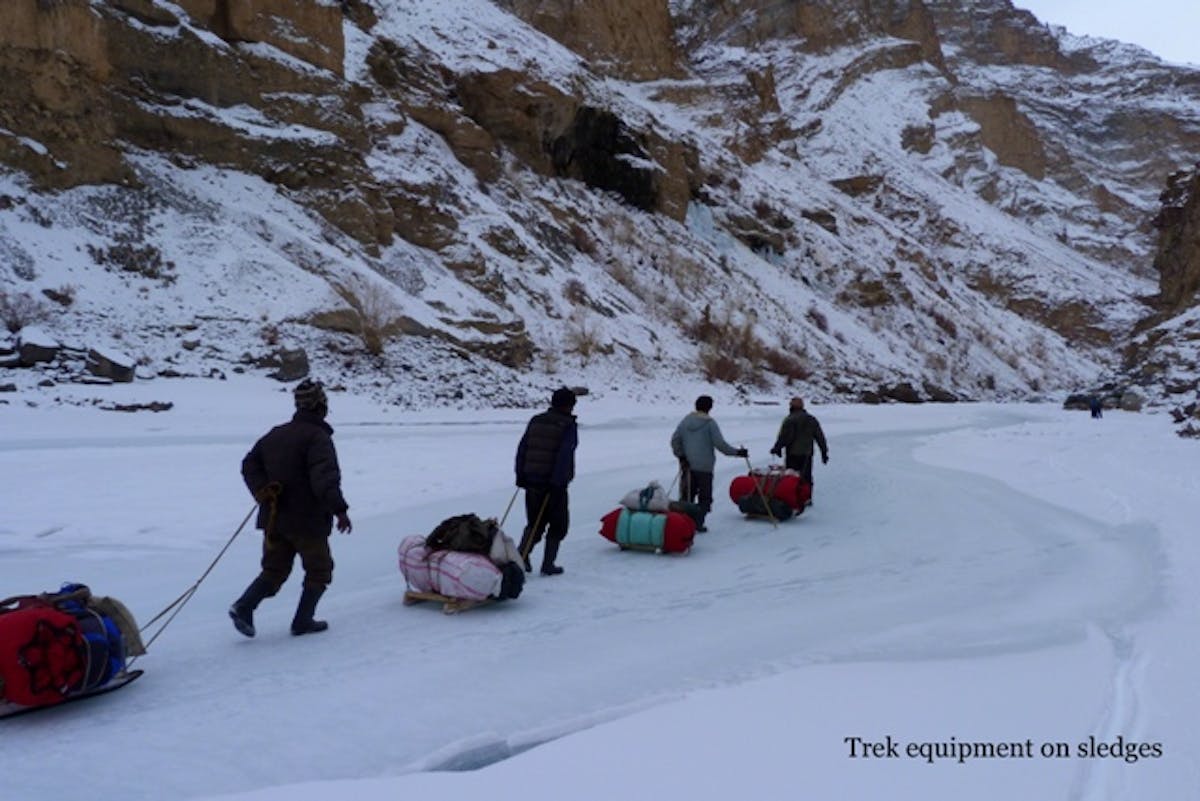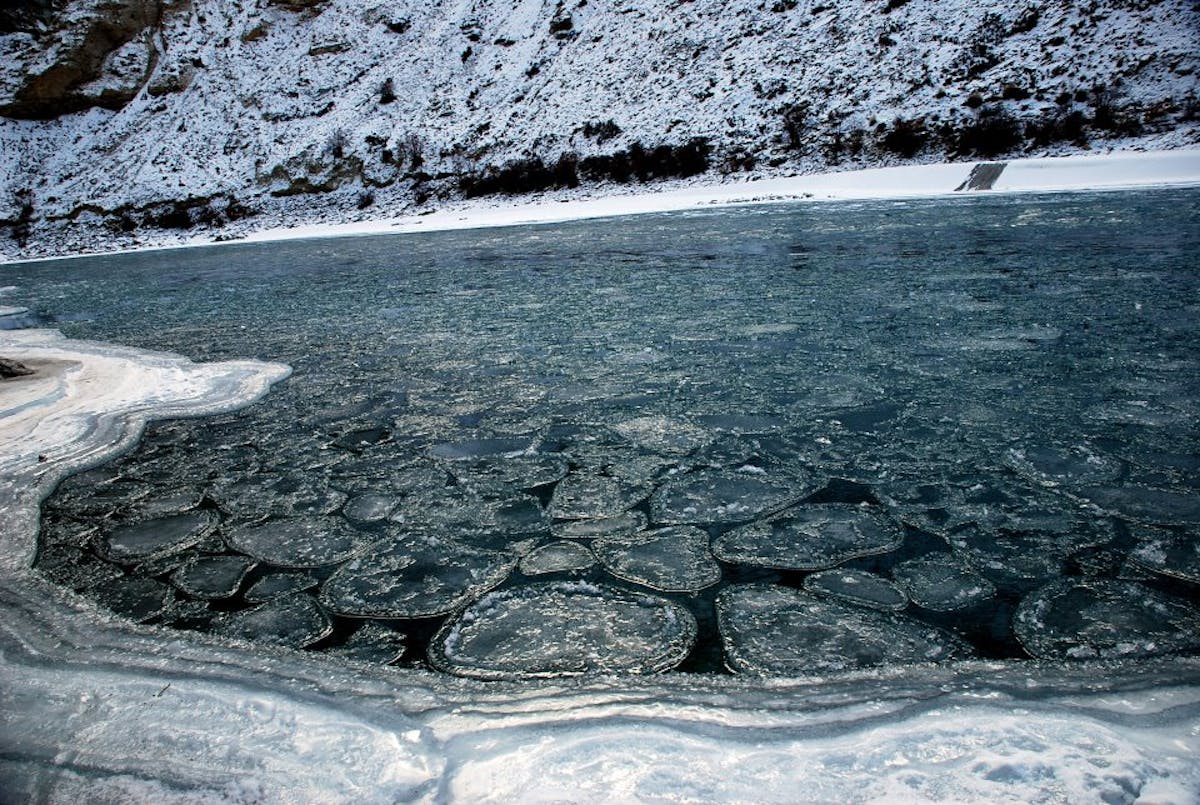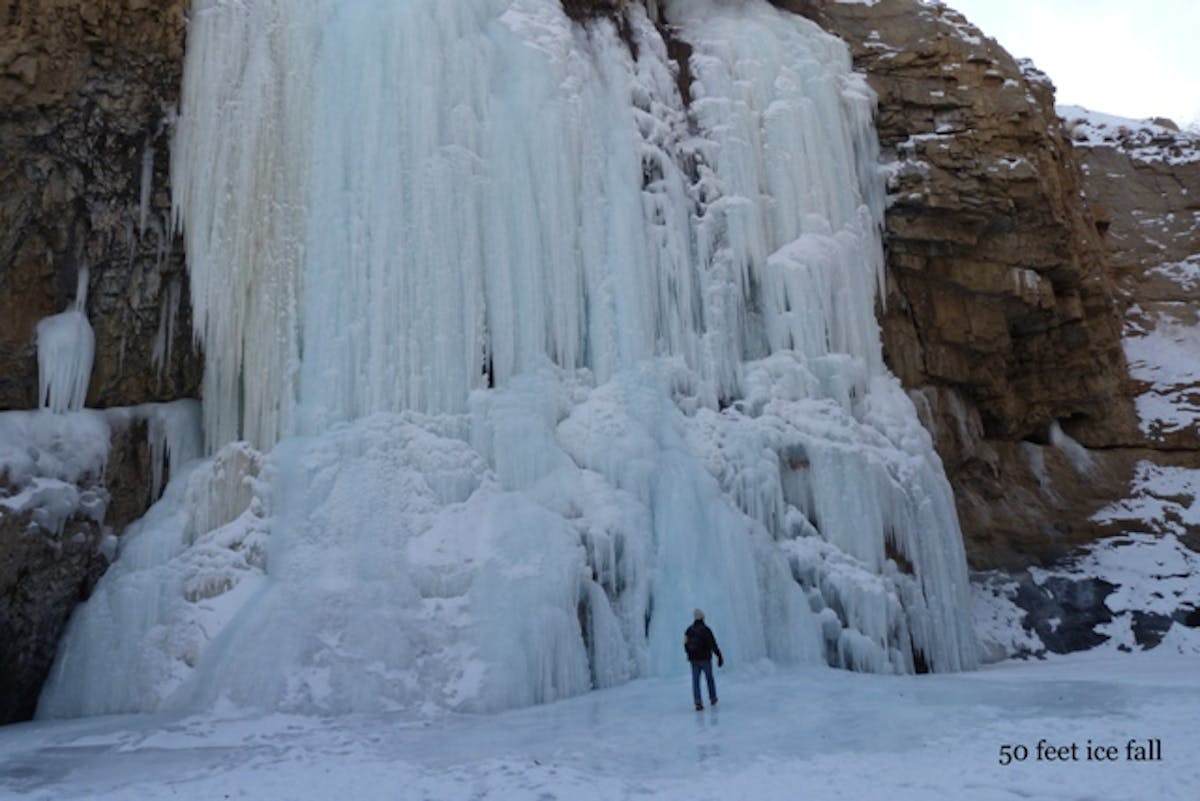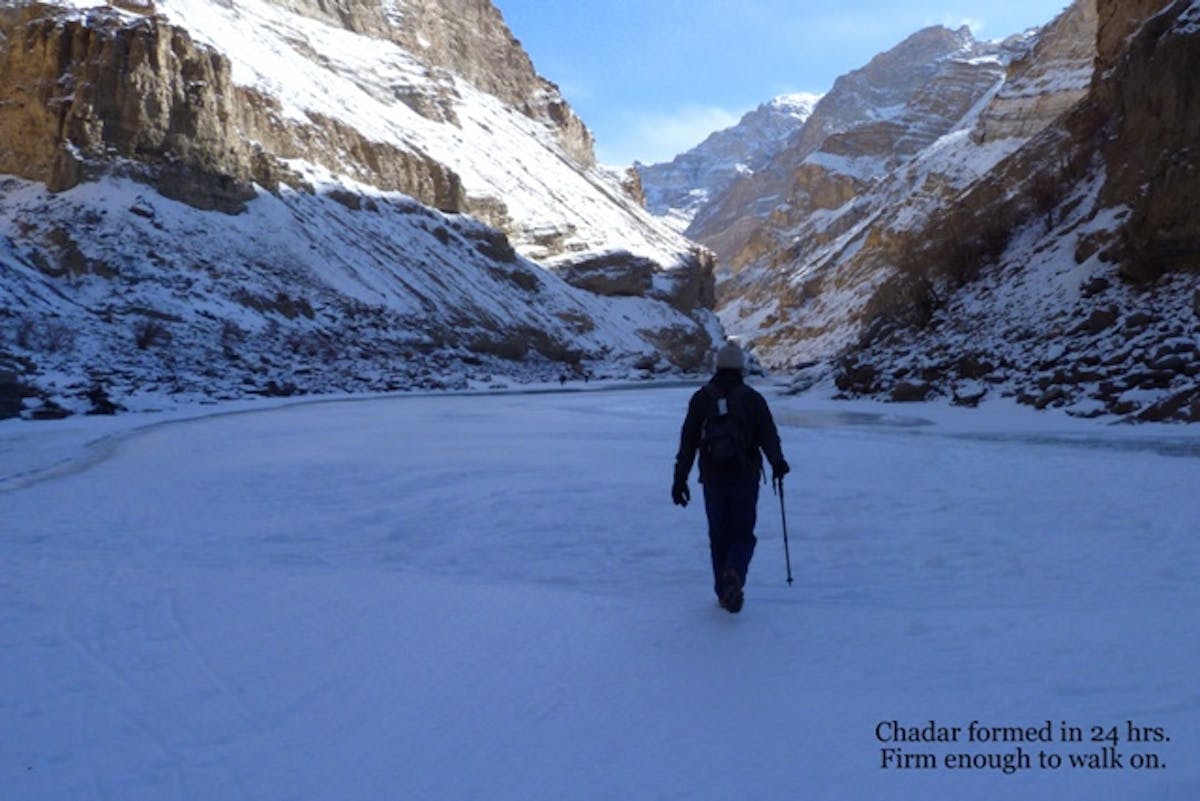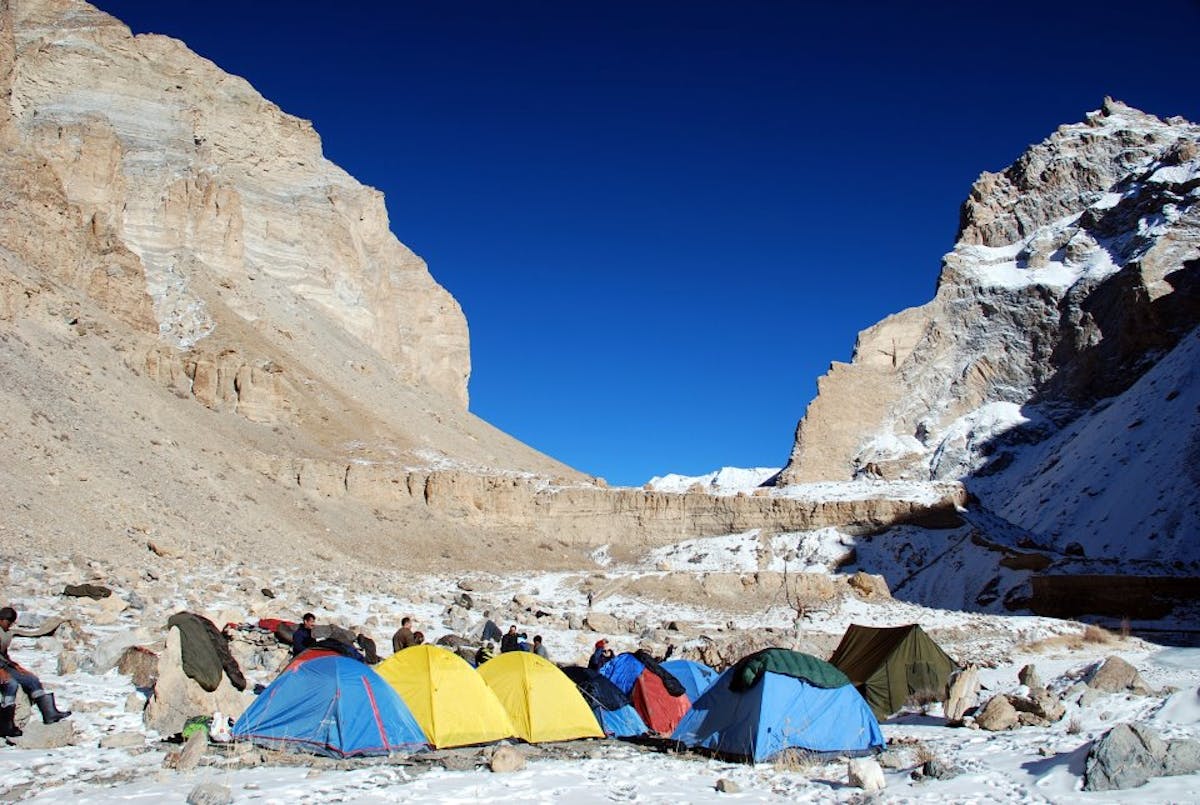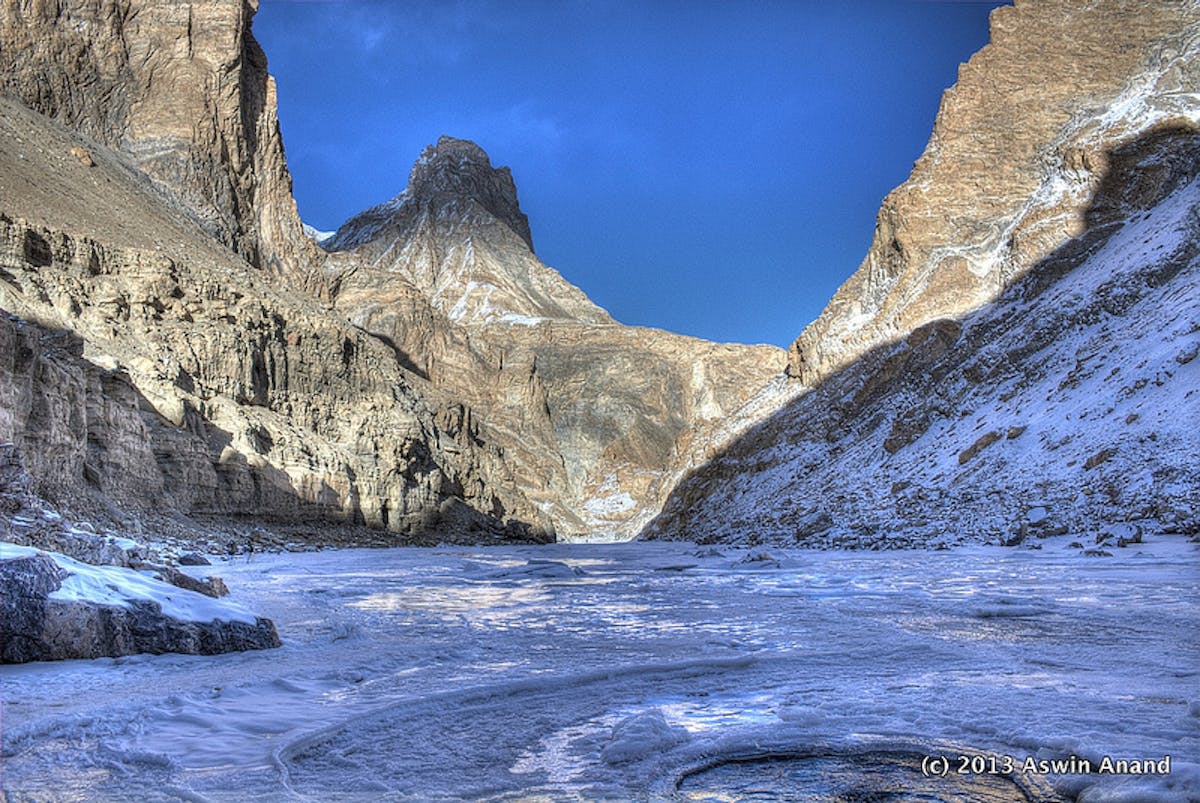 ➤ What to Pack for your Trek
Bare Necessities
Trekking shoes: Carry trekking shoes and not sports shoes. The trail will be slippery in several places and will require shoes with good grip and ankle support. You can watch this video to learn to choose the right trekking shoes.
Backpack (40-60 litres): A backpack with sturdy straps and a supporting frame. Rain cover for the backpack is essential.
Daypack (20 litres): As this is a crossover trek, you would only need a daypack if you are offloading your backpack.
Clothes
Three layers of warm clothes: Carry two sweaters and a padded jacket. If you are more susceptible to feeling cold, add another layer.
Three trek pants: Carry light cotton trek pants. One of your pants can be tights that you can wear as an inner layer while trekking, especially on the Pass day.
Three collared t-shirts: Carry light, full sleeved t-shirts that prevent sunburns on the neck and arms. If you're too cold, you can wear two shirts together for more insulation.
Thermals: Carry thermals (top and bottom) to keep yourself warm at night. Keep your thermals fresh and don't wear them while trekking.
Accessories
Sunglasses: Sunglasses are mandatory. In June, there will be abundant snow on Hampta Pass, and you would need it to protect yourself from snow blindness.
Suncap: At high altitudes, the sun is extra harsh, as the UV rays don't get filtered. So carry a sun cap to protect yourself.
Synthetic hand gloves: Avoid woollen gloves as they will get wet if you touch snow. You can add a fleece glove as an inner layer, and wear two gloves on each hand if you're more susceptible to cold.
Balaclava: You'll need this to cover your head, as most of the heat escapes from your head.
Socks (2 pairs) and a pair of woollen socks: Apart from two sports socks, you can take a pair of woollen socks for the night.
Headlamp/LED torch: Mandatory
Trekking pole: Watch this video to understand why you need a trekking pole.
Others
Toiletries (Sunscreen, moisturiser, light towel, lip balm, toilet paper, toothbrush, toothpaste)
Cutlery: Carry a spoon, coffee mug and a lunch box. We insist on trekkers getting their cutlery for hygiene reasons.
Two water bottles: 1 litre each
Plastic covers: While packing, use plastic bags to compartmentalise things and carry a few extra plastic bags for wet clothes.
Mandatory Personal Medical Kit 
Diamox – 10 tablets (to prevent AMS)
Crocin – 6 tablets (fever)
Avomine – 4 tablets (motion sickness)
Avil 25mg – 4 tablets (allergies)
Combiflam – 4 tablets (Pain killer)
Disprin – 6 tablets (headache)
Norflox TZ & Lomofen– 6 tablets each (diarrhoea)
Digene – 10 tablets (acidity)
Omez/ Rantadine – 10 tablets (antacids)
Crepe bandage – 3 to 5 meters
Gauze – 1 small roll
Band-aid – 10 strips
Cotton – 1 small roll
ORS – 10 packets
Betadine or any antiseptic cream
Moov spray (aches, & sprains)
➤ How to Get Fit for the Trek
Chadar Lake is classified as a difficult trek. You trek up to an altitude of over 11,123 feet. You have to make sure your lungs are strong for this.
Cardiovascular Endurance
The Chadar Lake trek requires a good amount of endurance. You can begin by jogging every day.  Start jogging at a slow pace and then keep increasing your pace day by day. Make sure you can jog 4 km in 20 minutes before the start of the trek. It takes time to be able to cover this distance in the given time. Swimming, cycling and stair climbing without too many breaks in between can help too.
Strength

This is another area you should work on. There is a lot of trekking distance that you will cover at high altitudes carrying your backpacks.  You have to walk on uneven terrain during the trek. It could be taxing for your legs. For this, strengthening your legs will help. You can do some squats to strengthen them. Do around 3 sets of squats, with 8 squats in each set.
Flexibility
Another aspect that will help you trek comfortably is flexibility. For this, you can do some stretching exercises – stretch your hamstrings, quadriceps, hip flexors, lower back muscles and shoulders regularly. On your trek, you must arrive on the slopes with your muscles relaxed. Carrying a backpack, however, light can become a strain after a while. These exercises will help you to be in good shape before the trek.
Working out indoors

If you can't go out and jog because of time and space constraints, here's a video you can use to work out indoors.