Can You Help Us With Photographs Of This Trek?
We are looking to enrich this documentation with more photos. Pictures go a long way in explaining the trail, more than words ever can. If you have done this trek, can you share your photos with us? We will include them on this page, with due credit to you.Click here to contribute.
The Complete Guide to Chandratal Baralachala Trek
There is a fascination among trekkers to trek in the desolate landscape of Ladakh. The popularity of treks like Markha Valley and Stok Kangri is ample proof of this. The Chandratal to Baralachala Trek in Spiti packs in everything exciting about a trek in Ladakh minus the time, effort and expense involved in getting there. What's more, it throws in a few surprises of its own. The 4-day Chandratal to Baralachala is a charming trek that is easy to do and not very frequented.
➤ Highlights
A Charming Trek in Spiti Valley
There is a fascination among trekkers to trek in the desolate landscape of Ladakh. The popularity of treks like Markha Valley and Stok Kangri is ample proof of this.
The Chandratal to Baralachala Trek in Spiti packs in everything exciting about a trek in Ladakh minus the time, effort and expense involved in getting there. What's more, it throws in a few surprises of its own.
The 4-day Chandratal to Baralachala is a charming trek that is easy to do and not very frequented.
➤ Trail Information
There is a fascination among trekkers to trek in the desolate landscape of Ladakh. The popularity of treks like Markha Valley and Stok Kangri is ample proof of this. The Chandratal to Baralachala Trek in Spiti packs in everything exciting about a trek in Ladakh minus the time, effort and expense involved in getting there.
What's more, it throws in a few surprises of its own. The four-day Chandratal to Baralachala is a charming trek that is easy to do and not very frequented. Chandratal (4270 M) takes your breath away. With the evening sun shimmering on its turquoise waters, you realize that the trek is worth it.
It is a big lake– if you don't compare it to the likes of  Pangong Tso or PhewaLake in Pokhara. I was pleased to see that the European group still camping on the far side of the lake. I walked up to their tents and told them of my intentions. Both the Guide (Mahendra) and the 12 Englishmen were very welcoming. I pitched my tent next to theirs while savouring the pleasure of watching Chandratal. They offered that I could share their food as they had plenty.
I accepted but did ensure that I did not take any undue advantage of their offer in the course of the next few days.
Day 2: Chandratal  to Tokpo Gongma
Altitude: 4270 metres to 4420 metres
Started at around 7:30 – 8:00 am from Chandratal. Had to cross a few streams along the way. I had to take off my boots and walk through the icy cold water to avoid wet boots. I could describe the terrain but the best way to get an idea of it is from the pictures. So here is one.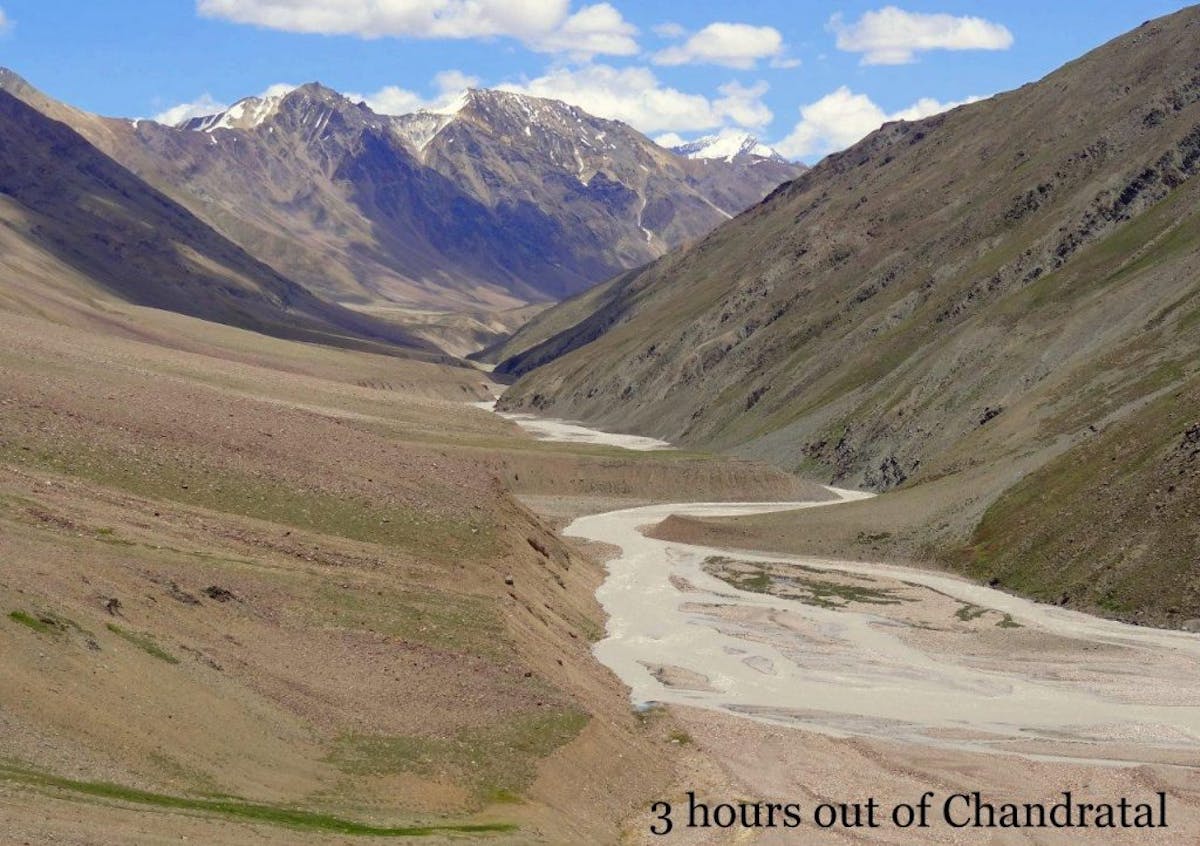 3 Hours out of Chandratal. Picture from Indiahikes Archive
I was walking on the right bank of the river. Often very high above the Chandra river. There were boulder zones where one could not find any trail. So we have to keep walking straight. There were a few gaddi shepherds along the way, where one could find the occasional patches of grass, in this brown and rocky landscape. There were scree slopes as well. It was about 5 pm at which time I saw the campsite.
It was on the other side of the Tokpo Gongma river (which joins the Chandra River). The river was wide and fast flowing. I could not figure out how the group crossed. So I waved at them hoping they might see me. I thought they did not catch my attention so I took out my red tent and waved it to catch their attention. Later on, the guide told me he saw me waving and pointed me in the right direction but I could not see him waving from that far off. So I took off my rucksack and went down the slope to the river, a steep and slippery descent, to see if I could cross it.
Since I could not find a stick I took my ice axe and dipped it in the river to check the depth. Even at the edge of the river, the ice axe went in completely. It would be a bad idea to cross the river here. Racked my brains on how to cross the river. I scrambled back, up the scree slope and well above where the trail was. Now from my elevated vantage point. I could see, in the distance, what looked like a possible snow bridge.
So come back to the trail got my backpack on and moved further upstream onto the snow bridge over the Tokpo Gongma river. There was still some ankle height water crossing but I did not bother taking off the boots. After the crossing, with wet boots, I made my way back downstream to the campsite by about 7 pm. The leader of the English team (Mark) and a horseman, who gave me dinner, later on, assisted me in pitching my tent. It was a tiring but successful day. I was pleased with myself at the end of it.
 Day 3: Tokpo Gongma  to Tokpo Yongma
Altitude: 4420 metres to 4650 metres
Left the campsite early by 7:00 am as today there were going to be 2 stream crossings (one of them major). One can see beautiful snow-capped peaks while walking through the rocky terrain. Took my boots off for the first stream crossing. The water was about the knee-high, icy cold as always. So crossed without much of a problem.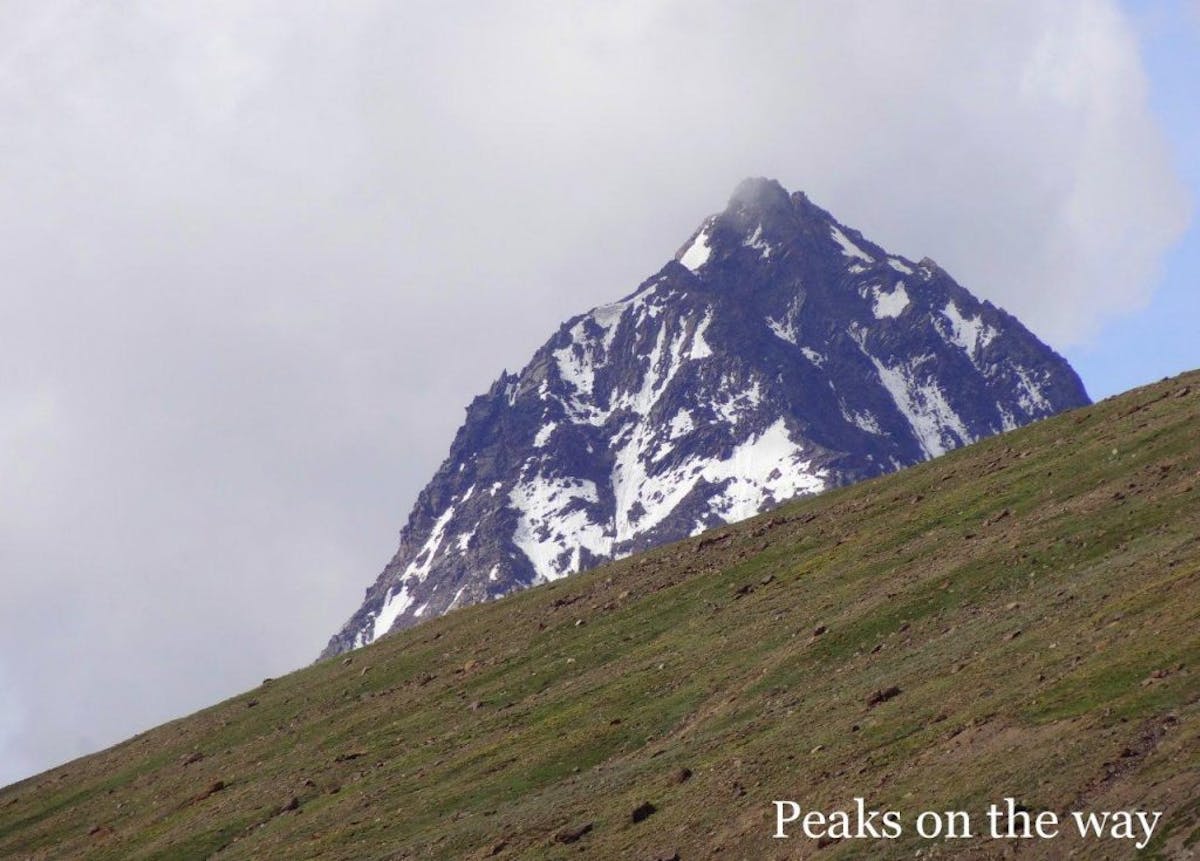 Peaks on the way. Picture from Indiahikes Archive
The terrain after the first stream to the Tokpo Gongma was pretty similar. As I reached the Tokpo Gongma I was left wondering "How on earth am I going to cross it ?". There were cairns, possibly marking where the river was to be crossed. It was close to 1 PM and the river was raging and it was wide – say about 15m – 20m. To even attempt crossing it, and that too alone would have been suicidal. I was thinking to myself – "Maybe I should camp here and see how it is the next morning" and also wondering how my English friends (who were ahead of me) had crossed the river. I could not see them from where I was.
Maybe with the help of the horses and guides they had forded the river and gone further. So, I took off my backpack and went upstream a bit but still could not find a place to ford. I came back and put on my backpack again and went further upstream to check. Then I saw my English friends sitting on the other side of the river. Their guide/helper was waving to me to get further upstream. I must say that my energy levels were down but when I saw them waving I rushed (upstream) and could now see the snow bridge. Crossing the snow bridge is more difficult. I had to get to the other side of the side snow bridge. There was a slight break in the snow bridge and the right side of the snow bridge was completely solid ice. One could not climb down it. I slid down the solid ice and arrested my slide by bracing my hands against the ice wall on the other side. There was a horseman on the other side who carried my rucksack for a few metres. There is a narrow ledge just beside the river. We had to walk/run on it, as it was a rock-fall area for about 20-30 metres.
After 20-30m the ledge widened out into a broader rock area where I took my well-deserved rest. Seeing me tired Mark, the leader of the English group, did offer me thrice to carry my backpack which I politely declined. Then I had to climb nearly 70M – 100M up a very steep slope. After the climb, it is a straightforward walk to a very pleasant flat and grassy campsite with beautiful views. One can see the snow-capped peaks in the distance (across the river) and one is hemmed in by mountains all around. There is a gaddi shepherd encampment at this campsite. It was about 2 pm by the time we reached this campsite.
The skin on my left shoulder blade had come off because of abrasion (from my rucksack). It had been bleeding for the past couple of days but today it had gotten slightly worse. I thought it deserved some attention. After some tea, I asked the guide of the English team to help patch up (put a band-aid) on my left shoulder. The rest of the evening I spent savouring the magnificent views that Mother Nature offered – an inspiring tonic for the soul.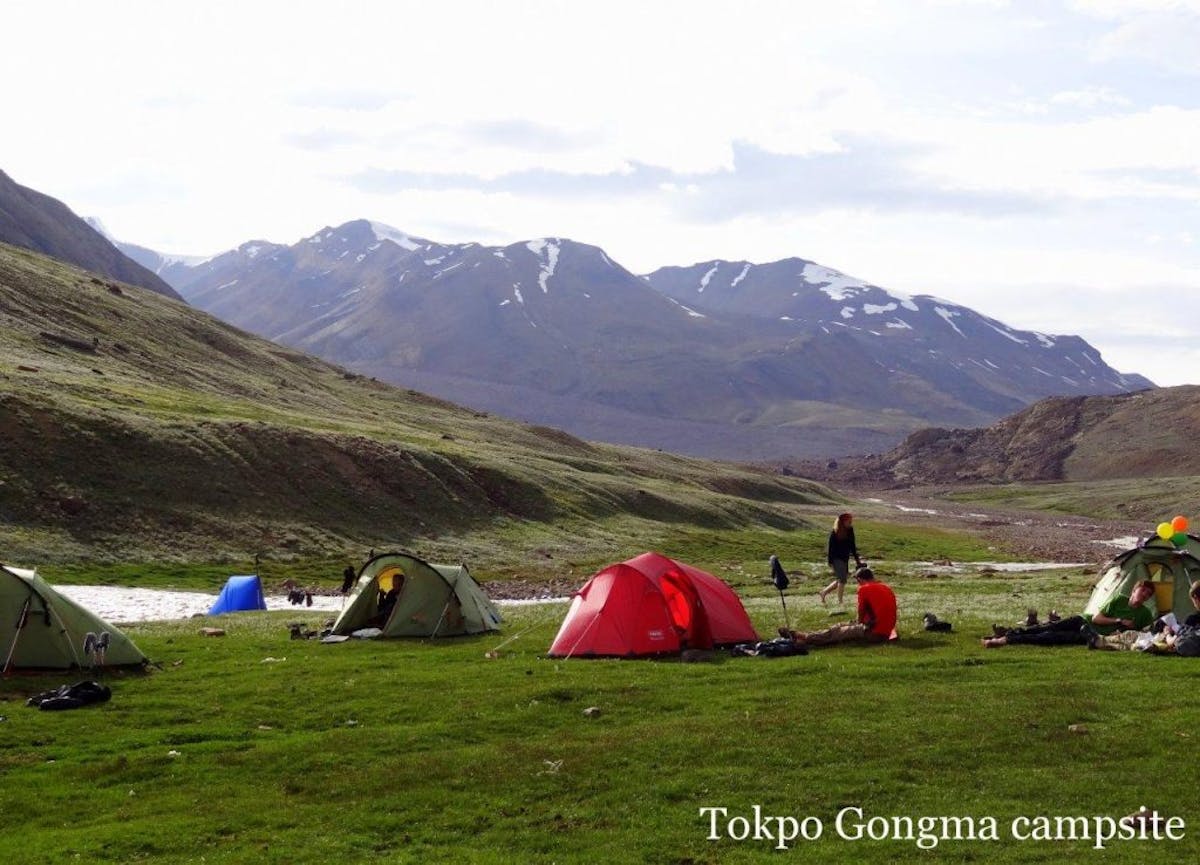 Tokpo Gongma Campsite. Picture from Indiahikes Archive
Day 4: Tokpo Yongma to Baralacha La South/North
Altitude: 4650 metres to 4900/4950 metres
This was a comfortable walk. From the campsite, it was a gradual climb and then there was a big stretch of plains leading up to the Baralacha La South, which is marked by numerous cairns and prayer flags. There are impressive mountain views of the Himalayan Range. As one continues to walk the plain areas, one might be lulled into thinking, for a change, today there are going to be no further stream crossings.
Could not have been more wrong as after the plains there was a slight descent and another stream to be forded. So off came the boots, into the icy water (with a very strong flow) and onto the other side. A slight rest, put your boots on and march forward.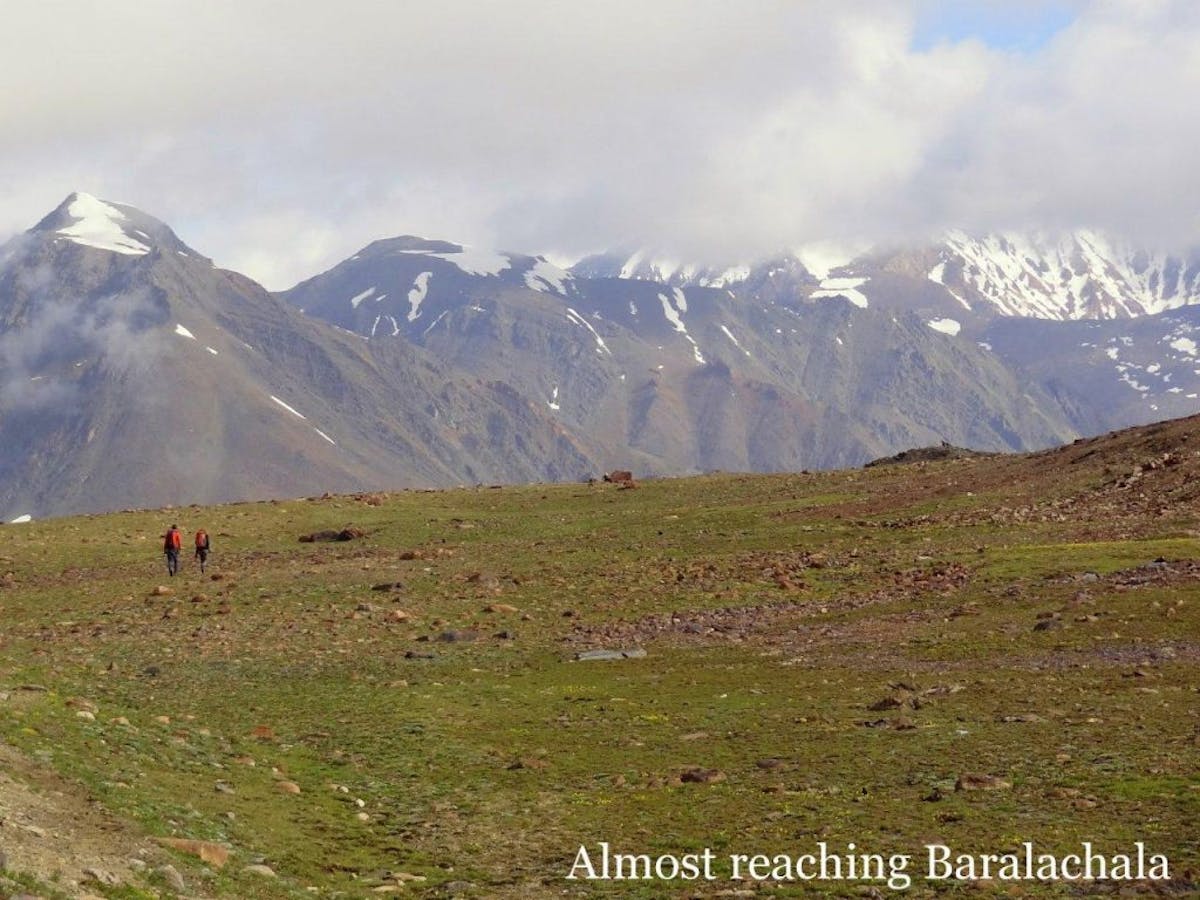 Almost reaching Baralachala. Picture from Indiahikes Archive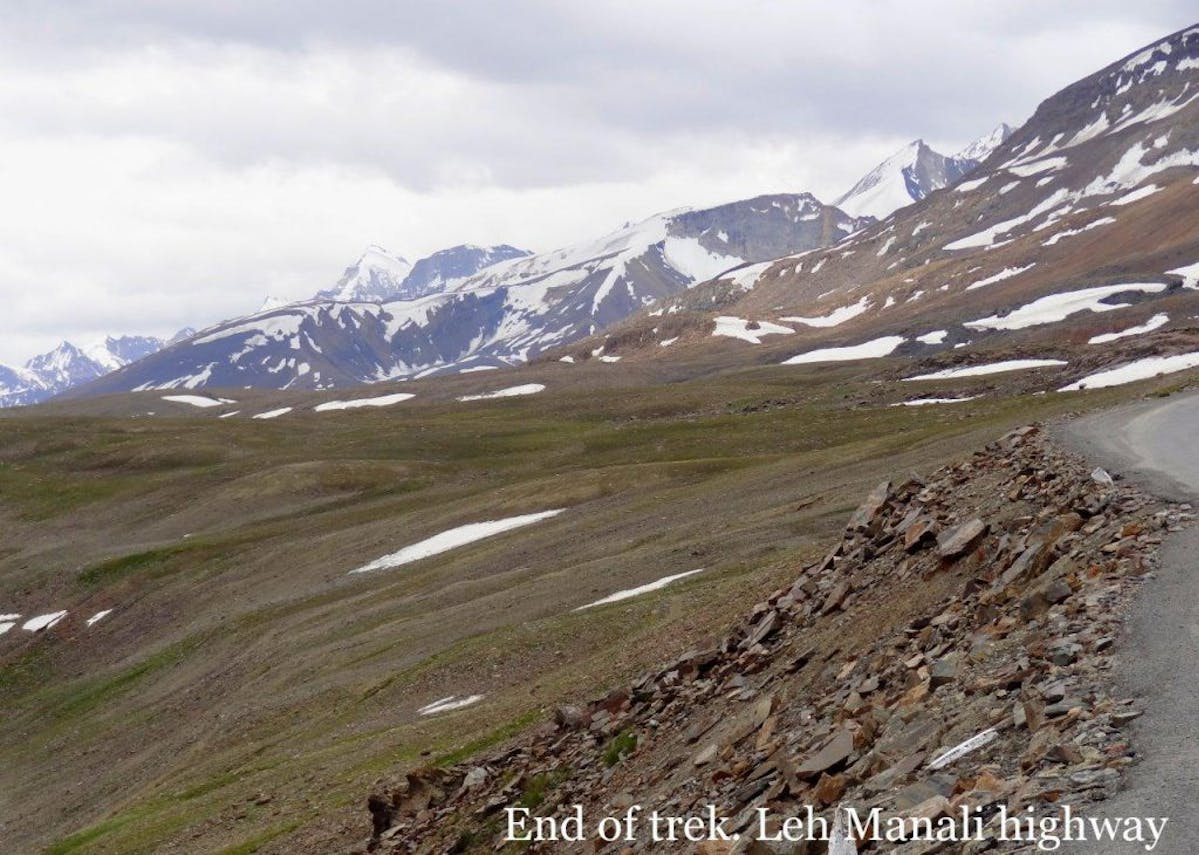 End of Trek -Leh Manali Highway. Picture from Indiahikes Archive
After the stream crossing what one witness is an ethereal beauty of the mountains which one is at a loss of words to describe. If ever there was peace and tranquillity in the mountain vista, it is here. If you are a shutterbug your fingers will get tired of pressing the shutter button and you would still be yearning for more.
You will hop, skip and jump (as there are still some minor streams to cross ) merrily along whistling a tune to the Leh-Manali road-head which can be seen in the distance. And when one reaches the roadhead one will look back at the grand views with a sense of satisfaction, a tinge of disappointment (at having to leave this place) and in my case a sense of anticipation of what lies ahead for this was akin to the appetizer of a full course meal.
One can see Sarchu in the distance and though can see it is a 5 KM walk downhill to reach it. And if you have trekked before you would know the anticipation of a good meal, hot water, a shave and rest in a bed. After futile attempts at stopping trucks/vehicles to hitch a ride to  SarchuI managed to wave down an army convoy. The officer in the first vehicle asked me to hop on beside the driver in the 2nd vehicle in the stream of 20+ vehicles. And thus I landed at Sarchu marking the end of the first part of my travel.
➤ How to Reach
Reach Manali by bus from Delhi. From Manali to Chandratal by bus / shared taxi or private jeep.
Route: Chandratal – Tokpo Yongma – Tokpo Gongma – Baralacha La South/North.
➤ What to take on your Trek
Bare Necessities
Trekking shoes: There will be several slippery patches on the trail, and you will need trekking shoes with a good grip. Sports shoes will not be comfortable enough. You can watch this video to learn to choose the right trekking shoes. 
Backpack (40-60 litres): A backpack with sturdy straps and a supporting frame. Rain cover for the backpack is essential.
Clothes
Two warm layers: At the campsites, especially the higher ones, the temperature after sundown will drop to around 2-6 degrees. You will need at least three warm layers (two lights layers such as fleece and woollen and one padded jacket) for this trek.
Two trek pants: One pair of pants should suffice for this trek. But you can carry one spare pair in case the first one gets wet. Wear one pair and carry one pair. 
Two collared t-shirts: Carry light, full sleeved t-shirts that prevent sunburns on the neck and arms. Again, wear one and carry one.
Thermals (Optional): Those who are more susceptible to cold can carry thermals to wear at night.
Accessories
Sunglasses: Sunglasses are to prevent snow blindness. There might be snow closer to the lake, so carry a pair of sunglasses. 
Suncap: The sun is more 
Synthetic hand gloves: One pair of fleece or woollen hand gloves. One pair of waterproof/resistant, windproof gloves.
Balaclava: You may use woollen scarves instead as well.
Socks (2 pairs): Apart from two sports socks, you can take a pair of woollen socks for the night.
Headlamp/LED torch: Mandatory
Trekking pole: Watch this video to understand why you need a trekking pole.
Others
Daypack (20 litres): If you are offloading your backpack, you will need a smaller backpack to carry water, a medical kit and some light snacks. 
Toiletries (Sunscreen, moisturiser, light towel, lip balm, toilet paper, toothbrush, toothpaste)
Cutlery: Carry a spoon, coffee mug and a lunch box. We insist on trekkers getting their cutlery for hygiene reasons. 
Two water bottles: 1 litre each
Plastic covers: While packing, use plastic bags to compartmentalise things and carry a few extra plastic bags for wet clothes.
Mandatory Personal Medical Kit 
Diamox – 10 tablets (to prevent AMS)
Crocin – 6 tablets (fever)
Avomine – 4 tablets (motion sickness)
Avil 25mg – 4 tablets (allergies)
Combiflam – 4 tablets (Pain killer)
Disprin – 6 tablets (headache)
Norflox TZ & Lomofen– 6 tablets each (diarrhoea)
Digene – 10 tablets (acidity)
Omez/ Rantadine – 10 tablets (antacids)
Crepe bandage – 3 to 5 meters
Gauze – 1 small roll
Band-aid – 10 strips
Cotton – 1 small roll
ORS – 10 packets
Betadine or any antiseptic cream
Moov spray (aches, & sprains)
If you're shopping or packing for the trek, you can download this quick and simple checklist for offline use.
➤ How to Get Fit for your Trek
The Chandratal Baralachala trek is classified as a trek of easy to moderate difficulty. 
Cardiovascular Endurance
You will trek up to an altitude of 16240 feet. The secret to covering this distance comfortably lies in building your cardiovascular endurance. You can begin by jogging every day. Ideally, you should be able to jog 4 km in 20 minutes before the start of the trek. It takes time to be able to cover this distance in the given time. Start slow and increase your pace every day. Swimming, cycling and stair climbing without too many breaks in between can help too. 
Strength
This is another area you should work on. You will need to build strength in your muscles and your core body. You can do some squats to strengthen your leg muscles. Do around 3 sets of squats, with 8 squats in each set. Apart from this, you can add planks and crunches to your workout.
Flexibility
Another aspect that will help you trek comfortably is flexibility. For this, you can do some stretching exercises – stretch your hamstrings, quadriceps, hip flexors, lower back muscles and shoulders regularly. Carrying a backpack, however, light can become a strain after a while. These exercises will help you to be in good shape before the trek.
Working out indoors
If you can't go out and jog because of time and space constraints, here's a video you can use to work out indoors.
➤ An alternative Indiahikes trek you can do
Arjun Majumdar, Founder
We do not recommend this trek if you are a beginner. You need to be a seasoned trekker to do this trek on your own. You need to be able to negotiate the streams and the difficult terrain of Lahaul.  If you are not too sure about doing a trek on your own, we have alternatives you can try.
Our founder Arjun Majumdar thinks Hampta Pass would make a good alternative. "It is a moderate trail with a lot more variety in scenery. I would think Hampta Pass as a trek would be a better experience. "