Can You Help Us With Photographs Of This Trek?
We are looking to enrich this documentation with more photos. Pictures go a long way in explaining the trail, more than words ever can. If you have done this trek, can you share your photos with us? We will include them on this page, with due credit to you.Click here to contribute.
The Complete Guide to Churdhar Peak Trek
Churdhar Peak Trek takes you to the highest peak in the outside Himalayan range. George Everest made his astronomical reading of the Himalayan Mountains. Chur-Dhar is also known as Churi-Chandni Dhar (Bangles of snow ridge). The approach to the Churdhar summit can be done from three sides. The shortest and most popular one is from Nauradhar in the Sirmour district. The peak is surrounded by a 56 square km forest sanctuary, which makes trekking a delightful affair. The trek to Churdhar can be done from May till November when the snow melts and the trails are accessible. The trek is a steep hike inside a dense Deodar forest, terraced fields and Gujjar pasture lands.
The last one hour of the trek is a moraine walk as you leave the forests behind. At the summit, the views are outstanding. On a clear day, you can see Badrinath and Kedarnath, The Gangetic basin, Sutlej River, Shimla, Chail, Kufri, Kasauli & Chakrata.
➤ Highlights of the trek 
At a modest elevation of just under 12,000 feet, Churdhar is the highest peak outside the Himalayan range. Very few know that it is from the top of this peak
George Everest made his astronomical reading of the Himalayan Mountains. Chur-Dhar is also known as Churi-Chandni Dhar (Bangles of snow ridge).
This peak is visible from Shimla, Kasauli, Solan & Kufri and retains a streak of snow on its upper ridge throughout the year.
➤ Trail Information 
Day 1: 
At around 8 am, I got a bus for Rajgarh from DC Office, Solan. Rajgarh is also known as Peach Valley and is famous for the HPMC factory and its untouched scenic beauty. It took about one and a half hours to reach Rajgarh. To my luck, as soon as I stepped out of the bus, I saw a bus conductor calling out "Nohra!" I rushed towards the bus and jumped in but got no seat.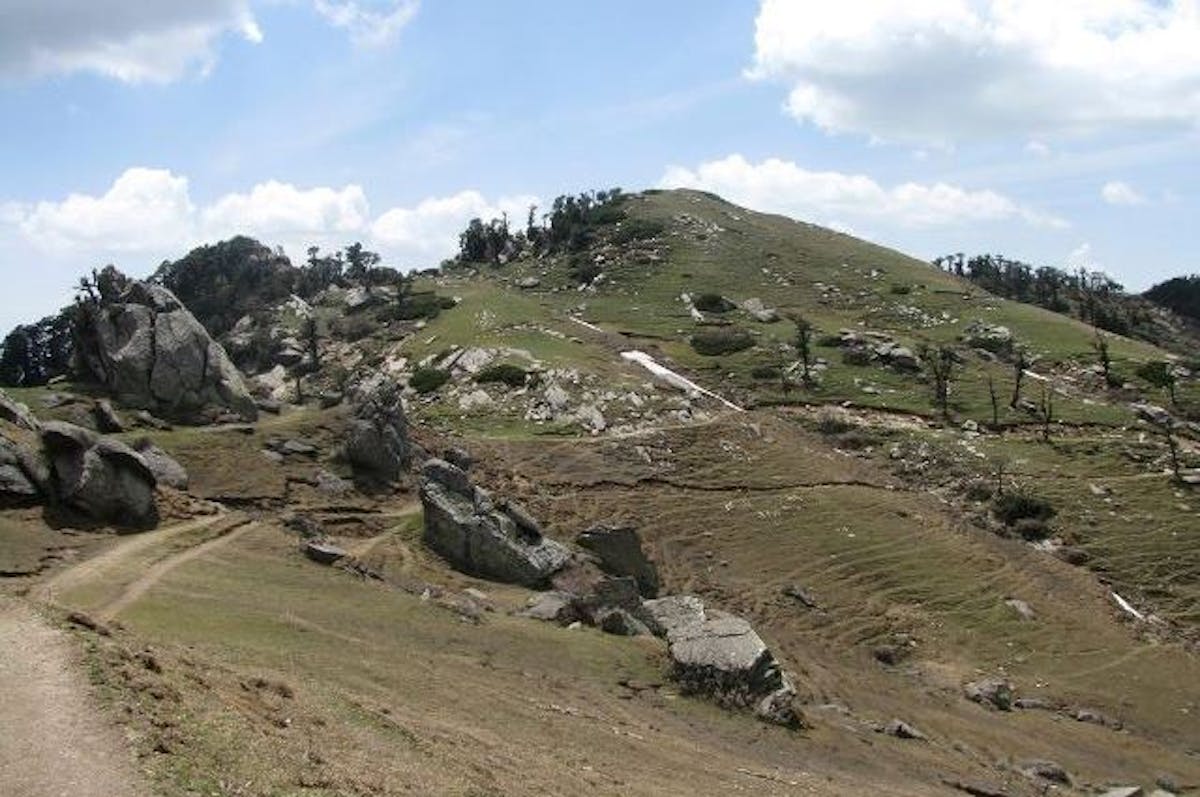 Beautiful forested trail. Picture credit : Amit Tiwary
In no time, the bus got crowded and the journey began. The views during the journey were scenic, with green valleys across a large span of my vision. At 11.45 am, I reached the Nohradhar bus stand, which is not quite a bus stand but a road where buses halt. Just in front, I saw a board welcoming tourists for the trek to Churdhar. I took supplies like water and food items for the journey and started my trek at about noon.
Since this is a very locally popular trail, there is no need for guides. The initial part of the journey is a bit difficult as the trail is full of rocks. It is advised to trek with good trekking shoes. After a few hundred metres, I thought of climbing the mountain directly rather than following the conventional path. There was no trail, but I carried on hoping to find a trail, but even after an hour, nothing appeared.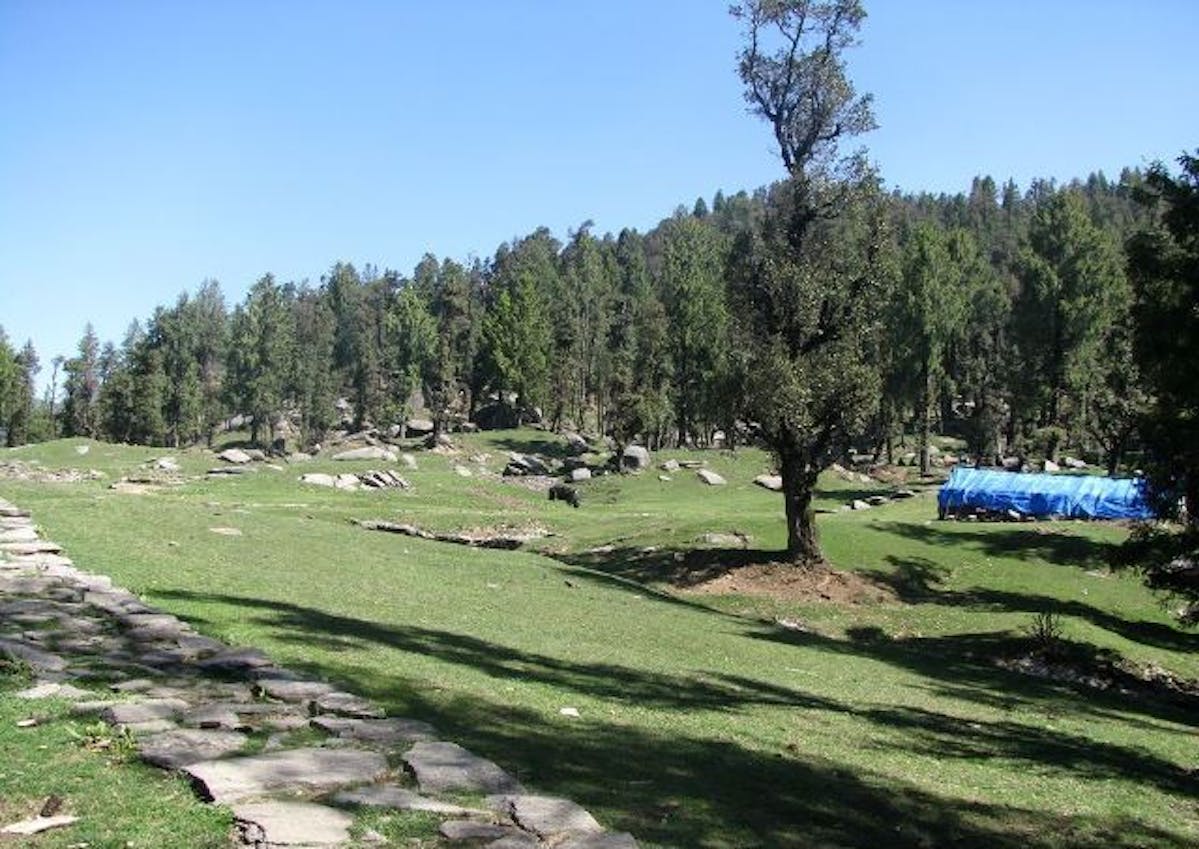 Meadows of Jamnala. Picture Credit : Amit Tiwary
Then, I passed by a house, where I asked for the route to Churdhar from persons there and to my luck, they confirmed that I was on right track. For 15 to 20 minutes, I trekked and again got confused about the trail. So I had to wait there for someone to pass by so that I could confirm the route. After a few minutes, a guy came from uphill and confirmed the route and now, the trail appeared.
I resumed my journey following the trail that was very recognizable now. The views were very scenic, passing through forests and meadows with the sounds of chirping birds. There were many spots for camping; however, I had to go further so I erased any thoughts of camping there.
At about 3 pm I reached Jamnala, which is a plain meadow or rather can be called a large ground with a couple of shops for basic supplies. So, I halted there for tea and filled my water bottles from a tap present on the ground and resumed my journey after 10 minutes. Night stay facilities were also available at Jamnala.
Now, the next destination was Teesri, with 4-5 more km to go. Now the route was through dense forests and there was no problem. Multiple water streams can be found a midway, however, few offer clear water. Now the route is easy and most of the route is straightforward.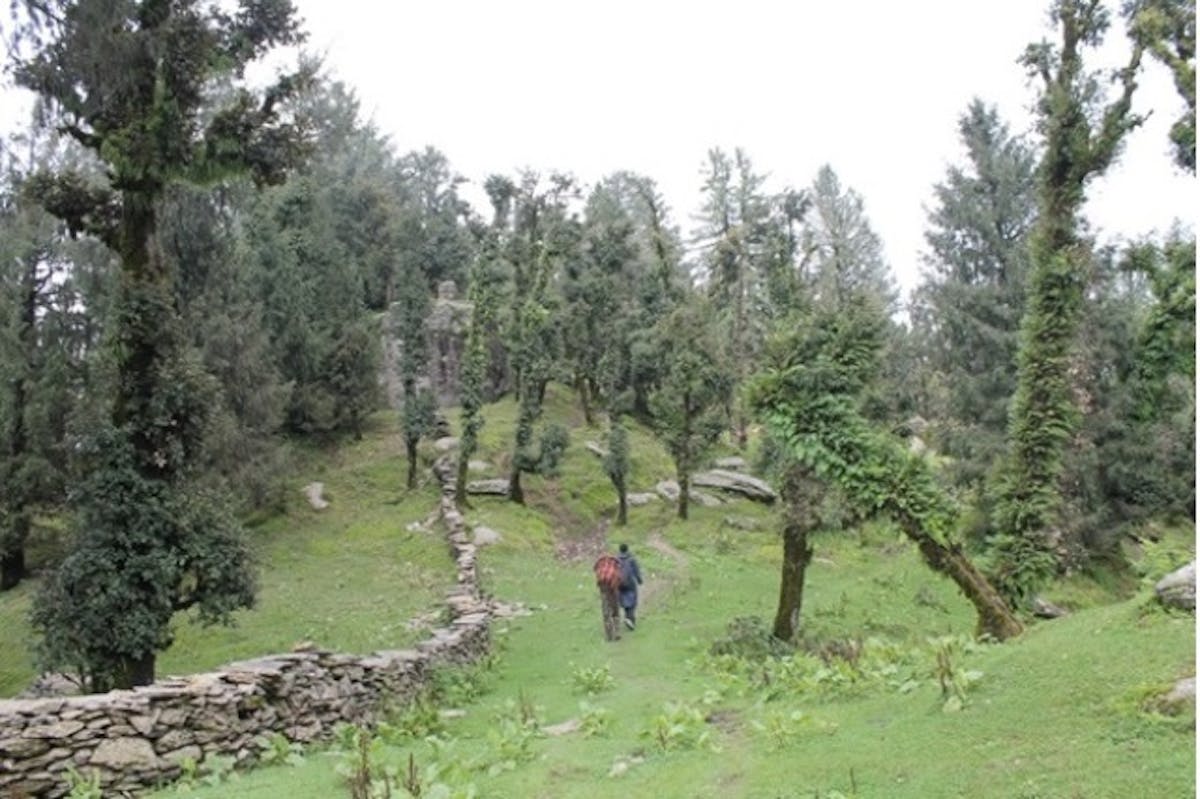 Beautiful forest trail to Teesri. Picture Credit : Mayank Kohli
When I was on the trek, many people were undertaking the same journey, most of whom were locals. After about 2 hours, I reached Teesri, which can be located at a distance of about 200 metres. Teesri is a Gujjar settlement.
I had six kilometres more to go and it was already 5 pm. I decided to camp here. It took me a lot of searching to find a decent campsite. However, this campsite turned out to be a bad idea because the wind kept blowing my tent off. And the whole area was inclined towards my tent. I would have to look for accommodation at Teesri. I made Maggi and soup on my own as I had cooking utensils. The night sky view was very mesmerizing.
Day 2:
I woke up at 7 am and resumed my journey after having tea. Now, the path was quite straightforward for about 1 km, passing through rocky paths, forests and then meadows. It was very scenic!
At one point, there were two routes to Churdhar peak. One of them went directly up to the peak. Another went all the way to the temple and then to the peak. The short one was steep and 4 km long and the other one was 7 km. I took the local people's advice and took the longer route.
On way to Churdhar Summit, Picture Credit : Risky Pathak
The trail again entered dense forests, with a few sources of water. The trail was very different from yesterday; it was a combination of ascents, descents and level walks. I would get slower at steeps inclines and run quickly downhill. Finding the trail wasn't hard but it was rocky and I had to be careful, lest I slipped.
At around 10 am, I reached a small meadow, where there were two trails – one to the temple and one to the peak. I went over the descending path, which led me to the temple premises within minutes. I washed my feet and hand and offered my prayers in the temple. Then, I had the food (Bhandara or langar) in the Dharamshala.
About an hour later, I left for Churdhar peak, which was 2 km away. I could already see Lord Shiva's idol, which sits proudly atop the peak. However, I knew this would not be so close. The path to the peak got steeper and steeper.
Come to think of it, there was no trail. There were huge boulders all along and the sight of the peak kept me going. I had to navigate every boulder one by one. It felt a lot like rock climbing.
The last part, which was about half of the path, was very steep. It took me 2 hours to reach the peak. The view there was very beautiful, with clouds all around. I could see no mountain higher than this peak.
After offering my prayers to the intimidating idol of Lord Shiva, I looked for a path directly leading to Teesri (about 3 km away) because a local had told me about this trail. But I couldn't find it. I had to retrace the same route and walk another 7 km, by the end of which I was exhausted. I reached Jamnala at 4 pm.
Now, I could take two routes to reach Nohradhar – one through a forest, by which I came, and the other by the trail which is used by most locals. I chose the second one to get an idea of all routes but later I regretted my decision as this path was full of rocks and is quite difficult and longer.
I reached Nohradhar at 7 pm only to find out that the last bus to Solan was at 4 pm so I had to spend the night at Nohradhar. There are plenty of options for a night's stay. However, on searching, I found a dormitory, which was much cheaper than other stay options so I chose that one.
I left the next day for Solan.
Things to remember
1. the Last bus from Nohradhar to Solan is at 4 pm and to Rajgarh is at around 6.30 pm.
2. Don't rely on the ATM in Nohradhar as ATMs here are closed on Sundays and other holidays.
3. From Churdhar Peak to Teesri, there's a direct path, which saves about 2 hours. Learn about this route from the locals before going on the trek.
➤ Maps and Charts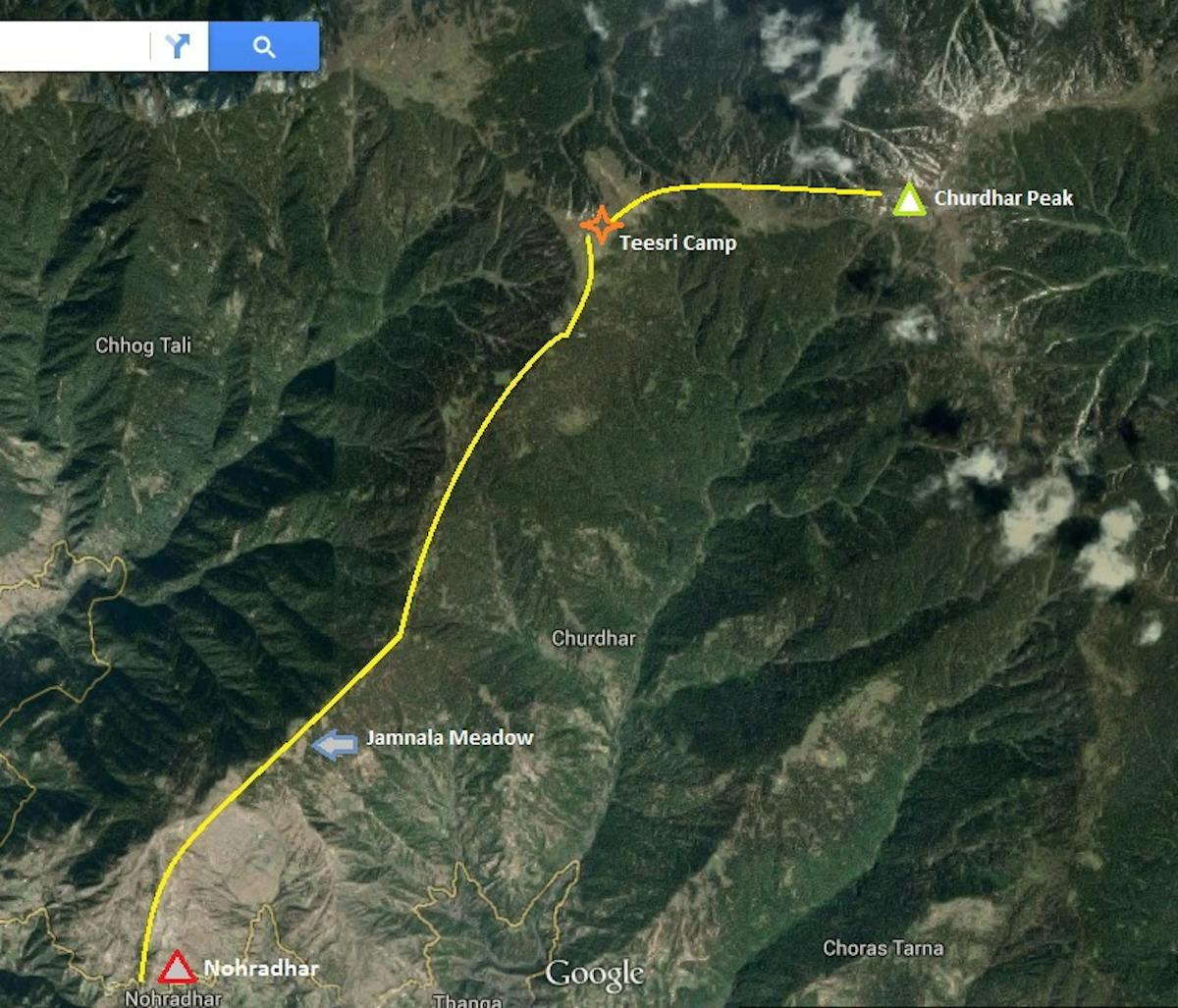 ➤ How to get fit for the Churdhar Peak Trek
The Churdhar Peak trek is classified as a trek of moderate difficulty. You trek up to an altitude of 12,000 feet. This means there is a long trail that you will have to climb. Hence, you need to make sure you are fit for the trek. 
Cardiovascular endurance
On the Churdhar Peak trek, you have to trek for 32 km over two days. This requires a good amount of endurance. You can begin by jogging everyday.  Start jogging at a slow pace and then keep increasing your pace day by day. Make sure you are able to jog 4 km in 20 minutes before the start of the trek. It takes time to be able to cover this distance in the given time. Swimming, cycling and stair climbing without too many breaks in between can help too. 
Strength
This is another area you should work on. There is a lot of trekking distance that you will cover carrying your backpacks and trekking along with your backpack is not a very easy task.  You have to walk on uneven terrain during the trek. It could be taxing for your legs. For this, strengthening your legs will help. You can do some squats to strengthen them. Do around 3 sets of squats, with 8 squats in each set. 
Flexibility
Another aspect that will help you trek comfortably is flexibility. For this, you can do some stretching exercises – stretch your hamstrings, quadriceps, hip flexors, lower back muscles and shoulders regularly. On your trek, it is important that you arrive on the slopes with your muscles relaxed. Carrying a backpack, however light, can become a strain after a while. These exercises will help you to be in good shape before the trek.
Working out indoors
If you can't go out and jog because of time and space constraints, here's a video you can use to work out indoors.
➤ How to reach the base of Churdhar Peak trek
Basecamp: Nohradhar: From Chandigarh take the Kalka – Shimla highway and reach Solan. Buses are easily available from Sector 43-ISBT at Chandigarh. Get off as you reach Solan Bypass road. Walk from here to D.C. office, Solan (1 km) or hire an auto rickshaw. From there, take a bus to Rajgarh. From Rajgarh, board a direct bus to Nohradhar.
➤ What to take on your trek
Bare necessities
Trekking shoes: There will be several slippery patches on the trail, and you will need trekking shoes with a good grip. Sports shoes will not be comfortable enough. You can watch this video to learn to choose the right trekking shoes. 
Backpack (40-60 litres): A backpack with sturdy straps and a supporting frame. Rain cover for the backpack is essential.
Clothes
Two warm layers: At the campsites, especially the higher ones, the temperature after sundown will drop to around 2-6 degrees. You will need at least three warm layers (two lights layers such as fleece and woollen and one padded jacket) for this trek.
Two trek pants: One pair of pants should suffice for this trek. But you can carry one spare pair in case the first one gets wet. Wear one pair and carry one pair. 
Two collared t-shirts: Carry light, full sleeved t-shirts that prevent sunburns on the neck and arms. Again, wear one and carry one.
Thermals (Optional): Those who are more susceptible to cold can carry thermals to wear at night.
Accessories
Sunglasses: Sunglasses are to prevent snow blindness. There might be snow closer to the lake, so carry a pair of sunglasses. 
Suncap: The sun is more 
Synthetic hand gloves: One pair of fleece or woollen hand gloves. One pair of waterproof/resistant, windproof gloves.
Balaclava: You may use woollen scarves instead as well.
Socks (2 pairs): Apart from two sports socks, you can take a pair of woollen socks for the night.
Headlamp/LED torch: Mandatory
Trekking pole: Watch this video to understand why you need a trekking pole.
Others
Daypack (20 litres): If you are offloading your backpack, you will need a smaller backpack to carry water, a medical kit and some light snacks. 
Toiletries (Sunscreen, moisturiser, light towel, lip balm, toilet paper, toothbrush, toothpaste)
Cutlery: Carry a spoon, coffee mug and a lunch box. We insist on trekkers getting their cutlery for hygiene reasons. 
Two water bottles: 1 litre each
Plastic covers: While packing, use plastic bags to compartmentalise things and carry a few extra plastic bags for wet clothes.
Mandatory Personal Medical Kit 
Diamox – 10 tablets (to prevent AMS)
Crocin – 6 tablets (fever)
Avomine – 4 tablets (motion sickness)
Avil 25mg – 4 tablets (allergies)
Combiflam – 4 tablets (Pain killer)
Disprin – 6 tablets (headache)
Norflox TZ & Lomofen– 6 tablets each (diarrhoea)
Digene – 10 tablets (acidity)
Omez/ Rantadine – 10 tablets (antacids)
Crepe bandage – 3 to 5 meters
Gauze – 1 small roll
Band-aid – 10 strips
Cotton – 1 small roll
ORS – 10 packets
Betadine or any antiseptic cream
Moov spray (aches, & sprains)
Mandatory Documents
Please carry the below documents. Documents two and three need to be downloaded (PDF), filled in, signed and handed over to the trek leader at the base camp. 
Original and photocopy of government photo identity card- (driving license, voters ID, etc.)
Medical Certificate and Disclaimer (to be filled by the trekker) – Download PDF
Medical certificate (to be filled by a doctor) – Download PDF
If you're shopping or packing for the trek, you can download this quick and simple checklist for offline use.
➤ Trek Contribution –
Author: Vipin Yadav
Trek inputs and narration by Mayank Kohli
➤ Alternative Indiahikes treks you can do
Churdhar peak is an exciting trek. No doubt about it. But if you're a first-time trekker, the process of organizing a trek by yourself might get a bit overwhelming. If you want to trek with your family or friend then you might not want the hassle of doing it. In such cases, we have a couple of great treks for you.
If you have a couple of days more in hand, Beas Kund is a great option. The starting point of the trek is Solang, just an hour's drive from Manali. That makes it very easy to access. If you're a beginner, it is the perfect trek with great views of the biggest mountains of Manali. Moreover, you get to stand right at the base of the Pir Panjal Range.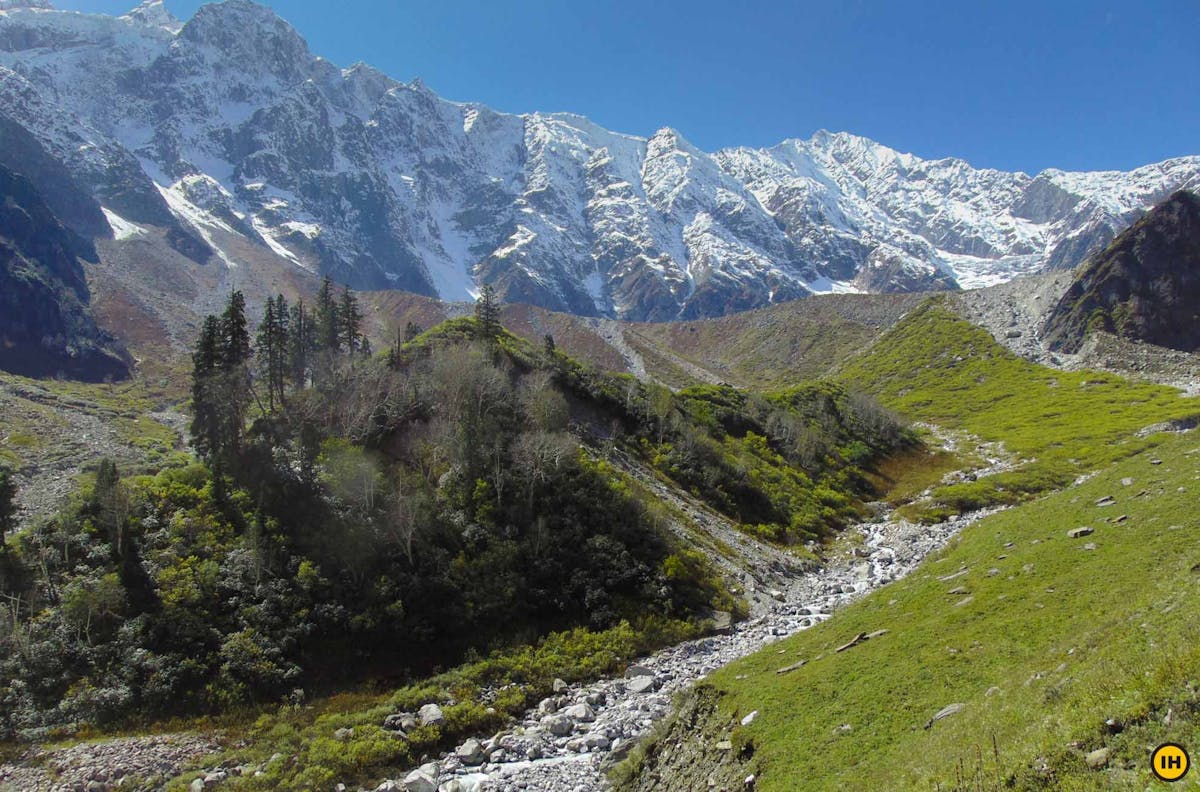 View of Hanuman Tibba on the way. Picture by Akhil S
Read more about Beas Kund Trek here
If you don't have as much time though, the Pundrik Lake trek is just perfect for the weekend.
Surrounded by giant pine and fir trees, Pundrik lake is a hidden treasure in Himachal Pradesh. The thick forests through which the trail winds are a bird watcher's paradise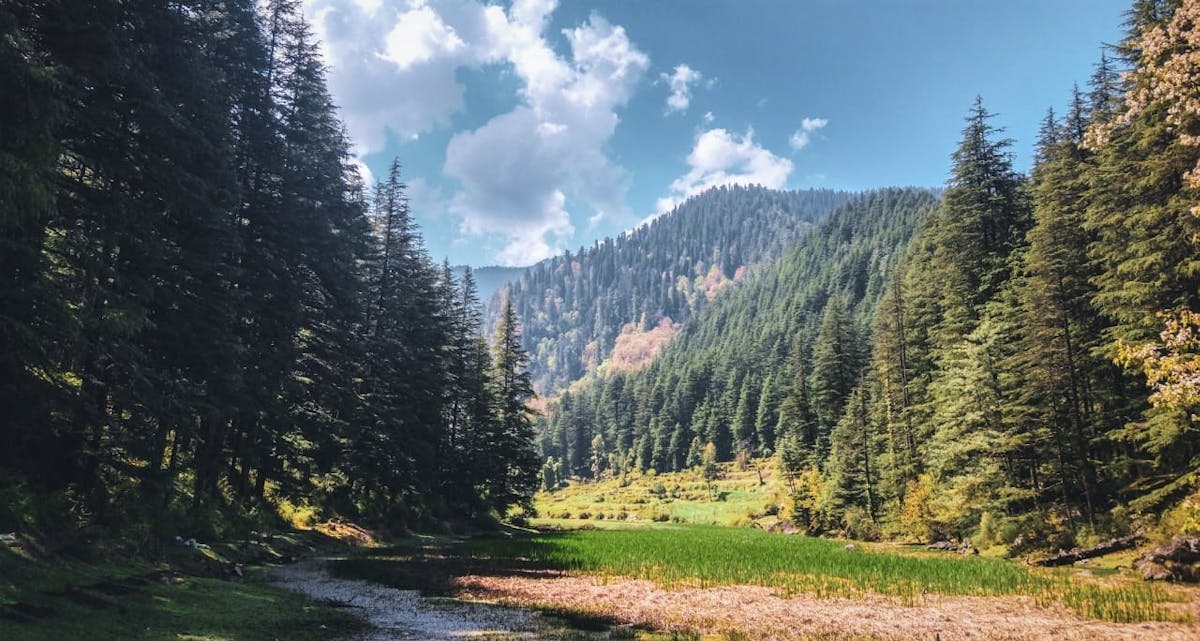 Views on the Pundrik Lake Trek. Image from Indiahikes Archive
The dense forests on this trek are filled with pine, fir, spruce and a variety of other trees. Pundrik lake, covered by tall grasses runs for 400 metres and is surrounded by forests on three sides.
Read more about Pundrik Lake here