Can You Help Us With Photographs Of This Trek?
We are looking to enrich this documentation with more photos. Pictures go a long way in explaining the trail, more than words ever can. If you have done this trek, can you share your photos with us? We will include them on this page, with due credit to you. Click here to contribute.
The Complete Guide to David Scott Trek
One of the oldest trails of Meghalaya, David Scott trek is an adventure-filled ride through history. It is a part of a 100-kilometre trade route constructed during the British administration in India. 
Passing through the Eastern Khasi Hills, this trek spans a distance of 16 kilometres winding through mountains, valleys, forests and rivers. Dating back to the dawn of British colonialism in India, it is one of the rare preserved beauties of Meghalaya. 
At an altitude of 4,892 ft, David Scott trek passes through deep valleys with River Umiam flowing alongside. The trail stretches between two famous Khasi villages of Mawphlang and Lad Mawphlang.
It is named after the British administrator David Scott posted in north-eastern India during the early 1800s. Today, it is one of the oldest trekking routes in Meghalaya.
The trail passes through quaint Khasi villages, ancient sacred groves, lush green meadows, sparse fields, rolling mountains, rushing streams, stone bridges, and natural pools.
The beauty of the trek lies in the fact that it can be done by people of all ages simply as a wonderful nature hike. Even beginners, children & old aged people can do David Scott trek flexibly on a shorter route.
Untouched by urbanisation, David Scott trek makes for a wonderful hike for all nature lovers.
➤ Table of Contents
We have documented this trek in great detail to help you do it on your own. You will get all the information required to do the picturesque David Scott trek on your own.
If you've already completed this trek, we would love to hear from you! Drop-in your comments in the comment section below.
To navigate through the documentation easily, use this section of the Table of Contents:
What to watch out for
Trail Information
Route Map and GPX file of the trail
Difficult Sections
History of the trek
Best time to do the trek
How to reach
Frequently asked questions (FAQs)
Places to visit nearby

➤ What to watch out for on the David Scott trek
1. Relaxing Trek amidst Clouds & Camping in the Hills
Except for a few houses in a small village, human habitation is sparse in the hills. With no humans in sight, silent rivers & trees stirring in the air, David Scott trek makes for a peaceful nature hike.
If you visit right after monsoons, the first 4 kilometres of the trek feels like a walk through the clouds.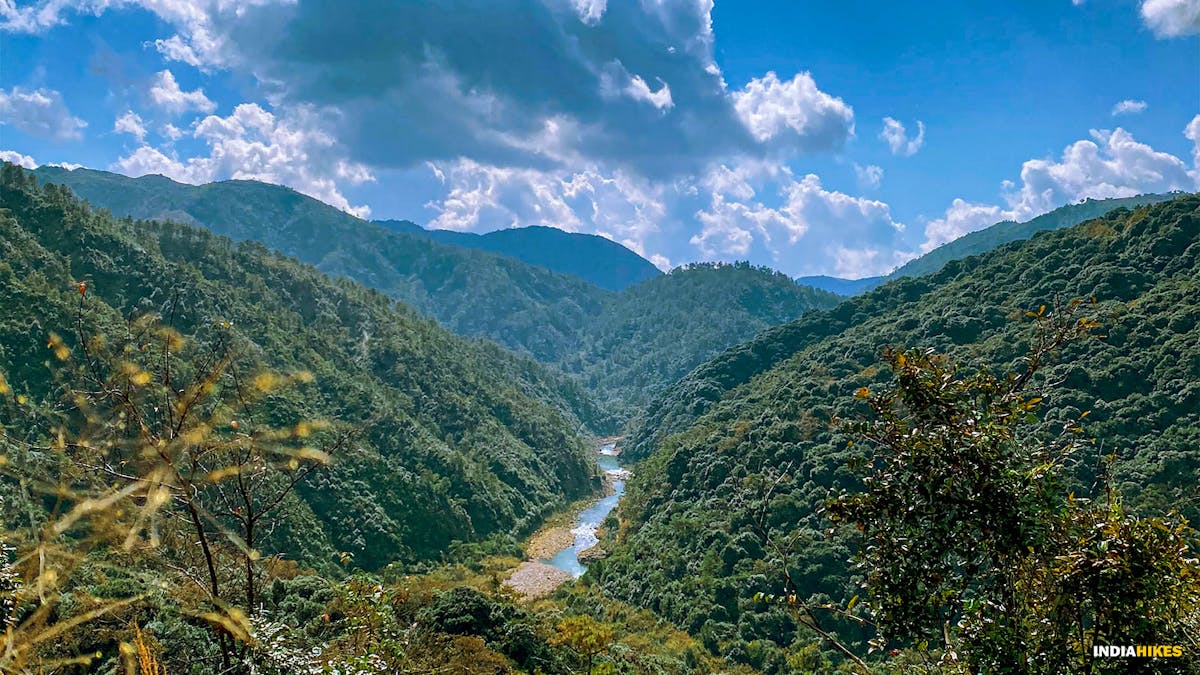 A glimpse of River Umiam from the top. Picture by Bantei Nonglang
Umiam river offers pleasant company for the first half of the trek. Many smaller gentle streams crisscross the mountains along the latter stretch.
Once you enter the dense forests, you lose sight of the river. Pinewoods line up either side of the trail.
Streams appear in different phases, with tiny waterfalls and pools making it perfect for swimming. 
There are multiple locations you can camp at near the streams & at Pine Hill Campsite safely even when alone. You can also camp at the local Khasi village named Laithsohma.
2. Medieval era bridges
You will find multiple stone bridges built over streams and rivers on the David Scott trek.
The military built Suspension Bridge over the Umiam river was washed away by flash floods in 2007. It was completely reconstructed in 2012 again. As you cross the river, you can hear the hanging bridge creak under your feet.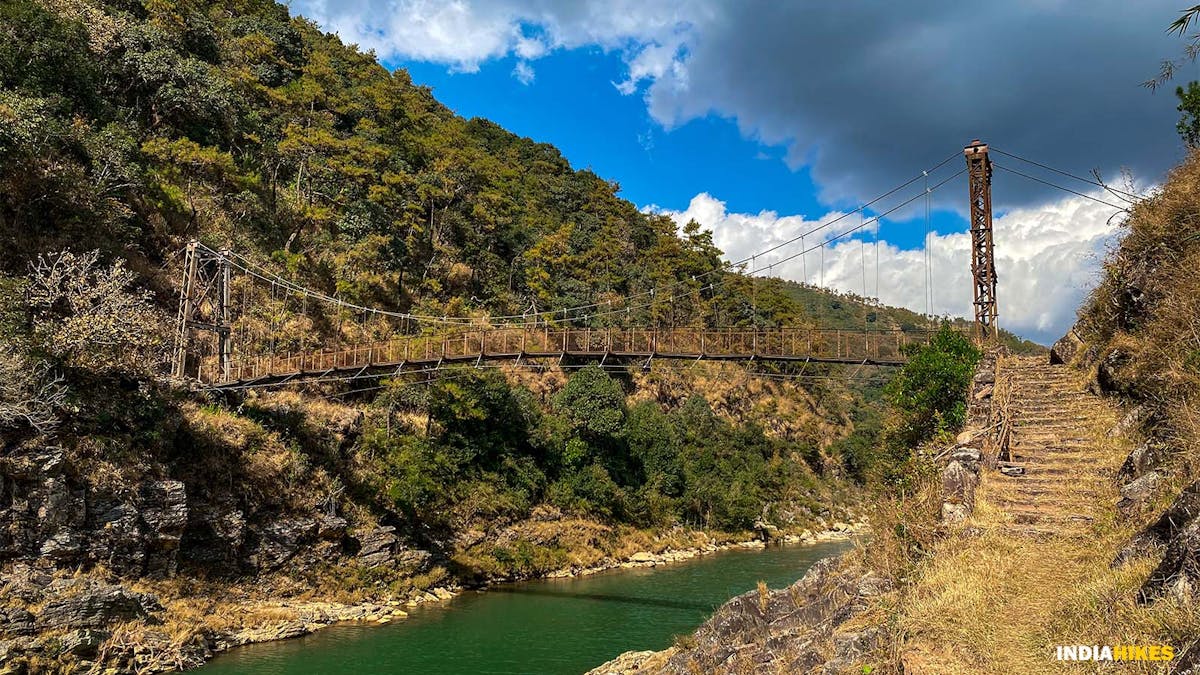 'Hanging Bridge' over River Umiam. Picture by Bantei Nonglang
An ancient-looking stone arch bridge stands strong over a stream just before the end of the trail near Ladmawphlang. These bridges seem straight out of a historical documentary.
Some of the gravel parts of the old trade route can still be found intact at places. Dating back to British times, these medieval bridges offer a glimpse into British history and some even older. 
David Scott trek is one rare legacy that has remained undisturbed by the disturbance of city life.
3. Massive Rock structures
Dating back to the Megalithic Period, you can find giant rock formations in the latter stretch of the trek. Considered sacred by the Khasis, they still continue to be well-preserved.
Monoliths are upright structures carved from one single stone that serves as a monument or pillar. They could be erected in commemoration of a king's victory or it could have been an ancient sacrificial site, no one really knows.
These historical monuments have several beliefs regarding their origin & can be found across the length and breadth of Khasi & Jaintia hills of Meghalaya.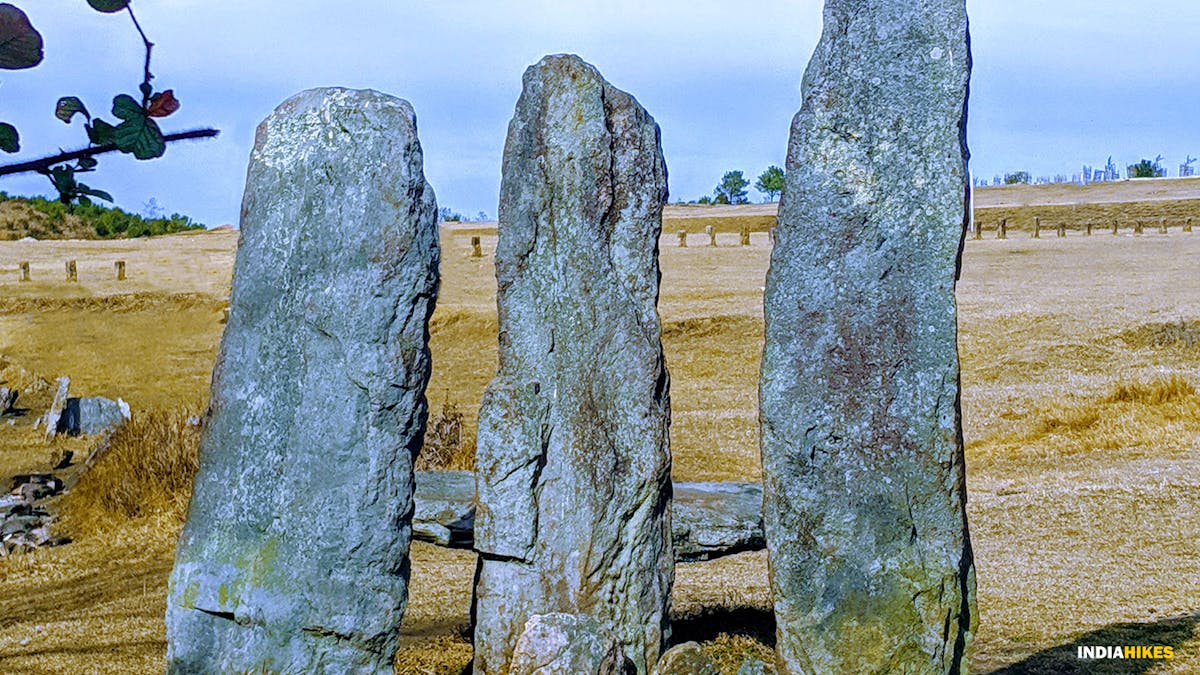 Ancient giant rock structures at Kor Parkti. Picture by Yashowardhan Chaturvedi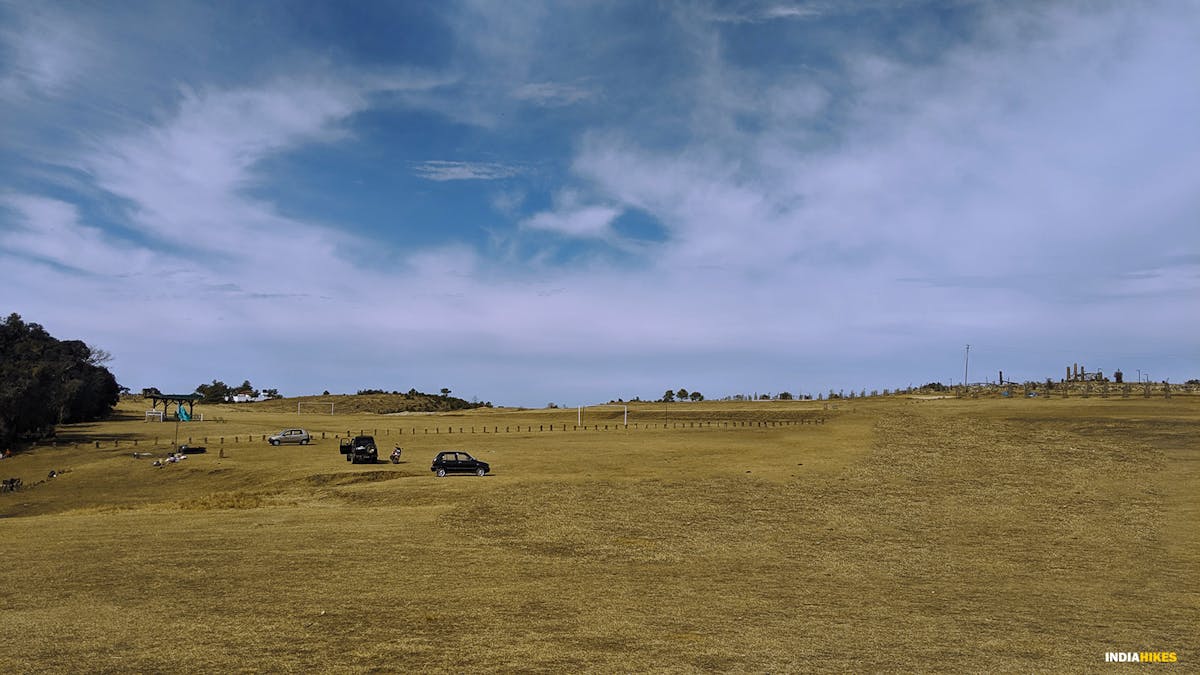 Vehicles can be parked in this place. Picture by IndiaHikes member
Standing for centuries, these monoliths seem like an ancient gathering of villagers set in stone. It's amazing to see how strong they stand, towering over us!
About 12 kilometres from the trailhead, the legendary Mawnguid- Briew, the Elephant hill, the Crocodile sitting on the rock and the Mansion on a rock can be found. An old Khasi song popularised the Mawnguid Briew.
4. Beautiful rare plants & conserved forests
Beautiful red rhododendrons welcome you early on the trek. Khasi hills inhabit rare medicinal plants, varieties of orchids, magnolia, rubber.
The soaring pines and magnolia offer a picturesque landscape in the forests. The path is laid with crunchy dried pine cones throughout the trail.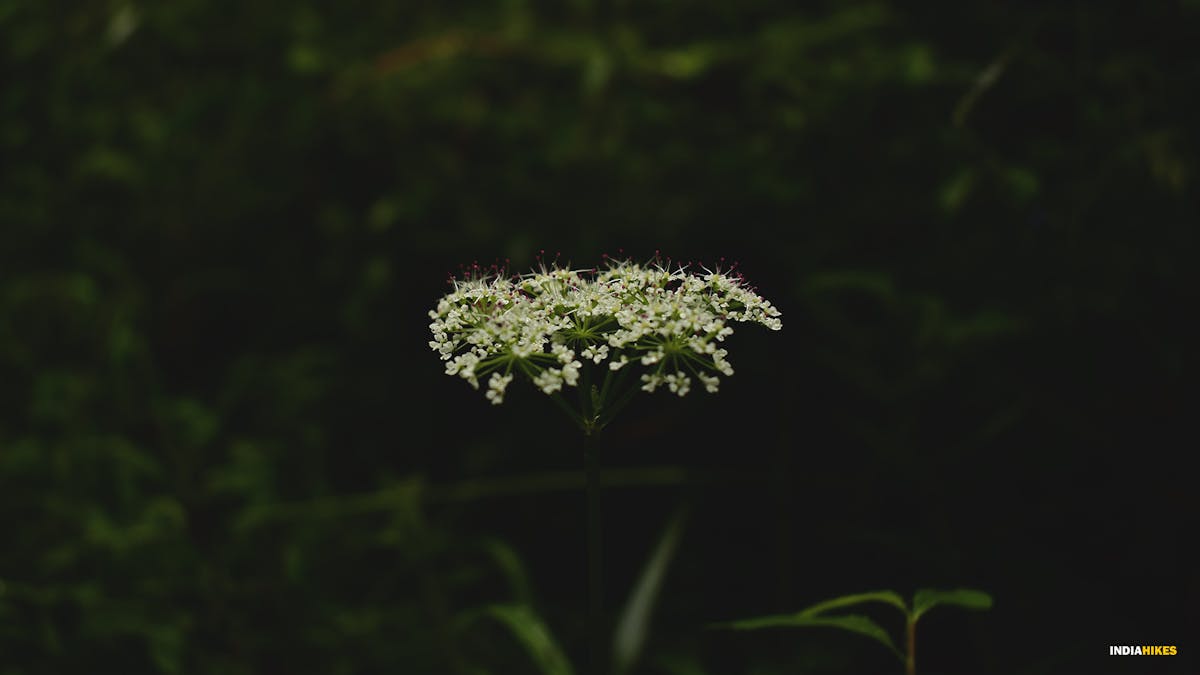 Forest Blooms. Picture by Aneesh Krishnan
Different types of local berries including blackberries and wild berries are found in abundance. 
David Scott trail is peppered with blossoms of beautiful flowers. Wildflowers like Spanish Shawl, dew grass can be found embroidered in bushes.  The entire hike urges for an indulging photography session.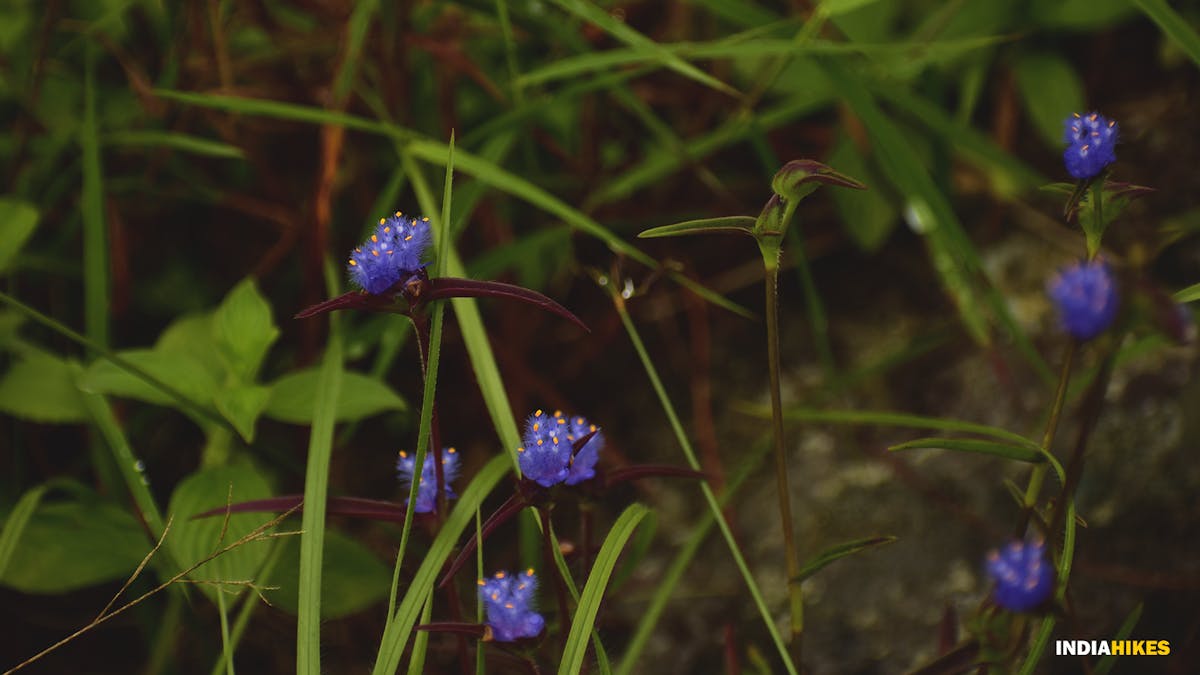 Fresh 'dew grass' blooming in monsoons. Picture by Aneesh Krishnan
If you have a keen eye, you can spot frogs and rare insects near water.
Traditions, rituals and respect for nature are imbibed deeply in the Khasi culture. Practising sustainable living, it's amazing to see how local folks have conserved its pristine beauty for centuries.
➤Trail Information
This trek can be started from either of the two villages: Mawphlang and Ladmawphlang. The popular choice is to start from Mawphlang.
Even though the hike is long and seemingly endless, it's pretty straightforward. If you are a solo trekker or a beginner, the thumb rule is to avoid shortcuts.
• Section 1: Mawphlang village to Trailhead (0 Point)
The trail stretches from Mawphlang through Nongrum village towards the south-eastern part of Mawphlang. 
The elevation of the entry point is at around 6,050 feet.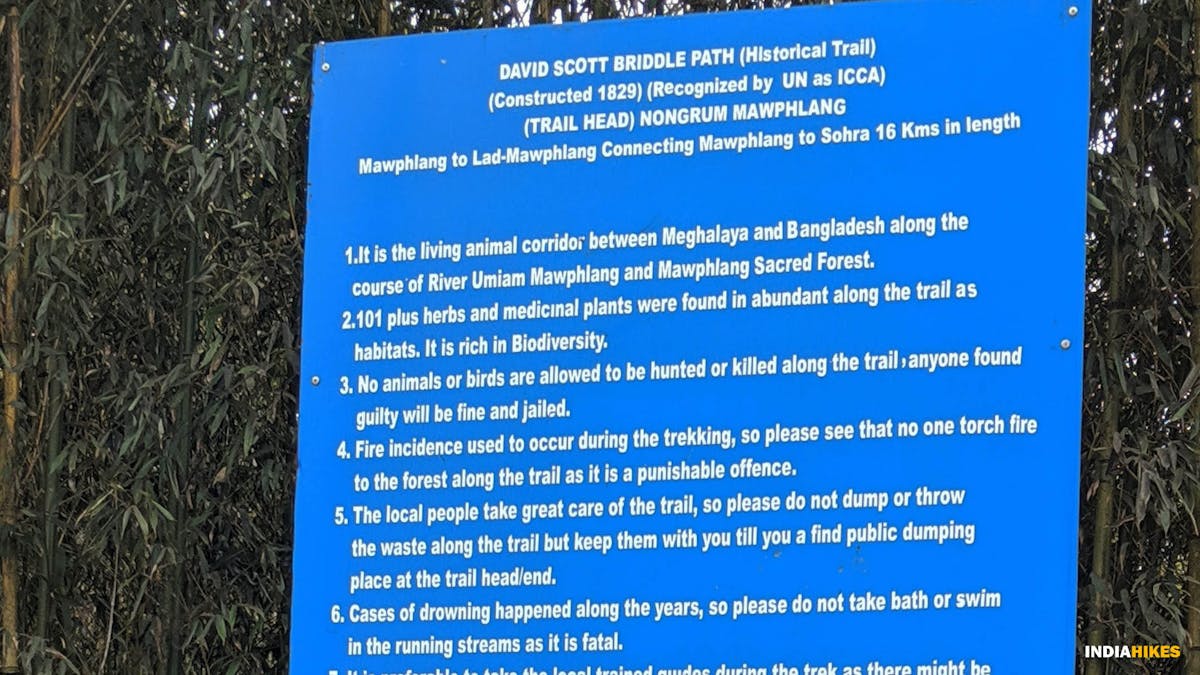 Trailhead at Zero Point. Picture by Yashowardhan Chaturvedi
This is the Zero Point and acts as the primary identification of the David Scott trek. 
You can grab eatables and water at the local shops here which solely benefit the Khasi community.
• Section 2: Trailhead to Ka kor shon mai
Distance: 500 meters
The actual trek starts from the trailhead. The route is straightforward on a flat path. 
Perfect place to rest. Picture by Uma Badve
The terrain is rocky at some points, so make sure you wear proper trekking shoes. As it gets slippery in monsoons, we recommend using trekking poles for support.
After half a kilometre, you'll reach a resting point named Ka kor shon mai.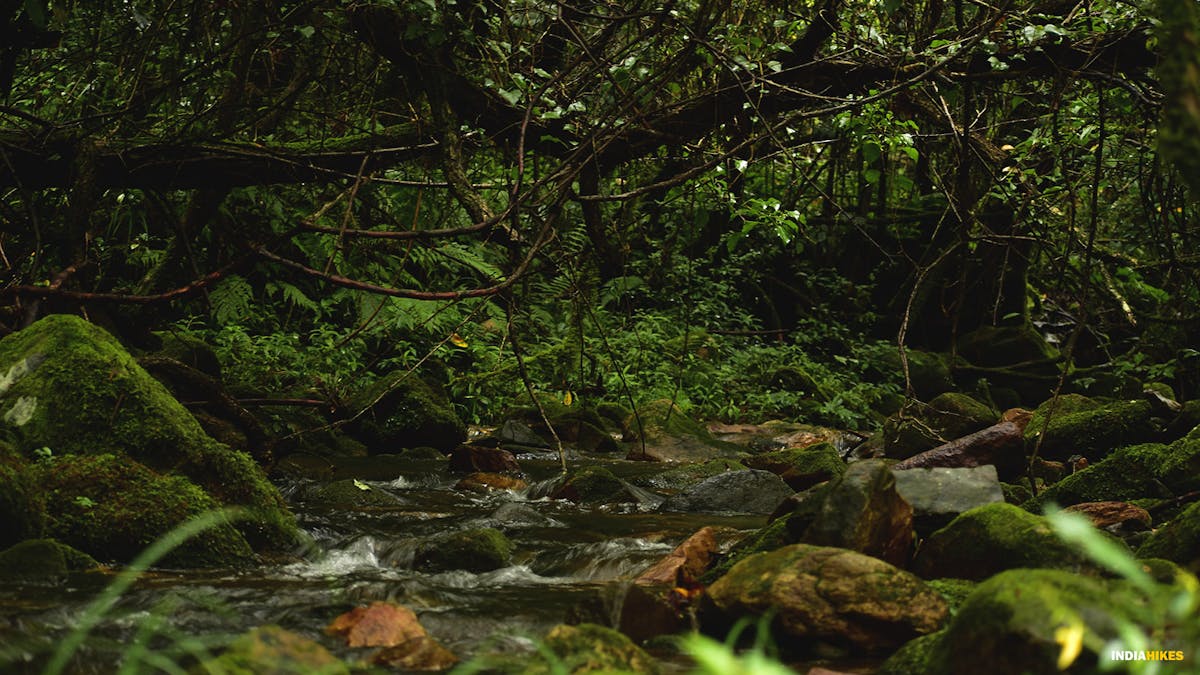 Wild Streams. Picture by Aneesh Krishnan
If you plan to camp overnight, you can erect your tent at the Pine Hill Campsite. It is absolutely safe on the open grounds.
Chances are you'll have company as local tour guides often conduct camping activities here. 
• Section 3: Ka kor shon mai to Mawkorsahep (Mawshep)
Distance: 1.5 km
From Ka kor shon mai, it's a gradual descent on a muddy, winding trail of 1-1.5 km.
With lush greenery around, the path is winding the mountains as you go downhill. Occasionally, you can catch the river flowing from the slopes.
Walk along the gentle slope on the trail until you reach Mawkorsahep. You can catch a glimpse of Simpanghang waterfalls just before you reach.
You will recognize Mawshep with the tombstone erected. Dating back to 1843, it was built in the fond memory of a child Camilla.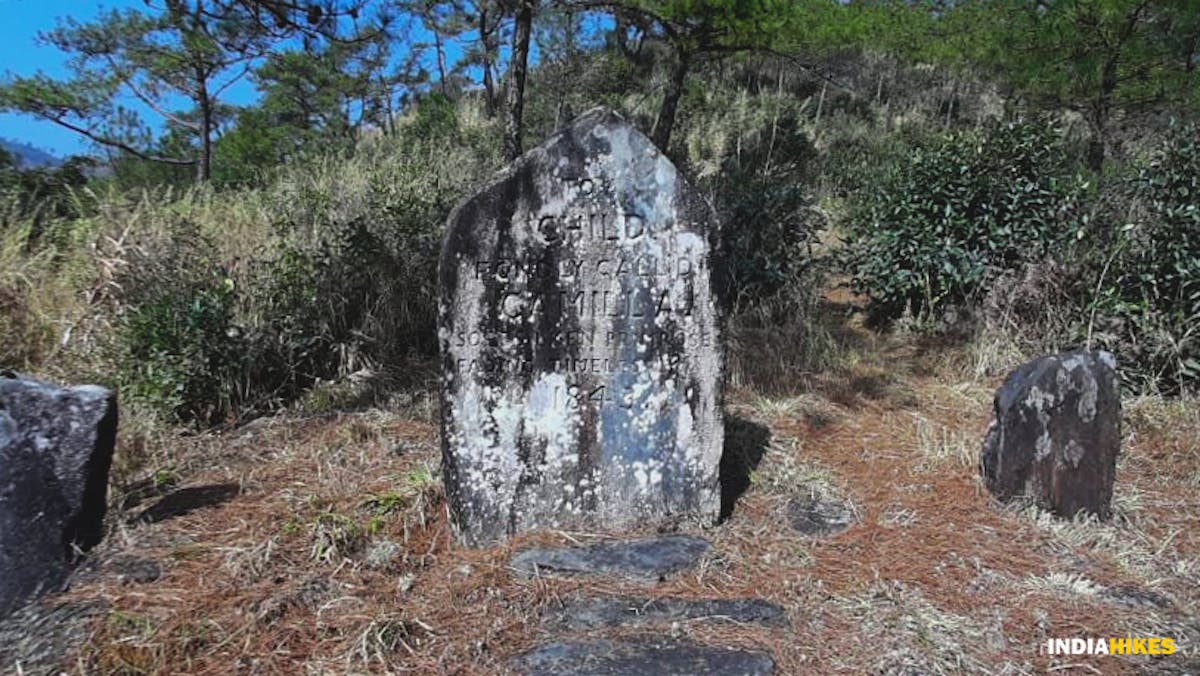 Camilla's Tomb. Picture by Banshan Lyngdoh
Beyond the tomb, it's a thin trail of descent through the forest. Continue along the winding spree across the forest down to Lynkienwar and Umiam River.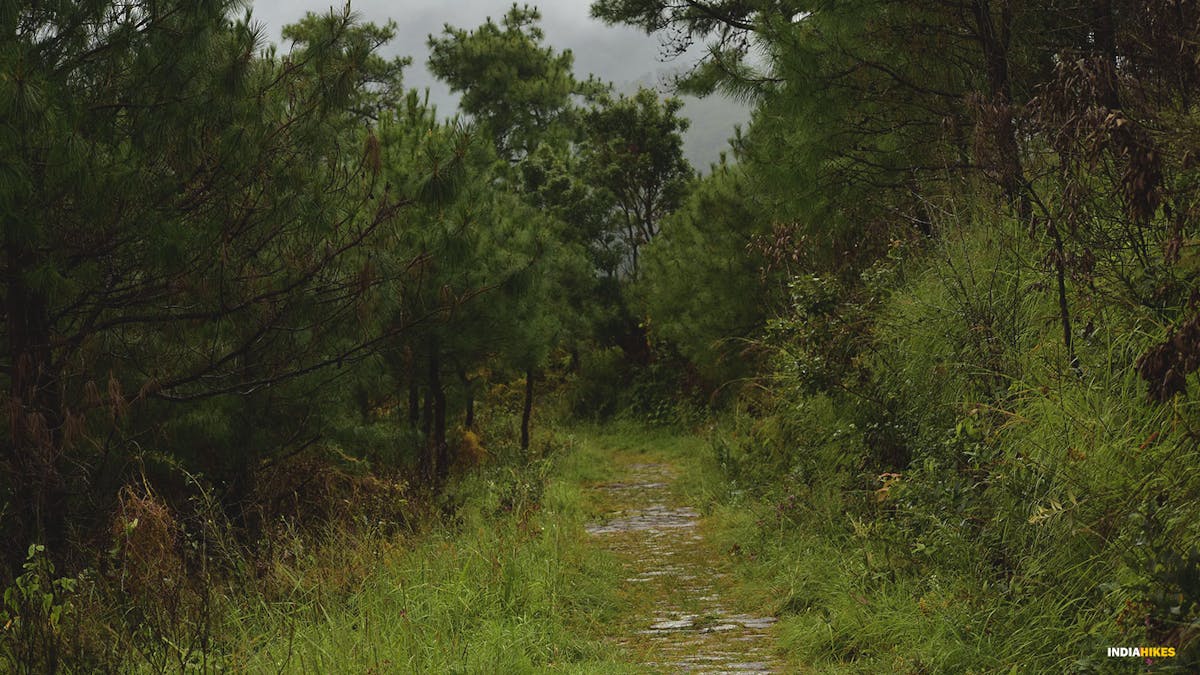 Dense canopy overhead a thin trail. Picture by Aneesh Krishnan
A part of the Mawphlang Dam is visible at the end of the trail. This section offers a serene view of the Umiam river.
• Section 4: Mawkorsahep to Suspension Bridge
Distance: 3 km
Follow the winding gravelly path with occasional ascent until you reach the hanging Suspension Bridge. 
It is a military built steel bridge at Weidung. This footbridge built across the Umiam River acts as a gateway to the woods. 
Military built 'Hanging Bridge' on River Umiam. Picture by Jigna Gokani
Floating over the river, the bridge gives you a beautiful view of the Umiam river.
You can proceed towards Laithsohma village after this short break.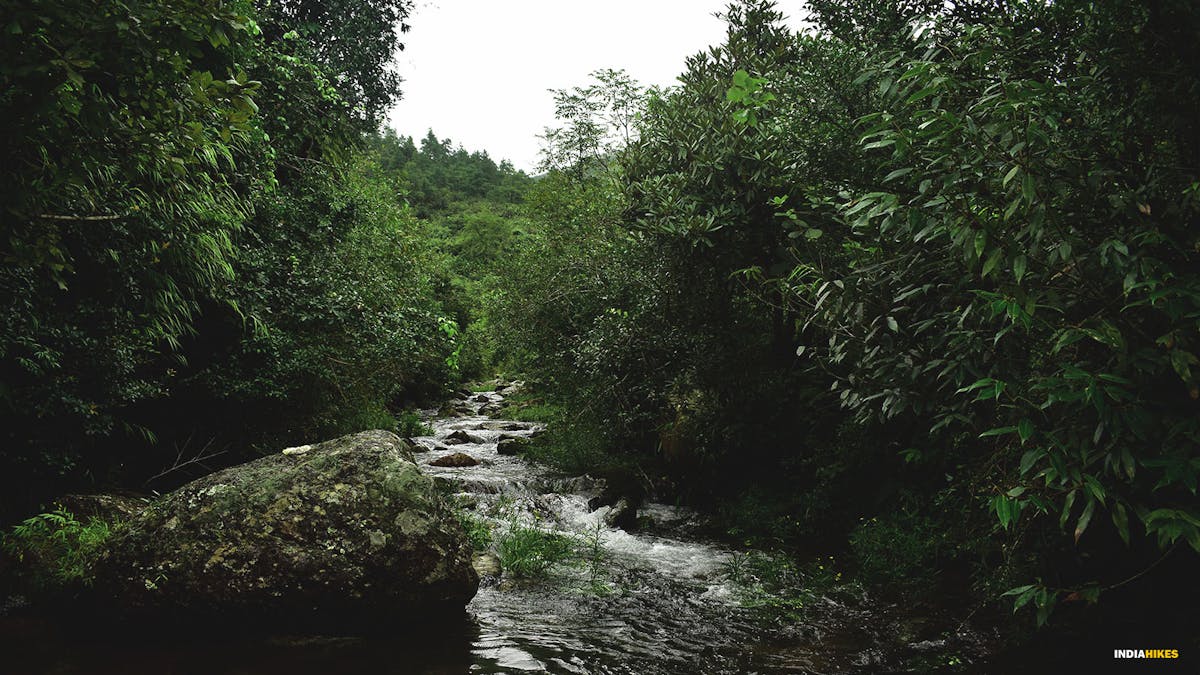 The streams continue to give you company along the forest trail. Picture by Nishant Sinha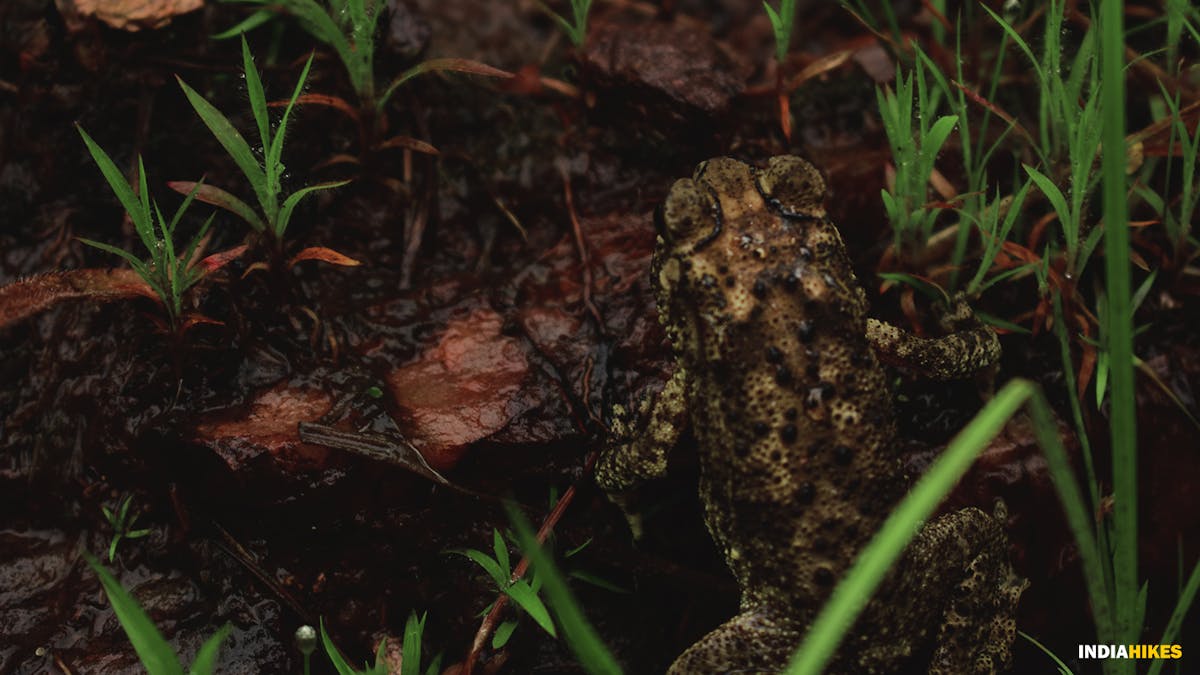 Wild Friend waiting to say a Hi. Picture by Aneesh Krishnan
• Section 5: Suspension Bridge to Laithsohma Village
Distance: 4 km
After crossing the hanging bridge, walk along the rocky thin trail until the trail widens.
After walking for a kilometre, you will reach the Wahtham valley. This is the lowest point of the trek with an elevation of 1525 mt.
Walk straight for a kilometre on the trail through the forest until you find a clear opening to a river.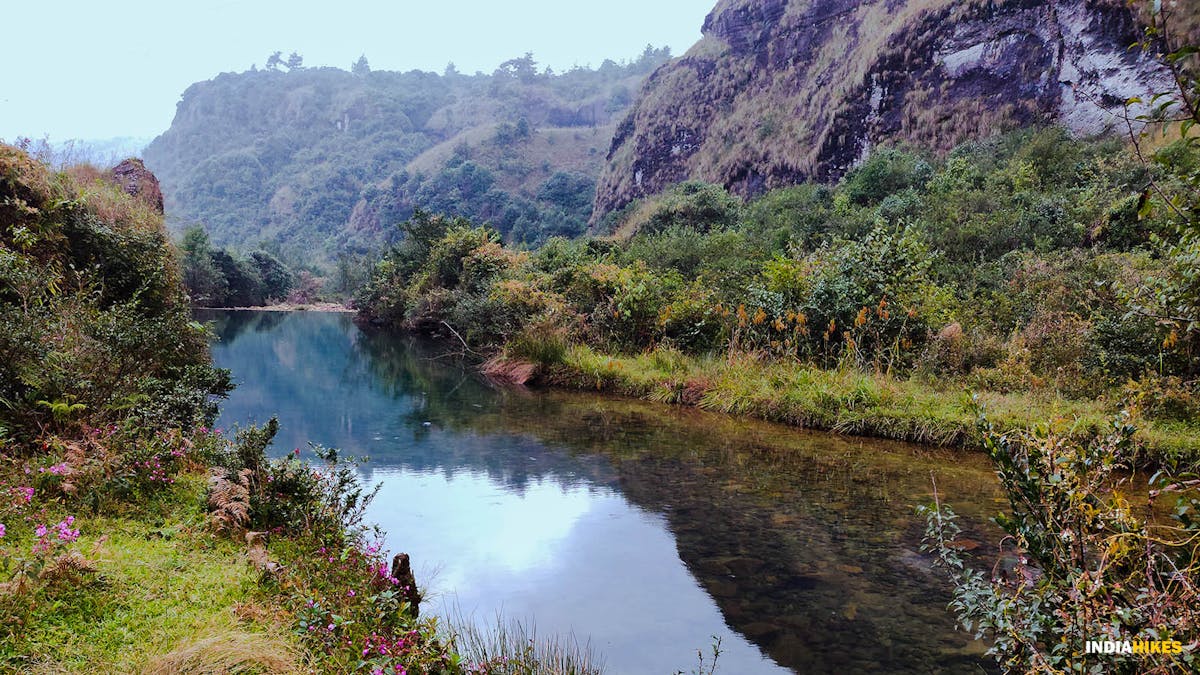 Crystal clear waters of a shallow stream. Picture by Jigna Gokani
You can rest here for a while to enjoy the serenity and calm winds in silence.
The water of the stream is crystal clear and transparent here. You can refill your bottles as you proceed on the trek.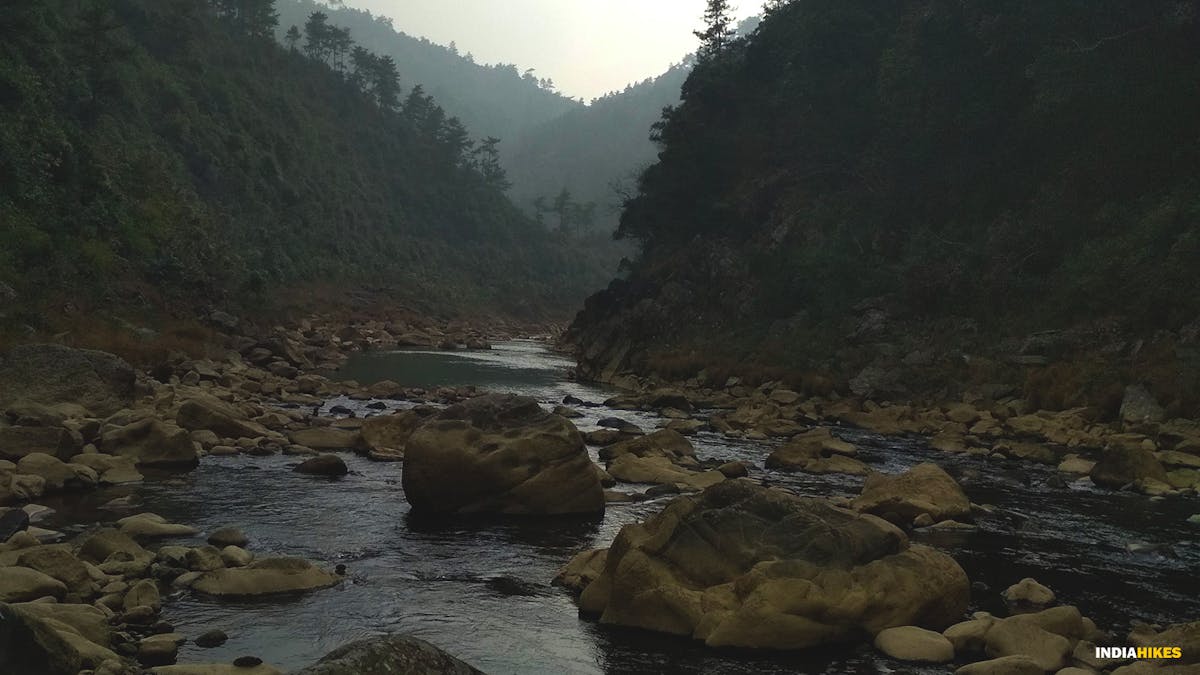 River Crossing after Wahtham Valley. Picture by Vinay Bale
To cross the river, you will have to hop on the rocks. If your shoes aren't waterproof, it's better to take them off to avoid getting them soaked and squeaky.
On crossing the river, the slope increases. The trail gets thinner and is carved between the thick forests.
The next two kilometres is an ascent until you reach a village named Laithsohma. You can take a lunch break here.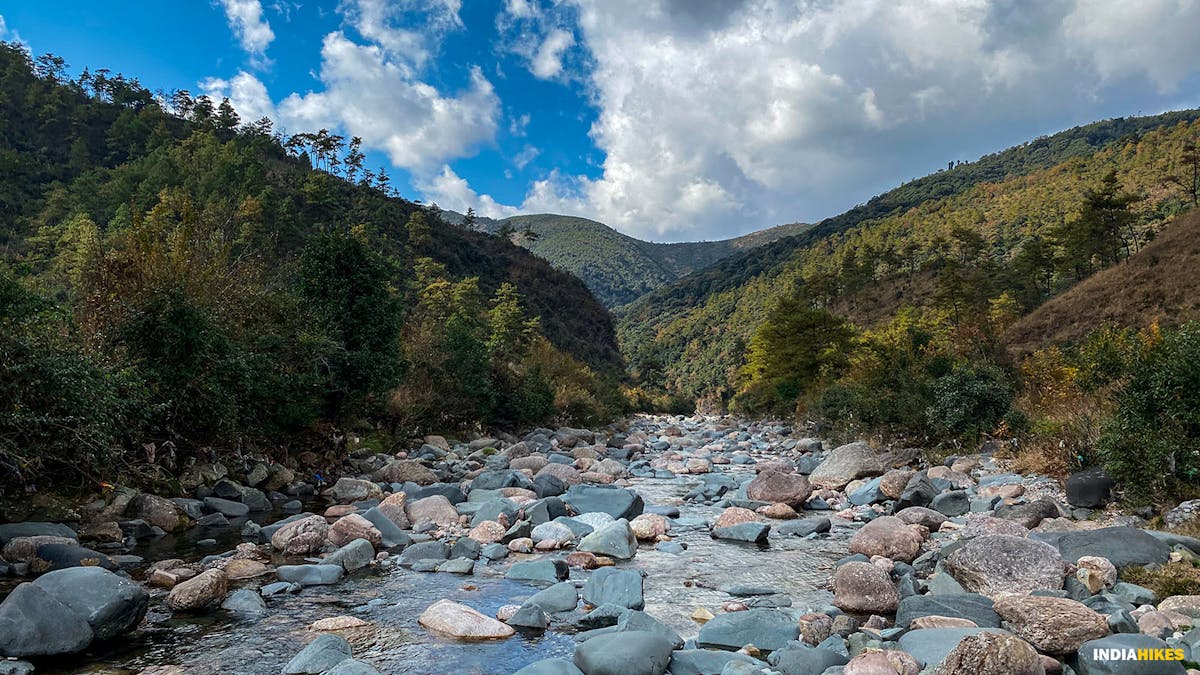 Enjoy the scenic view on your trail. Picture by Indiahikes member
With puppies, goats, chickens and kids playing in this tiny Khasi village, you can enjoy red tea served by local villagers.
Sweet and juicy blackberries are also sold here, locally known as Sohiong.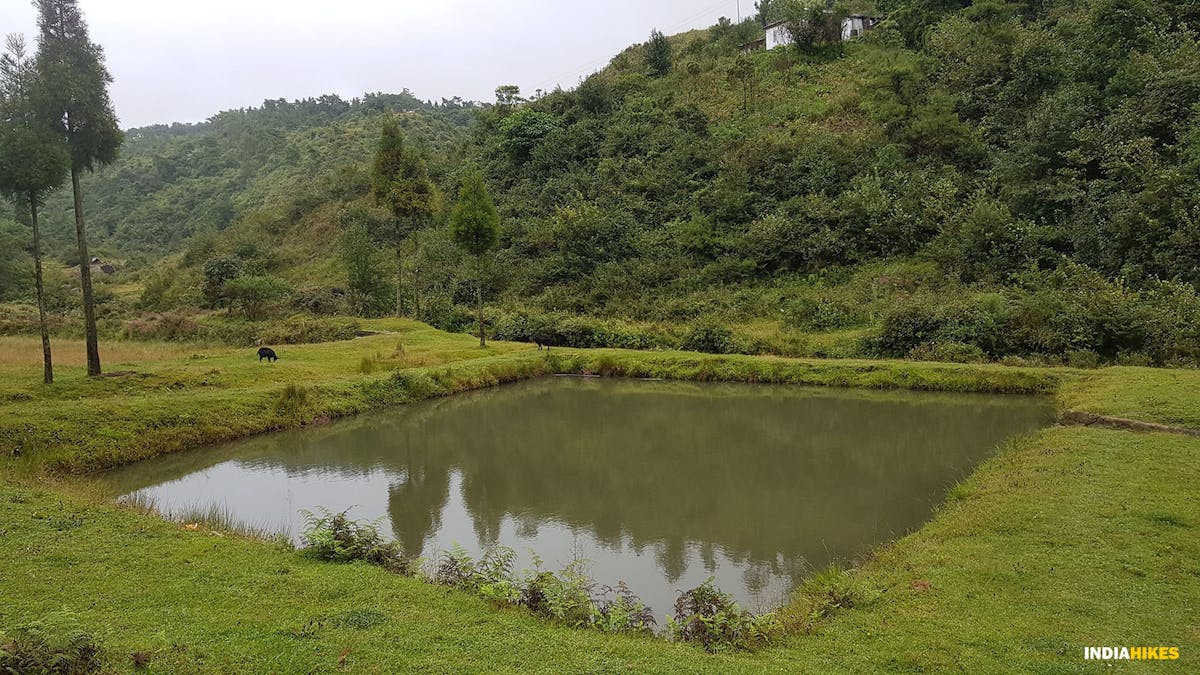 A community pond conserved by villagers at Laithsohma. Picture by Nishant Sinha
This quaint Khasi village is sparse with ponds across expansive meadows. After the break,  you can proceed towards the arch bridge.
Villagers might be shy at first, but they are warm and welcoming. Don't forget to greet the villagers "kublei", which means 'thank you' or 'goodbye'. 
Laithsohma is a popular Maggi point.
We, at Indiahikes, strongly advise against Maggi. The empty packets find their way back to the mountains, lying there for centuries causing more harm to the environment.
Read this to know how Maggi harms our mountains.
• Section 6: Laithsohma Village to the arch bridge
Distance: 3 km
After crossing the village, follow the plateau to proceed towards the arch bridge. The terrain is mostly flat and you can increase your pace here.
The expansive lush green meadows are a delight to sore eyes. There are many natural ponds and streams on the trail. You can swim or play in the pools. 
Walk straight on the trail until you find another medieval stone arch bridge. 
Medieval stone arch bridge over a stream. Picture by Bantei Nonglang
You can observe massive rock formations spread across open meadows. Walk until you reach the legendary Mawnguid-Briew.
A massive rock structure with a cliff cut in middle. Popularised by the Khasi song of the same name, the huge rock structure was said to swallow people as per an old Khasi folktale.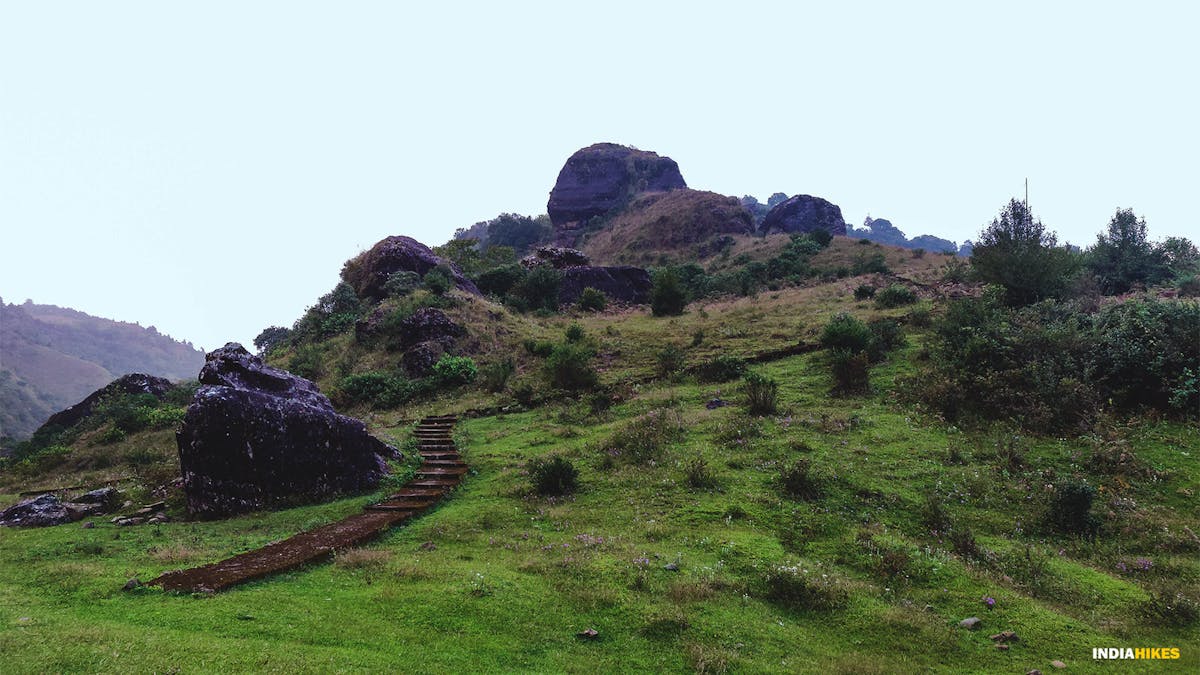 Giant rock structures near the legendary Mawnguid Briew. Picture by Jigna Gokani
You can find Monoliths (giant rock formations dating to the Megalithic period) throughout the Khasi and Jaintia hills of Meghalaya. Here onwards, the trail gets narrower with a few unexpected diversions. 
• Section 7: Arch Bridge to Lad Mawphlang
Distance: 4 km
This is the last part of the hike. You can spot the Mawphlang village and Sacred groves as you turn back. 
Another 2 kilometres hike on almost flat terrain will bring you to a stone bench at Kor Parkti. You can rest here for some time.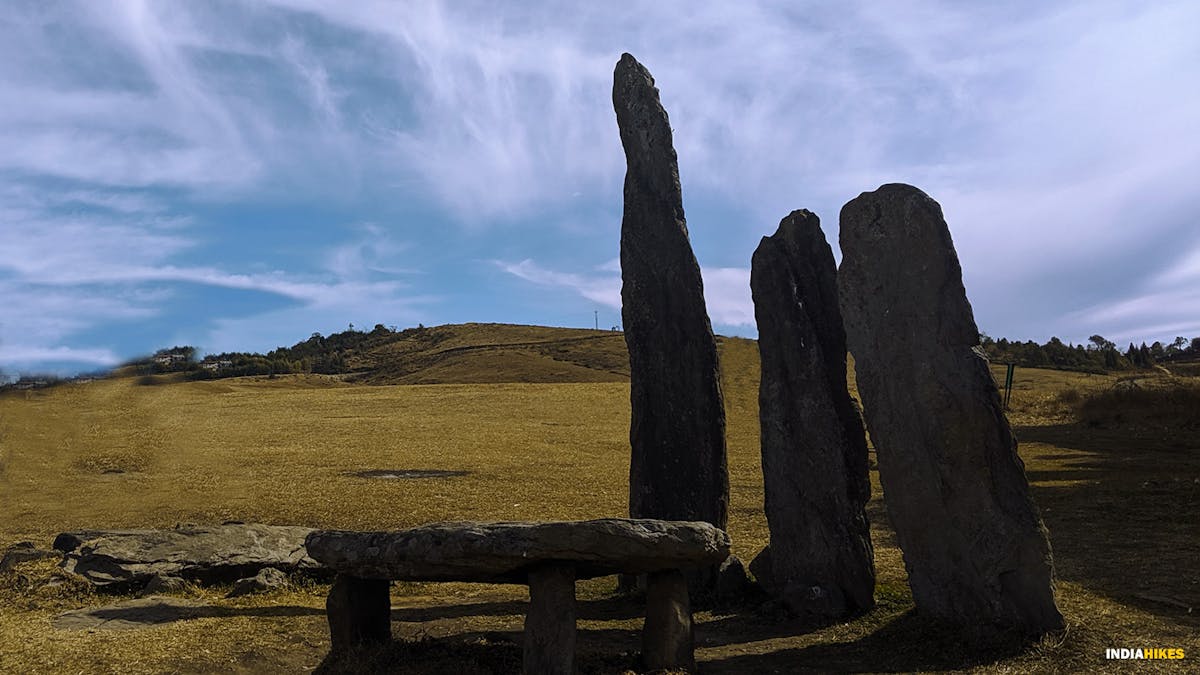 Resting bench and monoliths at Kor Parkti. Picture by Yashowardhan Chaturvedi
The trail descends two more kilometres to reach the Wah-Umiong river.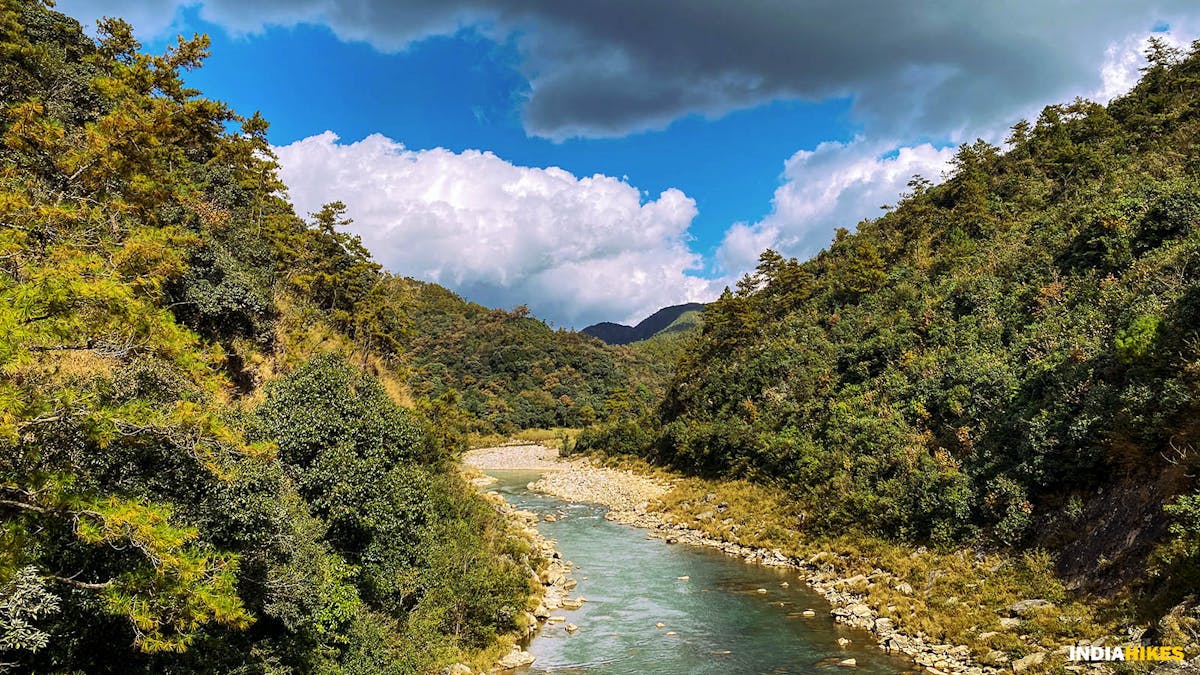 Hues of the blues & greens. Picture by Bantei Nonglang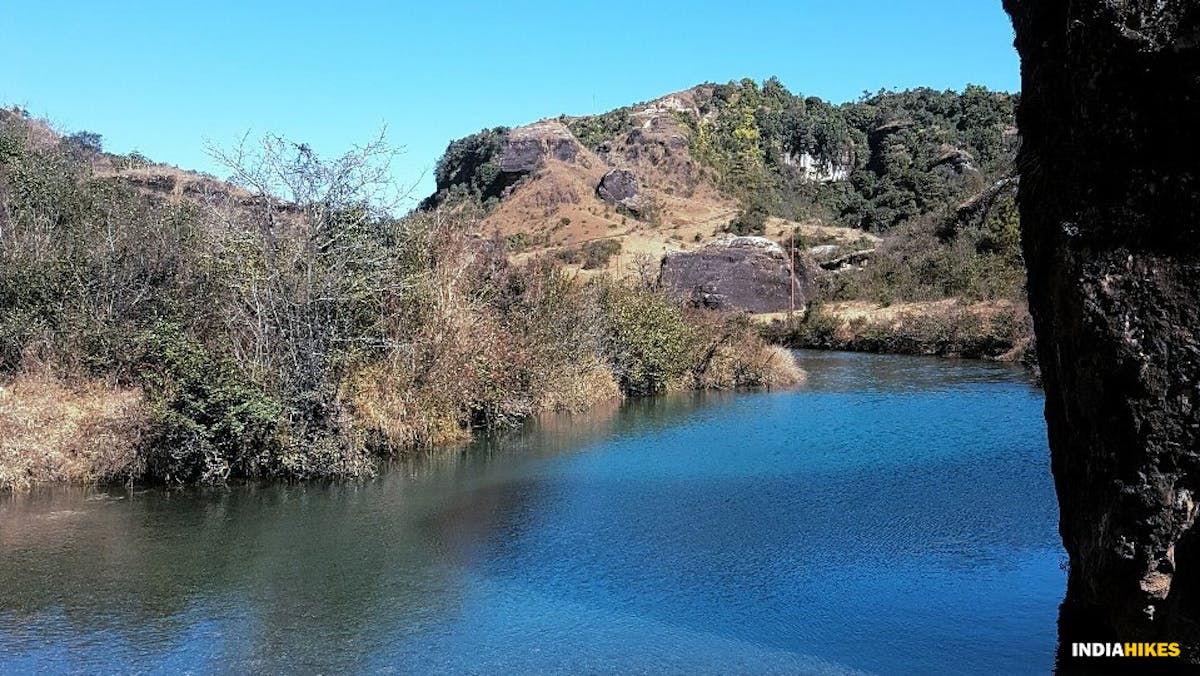 Purifying waters of Wah Umiam River. Picture by Uma Badve
Walk straight until you can spot a lonely hilltop. One can mark the end to Mawphlang forests and the beginning of Lad Mawphlang forests.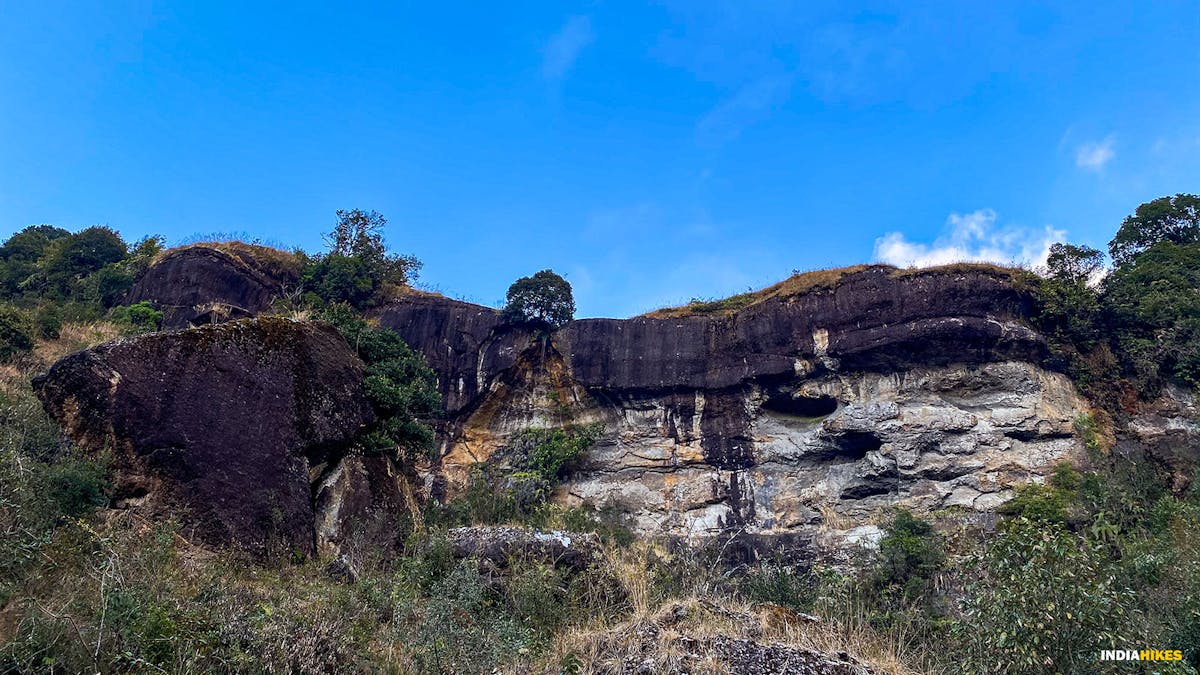 An ancient Carved Rock. Picture by Indiahikes member
Ladmawphlang is situated at the end of the valley. This is the final resting place of the David Scott trail. At Lad mawphlang, you can enjoy local rice, juice and red tea at the backdrop of the glorious sunset behind the hills.
Soak in the stunning orange-hued sky as you let accomplishment and gratitude wash over you. If peace had a moment, David Scott trek would be it.
What seemed like an endless hike is about to end. Take a pause to absorb the grandiose of the majestic Khasi hills.
Follow the thin trail without any diversions and climb to Sohra Main Road. Continue from the David Scott Exit Point towards your destination.
The elevation of the exit point is 1785 metres.
• Route Map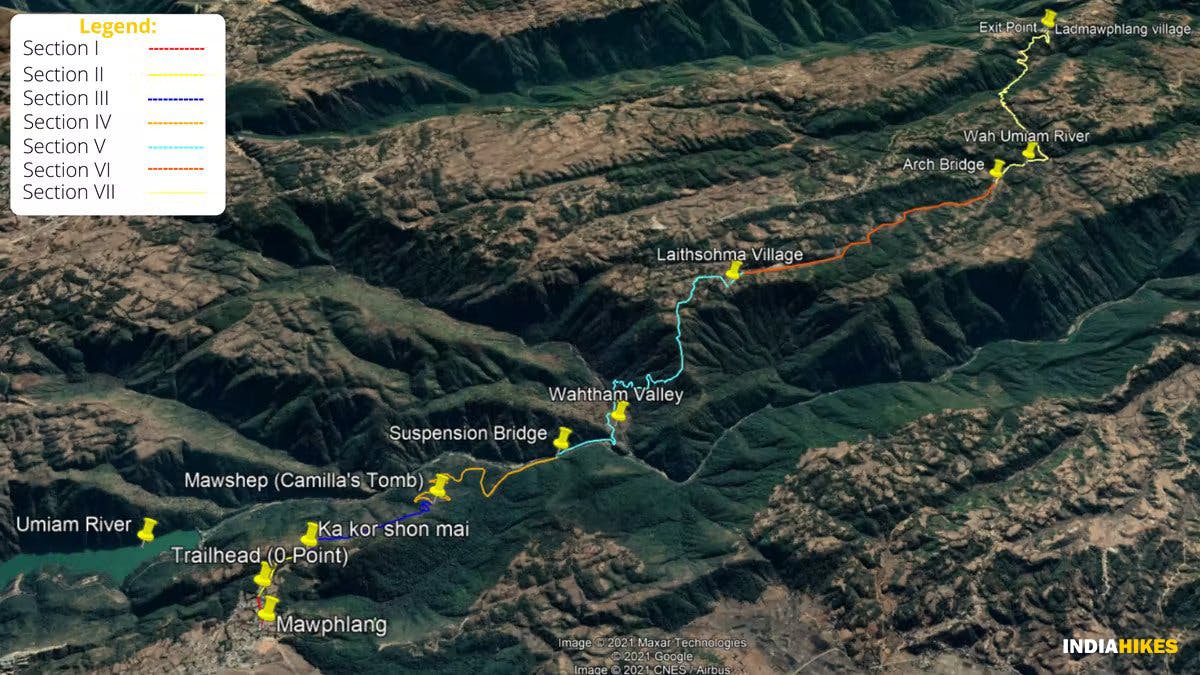 David Scott Route Map. Source: Google Earth Pro. Picture by Sakshi Chetule
In case you want to read more on how to use this GPX file, go through our detailed guide here.
➤ Difficult Sections On the David Scott Trek
David Scott trek is of Easy-Moderate level difficulty. You will be covering a distance of about 16 kilometres which will take 5-6 hours to complete.
This trail is famous among the locals for long morning walks and cycling trips. 
Slippery slope
The trail is gradual or descending for most parts, except for a few winding ascents at some points. It is thinner on mountains and in the forests. Nothing too dangerous anywhere though.
Be cautious and watch your step especially on the loosely embedded rocks. There aren't any steep slopes, but the muddy rocks can be slippery. We recommend you carry trekking poles. 
Ascent
Although most of the trek is a plain or gradual descent, the final stretch from Arch Bridge to Laithsohma has an ascent. It might test your endurance after the long hike. The path is winding and gravelly on the mountain, so hydrate yourself well and put on a suncap.
Monsoons
The difficulty level of the trek rises during monsoons. As it passes through thick forest, the route gets leech-infested. You need to cover yourself well and take adequate precautions accordingly. If the river flow is too high, you will have to return halfway. 
No shortcuts
You want it epic or you want it fast?
There will be multiple alternate route options throughout the trek that might seem appealing. If you aren't a seasoned trekker or are alone, it is better to stick to the longer route. 
With very few human habitations, the chances of getting lost in the dark are high. You can always choose to take a guide along.
| Tip: If you are doing the trek from Lad Mawphlang, start early in the morning. With a longer ascent, the time taken to complete the trek might increase by an hour or two.
Unpredictable weather
The trek might be simple but the weather isn't. Dense foliage blocks all sunshine in deeper parts of forests or it rains without a warning. While the open fields under the sun might scorch your skin.
| Tip: Carry a jacket, umbrella and a suncap to be prepared for all times.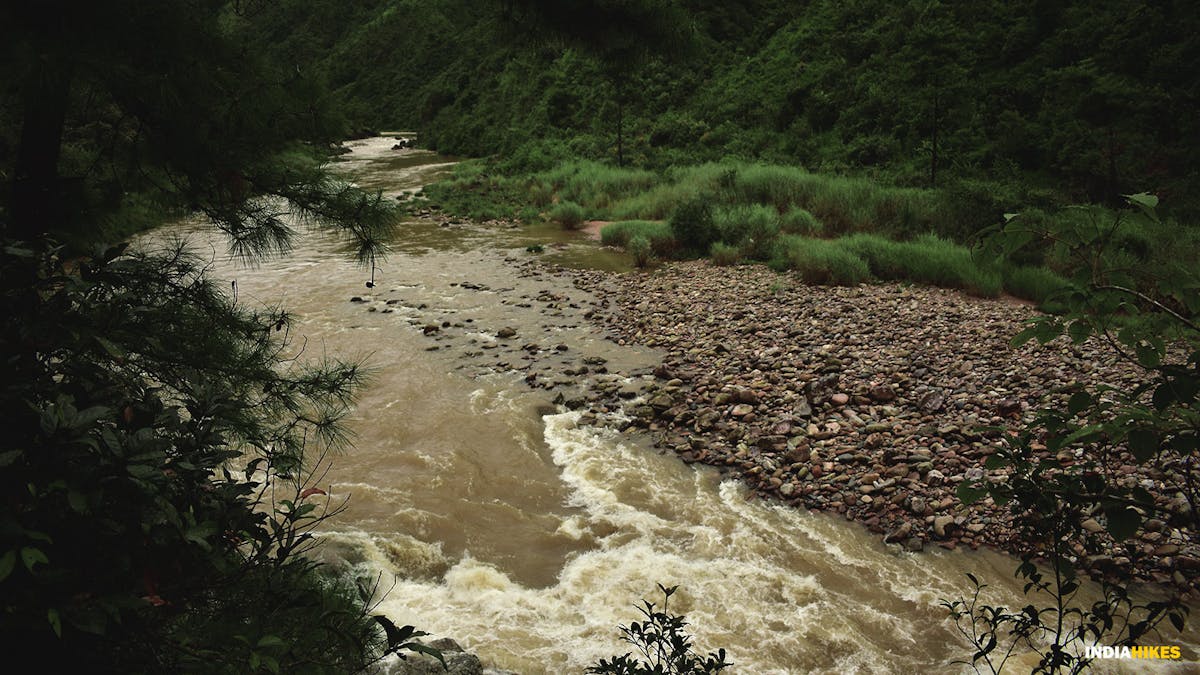 Heavy flow of Umiam River post monsoons. Picture by Aneesh Krishnan
➤ History of David Scott Trek
A part of Seven Sisters of North-East, Meghalaya is known as an Abode of Clouds. Year after year, it records one of the highest rainfall in India. Khasi is the commonly spoken language here.
Endowed with natural springs, waterfalls, rivers, meadows hidden in mountains; Meghalaya is truly nature's paradise.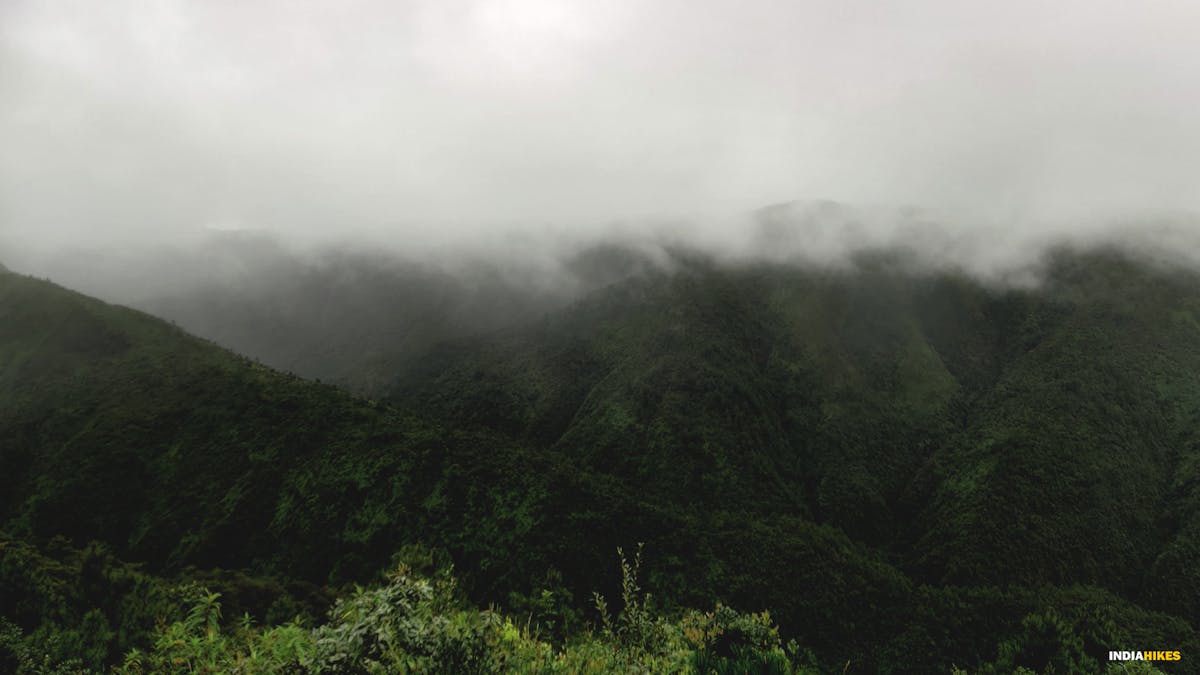 A paradise on clouds in Khasi hills. Picture by Aneesh Krishnan
If you visit during monsoons you would often feel like walking on a carpet of feathery clouds with hidden rivers rushing in the valleys.
Speaking to you from the yellow wrinkled pages of East India Company, David Scott trek has many stories hidden from the British Raj.
Sent to India somewhere around 1800, David Scott was a British administrator. One of the first officers sent to North-East India, he worked for over 30 years. 
A short connecting route between Sohra (India) and Sylhet (now in Bangladesh) was created. It was originally a horse track.
This road once even resulted in a war between the Khasi people and the British. The isolated ranges of Khasi and Jaintia hills hide ancient history conserved for centuries.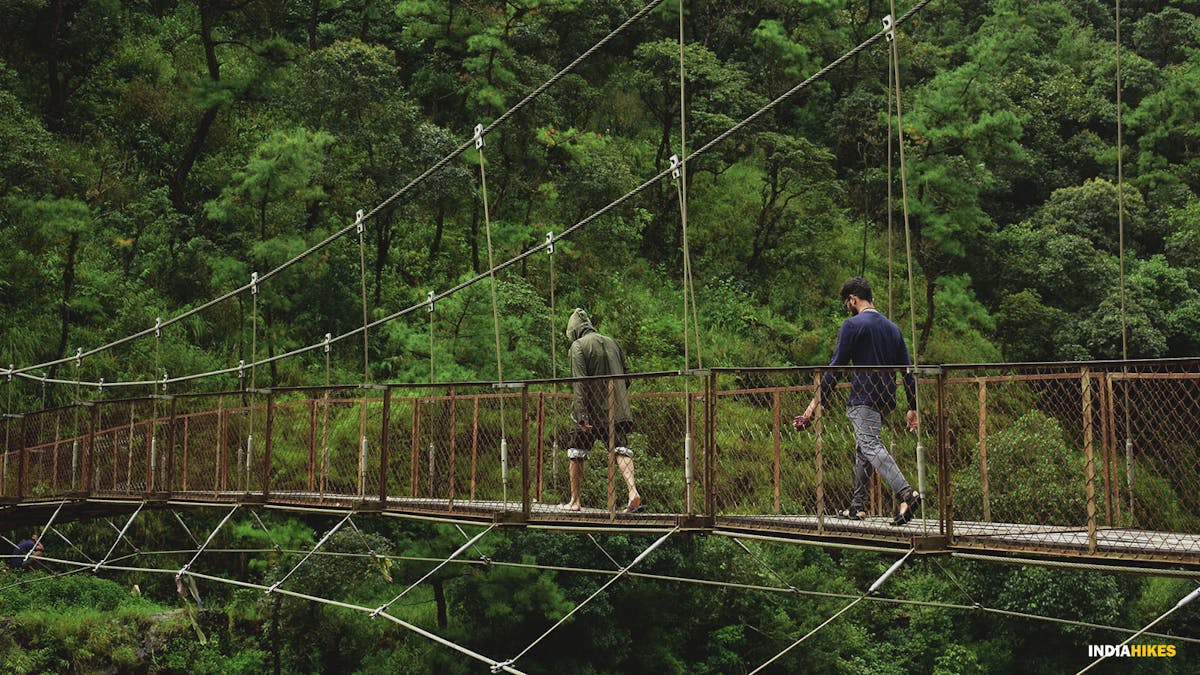 The Bridge over Umiam River. Picture by Aneesh Krishnan
Mawphlang, the base village for the David Scott trek is famous for its ancient Sacred Groves. Translated, 'Mawphlang' literally means 'grassy stone'. 
David Scott trek is registered with the United Nations as an Indigenous Community Conservation Area.
The present-day David Scott trek is a part of the larger 100 km route. It makes for a beautiful day hike trip. The entire 100 km trek takes 4-5 days to complete.
➤ Best Time to do the David Scott trek
David Scott trek can be done throughout the year. The ideal time to visit is post-monsoons during the months of September-April.
September and October cover the hills under a carpet of deep bottle green forests carved by strong forceful rivers. With wildflowers blooming across meadows, it makes for a perfect start to the monsoon trekking season.
The months of September and October bring the possibility of unpredictable rains. You can walk the length with a faint drizzle hugging you.
Autumn brings cool, crisp undiluted air and winters make it a perfect morning walk. Summers on the other hand are the best for that golden hour sun-soaked photographs.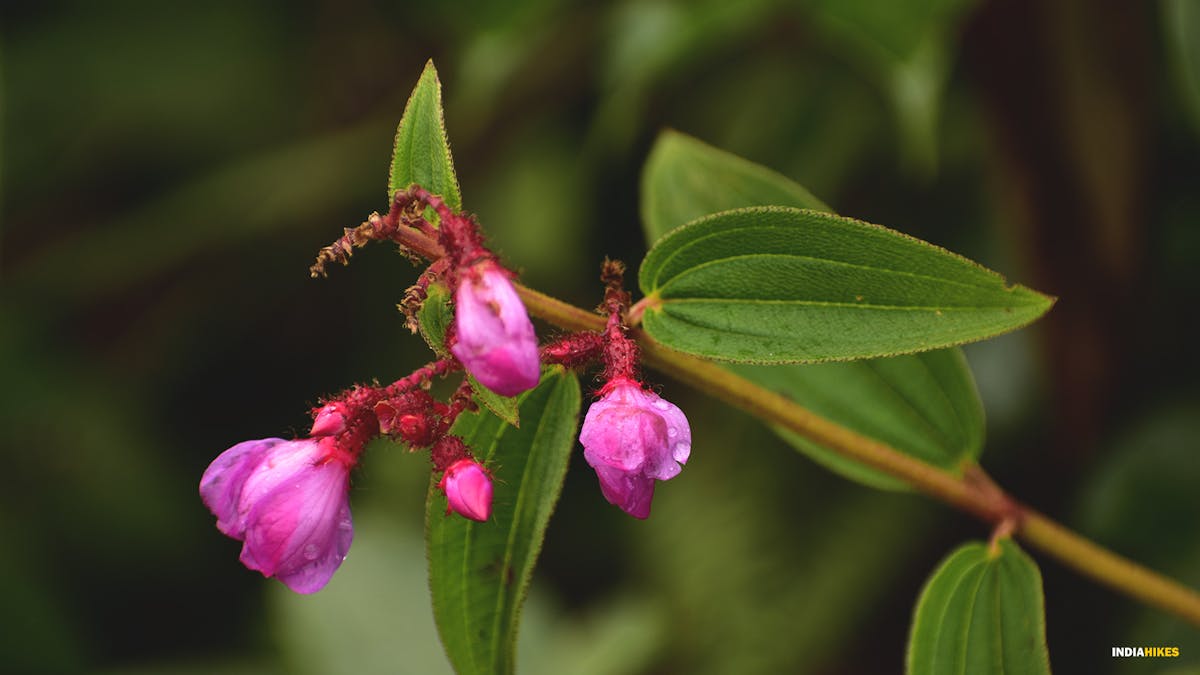 Beautiful pink 'Spanish Shawl' covered in fresh dew in September. Picture by Aneesh Krishnan
The flow of the river is higher and forceful during monsoons. It'll be difficult to find places to cross the streams.  It's better to avoid doing the trek in months of peak monsoon from June to August. 
Ideally, you should start before 10 am to complete the trek early in the evening. You will reach just in time to catch the glorious sunset with red tea or juice at Lad Mawphlang.
➤ How to Reach the Base of David Scott Trek
David Scott Trailhead: Location
David Scott Exit Point: Location 
• By Road
Shillong to Mawphlang: 25 kilometres
Ladmawphlang to Cherrapunji: 33 kilometres
If you are coming from Shillong, take a shared vehicle from Bada Bazaar to Mawphlang. You can even book a cab with local tourist guides.
As it's a popular tourist site, you don't need to be worried about finding the exact location. Cab drivers are usually aware of the David Scott start point.
Charges will be around ₹- 80-100 per person from Shillong Bada Bazaar to Mawphlang. 
David Scott Exit Point is close to Cherrapunji (you can find it on Google Maps directly). You might have to wait as it is tricky to find a shared taxi from Lad Mawphlang or the Exit Point.
A more convenient option is to contact the local trek guides to book a cab from the Exit Point beforehand. It should cost you around ₹ 100-150 per person for a 40-45 minutes ride from Lad Mawphlang to Cherrapunji.
• By rail
Guwahati Railway station: 117 kilometres
Shared taxis are available from Railway Station that ply daily for Shillong.
Charges vary up to ₹ 500/person depending on your choice of comfort. It takes nearly 3 hours to reach Shillong.
• By air
Guwahati Airport: 140 kilometres
Shillong Airport: 53 kilometres
➤ Frequently Asked Questions
1. Do I need any permissions for to do the David Scott trek?
No permissions are required at any point on the trek.
Due to the current COVID-19 situation, a valid e-invite is mandatory for travel to Meghalaya. Click here to apply for the e-invite and to get more travel related information:
For queries, you can call/WhatsApp on +91 8132011037
2. Is camping allowed on the David Scott trek?
Human habitation is sparse, with a few villages based in the valley. We don't recommend camping in the woods. 
At Ka kor shon mai, a Pine Hill camping site exists where guides organize camping on request. 
If you plan to camp overnight, carry a sleeping bag and sufficient warm clothes with you. The temperature drops to 5-6 degrees celsius at nights in winter.
Trekkers are found to litter the road by dumping plastic wrappers and bottles. Make sure you take the waste back to the city for disposal and leave the trail cleaner than before.
3. Is going with a guide mandatory on the David Scott trail?
If you are a solo inexperienced trekker, you can take a local guide.
The trail is pretty straightforward except for a few diversions. There are alternative routes and shortcuts which can be confusing in the dark.
If you are going in peak trekking season or in a group, it's not compulsory. It's mostly a matter of personal choice.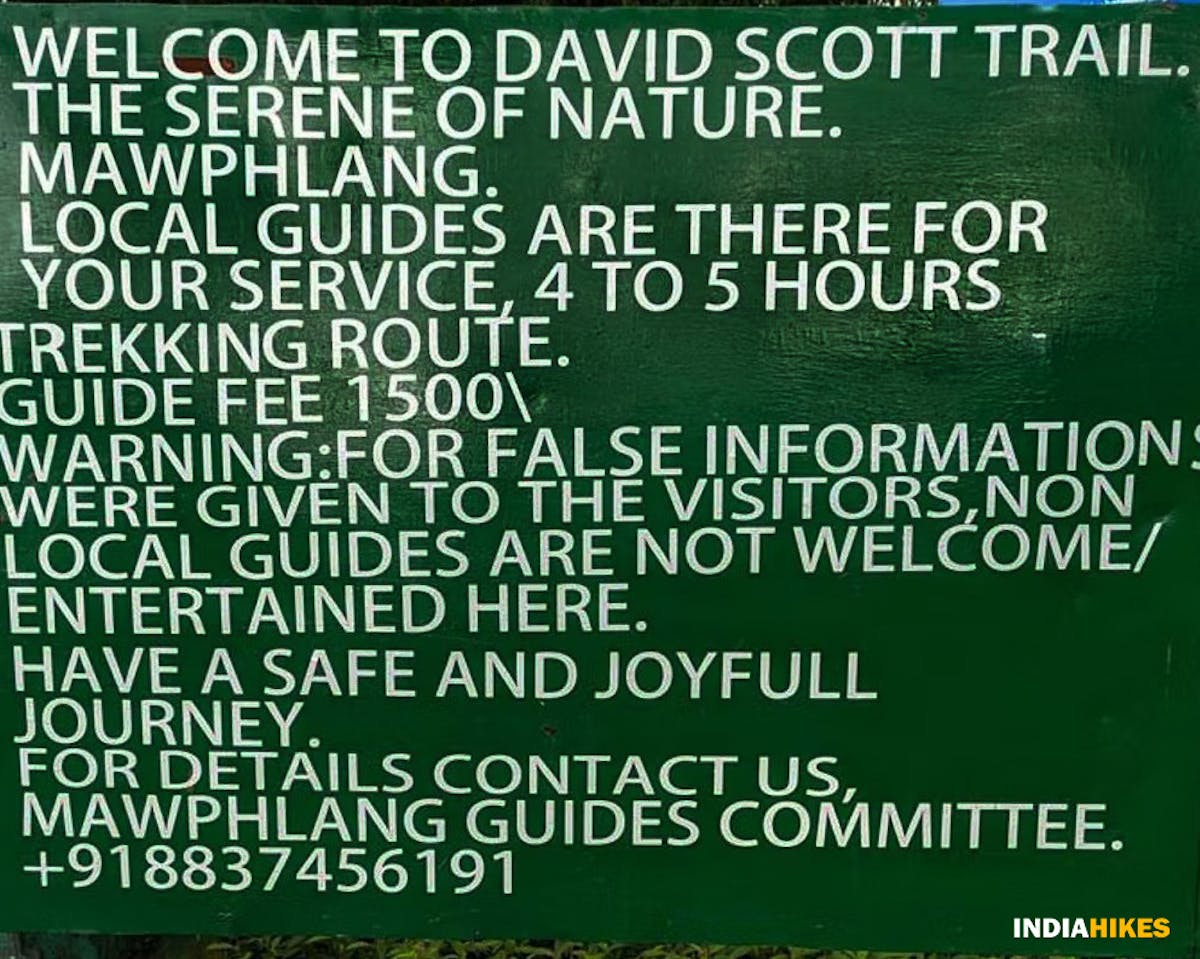 Information Board at Mawphlang village. Picture by Aneesh Krishnan
The guides are young men in their 20s with popular Khasi folktales and wonderful stories to tell. You can find a guide at Mawphlang village and even at the trailhead itself.
Charges range between 1200- 1500 depending on the number of people for the 5-6 hours of trek. 
Here are a few trusted contacts for your reference:
Winning Star Lyngdoh +91 88267 11719, +91 83684 87316
Banshan +91 96158 84289, +91 88374 23443
Arnold Wankhar +91 87308 44233, +91 94851 10210
4. What are the stay options available on the David Scott trek?
Many affordable hotels are available at Cherrapunji and Shillong. There are homestays available at Mawphlang village too.
Plan your stay and transport for the trek well in advance.
5. Is there any mobile network available on the David Scott trek?
The network isn't available on the hills except at rare points. Google might simply ditch you.
Khasi folks are really helpful. The language might be a barrier, but the local tour guides are fluent in English.
➤ Things to take with you
Basic First Aid kit*
Identity Card
Cap/ Scarf/ Bandana & Sunglasses
Water (Minimum two litres)
Lemon and salt OR Electrolyte Powder/Drink (Electral/Gatorade/Glucon D, etc.)
High-calorie snacks (Nuts & dry fruits, a home-baked cake, etc.)
Safety Pins, Rubber bands & Whistle (Useful in emergencies.)
Quick Dry T-shirts are preferable over cotton tees.
Poncho, only during monsoons
Plastic sheet to wrap electronic devices, only during monsoons
Sunscreen (SPF 50+)
Optional: Trekking poles
*First aid kit:
Scissor
Band-aids (Regular & Waterproof)
Analgesic spray (Relispray, Volini, etc.)
Antiseptic Liquid (Savlon, Dettol etc.)
Antiseptic powder (Povidone-Iodine based powders like Cipladine, Savlon, etc.)
Cotton roll & Bandage
Crepe Bandage
1-inch wide medical tape (paper or cloth.)
Micropore tape
Tablet for motion sickness (Avomine), Acidity (Gelusil, Digene, etc.).
Mild pain relief tablet (Crocin)
| Note: Always consult a doctor before taking any medicine.
| Tip: If you plan to swim or play in the pool, carry an extra pair of clothes. Carry a raincoat or an umbrella as it can rain anytime in Meghalaya.
Click here to go back to the table of contents
➤ Places to Visit Nearby
1. Mawphlang Sacred Groves
Mawphlang is the site of one of the ancient Khasi Hill sacred groves. Revered by the Khasi tribe, this untouched forest is the soul of the tribe and its culture. 
Contrasting to the meadows and sprightly pines on the Khasi mountains, the groves form a dark canopy overhead and soft humus to walk on. 
Absolutely nothing is allowed to be taken away from this forest, not even a stone or a twig. You can find rare plants, mushrooms, orchids, ancient sacrificial sites, megalithic monoliths conserved in this forest. 
We recommend you take a separate day out to explore this dignified forest filled with ancient secrets before/after the David Scott trek. 
Khasi Heritage Village at Mawphlang is another must visit to understand the tribal culture better. Both are within a 15 minutes ride from the trek.
2. Cherrapunji
The tallest plunge waterfall of India Nohkalikai, and the Seven Sister waterfall are at Cherrapunji. Known for being one of the wettest places in India, this picturesque town has a lot to offer. 
You can continue trekking to the famous Living Root Bridge from David Scott trek.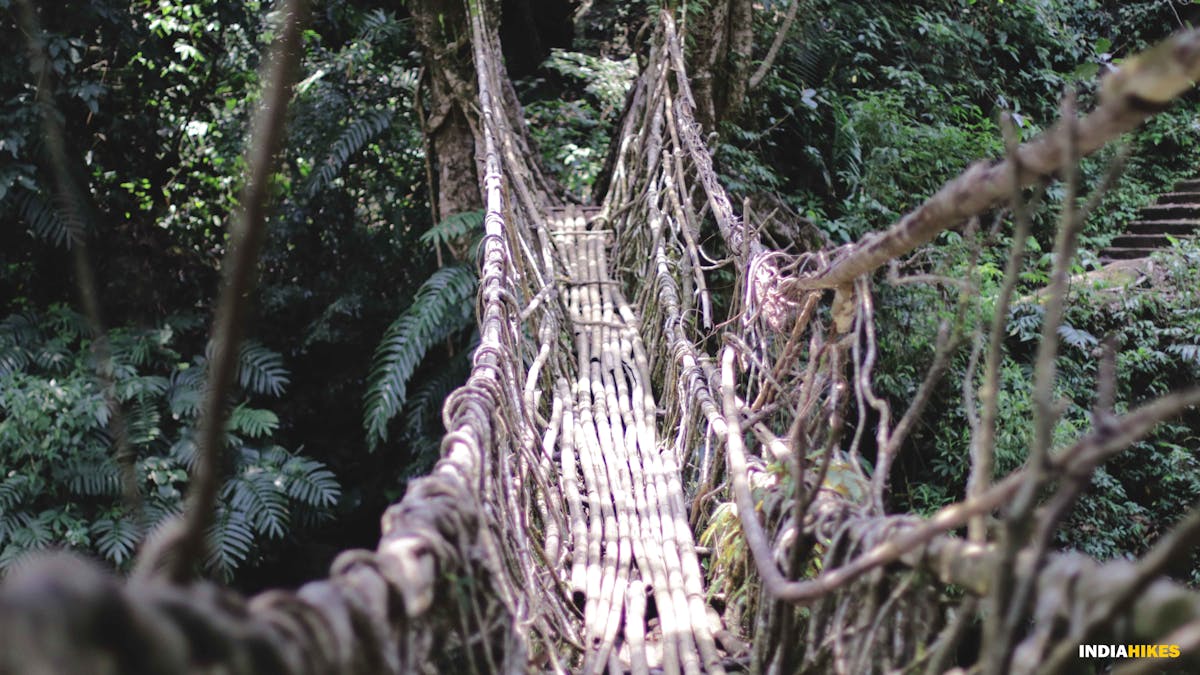 Famous Living Root Bridge at Cherrapunji. Picture by Sanjana Sekar
Mawsmai Caves, Mawlynnong (Asia's cleanest village) are other noteworthy places to visit.
3. Dawki and Shnongpdeng Lake
Dawki village is famous for being the last village on the India-Bangladesh border.
Enjoy boating and adventure activities here. You can also do other treks in Western Jaintia hills after your visit to Eastern Khasi hills. The transparent blue waters of River Umngot flow through the hills.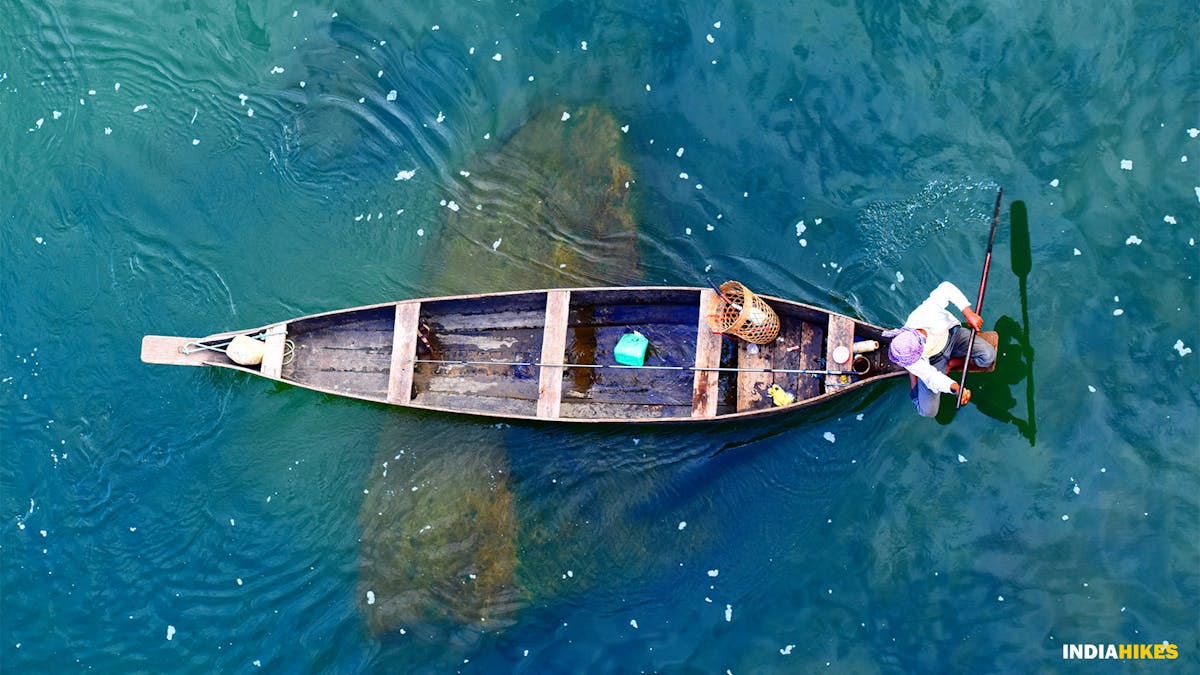 A boat floating on the waters of Shnongpdeng lake. Picture by Sanjeev Chetule
Dawki is flooded with tourists throughout the year. Instead, you can camp and enjoy the serene Shnongpdeng lake, just 5 kilometres away from Dawki.
An underrated unknown gem, it is less popular but equally beautiful. After all, it is said to be the village where boats float in the air.
Just like you, we love trekking! And this is a trek we've documented in great detail to help you do it on your own. Drop-in comments if you need any help!
➤ Trek Contribution
Special thanks to Aneesh Krishnan, Uma Badve, Yashowardhan Chaturvedi, Vinay Bale, Sanjana Sekar,  Sanjeev Chetule, Shaurya Mishra, Banshan Lyngdoh, Bantei Nonglang, Kshitija Bhutkar, Simran Pokar, Nishant Sinha, Jigna Gokani for all the photos from the trek
Special mention to Winning Star Lyngdoh and Niladri Mukherjee for the documentation
Banner Image by Banshan Lyngdoh
The trek was written by Sakshi Chetule
GPX File Opt in
We go to great lengths to ensure you have a safe trek. So here's a GPX file of the trail to help you navigate without getting lost.