Can You Help Us With Photographs Of This Trek?
We are looking to enrich this documentation with more photos. Pictures go a long way in explaining the trail, more than words ever can. If you have done this trek, can you share your photos with us? We will include them on this page, with due credit to you.Click here to contribute.
The Complete Guide to Deo Tibba Trek
Deo Tibba base camp trek is a beautiful trek in the Manali region.  You go through lush green forests of pine, spruce, fir, oak & silver birches set against a dazzling landscape. Trekkers can enjoy splendid views of many snow-capped mountains like Deo Tibba (6001m), Norbu Peak (5226m) & Jagatsukh Peak (5050m).  The emerald blue waters of Chotta Chandrataal lake at the foot of Deo Tibba peak are the biggest highlight of a trek.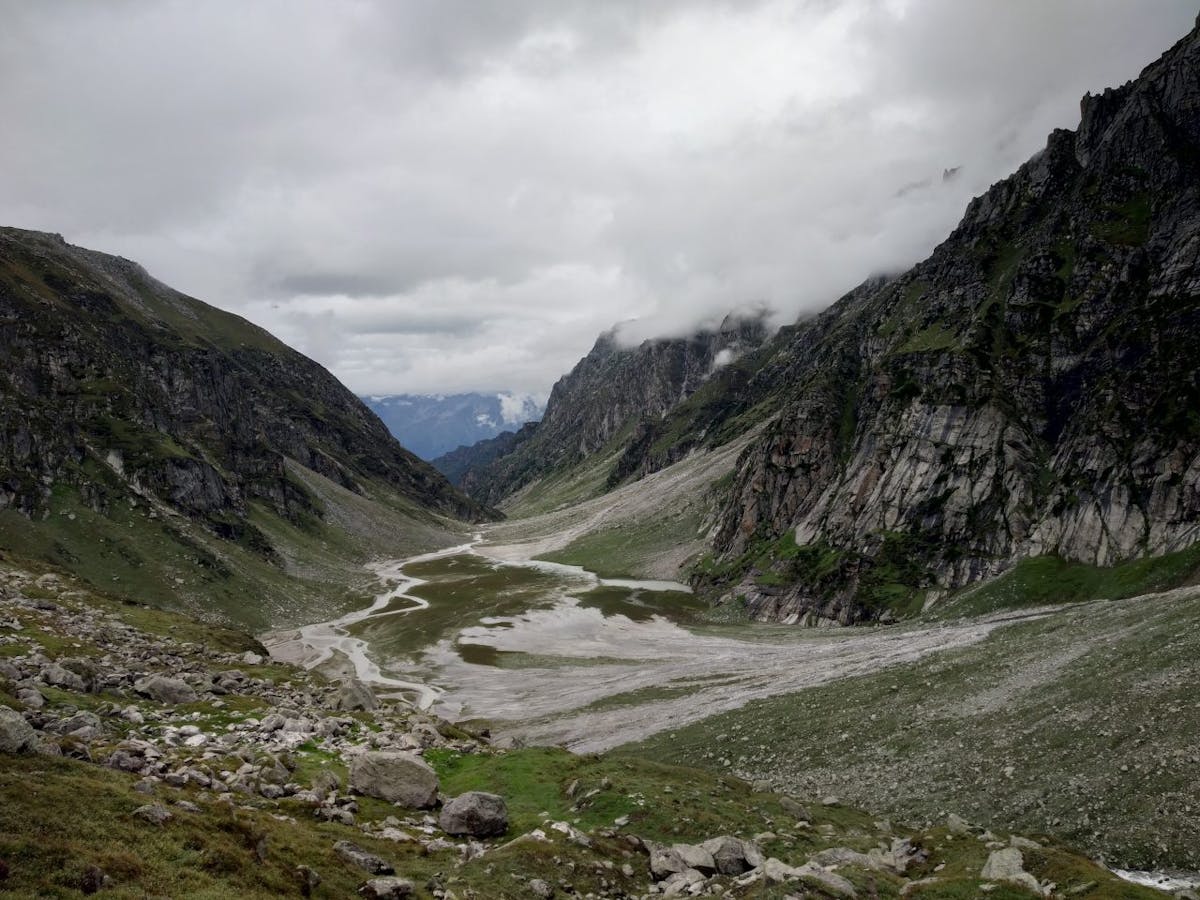 Views of the valley on Deo Tibba Trek. Image from Indiahikes Archive
According to Hindu mythology, the dome-shaped peak of Deo Tibba is where the gods sit. and hence the name Deo meaning 'God/s' and Tibba meaning 'hill.  While Lord Indra, the King of Heaven & Gods conducts a meeting with them from his throne that is the Indrasen Peak.
➤ Trail Information
Day 1: Drive from Manali to Bara Hazar and trek to Chikka
Altitude: 8858ft (2700m) to 10498ft (3200m)
Time took: 2-3 hours of trek. M
Trek Gradient: Moderate ascent mostly through forest
Water Sources: Carry sufficient water as there are enough waterfalls and streams along the trail to refill whenever needed.
Trail description: Make your way to Jagat Sukh by bus and hire a vehicle or get on one which is going to Baara Hazar. Once there look for the Duahngan Dam Control Room which will be to the right of the valley connected by a bridge. Make your way across the bridge and you will see a trail on the left leading into the woods. Follow this trail and look for a bridge that connects you to the left side of the valley. Cross the bridge and prepare yourself for a steep incline for the next 15-20 minutes. which is followed by a gradual walk. You'll come across a lot of waterfalls and small streams on the trail.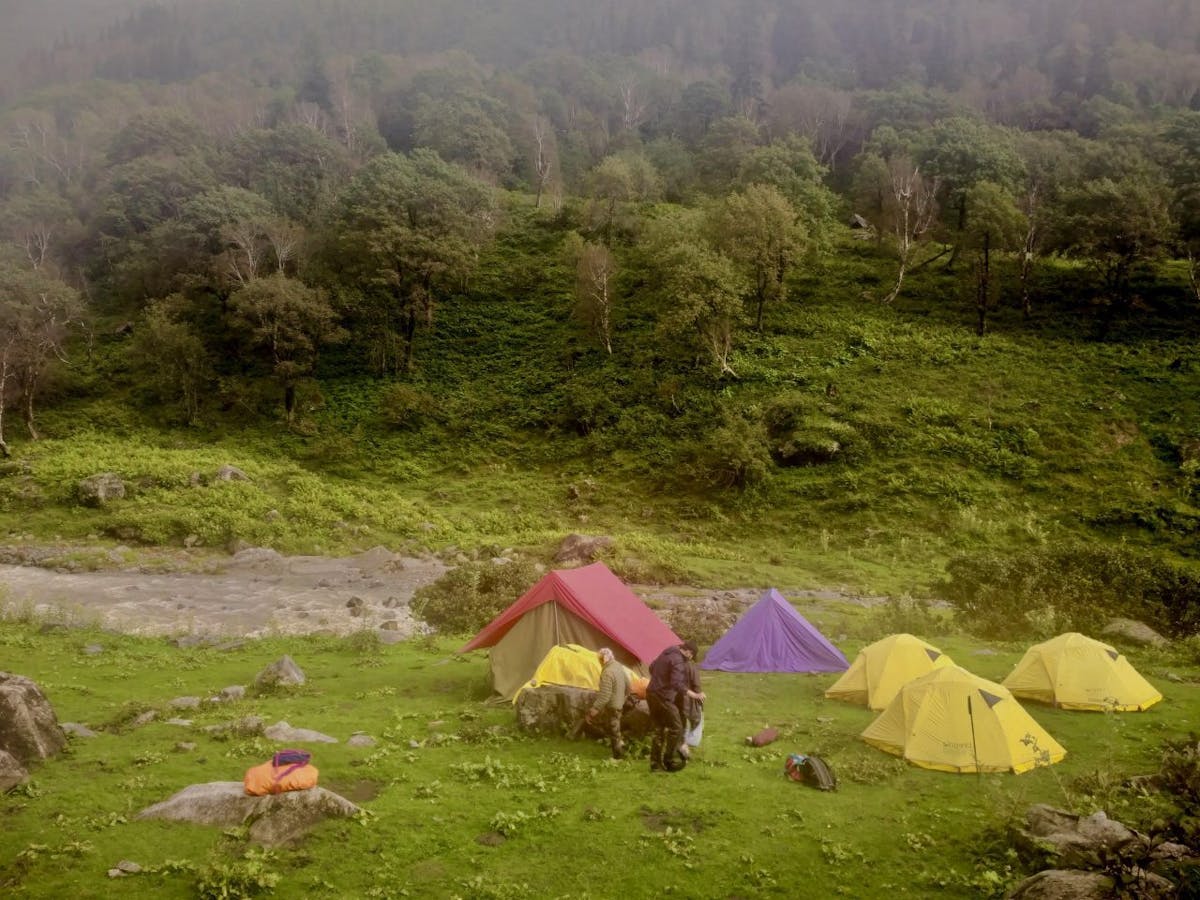 Chikka The first campsite on Deo Tibba Base Camp Trek. Image from Indiahikes Archive
A peculiar thing about the trail is at some places the whole trail closes and then within a few hundred meters opens up. Half an hour of a walk later the trail opens up to the whole valley opens up and you can see the Chikka campsite in the distance. Though an ascent is a gradual one. A small hike through the meadows will lead you to a few muddy houses. Set up your camp here
Day 2: Chikka to Seri
Altitude: 10498 ft (3136m) to 12795 ft (3900m)
Time took: 5-6 hrs, 6km
Trek gradient: Moderate ascent through some forest trail and meadows but mostly boulders
Water Sources: Carry sufficient water as there are multiple water sources along the way to the next camp
Trail description: Beginning your day with a straight walkthrough forest trail that is well marked with cairns and stones throughout. An hour into the trek, you cross a stream and a little ahead of the stream is a small section with boulders. Be careful carefully if it's raining or has just rained. The boulders get slippery after a spell of showers. Some steep climbs await you after you cross the boulder section.  Make sure you switch back and not strain your knees too much.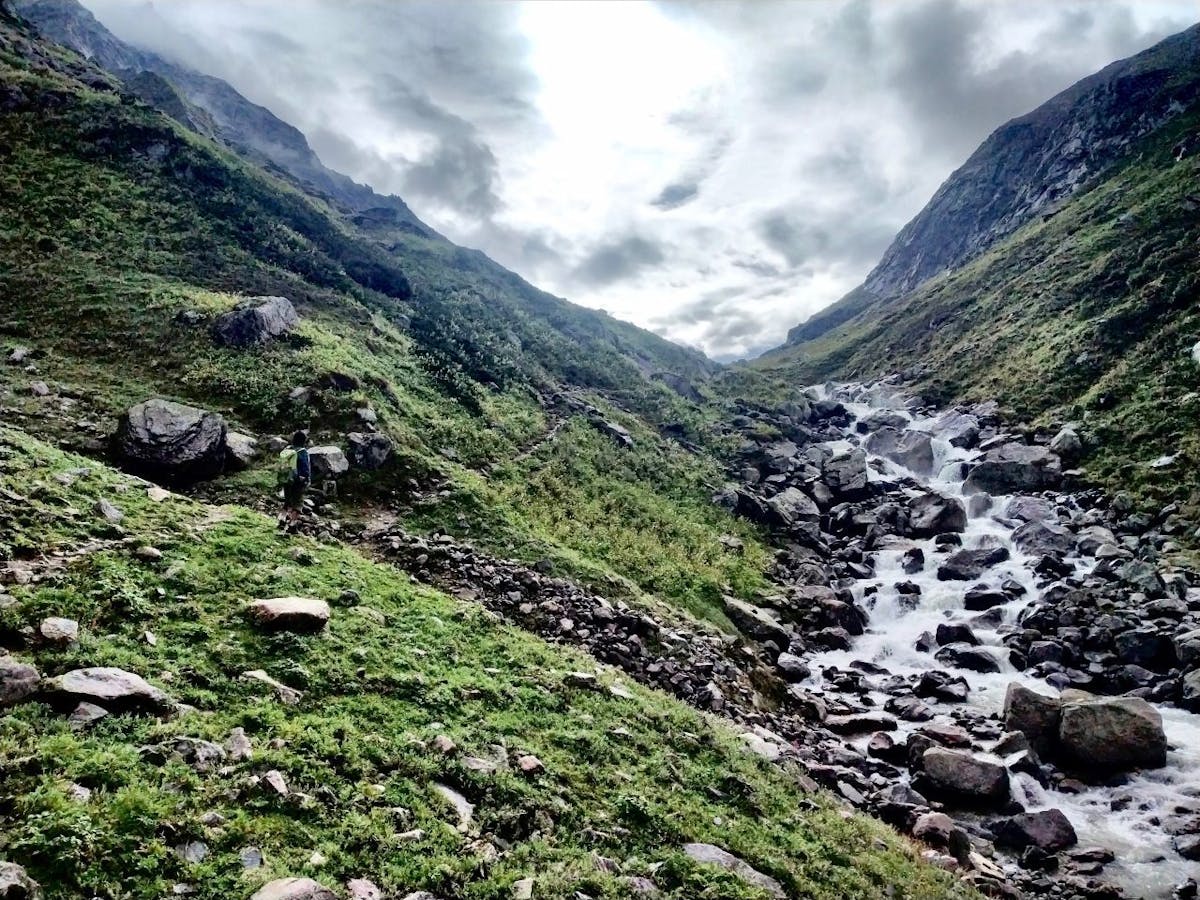 Water sources are plenty along most of the trail. Image from Indiahikes Archive
3 km after you began in the morning you will reach a small meadow called Panduropa or sometimes even called Dudu. This could serve as an alternate campsite should you chose not to camp at Chikka the previous day. And there is a water source close by so refill your bottles before you're back on the trail again. An hour's walk from Panduropa, you will again come across a boulder section. However, no need to worry as the trail is very prominent. So keep on it. Cross the boulder section and your next campsite – Seri awaits.
Seri is a field of sand & grass surrounded by massive mountains.  Spend your afternoon and evening watching the neighbouring peaks of Norbu, Jagatsukh, and Malana pass. You will also get a partial view of Deo Tibba from here.
Day 3: Seri to Deo Tibba Base Camp
Altitude: 12795 ft (3900m) to 13684 ft (4171m)
Time took: 4-5 hrs, 4 km
Trek gradient: Moderate to  Steep ascent through a rocky path.
Water sources: Carry 2 litres of water from Seri as there is no water source available.
Trail description: Start your day with an easy walk on the grassy meadows of Seri. As you walk along the river towards a waterfall at one point you will see a cairn.  Cross the river at this point and continue following the trail. Soon you'll notice the trail climbing up and mind you it's very steep for the next 2-2 1/2 hours. However,  once you reach the top you can breathe a sigh of relief.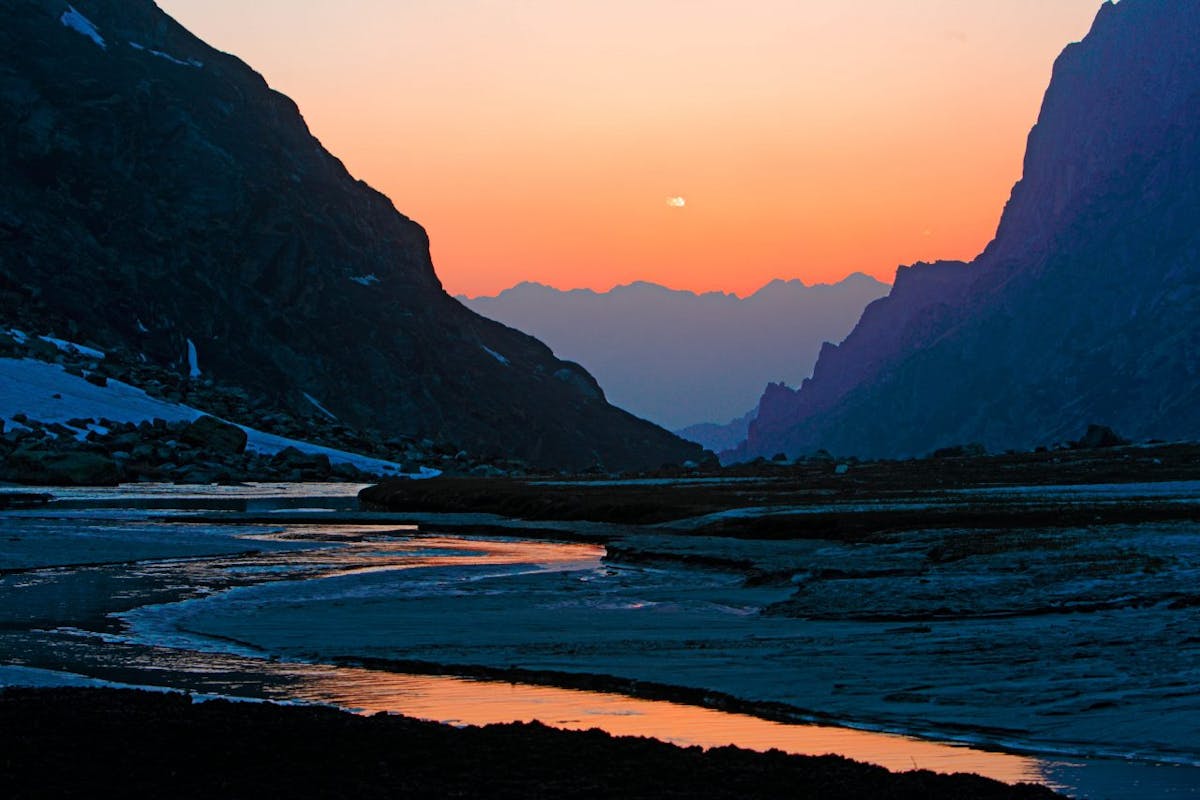 The golden hour of the sun at Seri Campsite
It's a plain walk to the next campsite, continue following the trail on the right bank of the river till you reach a big boulder where the trail ends. Cross the river here and continue walking on the meadows until you find a suitable spot to pitch your tent. As there are multiple water sources available you can be flexible as to where you want to set up camp.
Day 4: Deo Tibba Base to Chotta Chandartal and back to base
Altitude: 13684 ft (4171m) to 14698 ft (4480m) to 13684 ft (4171m)
Time took: 2-3 hrs, 2 km
Trek gradient: A moderate climb through rocks & boulders
Water sources: Carry 2 Litres of water from the base camp. Glacial streams are not reliable.
Trail description:  The trail to Chota Chandratal can be quite confusing as the walk is mainly through sections of rock and moraine. Begin your trek from the left of the small stream and take the steep climb. Switch-backing will make it easier for your to climb. There is no proper trail till Chota Chandratal and you will have to rely on your navigational instinct. Therefore one way to find your way to Chota Chandratal is to move in the direction of Norbu Peak which usually will be the highest peak on your right when you walk upstream.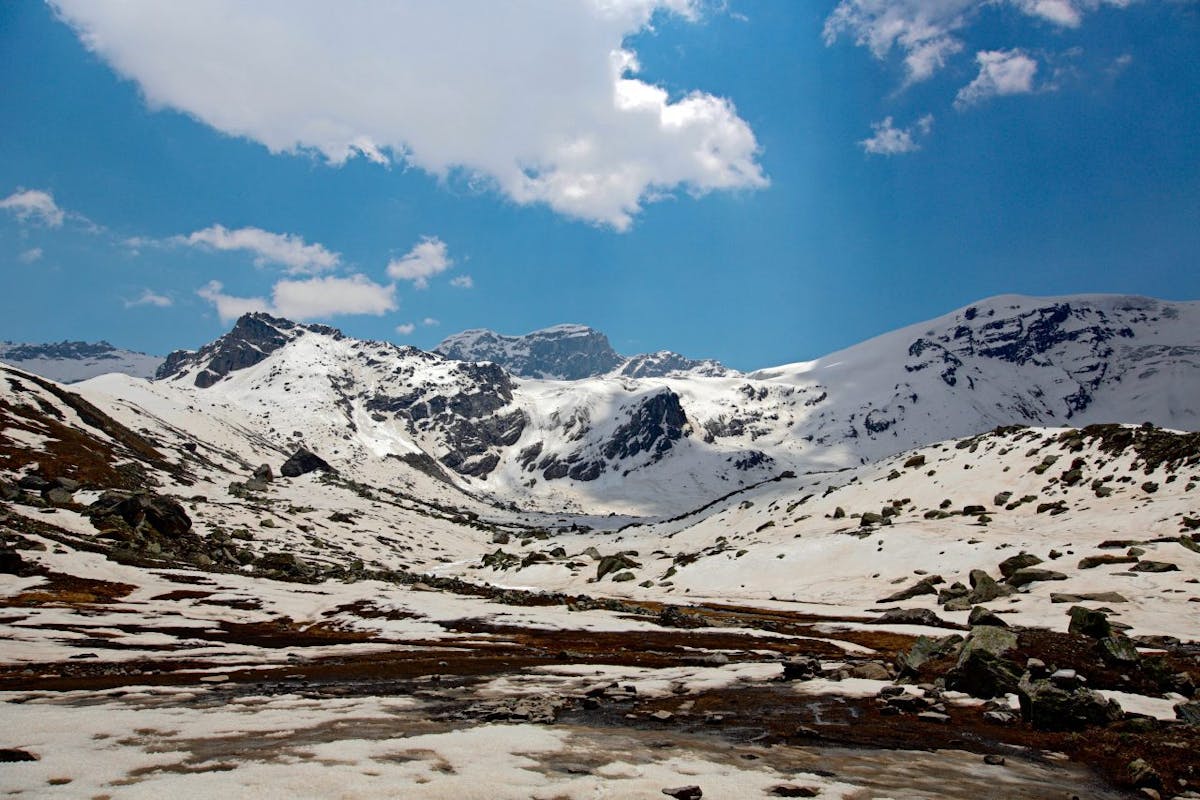 Deo Tibba Base camp covered with snow. Image from Indiahikes Archive
Along the trail, you'll get to see Deo Tibba, Norbu and Jagatsukh peaks respectively from your left. A few hundred meters ahead before the lake the trail appears. Walking for about 45 minutes to 1 hour on the defined trail will get you to the Chota Chandratal at an altitude of 4480 meters. If you still have enough energy left and you want to explore more, 1 hour ahead of Chota Chandratal is Bada Chandratal which is the bigger of the two lakes.
Get back to the base camp by the same route that you came up with. However, this time you might find the trek a bit challenging. Descending can be hard on your knees.  Especially on a day like today when the terrain has rock, boulder and Morain section sections.
Day 5: Deo Tibba Base to Seri
Altitude: 13684 ft (4171m) to 10286 ft (3136m)
Time took: 3-4 hrs, 4 km
Trek gradient: Beginning with a flat meadow walk followed by a steep descent down the rocks
Water sources: Carry 2 litres of water from Seri as there is no water source available.
Trail description: Start your day with a flat walk on the meadows followed by a crossing of the river. Essentially you'll be heading back taking the same route which you took to come up.  However, caution is advised while descending as it gets steep. If it has just rained then it can get slippery and tricky so get a firm footing before you take the next step down.  The descent is followed by a river crossing and then a walk through the grasslands towards the Seri Campsite.
Day 6: Seri to Baara Hazar
Altitude: 10286 ft (3136m) to 8858ft (2700m)
Time took: 5hrs hrs, 8.6 km
Water sources: Carry 2 litres of water from Seri, you can also refill your bottles at Panduropa & Chikka
Trek gradient: Moderate, Gradual descent through alpine forests, meadows and some boulder section
Trail description: Today's route is an easy one, you get back to Baara Hazar through the route you came up from. It takes 5-6 hours to reach Baara Hazar
➤ Travel to and from the Trek
The trek begins from the village of Baara Hazar about 10 kilometres away from Jagatsukh. Buses are plying to Jagatsukh from the Manali bus stand every 30 mins so getting to Jagatsukh shouldn't be a problem. From Jagatsukh you'll have to hire a private vehicle or find someone to share the travel costs to Baara Hazar.
On the other hand, buses to Manali are plenty, be it from ISBT in New Delhi or Chandigarh or Amritsar. These buses leave Delhi (or Chandigarh or Manali) sometime after sunset and usually take about 13-15 hours to reach Manali.
➤ Trek Contribution
This trek was explored and documented by our trek leader Akhil Menon.
➤  Alternative Indiahikes treks you can do.
Deo Tibba is a beautiful trek, no two ways about it. The peaks that you can see from up close are incredible. However, the trek doesn't offer a lot of variety over the 6 days. The trek can be done on your own, however, if you're not too sure of doing it on your own we have a couple of alternative Indiahikes treks that we run.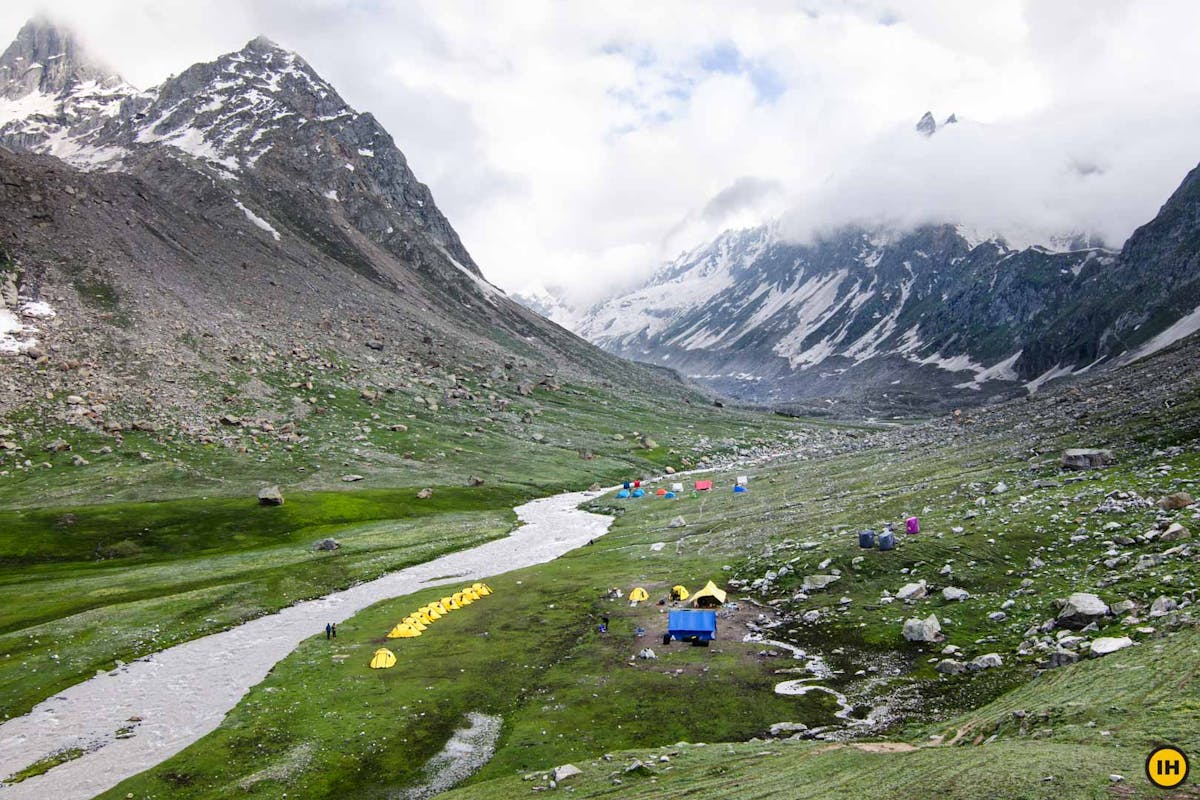 Shea Goru campsite. PC: Nikshep Trinetra
Hampta pass would be a perfect alternative to Deo Tibba. It starts from Manali and goes through some of the same routes as Deo Tibba.  And you get to see the Deo Tibba peak as well with a pass crossing into the deserts of Lahaul.
Read more about Hampta Pass here.
On the other hand, if you're looking for a shorter and slightly easier trek near Manali, then we suggest Bhrigu lake. Essentially Bhrigu Lake is a trek through meadows. Most alpine meadows start at around 11,000 feet when you have just crossed the tree line. This requires 2-3 days of hard trekking to reach. While most of these meadows are a delight to behold, some are more special than others.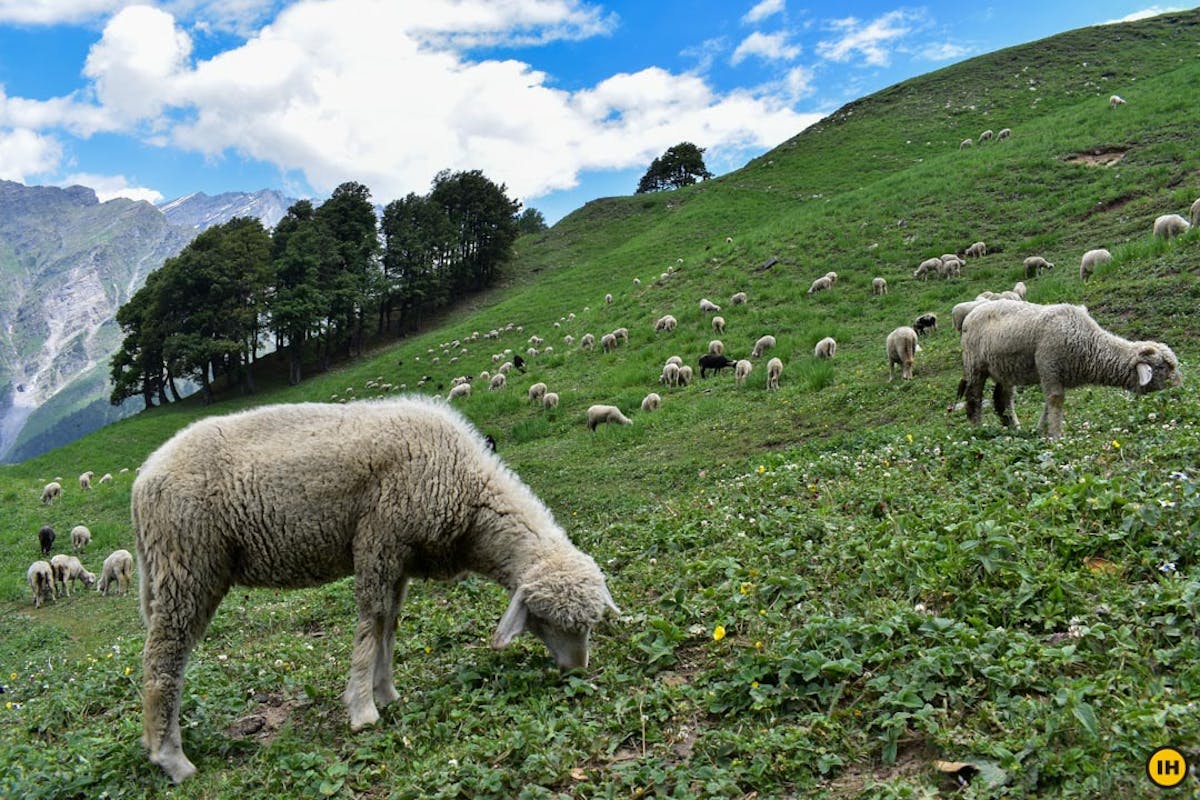 The meadows on the Bhrigu Lake trek are a treat to the eyes! Picture by Himanshu Singla
The ones on the Bhrigu lake trek are among these. What is special about the Bhrigu meadows is the way they change texture, shape and colour but stay with you all along the trek – right until Bhrigu lake.