Can You Help Us With Photographs Of This Trek?
We are looking to enrich this documentation with more photos. Pictures go a long way in explaining the trail, more than words ever can. If you have done this trek, can you share your photos with us? We will include them on this page, with due credit to you. Click here to contribute.
The Complete Guide to the Dhankar Lake Trek
Dhankar Lake Trek takes you to a solitary beauty in the Spiti Valley. It was December 2011 when I started planning about a trip in May 2012. The Dhankar Lake trek happened by chance. I was thinking about a place which can provide me green & barren look at the same time greenery, so SPITI came in my mind & I told myself 'lets do this!' While searching for places to visit, by mistake I wrote Dhankar lake instead of Dhankar Monastery (I did not know about the existence of this lake!) & guess what…BINGO !  Google presented me a jaw dropping photo of a lake with turquoise blue water !! Since that day, my countdown started for D day & at the same time I started collecting information on different places to visit.
D day arrived and I started my journey from Howrah on 6th May. My route was Shimla – Sarahan – Sangla | Chhitkul – Kalpa – Nako – Tabo – Kaza & then to return back via same route as Kunzum would be inaccessible that time. Seeing all the places one after another finally I reached Tabo from where I headed down for the lake. Dhankar Lake is situated above the village Dhankar at an elevation of approximately 4140 meters in the middle of the hill. On a sunny day, I started my journey from Tabo to pay my visit to Dhankar Monastery & then to this much awaited lake ! I asked my driver and friend Amit bhai about the route but he told he also did not know but he really wants to come with me to explore the beauty of lake. I was happy at that moment. In the monastery, I asked a local boy from Lalung village for the route. He happily showed me the way by pointing his finger to a mountain in front of us & said, "zyada dur nehi hai, aram se pahaunch jaoge".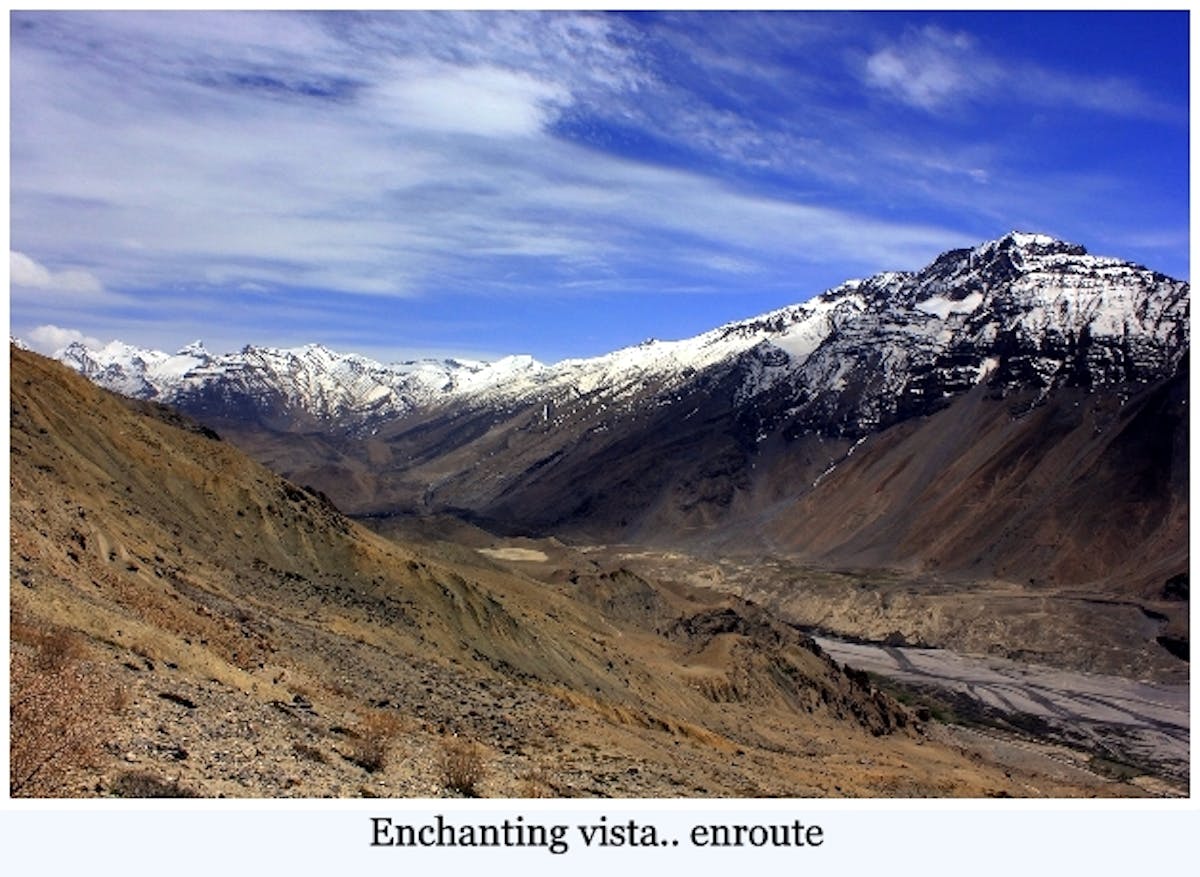 Enchanting Vista -Enroute
From the new Dhankar monastery, I along with Amit bhai started my journey with my camera & other gears. It was a good & easy climb for the 1st half an hour. Suddenly I noticed the trail got disappeared & the only thing left for me was loose pebbles scattered on this rocky mountain! I realised that there might be a chance of slipping on those scattered pebbles. I stopped for a while, took rest, clicked some breathtaking panorama of my surrounding. Looking back to the beautiful Dhankar Monastery & the village which is situated on a cliff above the confluence of Pin river & Spiti river, gave an immense pleasure. I again realised once you are in the lap of Himalaya, no matter how much you click to capture her beauty, you will always remain thirsty & unsatisfied, incomplete.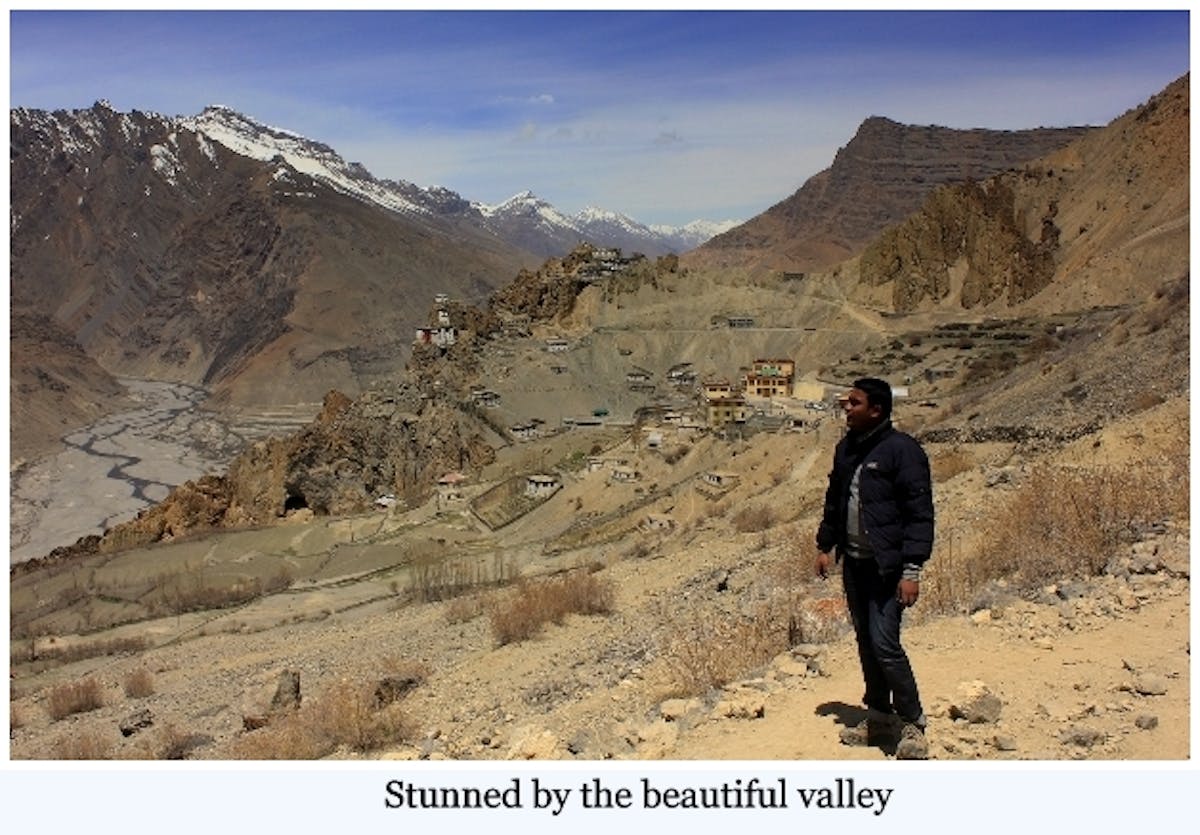 Stunned by the beautiful valley
 I & Amit Bhai started walking further. He was actually leading as he was busy in live shooting with my handycam & I was busy with my cam. Though it was quite risky to walk on loose pebbles I didn't stop & proceeded further. After a walking we came on a top of a ridge. It is really funny when you think that this is the last ridge & you would reach your spot but as usual, we had few more steep ridges to cross over! We both kept moving & taking rest in a alternative way to shoot the scenery surrounding. After crossing some ridges, we landed up in a no man's land ! Standing in the middle of this land accompanied by some thorny bushes, gave us a spiritual feeling. I remembered those lines : "miles to go before I sleep"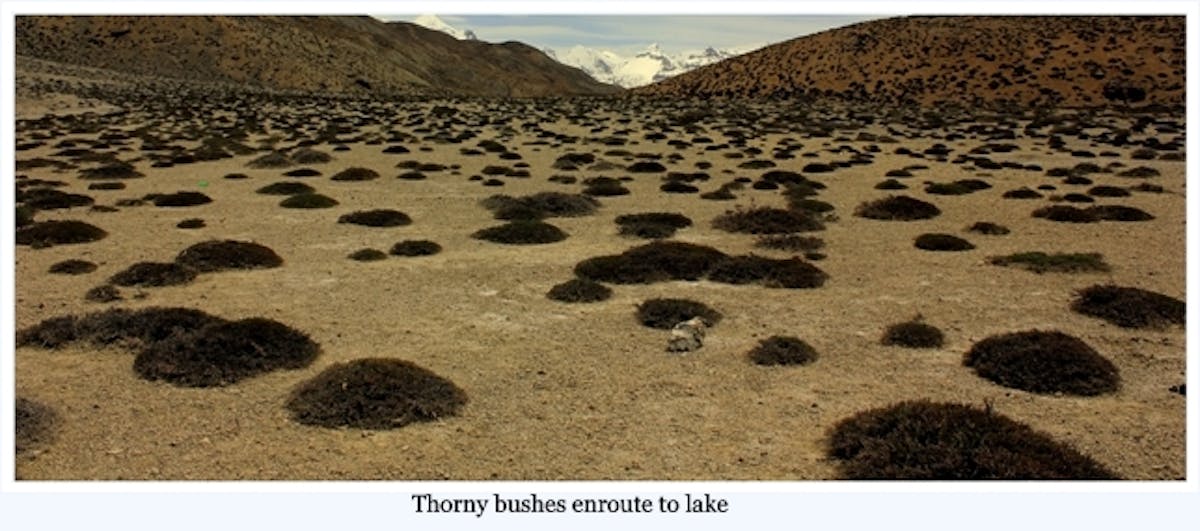 Thorny Bushes Enroute to Lake
After a while, we reached our much anticipated lake! It spreads over a large area with crystal clear water in it! The color of the lake keeps on changing! It is surrounded by barren hills but stills provides an enough space at the bank as a camping site. We both then took a round of this lake as it is told as a sacred ritual. I even looked for fish in the water but couldn't find any. After taking the round, I came uphill a bit to get a beautiful panoramic view of the lake with the reflections of surrounding snow capped mountains on it. I also noticed that the lake is fish shaped!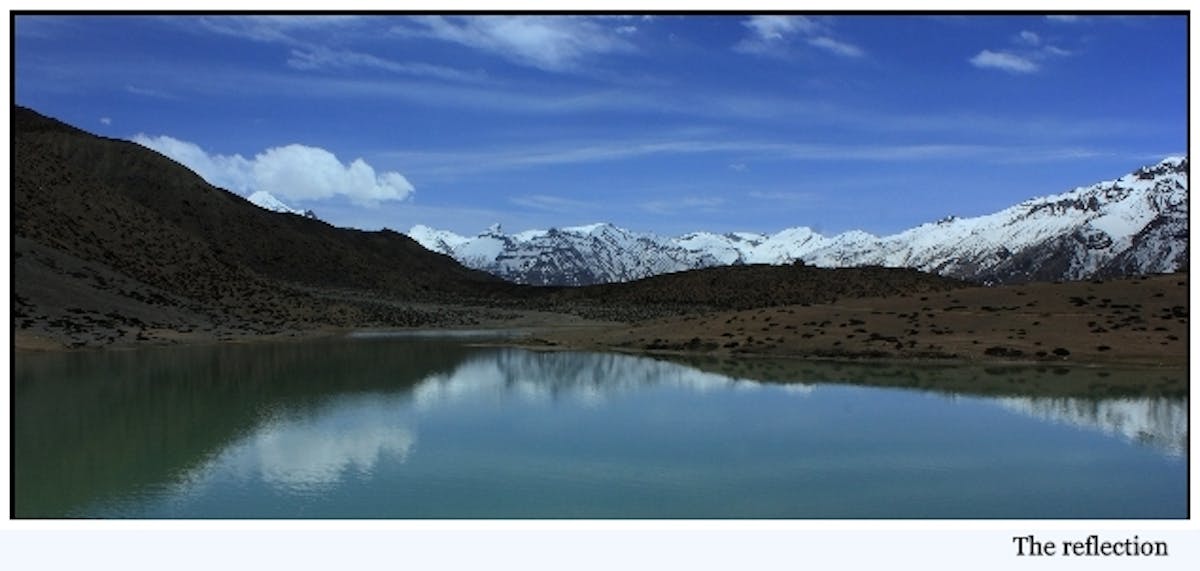 The Reflection
We sat at the bank of the lake. We both were silent. We both realised that we, the so called modernized people, are just nothing in front of these vast beauties. I didn't forget to click as much as I could (till my battery permitted).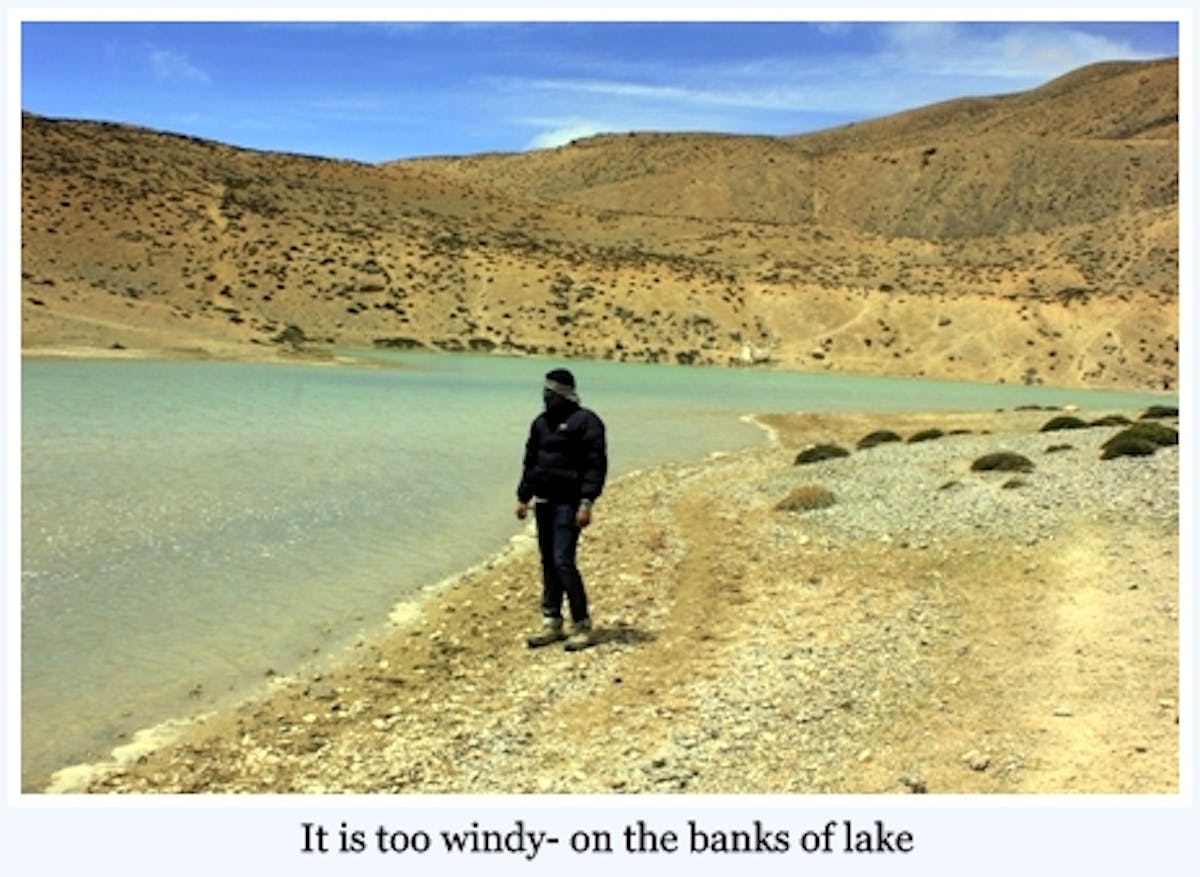 On the banks of the Dhankar Lake
After an hour or two, we started coming down. I was satisfied with the view I got but at the same time, was unsatisfied too for this short-time-paying visit. I decided, this is not the end, I will, I must come to you again & again to see your beauty. You will not let me ignore you in anyway. Miles to go before I sleep, miles to go before I sleep.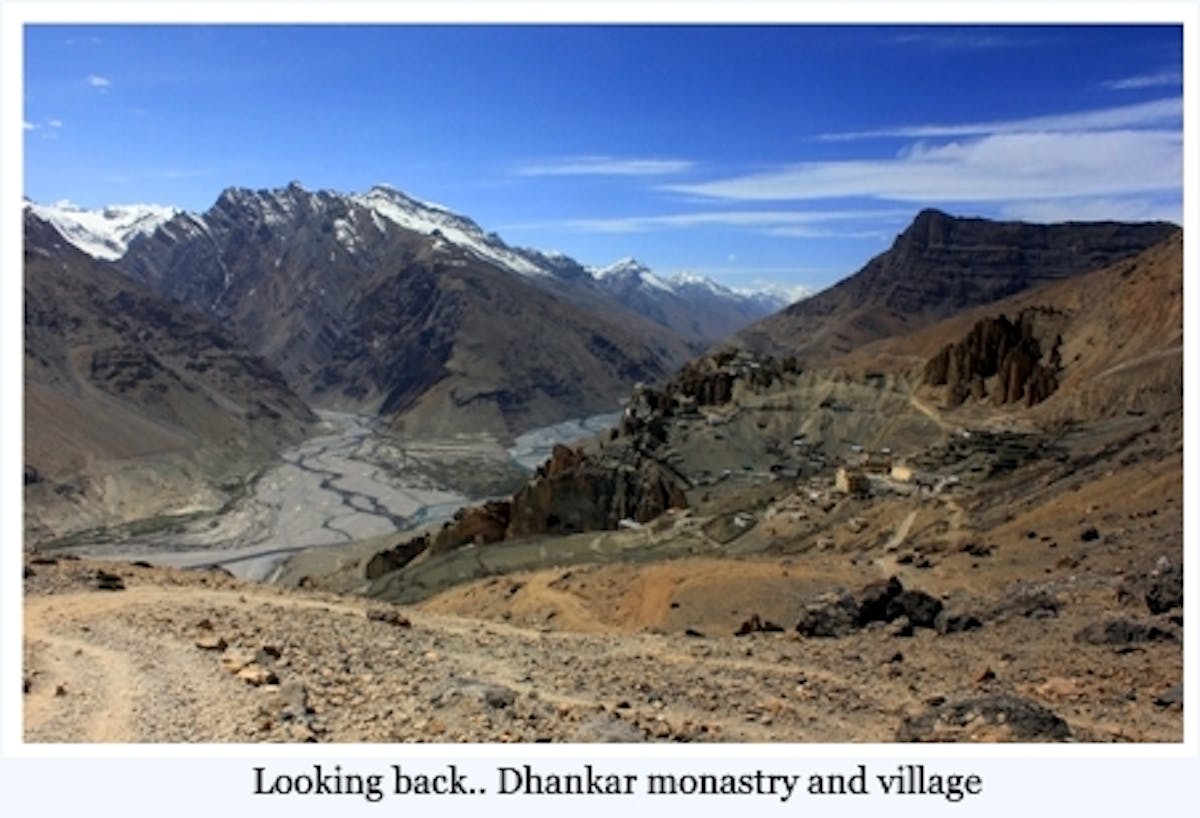 Looking back. Dhankar Monastry & Village
➤ Highlights of the Trek
Dhankar is an ancient village in Spiti Valley, which is a desert mountain valleys between India and Tibet.
The Dhankar Fort Monastery looks dramatic, with its placement between Spiti and Pin rivers.
Experience the untouched beauty of the high altitude lake. The beautiful vistas and stunning imagery pack a punch.
➤ How to get fit for the Dhankar Lake Trek
Cardiovascular endurance
The secret to ascending any trail lies in building your cardiovascular endurance. You can begin by jogging everyday. Ideally, you should be able to jog 4 km in 20 minutes before the start of the trek. It takes time to be able to cover this distance in the given time. Start slow and increase your pace everyday. Swimming, cycling and stair climbing without too many breaks in between can help too. Strength This is another area you should work on. You will need to build strength in your muscles and in your core body. You can do some squats to strengthen your leg muscles. Do around 3 sets of squats, with 8 squats in each set. Apart from this, you can add planks and crunches to your work out.
Flexibility
Another aspect that will help you trek comfortably is flexibility. For this, you can do some stretching exercises – stretch your hamstrings, quadriceps, hip flexors, lower back muscles and shoulders regularly. Carrying a backpack, however light, can become a strain after a while. These exercises will help you to be in good shape before the trek.
Working out indoors
If you can't go out and jog because of time and space constraints,here's a videoyou can use to work out indoors.
➤ What to take on your trek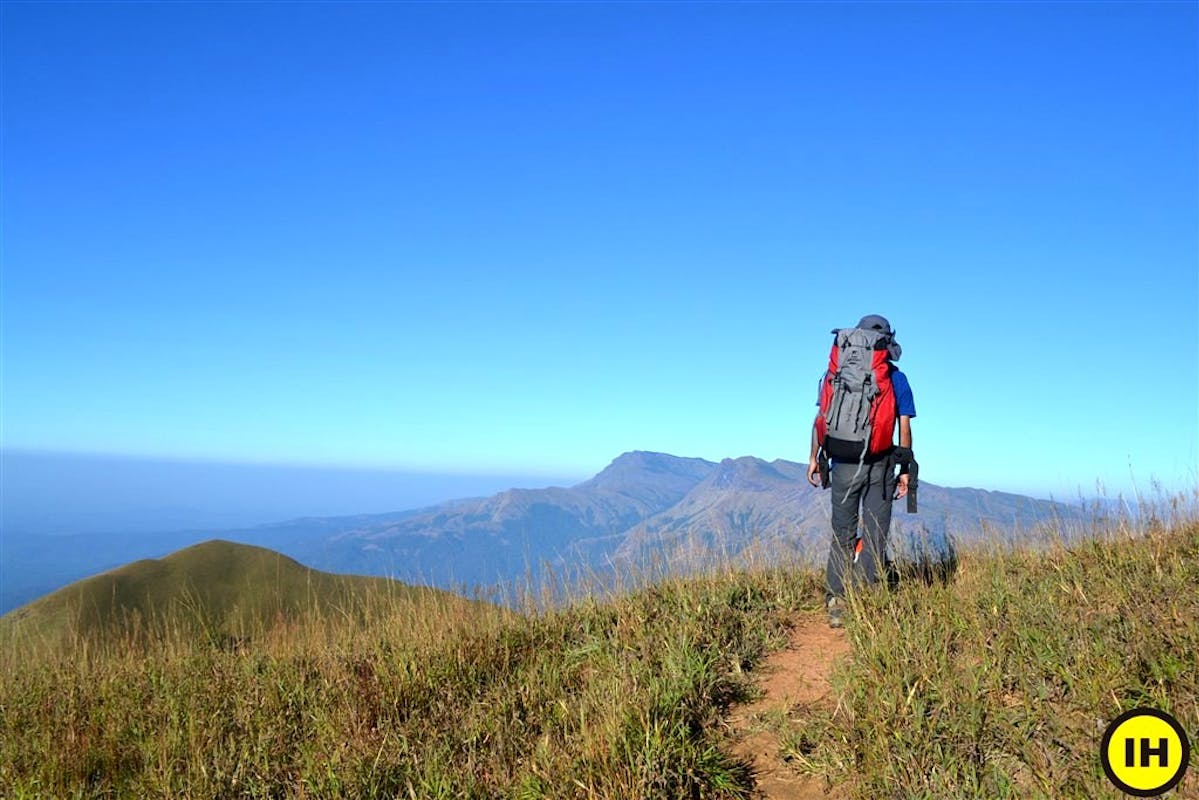 No, stuffing it all in isn't the right way to do it Packing a backpack correctly saves precious time that you might waste trying to find your things later. It is wise to spend some time on learning what really goes into packing a backpack.
What should I pack? 
On a trek, you only get what you take. Something as simple as a forgotten matchbox can cripple your cooking plans throughout the trek. So, it's essential to prepare early and prepare well. To begin with, make a checklist. While shopping, remember this thumb rule – keep it light. "Every item needs to be light. This ensures that your backpack, on the whole, stays light," says Sandhya UC, co-founder of Indiahikes. Balancing out heavy items with light ones isn't going to have the same effect as having all light items. "Always opt for good quality, light items," says Sandhya.
How much should my bag weigh?
"Your backpack for a weekend trek should weigh between 8 and 10 kg," explains Arjun Majumdar, co-founder of Indiahikes, "To break it down, your tent should weigh around 2.5 kg, your sleeping bag, around 1.5 kg, and the ration, stove and clothes should constitute the other 5 kg." The best way to plan is by concentrating on the basic necessities – food, shelter and clothes. Gather only those things that you'll need to survive. Do not pack for 'if' situations. "That's one of the common mistakes that people make – packing for 'if situations'. It only adds to the baggage that you can do without on a trek," says Sandhya.
Trekking hack
One good way to go about it is to prepare a list of absolute essentials. Start with the most essential and end with the least essential. That way, when you feel you are overshooting the limit, you can start eliminating from the bottom. Another tip is to be smart while packing clothes. Invest in light. wash and wear fabrics. "Replace a sweater with two t-shirts," adds Sandhya. Layering is the mantra when it comes to trekking. Refer to Sandhya's clothes list to pack smart.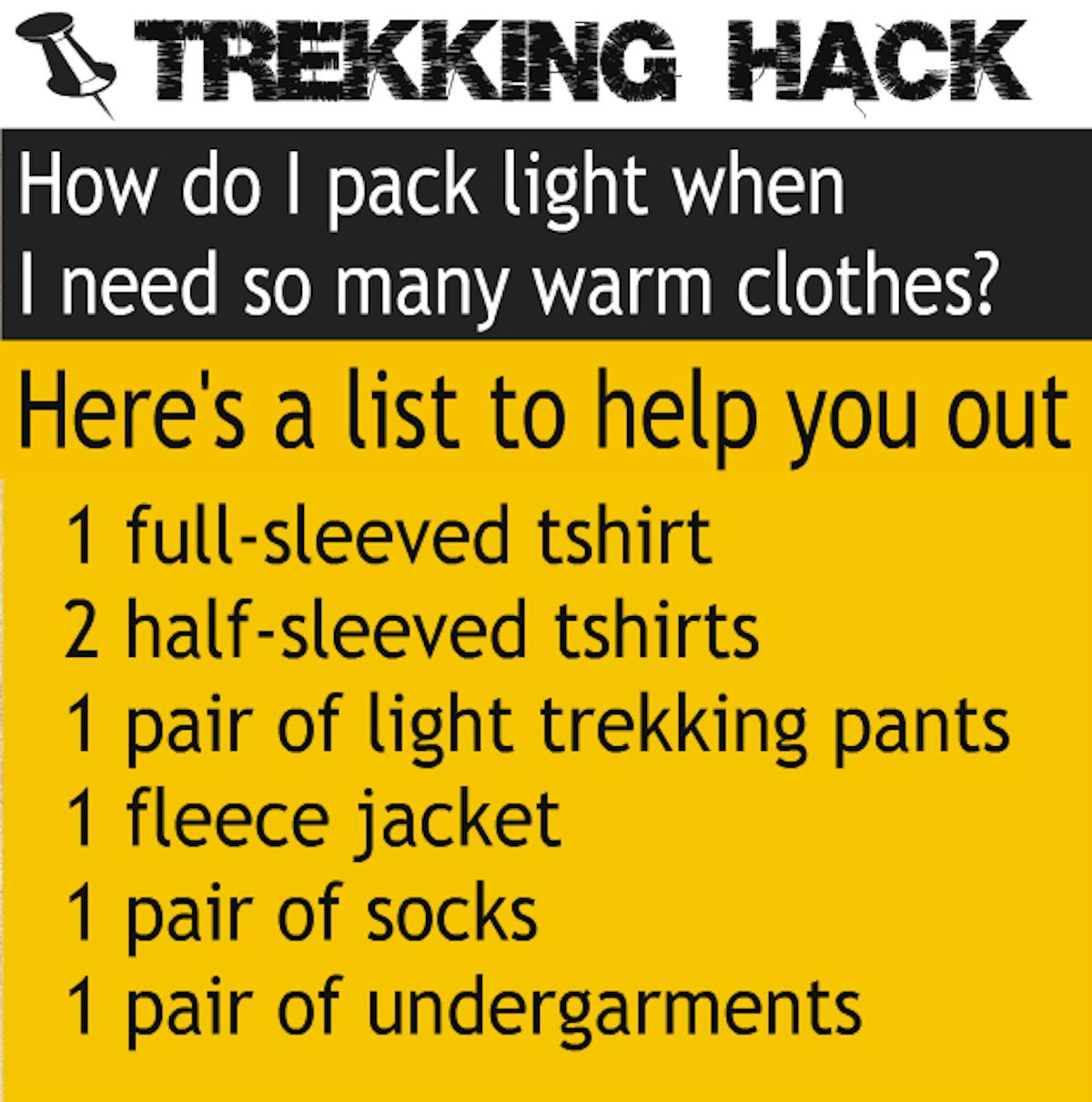 How to pack 
The thumb rule for this one is to eliminate air spaces. Make sure that everything is packed tightly, especially clothes and jackets, as they tend to take up maximum air space. Put in all the large items first. Then squeeze in the smaller ones in the gaps. This ensures minimum air space. A good way to pack clothes is by using the Ranger Roll method.
Where to pack
Bottom Sleeping bag: Make this your base layer. Sleeping bags tend to be voluminous, but do not weigh much. They're perfect for the bottom of the bag. Tent: Just like the sleeping bag, even tents are voluminous and light. Keep the tent poles separately and place the fabric at the bottom of the backpack.
Middle Heavy jacket: Roll up the jacket in a tight ball and place it in the middle of the backpack, close to your back. The middle region of the backpack should always have the heaviest items. You can store other things like ration or mini stoves in the middle. Other clothes: Roll other clothes and place them in the remaining space, to fill air gaps.
Top Water: Water, although heavy, needs to be easily accessible. So put it in the top most region of your backpack. Medicine box: This is another component that you wouldn't want to be scavenging for when in need. Poncho: It could rain at any time in the mountains. So, ponchos should be accessible easily. Also, having a waterproof poncho at the top of the backpack provides additional waterproofing to items in the bag.