Can You Help Us With Photographs Of This Trek?
We are looking to enrich this documentation with more photos. Pictures go a long way in explaining the trail, more than words ever can. If you have done this trek, can you share your photos with us? We will include them on this page, with due credit to you.Click here to contribute.
The Complete Guide to the Dhanna Kunnu Pass Trek
To call Dhanna Kunnu a forest trek might be disingenuous. After all, the trail is above Manali, so there will be mountain views long before the pass, and there will be lovely clearings.
You will see the mountains of the Kullu valley, the Pir Panjal range and the Bara Bhangal range with prominent peaks like Mt Hanuman Tibba, Mt. Indrasen, Mt Deo Tibba and Mt Friendship peak standing out. You will also come across grasslands that is your stage to see these mountains. The trail moves in and out grasslands into the forests.
However, we believe what should be talked about on Dhanna Kunnu Pass trail are it's dense forests.  Filled with oak and pine trees, wild mushrooms of various types growing on the forest floor, insects flitting about, the trail offers a lovely forest walks throughout the trek. As it is inside Kais Wildlife Sanctuary, this dense foliage becomes home to wildlife and various kinds of birds as well. Our explorers spotted Himalayan monal, Yellow billed Blue magpie, Rufus woodpecker, to name a few. It is easily one of the most enjoyable sections on this trek.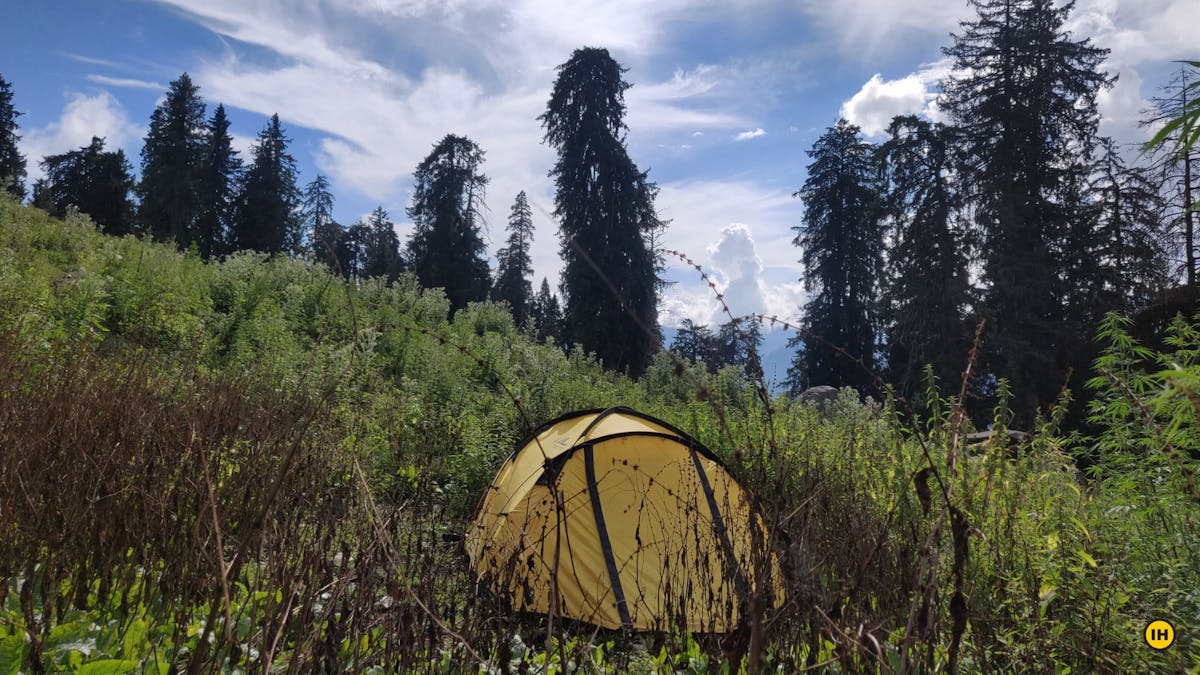 As it is inside Kais Wildlife Sanctuary, this dense foliage becomes home to wildlife and various kinds of birds as well. Picture by Krunal
Along with these forests, this remote trail has undulating grasslands and grand views of the mountains.  Do this trek instead of another, more well known trek in the area with much of the same to offer – Chanderkhani Pass.
➤ Short Itinerary
Day – 1: Reach Jana village. Take 2:30pm bus from Naggar. Naggar is 20kms from Manali.
Day – 2: Jana village(7311ft) to Matikochar(8442ft); 6 hours, 14 kms.
Day – 3: Matikochar(8442ft) to Phutasor(10,735ft); 6 hours, 10 kms.
Day – 4: Phutasor(10,735ft) to Dhana Kunnu Pass(12,040ft) and to Chaklaini campsite(11,240ft); 6 hours, 8 kms.
Day – 5: Chaklaini campsite(11,240ft) to Rumsu village(6780ft); 4 hours, 9 kms.
➤  Trail Information
Day 1: Reach Jana village.
Take a local bus from Manali to Naggar village from the Manali bus stand. Buses that go to Naggar can be found every 15 to 20 minutes.  Naggar is about 20kms from Manali. From Naggar, Jana village, the base camp for the trek, is another 13 kms away.
Catch the local bus from Naggar to Jana. It departs approximately at 02:00 pm. If you arrive a day early, you can visit a few point of attractions in and around Naggar like Roerich museum, art gallery and the 500 year old Naggar castle. Naggar was once a capital of Kullu – up until 1660 AD. And because of it's history, it has many charming places to visit.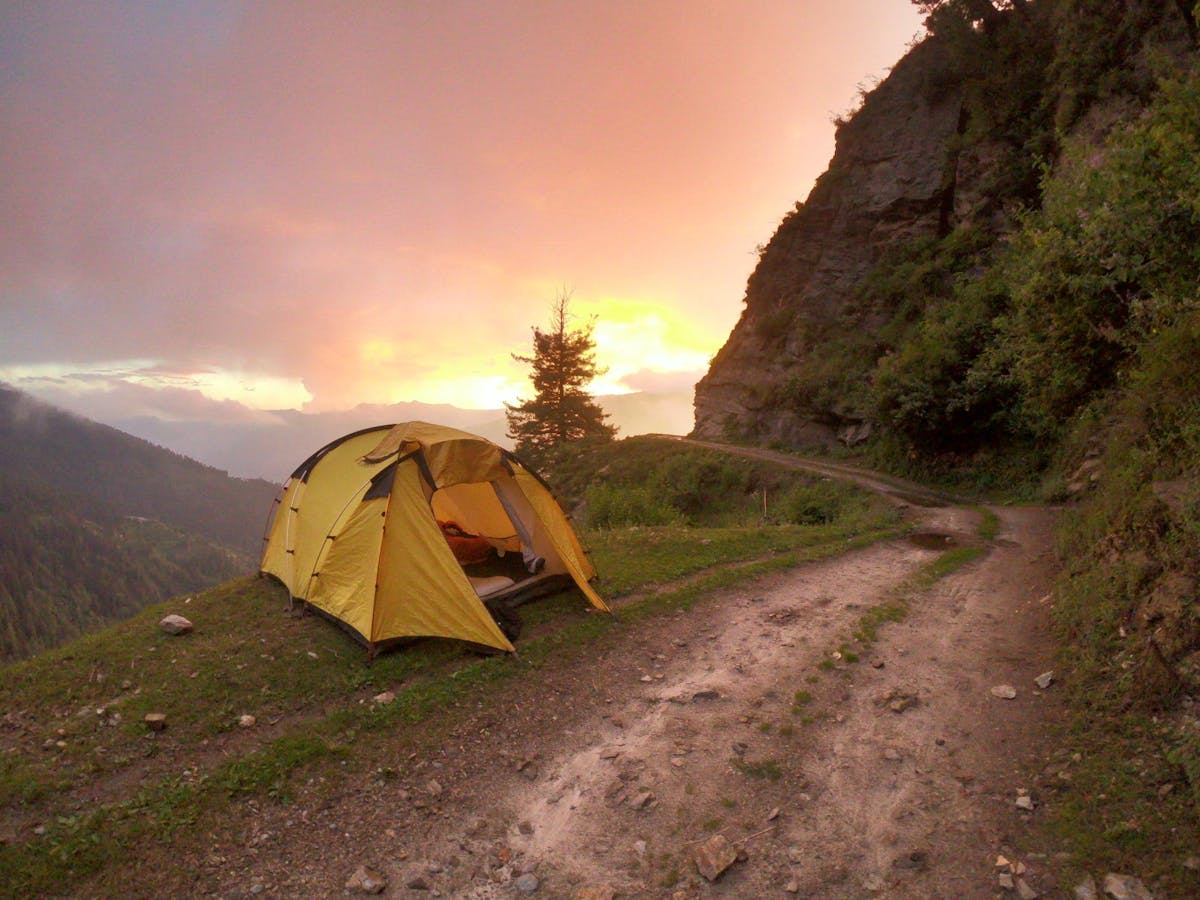 The road ahead of Jana village that goes towards the Kais forest house. Our explorers camped ahead of the village. Picture by Krunal Patel
Day  2 : Jana to Matikochar
Altitude: 7311ft to 8442ft
Time taken: 6 hours
Distance: 14 kms
Gradient: Mix of gradual ascent and level walk on a rugged forest road.
Water Sources: Small streams on the way.
The trek starts from Jana village. The road here is  more of a rugged path which goes all the way till Matikochar. After the Jana waterfall and moving ahead from the village, you reach Kyari.
An hour's hike from Kyari, you'll start encountering tiny villages on the high end of the valley. If it's too late, you could stay in a homestay in Katodhar village. If not, the next camping spot you have is at Matikochar.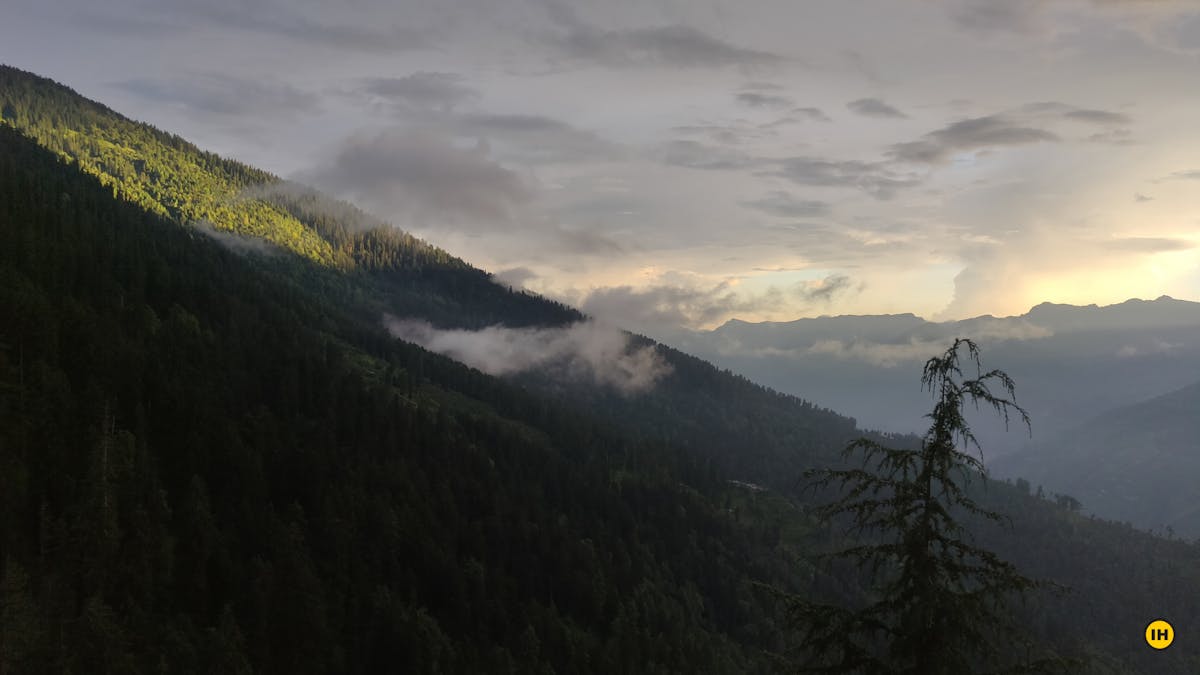 View from the road head of Jana village. Picture by Krunal
Today you walk mostly alongside the forest full of conifers. When it clears up, you get a wonderful view of the Kullu valley with Beas river meandering its way in between. An hour or so from Katodhar village, you enter into the Kais wildlife sanctuary.
You can spot a variety of birds over here like Himalayan monal, Yellow billed Blue magpie, Rufus woodpecker etc. Surrounded by Deodar and Pine trees, just before the campsite, you will find the Kais Forest rest house.  Watch out for setting at the night  – the clear night sky with it's twinkling stars and the other is the lights of Kullu town in the valley below.
Day  3 : Matikochar to Phutasor
Altitude: 8442ft to 10735ft
Time taken: 6 hours
Distance: 10 kms
Gradient: Moderate. Gradual ascent through forest trails, steep ascent in the end before reaching Camp.
Water Sources: Couple of streams on the way in the forest. Carry enough water!
The trek today starts from the Kais forest resthouse. Discontinue walking on the road and take the trail on your left which goes further up in the forest, with a gradual incline in the forest full of Oak, conifers and Pine trees. The trail keeps going upwards in a zig zag pattern.
The forest is dense with vegetation including various sorts of mushrooms and insects. An hour into the trail, you will approach an opening known as Bhand Patthar, which will give you panoramic view of the Pir Panjal range.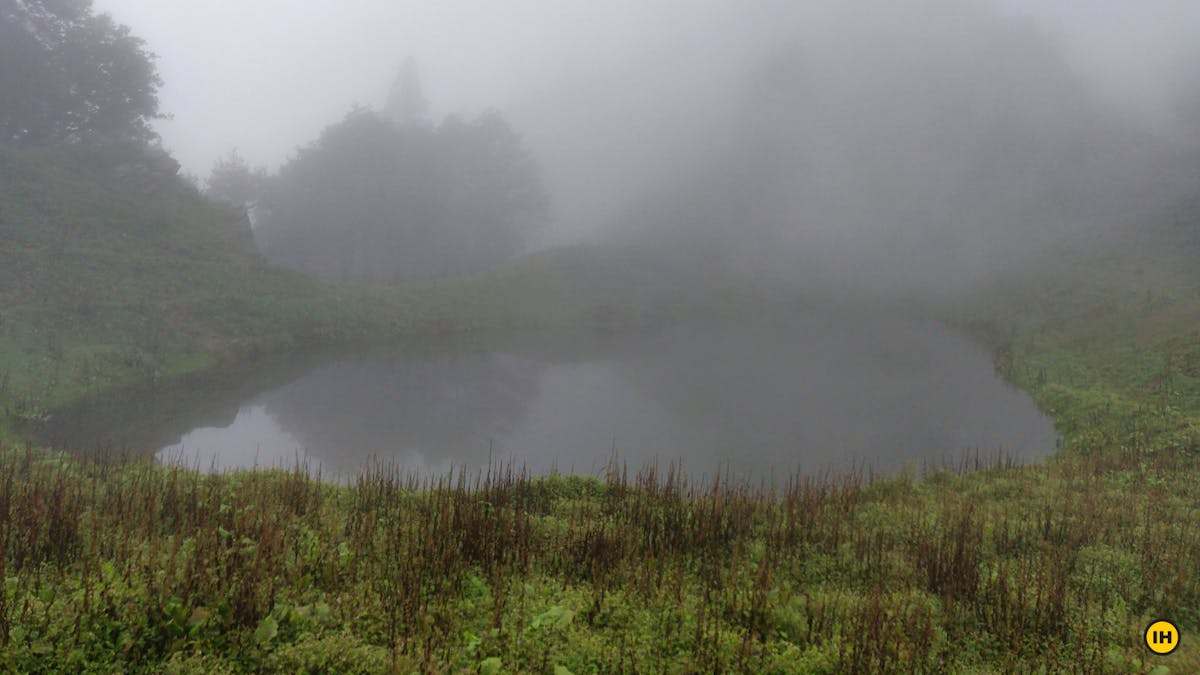 If you reach here too late in the day, you can choose to stay there for the night or continue towards Phutasor. Picture by Krunal Patel
Continue walking in the forest, the trail might get confusing in between as it is not very clear. However, maintain the small trail which keeps going upwards in the forest, an hour more into the trail and you should reach small meadows which host a few shepherd houses. This place is known as Matikochar as well. You will get a flat ground here with a water source.
If you reach here too late in the day, you can choose to stay there for the night or continue towards Phutasor. The trail surfaces in gradual ascent in the deep forest full of Oak and conifer trees. Finally, after a steep ascent you will approach the small lakes of Phutasor.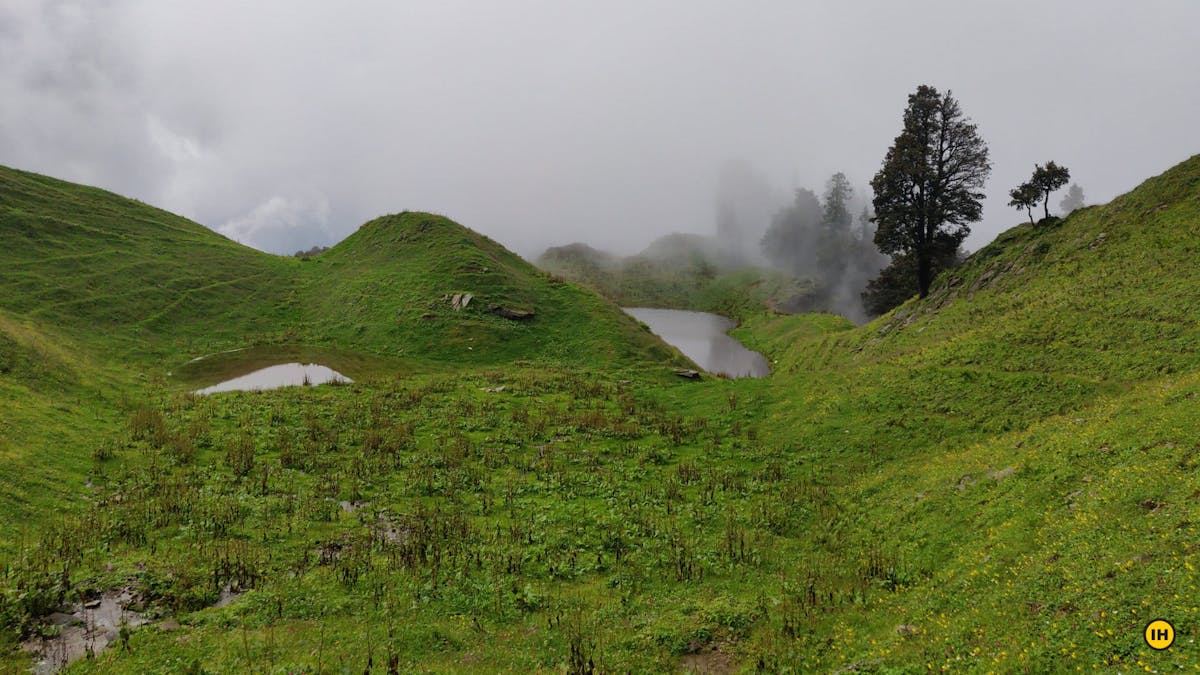 The lakes of Phutasor. Photo by Krunal.
There is a shelter on the top as well. You can pitch your tent here. For water, find the small stream which feeds the lake. Watch the beautiful sunset on the mountains of the Kullu valley, the Pir Panjal range and the Bara Bhangal range. You can spot prominent peaks like Mt Hanuman Tibba, Mt. Indrasen, Mt Deo Tibba and Mt Friendship peak. You can see the Dhana Kunnu and Chanderkhani Pass as well on your right.
Day 4 : Phutasor to Chaklaini via Dhana Kunnu Pass
Altitude: 10735ft to 11240ft via 12040ft
Time taken: 6 hours
Distance: 14 kms
Gradient:  Gradual ascents and descent.
Water Sources: Only a couple of small streams. Carry enough water!
Today's trek is a mixture of everything- The best of the whole trek! From Phutasor, follow the solitary trail heading into the forest on your right, in the north direction. Make sure to stay on the trail, it might fade off for a while every now and again. Make sure to be on the west face of the ridge.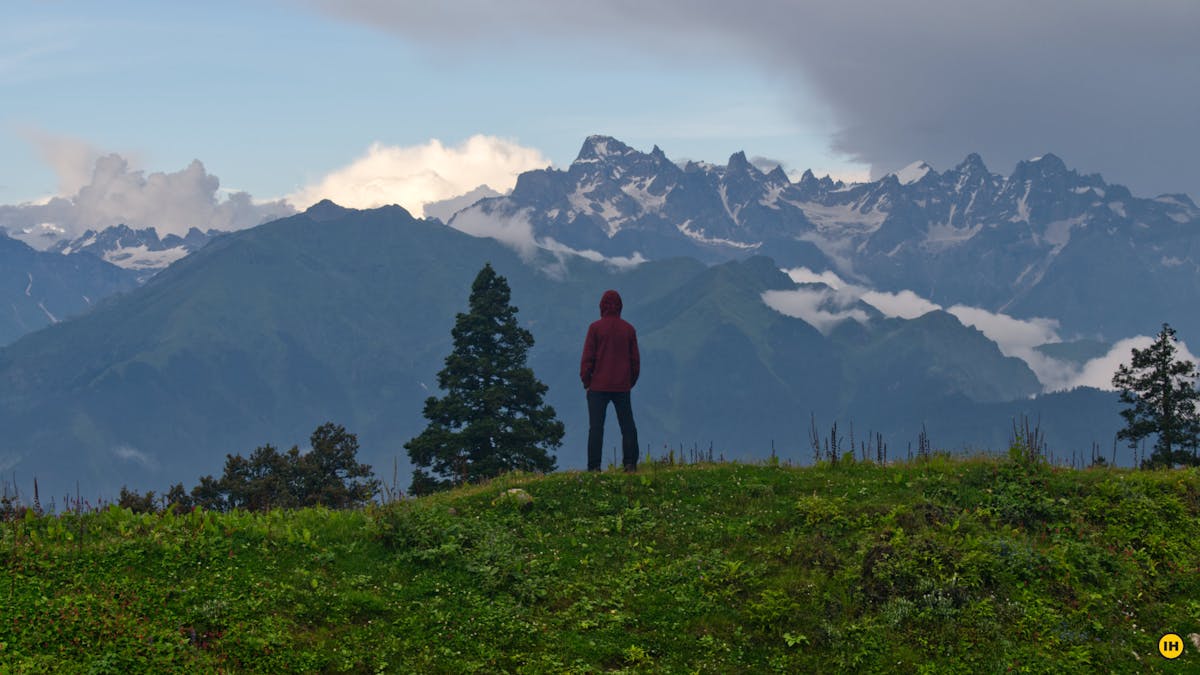 View from Phutasor campsite. Photo by Krunal
The forest is very dense, filled with  Oaks over here. You will encounter a lot of various types of mushrooms over here like Death cap, Chanterelle, Yellow Stagshorn etc. The trail continues to traverse across the ridge with a lot of vegetation and big grass. Half an hour into the trail, you will approach a clearing. From the clearing, turn right and follow the trail which descends down in the forest. As you descend down in the forest over a rocky patch, notice the change in vegetation. You will see a lot of rhododendrons in form of shrubs and maple trees.
The trail keeps going up and down for an hour or so and then you approach a water stream known as Dohra Nallah. From Dohra Nallah, the trail winds up following the stream from there on further up the valley. From here on, keep ascending alongside the stream until you reach the upper ridge which leads to the Pass. There is a vague trail, make sure you stay on that. The view opens up when you are near the Pass, notice the series of boulders lying in front of you. On the west side of that boulder section is the pass.
The treeline finally ends here. Keep climbing up in a zig zag fashion until you reach the top. As soon as you reach  the top, follow the trail connecting the parallel ridge. This is the Dhana Kunnu Pass!
Experience the bliss of being at the top of 12,040ft with a grand panoramic view of the mountains of Pir Panjal and Bara Bhangal range. Take in the beauty with the clouds playing their game over the majestic peaks of Mt Hanuman Tibba, Mt Indrasen, Friendship peak etc.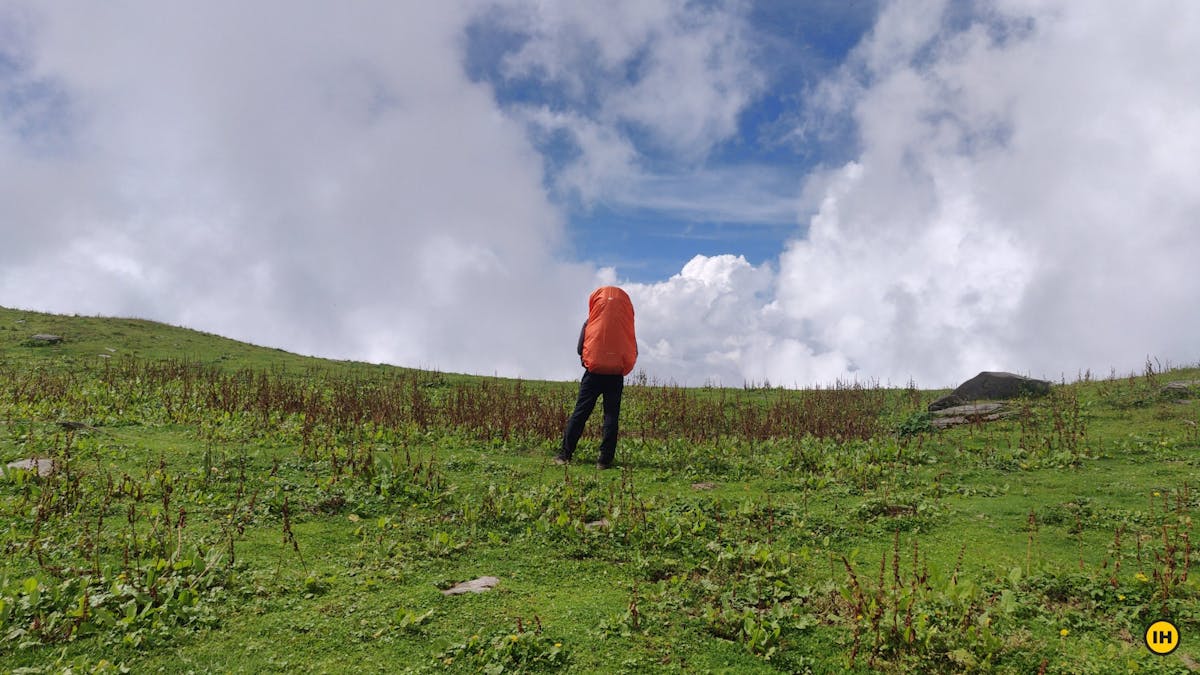 At Dhanna Kunnu pass. Photo by Krunal
From there on, take the path on the right side of the ridge. Behind you is Malana. There's a small temple on the Pass as well and the point of descent is marked with formation of stones, but it is not a proper cairn. You will notice a very tiny trail traversing on the side of the ridge, follow that for a while. The point where the trail comes to a bit of a flat ground, stop and turn left towards the meadow side. If you had kept going straight on the same trail, it would have taken you to Malana. 
It is a bit tricky here, so you need to be careful and keep your eyes open. Keep descending straight down in the meadows. As you descend down, on the left, notice a trail in middle of the rhododendron shrubs, going further down in the forest. That trail will take you to Chaklaini.
Spot a dhaba type of a structure from distance. It shouldn't take more than 30 mins once you spot the trail from the meadows. Camp and rest at Chaklaini for the night. There's a water stream nearby, and the dhaba owner is generally there in the months of April to September.
Day 4 : Chaklaini to Rumsu
Altitude: 11240ft to 6780ft
Time taken: 4 hours
Distance: 9 kms
Gradient: Moderate. Gradual descent initially in the forest followed by steep descent till Rumsu.
Water Sources: Only a couple of small streams. Carry enough water!
The trek today is not that long. There's a trail today is all the way till Rumsu, but it disappears in between for a while. You need to be careful not to miss it. 
The trail leads into a forest and keeps moving in the northwest direction. It takes you through a dense forest again. You will encounter a few shepherds if you go in the post monsoon season in the openings which seem like a small meadow. Be careful not to miss the trail here!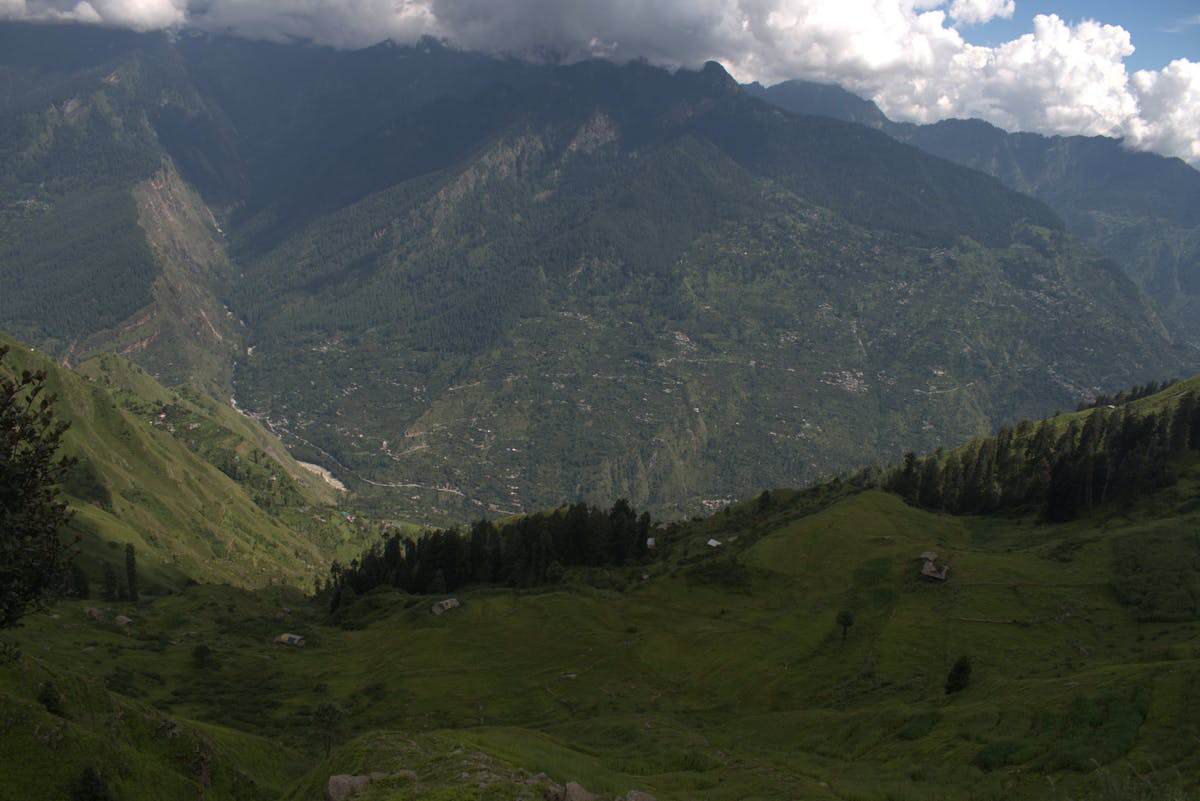 View from Chaklaini. Picture by Krunal
The trail is a gradual descent  going in the west direction. Around two hours into the trail, you will reach another clearing which is also a camping spot, known as Naytra Top. You will see the marks of camps on the site. From here, you have to change the route. 
The trail going straight heads to another village down in the valley. Over here, you need to take a right down into the forest. You will find another small trail going down inside the forest, take that route. This trail starts winding down in steep descent till Rumsu. The path from here is clear and there is not much of a chance of getting lost.
Rumsu is a big village, with provision shops, and health centres.  Once you reach down at the roadhead in Rumsu village, you will get transport further for Naggar village, about 5 kms away from here. From Naggar,  you can travel further down to Manali. 
➤ How to get fit for the Dhanna Kunnu Pass trek
The Dhanna Kunnu Pass trek is classified as an easy-moderate trek. You start from an altitude of 7311 ft and you reach the highest point of 12,040 ft at the pass.
This means you gain around 4,729 ft over just three days of trekking.
This can make the trek quite demanding. Before you get on the trail, we'll ensure you're fit enough to do the trek by checking your fitness level. We need your help with this.
So here are the 3 areas that you must work on. Scroll down to see a chart that will help you to get fit in 4 weeks.
Cardiovascular endurance
This trek requires a good amount of cardiovascular endurance. You can begin by jogging every day. Start jogging at a slow pace and then keep increasing your pace day by day. In order to be prepared for high altitude trek, you should have a combination of distance and speed targets.
Here's a fitness routine that works:
In case you're just starting with a regular fitness routine, phase out your distance targets in the following manner –
–>Target completing 5 km in 45 minutes when you begin.
–> Gradually increase your pace by running 4 times a week and bring it down to 5 km in 40 mins.
–>If you are 45 years or above, try to cover 5km in less than 47 minutes.
If you are somebody who prefers cycling over running, then try to cover 20 km in 60 minutes.
How to send us proof of your fitness routine?
Record your run on an app like Nike Run. Start recording your run when you start running. At the end of your run, hit the stop button.
Take a screenshot of the summary of your run. We will need a detailed split of each kilometre of your run. This is usually integrated into all running apps.
Note: Make sure your GPS is on when you record your run. If the GPS is off, we will not accept the screenshot.
Upload two screenshots 10 days prior to the start of the trek
For < 45 years age: One screenshot of 5 km in 45 minutes and the second 5 km in 40 minutes.
For > 45 years age: Two screenshots of 5 km in 47 minutes.
If you love cycling, cover a distance of 20 km in one hour and upload the same.
Fitness proof to be uploaded with GPS on and along with your picture.
Here is a guide to help you get fit for the trek.

Beas Kund is an easy trek. So this is a perfect match as trek fitness guide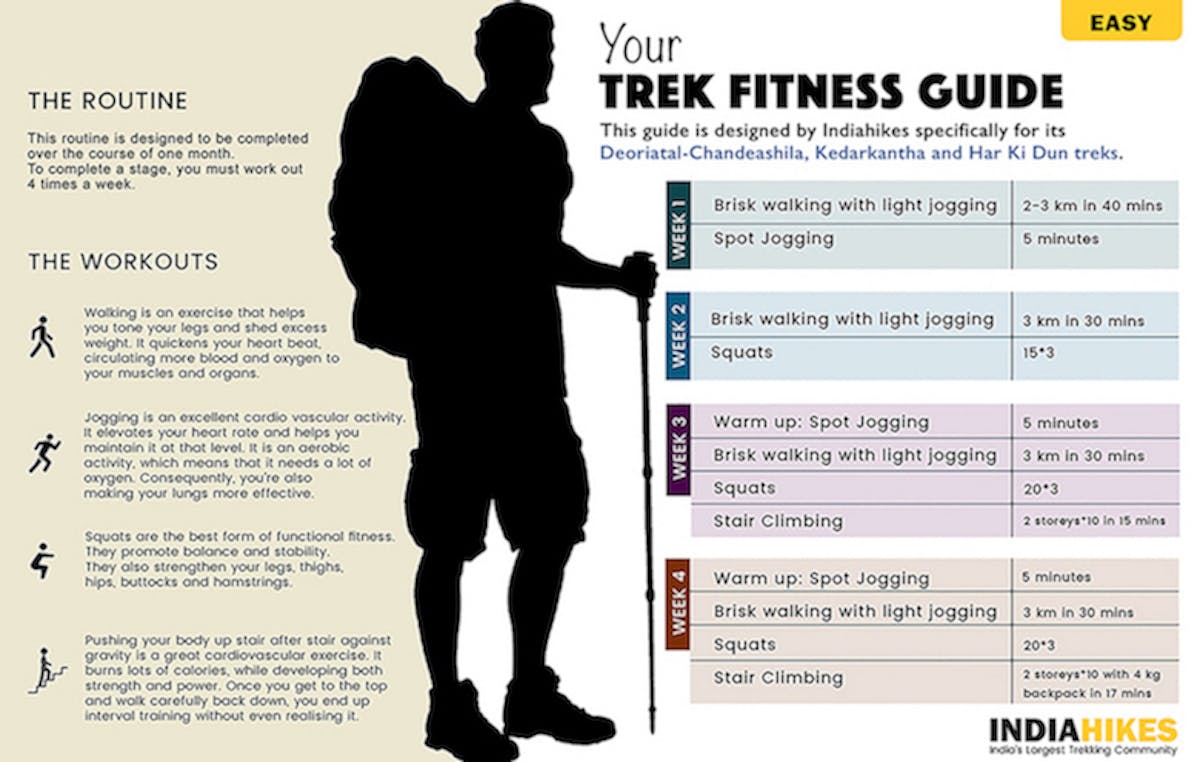 Print this and stick it on your wall
Working out indoors
If you can't go out and jog because of time and space constraints, here's a video you can use to work out indoors.
➤ How to plan your travel
Delhi → Manali → Jana Village
The Dhanna Kunnu Pass trek starts from Jana Village, which is around 33 km from Manali. 
Getting to Manali
Manali is well connected to Delhi. If you take an overnight bus from Delhi, it will take you 12-14 hours to reach Manali. Tickets can be booked online at www.redbus.in or www.hrtc.gov.in. Choose government buses such as HPTDC and HRTC as they usually run on schedule. 
Note: Since Delhi-Manali is a long journey, most private buses leave Delhi between 5.00 pm and 6.00 pm. The last government bus leaves at 8.30 pm from ISBT Kashmere Gate.
From Manali, board a bus to Naggar.  Buses that go to Naggar can be found every 15 to 20 minutes. From Naggar, board a local bus to Jana village.
Getting back
Rumsu → Manali → Delhi
The Dhanna Kunnu Pass trek ends at Rumsu. Manali is 26.6 kms away. You can take local buses or cab!
➤ What To Take On The Dhanna Kunnu Pass Trek
Bare necessities
Trekking shoes: The trek distance is long and you will have to walk for long distances which need you to have comfortable trekking shoes. Watch this video to learn to choose the right trekking shoes.
Backpack (40-60 litres): A backpack with sturdy straps and a supporting frame. Rain cover for backpack is essential.
Clothes
Two trek pants: One pair of pants should suffice for this trek. But you can carry one spare pair in case the first one gets wet. Wear one pair and carry one pair. Denim/jeans and shorts are not suitable for trekking.
Three collared t-shirts: Carry light, full sleeved t-shirts that prevent sun burns on the neck and arms. A common mistake that trekkers make is not changing their tshirts often enough. Regardless of how cold it is, the body tends to sweat a lot. Trekkers who don't change to fresh clothes after reaching the campsite fall ill due to wet clothes and are often unable to complete their trek. 
Thermals (Mandatory): Carry thermals to wear at night because the temperature drops considerably.
Accessories
Sunglasses: Sunglasses are to prevent snow blindness. 
Suncap: The sun is more harsh at high altitudes so wear a cap to protect your face and neck.
Synthetic hand gloves: One pair of fleece or woolen hand gloves. One pair of water proof/resistant, windproof gloves.
Balaclava: You may use woollen scarves instead as well.
Socks (2 pairs): Apart from two sports socks, take a pair of woollen socks for the night.
Headlamp/LED torch: Mandatory
Trekking pole: Watch this video to understand why you need a trekking pole.
Others
Toiletries: Sunscreen, moisturizer, light towel, lip balm, toilet paper, toothbrush, toothpaste, hand sanitiser. Do not carry wet wipes since these are not biodegradable. Use toilet paper instead.
Sanitary waste: Make sure you bring your used sanitary napkins back to the city with you. Carry a zip lock bag to put used napkins. Bring this ziplock bag back with you to the city and do not dispose sanitary napkins in the mountains.
Cutlery:Carry a spoon, coffee mug and a lunch box. 
Two water bottles: 1 litre each
Plastic covers: While packing, use plastic bags to compartmentalise things and carry few extra plastic bags for wet clothes.
Mandatory Personal Medical Kit
Diamox – 1 Strip
Crocin- 10 tablets
Avomine (optional, in case of motion sickness)- 1 Strip
Combiflam- Half Strip
Muscle relaxant – Half Strip
Digene- Half Strip
Avil- 1 strip
ORS- 6 packs
Knee Cap (If you are prone to knee injury)
Here's a quick checklist to help you pack for the trek –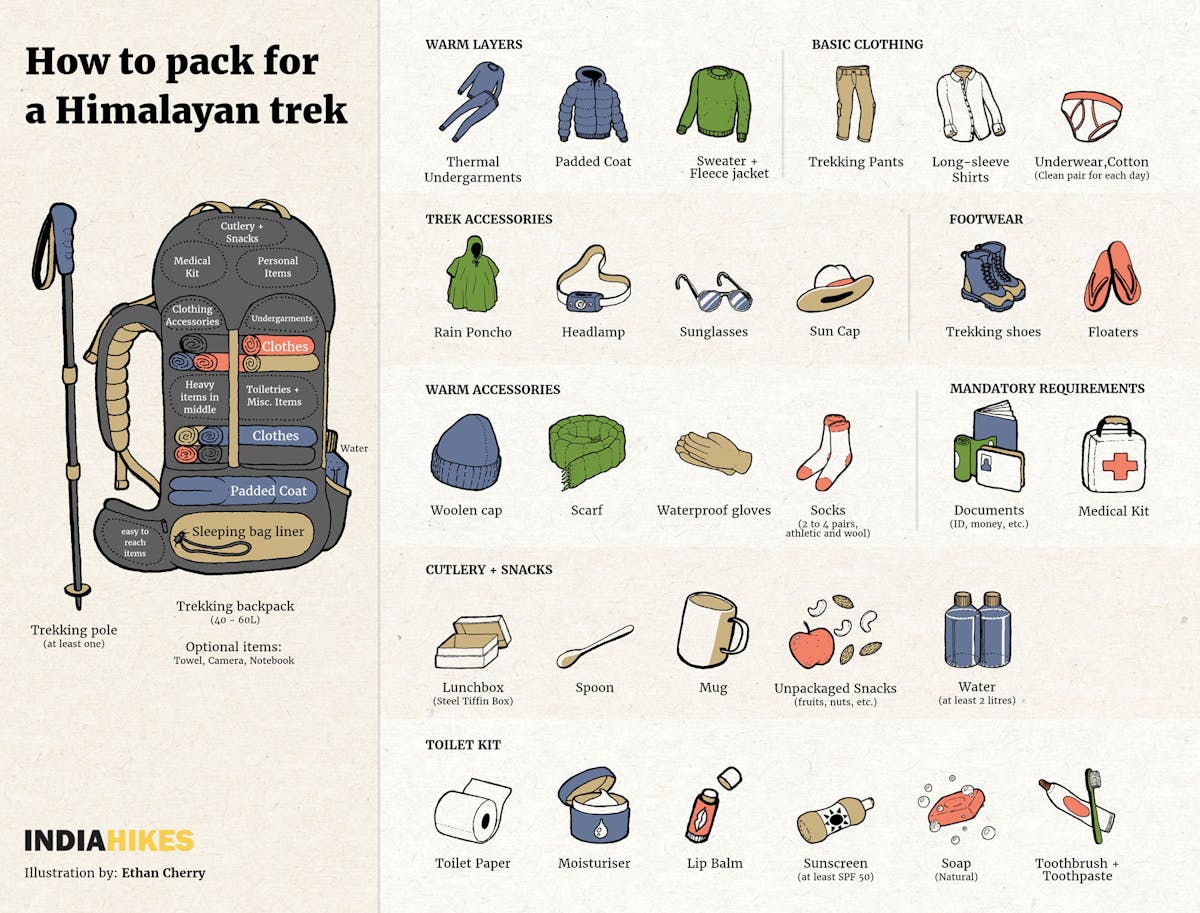 Here's a quick info-graphic to give you an overview of everything you need in your backpack.
Useful articles before you shop for gear
–> How much should you spend on trekking gear
–> How to reduce the cost of your Himalayan trek
➤ FAQs
Network Connectivity
There is sporadic network connectivity on this trek. Be sure to make all your phone calls before the trek. Manali is the last point where you will enjoy full range of network. The next place you will get good signal is Chaklaini and then finally, Rumsu.
ATM
Withdraw cash from ATMs in Manali.
Nearest Hospital
Manali.
➤ Looking for places to visit after your Dhanna Kunnu trek?
The trek ends effectively ends in Manali, a hub of tourists, travellers and mountaineers alike. Manali is a town that often acts as a transit point for further journey into the mountains – either as base camp of multiple treks or rest point to a longer journey to Spiti/ Ladakh. Therefore, it is extremely traveller friendly.
There are couple places of interest that you can go to.
Hadimba Temple
Hadimba, a demon, was known to be Pandav brother, Bhim's wife when he was exiled in the forest. She is revered as a local goddess.  Her temple , right in the centre of Manali, is worth a visit. The wooden temple looks untouched by the world in all the 400 years it had been standing.
Naggar
Temples, ancient castles, solitude and locals proudly donning their traditional clothes and going about their business is Naggar for you. Once a capital for Kullu, this town has a lot to offer. Apart from Naggar Castle and Roerich Muesem, Naggar has unique temples to offer. A walk around town can be extremely rewarding.
Gulaba 
Gulaba, the base camp for Bhrigu Lake trek, falls on the way to Rohtang. A quiet hamlet that is often buzzing with tourists. In winters, these very slopes are open for skiing!
➤ Trek Contribution
Documented by Krunal Patel