Can You Help Us With Photographs Of This Trek?
We are looking to enrich this documentation with more photos. Pictures go a long way in explaining the trail, more than words ever can. If you have done this trek, can you share your photos with us? We will include them on this page, with due credit to you.Click here to contribute.
The Complete Guide to the Dodital – Darwa Pass – Yamunotri Trek
The Dodital – Darwa Pass- Yamunotri Trek begins from Sangam Chatti, which is a 5 km-long steep ascent to Agora, through dense verdant forests and splendid scenery. From here to Dodital is a continuous climb. Dodital, located at an elevation of 3,307 m, is a dazzling water body surrounded by oak, pine and deodar forests. Rhododendrons spread around to give it a nascent look. The lake is filled with Brown trout and the rare Himalayan trout.
From Dodital onwards, the trek route is pretty steep until it reaches Darwa top (4,131m). The top offers a magnificent view of snow-clad peaks including the Banderpoonch, which stands tall at 6,317 m.
General Information
Dodital is a mysterious lake holding fresh water and offering tranquil environs. The lake is named after 'dodi,' which means trout in the local language. In fact, this lake happens to be one of the very few that houses Himalayan trout.
Dodital is situated amidst dense deodar forests at an altitude of 3,307 m in Uttarkashi district of Uttrakhand. The lake originates from natural springs of the river Asi Ganga. The circumference of the lake is 1.5 km. A Temple dedicated to Lord Ganesha is situated at one corner of the lake. The best time to visit Dodital is from April to November, but avid trekkers can access it in winter as well.
The legend of Dodital
According to Hindu mythology, Dodital is the birthplace of Lord Ganesha. The other name of the lake is Dhundhital, which means "Ganesha's lake" ('Dhundhi' is another name for Ganesha).
Yamunotri, on the other hand, is the source of River Yamuna and the seat of Goddess Yamuna. This pilgrim centre is in Uttarkashi, at a height of 3,293 m on the western face of the Banderpoonch peak. Surrounding the old temples are many lakes and natural hot water springs.
The King of Tehri, Pratap Shah, built this temple in 1919. At the temple is a tank of boiling water called Surya Kund. Devotees dip potatoes and rice into this spring to cook them and consume them as prasad (God's offerings). Near the Kund, devotees offer prayers to a rock slab called Divya Shila. After this, they offer pooja and prayers to the black marble idol of Goddess Yamuna. The shrine of Yamunotri is one of the chota char dhams (four small pilgrimages) of Uttarakhand. The source of Yamuna lies 1 km ahead.
➤ Highlights of the Trek
A mash-up of lakes, forests, mountain passes and pilgrimages
The tranquil surroundings, gurgling streams, crystal clear water and dense alpine forests make the Dodital trek an ideal one for first timers.  
To introduce some thrill, one can extend the trek to Yamunotri via Darwa Top. At Darwa Top, one can feast his eye on the Bandarpoonch and Swargarohini peaks.
En route to Yamunotri, one can learn invaluable lessons about local inhabitants and India's rich traditions.
➤ Trail Information
Day 1: Sangam Chatti to Manjhi
Altitude: 1,600 m to 3,000 m
Time taken: 16-17 km, 8-9 hours
Have your breakfast and fill your water bottles as there are no water sources on the trail. It is going to be a long day if you are camping at Manjhi today.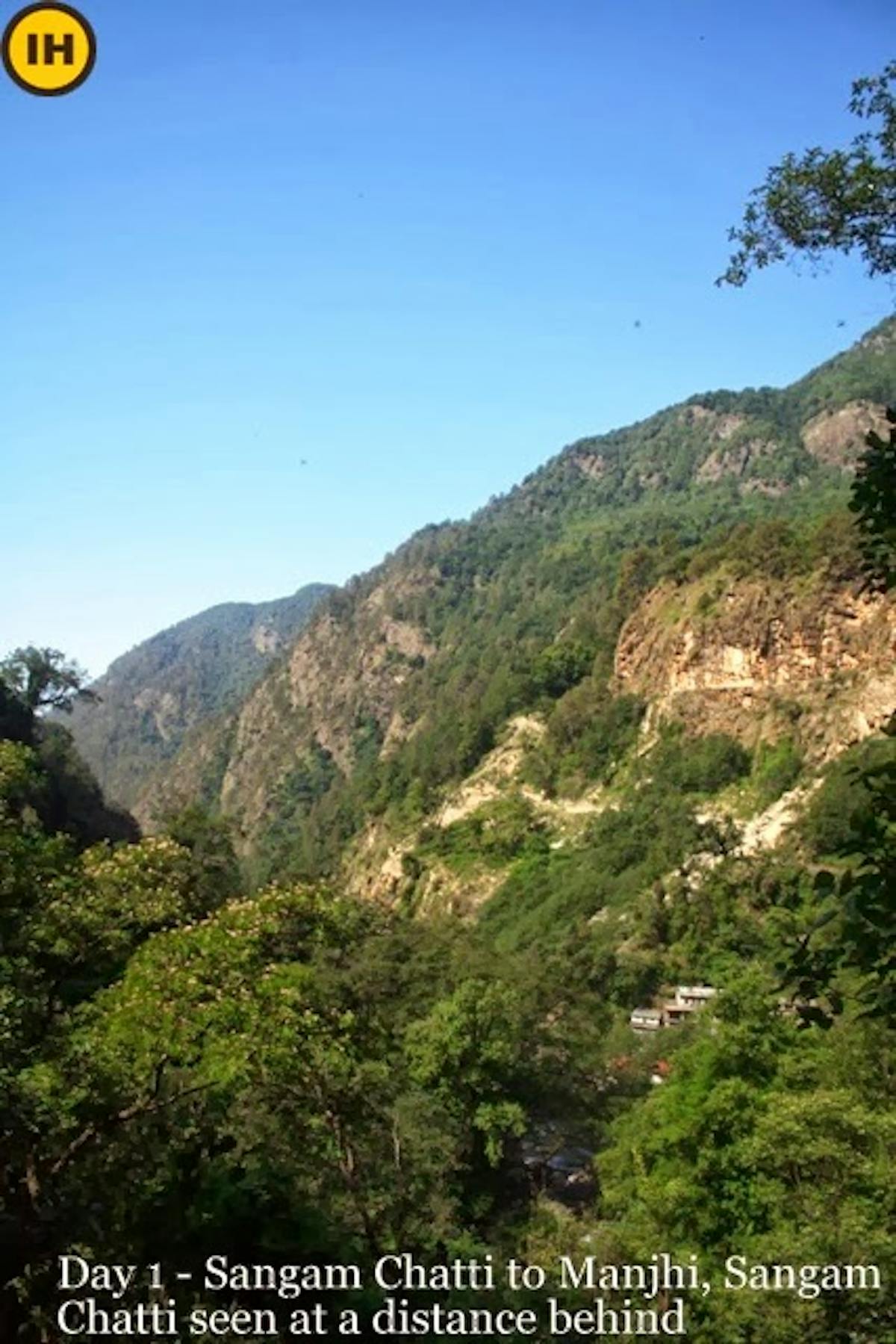 The trail starts from an old metal bridge just beyond the GMVN guest house. You are greeted with a sign board that reads 'Dodital, Trek Trail – 22 km,' written in local language. From Sangam Chatti, cross the bridge over the river Asi Ganga. You can see the sangam (confluence) of the Varna and Asi Ganga rivers here. Hence the name Sangam Chatti. You will see a well-marked trail moving north. Follow the trail. Spot a map of the region at the start of the trail. This might be of use to you.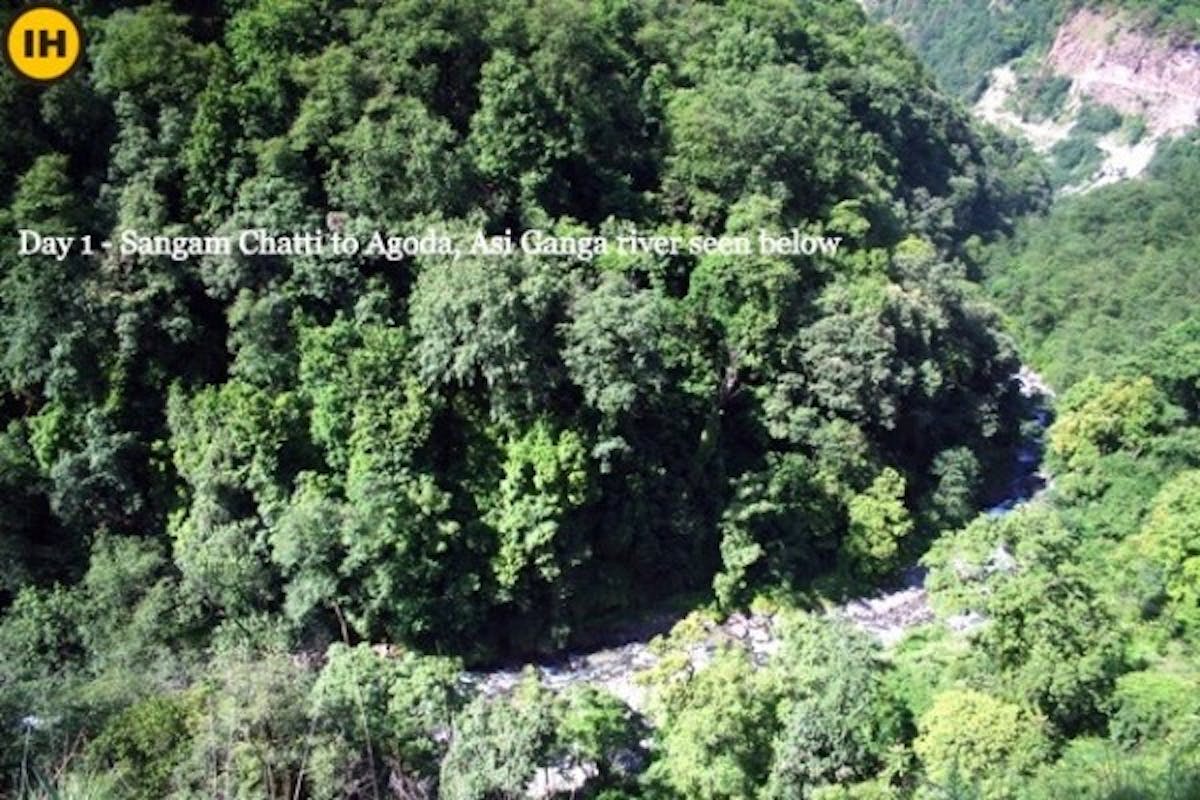 The stone-paved trail gradually climbs up in a zig-zag manner. After 15 – 20 minutes, notice that the trail broadens. Continue on the trail; keep yourself to left side of the valley. After another 15 – 20 minutes, you can see Sangam Chatti and the river below. The trail ascends through a dense semitropical forest. Continue on the trail until you reach a fork. The trail that climbs up on the left goes to Bankoli village. Proceed on the trail that goes straight. You will see that it descends and then climbs up again. The last stretch of the trail until Agoda is pretty steep and it takes around 30 – 40 minutes to climb this. As you climb up, you see the beautiful valley and some small villages behind you at a distance. The trail then opens up and you can see terrace farms and the Agoda village at a considerable distance ahead. It is around 6 km away and takes around 2- 3 hours to reach.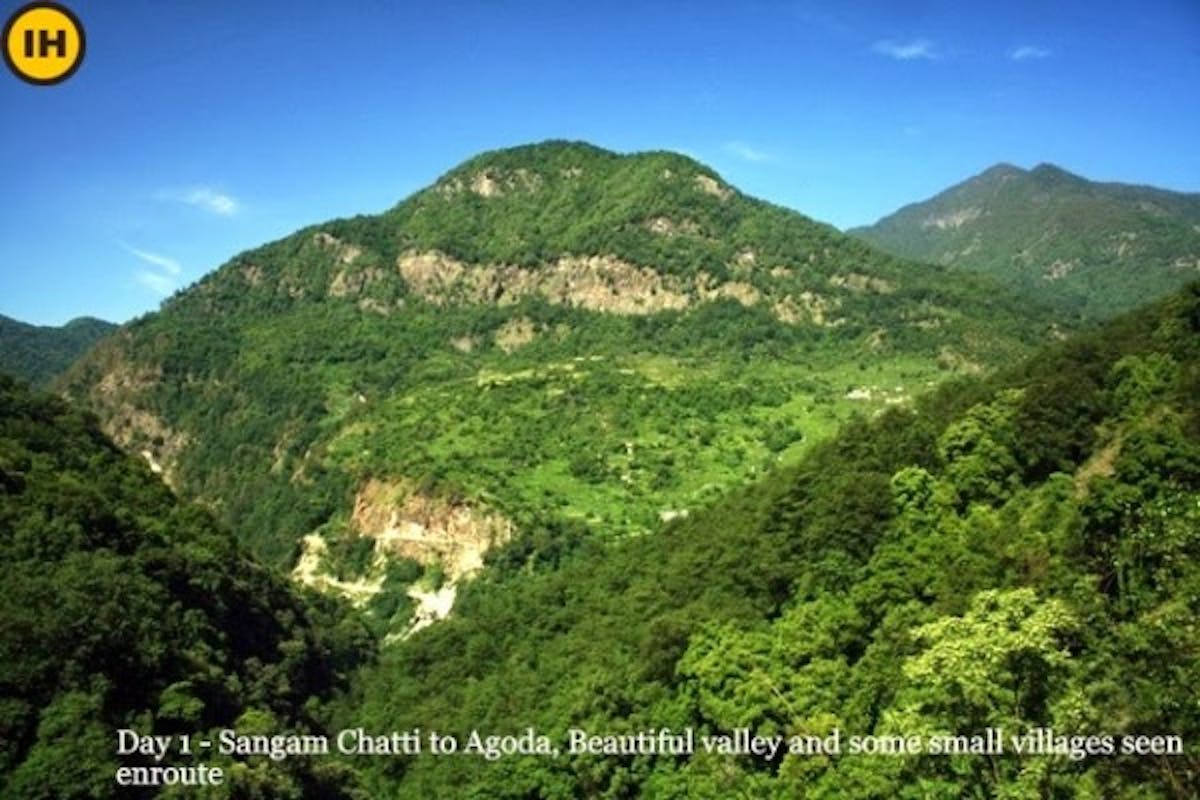 Soon, spot a gate that welcomes you top Agoda. The village consists mainly of two-storey, slate-roofed houses, each with a stone quadrangle. Observe the inhabitants of the village bustling to and fro from Sangam Chatti. Fill you water bottles here and continue on the trail. The trail is a gradual ascent from here for about 2 km and continues to the village of Bebra. Keep yourself to the left side of the valley as you walk. The trail gently climbs up and then gradually descends. In around 40 minutes, a stream will appear on the trail. This is Bebra. Take note of the few houses that serve as guest houses and hotels for travelers. You may spot children playing around here during the day. You can now take time to enjoy a view of the snow-capped mountains in the distance ahead of you, and the deep valley on your right. Breathe in the fresh mountain air. Walk around the green fields that grow crops like rajma, beans and potatoes.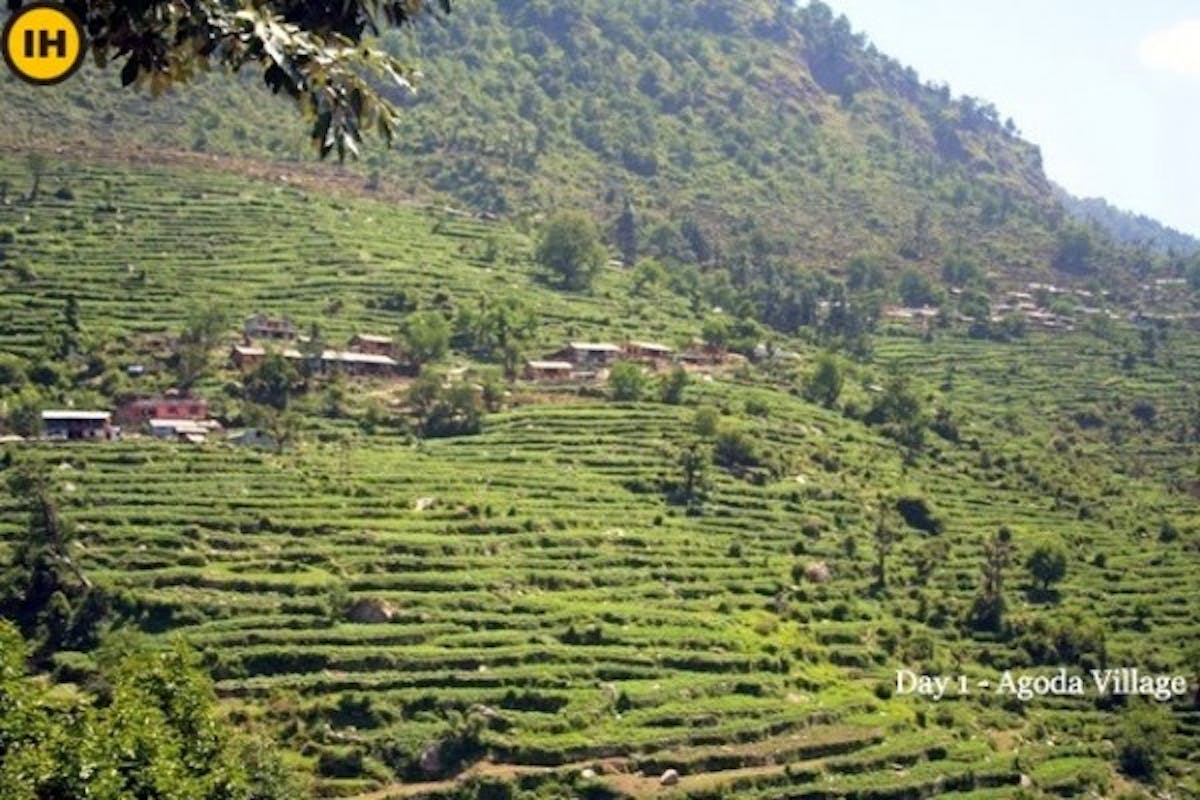 Cross the stream over a wooden log bridge. There is another signboard here that mentions the distance to different villages / campsites from Bebra. There is another board that mentions the Dos and Don'ts on the campsites. The distance from Bebra to Manjhi is 9 km and you do not have good camping options in between. You can camp here or proceed to Manjhi, depending on what time it is. To go to Manjhi, proceed and you will see that the trail climbs up rather steeply. Around 20 – 30 minutes into the hike, you will see Bebra behind you. You will see that the path alternates between mud trail and boulders.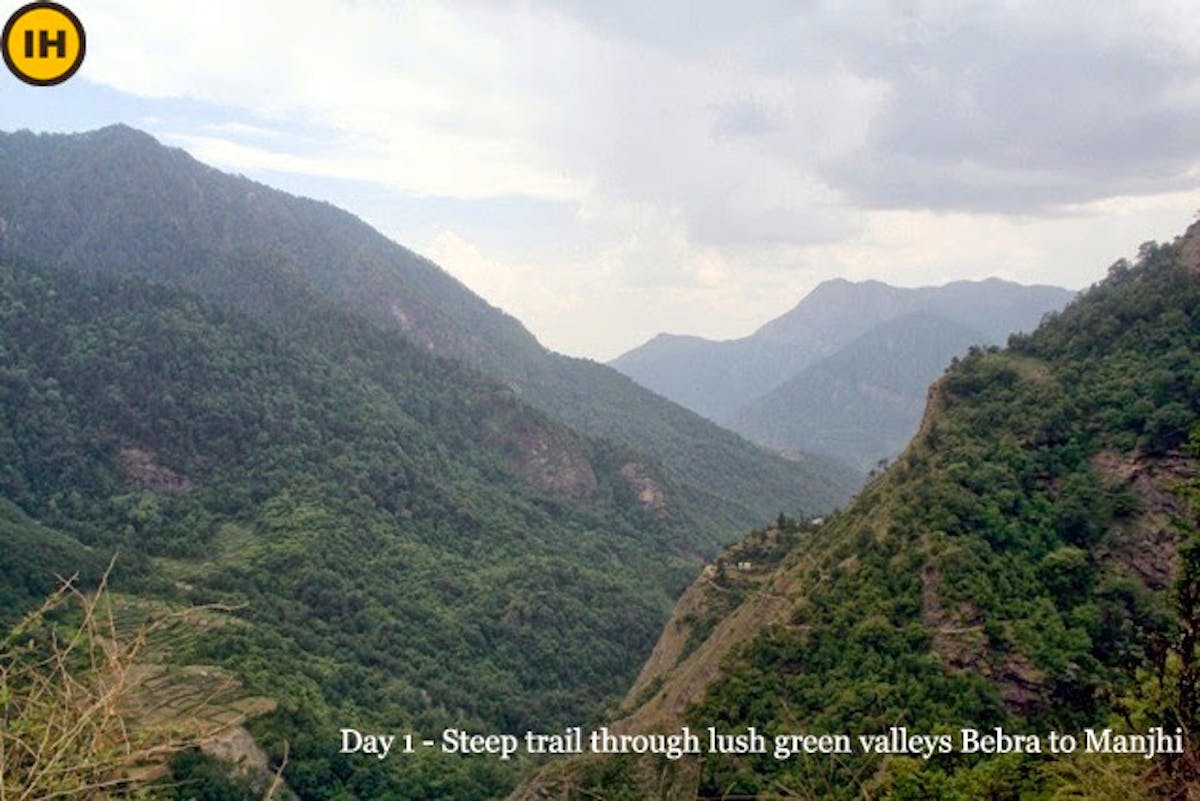 Continue to climb, until you reach the top of the ridge. The last 20 – 30 minutes is a steep climb. You will see some shelter here, along with some benches; this place is referred to as Dharkot or Chattri. The last 5 km of the trail is gradual and almost level path. Continue on the trail, which passes through a beautiful rhododendron forest.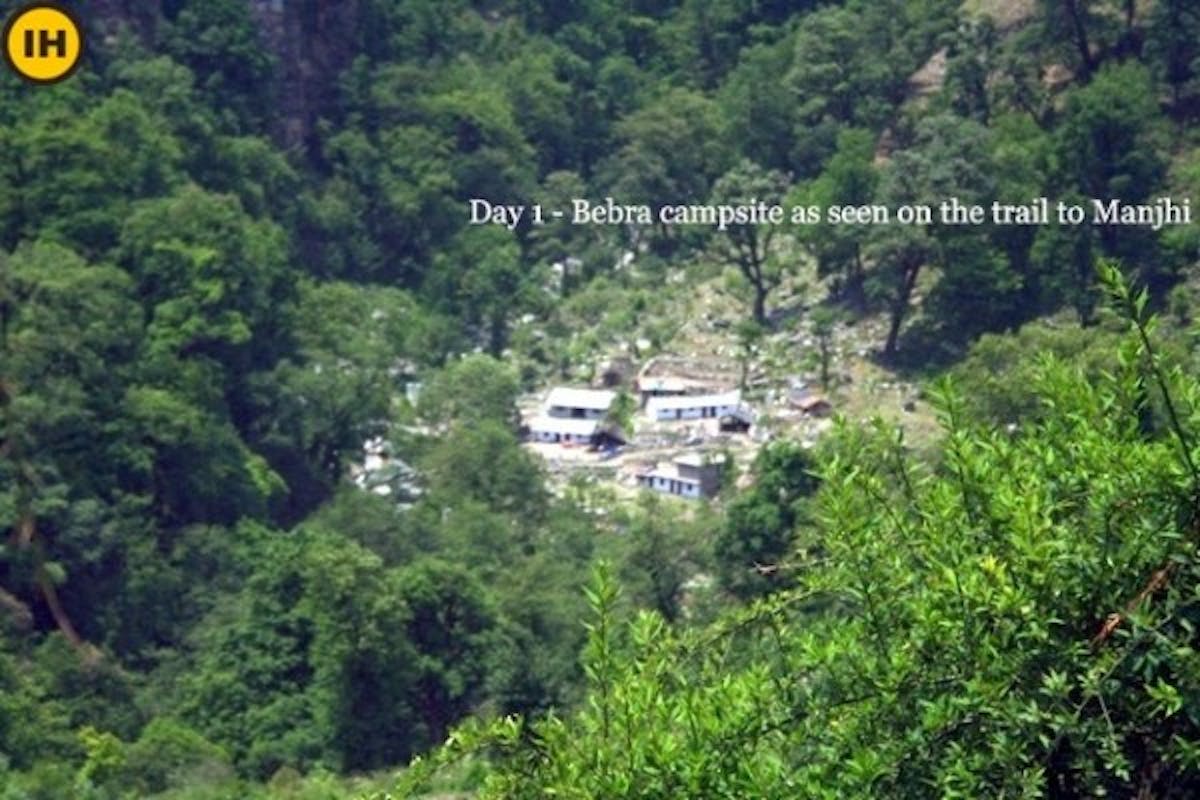 The last bit of the trail is a little steep. It takes around 8 – 9 hours to reach Manjhi from Sangam Chatti. Manjhi has a beautiful campsite with a lot of houses surrounded by oak trees. The huts serve as shops and hotels for the tourists. One gets terrific views of the Dayara top peak from here.
Day 2: Manjhi to Dodital
Altitude: 3,000 m to 3,307 m
Time taken: 2-3 hours, 5-6 km
Today's is going to be a relaxing hike, as you have covered majority of the distance yesterday. You have the liberty to start the day late. From Manjhi, the trail to Dodital is more or less a level trek. Take the trail moving towards right. After a few minutes, you see a well-defined mud trail ascending in a zig-zag fashion.
In summer, the trail is covered with yellow and brown leaves and in winter, it is covered with snow. Walk through oak, pine and rhododendron forests. Now and again, you can catch glimpses of snow-clad peaks from small openings in the forest. Since the forests are dense, you will find a fine population of the most colourful and beautiful bird Monal (the Himalayan peacock), and if you are lucky, you can get a glimpse/picture of them too. Around 30 minutes into the hike, you will come across a stream where you can replenish your water bottles.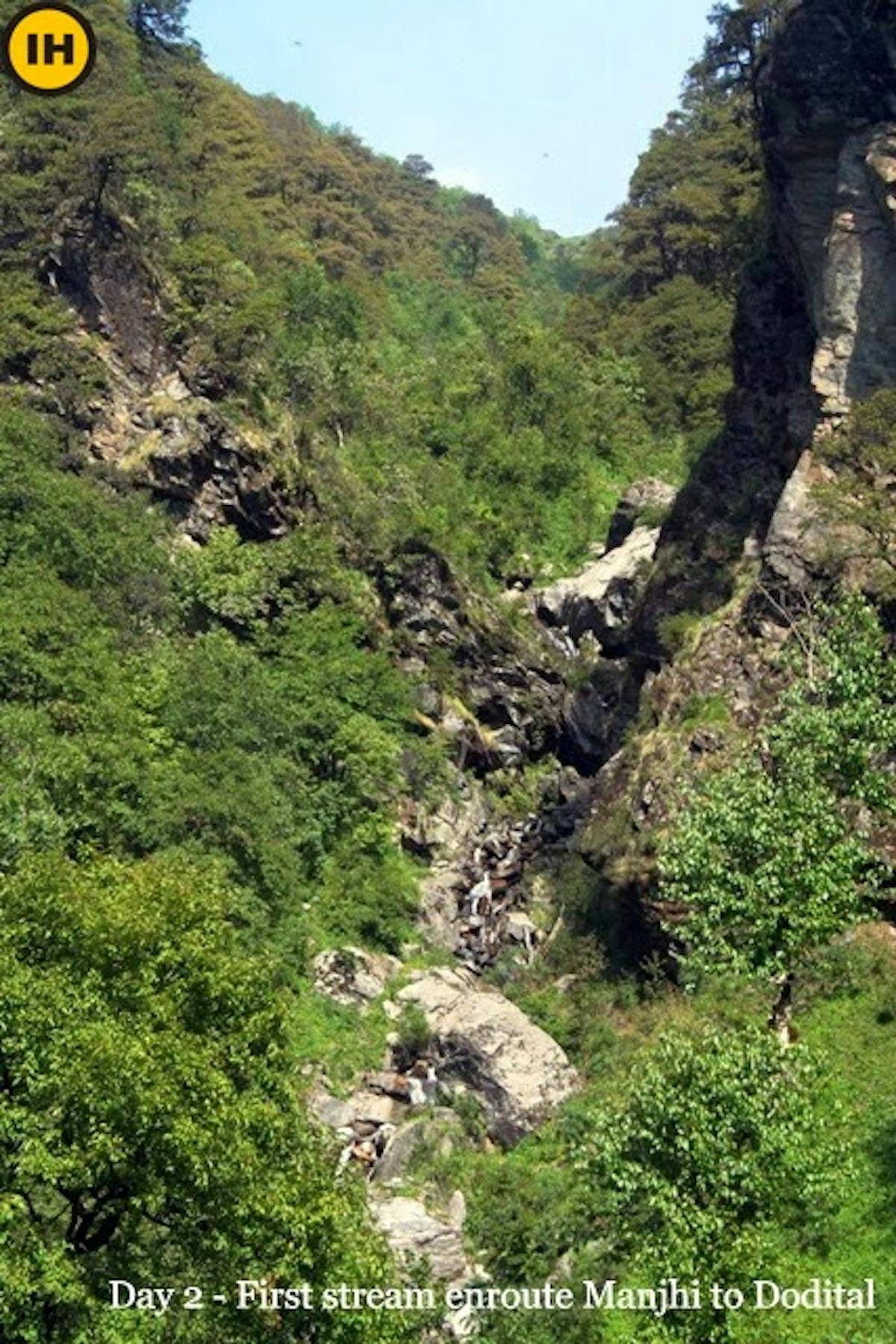 Cross over the bridge on the stream and continue on the trail. You can spot different species of animals and birds here. Since you have ample time today, you can relax and take as many pictures. As you climb, you can see Manjhi behind at a distance. Another 30 to 45 minutes into the hike and you come across the second stream with lots of boulders. You can take a short break here. After around half an hour of hiking, you can see red and yellow flags of an old temple. This is the highest point of the 22 km Sangam Chatti – Dodital trail and one can get a magnificent view of Himalayan ranges from here. You can visit the temple if you wish and then proceed. Notice that the view becomes more and more spectacular as you move towards the lake. The vertical cliff-face on one side and the Asi Ganga on the other side snaking down the valley are terrific companions to trek with. The trail from here on is a gradual hike downhill. As you move further, you are greeted with thick woods that announce the approach to Dodital. You will see a small temple just before you reach Dodital. There are also a few tea stalls on the way.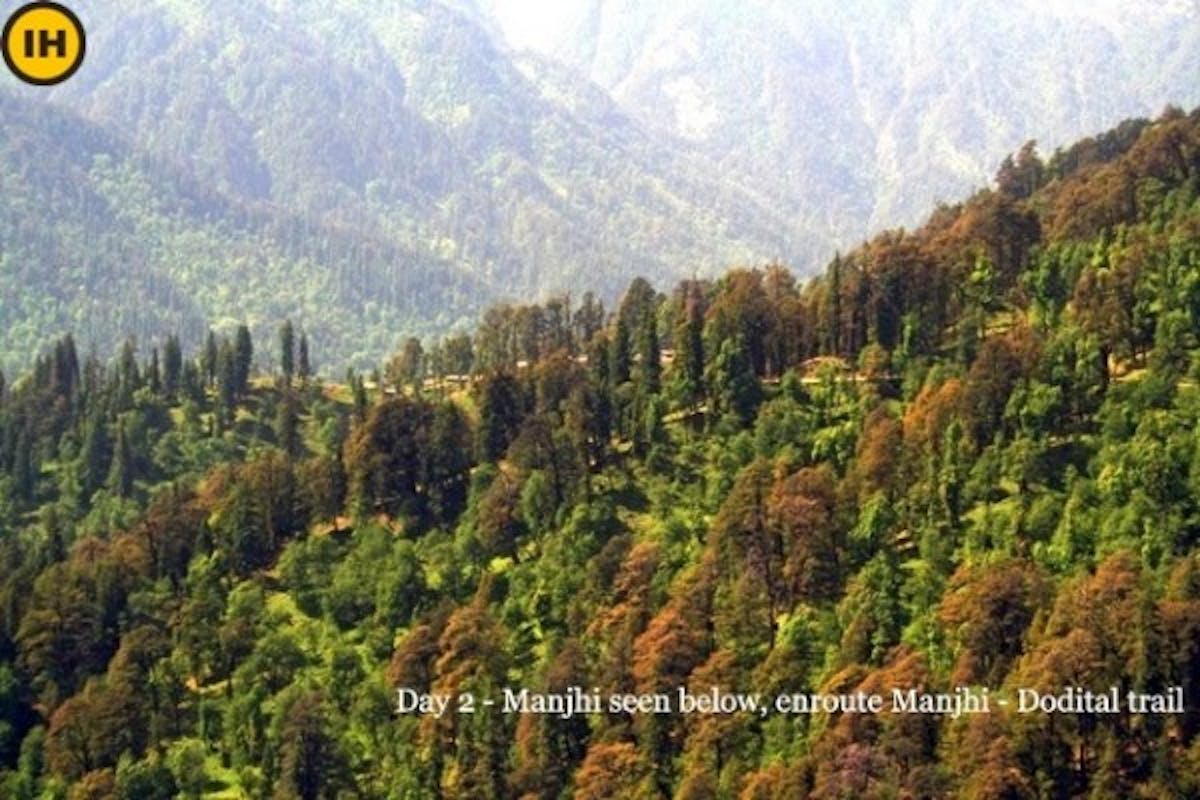 Dodital is a gorgeous lake with sparkling, crystal-clear water set in midst of a thick forest. The reflection of the pine trees in the forest takes the cake. The lake is roughly hexagonal, with a charming little Ganesha temple sitting in one corner. To spend the night, there is a guesthouse beside the lake that can accommodate up to 30 people. There is also sufficient space outside the guesthouse for pitching tents. Log cabins are another option for tourists in Dodital. Also, there is no shortage of food supply here. There is ample dry firewood fallen around. Pick it up and build a fire if you need to cook your own food.  You can also have a campfire and relax by the lake at night. There are a few tea stalls that sell biscuits, noodles and eggs. You can spend the rest of the day at leisure, photographing and walking around the lake. The dazzling body of water is surrounded by an extremely dense forest of oak, pine, deodar and rhododendron.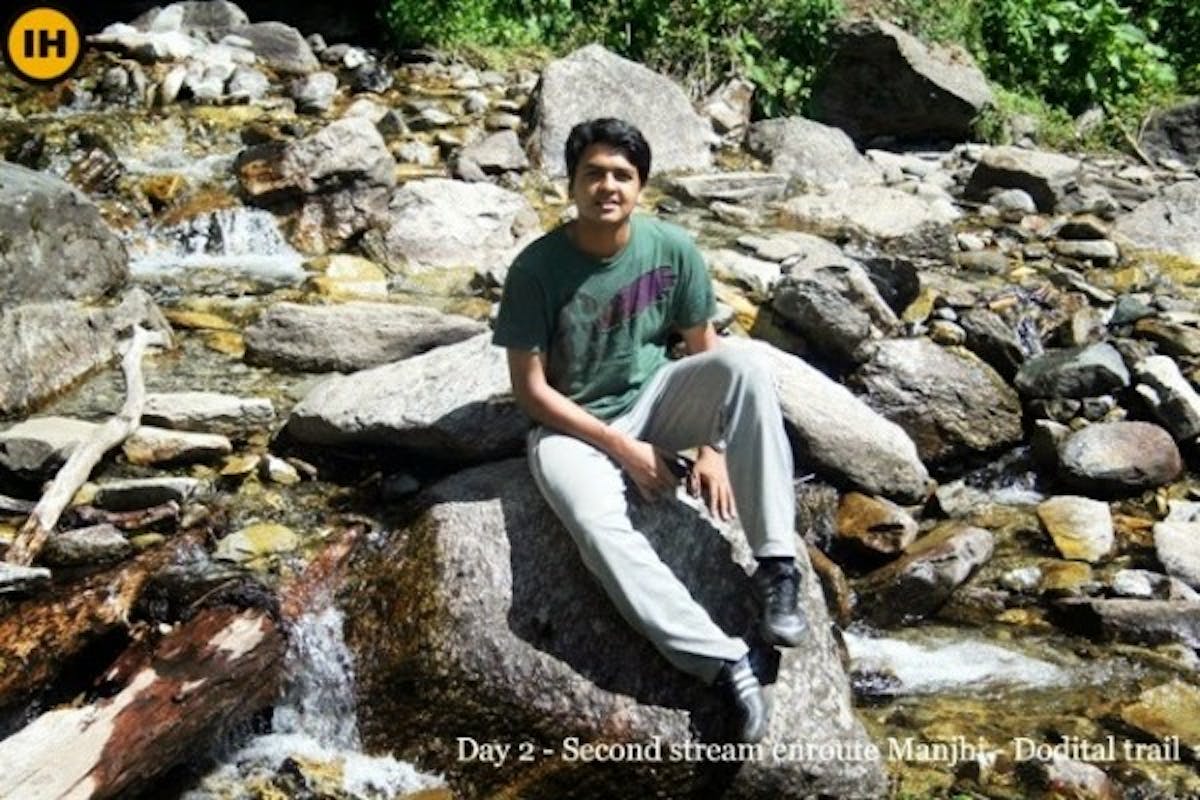 The lake has the Darwa meadow towering on one side and the wide valley on the other. A few rivulets flowing from the Darwa meadow feed the lake. The evening pooja at the Ganesha temple adds to the energy of the place.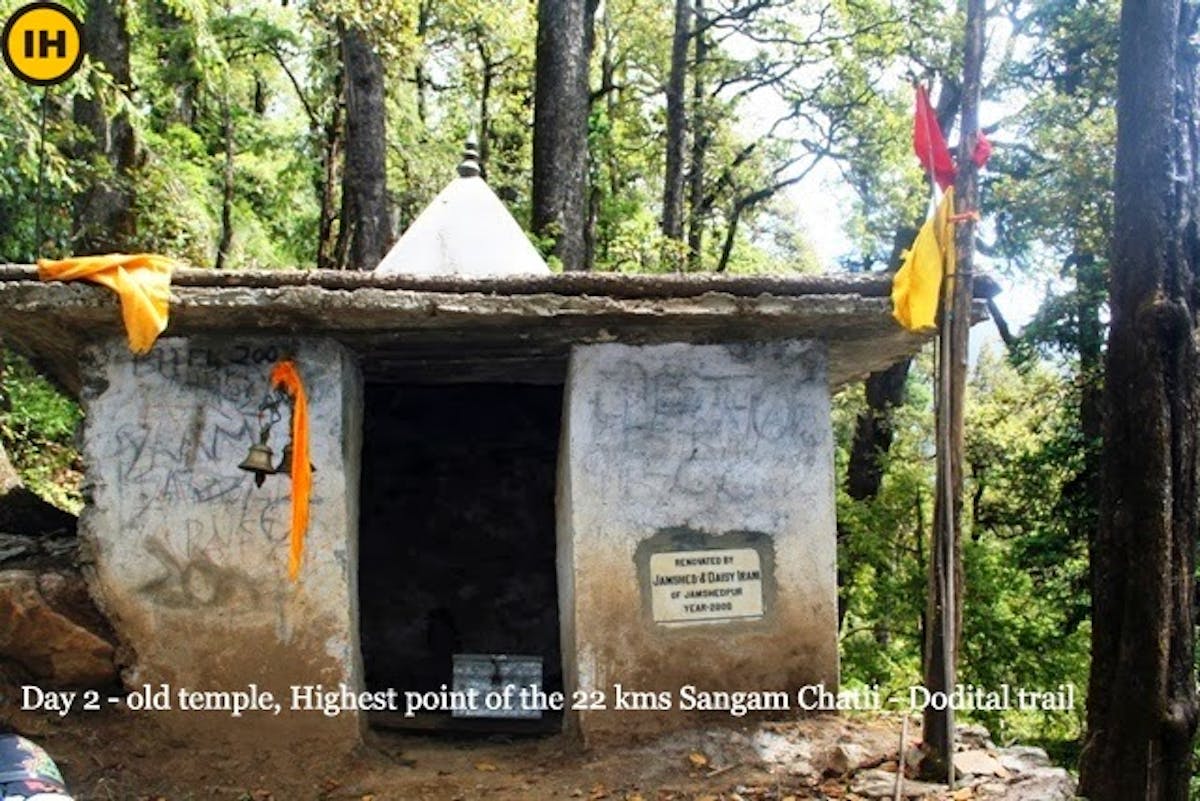 Day 3: Dodital to Darwa Top and down to Seema
Altitude: 3,307 m to 4,131 m, and back to 3,415 m
Time taken: 9-11 hours, 15-16 km
Today is going to be a long day and you need to start early. You can either trek until Darwa Top, which is a steep vertical climb from the lake, or go down until Seema and camp near the Gujjar's settlements. It can snow and rain even during first week of June and the weather is really unpredictable at Darwa Top. It can pose several challenges for trekkers. Proceed on the trail going towards the other side of the lake, keeping Dodital on your left.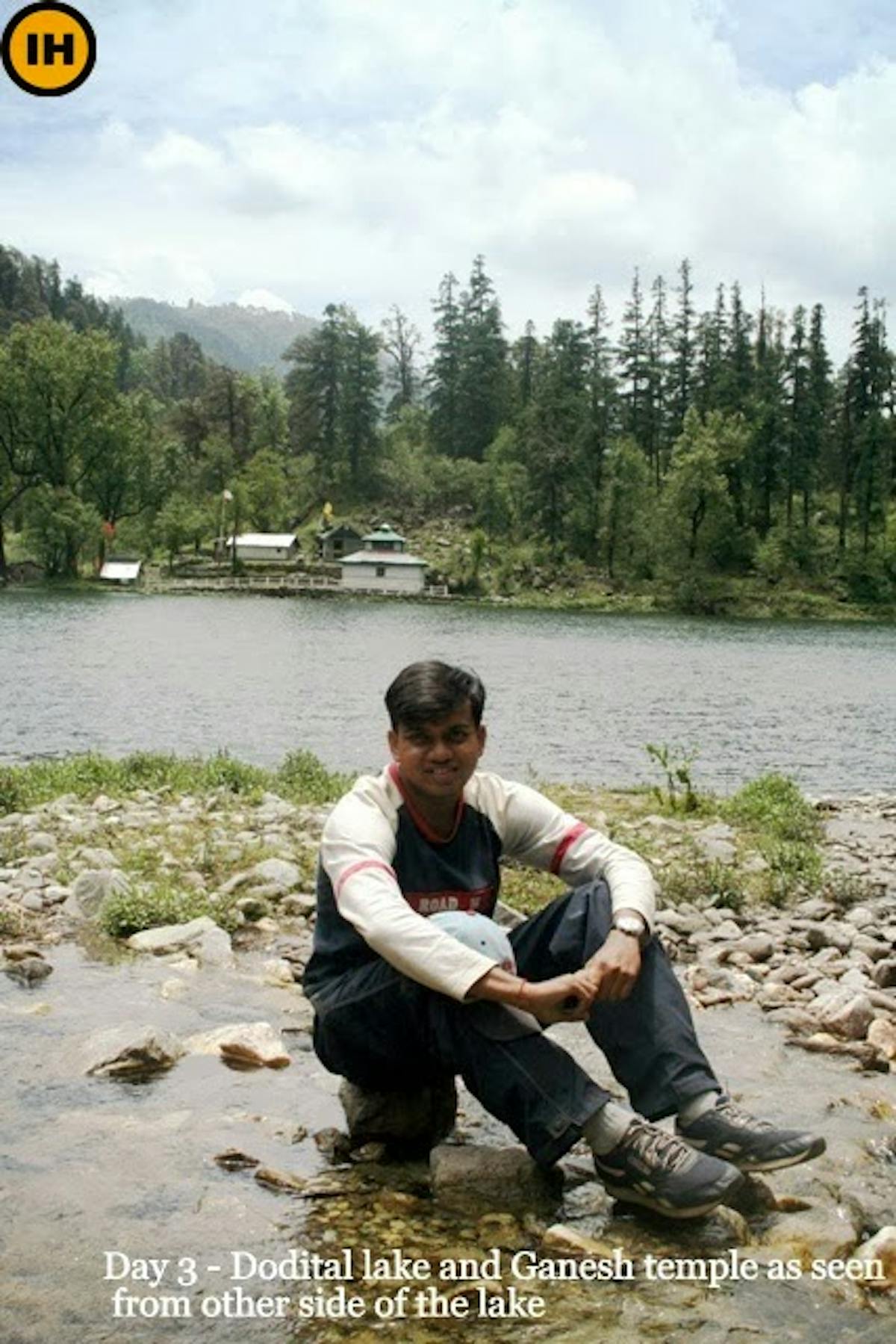 It takes around 15 minutes to reach the other side of the lake. Once on the other side, you will be greeted by a steep strenuous ascent leading to Bakhariya-Khagi Pass, also referred to as Darwa pass. You will see several streams flowing from the Ganga and Yamuna river valley passing along the edge of the lake. They also help feed the lake.
The trail moves up along the feeding stream, passing through the narrow gorges, dense woods and loose boulders. You need to cross the stream several times. After around 30 minutes, you will see that the valley slowly opens up. As you gain some height you can see Dodital and the Ganesh temple behind you at a distance.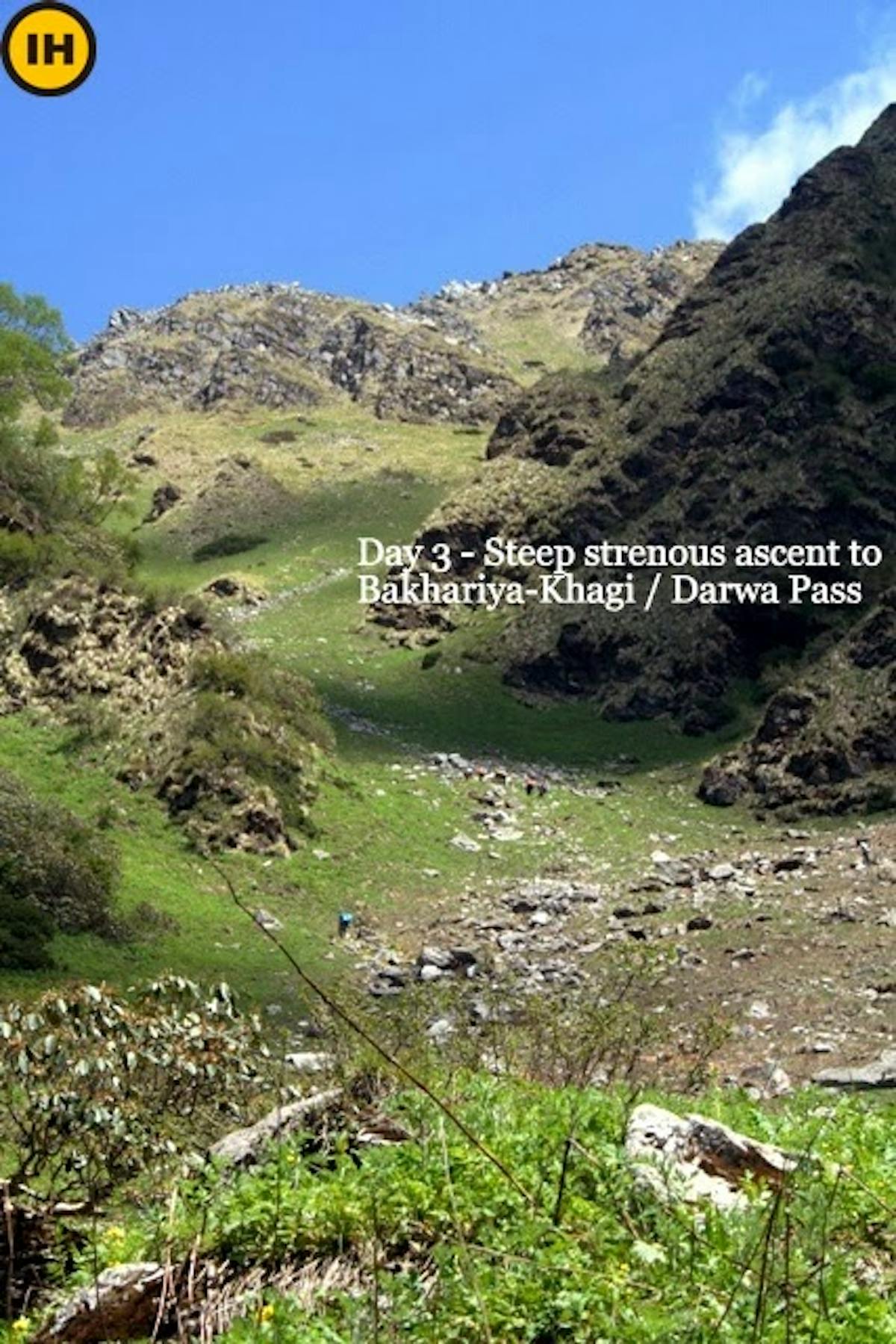 You can also see Darwa pass from here. It is due east and is the highest ridge that you can see. After 20 minutes, you come across another stream. Continue on the trail that ascends and you reach an opening with some boulders and a dead tree trunk that can be used for resting. It takes around 1- 1.5 hours to reach this point. From here, you can see the enormously wide valley before you. Stay to the left of the mountain and follow the true right of the valley that heads towards the pass.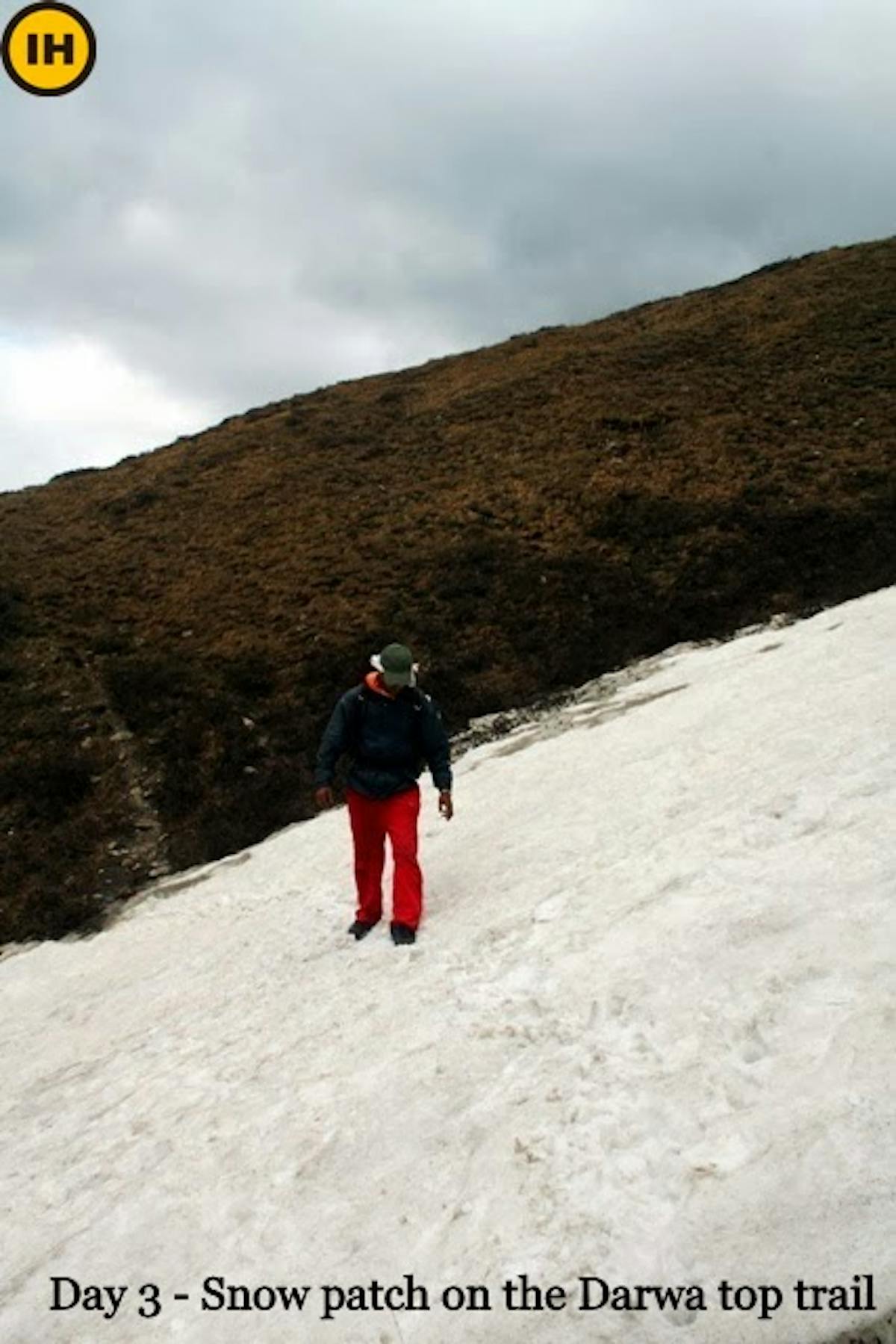 The climb is steep but enjoyable as it passes through a carpet of yellow flowers and green meadows. Midway along the valley, spot a few huge boulders. It takes around 2 – 2.5 hours to reach here. Continue on the trail that ascends. Occasionally, you may come across patches of snow.
After around 45 minutes, pause to take a look at the snow-capped mountains that look more and more majestic as you ascend. The final climb to the pass is short and steep, at almost 60 degrees. It takes around 3 – 4 hours to finally cross the pass. Darwa Top is about 3 km away from here. Walk along the ridge on your left. From here, you can see the lush deep valley, with splendid Himalayan peaks in the background. It takes another hour and a half to reach Darwa Top. From Darwa Top, you get a magnificent view of the Bandarpoonch peak, Hanuman Tibba, Swargarohini Range and the Gangotri group of peaks. Also catch a bird's eye view of Dodital from here.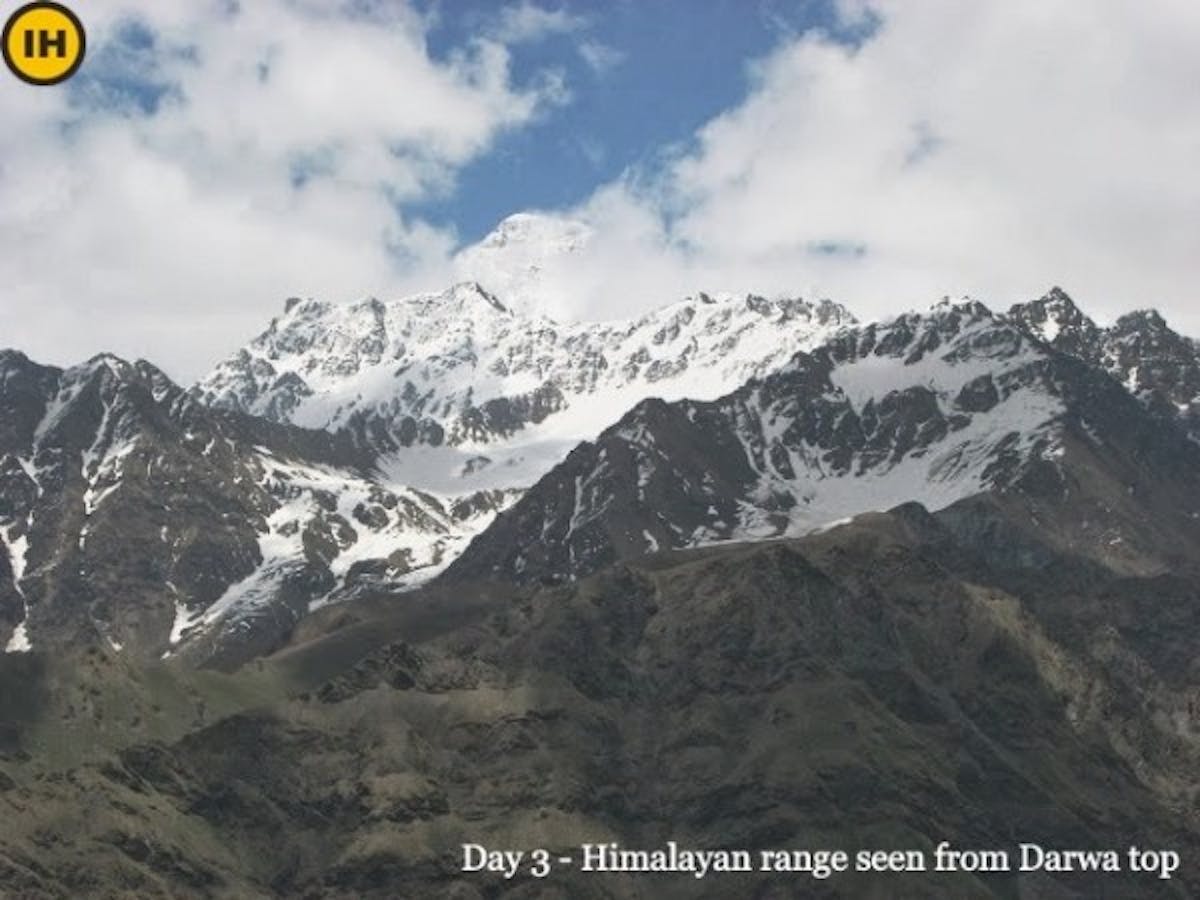 Once on top, you can either camp here or proceed further. Take the trail that goes left (further to west) and gradually descends to the right through the Hanuman Ganga Valley into Seema. The descent is going to be a steep and long one so you need to proceed quickly. Continue on the zig-zagging trail that descends across the alpine ridges, just above the tree line. The trail passes through loose rocks for the first 30–35 minutes. It gradually turns gentle and moves towards the left. Another 30–45 minutes later, spot a number of camping spots at a distance. This is Seema. It takes around 3 hours to reach here. Cross a stream to get onto the campsite. Seema has a beautiful meadow with rhododendron bushes and is just below the tree line. You have a few shepherd settlements here. Pitch your tent here and call it a day!
Day 4: Seema to Hanuman Chatti
Altitude: 3,415 m to 2,400
Time taken: 5-6 hours, 13-14 km
Today is going to be a relatively easy trek. You gradually descend around 1,015 m, which takes around six hours along with a lunch break. Relax for a while in the morning rays of the sun at your campsite. Then fill your water bottles and hop on to the trail.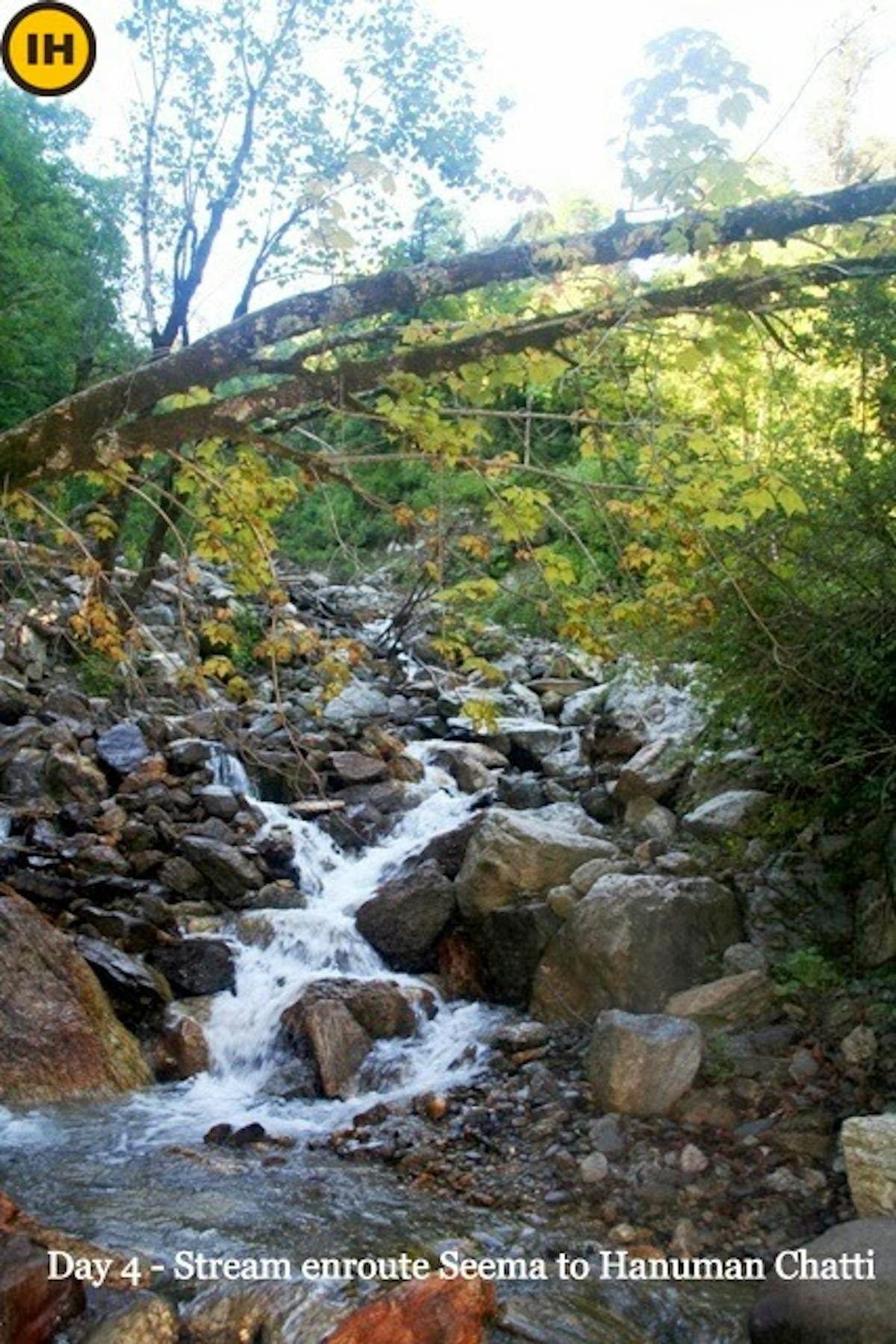 The trail zig-zags down the ridge. You will come across two meadows and a few streams on the way to Kundola. You can fill your bottles in these streams. You will see that the trail passes through the dense woods. Continue on the trail, and after around half an hour, look for a meadow below the ridge. That's the direction in which you're headed. The trail is covered with brown and yellow leaves and occasionally disappears. Another 45 minutes later, you reach the meadow. You can take a short break here. After a short break, proceed on the trail that moves straight (towards the west). The trail now passes through oak and bamboo forests. Around 30 minutes later, spot the second meadow. This meadow is called Kundola, and it's where you're headed.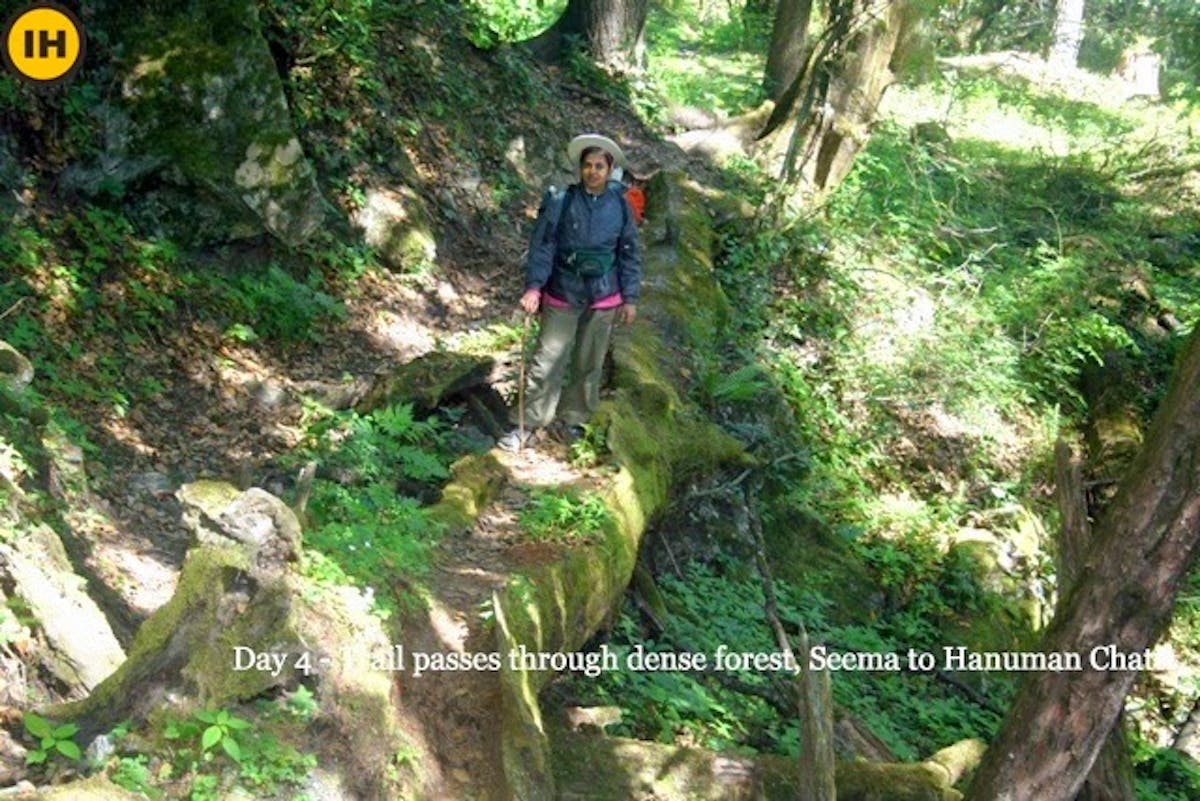 A lush green patch and a few shepherds' huts make Kundola. You can cook your lunch here. It takes around three hours to reach here from Seema. There is a small stream nearby. Post lunch, continue on the well-marked trail. In around half an hour, you reach a couple of settlements and fields bound by a stone wall. Keep yourself to the left of the fields.  From here, you can see the Nisu village at a distance. Descend to Nisu, which is at 2,700 m. It takes around an hour to get here from Kundola. The trail now navigates through the village.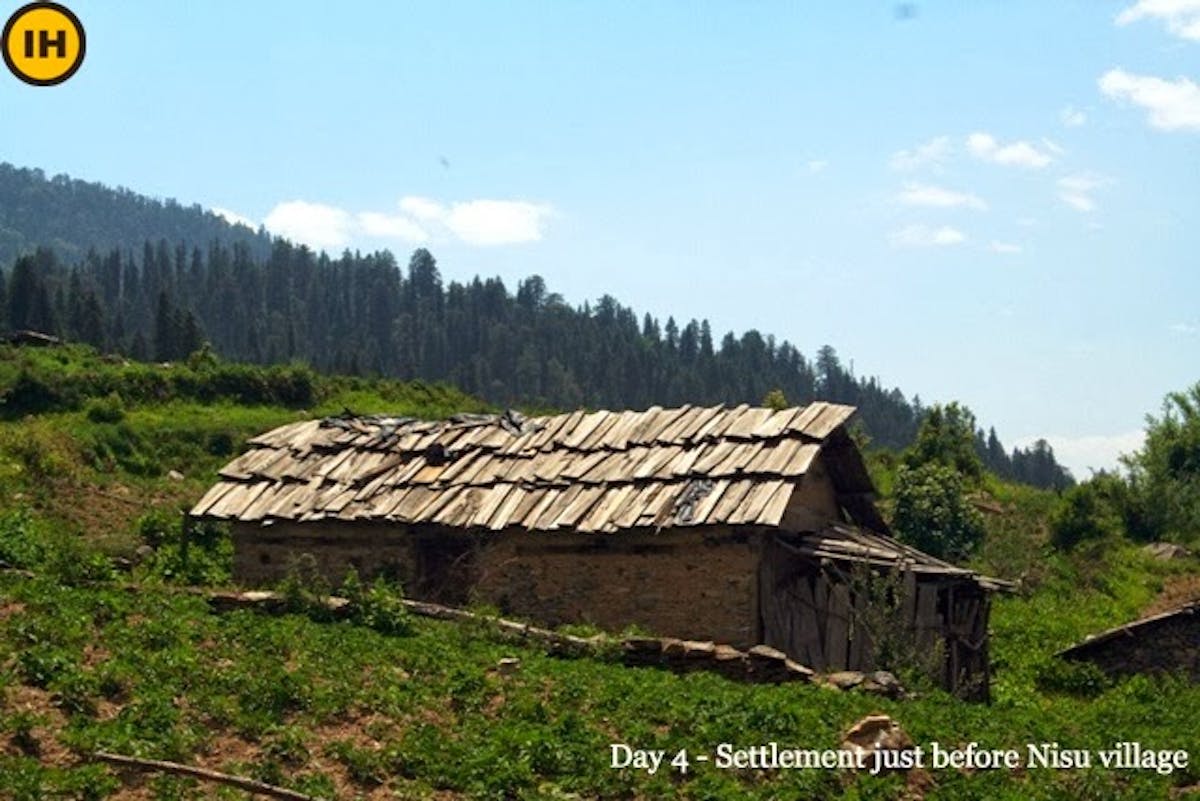 As you trudge through the village, notice water sheds constructed for cattle. Also make note of potato fields cultivated in terrace-farming style. Although man-made, these have their own beauty! After around half an hour, spot a river flowing by. Walk on the left side of the river. The trail gradually descends in a zig-zag manner here along the mountainside. In another 15 minutes, you come across a traditional flour mill called the Gharat, which uses water-flow to grind the flour. Continue on the trail until you spot an old metal bridge.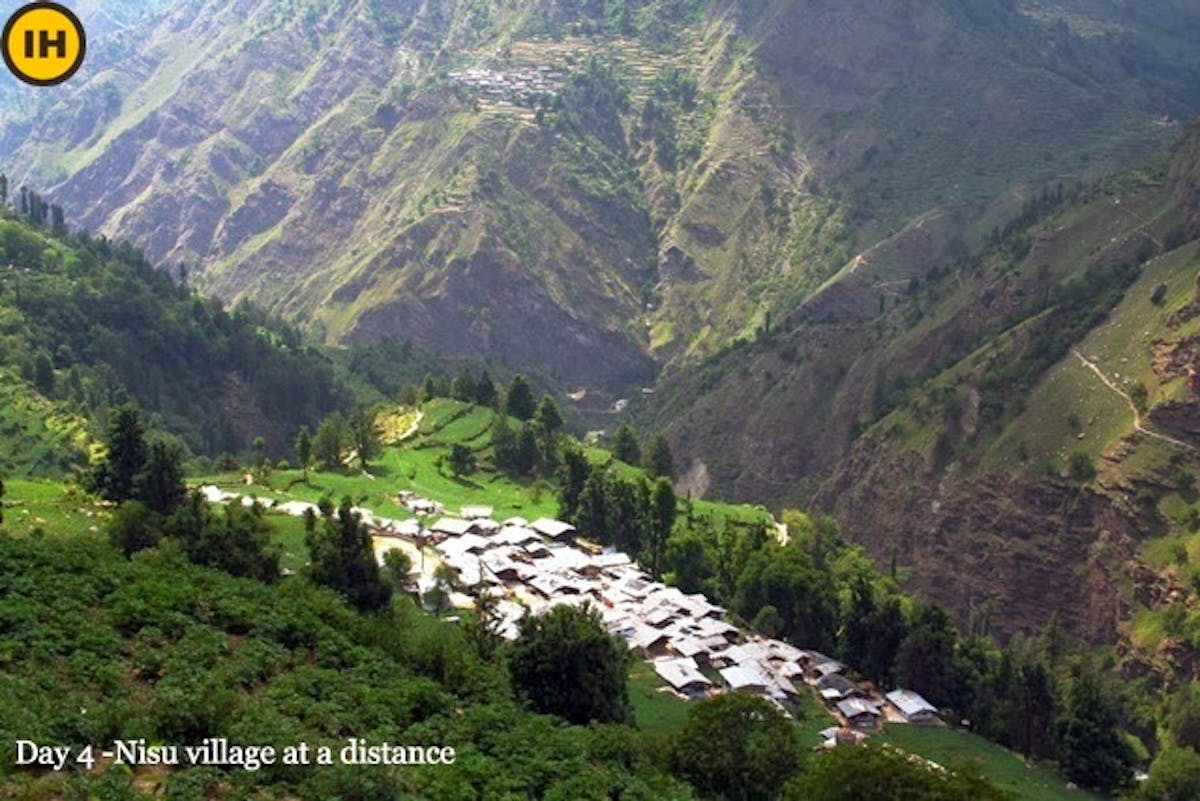 The trail is well-maintained from the bridge to Hanuman Chatti, as it is frequently used. After 15 minutes, you reach the tributary of the Hanuman Ganga. Cross another bridge here and continue for about 1 km to reach Hanuman Chatti. The trail leads to the main bazaar. It takes around 2 hours to reach here from Kundola and around 6 hours from Seema. Hanuman Chatti is the place where the Hanuman Ganga and Yamunotri rivers meet (confluence). The place is last motor head to Yamunotri. You will see a few shops spring up during the travel season. It turns into a beautiful market place where the local inhabitants can be seen in their distinctive appearances. You can stay here in the tourist guest house, GMVN rest house or camp here. There is a campsite just below the bridge, a few hundred meters before the market road. You can cook your own food or can eat at the several hotels in the market area.
Day 5: Hanuman Chatti to Yamunotri and down to Janki Chatti
Altitude: 2,400 m to 3,293 m and down to 2,650 m
5 hours, 4 km to Janki Chatti and 4 hours, 10 km to Yamunotri and back
Unlike the rest of the days, today is going to be an easy walk through a well-defined road with railings all along, winding through the Yamunotri valley. Yamunotri is the place where the river Yamuna originates and is a famous pilgrim centre in the Uttarkashi region. It is at a height of 3,293 m on the western side of the Banderpoonch peak.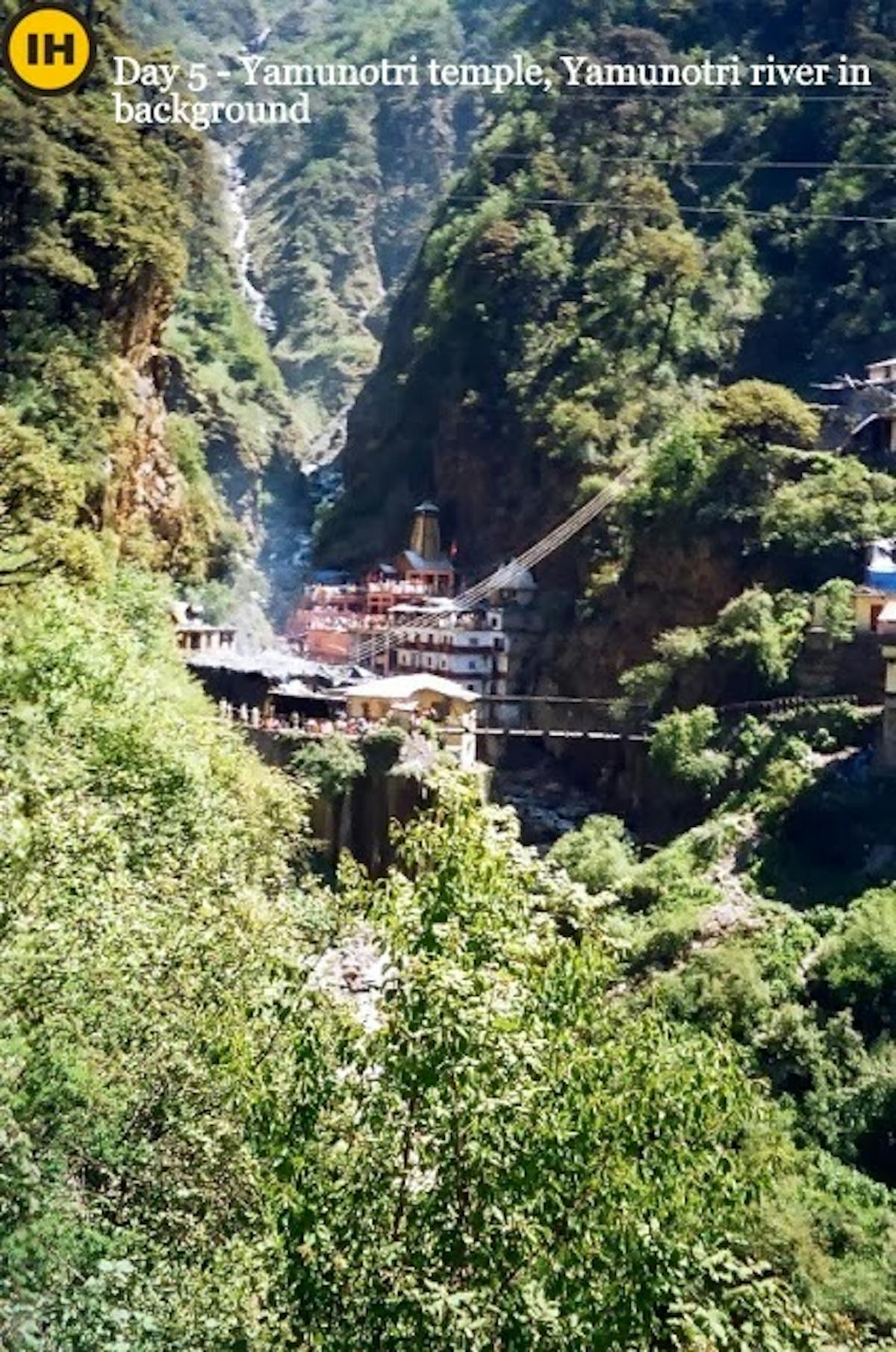 The trail passes through several rivers and tributaries, lakes, canals, forests, waterfalls, villages and meadows.  The noticeable difference, however, is the char dham pilgrim rush all along the way. You can trek until Yamunotri and come back today or you can stay at Yamunotri and extend the trek by another day and visit the Saptarishi Kund. It is a glacial lake on the Kalinda Parvat and is the actual source of River Yamuna. It is a difficult trek, where the ascent is more than 1,000 vertical metres, with tricky access.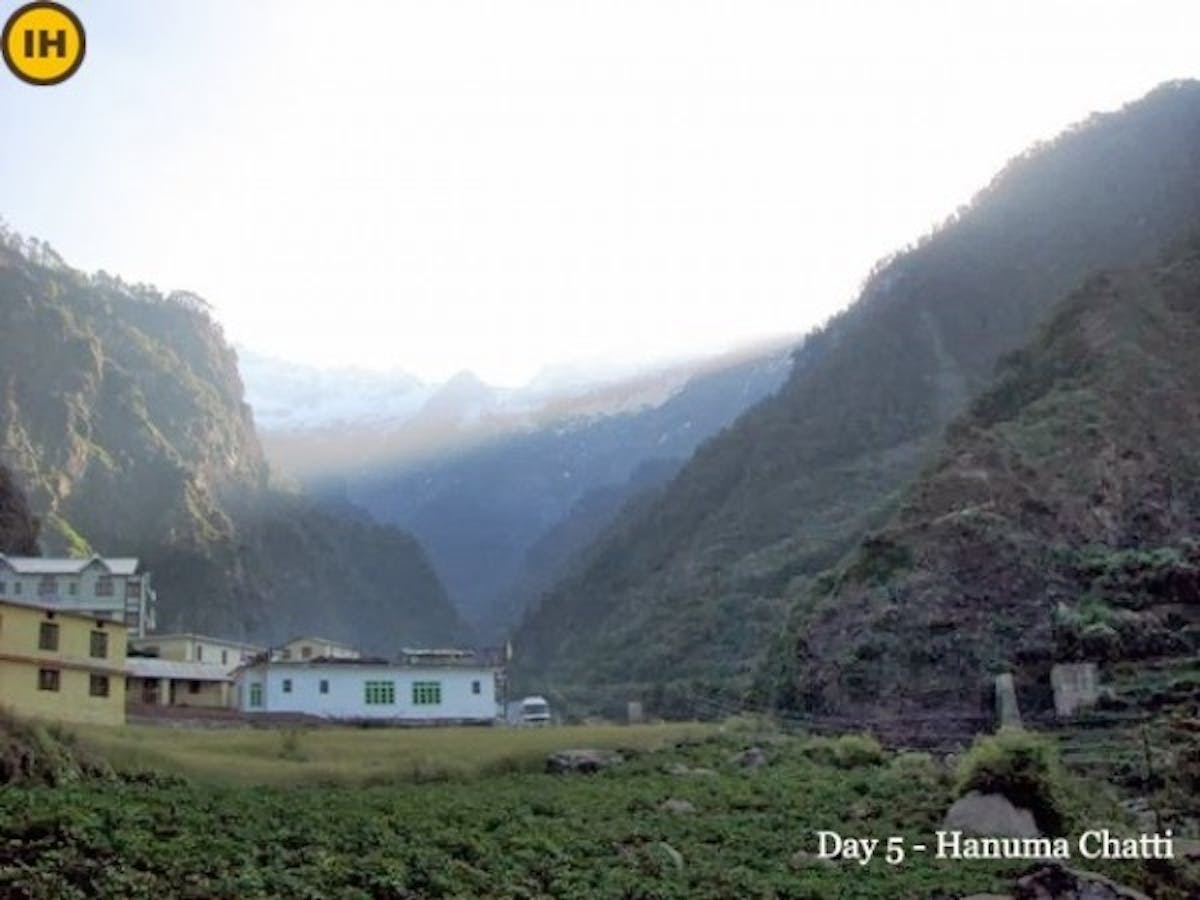 From Hanuman Chatti, you can either take a shared vehicle to the village Janki Chatti or climb up to Janki Chatti through dense woods and meadows. From the main bazaar of Hanuman Chatti, the trail crosses the bridge over the Hanuman Ganga to the Yamunotri Valley.
The trail reaches Janki Chatti, which is a 7 km trek and takes anywhere between 2 – 2.5 hours. Janki Chatti is a pilgrim settlement and you will see several stalls selling wooden sticks, caps, etc. and providing services like Palki (a wooden seat with extended support on four ends, to carry the pilgrims, typically on the shoulders), ponies, horses and hand-drawn palanquins for those who cannot hike the steep hill. The 5 – 6 km trail from Janki Chatti is steep and passes through a number or gorges in the upper sections of the valley.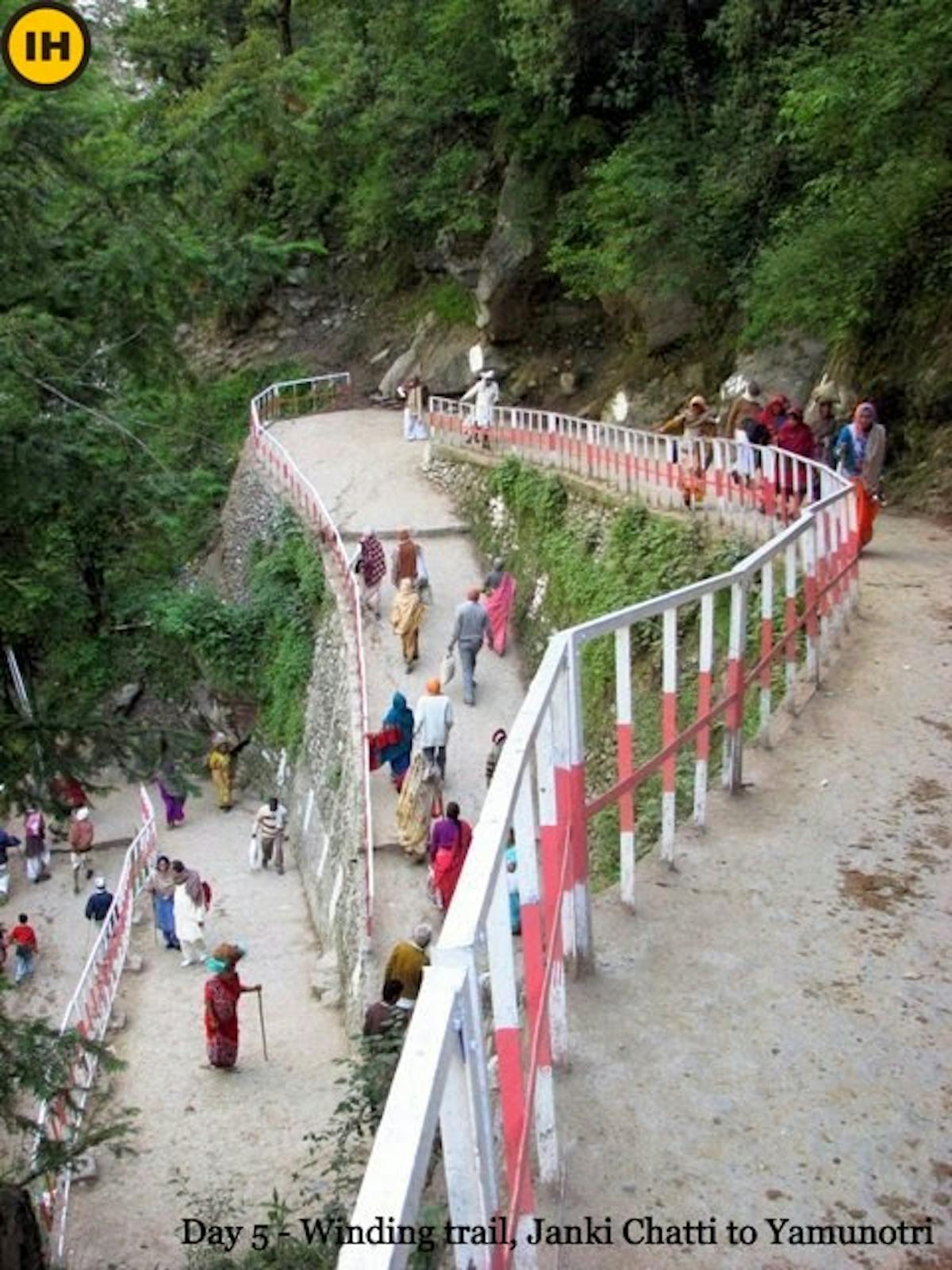 The trek is very popular with pilgrims. The trail passes along the mountain on one side and the valley on the other, with a few shops in between serving lemon juice. Occasionally, you also come across a few messages carved on the rocks in red and white indicating the tourist to be careful of the horse riders and walk along the side of the mountain. The last half kilometre is almost straight and provides a fantastic panoramic view with the temple on the left and snow-capped mountains and glaciers behind. You can also see a thin stream of Yamunotri river originating from the glaciers above and emerging as a huge stream just near the temple. The temple is the centre of the valley, enclosed by high, snow-capped ridges. Settlements around Yamunotri are disorganised and chaotic. Close to the temple, there are a few hot water springs, where water gushes out from the mountain cavities at a boiling temperature.  The temple here has a black idol of goddess Yamuna.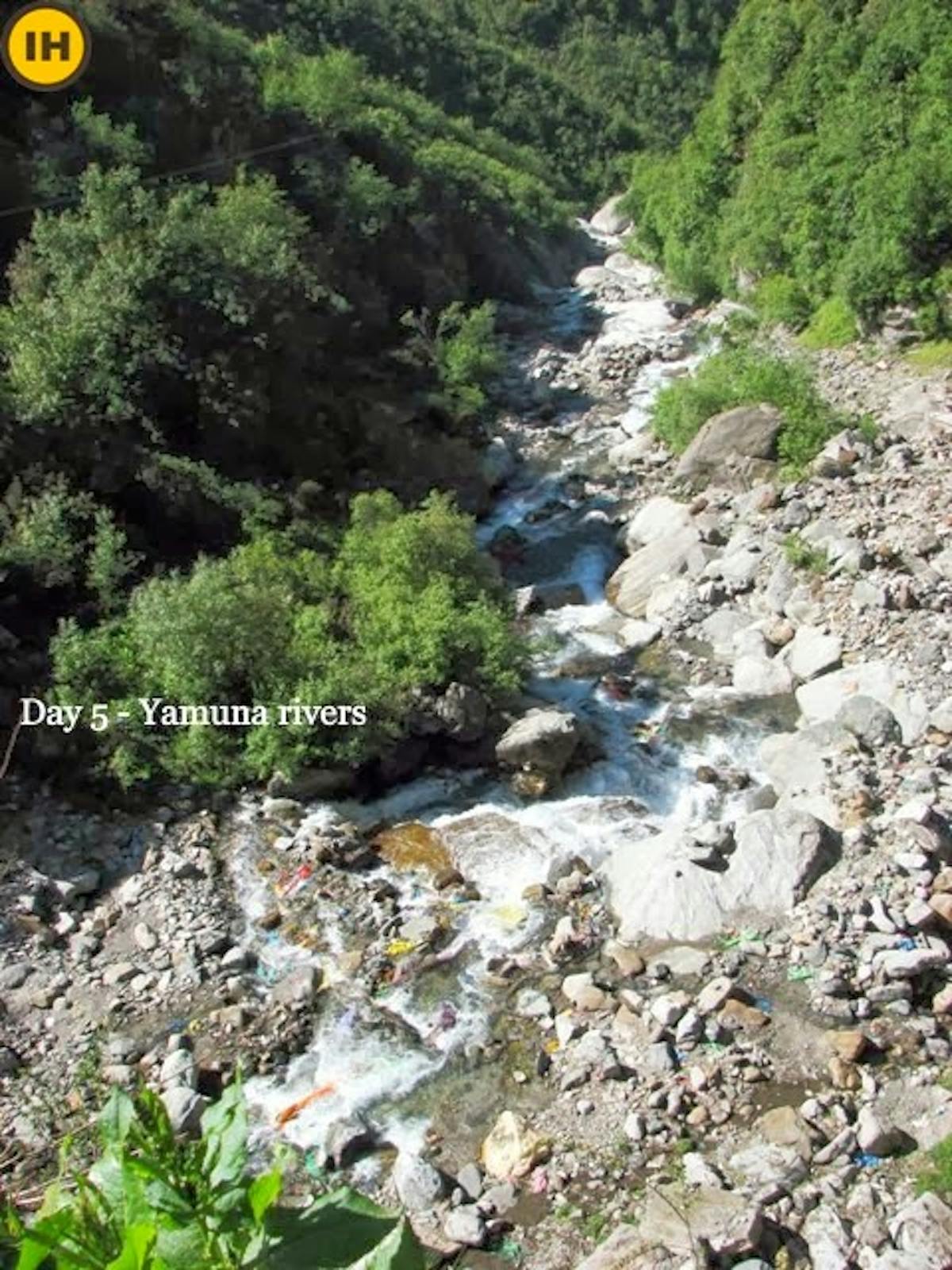 There is a hot water spring here, called Surya Kund, where pilgrims dip bags of rice and potatoes, that get cooked. These are consumed as prasad (God's offerings). Near the Kund is a rock slab called Divya Shila, which is worshipped before worshipping the black marble idol of Yamuna. The shrine of Yamunotri is one of the four holy centres (char dham) of Uttarakhand. It takes around 3 hours to reach Yamunotri temple from Janki Chatti. After darshan, one can proceed back to Hanuman Chatti. It takes around an hour to reach Janki Chatti and another 30 minutes in a shared vehicle to reach Hanuman Chatti.
➤ How to get fit for the trek
Cardiovascular endurance
This trek requires a good amount of endurance. You can begin by jogging everyday. Start jogging at a slow pace and then keep increasing your pace day by day. Make sure you are able to jog 4 km in 20 minutes before the start of the trek. It takes time to be able to cover this distance in the given time. Swimming, cycling and stair climbing without too many breaks in between can help too.
Strength
This is another area you should work on. There is a lot of trekking distance that you will cover carrying your backpacks and trekking along with your backpack is not a very easy task. You have to walk on uneven terrain during the trek. It could be taxing for your legs. For this, strengthening your legs will help. You can do some squats to strengthen them. Do around 3 sets of squats, with 8 squats in each set.
Flexibility
Another aspect that will help you trek comfortably is flexibility. For this, you can do some stretching exercises – stretch your hamstrings, quadriceps, hip flexors, lower back muscles and shoulders regularly. On your trek, it is important that you arrive on the slopes with your muscles relaxed. Carrying a backpack, however light, can become a strain after a while. These exercises will help you to be in good shape before the trek.
Working out indoors
If you can't go out and jog because of time and space constraints, here's a video you can use to work out indoors.
➤ What to take on your trek
Bare necessities
Trekking shoes: The trek distance is long and you will have to walk for long distances which need you to have comfortable trekking shoes. You can watch this video to learn to choose the right trekking shoes.
Backpack (40-60 litres): A backpack with sturdy straps and a supporting frame. Rain cover for backpack is essential.
The Miyar Valley Dun trek happens round the year except for monsoons so make sure your have the proper clothing as per the season demands so you can keep yourself protected during the trek.
Clothes
Three (Five in Winter) Warm Layers: You will be trekking and camping at high altitudes. So make sure you have the apt clothes for the climatic conditions. It will be cold at the higher altitudes so make sure you have at least three layers of warm clothes to protect yourself.
Two trek pants: One pair of pants should suffice for this trek. But you can carry one spare pair in case the first one gets wet. Wear one pair and carry one pair.
Two collared t-shirts: Carry light, full sleeved t-shirts that prevent sun burns on the neck and arms. Again, wear one and carry one.
Thermals (Optional): Those who are more susceptible to cold can carry thermals to wear at night.
Accessories
Sunglasses: Sunglasses are to prevent snow blindness. There might be snow in Har Ki Dun Valley or from Kalkatiyadhaar (depending on the season you are going in), so carry a pair of sunglasses.
Suncap: The sun is more harsh at high altitudes so wear a suncap to protect your face and neck.
Synthetic hand gloves: One pair of fleece or woolen hand gloves. One pair of water proof/resistant, wind proof gloves.
Balaclava: You may use woollen scarves instead as well.
Socks (2 pairs): Apart from two sports socks, you can take a pair of woollen socks for the night.
Headlamp/LED torch: Mandatory
Trekking pole: Watch this video to understand why you need a trekking pole.
Others
Daypack (20 litres): If you are offloading your backpack, you will need a smaller backpack to carry water, medical kit and some light snacks.
Toiletries (Sunscreen, moisturiser, light towel, lip balm, toilet paper, toothbrush, toothpaste)
Cutlery: Carry a spoon, coffee mug and a lunch box. We insist on trekkers getting their own cutlery for hygiene reasons.
Two water bottles: 1 litre each
Plastic covers: While packing, use plastic bags to compartmentalise things and carry few extra plastic bags for wet clothes.
Mandatory Personal Medical Kit
Diamox – 10 tablets (to prevent AMS)
Crocin – 6 tablets (fever)
Avomine – 4 tablets (motion sickness)
Avil 25mg – 4 tablets (allergies)
Combiflam – 4 tablets (Pain killer)
Disprin – 6 tablets (headache)
Norflox TZ & Lomofen– 6 tablets each (diarrhea)
Digene – 10 tablets (acidity)
Omez/ Rantadine – 10 tablets (antacids)
Crepe bandage – 3 to 5 meters
Gauze – 1 small roll
Band aid – 10 strips
Cotton – 1 small roll
ORS – 10 packets
Betadine or any antiseptic cream
Moov spray (aches, & sprains)
➤ Trek Contribution
Author:  Vinita Chhatwani