Can You Help Us With Photographs Of This Trek?
We are looking to enrich this documentation with more photos. Pictures go a long way in explaining the trail, more than words ever can. If you have done this trek, can you share your photos with us? We will include them on this page, with due credit to you.Click here to contribute.
The Complete Guide to the Dodital and Darwa Top Trek
This is considered the birthplace of Lord Ganesha and home to the fresh water Himalayan Trout, the beauty of this lake matched by few others. While most people attempt this trek in April-June or September-November, like I did way back in 1999; winter adds a magical feather to this trek's already beautiful cap. So we (four of my friends and I) decided to attempt this trek in December, precisely December 17th to 25th, 2009.
We were spared the troubles of haggling with trekking agencies thanks to a knowledgeable friend who recommended to us a local guide. At that time, I was not aware of online trekking communities such as Indiahikes. The offer we got from our guide was reasonable. The trek was amounting to approximately Rs. 6000 per person from Uttarkashi to Uttarkashi which I felt was damn cheap. Obviously one cannot get or will have difficulty in getting such a deal now, five years later. But why I am writing this article is for the winter charm of this trek.
➤ Highlights of the trek
A challenging, but rewarding Winter trek
There is one thing about the Himalayas that has always excited me. The place changes every moment, every second, so much so that the same place looks entirely different and hence adds a new dimension to the beauty it already possesses.
Almost everyone who is a mountain lover or trekker is familiar with the Dodital and Darwa top trek. Dodital lies in the Garhwal Himalayas bordered by the Bandarpoonch and Swargarohini ranges on one side. It opens up through the Darwa Pass towards Yamunotri on the other.
➤ Trail Information
We arrived in Uttarkashi to a bitterly cold evening. Our lodge was booked and we wasted no time tucking into our razais. We wanted to do the trek the traditional way and carry our rucksacks and gear ourselves rather than handing it over to the porters.  Here's our detailed trek experience day by day: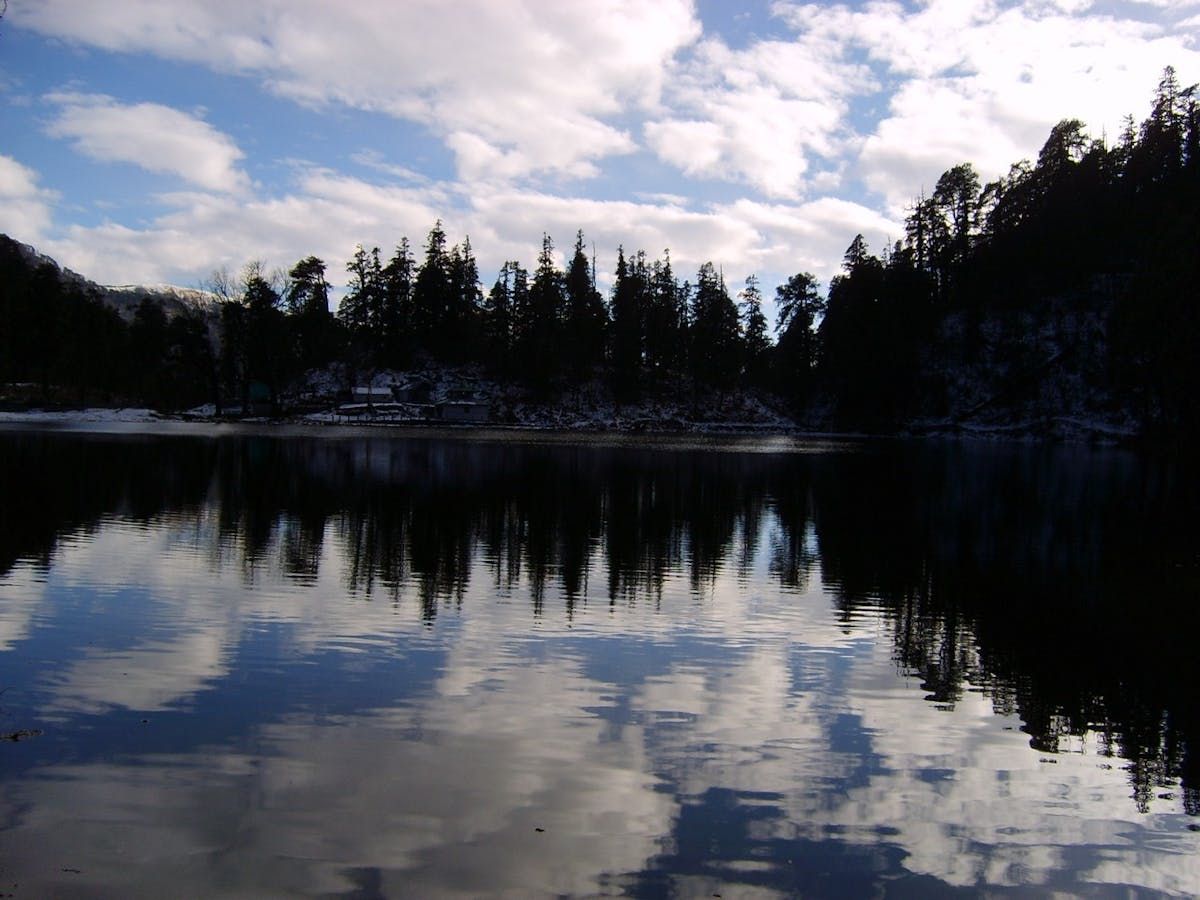 Day 1: Sangamchatti to Bebra (7 km; via Agoda)
The day was supposed to start at 8 am but the comfort of the razais kept us in bed. However, we managed to pack up and get ready by 10.30. We left Uttarkashi at 12 noon after a breakfast of parathas and achaar. Our starting point for the trek was a 45 min drive from Uttarkashi, to a place called Sangamchatti, lying beside the Assi Ganga River. We unloaded the car, the porters packed their luggage and after taking photos, we started the trek with Bihari Da (our guide) leading us and me following up close. The climb was at once steep and the road, rocky. Soon we were panting and sweating in the winter sun! We moved on, on the winding trail occasionally meeting villagers who were shuttling to and fro between their villages and watching the ever so laboring mules. After a 5km trek with several halts, we reached the hamlet of Agoda nestled in the hills. We could see the Dayara Bugyal (12,300ft) and Bakra Top in the distance shrouded in snow. The trail from Agoda was less steep and in the last 1 km to Bebra, it was actually downhill as Bebra is located in a valley. We reached Bebra at 5pm. I washed up and checked my mobile. There was still no connectivity ahead of Uttarkashi and I was told by Bihari Da that even Uttarkashi became connected only about 4 years ago. Some locals had already lit a fire and all of us sat around it to warm ourselves. We sipped on our drinks as we heard Bihari Da's trekking adventures punctuated by some of my own. Soup was served at 7 pm. I don't know what soup it was but it will suffice to say that in the cold, any hot drink except hot water tastes wonderful! Half an hour later, we were having dinner around the fire. It was tasty and sumptuous. We retired in the not-so-warm sleeping bags at 10 and called it a day.
Day 2: Bebra to Manjhi (9km)
The morning tea made our bowels move and soon every one of us was scrambling for tissue paper and searching for cosy spots in the jungle to answer the nature's call. The concept of toilet tents then was still new!  We set our rucksacks, filled our water bottles and were all set for the next trek to Manjhi which was 9 km from Bebra. The initial 15 mins were very tiring as the trail steeply ascended from the valley. We halted when we were on top of that trail. The trail to Manjhi was more challenging than the first day's trek and that was evident on our faces. Two of my friends were already sick with cough and cold and that didn't help us. However, we trudged along and the beauty of nature helped us move forward. We had some beautiful views of the alpine trees standing against the blue sky with the Dayara hills in the background. We halted for a considerable while at a place called Dharkot where a resting point had been made overlooking the valley. Ahead of Dharkot, we spotted our first few patches of snow on the trail. About 3 km from Manjhi at Kachheru we could see the Bandarpoonch range in the distance. Finally, after four and a half hours, we reached Manjhi. All of us were visibly exhausted. Our camp site was surrounded by patches of snow. We also went to the other end of the village where it rested on the edge of the valley from where we could clearly see the Bandarpunch range. Manjhi is a seasonal village, which is inhabited only in the summer months and hence there was no soul around except us and a stall owner who was also leaving the next day. The valley was splattered with snow at places where sunlight was hard to reach. We were still hungry after one round of Maggi so we went to the stall owner's shack and had another round. As the light went out, we were greeted with the spectacular shades clothing the mountains because of the setting sun. I ran to the edge of the valley to take pictures of the Bandarpoonch façade, which had turned into a bright shade of orange. It was exceedingly cold but the warmth of our bodies soon ensured that we slept well in our sleeping bags.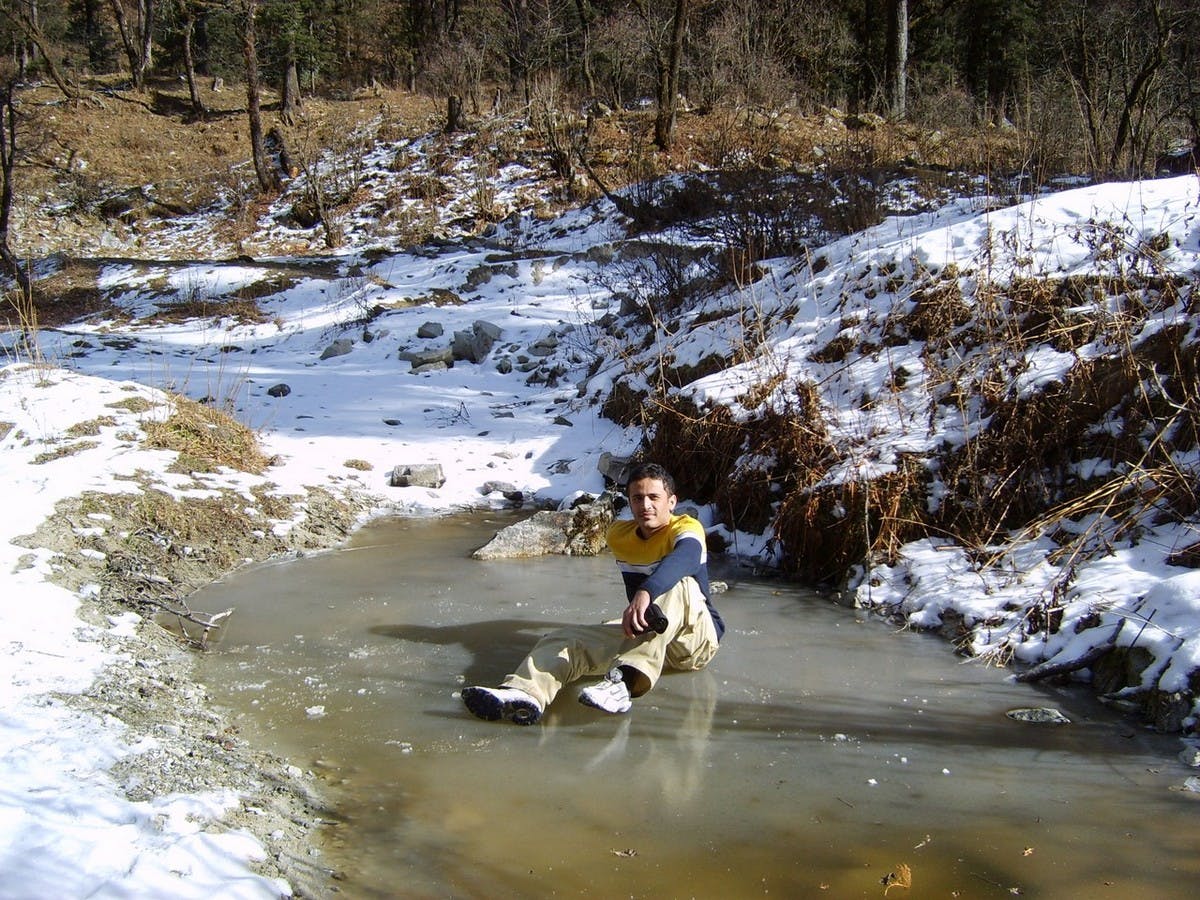 Day 3: Manjhi to Dodital (6km)
The next morning we woke up at a leisurely pace as the next trek to Dodital(11000ft) was comparatively short and easy.  We left for Dodital at 11am. The Bandarpoonch massif was a totally different beauty in the morning and I marveled at the beauty of nature. The path to Dodital was pretty easy and the trail was covered with snow at a lot of places. We met some frozen streams and at a particular stream, the ice had formed beautiful patterns. We finally reached Dodital at 1.30pm. The lake was as beautiful as ever and the surrounding area was touched up with snow. We also found a completely frozen section of stagnant water and clicked photos of it. The lake's surroundings, however, had changed over the past 8 yrs. Unnecessary stone walls had been built around the lake, which marred its natural beauty. The Ganpati Temple was closed. Dodital, like I said, according Hindu mythology is supposed to be the birthplace of Lord Ganesha and the story of Lord Shiva beheading him while he guarded his mother Parvati while she was bathing in the lake is also supposed to have happened here. At night, we looked up at the sky, which was twinkling with innumerable stars and the small crescent of the moon. We retired to bed at 10 pm looking forward to the last ascent to Darwa Top.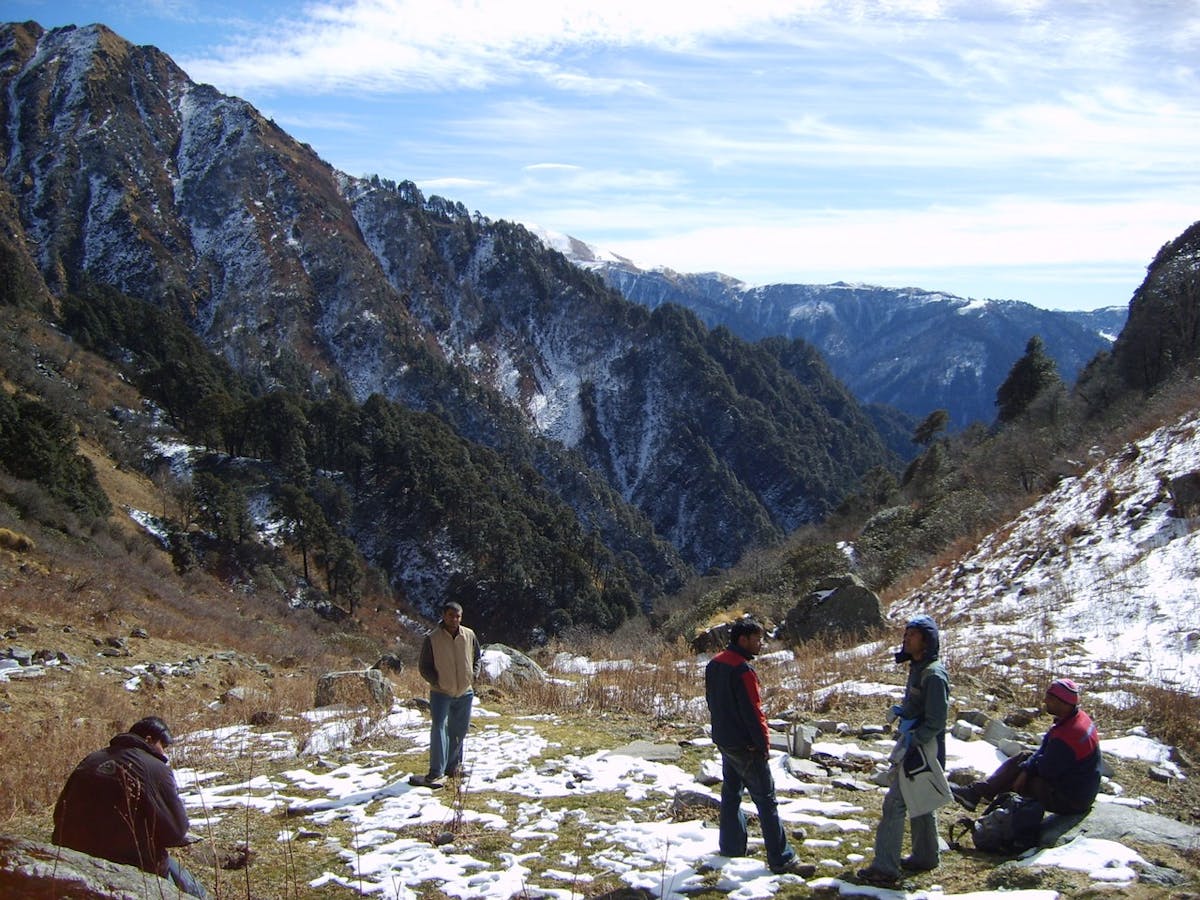 Day 4: Dodital to Darwa Top and back (4.5km)
The morning began early the next day, as we had to trek up to Darwa Top (13,800 ft). The trek was going to be the steepest, with us gaining 1,000 meters in altitude in 5km. We left for Darwa Top at 9.30 without our rucksacks. The trail was immediately steep. We had to cross some tricky streams with partly frozen water and the result was that two of my friends accidentally wet their feet with ice cold water! Luckily, they were wearing double socks! The trail was ever so steep but the beautiful view of the hills and valleys again nudged us on. The final climb was exceedingly steep and we had to stop many times on the way. The tree line had passed below and now we were able to see an entire range of snow peaks dotting the horizon. I clicked some fabulous pictures, which looked more like paintings! After walking on the last 20 ft of a snow trail, we finally landed on the place called Darwa Pass. The view from here was breathtaking. The peaks we could see from the top were Srikanta (6,140 m), Draupadi ka Danda (5,600 m), Jaonli (6,000 m), Swargarohini group (6,200 m), Kala Naag (6,387 m) and Bandarpunch (6,316 m). Darwa Top proper is actually on top of a snow covered slope. We didn't venture up there as the snow was very thick and without gaiters we could wet our legs and Bihari Da told us that the view offered from there is not better than the one we could see from here. We clicked a battery of pictures and all of them turned out to be a spectacle. After an hour, we started the descent, which proved to be even more difficult but quick. We reached back to Dodital at 4 pm with our legs paining but our minds full with the beauty we saw. Dodital in the evening that day was looking exceptionally beautiful and the pictures I took proved it. We went to bed on a high note, cheering the prospect of the return to less colder environments on the next day but sad at the same time for leaving all the beauty behind.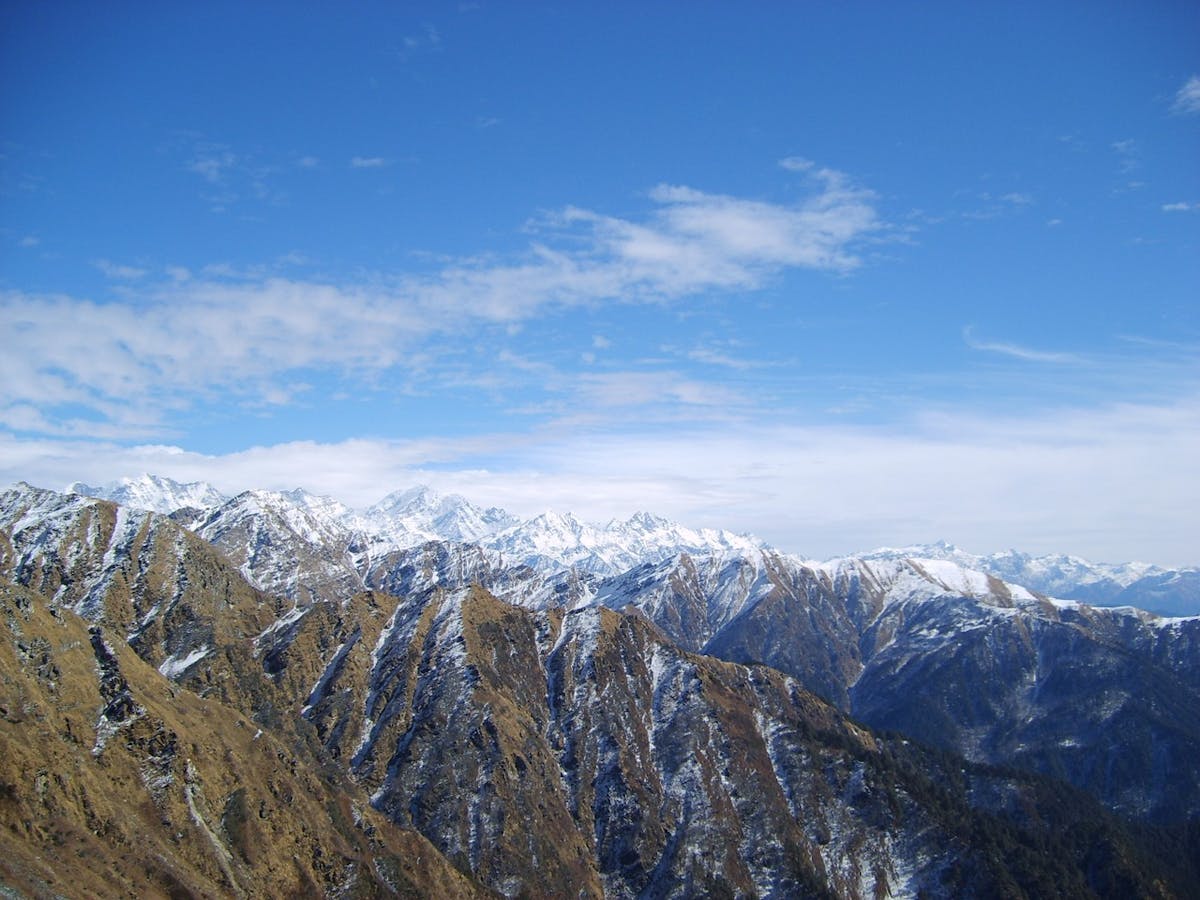 Day 5: Dodital to Sangamchatti (22 km)
This was the last day of our trek. We had to descend back to Sangamchatti, all 22 km in one day! We left Dodital at 10am. We only halted twice till Manjhi. After Manjhi, the descent was rapid. However, the rocky path caused some of us to twist our ankles. We reached Bebra at 2 pm. One of my friends spotted the village women carrying grass on their backs and wanted to try and lift it. The villagers told him that the grass stack weighed at least 30 kg. We were all rolling with laughter when he couldn't lift it even slightly from the ground. At the same time I was wondering about the strength of these village women. We reached Sangamchatti at 4 pm. I was exhausted and the sprain in my ankle was hurting a lot. We quickly jumped into the taxi back to Uttarkashi and back to the same hotel. Warm water awaited my dirty body. It was literally filthy! I bathed, shaved and became a human again! Inspite of the sunscreen, the tip of my nose was sun burnt. The veg momos we ate that night were the cheapest I have had i.e 2 bucks per piece! Thus, our trek ended on a resounding high note. Yes, we faced some health issues and complimenting it adversely, the bitter cold, but the beauty we witnessed took care of all that.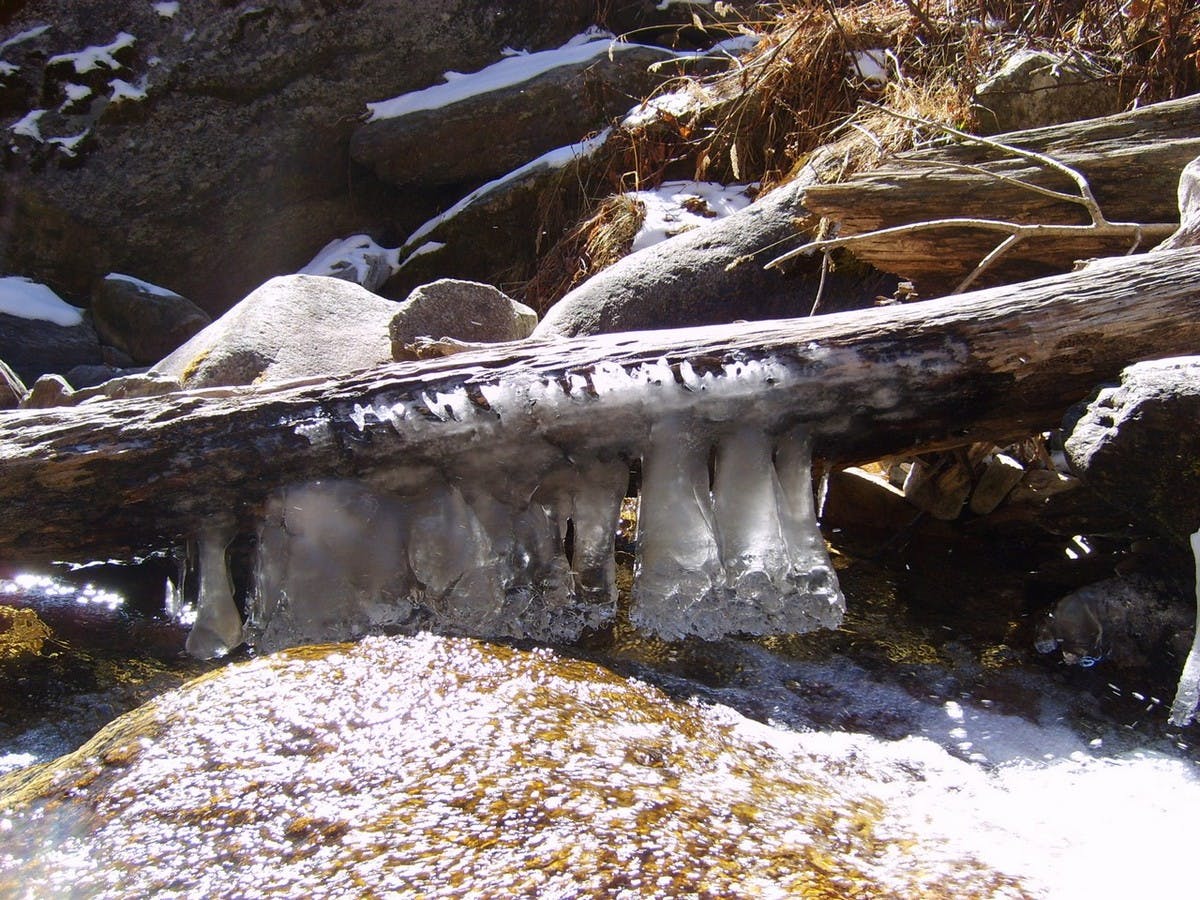 I would like to add some additional details regarding winter. Proper clothing is a must and it is essential to cover your eyes, ears and throat properly. The six layered concept works well. Depending on the time in winter, snow conditions can be variable. We trekked in the middle of December. One bout of snowfall had already occurred but luckily the skies were clear throughout our trek. Later in January probably it would be difficult to trek ahead of Dodital. Extremely important is the quality of footwear one wears. Some of us were wearing sports shoes. Sports shoes are fine for even trails without snow. They are highly uncomfortable for uneven trails (which most Himalayan trails are) and snow surfaces. It is also advisable to carry gaiters. Crampons and ice axes are not required for this trek. Sunglasses are a must especially after encountering snow. Catching Himalayan Trout in the lake is forbidden but still this goes on as there is no permanent security to ensure that. I would request all fellow trekkers to ensure that this doesn't happen. Winters won't offer you the bright colours of rhododendron which the trail lavishly possesses but one has ample opportunity for bird watching, especially the Himalayan Monal, which we luckily saw. Water is not an issue with the trek, as all camp sites have a water source. We split this trek at Manjhi however one can trek from Sangamchatti to Bebra and Bebra to Dodital directly, saving one day. Another option is also to descend to Hanumanchatti on the other side of Darwa Pass. Customised treks like the one we did are difficult to arrange sitting at home but with appropriate contacts and a little haggling, one can.
➤ How to get fit for the trek
Cardiovascular endurance
This trek requires a good amount of endurance. You can begin by jogging everyday. Start jogging at a slow pace and then keep increasing your pace day by day. Make sure you are able to jog 4 km in 20 minutes before the start of the trek. It takes time to be able to cover this distance in the given time. Swimming, cycling and stair climbing without too many breaks in between can help too.
Strength
This is another area you should work on. There is a lot of trekking distance that you will cover carrying your backpacks and trekking along with your backpack is not a very easy task. You have to walk on uneven terrain during the trek. It could be taxing for your legs. For this, strengthening your legs will help. You can do some squats to strengthen them. Do around 3 sets of squats, with 8 squats in each set.
Flexibility
Another aspect that will help you trek comfortably is flexibility. For this, you can do some stretching exercises – stretch your hamstrings, quadriceps, hip flexors, lower back muscles and shoulders regularly. On your trek, it is important that you arrive on the slopes with your muscles relaxed. Carrying a backpack, however light, can become a strain after a while. These exercises will help you to be in good shape before the trek.
Working out indoors
If you can't go out and jog because of time and space constraints, here's a video you can use to work out indoors.
➤ What to pack for the trek
Bare necessities
Trekking shoes: The trek distance is long and you will have to walk for long distances which need you to have comfortable trekking shoes. You can watch this video to learn to choose the right trekking shoes.
Backpack (40-60 litres): A backpack with sturdy straps and a supporting frame. Rain cover for backpack is essential.
The Miyar Valley Dun trek happens round the year except for monsoons so make sure your have the proper clothing as per the season demands so you can keep yourself protected during the trek.
Clothes
Three (Five in Winter) Warm Layers: You will be trekking and camping at high altitudes. So make sure you have the apt clothes for the climatic conditions. It will be cold at the higher altitudes so make sure you have at least three layers of warm clothes to protect yourself.
Two trek pants: One pair of pants should suffice for this trek. But you can carry one spare pair in case the first one gets wet. Wear one pair and carry one pair.
Two collared t-shirts: Carry light, full sleeved t-shirts that prevent sun burns on the neck and arms. Again, wear one and carry one.
Thermals (Optional): Those who are more susceptible to cold can carry thermals to wear at night.
Accessories
Sunglasses: Sunglasses are to prevent snow blindness. There might be snow in Har Ki Dun Valley or from Kalkatiyadhaar (depending on the season you are going in), so carry a pair of sunglasses.
Suncap: The sun is more harsh at high altitudes so wear a suncap to protect your face and neck.
Synthetic hand gloves: One pair of fleece or woolen hand gloves. One pair of water proof/resistant, wind proof gloves.
Balaclava: You may use woollen scarves instead as well.
Socks (2 pairs): Apart from two sports socks, you can take a pair of woollen socks for the night.
Headlamp/LED torch: Mandatory
Trekking pole: Watch this video to understand why you need a trekking pole.
Others
Daypack (20 litres): If you are offloading your backpack, you will need a smaller backpack to carry water, medical kit and some light snacks.
Toiletries (Sunscreen, moisturiser, light towel, lip balm, toilet paper, toothbrush, toothpaste)
Cutlery: Carry a spoon, coffee mug and a lunch box. We insist on trekkers getting their own cutlery for hygiene reasons.
Two water bottles: 1 litre each
Plastic covers: While packing, use plastic bags to compartmentalise things and carry few extra plastic bags for wet clothes.
Mandatory Personal Medical Kit
Diamox – 10 tablets (to prevent AMS)
Crocin – 6 tablets (fever)
Avomine – 4 tablets (motion sickness)
Avil 25mg – 4 tablets (allergies)
Combiflam – 4 tablets (Pain killer)
Disprin – 6 tablets (headache)
Norflox TZ & Lomofen– 6 tablets each (diarrhea)
Digene – 10 tablets (acidity)
Omez/ Rantadine – 10 tablets (antacids)
Crepe bandage – 3 to 5 meters
Gauze – 1 small roll
Band aid – 10 strips
Cotton – 1 small roll
ORS – 10 packets
Betadine or any antiseptic cream
Moov spray (aches, & sprains)
➤ Trek Contribution
Author: Dr. Kaustubh Harshey