Can You Help Us With Photographs Of This Trek?
We are looking to enrich this documentation with more photos. Pictures go a long way in explaining the trail, more than words ever can. If you have done this trek, can you share your photos with us? We will include them on this page, with due credit to you.Click here to contribute.
The Complete Guide to the Gosaikunda Trek
The Gosaikunda lake is a site of pilgrimage for both Nepal and India, cementing it's position as a site of deep religious significance.  It is a locus of Gangadashahara and Janaipurnima festivals that attracts pilgrims from both countries.
According to the mythology surrounding the lake, it's origin is pinpointed to "Samudra Manthana" or churning of the ocean. When Lord Shiva swallowed poison, he is said to have pierced his "trishul" to the ground to tap water to soothe his stinging throat. The Gosaikunda lake was born, and became a known abode of Lord Shiva and Gauri.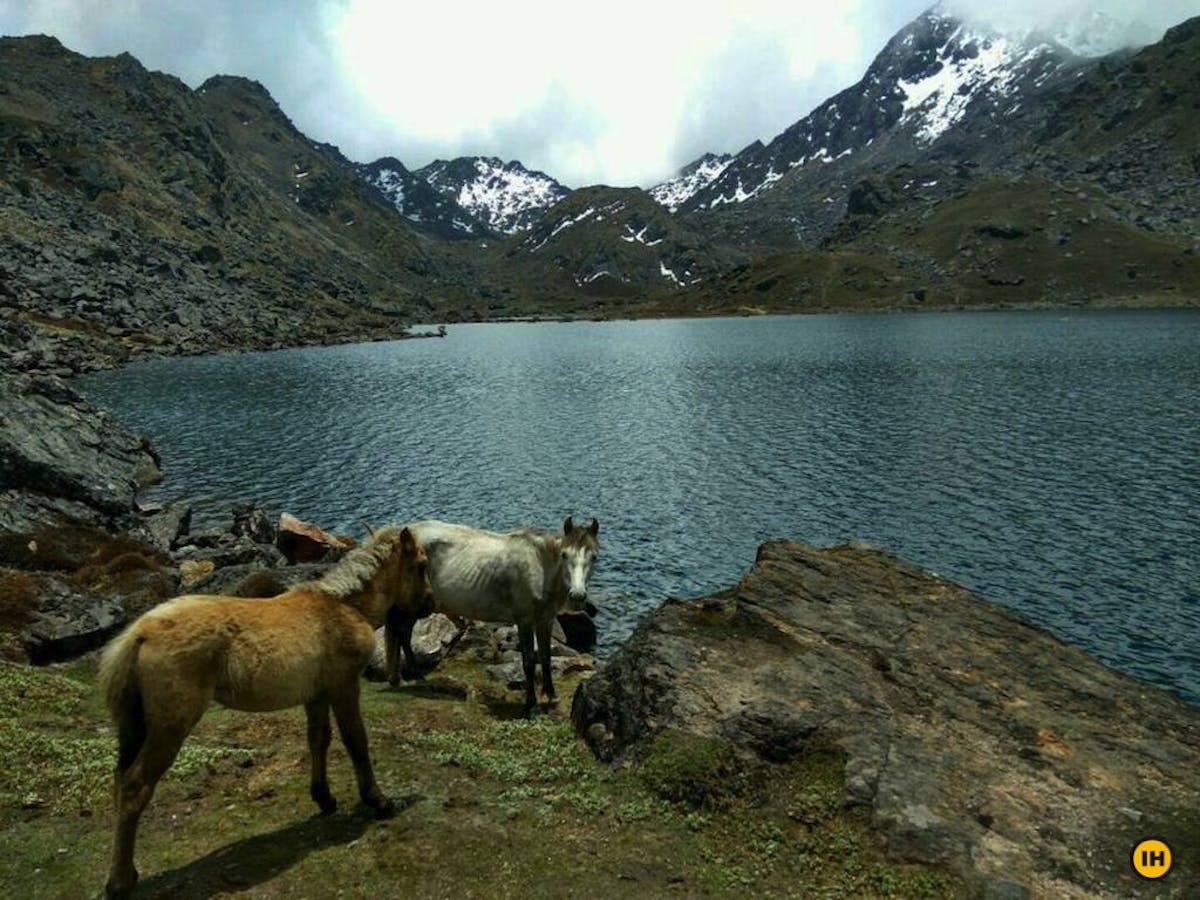 Gosaikunda lake is known as an abode for Lord Shiva and Gauri. Picture by Meghana Vashisht
Gosaikunda is said to be a network of 108 lakes famous for their religious significance, at least 5 of these are accessible in this trek.
Situated in the Langtang National Park, the Gosaikunda Trek culminates in the spectacular sight of pristine, crystal clear lake after week long trek among dense forests, villages steeped in Tibetan culture, and majestic mountain views.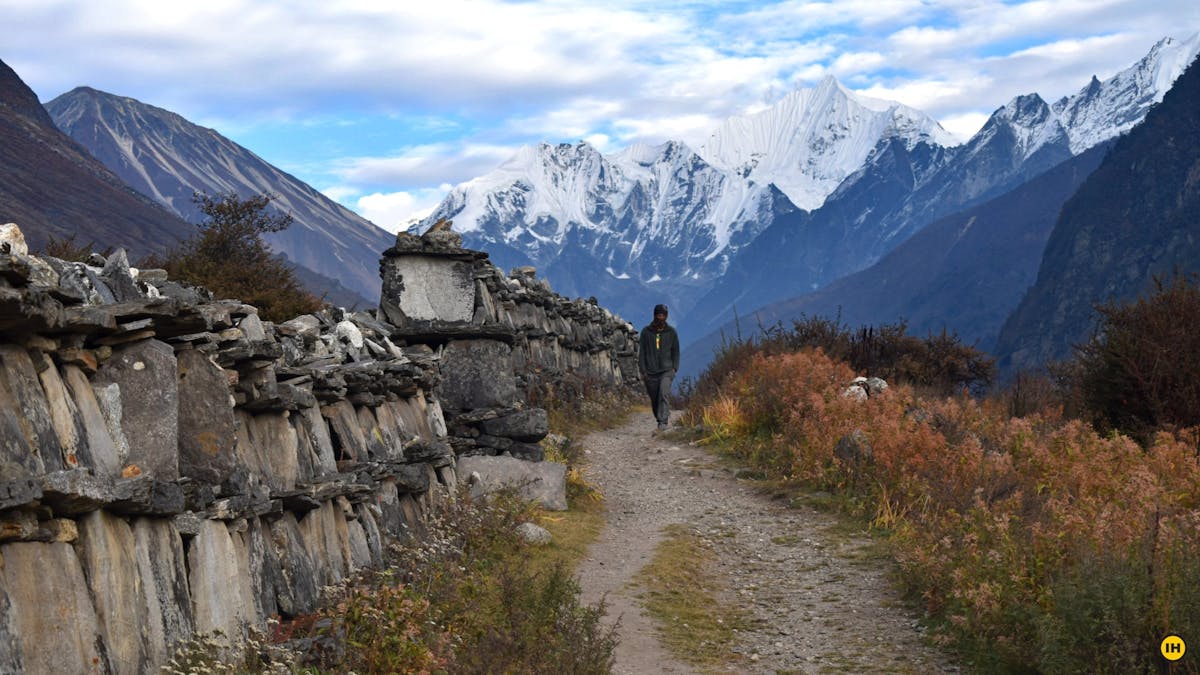 This trek offers a unique cultural experience along with grand mountain views.Picture by Himanshu Thapa
This route does not follow the same path to reach the lakes and back, offering trekkers a different landscape every single day of the journey. It winds through oak and rhododendron forests, to unusual villages (some with claim of having a high altitude cheese factory), and climbs higher into alpine zone where mountains such as Ganesh Himal, Langtang Lirung grandstand before you.
While most Nepal treks can boast of teahouses , this trek offers a unique cultural experience as it is close to Tibet/China border with villages where you can see Tibetan culture with Tamang people as majority in the region.  The trek makes for a wonderful cultural experience in the remote, rugged valleys of Langtang.
➤ Highlights of the Trek
A quiet trek in the Langtang region of Nepal
A trail steeped in mythological significance
Trek through rich forests and past pristine alpine lakes

➤ Trail Information
Day 1: Kathmandu to Dhunche
Altitude: 1,400mts to 2000mts (4593ft to 6560ft)
Distance : 116 km
Time taken: 8-10 hour drive
Trail Type: 114 km of the distance is on highway and last two kms on mountain roads
Water sources: You will pass by different restaurants for lunch and tea where there is running water from taps
Kathmandu is the capital of Nepal and is a tourist hub. It is the gateway to Nepal Himalayas and stands at the elevation of 4,600 ft. While the city endured a lot of damage during 2015 earthquake, it remains a fascinating place to explore. If you have days to spare, you can come few days before and explore this town. You can visit Pashupatinath Temple and Thamil Chowk which is famous for mountaineering gears and clothing.
Get a vehicle for Dhunche from Kathmandu New Bus park. It will take 8 to 10 hours to reach the destination of the day. On the way, right when you hit Galchi two hours from Kathmandu,  you will come across River Trishuli.  Trishuli originates from Gosaikunda and is the main source of water on this trek. The river is a tributary of river Ganga from Nepal.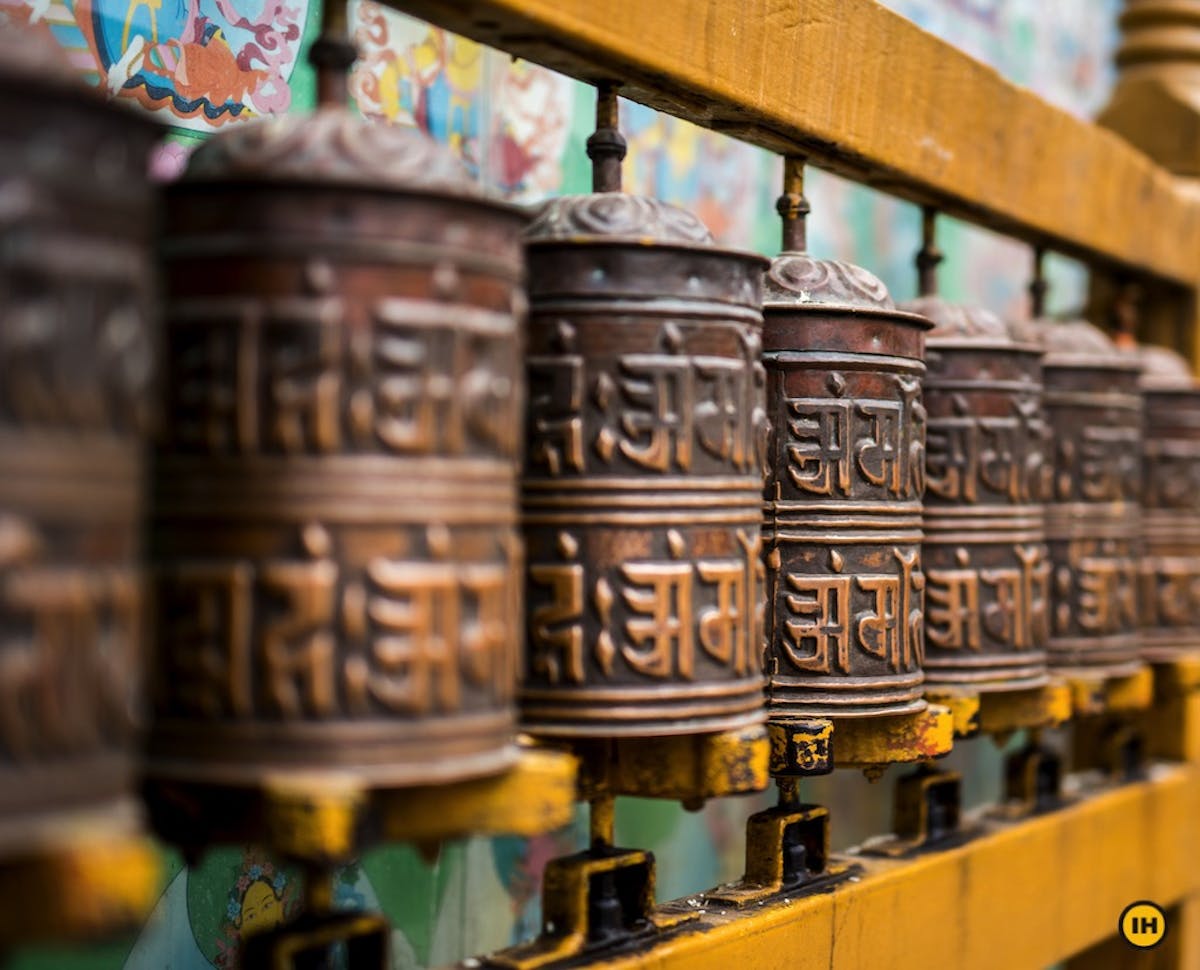 Prayer wheels in Boudnath temple in Kathmandu. Picture by Christopher Immanuel.
Right before reaching the base camp Dhunche, you will enter Langtang Wildlife Park.  The park has a check post for the passes and you will find information related to wildlife here.  The park is especially famous for Red Panda.
Finally, after an adventurous journey of 8 to 10 hours, you will reach Dhunche.  From here, you can see  Mt Ganesh Himal  and the mountain peaks of China Himalayas. The road head to Tibet (China)  is also visible fro here. 
Accommodation: Dhunche has a large number of hotels to choose from for a night's stay. If you have any last minute shopping for medication, clothes, food or footwear, this is where you should do it.
Day 2: Dhunche to Sing Gompa
Altitude: 2000mts to 3300mts (6560ft to 10827ft)
Distance: 8.3km
Duration: 5-6 hours
Trail Type: Moderate. The trail is a mountain trail with less of stair walk.
Water sources: You can refill water bottles with filtered water at the tea houses on the way.
Your trek begins today.  Within 5 minutes of walk from your teahouse, you will enter a mixed forest with variety of vegetation like rhododendron, pine tree, brown and green Oak and Bamboo. These straight, tall trees that seem to touch the sky make for an eerily beautiful forest landscape.  During April, the forests are painted bright red with rhododendron blooms.  As you get close to the river Trishuli, you may able to spot birds. Our explorers spotted Himalayan bulbul, Brain fever bird.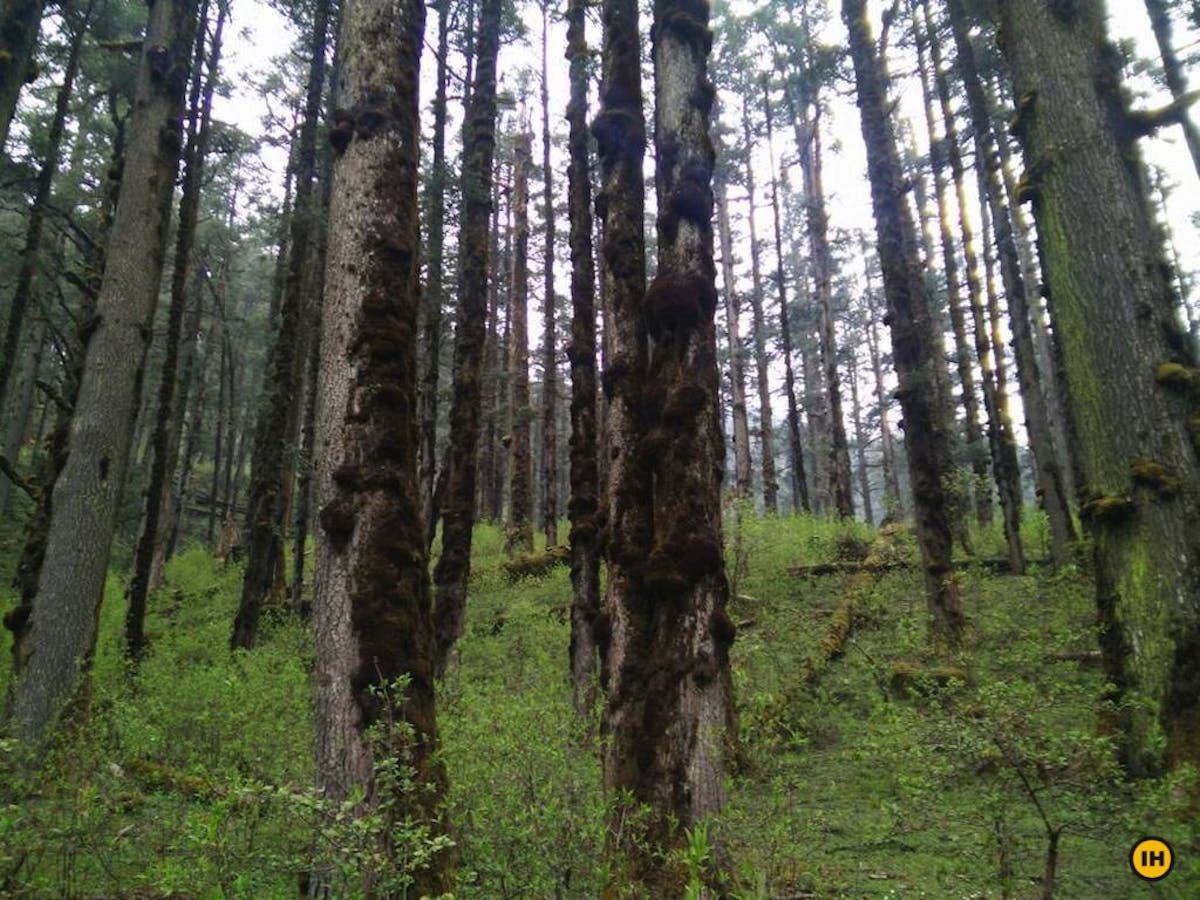 Forests near Chandan Bari/ Sing Gompa. Picture by Meghana Vashisht
The ascent is gradual and you will be able to find water source after every one hour of the trek. Deurali is the halfway point of today's trek. It offers a very beautiful view of Tibet (China)Mt peak and Mt Ganesh Himal. The mountain peaks start coming into view. 
You are now trekking in a place steeped in Tibetan culture. Notice the prayer flags, the small monastery. Take some time to click pictures of the scenery. On every teahouse, you will come across farms grown by family. All these teahouses are filled with organic food, fresh and healthy waiting for you.
Mt Langtang Lirung is visible from certain points on this trail which creates the excitement for next day trek 
Sing Gompa is your destination of the day. There are beautiful teahouses,  a garden to hang around, and an old cheese factory that is the main attraction of the village. Here, you will see the cheese at every stage of its creation and watch it being made.
Enjoy your stay and soak in the view of beautiful sunset of the valley. 
Day 3: Sing Gompa to Lauribina
Altitude: 3300mts to 3900mts  (10827ft to 12795ft)
Distance: 5.7 km
Duration: 6-7 hours
Trail Type: Moderate and gradual ascent
Water sources: You can refill water bottles with filtered water at the tea house where you stop for lunch.
The third day starts with a walk through the pine forest. The forest is surreal with mossy tall evergreens with orchids and epiphytes covering their massive trunks, ground covered with huge ferns and blooming flowers. You will be able to see the lake of Gosaikunda through the forest as well as the end of the treeline.
After few hours, you will notice the forests thinning down into grassy meadows as you make your way to higher altitudes where vegetation is sparse. The path is now steep and feels tougher due to the high altitude. If the sky is clear, the path offers beautiful views of the surrounding mountains.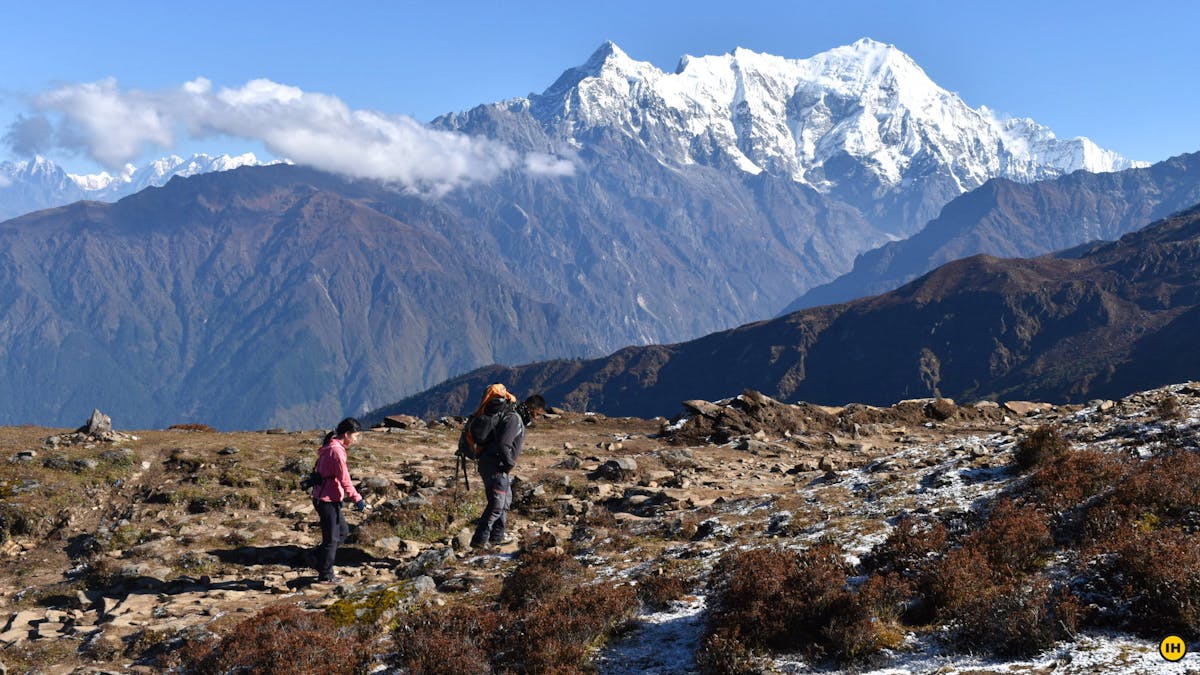 The path feels harder because of high altitude. The mountain you see in the picture is Langtang Lirung. Picture by Himanshu Thapa
At Cholangpati, you will see Mardi Himal, Machapuchare, Annapurna (10th highest mountain peak),Mt Annapurna II, Mt Bhuda Himal, Mt Himchuli, Mt Ngadi Chuli and Mt Manaslu (8th highest mountain peak) behind you. Towards your right, you will see the Mt Langtang Lirung range and the road head towards Tibet(China).  Fill your water bottles from here.
You will see stony remains of temporary cooking sites built by pilgrims for the annual festival that culminates at Gosaikunda lake peppering the bare hills as you trek. The terrain is rocky and in summer, covered with short grassy vegetation and tiny flowers.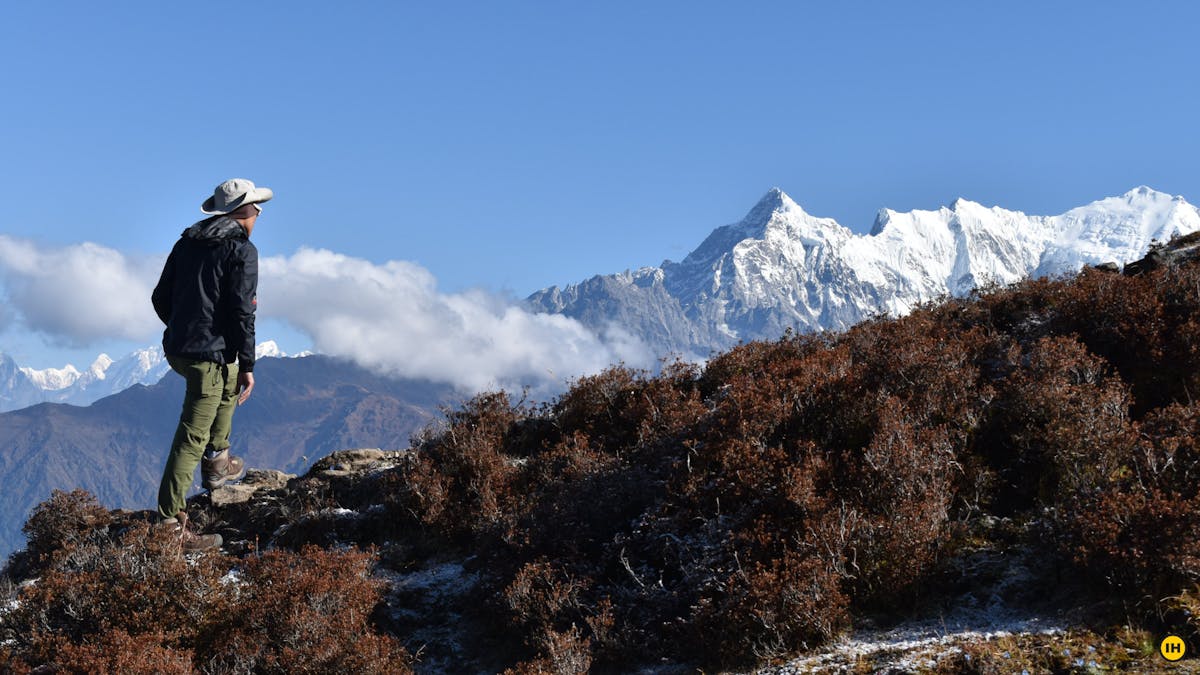 The terrain is covered with short grassy vegetation. Picture by Himanshu Thapa
Lauribina is a collection of 2-3 tea houses located on a flat area of the mountain, overlooking a wall of mountain peaks in the distance.  Once you reach Lauribina, have lunch in front of  this 270 degree mountain view. The sunset view from here is unparalleled. The best viewpoint of the trek is just close to your teahouse. The huge Mt Langtang Lirung range towards your right so close that you can see the bottom of the mountain peak too.
Note: One can go directly from Sing Gompa to Gosaikunda without staying the night at Lauribina. However, staying overnight at Lauribina will help acclimatize and nearly eliminate the likelihood of Altitude sickness.
Day 4: Lauribina to Gosaikunda and back to Lauribina
Altitude:  3900mts to 4380mts (12795ft to 14370ft)
Distance: 8 km
Time taken: 8 hours
Trail Type: Moderate
Water sources: Carry sufficient amount of water since from Lauribina till Gosaikunda as there won't be any teahouses on the way.
Start the day witnessing a beautiful sunrise over the mountain peaks.  Start the trek early today – it's a long day. If you are coming back, you would just need a daypack with water bottle, snacks, poncho/rain cover and personal stuff.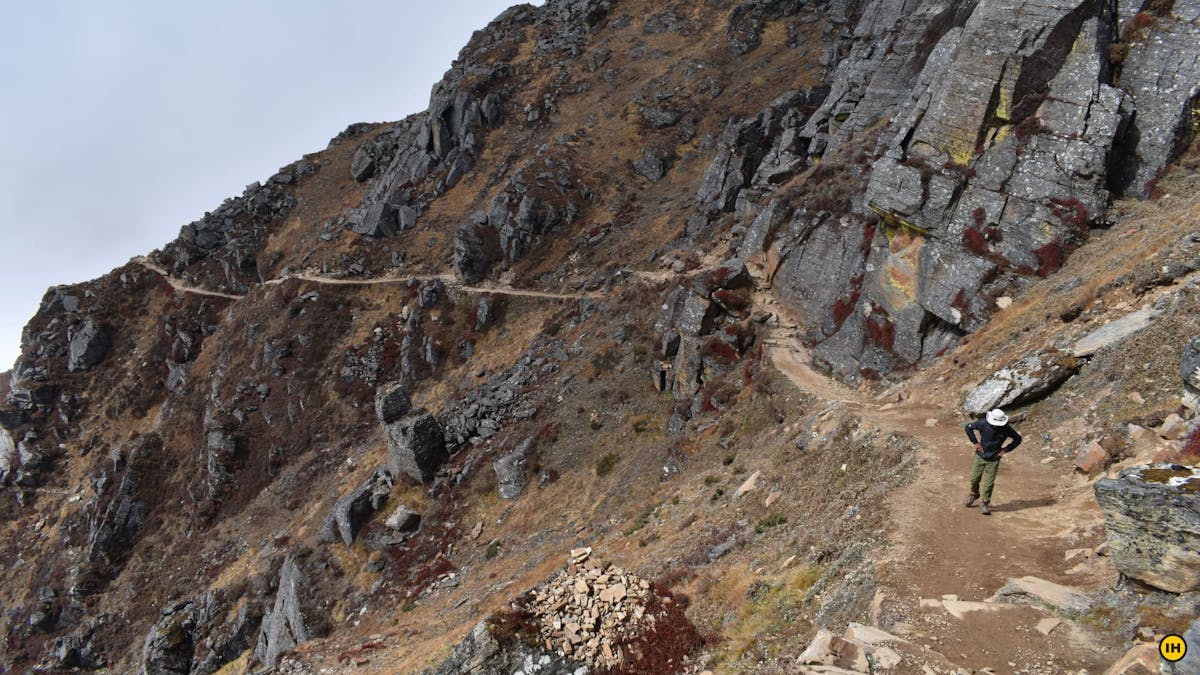 Vegatation is nearly absent on this route. Picture by Himanshu Thapa
The trek today is among mountain peaks. You will ascend the mountain with an uninterrupted and open view of Langtang range, Manaslu range, Hiunchuli, Tibetan peaks and Ganesh Himal ranges if the weather is clear. The sunlight playing magic tricks on mountain peaks will add to your journey.
You will go through a steep ascent for 2 hours. Clouds hang lazily below you on both sides, and vegetation is nearly absent. You will pass by a small stupa, after which the trail flattens to a snaking path along the edge of the mountain. Soon, you will begin the spot the lakes that make the Gosaikunda lake region. It is an hour to the lake from here.
The first lake appears as a tourmaline pond far away and below you, hugged by fluffy clouds just above its surface. The first sight that welcomes your entry to the Gosaikunda lake is a small statue of Ganesha embedded into the mountain face. Soon, the large lakes come into view – a truly emotional, overwhelming experience due its sheer expanse and beauty!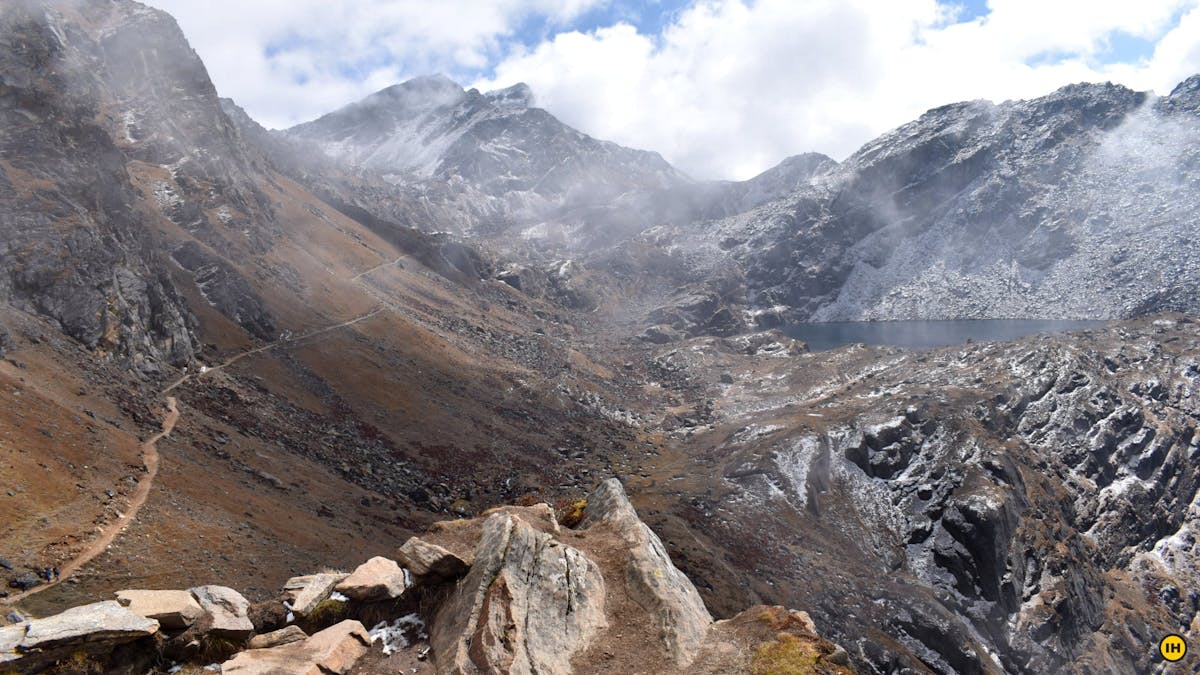 The view of Gosaikunda lake, an hour away from the destination. Picture by Himanshu Thapa
Once you reach, you will find a tea house at that altitude.  Ahead of the teahouse is the old trading route between Nepal and Tibet (before China captured it).
A little about Gosaikunda Lake: The lake appears as twin water bodies, separated by a hilly mound. The lake is "oligotrophic" (dictionary: characterized by a low accumulation of dissolved nutrient salts, supporting but a sparse growth of algae and other organisms, and having a high oxygen content owing to the low organic content) and has a surface area of 34 acres. The water is crystal clear, offering a view of the stones and pebbles that lie deep below.
The site has deep religious significance, and is considered the abode of Lord Shiva and Gauri. The "Samudra Manthana" or churning of the ocean is said to be the origin of the Gosaikunda lake. When Lord Shiva swallowed poison, he is said to have pierced his "trishul" to the ground to tap water to soothe his stinging throat. The Gosaikunda lake is said to have been created in this manner, and is revered by Hindus. A walk around the lake would take 2 hours and is a rocky path. Take care not to slip into the water.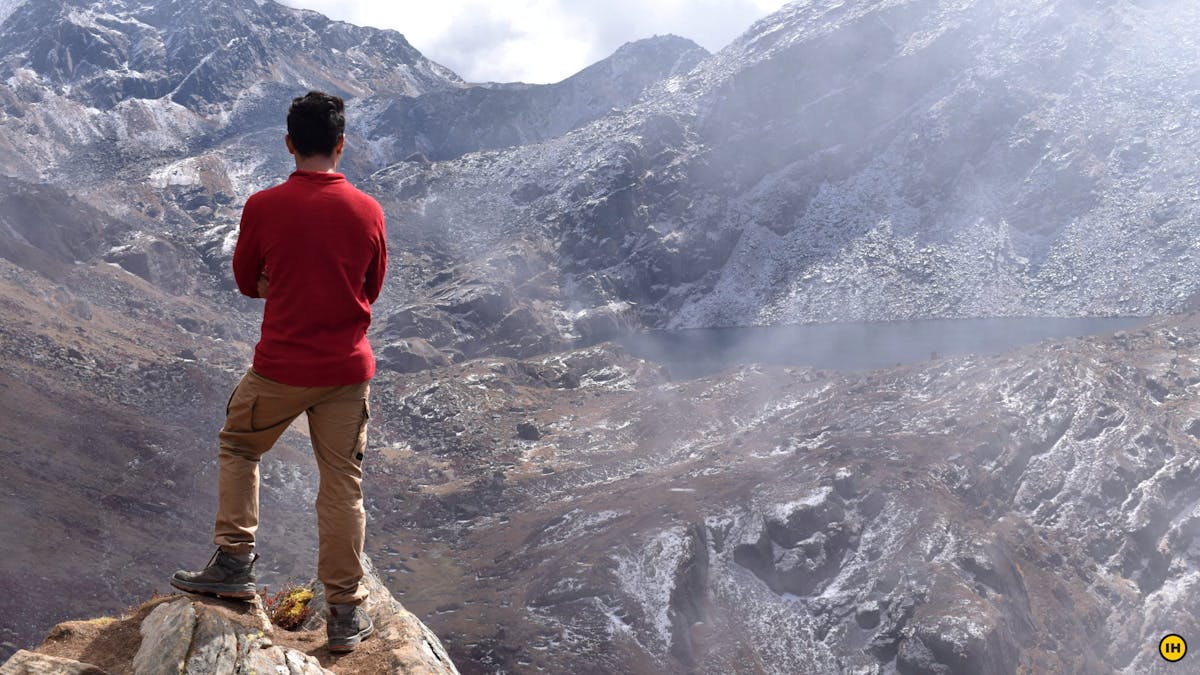 The site has deep religious significance, and is considered the abode of Lord Shiva and Gauri. Picture by Himanshu Thapa
There are 4-5 tea houses in Gosaikunda offering basic amenities if you choose to stay here. Heating is a luxury as there is no firewood in the area due to lack of vegetation. Temperatures dip to -5 degrees at night even in the peak of summer. There is a small shrine dedicated to Lord Shiva at the edge of the lake.
If you stay an additional day, you can climb the Surya peak, which offers a panoramic view of 5 lakes in the region. To return to Lauribina, return with the same route.
Day 5: Lauribina to Thulo Syabru
Altitude: 3900mts to 2120mts (12795ft to 6955ft)
Distance:  8.5 km
Duration: 4-5 hours
Trail type: Moderate
Water sources: You can refill water bottles with filtered water at the tea house where you stop for lunch.
Today's hike is all descent.  Keep your eyes and ears open as today is the day for bird watching. Look for  Himalayan Bulbul, Brain fever, Blue and white whistling Thrush.
You may even spot Marsh deer and barking deer. Along the way, you will come across the local cultivation of potatoes, barley and wheat. You will also be able to see Langtang valley which is another trek of 8 days.
Thulo Syabru is a quaint village that is embedded in a lush green mountain, and offers stunning views of Langtang and Ganesh Himal peaks. Basic supplies like food, water and personal care can be purchased here, but at an inflated cost. For example, a a bottle of shampoo that retails at INR 75 was being sold here for INR 120.
Day 6: Thulo Syabru to Roadhead to Kathmandu
Altitude: 2120mts to 1420mts (6955ft to 4659ft)
Distance: Trek (3.5km) + 126 kms drive 
Duration: 2 hours +  8 to 10 hour drive
The last day of the trek two hours of hike from Thulo Syabru to road head. Start your journey from Thulo Syabru a bit early so that you can reach the road head early and catch the vehicle to reach Kathmandu in between you will witness Langtang river too. the journey from the road head to Kathmandu is 8 to 10 hours.
Points to note: 
Flora/Fauna: The trail offers a walk through Rhododendron forests, Tropical evergreen canopies, Oak forests and Pine Forests. Be prepared to be met by the sight of thousands of orchids carpeting the forest floor and tree trunks. The Langtang region is famous for being home to the protected Red Panda. You would be very lucky to spot these shy creatures. Colorful birds, deer, hares and rabbits are guaranteed to cross your path.
Water sources:   You can also refill your water bottles with filtered water for free at teahouses.
Food: Tea houses provide a reasonably large number of options to choose from. The local Dal-baath (rice, watery mildly spiced lentils, potato curry and stir-fried greens with an accompaniment of pickle) is a delicious and satisfying meal option
Cost details: If you go through a guided tour with a travel agency, all accommodation and meals are covered by them. One guide and one porter is provided. The cost for such a package ranges from (USD) $350-$800 depending on the agency
If you decide to go on your own, the teahouse charges are as follows and varied by region. Typically, costs increase with altitude and quality.
Accommodation per room: NRs 400- NRs 2,500
Mineral Water Bottle: NRs 40- NRs 200
One Bucket hot water or shower (if available-typically only in low altitude settlements): NRs 100- Nrs 400
Regular Hot Water: NRs 20- Nrs 100
Meals: NRs 200- Nrs 550
Tea/Coffee: NRs 50- NRs 250
While room charges are not high, Tea Houses typically charge for everything additional – to get extra blanket, to take a shower, to get a cup of warm water etc. You could spend between $10- $30 per day for basic requirements (not including luxuries such as snacks, fizzy drinks etc.)
It is preferable to carry all basic requirements from Kathmandu itself to save costs.
Currency: Carry Nepali Currency as far as possible. USD is accepted grudgingly by some tea houses if travelers have no other option.
➤ Difficult Sections
Gosaikunda is a moderate trek. The trek only starts feeling a bit strenuous when you reach  Cholangpati, where you the vegetation is sparse and air is thin. The only difficult section on this trek is the Gosaikunda lake day.
The day begins with  a steep ascent for 2 hours in thin air. your legs and lungs feel relief only in the last hour, where  the trail flattens out and hugs the edge of the mountain. This is also a long day, in considerably high altitude. This makes the day difficult.
➤ How to Plan your travel
How to reach Dhunche
The starting point of this trek is Dhunche, a 8-10 hours drive from the city of Kathmandu.
https://www.google.com/maps/dir/Kathmandu,+44600,+Nepal/Dhunche,+45000,+Nepal/@27.89966,85.165145,11z/data=!4m14!4m13!1m5!1m1!1s0x39eb198a307baabf:0xb5137c1bf18db1ea!2m2!1d85.3239605!2d27.7172453!1m5!1m1!1s0x39eae9f08f391a49:0x5c5286c184463f1a!2m2!1d85.29811!2d28.1079892!3e0?hl=en
One can hire a private jeep ($150-200) via a local operator or a trekking company, or use the local government transport option which is much cheaper (Nrs 200), but would not guarantee a seat.  You can get a vehicle for Dhunche from Kathmandu New Bus park. It will take 8 to 10 hours to reach the destination of the day.
➤ How to get fit for the trek
The Gosaikunda trek is classified as a moderate trek . You trek up to an altitude of over 14, 370 ft. You start from an altitude of 6,560 ft at Dhunche. With this massive altitude gain, you have to make sure your lungs are strong for this.
Cardiovascular endurance
This trek requires a good amount of cardiovascular endurance. You can begin by jogging everyday. Start jogging at a slow pace and then keep increasing your pace day by day. In order to be prepared for high altitude trek, you should have a combination of distance and speed targets.
Here's a fitness routine that works:
–>Target completing 5 km in 40 minutes when you begin.
–>Gradually increase your pace by running 4 times a week and bring it down to 5 km in less than 37 mins.
–>If you are 45 years old and above and are comfortable with long distance walking than jogging, then before you go on the trek, you should be able to walk at least 10 km at a stretch. Target completing this in 90 minutes.
If jogging is fine for you, your target should be completing 5 km in 45 minutes. As you get closer to the trek date you should be able to cover 5 km in under 40 minutes
–>If you are somebody who prefers cycling over running, your target must be to cover 22 km in 60 minutes.

Here's a guide to help you get fit for the trek.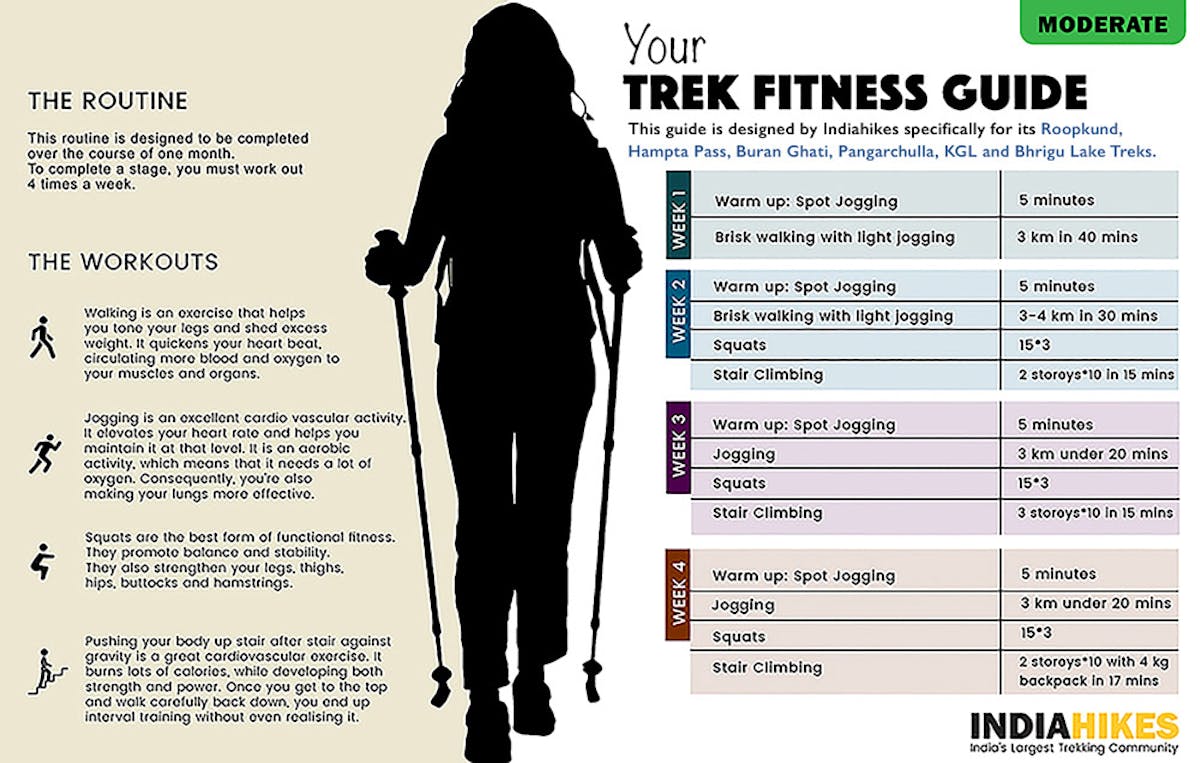 One month trek fitness routine for moderate treks
Working out indoors
If you can't go out and jog because of time and space constraints, here's a video you can use to work out indoors.
Bare necessities
Trekking shoes:  You will need trekking shoes with good grip. Sports shoes will not be comfortable. You can watch this video to learn to choose the right trekking shoes.
Backpack (40-60 litres): A backpack with sturdy straps and a supporting frame. Rain cover for backpack is essential.
Clothes
On a trek, carry fewer clothes than you would normally need. Do not pack for 'what if situations'. That will only add to the weight of your backpack and not be used on the trek. Once your clothes get warmed up on a trek, you will not feel like changing. Just maintain personal hygiene.
Three warm layers:  You will need at least three warm layers (two lights layers such as fleece and woollen and one padded jacket) for this trek.
Three trek pants: Wear one pair and carry the other two. Denim/jeans and shorts are not suitable for trekking.
Three collared t-shirts: Carry light, full sleeved t-shirts that prevent sun burns on the neck and arms. Again, wear one and carry two. Let one of these be a dri-fit t-shirt. It will dry quickly in case you are trekking on a rainy day. A common mistake that trekkers make is not changing their tshirts often enough. Regardless of how cold it is, the body tends to sweat a lot. Trekkers who don't change to fresh clothes after reaching the campsite fall ill due to wet clothes and are often unable to complete their trek. 
Thermals (Optional): Those who are more susceptible to cold can carry thermals to wear at night.
Accessories
Sunglasses: Sunglasses are to prevent snow blindness.
Suncap: The sun feels stronger while walking on the mountain slopes. Carry a suncap to protect your head and neck from the heat, especially if you're trekking later in the day.
Synthetic hand gloves: One pair of fleece or woolen hand gloves. One pair of water proof/resistant, wind proof gloves.
Balaclava: You may use woolen scarves instead as well.
Socks (2 pairs):  Apart from two sports socks, you can take a pair of woolen socks for the night.
Headlamp/LED torch: Mandatory
Trekking pole: Watch this video to understand why you need a trekking pole.
Others
Daypack (20 litres):You will need a smaller backpack to carry water, medical kit and some light snacks for the excursion to Gosaikunda.
Toiletries: Sunscreen, moisturizer, light towel, lip balm, toilet paper, toothbrush, toothpaste, hand sanitiser. Do not carry wet wipes since these are not biodegradable. We do not like biodegradable wet wipes because they take a long time to decompose in the mountains. Use toilet paper instead.
Sanitary waste: Make sure you bring your used sanitary napkins back to the city with you. Carry a zip lock bag to put used napkins. Bring this ziplock bag back with you to the city and do not dispose sanitary napkins in the mountains.
Cutlery:Carry a spoon, coffee mug and a lunch box. We insist on trekkers getting their own cutlery for hygiene reasons. We do not allow biodegradable or disposable cutlery on our treks.
Two water bottles: 1 litre each.  So make sure you bring your own water bottles.
Plastic covers: While packing, use plastic bags to compartmentalise things and carry a few extra plastic bags for wet clothes.
Mandatory Personal Medical Kit
Diamox – 1 Strip
Crocin – 10 tablets
Avomine (optional, in case of motion sickness)- 1 Strip
Combiflam- Half Strip
Muscle relaxant – Half Strip
Digene – Half Strip
Avil – 1 strip
ORS – 6 packs
Knee Cap (If you are prone to knee injury)
Forest permits required:
All trekkers in Nepal are required to procure a TIMS (Trekkers Information Management System) Card (Nrs 2000), available in Kathmandu. Besides this, you need the Langtang National Park Entry Permit (NRs 1000) which can be obtained on the way to Dhunche.  Carry your passport and aforementioned permits with you at all times in case of random checks by the Nepali army.
Here's a guide to help you pack for the trek –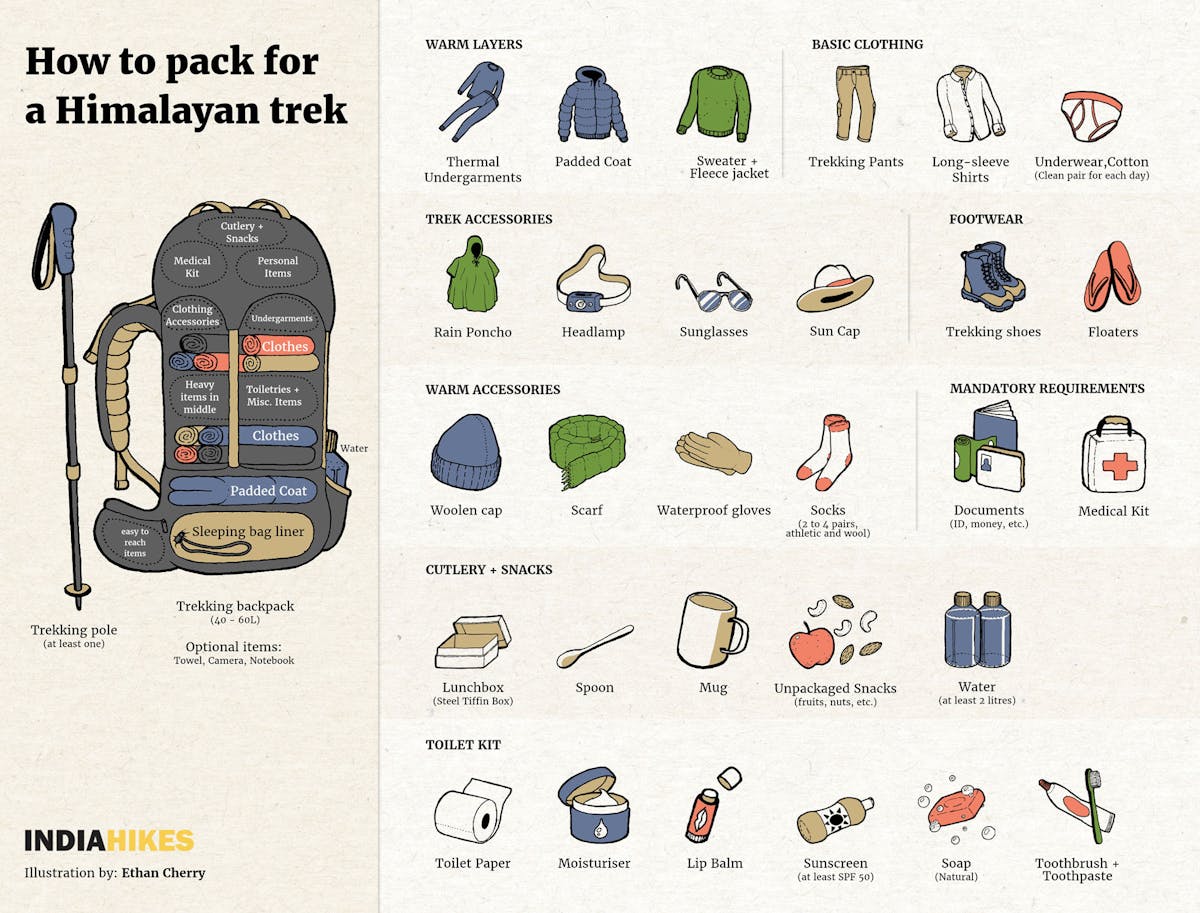 Here's a quick info-graphic to give you an overview of everything you need in your backpack.
➤ FAQs
Mobile Network
All major Indian networks such as Airtel, Vodafone, Idea work on international roaming wherever there is mobile connectivity. Alternatively, get a local SIM of N Cell or Nepal Telecom.
ATM
While coming from Kathmandu to Dhunche, you will find an ATM at Galchi and then at Syabrubesi.
➤ Gallery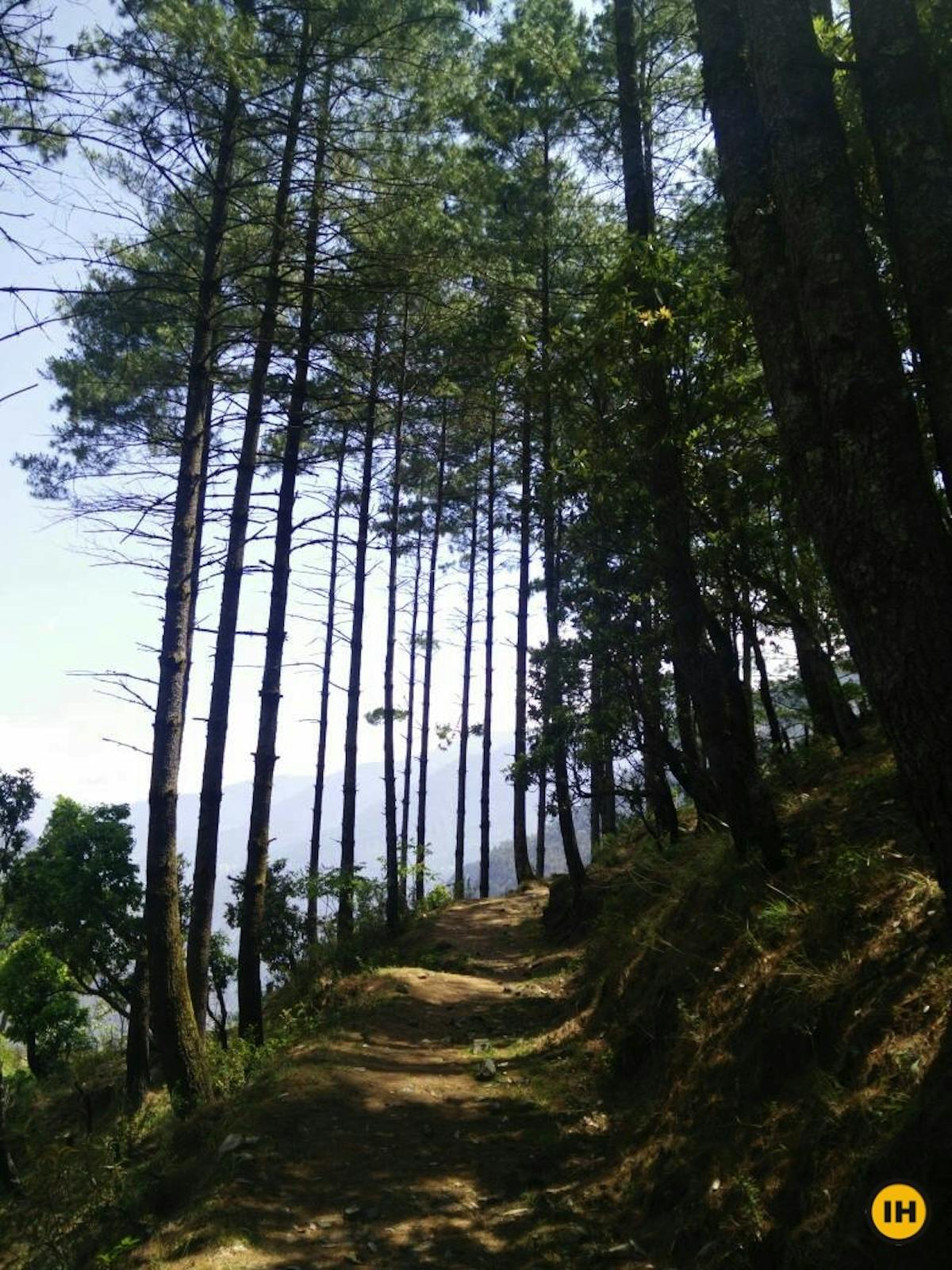 The trail from Dhunche to Thulo Syabru PC: Meghana Vasisht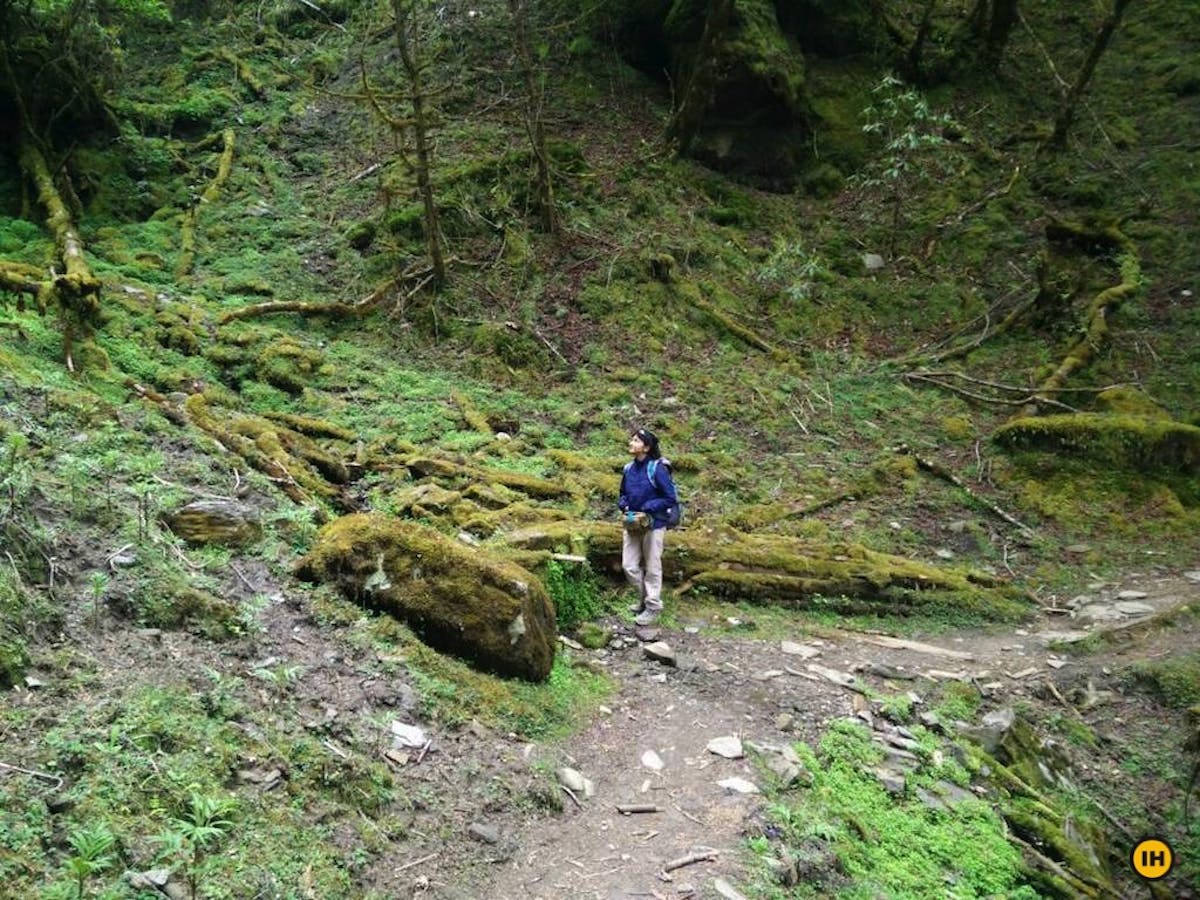 Trail from Thulo Syabru to Chandan Bari PC: Meghana Vasisht
Oak forest near Chandan Bari PC: Meghana Vasisht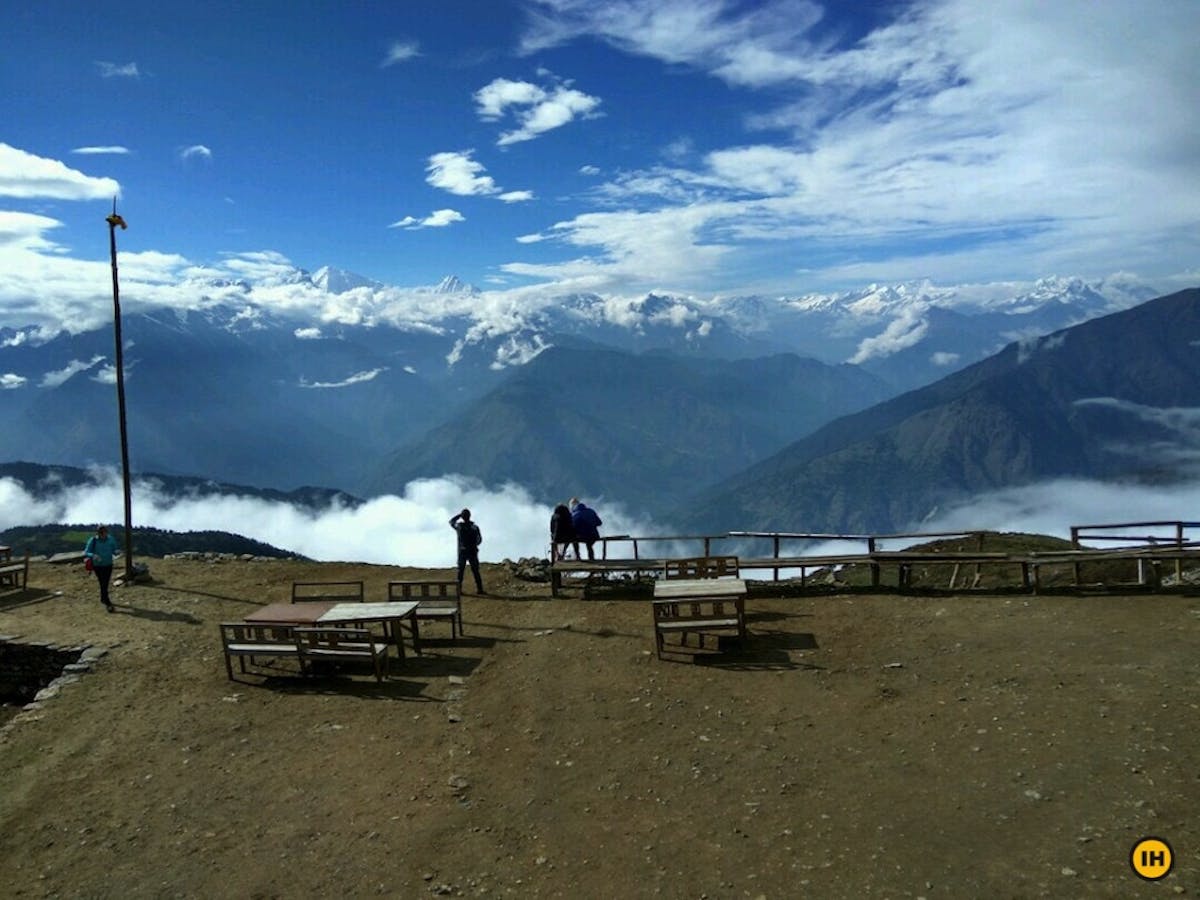 A view of Laurebina PC: Meghana Vasisht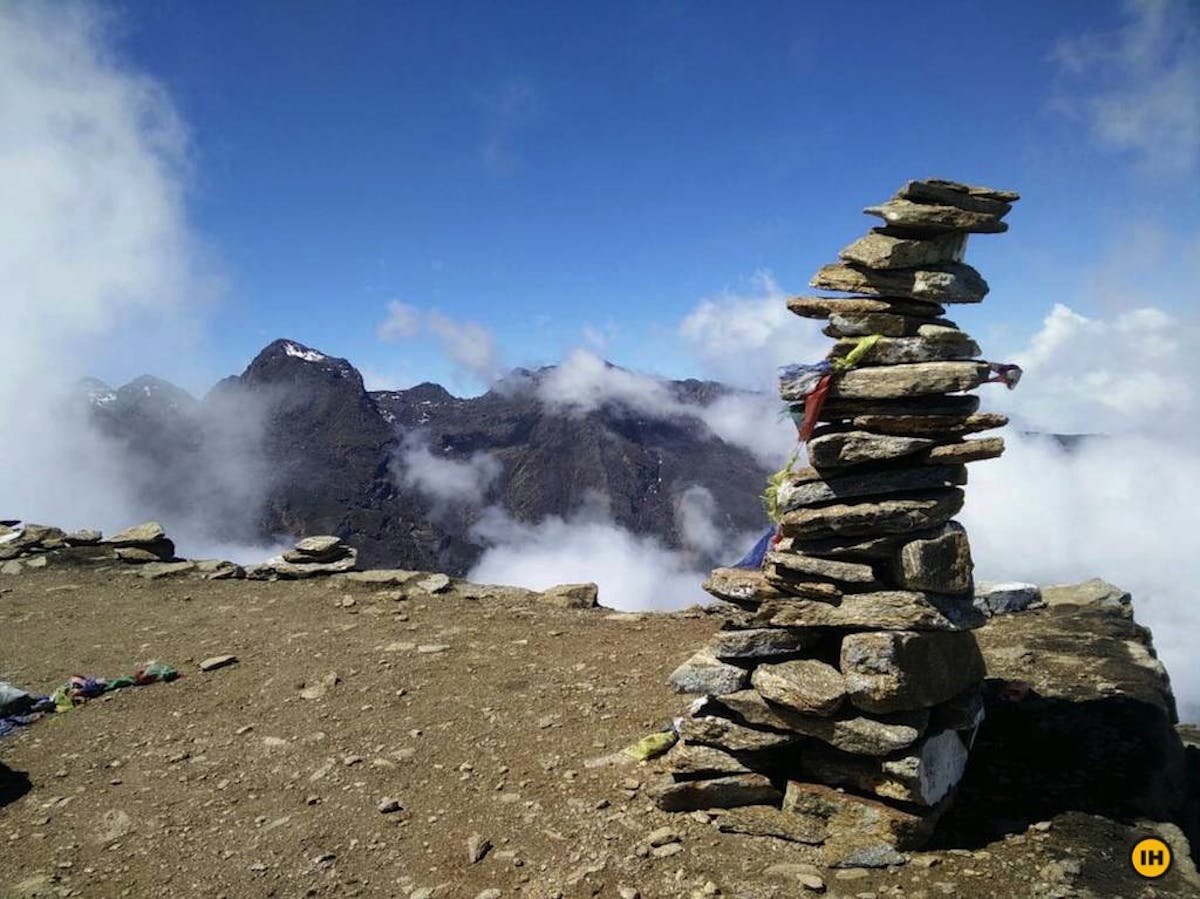 On the trail from Laurebina to Gosaikunda PC: Meghana Vasisht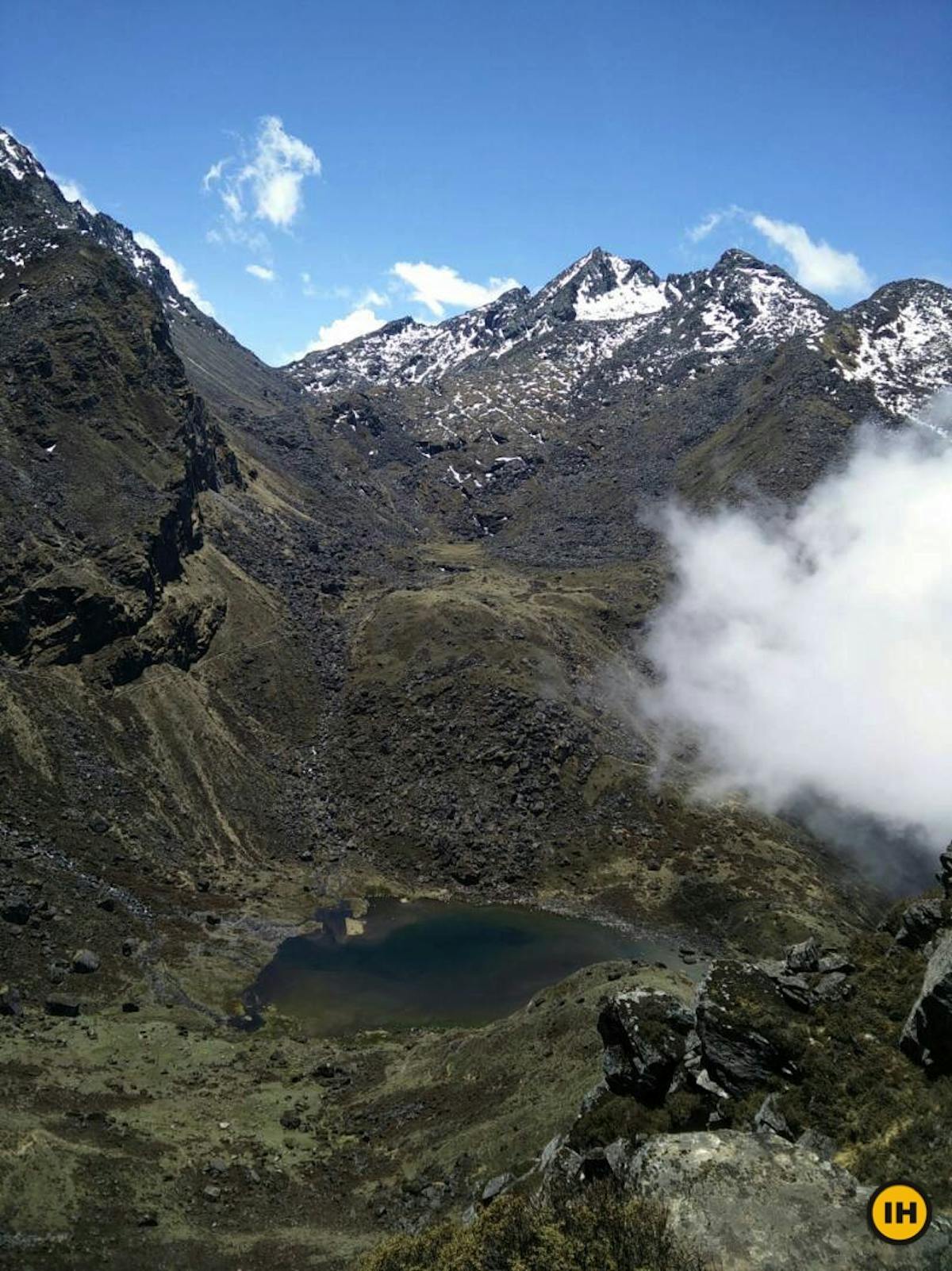 The first lake you see as you approach Gosaikunda PC: Meghana Vasisht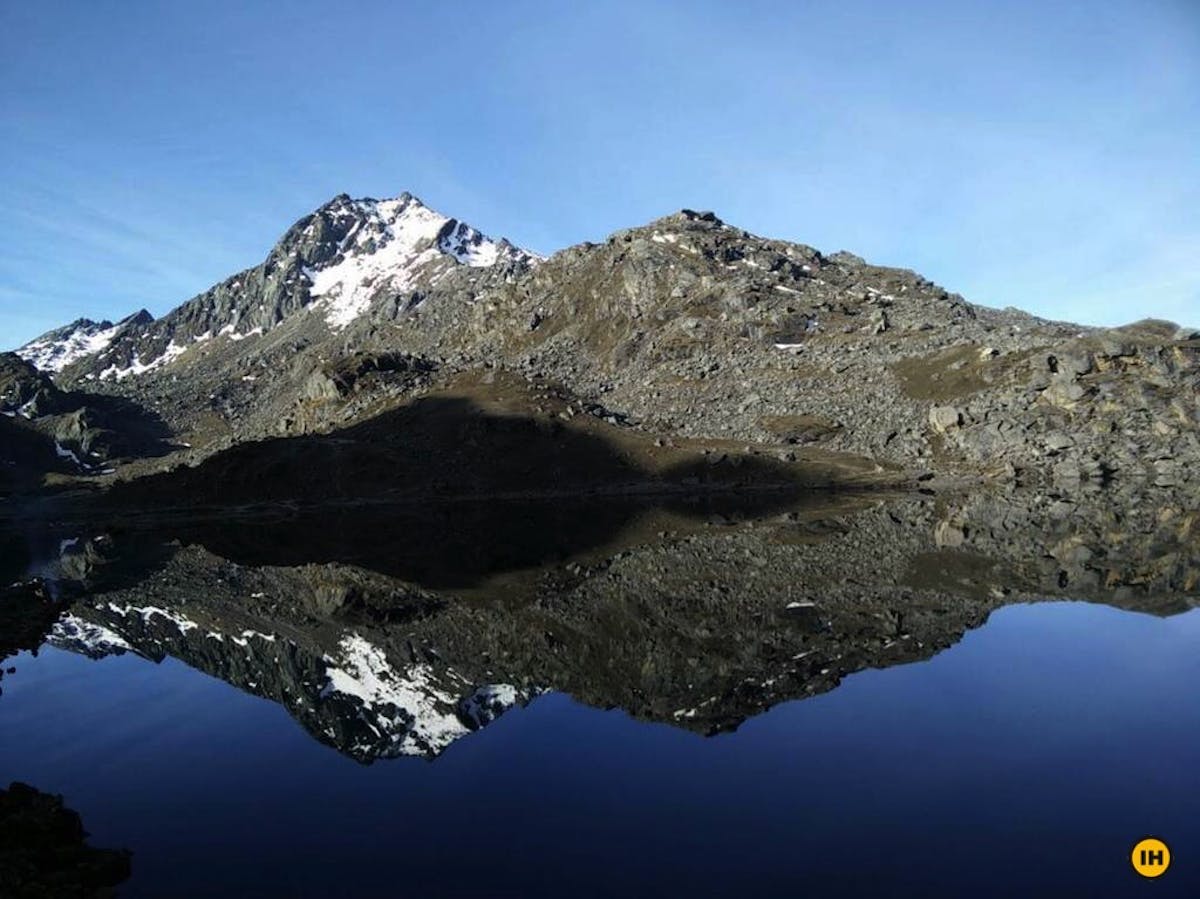 A view of Gosaikunda PC: Meghana Vasisht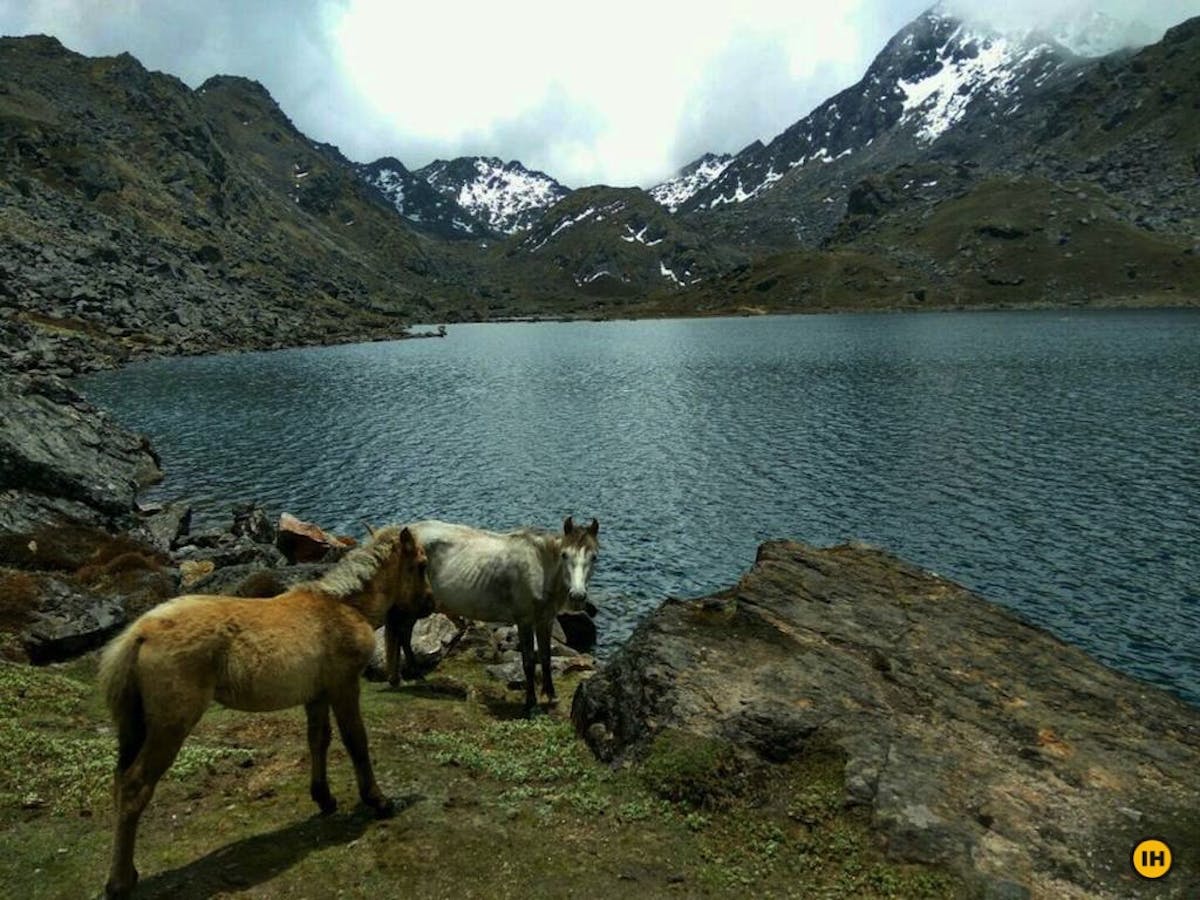 Another view of Gosaikunda PC: Meghana Vasisht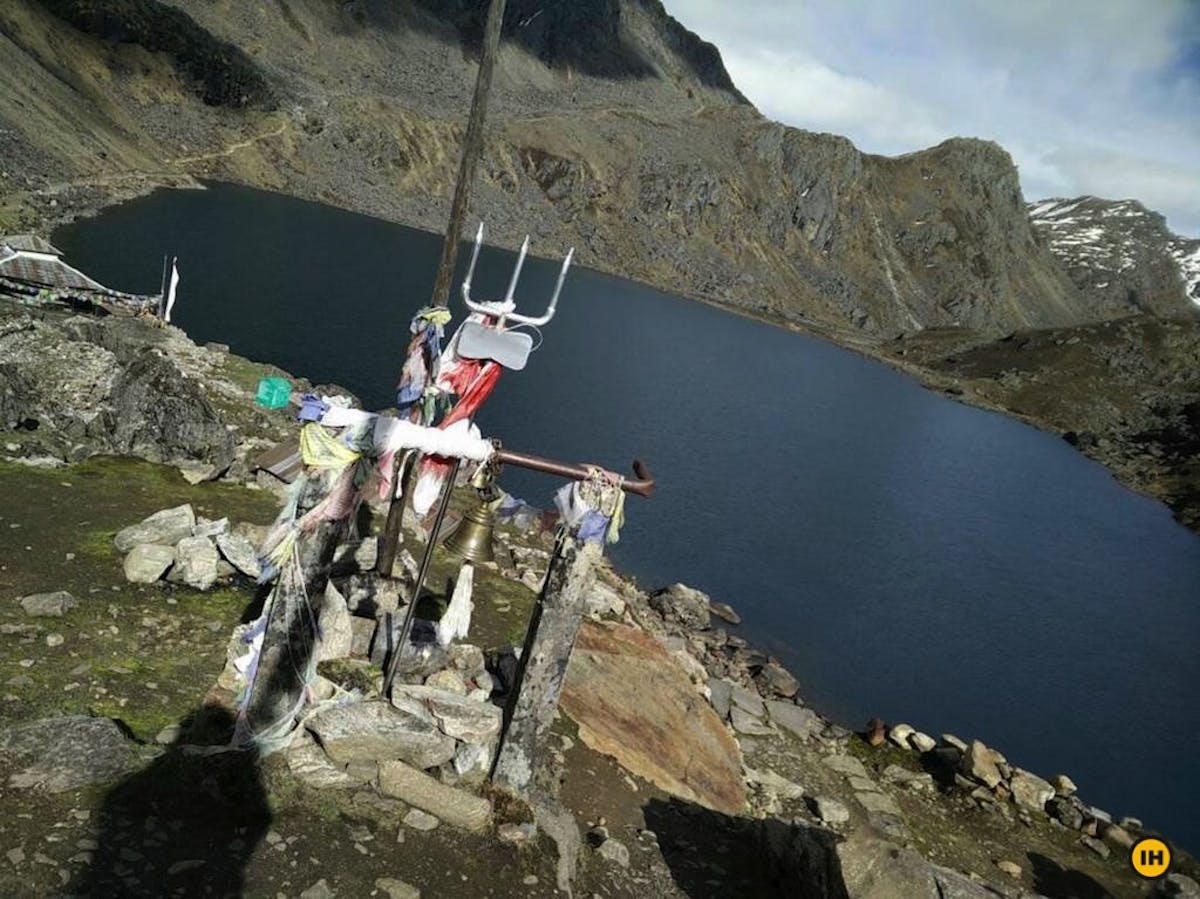 The shrine at Gosaikunda PC: Meghana Vasisht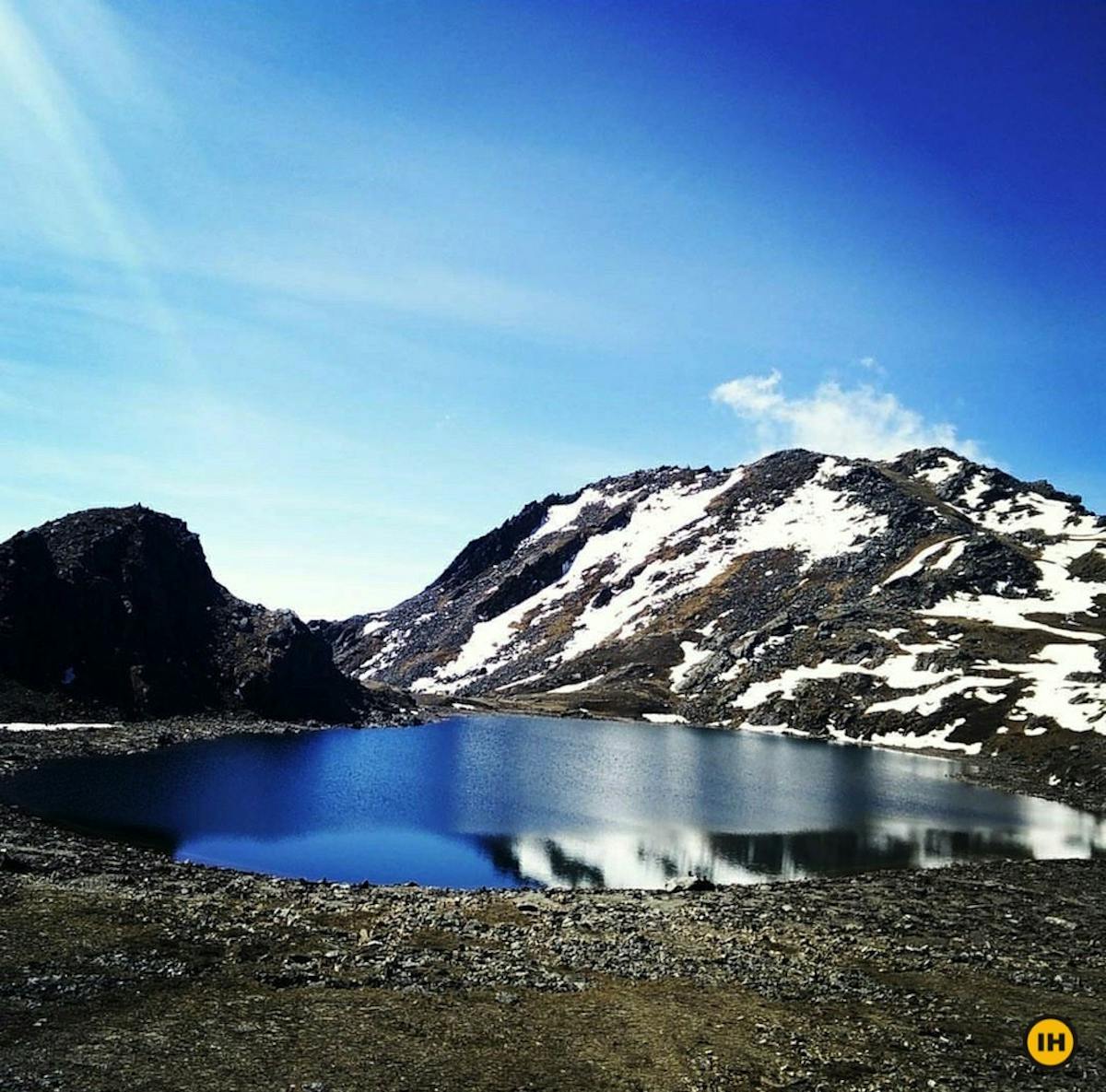 Another lake in the region PC: Meghana Vasisht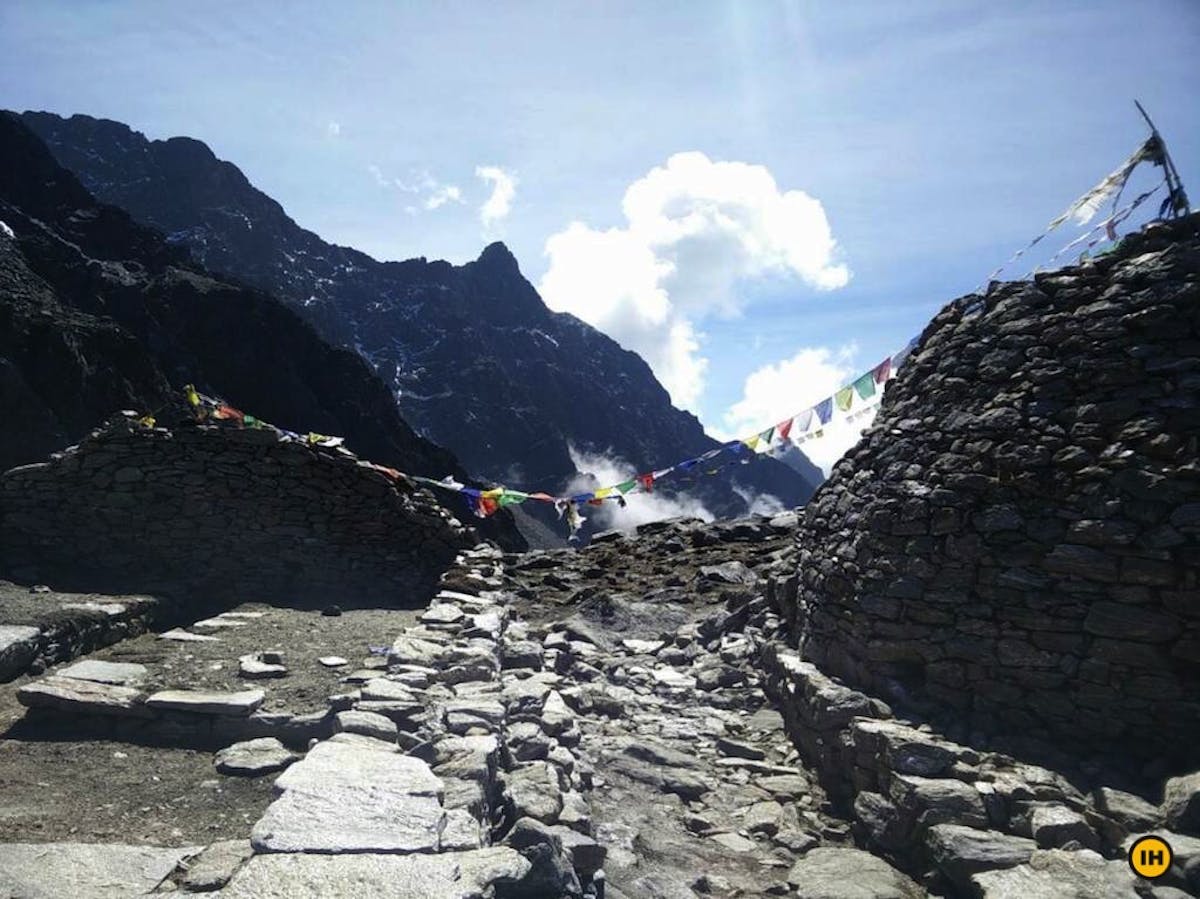 At Laurebina Pass PC: Meghana Vasisht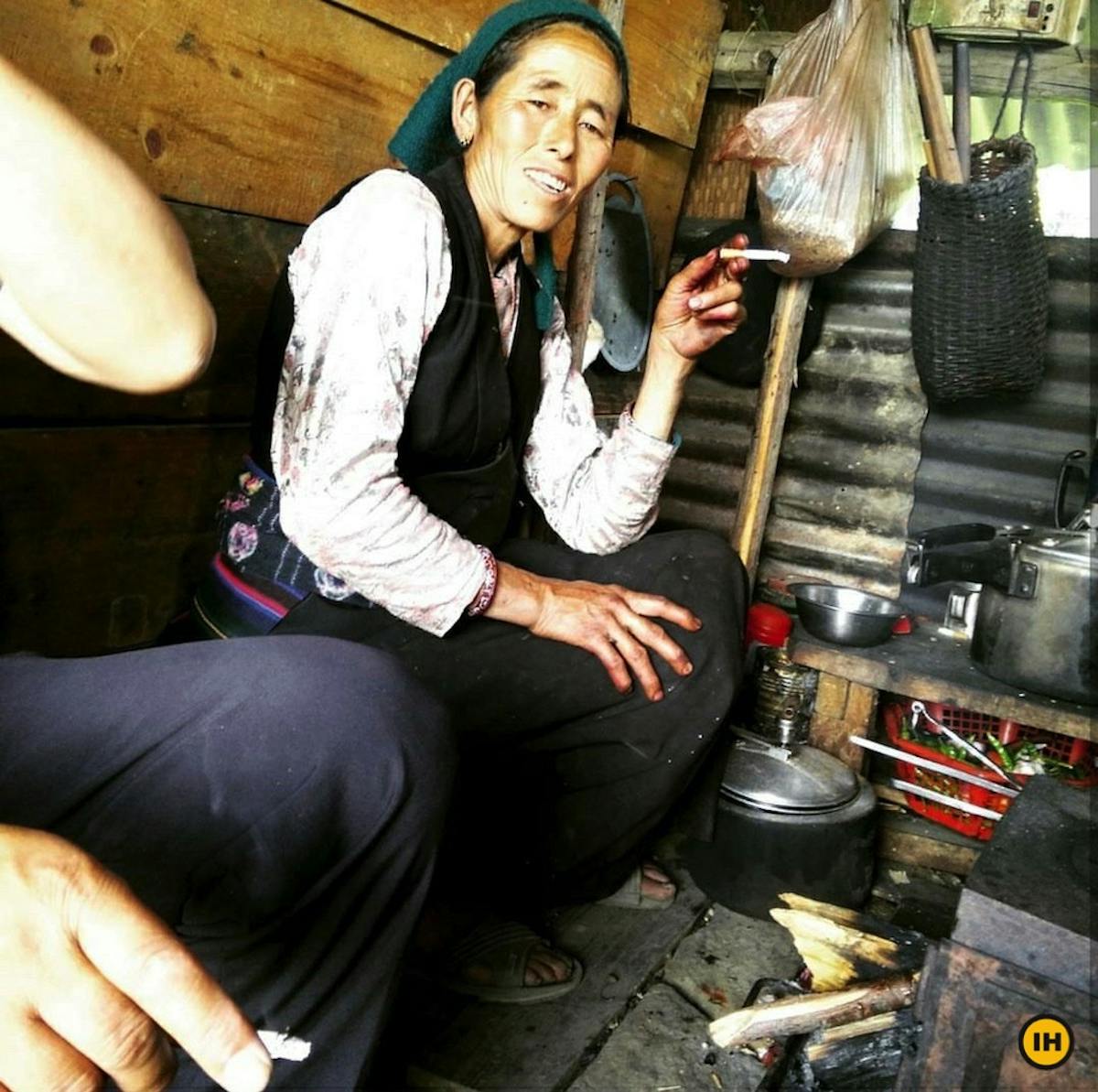 Inside a tea house PC: Meghana Vasisht
➤ Trek Contribution
Documented by Meghana Vashisht, Himanshu Thapa