Can You Help Us With Photographs Of This Trek?
We are looking to enrich this documentation with more photos. Pictures go a long way in explaining the trail, more than words ever can. If you have done this trek, can you share your photos with us? We will include them on this page, with due credit to you.Click here to contribute.
The Complete Guide to the Gwaru Pass Trek
Gwaru Pass is one of those rare treks that has something in store for everyone. This diverse trail is largely unexplored and it's a well-kept secret of Kullu Valley. No wonder the beauty of this trail still remains unblemished to this day.
Mountain-Pass Crossings:
This virgin route has remained elusive for years, thus promising a never-seen before combination of terrain and experiences in Kullu Valley. The trek features two beautiful mountain pass-crossings at Tentu Pass and Gwaru Pass. The sense of accomplishment you derive from ascending a mountain pass is as good as the feeling you get when you scale a summit. You get to experience it twice in this trail.
The mountain streams running along the pathway offer some of the best campsites in the Himachal region. "Never before have I camped beside such pretty and docile streams," says Tanmay Bain, our Trek Leader, who explored this trail in July 2016.
The chief highlights of the trail are well-spread over the course of the 7-day trek. The trail winds through broad open-valleys, river-crossings and a high-altitude lake at Chandratal, which resembles the shape of a crescent. The joy of seeing the sun rays lighting up the lake is a moment to behold.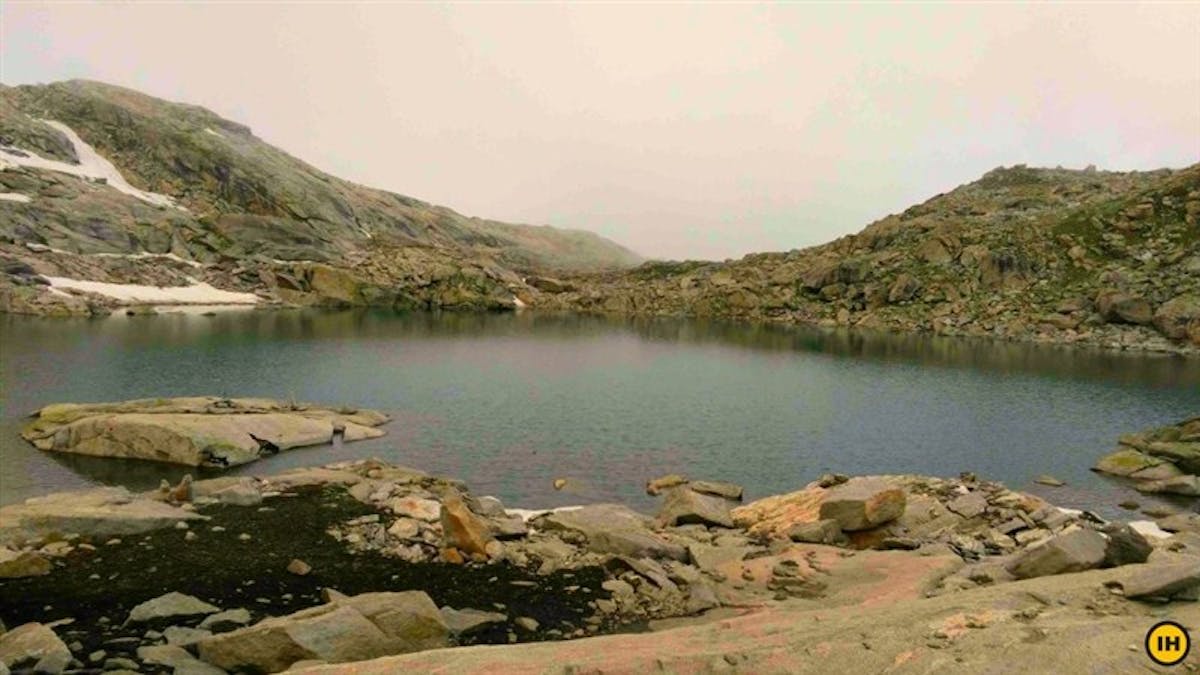 Chandratal Lake
And just when you think you've seen it all, your eyes will feast upon the stunning peaks that stand tall like sentinels and watch over the Pir Panjal mountain range.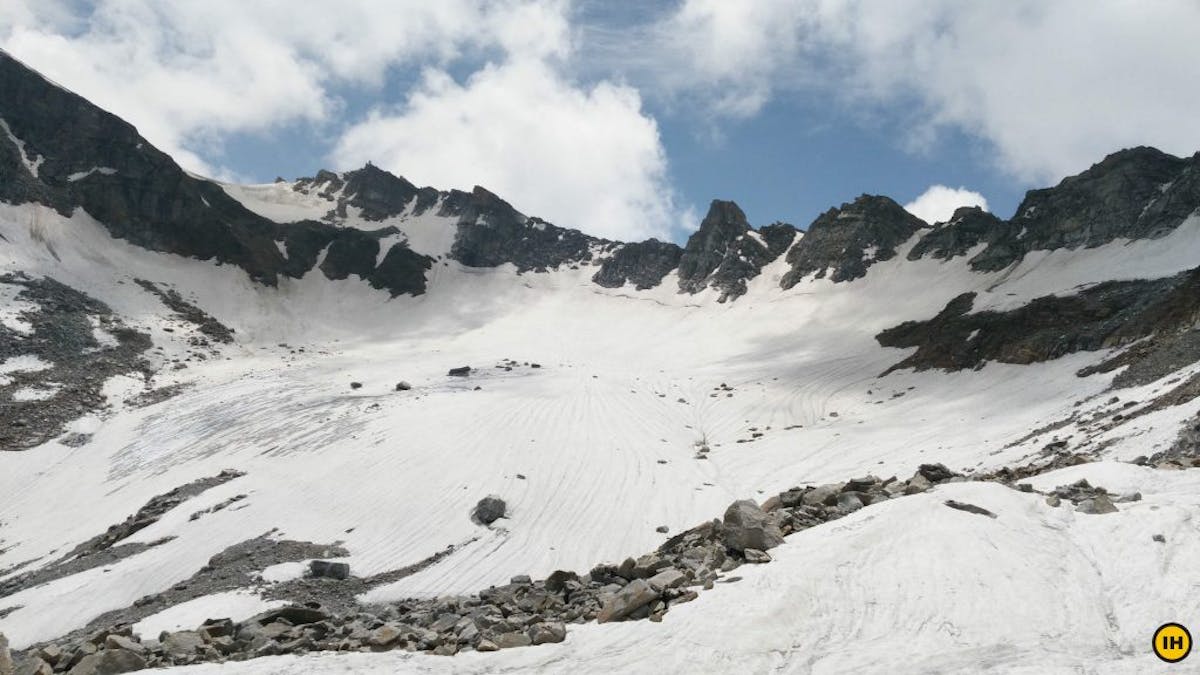 Uphill trail to Gwaru Pass
Whom is the Gwaru Pass Trek meant for?
The Gwaru Pass trek is classified as a moderate-difficult trek. It requires high levels of fitness because of the challenges posed throughout the 7-day period. Prior trekking experience will come in handy since it'll help you navigate unmarked trails, while also factoring in the high-altitude ascents and descents. Access to drinking water is not an issue. The river streams are safe water sources. 
How to prepare for the trek?
The trail winds through rivers, grasslands, mountain passes, moraine, glacier and snow and offers an exciting prospect for keen trekkers. In order to prepare for these surprises, you will need to customize your fitness training accordingly.
Your fitness regime should include stair-climbing, which will help you to prepare for steep climbs. You should also focus on exercises that will build your strength and flexibility. This will help you negotiate the tough sections filled with ridge lines, moraine, glacier and snow while ascending Gwaru Pass en route to Bareh.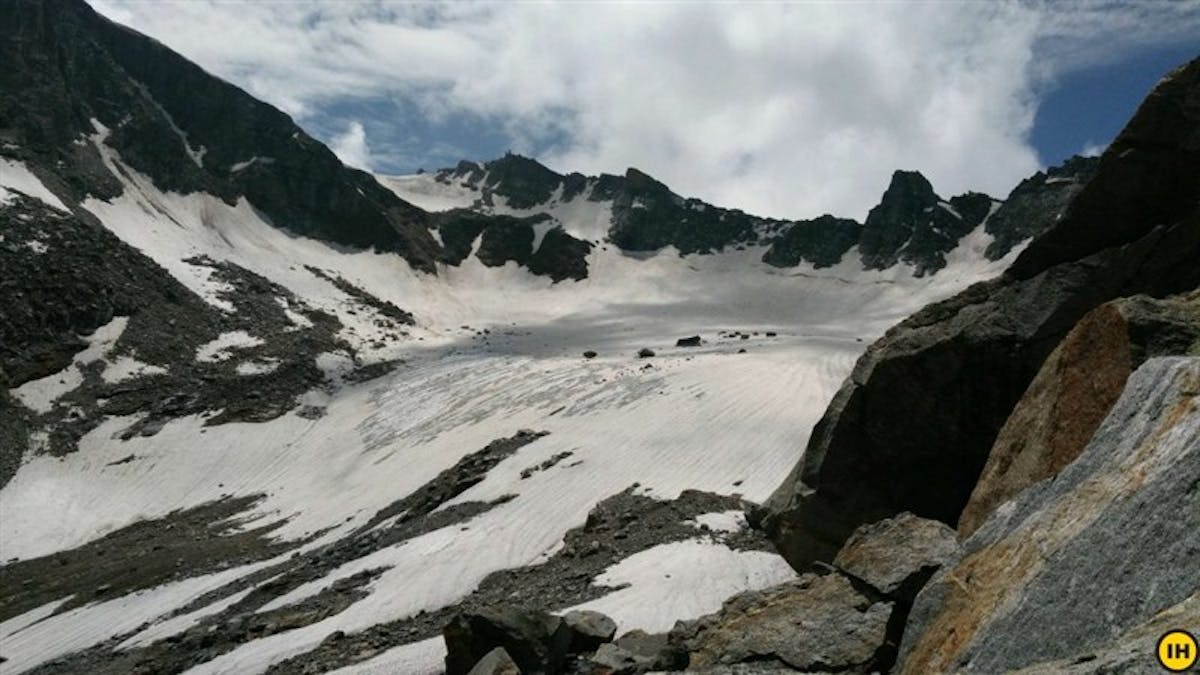 A challenging trail through moraine, glacier and snow
➤ Highlights of the trek
A Well-kept Secret in Kullu Valley
The trail offers a double delight in the form of two high-altitude mountain pass-crossings at Tentu Pass & Gwaru Pass.
Enjoy the stunning views of the peaks that stand tall and watch over the Pir Panjal mountain range.
Experience the joy of setting campsites along gorgeous river banks.
You'll visit the Chandratal lake on the fourth day of the trek. This high-altitude, crescent-shaped lake with its turquoise waters will carve out a place for itself in your heart.
➤ Trail Information
The Gwaru Pass trek is a virgin trail with diverse spectacles. It offers a wide range of experiences throughout the trek.
Day 1: Drive from Chandigarh to Manali
Altitude gained: 1053 feet to 6725 feet
Distance covered: 309.8 km
Average time taken: 10 hours
Manali is the the base camp of the Gwaru Pass trek. It is a beautiful hill station tucked away in the northern cusp of the Kullu Valley, which literally translates to 'end of the habitable world'. The landscape is dominated by apple orchards and snow. Manali is also considered one of the most preferred destinations for skiing.
The road from Chandigarh to Manali is well-connected by private cabs and public transportation. The Himachal Roadways Transport Corporation has buses plying between these two cities. The bus schedules and the availability of tickets can be checked from their official website.
Alternatively, you can hire a cab if you prefer to travel independently. It is important to note that this road has many bad stretches. Especially after Swarghat, brace yourself for a bumpy ride since this section is littered with potholes. Ideally, you should reach Manali by 4.00 to 4.30 pm to settle down and make the necessary arrangements for the trek, which will start the following morning.
Manali has a wide range of hotels that you can choose from, according to your budgets and preferences. Finding a room to spend the night is not an issue. The acclimatisation process starts today.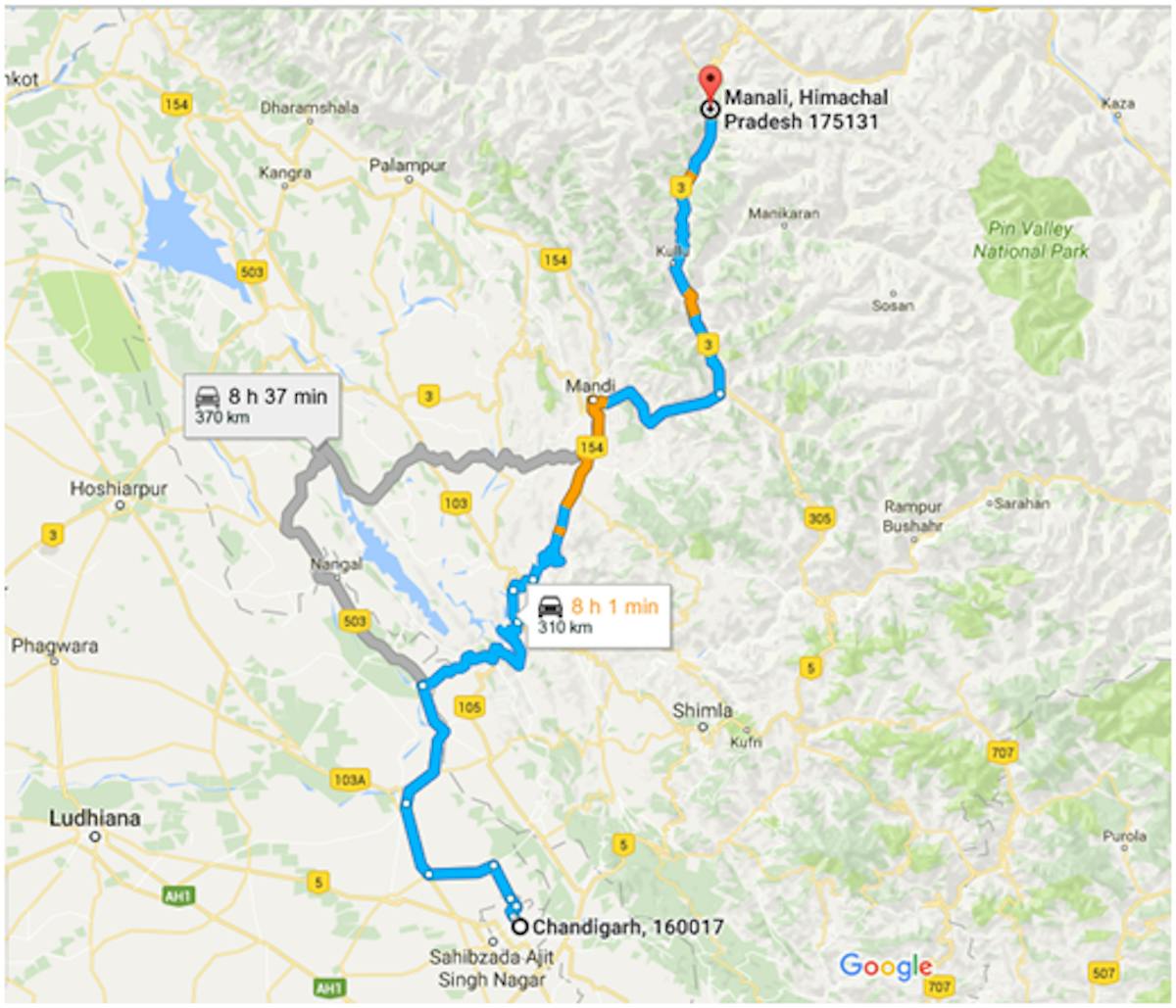 Chandigarh to Manali -Map
Day 2: Drive from Manali to Barahazar
Altitude gained: 6725 feet to 9325 feet
Distance covered: 18 km
Average time taken: 1.5 hours
Due to the non-availability of public transportation, you will have to hire a jeep from Manali to reach the starting point of the trek, Barahazar. The roads are narrow and steep in some sections. However, the drive is fairly comfortable. The jeep rental is Rs. 2,200/-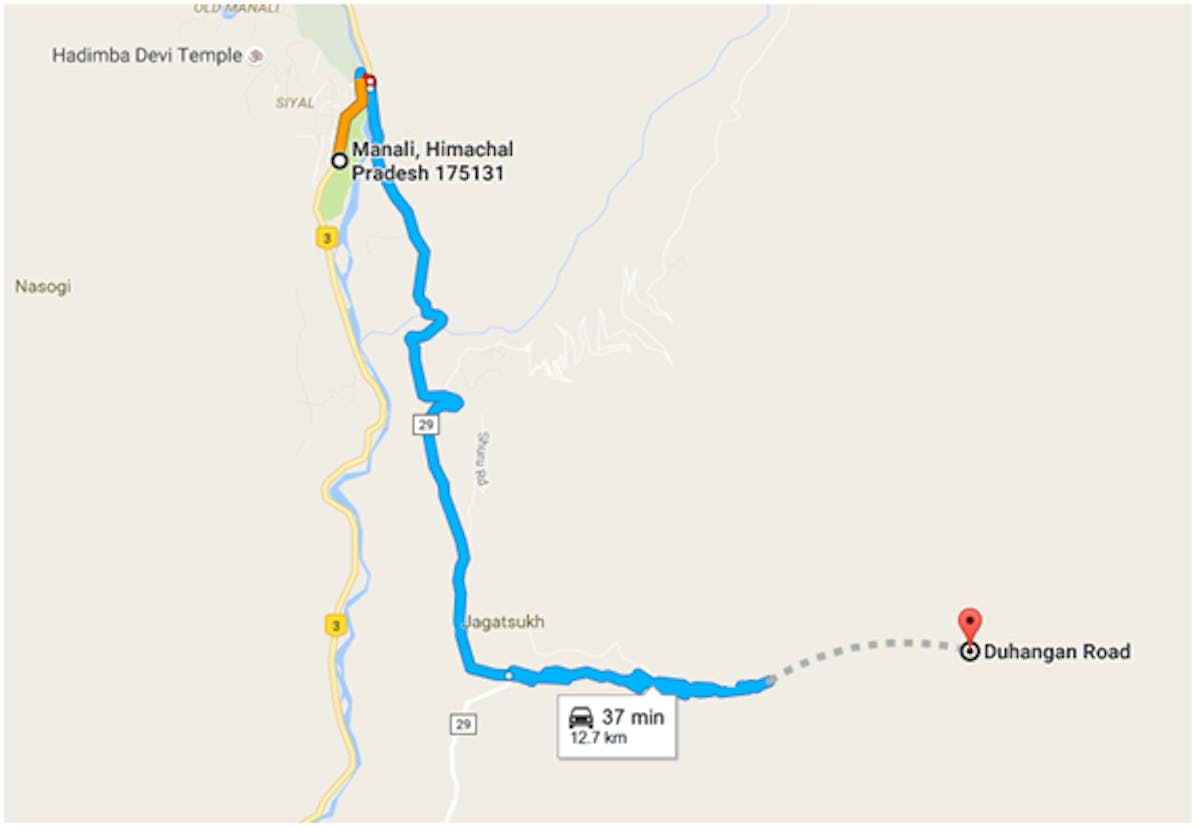 Manali to Barahazar – Map
Trek from Barahazar to Chikka
Altitude gained: 9325 feet to 10154 feet
Distance covered: 2.5 km
Average time taken: 2.5 to 3 hours
Trail type: Grasslands, rocks and stony slopes
You will notice that Barahazar has a hydro-power project setup on the Dhuongon river. The Gwaru Pass trail will start from the left bank of this river. The raw beauty of the plunging river will immediately draw your attention.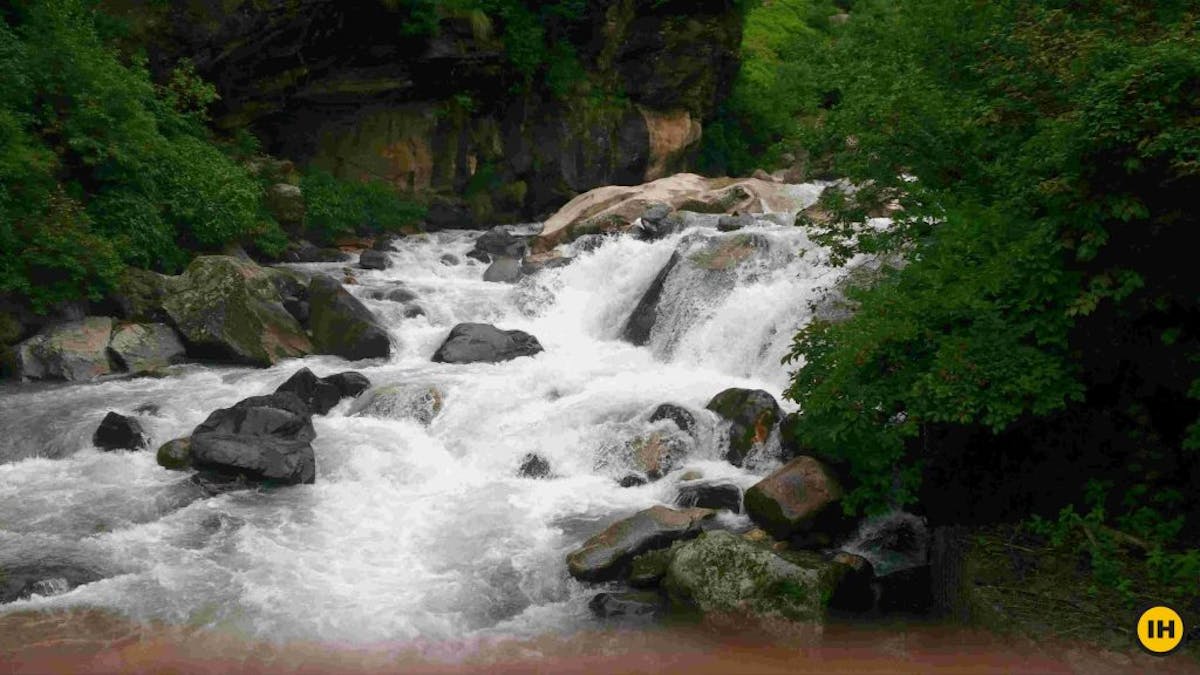 Dhuongon river in full flow
The initial part of the trek is an easy walk through the jungle. This terrain is a combination of grasslands and rocky surfaces. Continue walking on this route for 15 to 20 minutes until you are able to spot a bridge with railings. Cross the bridge. Take a moment atop this bridge to admire the scenery. The sheer force of the Dhuongon river gushing underneath the bridge will certainly lift your spirits.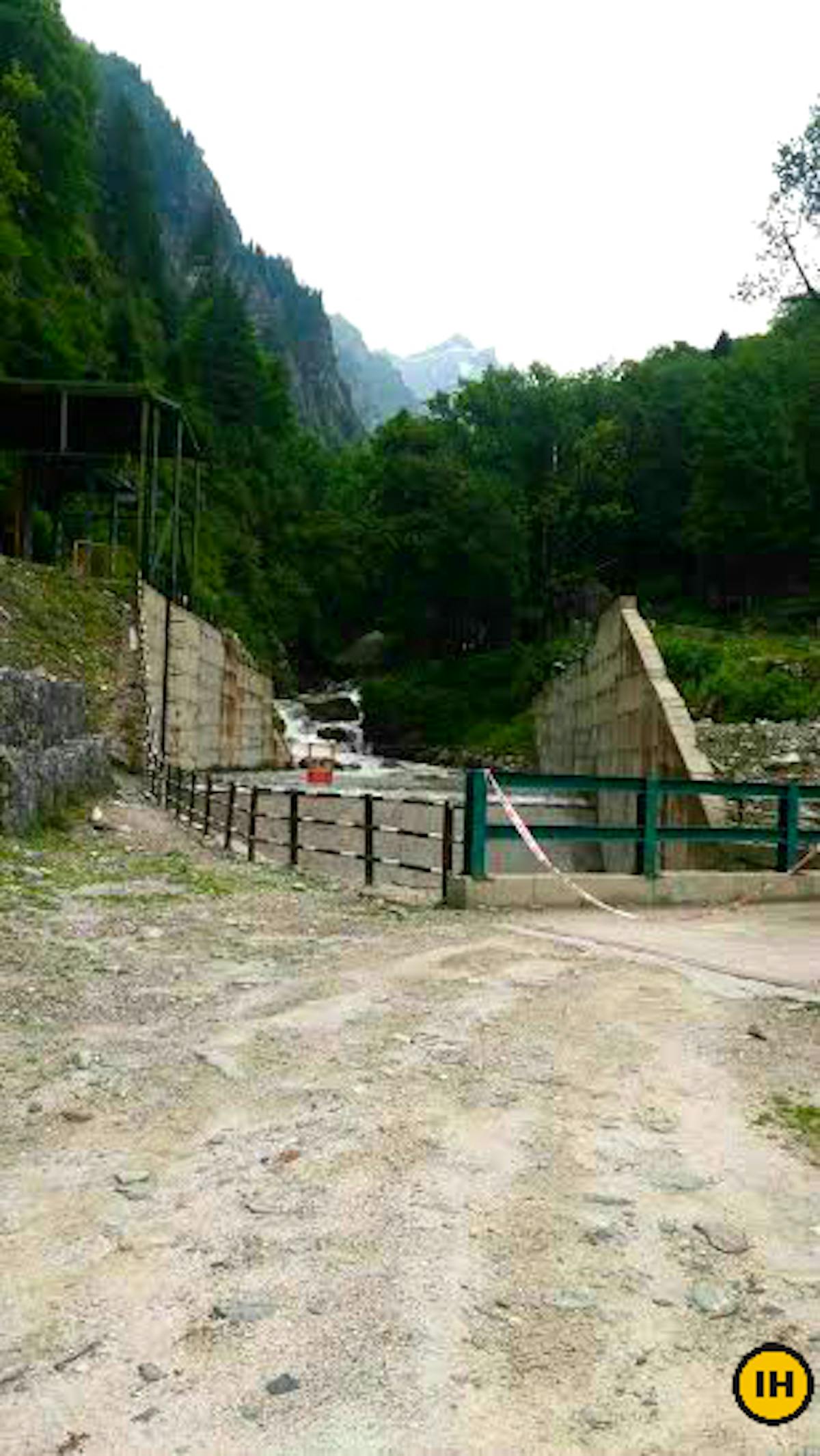 Hydro power station -Dhuongon River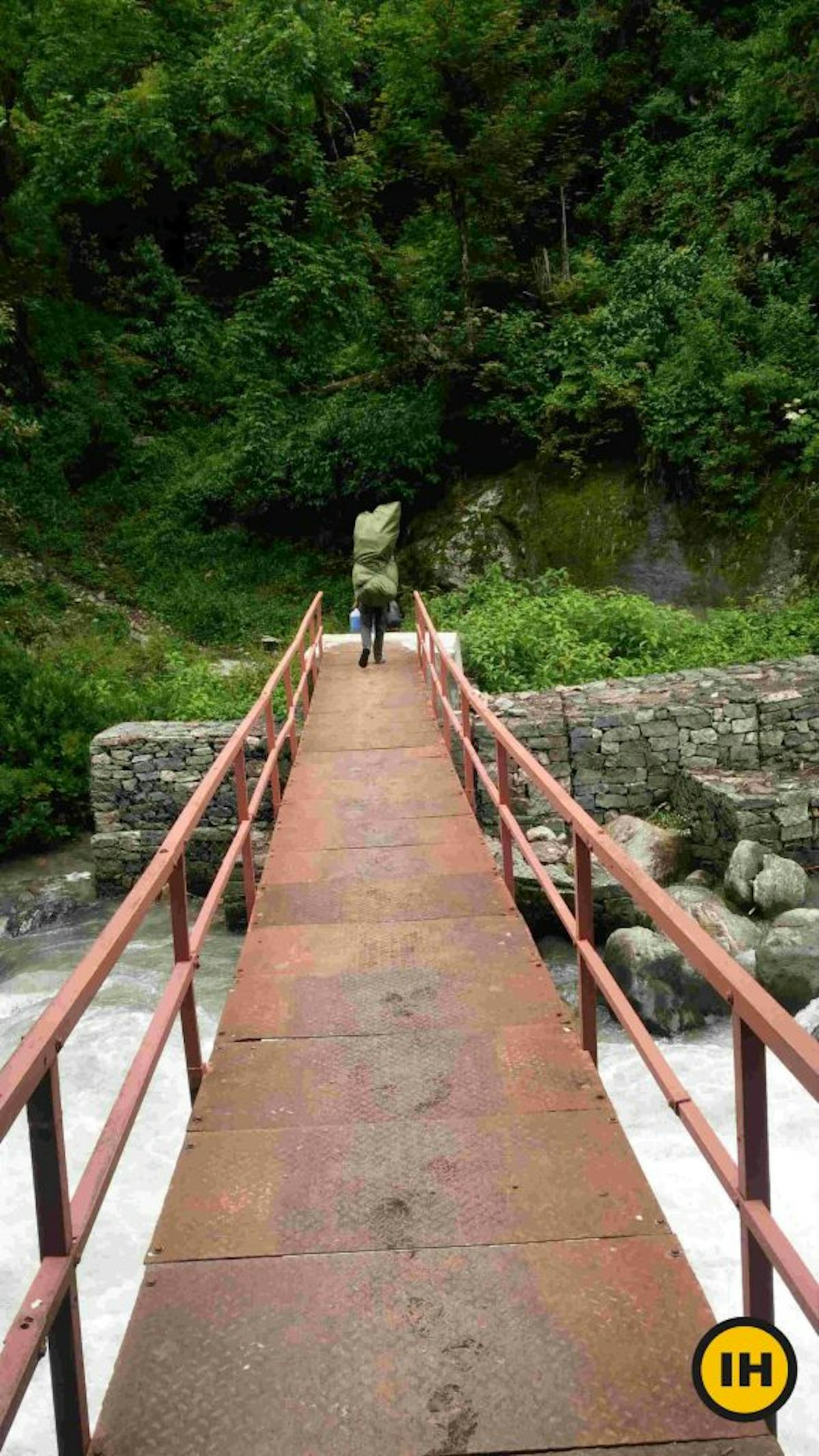 Bridge crossing
Once you cross the bridge, continue walking along the right bank of the Dhuongon river. The terrain is similar all the way upto the campsite and you will be traversing grasslands, rocks and stony slopes. You'll notice that the jungle cover is richly endowed with the presence of the Silver birch trees. The colours and textures of the white and brownish barks of these trees are hauntingly beautiful. It's interesting to note that the barks of these trees have been used for writing scriptures and literary texts since time immemorial.
The jungle trail from Barahazar to Chikka is a gradual ascend and it takes approximately three hours to reach the campsite, which sits snugly at the foothills of a mountain range. You will spot a few huts and a Shiva & Takshak nag temple. It's fascinating to note that the shape of a snake is sculpted on the surface of a stone here. This is an important day to acclimatise and rest in preparation for the trek tomorrow. The river water is safe for drinking. Stock up your water bottles here.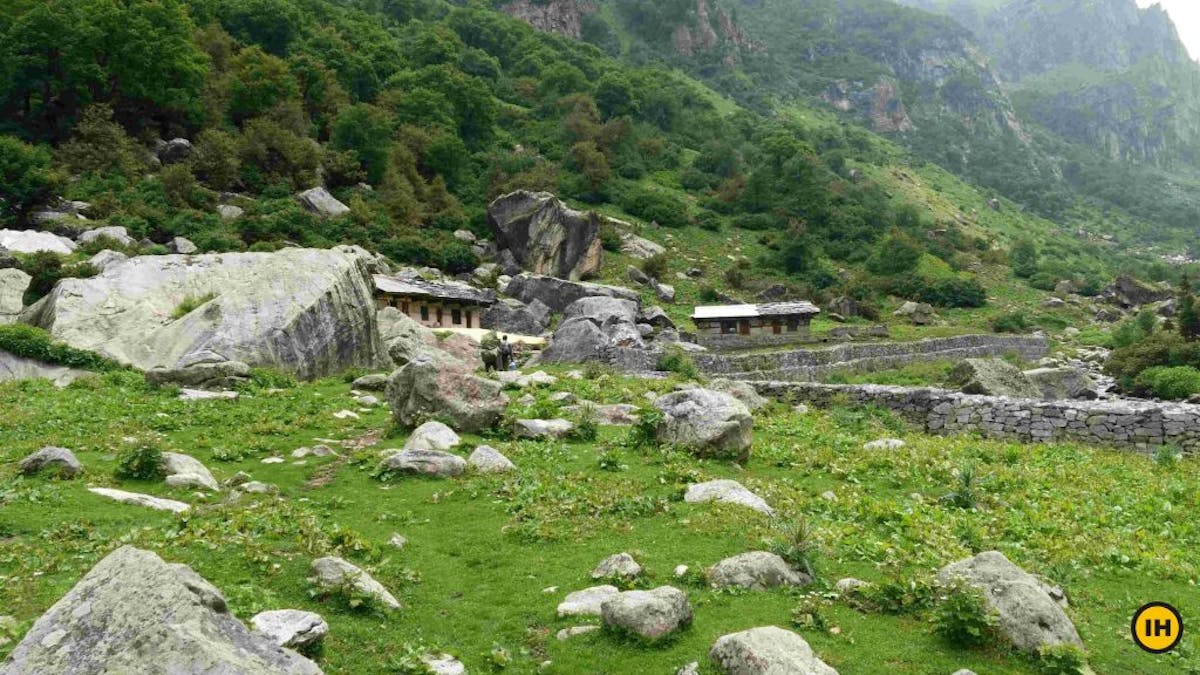 Chikka Campsite
Day 3: Trek from Chikka to Seri
Altitude gained: 10154 feet to 12578 feet
Distance covered: 6.9 km
Average time taken: 6 hours
Trail type: Grasslands, rocky slopes and open-valleys
The trail from Chikka to Seri is demanding in some sections but equally rewarding. It's important to get an early start today. It's advisable that you cook and pack lunch before you set off on your journey. You'll be passing through two campsites en route to Seri and both are good resting spots.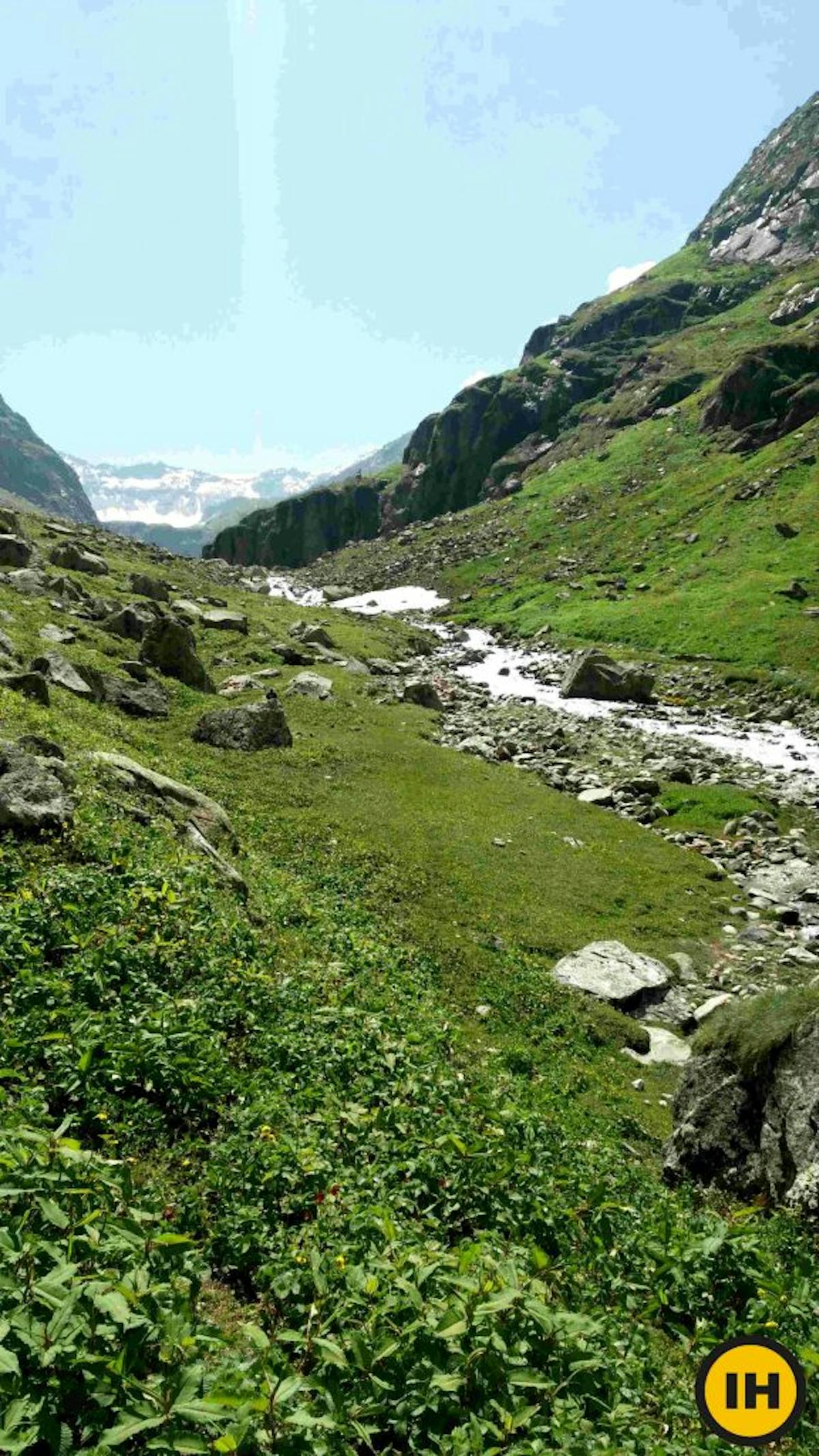 A trail along a river bank
From Chikka, it takes just a few minutes to spot a log bridge along the river. Crossing the bridge will let you access an alternate route to Seri, one which traverses a jungle trail frequented by shepherds and their herds. However, this alternate route is longer and hence it's advisable that you continue walking along the river banks.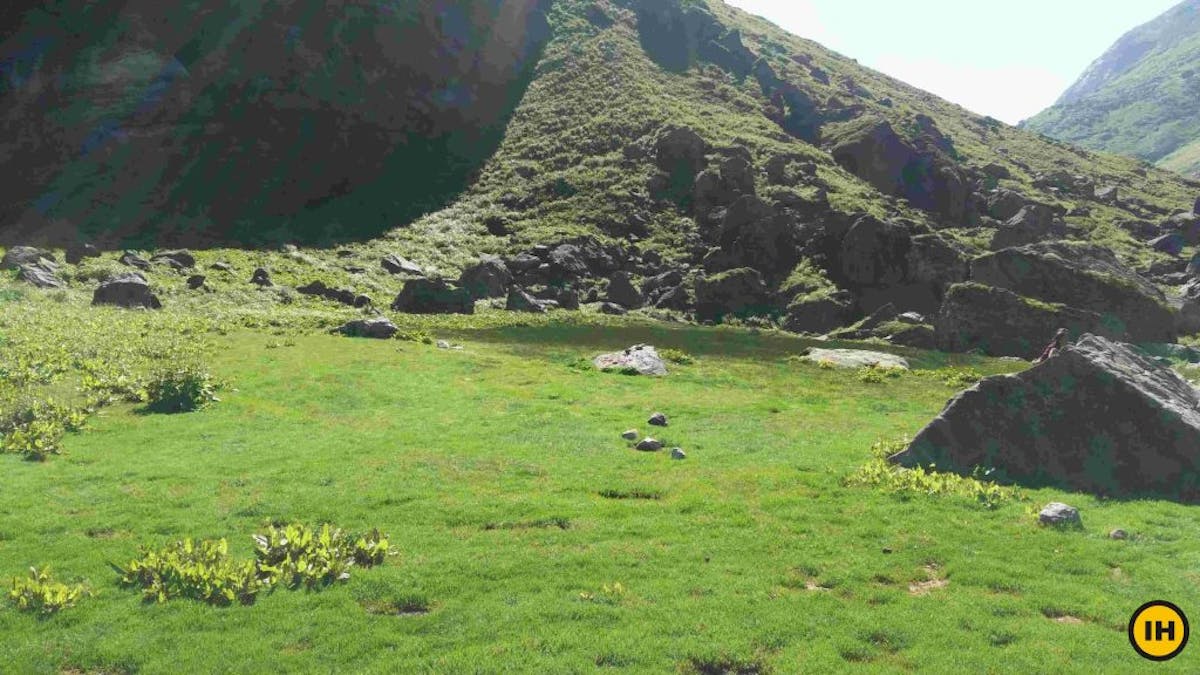 Grasslands peppered with rocks
The next two hours is a gradual ascend that passes through beautiful grasslands peppered with rocks. The Ocheri campsite located at 11437 feet is easy to locate and makes for a good resting spot. This place is also referred to as Duddu/Pandurofa (rofa meaning 'resting place'). It is believed that the Pandavas rested here before they set off on their journey towards heaven.
Continue along the trail and brace yourself for a demanding hike. It'll take you approximately 1.5 hours to ascend this steep slope from Ocheri to reach the Chorgan campsite (12355 feet). It covers a trekking distance of 2.2 kilometres. This tough stretch is riddled with boulders. Chorgan is a perfect spot for lunch.
Post lunch, continue walking for an hour. You have put in the hard yards up until this point and it's time for you to reap the benefits. The broad, open-valley from Chorgan to Seri is a one-kilometer stretch. This scenic landscape is the perfect vantage point to get a glimpse of the tall and majestic peaks of Deo Tibba, Norbu and Bansi peak. The Dhuongon river descending down from Tentu Pass is a sight unlike any other. The river resembles an enormous waterfall. This flat meadow is Seri. Cross the river and pitch your tent on the other side of the river bank and set camp here. It's interesting to note for approach march for the Deo Tibba expedition begins from Seri.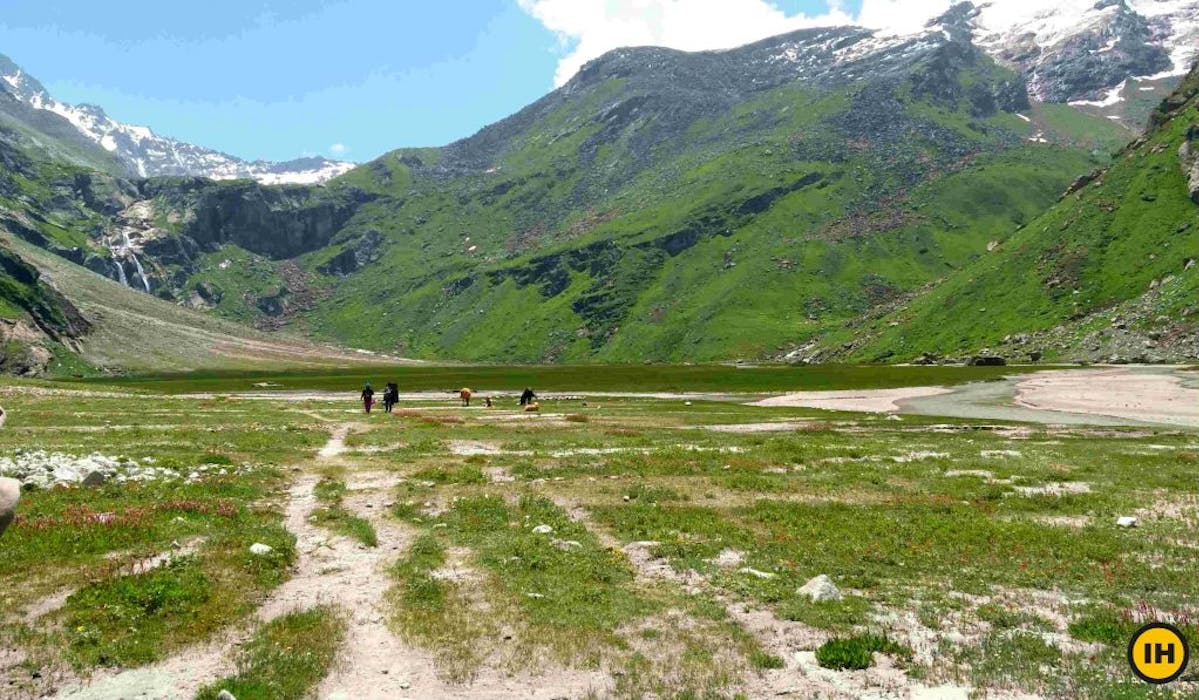 Open-valley
Day 4: Trek from Seri to Chandratal & Back to Seri
Altitude gained: 12578 feet to 15122 feet
Distance covered: 12 km
Average time taken: 7 hours
Trail type: Grasslands and reddish soil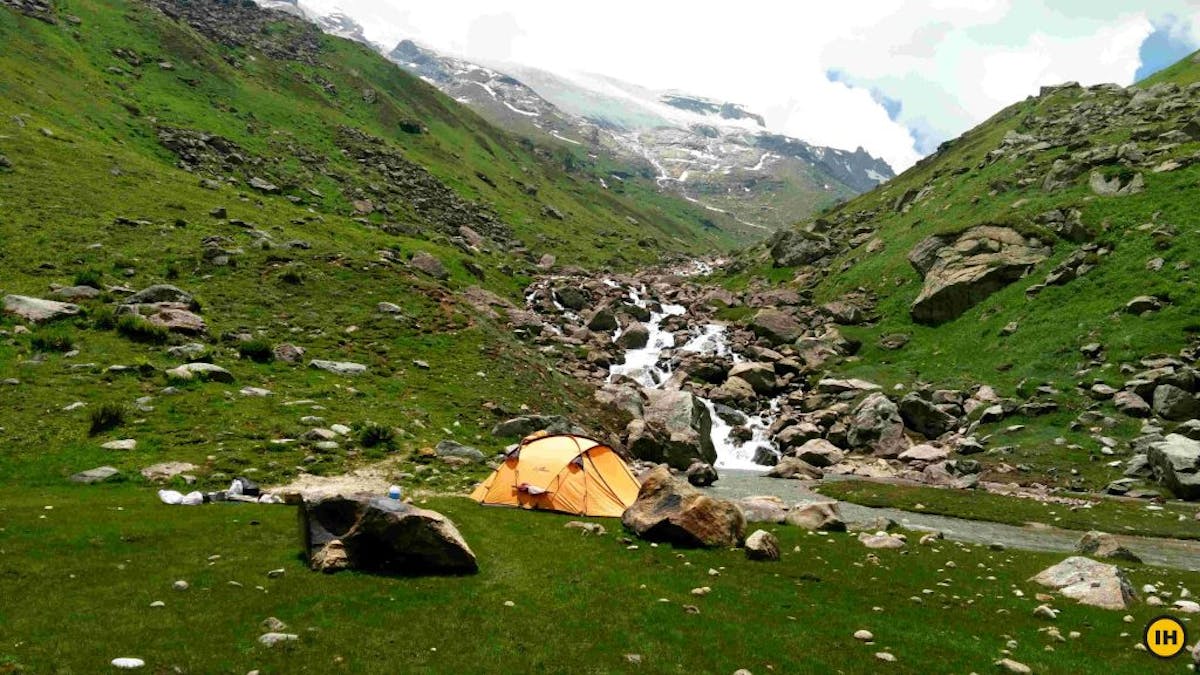 Seri Campsite -Riverbank
Today is an important day for you. You will be trekking up to the visually striking Chandratal lake and experience its pristine beauty. This crescent-shaped lake is famous for its sudden changes in colour. It immediately mirrors the complexion of the sky and the sudden shifts give it a captivating persona.
The first order of the day is a steep climb from Seri to Tentu Pass (13408 feet). The terrain is a combination of vibrant grasslands and reddish soil. This two-kilometer stretch is a moderately demanding ascend and it will take you 1.5 hours to reach Tentu Pass. This is a good spot to take a breather and look back upon the slope you've just conquered. The view is bound to take your breath away.
View from Tentu Pass
Up ahead, you will see the tributary river of Dhuongon trickling by. Remove your footwear to cross the river, which is just knee high. The ice cold mountain stream is refreshing. A few minutes after the river-crossing, you'll reach the Deo Tibba Advance Base Camp (13,398 feet).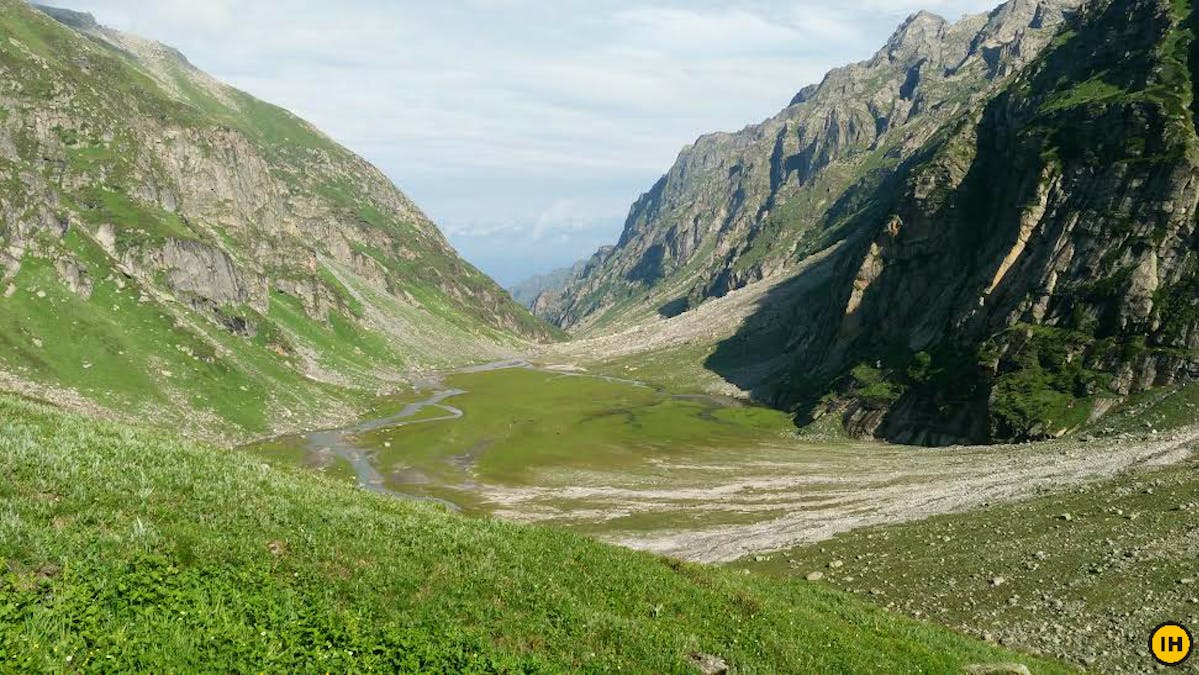 Grasslands en route to Chandratal
From this base camp, it'll take you thirty minutes to reach a flat meadow. You'll soon spot Gwaru nala, a tributary of the Dhuongon river. Cross this river and continue trekking up the steep slope. Watch your step, this 2.4 km stretch is riddled with moraine. After your ascent, you will reach Chota Chandratal. Here, you will spot an epitaph raised in honour of Shri. Vilas G. Deshpande, who was the Leader of the Deo Tibba Expedition.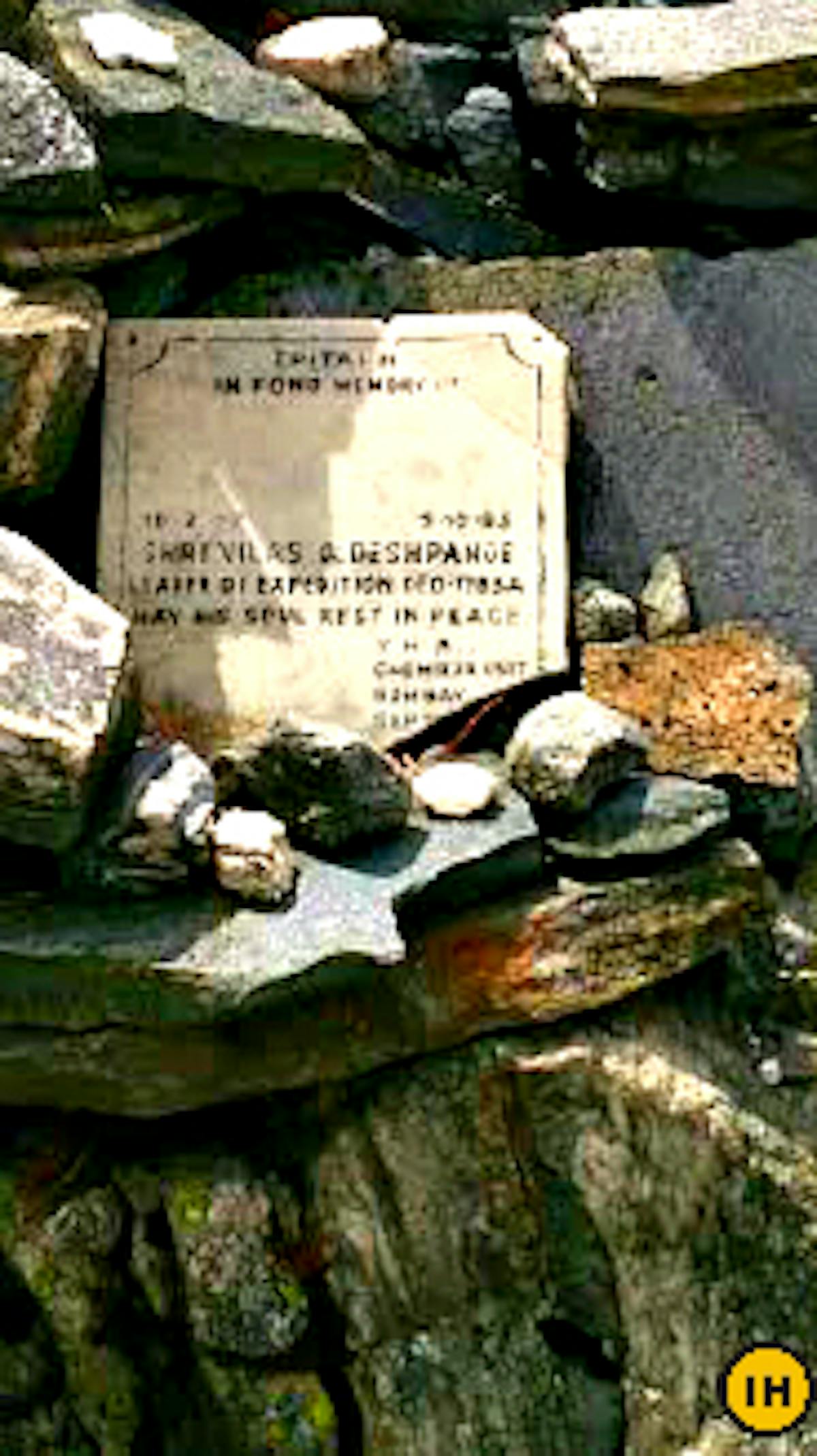 Take a right turn from Chota Chandratal and continue the ascent to the top. After walking through a brief section filled with scree, you will spot a high-altitude pond. This solitary spot is perfect for those seeking a silent retreat.
From the pond, a short 10-minute walk will take you to the much revered Chandratal lake. This surreal beauty is a sweet water lake and has a circumference of about 2.8 kms. It was said to be discovered by traders who were passing by from Ladakh en route to Spiti or Kullu. Ever since, it has attracted trekkers and nature lovers who throng in numbers to enjoy its beauty against the backdrop of the Chandra Bhaga mountain range. Set down your gear by the shores of the lake and take in the surroundings. This is a good spot for lunch. Spend an hour here and retrace your trail back to Seri and return to your campsite.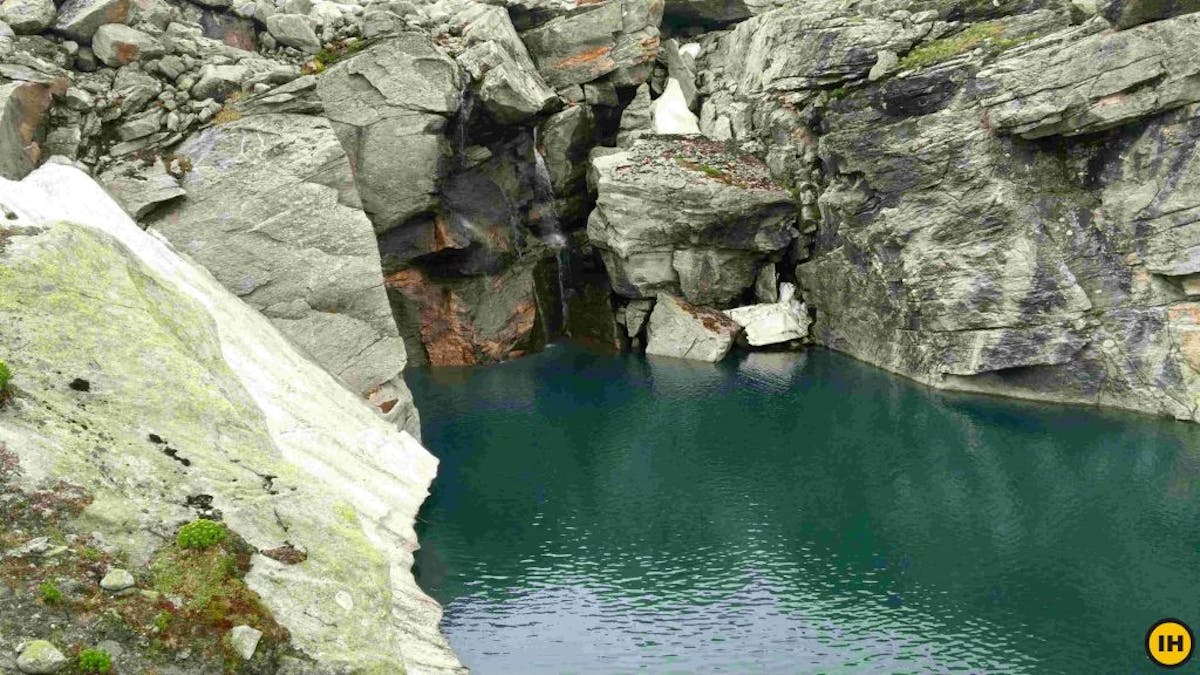 Magical turquoise waters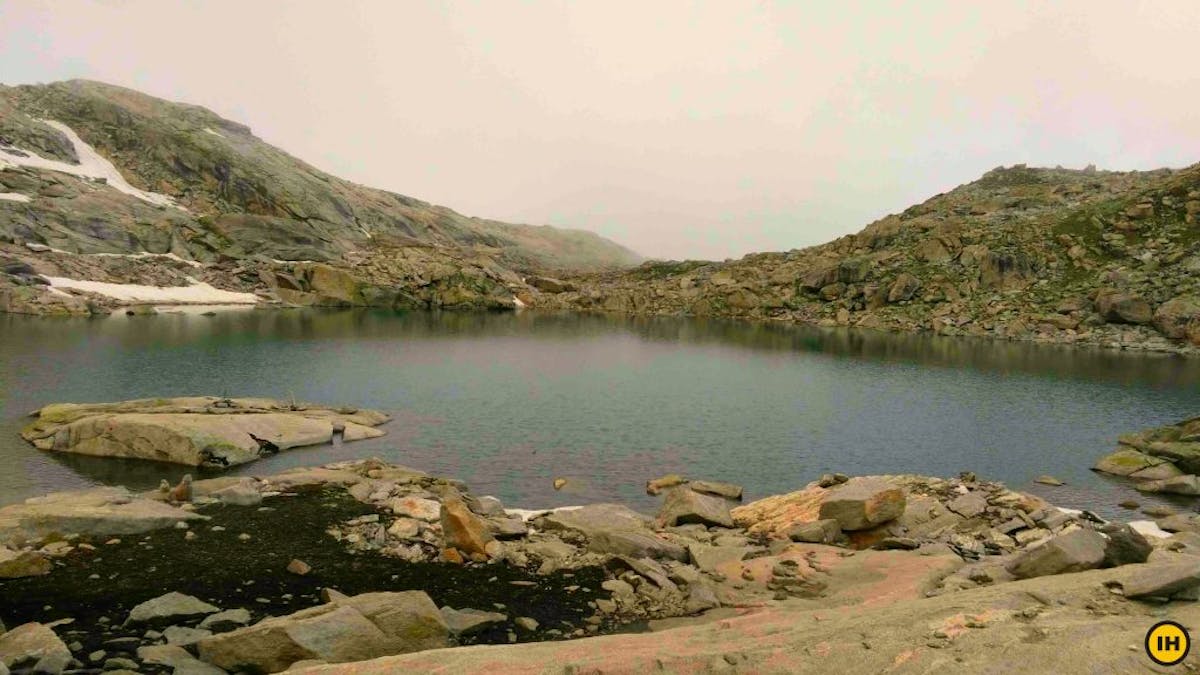 Sudden change in complexion
Day 5: Trek from Seri to Gwaru Thach
Altitude gained: 12578 feet to 13093 feet
Distance covered: 2.8 km
Average time taken: 3 hours
Trail type: Grasslands, boulders and snow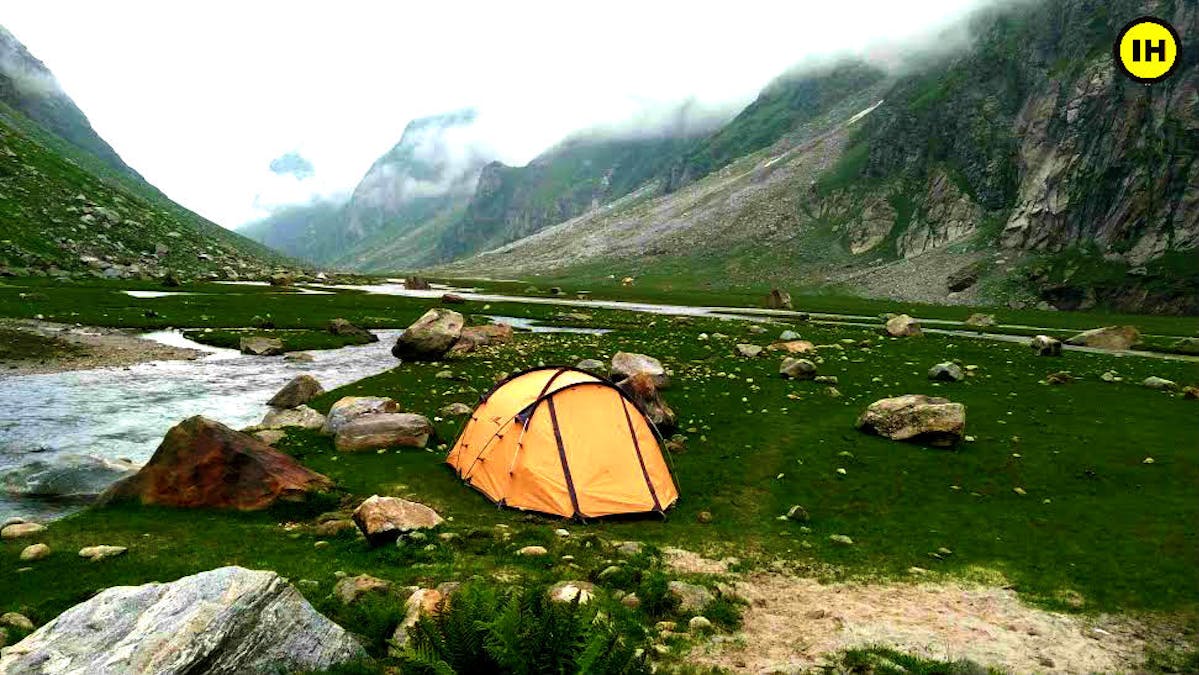 A beautiful campsite
It's a short yet engaging trek today. From Seri, follow the Gwaru nala and trek along the right bank of the river. You will encounter different surfaces today; grasslands, medium to large boulders and snow. It will be a lot of fun to navigate between different terrains within such a short span of time.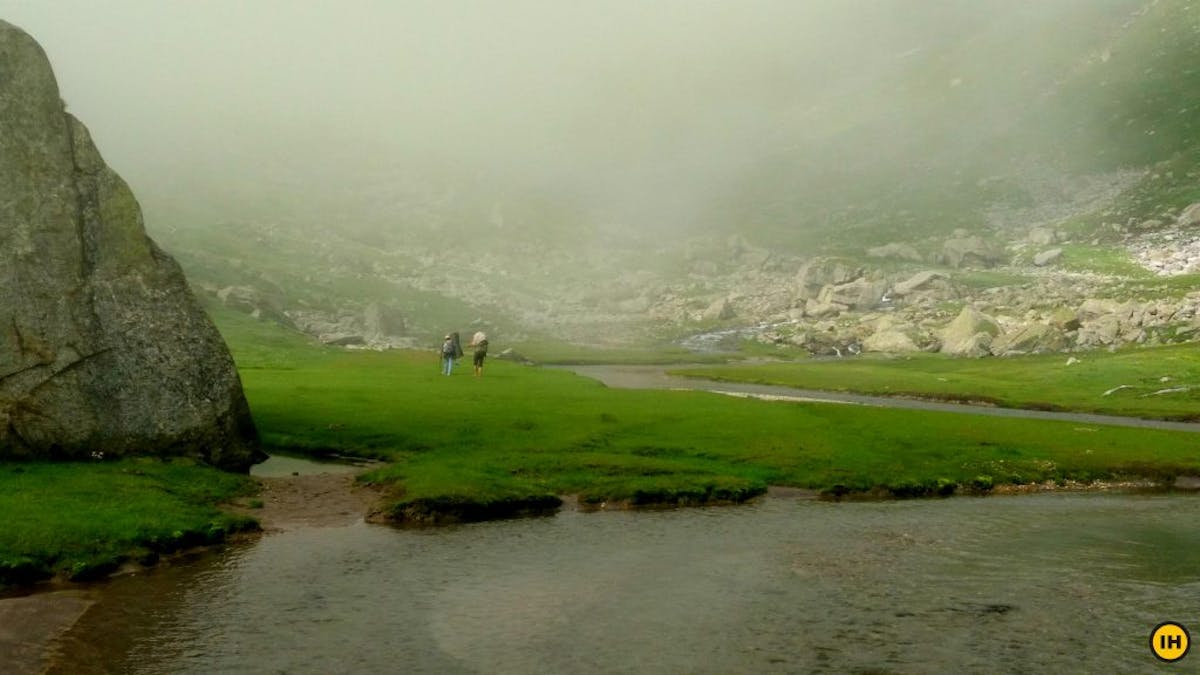 Vibrant grasslands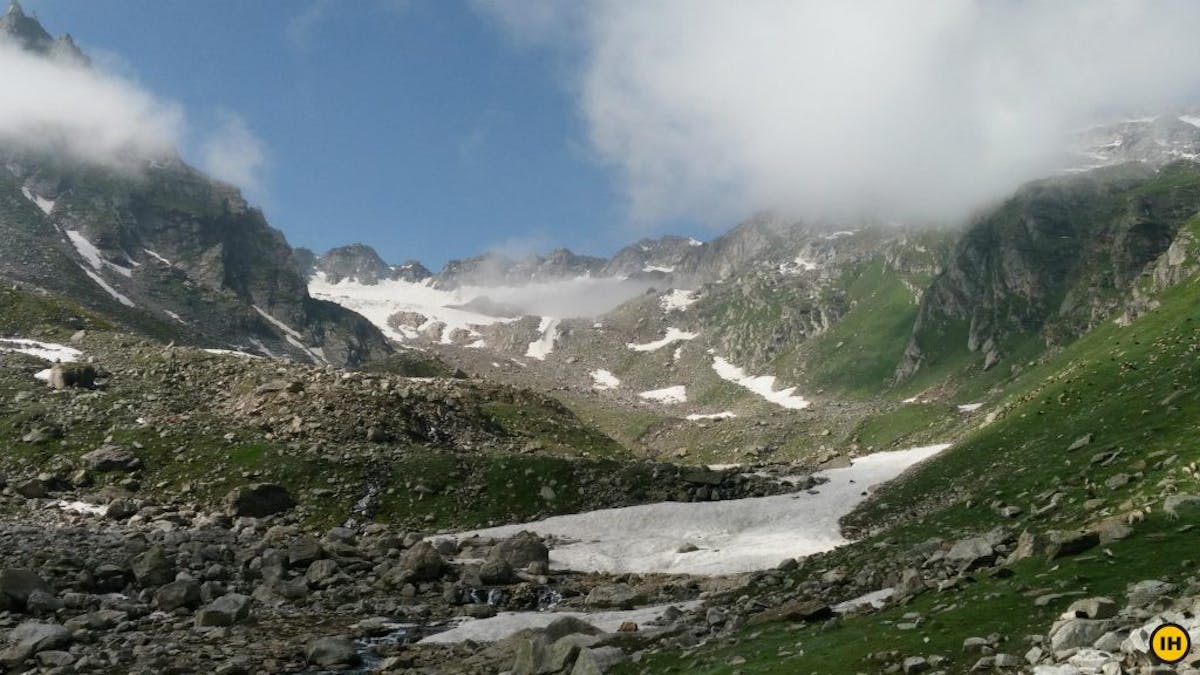 A diverse terrain
The gradual to steep ascend to Gwaru Thach (literal translation 'Stay area') is a 3-hour trek from Seri. The trail is slightly demanding due to the fact that you will be constantly shifting between surface types, all the while climbing uphill. Pace yourself moderately and you will reach the Gwaru Thach campsite in three hours. The campsite is a sight worthy of a postcard. You will be surrounded by mountains and wild flowers. The Gwaru top and Gwaru pass are visible from this point. The majestic Deo Tibba peak can be seen on the north and Norbu and Bansi can be seen on the east.
Day 6: Trek from Gwaru Thach (13093) to Bareh (13549) via Gwaru Pass (15882)
Altitude gained: 13093 feet to 15882 feet/ descend from 15882 feet to 13549 feet
Distance covered: 8 km
Average time taken: 11 hours
Trail type: Moraine, glacier and snow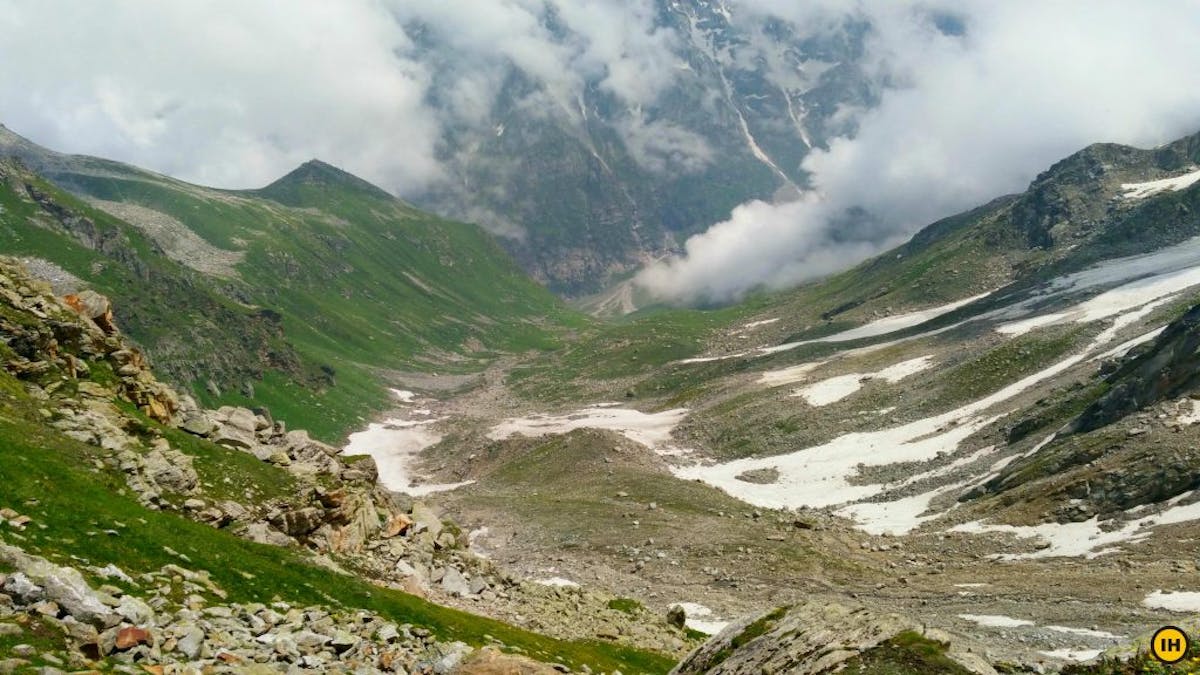 En route Gwaru Pass
Brace yourself for an exciting day today. It's a grueling 8-hour trek today and it's customary to get off to an early start. The initial part of the trail is a gradual ascent and in an hour, you'll reach a hump. From this point, the terrain is covered with moraine. For the next two hours, tread carefully in this section to reach the base of Gwaru Thach. The uphill trail ahead winds through ridge lines, snow, ice and moraine and it's an exciting prospect for keen trekkers. Head south for 1.5 hours, after which you'll need to change direction. Take a right and continue walking for an hour to reach the Gwaru Pass.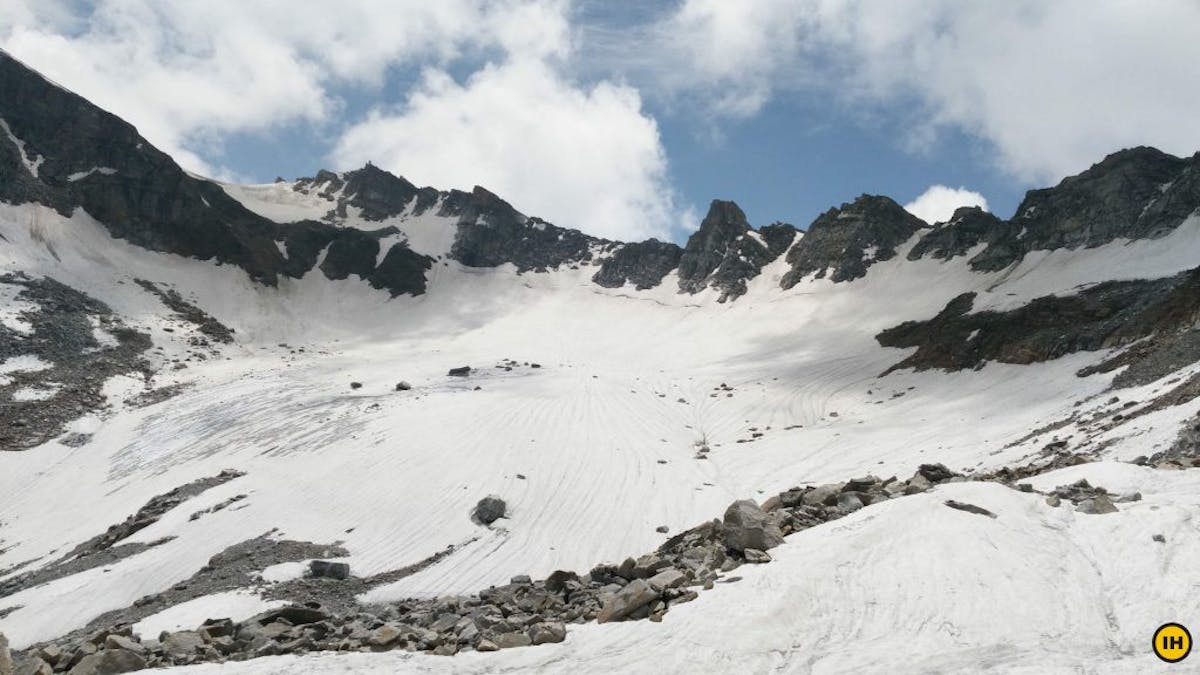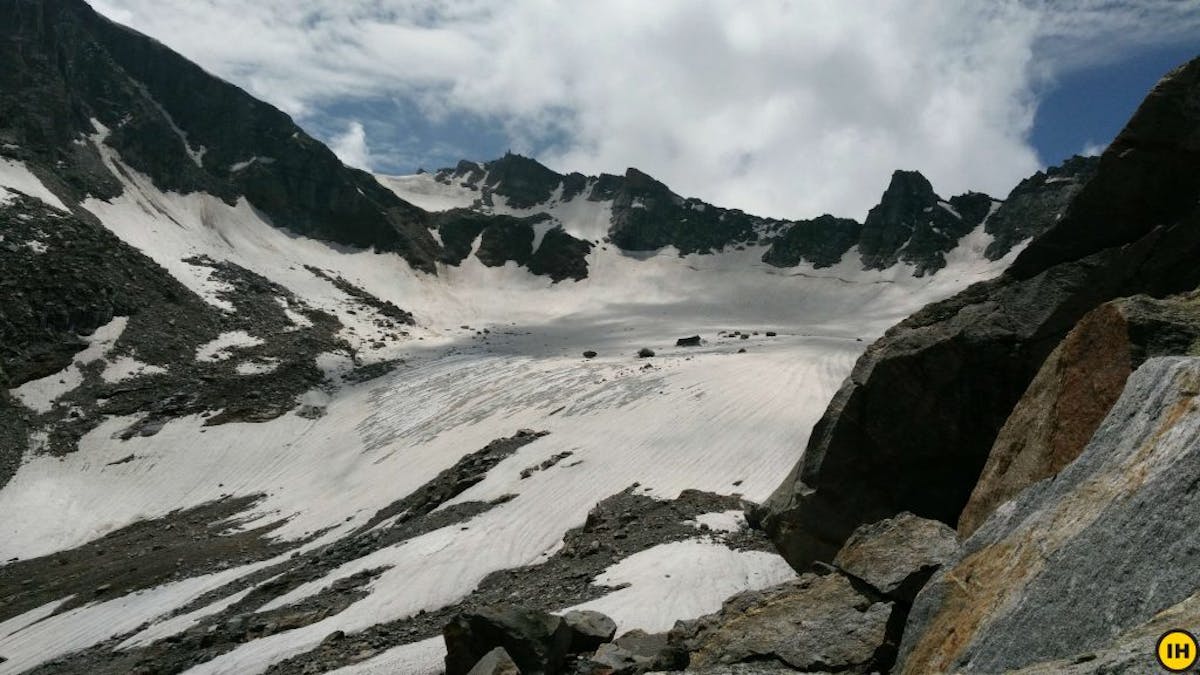 Unblemished beauty
From Gwaru Pass, you'll be well placed to catch a glimpse of the stunning peaks in the vicinity. The grandeur of Deo Tibba, Norbu, Bansi, Aliratni Tibba & KR Range will leave any onlooker spellbound. From Gwaru pass, head south and follow the Malana Nala (tributary river) to descend down. You will cross a section filled with boulders before reaching a lake.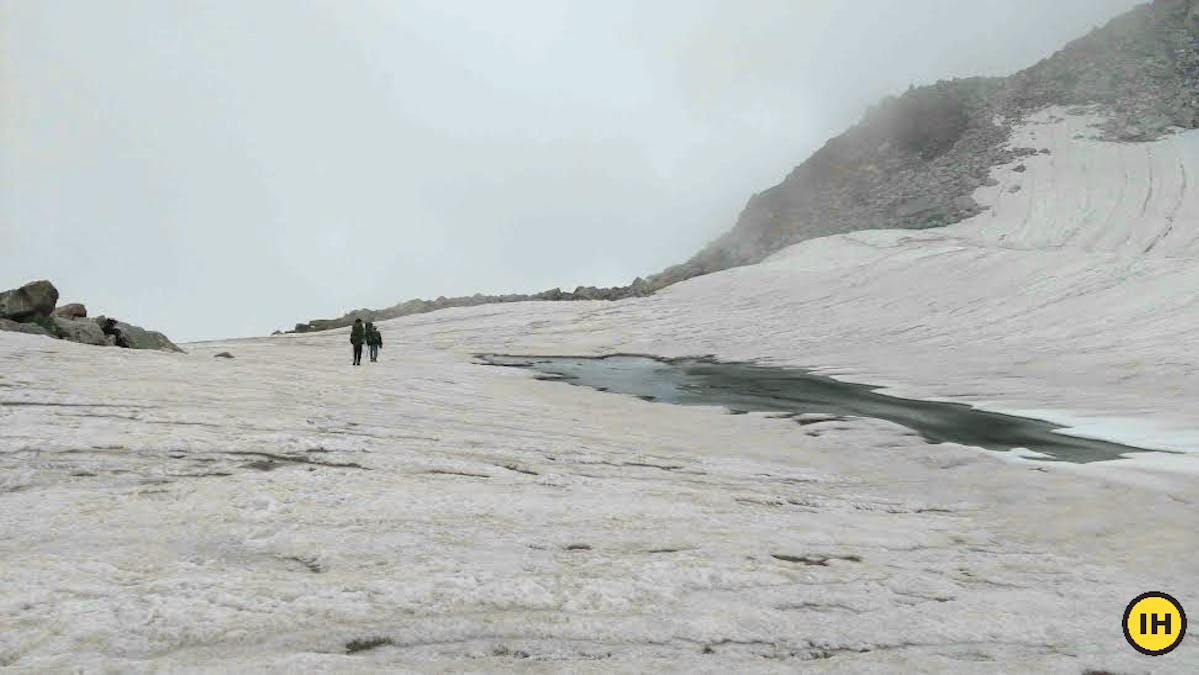 A glacier walk!
From the lake, you'll need to find a trail that suits you best since this section is largely unexplored and there are no recommended routes. Within the next three hours of your descend from Gwaru Pass, you will be able to spot a few huts here. This is Bareh. Shepherds live here. Pitch your tent and set camp for the evening. From your campsite, you will be able to spot the 'Gerwa Kothi' top. According to the locals, this place is known as the 'place of God'.
Day 7: Trek from Bareh to Malana
Altitude gained: 13549 feet to 9006 feet
Distance covered: 7 km
Average time taken: 5 hours
Trail type: Grasslands, jungles and villages
Today is the last day of the trek. It's important to get an early start since it's a steep descend from Bareh to Malana. The trail winds through diverse terrains today; ice, quaint villages ,beautiful campsites atop grasslands and deep jungles. You will need to pace yourself well since it's an altitude drop of more than 3500 feet within a single day.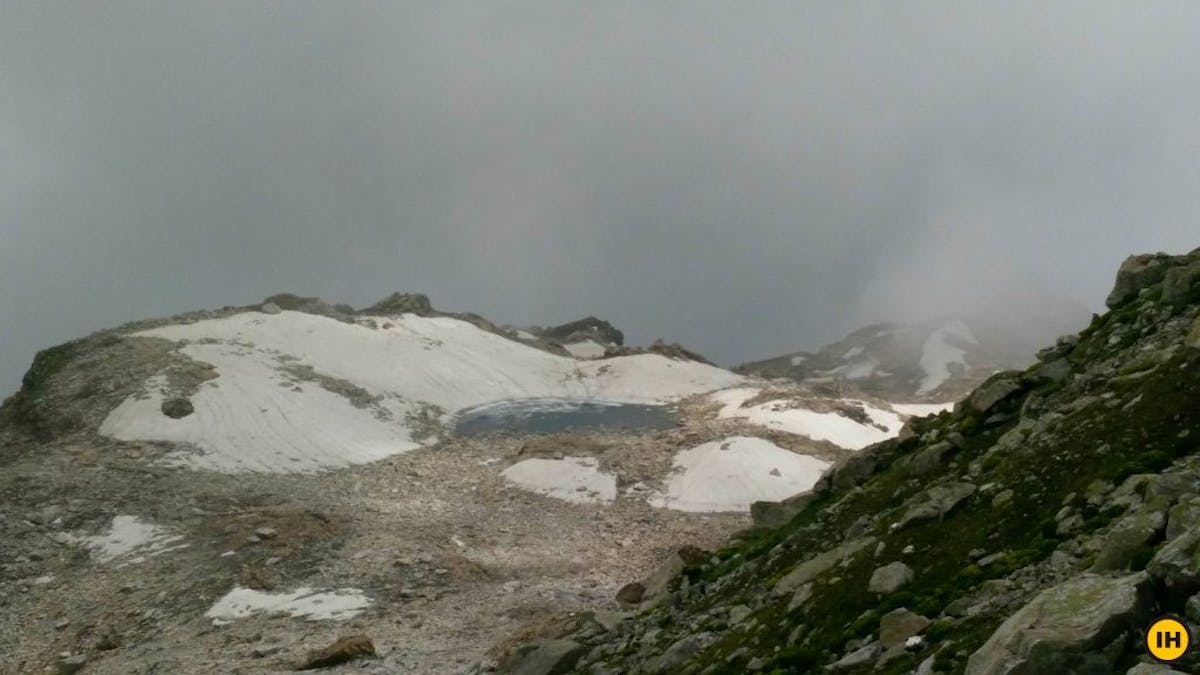 A solitary pond!
A short 2 kilometer walk from Bareh will take you to the Bukhare campsite (11771 feet). This spot has a temple and a few shepherd's huts. The next campsite is just a kilometer away and it's called 'Ringer Rhar' (11161 feet). From this campsite, you will need to cross a river and head west to enter the jungle. The trail is well-trodden and it's fairly easy to navigate. Within the next three hours, you will set foot on an exceptionally beautiful village called Malana. This ancient village is famously known as 'Little Greece', since legend has it that the locals are believed to be the descendants of the Greek army led by Alexander the Great. This isolated village is a perfect campsite. Alternatively, you can also stay at a hotel if you choose to.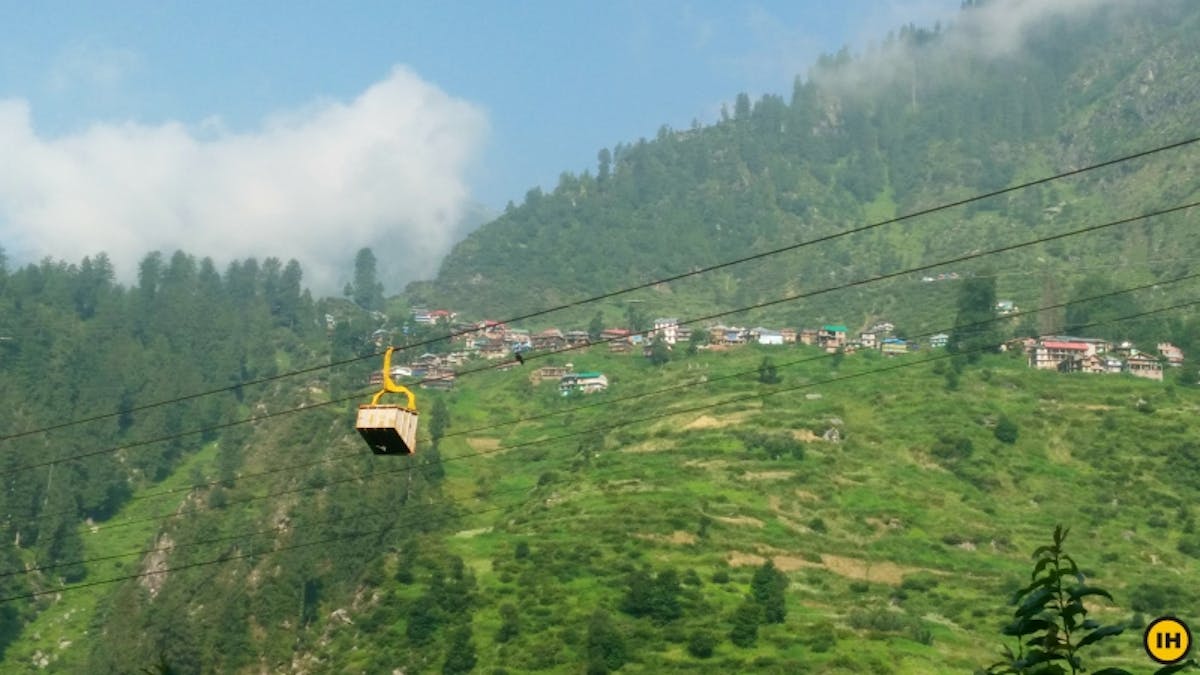 Trolley ride in Malana Village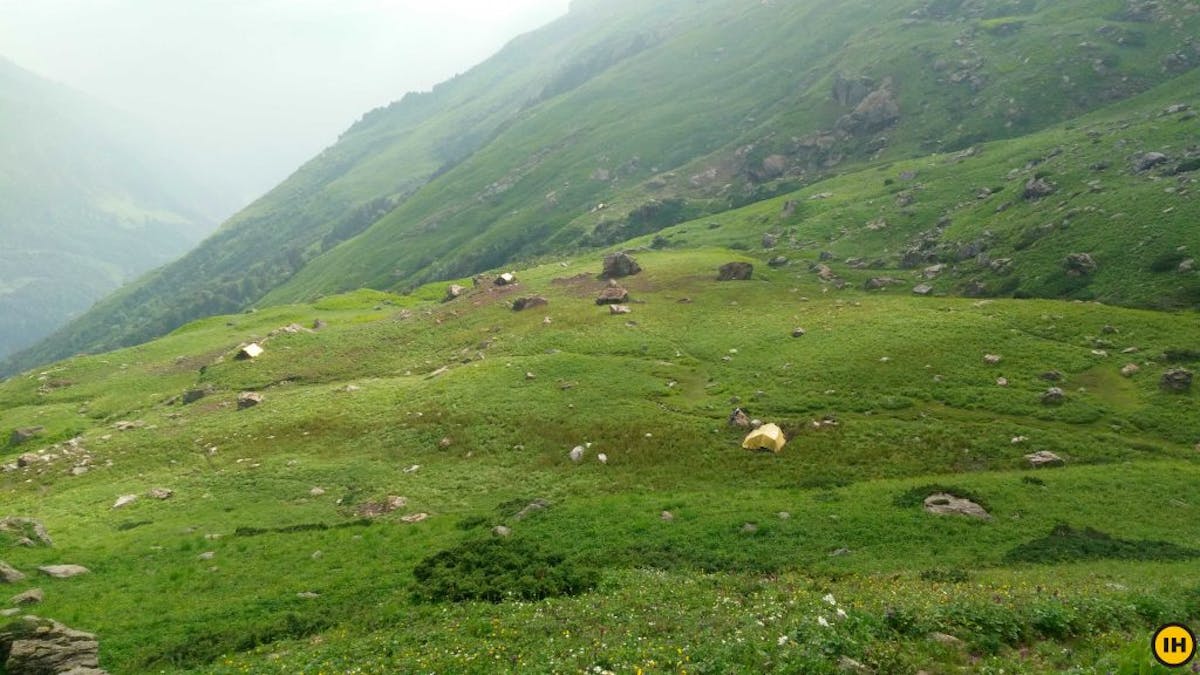 Beautiful grasslands of Malana
Things to remember about Malana Village: 
Malana, famously dubbed as 'Little Greece' is an isolated village that strictly adheres to customs. The locals believe their abode to be one of the oldest democracies in the world. You will need to abide by the rules and regulations of their village council. Photography is allowed. However, videography is banned and you are not allowed to touch anything in the village. The only bus from Malana to Kullu leaves at 8.30 am. Private cabs charge Rs.4000/- to drive you to Kullu (45 kilometers).
Day 8: Drive from Malana to Kullu
Kullu is 45 kms from Malana. A public bus plies between these two townships, however the only bus for the day leaves at 8.30 am. Alternatively, you can hire a private cab. Usually, it's a 3-hour drive from Malana to Kullu. A short half-an-hour walk from Malana village will take you to the bus pick-up point, which is near the dam.
➤ Maps and Charts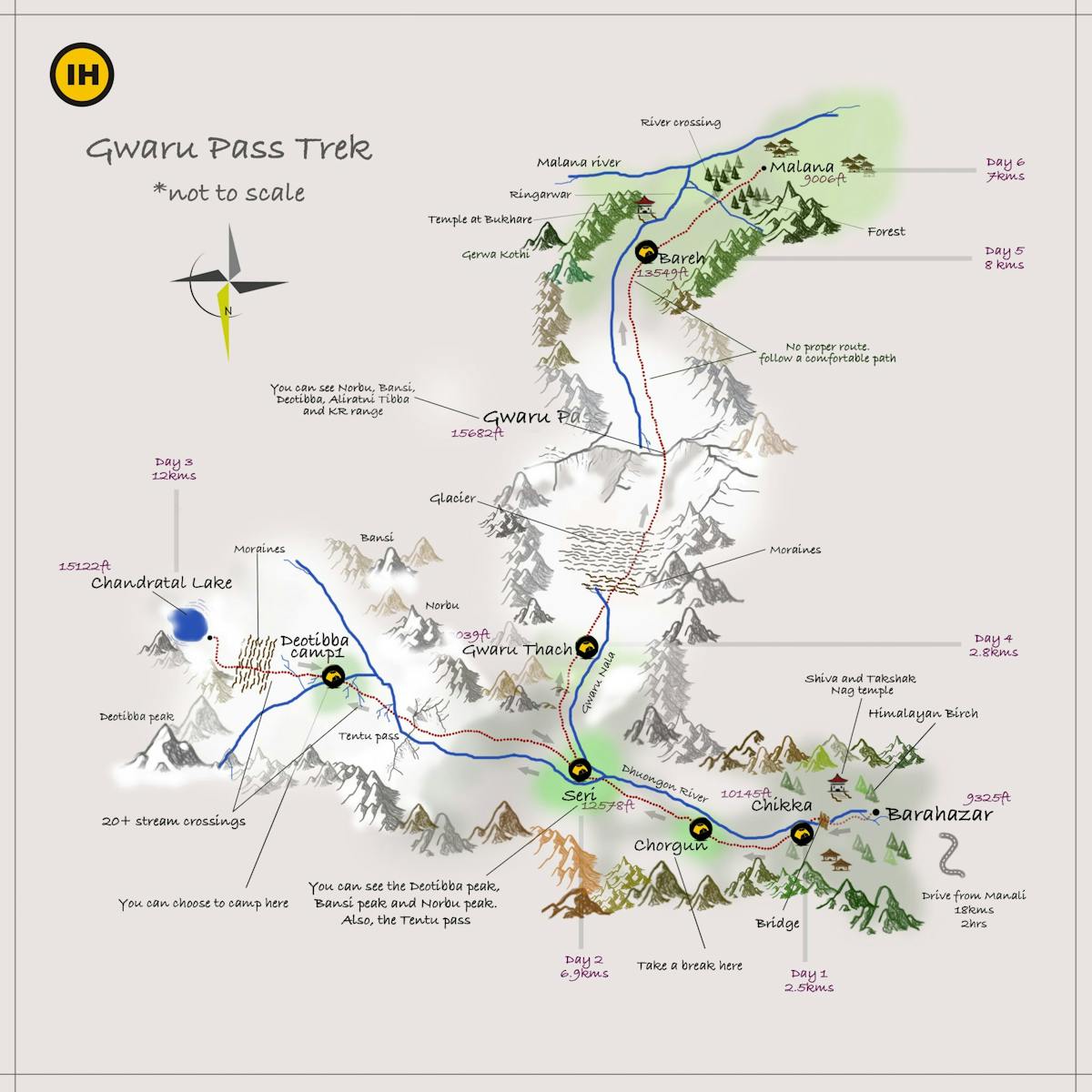 ➤ How to plan your travel
How to get from Chandigarh to Manali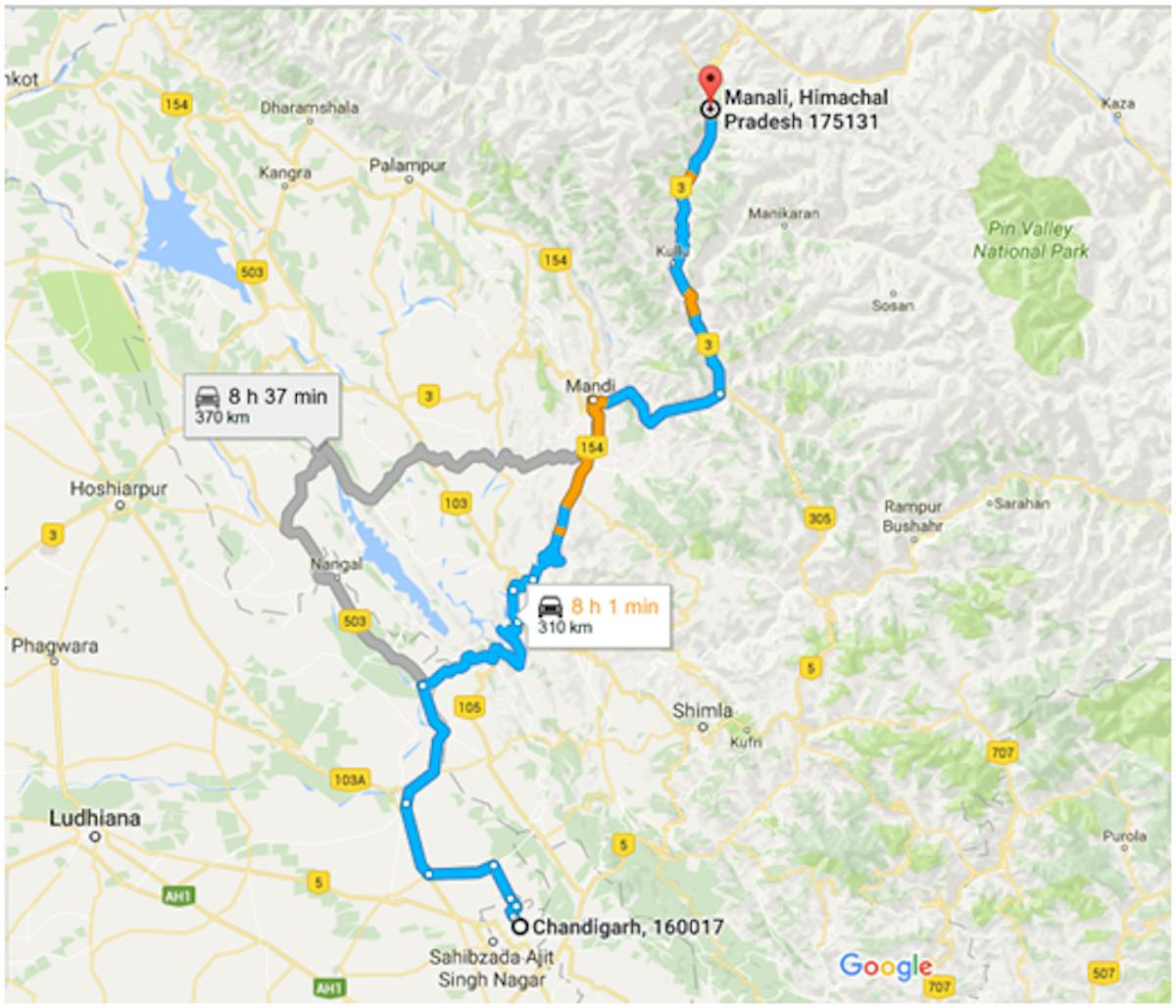 Chandigarh to Manali – Map
How to get from Manali to Barahazar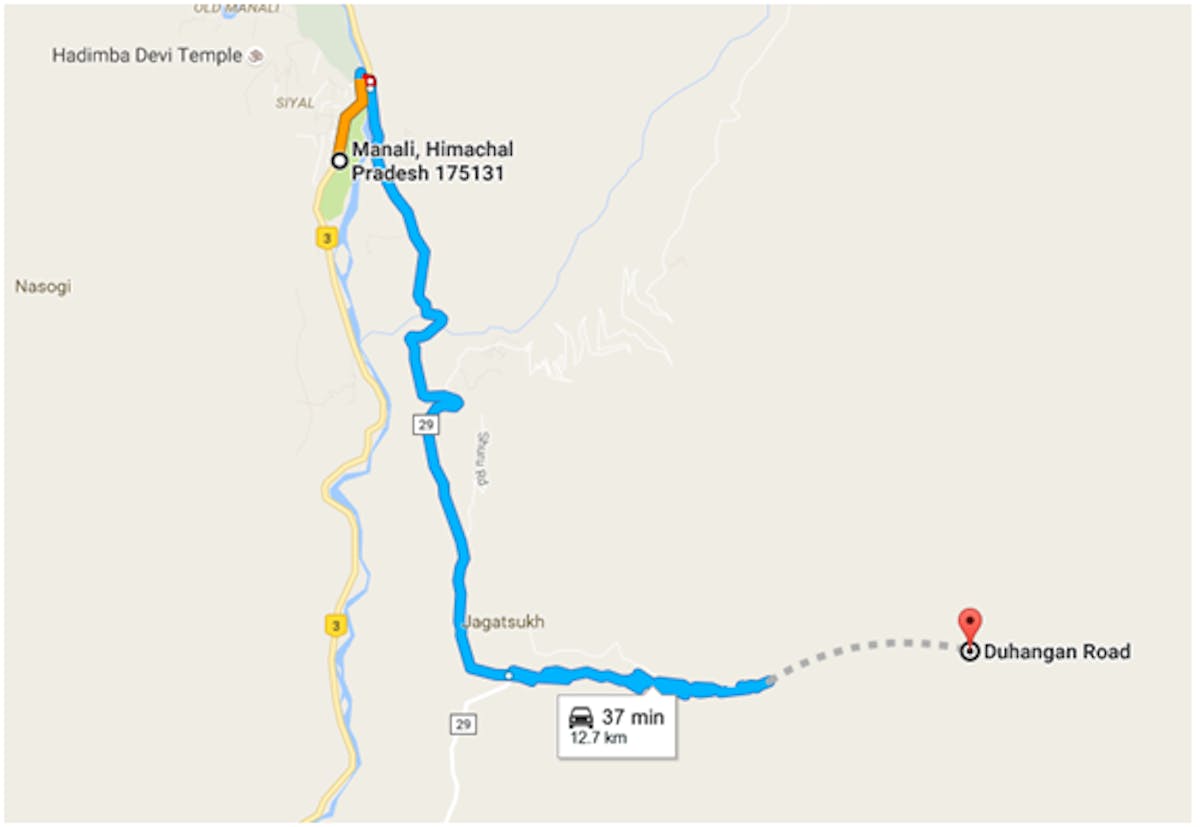 Manali to Barahazar – Map
GPS Co-ordinates
Barahazar: 32° 11′ 58" N, 77° 14 ' 59" E
Chikka: 32° 12′ 2" N,  77° 16′ 15" E
Ocheri:  32° 11′ 35° N, 77°, 17' 49" E
Chorgan: 32° 11' 23" N, 77° 18' 52" E
Seri : 32° 11' 03" N,  77° 19' 44" E
Tentu Jot: 32° 10' 49"N, 77° 20' 37"E
Deotibba Base Camp: 32°10'55" N, 77°20'54"E
Deotibba Advance Base Camp: 32°10'39"N,77°21'12"E
Deotibba Camp 1: 32°10'27"N, 77°22'15"E
Chandratal: 32°10'16"N, 77°22'19"E
Gwaru Thach: 32°10'19"N, 77°19'46"E
Gwaru Pass: 32°09'03"N, 77°19'04"E
Bareh: 32°07'11"N, 77° 19' 01"E
Ringarwar: 32°07'00"N, 77°18'50"E
Malana:32°05'47"N,77°17'29"E
➤ How to get fit for the Gwaru Pass Trek: 
Cardiovascular endurance
The Gwaru Pass Trek is classified as a moderate-difficult trek. It requires high-levels of fitness since you will be gaining an altitude of 9000 feet over a period of 7 days.
Prepare for ascents        
You will be walking through a lot of moraine. To prepare your knees and ankles for these steep climbs and varied terrain, you can add stair-climbing to your routine. 
The secret to ascending any trail lies in building your cardiovascular endurance. You can begin by jogging everyday. Ideally, you should be able to jog 4 km in 20 minutes before the start of the trek. It takes time to be able to cover this distance in the given time. Start slow and increase your pace everyday. Swimming, cycling and stair climbing without too many breaks in between can help too. Strength This is another area you should work on. You will need to build strength in your muscles and in your core body. You can do some squats to strengthen your leg muscles. Do around 3 sets of squats, with 8 squats in each set. Apart from this, you can add planks and crunches to your work out.
Flexibility
Another aspect that will help you trek comfortably is flexibility. For this, you can do some stretching exercises – stretch your hamstrings, quadriceps, hip flexors, lower back muscles and shoulders regularly. Carrying a backpack, however light, can become a strain after a while. These exercises will help you to be in good shape before the trek. Working out indoors.
➤ What to pack for the trek
The best season to do the the Gwaru Pass Trek is between June last week to August 2nd week. There are chances of rain in August. Make sure you carry a poncho.
Bare necessities
Trekking shoes: You trekking shoes need to have a good grip so that you can manage slippery trails.  You can get Forclaz 100 from Decathlon.Sports shoes will not be comfortable enough. You can watch this video to learn to choose the right trekking shoes.
Backpack (40-60 litres): A backpack with sturdy straps and a supporting frame. Rain cover for backpack is essential.
Day pack (20 litres): On the climb to Chandratal lake on the fourth day, you will be leaving your bigger backpack behind at the Seri campsite. So you'll need a smaller backpack to carry water, snacks and your medical kit. Bring a foldable backpack. If you're coming in a group, two of you can share a daypack.
Clothes
Three warm layers: At the campsites, especially at the higher campsite, The temperature after sundown will drop to around 6 degrees in Summer and about -5 degrees in winter. There will be snow at Gwaru Thach and Gwaru Pass. You will need at least three warm layers (two light layers such as fleece and woolen and one padded jacket) for this trek.
Two trek pants: Two pairs of pants should suffice for this trek. You can carry tights to wear inside your pants for the summit climb, as you'll set out at 4 am.
Three collared t-shirts: Carry light, full sleeved t-shirts that prevent sun burns on the neck and arms.
Thermals: Carry thermals for use at night. Keep them fresh and don't wear them while trekking.
Accessories
Sunglasses: Sunglasses are to prevent snow blindness. They are mandatory.
Suncap: High altitude sun is very harsh and will zap out your energy. So you will need a suncap during the day.
Synthetic hand gloves: One pair of fleece or woolen hand gloves. One pair of water proof/resistant, wind proof gloves.
Balaclava: You may use woollen scarves instead as well.
Socks (2 pairs): Apart from two sports socks, you can take a pair of woollen socks for the night.
Headlamp/LED torch: Mandatory
Trekking pole: Watch this video to understand why you need a trekking pole.
Others
Daypack (20 litres): If you are offloading your backpack, you will need a smaller backpack to carry water, medical kit and some light snacks.
Toiletries (Sunscreen, moisturiser, light towel, lip balm, toilet paper, toothbrush, toothpaste)
Cutlery: Carry a spoon, coffee mug and a lunch box. We insist on trekkers getting their own cutlery for hygiene reasons.
Two water bottles: 1 litre each
Plastic covers: While packing, use plastic bags to compartmentalise things and carry few extra plastic bags for wet clothes.
Mandatory Personal Medical Kit
Diamox – 10 tablets (to prevent AMS)
Crocin – 6 tablets (fever)
Avomine – 4 tablets (motion sickness)
Avil 25mg – 4 tablets (allergies)
Combiflam – 4 tablets (Pain killer)
Disprin – 6 tablets (headache)
Norflox TZ & Lomofen– 6 tablets each (diarrhea)
Digene – 10 tablets (acidity)
Omez/ Rantadine – 10 tablets (antacids)
Crepe bandage – 3 to 5 meters
Gauze – 1 small roll
Band aid – 10 strips
Cotton – 1 small roll
ORS – 10 packets
Betadine or any antiseptic cream
Moov spray (aches, & sprains)
➤ Instructions for the Gwaru Pass Trek 
In this trek, you will be trekking up to an altitude of 15,682 feet. From the base camp of Manali (6725 feet), you will be gaining an altitude of 9000 feet over a period of seven days, which can expose you to a spell of Acute Mountain Sickness.
Here's a video that will help you understand, treat and prevent Acute Mountain Sickness 
In preparation, it's highly recommended that you use Acetazolamide (Diamox) to assist acclimatization and prevent high altitude sickness.
Diamox dosage:
Start on a dosage of 125 mg every 12 hours 2 days prior to your trek (or when you arrive at Delhi). Increase it to 250 mg every 12 hours from the day you get to the base camp and continue until you complete the trek.
Side effects of Diamox:
While Diamox is harmless for most people, please check with your doctor whether you are allergic to sulphides. Also check with your doctor if you have high/low blood pressure or diabetes.
At Indiahikes, earlier, we used Diamox only in emergencies – however, now we have reviewed our stand and we suggest participants start on Diamox two days before they start the trek. The chances of a successful and stress free trek is much higher if participants start on a course of Diamox on arrival at Delhi.
Altitude training:
While Diamox reduces your chances of getting any high altitude sickness, it is important to prepare your lungs to be ready to work with less oxygen. The best way to do that is to prepare for a trek. A good altitude training program must include cardio-vascular, strength and flexibility training. I would recommend a run of half an hour and covering a distance of 4.5 kms as good preparatory altitude training.
➤ Trek Contribution
Author: Ajay Nagaraju
This trail was explored and documented by Tanmay Bain, Trek Leader, Indiahikes. He was accompanied by Bholeram Negi (Guide) and Dilbahadur (Porter).
Here are some Local Contact Details that will help you if you want to trek independently:
Polu Thakur: 09816891591 (For Cars and Mules)
Bholeram Negi: 09816574848 (Guide)
Dilbahadur: 09736420436 (Porter)