Can You Help Us With Photographs Of This Trek?
We are looking to enrich this documentation with more photos. Pictures go a long way in explaining the trail, more than words ever can. If you have done this trek, can you share your photos with us? We will include them on this page, with due credit to you. Click here to contribute.
Handi Gundi Trek
Handi Gundi trek is in the town of Ramanagara, about 50 kilometres from Bangalore.
Ramanagara is famous for silk cultivation and it is known as one of the largest exporters of silk in Asia. Therefore, it is also called 'Silk City'.
Although the Handi Gundi hill is unexplored and there is no proof of it being ruled by the Sultans or the British, there is an interesting folklore about how the hill got its name.
The story goes like this — a long time ago, a pig climbed up the hill while grazing and it fell off the top of the hill without realizing that it had reached the edge. A few other pigs also followed this one and all of them fell too.
Handi in Kannada means a "Pig", Gundi is used as a rhyming word and also to mean a "Group". Handi Gundi roughly translates to  "A group of pigs which followed each other to the edge of the hill".
Coming back to the trek — it offers a panoramic view of the surrounding hills from the peak, the Ramadevara Betta, the Uttari Betta and many other unexplored ones.
The trek follows a predominantly rocky trail, with occasional muddy sections and goes through moderate to thick vegetation depending on the time of the trek.
Table of contents
Use these pointers to navigate through this extensive trek guide
What To Watch Out For
1. A peek into the rural side of Bangalore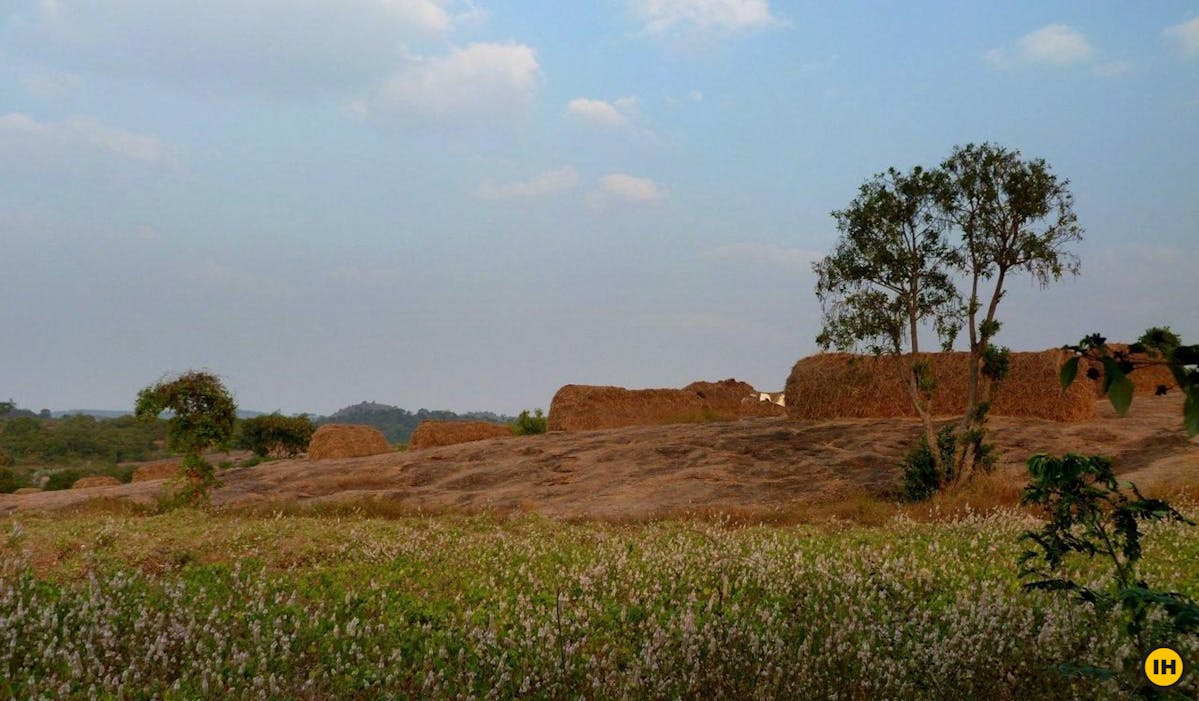 Haystacks built up after the fields are mowed. The hay is used as animal fodder. Picture by the Swathi Chatrapathy
2. A walk amidst vegetation and farmlands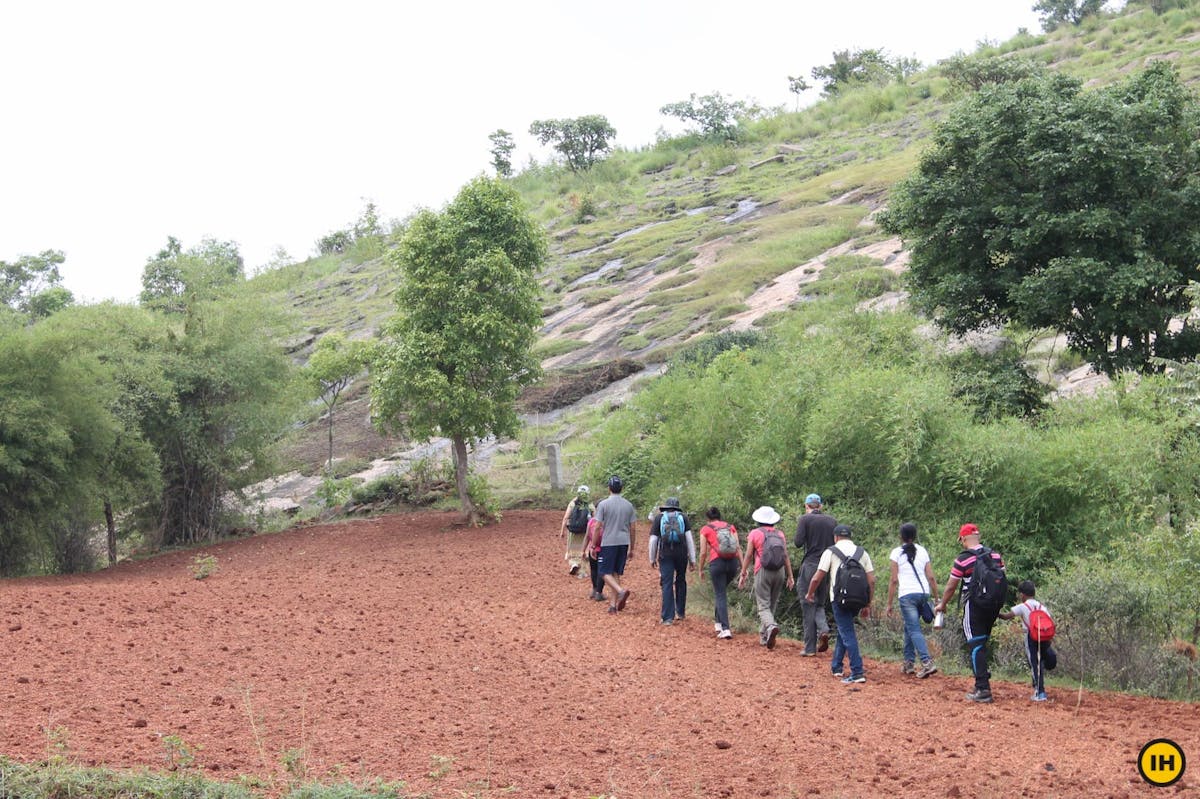 Handi Gundi trek offers a refreshing change in scenery as you walk through the farmlands growing a variety of crops. Picture by Swathi Chatrapathy
3. Stunning views of the surrounding hills and villages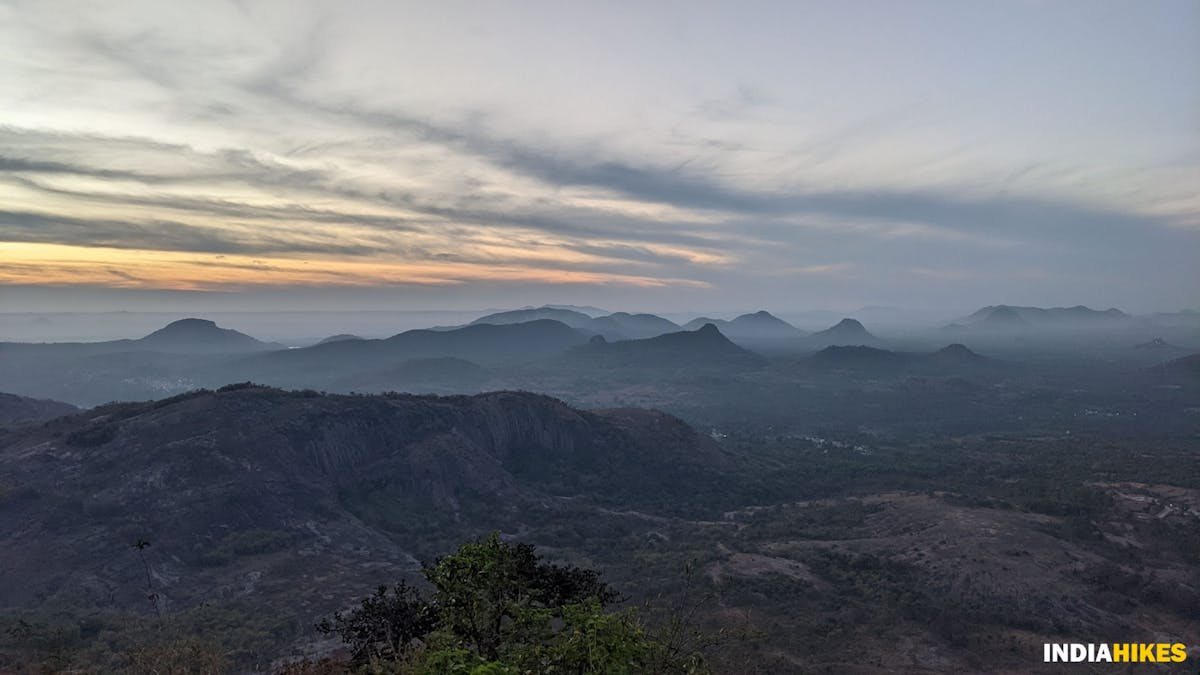 View of the surrounding hills from Handi Gundi peak at dawn. Picture by Shloke Udayan
Trail Information
Handi Gundi Trek starts from the housing plot and goes through farmlands until you reach the base.
From the base, the trail follows a steep ascent for the first 200 metres and a gradual ascent till the peak.
The trek can be divided into two sections, based on the distance and technicality.
Trek Distance: 900 metres
Trek Duration: 40 minutes
GPS Coordinates of Parking Space:  12°44'7.39″N  77°19'5.16″E
GPS Coordinates of Second Clearing:  12°43'47.97″N 77°19'6.26″E
Start the trek by heading towards the base of the trek.
It is an easy walk which takes you through a muddy trail, leading to farmlands and vegetation.
You will notice a signboard from the Forest Department which says 'trekking without permission is a punishable offence'. This is where your trek starts.
| Note: Till 2018 trekking was allowed without permission. Now, obtaining permission from the Forest Department is mandatory.
The initial ascent is moderately steep and requires you to navigate through the rocks. Ensure to find proper grip on these rocks, because they can be slippery at places where the granite rock surface has smoothed out.
Since the trail is not frequented by many trekkers, there is an overgrowth of bushes and plants till you reach the rocky patch. This is where you will face a challenge.
Sometimes, it requires you to make your own trail and proceed to the top as you are lost in the middle of these overgrown bushes.
| Note: If you find yourself lost here, do not panic. Keep going straight towards the top and you will be out of these bushes in less than 100 metres.
Once you find the trail, follow it as it takes you through the bushy and rocky trail. In a few minutes, you will reach the first clearing.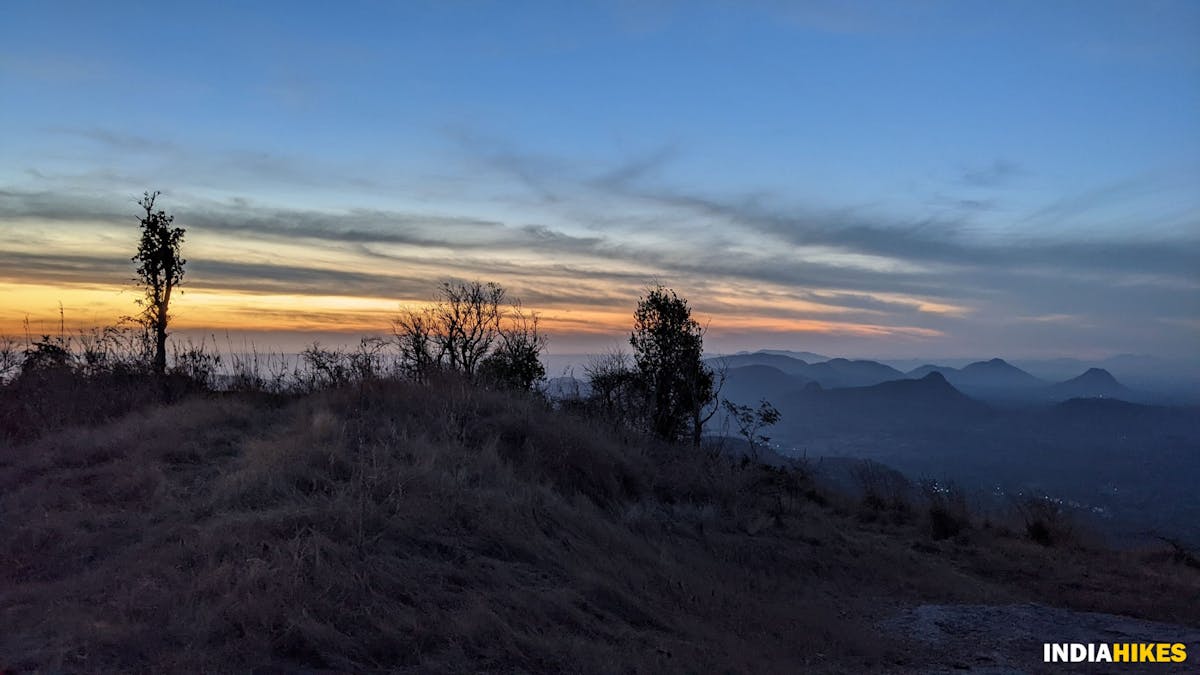 The first clearing gives you a glimpse of what lies ahead. Picture by Shloke Udayan
And, in about 200 metres from the first clearing, follow the faint trail to reach the second clearing. You will also find the words "Rest Point", painted on the rock.
Use this point to rest and have a sip of water, while you enjoy the scenery on your left. You will get a much clear view of the forests and the rural side of Ramanagara, filled with lush greenery and a vast landscape.
Trek Distance: 575 Metres
Trek Duration: 30 minutes
GPS Coordinates of Second Clearing: 12°43'47.97″N 77°19'6.26″E
GPS Coordinates of Handi Gundi Peak: 12°43'34.77″N 77°18'55.08″E
The trail is clear from the second clearing, all the way to the peak.
Follow the trail and in about 100 metres, you will find two small routes leading to the top.
The one on the right is a safer option. The one on the left takes you to the edge of the hill and it is the most risky section on the entire trek.
| Note: If you take the route on the left, be extremely cautious and always stick to your right. There is a 100 metre drop to your left.
Once this section is crossed, you will reach the peak in about 300 metres.
Spend your time generously at the peak. Don't forget to take in the scenery all the while you trek, as you will get a 360° view of the surrounding hills, forests and town.
It is almost like a ridge walk with wide open views in all directions.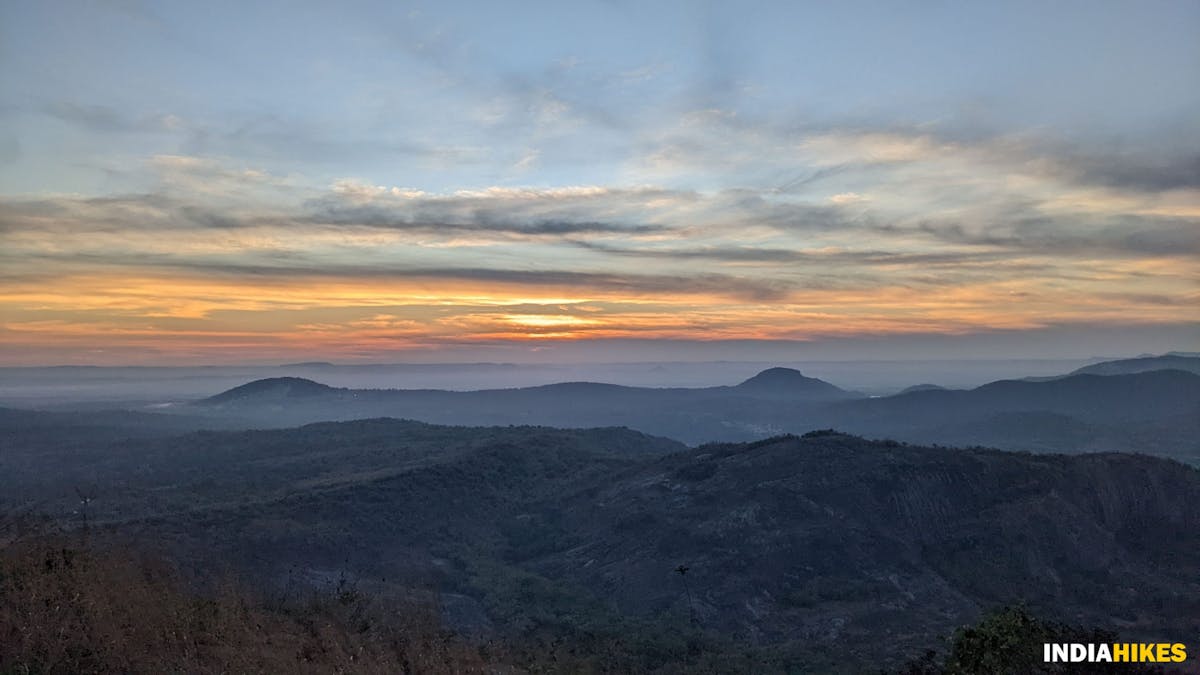 Surrounded by hills on all sides, views from the top will stay with you for a long time. Picture by Shloke Udayan
Close your eyes and reflect on your journey till the top. Notice the silence and the sounds of nature. Relax your over-worked muscles before you start your journey back to base.
Because you will take the same route to descend, you must be cautious on the tricky sections and move slow and steady. A slip may cause you to fall and injure yourself.
GPX File and Route Map of the Trek
Route Map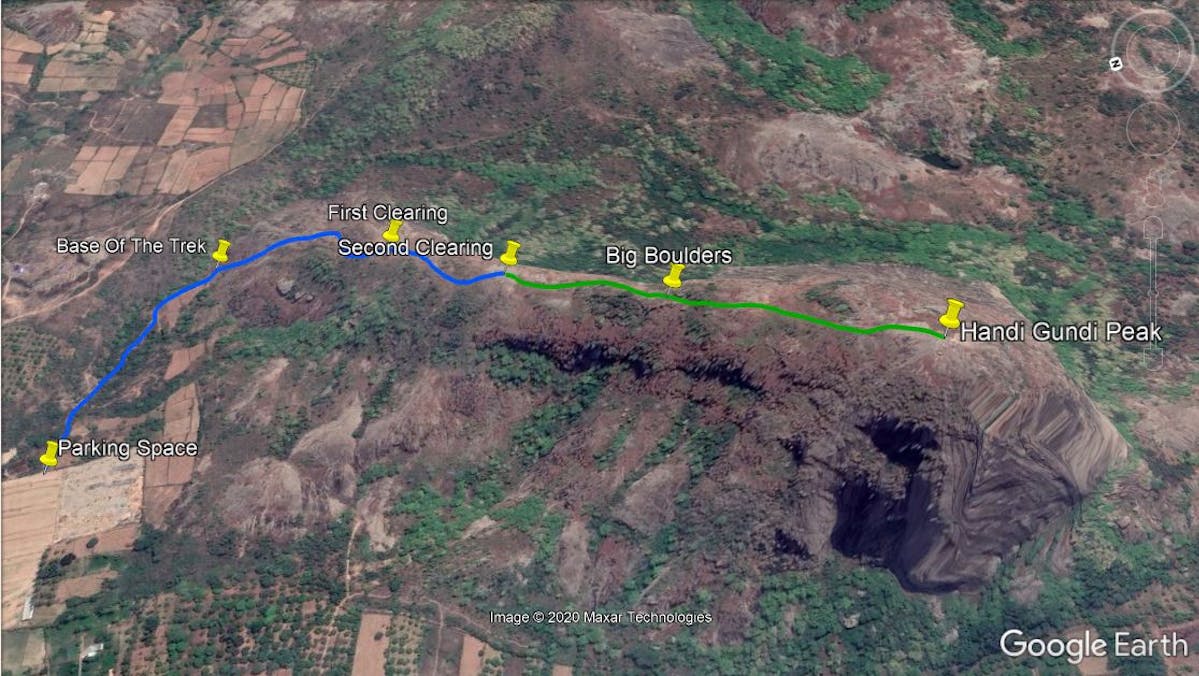 Route Map of Handi Gundi Trek. Screenshot on Google Earth Pro
GPX File
Click here to download the KML file of the Handi Gundi trek.
Best Time To Do The Trek
Handi Gundi trek is an all-season trek. The trail has no shade as you climb higher and this makes it a bit difficult to trek in summers and in rains.
Wear a sun cap to keep cool during summers and carry a poncho or a raincoat along with a rain cover for your backpack if you are doing this trek in monsoons.
The rocks and mud become slippery during monsoons and you must exercise caution while traversing through the rocky sections.
To know how to reach the Handi Gundi trek, click here.
To know more about the permissions, water sources, information to camping, and other frequently asked questions, head over to the FAQ section.
How To Reach Handi Gundi Trek
Reaching Handi Gundi By Your Vehicle from Bangalore
Handi Gundi is in Ramanagara town, on the way to Mysore. As you already know, Ramanagara is famous for its silk cultivation and export. There's another thing Ramanagara is famous for, the Mysore Pak.
| Tip: When you are in Ramanagara, do not miss visiting Hotel Shri Janardhana in the heart of Ramanagara. You'll get the best Mysore Pak (famous sweet dish in South India) here.
Head towards Mysore by taking the National Highway 275. Continue for approximately 45 kilometres.
Take a left turn at the railway crossing which goes towards Basavanapura.
In about 450 metres, take a right at the big tree with a snake deity idol at its base. In less than a 100 metres, take the dirt trail on the left which goes inside a housing plot. It is a proper entrance with big gates.
Continue on the trail for about 750 metres till you see the plots. Park your vehicle here and proceed to the base of the trek.
Reaching Handi Gundi By Public Transport System
Option 1: From Majestic Bus Station —> Take a bus to Satellite Bus Station —> Get Down at Ramanagara Bus Station —> Take a shared auto which is headed towards Bidadi and request a stop at Basavanapura Gate —> Get down at the gate, which is a Railway Crossing and walk for 1.5 kilometres till the base of the trek.
Option 2: From Bangalore Railway Station —> Take a train which goes towards Mysore and get down at Ramanagara —> Take a shared auto which is headed towards Bidadi and request a stop at Basavanapura Gate —> Get down at the gate, which is a Railway Crossing and walk for 1.5 kilometres till the base of the trek.
Note: A shared auto costs around Rs.15 to Basavanapura Gate.
Bus and Train Timings to reach Ramanagara and back
There are KSRTC buses every 15 minutes to Ramanagara from Satellite Bus Station, Bangalore. Hop on to any bus which goes towards Mysore. All the buses stop at Ramanagara, except the ones with "Non-Stop" sign on them.
Similarly, there are frequent trains to Ramanagara from Krantiveera Sangolli Rayanna Railway Station, Bangalore. Catch a train that goes towards Mysore. Except the non-stop Express trains, majority of the trains stop at Ramanagara.
Keep an eye out for the sign while boarding.
The same applies to buses from Ramanagara to Bangalore as well.
Difficult Sections on Handi Gundi Trek
There are no sections on the Handi Gundi trek that can be classified as difficult as such. However, a trekker must always anticipate and prepare for every eventuality.
Here is one thing you should keep an eye out for while ascending and descending:
• Slippery trail (Monsoon specific): The trail becomes more tricky during monsoons as the mud and rocks become very slippery and great caution must be taken while traversing. If trekking in the monsoons, trekkers should be very careful with their choice of footwear and should check weather charts so as to avoid days with anticipated heavy rains.
How To Get Fit For Handi Gundi Trek
The Handi Gundi trek is classified as an Easy grade trek. From the base, you will gain approximately 800 feet in altitude. Though the altitude gain is not much, the continuous ascent can be quite demanding for people who lead a sedentary lifestyle.
Training yourself for a low-altitude Easy-grade trek
Here's a guide to help you get fit for the trek in 4 weeks.
Cardiovascular Endurance
In case you're just starting with a fitness routine, start slow and increase your pace everyday in the following manner:
Target completing a brisk walk of 5 km in 45 minutes when you begin.
Gradually increase your pace by walking 5 km, 4 times a week.
As you become more comfortable, introduce jogging in your routine. 
Progressively increase the distance you jog in a workout until you can complete 5 km in 40 mins.
If you prefer cycling over running, target covering 15 km in 60 minutes when you begin.
Progressively increase your pace to cover 18 km in one hour.
Strength Training
This is an important area you need to work on.
Strength training is equally important to trek comfortably. Work on your glutes, calves and knees. Additionally, work on strengthening your core.
You must strengthen your core muscles. For strengthening your core muscles, holding a plank and its variations (elbow, side planks) are the best exercises to go about doing it.
Also, try these exercises for strength:
Target 4 sets of squats with 20 in each set
– Squats (Mix it up with sumo squats)
– Lunges (Forward, backward and lateral lunges)
– Planks
Flexibility
Flexibility determines the amount of movement your bones can make in any direction around joints such as shoulders, elbows, hips and knees.
It is an aspect that will help you trek comfortably. Carrying a backpack, however light, can become a strain. Stretching your hamstrings, quadriceps, hip flexors and lower back muscles regularly, promotes relaxation in the tissues reducing the strain on your back.
If you can't go out and jog because of time and space constraints, here's a video you can use to work out indoors.
Things To Take On Handi Gundi Trek
Basic First Aid kit*
Identity Card
Cap/ Scarf/ Bandana & Sunglasses
Water (Minimum two litres)
Lemon and salt OR Electrolyte Powder/Drink (Electral/Gatorade/Glucon D, etc.)
High-calorie snacks (Nuts & dry fruits, home-baked cake, etc.)
Safety Pins, Rubber bands & Whistle (Useful in emergencies.)
Quick Dry T-shirts are preferable over cotton tees.
Poncho, only during monsoons
Plastic sheet to wrap electronic devices, only during monsoons
Sunscreen (SPF 50+)
Optional: Trekking poles
**First aid kit:
Scissor
Band aids (Regular & Waterproof)
Analgesic spray (Relispray, Volini, etc.)
Antiseptic Liquid (Savlon, Dettol etc.)
Antiseptic powder (Povidone-Iodine based powders like Cipladine, Savlon, etc.)
Cotton roll & Bandage
Crepe Bandage
1 inch wide medical tape (paper or cloth.)
Micropore tape
Tablet for motion sickness (Avomine), Acidity (Gelusil, Digene, etc.).
Mild pain relief tablet (Crocin)
| Note: Always consult a doctor before taking any medicine.
Emergency Contacts
• Hospital: The closest hospital is BGS Hospital which is 5 km away from the base. You can reach them on 080 2727 1555 for assistance.
• Police Station: The police station closest to Handi Gundi is the Ramanagara Police Station (Contact: 080 2727 1786).
• ERSS: For any kind of emergency help, you can contact the Pan-India Emergency Response Support System (ERSS) number- 112.
Mobile Network And Connectivity
Mobile Network: You will get mobile network for almost all major operators like Airtel, Vodafone, Jio etc., throughout the trek, except for some sections where the network is weak.
Nearest ATM: Ramanagara town is where you will get an ATM, which is roughly 3 kilometres away from the base of the trek. So, don't worry! Even if you have run out of cash, you will find ATMs close by.
Frequently Asked Questions
❖ Can I do this trek if I have never been on a trek before?
Yes. A person who follows an active lifestyle, can consider Handi Gundi for their first trek. For people who lead a relatively sedentary lifestyle, we recommend a bit of preparation before attempting to trek.
❖ Where can I get food and water during the trek?
There are no restaurants at the base of the trek or in the nearby village. There are decent restaurants in the town, 4 kilometres away.
We recommend you pack your food from home if you plan to have a proper meal during the trek.
There are no water sources near the base. However, there is a water pump near the snake deity idol. If you are allergic to groundwater, we recommend carrying a minimum of 2 litres of water from home.
❖ Do I need to obtain permission for trekking to Handi Gundi?
Yes. You need to obtain permission before attempting to trek. Since the trail falls under Ramanagara jurisdiction, you must obtain permission from the Deputy Conservator of Forests, Ramanagara. Here are the contact details of the DCF Office, Ramanagara: Ph: 080 2971 0004; Email ID: dcfrmngr@gmail.com.
❖ Do I need a guide to trek Handi Gundi?
Although the trail is not very clear due to overgrowth of bushes, the path till the peak is easy to follow along the faint trail. We do not recommend a guide for this trek.
❖  Where can I park my vehicle?
The start point of the trek is a housing layout where the construction has stopped for the time being. Use the space to park your vehicle after asking the locals for their permission, if they are around.
Nearby Places To Visit After Handi Gundi Trek
➤ Ramadevara Betta Vulture Sanctuary – India's only Vulture sanctuary and a popular hiking and bird-watching spot.
➤ Kungal Betta – Also known as Uttari Betta is a fortified hill built by Kempegowda in the 16th century. We, at Indiahikes call it "Puppy Betta" as the face of the hill resembles that of a cute puppy!
➤ Janapada Loka (Folk World) – A folk museum with an exclusive display of the village folk arts of Karnataka.