Can You Help Us With Photographs Of This Trek?
We are looking to enrich this documentation with more photos. Pictures go a long way in explaining the trail, more than words ever can. If you have done this trek, can you share your photos with us? We will include them on this page, with due credit to you.Click here to contribute.
The Complete Guide to Huliyurdurga Trek
Huliyurdurga is part of the Navadurgas near Bangalore. The fortification of the hill is about 845 metres above sea level and were said to have been erected by Kempe Gowda, founder of Bengaluru. It is situated in a village by the same name as the fort of Huliyurdurga. Huli resonates to Tiger and Durga is fort. Legends say that tigers used to roam and rule this area during the 16th century. 
Huliyurdurga is about 80 kms of Bangalore and a perfect trek for a challenging adventure. This is more of a climb than a trek! You can take either the Tumkur side which is 60 km south of Tumkur town and about 22 km south.
What to Watch Out For
The hill is a solid mass of rock and has the peculiar appearance of an inverted cup. Locals call this hill as Kumbi betta (Inverted claypot)
Peculiar climb to the top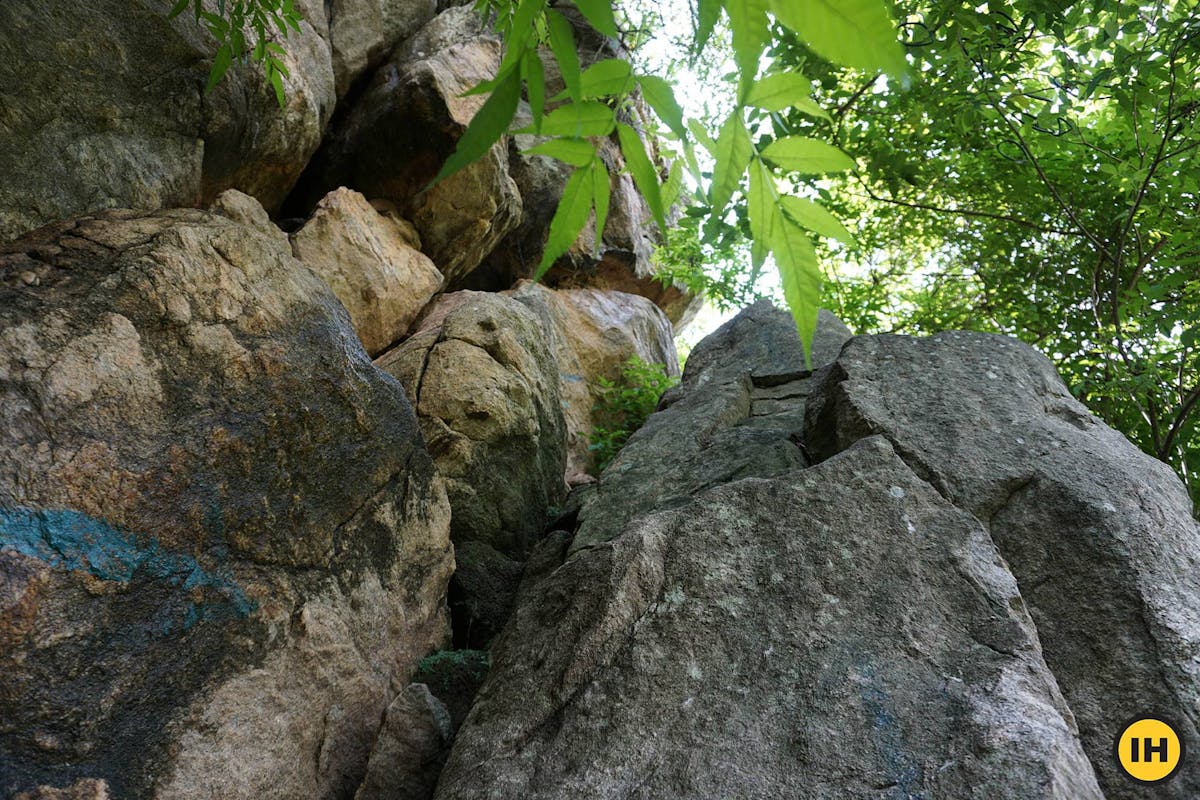 The climb to the top from the temple Ganesha Temple. Picture by Suhas Saya
An adventure to spot the forgotten Nandi idol and a natural pond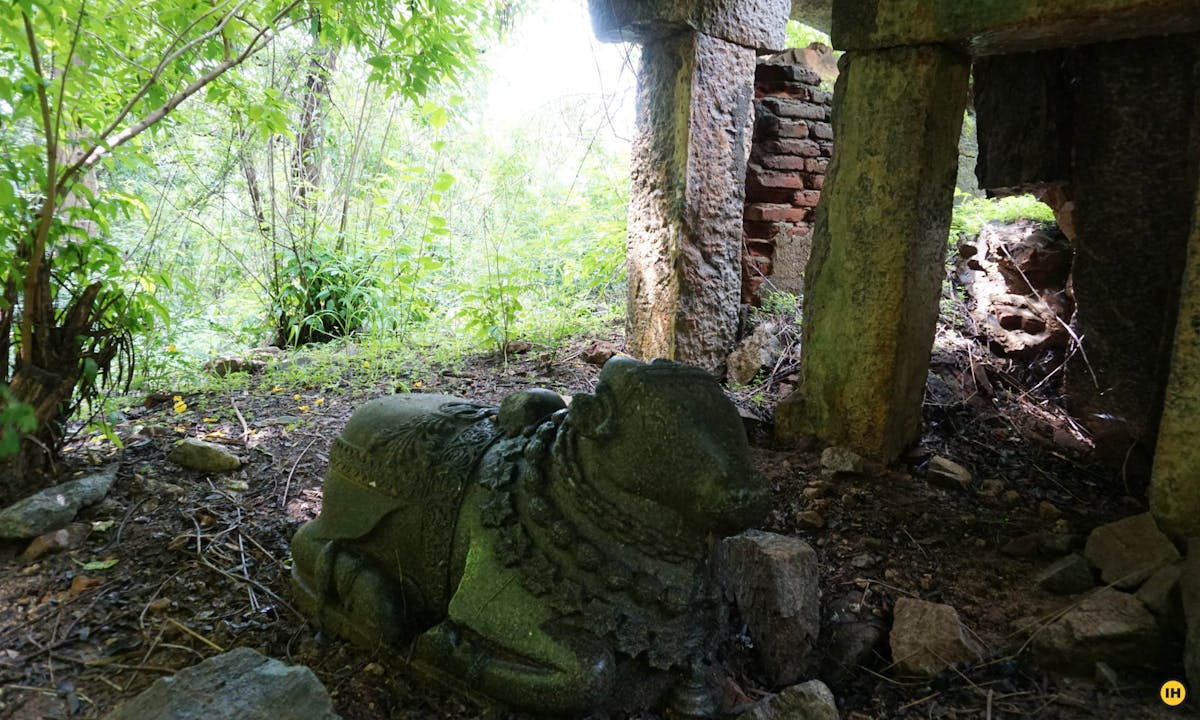 If you go explore a bit on the trek, you will spot this ruins of Nandi idol and a small structure. Picture by Suhas Saya
The Temple and view of the surroundings from the summit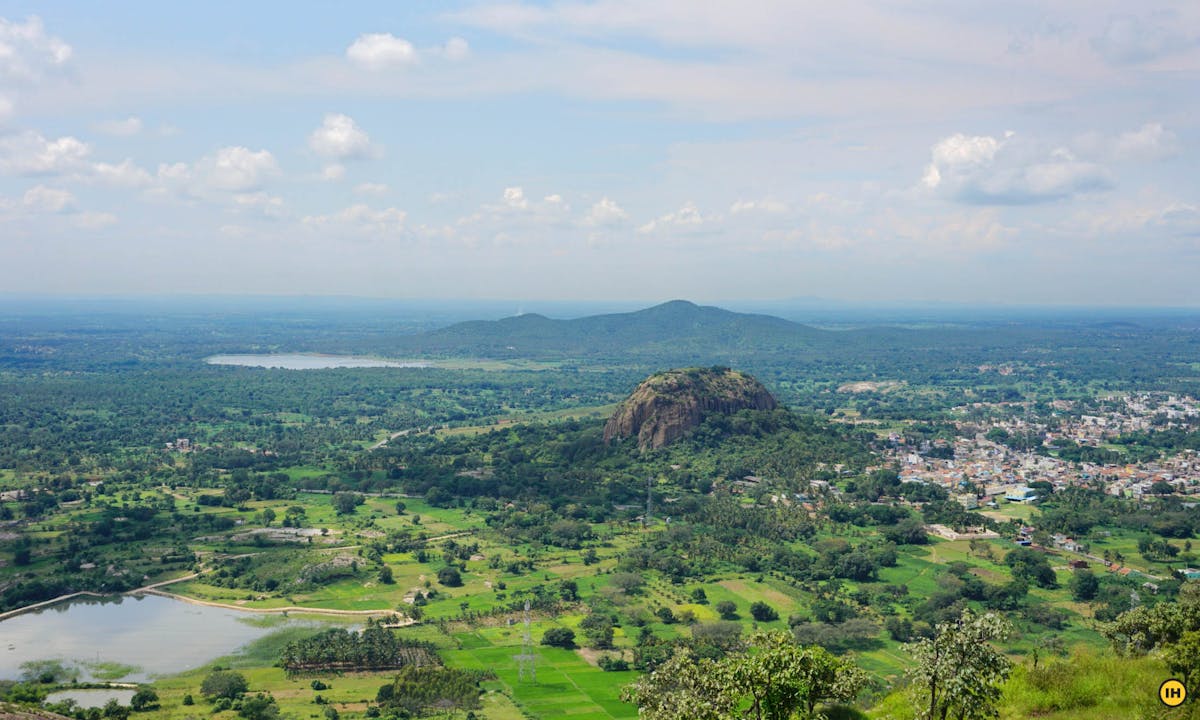 View of Huliyurdurga and the town from opposite hill of Hemagiri. Picture by Suhas Saya
Mobile users: Click on 'Complete trek guide' at the bottom of the page to access the rest of the Huliyurdurga Trek Guide.
➤ Detailed Itinerary
Huliyurdurga village (2,123 feet) to Huliyurdurga fort (2,618 feet)
Trek distance: 3 km;  460 ft ↑ &  460 ft ↓
Trek duration: 1-2 hours
GPS coordinates of Huliyurdura: 12°49'13.25″N, 77° 2'8.74″E
The trail starts from the small village of Huliyurdurga. This is the place to have your food or refill your water bottle. The village is spread over 11 square kilometers. Its Police Station is situated a couple of minutes from the bus stop. Take the paved concrete road next to this Police Station. On your right will be a small graveyard. 
Follow this trail for a minute till you reach a fork at the water tank. Take the path to the extreme right. If you have a two wheeler, continue further on this path. After a 5 min ascent (on foot), you reach a temple ruin.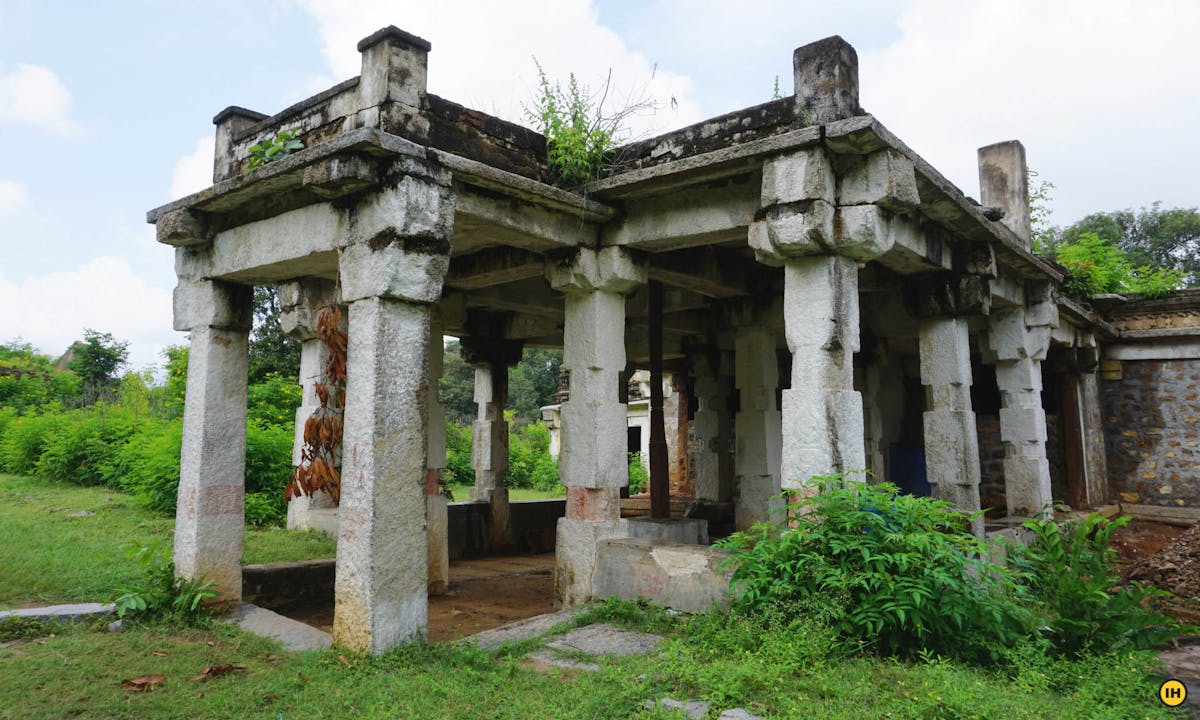 The ruins of a temple at the start of your trek. Picture by Suhas Saya
With the temple ruins on your right, you see a big clearing to your left. Park your bike here. The trail begins from here. Continue on this trail with the hill to your right. 
Post monsoon, this is a stunning patch of bright greenery. In the next 7-10 mins, you reach the next fork. At the small T-junction, spot a temple to your right. This is the Ganesha temple. Your main trail is a bit to the left of this junction.
Look for faint blue arrow marks pointing at the trail. Look closely, for it is easy to miss out or hard to recognize if you are going for the first time. There is one trail going to the left flank of the hill which leads to a cliffside and a dead end.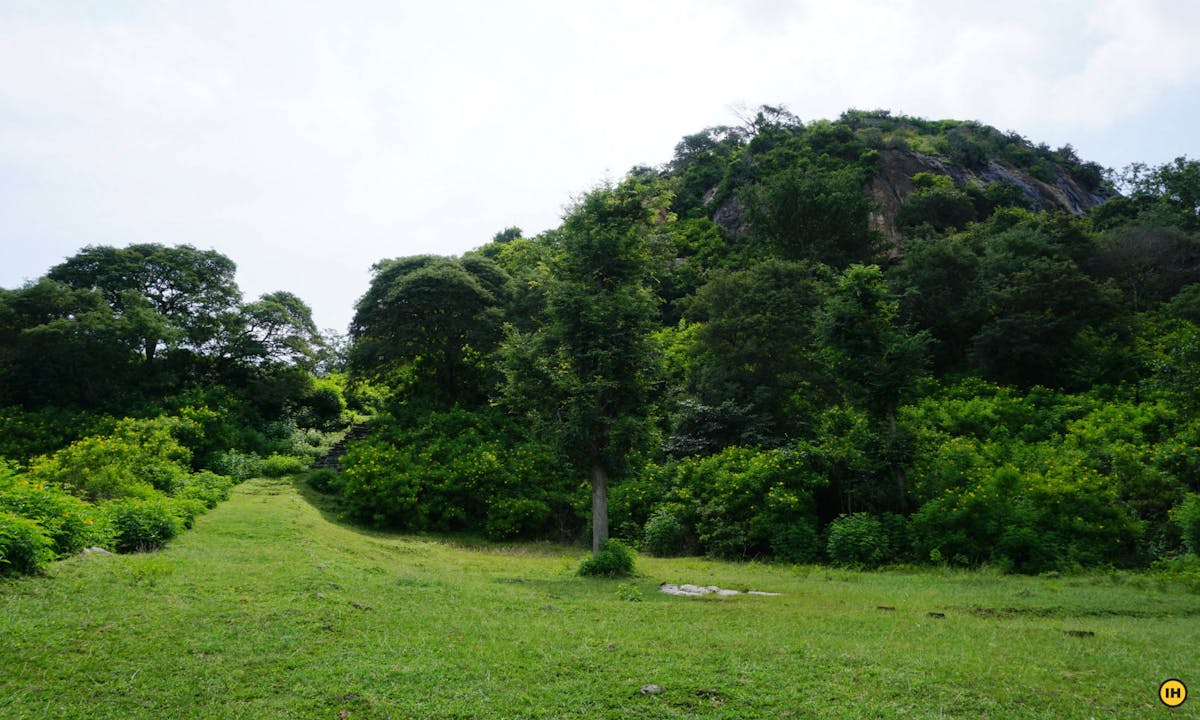 The initial trail of the trek from the parking spot. Picture by Suhas Saya
 Note – If you are feeling adventurous, and want to explore the right side of the hill, here's a tip – take the trail to your right and proceed in the direction of the temple. This leads you to the right flank of the hill. After a short descent through a few rocks and then an ascent, you discover the Nandi idol. There is also a small natural pond. It's tough to navigate through this area because of the overgrowth. Be prepared for some cuts and pricks from thorns during this exploration.
Ganesha Temple. Picture by Suhas Saya
The trail might disappear, but don't be surprised. You are in the right direction. The trail starts with a sudden climb through rocks. You don't need your trek poles now. You need to get on your fours and use your hands to climb.
This is an 8-minute climb, after which you come to the toughest part of the trek.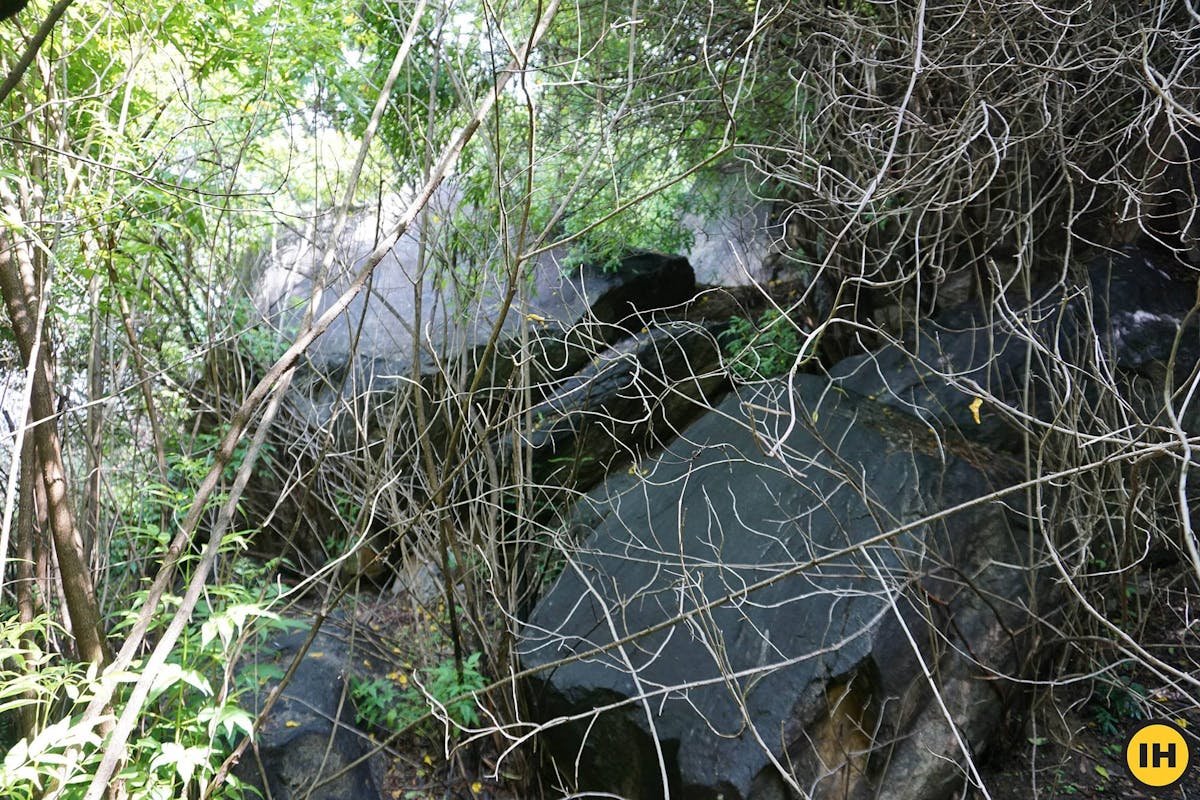 Overgrowth with thorns on the trail. Picture by Suhas Saya
Many people abandon the trail from here and do not go further up. Standing in front of the huge rock face, you may question – is this the right way? Well, it is! This vertical rock face is the only option to continue on the trail. It is about 12 feet to push up. This climb will be much easier during the summer season when there is no slippery rocks to climb.
This section requires some basic rock climbing skills. Be alert and look for holds to push yourself up. If there is water flowing down, do not risk this climb. Climb up only if you are confident of yourself. Remember going up is not the only challenge! You need to be able to climb down as well.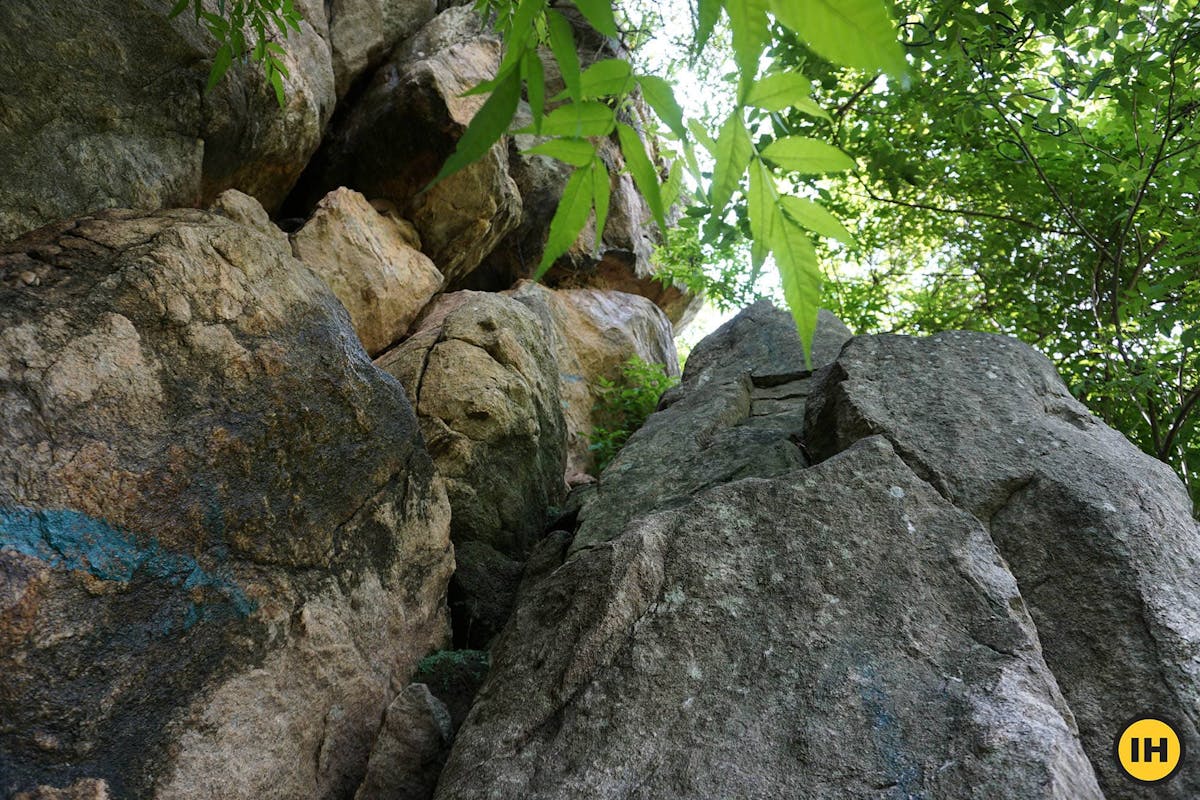 Arrow marks pointing to the top. Picture by Suhas Saya
The trick is to use the tiny cracks, crevices and trees on the rock for grip. The initial climb is a narrow stretch of rock and mud. Soon you enter a narrower hole before the path opens into a wider area.
Now comes another difficult section. Here the steep rock face is smooth and has no crevices or footholds. There is also a gap in the rock which is tricky to navigate. Your endurance and strength comes into play as you tackle this section. (Check – How to get fit for Huliyurdurga trek)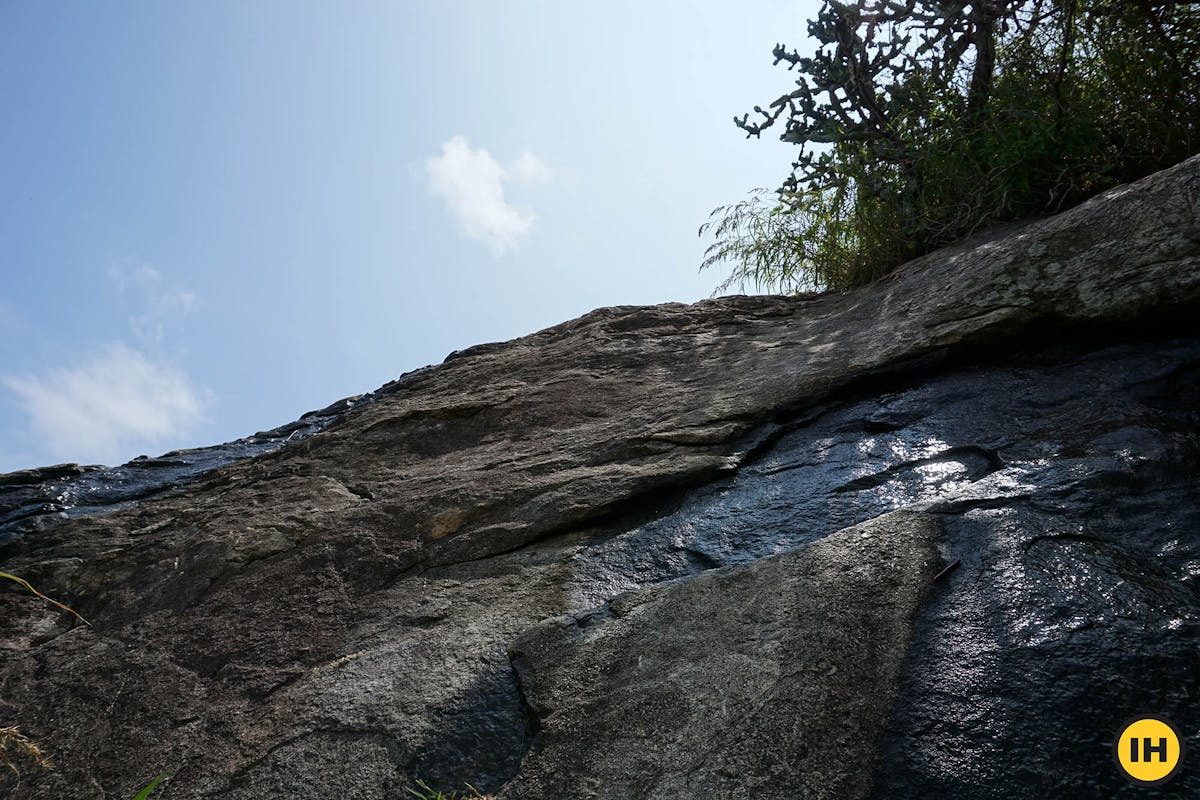 The rock patch to the top of the fort. Picture by Suhas Saya
After this section, the rock face continues to be steep, but it is rough. This is easier to climb. After you push yourself up here, the next 10 minutes are gradual.  and you reach the top in 10 mins or so. Here you see the crumbling fortification. You also have a temple as you see in most of the forts of hills of Bangalore and also a good view of the surrounding area of Huliyurdurga. While at it, see if you can spot a ragi grinding stone. 
Spend some time exploring this summit. Take in the view, look back at the time when this space was bustling with activity, a time when the fort was in use and was used for defense. This was back in the 16th century.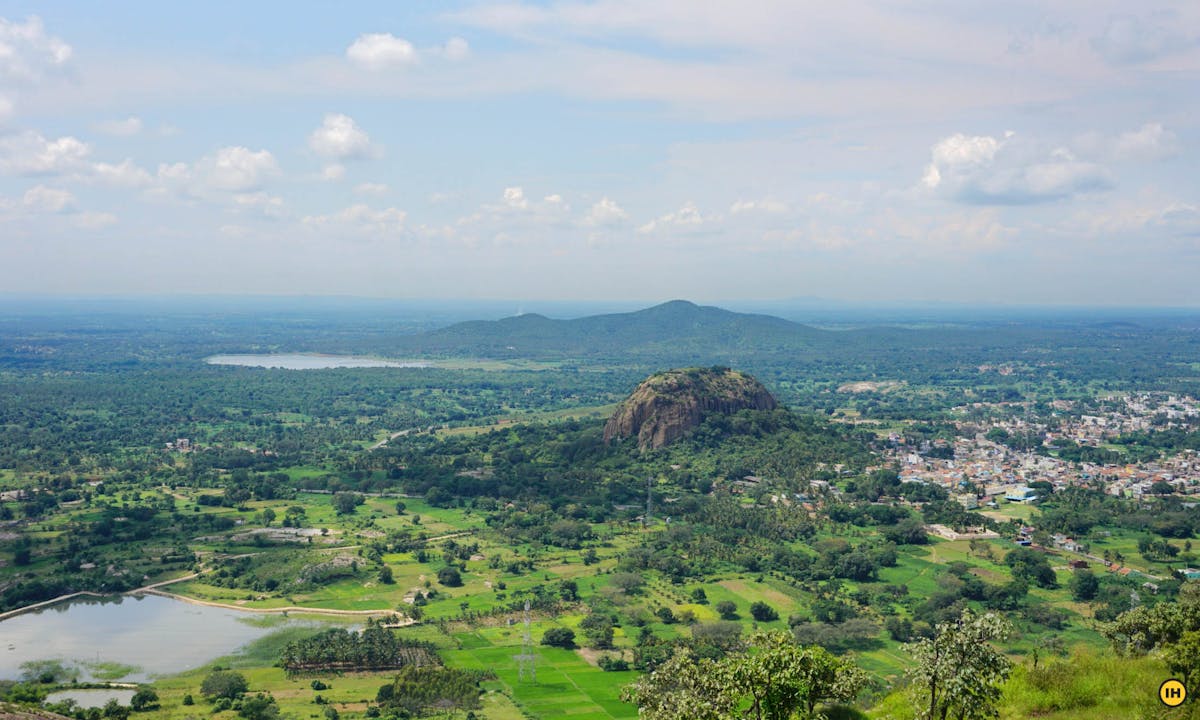 View of Huliyurdurga and the town from opposite hill of Hemagiri. Picture by Suhas Saya
The descent back to the parking spot will be the same route that you had taken to climb up. You will be down in 20 minutes if you have a relaxed pace. Be careful again on the rock patch. It looks a bit scary to descend. With your hands and legs on the rock, use all your fours and get down. Trace back the same route and that marks the end of this trek.
Do you know an easier route to trek to Huliyurdurga? If you do, please update it in the trek info so we can document it here and credit you for the information.
If you have time, you can think about climbing Hemagiri. It is close by and the road-head leads to the base of this hill.
➤ How to Get Fit for the Trek
The Huliyurdurga trek is classified as an Easy-Moderate grade trek. Though the altitude gain is not much, the continuous ascent can be quite demanding for people who lead a sedentary lifestyle.
Training yourself for a low-altitude Easy-Moderate grade trek
Here's a guide to help you get fit for the trek in 4 weeks.
Cardiovascular endurance
In case you're just starting with a fitness routine, start slow and increase your pace everyday in the following manner –
Target completing a brisk walk of 5 km in 45 minutes when you begin.
Gradually increase your pace by walking 5 km, 4 times a week.
As you become more comfortable, introduce jogging in your routine. 
Progressively increase the distance you jog in a workout until you can complete 5 km in 40 mins.
If you prefer cycling over running, target covering 15 km in 60 minutes when you begin.
Progressively increase your pace to cover 18 km in one hour.
Strength training
This is an important area you need to work on. 
Strength training is equally important to trek comfortably. Work on your glutes, calves and knees. Additionally, work on strengthening your core.
You must strengthen your core muscles. For strengthening your core muscles, holding a plank and it's variations (elbow, side planks) are the best exercises to go about doing it.
Also try these exercises for strength-
Target 4 sets of squats with 20 in each set
– Squats (Mix it up with sumo squats)
– Lunges (Forward, backward and lateral lunges)
– Planks
Flexibility
Flexibility determines the amount of movement your bones can make in any direction around joints such as shoulders, elbows, hips and knees. 
It is an aspect that will help you trek comfortably. Carrying a backpack, however light, can become a strain. Stretching your hamstrings, quadriceps, hip flexors and lower back muscles regularly, promotes relaxation in the tissues reducing the strain on your back.
If you can't go out and jog because of time and space constraints, here's a video you can use to work out indoors.
➤ What to Pack for your Trek
When attempting it as a standalone trek in Summer & Winter-
Basic First Aid kit*
Identity Card
Trail/ region map
Cap/ Scarf/ Bandana & Sunglasses
Water (Minimum two litres)
Lemon and salt OR Electrolyte Powder/Drink (Electral/Gatorade/Glucon D, etc.)
High-calorie snacks (Nuts & dry fruits, home-baked cake, etc.)
Insect repellent (Odomos, etc.)
Spare newspaper
Multi-Tool/ Swiss Army Knife
Torch/ Headlamp with spare batteries.
Powerbank
Safety Pins, Rubber bands & Whistle (Useful in emergencies.)
Optional: Rope, Camera.
During Monsoon–
Quick Dry T-shirts are preferable over cotton tees.
Poncho
Additional set of clothes, socks, etc.
Plastic sheet to wrap electronic devices.
If you are attempting Huliyurdurga as part of a longer multi-day trek, you should carry-
Sunscreen (SPF 50+)
Rehydration pouch/ bladder
Tent & Sleeping Bag/ Mat
Trekking pole
A spare set of clothes & footwear (Floaters, sandals, etc.)
Water filter/ Thin cotton cloth & water purification tablet.
Utensils
Antiperspirant powder (Candid, etc.)
Magnesium Flint/ Match boxes
Basic Toiletries: Toothbrush & Toothpaste/Mouthwash.
*First aid kit:
Scissor
Band aids (Regular & Waterproof)
Analgesic spray (Relispray, Volini, etc.)
Antiseptic Liquid (Savlon, Dettol etc.)
Antiseptic powder (Povidone-Iodine based powders like Cipladine, Savlon, etc.)
Cotton roll & Bandage
Crepe Bandage
1 inch wide medical tape (paper or cloth.)
Micropore tape
Tablet for motion sickness (Avomine), Acidity (Gelusil, Digene, etc.).
Mild pain relief tablet (Crocin)
Note: Always consult a doctor before taking any medicine.
➤ Difficult Sections
Rock Section

The exposed rock section would be the only part of this trek that can be classified as moderately-difficult. If there are rains on the previous day or during post-monsoon season, you need to be careful.
➤ Emergency Contacts
Hospital
Police Station
Huliyurdurga Police Station: 081322 23338
Location – https://goo.gl/maps/997NJyq1WV4Xn5ED9
Nearest Town
Kunigal – The town of Kunigal is about 25 kms away
ERSS
For any kind of emergency help, you can contact the Pan-India Emergency Response Support System (ERSS) number- 112.
➤ Maps and Charts
https://www.google.co.in/maps/d/viewer?mid=1I9lz7B1PPSONz6V2bT7GNrEw4-967NkO&ll=12.823002713307785%2C77.03334083836764&z=15
➤ Plan Your Travel
Nearest International and Domestic Airport
Kempegowda International Airport Bengaluru
Nearest Railway station
From Maddur, you will have to take a bus and reach Huliyurdurga
Reaching Huliyurdurga By Your Vehicle
If you are planning to reach Huliyurdurga using your own vehicle, use this link to help set up navigation in Google maps.
Reaching Huliyurdurga By Bus

Bus Timings to Huliyurdruga
There are three ways on how you can take a bus from Bangalore
From Maddur town of Ramanagara district – From Bangalore, Majestic or Railway Station (SBC), take a bus/train directly to Maddur. Get down at Maddur and head towards the bus stand. You will find direct buses to Huliyurdurga from here.
From Kunigal town – From Bangalore, take a bus to Nelamangala or buses going to Hasan, Mangalore. Get down at Kunigal junction and head towards Kunigal. From Kunigal, you will get a bus to Huliyurdurga village directly.
From Magadi town of Mandya district – From Bangalore, Majestic, take a direct bus to Maddur. At Maddur, you will have to get down and take the bus to Huliyurdurga
➤ Mobile Network and ATM
Mobile network
You'll get mobile network for almost all major operators like Airtel, Vodafone & Jio throughout the trek.
Nearest ATM
There are about 3-4 ATMs in the village of Huliyurdurga. But do not count on them to have cash or work all the time.
➤ FAQs
How hard is the climb to the top?
The climb at the rock patch is a tricky one. Only if you are confident of yourself, climb up. Remember going up is not the only challenge! You need to be able to climb down as well. 
Are there any places or hotels to stay at Huliyurdurga?
You don't have any hotels in the village to stay.
So you will have to travel in the morning from Bangalore or Maddur. 
Is parking your vehicle safe before starting the trek?
Yes, you won't find anybody at the parking spot. It is safe and you can park your bike/car at your own risk 
How far is the Nandi idol from the main trail?
The trail to the Nandi Idol is about 15 mins one way. You can explore and come back to the main trail in half an hours time. 
Do I need to obtain any permission to trek/climb?
No, you don't need any permission to go on this trek. 
Is camping allowed near the base of the trek?
Camping is not allowed near the parking or base of the trek.
Where can I get a guide for this trek?
You can give a try checking in the village of Huliyurdurga. But do not go with the expectation of finding any guide to be there on the trek. The people in the village can point on how to reach the starting point of the trek.
Can I buy any food or water from the village?
Yes, you will find shops and small eateries in the village. Do not buy any packaged food here. Take your own bottle and dry fruits or snacks in your dabba on the trek.
➤ Nearby places to visit
Hemagiri Hill
The hill is opposite to Huliyurdurga and an easier one. You have steps climb in many places and is very straight forward. Follow the lighting poles and you will reach the top of the summit. There is a small temple of Mallikarjuna at the top. A yearly fair or 'Jatre' takes place during the end of November till December end where people from about 20 places visit this temple.
➤ Trek Contribution
Trek documented by Suhas Saya
Author: Suhas Saya