Can You Help Us With Photographs Of This Trek?
We are looking to enrich this documentation with more photos. Pictures go a long way in explaining the trail, more than words ever can. If you have done this trek, can you share your photos with us? We will include them on this page, with due credit to you.Click here to contribute.
The Complete Guide to Jiwa Nala – Parvati Valley Trek
Jiwa Nala – Parvati Valley Trek – A Shining Beacon
The Jiwa Nala – Parvati Valley trek is one of the hidden treasures of Himachal Pradesh, located in the Great Himalayan National Park. The 8-day trek is not for the uninitiated, and requires prior experience in high altitude wilderness, the trek takes one through the rugged back country of Sainj and Parvati Valleys. Steep gorges, lush meadows, two passes and an emerald green high altitude pond, all in the backdrop of the snow capped peaks make up for an exciting jamboree.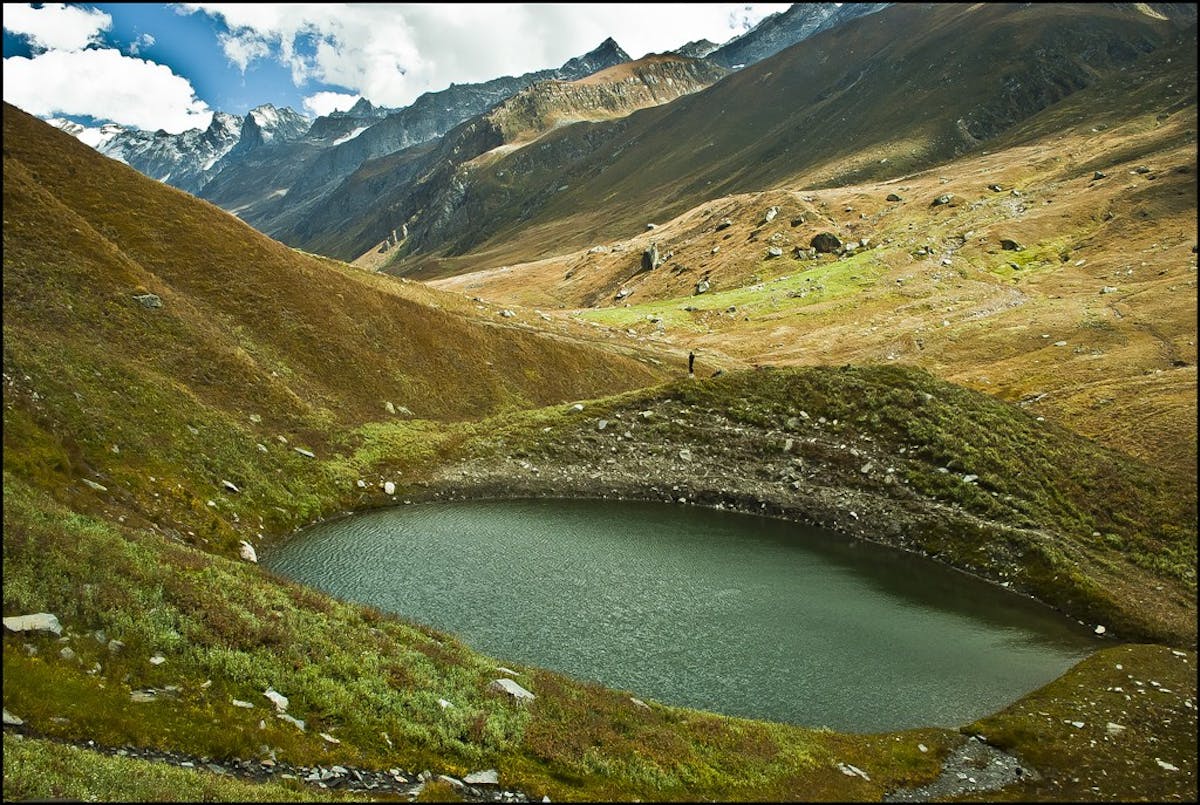 Sarthu Pond – A little gem
GHNP, as the park is commonly referred to, is a relatively small expanse of ~750 sq kilometers of enchanting mountain scenery when compared to its other Himalayan siblings, but possesses some of the most pristine and unique ecosystems in the world. Nestled in Kullu district of Himachal Pradesh in north India, the park acts as an ecological bridge, its contiguousness to Pin Valley National Park and Rupi Bhabha Wildlife Sanctuary offering extended wildlife corridors, in addition to the buffer areas of Sainj and Tirthan wildlife sanctuaries that extend the expanse of the GHNP Conservation Area (GHNPCA) to ~1100 sq kms. From the rare Tragopans to the rarer Snow Leopards, there is no dearth of exotic flora and (if the lord shall be with thee) fauna that one can witness on this trail.
Since the park is accessible only by foot and there is hardly any pack animals or shepherd movement (only a few villagers come up to collect herbs), one can enjoy pure solitude in one of the remotest corners of the middle Himalayas. However, it also implies that one needs to pack comprehensively and also be careful in navigating the trail.Highlights of the trek include crossing the two passes – Kandi Galu (3,700 mts) and Phangchi Galu (4,700 mts) – and walking through stunning meadows to Sarthu Pond.
The trek requires a permit, which can be obtained from the Sainj office of GHNP.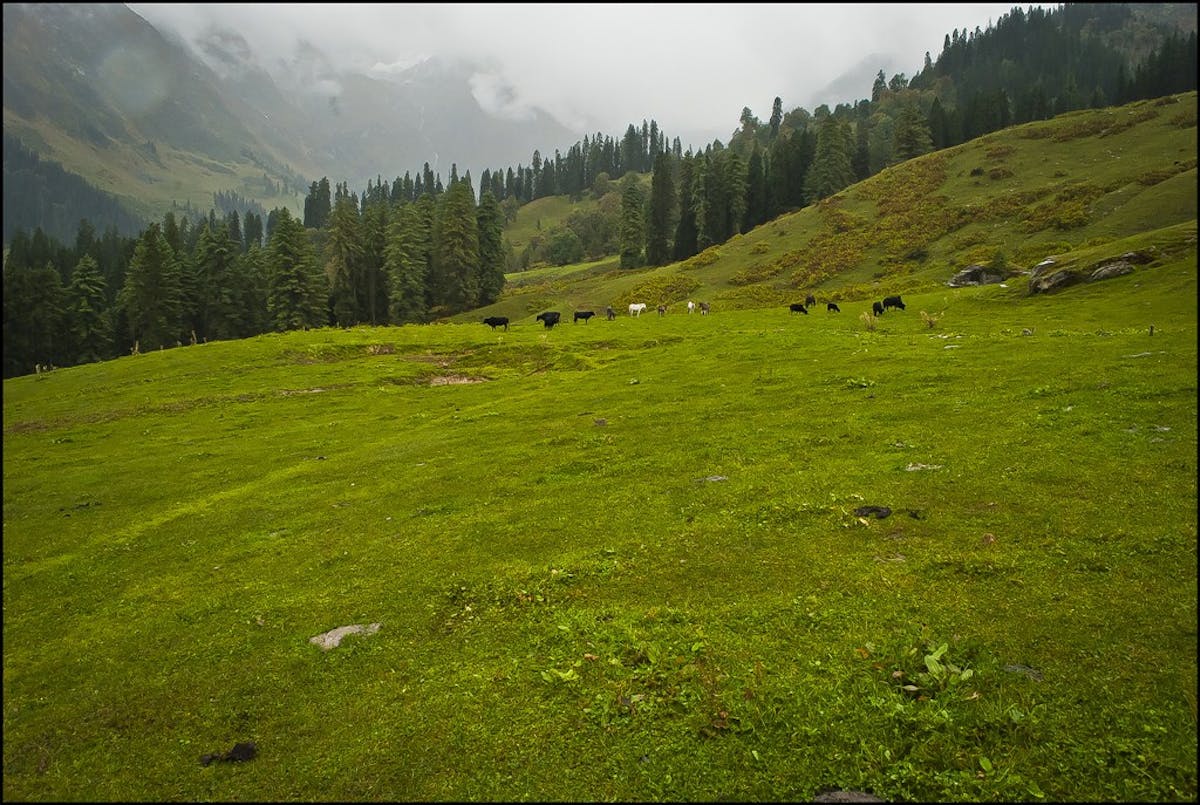 Lush Meadows
Whom is the trek meant for?
This trek is meant for those prepared to grinding the mundane to scour unmapped, untamed wilderness, to beat about bushes intent on beating you down, to face undulations with a wicked grin and last but not the least, to believe in the simple schematic joy of putting one foot after another. 
Prophecies apart, this trek is meant for those with 3-4 years of experience in high altitude Himalayan trekking – there are serious rocky undulations, with almost 1,500 meters of climb and descents on a regular basis in unflinching terrains, except for a day or two in the meadows, where the visual rewards aplenty.
The trek can be classified as moderate, though the heavy undulations and lack of human movement inside the park warrants an extra degree of precaution.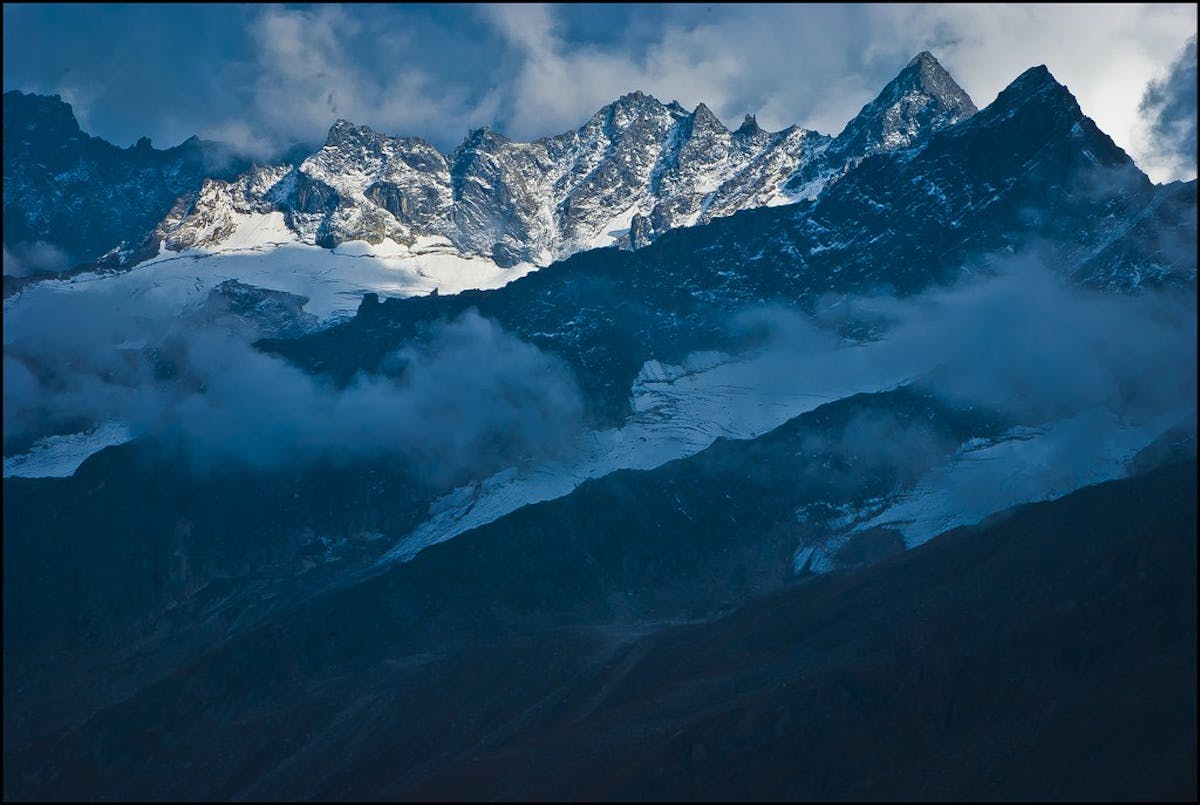 Snow capped Peaks
What are the risks involved?
It's important to note that there are very few people on this trail, which means an expert knowledge of maneuvering though steep gorges. The trails are not very marked, and it needs expert knowledge to locate the burjis (cairns) to figure out the broad geography. One has to prepared for 8-10 hours of trekking almost everyday.
The altitude is a bit tricky, 4,500 mts can be a bit unassuming for the experienced trekker, but  there are serious undulations here everyday that can be tricky if the weather decides to play spoilsport. While Diamox can be a solution, the better option is 10-20 'intense 7-8 kms runs' spaced out between 1-2 months prior to travel. 
How difficult is the trek?
The trek can be graded moderate-difficult, with the added caution that the lack of altitude might make one lenient towards the heavy undulations, that are fraught with some human traffic on most tough treks, but there is very little traffic after the declaration of GHNP as a UNESCO World Heritage Site (a title I have my personal doubts upon). Be prepared to beat the trail down through the heavy bushes fora couple of days, and hoping for trail at times while climbing through sixty degree slopes. For anyone astute enough, the cairns can provide safe directions through most part of the trek.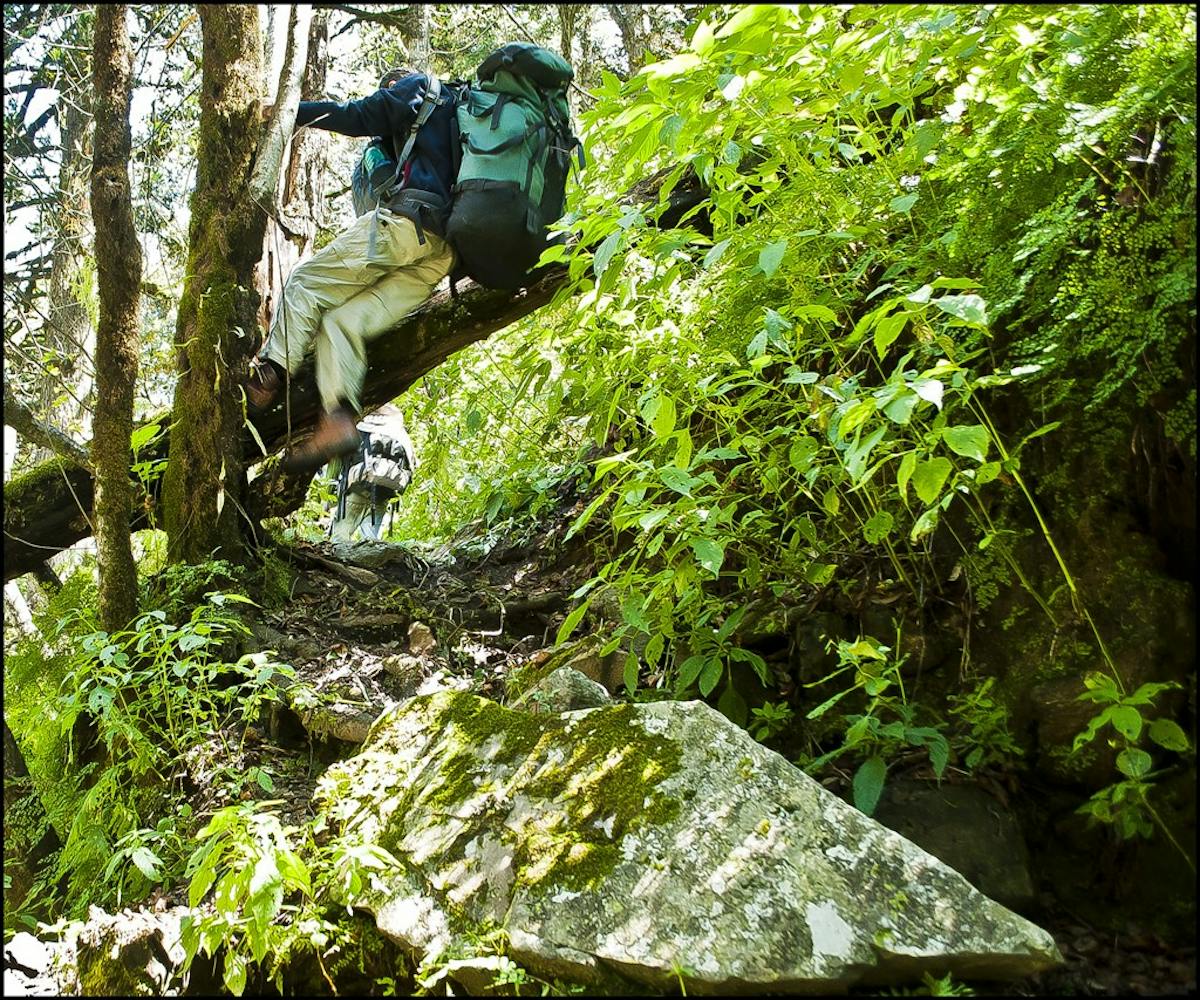 Trekkers in action!
How to prepare for the trek?
Start running, and running as many hills as possible, aiming for 15-20 km a week with at least 500 feet of elevation gain for 4 weeks. More than the physical conditioning, for we'd assume you to be health conscious enough to be interested in such endeavors, it is recommend you read up on a some very good literature that is available on the Kullu Himalayas, and absorb the country you are about to fling yourself into.
➤ Short Itinerary
The Shining Beacon of the Great Himalayan National Park
"In hindsight, this trek was another one of those 'perchance accidents', since our porters decided to abandon us. The first rays of dawn revealed the magical canopy that surrounded the thatch, the conifers aping triangles in perfect symmetry. We were in jogini country now. We did not have any regrets", says Parth Joshi, who explored and documented this trail.
Experience the thrill of trekking in the Jiwa Nala gorge, which is steep and narrow. These interspersed trails can become very confusing to the untrained eye.
➤ Detailed Itinerary
Day 0: Reaching Sainj, 1600 mts
Sainj is approximately 550 kms from Delhi. The easiest way to reach is to take a Volvo bus from Delhi upto Aut on the Delhi-Manali Highway, from where Sainj is approximately a 1.5 hour drive away. There are small buses plying on this route, else one can hire a taxi for around INR 1,500. There is a GHNP guest house at Neuli (4-5 kms ahead of Sainj) with good rooms. If you are prepared to dole out your own rations, the caretaker can prepare meals.
One needs to take a permit from the GHNP park office in Sainj, located 2-3 kms before the Neuli guest house. The officer in charge does not come before 11 am, so one can take the day off to settle down and acclimatize. However, if one is not too tiered, the climb to Bhagi Kashyari can be done on this day itself.
Some people prefer to start the trek from Neuli, hiking an extra 14-15 kms over easy terrain.
Day 1: Trek from Shanshar to Bhagi Kashyari
Altitude: 6889 feet to 8530 feet
Distance: 8 kms
Time taken: 3 hours
Trail type: Villages and forests 
Shanshar is the last motorable point, around half an hour further ahead of Sainj. The trail climbs up through dense mixed forests to the village of Bhagi Kashyari, a small village of around 50 people.
There are plenty of hazelnuts in the forests, a major source of income for the villagers, as also a popular pastime with the kids, cracking the fingernail sized shells with stones.
There are no campsites in the village, so one either needs to go 3-4 kms further ahead, or one can pitch tents in the primary school playground.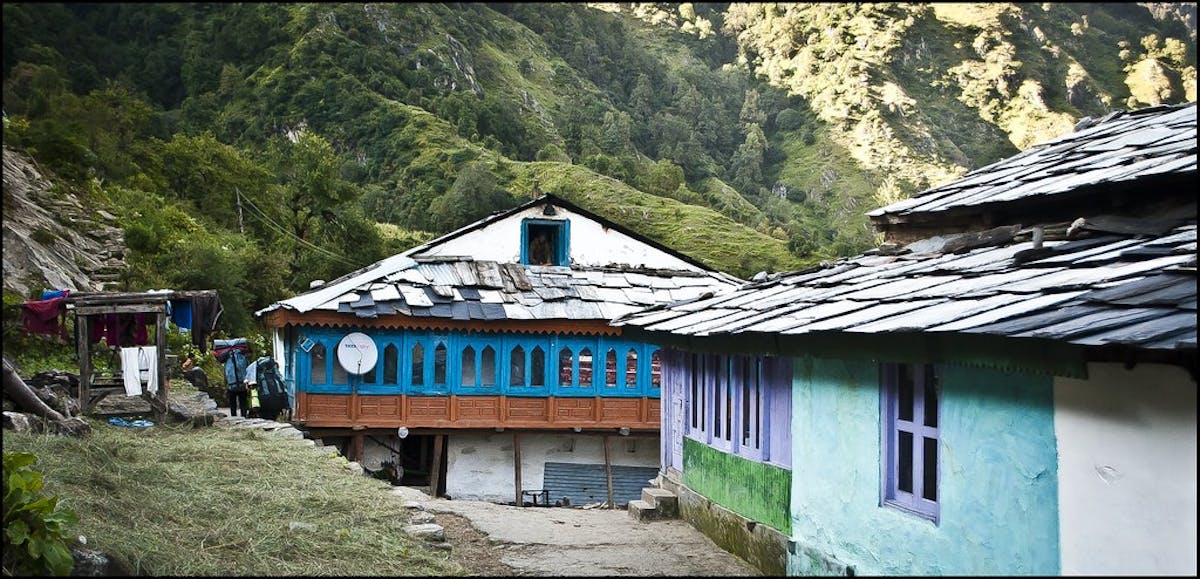 Bhagi Kashyari -A compact hamlet
Day 2: Trek from Bhagi Kashyari to Kandi Galu; Descend from Kandi Galu to Subli Thatch
Altitude: 8530 feet to 12139 feet to 10826 feet
Distance: 20 kms
Time taken: 11 hours
Trail type: Dense forests, gorge, undulations and steep slopes
This day gives you the first real taste of its strenuous nature. One descends from Bhagi Kashyari for about an hour to reach the floor of a narrow gorge before ascending through thick forests, followed by another descent. There are almost 3-4 rounds of such undulations before one reaches the final steep climb up to Kandi Galu notch. The trail is heavily forested throughout the day and one needs to careful about the sense of direction. Although the pass in not very high, the last 3-400 mts upto very craggy with minimal trail markings.
It is a steep 1-1.5 hour descent to Subli Thatch, a tattered roof over two rooms. We are past the tree line now but the meadows are heavily vegetated and a lot of bushwhacking is needed at times. One can camp inside the thatch; else there is plenty of room to pitch tents around it as well. Firewood and water points are easily available.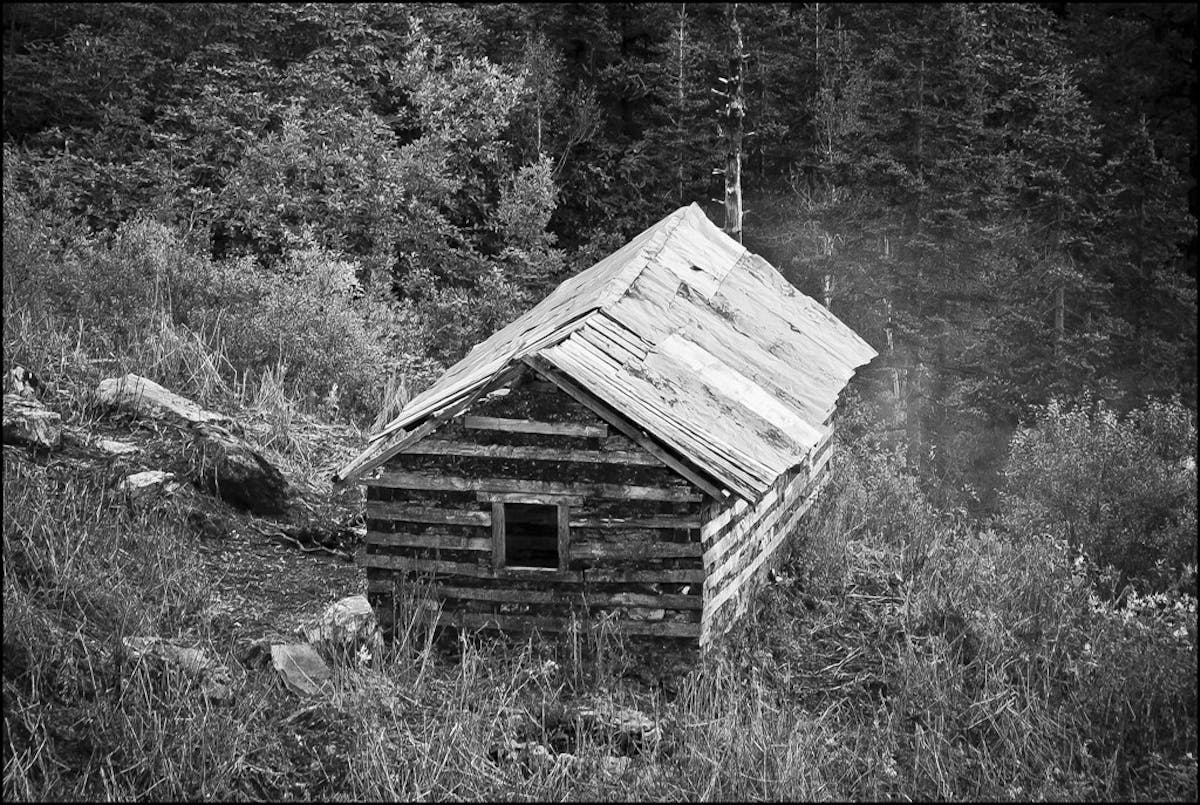 Subli Thatch -The first campsite after crossing Kandi Galu Notch
Day 3: Trek from Subli Thatch to Dwada Thatch
Altitude: 10826 feet to 10334
Distance: 8 kms
Time taken: 5 hours
Trail type: Dry stream beds, long bushes, rocky terrain
The day begins with a very tricky descent, dry stream beds and six feet long bushes decimating any sight of a trail. However, one can navigate using Jiwa Nala, whose gurgling sound can be heard now in the gorge. There are only 2-3 crossing points in the river. It is recommended to use the first opportunity to cross downstream, since the bridges upstream are often washed away for seasons on end. 
The trail is very rocky and one needs to traverse carefully. However, the distance is short today, and one can easily reach the campsite around lunch. There is decent thatch here as well. Firewood and water points are easily available.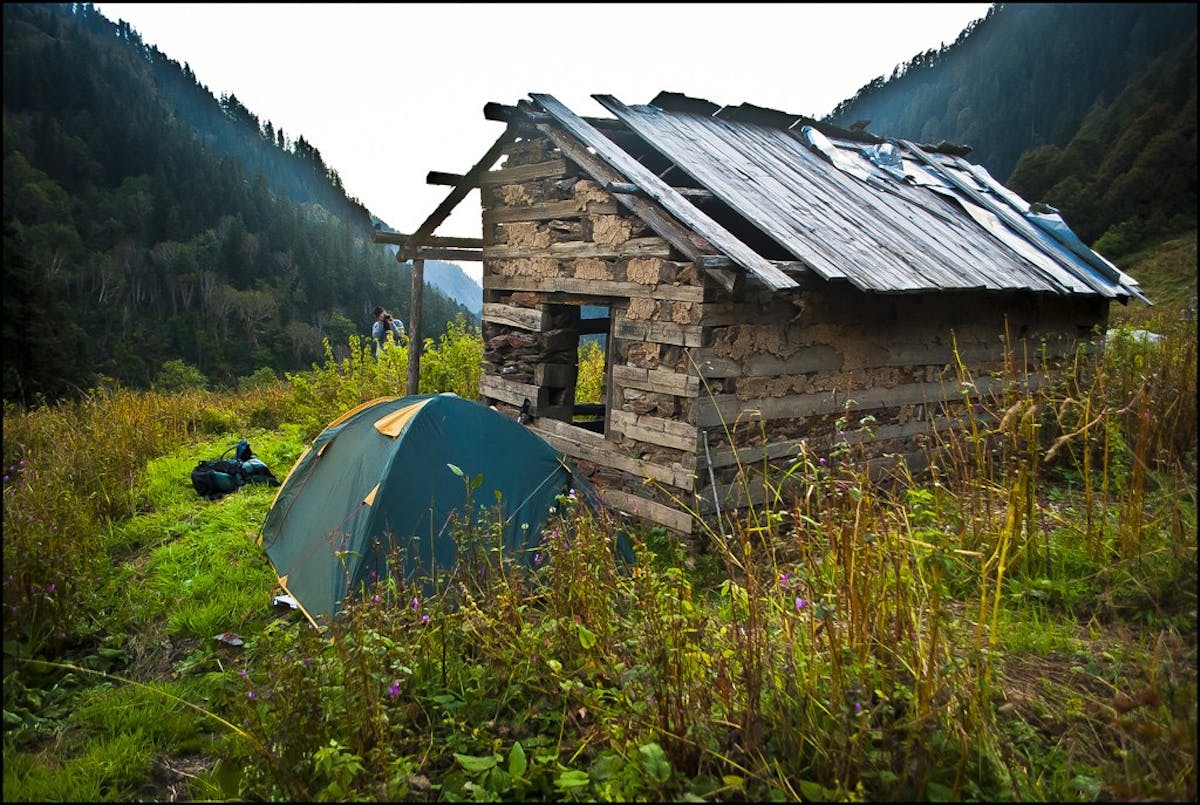 Dwada Thatch
Day 4: Trek from Dwada Thatch to Sarthu Pond; Trek from Sarthu Pond to Khandedhar Top and descend to Lalbatti
Altitude: 10170 feet to 13123 feet
Distance: 20 kms
Time taken: 10 hours
Trail type: Lush green meadows, pond, glacial lake, snow covered peaks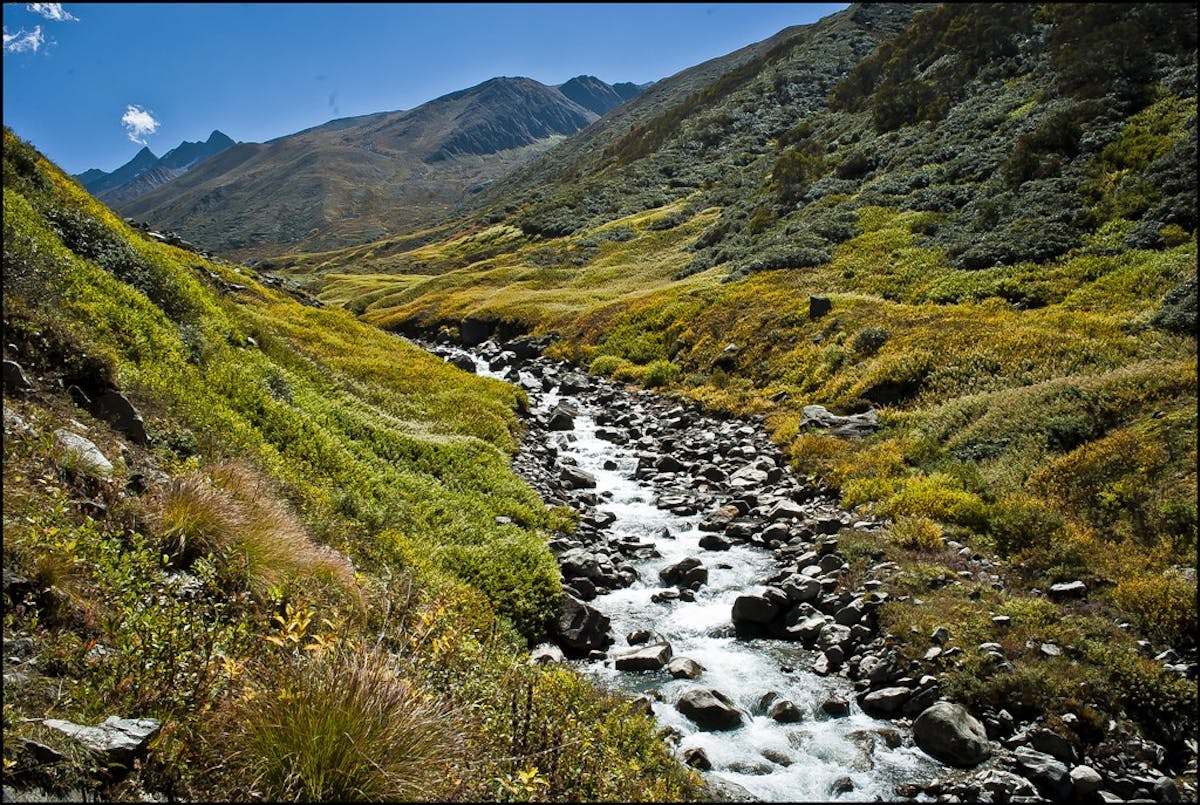 Mountain Stream -Jiwa Nala
The first half of the day is one of the highlights of the trek, with a gentle climb through lush green meadows along Jiwa Nala to Sarthu pond (11,482 feet), a small emerald green glacial lake. The view opens up here, with the higher snow covered peaks and glaciers of the Jiwa Nala valley now fully visible.  
From Sarthu pond, it is very steep 3-hour hike to reach Khandedhar top (14,435 feet), transitioning from the lush green valley of Jiwa Nala into moraine and scree zone on the other side. Lalbatti (13,123 feet) campsite is half an hour down from the top.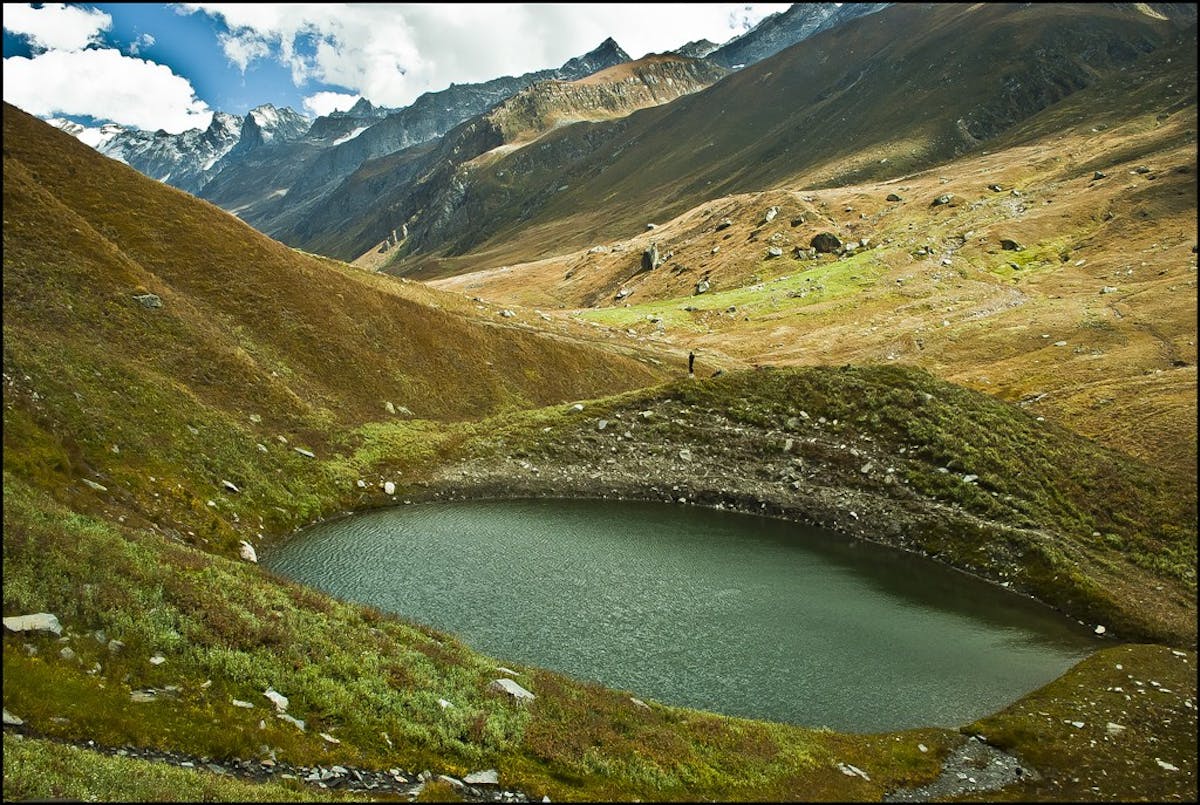 Sarthu Pond – A little gem
It is to be noted that our version here differs from the itineraries usually suggested. While the regular itinerary lists this as a rest day or two at Dwada thatch with a round trip to Sarthu pond, we decided to climb straight up from Sarthu pond instead of turning back, which would land up somewhere in between Dwada Thach and Phangchi Galu, the highest point of the trek. Though the campsite at Lalbatti was cold and windy, we managed to shave off quite a bit of the distance from the otherwise 24-km hike from Dwada Thatch to Chippi after crossing the pass.  
One should not casually take these detours however. We had planned and studied maps in detail before doing this, and it was still a risky proposition as we were wading through mist to the top of Khandedhar. Firewood is not available, and there are limited water points.
View from Khandedhar Top
Day 5: Trek from Lalbatti Campsite to Chippi
Altitude: 13123 feet to 11154 feet
Distance: 18 kms
Time taken: 8 hours
Trail type: Narrow trail with heavy moraine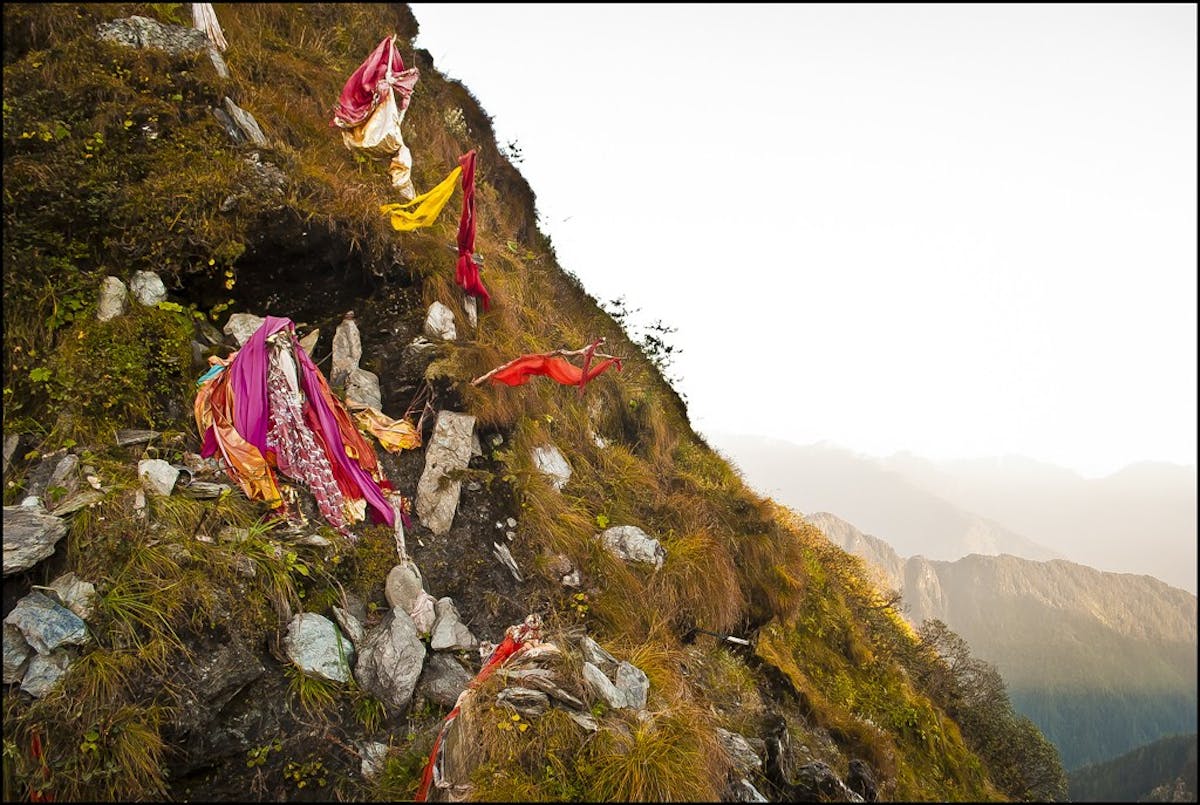 Short descent from Lalbatti before starting the steep ascent to Phangchi Galu (15,419 feet). The trail is narrow and unrelenting with heavy moraines on the final 1-2 kms before the notch. The descent is trickier with a 70-75 degree slope over heavy scree. There is high probability of rock falls after crossing Phangchi Galu, and one has to exercise extreme caution while traversing the pass. 
The trail eases up after 2-3 kms on the descent. One has to be careful about the direction though and stick to the left once on the glacier's tongue since the moraines can mislead. Chippi is a regular shepherd encampment, with good views of Parvati Valley. Firewood and water points are easily available.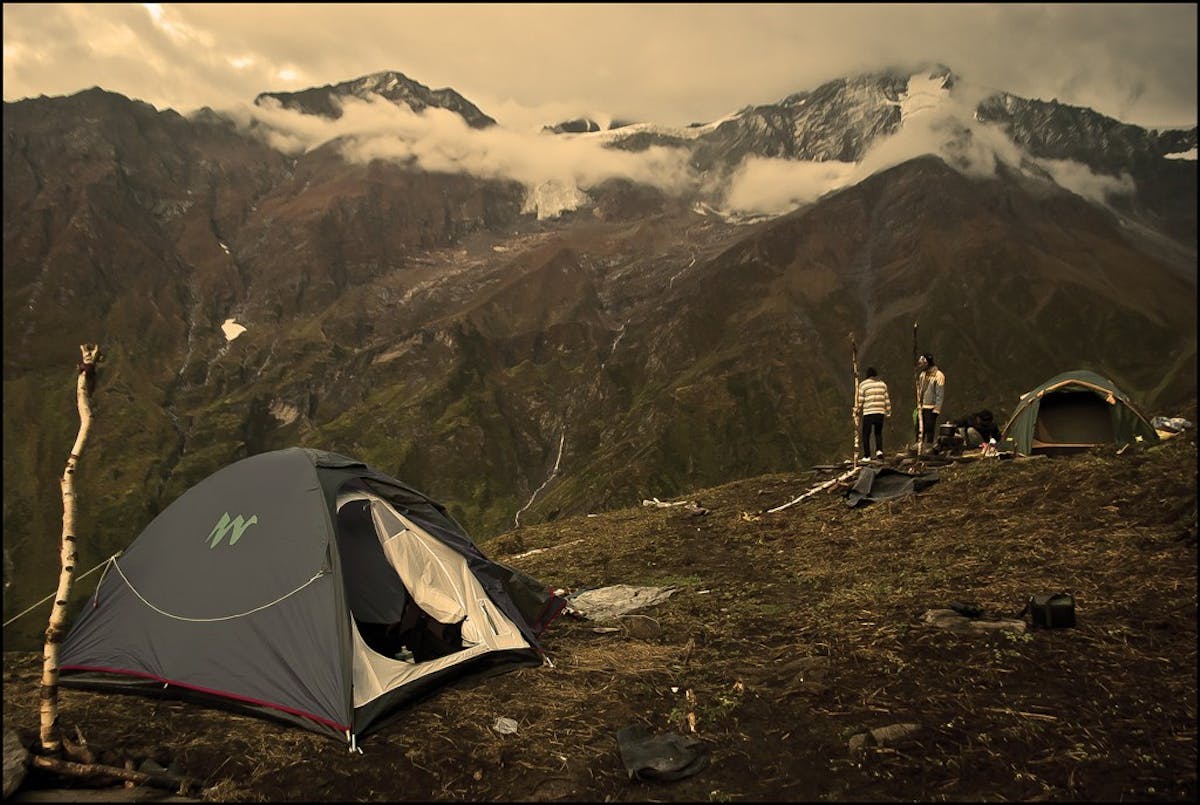 Chippi Campsite
Day 6: Trek from Chippi to Barshaini
Altitude: 11,154 feet to 8858 feet
Distance: 16 kms
Time taken: 6 hours
Trail type: Rocky terrain, mountain streams
The first 2-3 hours of the descent are technical with a lot of rock fall and a couple of stream crossings just above the tree line. The downhill is easy today with only a couple of steep sections, and crosses beautiful alpine meadows and shepherd encampments before winding up to the sleepy little hamlet of Pulga (9514 feet), a quintessential Himachali village with lots of traditional architecture thrown in.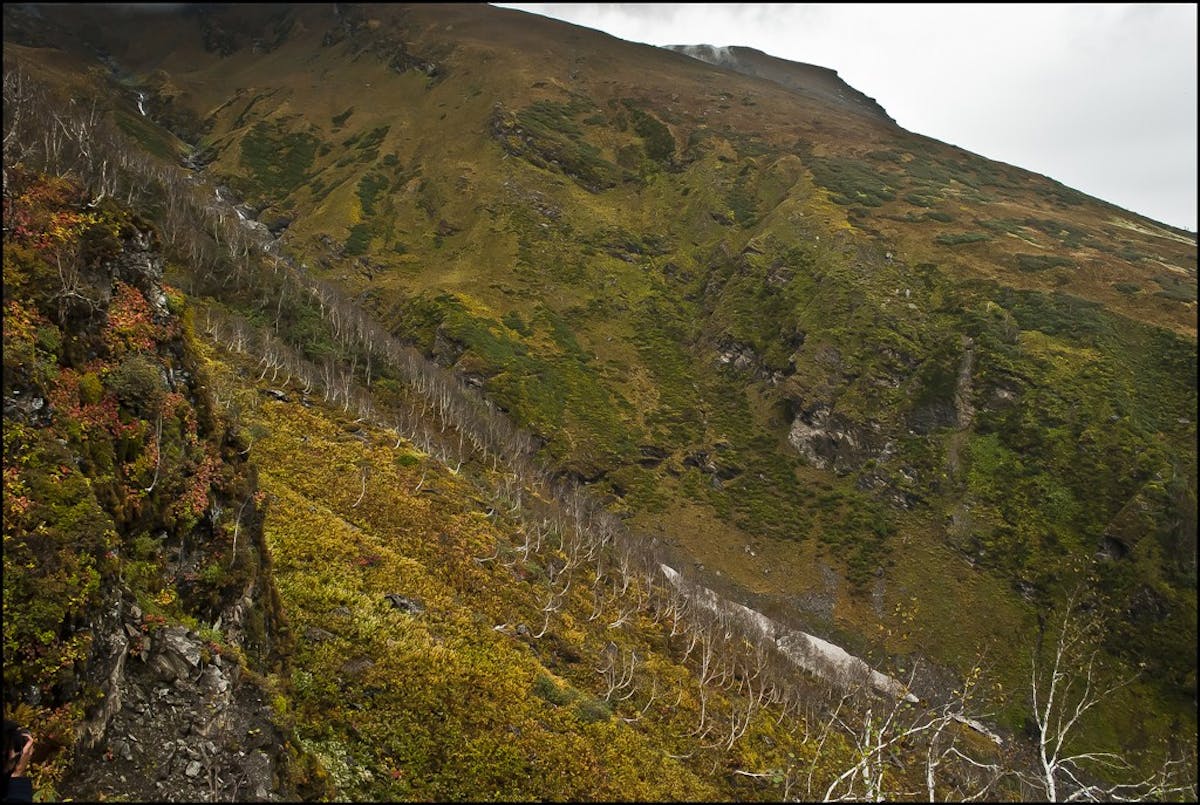 Autumn Hues
After Pulga, one descends to a pedestrian bridge near a micro hydel project on the Parvati River to cross to Barshaini (8858 feet), the road head leading one further up into the Parvati Valley. One can find local buses, or hire a taxi down to Manikaran, which has better accommodation options, and not to forget the hot springs to alleviate the blistered feet and tired dispositions.
➤ How to Get Fit for the Trek
The Jiwa Nala – Parvati Valley  trek is classified as a moderate – difficult trek . You trek up to an altitude of over 15,419 feet. You will be covering a trekking distance of 90 kilometers in 7 days. The trail has several challenging sections. You have to make sure your lungs are strong for this.
Cardiovascular endurance
This trek requires a good amount of endurance. You can begin by jogging everyday.  Start jogging at a slow pace and then keep increasing your pace day by day. Make sure you are able to jog 5 km in 30 minutes before the start of the trek. It takes time to be able to cover this distance in the given time. Swimming, cycling and stair climbing without too many breaks in between can help too.
Strength
This is another area you should work on. There is a lot of trekking distance that you will cover in high altitude carrying your backpacks.  You have to walk on uneven terrain during the trek. It could be taxing for your legs. For this, strengthening your legs will help. You can do some squats to strengthen them. Do around 3 sets of squats, with 8 squats in each set.
Flexibility
Another aspect that will help you trek comfortably is flexibility. For this, you can do some stretching exercises – stretch your hamstrings, quadriceps, hip flexors, lower back muscles and shoulders regularly. On your trek, it is important that you arrive on the slopes with your muscles relaxed. Carrying a backpack, however light, can become a strain after a while. These exercises will help you to be in good shape before the trek.
Working out indoors
If you can't go out and jog because of time and space constraints, here's a video you can use to work out indoors.
➤ What to Pack for your Trek
Bare Necessities:
Trekking shoes: Carry trekking shoes and not sports shoes. The trail will be slippery at several places and will require shoes with good grip and ankle support. You can watch this video to learn to choose the right trekking shoes. You can get Forclaz 600 from Decathlon.
Backpack (40-60 litres): A backpack with sturdy straps and a supporting frame. Rain cover for backpack is essential.
Daypack (20 litres): As this is a crossover trek, you would only need a daypack if you are offloading your backpack.
Clothes
Three layers of warm clothes: Carry two sweaters, and a padded jacket. If you are more susceptible to feeling cold, add another layer.
Three trek pants: Carry light cotton trek pants. One of your pants can be tights that you can wear as an inner layer while trekking, especially on the Pass day.
Three collared t-shirts: Carry light, full sleeved t-shirts that prevent sun burns on the neck and arms. If you're too cold, you can wear two tshirts together for more insulation.
Thermals: Carry thermals (top and bottom) to keep yourself warm at night. Keep your thermals fresh and don't wear them while trekking.
Accessories
Sunglasses: Sunglasses are mandatory.
Suncap: At high altitude, the sun is extra harsh, as the UV rays don't get filtered. So carry a suncap to protect yourself.
Synthetic hand gloves: Avoid woollen gloves as they will get wet if you touch snow. You can add a fleece glove as an inner layer, and wear two gloves on each hand if you're more susceptible to cold.
Balaclava: You'll need this to cover your head, as most of the heat escapes from your head.
Socks (2 pairs) and a pair of woollen socks:  Apartfrom two sports socks, you can take a pair of woollen socks for the night.
Headlamp LED torch: Mandatory
Trekking pole: Watch this video to understand why you need a trekking pole.
Others
Toiletries (Sunscreen, moisturiser, light towel, lip balm, toilet paper, toothbrush, toothpaste)
Cutlery: Carry a spoon, coffee mug and a lunch box. We insist on trekkers getting their own cutlery for hygiene reasons.
Two water bottles: 1 litre each
Plastic covers: While packing, use plastic bags to compartmentalise things and carry few extra plastic bags for wet clothes.
Mandatory Personal Medical Kit 
Diamox – 10 tablets (to prevent AMS)
Crocin – 6 tablets (fever)
Avomine – 4 tablets (motion sickness)
Avil 25mg – 4 tablets (allergies)
Combiflam – 4 tablets (Pain killer)
Disprin – 6 tablets (headache)
Norflox TZ & Lomofen– 6 tablets each (diarrhea)
Digene – 10 tablets (acidity)
Omez/ Rantadine – 10 tablets (antacids)
Crepe bandage – 3 to 5 meters
Gauze – 1 small roll
Band aid – 10 strips
Cotton – 1 small roll
ORS – 10 packets
Betadine or any antiseptic cream
Moov spray (aches, & sprains)
➤ Difficult Sections
Safety Concerns:
The Jiwa Nala – Parvati Valley trek has a lot of tricky sections. The trail is completely isolated. It is hard to find human presence on this trail. The heavy undulations with almost 1500 meters of steep ascents and descents on a regular basis warrants an extra degree of precaution. Like any mountain pass crossing, there are no easy exits. This trek has two challenging pass crossings.  In addition, you are trekking upto an altitude of 15419 feet. Acute Mountain Sickness is a very big risk on this trek.
In preparation, it's highly recommended that you use Acetazolamide (Diamox) to assist acclimatization and prevent high altitude sickness.
Diamox dosage:
Start on a dosage of 125 mg every 12 hours 2 days prior to your trek (or when you arrive at Delhi). Increase it to 250 mg every 12 hours from the day you get to the base camp and continue until you complete the trek. Watch this video to learn how AMS can be prevented.
Side effects of Diamox:
While Diamox is harmless for most people, please check with your doctor whether you are allergic to sulphides. Also check with your doctor if you have high/low blood pressure or diabetes.
➤ Maps and Charts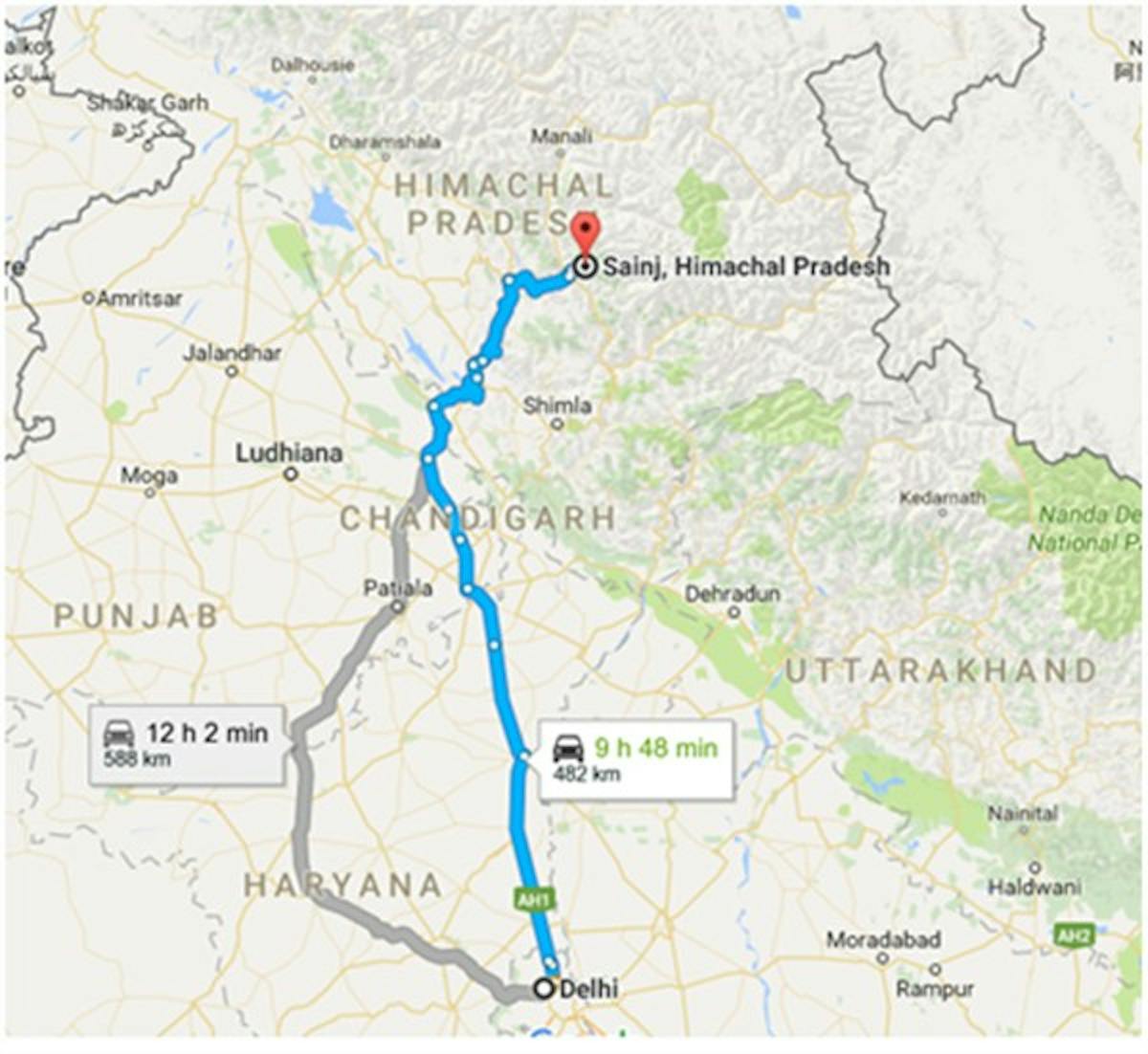 Delhi to Sainj -Map
➤ Plan Your Travel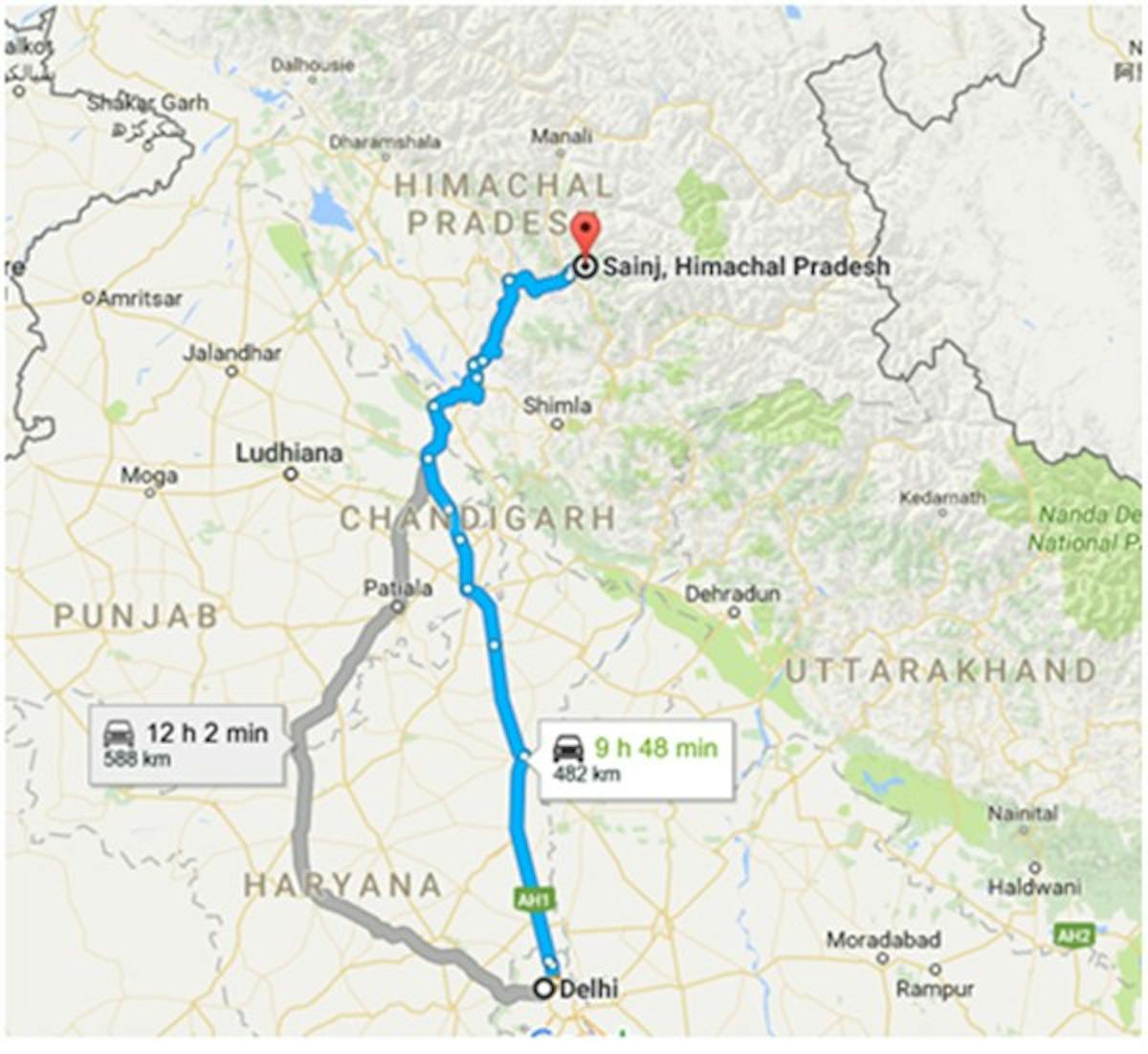 Delhi to Sainj -Map
Sainj is approximately 550 kms from Delhi. The best way to reach is to take a Volvo bus from Delhi to Aut on the Delhi-Manali Highway. It takes about 1.5 hours to reach Sainj from Aut. Small buses ply on this route. You can hire a taxi for around INR 1500. There are GHNP guest houses available at Neuli. They have good rooms for rent.
You need to get permits from the GHNP park office in Sainj, which is located 2 to 3 kms before the Neuli guest house.
➤ Trek Contribution
Author: Parth Joshi
Blog: www.traveltravailsandheck.com
Flickr Photostream: http://www.flickr.com/photos/parthjoshi/
Allured by the outdoors, Parth is an avid trekker, runner, cyclist, birder and photographer, he is more often than not found gloating over the anything hinterland, on foot or over computer monitors, and fantasizing solutions that can foster 'inclusive' growth and sustainable livelihoods for communities at the grassroots.