Can You Help Us With Photographs Of This Trek?
We are looking to enrich this documentation with more photos. Pictures go a long way in explaining the trail, more than words ever can. If you have done this trek, can you share your photos with us? We will include them on this page, with due credit to you.Click here to contribute.
The Complete Guide to Kali-Cho Pass Trek
The Kali-Cho Pass trek is a difficult trail. Steep gradient from the base of the Lahesh/Alyas to the top of the Pass from Chamba side. The entire trail from the Lahesh/Alyas to the top is tricky and risky. Must be done with an expert guide because chances of losing the trail are highly likely otherwise. MUST adhere to the local customs and rituals. Recommended to camp on the other side rather than walking all the way to Hinsa Village.
Trek Facts
The Kali Cho Pass is considered to be the abode of the Adishakti Bhagwati. Even the Gaddis (tribals of the area) fear crossing this pass alone.
The permission is granted at the Banni Mata Temple and only three batches are allowed to cross this pass every season.
A single batch may consist 2-3 different groups but they all have to cross within a predefined time frame. This rule is followed very strictly and even the trekking enthusiasts observe it religiously.
Short Itinerary:
Altitude: 4950 meters (15840 feet approx.)
Day 1: Tundah Village to Banni Mata Temple – 5-8 kms – 3 to 4 hrs
Day 2: Banni Mata Temple to Bhadara Village – 5 to 8 kms – 3 to 4 hrs
Day 3: Bhadara Village to Bansar Goth – 10-12kms – 6 to 8 hrs
Day 4: Bansar Goth to Lahesh/Alyas – 10-12 Kms – 6 to 8 hours
Day 5: Lahesh/Alyas to Hinsa Village – 15-18 kms – 12 to 14 hrs
Best Season: Late july to early September.
How to do this Trek:
Guides and Porters: No Idea about guides and porters as we don't/didn't hire any.
Maximum Elevation: 4950 meter – Kali Cho Pass Top
Weather: Extremely cold weather. Expect the temperature to dip as low as -5 degree Celsius. Rains may play a spoilsport.
Permits: No permits to be obtained
Detailed Itinerary
When my trekking guru asked me to prepare for the Kali Cho Trek I didn't know a thing about the Pir Panjals or about the difficulty level of this trek. I didn't know about crampons or roping up or even the importance of  good trekking gear. I didn't even have a sleeping mat. But I had this gut feeling that I was ready.
The Kali Cho Pass is considered to be the abode of the Adishakti Bhagwati. Even the Gaddis (tribals of the area) fear crossing this pass alone. The permission is granted at the Banni Mata Temple and only three batches are allowed to cross this pass every season. A single batch may consist 2-3 different groups but they all have to cross within a predefined time frame. This rule is followed very strictly and even the trekking enthusiasts observe it religiously.
The trek attains the maximum height of 4950 meters and it takes a minimum of four days to complete this journey. It is one of the three mightiest passes of the Pir Panjals connecting Chamba to the Lahaul Valley. The other two are Chobiya and Kugti Pass.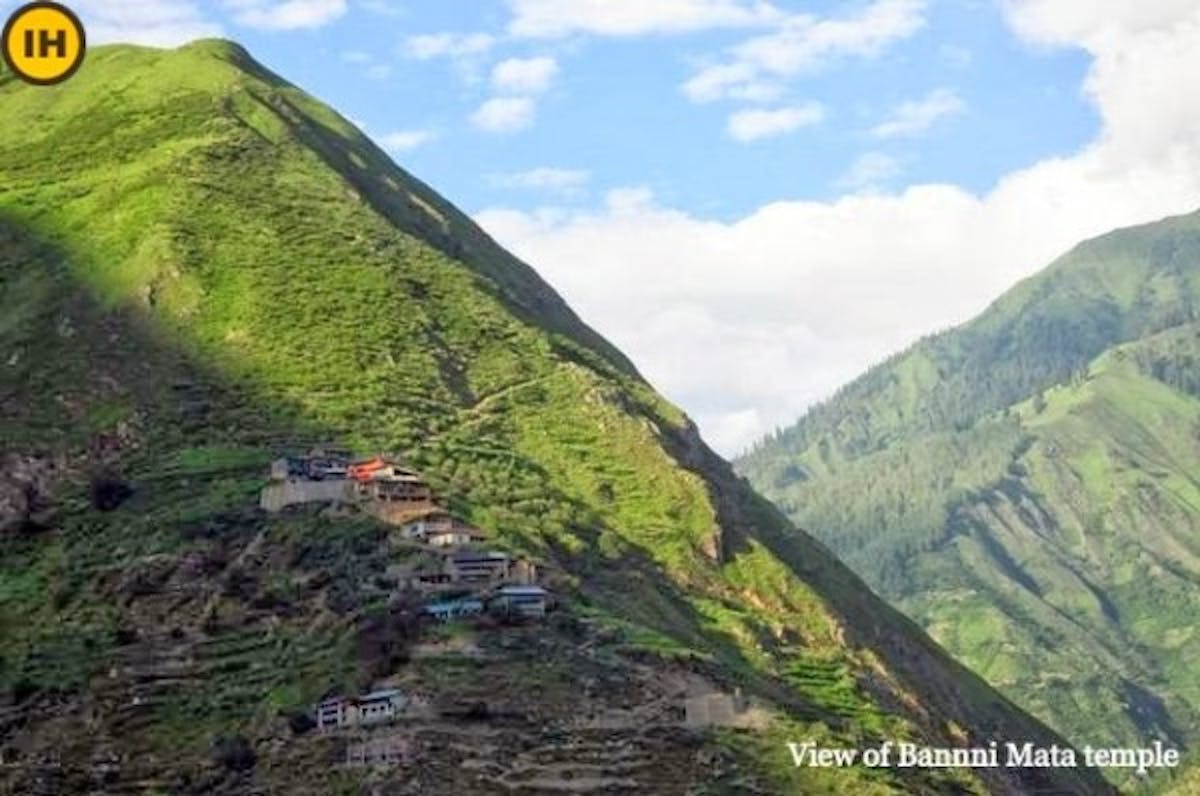 View from Banni Mata Temple
Our journey started from the Dhakog Bridge, also called as the Banni Mata bridge, approximately 20 kilometers from Bharmour towards Chamba on the main road-head. Usually you get sharing cabs but on a weekend you will have to book a cab in advance and that means shelling out an outrageous amount of money. The cab dropped us at the Tundah Village, which is the last village connected to the road. However reaching Tundah was not easy in a rickety cab stuffed with 15 people on a steep road.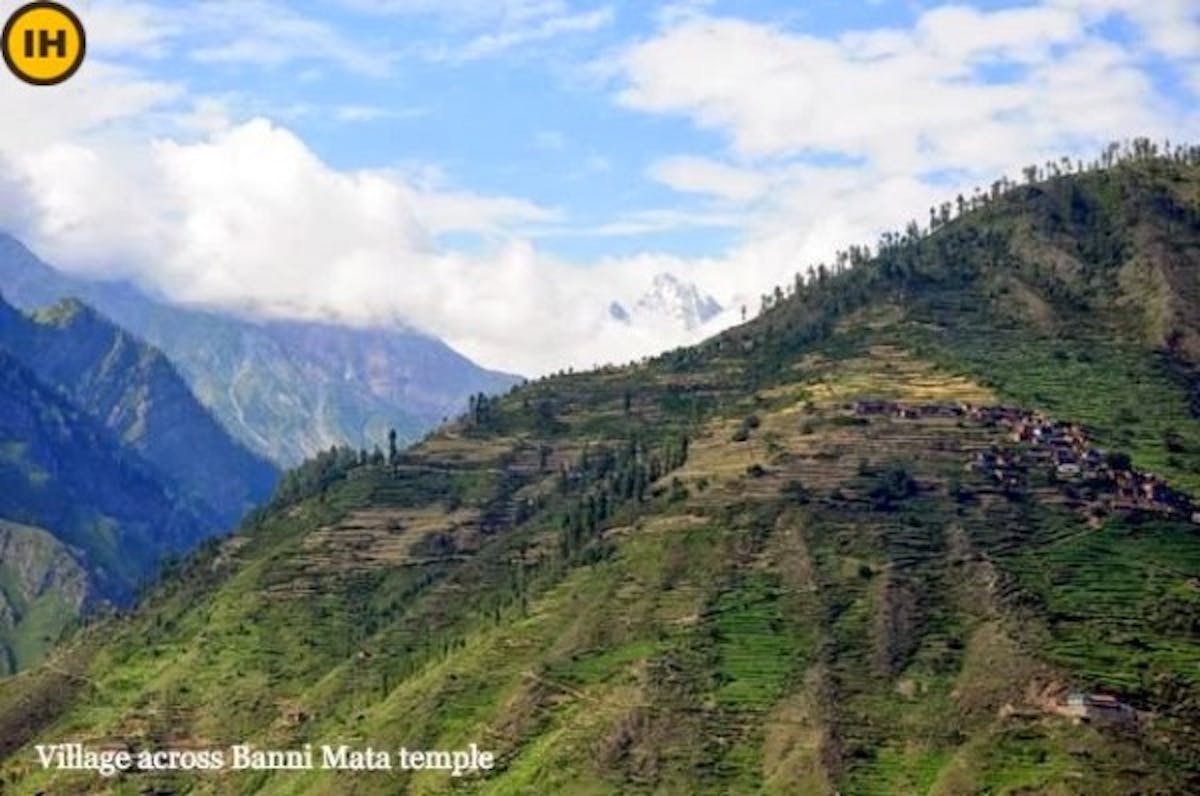 Village across Banni Mata Temple
There is a forest rest house at Tundah (2400 Meters). The next stop was Banni Mata temple which is one of the most revered Bhagwati shrines in the entire Chamba region. The permission to cross the pass along with the dates of the crossing were granted here at this temple and this is believed to be an age-old tradition. We were only two and didn't have any guide with us. We decided to ask around at the Banni Mata temple but unfortunately, we bumped into pot-smoking desi hippies. Initially, they agreed to take us to the top of the pass but soon they lost the post. Probably the stuff they were smoking was too strong for them to handle.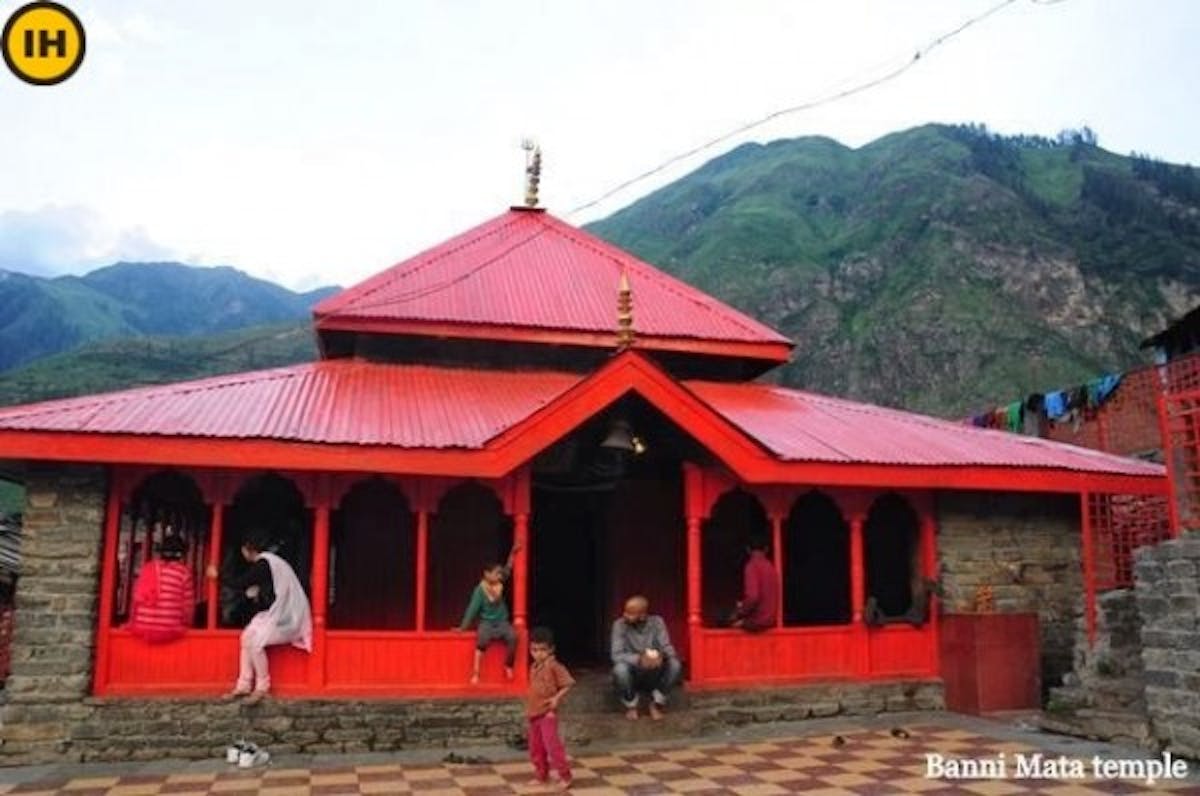 Banni Mata Temple
Our next and last hope was finding a guide at Bhadara Village. We met a school peon who claimed that he had walked across the pass many times and it was a cakewalk for him. He didn't talk about money but we decided to pay him Rs. 500 per day and he happily agreed. That looked like a smart start. Although it didn't turn out to be a smart end.   Although we left late from Bhadara we intended to reach the base camp (Alyas/Lahesh) on the same day but our guide was reluctant to do so. We thought it to be a monetary issue so we reassured him that we will pay him twice the amount even if we reach there the same day. Even that couldn't motivate him. Nine out of ten times one of us was leading and he was happily walking behind us. Soon we forgot about him and he too stopped bothering us.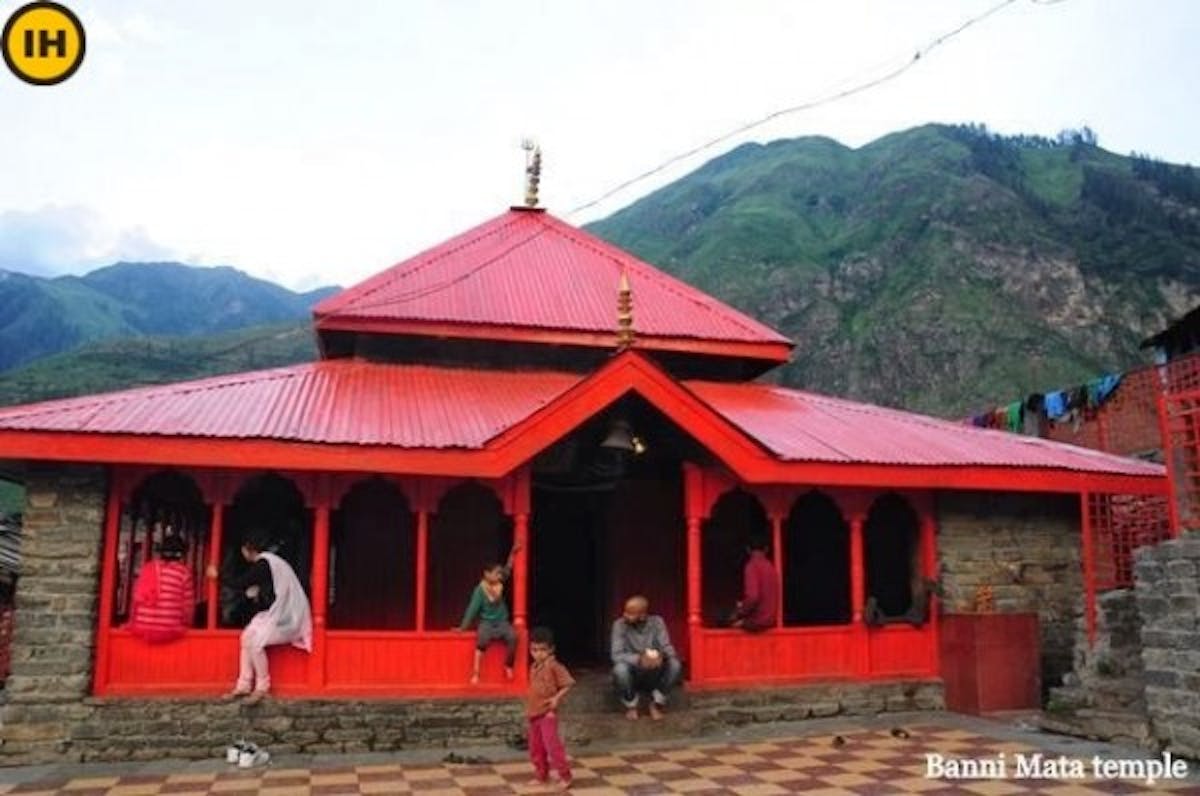 En route Bhadar Village to Bansar Goth
The entire walk between Bhadar and Bansar Goth was mesmerizing. Green pastures all around, rivulets running wild happy to meet Mother Raavi, and beautiful rock patterns surrounding us. It appeared as if someone carved out those patterns on the rocks to make the landscape lively. Bansar Goth is a small temporary settlement mostly used by the Gaddis. Gujjars rarely stay in these hutments because these are constructed by the gaddis and the animosity between the gaddis and gujjars is well known.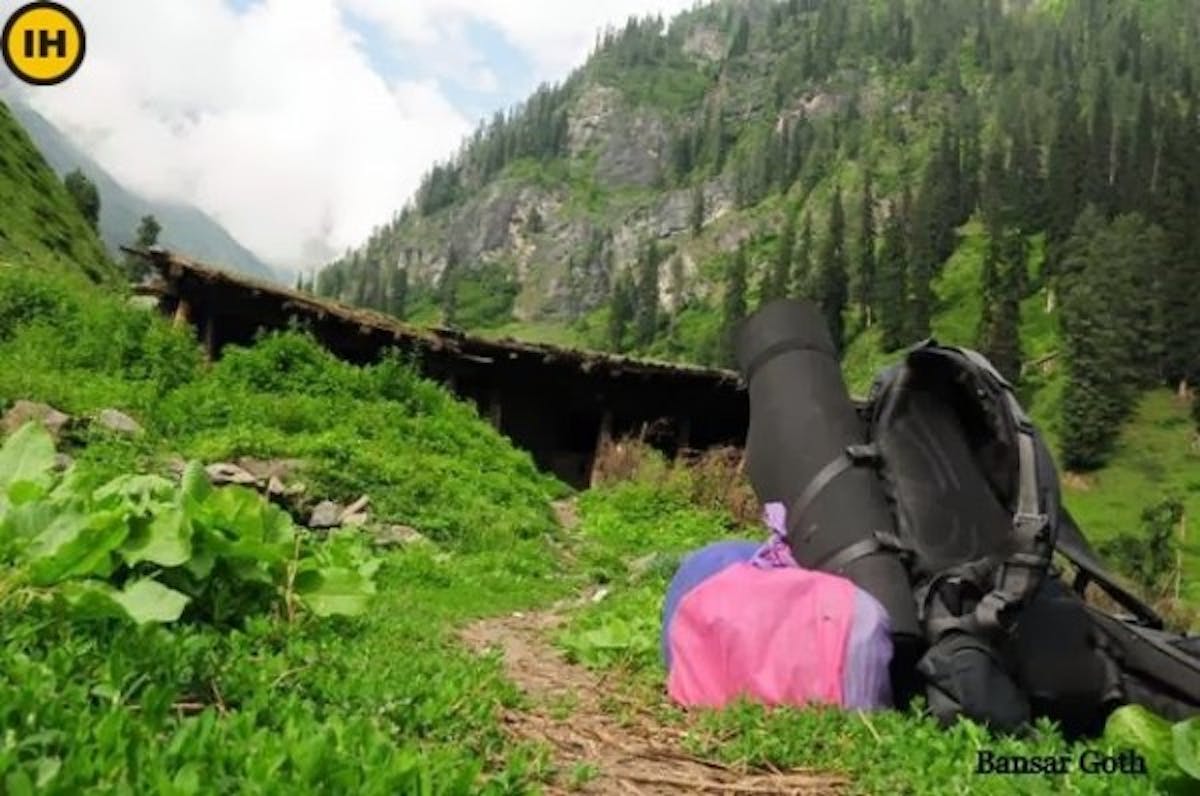 Bansar Goth
As soon as we arrived at the Bansar Goth our guide started bothering us again. He met a gujjar enroute and agreed to his proposal of us all staying with him. That meant climbing another 500 meters in a direction opposite to our trail. We were hopelessly tired but the gujjar begged us to stay with him. He had just got married and wanted us to share his happiness. We couldn't say no.   By the time we reached his settlement our legs had given up and the only thing we could think of was sleep. We slept like logs. The gujjars sang and danced all night.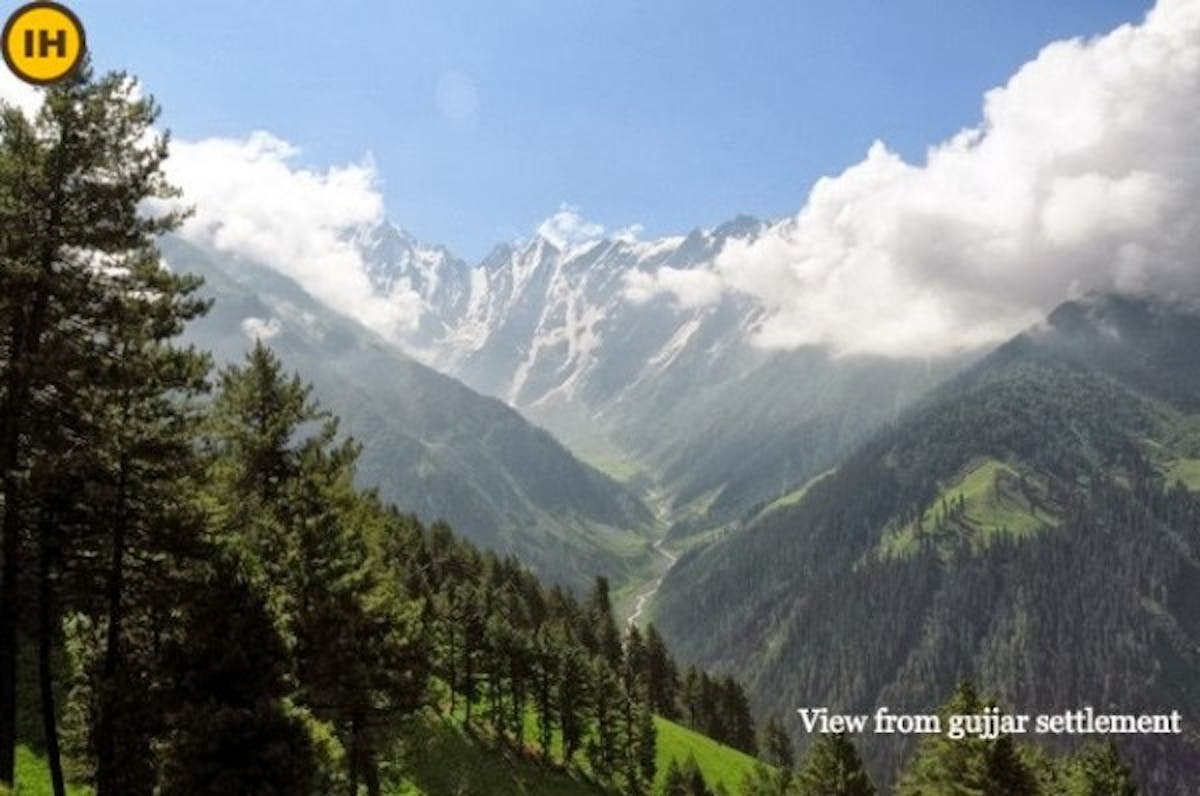 View from Gujjar Settlement
Next morning our guide started making excuses for not moving ahead. He proposed that we stay one more night with the gujjars but that was absolute nonsense and we left without him. He soon joined us and after praying at the Diggu Wajir's temple we moved forward towards the Alyas/Lahesh. It is said that he was the first person to cross the Kali Cho Pass, and even today every group walking across the pass remembers him and seeks his blessings.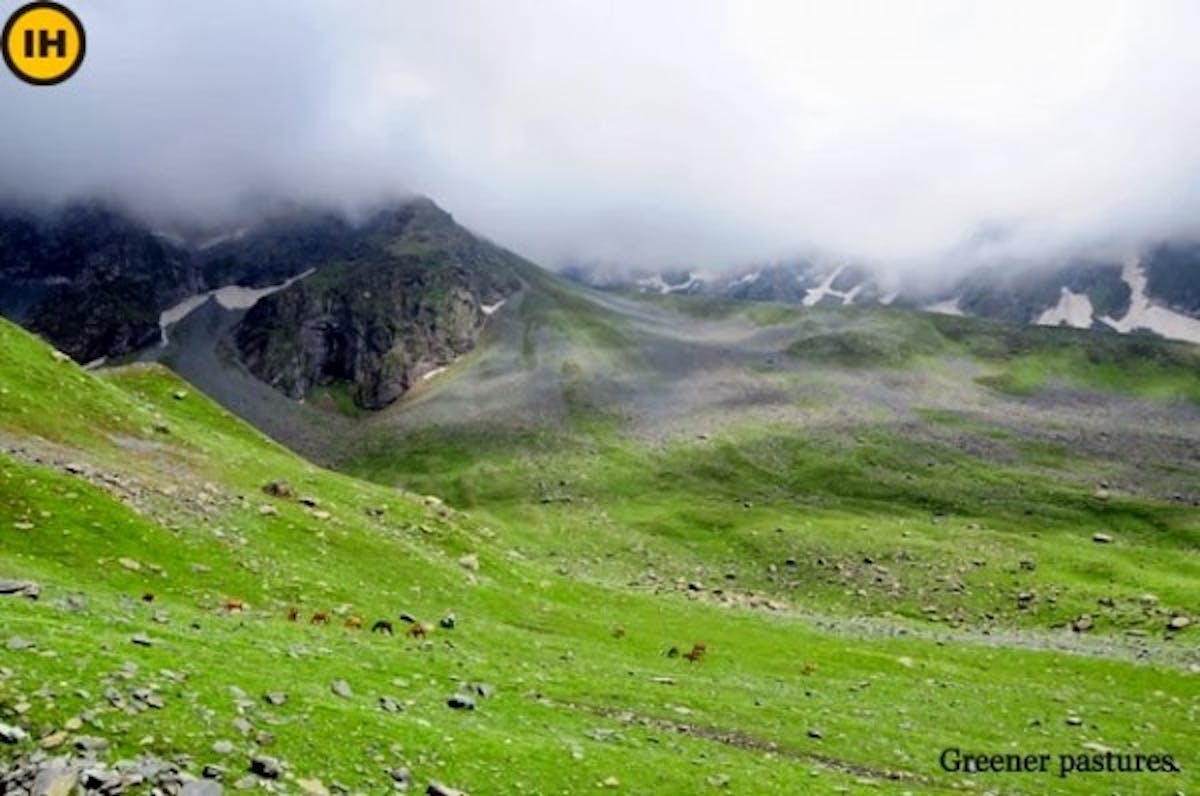 Greener Pastures
The walk was smooth now and the pastures were greener. There were horses grazing all around and it looked like a scene from the movie Into the Wild. Our guide was out of sight and we didn't even know if he was ahead us or behind us. We had to cross a trail and once we did that, we lost the trail. There were no visible marks and we had no clue where to go to from there. Soon we spotted our guide at the top of the mountain in front of us and we could see him laughing. Whether he was laughing at us or not did not matter. I hurled the choicest abuses at him and then he realized the severity of the situation.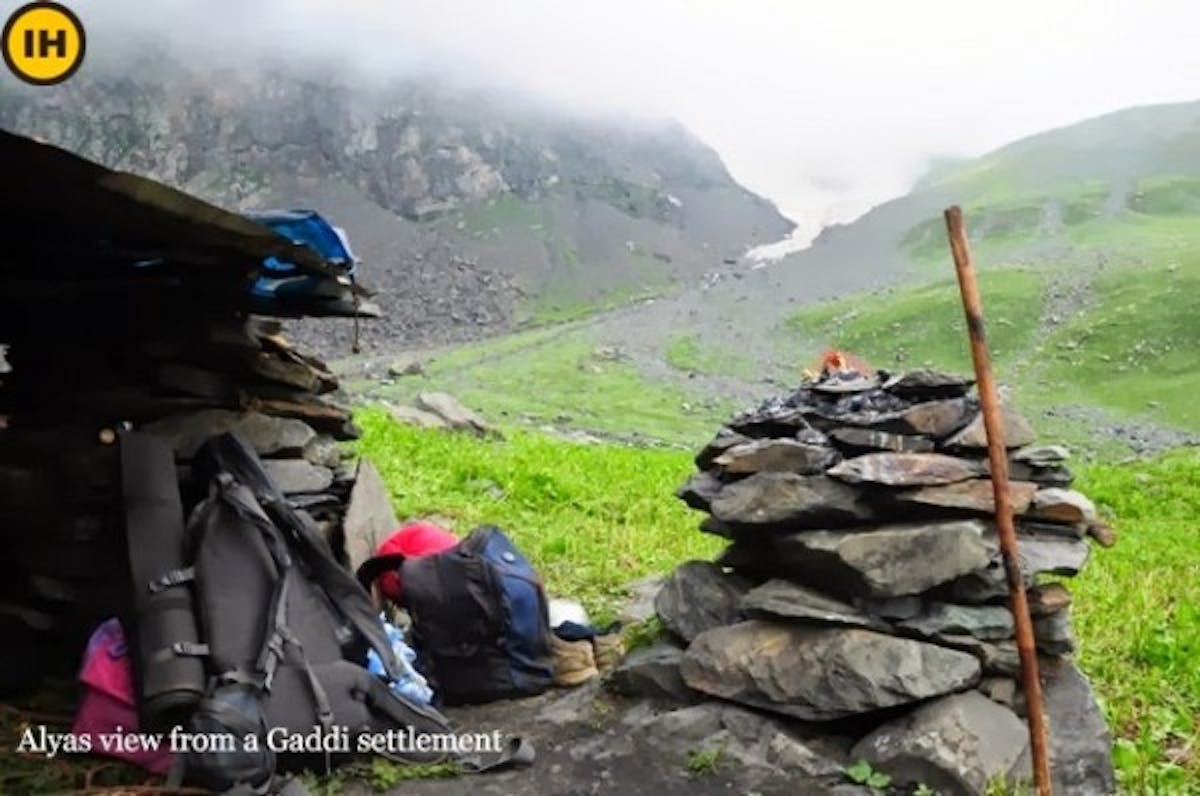 Alyas View from a Gaddi Settlement
Somehow we reached at the Lahesh/Alyas. By that time my anger had evaporated and all I could think of at that time was catching a glimpse of the pass. It was right in front of us covered in golden fog lighted by the setting sun. We met a group of gaddis' camping at the Lahesh/Alyas.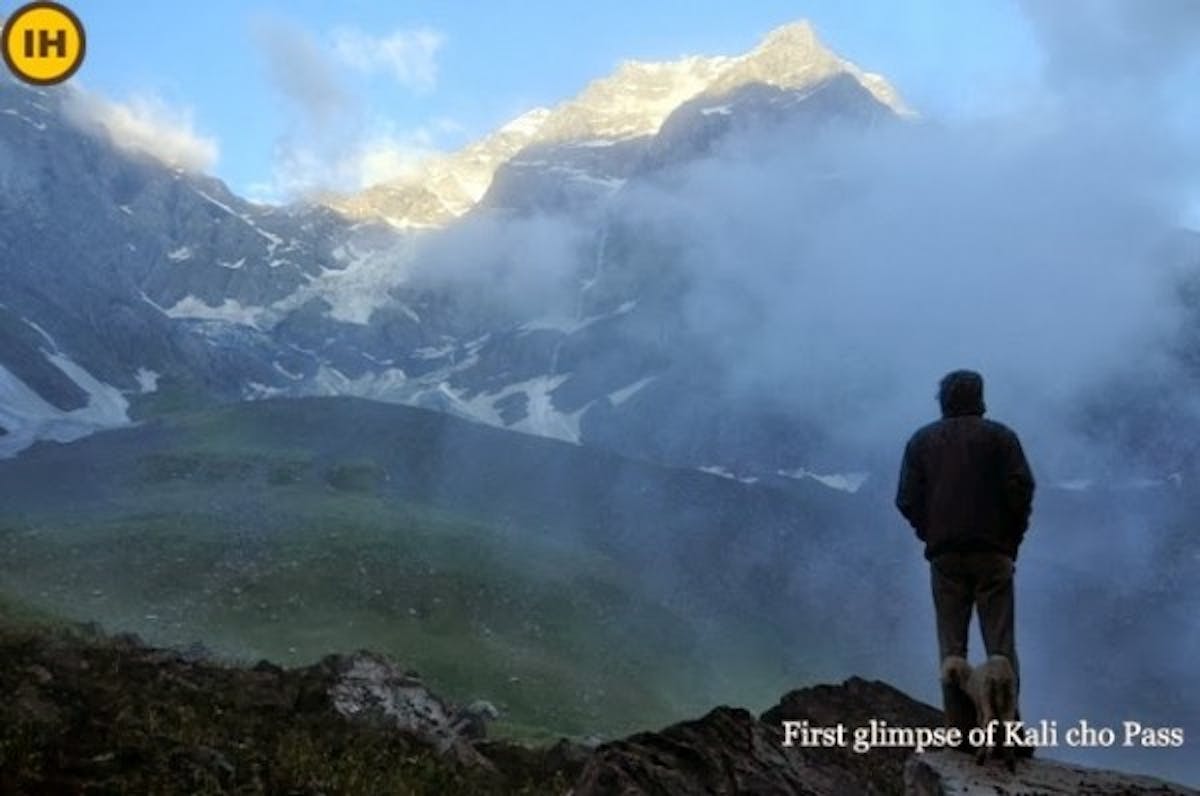 First glimpse of Kali Cho Pass
And why were they doing so? Because they couldn't make it to the third batch that crossed the pass. Once the third batch had crossed, there was no point that they would make a move towards the pass. And there we were, three of us, without any tent or sleeping mats, or any food arrangements. Was it luck or divine intervention, I don't know. Or maybe stupidity on our part to travel like this.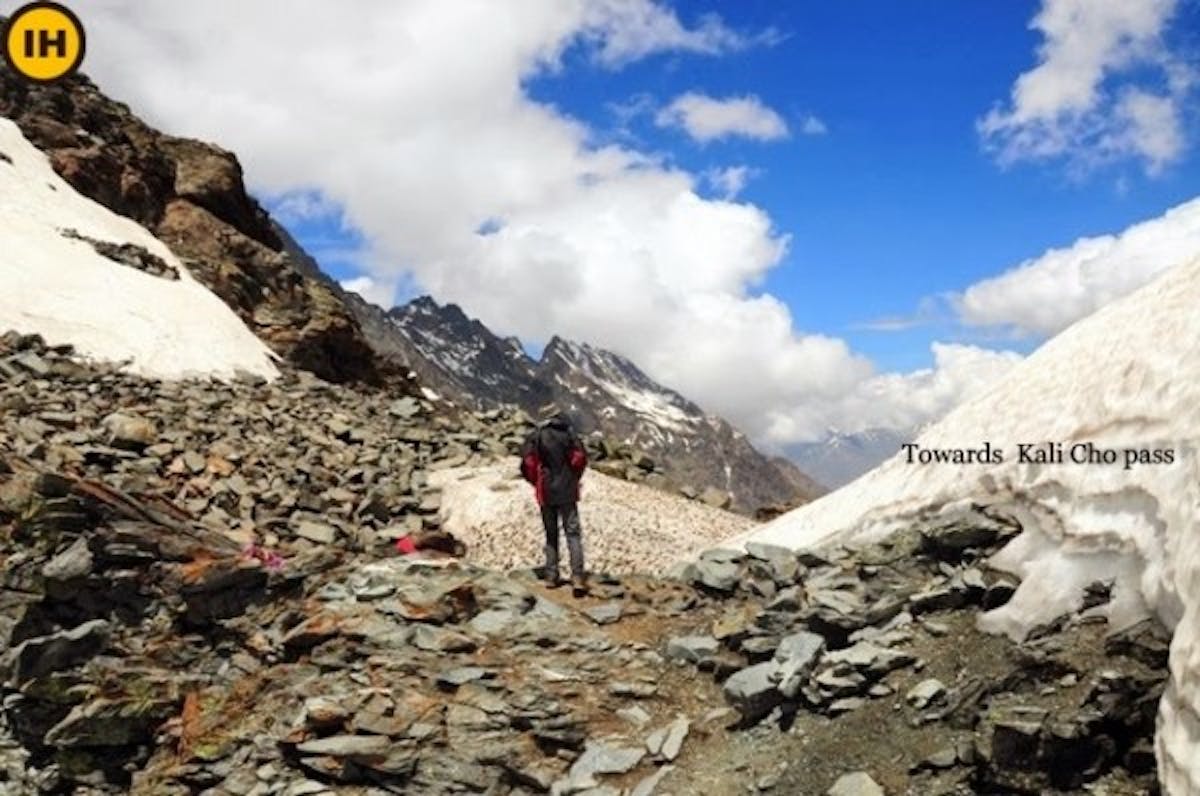 Towards Kali-Cho Pass
It was a small hutment they were staying in. They happily made room for us in their hutment. Soon the pass could be seen from the base camp. It looked like a small opening to the third world. All the more fascinating in the golden light of the setting sun.
Here we realized why our guide was so reluctant to arrive at the base camp. He hadn't crossed the pass before. He lied to us. After listening to all the horrible stories of deaths and failed expeditions, he almost gave up. But now we decided not to let him go. We urged the Gaddis to accompany us to the top of the pass. One of them agreed to take us to the risky glacier patch. But before saying yes, he performed a ritual prayer and asked permission from the Banni Mata. The permission was granted although he couldn't go to the top of the pass because that was forbidden.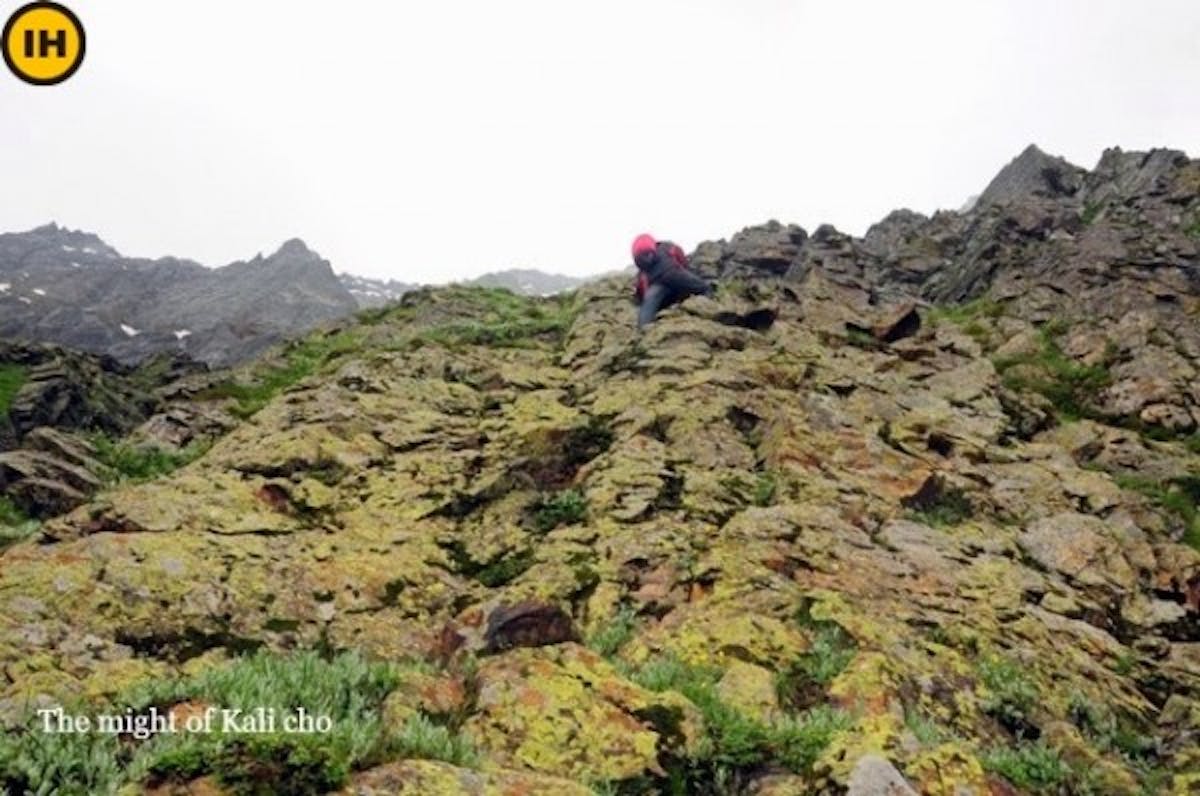 The might of Kali-Cho
It rained intermittently all the night and every time it thundered, our guide begged us to cancel the expedition. We got up early in the morning but the senior gaddi asked us to wait till the weather cleared. When we started he told that it was an unusually bright and shiny day. As we gained height, the sound of his flute sounded even more pleasant. The gaddi who agreed to accompany us was walking as fast as a jack rabbit. The terrain was treacherous and from the beginning we had to walk on slippery rocks. We requested him to go slow so that we don't lose the track-and hope too.
Our guide was still reluctant and every time we would sit down, he would propose the idea of cancellation. Soon the snow patch arrived. It was literally a snow patch hanging loosely atop a deep gorge. The gaddi crossed first, he made it across in three easy strides. I crossed in the end. It took me almost 10 minutes to walk across the patch. I wonder how people cross it in September when the rains melt all the snow and the patch disappears.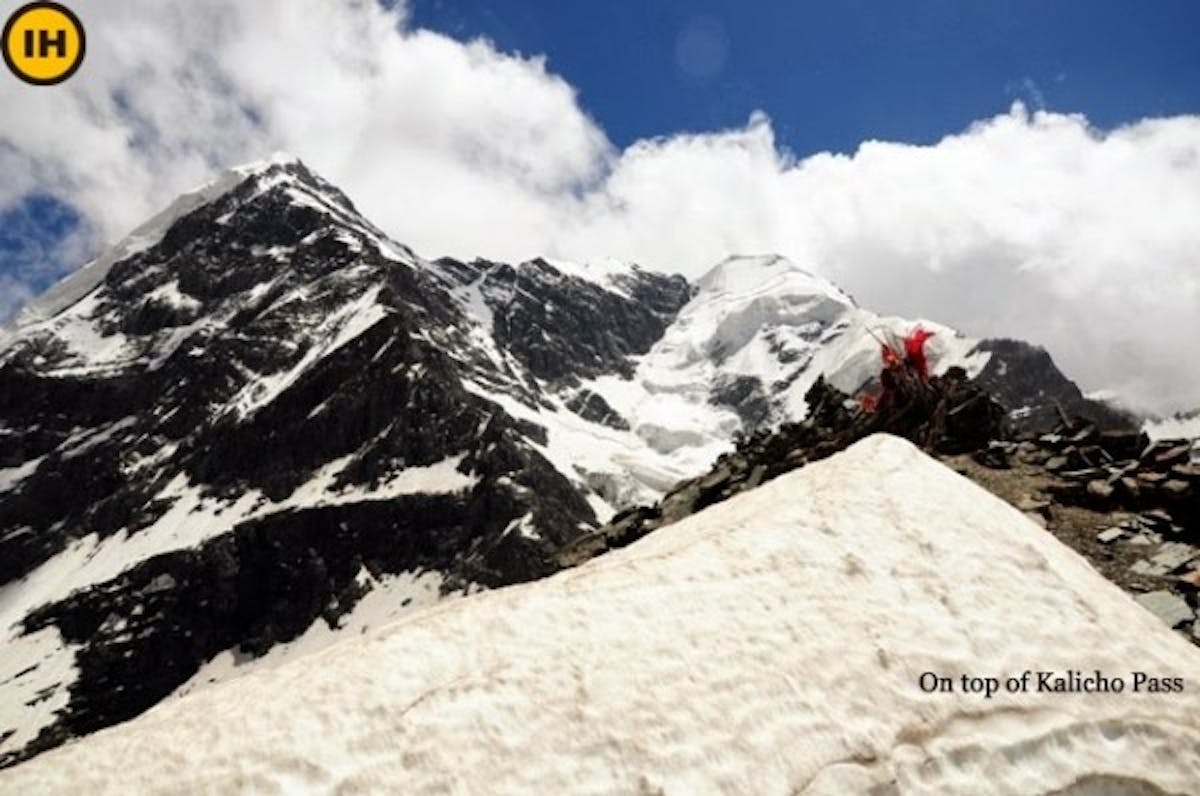 Atop Kali-Cho Pass
And now it was time to say goodbye. The gaddi brother decided to leave now. His job was done. Now we were on our own. We saw him disappear into oblivion. The base camp looked like a tiny dot on the white blanket of fog. Nothing was visible towards the top. Our guide had turned hysterical and we had to outshout him to remain sensible ourselves.  We decided to teach him a lesson once we reached the top.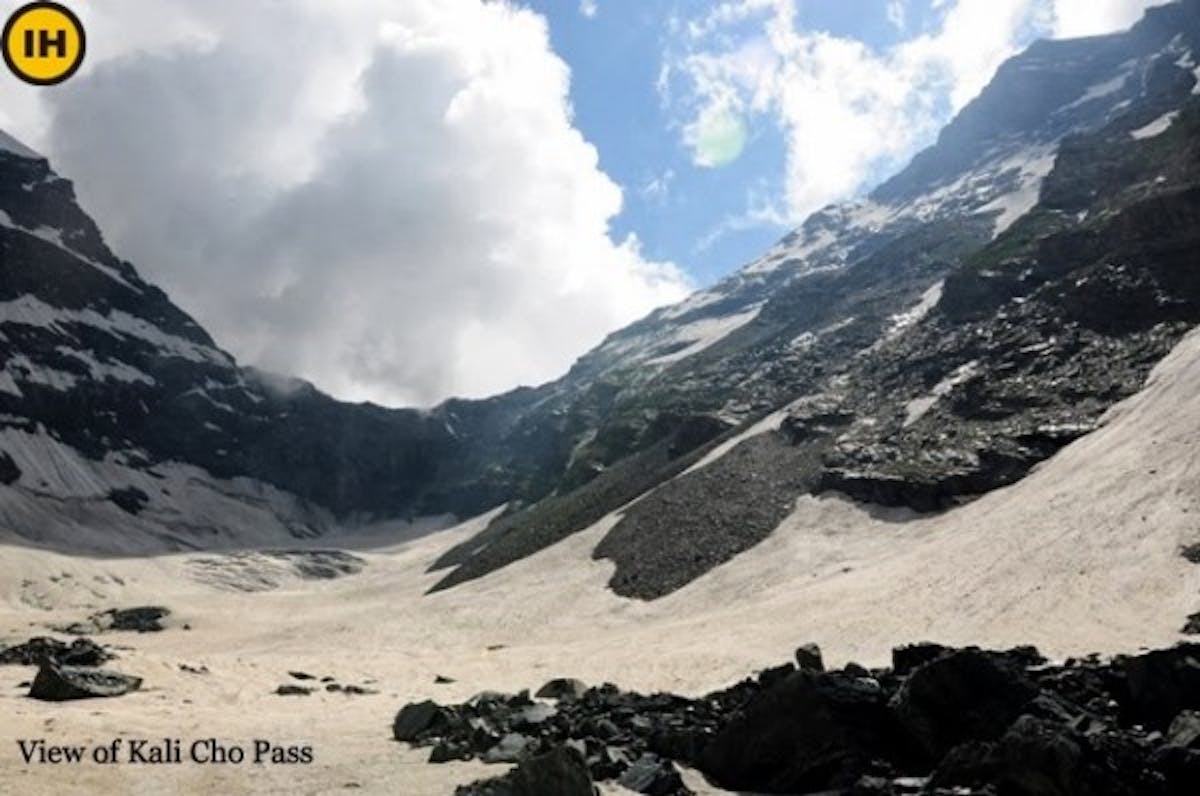 View of Kali Cho Pass
We started walking. The vast glacier was visible and its open crevasses looked like deep caves filled with nothing but sadness and emptiness. We stopped looking in that direction because it was a frightening sight to say the least. This particular zone is called the 'Kali Khappar' zone. The pass was nowhere to be seen and we had already walked for more than 6 hours. Once we navigated the khappar area we got a glimpse of the red flags atop the pass. It was visible to us yet it looked frighteningly far away. Dragging ourselves, we somehow made it to top of the pass. It was a life changing moment for me.
My anger disappeared and I thanked our guide for staying with us all the while. The Himalayas teach us to win over our shortcomings. And I could see it all right in front of me. We rested for half an hour atop the pass. Avalanche sounds rocked the valley every now and then but it didn't matter anymore. There comes a point during a trek expedition when the body doesn't feel the pain anymore. No matter how much you have walked.  After much reluctance, we decided to leave. The colorful Lahaul Valley welcomed us now. The multicolored mountains, snow covered boulders, and a bright blue sky invited us. We accepted the invitation and the long walk home started.
From the top of the pass to the Hinsa village took us another 7 hours. We walked almost 20-25 kilometers that day. And guess what! We got a chance to visit the Triloknath Temple at 9:30 in the night. Usually the praying hours are observed between 7am and 8 pm but we were lucky that day.
Mr. Kapadia had said that crossing this pass without ropes and ice axe is not possible. He even termed it as one of the most difficult passes in the Himachal. Today when I look back, all I can say is 'Thank You'.
We weren't lucky. It was divine intervention for sure.
Alternative treks by Indiahikes
The chance you take when going on a trek to Kali Cho pass is the trust on your guides. And that is something you should not leave to chance. Even if you're going on a Do-It-Yourself trek.
When you're on a trek with Indiahikes, guiding you up and down the trail with utmost safety is paramount for all of us Indiahikes. Therefore if you want to feel assured with regards to your safety during a trek, there are alternative treks that can you can go on with Indiahikes
Hampta pass would make a great alternative trek. Just like Kali Cho pass, you'd be crossing over to the valleys of Lahaul. And it isn't as a difficult, but more of a moderate trek and offers a lot more variety of scenery.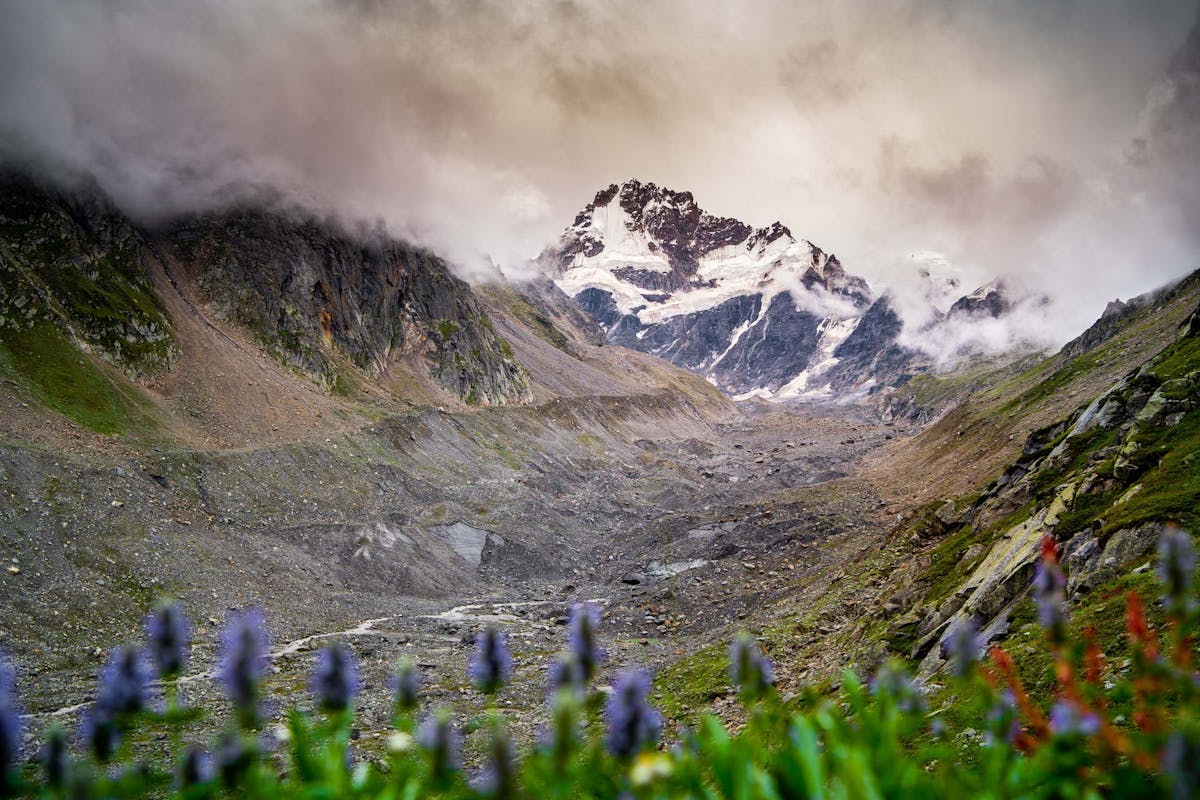 Descending from the Hampta pass to the Shea Goru campsite. Picture by Yash Rathi
How to Get Fit for your Trek
How to get fit for the Kali-Cho Pass Trek
The Kali-Cho Pass Trek is classified as a difficult trek. You trek up to an altitude of over 15,840 feet. You have to make sure your lungs are strong for this.
Cardiovascular endurance
On the Kali-Cho Pass, apart from huge altitude gains, the trail is tricky and risky. Hence, this requires a good amount of endurance. You can begin by jogging everyday.  Start jogging at a slow pace and then keep increasing your pace day by day. Make sure you are able to jog 4 km in 20 minutes before the start of the trek. It takes time to be able to cover this distance in the given time. Swimming, cycling and stair climbing without too many breaks in between can help too.
Strength
Flexibility
Another aspect that will help you trek comfortably is flexibility. For this, you can do some stretching exercises - stretch your hamstrings, quadriceps, hip flexors, lower back muscles and shoulders regularly. On your trek, it is important that you arrive on the slopes with your muscles relaxed. Carrying a backpack, however light, can become a strain after a while. These exercises will help you to be in good shape before the trek.
Working out indoors
If you can't go out and jog because of time and space constraints, here's a video you can use to work out indoors.
What to Pack on the Trek
What to take on the Kali-Cho Pass Trek
The Kali-Cho Pass Trek is conducted during the monsoon months, so it is highly likely you'll encounter rain/snowfall on your trek. Ensure you carry a poncho to have a comfortable trek.
Bare Necessities:
Trekking shoes: Carry trekking shoes and not sports shoes. The trail will be slippery at several places and will require shoes with good grip and ankle support. You can watch this video to learn to choose the right trekking shoes.
Backpack (40-60 litres): A backpack with sturdy straps and a supporting frame. Rain cover for backpack is essential.
Daypack (20 litres): As this is a crossover trek, you would only need a daypack if you are offloading your backpack.
Clothes
Three layers of warm clothes: Carry two sweaters, and a padded jacket. If you are more susceptible to feeling cold, add another layer.
Three trek pants: Carry light cotton trek pants. One of your pants can be tights that you can wear as an inner layer while trekking, especially on the Pass day.
Three collared t-shirts: Carry light, full sleeved t-shirts that prevent sun burns on the neck and arms. If you're too cold, you can wear two tshirts together for more insulation.
Thermals: Carry thermals (top and bottom) to keep yourself warm at night. Keep your thermals fresh and don't wear them while trekking.
Accessories
Sunglasses: Sunglasses are mandotory. In June, there will be abundant snow on Hampta Pass, and you would need it to protect yourself from snow blindness.
Suncap: At high altitude, the sun is extra harsh, as the UV rays don't get filtered. So carry a suncap to protect yourself.
Synthetic hand gloves: Avoid woollen gloves as they will get wet if you touch snow. You can add a fleece glove as an inner layer, and wear two gloves on each hand if you're more susceptible to cold.
Balaclava: You'll need this to cover your head, as most of the heat escapes from your head.
Socks (2 pairs) and a pair of woollen socks: Apart from two sports socks, you can take a pair of woollen socks for the night.
Headlamp/LED torch: Mandatory
Trekking pole: Watch this video to understand why you need a trekking pole.
Others
Toiletries (Sunscreen, moisturiser, light towel, lip balm, toilet paper, toothbrush, toothpaste)
Cutlery: Carry a spoon, coffee mug and a lunch box. We insist on trekkers getting their own cutlery for hygiene reasons.
Two water bottles: 1 litre each
Plastic covers: While packing, use plastic bags to compartmentalise things and carry few extra plastic bags for wet clothes.
Mandatory Personal Medical Kit 
Diamox - 10 tablets (to prevent AMS)
Crocin – 6 tablets (fever)
Avomine – 4 tablets (motion sickness)
Avil 25mg – 4 tablets (allergies)
Combiflam – 4 tablets (Pain killer)
Disprin – 6 tablets (headache)
Norflox TZ & Lomofen– 6 tablets each (diarrhea)
Digene - 10 tablets (acidity)
Omez/ Rantadine – 10 tablets (antacids)
Crepe bandage – 3 to 5 meters
Gauze - 1 small roll
Band aid – 10 strips
Cotton – 1 small roll
ORS – 10 packets
Betadine or any antiseptic cream
Moov spray (aches, & sprains)
Mandatory Documents
Please carry the below documents. Document two and three need to be downloaded (PDF), filled in, signed and handed over to the trek leader at the base camp.
Original and photocopy of government photo identity card- (driving license, voters ID, etc.)
Medical Certificate and Disclaimer (to be filled by the trekker) - Download PDF
Medical certificate (to be filled by a doctor) - Download PDF
Trek Contribution
Author: Tarun Goel