Can You Help Us With Photographs Of This Trek?
We are looking to enrich this documentation with more photos. Pictures go a long way in explaining the trail, more than words ever can. If you have done this trek, can you share your photos with us? We will include them on this page, with due credit to you.Click here to contribute.
The Complete Guide to Kasar Devi - Binsar Trek
When it comes to choosing weekend treks, there are not many trails in our country that excite trekkers as much as those in the Kumaon Himalayas. You could very well define this trail as a mix of both hippy and religious worlds – a rare combination indeed! While many people, primarily families, would drive straight up to Kasar Devi Temple from the ever buzzing Almora town and stay in one of the many boutique hotels that have mushroomed here, there is a much quieter trail that you can walk up on to reach Kasar Devi. This takes you through lovely Kumaon hamlets and gives you the opportunity to camp under the stars.
Not many people are aware that there is a trail that goes straight up to Crank's Ridge and is moderate enough for anybody above 10 years of age. A short drive from Kasar takes you to the charming Binsar Valley. The 270-degree Himalayan views from here will leave you speechless. If you are a birds enthusiast, you are in the right place. Binsar, being a national park, offers some amazing Himalayan flora and fauna.
Short Itinerary
Trek through some of the best pine, oak, rhododendron and deodar forests in the Kumaon Himalayas.
Get 270-degree views of the Himalayas from as far as Bandarpoonch peak in the Himachal Pradesh to Api Himal in Nepal.
The Binsar forest is a treat for bird watchers.
Detailed Itinerary
Day 1: Arrive at Kathgodam. Drive to Almora. Trek to Kasar Devi
Altitude: 6,227 ft
Time taken: 3-3.5 hours trek
Trek gradient: Easy. Gradually ascending trail.
Water sources: None. Carry at least 2 litres of water.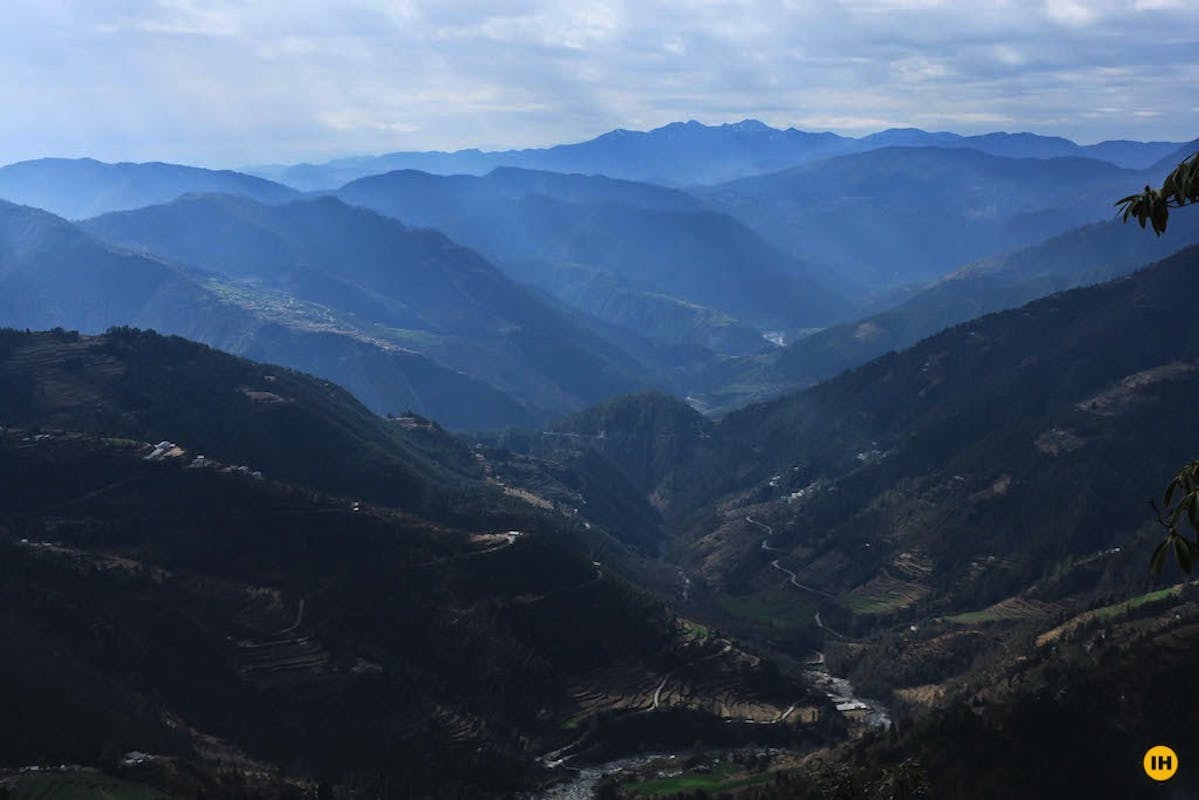 Trail from Almora to Kasar Devi. Picture by Niladri Mukherjee
The trail starts from Almora, which is the nearest town (located at a distance of 8 kilometer from kasar Devi temple) and a tourist and transportation hub. After reaching Almora bus stand, fill up at least two liters of water bottle each. The trail to Kasar Devi begins near he bus stand. To avoid confusion, just ask some villagers and they would be more than happy to help you. This is the only trail which goes straight up from here and hence is easy to notice.
If you are traveling over the weekend, would you notice a lot of villagers are taking this trail with you. Once you hit this trail, there is no way to get confused as it does not really brunch out anywhere in between till Kasar. Around five hundred meters into the route you will find yourself engulfed in beautiful pine and deodar trees. These stay with you throughout the trek.
The trail is a gradual climb on the hill. In an hour, you reach small clearings, from where you gradually begin seeing Himalayan peaks. Since the stretch goes through a forest, you will see a lot of migratory birds, such as Woodpeckers, Blackbirds, Forktail, Pheasant, Laughing Thrush, Kalij etc, which start arriving in this part of the Himalayas from early November. The total hike will  take 3-3.5 hours. If start early from Almora, you will be able to hit Kasar Devi temple before lunch! Upon reaching, pitch your tents on the hill top. This is an open area leading to uninterrupted views. You will soon realize why was it chosen by Swami Vivekananda for meditation!
Since Kasar is a small village and a lot of tourists and travelers visit this place on a regular basis, getting adequate amount water, both for cooking and drinking requirements, is quite easy. You would see some water taps nearby your camp sight only, which are primarily used by villagers. You also have the option to stay at one of the numerous homestay and guest house options that the village has started offering now. Homestays are essentially village houses made usable for tourists and therefore have basic amenities in place. The rates are completely negotiable and depend on the season you visit and of course your bargaining skill. Rent for one night would vary between Rs. 500-800, inclusive of breakfast and dinner. You could also stay in one of the resorts (guesthouses), but be ready to shell out at least ~Rs. 2,500 a night for a room, inclusive of breakfast and dinner. You can also opt for an option to stay in your own tents and have food arrangements made with either some village houses or a couple of guesthouses which are present there. Per head cost of a vegetarian meal should not exceed Rs.200, on the higher side in either of the options that you choose.
Since you already have walked for over 8 kilometers and gained a decent level of altitude, you could spend the remainder of the day at leisure. If the sky is clear, the evening at Kasar would offer you near-perfect views of the Milky Way.
Day 2: Explore Kasar Devi. Trek to Katarmal Temple (Sun Temple). Drive back to Kasar Devi. Overnight camping at Kasar Devi.
Altitude: 6,942 ft
Time taken: 3-4 hours
Trek gradient: Easy
Water sources: None. Carry at least 2 litres of water.
One of the several hamlets on the trail. Picture by Niladri Mukherjee
In the morning, wake up to birds' chatter and walk up for ~20 minutes, through the lone mud road which goes towards the temple, upwards towards Crank's Ridge, a pine-covered ridge on the way to the temple, to witness a beautiful sunrise. On a clear, cloudless morning, you may get treated to a seriously picture-worthy panoramic shot of the Himalayas. Photographs hardly do justice to the towering views of the mighty Nanda Devi (25,643 ft), Trishul (23,360 ft) and Panchachauli Peaks, which seem just a stone's throw away from Kasar!
You could spend the morning exploring the beautiful Kasar Devi village, and start trekking through the lone mud road towards the North of the village for Katarmal. This is the same trail taken by the local villagers to commute from one village to another. Also, Katarmal being a prominent temple, you would also see a lot of local villagers taking the same route going towards the temple.
Please carry your own filled in water bottle, which could possibly get refilled in local villages. This trail remains an easy one with gradual ascent and descent in the mud road, passing through a couple of tiny Kumaoni hamlets.
Katarmal is known for a unique Surya temple, constructed by the Katyuri Kings in the 9th century CE. Katarmalla, a Katyuri king, constructed this temple, which has 44 smaller temples surrounding the main deity of Surya, which is called Burhadita or Vraddhaditya. The temple was given the status of a monument of national importance in the year 1958.
Kasar Devi to Katarmal Temple is a beautiful trail amidst lush green pine and deodar forests, with occasional clearings continuously reminding you that the mighty Himalayan peaks have not left you behind! After spending some time there, you could either drive back to Kasar Devi or just take the same path to be back to Kasar. It is safe to walk on the trail post sundown but keep your headlights.
Day 3: Drive to Binsar National Park from Kasar Devi. Trek to Jawalbanj (3 km trek).
Altitude: 7,900 ft
Time taken: 1 hour drive + 2-3 hours trek
Trek gradient: Easy.
Water sources: None. Carry at least 2 litres of water.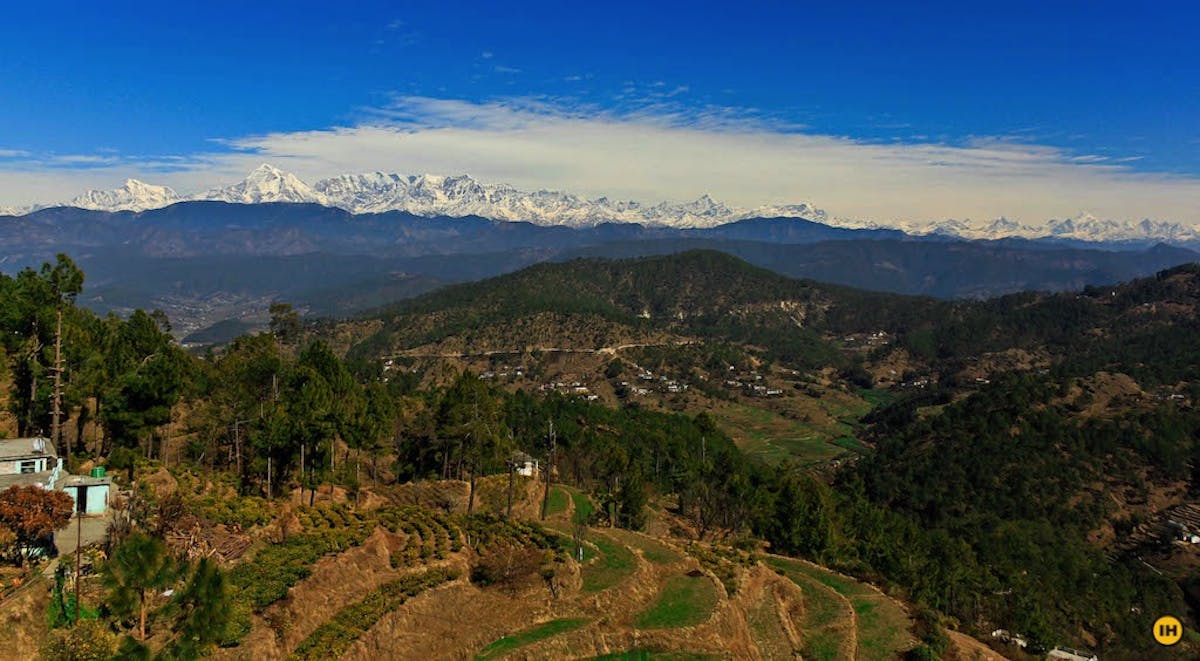 View from Binsar. Picture by Niladri Mukherjee
Post breakfast, fill up your water bottles and start driving towards Binsar National Park (located at an elevation of 7,900 feet above sea level). You can take a cab from Kasar Devi to Binsar National Park, which would take approximately an hour to reach Binsar. Though there is no such official taxi stand there, Kasar being a prominent temple in the region, cabs are available very easily. Talk to some villagers and they would be more than willing to arrange a cab for you. A private taxi, mostly a Tata Sumo or a Tavera, would cost you not more than Rs. 1,000 one way. Don't forget to bargain. You could also get shared cabs from the main temple gate going towards Binsar, which would cost you Rs.40-50 per seat. Note that these shared cabs will leave only when all their seats are full. Get dropped in front of the Binsar National Park main gate.
Please note that the entry cost for the wildlife sanctuary is Rs. 150 per person and Rs. 250 for the car if you're taking one. There is no separate cost for trekking and camping. You must carry a government-authorized identity proof (self-attested photocopy along with the original one) with yourself; it is not a mandatory requirement but may come in handy if some official asks for it. There are many small villages (Jawalbanj being the most ideal one as it is situated on a ridge and hence offers uninterrupted mountain views) around the national park, which therefore act as an ideal base for camping. Interestingly, these villages offer affordable homestay options too (recommended as it helps the village economy to grow), which are very easily available without any prior reservation. Rates are negotiable and vary between Rs. 500-700 per room per night. Note that Binsar has very scarce electricity and therefore expect to spend your evening with a gas or battery-powered light, even if you are adopting the homestay option.
Take the path on your right, heading to the old Sapteshwar Mahadev Temple. Just at the beginning the trail and you would notice a Maggi cum tea shop, located just by the , wherein you could spend some time indulging in some 'pahadi luxury', such as Maggi with a cup of piping hot tea! Do fill up your water bottles in the stream only as you would not encounter any other water point till Jawalbanj, except some village water taps here and there. This shop also serves as your prime trail identification point. After refreshments, start heading North for approximately 500 meters and move left into the valley. The path remains very convenient to walk on with cemented trail. This path, consists of gradual and very moderate ascents and descents, is very beautiful and goes inside a pine forest base, with few occasional clearings. You would be passing through some small Kumaoni hamlets, wherein you see village persons are looking at you to start a conversation! An hour into the hike and you would notice a lone tea shop – you could break your journey here and indulge in a nice conversation with its owner – he would be more than happy to tell you a lot of interesting stories about wildlife and flora and fauna of Binsar. here on, you would ascend through thick oak and rhododendron forests, surrounded by spectacular mountain views.
Spend the rest of the day at leisure at Jawalbanj – a non-descript tiny hamlet with beautiful mountain views around. Probably read a book and keep wandering here and there in search of that perfect point to capture sunset. Overnight camping at Jawalbanj.
Day 4: Jwalabanj to Jageshwar Temple. Drive back to Kathgodam
Altitude: 6,135 ft
Time taken: 2-3 hours trek + 4 hours drive
Trek gradient: Easy.
Water sources: None. Carry at least 2 litres of water.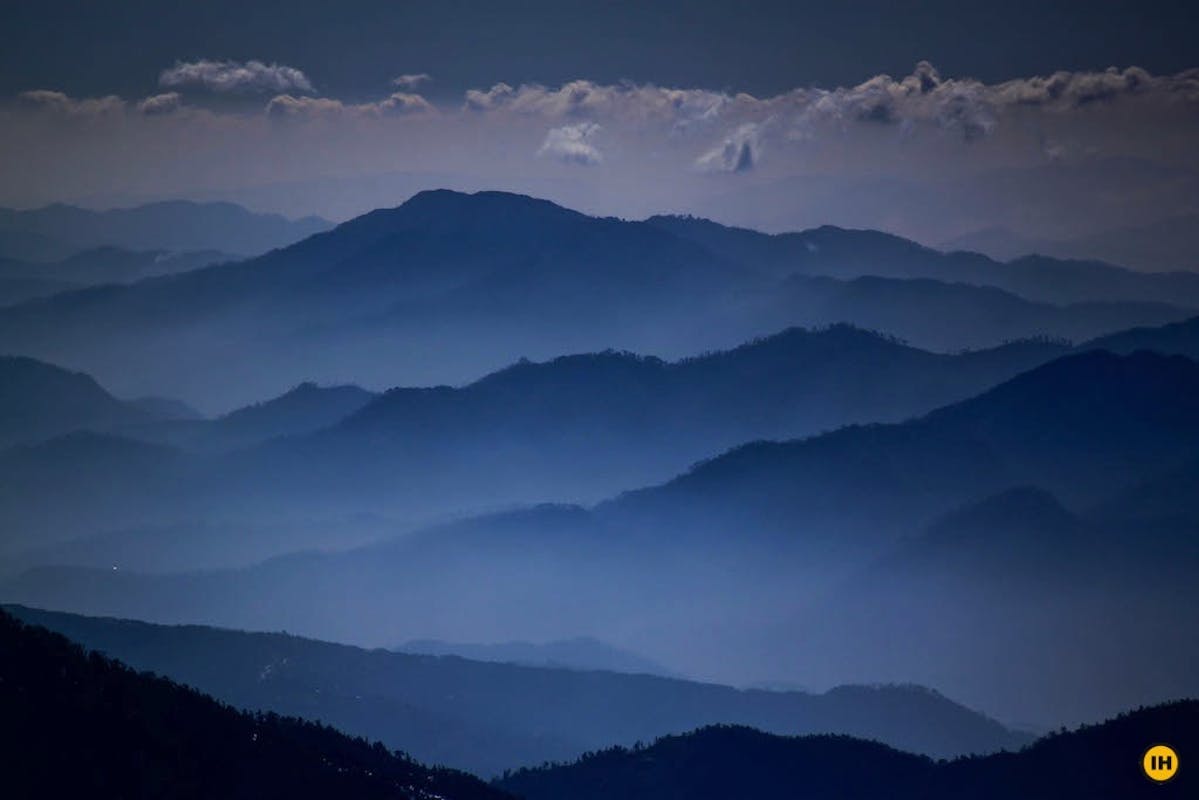 View from the trail to Jageshwar. Picture by Niladri Mukherjee
Start the morning with the spectacular views of the Central Himalayas. You need to wake up real early, climb up around 30 minutes to an hour (depending on your speed and tenacity) on your east to head towards the sunrise point to watch a mesmerizing sunrise, with a canvas stretching as far as from Neelkanth in Garhwal to the Nampa in Nepal! Please note that Sunrise Point is not the official name of the place – it is an area with better clearings than the village and hence offers terrific mountain views. This is a view that only a high-altitude trek in our country offers and not something you would like to miss at any cost. Start your day trek post breakfast and start heading north; you would soon see the trail meeting the cemented motorable road. Just follow this road and you would reach the main Jageshwar Temple within four odd, after passing through several Kumaoni Hamlets. The trail itself is not a challenging one and consists of gradual uphill and downhill but since you would be passing through a couple of interesting mountain villages, in all probability, you would like to spend some time chatting with the villagers; it is, therefore, prudent to factor in this additional time in hand while planning the day. Tarun Jageshwar is one of the principal temples amongst many situated on the temple premises and boasts terrific stone carvings! You don't necessarily have to be a religious person to admire its beauty.
Point to note here is these temples are preserved by the Archeological Survey of India and hence are kept in very good conditions. Spend some time admiring the beauty of the temples and nearby landscapes and then start driving for Kathgodam via Nainital (~4 hours). You could easily get a cab from the main gate of the temple. A Tata Sumo would cost you ~Rs. 2,500-3,000 one way and a shared cab would cost you Rs. 100 a seat and are easily available too. Reach Kathgoadam by the evening to catch your overnight train for Delhi.
Alternative Indiahikes treks you can do
Kasar Devi - Binsar is a great trek. However, it is not very convenient and there is a lot of driving from one place to another. This means that you need to spend some time arranging for transport between the points. As a trekker, you would rather spend the most time on the trail than arrange transport.
Indiahikes has a few treks in which everything from basecamp to basecamp is arranged.
It is a must-do weekend trek if you're from Delhi, Gurgaon, Noida or Chandigarh. With lovely oak forests, meadows and stunning views of snow-capped mountains from the top, this trek gives you everything that a long Himalayan trek would. Have a look at some pictures from the trek here.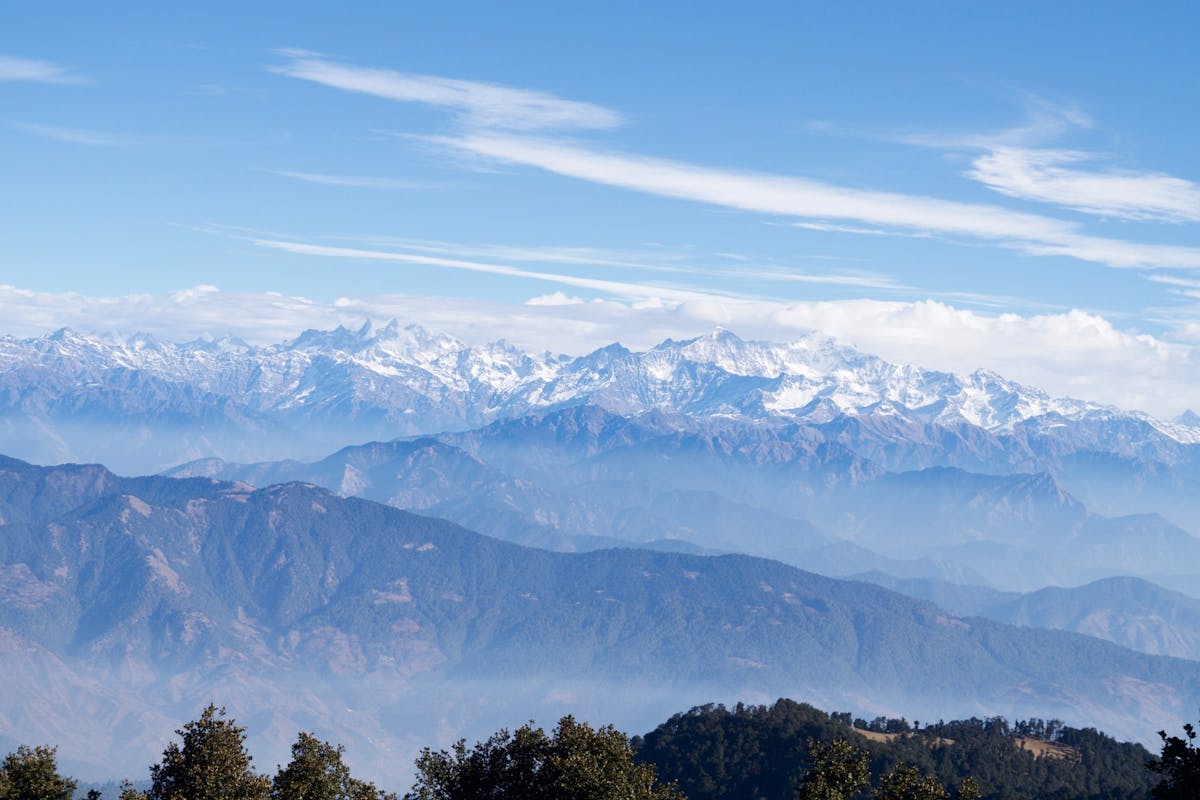 View of Snow Clad Mountains
Another great alternative trek you can do that is as easily accessible is the Deoban trek. In just two days, the Deoban weekend trek offers you a view that is exclusive. On a clear day, you can spot close to 55 mountains from the highest point of this trek — including Nanda Devi, the tallest mountain entirely in India. This is a rare feast for the eyes. It is difficult to find these views on a seven-day trek, much less a two-day one!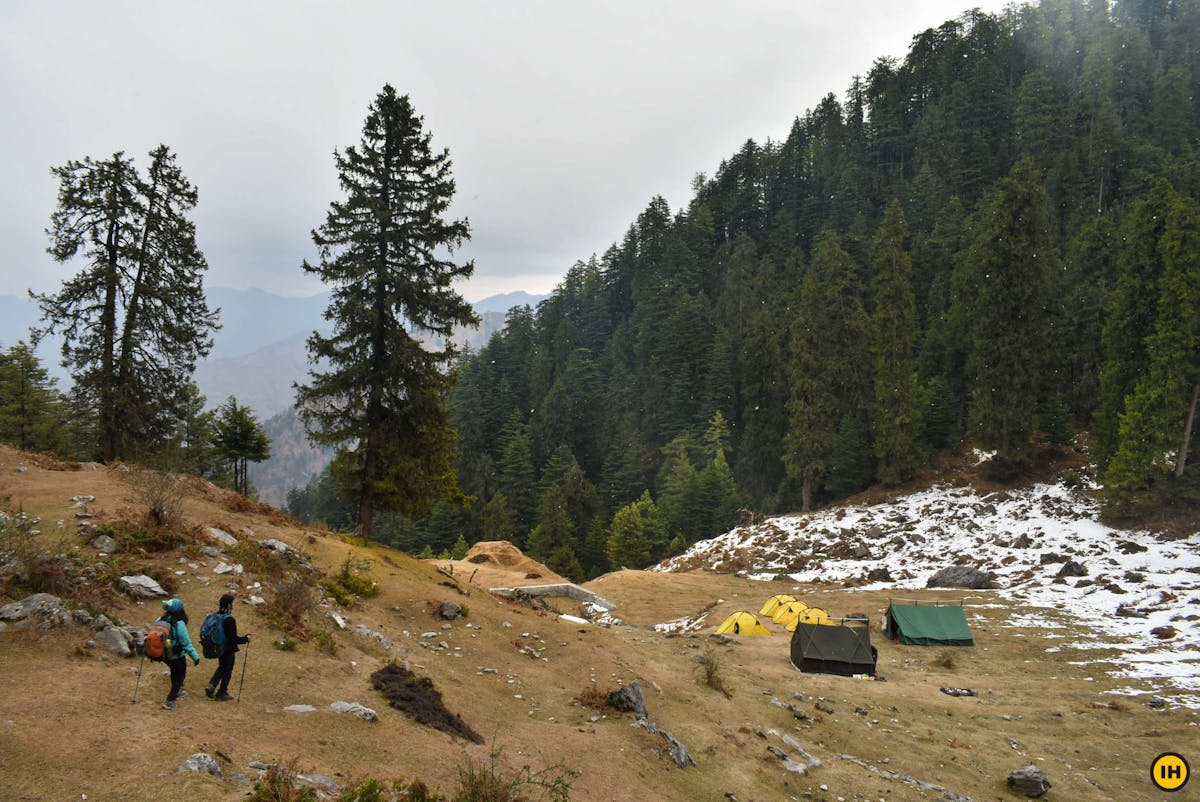 Trekkers approaching their camp for the night, a lovely clearing amongst coniferous forests. Picture by Krunal Patel
Plan Your Travel
Almora is located at a distance of ~110 kilometer from the nearest railhead Kathgodam, which is very well connected with national capital Delhi, through overnight trains and buses. Arrive at Kathgodam railway station towards early morning and take a cab to Almora. Either you can book a cab well in advance and negotiate the price (recommended) or bargain hard with one of the many cab drivers, who would approach you the moment you get out from the platform. Cabs are available 24*7, practically. There is no fixed rate as such and it depends on multiple factors such as, your arrival time, number of available cabs at that time, the number of days you require the cab for with you and ultimately, your bargaining skill. But in any case, ready to shell out Rs. 2,000-2500 for Kathgodam to Almora, one way. You can also get a seat on a shared cab to Almora.
If you are driving down from Delhi, you could cover the distance of ~380 kilometer in around 11-12 hours, if you drive at a consistent speed. The road condition remains good throughout and if you are driving at night, you could possibly avoid the congested towns in UP and sail smoothly.
Trek Contribution
Author: Niladri Mukherjee.