Can You Help Us With Photographs Of This Trek?
We are looking to enrich this documentation with more photos. Pictures go a long way in explaining the trail, more than words ever can. If you have done this trek, can you share your photos with us? We will include them on this page, with due credit to you.Click here to contribute.
The Complete Guide to Kinner Kailash Shivlingam Trek
The Kinner Kailash Shivlingam trek will take to the heart of one of the most mythical abodes of Lord Shiva, which is a 79-foot vertical rock in the Kinner Kailash mountain range. On a clear day, one can see the Shivlingam which changes color during the course of the day. This Rock face is in between the 20,000 ft Kinner Kailash ranges of Mt. Kailash (19,850 ft) & Mt. Jorkanden (21,237 ft).
There is a logical route that is taken by pilgrims and locals of the region to reach this holy rock. This trek can be done in a span of 2 to 3 days.
Folklore about Kinner Kailash
According to Hindu Mythology, this is a very sacred place in the Indian Himalayas as it is associated with Lord Shiva and Mata Parvati. A natural pond/Kund near Kinnar Kailash peak, known as Parvati Kund, is considered to be a creation of Goddess Parvati. She worshipped here for a long time. It is also the meeting place for Lord Shiva and Mata Parvati. For this reason, Ganesh Park or Kailash Darshan Park was earlier called Ashiqui Park.
Mythology states that Lord Shiva conducted a meeting of Goddesses and Gods at Kinner Kailash peak every winter. This accounts for the Yatra that takes place every year during this time by devotees of Lord Shiva and local deities.
Short Itinerary
A Mythical Abode of Lord Shiva
The Kinner Kailash Shivlingam is a 79 ft vertical rock in the Kinner Kailash mountain range.
On a clear day, one can see the Shivlingam which changes color during the course of the day.
This rock face is in between the 20,000 ft Kinner Kailash ranges of Mt. Kailash (19,850 ft) & Mt. Jorkanden (21,237 ft).
There is a logical route that is taken by pilgrims and locals of the region to reach this holy rock. This trek can be done in a span of 2 to 3 days.
Detailed Itinerary
Day 1: Tangling to Ashiqui Park (8-9 Kms)
Altitude: From 7050 ft to 11,762 ft
Kinner Kailash trek/Yatra starts from Tangling village, situated on the left bank of the Sutlej river at an altitude of 7050 ft. There are two ways to reach Tangling village. One is by crossing the Jhoola pul at Powari ( which is very thrilling) or by dirt road and crossing the Shontong Bridge over the Sutlej.
The tangling village is spread across one small rivulet and consists of around 100 homes and a beautiful temple dedicated to the local deity Nag Devta. It is full of orchards, seasonal vegetables and cheerful hospitable people. The roar of the Sutlej is clearly heard.
From here the trek follows a metalled pathway up to a small stream about 2.5 Kms ahead. It took us around 1.5 hrs to reach the stream passing small wooden houses, vegetable fields and orchards along the way. This fresh water stream comes directly from the Kinner Kailash Mountain range. We crossed the same stream the next day near Bheem Dwar.
We rested here and admired the beauty of the mountains, the valley and the Sutlej River. We then filled up our water bottles here because there is no water till Ashiqui Park which comes after conquering Kailash Dhaar after a vertical climb of 6-7 km. This part of the trek is known as Kailash Dhaar because it is the way towards Kinner Kailash Peak. There are two famous halts on the way to Ashiqui Park from this small stream. These are known as Bara Pathar (Big Stone or Rock) and Bara ped (Big Tree). It took us 2 hours from the stream to Bara Pathar. This is a trail of around 2.5 Kms at an altitude of 8415 ft. through a dense forest of Deodar trees. At Bara Pathar we rested a while to admire the beauty of the Sutlej River as it flows towards Karcam Wangtoo.
Bara Pathar is famous due to the big rock on which travelers rest. This big rock is in the midst of the dense Deodar trees and looks very beautiful. From here looking down we got a view of the villages below. We spent some precious time here. 2.5 km after Bara Pathar at an altitude of 9695 ft. is Bara ped. This place is famous for the centuries-old massive Deodar tree. The tree line ends abruptly at this place. After this point, there are only shrubs and herbs on the way to Ashiqui Park.
After crossing the Bugyals (meadows) we reached Ashiqui Park. We feasted on jungle strawberries that were growing all along the path. These are a great source of energy for pilgrims or travelers.  Ashiqui Park is at an altitude of 11,778 ft. It is a big Bugyal, which is the best camping site for the trek. The water source is very close by. An inn has been constructed here at Ashiqui Park for travelers. We spent hours here watching the Kinner Kailash mountain range and beyond towards Kalpa and Recong Peo. We had a 270° view of the Himalayas and surrounding towns from this vantage point.
The night view was fascinating. We could see the lights of Kalpa and Recong Peo town from here and in the moon light the Kailash peak is clearly visible. A campfire completed the perfect setting.
Day 2:- Ashiqui Park to Kinner Kailash
Altitude: From 11,762 ft. to 15004ft
Early in the morning we started towards Kinner Kailash peak. There are two important halts on the way to Kinnar Kailash from Ashiqui Park : Bheem Dwar and Parvati Kund. The distance between Ashiqui Park and Kinner Kailash is around 8-10 Kms with takes 7-9 hrs depending the fitness level of the pilgrim or trekker. This made it necessary for us to start early so as to reach back to base in time.
The first place we halted at was Bheem Dwar. This place is around 3-4 Kms from Ahsiqui Park at 12,400 ft. The first part of the trek upto Bheem Dwar was a steep climb of about 2 Kms from Ahsiqui Park which took 1.5 hrs.  After reaching this point we took a short rest. The next part upto Bheem Dwar was a descent. Just before reached Bheem Dwar we had to cross a stream which we heard is frozen most of the time and is part of glacier.
After crossing this stream we reached Bheem Dwar. This place is a small cave under big stones. It can accommodate around 10-15 people at one time. It is also an ideal place for camping and water is available in plenty.  During winter pilgrims camp at this place and during summers shepherds use this place to stay and to deposit their food items. Hours can be spent here listening to the sweet sound of stream flowing close by.
The next halt on the way to Kinner Kailash was Parvati Kund which is a glacial lake at the base of the Kinnar Kailash peak. There is no source of water in between Bheem Dwar and Parvati Kund, so it is necessary to carry enough water from Bheem Dwar.
This next part of the trek from Bheem Dwar to Parvati Kund was around 3 kms which took us 2.5 -3 hrs. The first half was a vertical cliff of around 1.5 kms and the next part upto Parvati Kund is covered with rocks, boulders and snow.
On the way to Parvati Kund we had to find the way with the help of stone pillars and had to be careful on the rocks while moving forward. Parvati Kund is a small glacial lake at around 9843 ft. It was frozen. Many worship here for the blessings of Mata Parvati and Lord Shiva to safely complete the journey to Kinner Kailash.
From Parvati Kund to Kinner Kailash peak (Lingam) there is no source of water so we had to carry enough water from here upto the peak and back. This was the last part of the trek and it required a lot of dedication and strength. From Parvati Kund to Kinner Kailash peak is a vertical climb of around 2.5 Kms which took us 3-4 hrs.
The way to Kinner Kailash from Parvati Kund was full of Moraines and extra care had to be taken during the trek. On the way to the peak we crossed some small stone tunnels or caves. There is only one route from Parvati Kund to Kinner Kailash marked by stone pillars.
Kinner Kailash Shivling is a sacred rock worshipped as the Lingam of Lord Shiva. The rock pillar faces towards Reckong-peo and Kala and is about 79 feet high and 30-40 feet wide. This is a holy place and we could feel the aura of sacredness here.  Standing here we could see some high peaks of the Great Himalayan Mountain Range like Mt. Jorkandan and Mt. Rangrik . We spent considerable time here before returning to Ashiqui Park.
How to do this trek
Getting to/from:
Kinner Kailash trek can be attempted from Tangling village. It's near Recong Peo- the Head Quarter of Kinnaur District of Himachal Pradesh.
You can reach Tangling by crossing a Jhoola pul near Powari 11 km before Recong Peo on National Highway no 21. (Now NH 5).
One can reach Tangling by car/taxi by crossing a Bridge near Shogtong, 4km before Powari. Tangling is on left bank of the Sutlej.
Guides and Porters: Guides and Porters can be hired from Recong Peo or Tangling Village.
Total Distance: 17-19 km one way only.
Maximum Elevation: 15004ft – Kinner Kailash Shivling Sphire.
Weather: Depending on the season. Pleasant during the day but at night temperatures may go below 0° Celsius.
Permits: Not Needed.
How to Get Fit for the Trek
The Kinner Kailash trek is classified as a trek of moderate difficulty. 
Cardiovascular endurance
For two days, you will cover a distance of 40 km. The secret to covering this distance comfortably lies in building your cardiovascular endurance. You can begin by jogging everyday. Ideally, you should be able to jog 4 km in 20 minutes before the start of the trek. It takes time to be able to cover this distance in the given time. Start slow and increase your pace everyday. Swimming, cycling and stair climbing without too many breaks in between can help too.
Strength
This is another area you should work on. You will need to build strength in your muscles and in your core body. You can do some squats to strengthen your leg muscles. Do around 3 sets of squats, with 8 squats in each set. Apart from this, you can add planks and crunches to your work out.
Flexibility
Another aspect that will help you trek comfortably is flexibility. For this, you can do some stretching exercises - stretch your hamstrings, quadriceps, hip flexors, lower back muscles and shoulders regularly. Carrying a backpack, however light, can become a strain after a while. These exercises will help you to be in good shape before the trek.
Working out indoors
If you can't go out and jog because of time and space constraints, here's a video you can use to work out indoors.
What to Pack for the Trek
Bare necessities
Trekking shoes: There will be several slippery patches on the trail, and you will need trekking shoes with good grip. Sports shoes will not be comfortable enough. You can watch this video to learn to choose the right trekking shoes. 
Backpack (40-60 litres): A backpack with sturdy straps and a supporting frame. Rain cover for backpack is essential.
Carrying a poncho will be extremely helpful. 
Clothes
Two warm layers: At the campsites, especially the higher ones, the temperature after sundown will drop to around 2-6 degrees. You will need at least three warm layers (two lights layers such as fleece and woollen and one padded jacket) for this trek.
Two trek pants: One pair of pants should suffice for this trek. But you can carry one spare pair in case the first one gets wet. Wear one pair and carry one pair. 
Two collared t-shirts: Carry light, full sleeved t-shirts that prevent sun burns on the neck and arms. Again, wear one and carry one.
Thermals (Optional): Those who are more susceptible to cold can carry thermals to wear at night.

Accessories
Sunglasses: Sunglasses are to prevent snow blindness. There might be snow closer to the lake, so carry a pair of sunglasses. 
Suncap: The sun is more 
Synthetic hand gloves: One pair of fleece or woolen hand gloves. One pair of water proof/resistant, wind proof gloves.
Balaclava: You may use woollen scarves instead as well.
Socks (2 pairs): Apart from two sports socks, you can take a pair of woollen socks for the night.
Headlamp/LED torch: Mandatory
Trekking pole: Watch this video to understand why you need a trekking pole.

Others
Daypack (20 litres): If you are offloading your backpack, you will need a smaller backpack to carry water, medical kit and some light snacks. 
Toiletries (Sunscreen, moisturiser, light towel, lip balm, toilet paper, toothbrush, toothpaste)
Cutlery: Carry a spoon, coffee mug and a lunch box. We insist on trekkers getting their own cutlery for hygiene reasons. 
Two water bottles: 1 litre each
Plastic covers: While packing, use plastic bags to compartmentalise things and carry few extra plastic bags for wet clothes.
Mandatory Personal Medical Kit 
Diamox - 10 tablets (to prevent AMS)
Crocin – 6 tablets (fever)
Avomine – 4 tablets (motion sickness)
Avil 25mg – 4 tablets (allergies)
Combiflam – 4 tablets (Pain killer)
Disprin – 6 tablets (headache)
Norflox TZ & Lomofen– 6 tablets each (diarrhea)
Digene - 10 tablets (acidity)
Omez/ Rantadine – 10 tablets (antacids)
Crepe bandage – 3 to 5 meters
Gauze - 1 small roll
Band aid – 10 strips
Cotton – 1 small roll
ORS – 10 packets
Betadine or any antiseptic cream
Moov spray (aches, & sprains)
Mandatory Documents
Please carry the below documents. Document two and three need to be downloaded (PDF), filled in, signed and handed over to the trek leader at the base camp. 
Original and photocopy of government photo identity card- (driving license, voters ID, etc.)
Medical Certificate and Disclaimer (to be filled by the trekker) - Download PDF
Medical certificate (to be filled by a doctor) - Download PDF
If you're shopping or packing for the trek, you can download this quick and simple checklist for offline use.
Alternative Indiahikes treks you can do
Kinner Kailsah is an exciting trek. No doubt about it. But if you're a first time trekker, the process of organizing a trek by yourself might get a bit overwhelming. If you want to trek with your family or friend then you might not want the hassle of doing it. In such cases, we have a couple of great treks for you.
If you have a couple of days more in hand, Beas Kund is great option. The starting point of the trek is Solang, just an hour's drive from Manali. That makes it very easy to accessible. If you're a beginner, it is the perfect trek with great views of biggest mountains of Manali. Moreover, you get to stand right at the base of the Pir Panjal Range. Read more about Beas Kund Trek here.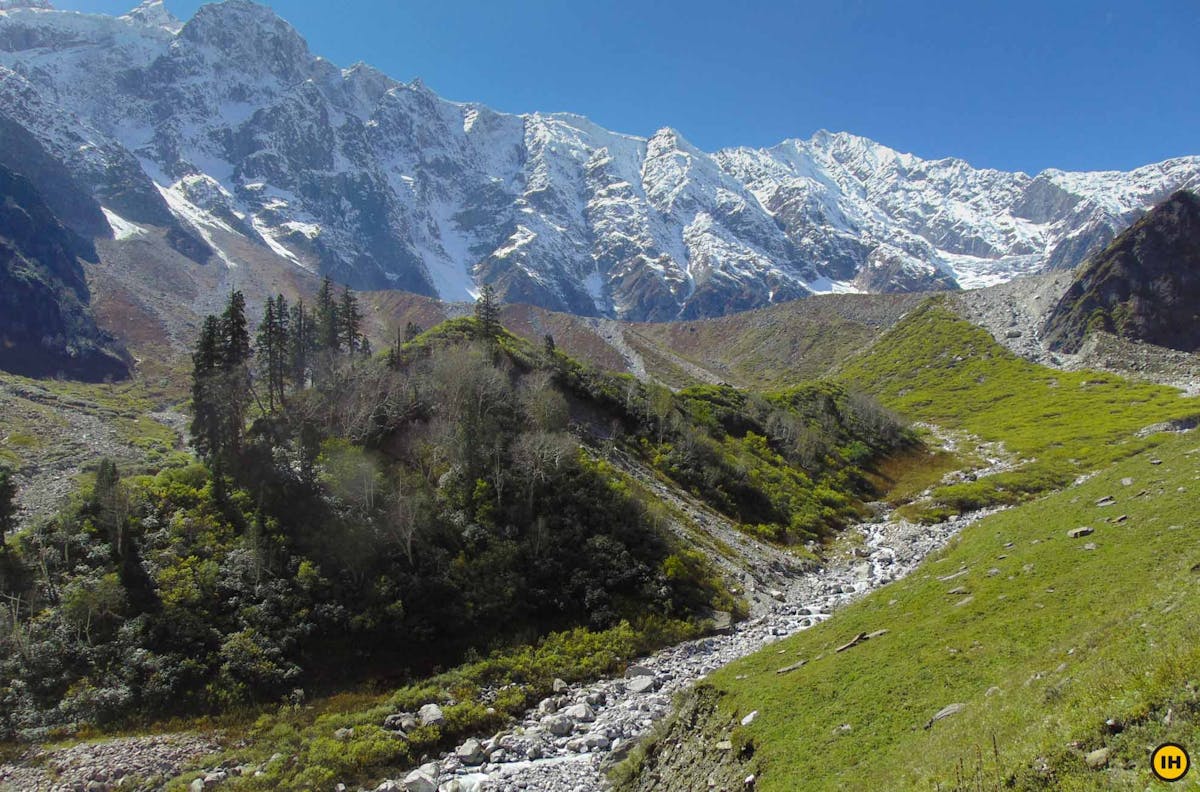 View of Hanuman Tibba en route Beas Kund
Trek Contribution
Author: Hiramani Kashyap