Can You Help Us With Photographs Of This Trek?
We are looking to enrich this documentation with more photos. Pictures go a long way in explaining the trail, more than words ever can. If you have done this trek, can you share your photos with us? We will include them on this page, with due credit to you. Click here to contribute.
The Complete Guide to Kookal Waterfalls Trek
Kodaikanal is inarguably one of the most popular hill stations in South India. It is known for its lakes, forested valleys, pine forest walks and breathtaking views of the surrounding hills. Apart from these mainstream attractions, Kodaikanal is surrounded by many beautiful offbeat places that are often overlooked by many. The small villages in and around are equally beautiful and have many places to explore. One of the main perks of exploring such places is that they are less crowded and more often, you'll have the entire place to yourself.

The Kookal Waterfalls trek or also known as the Thoothur Waterfalls trek takes you to a hidden world which you not have thought of at all. And this trek starts from the beautiful village of Kookal. Located just 35 km away from Kodaikanal, the village is surrounded by Palani hills. The village leaves you in awe of its scenic beauty. The lush greenery and an aura of the entire village only gives you a glimpse of what you're about to experience.
The journey from Kodaikanal to Kookal village is very serene. The thick pine and eucalyptus trees on both sides of the road form an avenue landscape and provide natural shade. Early morning drive on this route is a paradise for someone who loves driving.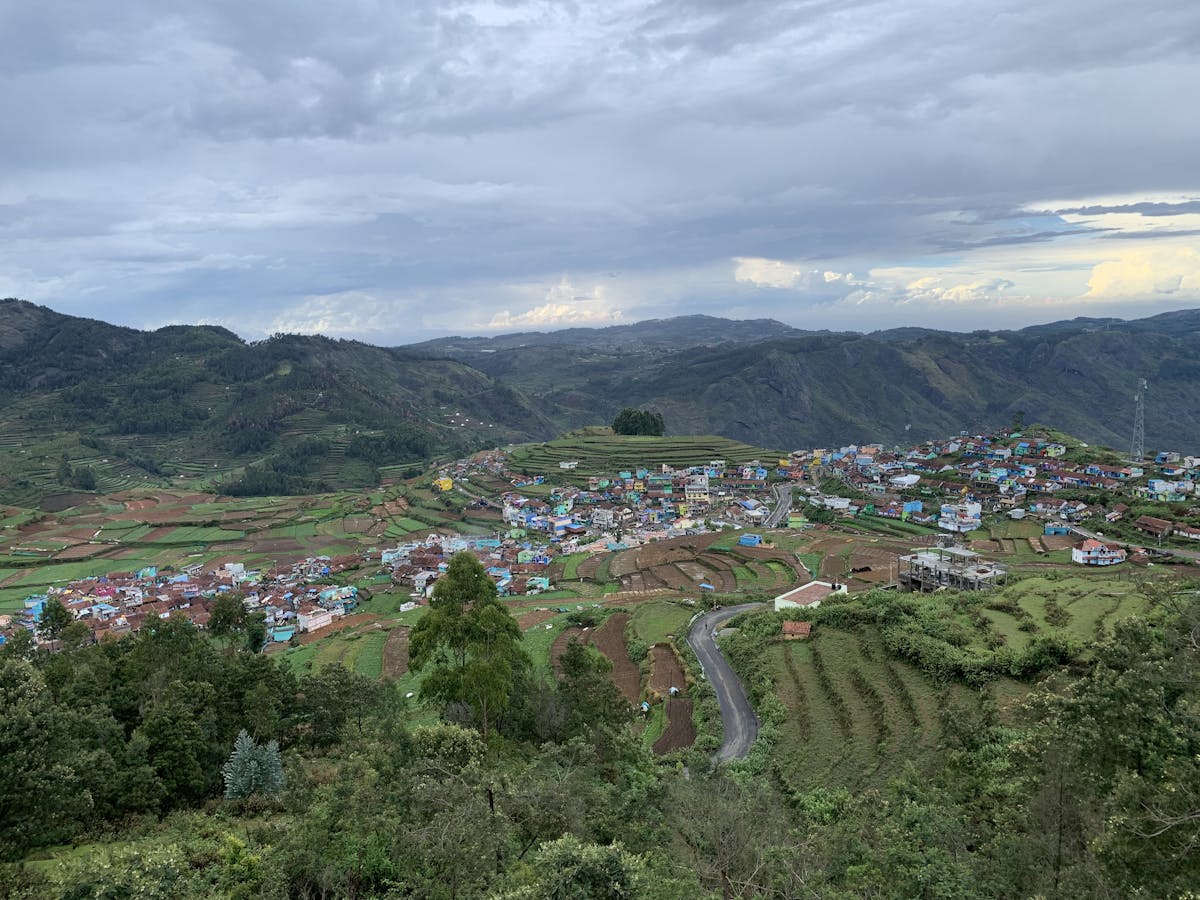 Bird's eye view of Pombarai village from Pombarai View Point enroute Kookal. Picture by Ganesh Bhushnam.
As you enter the village, you're welcomed by a picturesque lake called the Kookal lake. Hills on the bank elevate its beauty to another level. The floating carpet of lotus plantations adds to the whole charm of this place. The water is bright blue and on a clear day, you can witness the reflections of these hills over the lake.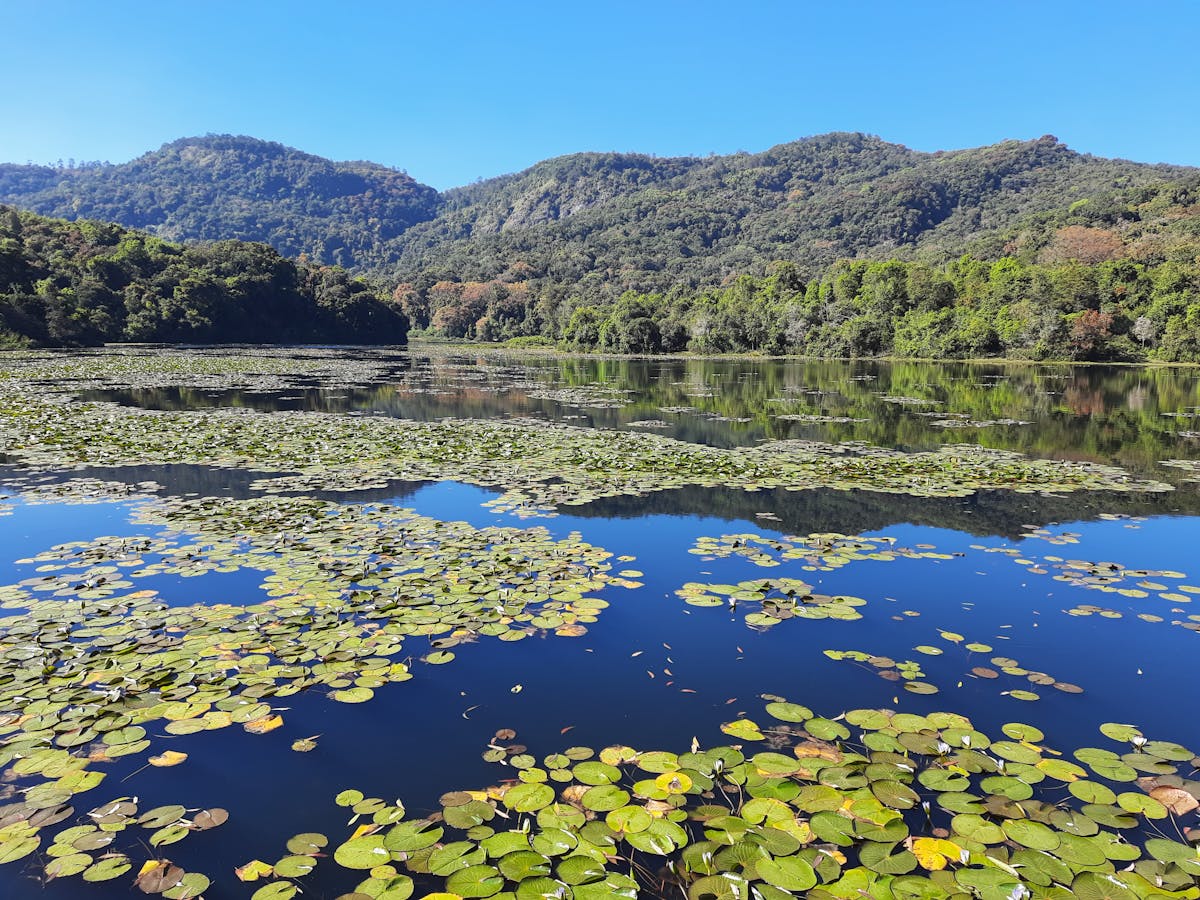 Picturesque Kookal lake on a bright day. Picture by Madhuri Ruperee
Kookal  falls trek takes you through mud trails initially and then through a dense forest. The forest trail consisting of lush green bushes almost engulfs you as you walk past them. The roar of the waterfall can be heard throughout the forest trail. It's soothing and helps you find the right direction as well.
The total trek distance is of 6 km and is termed as an easy trek. A perfect trek for beginners to start trekking or even for experienced trekkers to witness this beautiful trek.
Table of Contents
Just like you, we love trekking! And this is a trek we've documented in great detail to help you do it on your own. Drop in comments at the end of the page if you need any help! You will get all the information required to do the Kookal Waterfalls Trek on your own.
To navigate through the documentation easily, use this section of Table of Contents.
Highlights
Trail Information
Best Season to Do the Kookal Waterfalls Trek
Difficult Sections on the Kookal Waterfalls Trek
How to Reach the Kookal Waterfalls Trek
Frequently Asked Questions
Emergency Contacts on the Kookal Waterfalls Trek
ATMs and Networks on the trek
Places to visit after the Kookal Waterfalls Trek
Highlights
1. The Kookal Waterfall
The waterfall is the main attraction of this trek. This 300 ft waterfall is a beautiful sight to soak in after an hour and a half of descent. Milky white in colour, this two-step waterfall makes you fall for it the moment you get a glimpse of it. If you're lucky, you might also find elephants bathing in the pond formed by the waterfall at the base.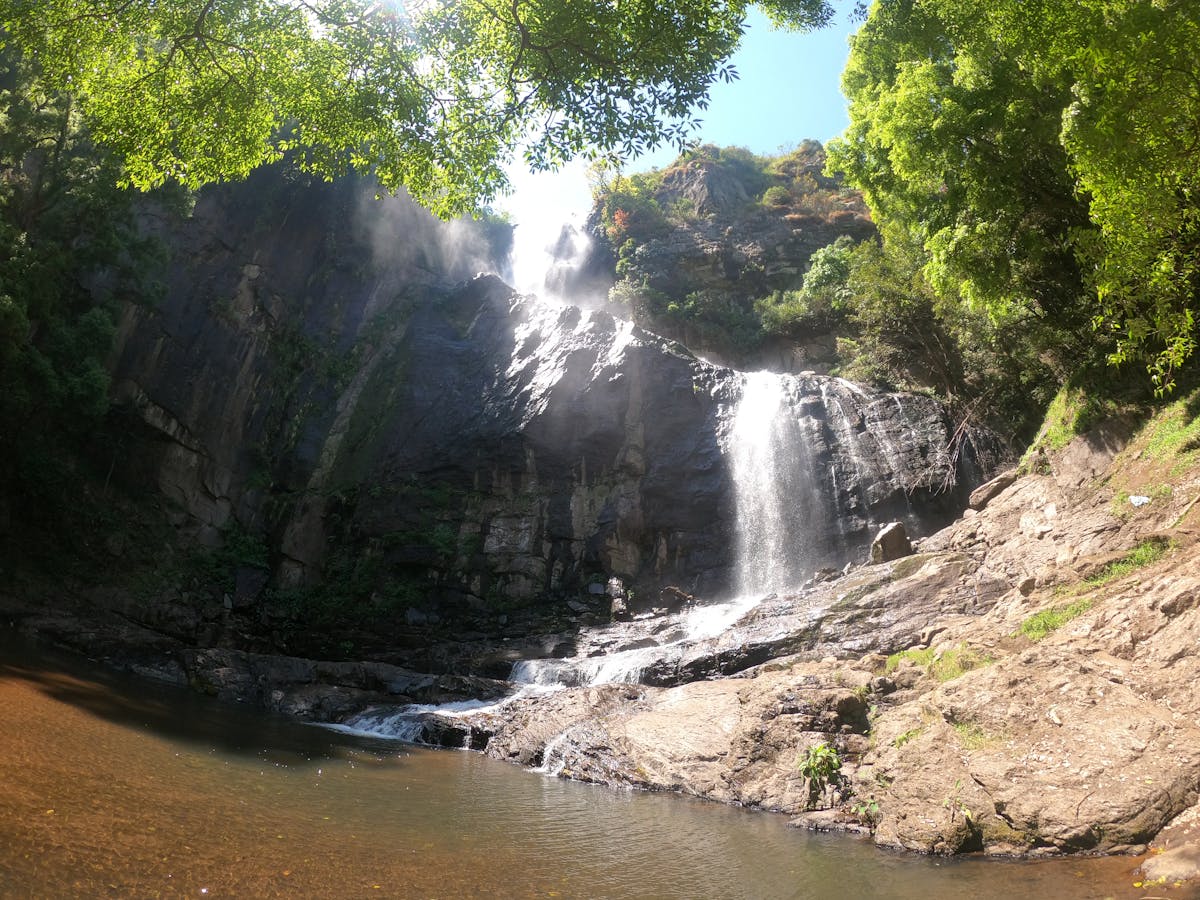 The beautiful Kookal falls. Picture by Madhuri Ruperee
2. Forest Trail
After a steep descent for about an hour, you enter the forest section of the trek. The forest section is very dense here.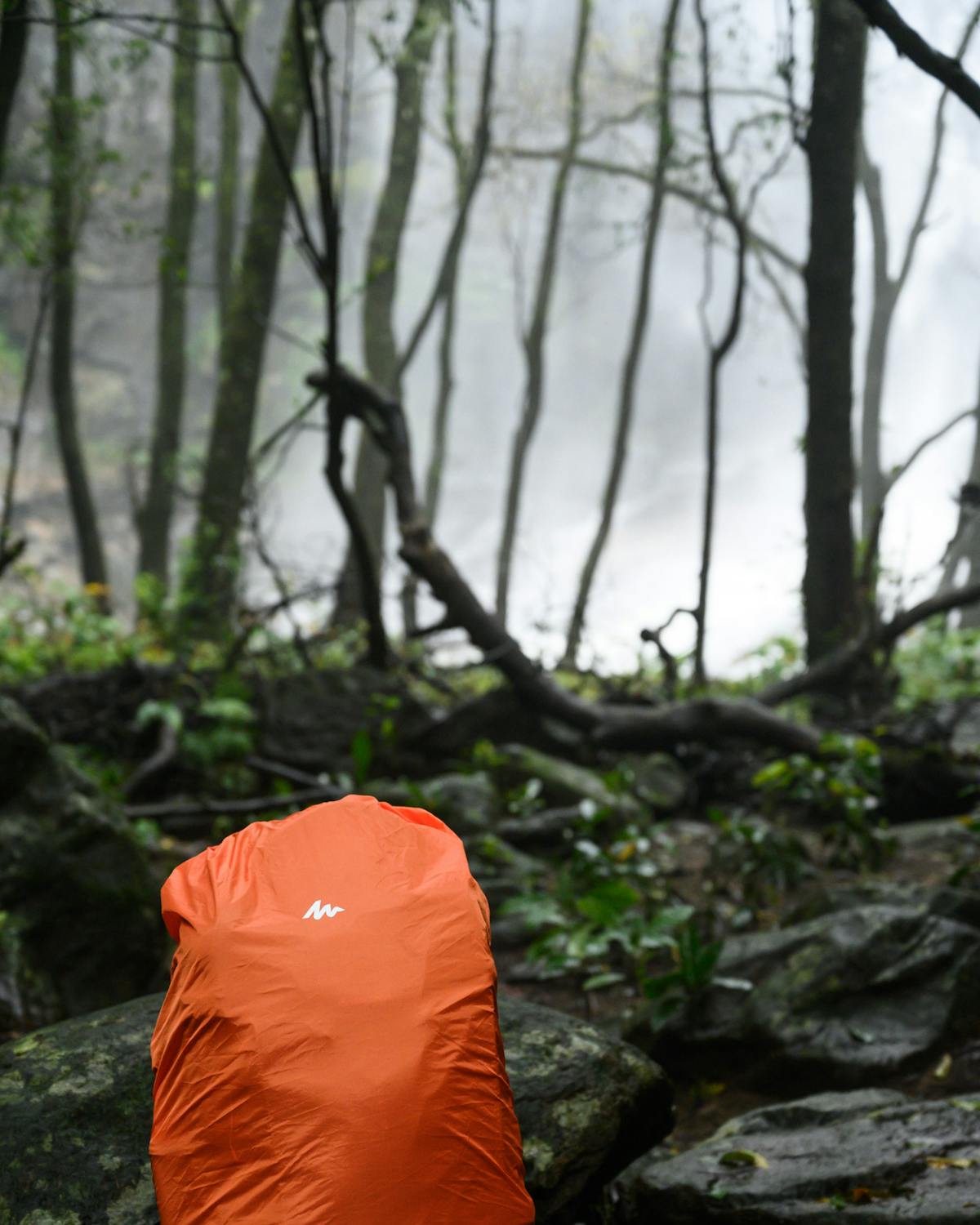 Magical forest trail en route Kookal falls. Picture by Parthiban
The change of scenery from a steep descent overlooking the western ghats to the dense engulfing forest section makes you feel like you've entered into a whole different world. This is an experience that stays with you for a long time even after the trek.
3. View from the Boulder Point
Just about 500 metres into the trek, you reach a viewpoint called Boulder Point. The view from here is beyond beautiful. You see a deep valley beneath you and huge lush green hills standing tall right in front of you. You also get a glimpse of the steep descending trail that you're about to traverse to reach the waterfall.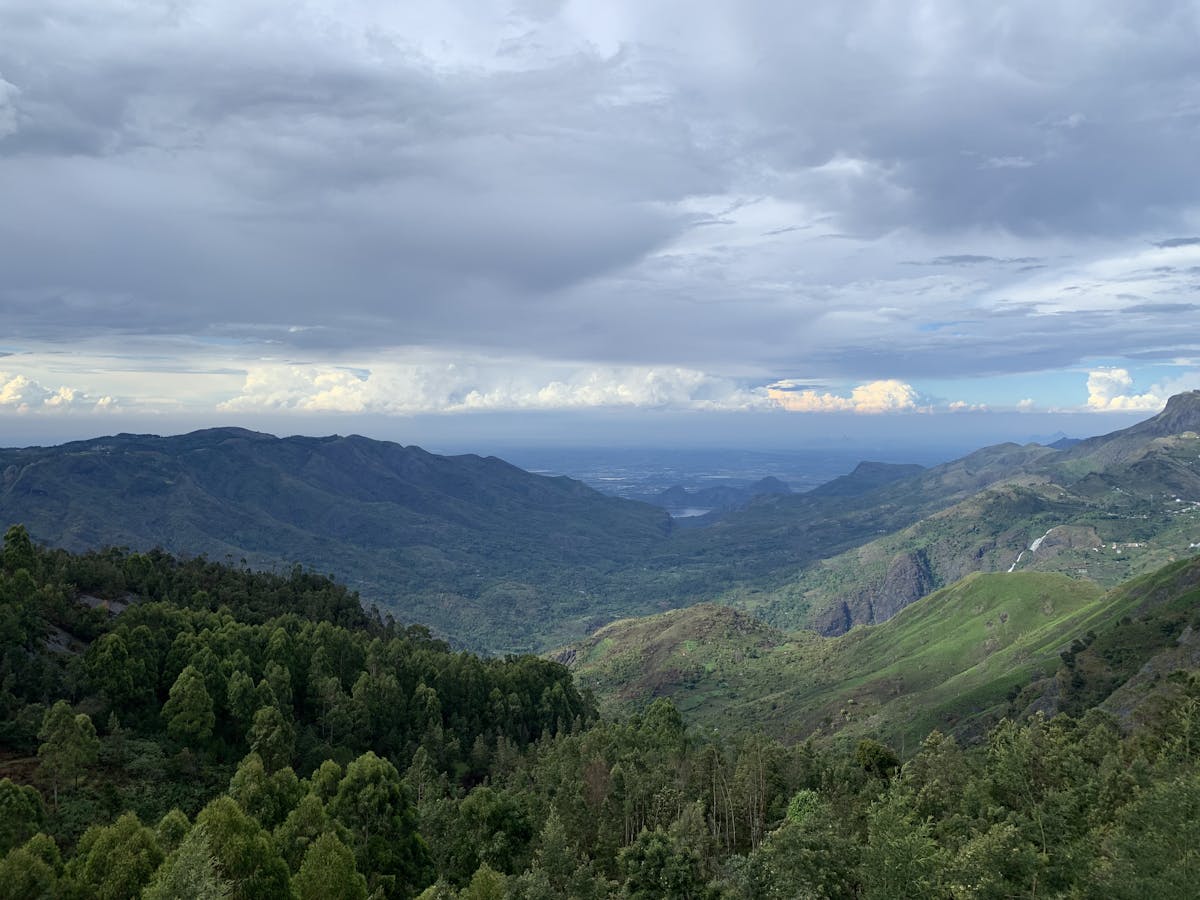 View of the valley from the boulder point. Picture by Ganesh Bhushnam
Trail Information
Route Map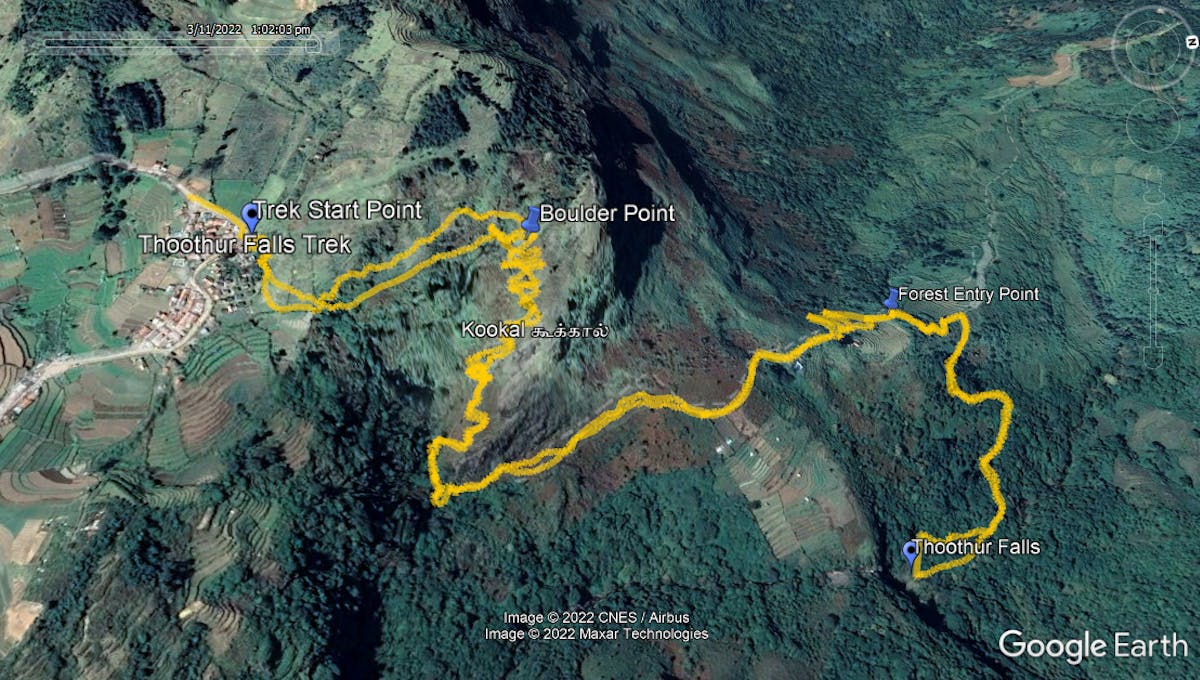 Route Map of Thoothur waterfall. Screenshot on Google Earth Pro
The trek to Kookal Falls can be divided into two sections.
Trek Start Point to Forest Entry
Forest Entry to Kookal Falls
Section I: Trek Start Point to Forest Entry
Trek Distance - 2 km
Trek Duration - 1 hour
The trek starts 1 km from Kookal lake. As you reach the Kookal lake, look around for small food vans on the road next to the lake. If you plan to go with a guide, the villagers operating these vans provide a person who is either a guide or takes you to the guide. Unfortunately they only speak Tamil, but with a bit of sign language and broken English, it is not very difficult to communicate that you want to go to Kookal  Waterfalls.
Start your trek from a small shop overlooking a few volleyball courts. The shop caters to basic food amenities like drinking water, packaged food items like biscuits, chips, soft drinks, juice etc. But make sure you carry your own food and water and not to buy these packaged items. To know more about what to carry, you can go through this video.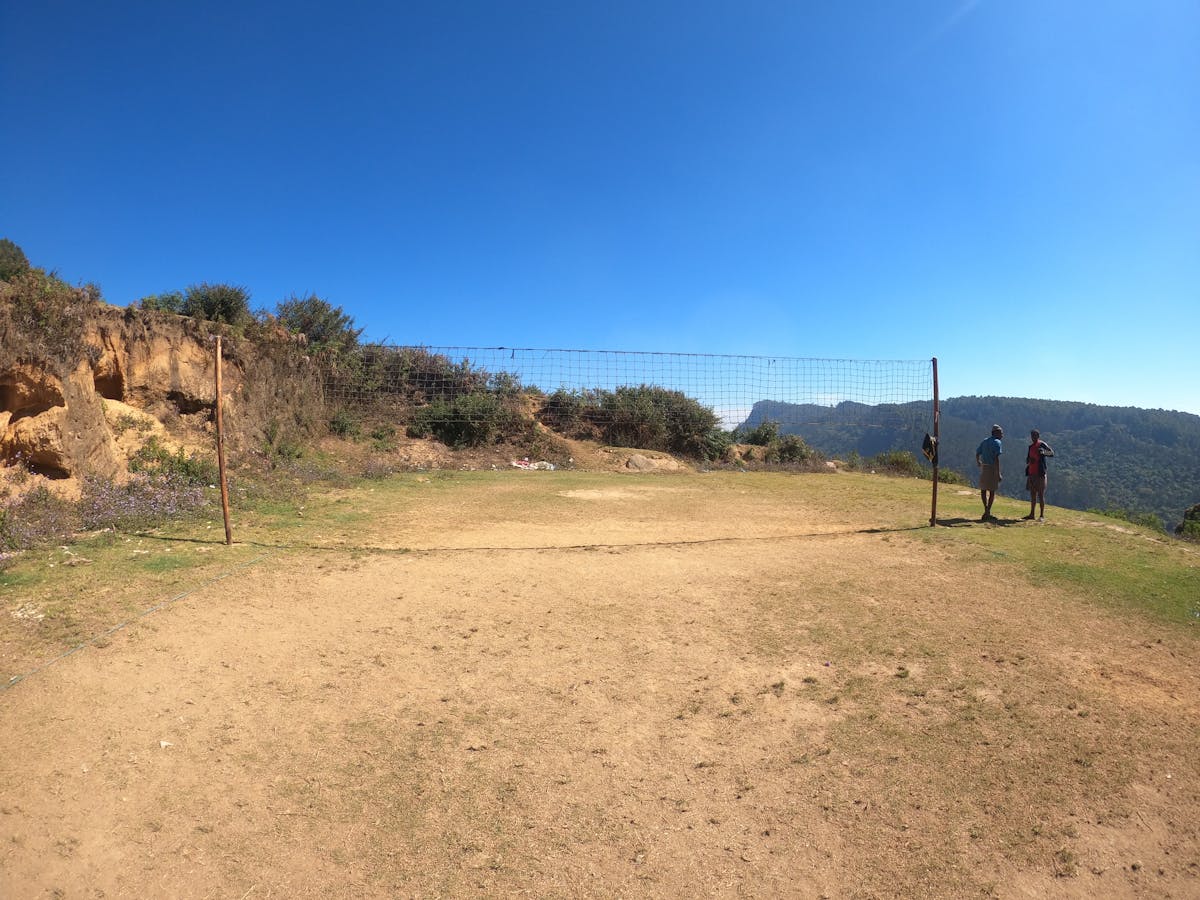 Starting point of the trek. Picture by Madhuri Ruperee
If you reach Kookal early in the morning, you'll get to watch the beautiful sunrise from here.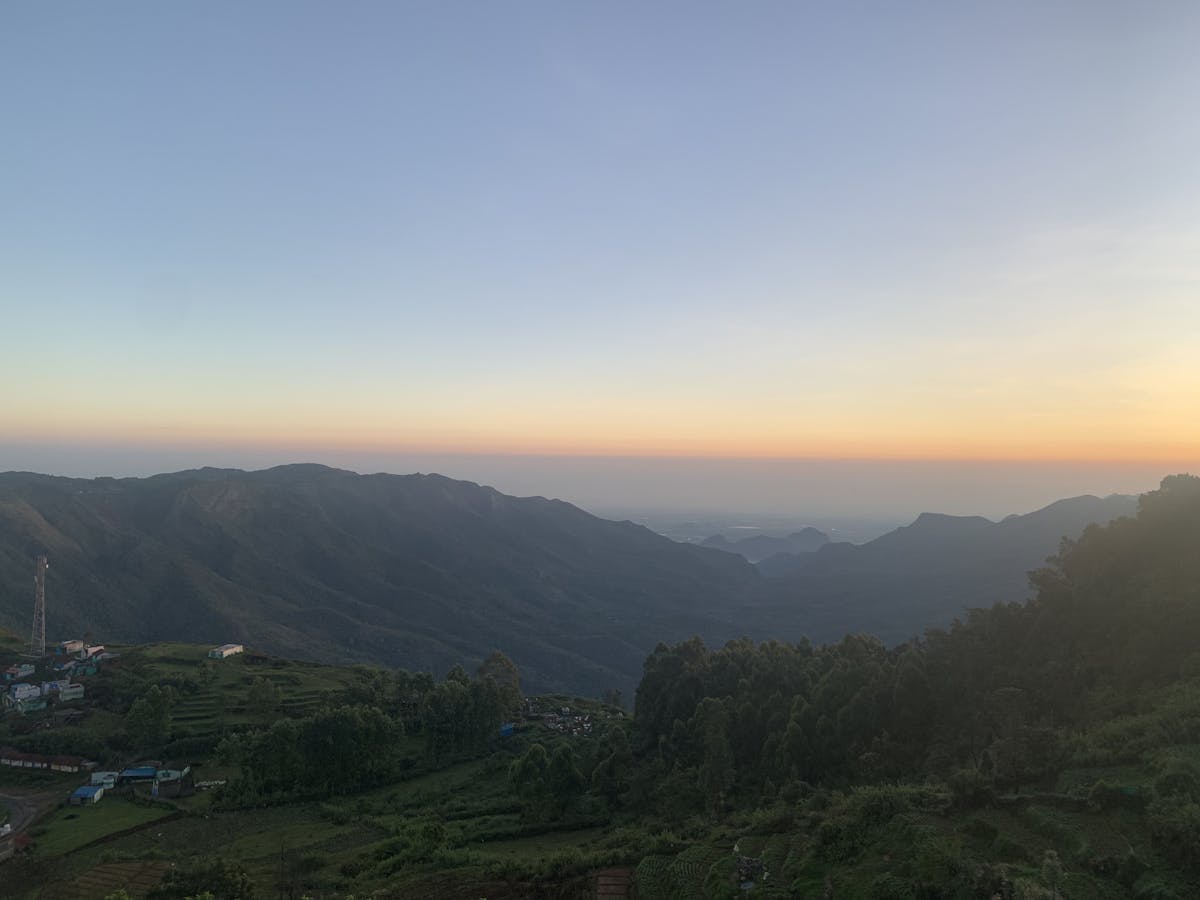 Sunrise as witnessed from the starting point of the trek. Picture by Ganesh Bhushnam
Tip: Although the trek is not very long, keep at least a litre of drinking water per person. The weather can get a bit humid while coming back, depending on the season you are trekking in. There are no shops en route or near the waterfall.
Start walking on the straight muddy trail. This trail passes through a few volleyball courts and houses. 
Continue your trek on this well-carved mud road for about 500 metres. You will reach the boulder point which offers a beautiful aerial view of the valley and the surrounding hills. The house that you see at a distance amidst the valley is a homestay and is not accessible from this route.
Stop here for a few minutes and soak in all the beautiful views it offers. Embrace yourself for the trek further. 
Trail from here is a steep downhill until you reach the forest section. It takes you through a series of hairpin bends going downslope over a dirt trail. Traverse through this trail for about 1.5 km to reach the forest entry point.
Throughout this section, valley views on your left side keep you company. Stunning views of the lush green hills right in front of you, keep your excitement alive.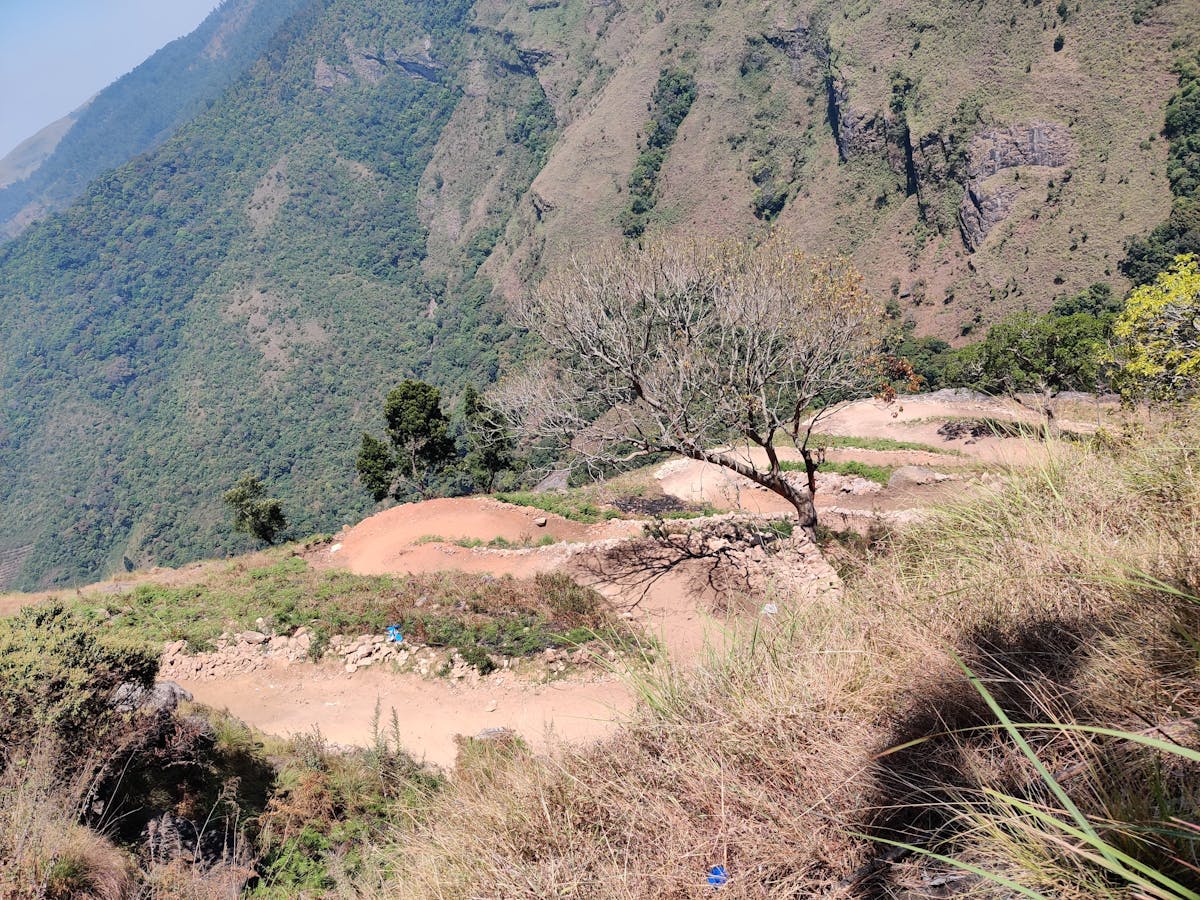 A series of hairpin bends that goes steep downhill. Picture by Madhuri Ruperee
Tip: This trail has loose mud and is a bit slippery to walk on. Wear proper trekking shoes to help you navigate through this section easily.
Section II: Forest Entry to Kookal Falls
Trek Distance: 1 km
Trek Duration: 30 minutes
This is the final stretch of this trek and is the best one. It takes you through the dense forest and bushes. As you enter the forest section, these bushes form a canopy and the trail gets narrower so that only one person can navigate at a time.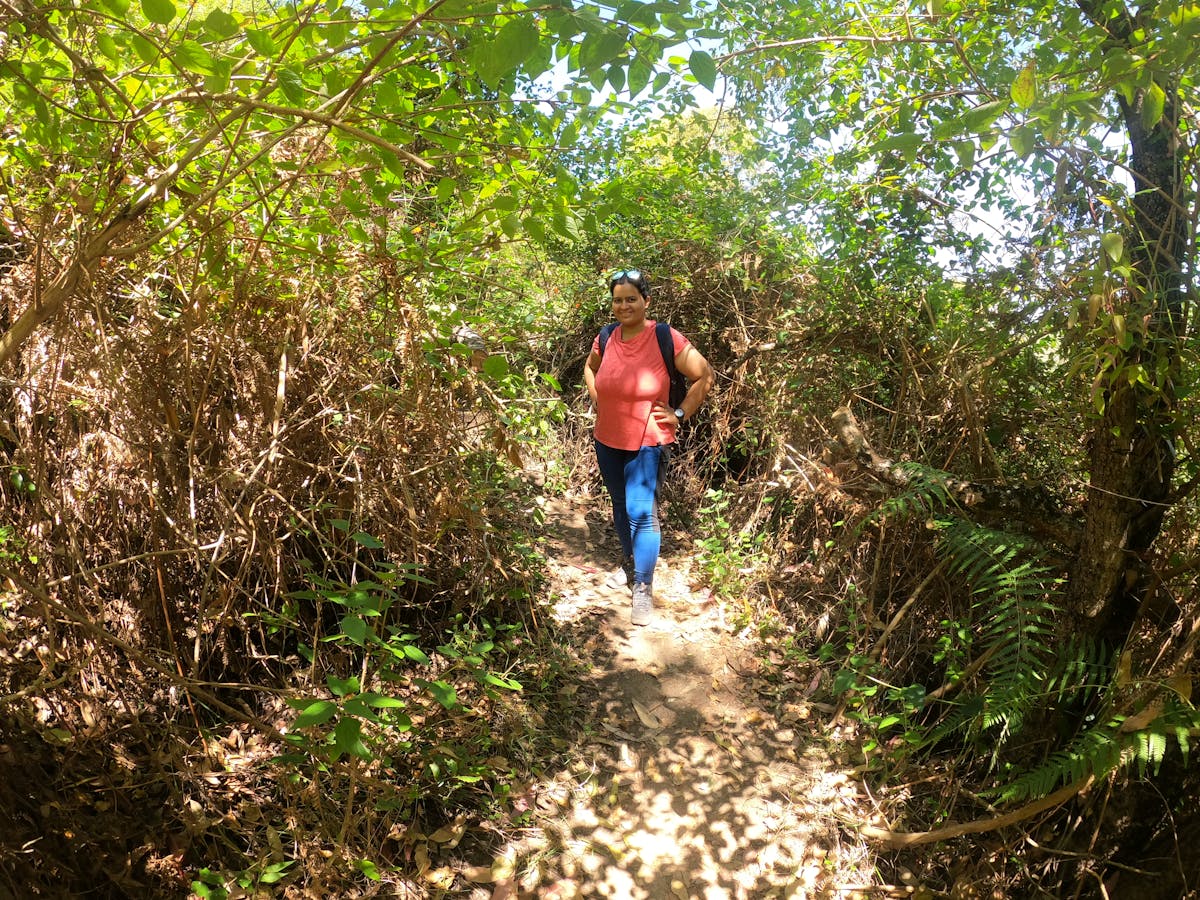 Initial trail in the forest section - it takes you through thick bushes and is very narrow. Picture by Madhuri Ruperee
Another best part about this stretch is that, although the waterfall is not in sight, you can hear the gushing flow of water throughout the trail. This is very soothing and helps you navigate in the right direction as well. It somehow manages to take your mind off the enclosing bushes, the tiny trail, and slippery bits as you know you are getting closer and closer to the waterfall.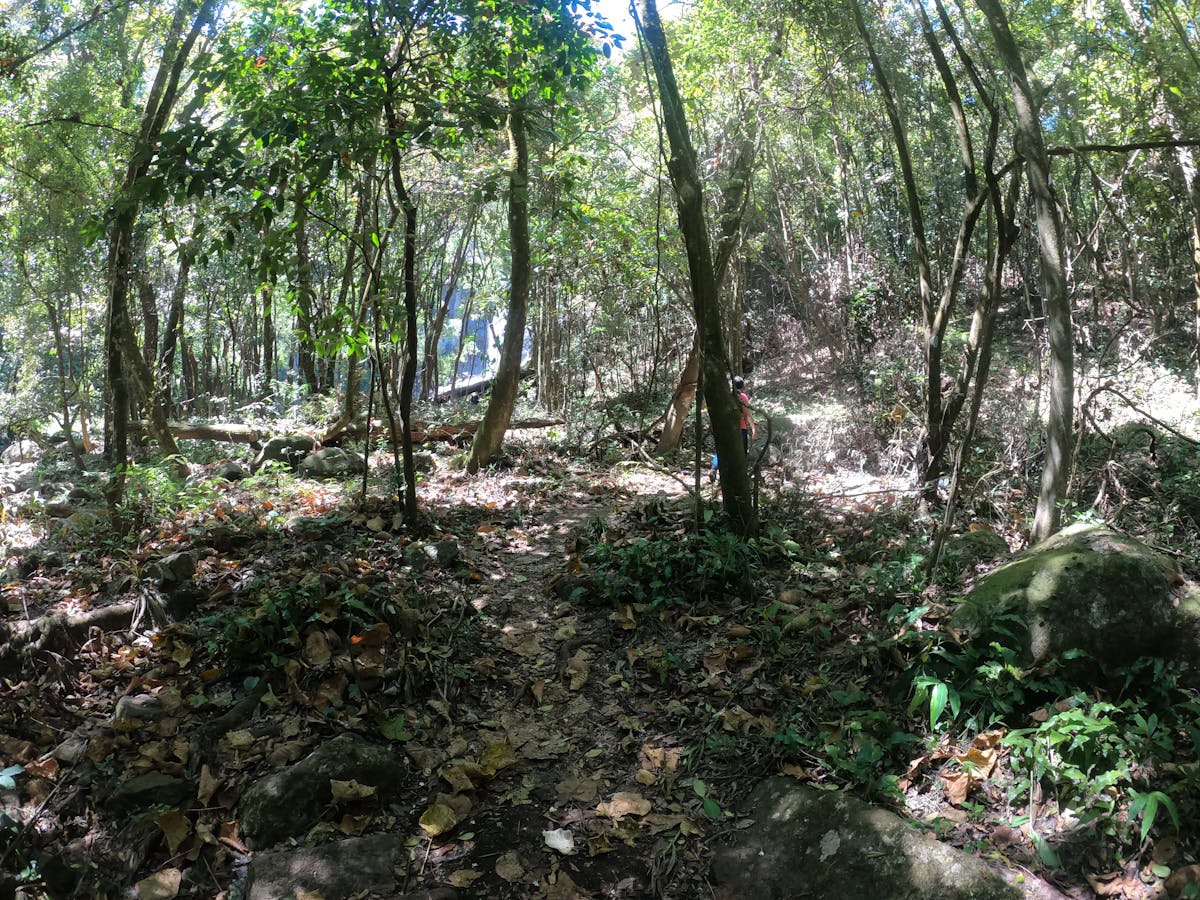 The dense forest section en route Kookal Falls. Picture by Madhuri Ruperee
The forest section is approximately a kilometre long and is beautiful to trek in. Enjoy the crunch of the leaves beneath your feet. It is not very tiring as there is a complete tree cover and natural shade throughout.
As you approach the end of this trail, notice a small stream on your left. Immediately after this, you come across a clearing. This is where you can spot the waterfall. The waterfall ends in a small pond and one can find lots of fish in this pond. On the left side of the waterfall, there is a stream that flows to the other side of the jungle and the entire sight is just magnificent.
Small water stream at the end of the trail. Picture by Madhuri Bhokare
Note: Two elephants have often been spotted in this waterfall area and the forest around. The local villagers say that they are often spotted swimming in the pool or sitting around the waterfall area. If you are lucky enough you might just spot them! Just make sure you don't create any loud noise trekking through the forest section.
The area around the flow of the waterfall can easily be climbed. It makes a great backdrop for the pictures. You can feel the mist from the flow of the water. It is indeed lovely to stand up there after the trek. The pool from up there looks tempting to jump into but it is recommended to not to, as the water is quite stagnant.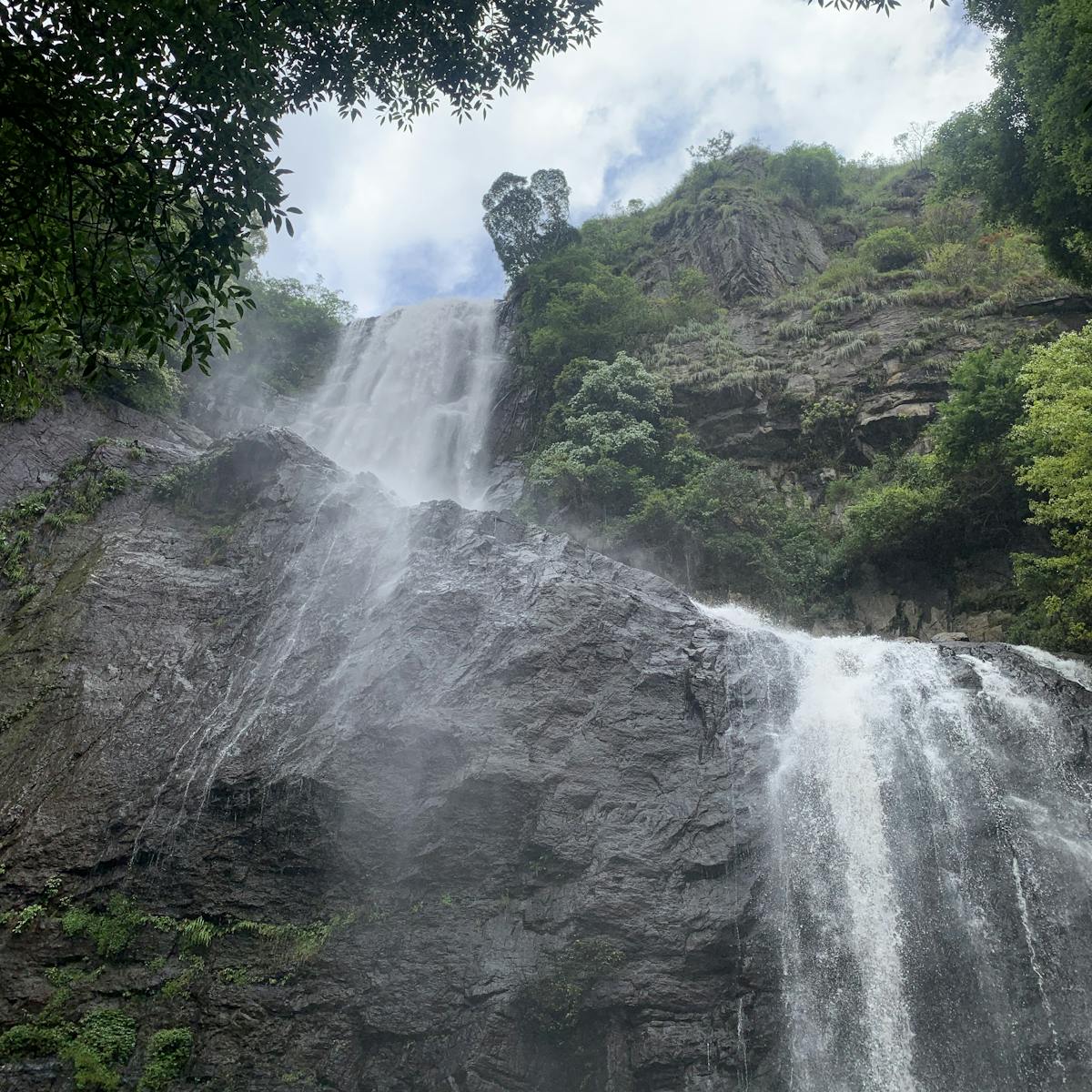 The sight of the beautiful, milky white, two-step Kookal waterfall. Picture by Ganesh Bhushnam
The trek back to the starting point is completely uphill. But the initial forest stretch is not as tiresome as the densely populated trees protect you from harsh sunlight. The last two phases through the rocks and boulders and muddy trail are slightly taxing. Do stop regularly and keep yourself hydrated.
If you are walking back till the lake, add another 15 minutes to your trek. The ascent takes around 1.5 - 2 hours. Keep a Turn Around Time(TAT) of 3 PM so that you'll be back at the base before dusk.
Best Season to Do the Kookal Falls trek
The best time to do this trek is from September to March.
This region receives heavy rainfall in the months of July and August. This makes the waterfall look really beautiful. But as the trekking route is a steep downhill, trekking during monsoon would be risky.
The month of September receives only a few days of rainfall. So post-monsoon, the entire landscape will be lush green and the flow of the water at its prime. This makes it one of the best times to trek. 
You can do this trek until March when the flow is still good enough and the forest sections have the greenery lasting. As the summer months approach, the water dries up. Humidity also increases making it wearisome to trek.
Difficult Sections on the Kookal Waterfalls Trek
The trek is overall an easy trail with only a few challenging patches. The entire trek is of only 6 km in distance (to and fro) and will take a maximum of 5 hours to complete.
The steep downhill hairpin bends are slippery. The area has a lot of loose mud and one must be careful with their footing. Make sure you wear proper trekking shoes.

The forest section of the trail will have a few slippery patches too. Especially near the water stream where the trail is scattered with dry leaves or rocks covered with moss and water. Be extra cautious while navigating in this section.

The steep ascent on the way back is taxing. The complete uphill trail after the forest section gets challenging, especially so if you've to trek in the rain or humid weather.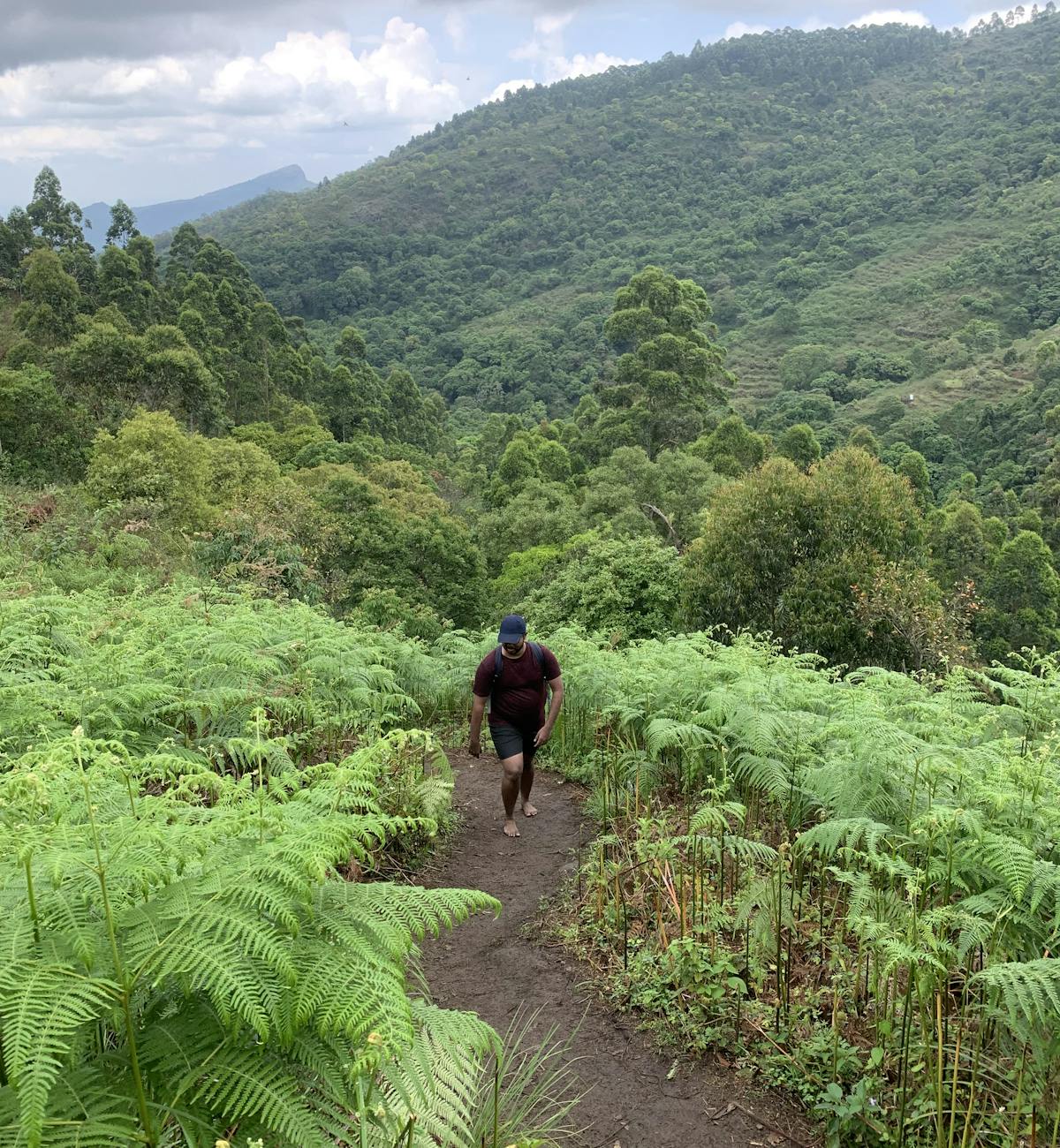 Trail on the way back after the forest section is a steep ascent till starting point. Picture by Ganesh Bhushnam
How to Reach the Kookal Falls Trek
The trek starts from a Kookal village 35 km away from Kodaikanal. 
For ease of understanding, we have broken down the journey based on the transport and the route you take.
Reaching Kookal Village by your own vehicle
From Kodaikanal, it takes about an hour to reach Kookal Lake. The distance is approximately 35 km. 
If you plan to go by your own vehicle, use this link to help set up navigation on Google Maps. 
Reaching Kookal Village by Public Transport System
From Kodaikanal, there are local buses and taxis available. But taxis are recommended as buses have very low frequency and are not reliable.
Bus: There is one bus in the morning between 8:00 AM and 9:30 AM. The bus is from Kodaikanal to Palamputhoor. You've to get down at Kookal.
In the evening, bus timing is between 4:00 PM and 5:30 PM.
Taxi: From the Kodaikanal taxi stand, you can hire a taxi to Kookal village. It costs around Rs 3000 per vehicle one way. The cost per person will vary depending on your group size.
Note: If you're going by taxi, make sure to collect the driver's contact number. You can contact the same person to take you back to Kodaikanal once you finish your trek.
If you hire a taxi for a roundtrip, it'll cost around Rs 6000 for a group of 5.
Nearest Airport and Railway Station
Madurai Airport is the nearest airport and is about 155 km away from Kookal Village.
Tiruchirappalli International Airport and Coimbatore International Airport are some other nearby airports to Kookal Village and are 85 km and 210 km away respectively.
Frequently Asked Questions of the Trek 
Permission and Camping 
There is no entry fee or permission needed for the trek.
Camping near the waterfall is prohibited. You've to come back on the same day.
If you hire a local guide, it will cost Rs 200 per head if you have a group of 5 or more. If your group size is less than 5, the guide's charge is anywhere between Rs 700 and Rs 1000.
Stay Options near the Trek 
Kookal village is small and has a few homestays and lodges.
One great place to stay would be the estate which is near the waterfall and can be seen during the trek. It is named Nomad's Abode and bookings can be made via their Instagram page – https://www.instagram.com/anomadsabode/
Kodaikanal would be a better place to stay as it has more things to do around it and is a tourist hub. Zostel is a decent place to stay especially for solo travellers. There are also various homestays, Airbnbs and hotels available in Kodaikanal. 
Timings on the Trek
This is a day trek and takes around 4-5 hours to complete.
If you want to hire a guide, it's best to reach Kookal between 9:30 AM and 1 PM. Start your trek early so that you can finish your trek before lunchtime and be back in Kodaikanal for lunch as there are not too many options to eat en route. 
The trek can take a maximum of 4-5 hours depending upon how much time you spend at the waterfall. Hence it is not recommended to start the trek after 1 PM, as the trek back would get tiresome and dark after sunset.
Food and Water Source on the Trek
The start point of the trek, which is about a kilometre ahead of Kookal Lake, has a small shop which is the last source of food and drinking water in the trek.
It is advised to carry at least one litre of water per head since the trek gets a bit tedious on the way back.
If you run out of drinking water, the water from the flow of the waterfall is potable. Do not fill water from the stream or the pool as the water has a lot of fish, tadpoles and is stagnant in some places.
Tip: If you are not comfortable with having water from the stream or the waterfalls, carry purification tablets or a Paany Bottle to purify water.
Emergency Contacts on the Kookal Waterfalls Trek
Nearest Hospital and Police Station
Kousalya Hospital, Kodaikanal is the nearest hospital on the trek which is around 35 km away.
Kodaikanal Police Station is the nearest police station on the trek which is around 34 km away. 
Forest Department, Dindigul: In case of emergency, contact 8575305121.
ERSS: For any kind of emergency help, you can contact the Pan-India Emergency Response Support System (ERSS) number- 112
ATMs and Networks on the trek
There are no ATMs near Kookal. Make sure to keep enough cash from Kodaikanal itself. 
The network on the trail is patchy. At the waterfall, you don't get any network.
Places to Visit after the Kookal Waterfalls Trek 
There is not much to do in Kookal apart from the trek. If you are staying in Kodaikanal, there are a lot of things to do: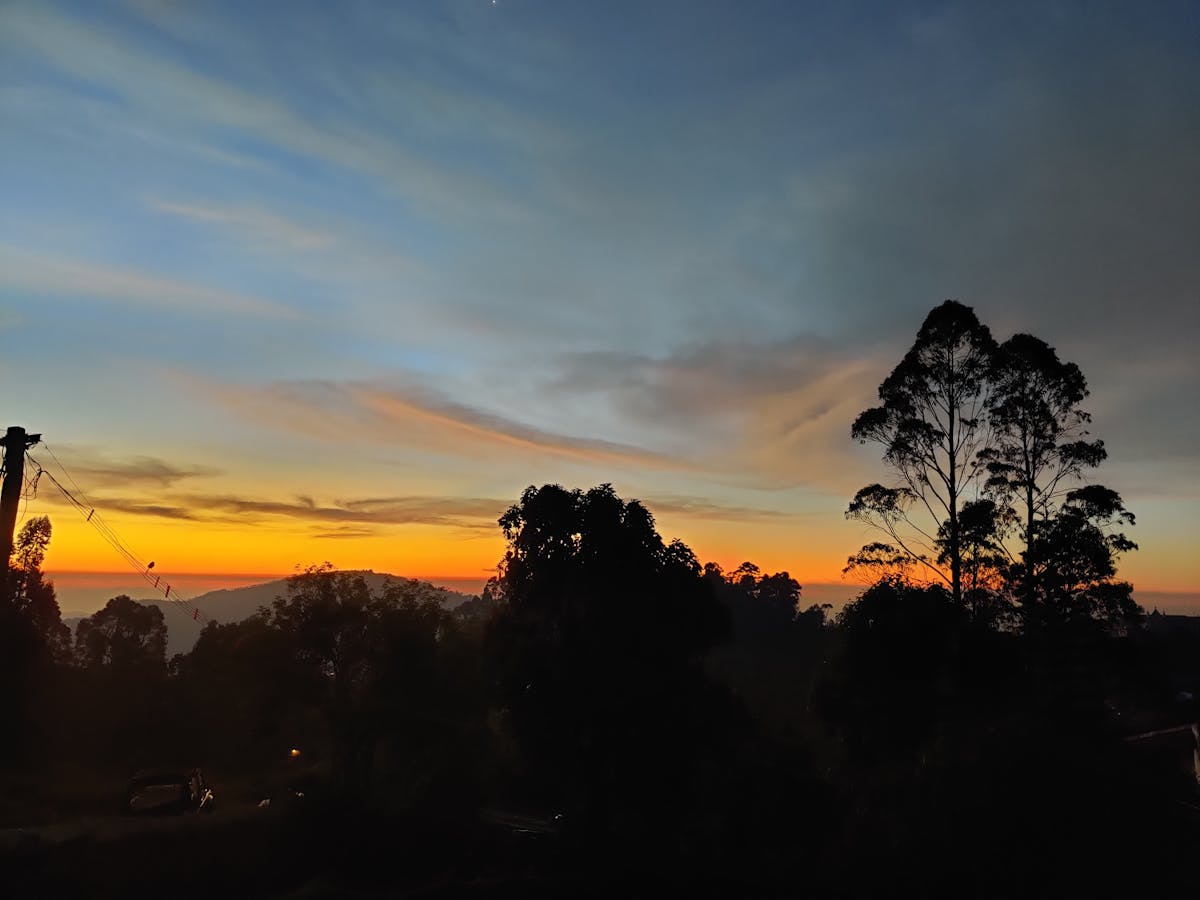 Beautiful sunrise as seen from Zostel, Kodaikanal. Picture by Madhuri Ruperee
1.  Trek to Dolphin Nose – A beautiful walk through pine forests leading up to a point called Dolphin Nose. On the way back, you can sit by a café called Altaf's Cafe which has a very pretty view and really yummy Mediterranean food.
2.   Coakers Walk – Take a stroll through this walkway which overlooks lush green hills and has great viewpoints.
3.    Bryant Park – You can play a game of Frisbee or have a nice picnic here.
4.    You can also go cycling and boating at the Kodaikanal Lake.
Trek Contribution
Trek documented by Madhuri Ruperee.
Photos contributed by Madhuri Ruperee, Ganesh Bhushnam and Parthiban.
Trek edited by Manasa N L.
GPX File Opt in
We go to great lengths to ensure you have a safe trek. So here's a GPX file of the trail to help you navigate without getting lost.