Can You Help Us With Photographs Of This Trek?
We are looking to enrich this documentation with more photos. Pictures go a long way in explaining the trail, more than words ever can. If you have done this trek, can you share your photos with us? We will include them on this page, with due credit to you.Click here to contribute.
The Complete Guide to Kothaligad Trek
Nestled in the famous Bhimashankar wildlife sanctuary near Karjat, is a small marvel of architecture called Kothaligad.
Kothaligad, also known as Peth fort, rises to a maximum altitude of 2,033 ft and was primarily used as a watchtower & ammunition depot by the ruling armies. The strategic location of the hill provides a commanding view of Padargad, Malanggad, Siddhagad, Chanderi fort, Bhimashankar & Matheran plateau in clear weather.
Located less than 100 kms from both Mumbai and Pune and well connected by road and railways, Kothaligad is the ideal all-season trek for anyone looking for a quick getaway from the bustling city life.
➤ Highlights from Kothaligad Trek
The unique thumb-like structure of the fort.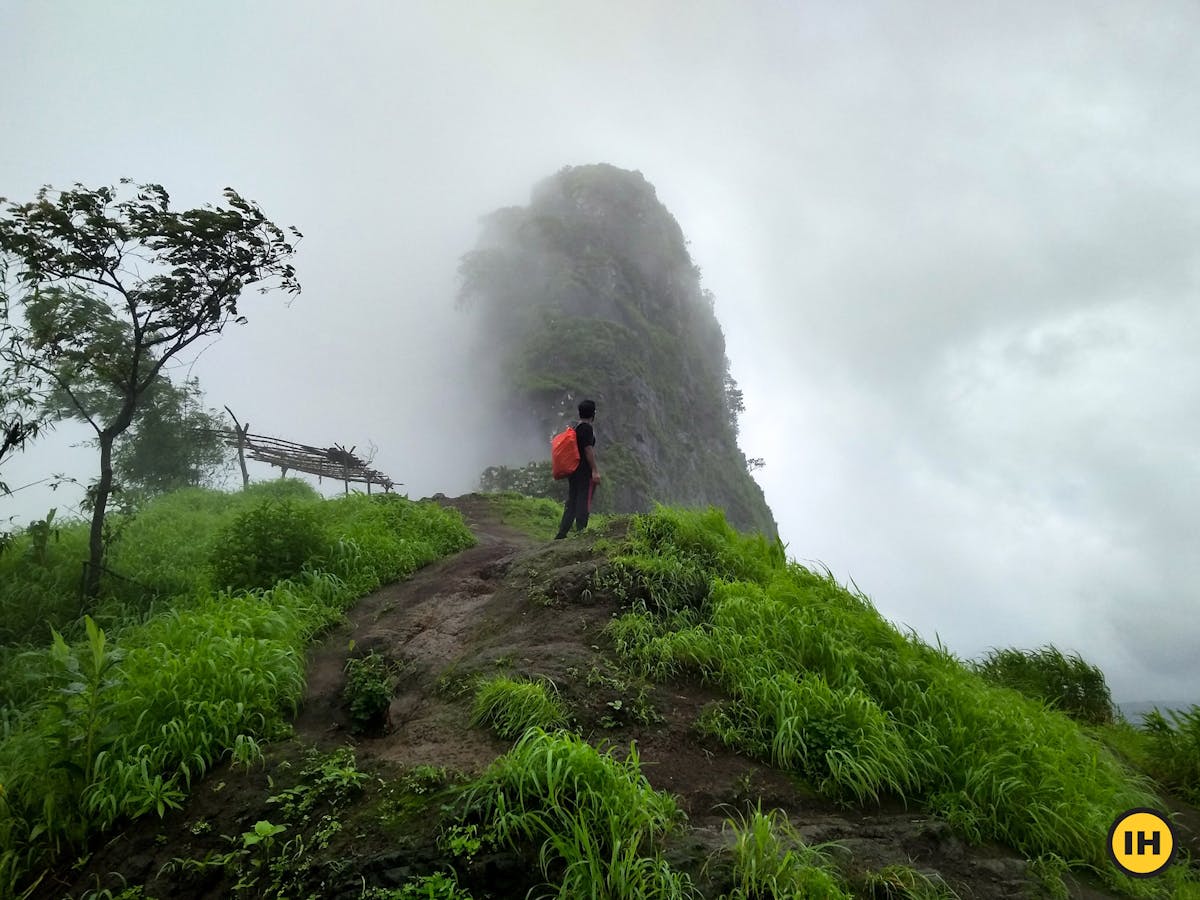 The fort structure is unique, perhaps resembling only the Karnala fort in terms of appearance. Picture by Izzat Yaganagi
Well preserved cannons from the fort's heydays.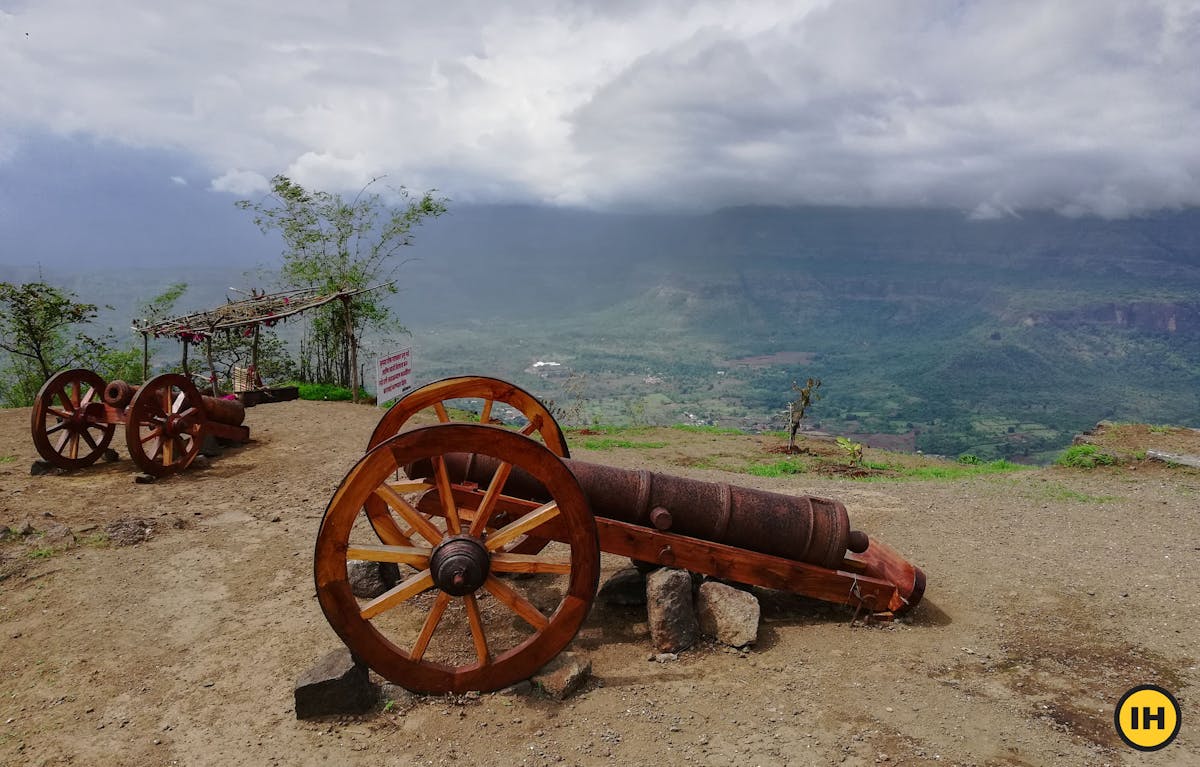 Only a handful of forts have artillery of any form still surviving today, Kothaligad is one of them. Picture by Shardul Neswankar.
A panoramic view of the surrounding ranges.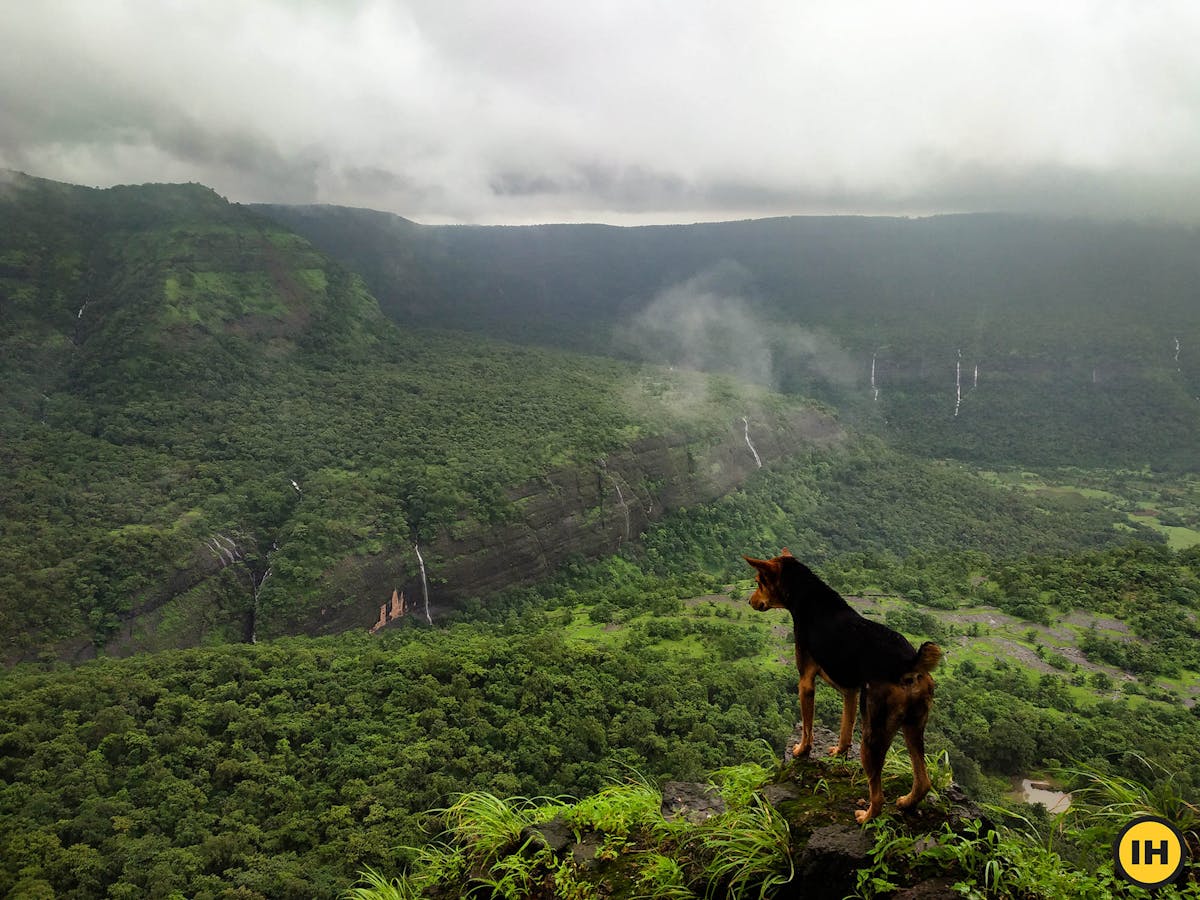 Kothaligad stands detached from the main range of Bhimashankar, thus providing a rare 360° view from the peak. Picture by Saurabh Sawant
The gushing waterfalls, often sent upwards by strong winds from the valley.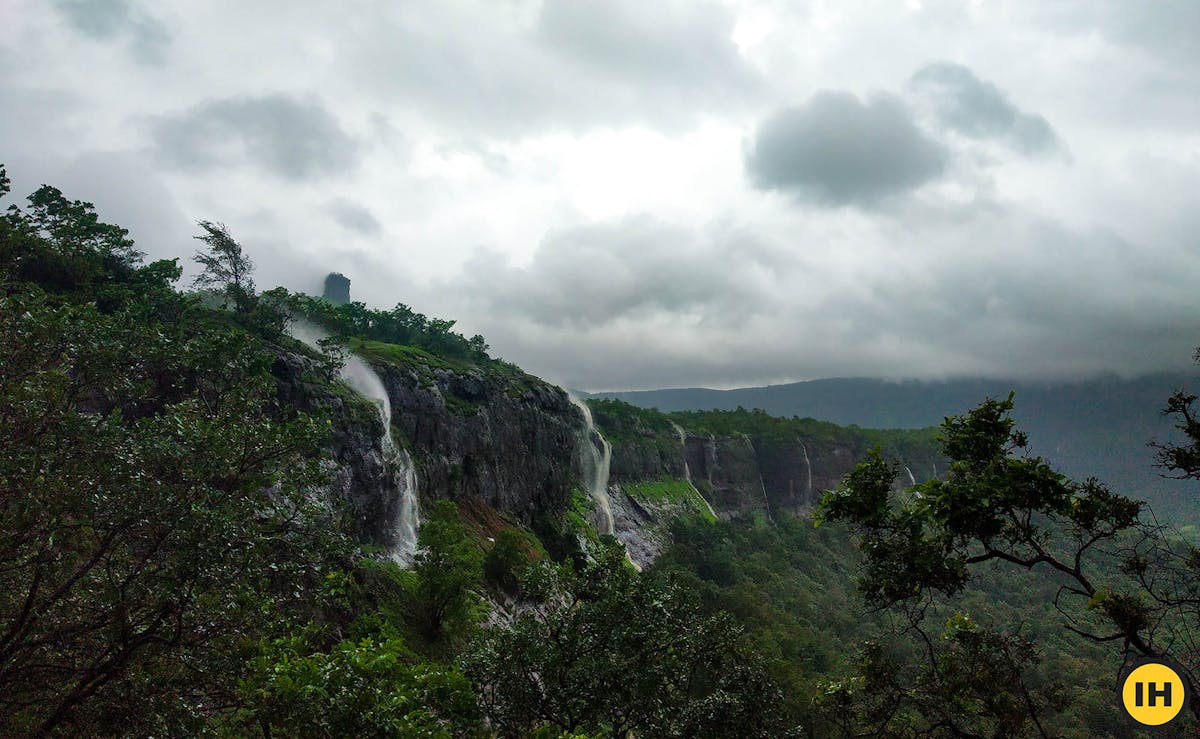 The waterfalls of Peth plateau are often sent back upwards, a phenomenon popularly known as Reverse waterfalls. Picture by Saurabh Sawant.
Intricately carved pillars in the cave temple.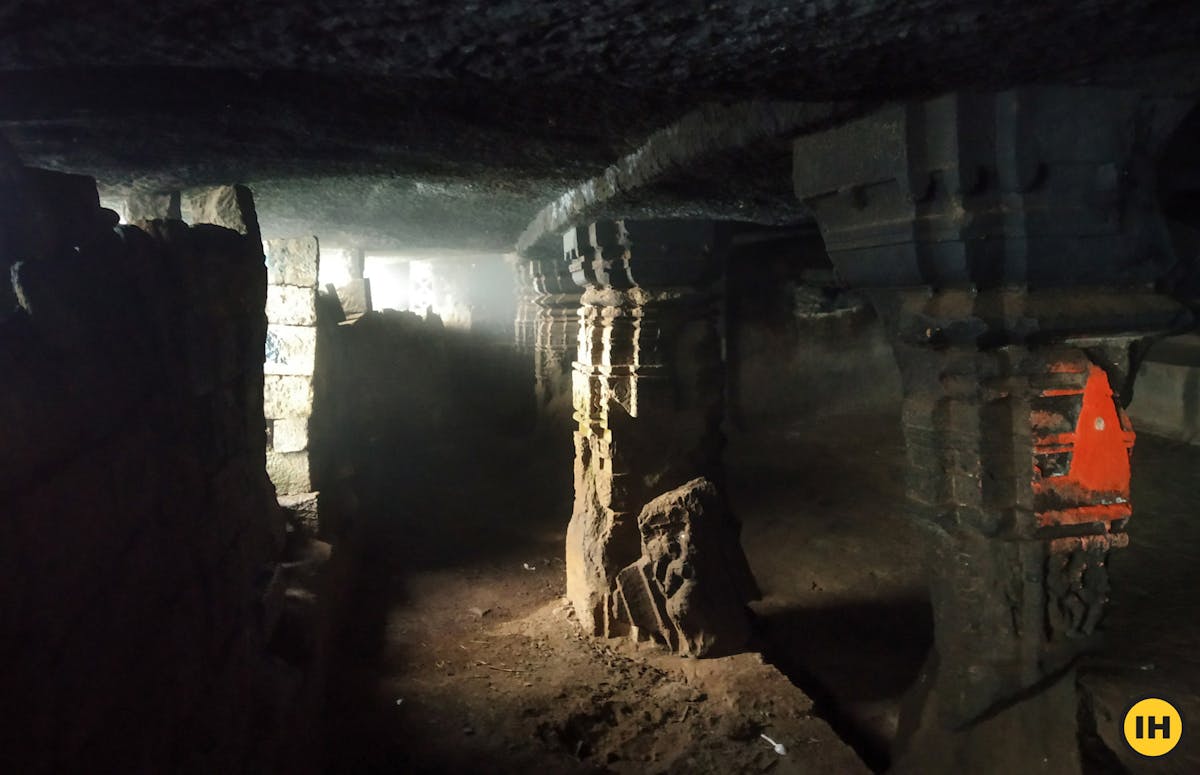 The largest of the multiple caves on Kothaligad, the Bhairoba cave, has intricately carved pillars and doors. Picture by Saurabh Sawant
➤ Trail Information
The trail originates from the quaint village of Ambivli, about 23 kms from Karjat.
The trek itself can be divided into two sections- the first stretch is a broad trail that gently climbs up from Ambivli to Peth gaon and can be covered on foot, bike or a 4WD. The second half of the trek is a steep but incredibly rewarding climb from the Peth gaon all the way to the top of the fort.
Section I: Ambivli (460 ft) to Peth Gaon (1475 ft)
Trek distance: 4 km;  1246 ft ↑ &  220 ft ↓
Trek duration: 1.5-2 hours
GPS coordinates of Ambivli: 19°0'45.03"n, 73°29'18.80"e
GPS coordinates of Peth gaon: 18°59'48.83"n, 73°30'32.98"e
Ambivli is a small cluster of homes at the start of the trail to Kothaligad. The boom in Kothaligad's popularity over the years has been accompanied by a parallel increase in the number of eateries on trail.
With no dearth of options, you can hop into any of them to start your day with the classic Kanda Pohe and a cup of piping hot tea!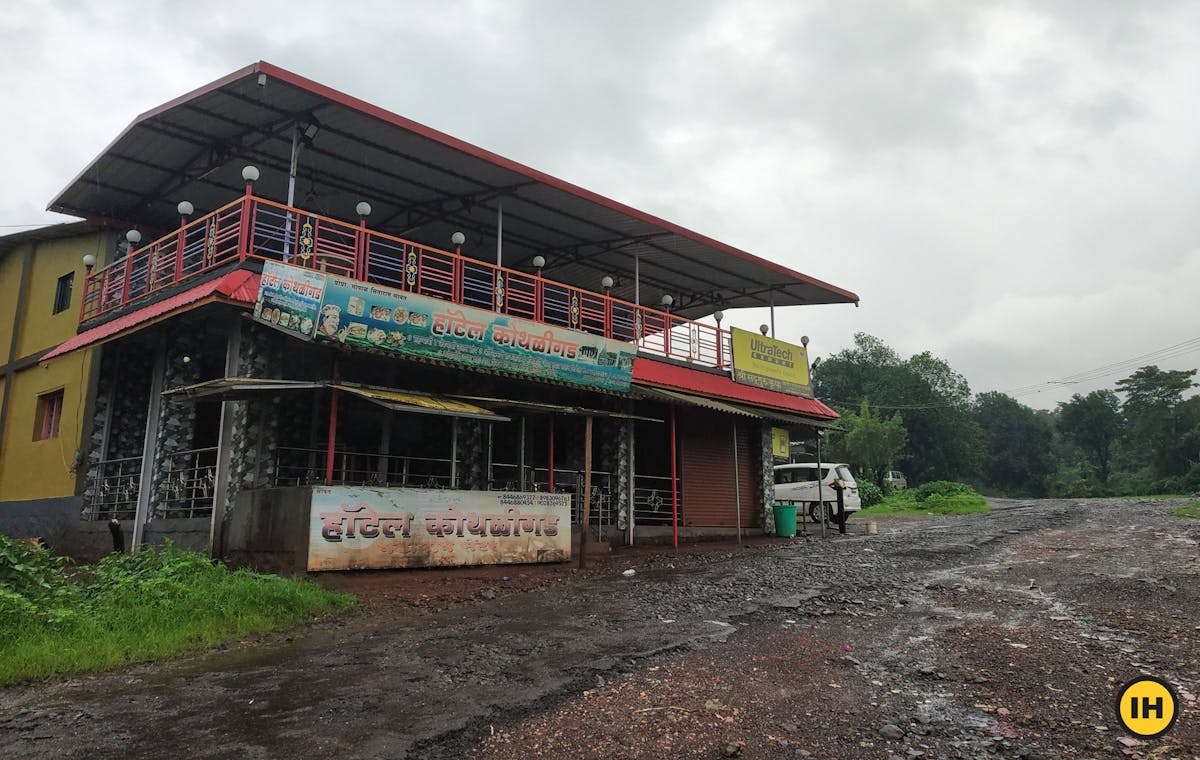 Hotel Kothaligad at the start of the trail greets you upon reaching Ambivli. Picture by Saurabh Sawant
The initial part of the trek is a gentle uphill climb on tar road. About 500 metres into the trek, the tar road forks into two. The road going uphill on your left is the way ahead.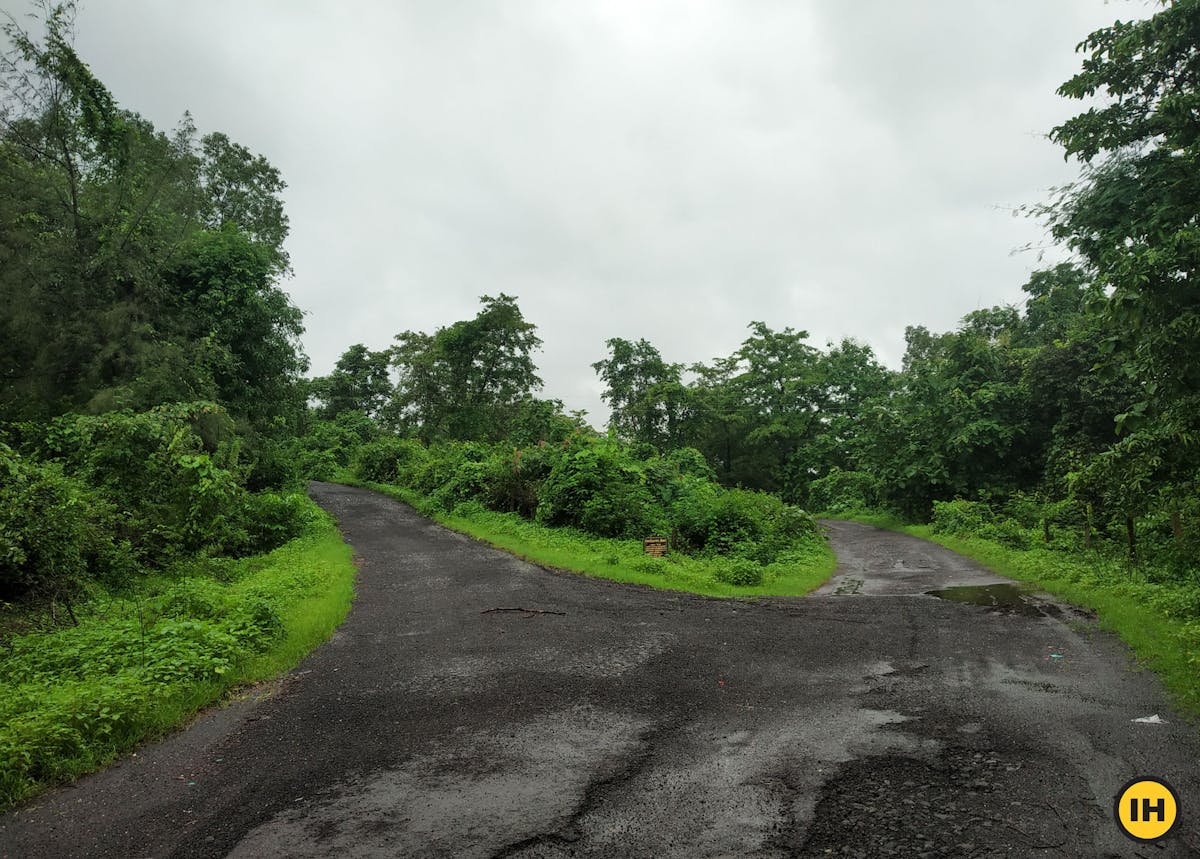 The tar road forks into two about 500 metres into the trek. Picture by Saurabh Sawant
Continue walking along this road that climbs at a gentle gradient. About 5 minutes after the fork, you'll catch the first glimpse of the Peth plateau on your right. A magnificent rock wall stretching across the sky, dotted by numerous waterfalls in peak monsoon- it's a sight for sore eyes!
It might look daunting at the outset, but the climb itself is so picturesque that you wouldn't wish it to end.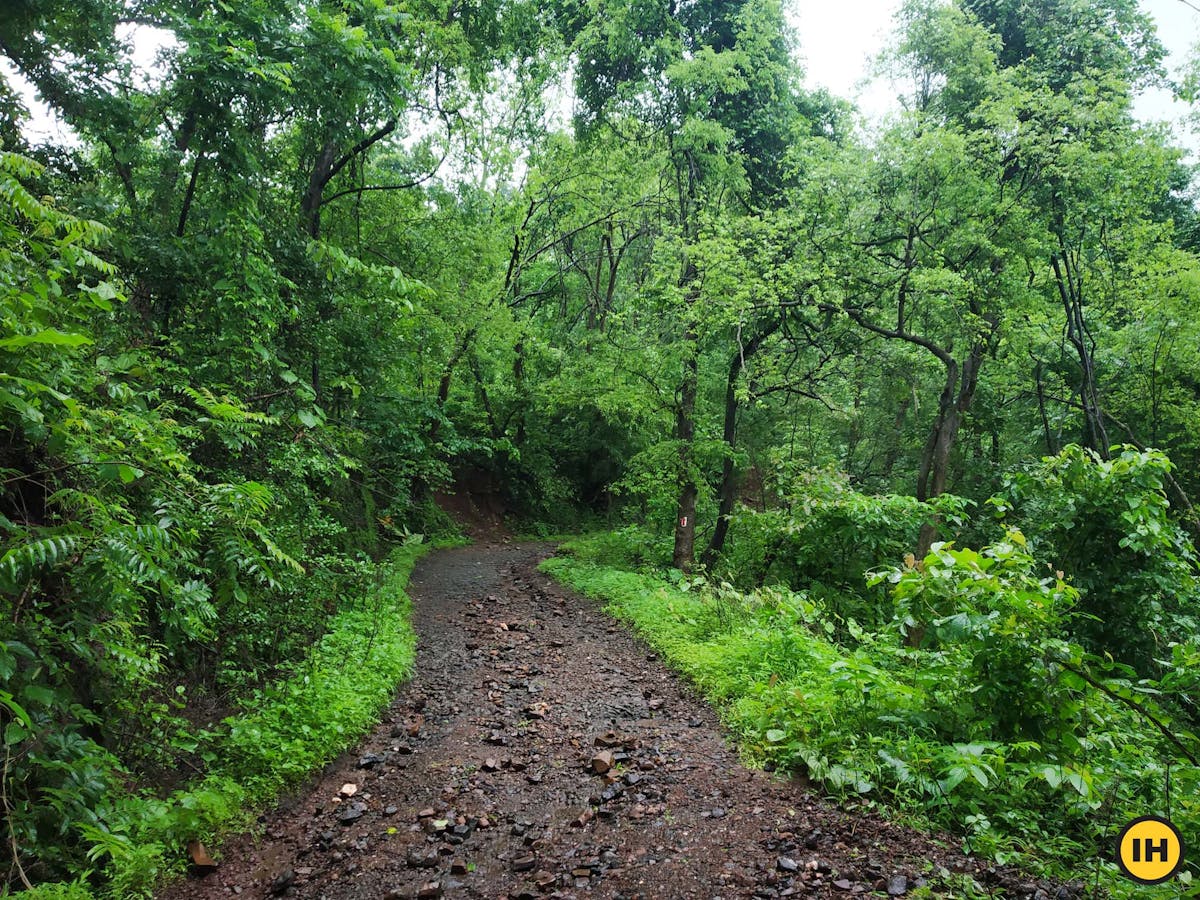 The trail transforms from a tar road to a broad kuchcha road about a kilometre into the trek. Picture by Saurabh Sawant
The trail has been laid out at a gentle gradient, and you'll often bump into people ambling down from Peth gaon on bikes. Continue trudging up and soon it'll transform from tar road to a broad mud track. 
Kothaligad is an ideal all-season trek but monsoon is when it really comes alive. All through the trek, you'll be accompanied by the distant murmur of water gushing down the plateau. And when the murmur grows to a rumble, be assured that sights like these are round the corner-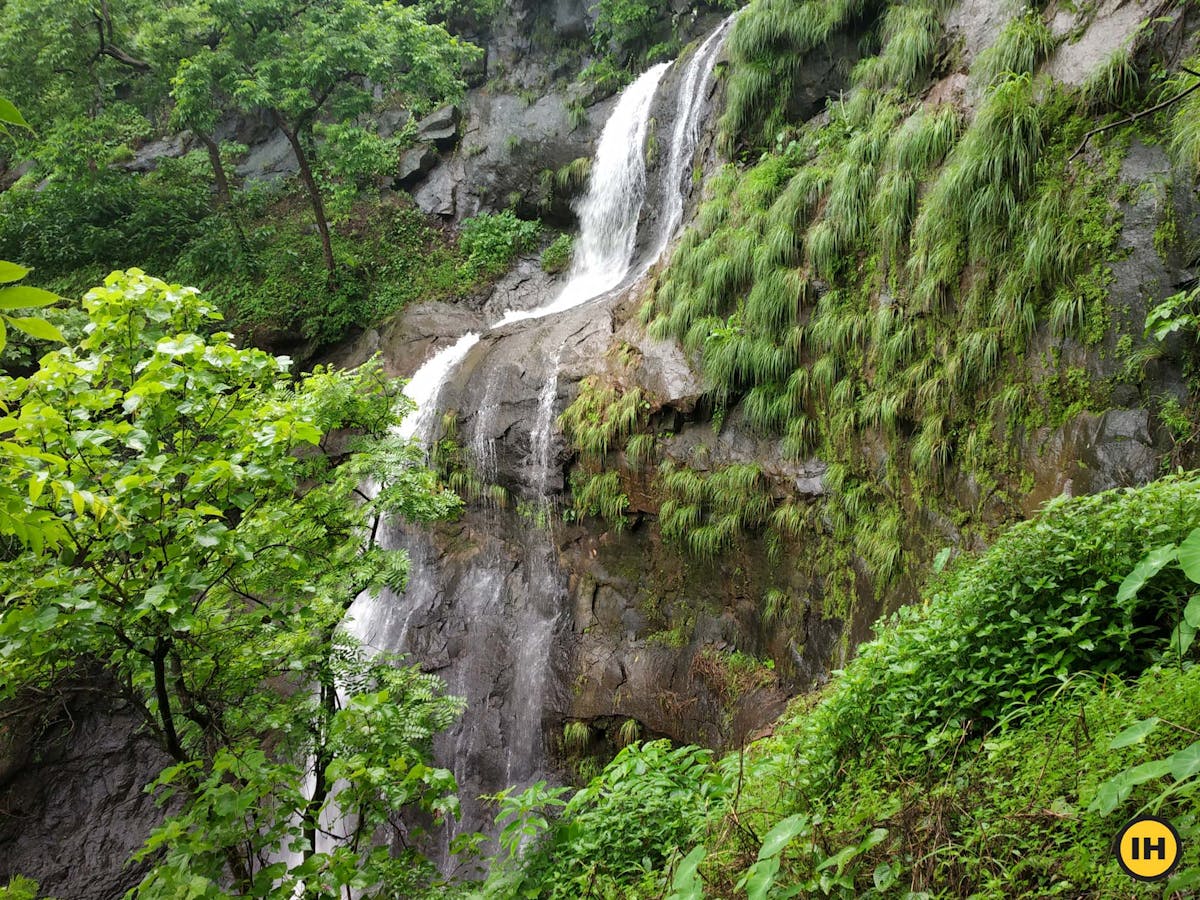 A hidden waterfall on the trail to Peth Gaon. Picture by Saurabh Sawant
You'll come across a number of trails that cut through the mud walls. Don't get tempted. The steep mud walls are often saturated with water in peak monsoon and prone to landslides. Read more about it in the 'Difficult sections' tab of the trek page. 
The trail is steep enough to work up a sweat but doesn't leave you breathless- perfect for a weekend workout!
After what might seem like an eternity of hairpin turns, the trail eventually straightens out and you are greeted by this stunning visual-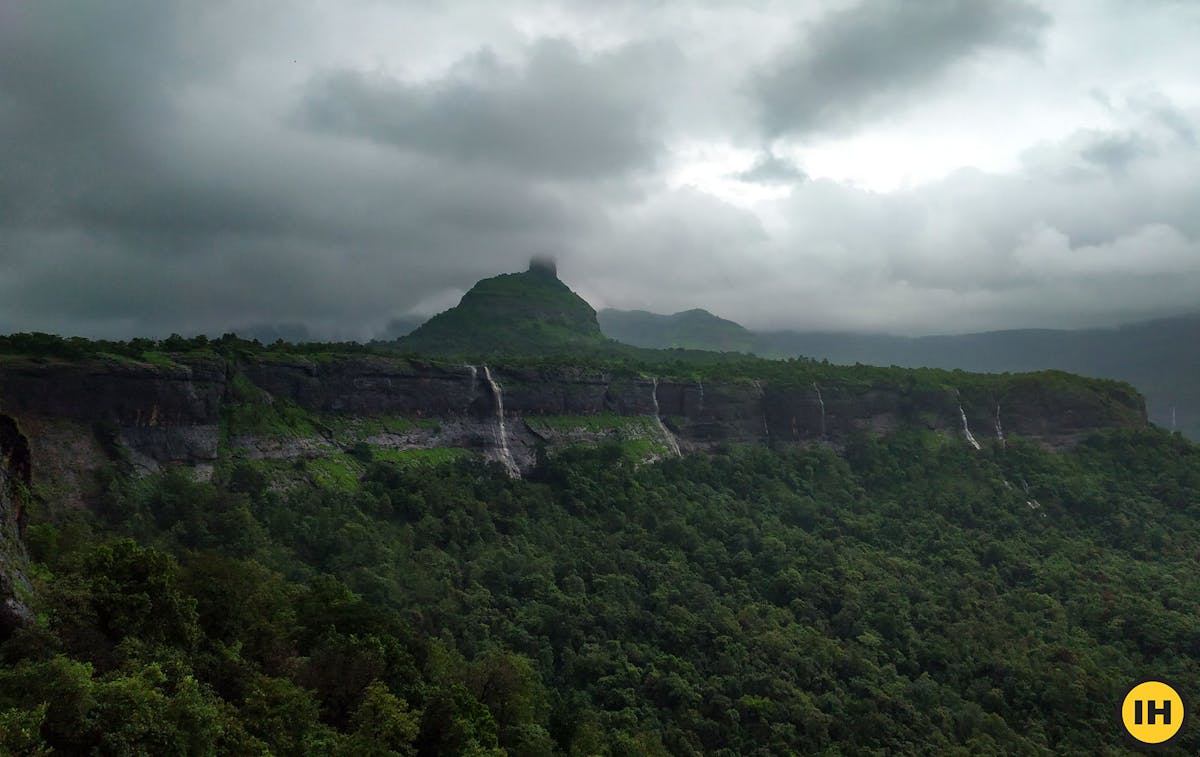 Kothaligad is enveloped by clouds as waterfalls cascade down the Peth plateau. Picture by Saurabh Sawant
Sit down here for some well deserved rest and take in the view. The wind here is especially strong, often turning the waterfall into a misty spray as it plunges down into the valley.
Try not to get too enamored with the scene though- you have a fort to climb!
As you start walking again, the trail dips for a short distance and then climbs back up to reach the plateau. The trail here is flanked by seasonal paddy fields, the primary means of subsistence for residents of Peth gaon.
Not long after the paddy fields, Peth gaon comes into view. The trail again forks at this point, with the straight trail leading directly to fort while the right diversion takes a detour through village.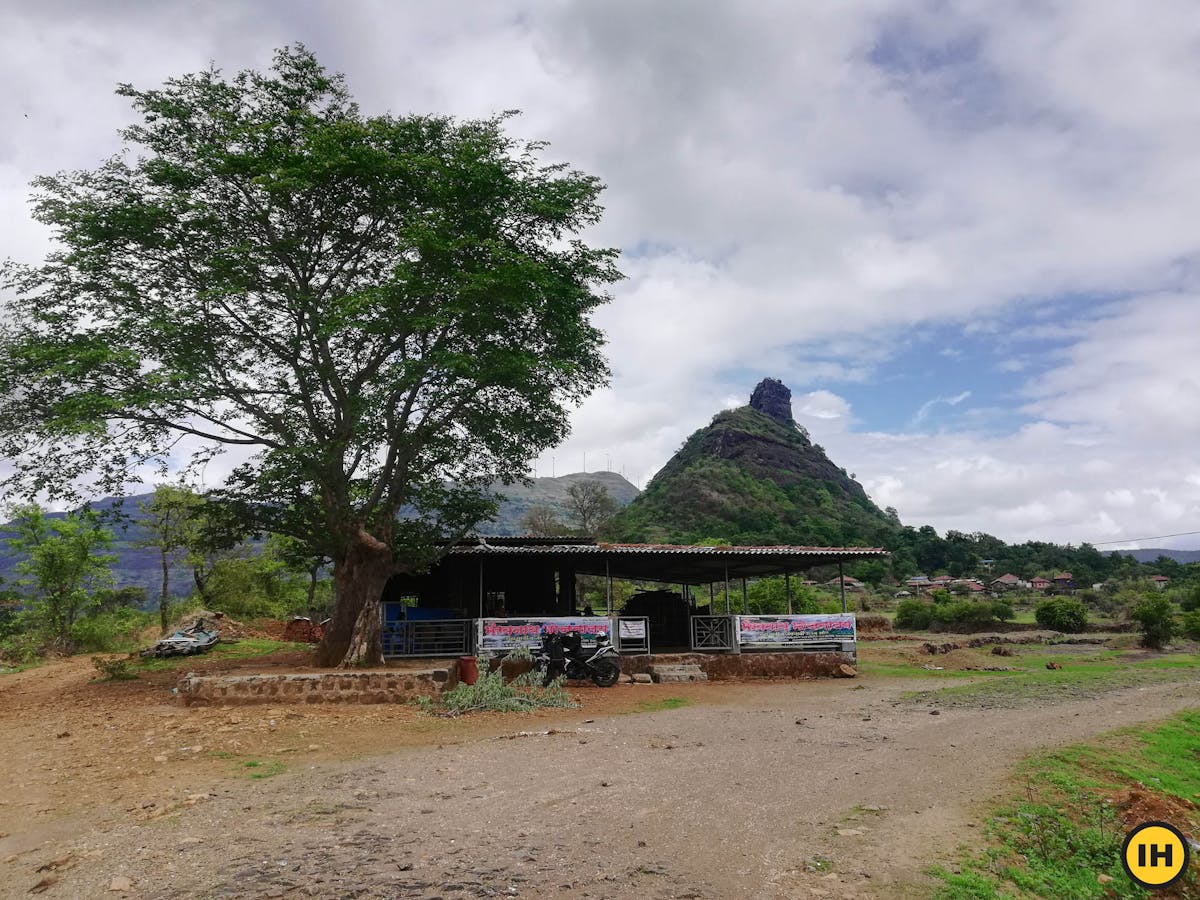 The trail forks near Bhairavnath Bhojanalay. Turn right for Peth Gaon. Picture by Shardul Neswankar
Section II: Peth Gaon (1475 ft) to Kothaligad (2,033 ft)
Trek distance: 1.6 km; 800 ft ↑ & 80 ft ↓
Trek duration: 1.5-2 hours
GPS coordinates of Kothaligad: 18°59'32.16"n, 73°30'45.35"e

Upper Peth Gaon. Picture by Himanshu Kohli
Turn right to reach Peth gaon where you'll have to pay an entry fees of Rs 20 per head. You can also hire a guide here for Rs 50 per head.
Peth gaon is the typical Sahyadri village with houses built around a central well. Cross the village, evade a few hens that try their best to come under your feet and join the straight trail. Another 100 metres and you'll find another cluster of even fewer houses. This is upper Peth gaon.
Turn right for Kothaligad or proceed straight for Nakhind tok.
This final stretch from upper Peth gaon to the fort is the most exhausting and exciting part of the trek. As the trail narrows down to a couple of feet wide, the terrain too changes from a mud track to a steep rocky path punctuated by water streams.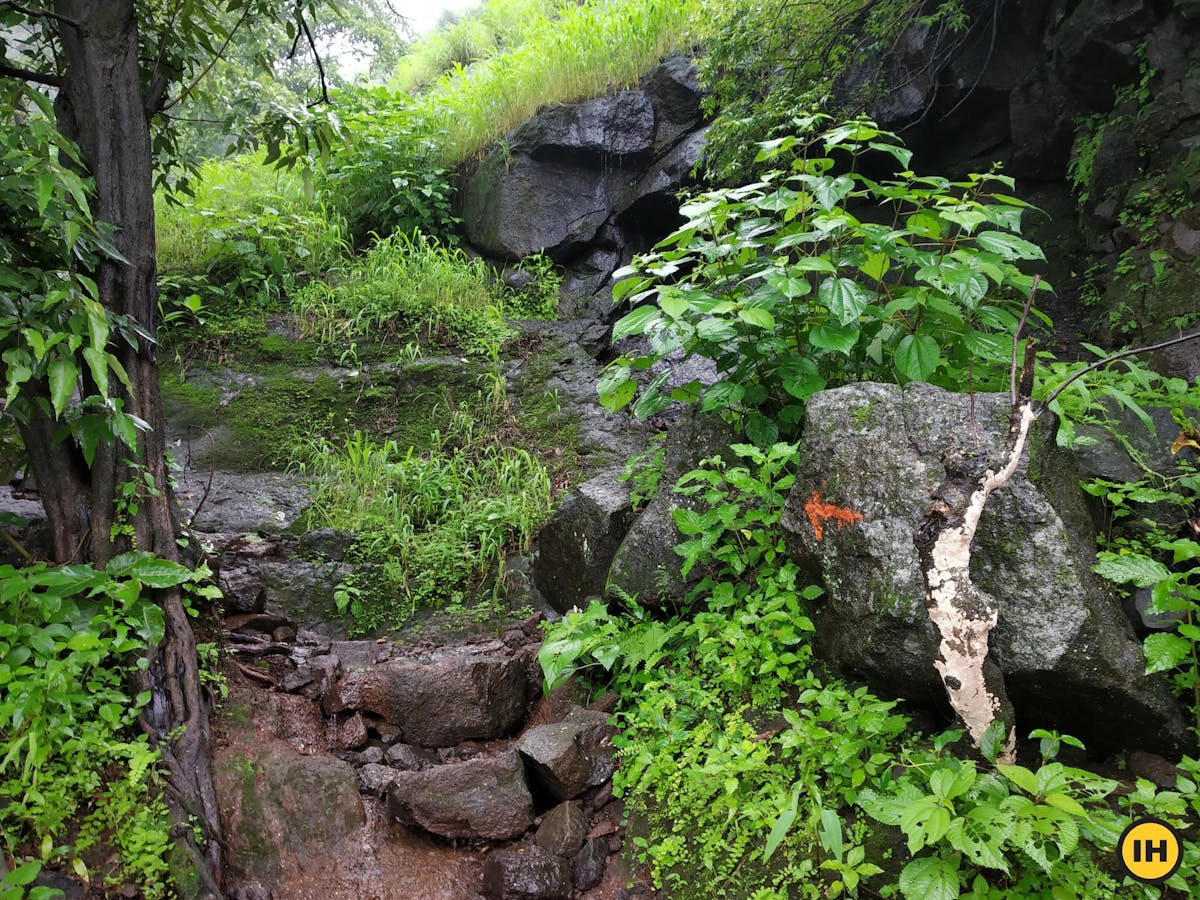 Arrows are painted on rocks at regular intervals to help trekkers stay on the correct trail. Picture by Saurabh Sawant
As you rapidly gain altitude, slow down and look back at the plateau during short breaks. Every short ascend gives you a completely new perspective of the valley.
During weekends, you'll find local people selling lemonade on this stretch of the trail. Soon enough, the first of the many dilapidated doors of the fort will greet you.
A little beyond the door, the trail seems to abruptly end at a flat slab of rock that might seem treacherous at first sight. However, look closely and you'll find steps carved in the rock to help one negotiate this stretch.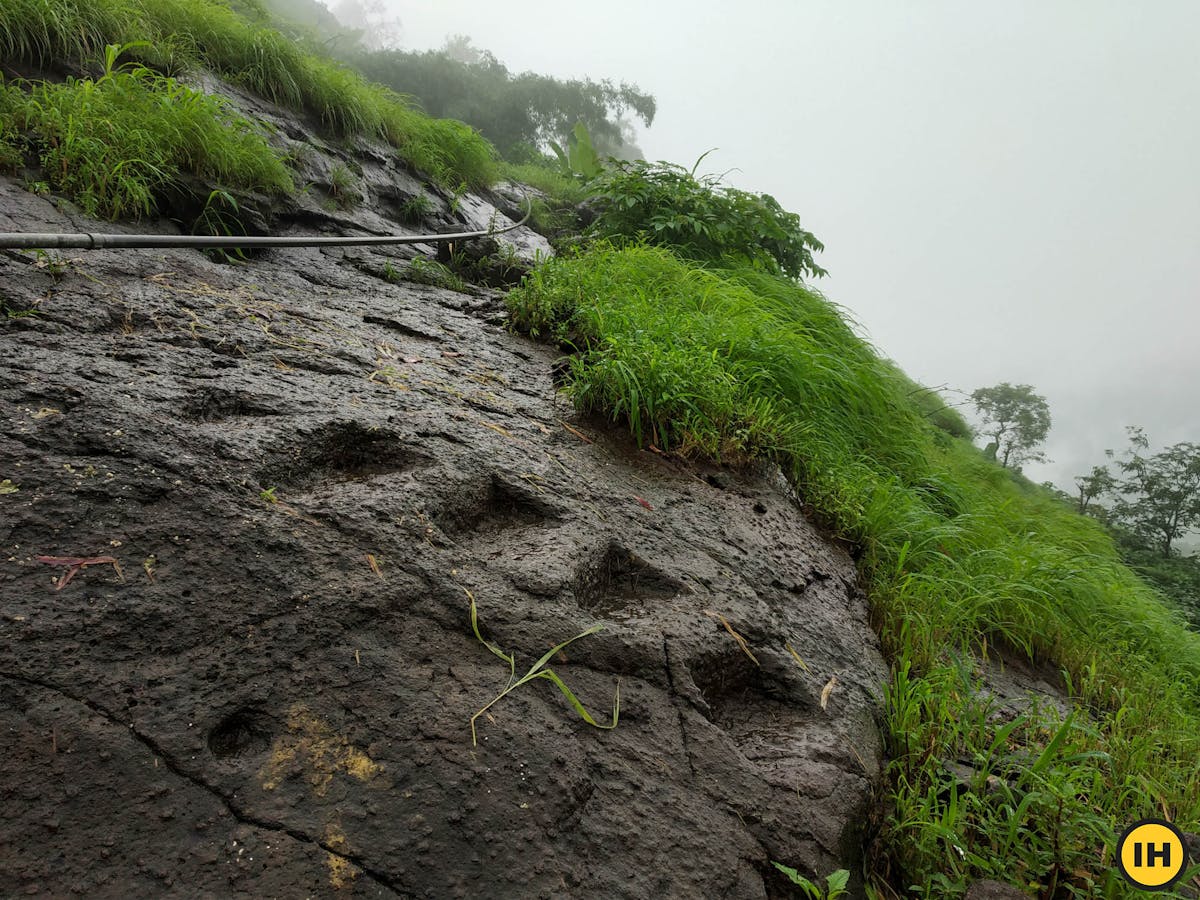 Steps carved in the rock slab. Picture by Saurabh Sawant
Mentally mark this point. It's where another trail from the fort intersects this one. A little caution is advisable on the stretch ahead, especially in monsoons.
Another short burst of steep ascent and the trail suddenly ends at the ridge with a terrific view. Turn left and another spectacular sight awaits you-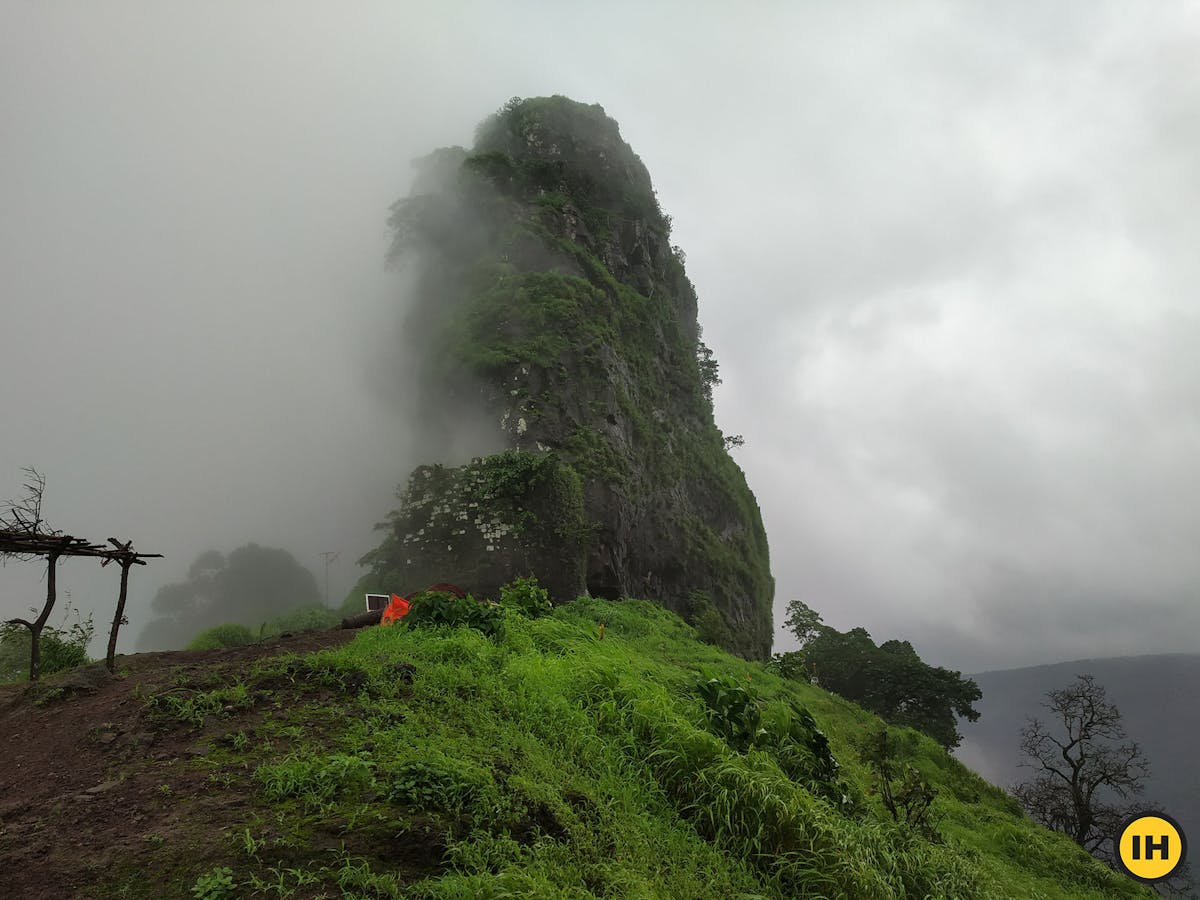 The fort of Peth is usually enveloped in fog during monsoon. Picture by Izzat Yaganagi
At first, this solid block of rock might seem insurmountable but surprisingly, it isn't. The majestic cannons, placed at the gateway to the fort, are a stark reminder of the violent times this fort has been witness to.
Here, the trail splits into two with each going around the fort from different directions. During monsoons, avoid the trail on your right. As you proceed on the left trail, you'll come across an idol placed in a niche carved in the rock. Pay your respects and pass a series of caves and enter the biggest one.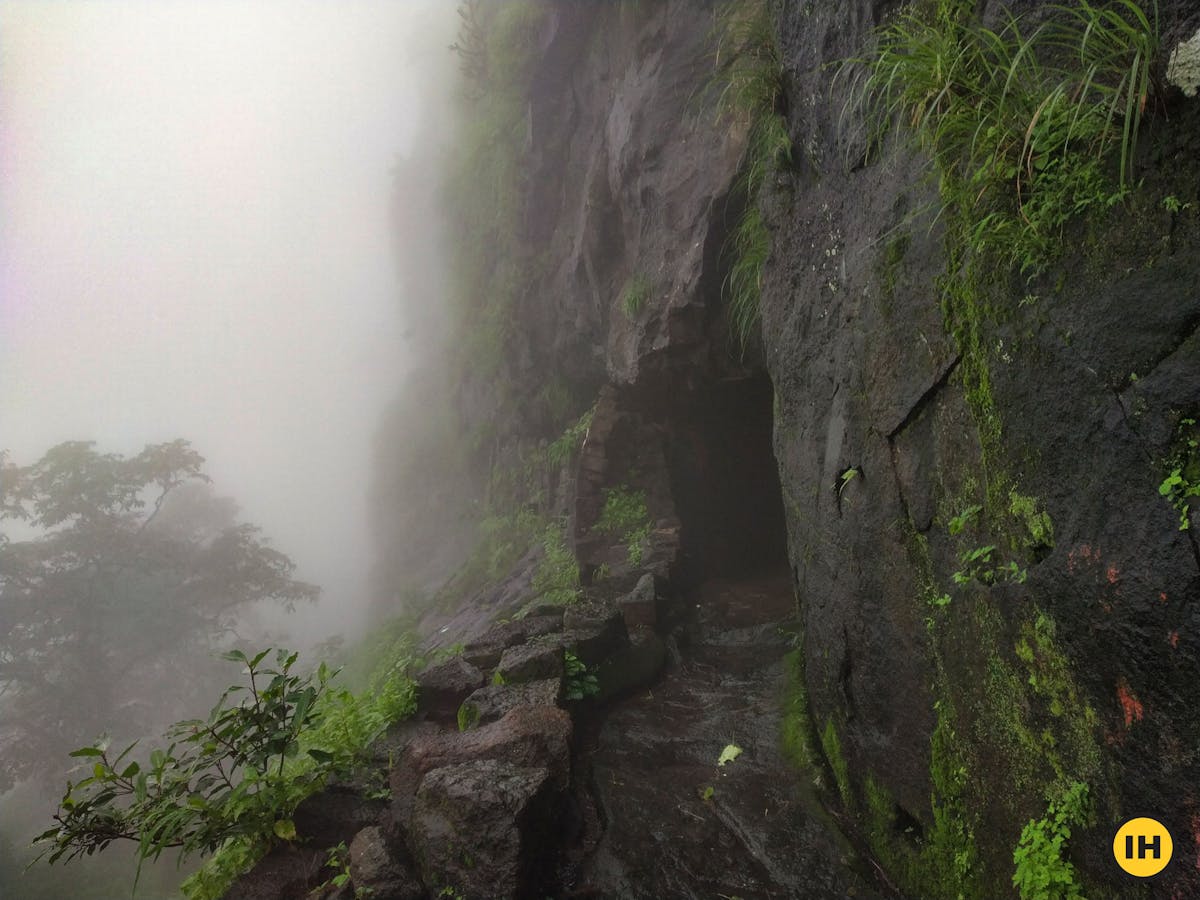 The path to the cave temple of Bhairoba. Picture by Saurabh Sawant
This is the largest cave on Kothaligad, dedicated to Bhairoba. The cave itself is beautifully carved with windows for illuminating the place. On the right end of the cave is a ledge with idols placed on it for worshiping. Behind the idols is a small window that leads to a smaller cave inside. Do not venture into it if you don't fancy a bat banging into your face on its random flights around the cave!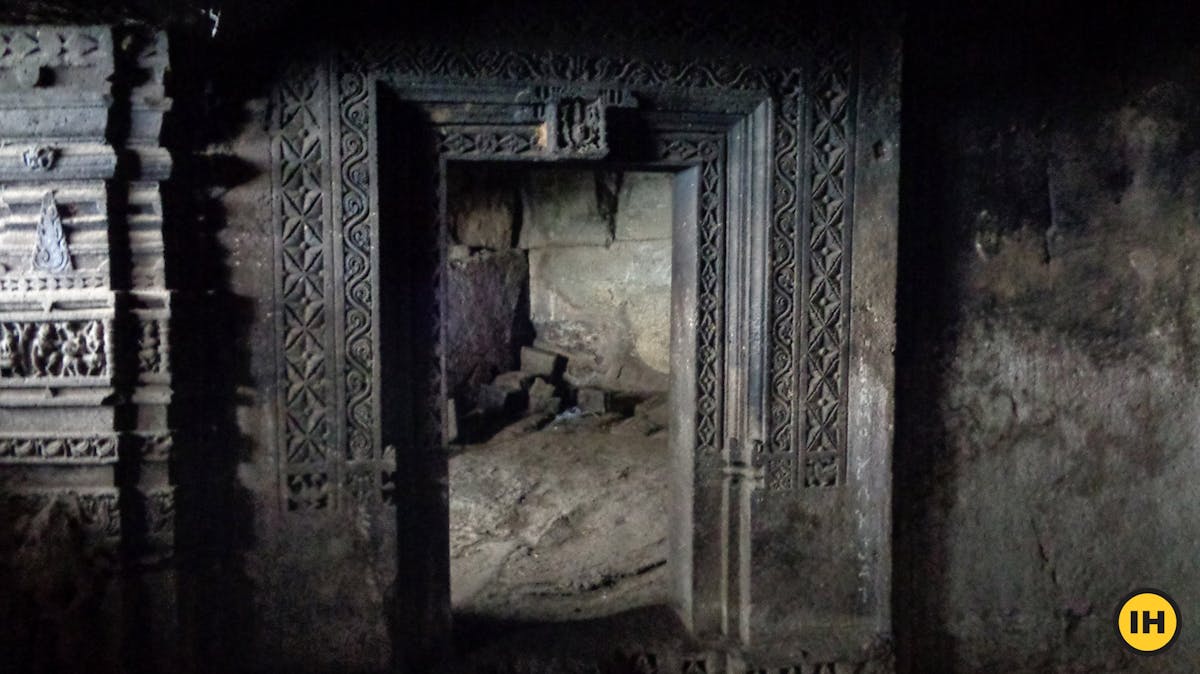 Intricate carvings on the inner cave's door. Picture by Sudarshan Oulkar
The main cave, however, is pretty clean and habitable and can comfortably house 15-20 people. Once you are done paying respects, turn back and enter the first cave on your left. It's a temple dedicated to the fort's deity with the entrance painted in saffron colours. 
The cave immediately after the temple is our main attraction of the trek- a chimney-like climb to the top of the fort.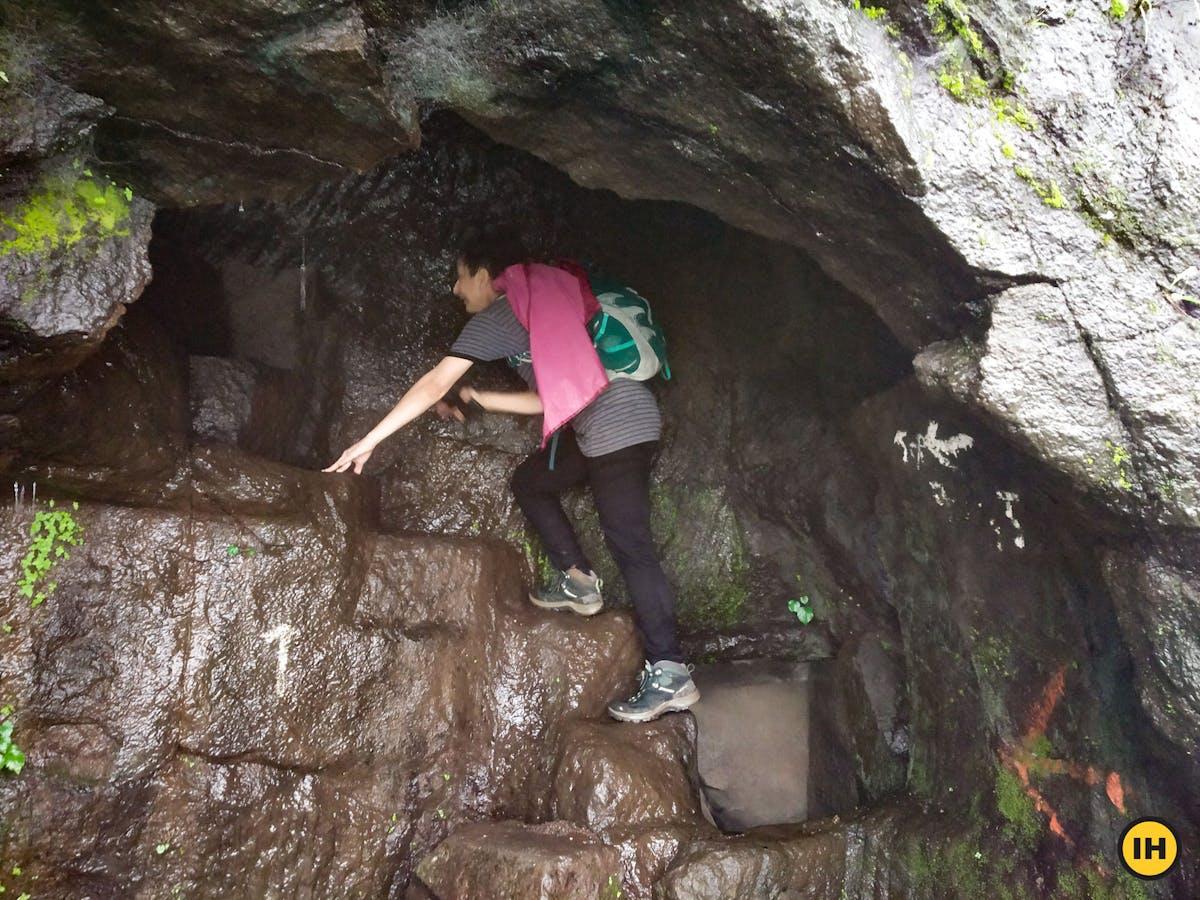 The tunnel-like structure has steep rock-cut steps that help you ascend to the top. Picture by Saurabh Sawant
A series of very steep steps carved in the rock quickly lead you up the fort structure, passing couple of tiny caves and water cisterns. Be careful in this stretch during monsoons. As you climb up the fort, you cannot help but be amazed at the thought that went behind this marvelous construction. It essentially ensured that even a small group of soldiers would be able to hold out against a large invading army, courtesy the narrow approach!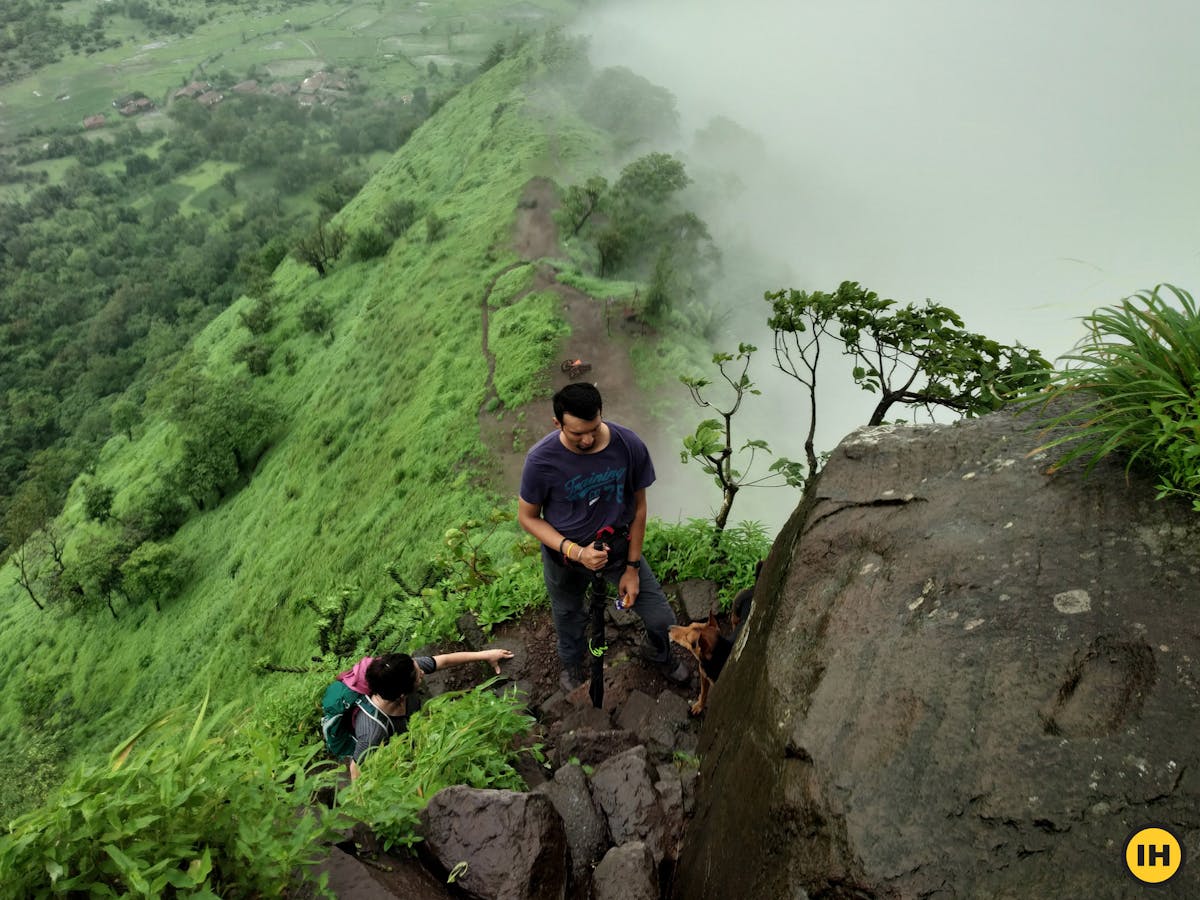 One of the slightly difficult sections of the trek. Picture by Saurabh Sawant
As you finally emerge from the staircase, the final door awaits you. Look closely and you'll find carvings of lions and elephants on the walls leading to the door.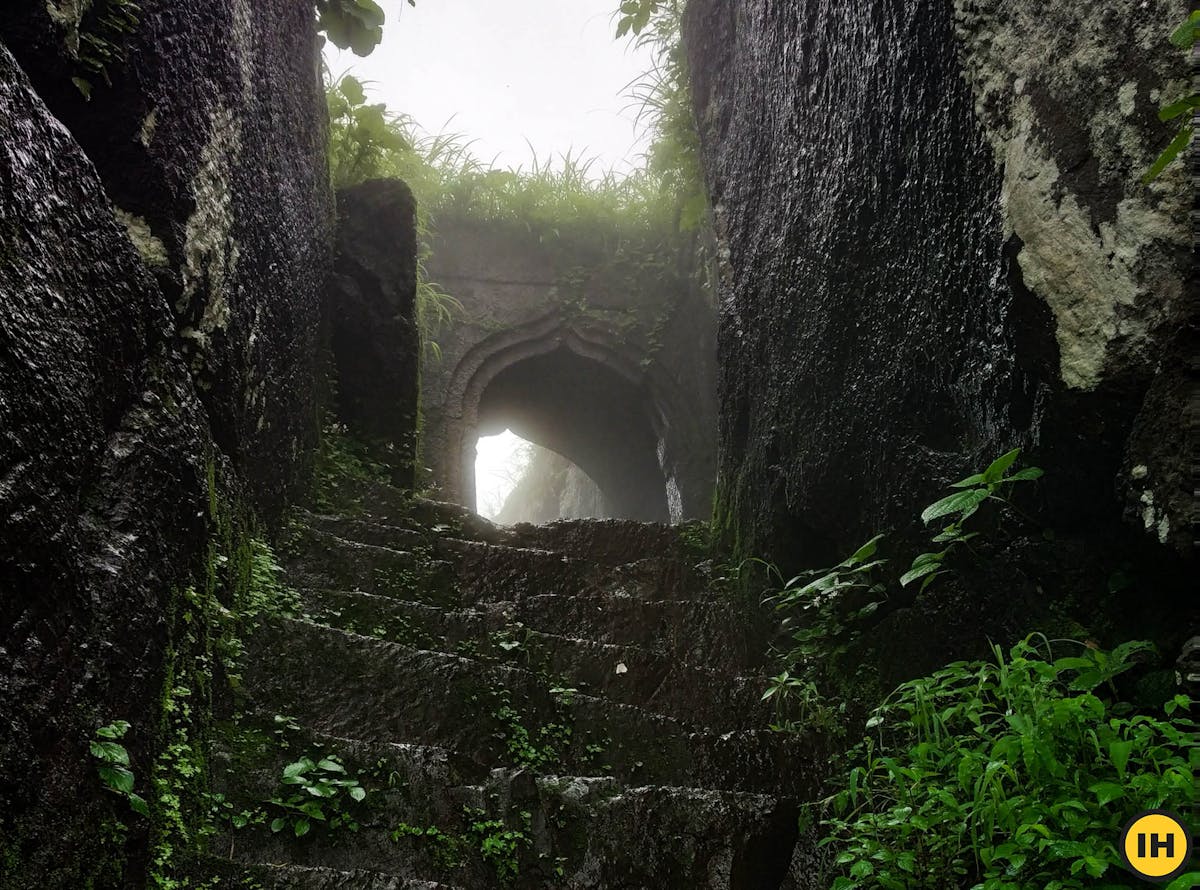 Gateway to heaven- last of the numerous fort doors. Picture by Saurabh Sawant
A water cistern and a few remnants of fortification is all that indicates that there used to be a fort on the peak of this hill. The peak itself isn't huge by any stretch of imagination but a walk around its periphery reinforces the fort's importance from a strategic point of view. Standing detached from the main range of Bhimashankar, it provides an unrivaled vantage point to keep an eye on the surrounding region.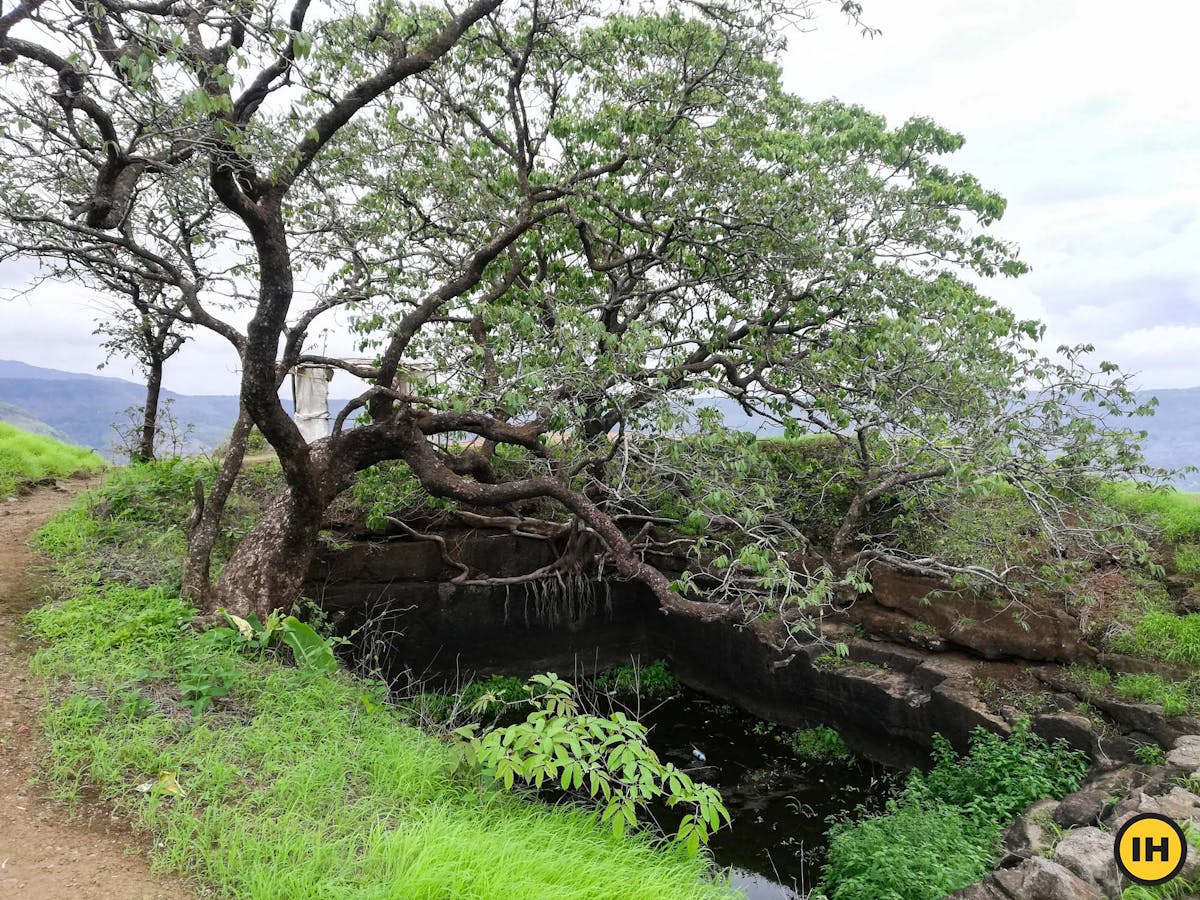 Water cistern on the peak of the fort. Picture by Shardul Neswankar
As you descend down the fort, continue along the same path until you reach the cave temple. From the temple, instead of turning left for the trail you ascended by, continue straight down to the lower level of the fort and turn right.
The trail is sandwiched between dilapidated fort walls on your left and water cisterns on your right. Walk along this stretch to reach the southern end of the fort where you'll find this perfectly carved cave in the base of the hill-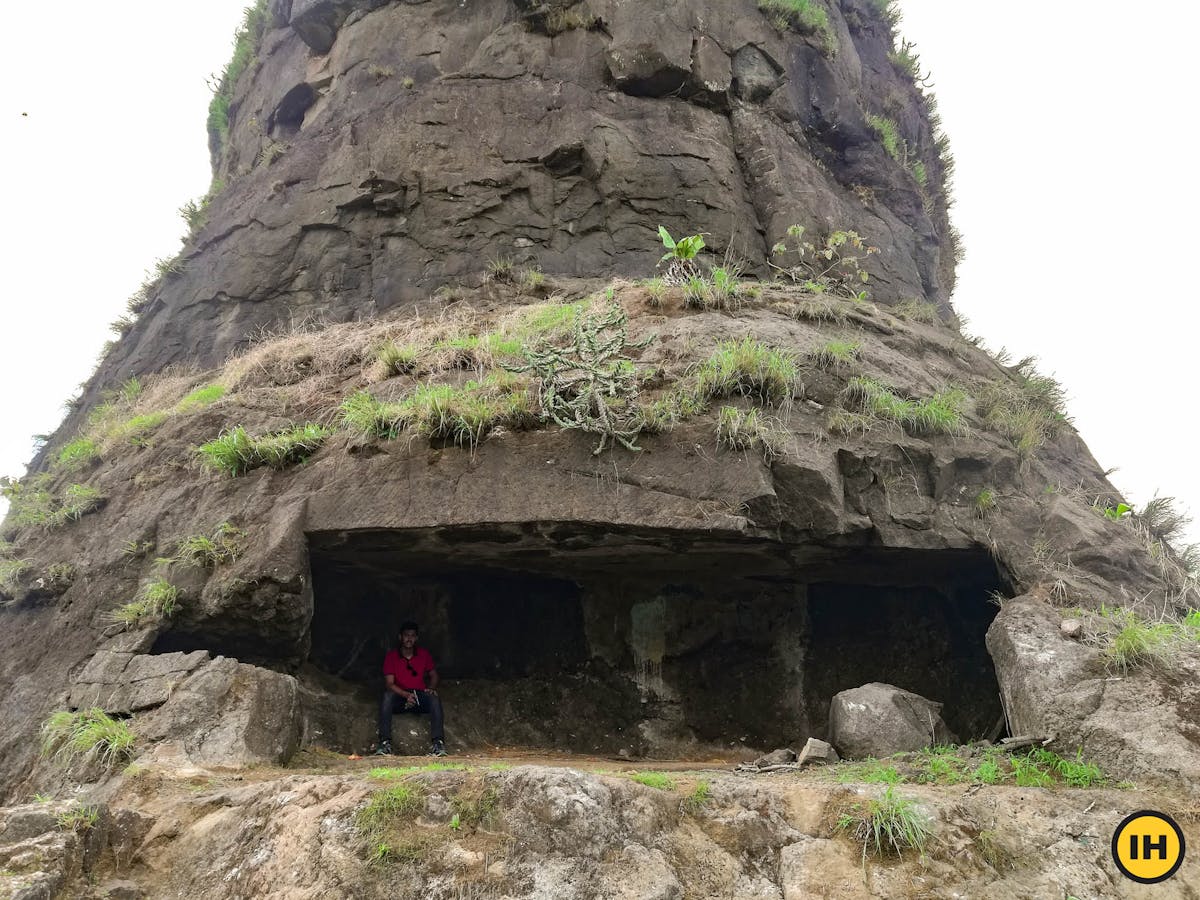 Cave at the southern end of the fort. Picture by Shardul Neswankar
This is an excellent spot to have your lunch. Protected from the elements and with a view to boot! Return along the same trail until you notice another ruined door on your right.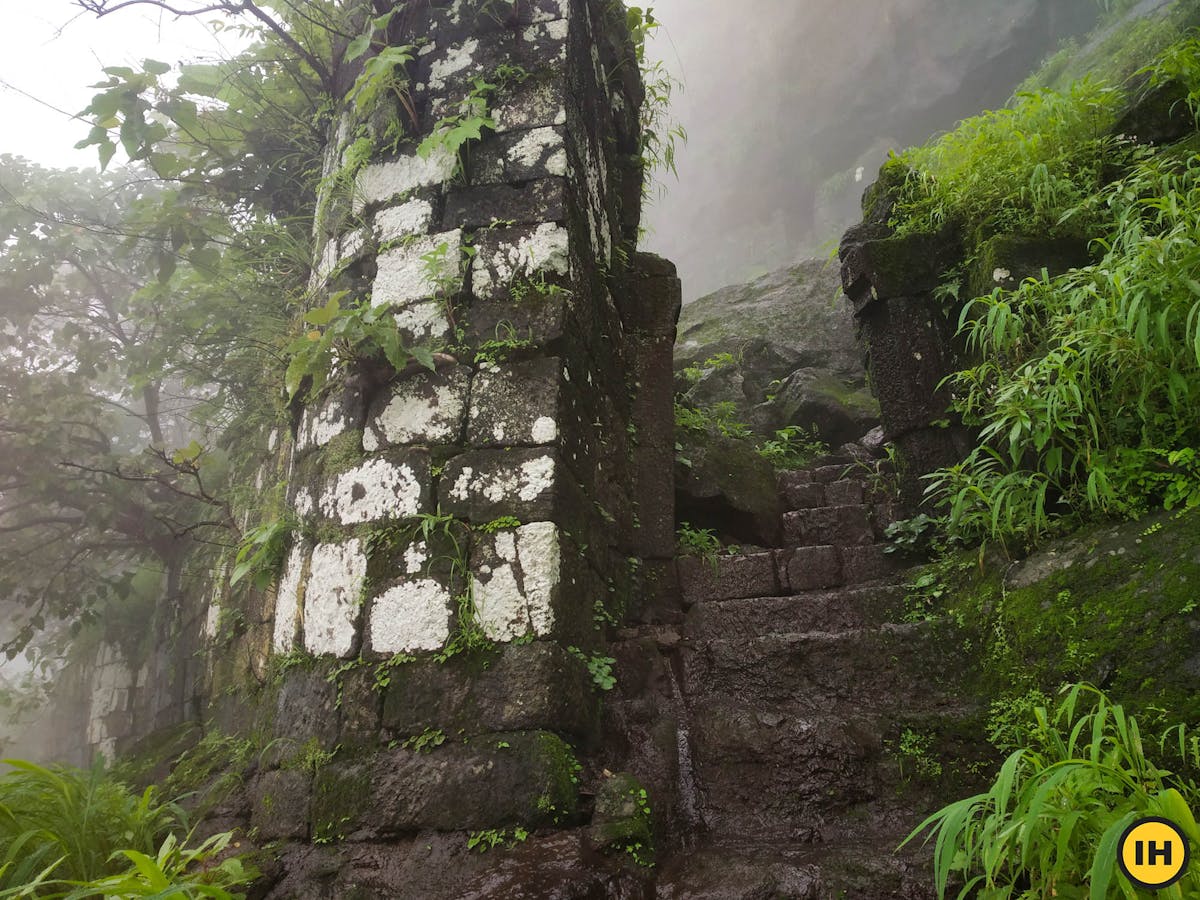 One of the many doors to the fort. Picture by Saurabh Sawant
This trail is a mix of stone steps and slippery gravel, so descend carefully. Soon enough, you'll reach the flat slab of rock mentioned earlier in the photo-story. Continue along the trail until you reach upper Peth gaon and bypass the gaon by heading straight. This trail is a lot more fun, especially during monsoon when it transforms into a gentle stream.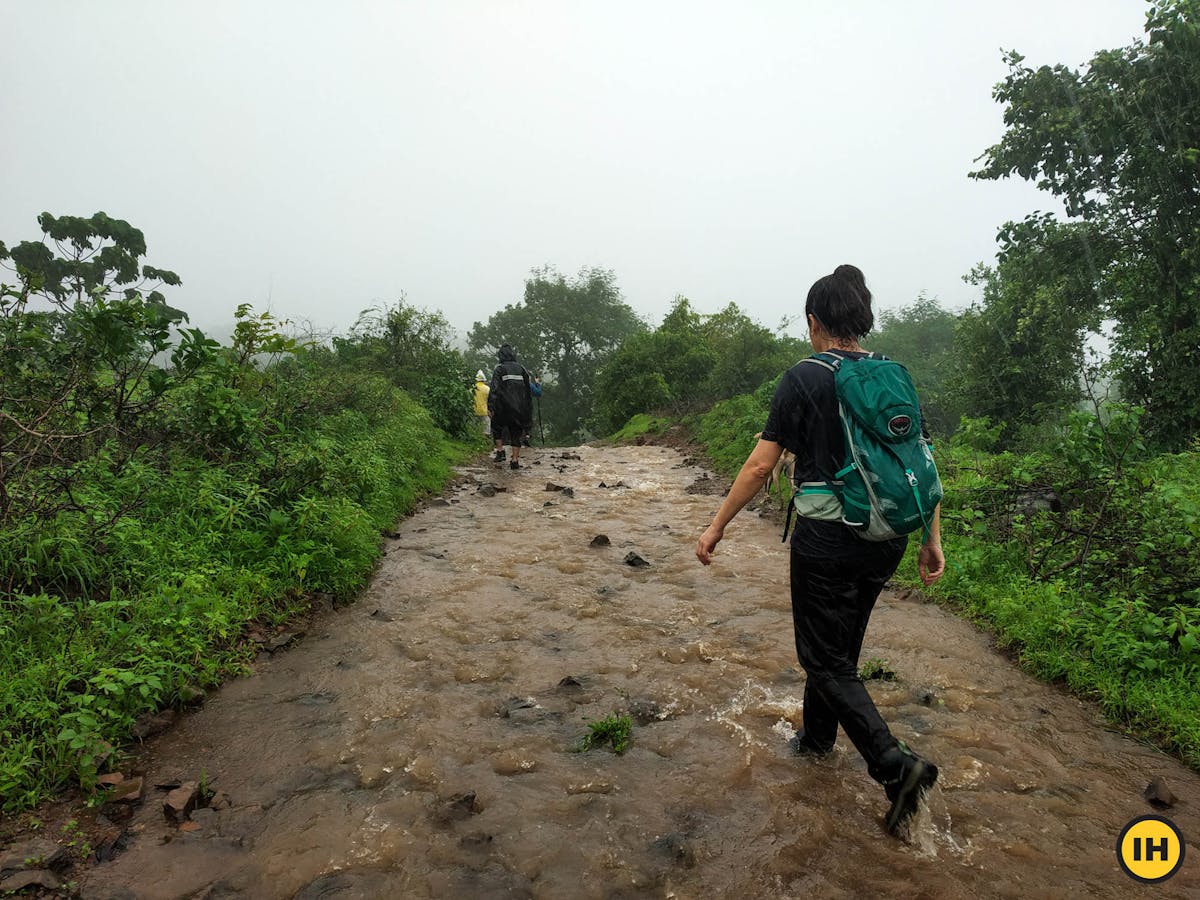 The straight trail from upper Peth gaon transforms into a mini stream in monsoons. Picture by Saurabh Sawant
You'll also cross a small pond on your left before the trails merge near Bhairavnath Bhojanalay. As you keep descending, do take a moment to turn and look back at the splendid hill you just ascended.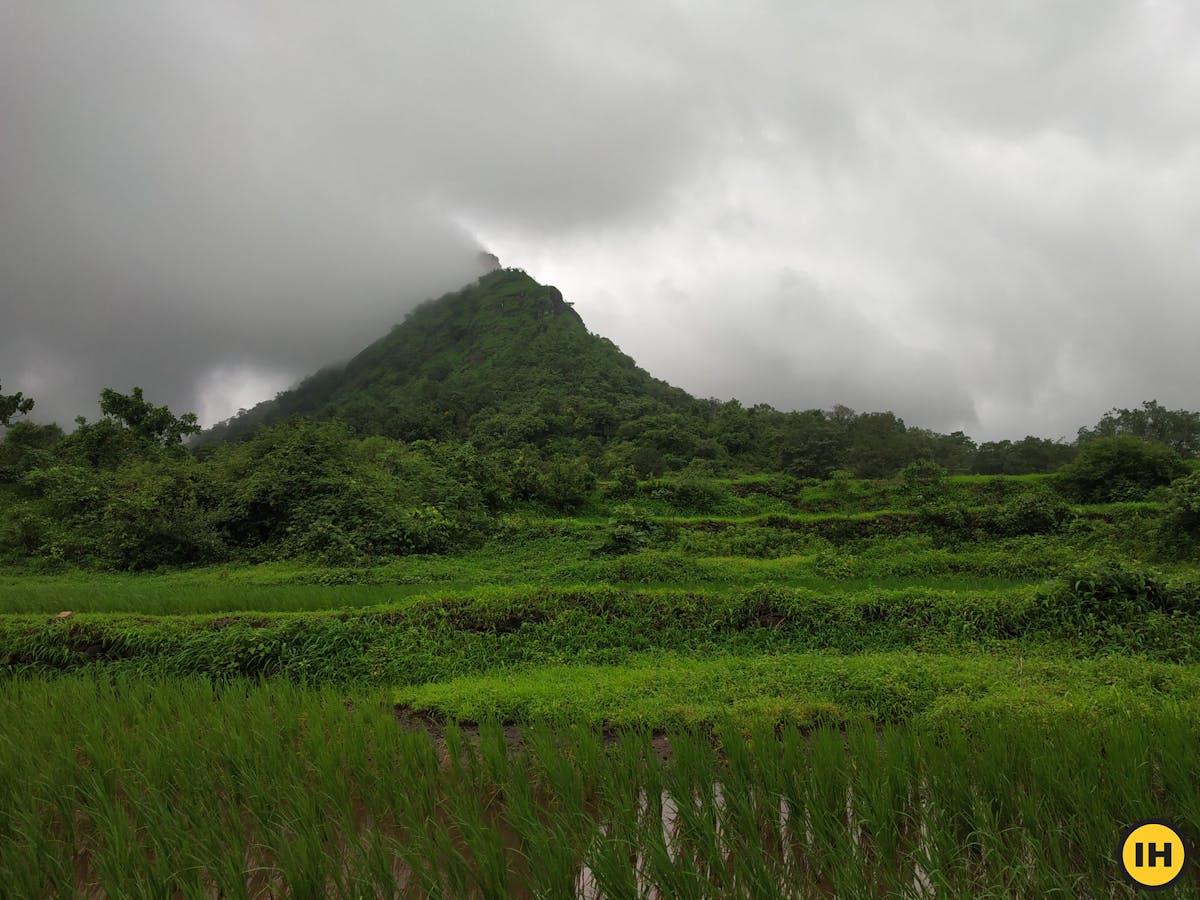 Kothaligad is obscured by clouds as lush green paddy fields sway to the breeze in the foreground. Picture by Saurabh Sawant
The path back to Ambivli is the same that you ascended from but a lot more fun while descending! Treat yourself to a light snack or piping hot cup of coffee at the base before heading back to the chaos of city-life.
➤ Alternative Trails to the Fort:
1. Jamrung-Upper Peth gaon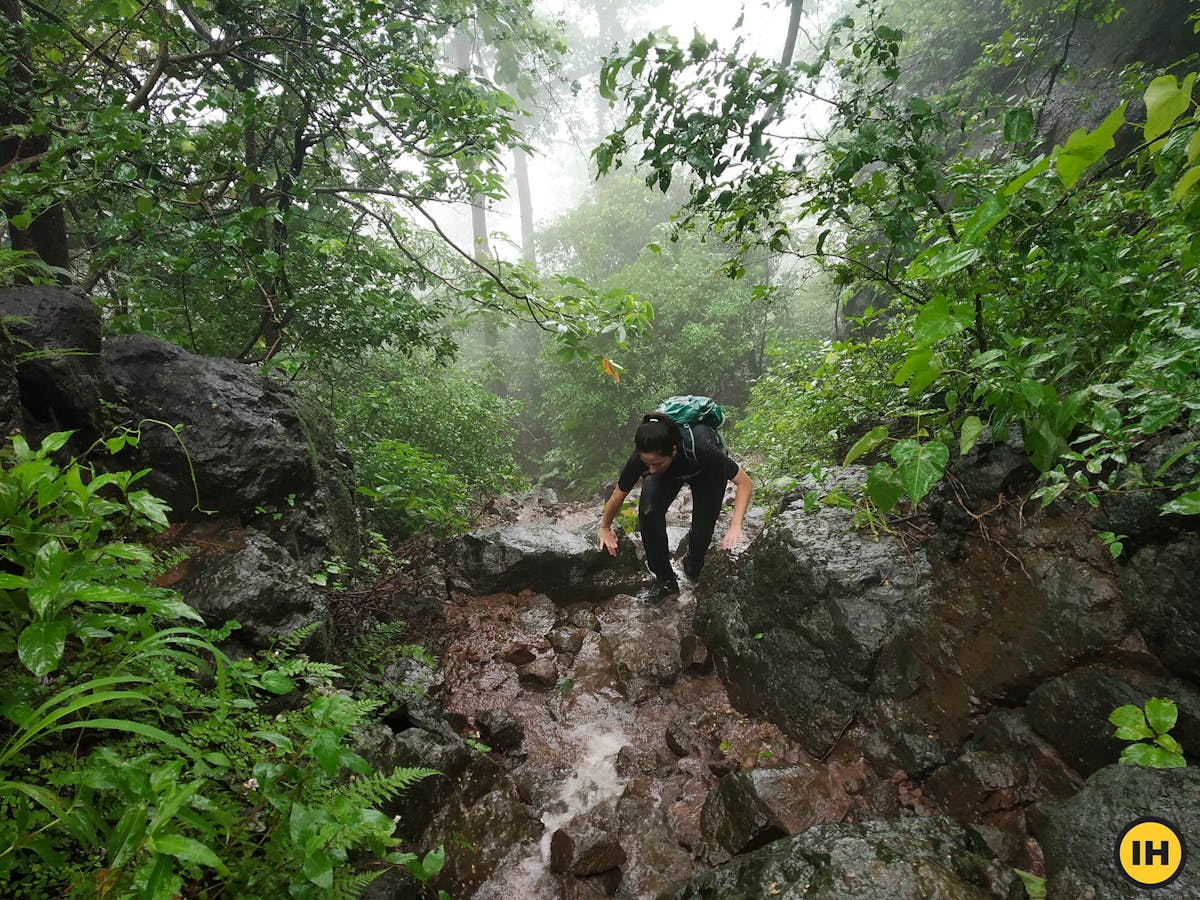 The steep narrow trail to Peth Gaon from Misty hills, Jamrung. Picture by Saurabh Sawant.
This is slightly more difficult and therefore, less popular trail to the Peth fort. It originates from the Jamrung village, a little ahead of Ambivli. It passes through private property, so it might or might not be accessible depending on the time of the day.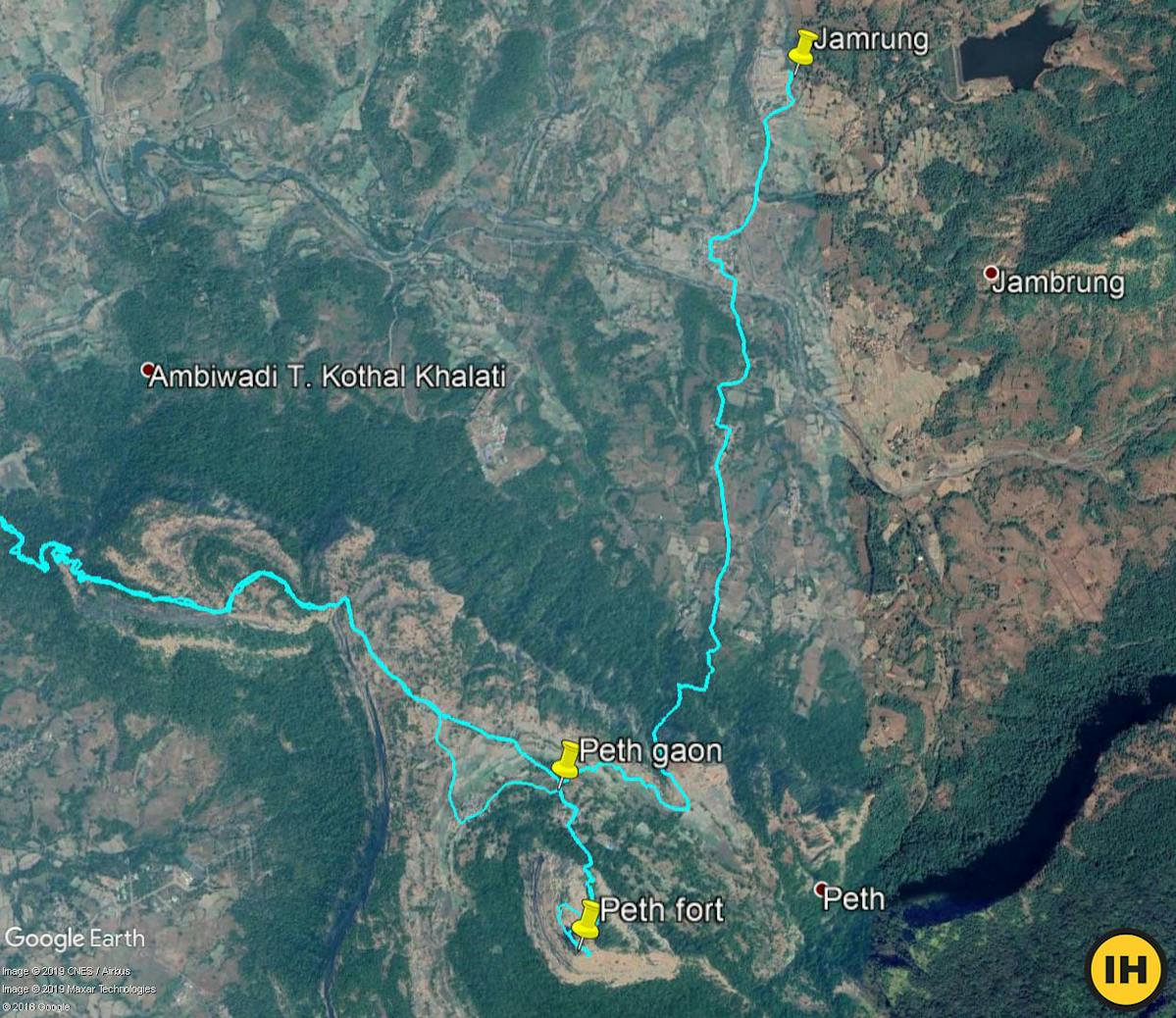 A satellite imagery of the Jamrung-Nakhind tok-Peth gaon route.
2. Bhalwadi/Padharwadi-Nakhind Tok-Upper Peth Gaon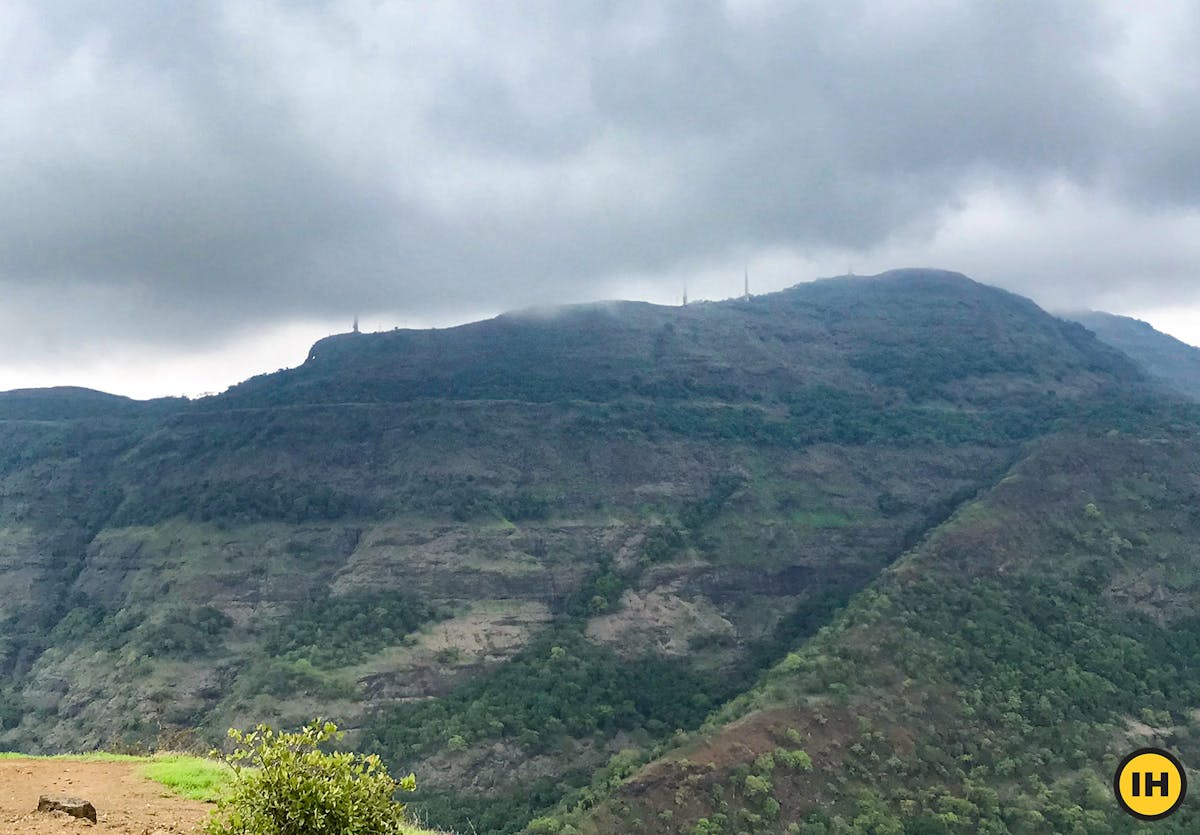 Nakhind Tok. The trail from Bhalwadi/Padharwadi descends along the central spur visible in this image. Picture by Himanshu Kohli.
This is one of the approaches to the fort from an  extension of the Bhimashankar plateau. This route is very rarely attempted and therefore, should only be explored with a guide. You can hire any person familiar with the route from either Peth gaon or Bhalwadi/Padharwadi.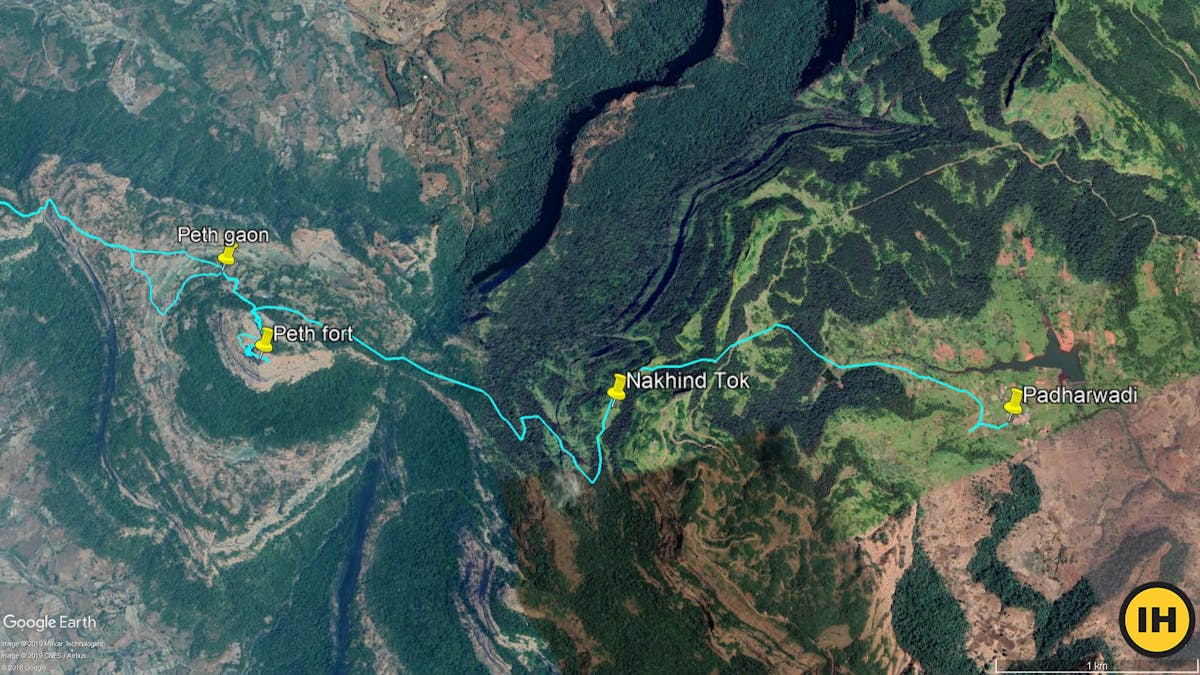 A satellite imagery of the Bhalwadi-Nakhind tok-Peth gaon route.
➤ Elevation Graph of Kothaligad trek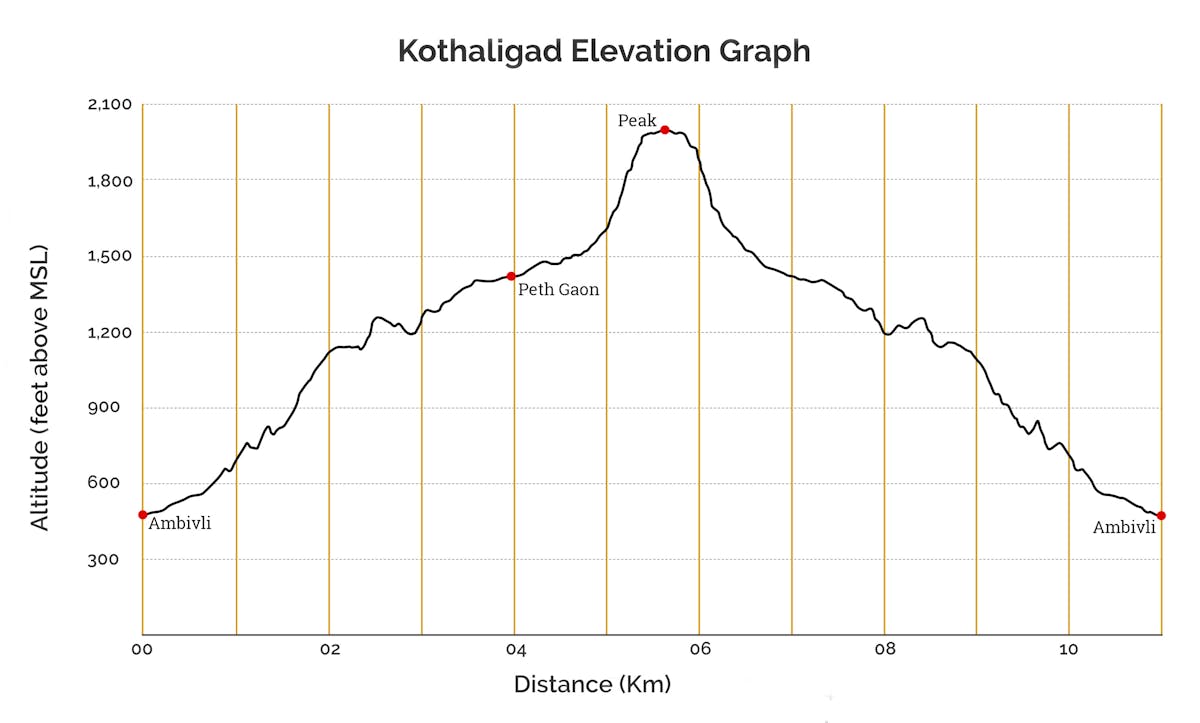 Total trail length: ~11 km
➤ How to Reach the Base of Kothaligad Trek
Nearest International and Domestic Airport
Chhatrapati Shivaji International Airport, Mumbai
Pune International Airport, Pune
Nearest Railway station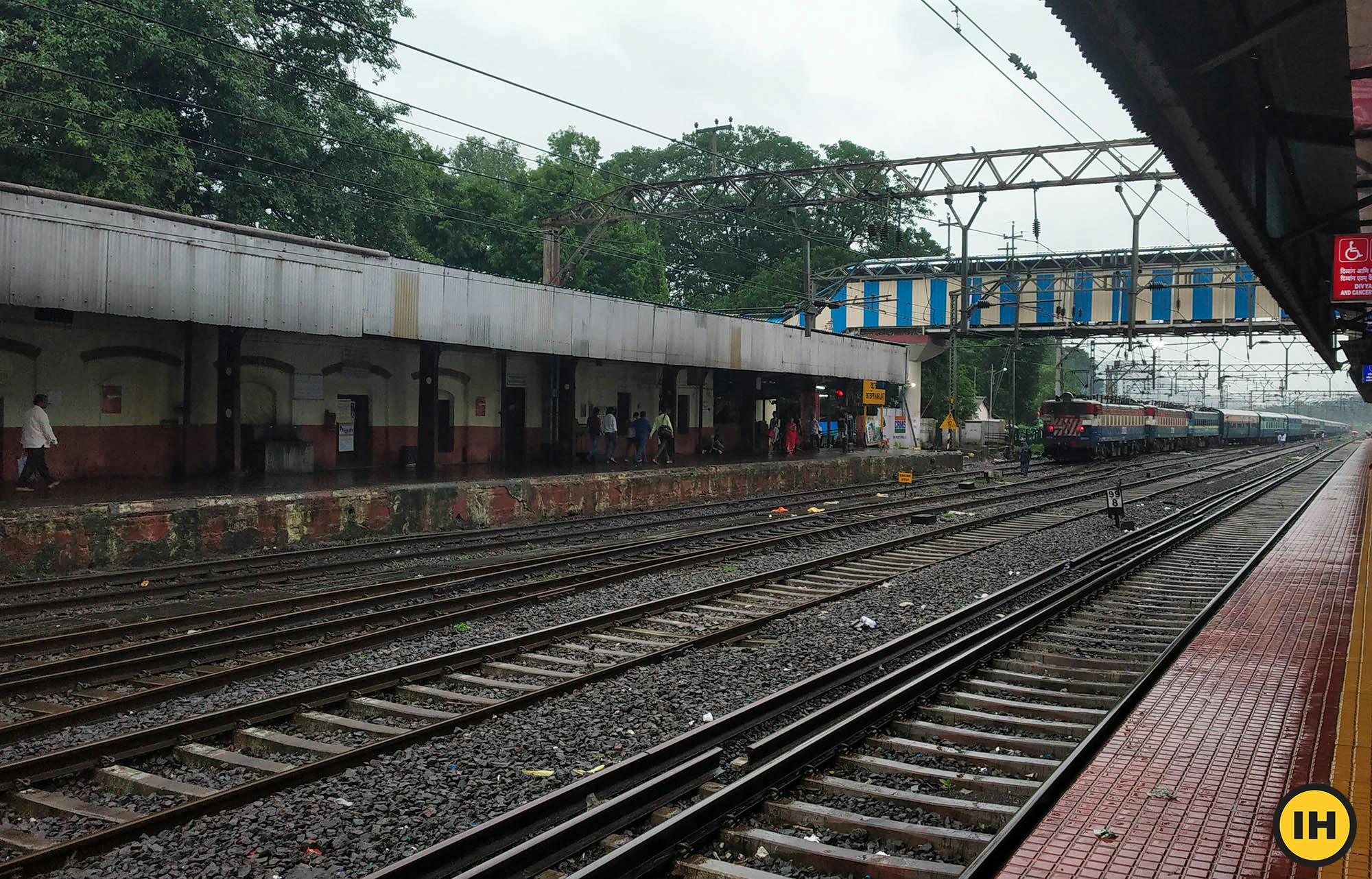 Karjat is the nearest major railhead for Kothaligad trek. It also boasts of excellent road connectivity with  Mumbai, Panvel (Navi Mumbai), Pune & Nashik.
Reaching Kothaligad By Your Vehicle
If you are planning to reach Kothaligad using your own vehicle, use this link to help set up navigation in Google maps.
Reaching Karjat By Public Transport System
From the Mumbai International Airport, the most convenient way to reach Karjat is as follows:
Mumbai International Airport → Airport Road Metro station → Ghatkopar railway station (Central Railway)→ Karjat railway station.
Reaching Ambivli From Karjat Using Public Transport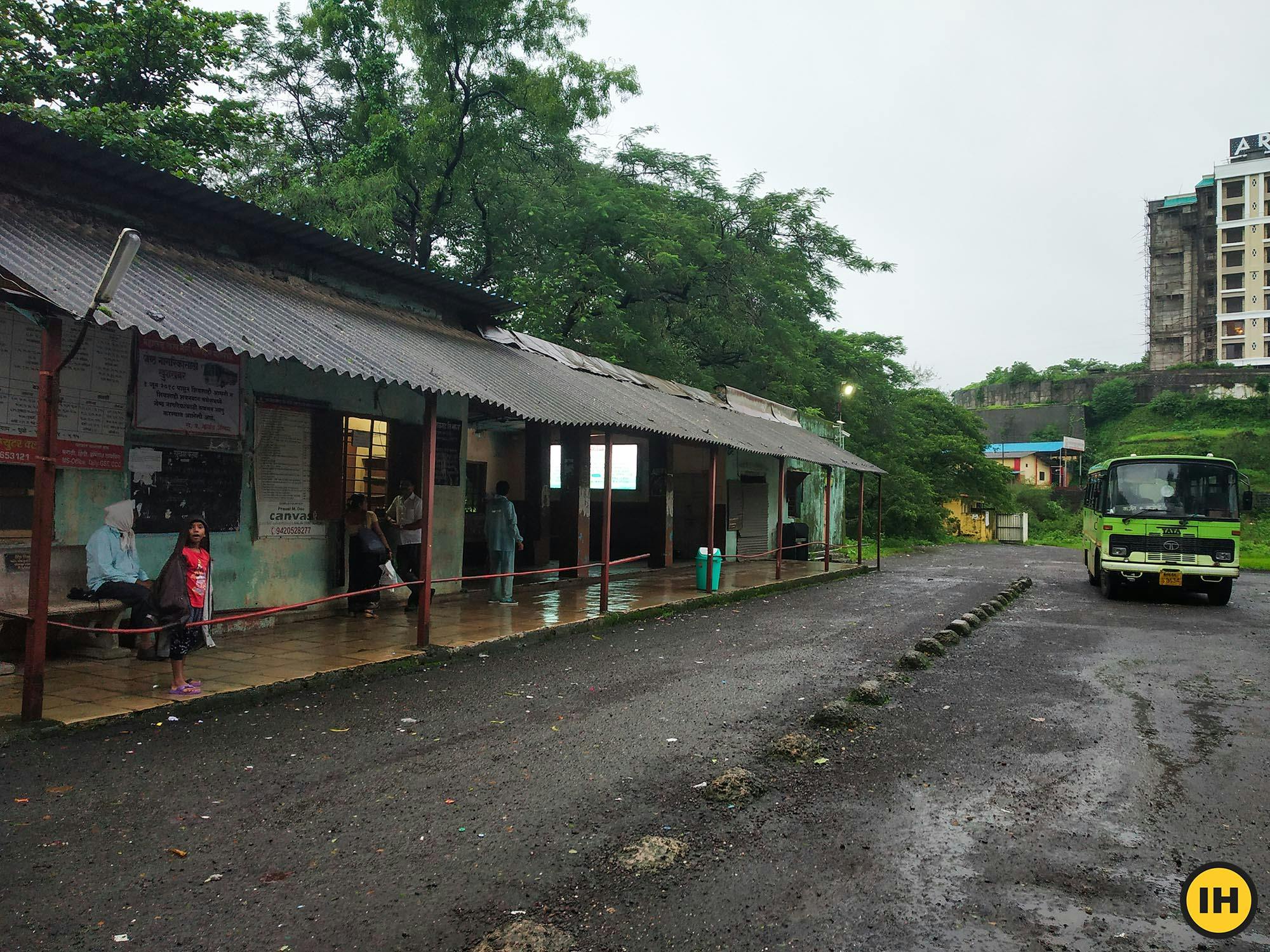 From Karjat Bus depot, you'll have to board a bus to Solanpada (Jambrung) or Meskar wadi. Ask the bus conductor for a ticket to Ambivli.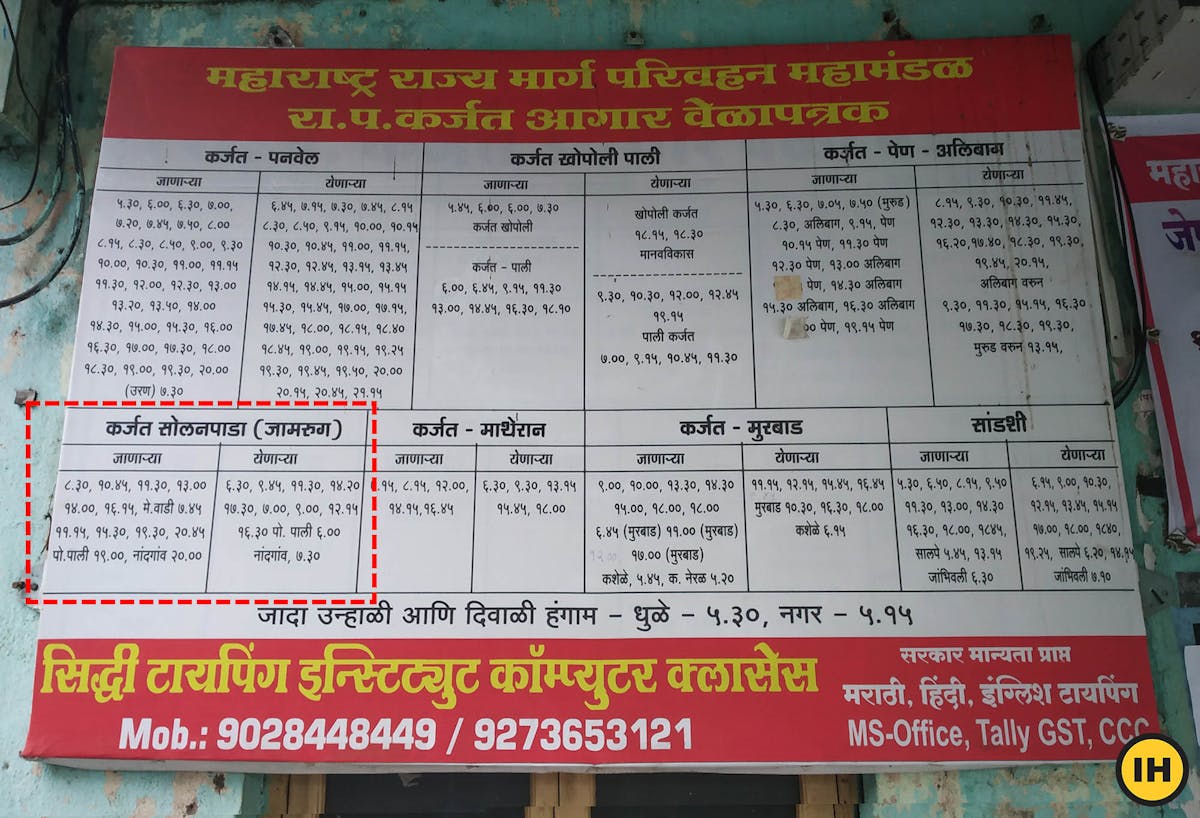 Karjat Bus depot timetable. Picture by Saurabh Sawant
Here are the bus times in English:

➤ How Difficult is the Kothaligad trek
There are no sections on the Kothaligad trek that can be classified as difficult as such. However, a trekker must always anticipate and prepare for every eventuality.
Here are a few things you should keep an eye out for:
1. Landslides (Monsoon specific):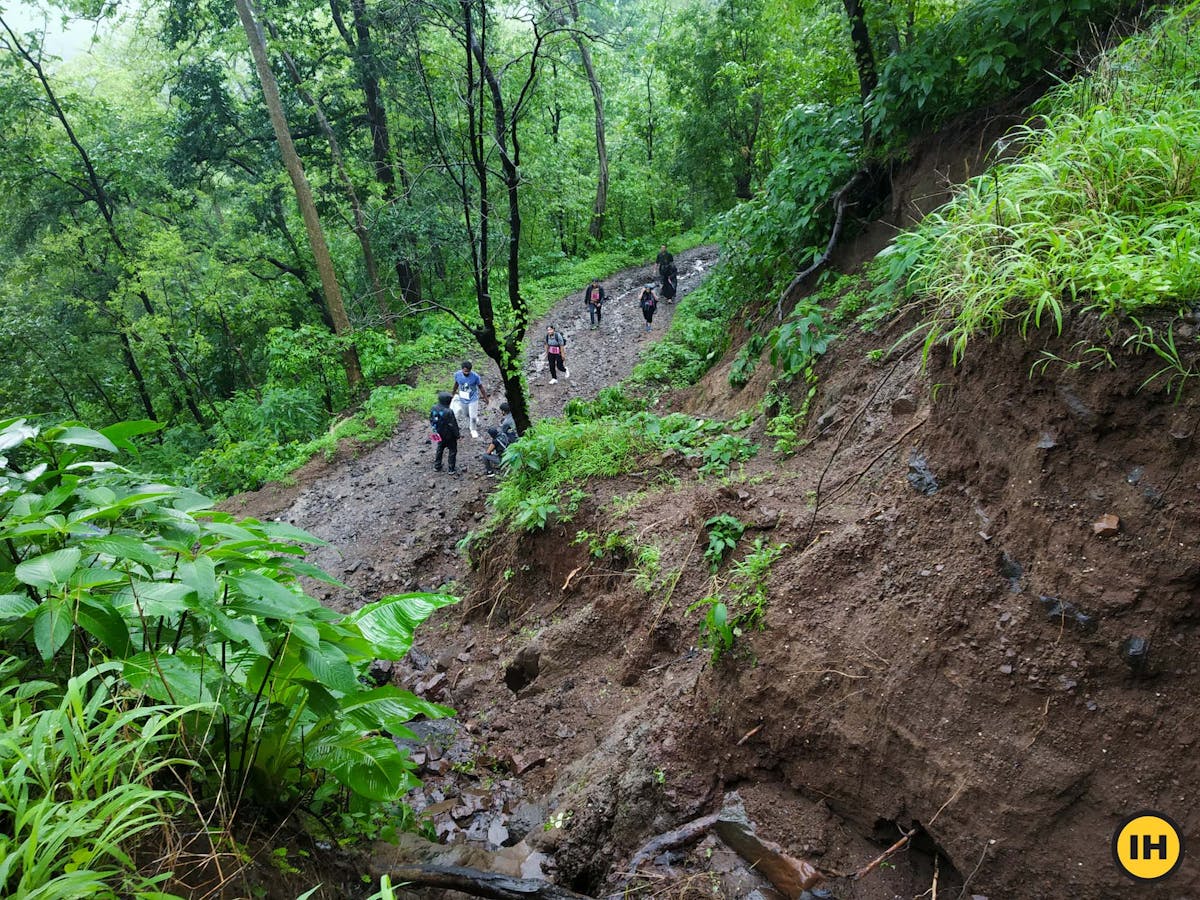 A small stretch of the trail to Kothaligad washed away in a landslide. Picture by Saurabh Sawant
The section from Ambivli to Peth gaon is very prone to landslides. This also leads to numerous incidents of trees falling and obstructing the trail during the monsoon season.
2. Rock patch: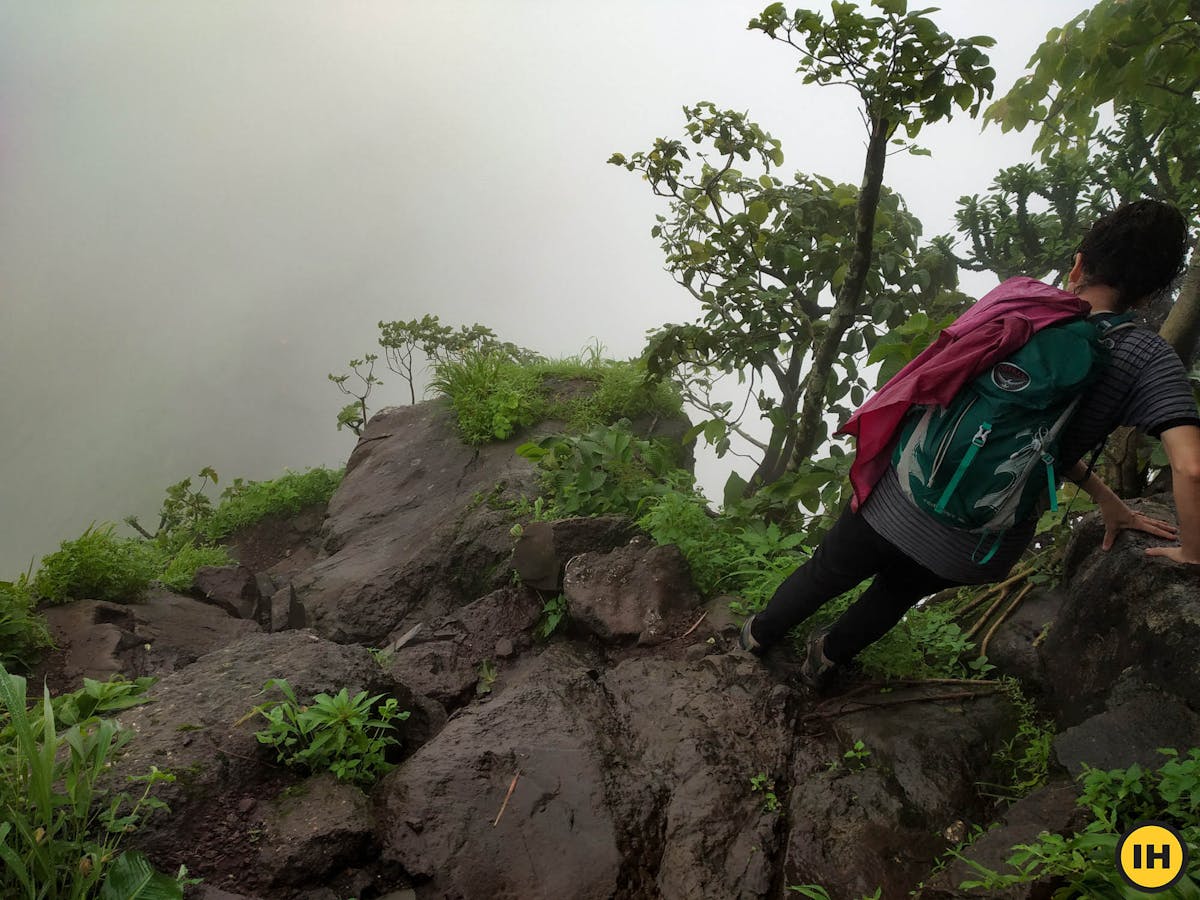 The exposed rock patch can be a bit of a problem when descending in slippery conditions. Picture by Saurabh Sawant
As you emerge from the spiral steps hewn from the insides of the fort, there comes a patch where the trail sharply turns right. The exposed turn overlooks a 50+ feet drop. You should be careful while descending this patch as it can turn very slippery during monsoons.
3. Exposed trail: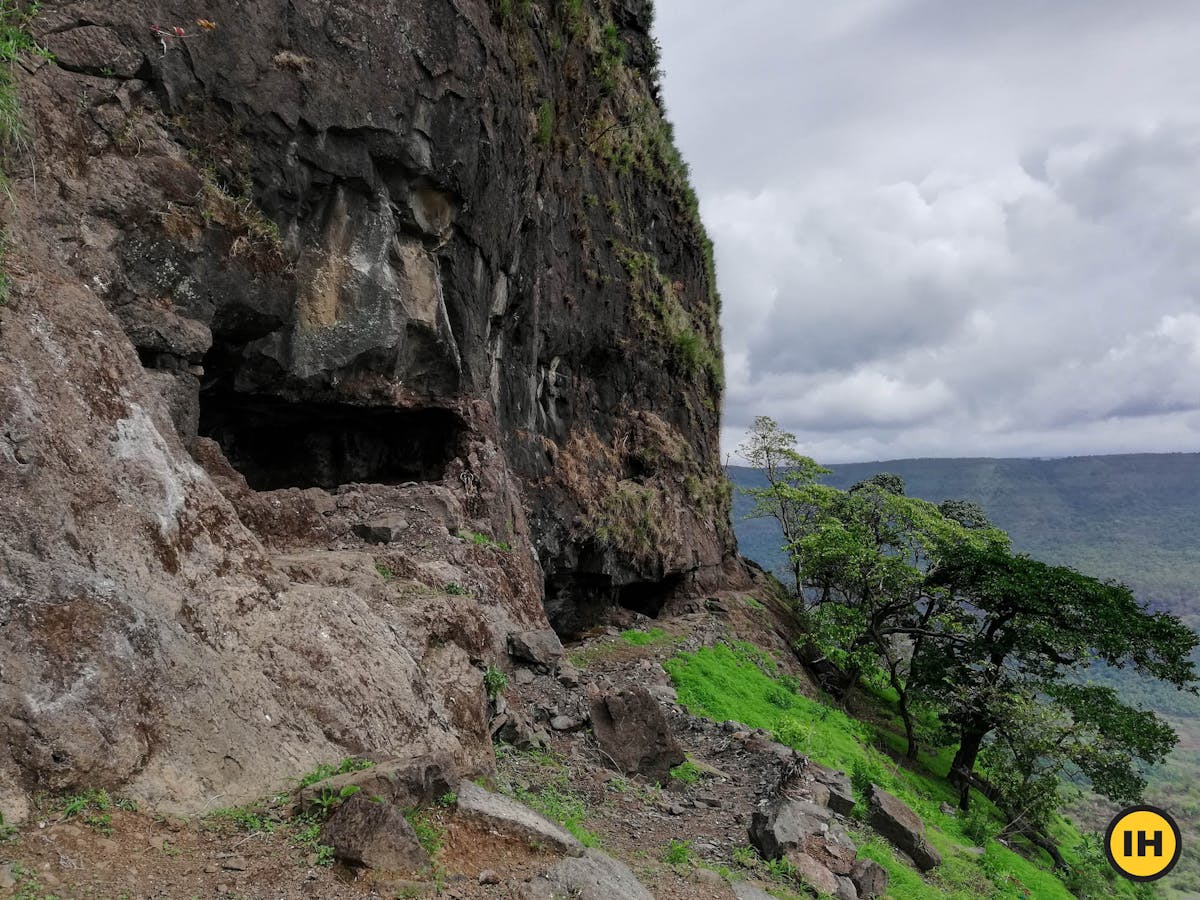 The caves at the base of the western face of the fort. Picture by Shardul Neswankar
Kothaligad fort is a tiny marvel in terms of the thought and foresight with which it was built. Steps carved from the inside, tiny approach to the top, multiple levels of fortification and an escape way.
The last of these- a narrow, exposed trail that circumvents the fort has been a cause for concern in recent times. Multiple incidents of trekkers getting injured trying to attempt this stretch have been reported.
➤ What to Pack for Kothaligad Trek
When attempting it as a standalone trek in Summer & Winter-
Basic First Aid kit*
Identity Card
Trail/ region map
Cap/ Scarf/ Bandana & Sunglasses
Water (Minimum two litres)
Lemon and salt OR Electrolyte Powder/Drink (Electral/Gatorade/Glucon D, etc.)
High-calorie snacks (Nuts & dry fruits, home-baked cake, etc.)
Insect repellent (Odomos, etc.)
Spare newspaper
Multi-Tool/ Swiss Army Knife
Torch/ Headlamp with spare batteries.
Powerbank
Safety Pins, Rubber bands & Whistle (Useful in emergencies.)
Optional: Rope, Camera.
During Monsoon-
Quick Dry T-shirts are preferable over cotton tees.
Poncho
Additional set of clothes, socks, etc.
Plastic sheet to wrap electronic devices.
If you are attempting Kothaligad as part of a longer multi-day trek, you should carry-
Sunscreen (SPF 50+)
Rehydration pouch/ bladder
Tent & Sleeping Bag/ Mat
Trekking pole
A spare set of clothes & footwear (Floaters, sandals, etc.)
Water filter/ Thin cotton cloth & water purification tablet.
Utensils
Antiperspirant powder (Candid, etc.)
Magnesium Flint/ Match boxes
Basic Toiletries: Toothbrush & Toothpaste/Mouthwash.
*First aid kitFirst aid kit:
Scissors
Band aids (Regular & Waterproof)
Analgesic spray (Relispray, Volini, etc.)
Antiseptic Liquid (Savlon, Dettol etc.)
Antiseptic powder (Povidone-Iodine based powders like Cipladine, Savlon, etc.)
Cotton roll & Bandage
Crepe Bandage
1 inch wide medical tape (paper or cloth.)
Micropore tape
Tablet for motion sickness (Avomine), Acidity (Gelusil, Digene, etc.).
Mild pain relief tablet (Crocin)
Note: Always consult a doctor before taking any medicine.
➤ How to Get Fit for Kothaligad Trek
The Kothaligad trek is classified as an Easy-Moderate grade trek. From Ambivli at 460 feet, you will gain approximately 1,600 feet in altitude. Though the altitude gain is not much, the continuous ascent can be quite demanding for people who lead a sedentary lifestyle.
Training yourself for a low-altitude Easy-Moderate grade trek.
Here's a guide to help you get fit for the trek in 4 weeks.
Cardiovascular endurance
In case you're just starting with a fitness routine, start slow and increase your pace everyday in the following manner 
Target completing a brisk walk of 5 km in 45 minutes when you begin.
Gradually increase your pace by walking 5 km, 4 times a week.
As you become more comfortable, introduce jogging in your routine. 
Progressively increase the distance you jog in a workout until you can complete 5 km in 40 mins.
If you prefer cycling over running, target covering 15 km in 60 minutes when you begin.
Progressively increase your pace to cover 18 km in one hour.
Strength training
This is an important area you need to work on. 
Strength training is equally important to trek comfortably. Work on your glutes, calves and knees. Additionally, work on strengthening your core.
You must strengthen your core muscles. For strengthening your core muscles, holding a plank and it's variations (elbow, side planks) are the best exercises to go about doing it.
Also try these exercises for strength-
Target 4 sets of squats with 20 in each set
– Squats (Mix it up with sumo squats)
– Lunges (Forward, backward and lateral lunges)
– Planks
Flexibility
Flexibility determines the amount of movement your bones can make in any direction around joints such as shoulders, elbows, hips and knees. 
It is an aspect that will help you trek comfortably. Carrying a backpack, however light, can become a strain. Stretching your hamstrings, quadriceps, hip flexors and lower back muscles regularly, promotes relaxation in the tissues reducing the strain on your back.
If you can't go out and jog because of time and space constraints, here's a video you can use to work out indoors.
➤ Frequently Asked Questions about Kothaligad Trek
Can I do Kothaligad trek if I have never been on a Sahyadri trek before?
Yes and No. A person who follows an active lifestyle can consider Kothaligad for their first Sahyadri trek.
For people who lead a relatively sedentary lifestyle, we recommend a slightly less strenuous trek like Sondai fort near Matheran.
What are the accommodation options near Kothaligad?
There are multiple accommodation options near Kothaligad. You can pitch tents near Peth gaon or spend the night in Bhairoba cave near the peak. You can also arrange a homestay in Peth gaon.
For contact details, check the 'Useful Information' section of the trek page.
Where can I get food and water during the Kothaligad trek?
There are a number of restaurants and stores in Ambivli. However, your options dwindle as you go farther from the base village with the next restaurant being located 4 kms into the trek, near Peth gaon.
Do I need to obtain permission for trekking to Kothaligad? 
No. You don't need permission to trek to Kothaligad as such. However, there's an entry fee of Rs 20 per head that one has to pay at Peth gaon.
Where can I get a guide for the Kothaligad trek?
The trail to the fort is probably as straightforward as it can get. However, if you are still unsure or need help with negotiating the slippery trail during monsoon, you can hire a guide from Peth gaon. The charges will vary depending on your negotiation skills, group strength, and the season of the year.
Mobile Network
You'll get mobile network for almost all major operators like Airtel, Vodafone & Jio throughout the trek.
Nearest ATM
Ambivli is yet to catch up with the rest of the modern world and hence, you'll be hard pressed to find an ATM near the village.
In fact, Karjat and Neral are the nearest towns where you'll find operational ATMs. So ensure you carry enough cash with you before starting for the trek. 
Emergency contacts
Hospital: There are unfortunately, no hospitals within a radius of 15 km of the fort. The closest one is in Karjat.
Police station: The police station closest to Kothaligad is the Karjat Police station (Contact: 02148222100).
Mountain rescue: Giripremi has started a Pan-Maharashtra rescue group called Maharashtra Mountaineers Rescue Coordination Centre (MMRCC). You can contact them on 7620230231 for help in the Sahyadris. Read more about this wonderful initiative here: (Link: http://www.giripremi.com/mmrcc/)
ERSS: For any kind of emergency help, you can contact the Pan-India Emergency Response Support System (ERSS) number- 112. 
➤ Nearby Places of Interest near Kothaligad Trek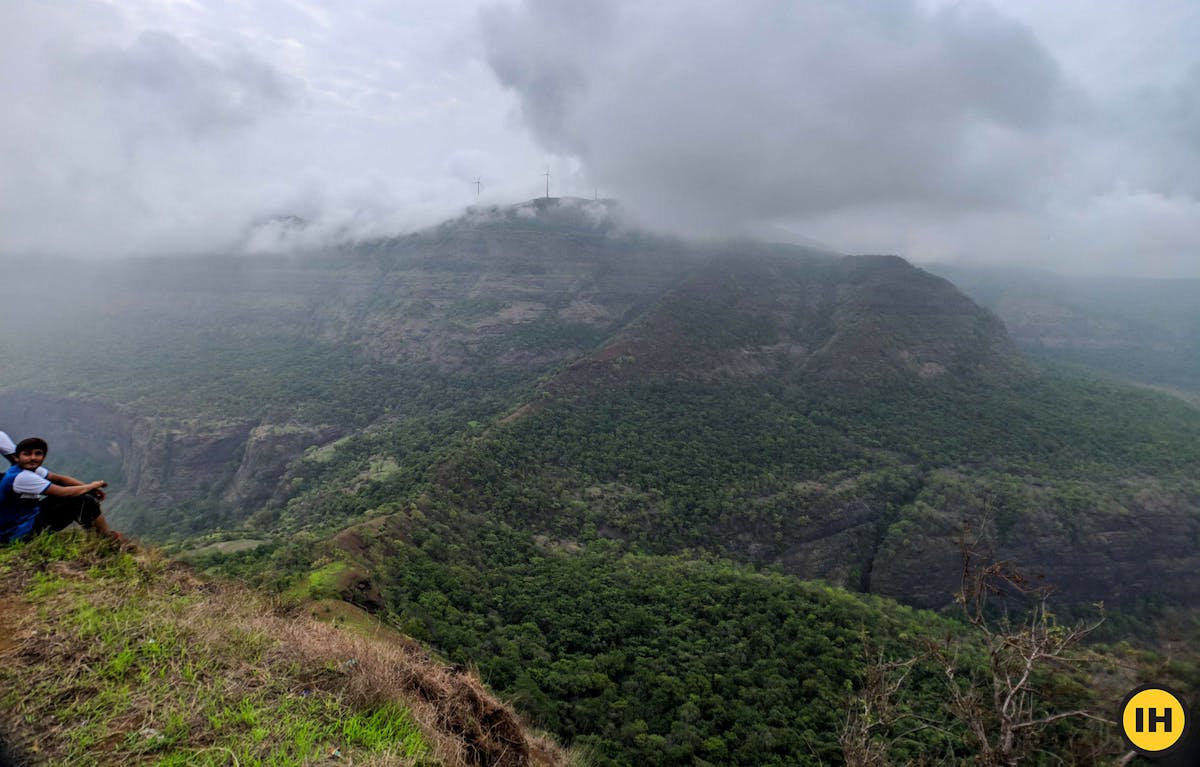 Nakhind Tok, partially obscured by clouds, as seen from Kothaligad. Picture by Aditya Gidh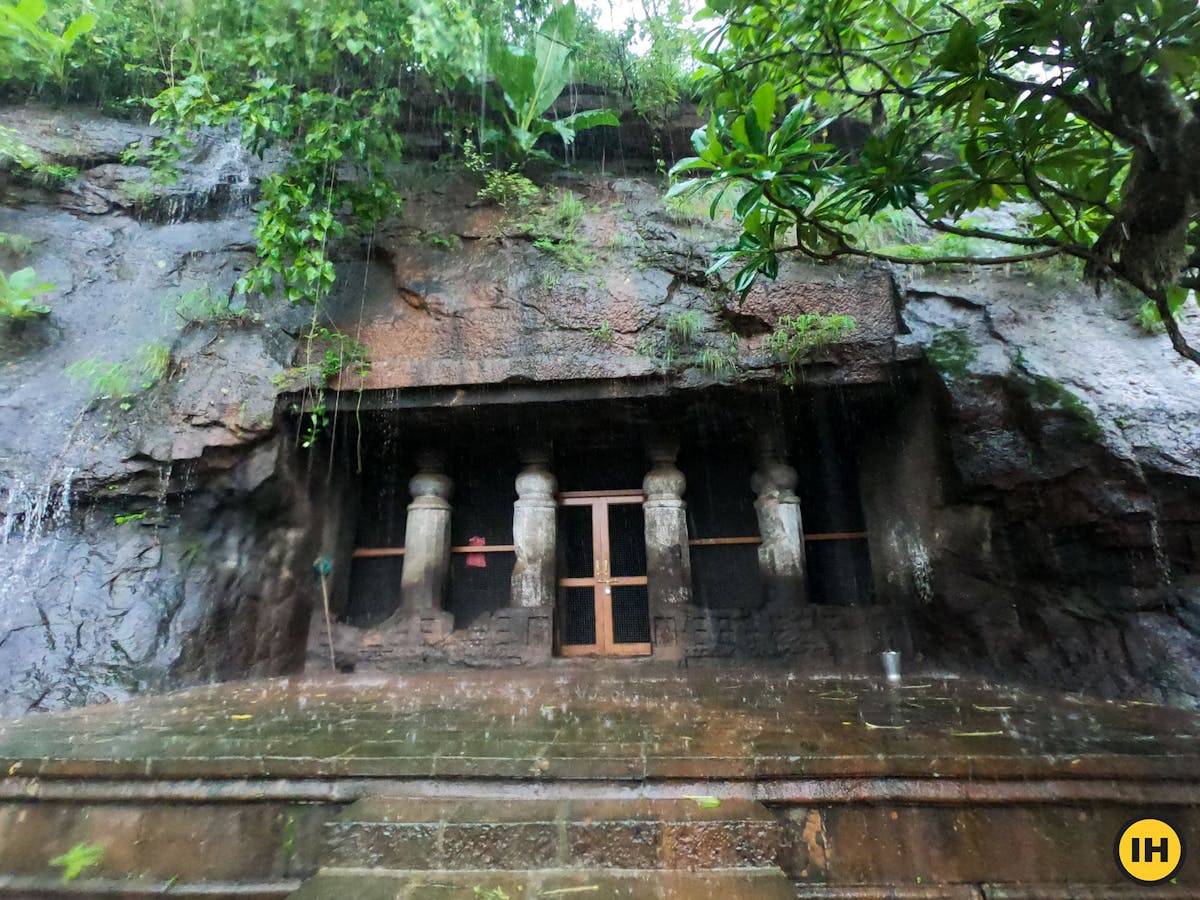 Pandav Leni is ancient cave system near Kothaligad that very few people know about. Picture by Radha Kishan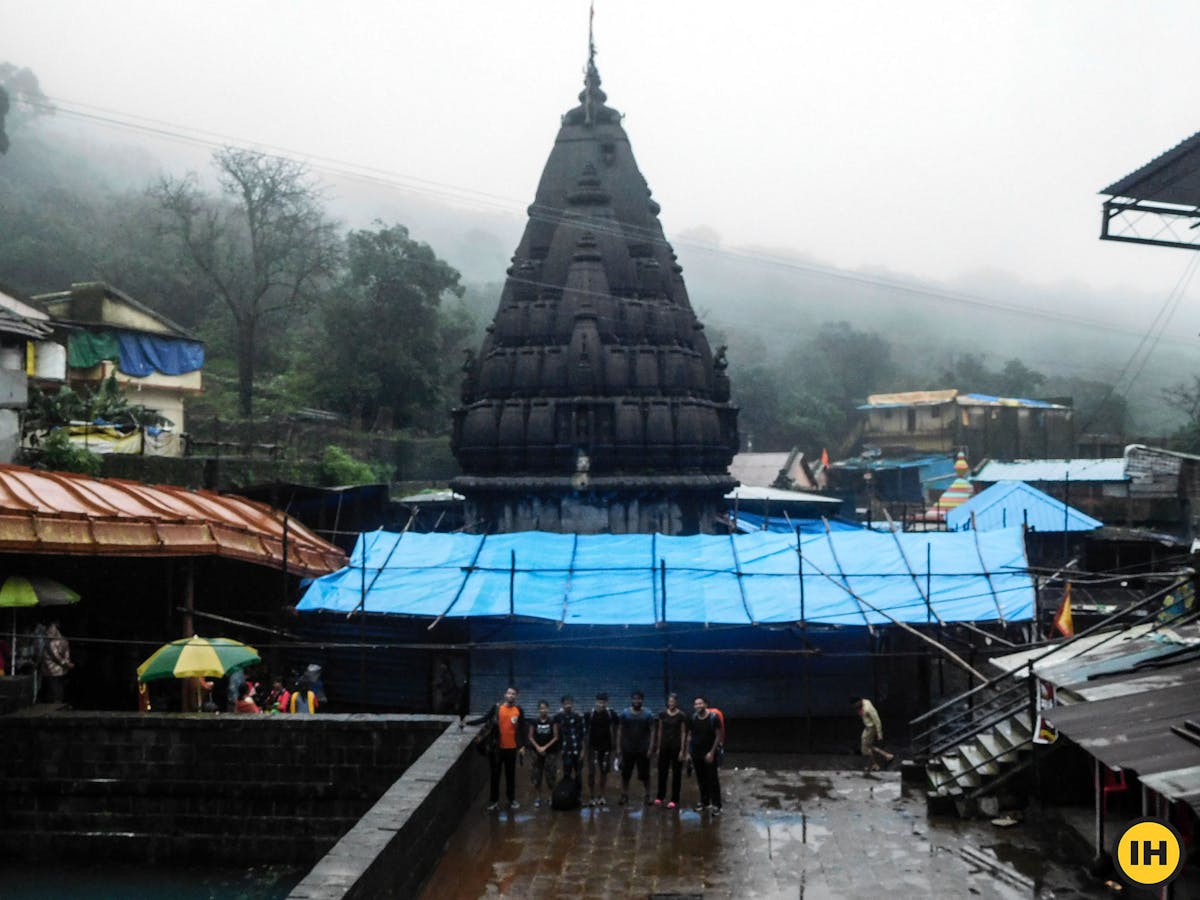 Bhimashankar temple, one of the twelve jyotirlings of India, is a very popular destination close to Kothaligad. Picture by Saurabh Sawant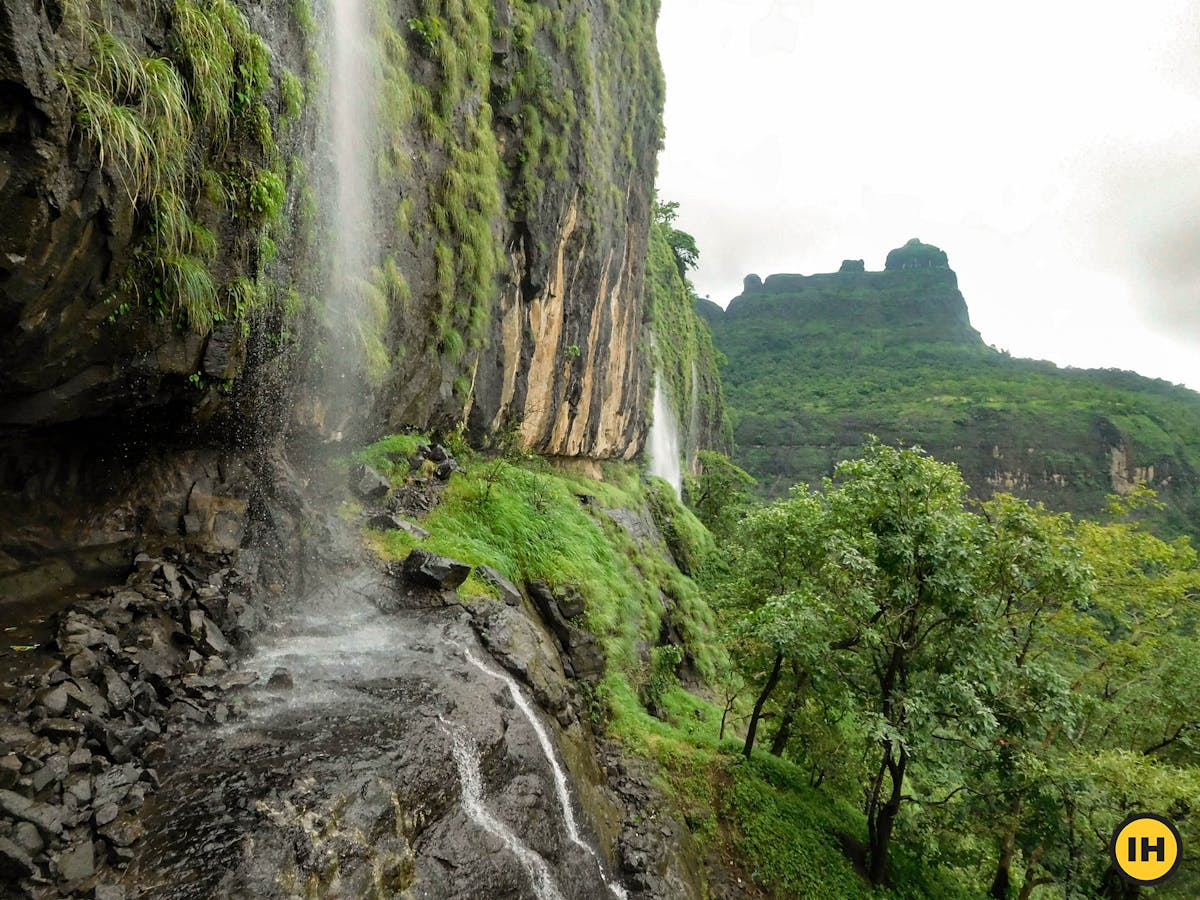 Padargad fort is a difficult trek, close to Kothaligad. Picture by Saurabh Sawant
➤ Trek Contribution
Trek documented by Aditya Gidh, Geet Tryambake, Himanshu Kohli, Izzat Yaganagi, Mukul Kunte, Saurabh Sawant, Shardul Neswankar & Venkat Ganesh.
Banner image photo credit: Shardul Neswankar
GPX File Opt in
We go to great lengths to ensure you have a safe trek. So here's a GPX file of the trail to help you navigate without getting lost.