Can You Help Us With Photographs Of This Trek?
We are looking to enrich this documentation with more photos. Pictures go a long way in explaining the trail, more than words ever can. If you have done this trek, can you share your photos with us? We will include them on this page, with due credit to you.Click here to contribute.
The Complete Guide To Kumta to Gokarna Beach Trek
The Kumta to Gokarna beach trek is a hike between two towns in the Uttara Kannada district –Kumta and Gokarna. The trek starts from Kumta beach & goes all the way up to Gokarna beach, passing umpteen beaches en route.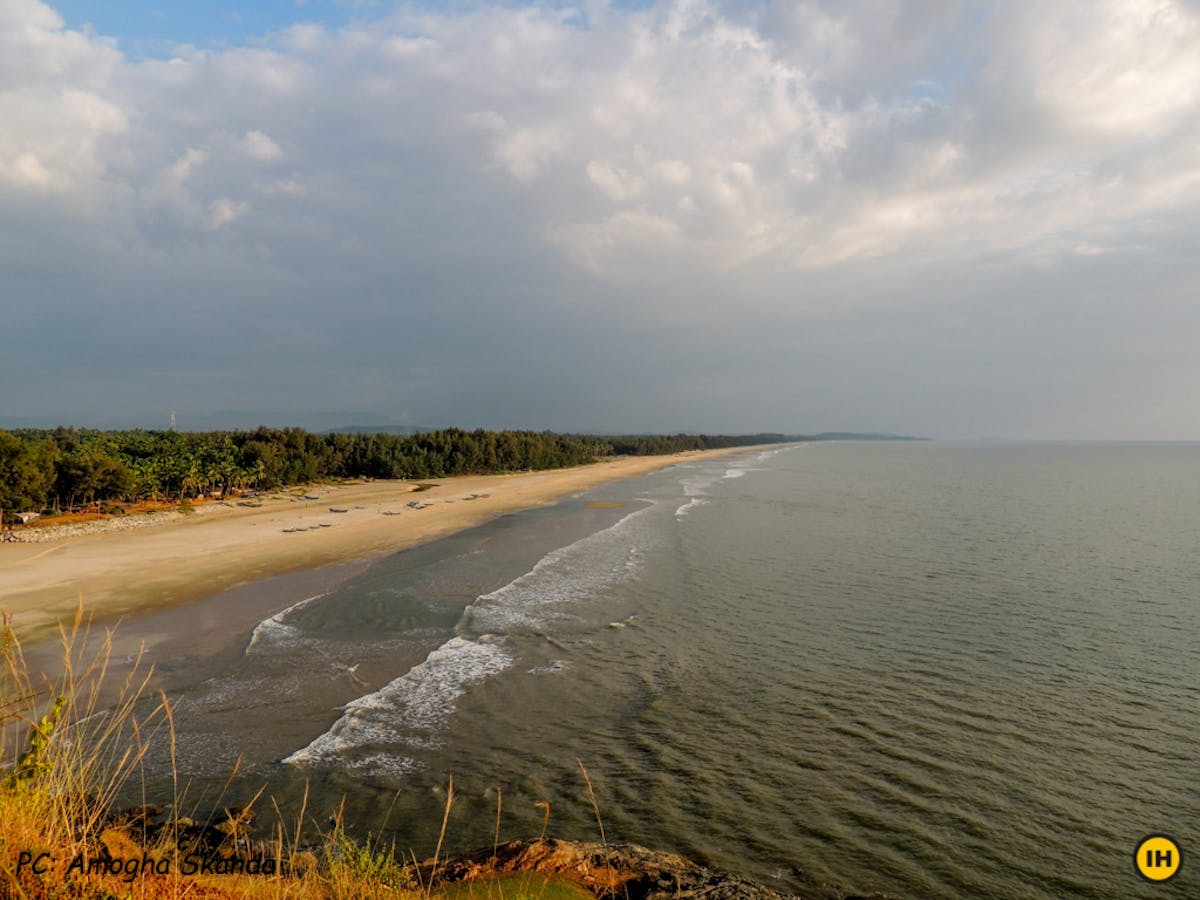 Nirvana beach and the 8km long bay as seen from Nirvana Cliff.
The trek alternates between beaches and hilly terrain and walks you through some of the most scenic beaches in India. Most of these beaches are "virgin", meaning they are untouched by tourists and are inaccessible by road, making the trek all more interesting and worthwhile.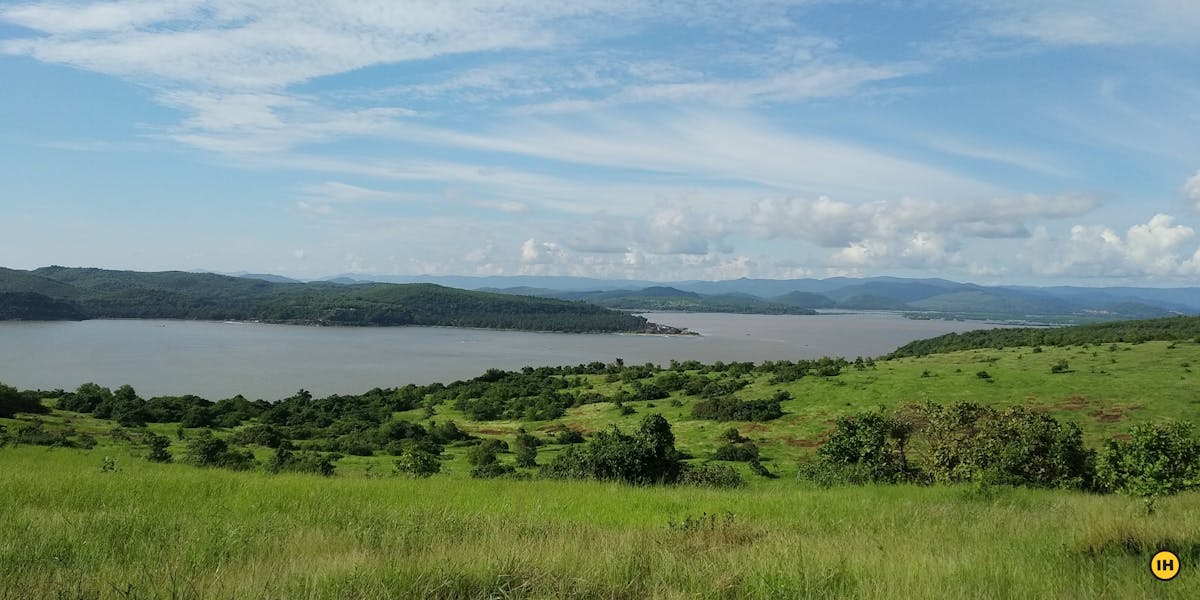 View of Gokarna, Aghanashini River, Tadadi Village and the ferry route which connects Aghanashini and Tadadi. As seen from the top of the fort
In short, this trek is every photographer's dream come true. The best time to do the trek would be after monsoon recedes, from November till February. Though the trek is easy, walking 20 km does demand some amount of endurance. Therefore, this trek is best suited for people with a considerable amount of fitness.
➤ Short Itinerary
This itinerary assumes that you are starting from Bengaluru. Kumta falls on the Konkan Railway line and there are about 35 trains arriving and departing from Kumta from/to places like Mangalore, Goa, Trivandrun, Kochi and even far off places like Jabalpur and Delhi. 
On the other hand if you want to start in Gokarna and end in Kumta, that is a good ideas too. There are 16 trains that arrive and depart from Gokarna 
(See 'Travel to & from the trek' section for more info)
Day 0 – Start from Bengaluru. Take any bus leaving late afternoon OR early evening to Kumta 
Day 1 – Vannalli beach to Belekan Beach (also called God's Own Beach). 
Day 2 – Belekan beach to Gokarna. Take an evening bus back to Bangalore
➤ Trail Information
Day 1
Upon reaching the Kumta bus stand take a bus going to Aganashini that goes to the fishing village of Vannali. You can ask the bus driver to drop you off next to the Govt school at Vannali beach. On the other hand, you can also choose to walk all the way to the start point of the trek from the Bus stand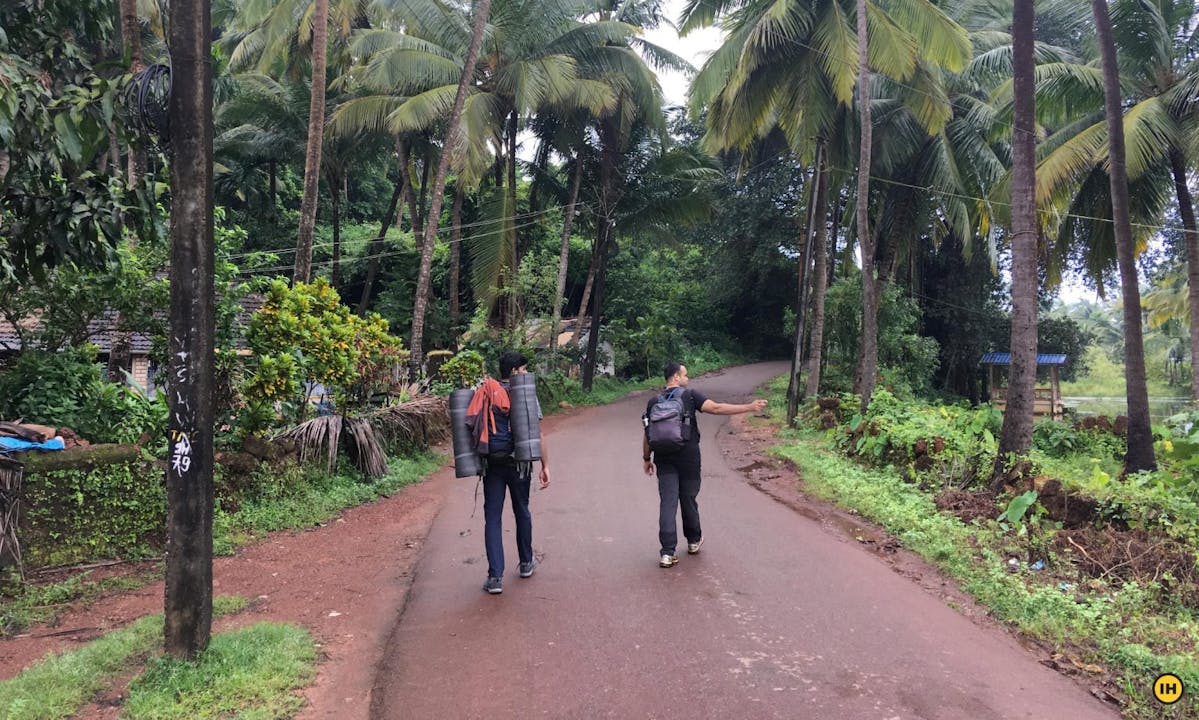 On the way to Vannalli Beach, about 700 metres from the beach. Picture by Venkat Ganesh
As you get off the bus, start walking North, parallel to the road with the beach to your left and rice paddies to your right. You might wonder how do the students even study with the beach hardly 50 meters away. These thoughts will keep you occupied for the next 10 mins until you reach Kumta/Vanalli beach viewpoint.  
From here, get down on the road to get to Vannalli Beach. Vannalli is a fishing village right on the beach. You'll see fishing boats lined across the shore and fishermen mending their nets and kids running around. If you haven't had breakfast, this is the last place you'll get something to eat before lunch. There is a small shop run by an old lady that doesn't offer much by way of breakfast options. But you get he does decent enough Mangalore buns with curry (or an omelette, if you like)  and wash it down with some tea. Make sure to fill your water bottles here before you leave.
Walk along the beach until you see a small trail going around a hill. Look for a faint trail going straight and then left. This will eventually lead you to down to the rocks along the shore where the trail disappears. But know that you're on the right track if you notice huge cactus plants and shrubs.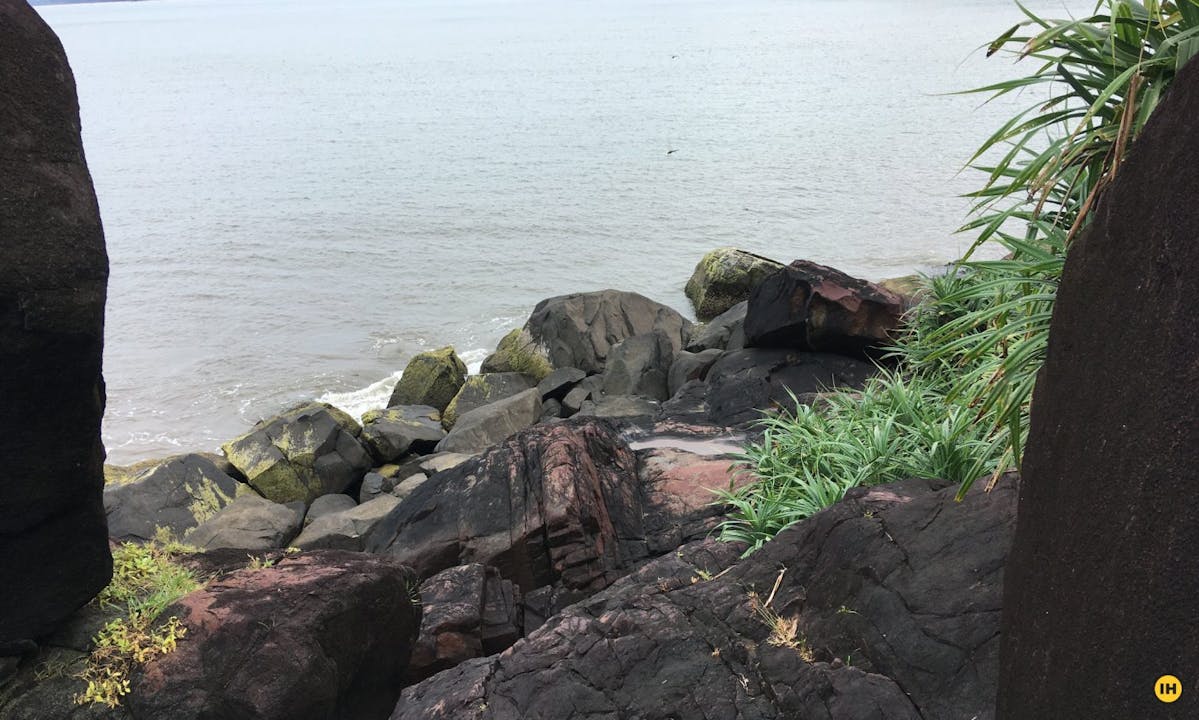 Technical rocky section between Vannalli Beach & Mangodlu Beach.
This is a bit tricky section, but if you keep your wits about and have a good pair of trekking shoes, you should be able to negotiate the rocky terrain and arrive at Managodlu beach.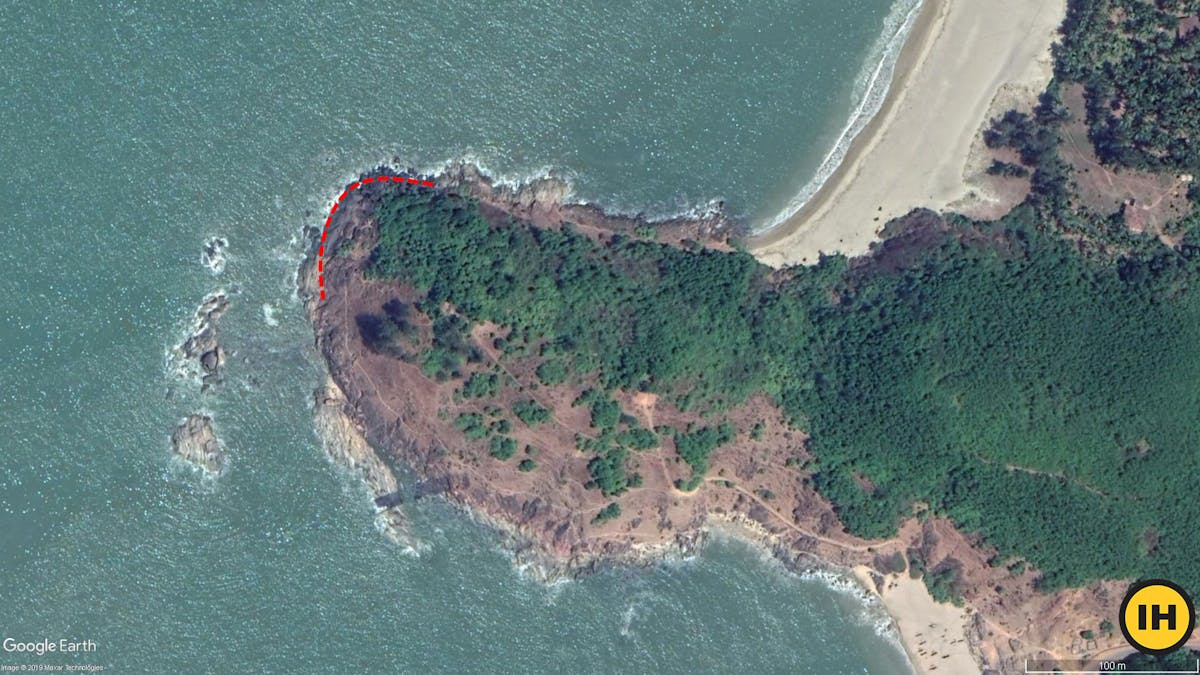 The tricky rocky section marked in red
Keep heading north, and once again you go up the woody hill and you'll once again come across a rocky section to arrive at Kadle beach.  The Kadle beach marks the beginning of the 8 km coastline that is called the Nirvana Bay.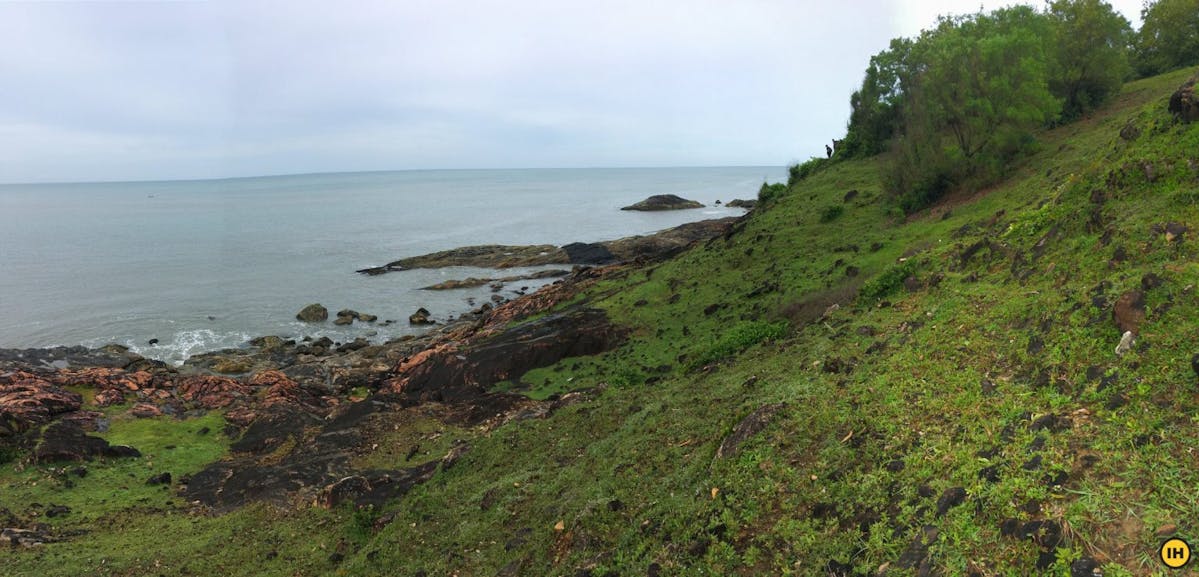 Between Mangodlu Beach and Kadle Beach, The trail which leads to Kadle Beach
You can take off your shoes here and walk barefoot (or in flip flops; See our packing list) and keep heading north. 
Freshwater is available only at two places – the first one is at a village called Gudeangadi, which is a slight deviation after about halfway through the Nirvana Bay. The second one is at the end of the coastline at the foothill of the Nirvana cliff.
Gudeangadi is a good place to give yourself a long break. Walking on sand isn't as easy as it seems and can sap you. Especially with the sun up. 
So take a break here from the beach walk and head to the village. There are a couple of small places that'll serve meals, snacks, juices and tea.  There's an ATM in the village too and regular buses ply to Kumta or Gokarna in case of any emergency (See our emergency contacts section for more details). 
Get back to the beach after having your fill of food and drinks and refilling your water bottles. 
A 45-minute walk across another 3 km stretch of the beach will have you at the end of the Nirvana bay where lies the southern side of Kagal fort.
Trek your way up to the Kagal fort on the Nirvana cliff. The trail is not that prominent here and full of thorny bushes. If you're lucky you might find some locals who might guide you up but don't count on it.  
In such a case, a good thing to look out for is cow droppings. It means that cattle have been up there so there will be some way up.
Once you make your way up, the first sight of Gokarna on the other side of river Aghanishini will soothe those frayed limbs! At the same time, pat your back as you glance at the entire stretch you walked earlier during the day.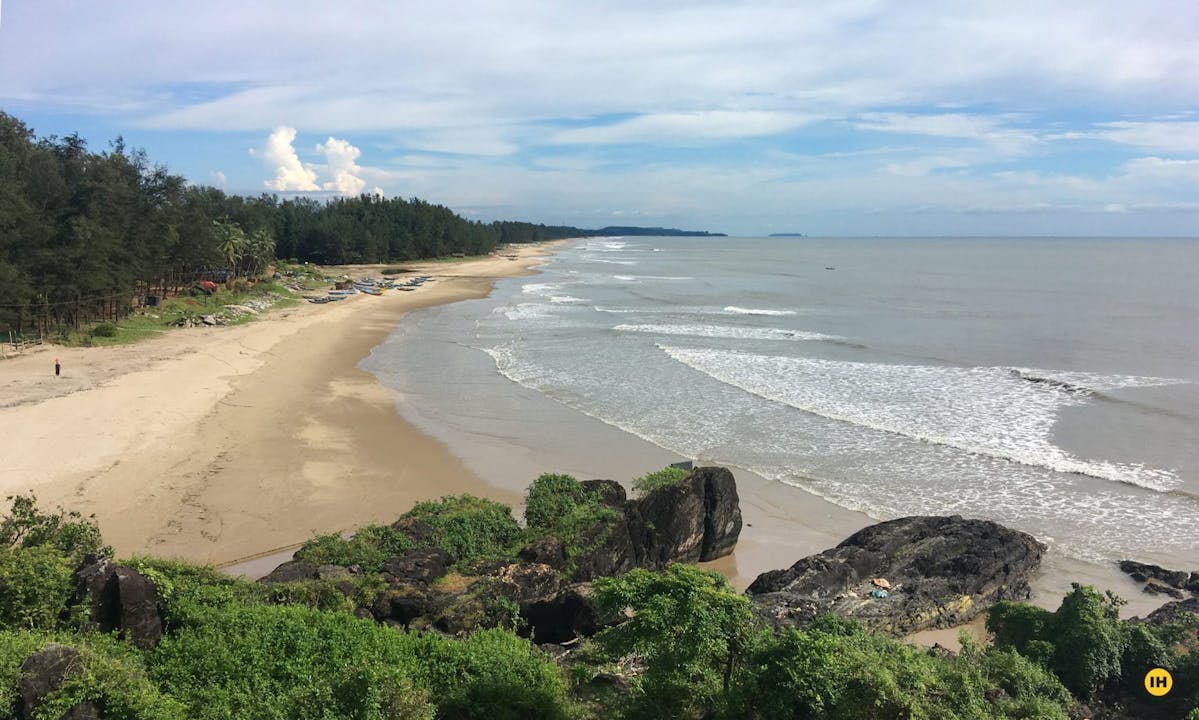 View of the never-ending Niravana Beach and Kadle Beach from the trail which leads to the fort on the hilltop.
After enjoying the view, head northeast and look for a small opening in the fort wall. Mind you the trail might not be prominent, especially after monsoon when the entire fort is covered with knee-length grass. (Therefore download the trail map from our Maps and Charts section).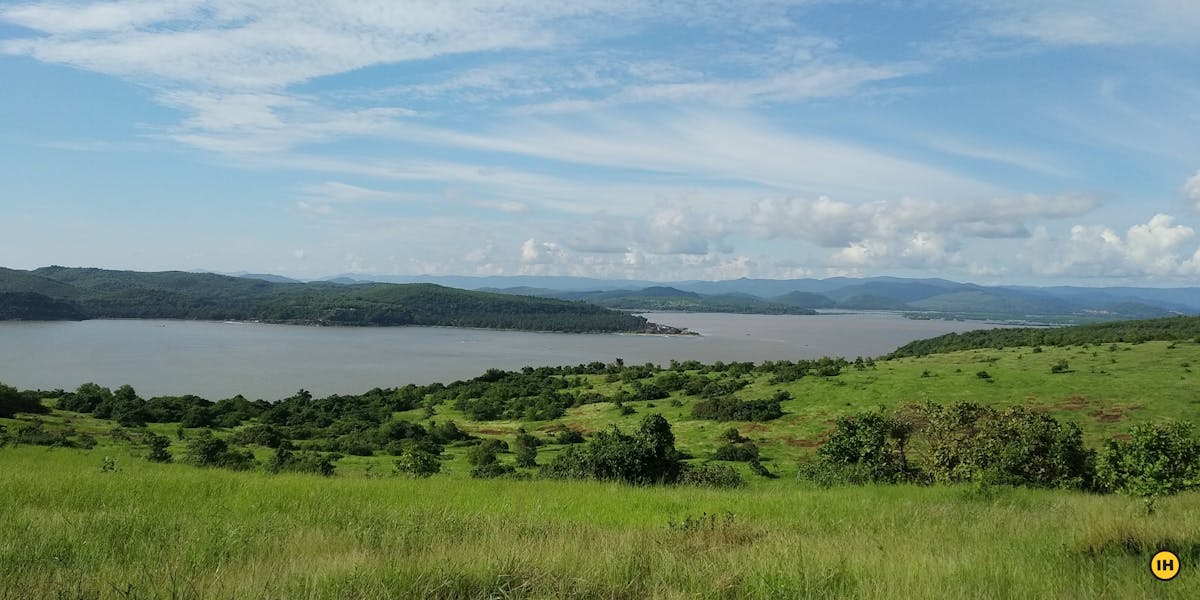 View of Gokarna, Aghanashini River, Tadadi Village and the ferry route which connects Aghanashini and Tadadi. As seen from the top of the fort.
This opening the wall will take you down to Heaven beach. The trail down to Heaven beach goes through some dense vegetation yet it's quite prominent.
Do note that parts of the beach are private property and there are signboards announcing that trespassers is not allowed. But there are few small settlements along. So knock on doors and ask if you can pass through, and it shouldn't be a problem. And although it might be tempting to pitch a tent here there are signboards stating that "Illegal camping in public places is prohibited" 
Therefore keep heading further up, but exercise extreme caution as you approach another rocky section leading a small cove. Depending on the time and tide, you'll have to wade through waves hitting the rocks before exiting from the cove via yet another rocky section finally arriving at another fishing village along the backs where the Aganashini river meets the Arabian sea. 
The river is a kilometer wide, and can only be crossed by a jetty at this point. The jetty runs at 30 mins interval and the last one leaves at 6.30 pm.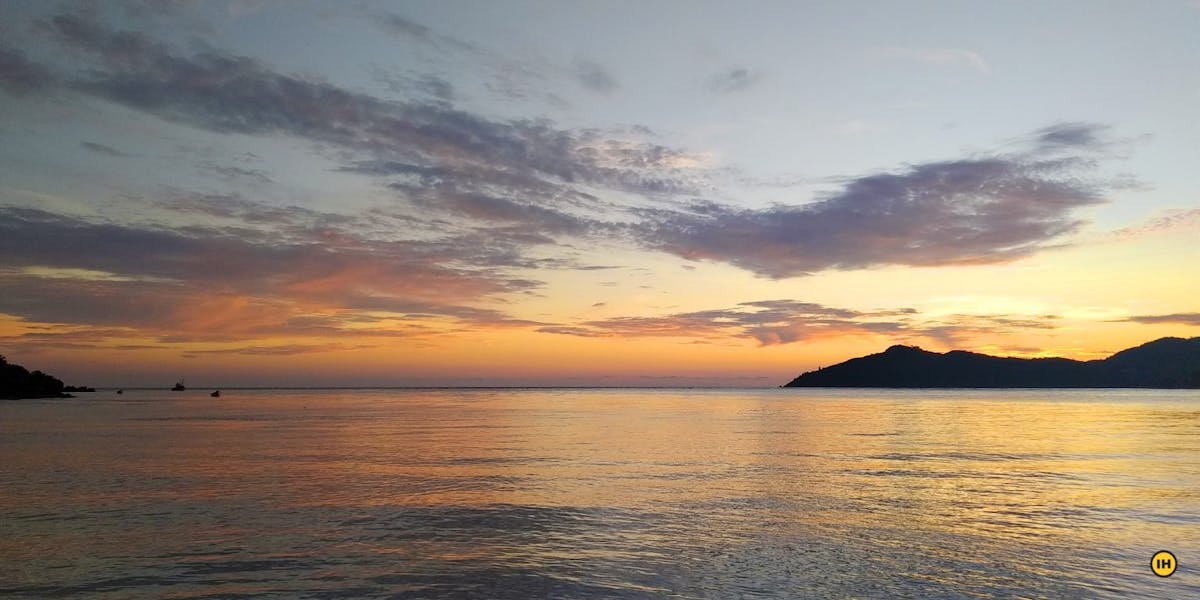 Sunset View of Gokarna, Arabian Sea and Aghanashini River merged into one, taken from the ferry point at Aghanishini.
Once across the river, you arrive at the village of Tadari Head towards Belekhan beach by following the road from here till the end. Look for a small stage and a flat piece of land right by the sea with stone wall to protect against the waves. This is used by the village for performances and shows but mostly you'll see cars and vehicles parked. It is a good spot to pitch tents. And for those who don't have plans to camp, you can head a hundred meters ahead to find a guest house with a restaurant. It is called Shanti Paradise.  They might also arrange for tents to camp if there aren't any rooms available.
Day 2
Start early in the morning. And head towards Shanti Paradise along the kaccha road. Cross a small water stream and the trail resumes. you see two trails – one going left and the other one going straight. Take the one which goes straight. It's a prominent trail that passes through a hilly forest section before descending to the famed Paradise beach. (The beach is another good spot to camp the previous day if you have the necessary food, water and tents to spend the night)
If you don't want to continue any further you can flag down boats that arrive bringing tourists from Gokarna, Kudle or Om Beach. Negotiate, well and hard before getting on the boat.  
From here keep heading north.  The trail alternates between a grassy and rocky ascents and descent before leading to Half-moon beach. There are few shacks here for food and drink. Or you could just take a morning dip before proceeding to wildly popular Om beach.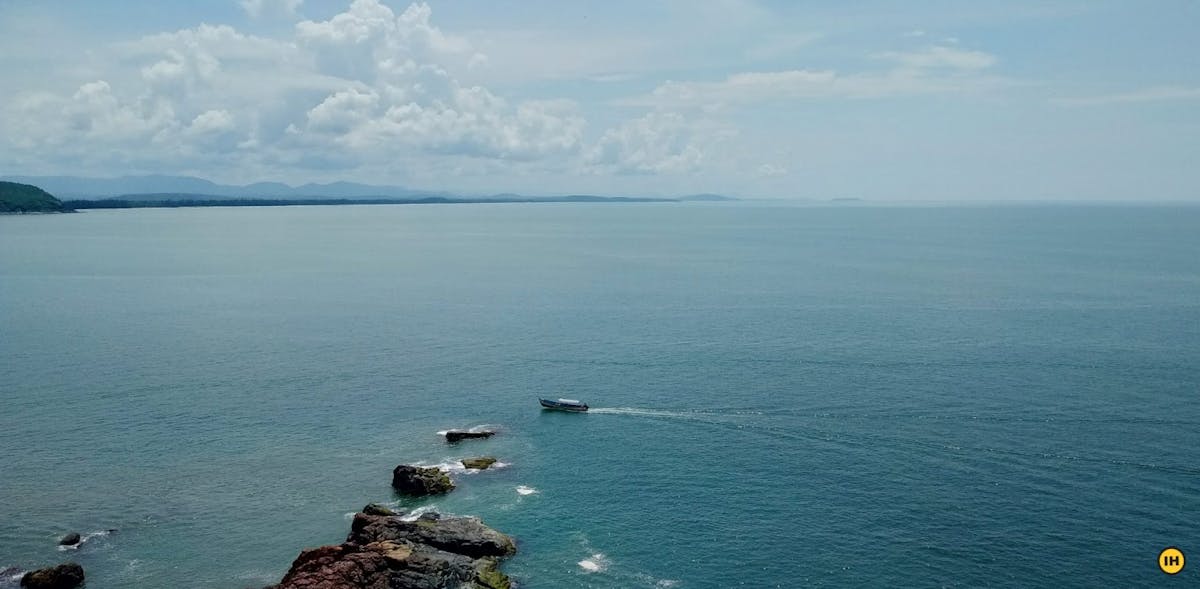 The pristine Arabian Sea on the way from Half Moon Beach to Kudle Beach. The most amazing views of the Arabian Sea are along this trail!
At the northern end of Half-moon beach, look out on the right that begins away from the beach (Refer to trails and maps section) and follow the trail to Om beach. The trail is quite prominent and goes through thick woods.
Om beach is called so because the coastline here resembles the Hindu symbol Om. Over the years it has become quite popular and the northern end of the beach sees more crowd than the southern end. This is because the northern end can be accessed via road and tourists arrive in large numbers.
From the northern end, climb up the stairs up and turn left to arrive at the parking lot which leads to both Kudle beach (from the south) but can also lead to the northern end of Om beach. Enjoy a peaceful lunch at Kudle beach before heading to Gokarna which is less than an hour away. 
You can also head straight to Gokarna town before heading back home.
Alternatively, you can also do the trek from Gokarna to Kumta. This way you'll begin the trek with lots of crowds but as you go further south, you'll find yourself walking on beaches with almost zero crowds. Also, you can time your trek in such a way that you cross the Aganashini ferry earlier to enjoy the sunset from the top of Kugal fort.
Indiahikes runs treks primarily in the Himalayas. You can choose a Himalayan trek that you wish to based on your experience, season, and difficulty here.
➤ Maps and Charts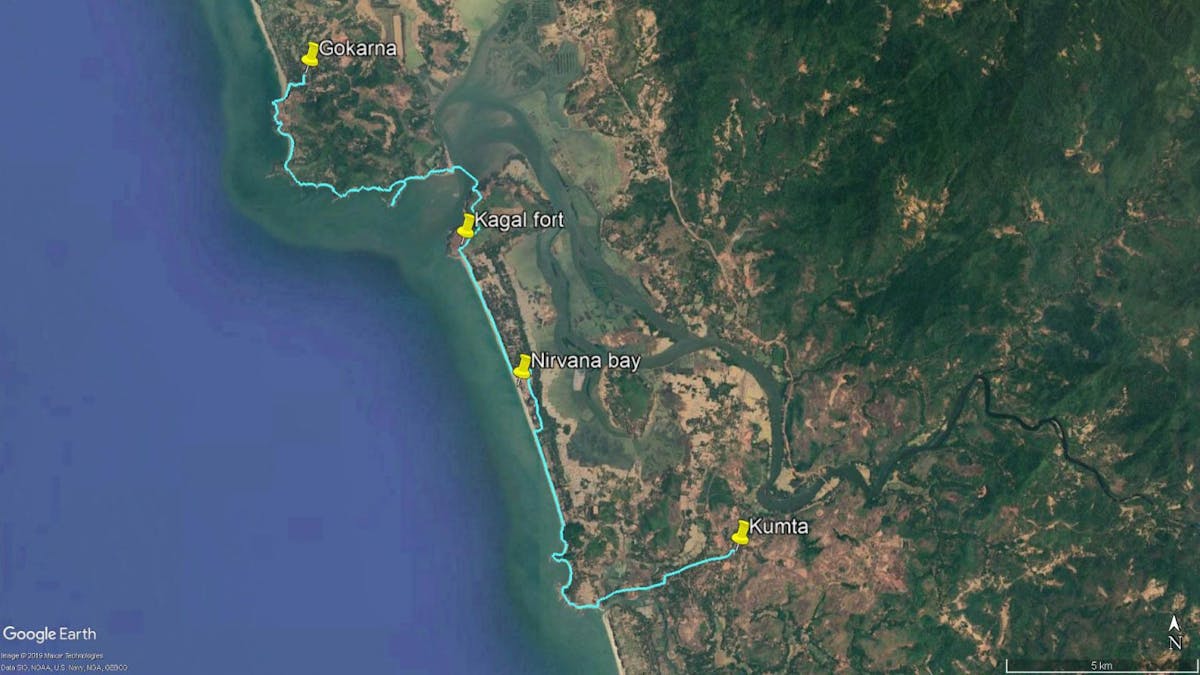 ➤ How to Reach the base of Kumta to Gokarna Beach Trek
Although the trek has been documented, starting from Kumta, there is nothing stopping you from starting it from Gokarna and heading south.
Having said that, the details mentioned here are assuming you start from Kumta and heading to Gokarna. 
From Bangalore to Kumta (or Gokarna) 
There are plenty of buses of all types and price ranges leaving from Bangalore. They take anywhere between 9-12 hours depending on the route and are priced between Rs 500 and 900 depending on the route. Prior reservation is highly recommended, especially during a weekend lined up with a public holiday. The government run KSRTC website should be your go to place, but in case you can't find any seats, look on Redbus for private operators 
And although there are trains available from Bangalore, they're not as frequent and take a 14+ hours. Moreover by the time you arrive in Kumta (or Gokarna) for that matter it is noon at the earliest. With sun shining right above your head, it is the worst of times to be starting a trek. 
From other places to Kumta 
Having said that, Kumta falls on the Konkan Railway line and there are about 35 trains arriving and departing from Kumta from/to places like Mangalore, Goa, Trivandrun, Kochi and even far off places like Jabalpur and Delhi. 
From Gokarna to Bangalore 
KSRTC Buses from Gokarna back to Bangalore aren't as plenty. There are only 4 (all of which go via Kumta)  the first of which leaves Gokarna at 5 pm and the last at 8pm and ticket costs between Rs 500 and Rs 900. 
Alternatively, if you end you trek in Kumta, the number of buses back to Bengaluru are higher, starting from 4.00 in the afternoon and the last of bus leaves Kumta at 8.30 in the evening. The price ranges and the duration of the journey are almost the same as from Gokarna. 
If you prefer trains, then there is only one train that leaves Gokarna  at half past three and arrives in Bangalore 16 hours later. Also the train runs only on Thursdays, Fridays and Saturdays. 
From Gokarna to other places
On the other hand if you want to start in Gokarna and end in Kumta, that is a good idea too. There are 16 trains that arrive and depart from Gokarna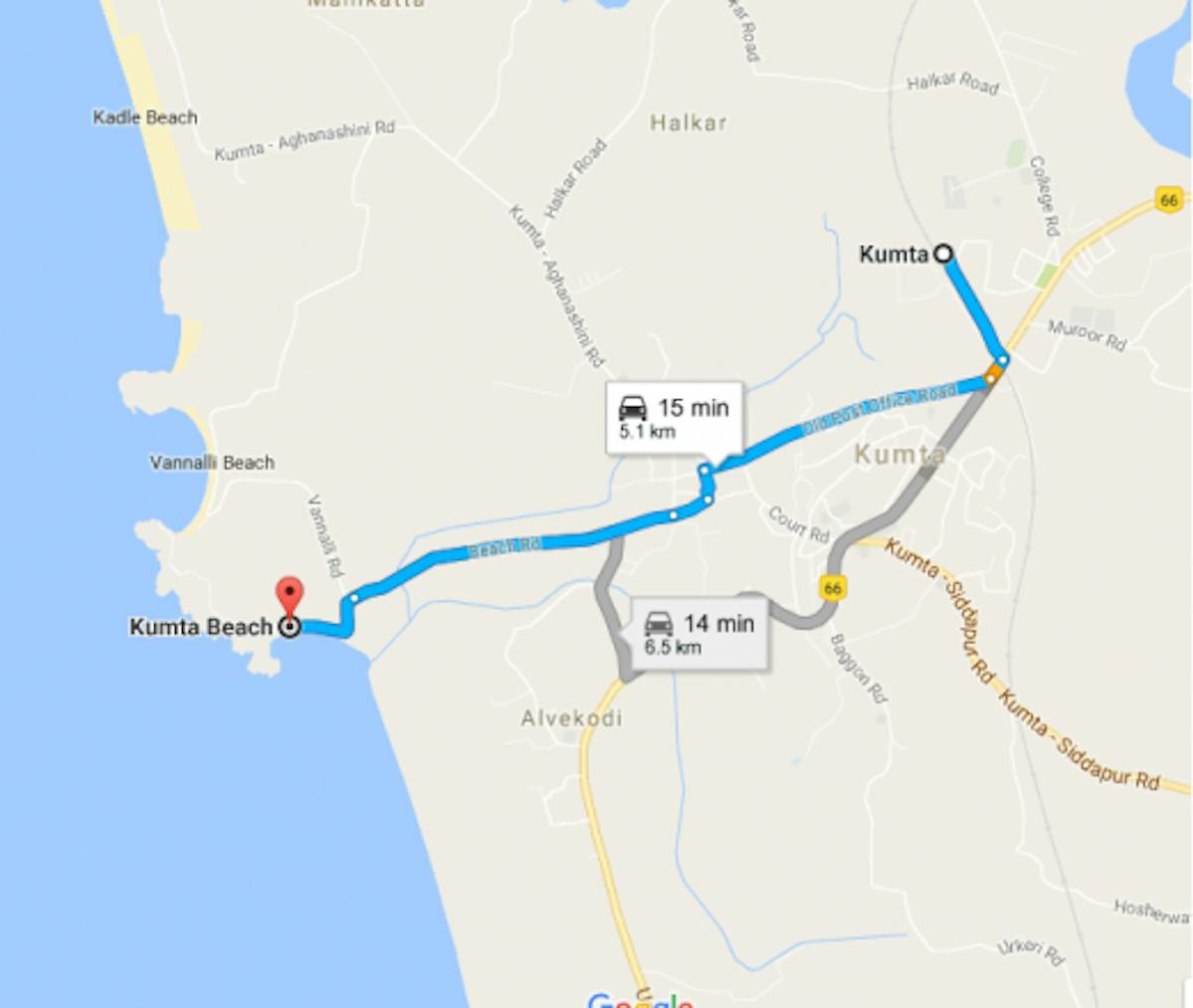 ➤ How Difficult is the Kumta Gokarna Trek
Difficult Sections
Kumta-Gokarna is mostly beach walk and a few hill crossings. Therefore, it doesn't have any particularly difficult section but still here are a few things you should keep an eye out for:

Rocky Section: After crossing Vannalli beach, follow the trail going towards the hill. The same trail will take you down towards the rocky section at the shore. This section is a bit difficult. You might feel this is a dead end, but no, this is the route which takes you to Mangodlu beach. You need to hop up and down on these rocks, which might be slippery or sharp.

The highlighted section below is the difficult one.
Coordinates: 14°25'53.3″N 74°22'49.6″E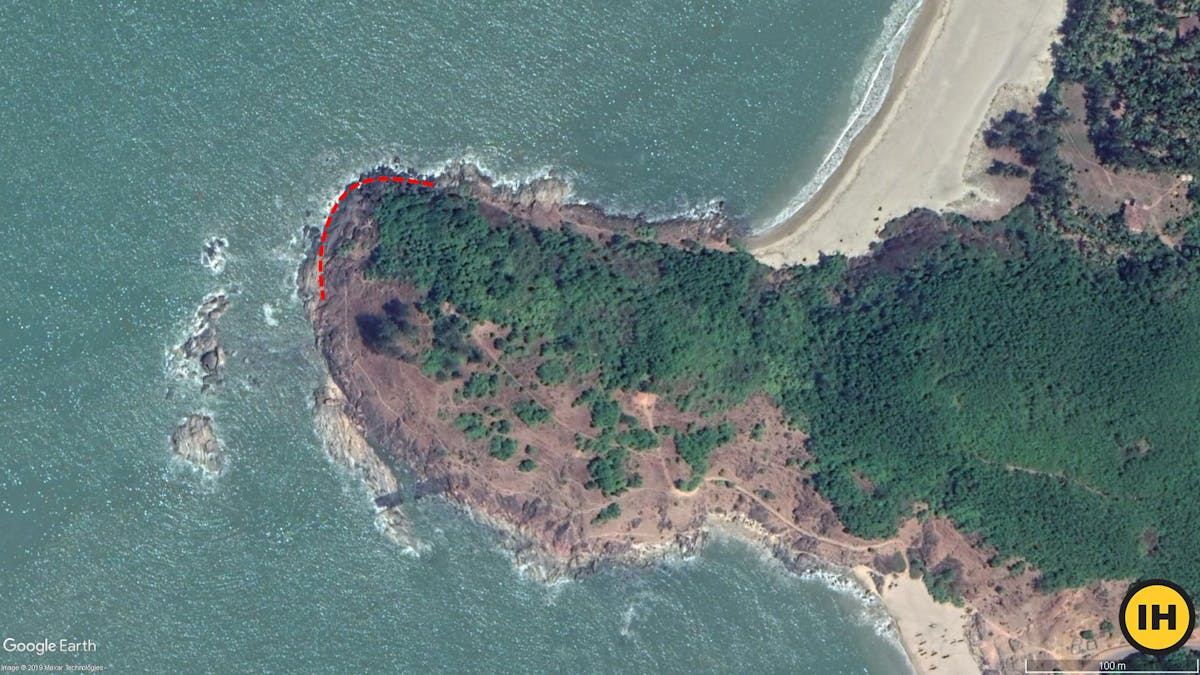 The tricky rocky section marked in red
Kagal Fort Ascent: The ascent to Kagal fort is tricky. There is no proper trail to reach Kagal fort. First you need to go through the steep gravel section to reach the bushes, there's no trail here. Find your way through the thorny bushes, after 50 meters / 10-15 minutes you will see the small fort wall, cross it to enter the fort. Now you need to find the fort wall opening to get out of here. Keep the fort wall on your right and keep going after 100-150 meters you will find a small opening which goes down to Heavens beach and Aghanashini.

Note:The trail up to Kagal fort might be different in different seasons. Just keep one thing in mind that you need to head up to the fort, don't go any other direction. If you find it too difficult to find a way to the top, walk along the roadhead to reach Aghanashini.

The screenshot below shows the tricky section to climb up the fort and the fort opening as well.
Fort Location:https://goo.gl/maps/pH59ScprquMab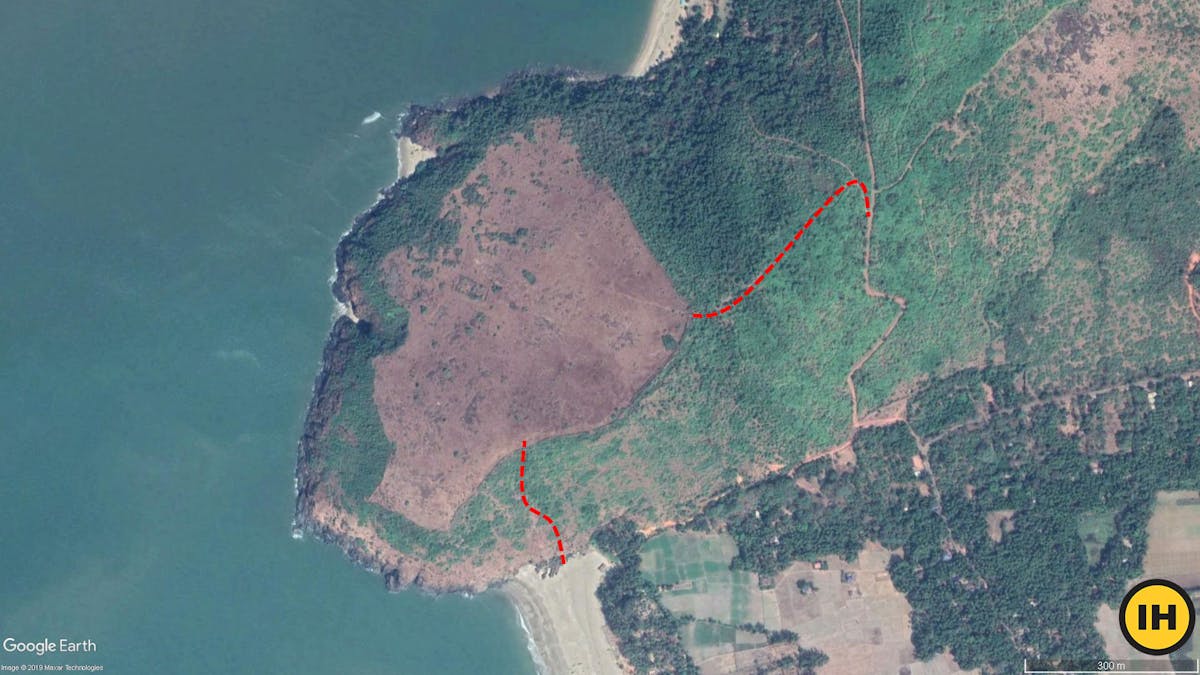 The tricky sections out of Kagal fort marked in red
➤ What to Pack for the Kumta Gokarna Trek
Basic First Aid kit*
Identity Card
Cap/ Scarf/ Bandana & Sunglasses
Water (Minimum two litres. Preferably a 2 litre water bladder plus 2 water bottles)
Lemon and salt OR Electrolyte Powder/Drink (ORSL/Electral/Gatorade/Glucon D, etc.)
High-calorie snacks (Nuts & dry fruits, home-baked cake, etc.)
Insect repellent (Odomos, etc.)
Spare newspaper
Multi-Tool/ Swiss Army Knife
Torch/ Headlamp with spare batteries.
Powerbank
Ziploc pouches
Sunscreen (SPF 50+)
Tent & Sleeping Bag/ Mat (If camping overnight)
A spare set of clothes & sandals (mandatory)
Basic Toiletries: Toothbrush & Toothpaste/Mouthwash.
*First aid kit:
Scissor
Band aids (Regular & Waterproof)
Analgesic spray (Relispray, Volini, etc.)
Antiseptic Liquid (Savlon, Dettol etc.)
Antiseptic powder (Povidone-Iodine based powders like Cipladine, Savlon, etc.)
Cotton roll & Bandage
Crepe Bandage
1 inch wide medical tape (paper or cloth.)
Micropore tape
Tablet for motion sickness (Avomine), Acidity (Gelusil, Digene, etc.).
Mild pain relief tablet (Crocin)
Note: Always consult a doctor before taking any medicine.
➤ How to Get Fit for the trek
Training Yourself
The Kumta-Gokarna trek is classified as an Easy-Moderate grade trek. Though the difficulty grade is easy, the continuous walk and a few but challenging sections on the trail can be quite demanding for people who lead a sedentary lifestyle.
Training yourself for a low-altitude Easy-Moderate grade trek
Here's a guide to help you get fit for the trek in 4 weeks.
Cardiovascular endurance
In case you're just starting with a fitness routine, start slow and increase your pace everyday in the following manner –
Target completing a brisk walk of 5 km in 45 minutes when you begin.
Gradually increase your pace by walking 5 km, 4 times a week.
As you become more comfortable, introduce jogging in your routine. 
Progressively increase the distance you jog in a workout until you can complete 5 km in 40 mins.
If you prefer cycling over running, target covering 15 km in 60 minutes when you begin. 
Progressively increase your pace to cover 18 km in one hour.
Strength training
This is an important area you need to work on.
Strength training is equally important to trek comfortably. Work on your glutes, quads, hamstrings, calves and knees. Additionally, work on strengthening your core.
You must strengthen your core muscles. For strengthening your core muscles, holding a plank and it's variations (elbow, side planks) are the best exercises to go about doing it.
Also try these exercises for strength –
Target 4 sets of each of the below exercises with 20 in each set. Progress your way upward slowly. Start with 2 sets initially.
– Squats (Mix it up with sumo squats)
– Lunges (Forward, backward and lateral lunges)
– Planks (elbow, side planks, single leg planks)
– Push ups (close arms, wide arms, with dumbbells)
– Deadlifts (ideally with dumbbells)
Flexibility
Flexibility determines the amount of movement your bones can make in any direction around joints such as shoulders, elbows, hips and knees.
It is an aspect that will help you trek comfortably. Carrying a backpack, however light, can become a strain. Stretching your hamstrings, quadriceps, hip flexors and lower back muscles regularly, promotes relaxation in the tissues reducing the strain on your back.
If you can't go out and jog because of time and space constraints, here's a video you can use to work out indoors.
Mobile network
You'll get mobile network for almost all major operators like Airtel, Vodafone & Jio throughout the trek.
Nearest ATM
You'll find ATMs at both Kumta and Gokarna.
There's also a solitary ATM in Gudeangadi. However, it's often out of cash.
So ensure you carry enough cash with you before starting for the trek!
➤ Trek Contribution
Authors: Amogha Skanda, Venkat Ganesh, Gautam Singh, and Roshan Padhi.