Can You Help Us With Photographs Of This Trek?
We are looking to enrich this documentation with more photos. Pictures go a long way in explaining the trail, more than words ever can. If you have done this trek, can you share your photos with us? We will include them on this page, with due credit to you. Click here to contribute.
The Complete Guide to Landour - Lal Tibba Trek
The highest peak of Mussoorie, Lal Tibba is one of the most popular places in the region. Located at Depot Hill in Landour, Lal Tibba is well known among travelers and trekkers alike. Be it the sight of mesmerizing mountain peaks or the splendid sunrise and sunset views, Lal Tibba doesn't fail to amaze you. 
Lal Tibba translating to Red Hill in English is one of the oldest places in Mussoorie, Uttarakhand. A testament to it is the structures from the pre-independence era that you see on the trail. 
Lal Tibba is a steep trail and is nestled with the dense canopy of Deodar trees. The trail is well marked throughout. At the top, there is a government-approved mounted telescope at a cafe named Lal Tibba Binocular Cafe. On a clear day, from the telescope, you get an excellent view of the Himalayas, including Badrinath and Kedarnath.
Lal Tibba is an easy trek and can be done by both beginners and experienced trekkers. It's a 3 km trek one way. The trek has some steep sections and climbs up to 7463 ft. So you need to be fit to have a good experience on the trek.
Table of Contents
Just like you, we love trekking! And this is a trek we've documented in great detail to help you do it on your own. Drop in comments at the end of the page if you need any help! You will get all the information required to do Lal Tibba Trek on your own.
To navigate through the documentation easily, use this section of the Table of Contents.
Highlights
Trail Information
Best Season to do the Lal Tibba Trek
Difficult Sections on the Lal Tibba Trek
How to Reach the Lal Tibba Trek
Frequently Asked Questions
Emergency Contacts on the Lal Tibba Trek
ATMs and Networks on the trek
Places to visit after the Lal Tibba Trek
Highlights:
1. Interesting history of the place
Landour, where the trek starts from, was named after Llanddowror, a small village in Carmarthenshire in southeast Wales. The British army built Landour in 1827 as a recovery place for the soldiers who suffered from malaria or any other tropical diseases. Those officers who did not survive used to be buried in the British-Military graveyard, which still stands there. The place also has an area called Sisters' Bazaar, named after those nurses who looked after the sick soldiers.
Trail to Lal Tibba has many interesting structures that date back to the pre-independence era. It adds a nice touch to your experience of the whole trek.
Landour is also home to many well-known celebrities, including Ruskin Bond. He lives in a quiet little house on the Landour-Lal tibba trek. Victor Banerjee's house is named "Parsonage", and Sanjay Narang's fabulous cottage is right on the hill's edge. Pranoy Roy and Tom Alter also have their homes here.
2. View from the mounted telescope at summit
On the top of Lal Tibba, at the edge of the cliff is an old telescope, installed in 1967. It gives you a beautiful, clear view of the snow-capped mountains. 
View of the snow capped mountains from Lal Tibba summit. Picture by Deepali Bansal
On a clear day, you can enjoy the magnificent panorama of Nilkantha, Swargarohini, Kedarnath and Bandarpoonch range. You even get to see Mt Nanda Devi, India's highest mountain.
Trail information
Route Map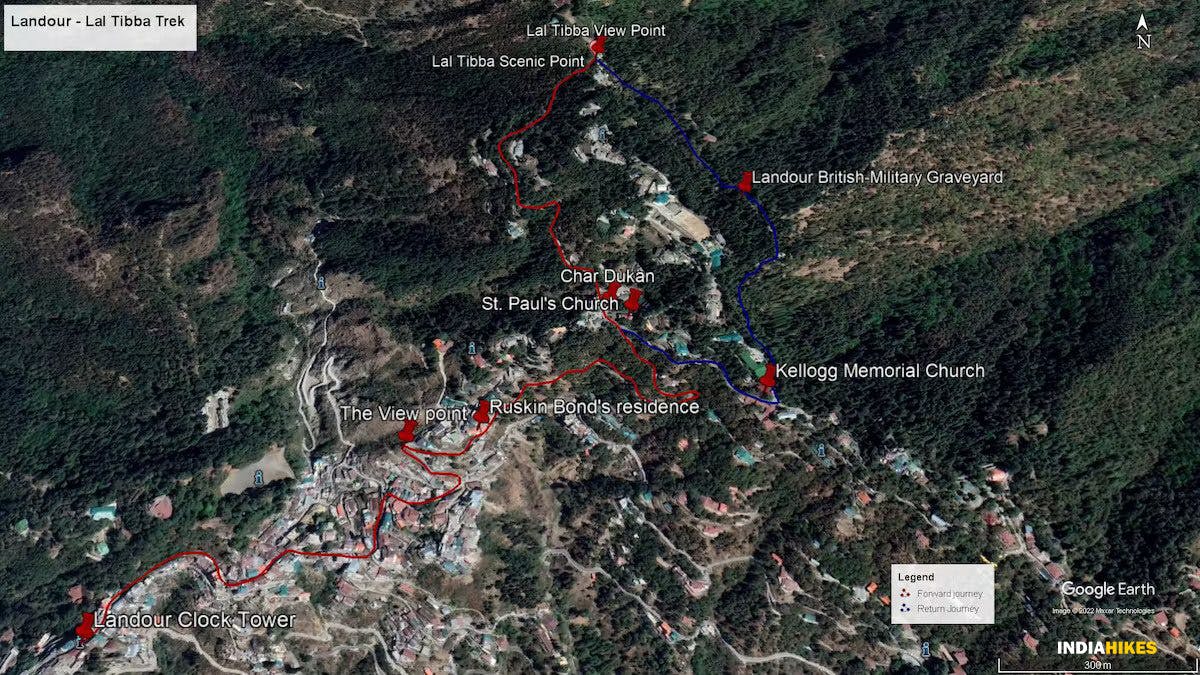 Route Map of Landour-Lal Tibba Trek. Screenshot on Google Earth Pro
Lal Tibba trek can be divided into four sections.
Landour Clock Tower to Ruskin Bond's Residence
Ruskin Bond's Residence to Char Dukan
Char Dukan to Lal Tibba View Point
Lal Tibba Viewpoint to Char Dukan via Kellogg Memorial Church (Return journey)
Section I: Landour Clock Tower to Ruskin Bond's Residence
Trek Distance: 1.25 km
Trek Duration: 45-60 minutes
Lal Tibba Trek starts from Landour Clock Tower, located just at the beginning of Landour cantonment limits. Though you can drive till Char Dukan, it's advisable to park your vehicle in the parking space near Landour Clock Tower, as the lane further is too steep and narrow.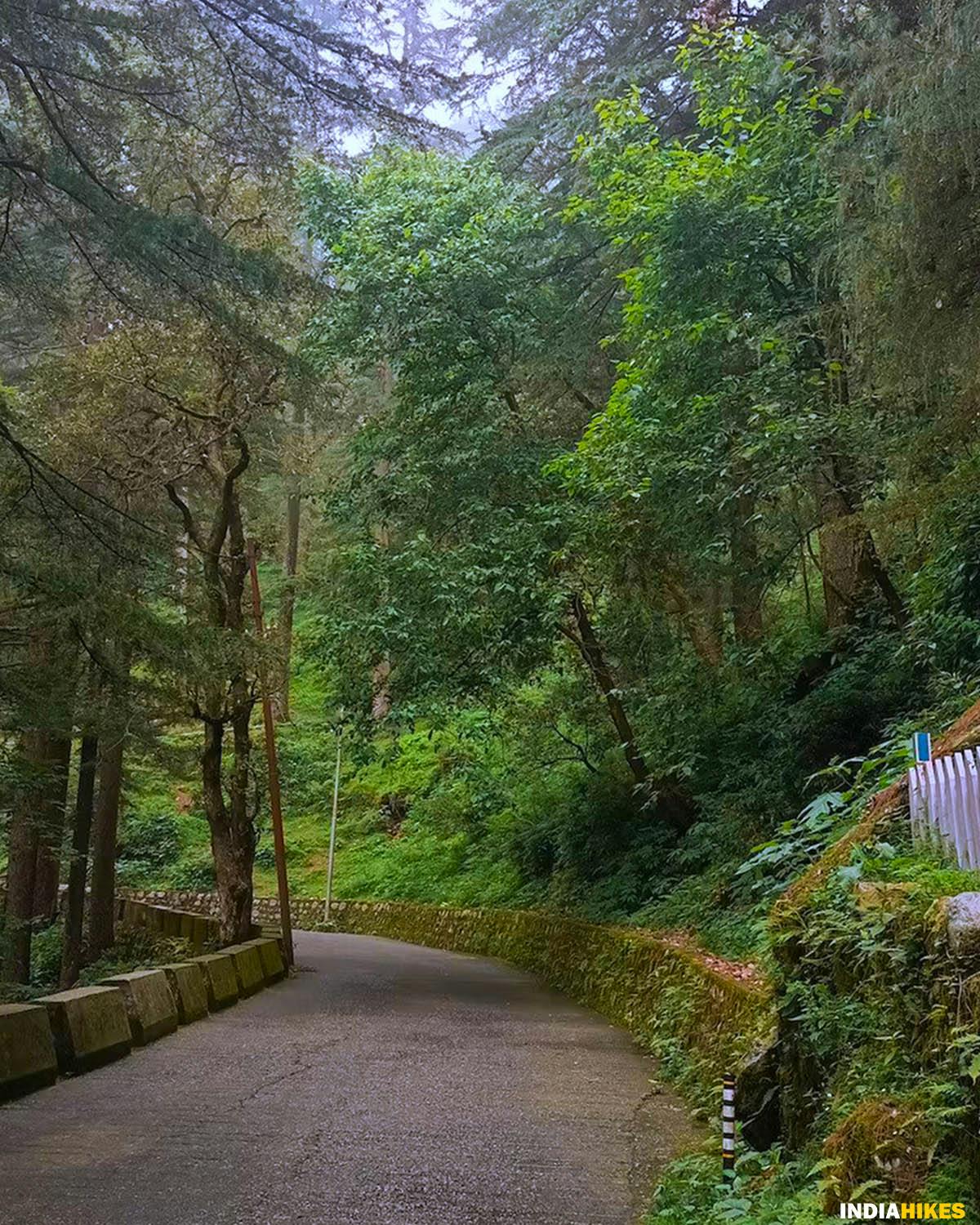 The trek begins with a well laid out trail. Picture by Deepali Bansal
The trail is steep, but is concretized through this section. After a kilometre of a walk in this steep lane, head northeast to reach a viewpoint. It offers you views of astonishing mountains. There is a shed nearby. Soak in the beautiful views while relaxing there for a bit.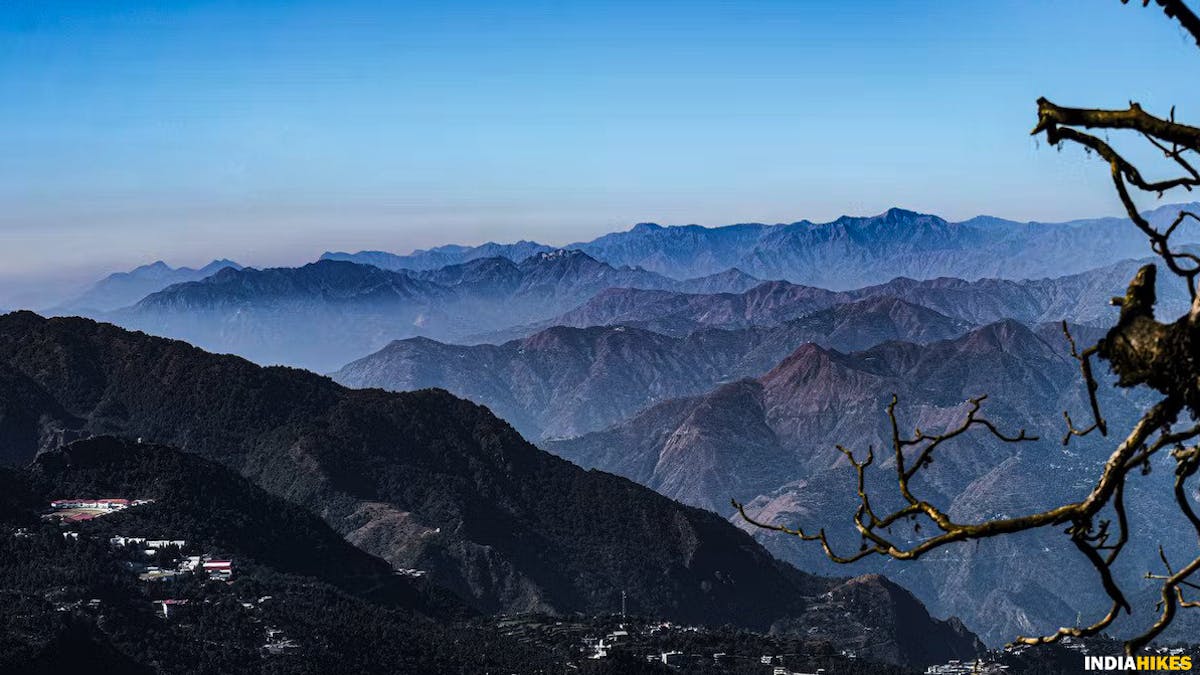 Breathtaking views of the mountains seen from the viewpoint on the way. Picture by Deepali Bansal
The trail has many stalls and is the best place to shop for locally made items. They have antiques, Pahari handicrafts, woolens, local jams, peanut butter, cheese and books by renowned writer Ruskin bond. 
Around 200 metres from there is one of the famous restaurants in Landour, namely Doma's Inn. You must try the Tibetian food here. The ambiance of the place is also stunning. 
Next to Doma's Inn café is the residence of a well-known Indian author - Ruskin Bond. There is a hundred-year-old Deodar tree near the place. Do not miss out on spotting it.
Section II: Ruskin Bond's residence to Char Dukan
Trek Distance: 850 metres
Trek Duration: 20-25 minutes
From here, the nature trail starts. The trail is well marked and steep. But trekking in the midst of towering Deodar trees makes it a pleasant experience. The echoing sounds of Cicadas keep you company. The rustic look of this trail draws your attention.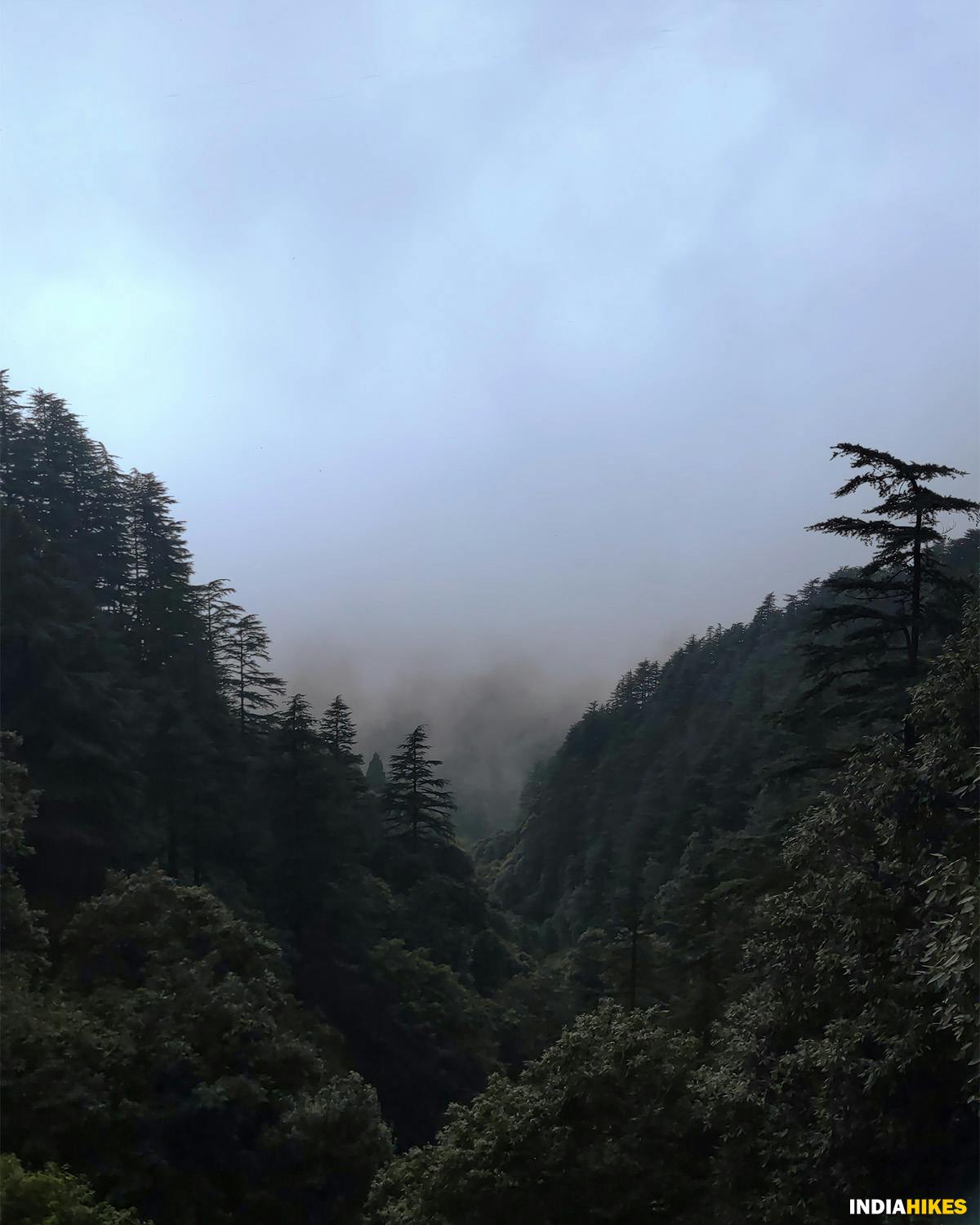 Dense vegetation of Deodar trees. Picture by Nakul Malhotra
There is a viewpoint near Ruskin Bond's residence. You get stunning views of the mountains from here.
Panoramic views of the surrounding mountains from the viewpoint near Ruskin Bond's residence. Picture by Deepali Bansal
This trail will lead to the famous place of Landour i.e. Char Dukan.
Char Dukan is a place where four eateries have been there from the past 100 years. In the vicinity of Char Dukan, there are ancient Himalayan oaks, blue pine, and Himalayan fir. Sit on the sturdy old wooden benches and relish a cup of tea with some snacks as you soak in the views of the surroundings. You may try pancakes, momos, and parathas here. 
Next to char Dukan is St. Paul's Church, built during the British Raj, making the place very photogenic.
Section III: Char Dukan to Lal Tibba View Point
Trek Distance: 900 metres
Trek Duration: 25-30 minutes
From Char Dukan, there are two trails. One on the left and the other on the upward-right from St Paul's Church. You can choose any one of them and descend from the other. 
If you are trekking early in the morning, you should take the left trail as it is the best part for birding and sightseeing.  
If you choose the trail on the left, the sloped terrain with old and large deodar trees will surely refresh you. After 15 minutes of trekking, you'll see the beautiful residence of famous Indian Actor Victor Banerjee. The house is named 'Parsonage' and has a white picket fence. On the side of the parsonage, an earthen pot is always kept filled with fresh and clean water. So if your water bottle is empty, you can refill it.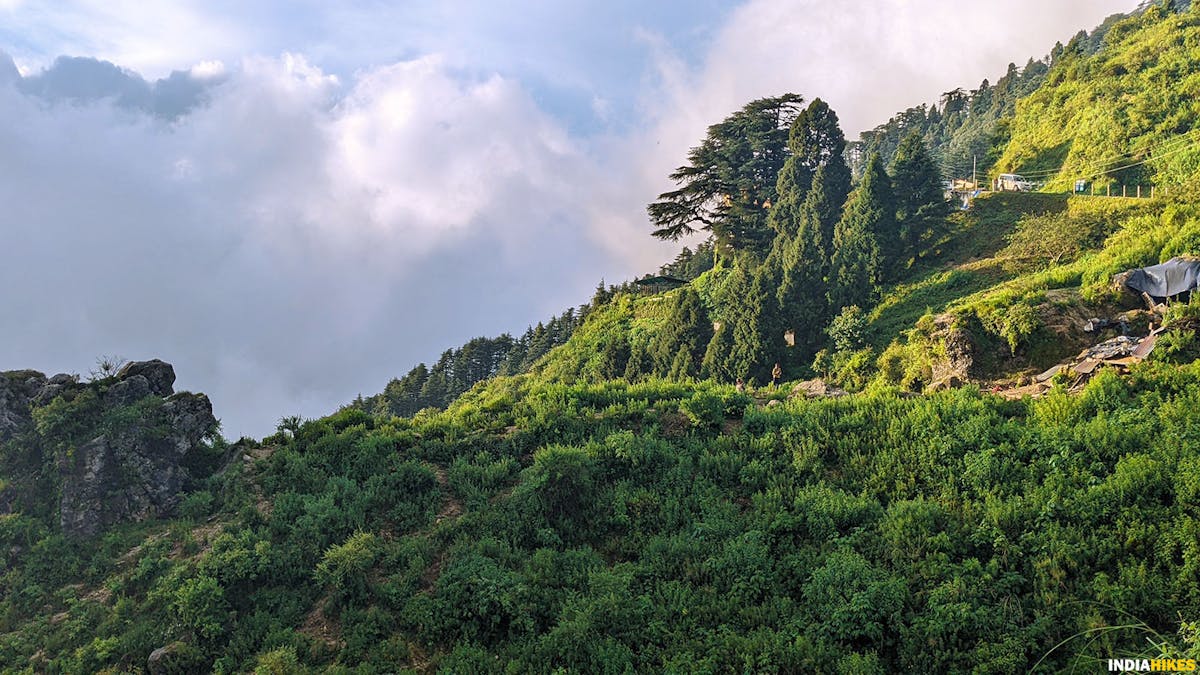 Beautiful lush green views with clouds can be witnessed on your way. Picture by Nakul Malhotra
On this trail, do not forget to notice the green boards on a few trees. The writings on them beautifully convey the importance of nature. As you trek forward, the trail will reveal the incredible scenic beauty of snow-capped mountains. 
If you are planning to stay a night, then there are a few beautiful cottages on the way where you may stay at nominal charges. 
Maintain silence and keep your eyes and ears open in this section, as the place is rich in flora and fauna. In this stretch, you will definitely hear a lot of birds chirping. Verditer Flycatcher, Blue Laughing Thrush, and Himalayan Griffon Vulture are a few of the sightings here. Also, Himalayan fir and Rhododendron are a few common species of flora. If you are visiting the place in spring, the pinkish-red beautiful blossom will add charm to the trail.
Tip: If you want to see the birds up close, carry a set of binoculars with you.
Continue trekking on the same trail and you will soon reach 'Lal Tibba Binoculars & Café', the viewpoint of Lal Tibba. Enjoy the enthralling view of the Himalayas from the top of the cafe. You will have to pay Rs 50 for entry only if you are not buying anything from there. On a clear day, the famous gigantic hills of Kedarnath, Banderpooch, and Nilkantha can be viewed via the old telescope mounted on the top of the tower of the café or by the binoculars. You can have a peaceful time there with the mountains.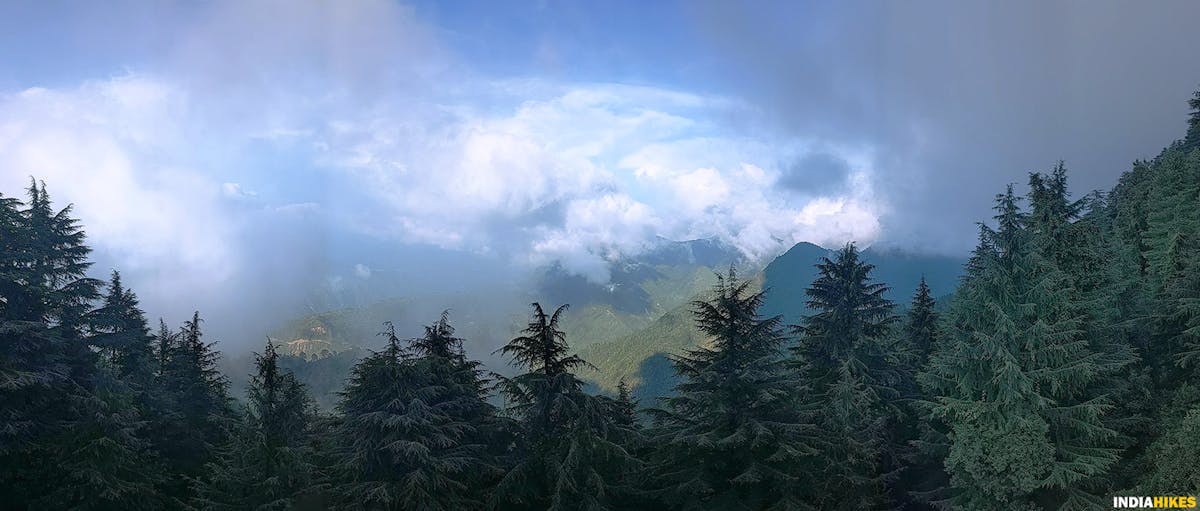 On some days due to cloudy weather you can't see the Himalayan ranges but surely can enjoy a picturesque view on your trail. Picture by Nakul Malhotra
Section IV: Lal Tibba Viewpoint to Char Dukan via Kellogg Memorial Church (Return journey)
Trek Distance: 1.1 km
Trek Duration: 30 minutes
This section of trekking is optional. You can return back from the same trail you came. But if you want to relish the beautiful structures of the British era, then you must explore this portion of the trek. 
As you trek forward, you will be mesmerized by the scent of nature. The strong fragrance of fresh leaves mixed with soil makes the entire landscape one of its kind. 
About 500 metres on this trail, is the British Military Graveyard, where soldiers who died due to tropical diseases were buried. You will be able to see ancient graves there. 
This trail will also lead you to age-old houses adding to the rustic appearance of the place. 
Continue on the same trail and you'll reach Kellogg Memorial church. It has a gothic style of architecture. Visit the church and spend some time there.
Three lanes are going ahead from the church. One is the U-pin lane, the second is on the right, and the third is next to the church. To go back to char Dukan, you have to go in the lane right next to the entry stairs of the church. This narrow concrete road will take you to the front of Char Dukan, from where it will take an hour to return back to the clock tower.
Best Season to do the Lal Tibba Trek
Lal Tibba is accessible throughout the year. Each season has its own charm and beauty associated. We would even suggest trekking here during different seasons to notice the difference. 
Depending on your interest, you can trek here during different seasons. However, avoid peak monsoon as the trail is steep and becomes very slippery.
Summer is the best time to get relieved from the scorching heat of the city. Also, it's when the place looks greener and is covered by thick foliage.
If you are a snow lover, winter is the best season to visit. 
If you want to see the trail in full bloom, spring is the best time to visit.
For the clear views of snow-capped mountains, trek in autumn.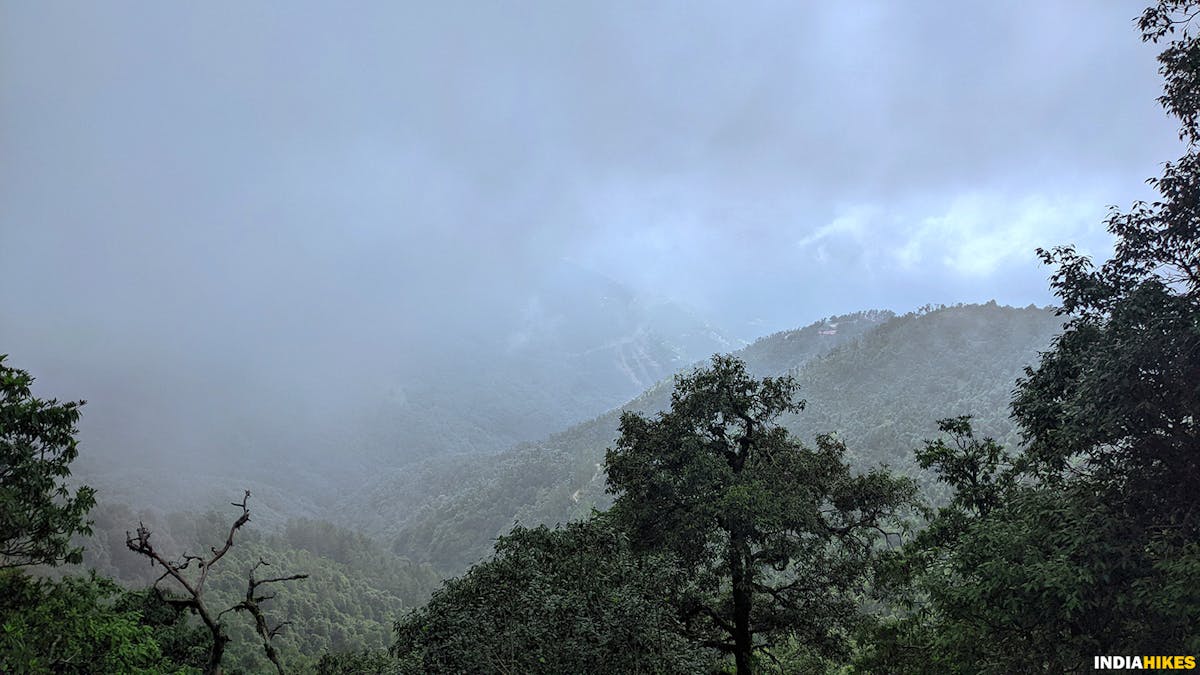 Engulfed in the clouds.Post monsoon views. Picture by Nakul Malhotra
Difficult Sections on the Lal Tibba Trek
There are no difficult sections on the trail. 
However, the trail from Landour Clock Tower to Char Dukan is very steep. It's important you prepare well for the trek. Wear proper trekking shoes and carry a pair of trekking poles to help you navigate through the steep section easily.
How to reach Lal Tibba Base
The trek starts from Landour Clock Tower which is around 5.7 km from Mussoorie.
For ease of understanding, we have broken down the journey based on the transport and the route you take.
Reaching Lal Tibba Base by your own vehicle
Landour Clock Tower can be easily reached by road. It is just 5.7 km from Mussoorie and about 38 km from Dehradun. 
If you plan to go by your own vehicle, use this link to help set up navigation on Google Maps.
Reaching Lal Tibba Base by Public Transport System
There are no buses that go to the Landour Clock Tower. However, as it's just 5.7 km away from Mussoorie, you can hire a taxi. The cost of the taxi is between Rs 500 and Rs 600.
Nearest Airport and Railway Station
Dehradun Railway Station is the nearest Railway Station and is 38 km away.
Jolly Grant International Airport, Dehradun is the nearest Airport and is around 55 km away from Lal Tibba.
Frequently Asked Questions
Permission and Camping 
There is no permission needed for the trek. 
But you've to pay Rs 50 as entry fee at the Lal Tibba Binoculars Cafe.
Parking facility near Lal Tibba
If you are going for the Lal Tibba trek by your own vehicle, you don't need to worry about a parking spot. There is safe public parking near Luxmanpuri, Landour. 
If you wish to visit the nearby places like Mussoorie Library, you can park your vehicle in Multi-level parking at Mall road, Mussoorie. 
Stay Options near the Trek 
From Char Dukan to Lal Tibba, there are many cottages where one can stay. You've to book in advance to stay there. You can book for them on Goibibo or MakeMyTrip.
Another option is to stay at Mussoorie. Mussoorie has many options, check out the link here.
Timings on the Trek
This is a day trek and takes about 3 hours to complete.
There are no timings as such. If you are coming back on the same day and not staying in the cottage, keep a Turn Around Time(TAT) of 5 PM. It is to make sure that you'll be back before it gets dark.
Food and Water Source on the Trek
Food: There are many cafes and restaurants on the trail. They mostly use reusable containers and cutleries. However, make sure to carry your own tiffin boxes in order to avoid any disposable containers.
Water: You can fill your water bottles in the cafes on the trail.
ATMs and Networks on the trek
There are a few ATMs available on the Mall road, Mussoorie. Carry enough cash from here.
You get all the major networks on the trail. But it is patchy in some sections.
Emergency Contacts on the Lal Tibba Trek
Nearest Hospital and Police Station 
Pharmacies: A few pharmacies near Landour Clock Tower are open from 10:00 am till 10:00 pm. Many medical stores with delivery facilities are located near the Mall road in Mussoorie.
Hospitals: Below is a list of nearby hospitals with complete addresses and contact details:
Landour Community Hospital
Landour Cantt, Mall Road
Mussoorie, Dehradun District, Uttarakhand – 248179
Phone: 0135 2632053, 0135 2632541

St. Mary's Hospital
22, Near Punjab National Bank
The Mall Road, Kulri
Mussoorie HO, Dehradun District, Uttarakhand - 248179
Phone: 0135 2632869

Civil Hospital
Ghanta Ghar, Mussoorie HO
Mussoorie Dehradun District, Uttarakhand - 248179
Phone: 0135 2632891
Mussoorie Police Station is the nearest police station and is 5 km away.  
Contact Number: 01352716227
ERSS: For any kind of emergency help, you can contact the Pan-India Emergency Response Support System (ERSS) number- 112
Places to visit after the Lal Tibba Trek
Company Garden: The Company Garden is one of the famous tourist attractions in Mussoorie. It is around 3km from the Mussoorie Mall Road. This garden is a beautiful place surrounded by the high Himalayas. 
Gun Hill: Gun Hill, an extinct volcano, is 2024 meters and is the second-highest point in Mussoorie. The top of this hill offers a panoramic view of the snow-capped Himalayas and Mussoorie Hill Station, right next to the vast Doon Valley. Located 400 feet above Mall Road, Gun Hill is a top-rated attraction for photographers and nature lovers.
Kempty Falls: Kempty Falls is one of Mussoorie's most popular attractions and picnic spots. Kempty Falls is about 4500 feet above sea level, surrounded by high mountain cliffs. The pond at the foot of the waterfall is a great place to swim or bathe. The name Kempty Falls derives from the term "camp and tea," which was once a reference to the gorgeous evening tea party held here and eventually became the localized name for Kempty. 
Camel's Back Road: In the heart of Mussoorie, Camel's Back road is a 3 km road lined with natural rocks shaped like camel humps. Overlooking the Doon Valley, you can enjoy breathtaking views of the Himalayas. It is also a popular place to see the sunrise and sunset. Long walks and morning jogs along this street are the best way to explore what this beautiful place offers. Along the backstreets of Camel, you can also see the 180-year-old English cemetery in Mussoorie.
Clouds End: The main attraction of Clouds End is the historic building, built by the British in 1838 and is one of the oldest in Mussoorie. The Clouds End Observatory, four miles west of the library, marks the geographical end of the beautiful hill town of Mussoorie. Surrounded by dense oak and cedar forests, the Benog Wildlife Sanctuary offers beautiful hiking trails and soothing mountain air 2 km away. Visit Clouds End, especially for breathtaking views of the Aglar River Valley.
Trek Contribution
Trek documented Deepali bansal
Trek edited by Manasa N L.
Photos contributed by Nakul Malhotra , Deepali Bansal
Photos Edited by Sneha.G.Iyer

GPX File Opt in
We go to great lengths to ensure you have a safe trek. So here's a GPX file of the trail to help you navigate without getting lost.