Can You Help Us With Photographs Of This Trek?
We are looking to enrich this documentation with more photos. Pictures go a long way in explaining the trail, more than words ever can. If you have done this trek, can you share your photos with us? We will include them on this page, with due credit to you.Click here to contribute.
The Guide To Lingana Raigad Trek
The Sahyadris are said to be home to over 400 treks. There is something in store for everyone here. Poised on the cusp of the Deccan plateau overlooking the Konkan region in Maharashtra is the Lingana to Raigad trail.
This trek can be considered as a subset of the bigger Torana to Raigad trek. It is a must do for any hardcore trekker.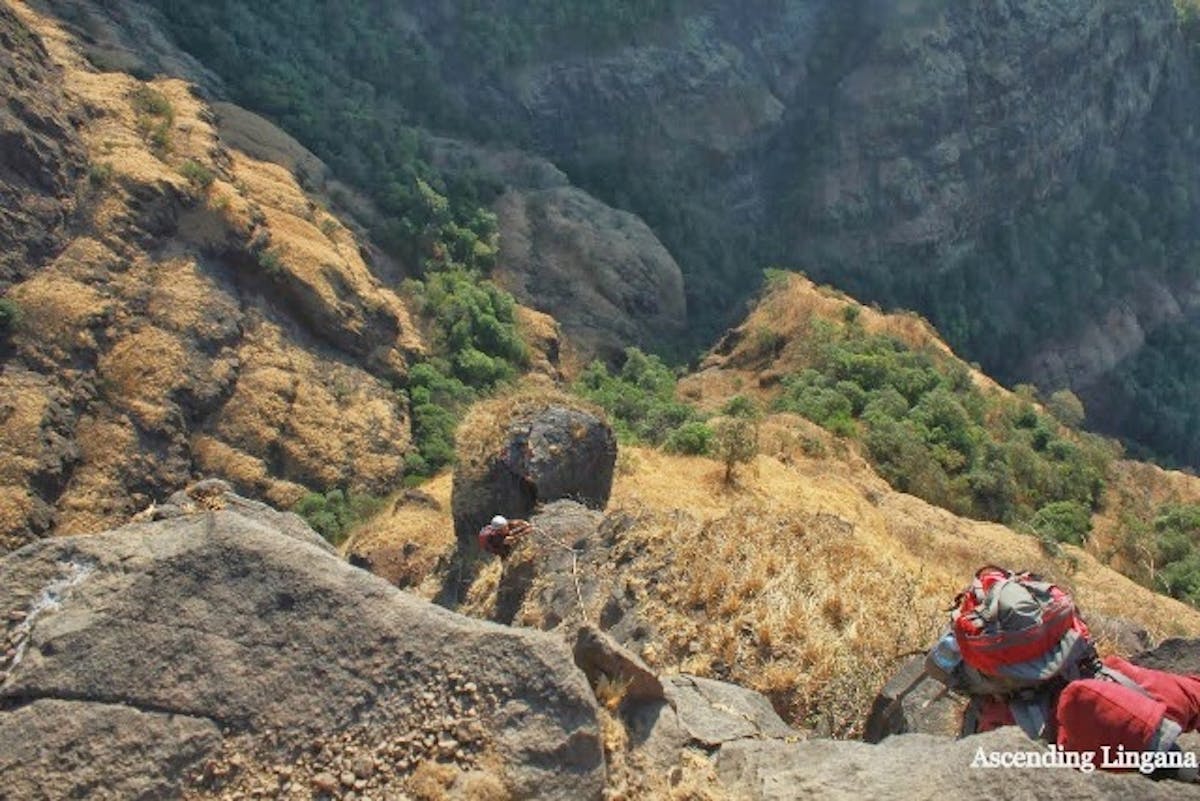 Climb to Lingana
This trek combines the thrill of a 1000 feet technical climb, 700 feet of rappelling, climbing down deep and steep gorges, trekking through dense forests, a serene walk through farms beside a calm river and soaking in a bit of history atop Raigad.
All in all, a complete package that will leave you with a sense of pride and achievement after completing it.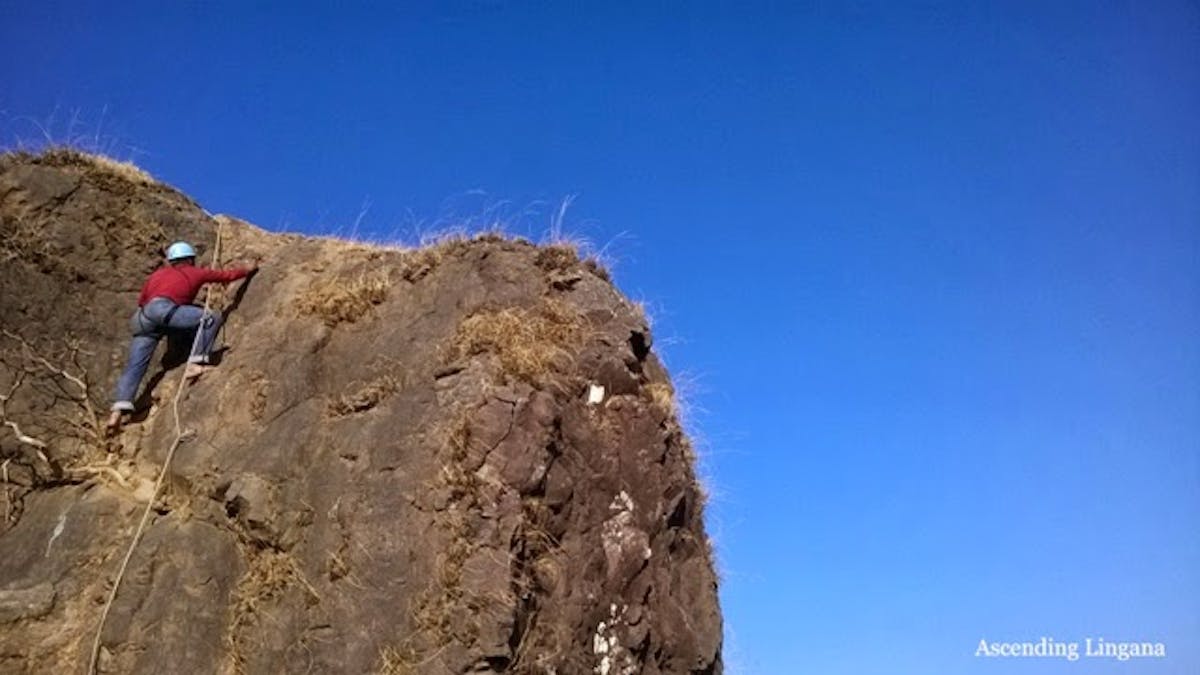 Steep ascend to Lingana
After reading blogs about Lingana fort and having heard about the trail to Raigad, I and my friends decided to take up the challenge.
We started from Pune in the afternoon at around 4.30 with a group who had arranged the Lingana summit climb event.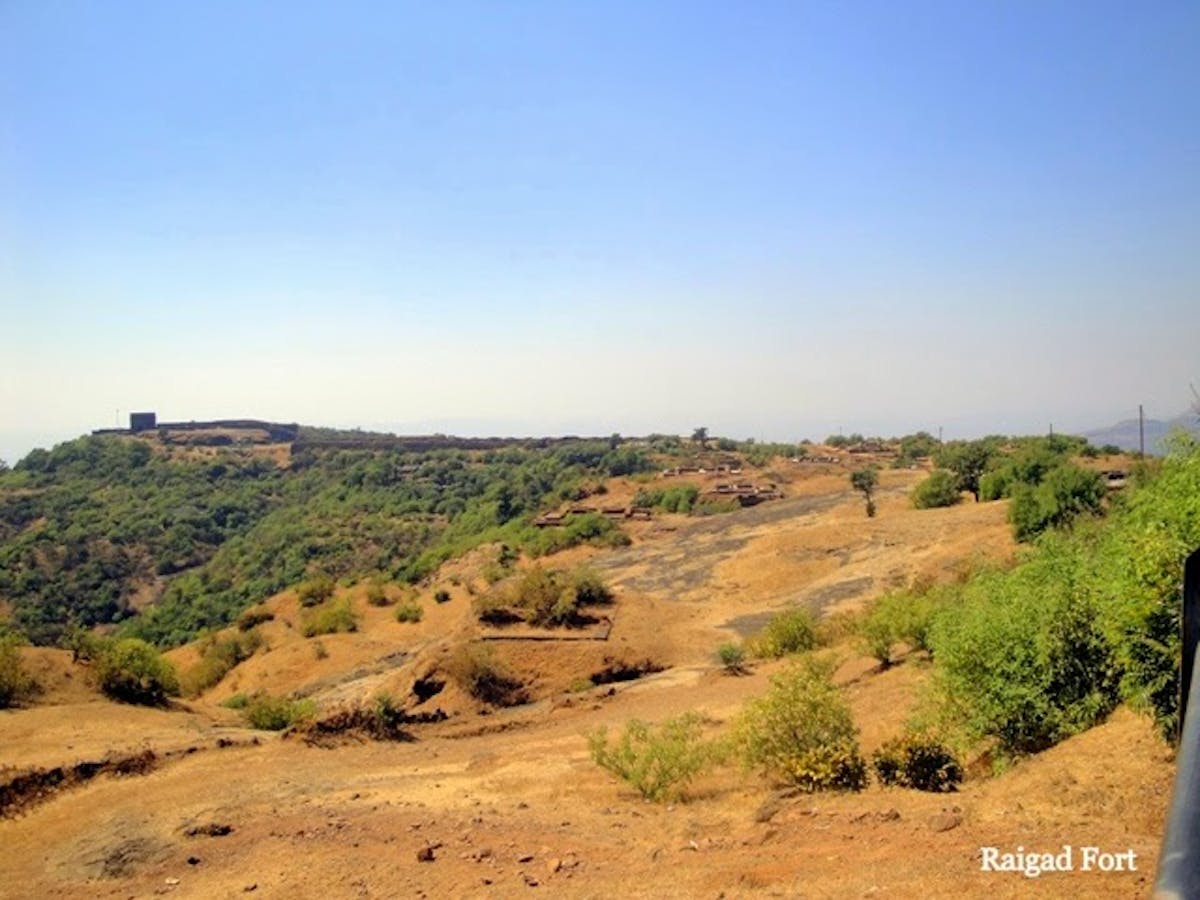 Raigad fort
Poised on the cusp of the Deccan plateau overlooking the Konkan region in Maharashtra is the Lingana to Raigad trail.
This trek can be considered as a subset of the bigger Torana to Raigad trek. It is a must-do for any hardcore trekker.
Whether you are a novice hiker looking for a peaceful weekend getaway or a professional climber looking for some serious action, there is something in store for everyone at the Sahyadris!
Trail Information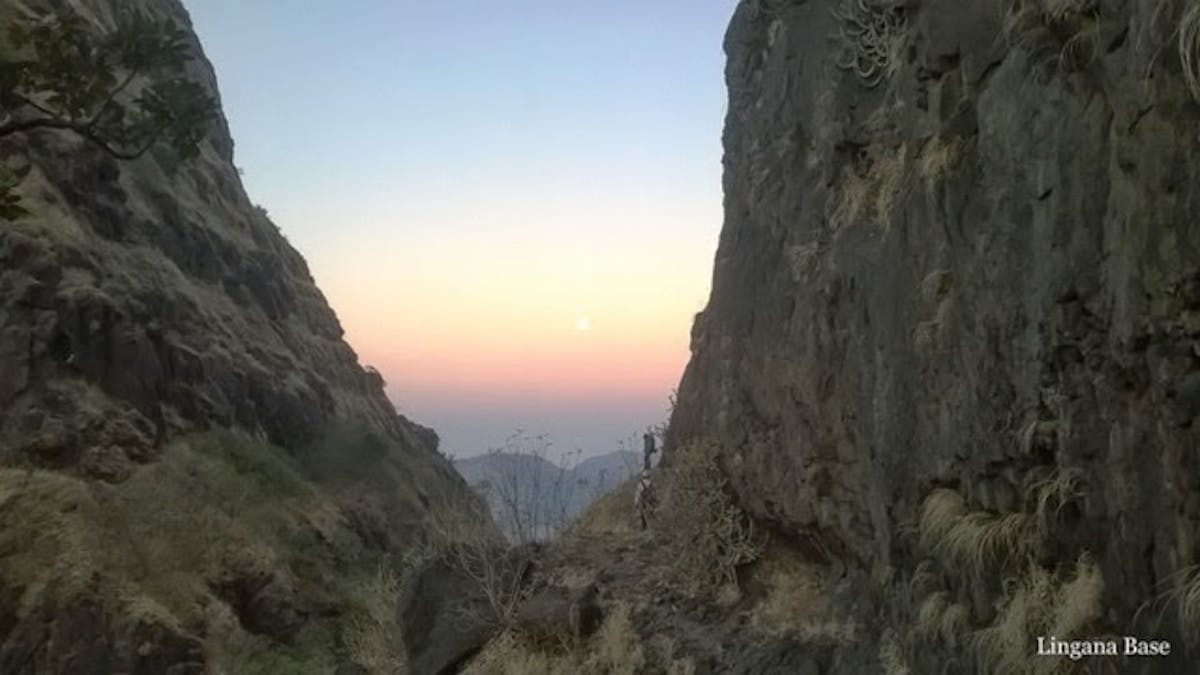 Lingana base
We stopped on the way at Velhe (base village of Torana fort) for quick refreshments. So if you plan to do the complete Torana to Raigad trek, this is where you get off). If you are using public transport, then Velhe is the last village connected by the State Transport service from Swargate. There are two routes to reach Velhe. The first from Nasrapur and the second from Sinhagad road towards Panshet and then taking the turn towards Velhe. Both would take almost the same time, but distance-wise the one from Sinhagad road is shorter. The road to Mohari from Velhe via Bhati is very bad and limited transport is available. So it's better to reach Velhe early in order to find a vehicle going that way. 
We reached Mohari at around 9 pm and had dinner which was provided by the Sarpanch of that village. It's a small village with probably 10-12 huts. If you need food or accommodation, you can get in touch with Balu More  (Contact: 07588950135, 08378839146). It was a full moon night and we had camped in a meadow. Being the second week of February, it was still quite chilly. Our team of around 14 huddled around the campfire for a round of introductions before retiring to tents for the day.
Mohari campsite
Since the Lingana ascent is mostly rock climbing, it is advisable to start as early as possible to avoid climbing on hot rocks. We began the trek at around 5 AM next day. Walking for around 15-20 minutes on a trail towards the southwest of Mohari brought us to Boratyachi Nal. The Nal is a narrow gully or a gorge between two mountains. It is littered with boulders and gets pretty steep at places. Descending the Nal, especially in the dark is an experience on its own. The trick here is to find the traverse which will take you to the base of Lingana. The start of the traverse is very hard to find and you will have to keep looking for it towards your right, after descending about 200 feet in the Nal. The traverse does look a bit difficult at its start, but it's bolted so if you are carrying ropes, it is advisable to anchor yourself.  If you miss the traverse, chances are you will keep descending down the Nal and eventually reach Dapoli village after a good 5-6 hours. The base, which is between the Lingana peak and Railing plateau also marks the start of the trail towards Lingana Machi which would eventually lead us towards Raigad.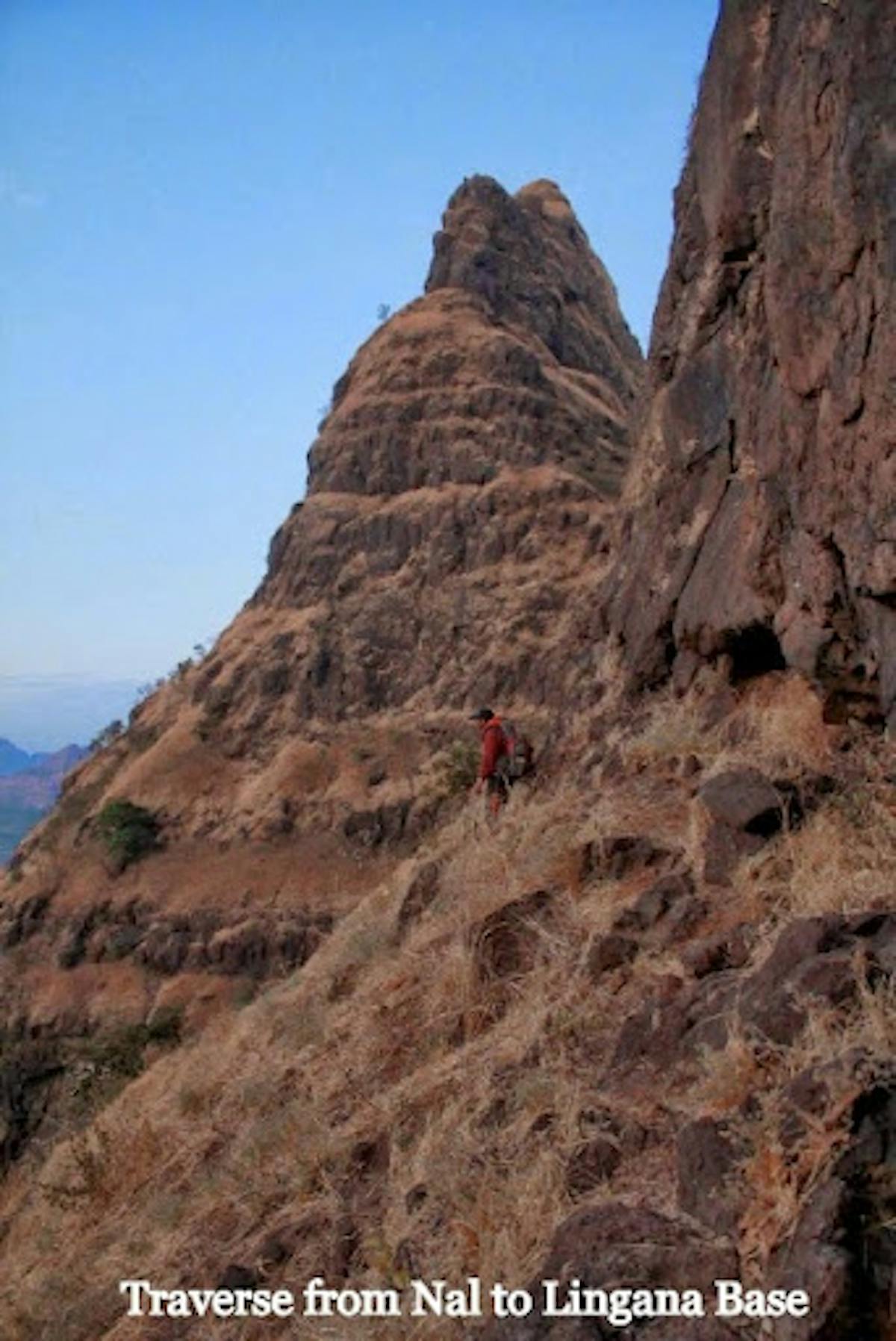 Traverse from Nal to Lingana base
The entire route is properly bolted, so all you need to do is carry your own ropes and other equipment. Steep falls of 1000-1500 feet on both sides of the climbing route adds a generous dose of thrill to the experience. Professional climbers can cover most part of this route without anchoring. But even if you are experienced, the risk here is very real and it is advisable to anchor yourself at least at the tricky spots, because the margin for error is nonexistent.  Half way through the climb, we reached the Lingana cave. The cave is almost 10 X 10 feet in size and is regularly used by climbers to camp. There is a water cistern from which you can refill. The cistern may look polluted, but the water is very much potable and the green color is just the algae sticking to the ceiling of the cistern.
All of us managed to reach the summit just before 10 and celebrated our success with some fruit juice. The summit offers a breathtaking 360 degree panorama. You can see Torana and Rajgad to the Northeast and Raigad to the west. The entire trail to Raigad is visible from the summit and we discussed our strategy for the next part of our trek for some time. We got extremely ambitious and set our target to reach Raigad summit on the same day. This is an extremely difficult feat, which we eventually learnt the hard way.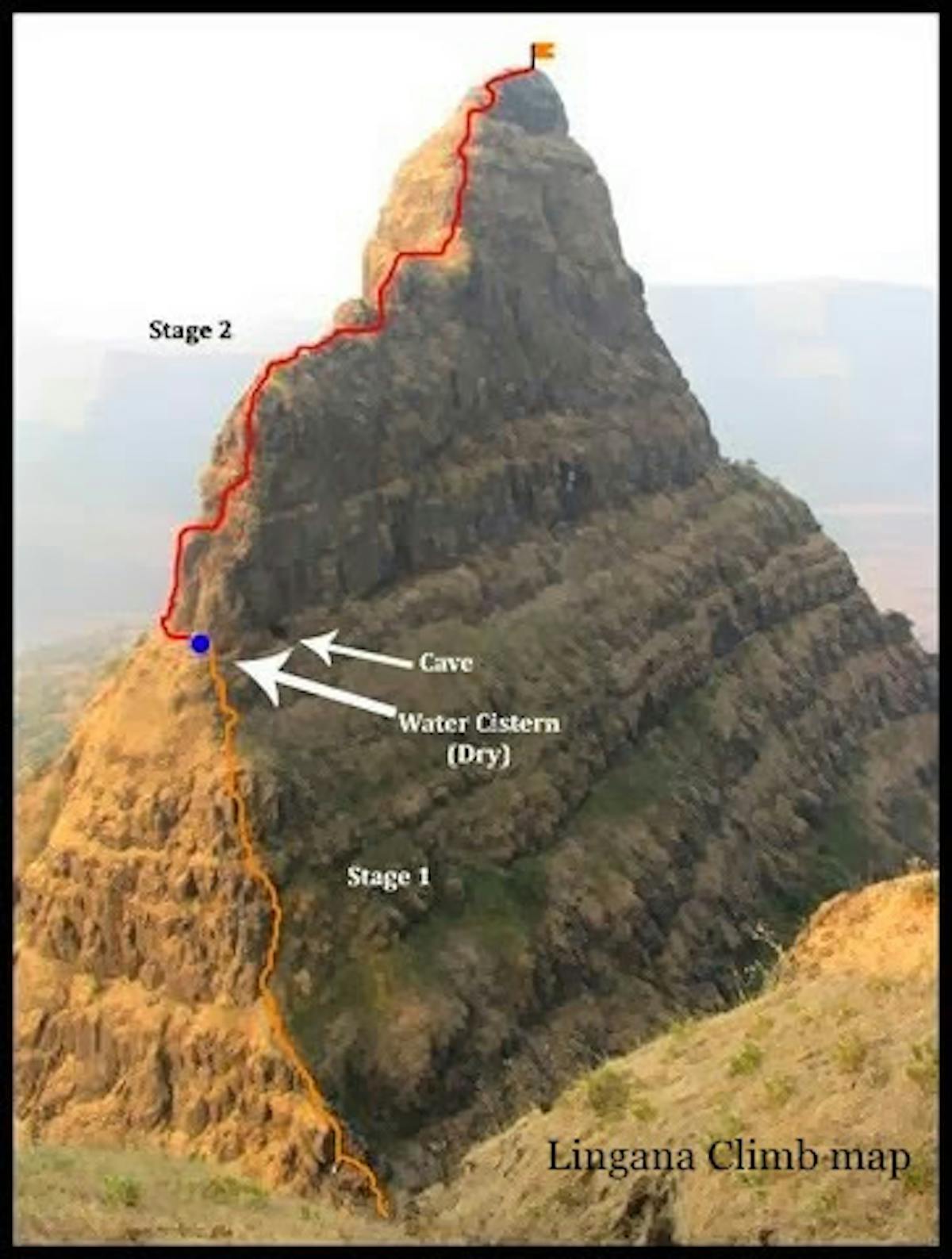 Lingana climb map
We started the descent by rappelling down in patches of 50-70 feet initially and then 180-200 feet later on. Since many of us were rappelling for the first time, it took a while for the entire team to reach the base. We bid adieu to the WTA group at this Lingana Base and the 4 of us took the trail towards Lingana Machi that I had talked about earlier. With all of us being first-timers on the route, we quickly lost our way in the jungle. But we recovered and got back on the trail. The trail is not very clear and it's easy to lose your way. But as a thumb rule, keep moving along the Railing plateau and you will be just fine. After about 10 minutes of walking on the trail, we reached another dry gorge called the Kol. The route to Lingana Machi is down this gorge.  The path gets pretty narrow at places and quite steep too, but can be easily managed.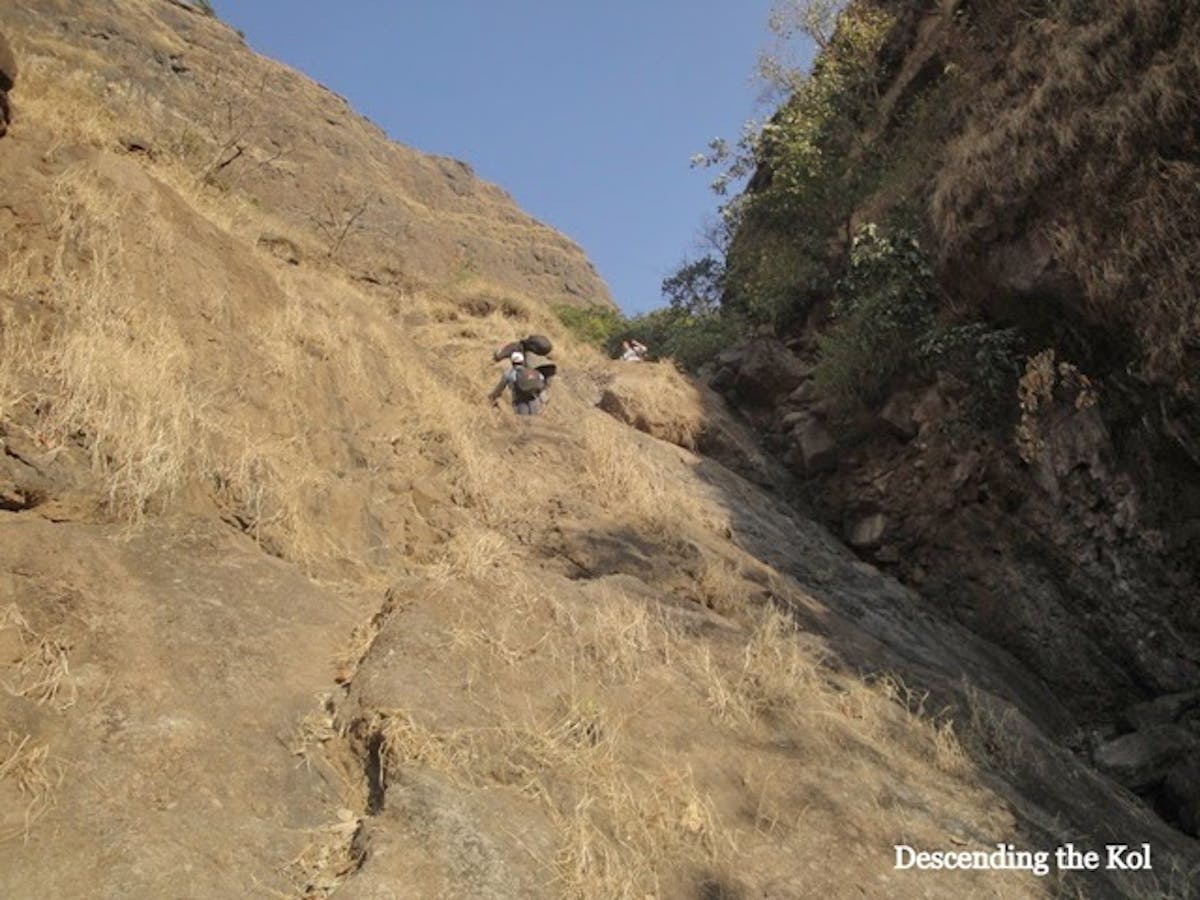 Descending the Kol
Now we were told that we would reach a traverse that would take us to Lingana Machi after 30 minutes of descending the Kol. We kept climbing down for almost 3 and a half hours but could not spot the traverse. We got a feeling that we had descended too far and missed it. It is very difficult to gauge distance and altitude while in the Kol. It was almost sundown and we had not even achieved 20 percent of our target. All the four B school grads got extremely uncomfortable with this slow progress. But the real reason for our discomfort was the fact that we had just half a litre of water left between the four of us. We had been told that we would reach Lingana Machi which has a village and a well in about an hour. So we had packed only about 3 liters of water collectively. We had by now run out of most of it. It was getting dark and we were not even close to a water source. We had all the resources to camp in the wilderness except for water. The efforts of descending down the Kol had drained us completely. We had to choose between climbing down further and risking getting lost and bivouacking in the Kol. We were racing against time to make a decision.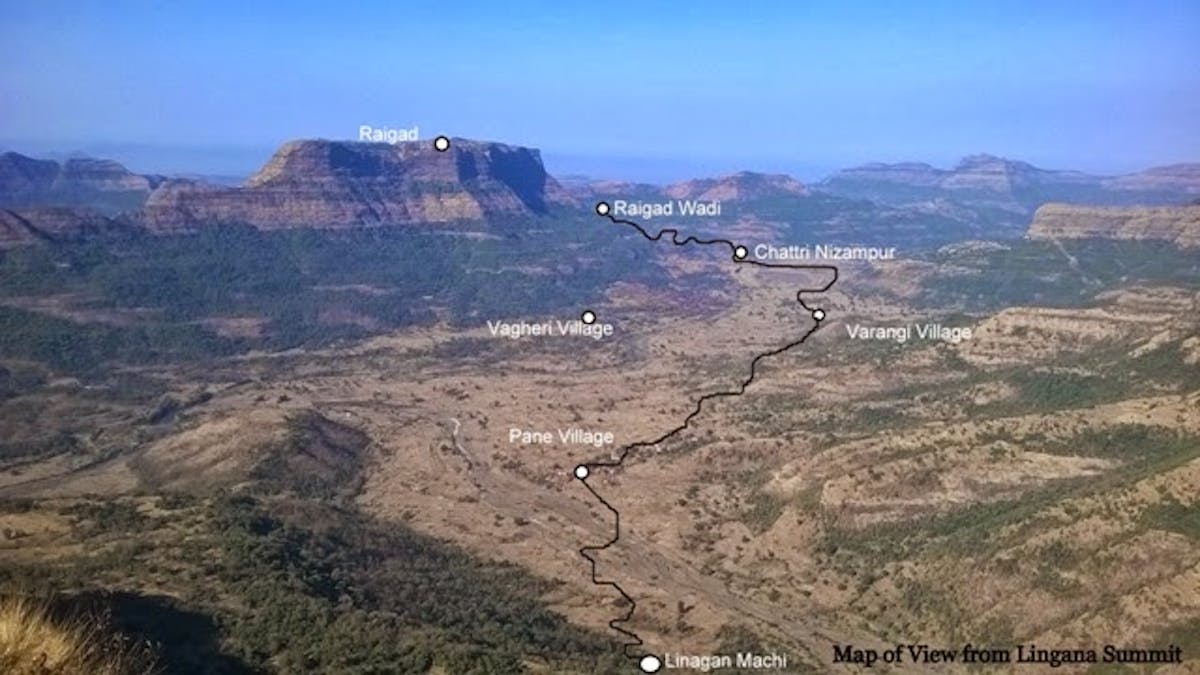 Map view from Lingana summit
So Varun and I started to climb the mountain to the left, to try and locate the Machi. Varun finally spotted it a few hundred feet below and that gave us renewed hope of making it there. In a last attempt to find the traverse which would lead us to the machi, we climbed down what felt like another 200-300 feet. And finally, there it was, a man-made trail.  A new ray of hope emerged amidst the setting sun. The trick is to descend up to the height of the machi irrespective of how long it takes you to get there and then look for a small man-made rock formation that marks the start of the traverse.  We quickly took the trail and reached farmland. Our joy was short-lived. There was no village to be found on the machi. The fields also seemed to be abandoned a long time ago. We kept looking for the promised well, but to no avail. By now it was completely dark and our quest for water was still incomplete. We knew we had no choice but to reach Pane as soon as possible.
Dhiraj had read in some blog about a trail that leads to Pane village from the machi, but the exact location of the start of the trail was not known, though he knew the general direction. It was known to be starting from the south corner of the machi. We started searching for it. Finally, we did find a trail leading into the forest and we thought, "What the hell, let's take it." The trail started descending in the general direction of Pane. After about an hour or so, we reached the plains. Crossing the dried-up Kal river and through the fields, we reached Pane village at about 9 PM, 7 hours after leaving Lingana base and 16 hours after starting the trek from Mohari. We knocked on the first house we came across and asked for water. The ever so magnanimous villagers gave us water and guided us to a temple where we could spend the night. I slept like I hadn't in a long time that night.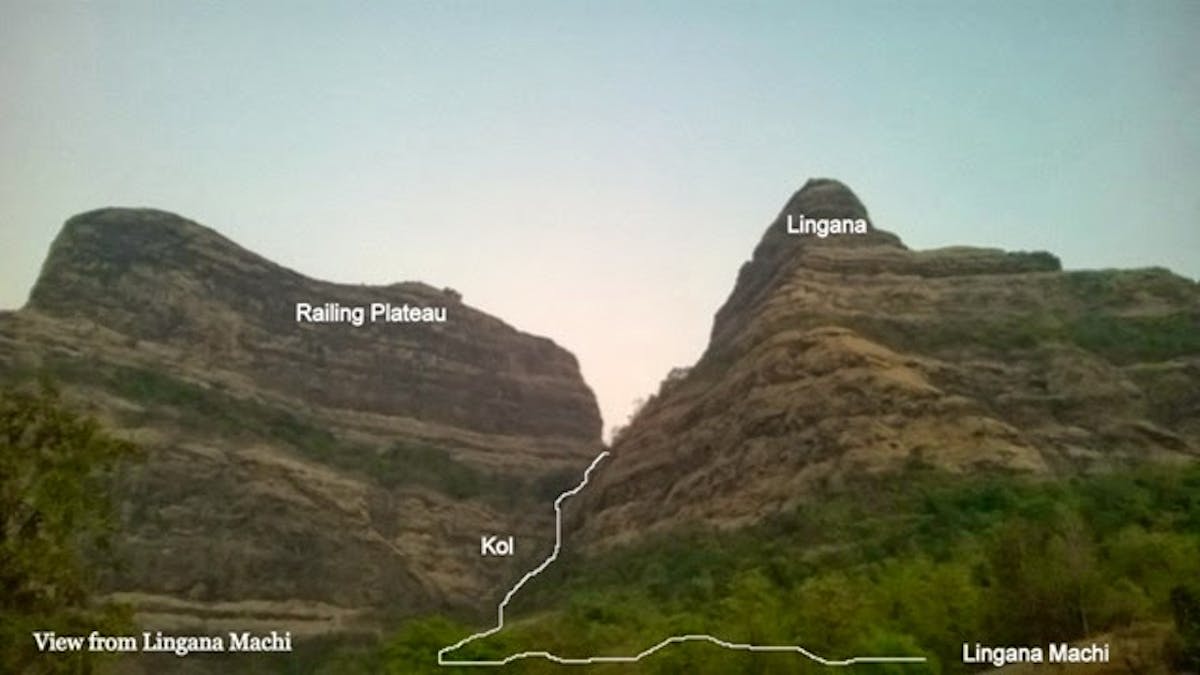 Map view from Lingana summit
The next morning we were at a crossroads. We couldn't decide whether to take a bus to Mahad and another one from there to Raigad wadi or to walk directly to Chitta Darwaja. Chitta Darwaja is the starting point for the steps to Raigad. The villagers assured us that the latter was a better option. So we started towards Varangi at about 8. There is a trail from Vagheri which is shorter and would save at least 2- 3 hours, but it is through the forest and is not easy to navigate. The fatigue from last night didn't allow us to get into exploratory mode again. Varun had hurt his legs and was finding it difficult to keep pace with the rest of us. From Varangi, we walked to Chattri Nizampur. The name, according to one Mr. Shinde from that village is because one of Shivaji's soldiers had landed in that village using a chattri (umbrella) from the top of Raigad.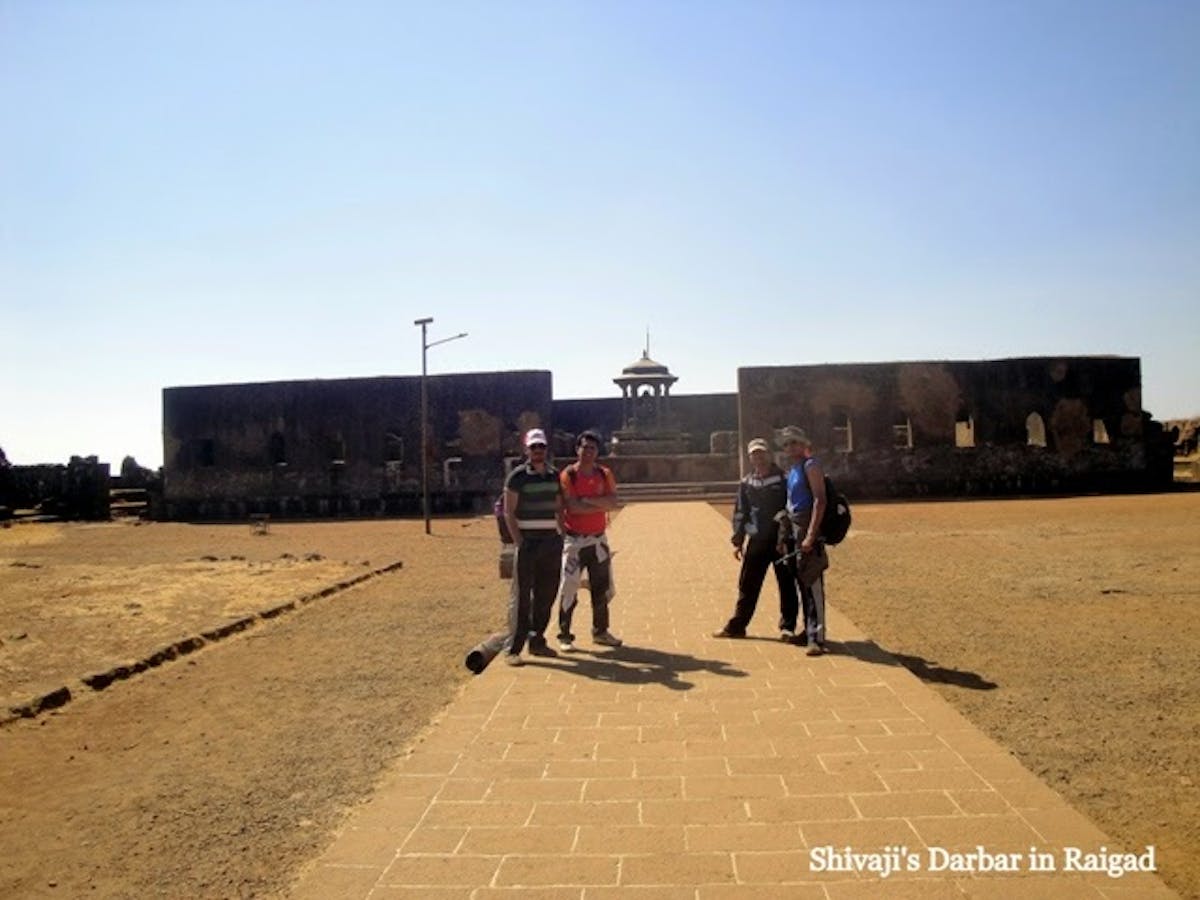 Shivaji's Darbar in Raigad
Luckily, a bus that would take us directly to Chitta Darwaja scheduled for 9 AM arrived late and just in time for us. We gladly took it as it easily saved at least an hour and a half of walking on a dirt road in the sun. We reached Chitta Darwaja at 11 am and quickly began climbing the 1500 odd steps to Raigad fort. We completed our trek from Lingana to Raigad at 12.30 when we reached the Maha Darwaza of Raigad. The feeling of accomplishment that you get after completing a trek was evident on everyone's face. We explored the various historical spots on Raigad and had a hearty meal of Bhakri Pithala served by one of the villagers. We took the ropeway down just in time to catch a shared rickshaw to Mahad. These shared six-seater autorickshaws are usually available but their frequency is not very reliable. State Transport buses between Raigad and Mahad ply almost once every 2 hours, the journey takes about an hour. From Mahad, State Transport buses to Pune are available every hour. The time taken is 5-6 hours because the road via Tahimini Ghat is currently not in a good state.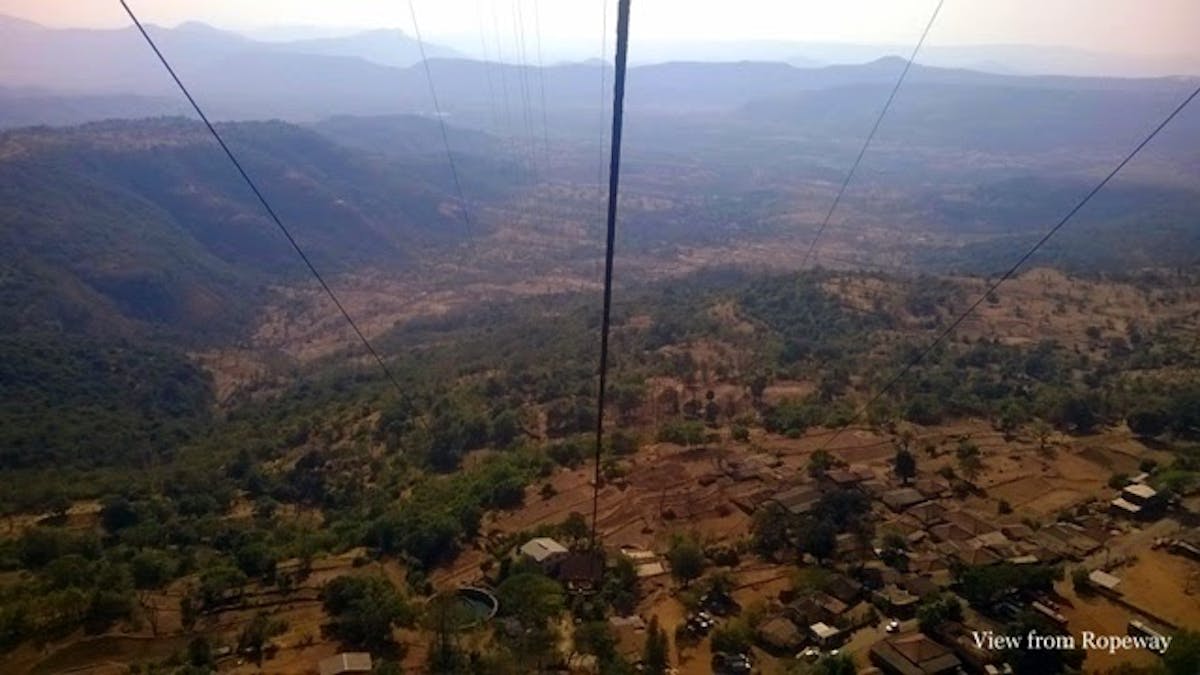 View from ropeway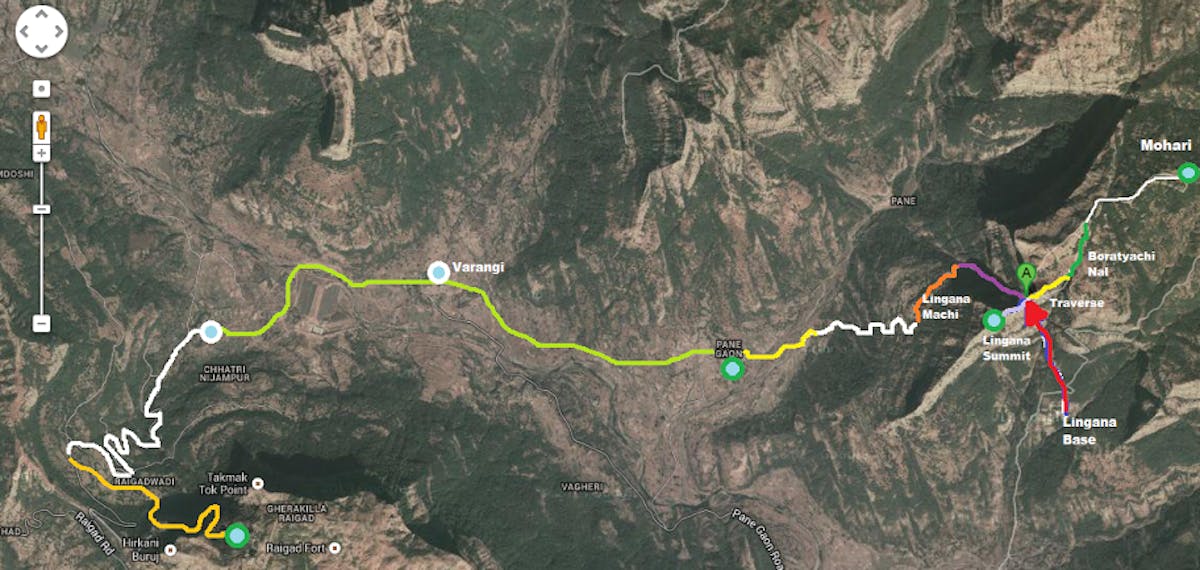 Aerial view
What to Pack for the trek
No, stuffing it all in isn't the right way to do it Packing a backpack correctly saves precious time that you might waste trying to find your things later. It is wise to spend some time learning what really goes into packing a backpack.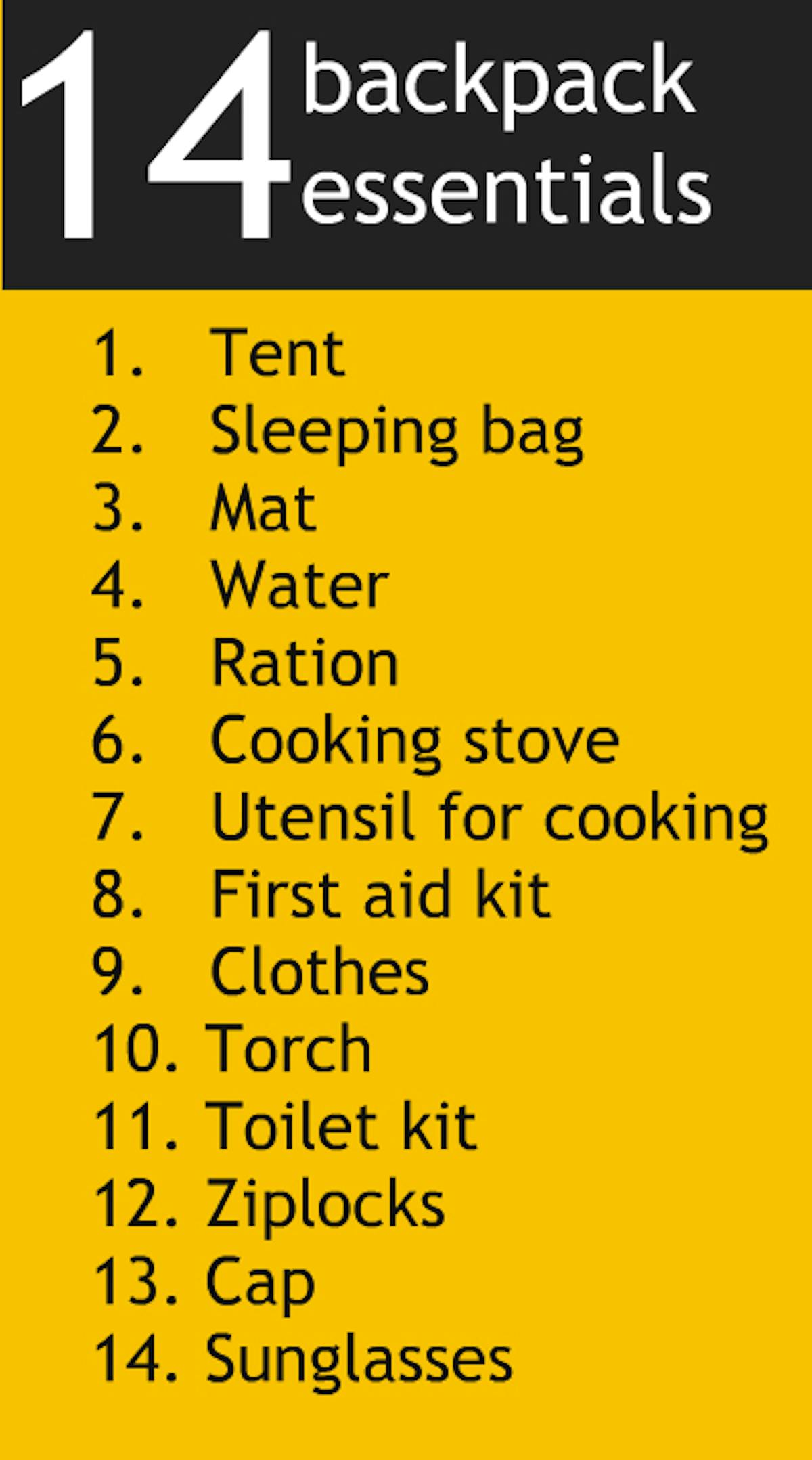 Trek backpack essentials
How much should my bag weigh
"Your backpack for a weekend trek should weigh between 8 and 10 kg," explains Arjun Majumdar, co-founder of Indiahikes, "To break it down, your tent should weigh around 2.5 kg, your sleeping bag, around 1.5 kg, and the ration, stove and clothes should constitute the other 5 kg." The best way to plan is by concentrating on the basic necessities – food, shelter and clothes. Gather only those things that you'll need to survive. Do not pack for 'if' situations. "That's one of the common mistakes that people make – packing for 'if situations'. It only adds to the baggage that you can do without on a trek," says Sandhya.
One good way to go about it is to prepare a list of absolute essentials. Start with the most essential and end with the least essential. That way, when you feel you are overshooting the limit, you can start eliminating from the bottom. Another tip is to be smart while packing clothes. Invest in light. wash and wear fabrics.
How to pack
The thumb rule for this one is to eliminate air spaces. Make sure that everything is packed tightly, especially clothes and jackets, as they tend to take up maximum air space. Put in all the large items first. Then squeeze in the smaller ones in the gaps. This ensures minimum air space. A good way to pack clothes is by using the Ranger Roll method.
Where to pack
Bottom Sleeping bag: Make this your base layer. Sleeping bags tend to be voluminous, but do not weigh much. They're perfect for the bottom of the bag. Tent: Just like the sleeping bag, even tents are voluminous and light. Keep the tent poles separately and place the fabric at the bottom of the backpack. Middle Heavy jacket: Roll up the jacket in a tight ball and place it in the middle of the backpack, close to your back. The middle region of the backpack should always have the heaviest items. You can store other things like ration or mini stoves in the middle. Other clothes: Roll other clothes and place them in the remaining space, to fill air gaps.
Top Water: Water, although heavy, needs to be easily accessible. So put it in the top most region of your backpack. Medicine box: This is another component that you wouldn't want to be scavenging for when in need. Poncho: It could rain at any time in the mountains. So, ponchos should be accessible easily. Also, having a waterproof poncho at the top of the backpack provides additional waterproofing to items in the bag.
How to Get Fit for the trek
Cardiovascular endurance
The secret to ascending any trail lies in building your cardiovascular endurance. You can begin by jogging every day. Ideally, you should be able to jog 4 km in 20 minutes before the start of the trek. It takes time to be able to cover this distance in the given time. Start slow and increase your pace every day. Swimming, cycling and stair climbing without too many breaks in between can help too. Strength This is another area you should work on. You will need to build strength in your muscles and in your core body. You can do some squats to strengthen your leg muscles. Do around 3 sets of squats, with 8 squats in each set. Apart from this, you can add planks and crunches to your workout.
Flexibility
Another aspect that will help you trek comfortably is flexibility. For this, you can do some stretching exercises - stretch your hamstrings, quadriceps, hip flexors, lower back muscles and shoulders regularly. Carrying a backpack, however light, can become a strain after a while. These exercises will help you to be in good shape before the trek. Working out indoors
If you can't go out and jog because of time and space constraints, here's a video you can use to work out indoors.